Want to look vintage aesthetic? Okay, you have to know about the old money style! This kind of style looks simple that adopted from the old noble. You don't have to worry, even if it looks old, this style has already made it more modern, so it can be worn in the 20th century. This old money outfit is very suitable to use if you want a mature and elegant vibe.
Okay, maybe if you know a lot about fashion, this style will sound familiar to you and I'm sure it will be easier to do mix and match. But if you are still a beginner, don't worry, because we will tell you about the old money outfit ideas to get the vintage aesthetic look.
Make sure you adjust the ideas to your style and which that make you feel comfortable. Of course, to get your confidence, you need to feel comfy first, then your confidence level will automatically boost. Are you feeling excited about this topic? Or being curious? Be calm, girls! Let's move on to the ideas!
Old Money Outfit Ideas to Get the Vintage Aesthetic Look
Use Your Tank Top as an Outerwear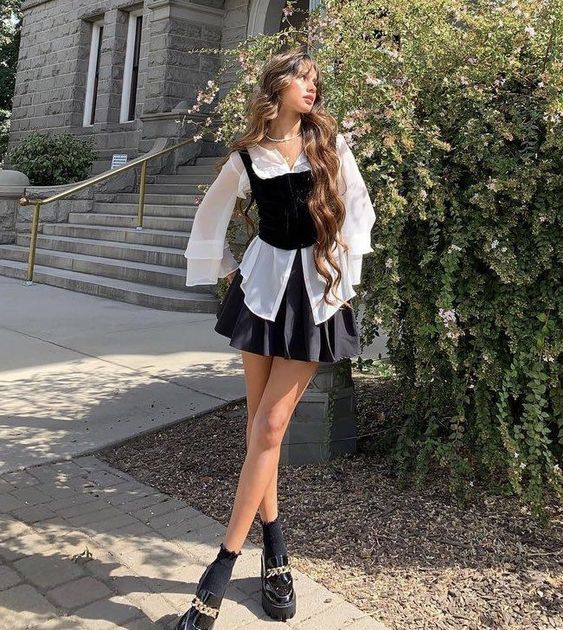 You can make your tank top as outerwear to make it more fashionable. As we said, we want to make this style more modern. Therefore, you can combine a tank top, a shirt, and a span skirt. You may change the bottom to the outfit that you like. Add accessories to get the glamorous vibes such as necklaces, earrings, or even sunglasses. This kind of outfit looks suitable to use for work, hangouts with your friends, or just having a street walk.
Tweed Dress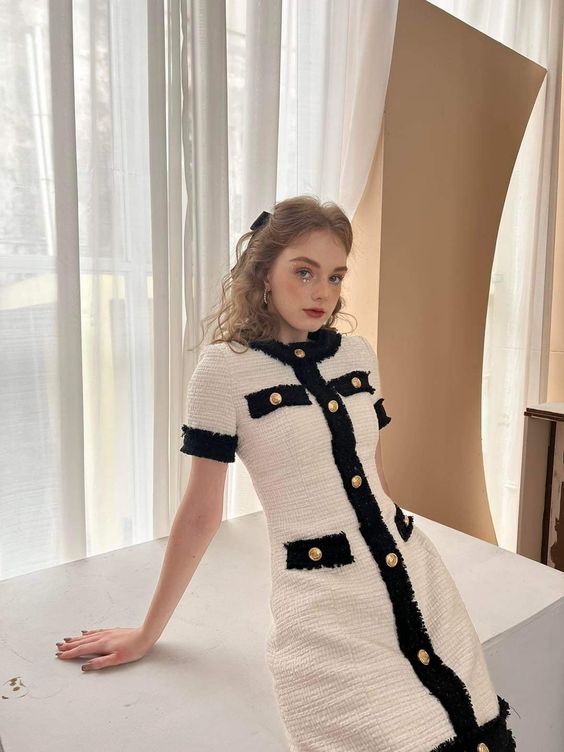 This style carries very simple looks but can make you elegant. That's why, you don't have to focus on mix and match, but all you need is to focus on the fabric of the outfit. As you can see from the picture above, she only wears dresses successfully to look elegant. It's because she uses a dress that has a tweed fabric. Just give a touch of accessories and you're ready to go!
Puffy Sleeves Top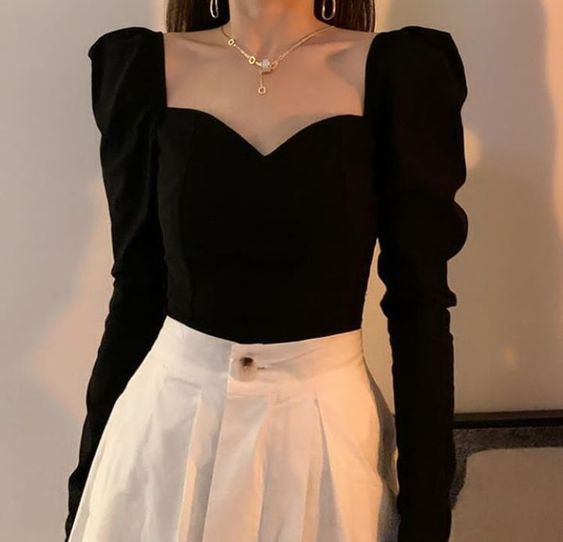 Now is a puffy sleeves top! Isn't this one of your favorite tops? Because this is my go-to outfit too! Besides it can give a feminine look, it is also suitable for being an old-money outfit! Pairing this top with loose pants, a midi skirt, or even as an innerwear of your overall.
Mix Short Pants and a Shirt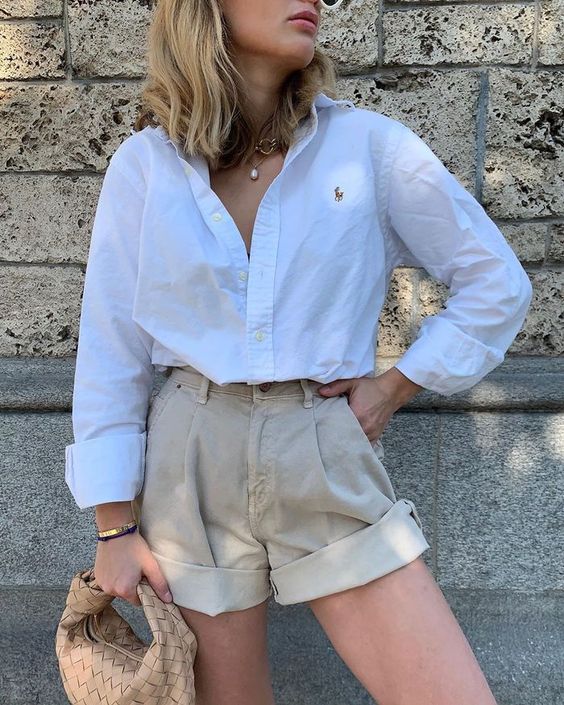 Mix your short pants and a shirt if you want to use this old money style for a casual event or hangouts. I know maybe you think this outfit is too ordinary, but back again, the old money style is using a simple outfit. You can fold the sleeves or the end of your short pants to make them look fashionable. And finish it by pairing it with any kind of shoes by adjusting it to the place to avoid the tacky look.
Old Money Style for Work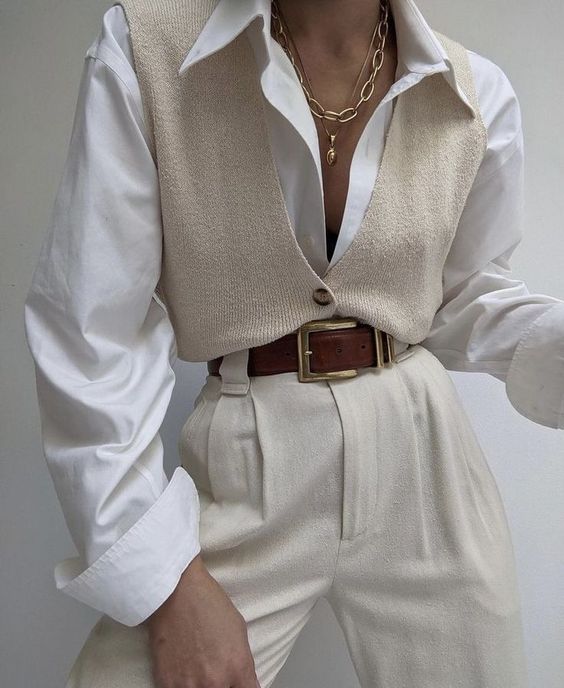 Old money style for work is impossible? Instead, even this style will make your work outfit look gorgeous! Mix and match loose pants and a vest as the outerwear. And of course, a shirt to complete your outfit style. It's up to you to choose between a long, short, or even tank sleeves shirt.
Next, we want you to give a touch of accessory that is made from gold. If possible, do the layering technique to make a chic look. Furthermore, it's time to finish your outfit by wearing loafers and a handbag.
Having Sheer Bow Knot Blouse is Necessary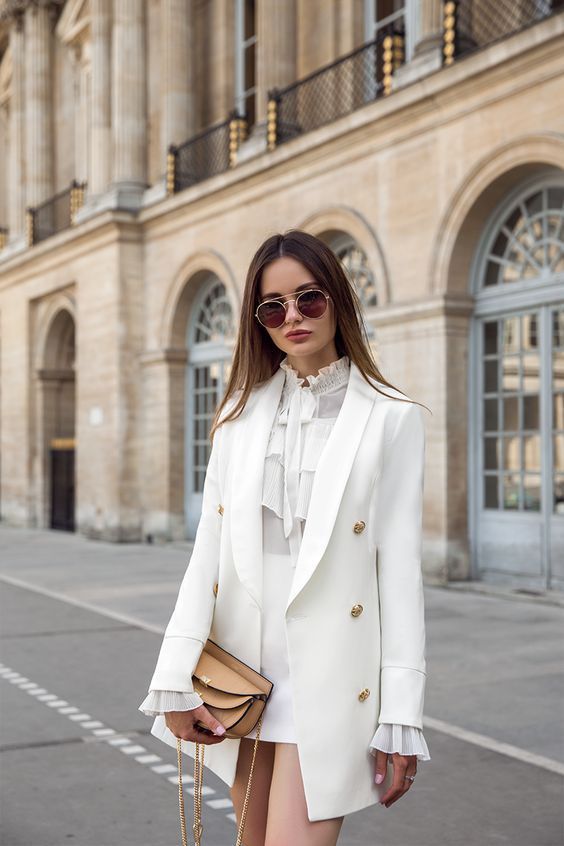 Maybe you think a sheer knot blouse is old and out of the style. But in fact, this one outfit can help you to achieve this style. Therefore, if you love old money, you need a sheer bow knot blouse! This top can be mixed with any outfit that you want. By pairing it with span skirts and an oversized blazer, then the formal casual outfit is already achieved. Don't miss out on the sunglasses, high-knee boots, and a clutch to level up your fashion.
Wear a Satin Dress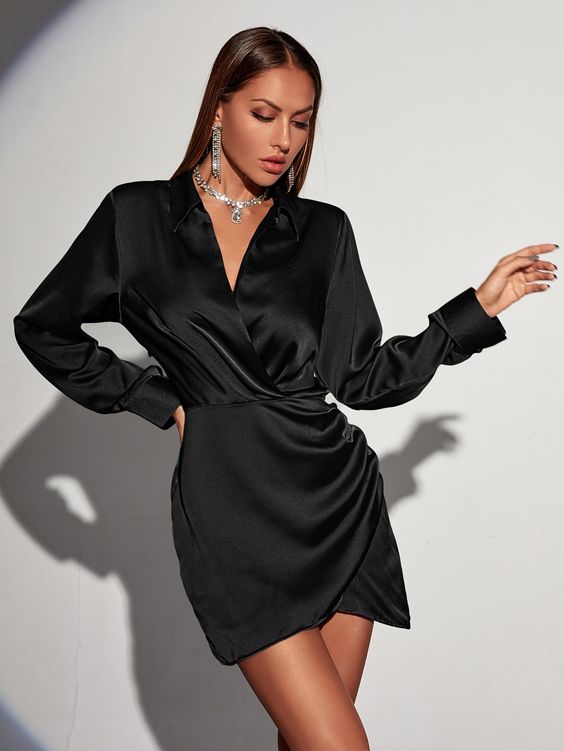 Choose a satin dress if you want to wear a dress. We don't mind about the design, because the very important is the fabric! Satin is the kind of fabric that is suitable for any skin tone and body shape. Therefore, is not a big surprise if this dress is the most popular outfit for a special event. Add a few accessories, heels, and a clutch to support your outfit style.
Tennis Skirts and Rib Polo Tank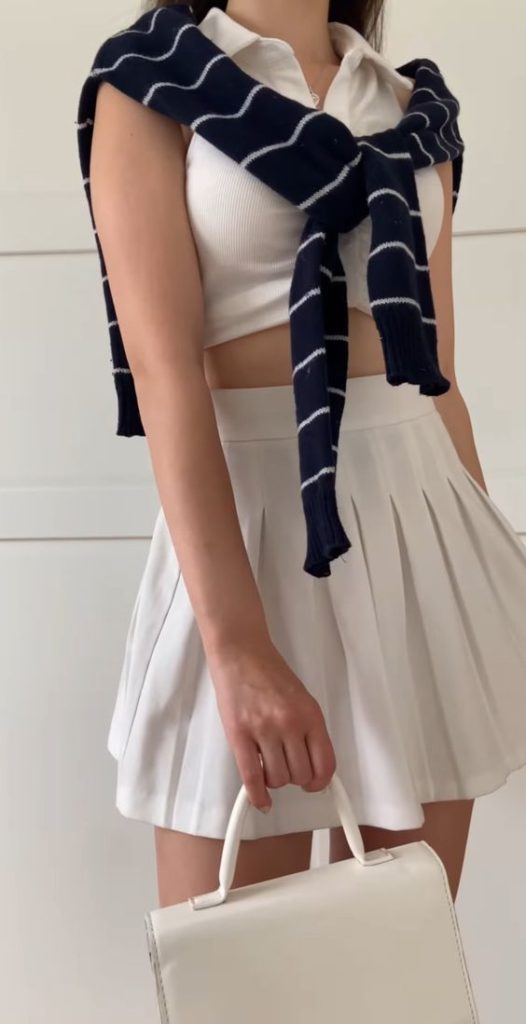 Combine tennis skirts and a rib polo tank if you want to have a sporty style. This outfit is usually used by an old noble for doing their sport activity. Boost your fashion style by knotting the sleeves of the sweater around your shoulder. Then, don't forget about the caps that have two functions which are to protect your head and also make your outfit look iconic. Furthermore, wear sneakers and a sling bag to complete the look.
Style The Short Pants with Crop Blazer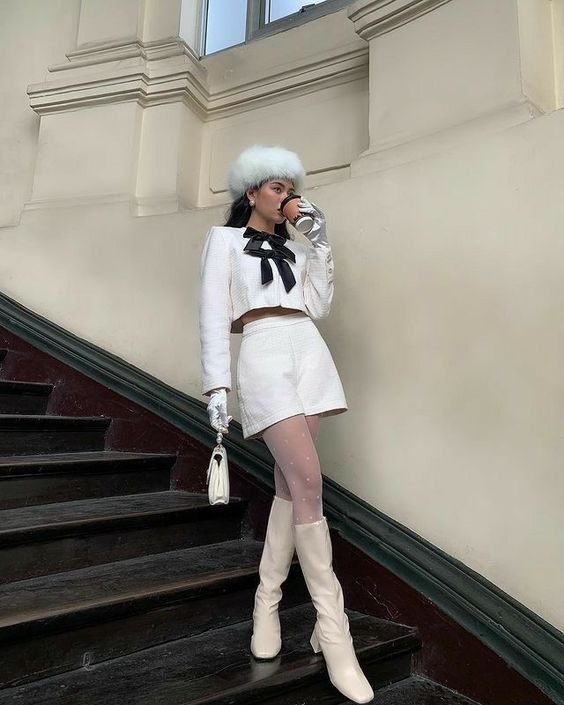 If you want to attend a fashion event, it's obvious you must wear an iconic outfit to get balance. We suggest you try to style the short pants and a cropped blazer. If you have a bow, you can make it as a tie and make it pretty knotted.
Then, use accessories as much as possible by considering comfort and harmony to prevent looking tacky. Take precedence of the accessories that have fur to look stylish! Furthermore, high-knee boots for the shoes and a handbag to save your stuff.
Corset Tank Top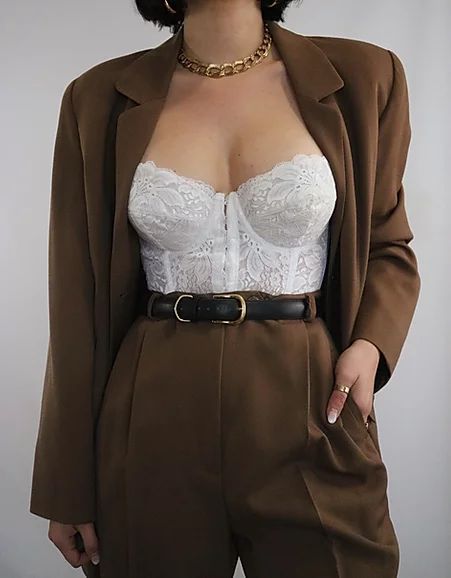 In the past, people try to hide when they wear a corset. But nowadays, this corset tank top is one of the must-have outfits for getting the old-money style. As we already said, we want to make this style look modern! Therefore, you don't have to be a shame when wearing this top. Again this kind of top can be mixed with any outfit and for any occasion. You can wear it as inner or outerwear, do you think about having this corset tank top?
Make it Simple by Using Loose Pants and a Tank Top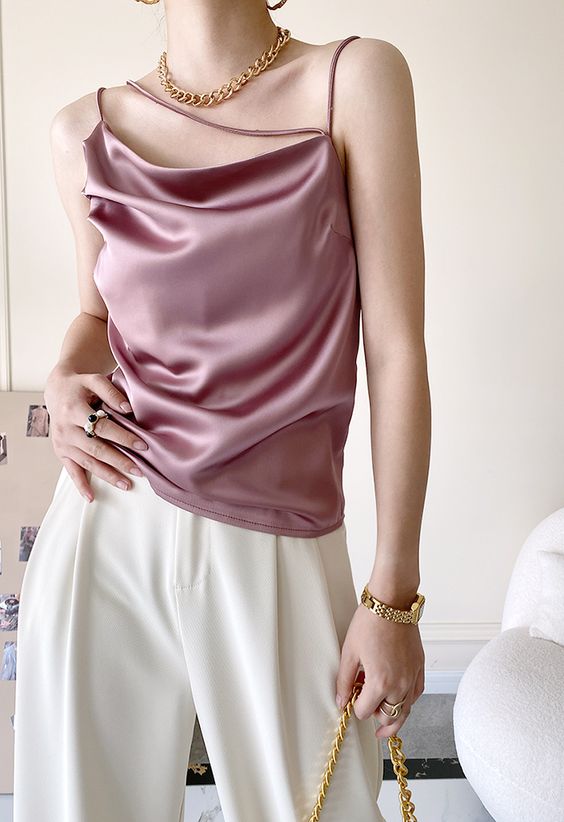 Even just wearing loose pants and a tank top, you already nail this style! Make it vintage by giving the belt to your pants, besides helping you solve oversized pants, it also makes your outfit look fashionable. Too ordinary? Who said that? Because you haven't added the accessories yet, so if you want a glamorous look, wear the accessories! Meanwhile, for the shoes and bag, you can use any kind of it.
Tube Dress with a Shirt for the Casual Look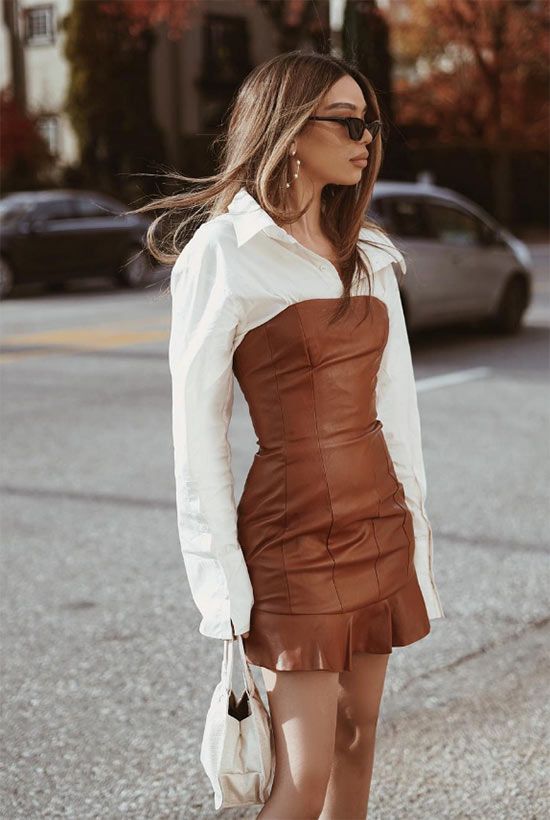 Have casual occasions and your personality is feminine? You will love this idea! Mix and match a tube dress and a shirt. It's much better when you can choose the leather fabric for the tube dress to build an elegant look. Next, make your outfit chicer with sunglasses, a chain necklace, and simple earrings for the accessories.
Jumpsuit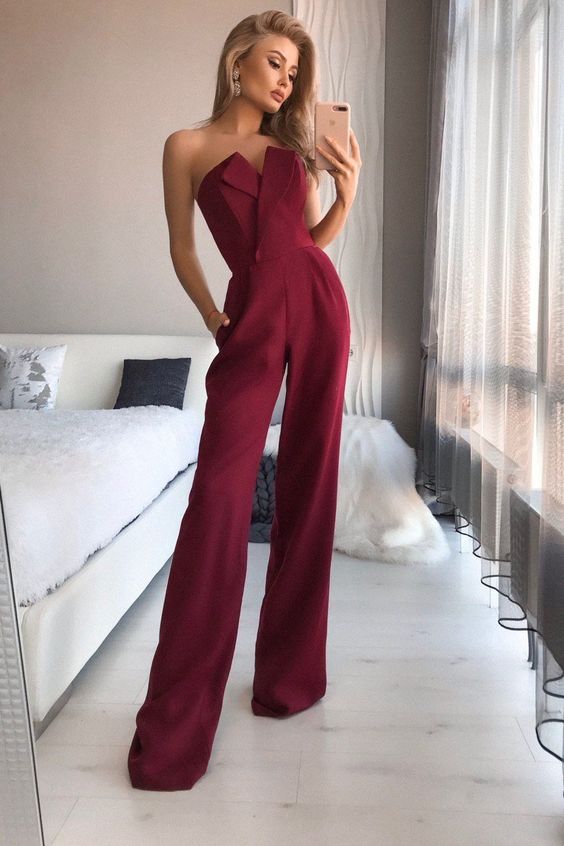 Have nothing to wear? Why don't you pick your jumpsuit? You can wear this outfit for hangouts, having a street walk, and even attending a special event. So, you only need to think about the other aspects such as accessories, shoes, and bags by adjusting to the occasion. Remember, don't wear too much of it, because it will make you look tacky.
Patterned Pants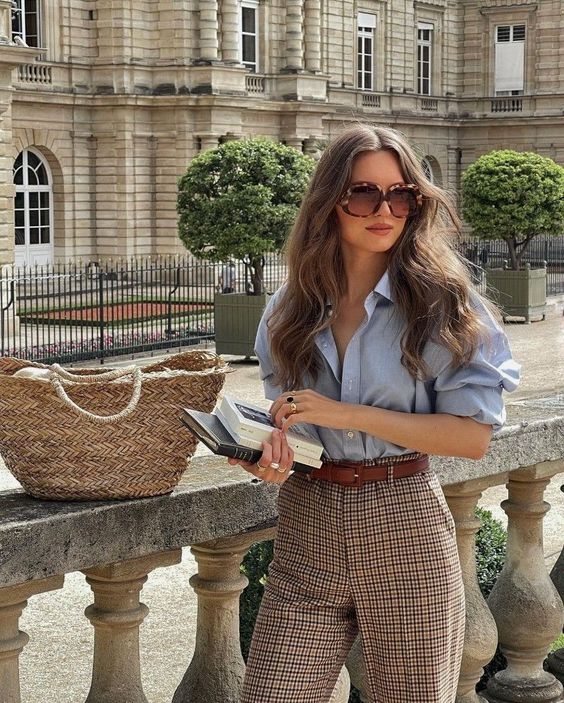 Do you know about patterned pants? Of course, this is one of the underrated outfits but will succeed to make your old-money outfit look stylish! If you have these trousers, I believe you will not regret them because this outfit is very useful. Don't mind if people call you old, the point is about confidence and yes, it can make you look aesthetic too.
Span Skirts and a Blazer for The Museum Hangout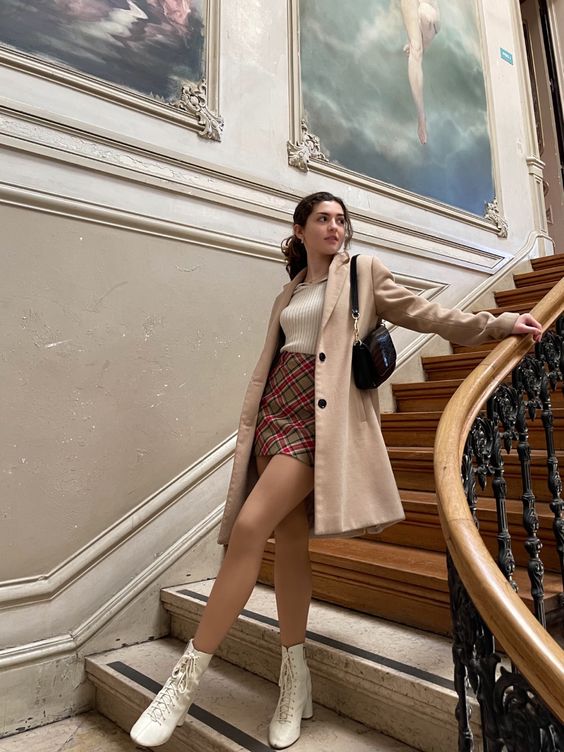 Going to the museum will be perfect if you using span skirts and a coat! Yes, you need to make your outfit as aesthetic as possible. Therefore, choose a patterned skirt with flannel fabric. Then, continue by wearing a rib polo t-shirt that will create vintage vibes. Don't forget about the ankle boots because this is one of the iconic items from the old money style!
Overall Dress
Next, we have an overall dress! If you kind of a cute girl? This dress is the answer! If you want to look close, just wear a shirt or blouse as the innerwear. Furthermore, choose platform heels or ankle boots as the shoes that suit this style. Now you can use this outfit for a fashion event, party, or photoshoot.
Mini Flare Skirt with an Oversized Blazer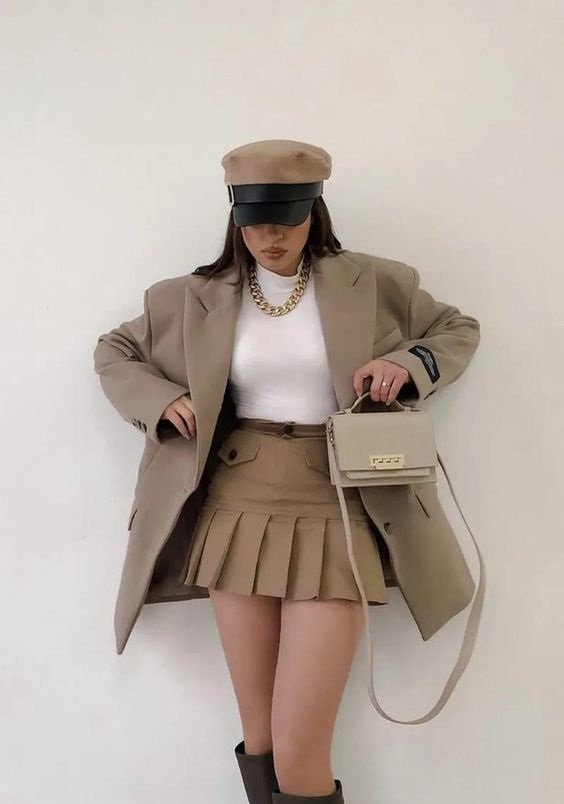 Searching for vintage chic in old money style? Okay, the combination between mini flare skirts and an oversized blazer will not fail you. Meanwhile, you can wear any kind of inner to complete your outfit look. Next, add some accessories like the picture above, you may use a barret hat that has an old aspect. Lastly, high-knee boots for the shoes if you want to make it modern or platform heels with long socks to get in the old style.
How to Style Your Coat in Old Money Style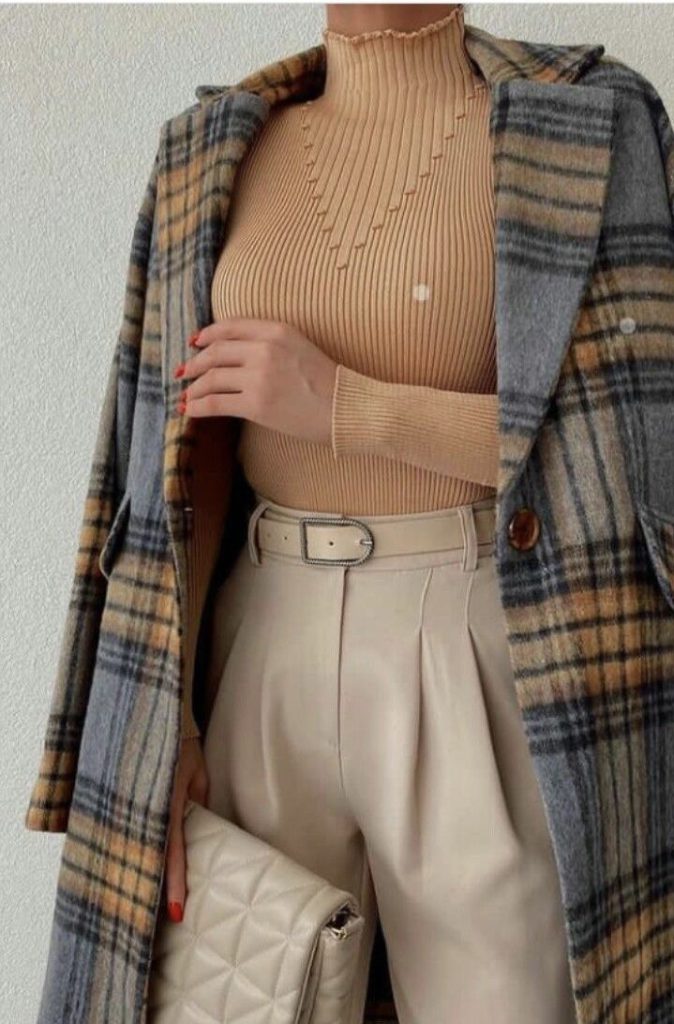 I guess this outfit is one of the essential outfits that you wear in the cold weather. If loose pants and a coat crosses your mind, then you're right! By wearing this outfit, you've applied the old money style to your body. But, not only for the cold weather but this outfit also can be used when you go to an event that has a cold temperature room such as a museum or restaurant.
Look Cute Wearing Fur Knitted Cardigan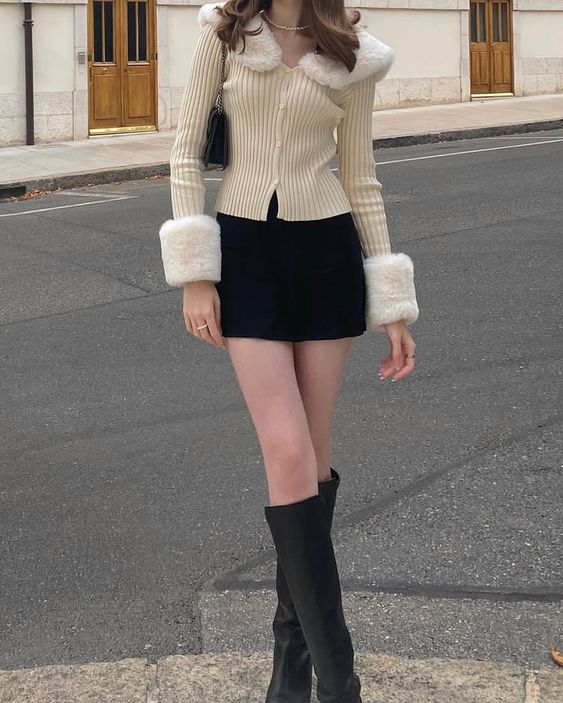 Isn't the cardigan that you see in the picture cute? Okay, if you want to have it, you can find it as a fur-knitted cardigan! This is suitable for those who love a cute and attractive outfit. The benefit of having this fashion item is it will not make you feel confused or frustrated when you want to mix it. But it will be great if you can combine it with a mini skirt.
Halter Mini Dress for Special Occasion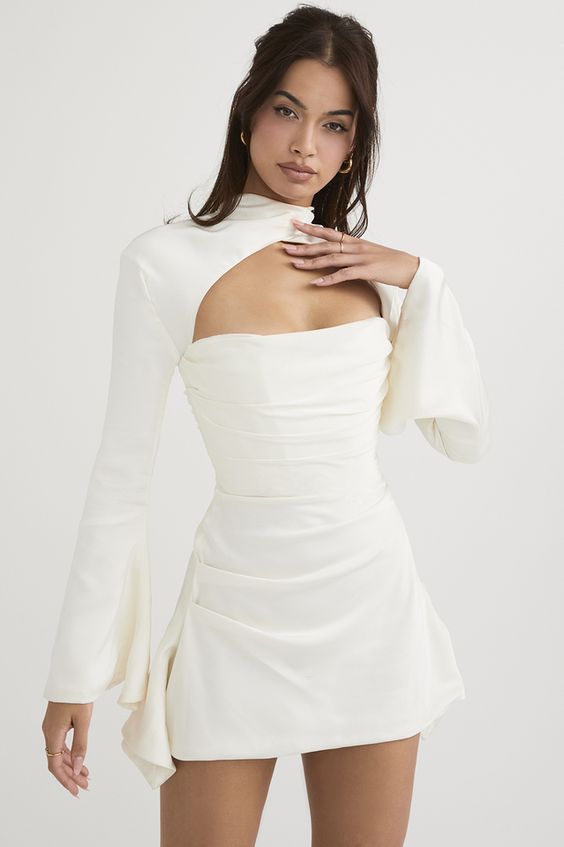 Don't like the satin dress? Go try a halter mini dress! The design of this dress can shape your body beautifully and also give a long neck effect which is perfect for petite people. It's clear enough if this dress is suitable for a party or any special occasion. Just put on your heels and grab your clutch, then you are ready!
Mix and Match Span Skirt with Transparent Shirt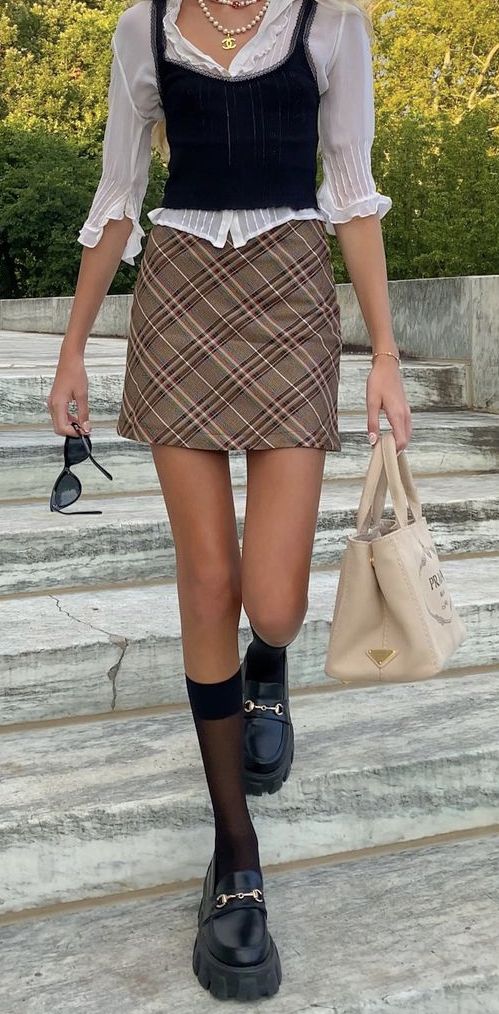 What makes the picture above look so aesthetic? Do you know the answer? If you still can't find the answer, we will help you! Yes, a transparent shirt! Maybe, when you see this outfit in the boutique, you will feel it looks weird. But you will don't know how it looks until you try it.
Believe me, you need this transparent shirt as your daily outfit. Mix it with loose pants or span skirts for the bottoms. Furthermore, to balance the look, you will need loafers or platform heels for the shoes. There you go, girls! You will slay this style perfectly!
Tennis Skirts and a Knit Sweater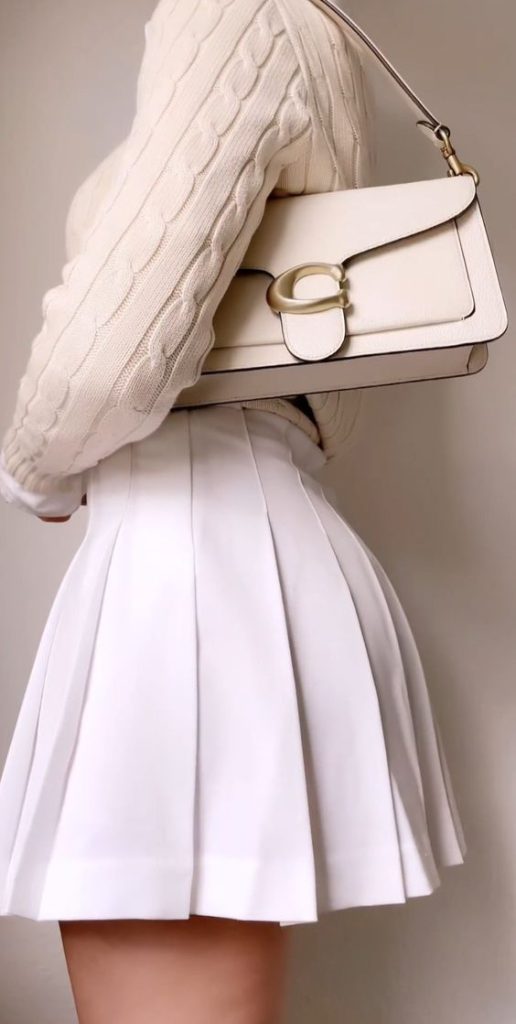 For hangouts or just chilling out at the café, you need an outfit that can keep your body comfy. Even though we want a fashionable outfit, but the comfy feel is number one! So, style your tennis skirts with a knit sweater. Simple but look cute, right? Moreover, if you complete it with accessories that have a 90's style.
Look Glamorous in Sequin Tube Dress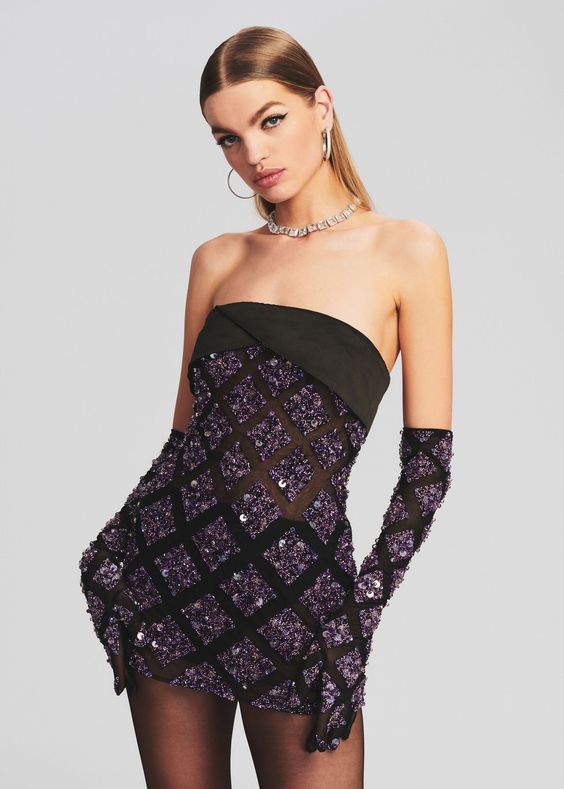 We already tell you about the satin dress and the mini halter dress, but if you do feel not satisfied with the idea, this one gonna be your outfit! Feeling like our previous ideas for the dress is too usual? Therefore, choose a sequin tube dress to get a sparkly look. Build up your fashion style using long gloves and choker necklaces.
Daily Girly Look with Midi Skirts and a Turtleneck Top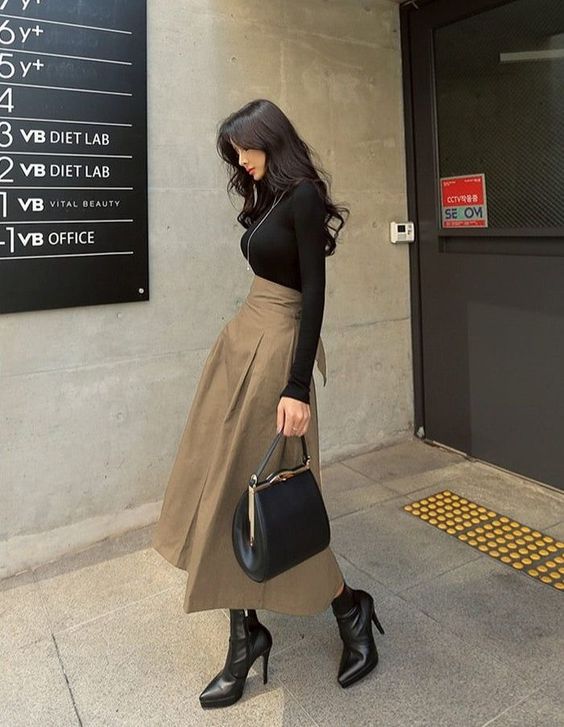 If you want to try to apply the old money style as your daily outfit, you can wear midi skirts and a turtleneck top. Maybe some of you already use it daily but still don't know what kind of style. To give the old look, wear boots and a handbag. Then, accessories that are made from gold are important too!
That's all about the ideas that have an old money theme. What do you think about this style? Yes, you will get an elegant and classy look even using a simple outfit. Just doing the mix and match in the right way, you can get the aesthetic vintage look. I hope you like this topic!