Don't you think tutu skirts are an interesting outfit? From the design, it will make you look more attractive than you use jeans, loose pants, or a usual skirt. If you know how to mix and match tutu skirts it will make you look fabulous.
But many of you don't know how to style the tutu skirts because the design of tutu skirt uses 4 until 5 tulles, therefore it makes tutu skirts looks complicated and think it hard to style. If you have tutu skirts or you want to buy them but you're still confused about how to style them, this article will change your mind!
Now, we're gonna discuss how to mix and match your tutu skirt to get a chic and gorgeous look. Before we jump to the tips, let's get to know about tutu skirts first.
Definition of Tutu Skirts 
Tutu comes from the French children's word "tu-tu", which means "bottom". Tutu is a standard skirt worn by female ballet dancers, it's made of tarlatan, muslin, silk, tulle, gauze, or nylon. But, everyone can use tutu skirt now because it becomes trend fashion.
So if you start interested in a tutu skirt but do not know how to style it. Here are some tips to mix and match your tutu skirt to looks chic and gorgeous!
How to Mix and Match Your Tutu Skirts to Looks Chic
1. Mix Your Tutu Skirt with a Shirt for Casual Outfit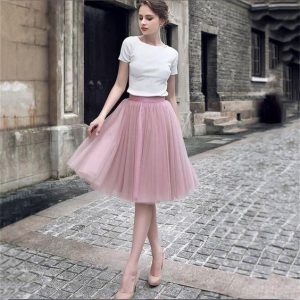 If you think tutu skirts are only for parties, you're wrong because tutu skirts can be worn on many occasions like street walks. Not only jeans or lose pants, but you can wear a skirt if you want girly looks, and a tutu skirt is a right choice to make it chic and level up your fashion style. Mix your tutu skirt with a shirt to make it looks casual but still look chic and girly.
Then for the toe, you can choose heels or flat shoes for the girly looks but if you feeling not comfortable and want a boyish look you can choose sneakers. Add a sling bag or satchel bag to make your outfit looks more gorgeous and chic.
2. Tutu Skirt and Tank Top are the Best Combos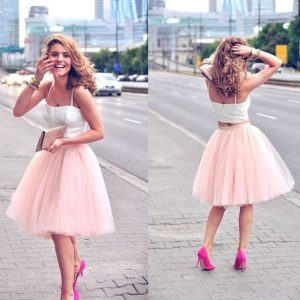 Summer is identic with a playful and simple outfit but this outfit can also used for you whos living in a tropical country, for the top you can use a tank top and mix it with your tutu skirts. I recommend you wear a crop tank top to give a more playful look.
To get a more playful look you can use heels with neon color for the toe, or use sneakers to look simple but still give a playful vibe. Whatever you choose this outfit is such a wonderful combo for summer. Don't forget to bring your sling bag or mini backpack to give the casual look.
3. Tutu Skirt for Work is a Great Choice

A tutu skirt can be an outfit idea for work! it would be the best outfit and make you look attractive. You can mix your tutu skirts with a blazer to get the formal looks. For the inner top, you can use a shirt or tank top will be great too.
Use heels to get office looks although sneakers feel more comfortable. Choose stiletto heels to keep the formal look. But if you don't like using heels you can also use flat shoes as the alternative. Mix it with a satchel bag because the size of the satchel bag suits you who bring a lot of stuff, if you want to look more simple you can choose a clutch to carry your stuff.
4. Jacket to Keep You Warm but Look Fashionable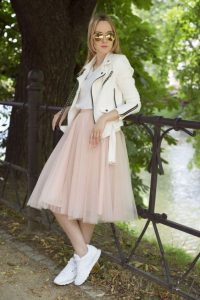 Want to feel warm but still fashionable with tutu skirts? Yes, you can wear a jacket for it. Mix your tutu skirts with a leather jacket or denim jacket to make it look chic. Wear a denim jacket to look more casual and simple, but if you want to look chicer, a leather jacket is a great choice for you.
Use boots to make your outfit chicer, besides that it makes you more comfortable to have a long walk. But to make it simple you can choose sneakers for the boyish look or flat shoes for the girly looks.
5. Party Outfit Ideas with Tutu Skirt Make You Look Gorgeous
 
Party outfit is not always using dress, you can wear your tutu skirt to make it different and not boring. Mix your tutu skirt with a blouse or long turtle neck, add some belt to bring the glamour look for your outfit.
For this outfit, you can wear heels like platform heels, stiletto, or peep-toe heels. Don't forget to bring your gorgeous clutch to support your glamorous looks. So, do you still want to wear your boring dress for the party?
6. Hijab Outfit Using Tutu Skirt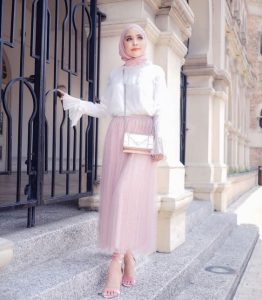 Who says someone who wears hijab can't wear tutu skirts? A Tutu skirt would be an amazing outfit for the hijab too. Choose a long tutu skirt and wear your long shirt or blouse and mix it with your hijab with a simple style so you can get an amazing outfit.
You can stroll around the city using this outfit. It may be simple but it would give you wonderful looks. Choose heels to get feminine looks but if you want to feel comfortable you can use flat shoes or sneakers will be great too.
So, from the text above you don't have to be confused about how to mix and match your tutu skirt. Because your tutu skirt could give you a chic style outfit on many occasions. And for you who still thinking to bought the tutu skirt, you don't have to think about it anymore.
And what are you waiting for? Go add a tutu skirt to your bucket list, and follow the tips that have been given to make you look amazing. Say goodbye to the jeans, pants, and dress!