Olidfashion.com – Pastel is identical with the girl stuff and outfit style. These color shades have sweet and romantic accents. However, for the men's outfit, pastel could bring the soft boy style. It's okay for men to have a pastel clothing style. That's nothing odd about this, rather than it you would get chic clothing style in pastel shades. Get the best pastel clothing style for men here and try new excellent fashion.
Bring Pastel in Men's Clothing for Chic Style
If you are tired of black, brown, or grey in your men's clothing style, you can try different styles by having colorful clothing such as pastel. Don't be afraid to choose pink, yellow, or other feminine colors in men's outfits because if you deliver it properly, you will get the chic style in pastel clothing. Need some inspiration for pastel clothing style, just look up here and get what you need.
Patchwork Pastel Clothing Style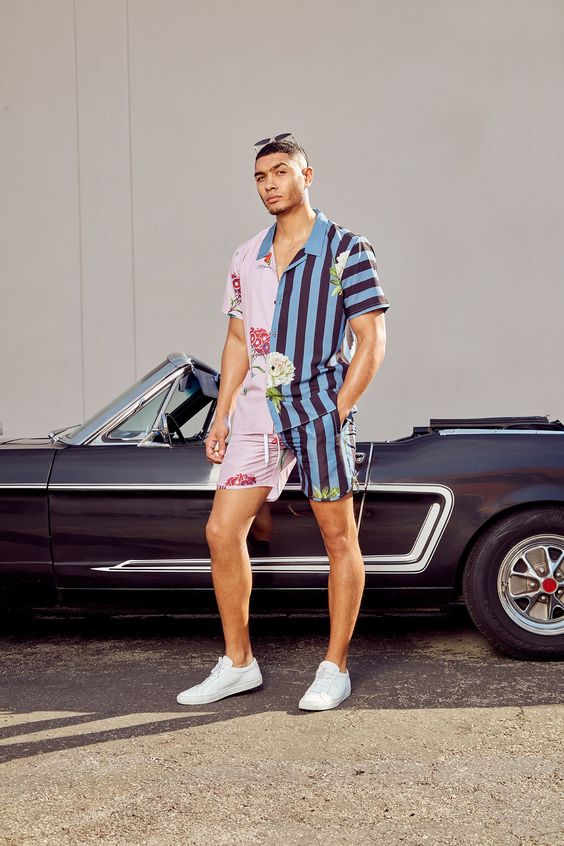 The patchwork method is combining two different colors, patterns, either fabric into one outfit. You can use it to bring pastel into your men's outfit ideas and give you a chic clothing style. For example, you can choose a pink floral fabric and a blue-black striped fabric for smart patchwork outfit ideas. Get the best look by adding white sneakers and sunglasses to make your men's style become more fashionable.
Mint Sweater for Men's Outfit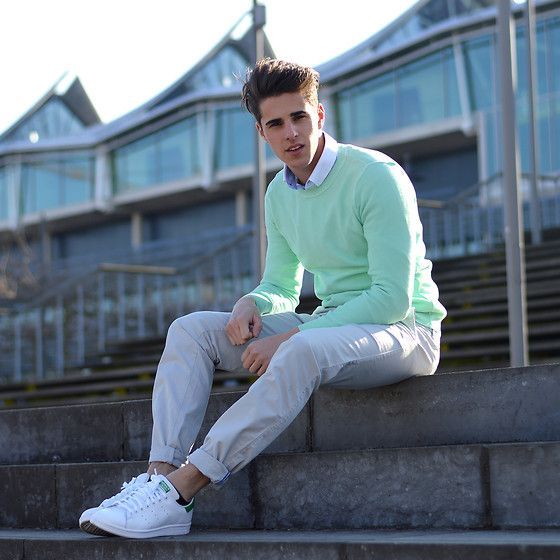 Mint is a good pastel color scheme to use in men's outfits. This would present a different aura to your look such a cheerful and chic clothing style. Get your mint sweater to layer a collared shirt and then match with chinos to make it as your men's spring fashion ideas.
Lime Green in Men's Outfit Style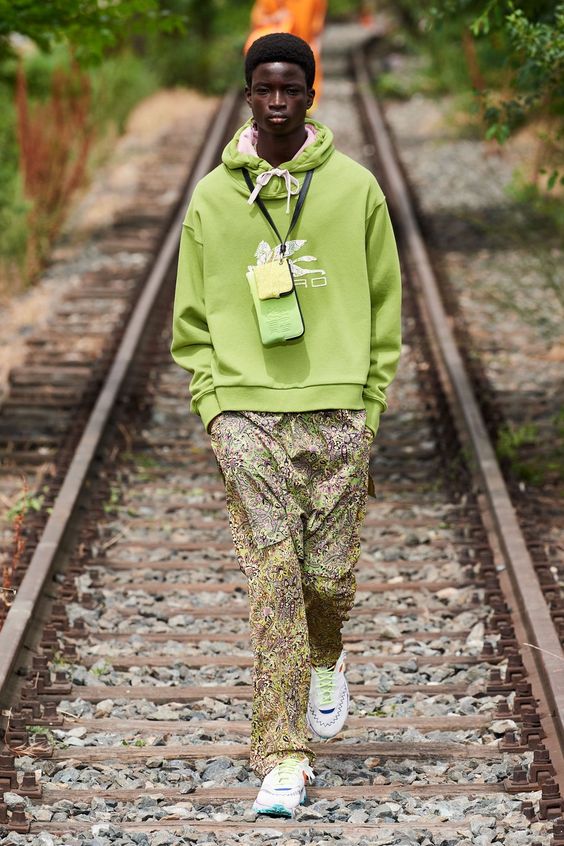 Besides mint, another green pastel color scheme that's you can try to wear on men's clothing style is lime green. Absorb this color into a hoodie and pair it with green and violet abstract pants. After that, you can match it with trainer shoes and make it your chic clothing style.
Pastels in Tie Dye Outfit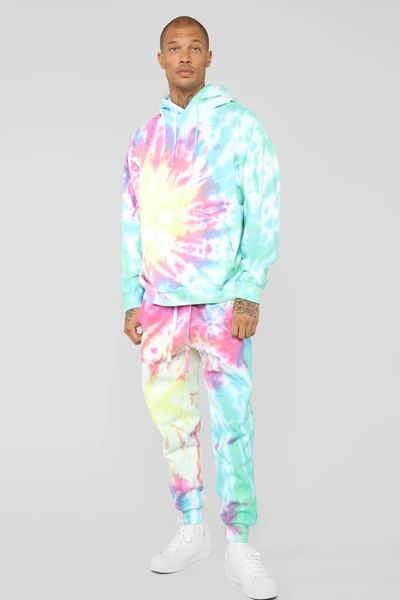 Pastel in men's clothing style, why not. If you want to have a colorful outfit but still look calm, you can apply the pastel tie-dye technique to your hoodie and sweatpants. When you pair it with trainer shoes, you will get a chic sporty outfit for men.
Combine Pastel Green and Yellow Outfits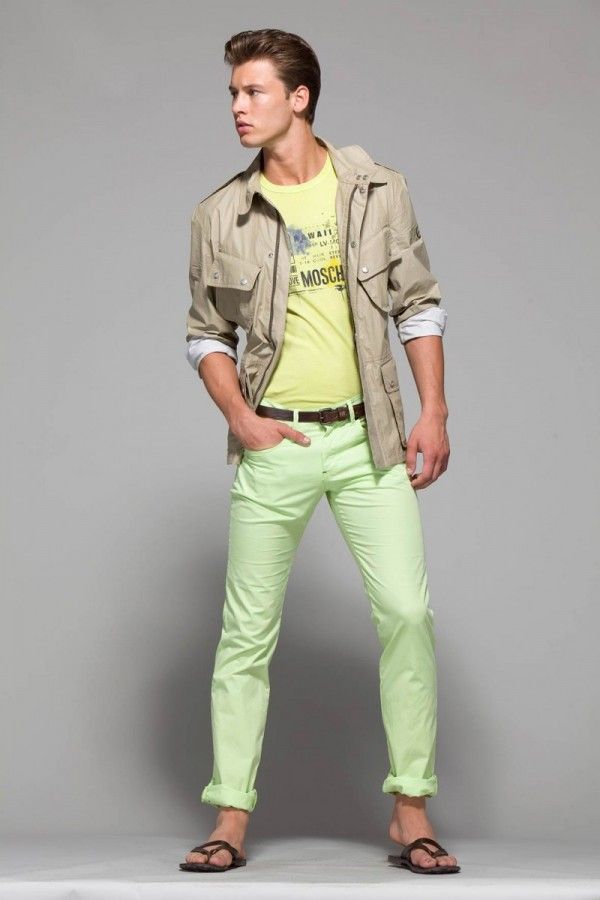 Pastel green and yellow are a great combo to wear together into your men's clothing for a chic styling outfit. Combine a light pastel green chinos with a yellow t-shirt, then layer this outfit with a light brown men's coat.
Trendy in Pastel Clothing Style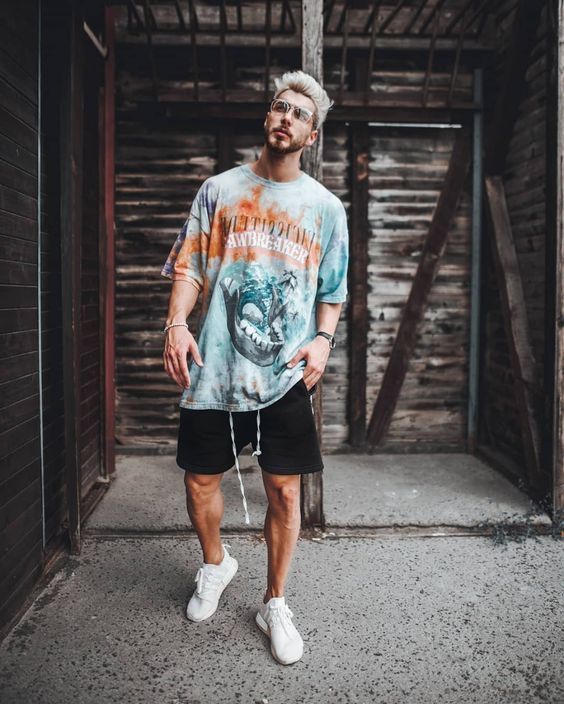 Having a trendy style even in pastel clothing for men is a little challenging. However, you still could bring it by having a tye die method on a printed t-shirt. Just choose a little metallic pattern and you can make DIY in this t-shirt by giving pastel colors. Pair your t-shirt with black Bermuda shorts and sneakers. Get some accessories to complete your appearance and make your pastel clothing style look chic.
Pale Blue for Pastel Style in Men's Outfit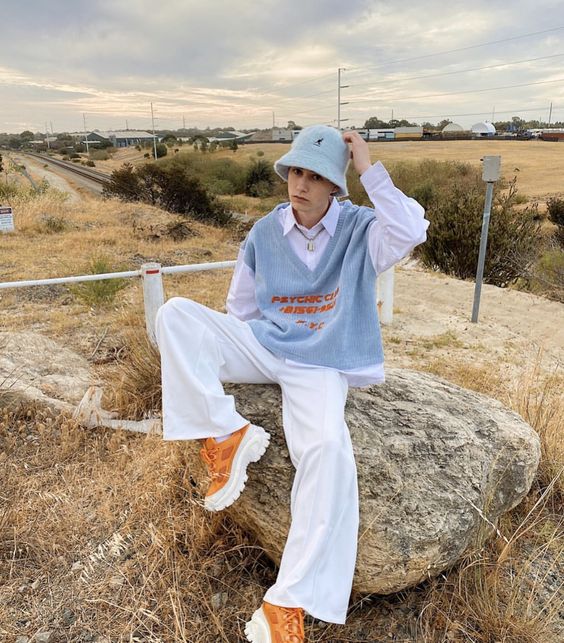 Pale blue is the favorite one to create a chic clothing style for men in pastel. This color is almost used by people to dress up boys. Match it with the white outfit is the basic rule to give you chic style for men in pastel clothing. Pair it with brown trainer shoes to get a bit color clashing design.
Best Combo Pastel Pink and Black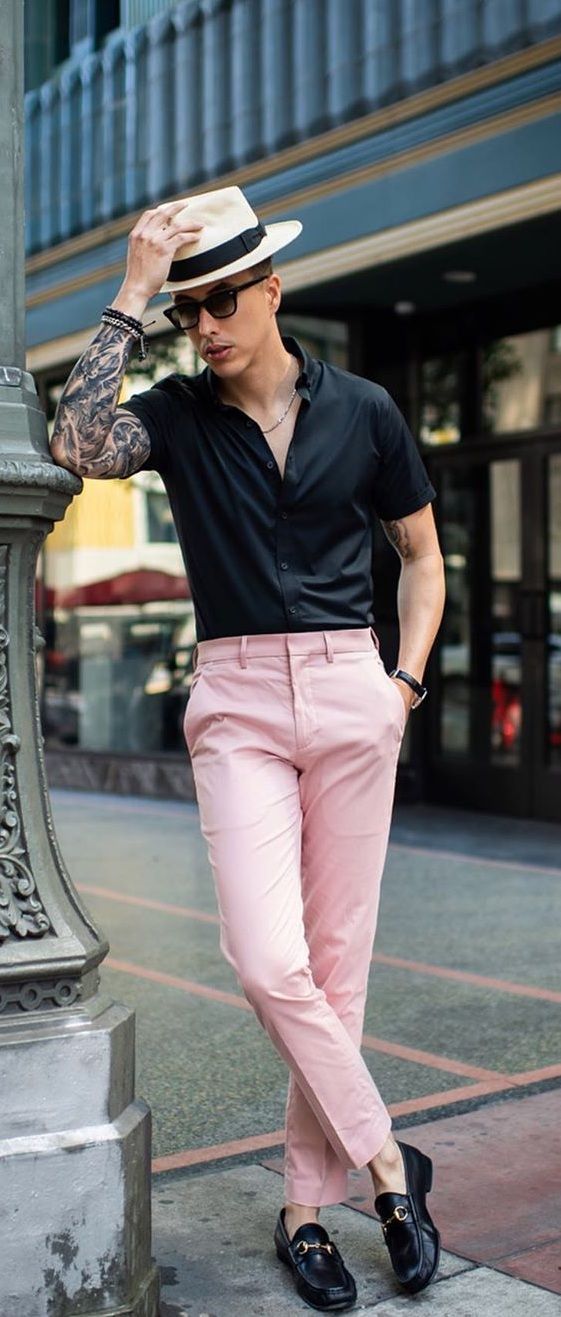 To get harmonize in men's pastel clothing style, you can come up with a neutral combination. For me, pink and black are the best combo to wear together in your outfits. You can match a black shirt with pink trousers. Then, get the perfect style by wearing black loafers and a cream fedora hat
Floral Pattern in Pastel Clothing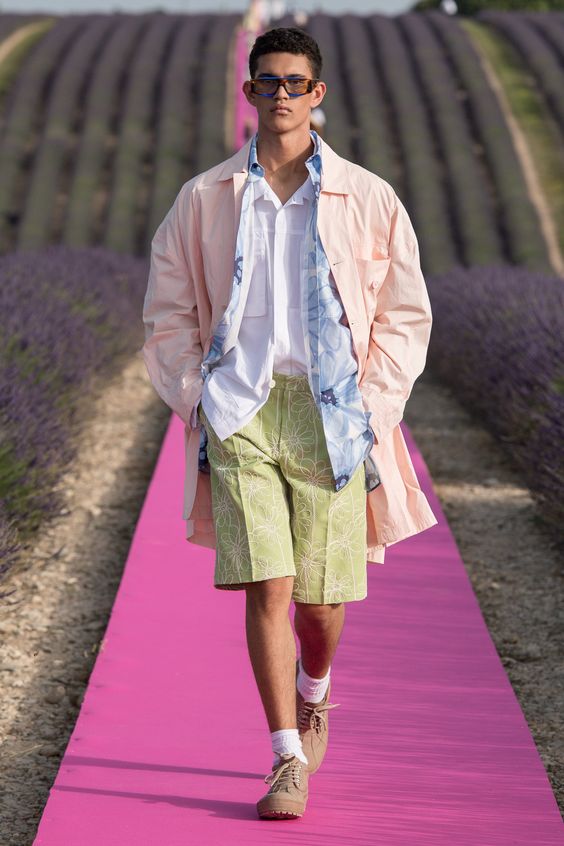 Floral and pastel are a great mixture to adjust in chic fashion style. Whether for men or women, this outfit never fails to provide you fashionably. For men's style, you can get floral patterns in your shirts and Bermuda Shorts. Pair it with other pink pastel oversized shirts and brown sneakers to have a chic clothing idea.
Nerdy Guys in Pastel Style
Being nerdy look with pastel clothing style and want to get a chic look, you can try to wear a blue pastel crewneck sweater and pink blazer for the top. Get the matching bottoms by combining them with light grey trousers. Perfect your cool nerdy guy's style with the glasses and sneakers.
Classy Style in Pastel Idea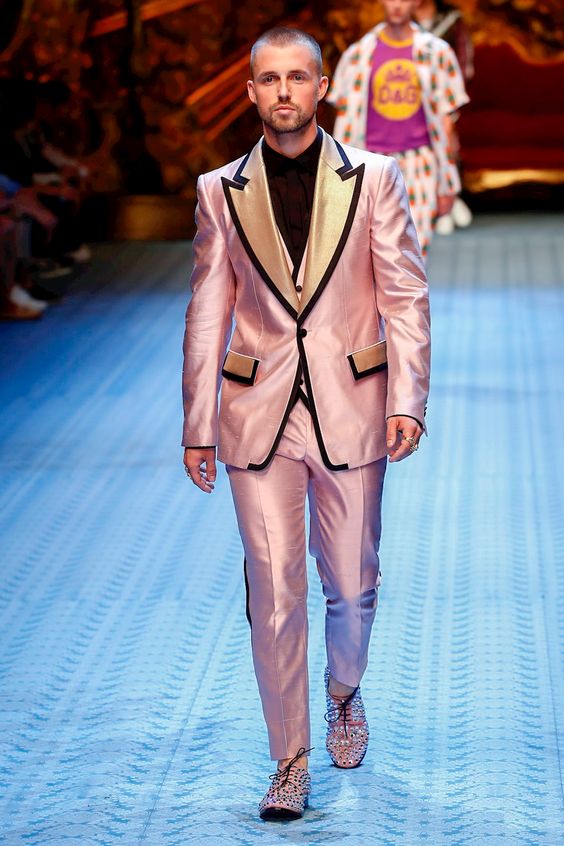 If you want to look classy in pastel clothing style, choose shiny pink for evening suits. You can get satin or silk fabric to create your men's suits. Mix up your suits with black collared shirts underneath and pink beaded loafers for formal casual occasions.
Pastel College Outfit for Boys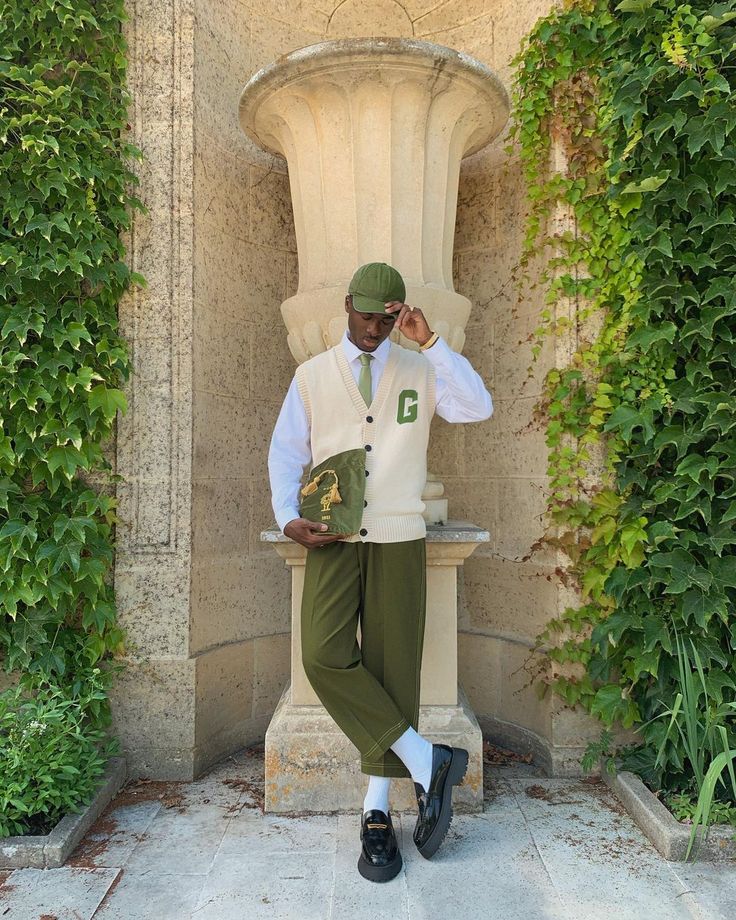 For you that have dark skin tone, earthy tones like green olive in men's clothing actually still look good. Best matching for this you just need to wear lighter color outfit such as a white collared shirt and broken white sweater vest to put it as modest college outfit for boys. Complete this outfit with socks and a pair of black leather shoes. Get a pastel green tie, hat, and envelop bags to perfect your performance.
Pastel in Denim Outfit Style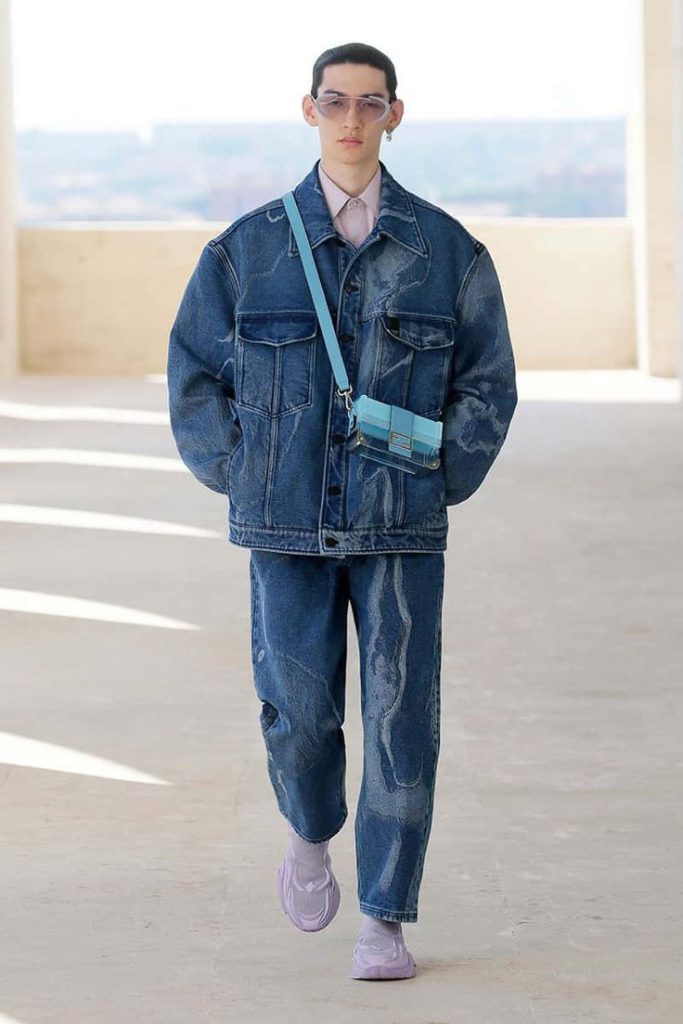 Get your men's pastel clothing to complete denim style by modeling a pink t-shirt underneath your denim jacket. For the matching bottoms, you can wear denim straight pants. For the footwear, you can bring lilac shoes to get a chic and cute outfit style for men's clothing in pastel.
Rouge Pink Bomber Jacket Style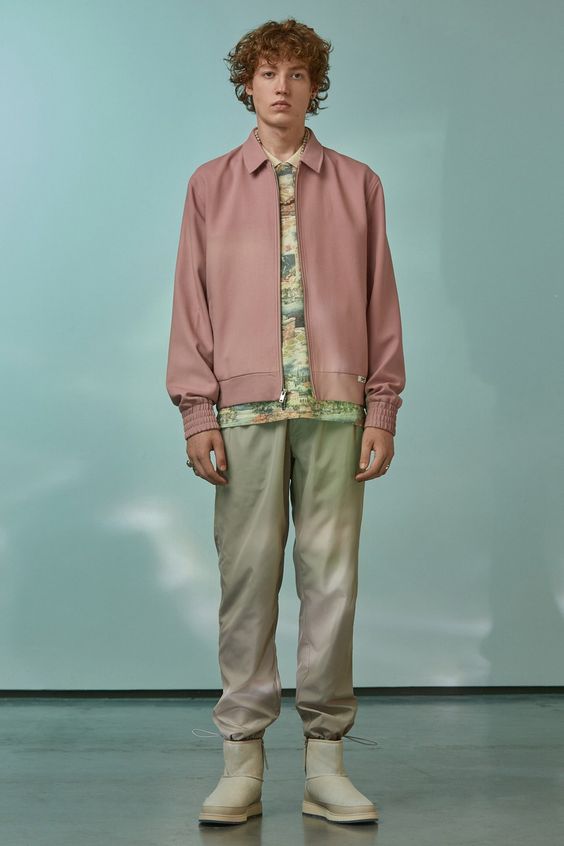 Rouge pink in your bomber jacket style is a great idea to present pastel in men's clothing. Wear this jacket to layer your printed pastel tee then pair it with khaki pants. Make this outfit chicer by having ankle boots for the matching footwear.
Pastel Tops and Ripped Jeans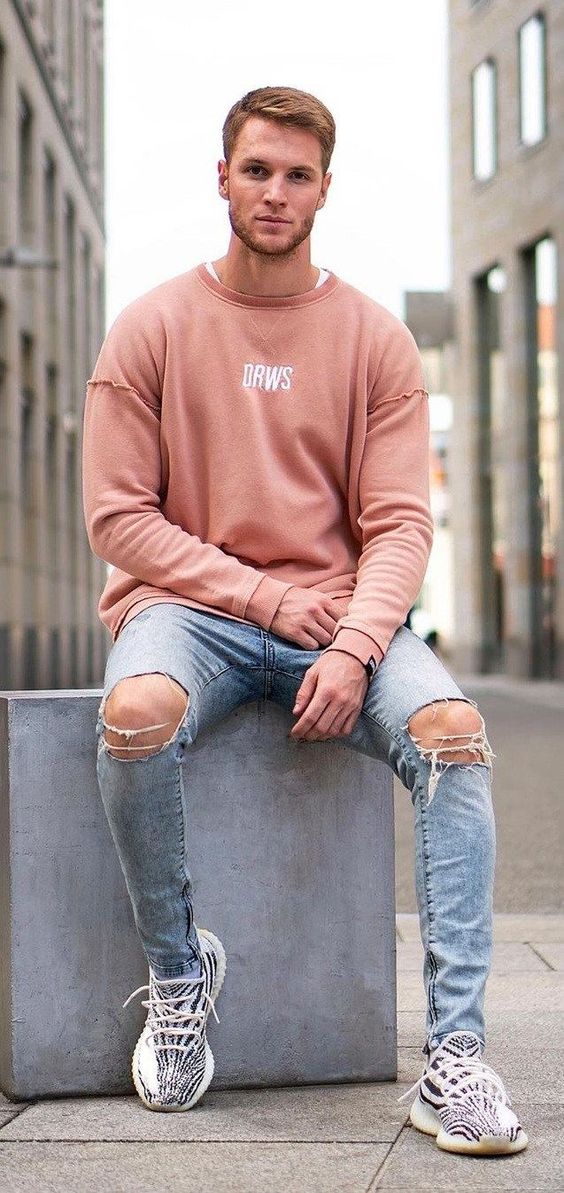 Coral pastel shades in men's tops would look chic and trendy if you mix and match them with ripped jeans and trainer shoes. This could be the modest pastel clothing style that you need to have in your wardrobe today.
Semi casual Outfit in Pastel Shirts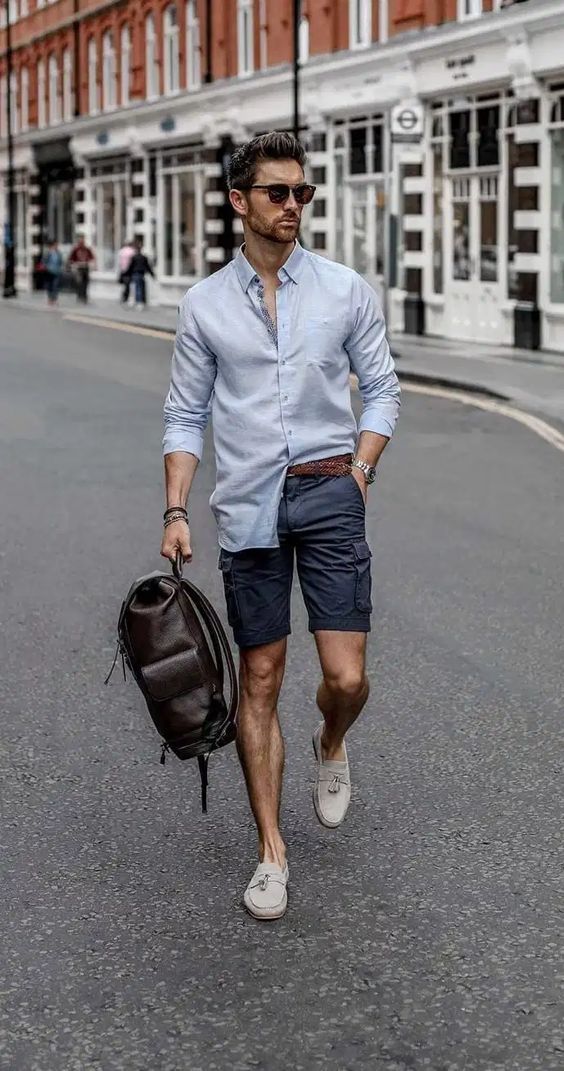 Get a semi-casual style with pastel coloring in your shirts. Just choose soft pastel blue in your long sleeve shirt and then make a contrast by combining it with navy Bermuda shorts. Dress up properly with having khaki loafer shoes, a brown leather belt, some simple accessories, and then a backpack.
Color Blocking Style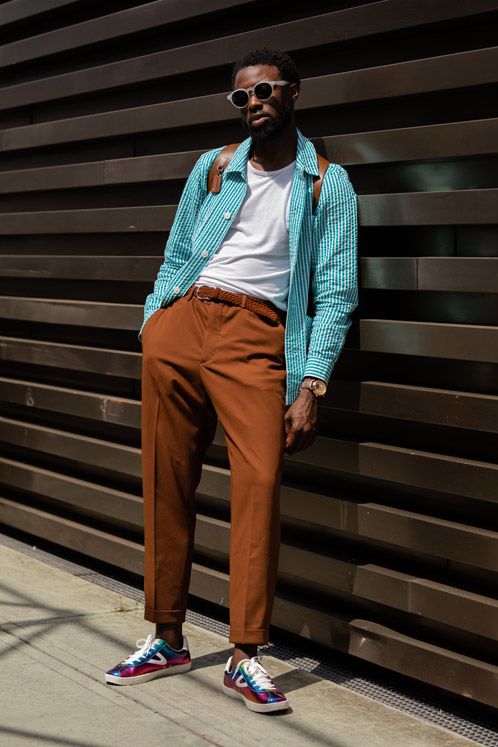 Bring your pastel clothing style for men by using the color blocking technique. For this, you need to combine two or more different color pastels such as light blue, white, and brown in men's outfit ideas. For instance, modeling your blue-white button-down striped shirt with plain white underneath, and get brown trousers for bottoms. Completing this outfit with colorful trainer shoes, a brown leather belt, and a brown backpack actually.
Bohemian in Pastel Outfit Ideas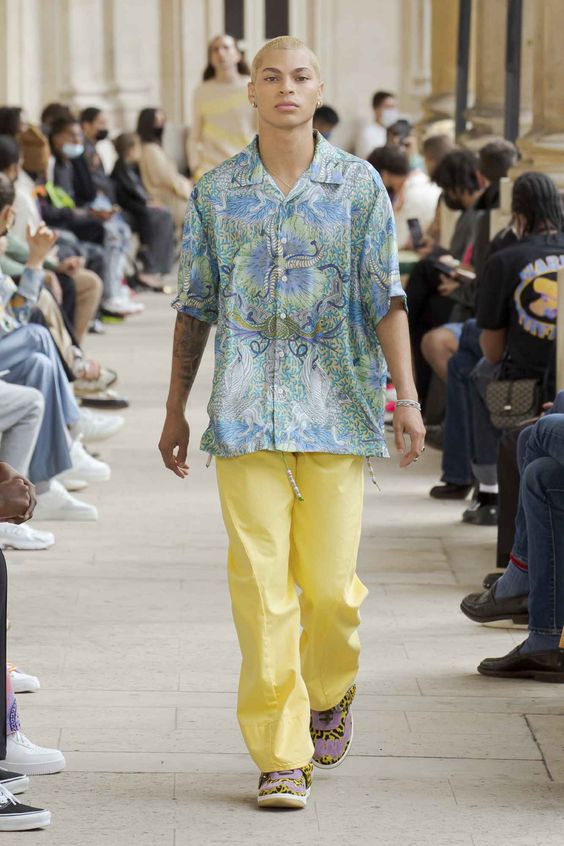 Bohemian is a style that has unique patterns, modes, designs, and colors scheme. This style usually comes with earthy tones and natural prints. For creating funky and trendy bohemian style in pastel clothing for men, try to wear a bohemian pattern in a pastel collared shirt and then match it with pastel yellow pants. Make this style seem chic in yellow violet loafer shoes.
Modest Pastel Gradient in Men's Fashion Style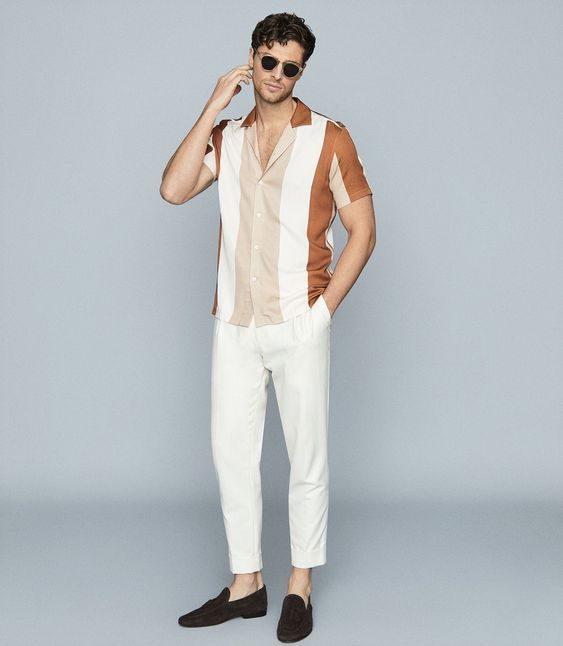 Having a pastel gradient in your men's outfit also could be the best pastel clothing style. Choose one pastel tone such as brown and get the striped pattern with different gradient brown tints to give you a modest pastel outfit style. Matching your pastel top with white neutral pants and dark brown loafers to make it look chic.
Pastel in Suits for Workwear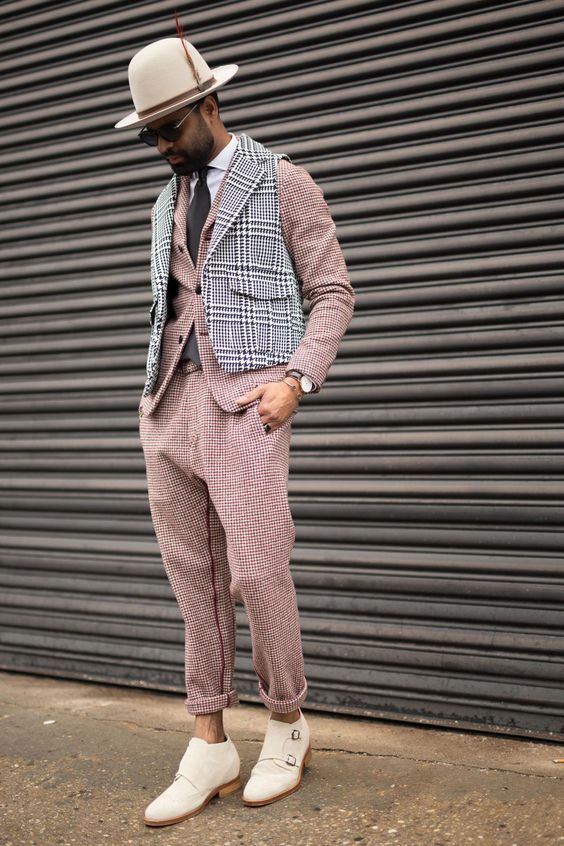 Bring pastel clothing in suits for preppy workwear in the office, determine pink flamingo and grey as basic colors in your outfit. Match up this outfit with a bowler hat and white monk shoes to astonish your appearance. In this pastel clothing style, you will look formal and prestigious.
Best Pastel Clothing Style for Hang Out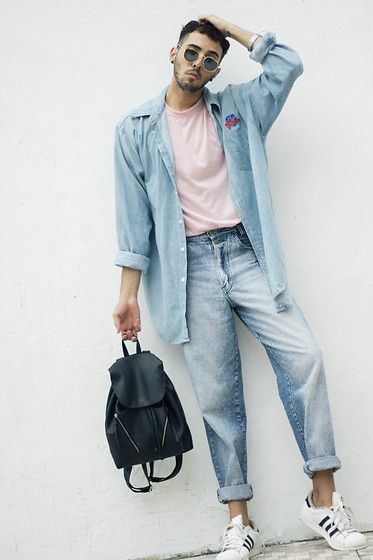 Find the best pastel clothing for men to hang out with friends with this outfit idea. Pull out your button-down blue pale shirt to cover your pink tee then get denim as for bottoms style. To make it chic, just have sneakers to the best footwear, then bring a black backpack. Accessorized with a simple watch and sunglasses. You will be ready to go cafe with your friends with this.
Hard Pastel Pink in Your Shorts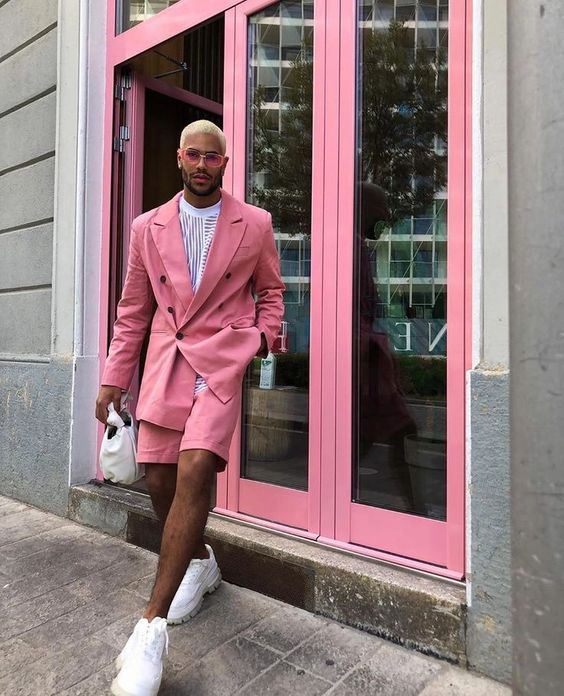 Hard pastel pink in your short suits has its point to amazing your look. This may be a little eye-catching but if you deliver it properly, you will get the chic style in men's pastel clothing. For example, you can combine these suits with a white tee and pair them with white trainer shoes. Matching up with your accessory obviously gives you a fashionable pastel style.
Trendy in Pink Pastel Denim Jacket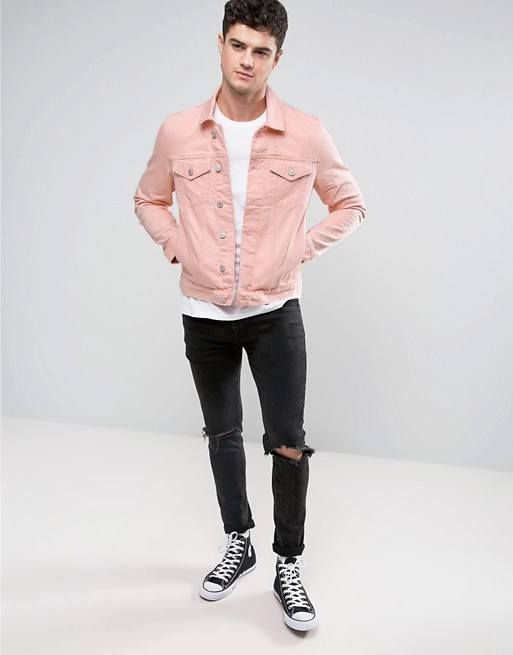 Pink in men's clothing idea, that may not look chic and trendy one time if you get this color scheme on a denim jacket. Put on a white t-shirt for the combo, for the bottom outfit you can bring black ripped jeans. Rather than trainer shoes or leather shoes, it would be better if you pick black sneakers to perfect your men's clothing style.
Nautical in Blue Pastel Shade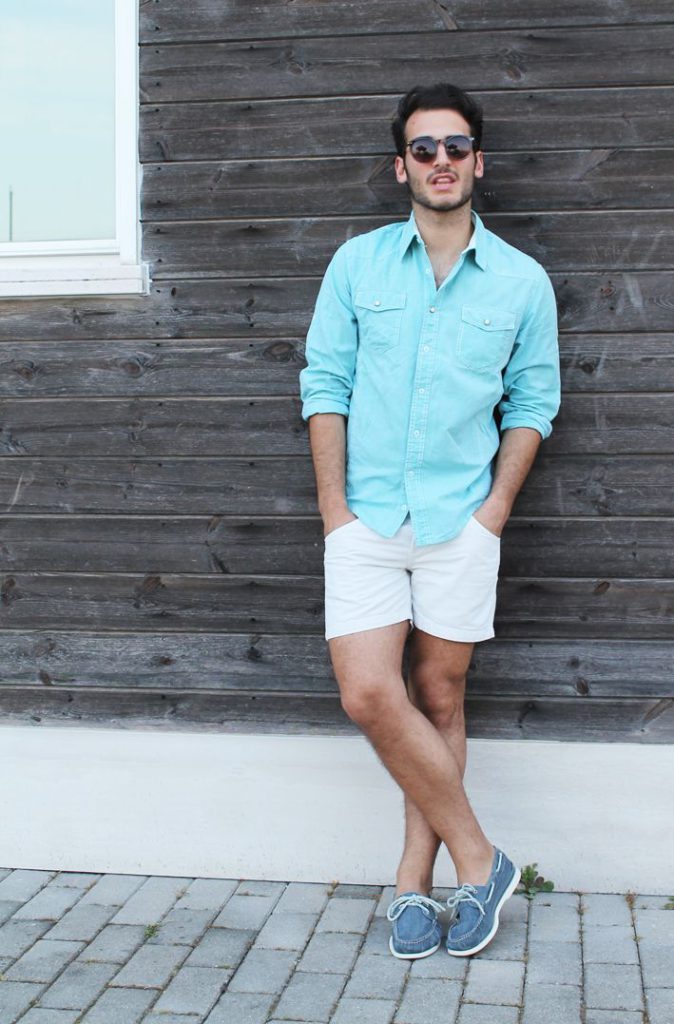 Get your summer style with nautical outfit ideas by using a light blue short sleeve shirt and white Bermuda shorts. Complete the clothing style with dockside shoes and sunglasses. Make this outfit your vacation style on the beach.
Tips and Tricks Match Matching Pastel in Men's Clothing Style to Look Chic
Choose your basic pastel pellet. There are two types of pastel color tones, they are soft pastel and hard pastel. You can pick one or more pastel combinations to form your necessary outfit shade. Don't forget to match it with your skin tone. This is important to select colors that harmonize and highlight our skin color.
Get the minimalist look. If you want to create an elegant pastel clothing style, just don't overdo to apply it to your outfit. Because of this, it would be better if you match up with a neutral shade like black or white.
Having color-blocking style. This is means you should combine more than two pastel colors in one outfit. For this, you can adjust soft pastel with hard pastel in one outfit and make a contrast.
Match pastel clothing with denim. This versatile piece would help you to get a chic and trendy style in men's pastel outfit ideas. You can select a denim jacket to pair with pastel items underneath or wear denim for the bottom outfit for pastel clothing style.
Get pastel clothing style in footwear and accessories. Besides having pastels on men's outfits, you can adjust the pastel style into your footwear like sneakers, and also your accessories like hats or bags.