Olidfashion.com – Welcome the spring by wearing your best outfit style. This time a little challenging for you to bring out a different fashion style after being stuck on bulky and oversized outfits for a while in winter. Start to open your wardrobe and come up with the best ideas for your men's spring fashion to look trendy in this beautiful season.
The Best Outfit Ideas For Your Trendy Men's Spring Fashion
Spring has a unique condition where it turns from winter to summer. In this transition season, you can feel the cold and warmth at one time. That's why you have to find the best ideas to obtain men's trendy spring fashion style for your wardrobe. You have to come up with outfits that could be used in cool and warm weather.
When it comes to spring fashion ideas, same as the fall outfits it's all about the multifunctional outfits. It means you should bring versatile pieces to your fashion design and the best way to wear them. In this section, I will help you to give tips on what you should wear in your men's spring fashion to look cool and trendy.
The Best Spring Outwear
We know that the best way to deal with the cold weather is by using outwear. Even though the temperature becomes warmer, it still chills on the outside especially in the early of the spring. Because of this, you still have to layer your outfits with coats, jackets, or cardigans.
Trendy in Brown Denim Jackets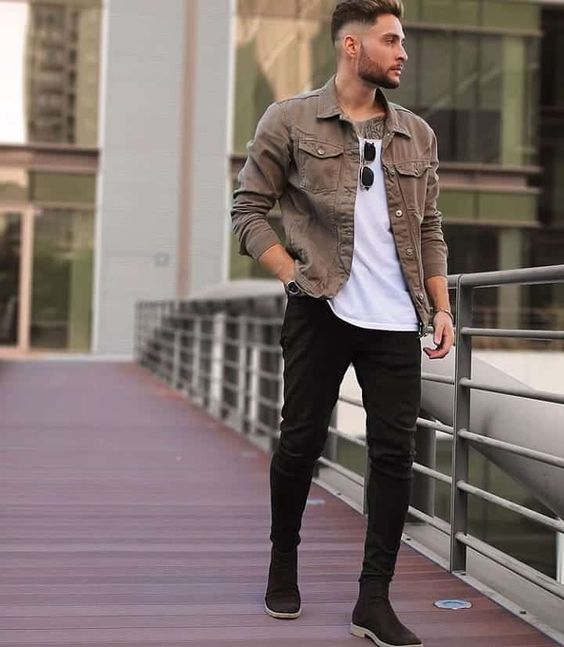 If you have a denim jacket in your closet, it's time for you to release it and make it your trendy spring outfit idea. Men's brown denim jacket as the warm component to combine with a white t-shirt and black skinny jeans. For the footwear, you can pick your favorite ankle boots. For perfecting your performance with simple accessories such watch and sunglasses. You are ready to go with the trendy style this springtime.
Varsity Jacket Style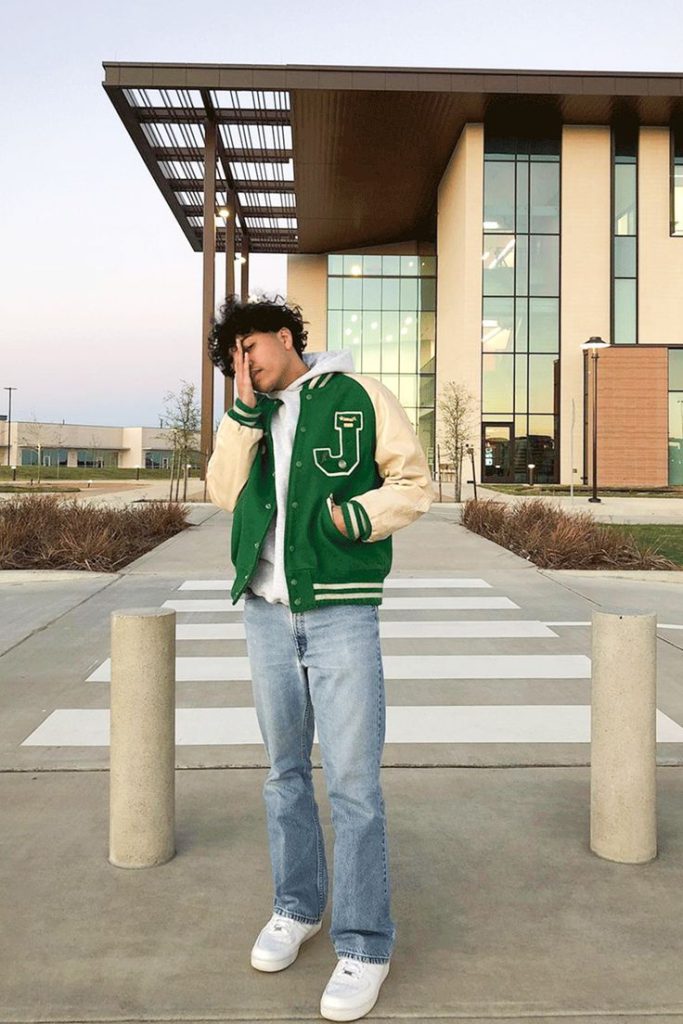 Another favorite jacket to create your best spring fashion ideas for men is a baseball bomber jacket. Bring out this stylish bomber jacket with a hoodie and straight jeans. Fulfill the outfit with trainer shoes, and it honestly could become your trendy varsity outfit style.
Cool in Leather Jacket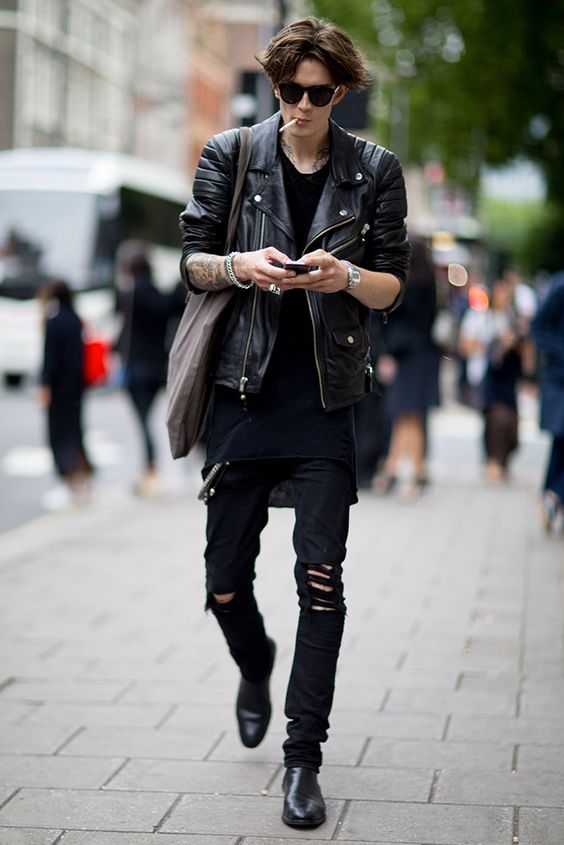 Want to look a little rock and roll, just try to have leather jackets and ripped jeans for your men's outfit idea. This outfit's combination would help you to look cool and trendy. When you add a long t-shirt and leather loafer shoes, it could bring your outfit to another level. Don't miss out on the sunglasses, silver accessories, and tote bag thet would make you become a cool man in the street.
Comfy with knitted Cardigans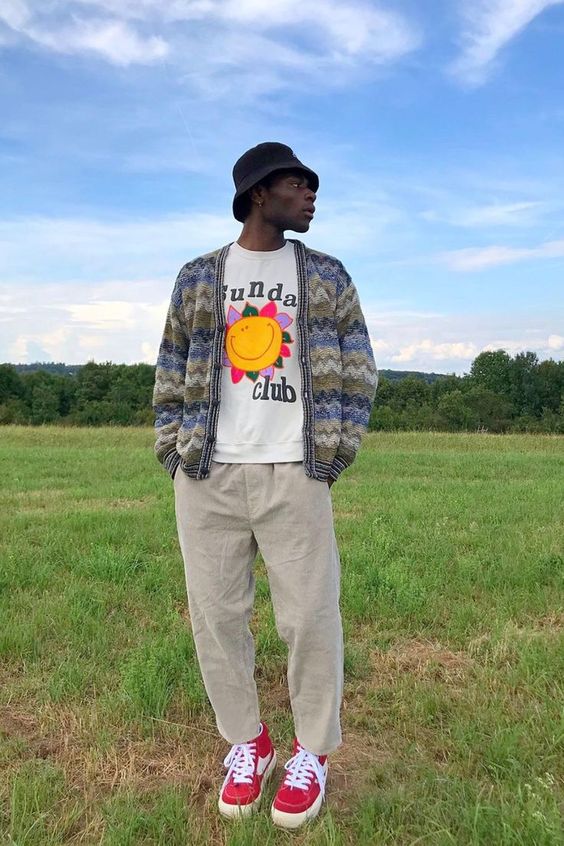 Have a comfy style in spring fashion ideas for men with a knitted cardigan. This is the most suitable outfit for you to face the beginning of a transition season like winter to spring. You can make this cardigan to cover your spring t-shirt and pick chinos pants for the bottom outfit. For footwear and accessories, select red sneakers and a bucket hat.
Stay Warm in Your Coat Ensemble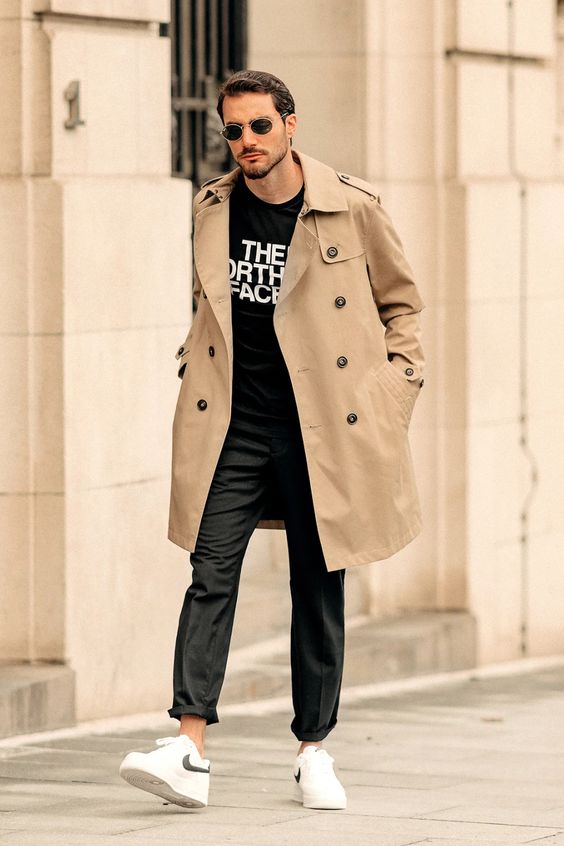 Whether it's fall, winter, or spring fashion style, coats are the best outfit to perfect your cozy outfit ideas.  You also can call it formal attire because it can be imaging a proper outfit to wear on business occasions. If you want to make your men's winter coat for spring fashion style, pair it with a t-shirt, trousers, and sneakers would be a good choice.
Most Suitable Spring Short Pants
When the weather starts increasing and closer to summer, shorts are suitable spring fashion for men to wear. When you can't wear it during winter, now you can mix the outfit with all clothes in your wardrobe.
T-shirts and Shorts is Basic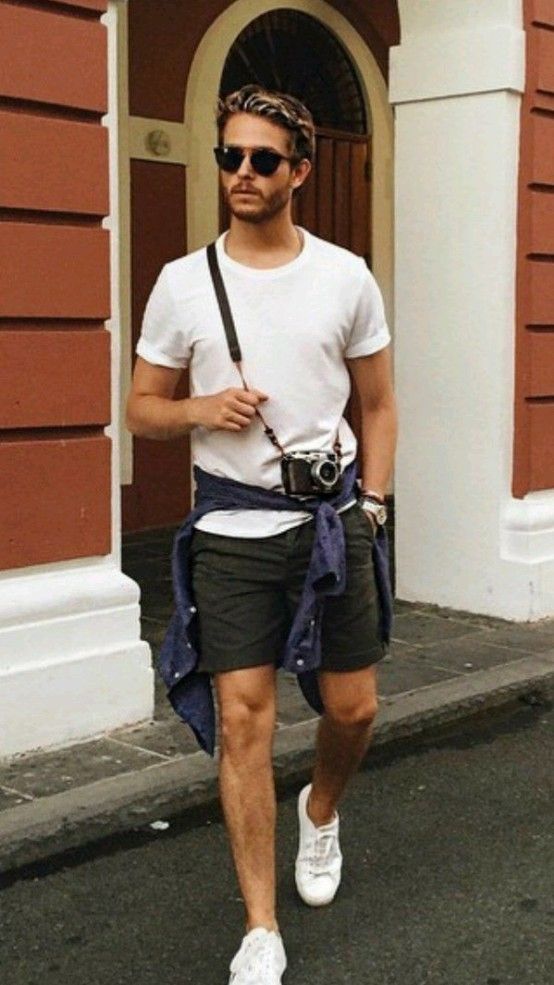 The simple and easy way to combine shorts is wearing a t-shirt for the top. Combine Bermuda shorts with a casual t-shirt and sneakers. To perfect the outfits, add flannel and tie it at the waist. Make this outfit your vacation style.
Shorts and Shirts
Choosing long sleeve shirts and shorts would give you a trendy and charismatic outfit in your wardrobe. It is also the best combination you should try in your spring fashion style. Pull out your cool side by having sneakers on your outfit ideas.
Cool in Hoodie Style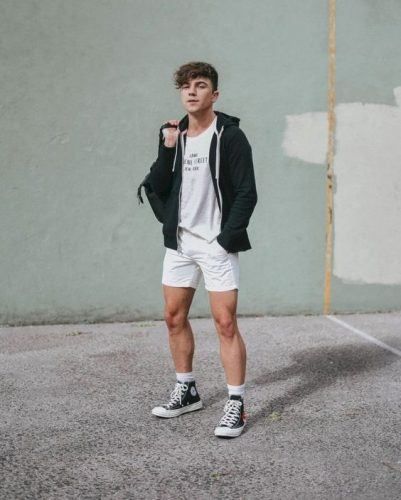 Want to have sporty and trendy style, shorts and hoodies should you make it the main outfit. This is simple but could give a huge effect on your trendy style. Try this outfit with your favorite sneakers and you will see how cool your spring outfit is.
Garden Party with Shorts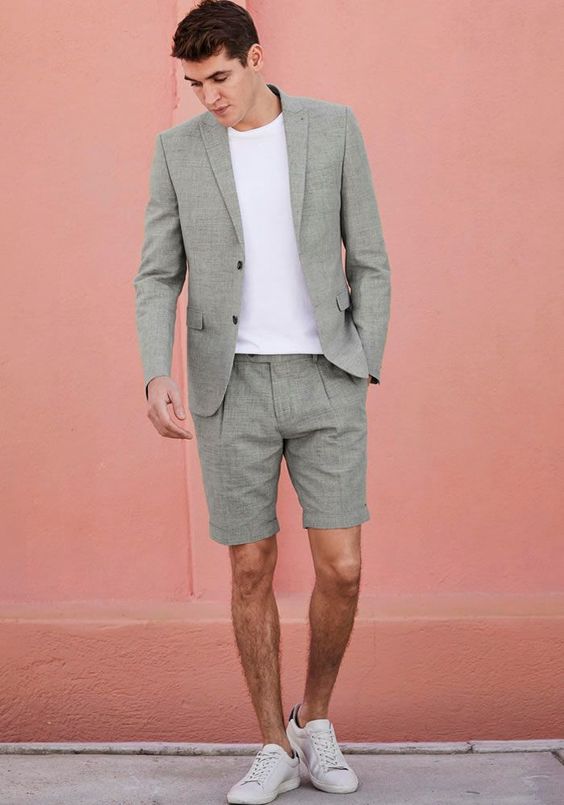 After the winter disappears and is now replaced with the warmer season, it's a good time to have a garden party. Bring a spring party in your outfit by wearing blazers, shorts, and sneakers. This would give a preppy, casual, and trendy style to your inspiring outfit ideas.
Denim for Trendy Spring Fashion
You know that denim is a favorable outfit for men that are required to point on in their closets. There are so many fashions you can get from this outfit such as jeans, denim jackets, vests, and others. Just make sure to seek out the best match matching outfits to gorgeous your appearance in spring/summertime.
Trendy in All Denim Outfit
All in denim by wearing denim long sleeve shirts and ripped blue jeans. Styling your outfit more fashionable by rolling up your shirt sleeve a little. Furthermore, complete your spring denim style by pairing it with loafer shoes.
Layered Outfit with Denim Vest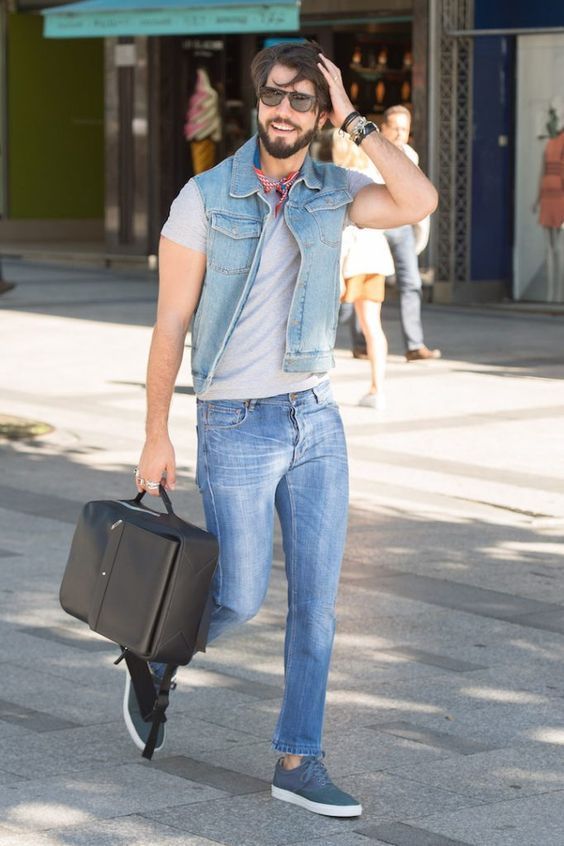 Layered your casual t-shirt with a denim vest could be an optional fashion idea for your men's outfit. For the bottom outfit just pick up common blue jeans and sneakers. As for complement, you can add some accessories like tying a little scarf around the neck and some men's jewelry.
Covering your Hoodie with Denim Jackets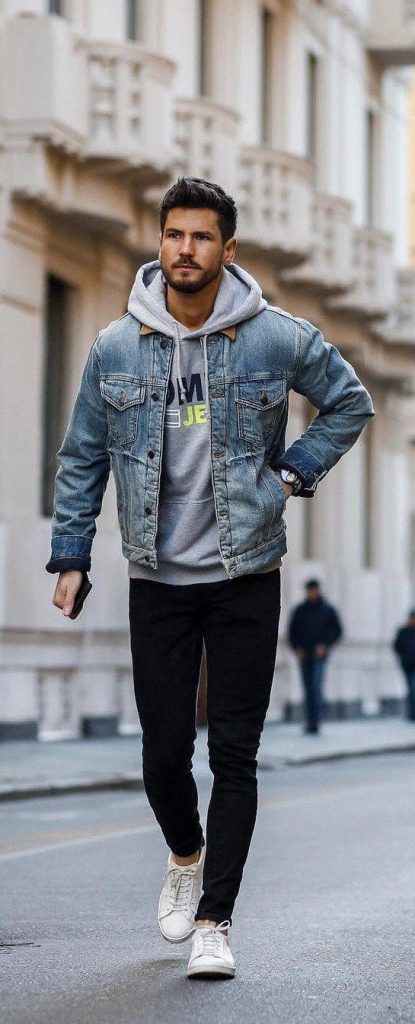 Another trendy style in denim jackets is a hooded blazer style. Layered your hoodie under your denim jacket and then pair with the black skinny jeans. For perfecting your cool outfits, pick sneakers and watch on your fashion ideas.
Polo T-Shirt for Best Top Outfit
Showing off your polo t-shirts in your spring outfit could be a good idea for getting simple style but fashionable enough. You can have classy, casual, even retro styles in a polo t-shirt outfit. Find out the best stylish polo t-shirt outfits below.
Classy with Plaid Pants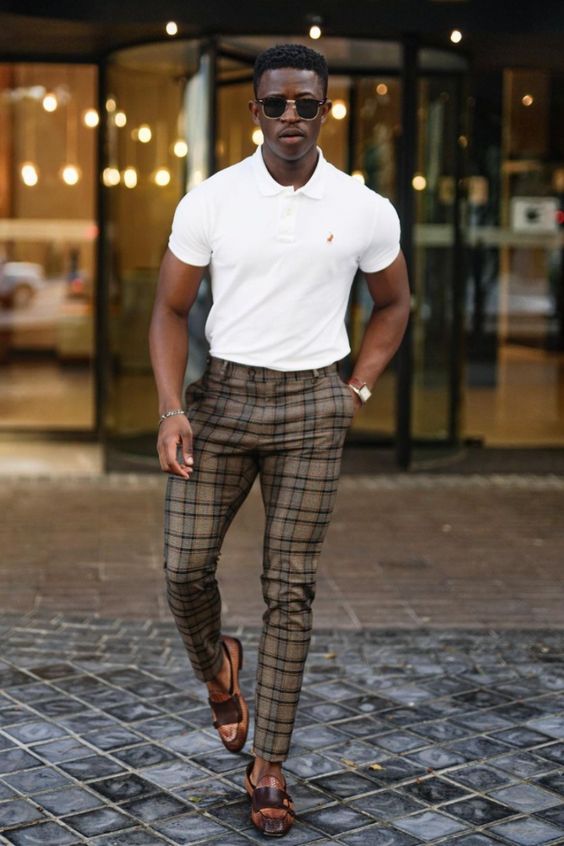 To get a little classy and casual style, pair plaid pants and polo t-shirts should you try on. Having white and brown on your outfits could give many concepts to your fashion style. Don't miss out to bring your favorite footwear to your classy outfit by choosing brown loafer shoes.
Simple Trendy in Pegged Pants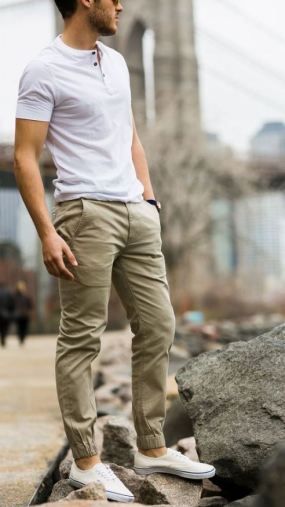 Want a simple trendy outfit in springtime, the pegged pants and polo t-shirt have a shoot. Designate in neutral and earth colors would make your men's spring outfits more simple bust still trendy to wear.
Best Combination Outfit with Denim Shorts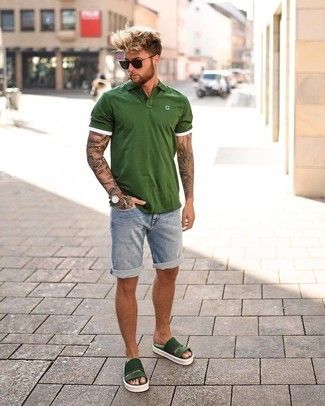 A pair of shorts and a polo t-shirt is the best combination of trendy spring outfits for men. Give a statement by wearing sandals to complete your casual spring outfit ideas. In the future, you can also choose green colors to draw spring season on your fashion.
Tropical Printed Outfit for Best Spring Fashion Ideas
Tropical printed outfits (animal or floral prints) have shown that you are particularly a fun guy. You can make this kind of shirt become your trendy spring fashion idea by mixing it up with the best color palettes and design outfits.
Floral Printed Shirts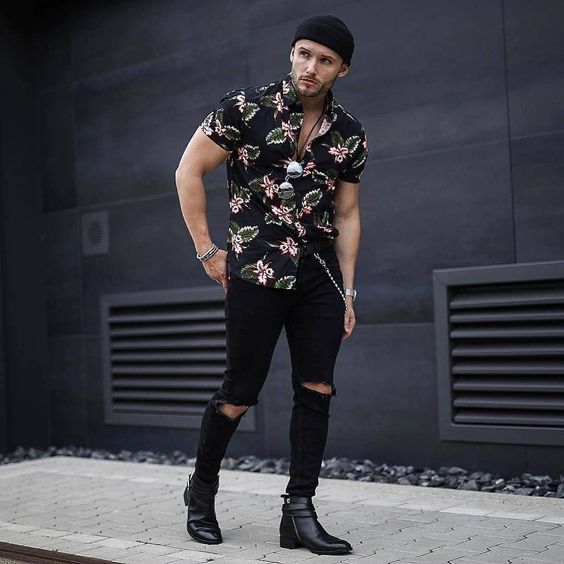 The floral pattern on your black shirt would bring a new bloom season to your men's outfit ideas. Nowadays, even men could still use floral printed and look trendy on it. This doesn't give an odd effect to your men's outfit style but precisely gives more masculinity to it. As long as you can find the best fashion ideas, such as having black as basic colors this outfit could make you look cool.
Animal Printed Outfit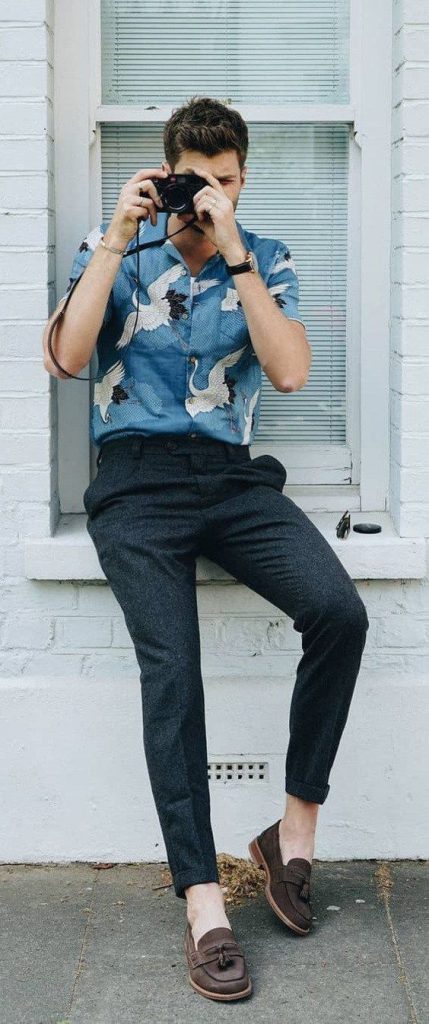 Aside from floral patterns, you can try to apply animal pattern shirts as trendy spring fashion ideas for men. For example, you can choose bird patterns on your blue shirts that can draw nautical nuance on your outfits.
Pink Tropical Shirts and Tonal Shorts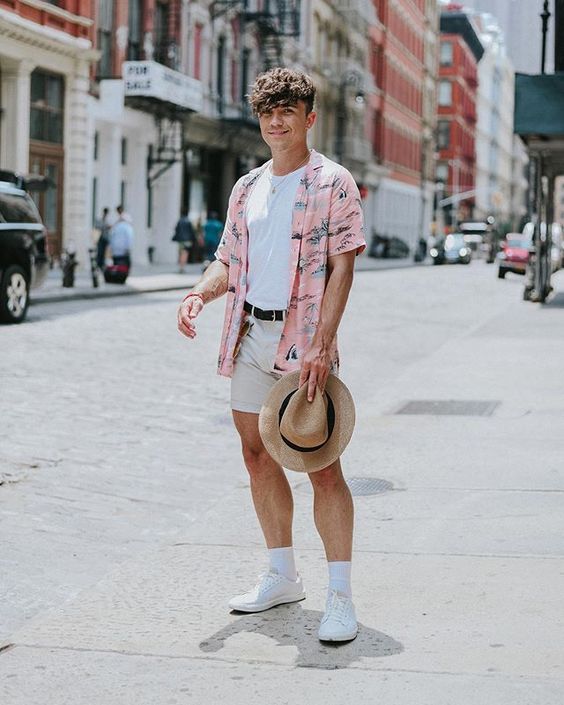 Give a more tropical vibe in spring fashion ideas for men to have a warm and trendy sense by combining pink tropical shirts and Bermuda shorts. For the footwear, choose white socks and sneakers. For more tropical, bring a straw hat in your spring outfits.
Smart Casual in Spring Style
When you want to have a smart casual outfit as your fashion ideas, you can have shirts, blazers, cardigans, and suits as the component. For a casual accent, you can match the outfit with sneakers and a t-shirt.
Casual in Shirts and Cardigan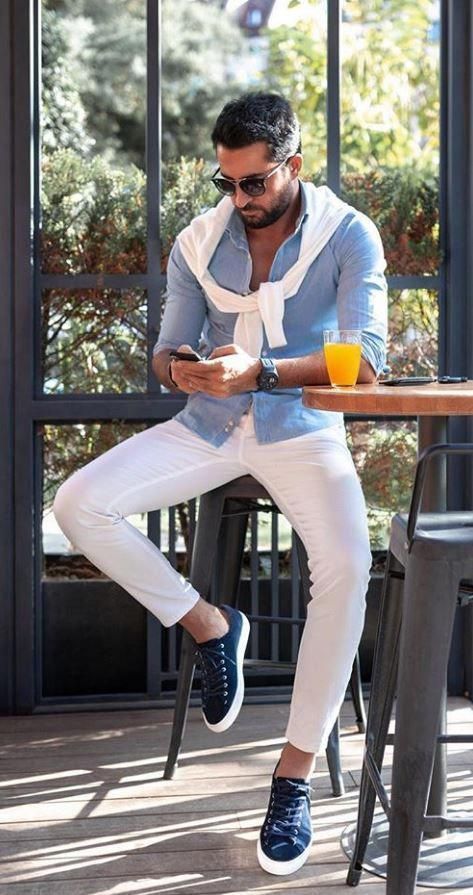 Give a shot to your shirts for presenting the smart casual style in your men's spring fashion ideas. Hitting your pale blue shirts with neutral-toned outfits like white chinos and cardigans. For the footwear, bring navy blue sneakers that could perfect your style. As an option, rather than apply the cardigan to cover the shirt, you can hang on it around your neck.
Have Your Nautical Outfits
Get your spring outfit ideas in nautical style with the strip t-shirt and blue pants. To have a smart-casual style on it, layering the outfit with a blue blazer. For the best footwear, blue loafer shoes are the complement your style.
Preppy Casual in Suits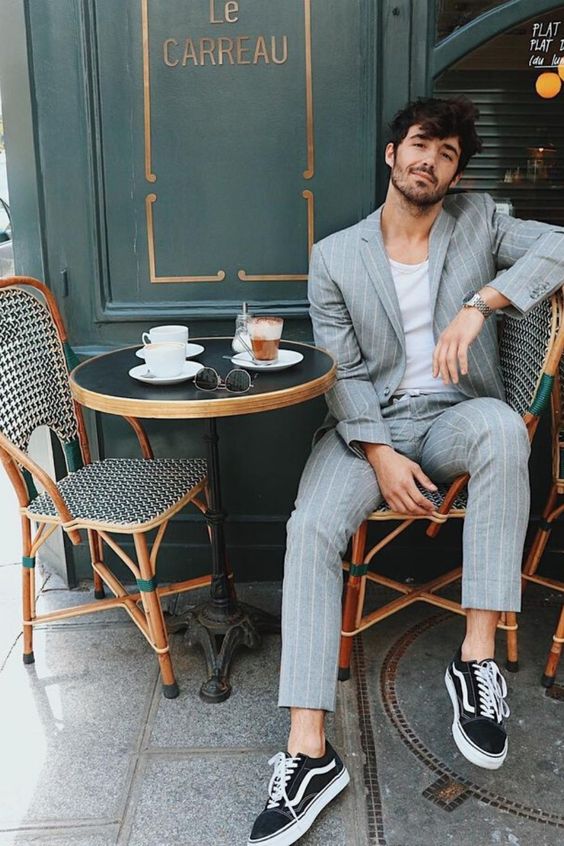 Bring preppy casual style in your men's spring fashion ideas in suits and t-shirts. Choose strip grey suits, a white t-shirt, and black sneakers that could make your presence more trendy and cool.
Sporty Casual in Sweatpants Outfit Style
Spring brings more fashion style to your outfit, and one of the favorite ones for men's fashion ideas is sporty style. When it comes to sporty design, sweatpants can pull out this idea more.
Bomber Jackets and Sweatpants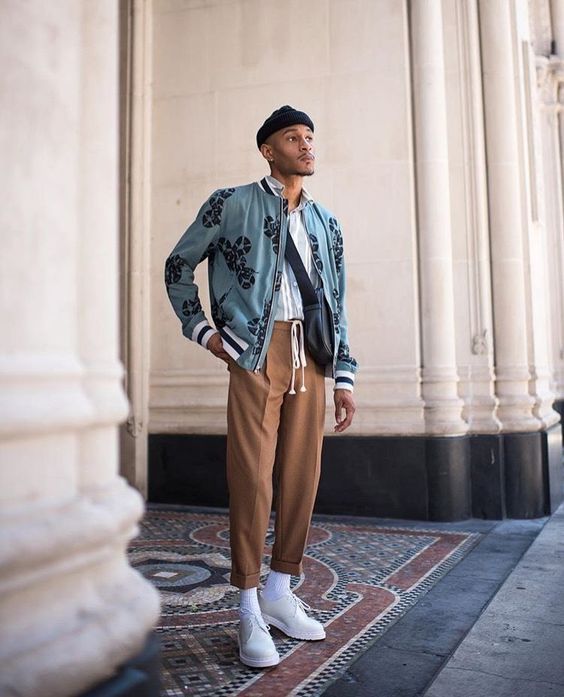 Bomber jackets and sweatpants are the best sporty outfits to wear this spring. It gives you a comfortable feeling in the transition seasons. To have fashionable outfits, you can add trainer shoes, beanie hats, and then have a sling bag as the finalize.
Men's Tank Top and Sweatpants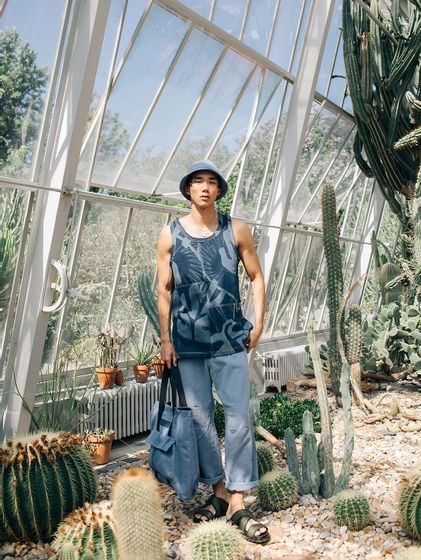 Give a statement on your sweatpant by matching it up together with the men's tank top. It's good to wear when the temperature has higher and gets near to summer. The best accessories to come up in this outfit are sandals, tote bags, and bucket hats.
Trendy Spring Fashion with Cargo Pants
When you want to have more masculinity to your trendy spring fashion ideas, cargo pants could help and it's a very suitable outfit to choose. You can have it with other manly pieces such as denim jackets, t-shirts, and hoodies.
Cargo Pants and Ripped Denim Jackets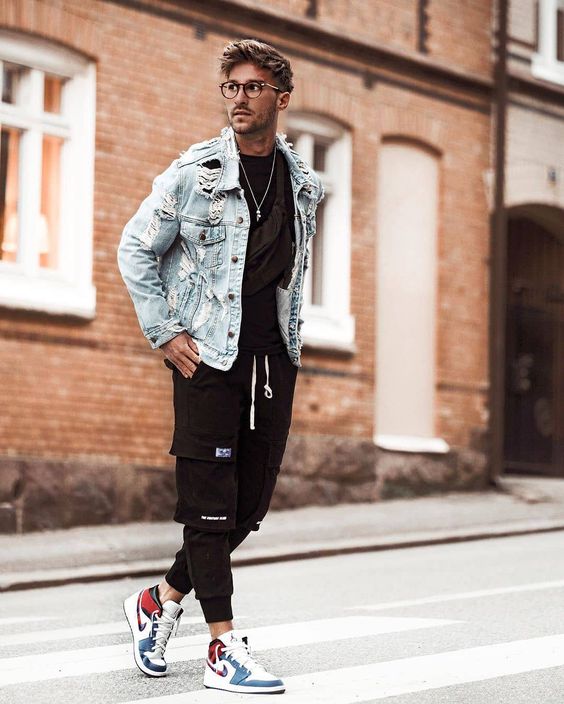 Surprisingly your cargo pants never fail to give you a trendy styling outfit. Especially when you combine this outfit with ripped denim jackets, black t-shirts, and trainer shoes. This truly helps have a cool image this spring. Adding simple accessories like silver jewelry, glasses, and waist bag will complete your performance.
Cargo Pants and Hoodie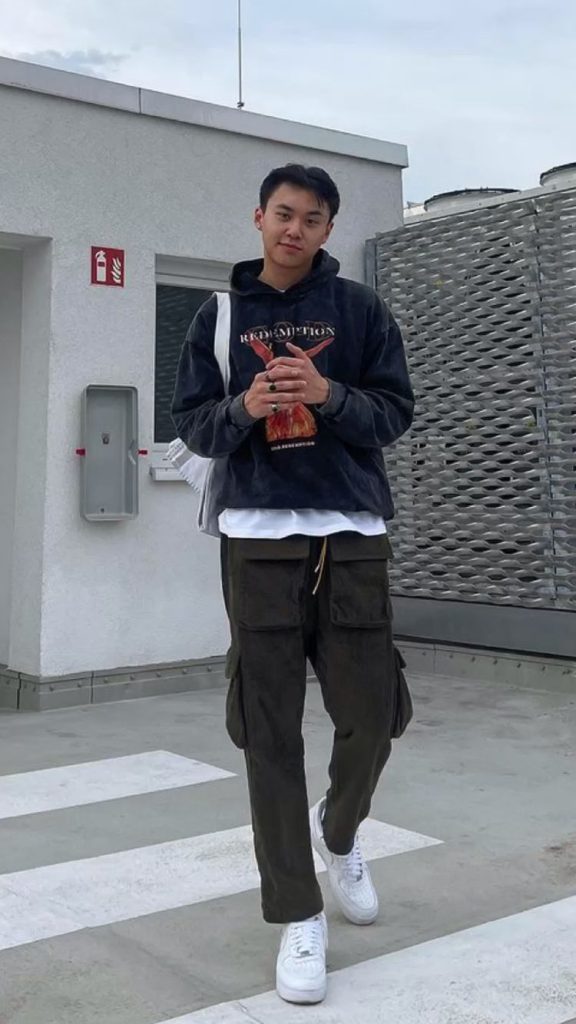 Another way to bring your trendy cargo pants into spring fashion style, you can mix them up together with a hoodie. To create a little retro style, bring a shabby hoodie to cover your t-shirt. As for the footwear, trainers shoes always have a place in your sporty style.
Colorful Spring Outfit
Break out your boring dark color palette from trendy outfits, and let's change it into a colorful outfit style. Don't be afraid to have some experimental colors combination on your men's outfit ideas.
Red Cardigan in Your Preppy Outfits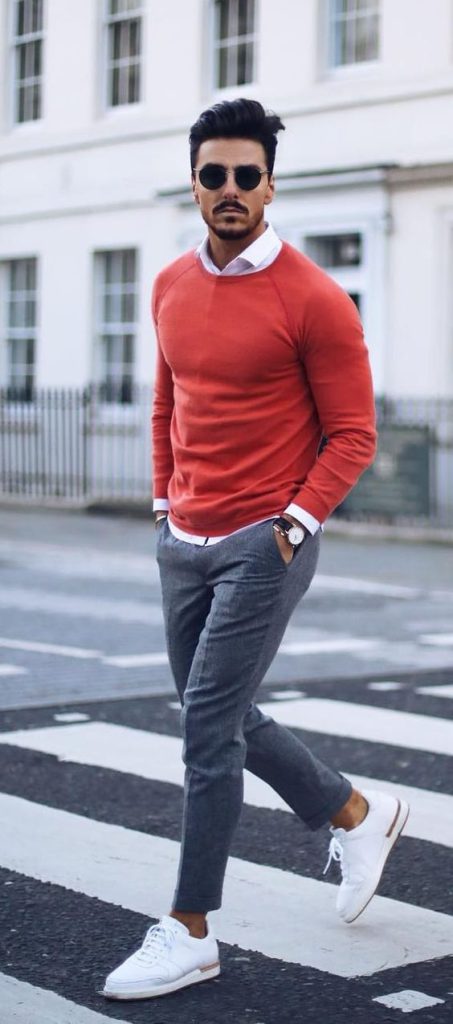 Red colors are surprisingly fine enough to apply to your gray outfits. It's really getting into your trendy style and bringing new touches to your outfit. If you want to deliver a preppy look, just select a sweater for layering your shirts. For a casual glance, complete the outfit with sneakers or trainers.
Pastel Colors T-Shirts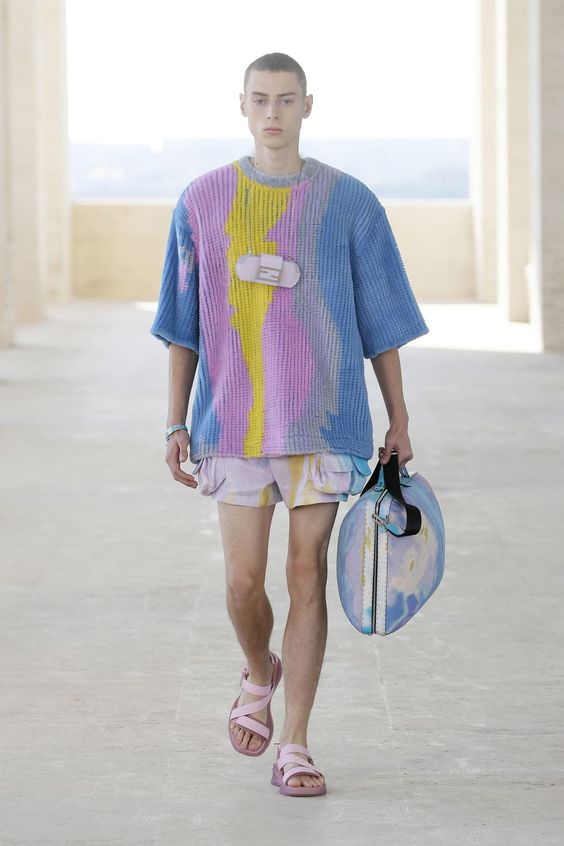 Don't you think having pastel outfit ideas in your men's fashion would be good?. This season is a chance for guys to accept new challenges to make their outfits being more fashionable. Get these faded pastel colors like pastels tie-dye on your sweater and shorts. Besides that, pastel shades can also involve on your sandals and bags.
Colorful Sweaters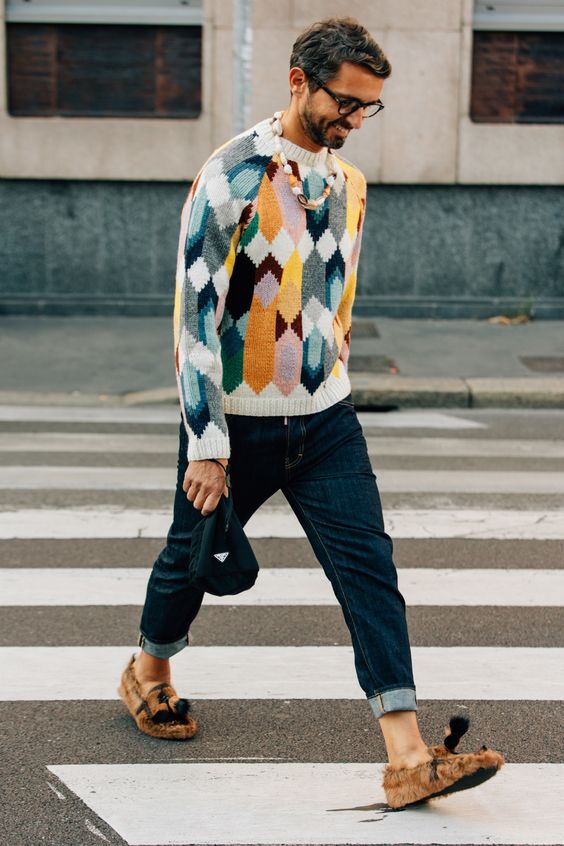 Another colorful fashion idea to bring out in your outfit is by wearing a tonal sweater. Combine this outfit with black jeans and a fur loafer to have a unique but trendy style in your men's outfit.
Styling Your Red Chinos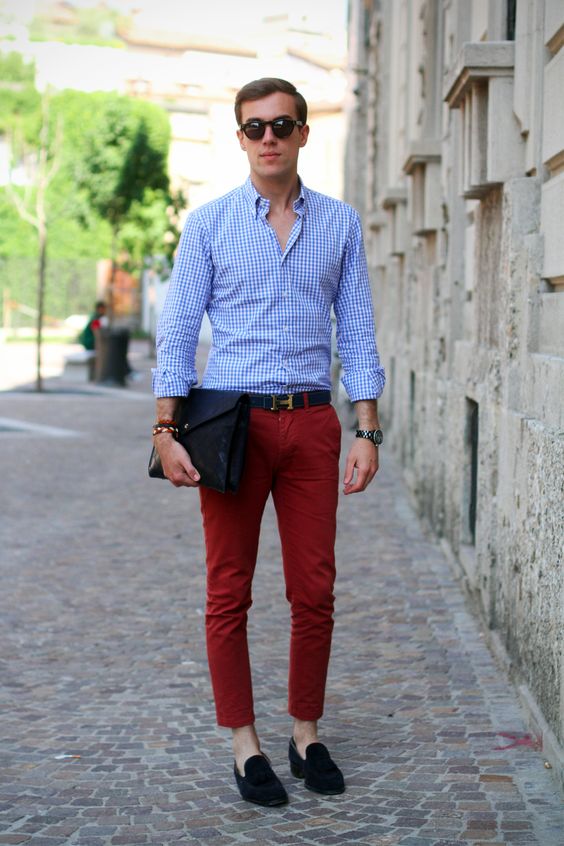 Styling your red chino for your preppy workwear in the office by mixing it up with a blue gingham shirt. Don't forget to give a little more detail such as black loafer shoes, belts, envelope bags, and other simple accessories that's make you ready to have trendy style at work.
Oversizes Outfit on Your Spring Fashion
When you try to avoid chill weather in spring with your outfit, choosing oversized outfit ideas is also good to try besides jacket and coat pieces. Find the best combination with oversized t-shirts, pants, or baggy sweaters to build up your spring fashion trends.
Monochrome Black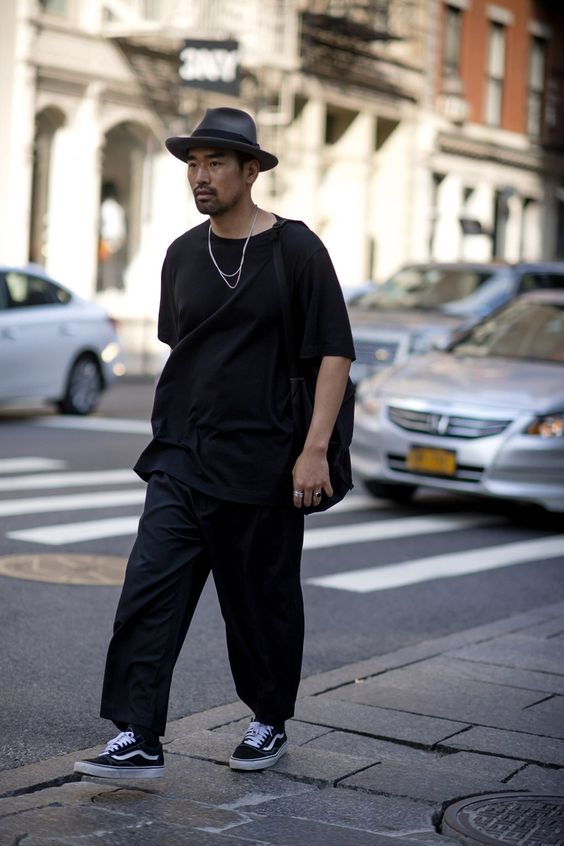 Appear in monochrome black with a black oversized t-shirt, baggy pants, and sneakers to create street style. Get more trendy fashion style by giving simple jewelry, fedora hats, and tote bags into your black outfit.
Oversized Floral Sweater Vest
For a unique style in your spring outfit, an oversized floral sweater vest could be an election to stun up your appearance. To avoid an odd fashion, just try to fuse mint green and neutral tones to the outfits. These color schemes also bring spring nuance to your fashion ideas.
Baggy Sweater and Pants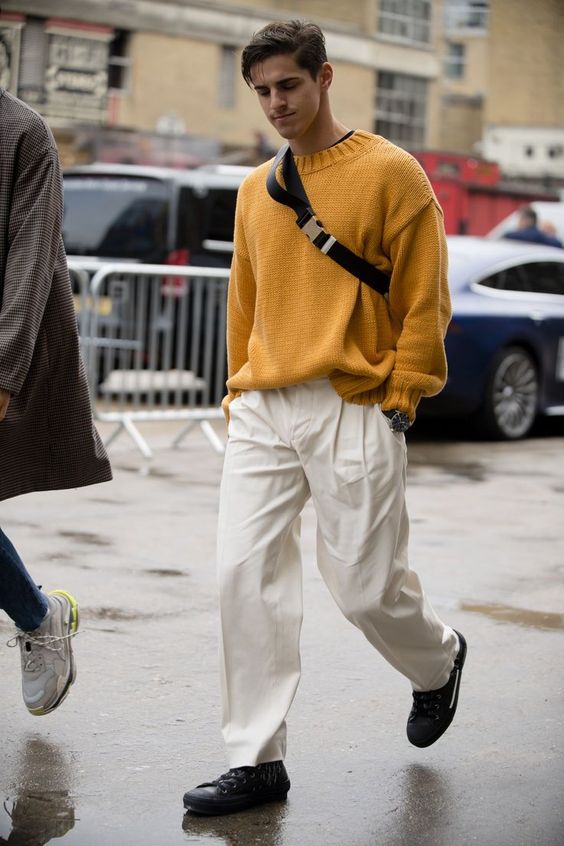 Another baggy outfit to bring up this spring is by mixing oversized sweaters and chinos. Coming up together with the black sneakers and waist bags actually fetches a trendy look in your men's outfit ideas.