Olidfashion.com – Every season has its inspiring style and design in fashion even the winter season. When the cooling weather comes, you need to start finding men's coats and jackets to keep you warm and still be fashionable. There would be more modes and designs that you will find in winter coats and jackets for inspiring your winter outfit.
Inspiring Winter Coats and Jackets for Men
Looking cool and warm at one time would be a little challenging for choosing your winter outfit. As a gentleman, you need to highlight your identity in your outfit in the cold season.  You should find the right clothes that keep you stay warm inside but fashionable outside. For example, you can choose winter coats and jackets to inspire your fashion style. We have discovered some stylish women's winter coats and now we'll help you find some inspiration for men's coats.
1. Long Leather Coat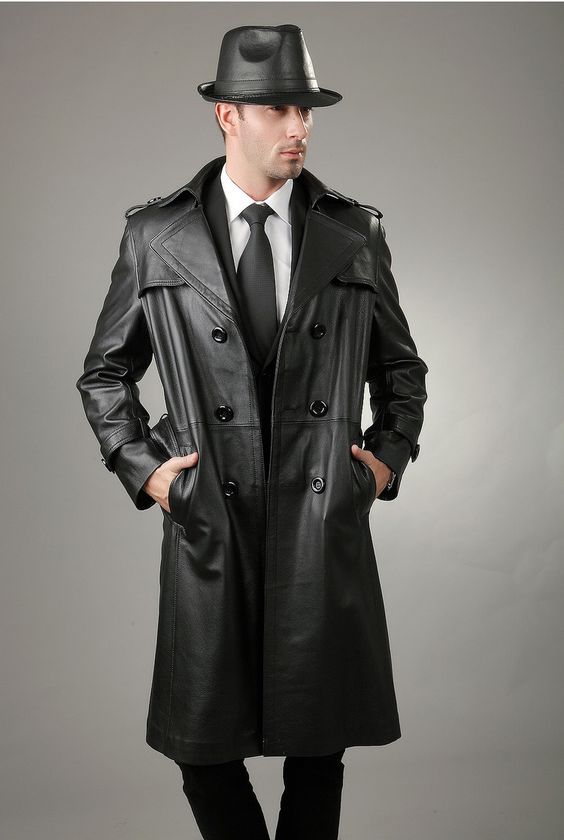 If you want something that looks elegant but manly, you can use a long leather coat for your inspiring winter outfit. This coat is also great on a formal outfit and gives your style up to the next level. Getting soft leather as a coat is great for you who live in an area that is not too cold or use it in the early winter season.
2. Trench Coat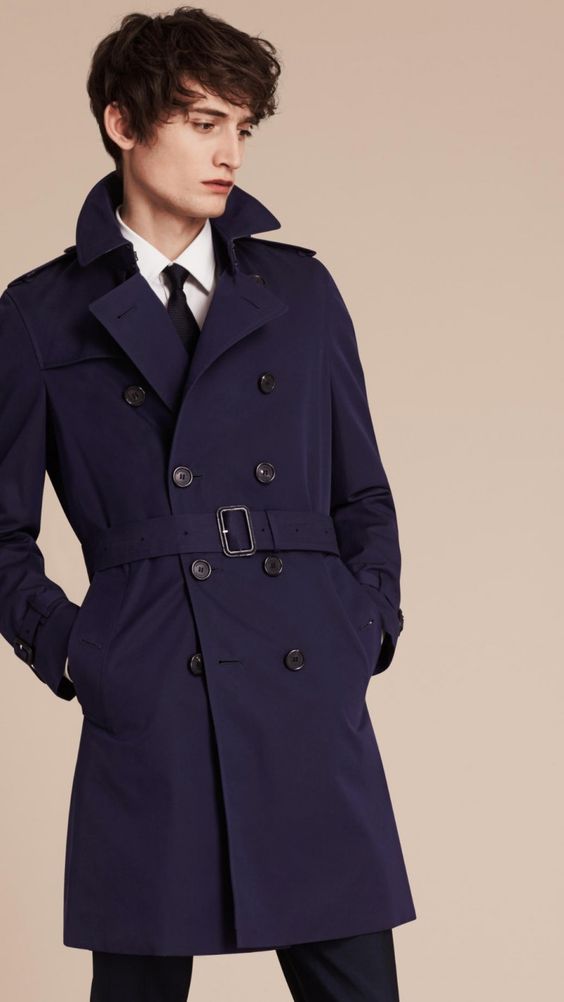 A trench coat will help you stay warm and stylish in one outfit. Using a waterproof material, this coat keeps you away from harsh winters wheater with a lot of snow and cold rain. In addition, this style makes you look slim by using a black base color which can be combined with all outfits in your wardrobe.
3. Blue & Gray Single Breasted Coat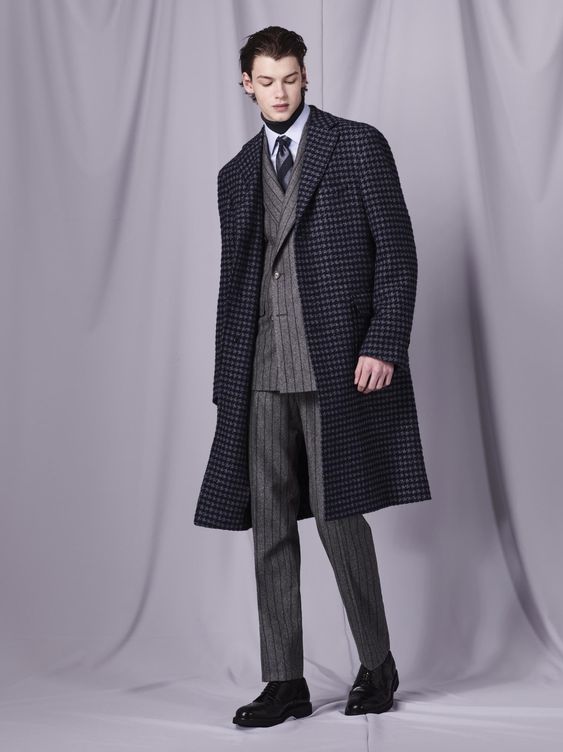 A single-breasted coat which is crafted from wool with a blue and gray color combination that is good for business manswear. Besides giving you a conservative impression, this kind of coat would help you look stylish in your formal uniform. Pairing blue and gray colors for your winter coat will play well to make your winter outfit seem beautiful and have matched with other outfits.
4. Padded Modern Jacket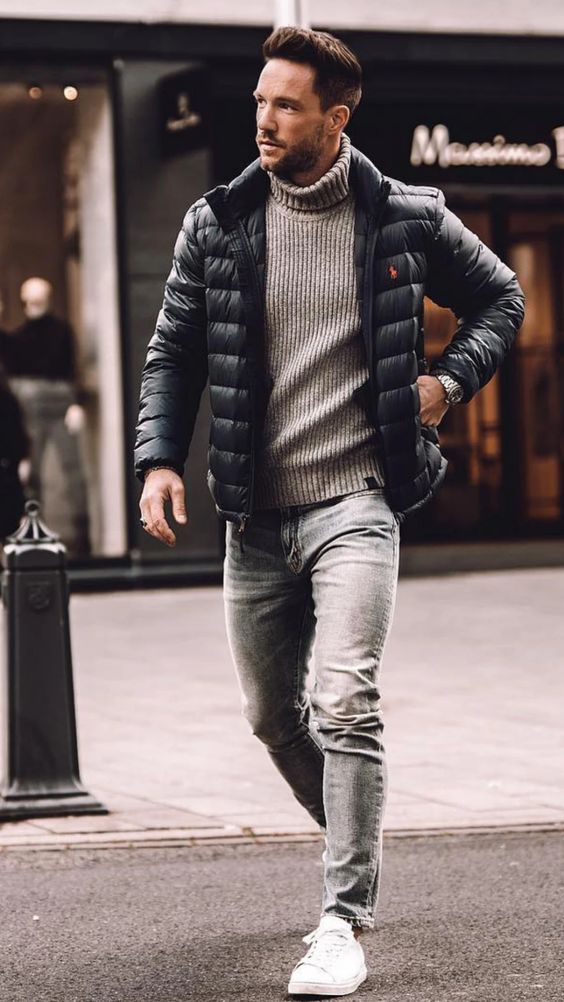 Padded or puffer jackets would be good for you to deal with extreme frosty winter weather. This jacket is suitable for those who have more activity outdoor because of its comfort and ability to keep away the colder weather. Made with water-resistant material and filled with goose feathers or synthetic fiber is appropriate to allow you from freezing. Choosing the right color like black and inspired design with today's trend would make your winter outfit more trendy.
5. Blazer Jacket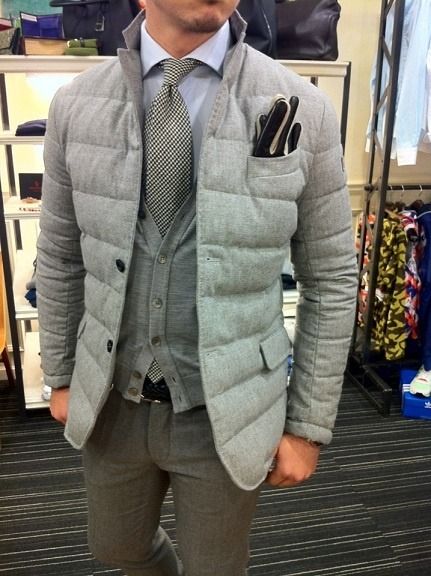 Exaggerate your formal appearance using a blazer jacket to inspire your winter look more elegant and dignities. If you are bored using a common coat in your formal outfit, try to choose blazer jackets as an option. Choosing the right basic colors like gray would match well with various other shades in your winter outfit.
6. Long Monochrome Coat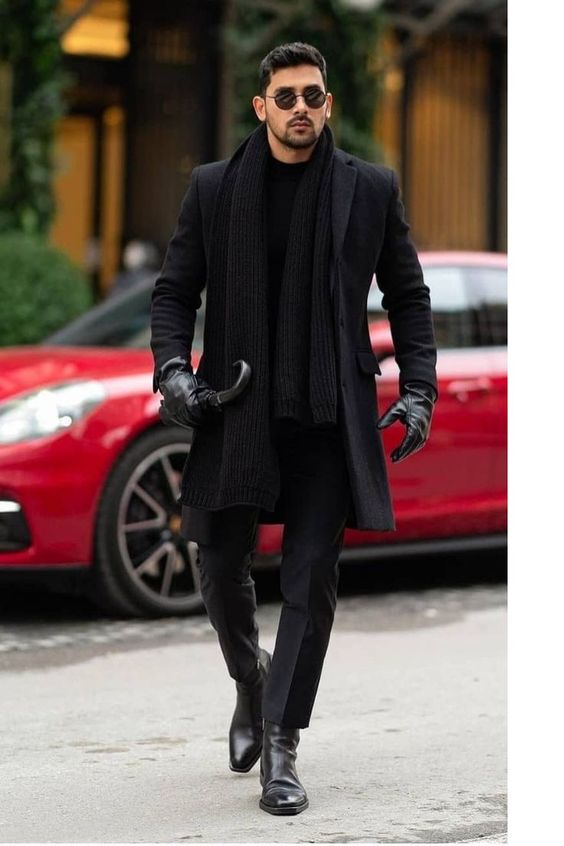 A monochromatic design like all in black wouldn't fail to make your style seem masculine and trendy. When you implement this design on your winter outfit, it will higher your fashion's value and inspire you to look cool. Black suits with black coats and give some black accessories in your winter style would help the monochrome design stand out making it not so boring.
7. Jeans Denim Coat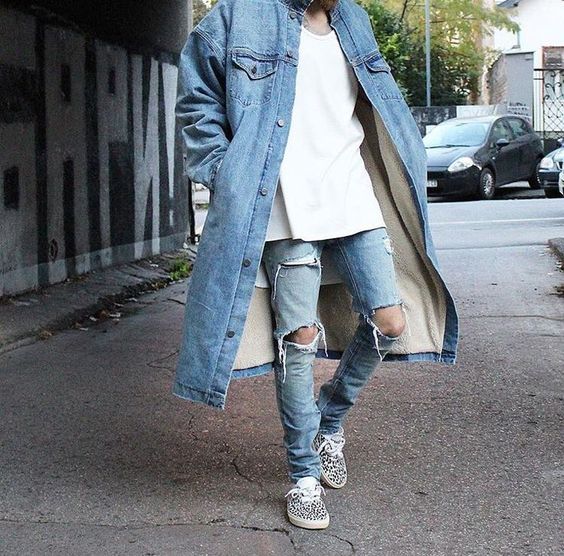 The most essential wardrobe that mans should have to inspire their outwear is a denim jacket. You can still be fashionable with your jeans even in the cold weather. Wearing jeans coats would impress the casual dress code on your winter outfit. You can become a style star this season by combining denim jackets with a hoodie that will stand out in your cool side.
8. Plaid Coat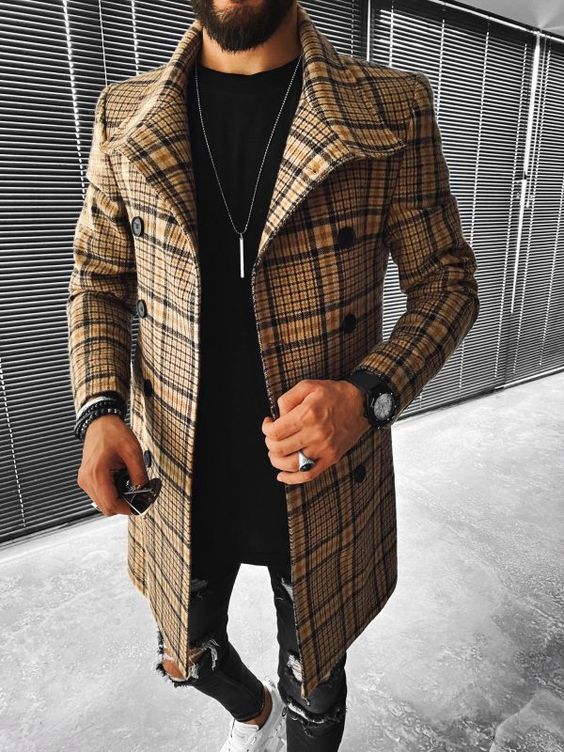 Plaid never goes outdated and becomes a good style in your outfit. Instead of choosing black, navy, or basic monochrome colors, you can give a new style to your winter outfit using a plaid pattern. If you tend to wear black outwear, using brown plaid coats will lighten your style mood and complement every suit in your wardrobe.
9. Long Sleeve Hooded Jacket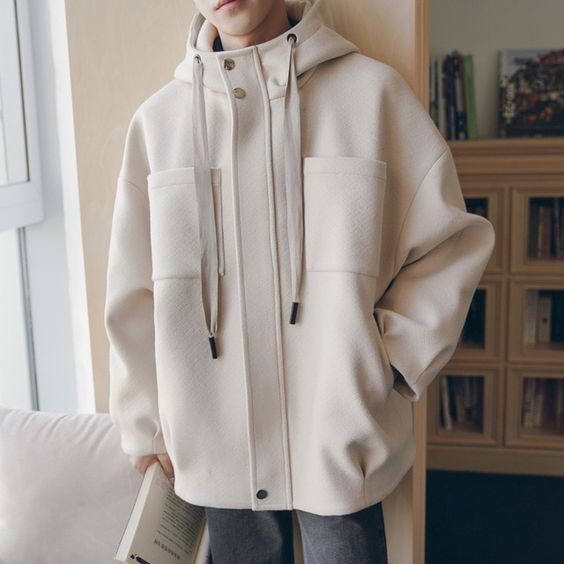 This is the best warm men's jacket that would keep you stay out from weather freezing in the winter. Made from high-quality wool or synthetic fabric with a lightweight coat make long sleeve hooded jacket is more comfortable to wear. Using light colors like cream or pastel make it great for casual daily life in the winter.
10. Shearling Coat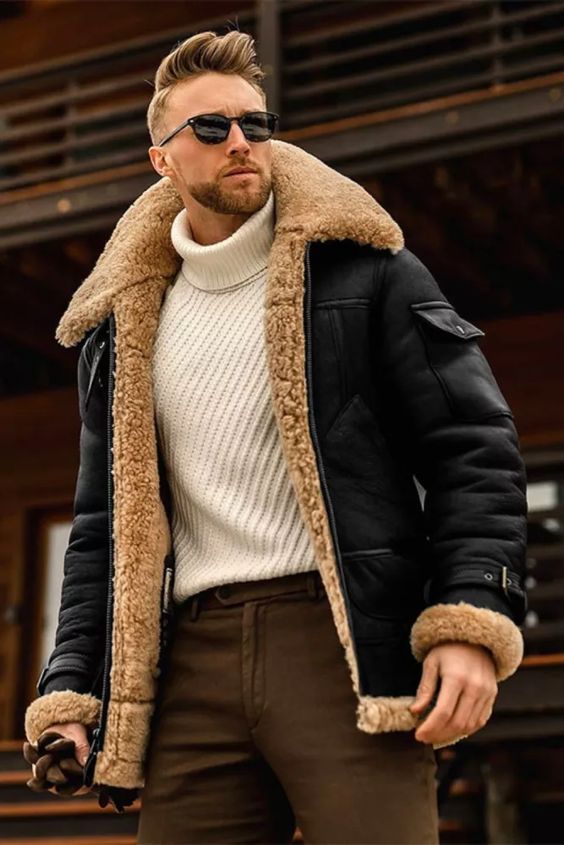 This coat is made from sheepskin that would represent luxury and stylish in one piece of clothes. Crafted through natural materials, shearling tanned with its fleece side intact will bring warmth, elegance, and luxury in its entirety to your winter outfit. This would be a good choice to hight the point of your masculinity in fashion.
11. Military Oversized Coat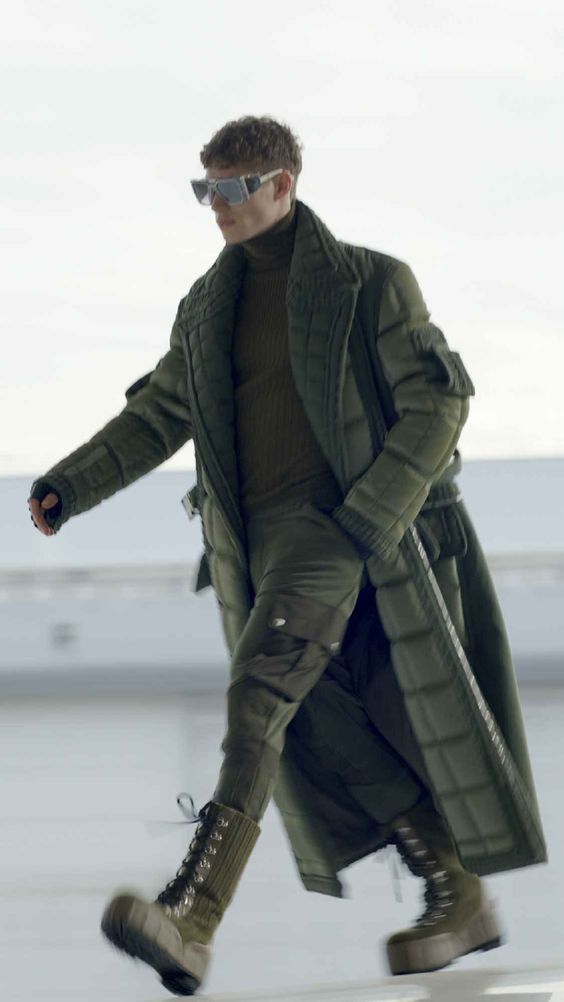 Adopt from the military concept would give you a very masculine vibe on your winter coats. Designed with the oversized large with the green khaki color would give modern style to your outfit. This coat would make you seem more tough and strong as a gentleman.
12. Woolen Overcoat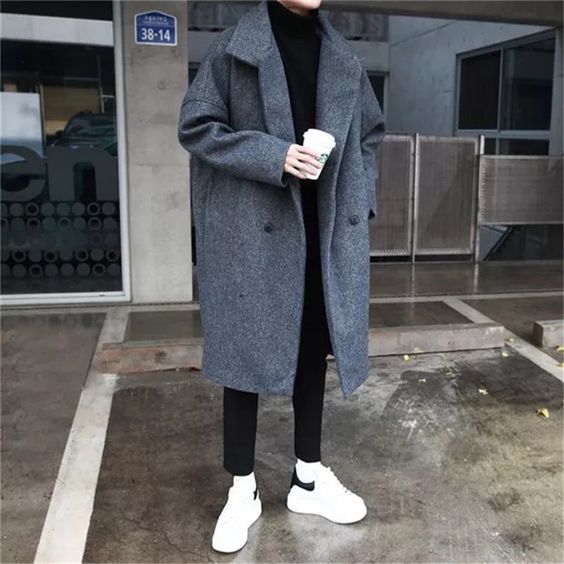 For those who want to keep warm outside, a woolen overcoat would make you feel cozy in the wintertime when you do the activity outdoor. Crafted with wool material, woolen overcoats become essential in your wardrobe for years. It's also great to match with your formal or casual winter outfit.
13. Fox Fur Coat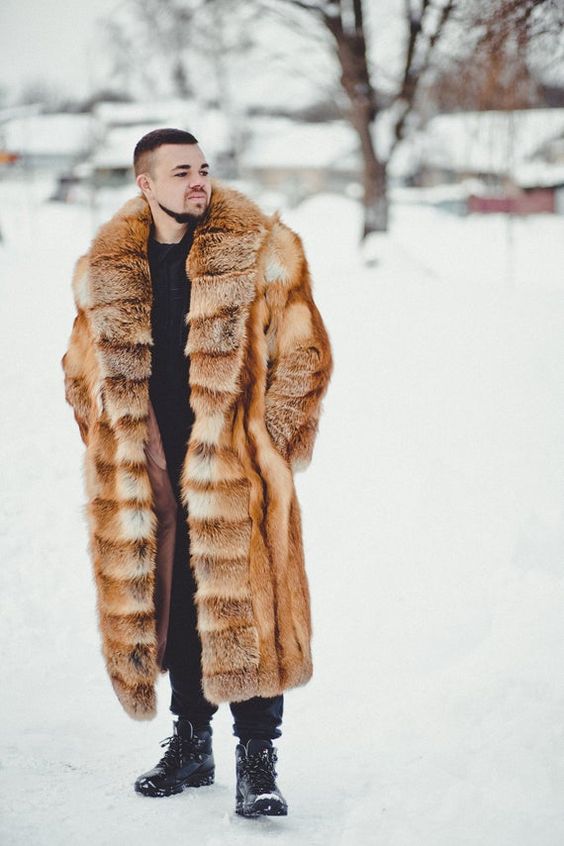 Draw your presence using a fox fur coat in your winter outfit. This gorgeous fur coat would give you a fluffy and glamorous style that is perfect for the winter. Because of made from high-quality material, it would be durable for your daily wearing. Don't miss out to get this coat in your wardrobe.
14. Duffel Coat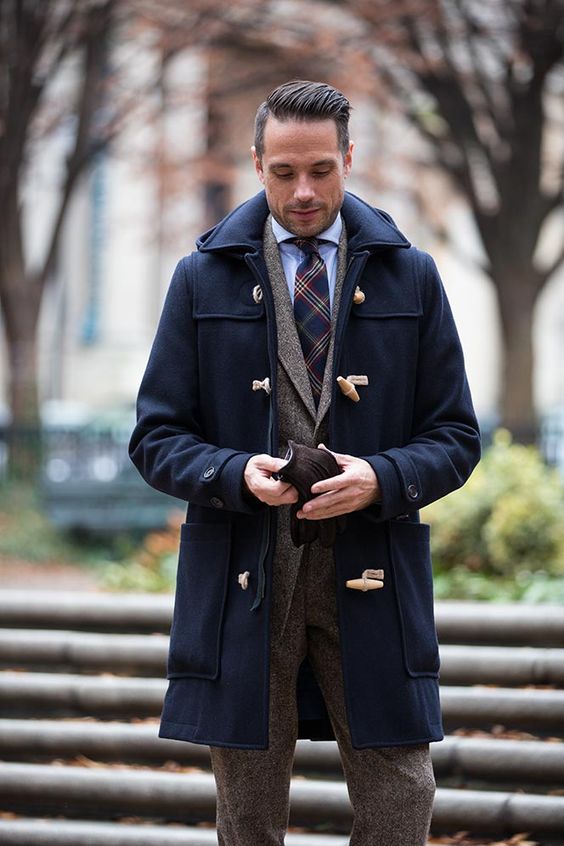 A duffel coat will give you a vintage look on your winter outfit. This is a good-style winter coat that is timeless and gives you a deep classic impression. You will be brought back to the 90'th century but still fashionable by using a duffel coat that combines with your suits to perfect your appearance.
15. Vintage Long Coat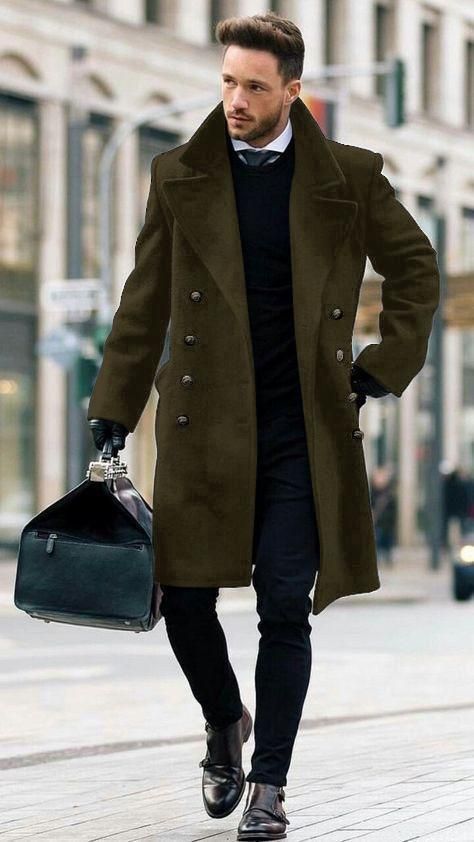 Wearing vintage coats will give you a unique style and great inspiration from old fashioned that combine with the modern fashion style. Bringing classic style back to your winter outfit using vintage coats would be a great idea. Giving retro vibes would remind you about the passing time and it's impressing you with an elegant but not outdated style.
16. Knitting Jacket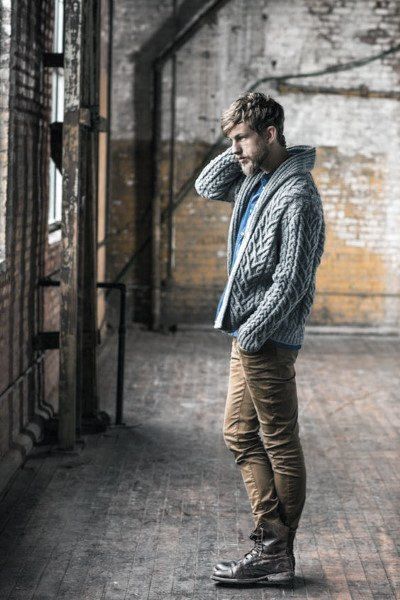 Knitting jackets should be had in every man's closet as the winter outfits that would help you to deal with unpredictable transitional seasons, for example at the beginning and the end of the winter season where the day can start warm and cold at the same time. You can wear it with jeans and a shirt for casual and simple style.
17. Grey Sweater Coat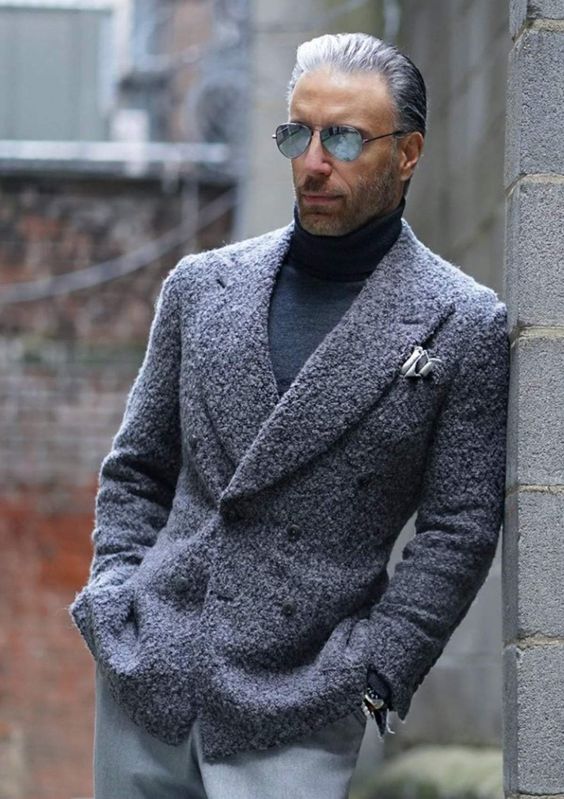 You can stay being fashionable but keep warm in the cold weather using a sweater coat. Combine with the turtle neck shirt that would make you look trendy and elegant. Wear this outfit on your formal event and it's also good to help you warm on the outside.
18. Flannel Jacket with Hoodie
Flannel jackets are appropriate to winter and fall seasons that need warm material such as fabric flannel that's created from wool which is more warm than cotton. To bring urban and elegant style to your outfit, you could combine flannel jackets with hoodies and jeans.
19. Fleece Jacket
Fleece has its appeal because of the warmth with the lightweight materials. It is made from polyester fibers which are knitted tightly and then brushed to make a surface like being a real fleece. This kind of jacket has a soft texture and also can help you with heat retention to keep your body's heat stay put. Combining it with jeans and a flannel shirt would make your winter outfit look trendy and casual.
20. Bomber Jacket With Fur Hat

Bomber jackets are adopted from military-style from the first world war that is popular on today's trend. Many fashion styles usually throwback to the elder century like Bomber jackets. Although the original is made from leather, now we could find bomber jackets that's formed from wool, nylon, polyester, and others. For a man who likes being fashionable, you can try to use a red bomber jacket with a fur hat on your winter outfit. This style would be good enough if you combine it with jeans and a t-shirt that give you a simple style look.
21. Winter Vest Jacket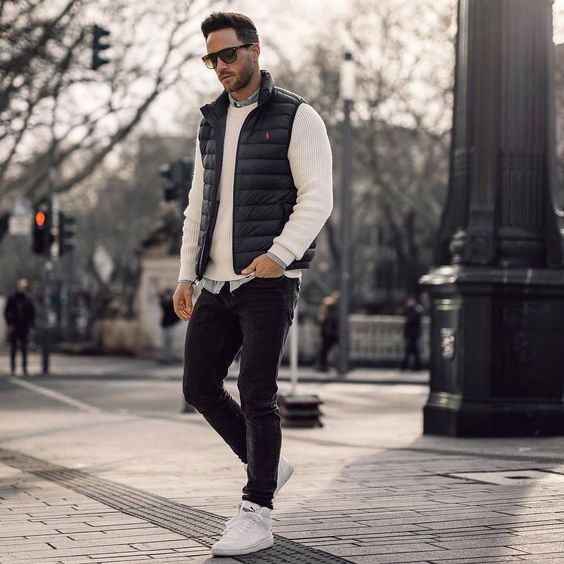 The vest jacket is good to use when the weather is not too cold. This vest is usually crafted from cotton, nylon, or fleece and goose leather. It would help you to stay warm without feeling bulky. This kind of outfit is always being underate when it comes to winter and fall outfits. Though when you layering a shirt, sweater, and winter vest jacket would bring casual, cool, and smart style to your outwear.
22. The Peacoat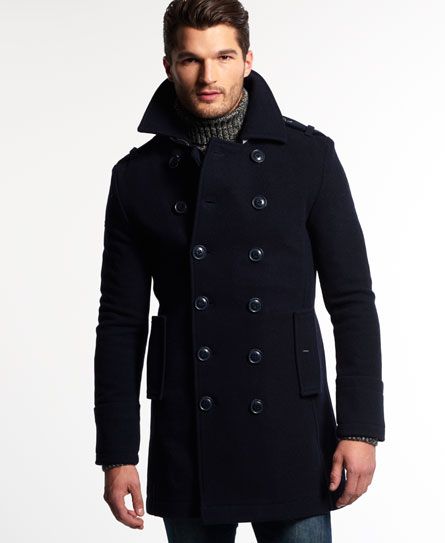 This coat also comes from military origin and has a masculine touch. Development from double-breasted sailor coats of the 19th century, it brings the fashion style from the US navy from the second world war. Made from wool and other warm materials with double-breasted buttons will stand up your machismo in your winter outfit. Wearing it with a turtle neck sweater and jeans would make you look trendy and cool at the same time.
23. Batwing Sleeve Coat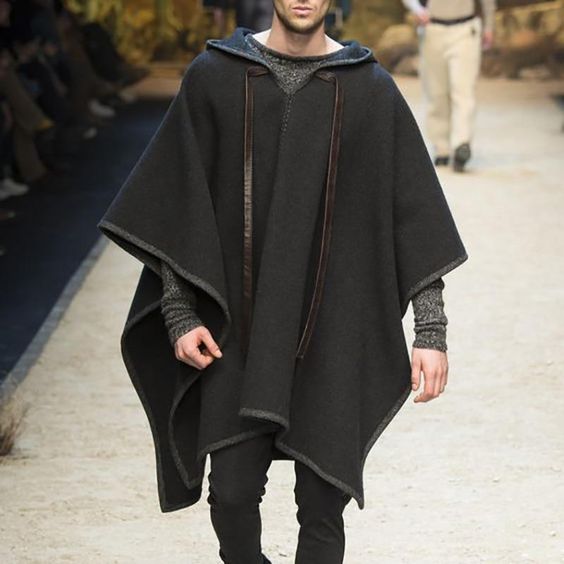 Being adopted from batwing that has wide parts and is crafted from wool, make this kind of coat as a simple and warmer outwear in the winter season. This would increase your fashion style to a higher level. Using it with jeans and a sweater would make your winter outfit look casual and classy.
24. Wind Breaker Jacket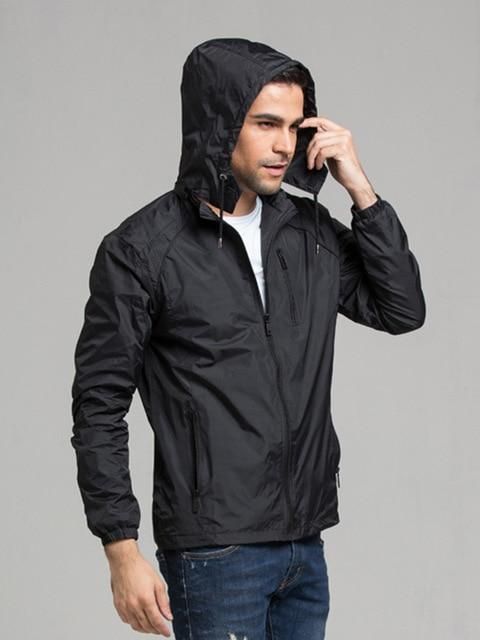 Windbreaker jackets are useful to allow you from freezing wind in the winter. Being crafted from polyester and waterproof materials make this kind of jacket good to help you warm at the outside. This jacket is good enough to mix and match with jeans and a t-shirt that is used in your daily activity.
25. Down Casual Coat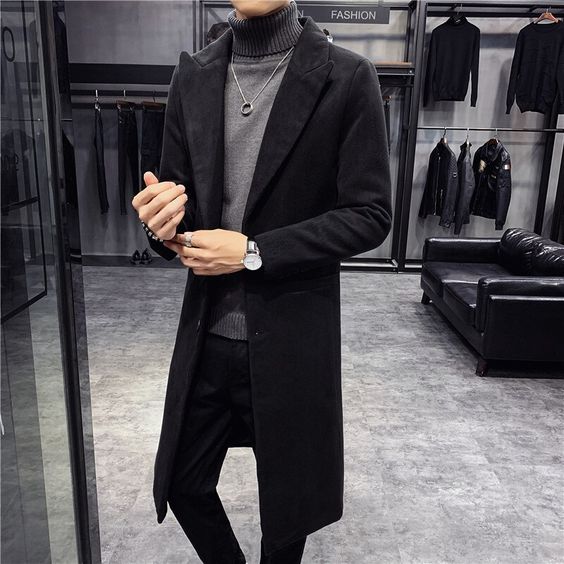 Down coats are known for those who are like to spend more time outdoors because could give them warmth. This is also good to create a casual look if you match it with a turtle neck sweater. Choose the basic colors like black and give a little gradation with the grey would be perfecting your winter outfit.