Hello girls! So, do you have a plan on going on a date? I guess this activity already being your weekend routine activity, right? Okay, even if you go on a date frequently, doesn't mean you don't care about the way you look anymore. You still need to pay attention to the outfits, makeup, and especially your hairstyle.
Why hairstyle? I think this one thing that you always underestimated but actually will give you the biggest change to your appearance. It's like magic that can give determine your outfit and makeup look. Imagine you go on a date with messy hair, isn't your mate will be lost interest in you?
I know, sometimes you feel lazy to style your hair, or your time is already wasted on deciding the outfit style and using makeup. Therefore, we are here to give you a simple, easy, and quick hairstyle that could make you look gorgeous on your date. Believe me, this only took less than 30 minutes of your time! Feel excited? Okay, if you can't wait anymore, we can move on immediately to the topic!
Gorgeous Hairstyles Inspired to Wear on Your Date
Let Your Hair Straight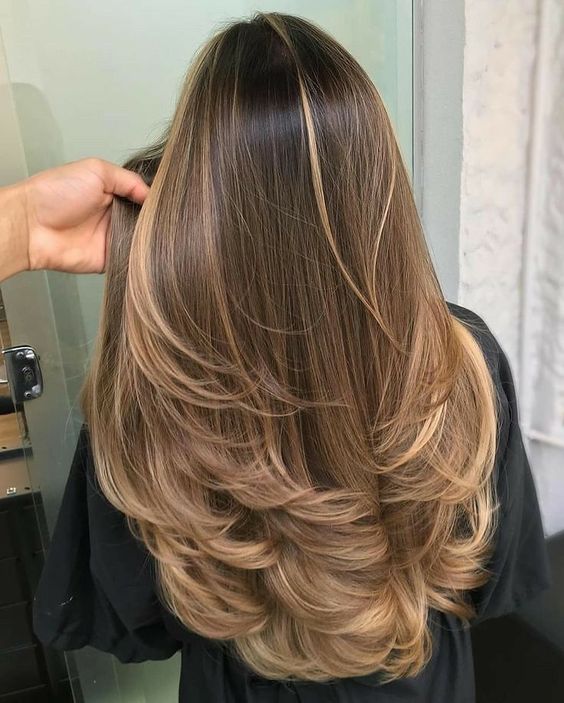 Is type of your hair straight? Usually, type of this hair easy to gets limp. So, you need to add the voluminous of your hair by blowing it with a hairdryer. Or you can change it with a hair roll if you are afraid your hair gets damaged because of the heat of a hairdryer. But we recommend you wear heat protection or hair vitamin before doing the blow.
It's much better if you can do both of them which is to blow your hair first with a hairdryer. Then, you can continue to wear a hair roll to make it stay long-last. Wait for it to get set for around 15-30 minutes. While waiting for your hair, you can do your makeup or change your outfit. And after 30 minutes, remove the hair roll and use hairspray to make it more long-lasting.
Add a Headband to Sweeten Your Looks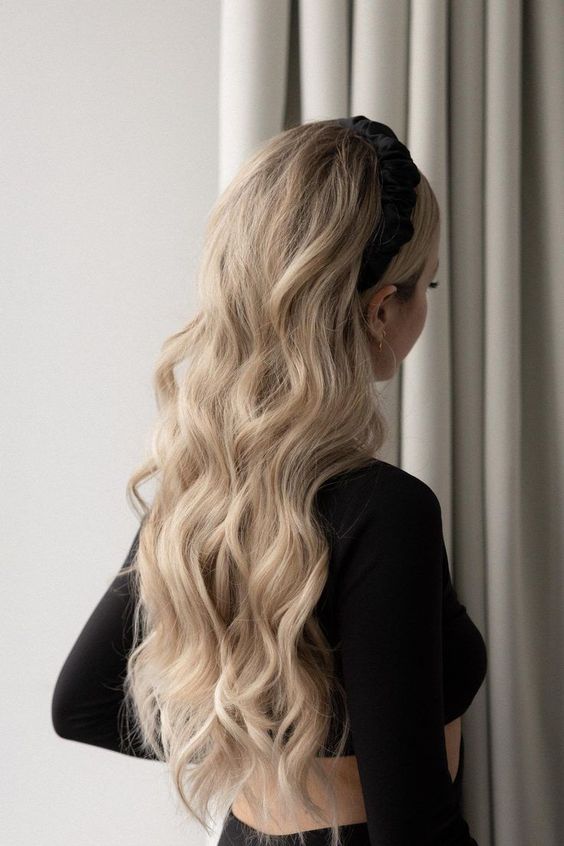 Don't have any time to style your hair? Don't worry, you still can sweeten your hair by using a headband. Use any kind of headband that matches your outfit. I guess it only takes less than 5 minutes and your hair already looks sweet. Very quick isn't it?
Loose Braided Ponytail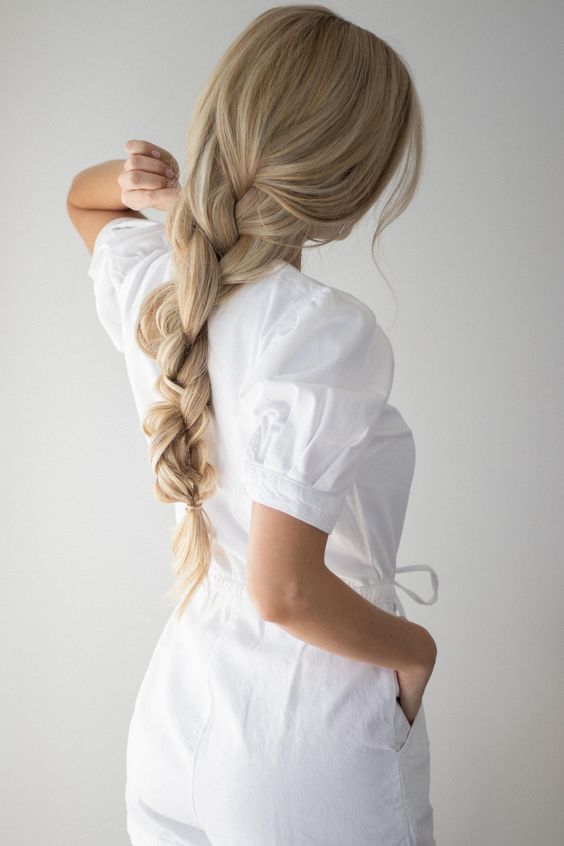 Loosely braided ponytail for those who want to get the cottage-core vibes. It's a kind of aesthetic hairstyle that you can pair with a dress or even a casual outfit. Besides giving you the aesthetic look, this hairstyle is also very easy to get. You just need to make a usual braid, and for the last step, pull slowly the braid to give a loose effect. And voila, a loosely braided ponytail is ready!
Easy French Twist Hair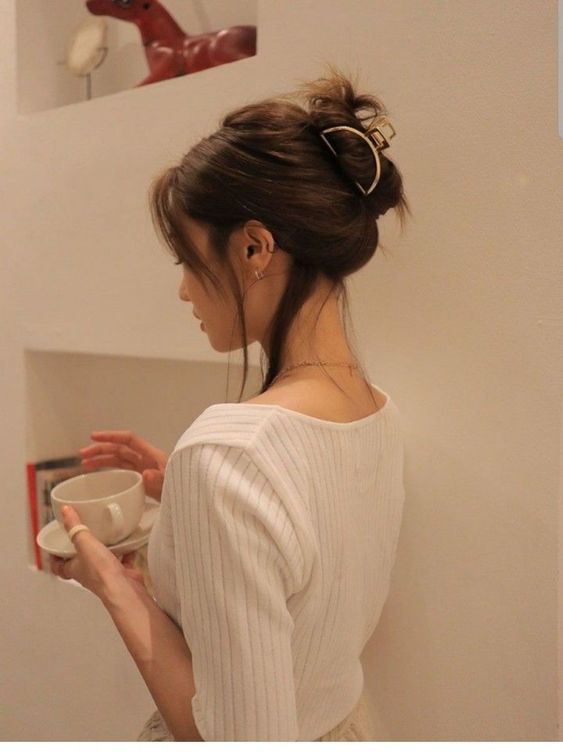 Who said getting french twist hair is hard? This tutorial would change your mind because, in the fact, it's very easy to make this kind of hairstyle. Tidy up your hair with a hair comb or your fingers, then pull up your hair like you want to make a ponytail. Next, twist your hair and bring it up. For those who have long hair, you may fold the hair. Furthermore, wear a hairpin or claw clip to secure the twist. Very easy and sweet for a girly or even boyish outfit look.
Crown Braid with Flowers
Having a plan on attending the wedding party with your mate? Don't panic and stay calm because a crown braid will save your looks. You don't have to waste your money to go to the salon! All you need to do is divided your hair into two parts. And start to make a braid from the upper of the hair on each part. Next, connect it until it looks like a crown and secure it with bobby pins. Make your hair pretty by adding some flowers or any hair accessories that you want.
Half Twisted Ponytail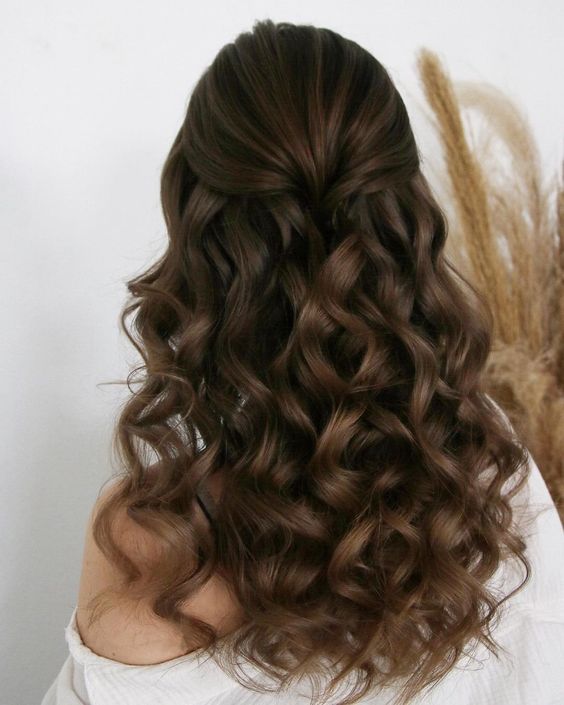 This hairstyle is very suitable to wear for a fancy date like going to a dinner date or attending a party. What else if not twisted half ponytail? Starting by curling your hair first to give an elegant vibe. Then, continue to take half of your hair to make a twist. Use bobby pins to secure the twist and try to hide the pins as you can to make it look neat. It's optional, you can add hairpins or a hairband if you want to look more stylish.
Simple Hairstyle with Unfinished Bun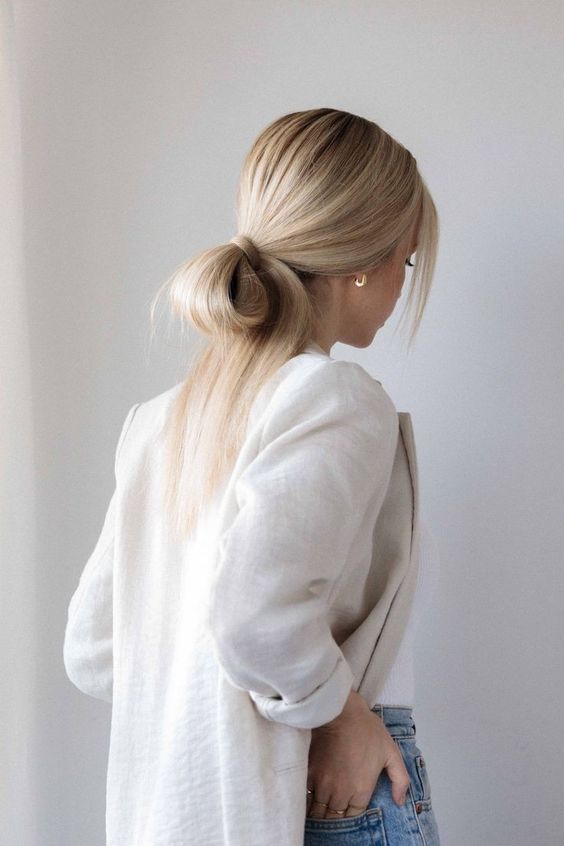 In a hurry because your mate is already at your home? An unfinished bun going to be a quick gorgeous hairstyle that you can choose. We recommend this hairstyle for a casual date only, because it won't match your fancy dress. Believe me, if you combine an unfinished bun with your satin or any kind of expensive dress, you will bring a disaster on your dress because it's gonna look cheap.
Get a Cute Hair Look by Wearing a Ribbon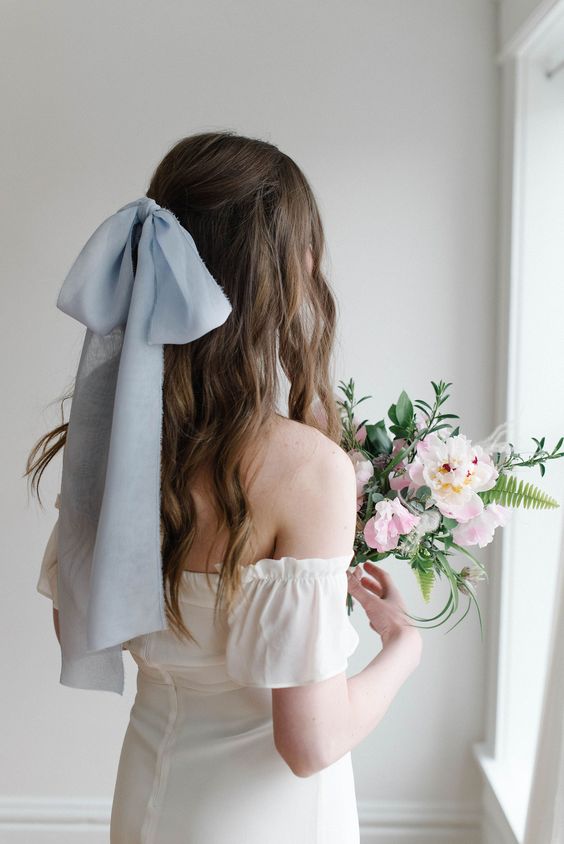 Are your hair looks boring even if you already style it evenly? Maybe you need to add hair accessories like a ribbon. Yes, it is because ribbon will make your looks much cuter and also level up your fashion style. This going to be amazing if you use this hair look for a garden date or going to a special place. Mix and match it with an off-shoulder dress, then you will succeed to impress your mate!
Double French Braid Could Giving You a Playful Look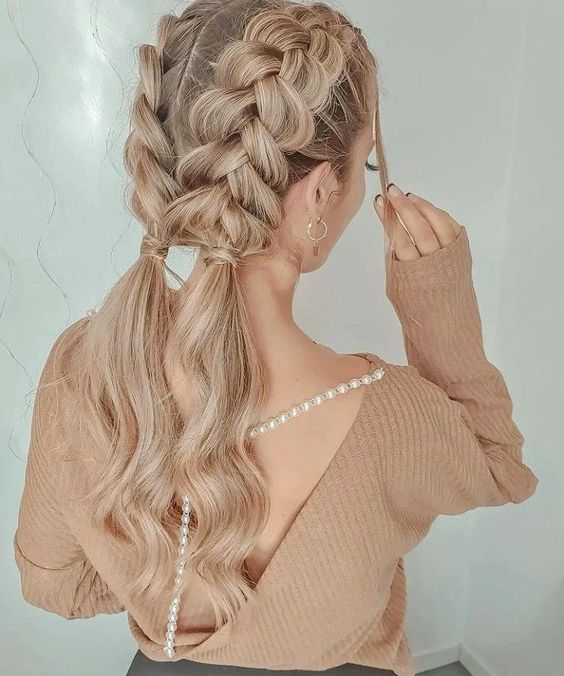 Having a theme park date? Sounds very fun and I know you will very excited about this date. So, you have to choose the right hairstyle that can make you feel free to move and also give you a playful look. So, a double French braid is going to be the answer! This hairstyle is very easy to get, but if you are still feeling confused about how to make it, maybe searching the video tutorial will help you.
Flower Crown to Look Pretty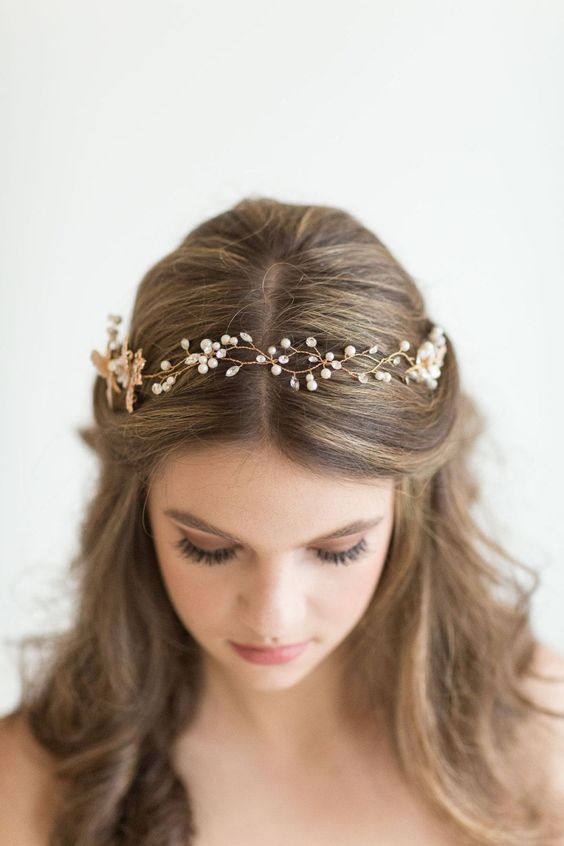 If you want to go on a garden date, I think you can add a flower crown to adjust the vibe of the place. And of course, you will look gorgeous with this hair accessory. You can also use it if you want to get on the photo shoot. Meanwhile, for the hairstyle is up to you, just make sure it suited on your outfit and the flower crown. But if you want our suggestion, we will give you a choice between a half ponytail, sided twisted hair, or beach wave hair.
Messy Bun and a Scarf are the Perfect Combo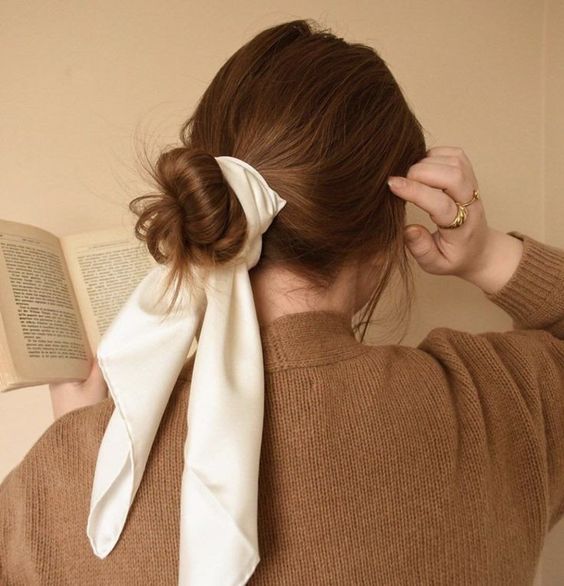 This kind of hairstyle could nail any kind of outfit style. You only need to make a messy bun and add a scarf on top of the hair tie. This is going to be a perfect combo that would give you a pretty look in a minute. Wear this hairstyle for a museum date, library date, garden date, or any casual date.
Twisted Braided Ponytail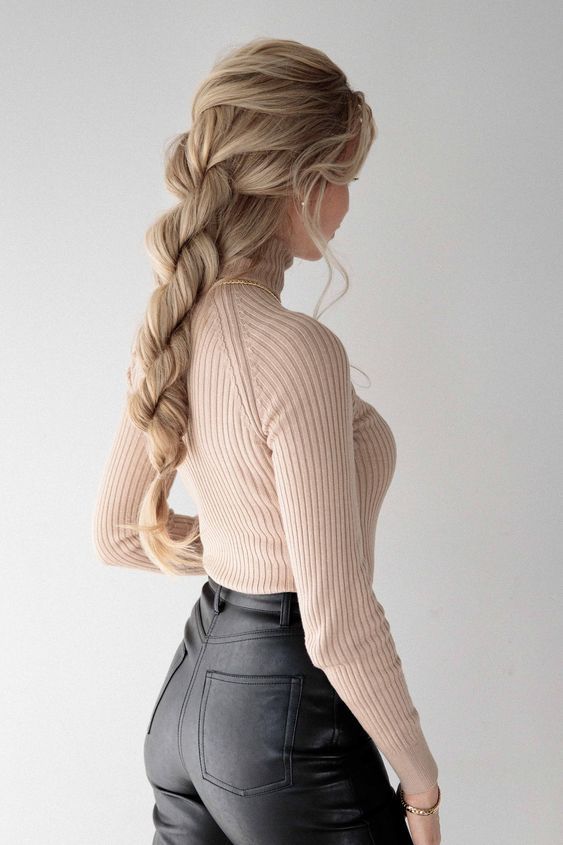 Get bored with the usual braid? Try this twisted braided ponytail. This may look like a French braid, but totally different. This hairstyle will give you a cottage-core vibe. Therefore, it's going to be great to be mixed with a puffy sleeves dress or a tule dress. But it can also be suitable for a casual outfit.
Scarf to Make Your Outfit Look Chicer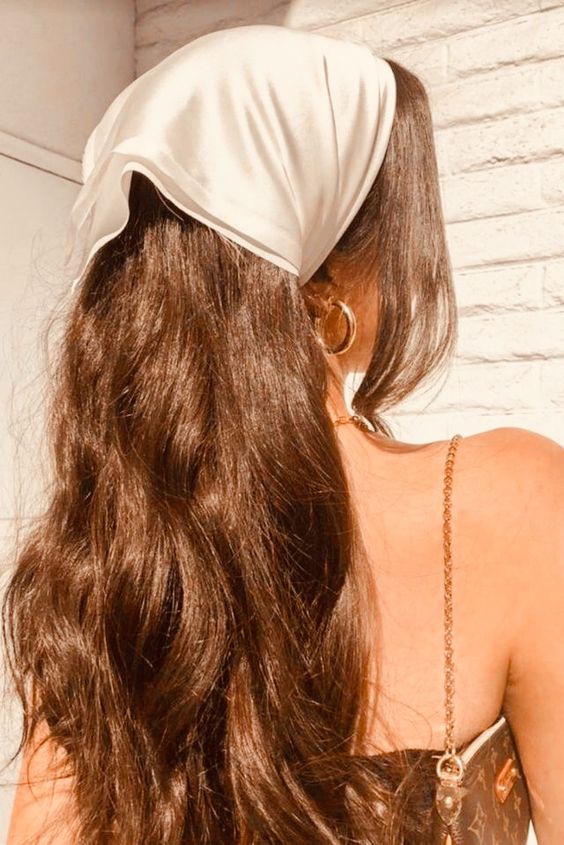 Do you believe that hairstyle will give you the vibes that you want? So, if you want to make your outfit chicer, you can use a scarf as a headband. Prepare a scarf that matches your outfit. Continue, to make your scarf into a triangle. Furthermore, put it on the top of your head and tie it to secure the scarf.
Claw Clip to Secure Your Hair
The claw clip gonna be very helpful when you're in hurry. You can achieve a ponytail, French twist hair, and half ponytail quickly. That's why this hair accessory is a must-have item that you can bring wherever you want. Choose the type of clip that is made from gold or silver to give the elegant look.
Twisted Ponytail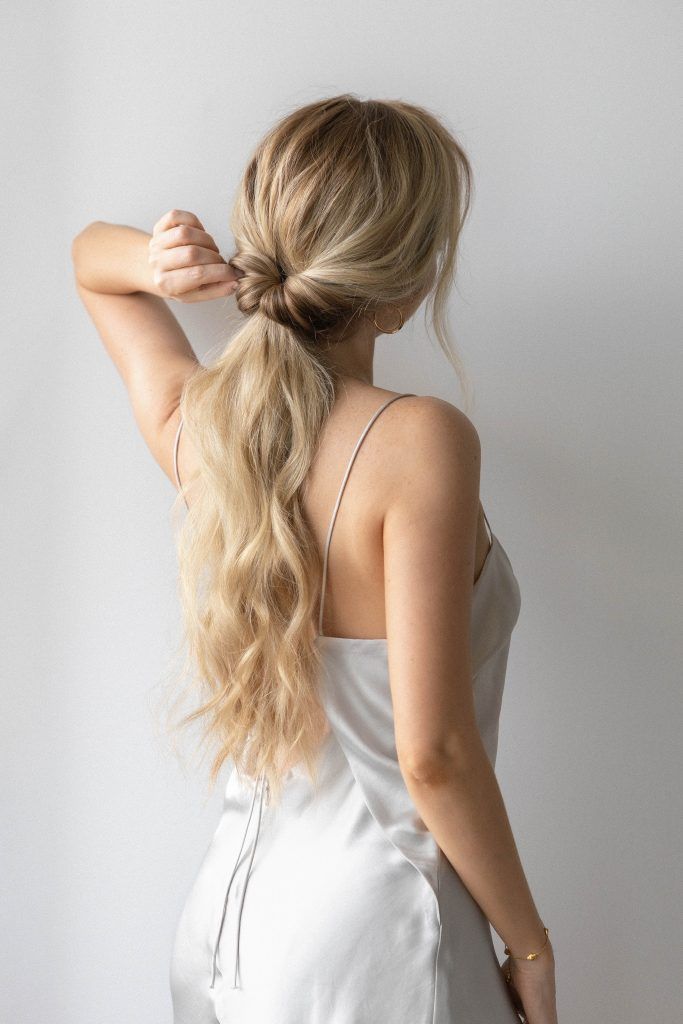 If you want to make your low ponytail look more fashionable, you could choose the twisted ponytail. You only need to make a ponytail as usual, then pull down your hair to make a whole. Furthermore, put in the rest of your hair to make a twist. It's optional, you can use a ribbon or scarf to prettier your hair.
Double Braided Bun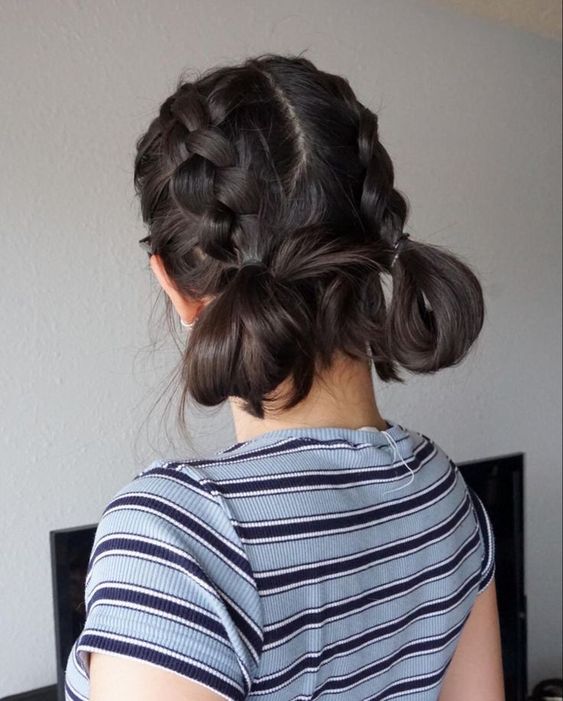 The double braid bun is similar to the double french braid, the only thing difference between both of these hairstyles is just a bun. If you prefer a double-braid bun, you must make a bun on the rest of your hair. Wear this hairstyle to nail your playful outfits or it will be great if you make this double-braid bun for the theme park date.
Prettier Your Hair with Hairpins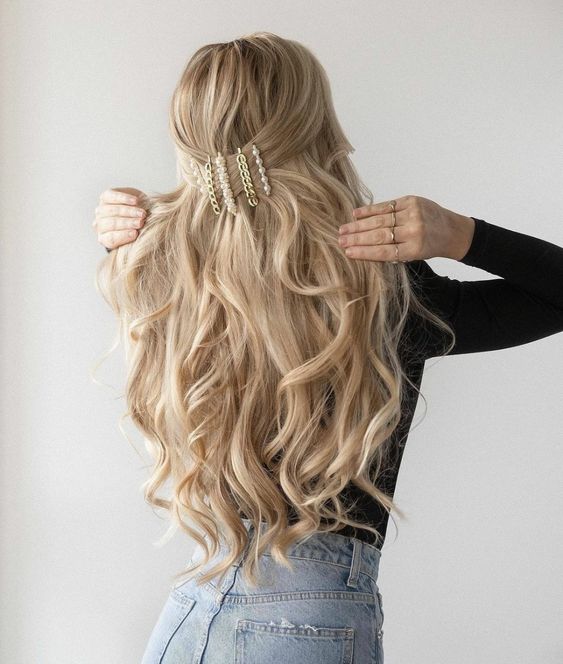 Besides headband and claw clips, there's also a hair accessory that you must have for a quick get ready. Yes, hairpins! I guess many people have a hobby of collecting hairpins. It has the purpose, to match the pins with the outfit that your gonna wear on that day. You can wear it to secure your bangs, make a half ponytail, or just bring a glamorous look. Certainly, this hair accessory can be worn for any occasion and any outfit.
Sided Braid with Half Bun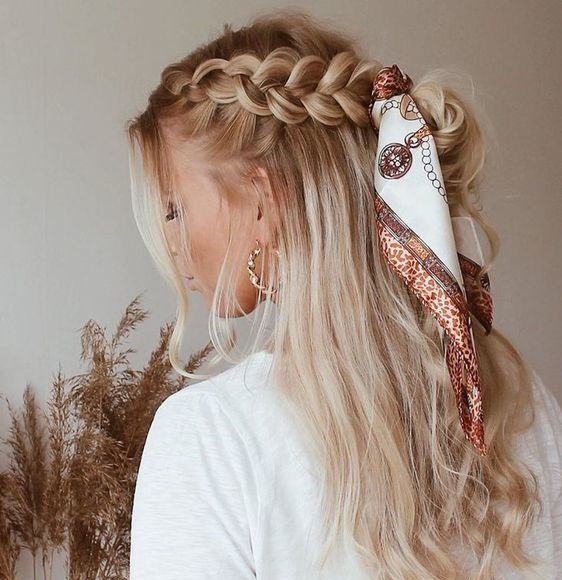 Sided braid is perfect for those who already being bored with a half ponytail. It will give you the same look but sided braid will make your look chicer. Take half of your hair and separate it into two sections. Make the braid on each part, then connect it behind your hair. Furthermore, make a bun on the rest of your hair and continue to add a scarf to get a stylish look.
Heart Twisted Half Ponytail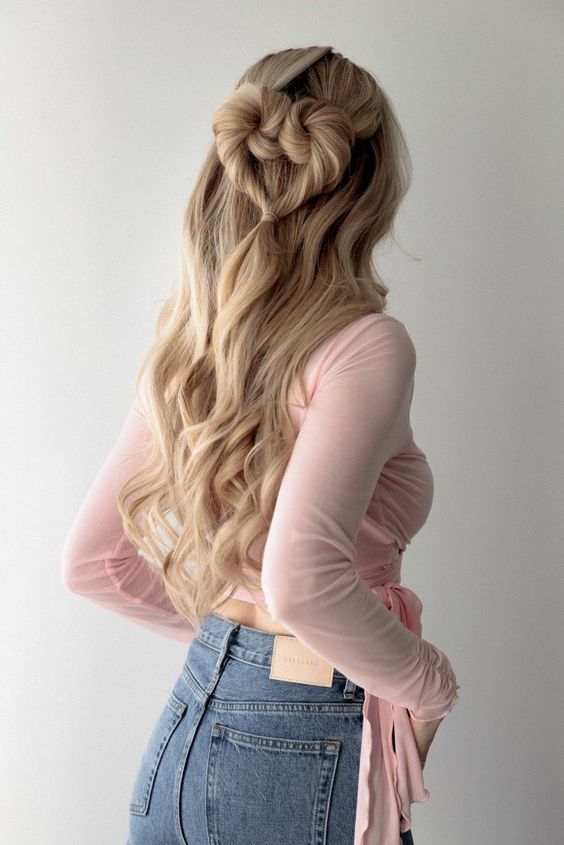 Another hairstyle idea for your date is a heart twisted hair. Isn't it look cute when you see the picture above? This kind of amazing hairstyle to wear on valentine's day. Even though it looks hard, when you try to make it, it doesn't seem that hard.
Start by brushing your hair with a comb to make it easy to style. Then, take half of your hair like you want to make a half ponytail. Divide the upper section of your hair into two parts and twist it. Use bobby pins to make a heart shape. It's optional, you can curl the bottom part of your hair if you want to look prettier.
Beach Hair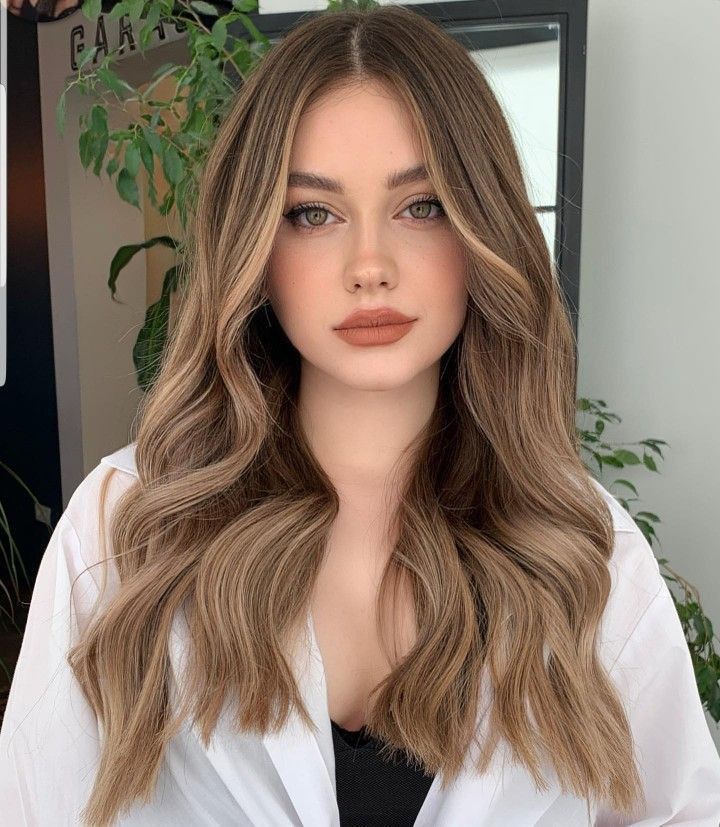 Beach wave hair is a very safe hairstyle that you can mix and match with any kind of outfit and occasion. And of course, it's been my favorite hair look lately. To make beach wave hair, you need to have a curling iron that has a big diameter. Also, you have to prepare heat protection to prevent hair damage.
Done with the preparation, now you can brush your hair first and separate it into a few sections. Continue by taking a small section and start to curl your hair. Do the same thing to every part of your hair. Furthermore, when the curl is finished, use your fingers to brush your hair. It aims to give a loose effect so the beach wave could be made.
Half Ponytail
Move on to the idea that already the most used hairstyle is a half ponytail. This hairstyle is suited to formal outfits until the casual outfit. For those who don't like a high ponytail or want to hide their big face shape, this half ponytail going to be your favorite.
Use Scrunchie for the Hair Tie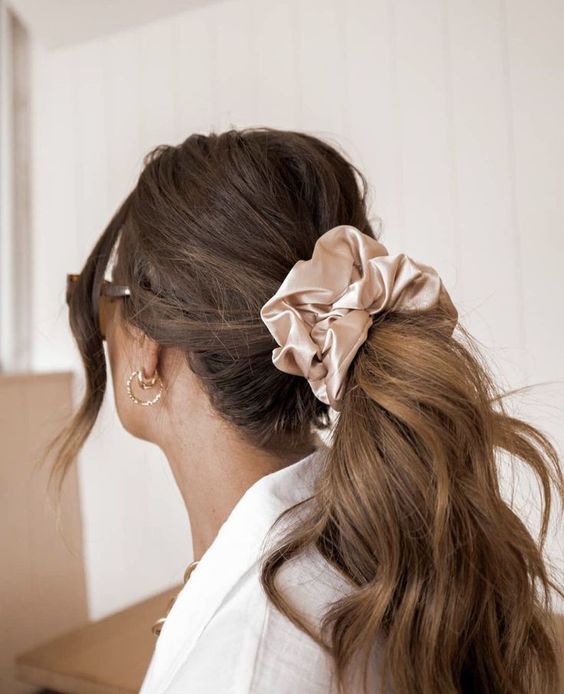 Wear a scrunchie hair tie if you want to make your hairstyle look more aesthetic. The type of hair tie that was hyped around 2022 could balance your vintage outfits. But, you still can mix it with a casual or even formal outfit. So, if you like to tie your hair, you must have this one!
Look Simple in High Ponytail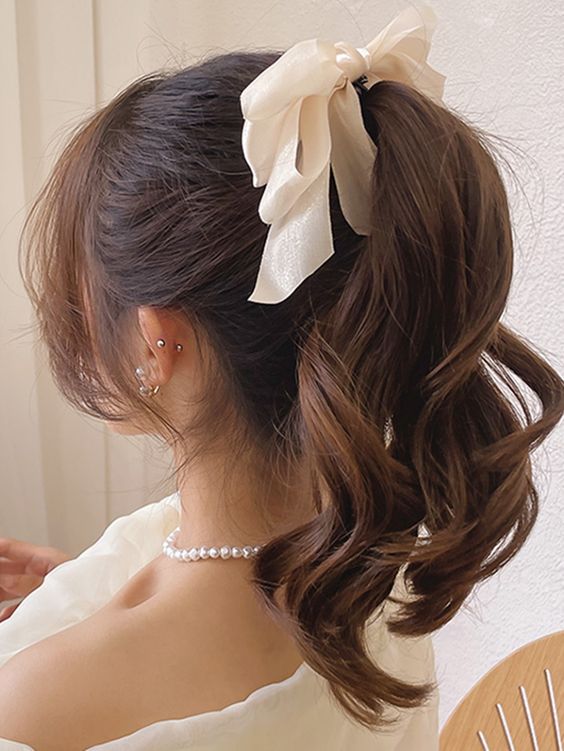 Want a simple hairstyle that only takes 5 minutes to make? Okay, a high ponytail is going to be the answer. I think I shouldn't mention this hairstyle anymore. Because all of you know that a high ponytail is a quick, simple, easy, and the kind of hairstyle that is suitable for any event or any outfit look. Furthermore, if you want to make it more fashionable, you may add a ribbon, scarf, or any hair accessories that you like.
That's all about gorgeous hairstyles inspired for your date! Do you like it, girls? From all the ideas, which kind of hairstyle that you love the most? But, remember to adjust the hair to your outfit and makeup too for avoiding a tacky look. I wish you could pay attention more to your hair now and enjoy the topic!