Olidfashion.com – Nowadays Korean fashion started to get known by people and approved as their daily style. This happens because of how the K-Pop and K-Drama became popular and interesting. Seeing Korean girls dress up nicely with pretty outfits and look cute makes it worthy to adjust in your daily style. Start to find out how they dress up nicely in Korean outfit style by reading this article below.
Bring Cute and Chic Korean Outfit Style in Your Girl's Wardrobe
Watching Korean Drama and girl bands in fashionable outfits could make you get the inspiration for chic daily outfits with Korean style. They always come with pretty outfit styles that's look cute and beautiful to wear. If we look deep at Korean style, we may find pastel tonal schemes, aesthetic dresses, trendy clothing styles, and fitted dresses to add to your closet. For you who look for a chic Korean outfit style for girls, just scroll here and get what you need. Here are some Korean fashion trends that's would help you become fashionable.
Oversized Outfit for Korean Girls Style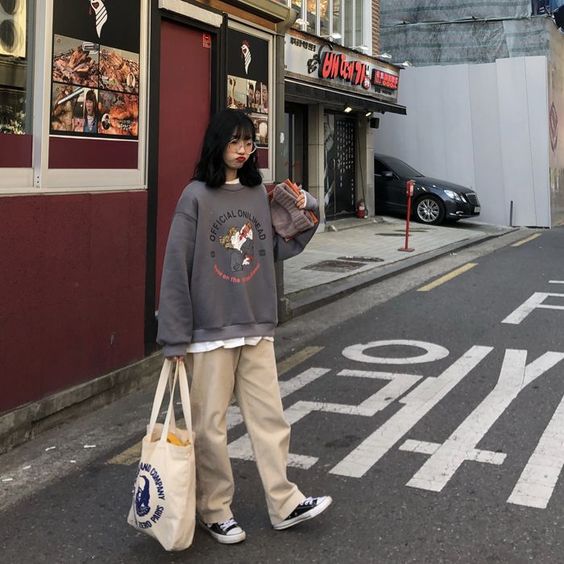 One of the outfits that most girls use to look cute in Korean style is a baggy sweatshirt. This piece would present oversized outfit ideas to your daily style. You can try to match up your baggy sweater with wide slacks, sneakers, and a white tee underneath to give a comfortable fall style.
Dress Up with Stylish Coats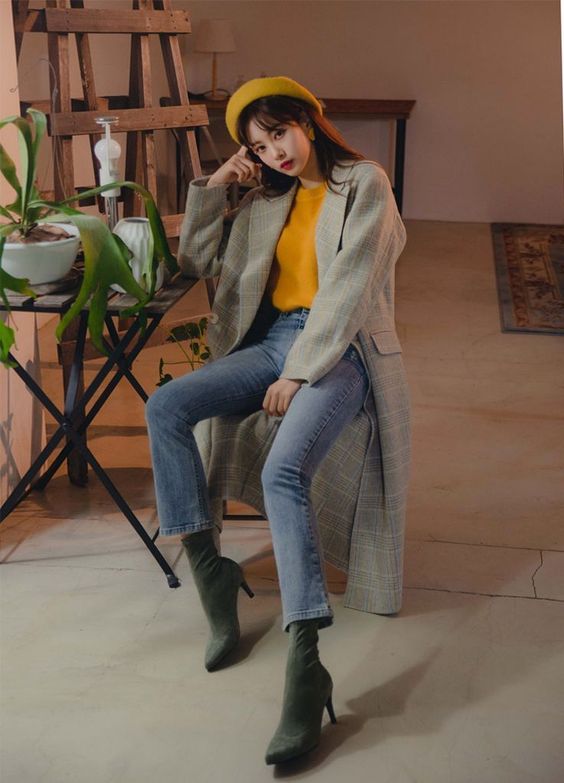 Another fashionable fall style you can create with a Korean outfit is wearing long women's coat. For a pretty and chic Korean style, you can start by mixing the coat with a mustard sweater underneath, cropped jeans, and heeled ankle boots. Give an additional cute accent by wearing a mustard yellow beret hat on your head.
Turtleneck and Floral Mini Dress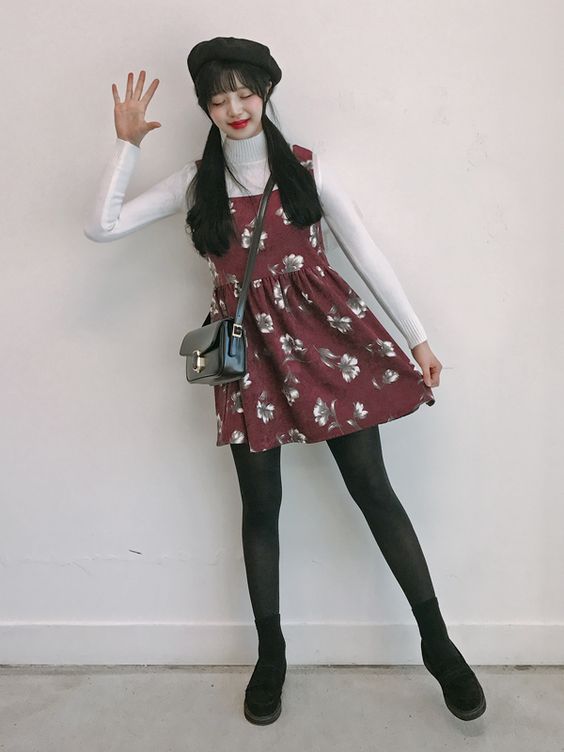 Have a cute style in Korean fashion trend by wearing a sleeveless mini dress, turtleneck underneath, and then a tight. For the footwear, you may get chunky ankle boots. Complete the style by having a beret hat and a micro side bag.
Jumpsuit Style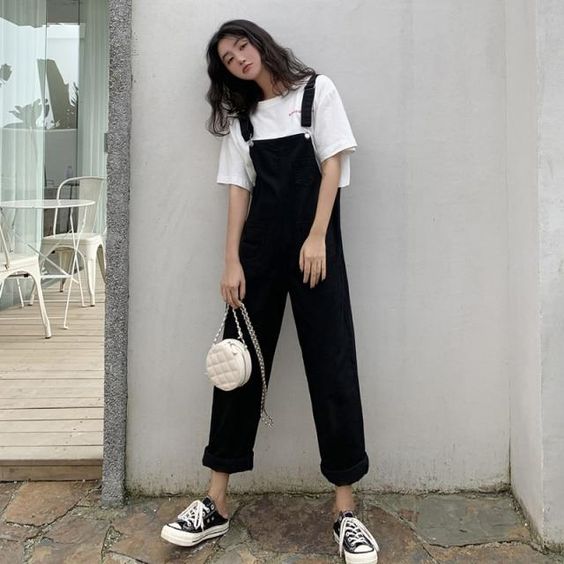 Bring youthfulness into your outfit style with a denim jumpsuit and a white tee. Get dressed properly by choosing sneakers for the matching footwear. Bring a white round bag to drive a cute Korean girl into your women's outfit ideas.
Pleated Midi Skirt in Korean Fashion Style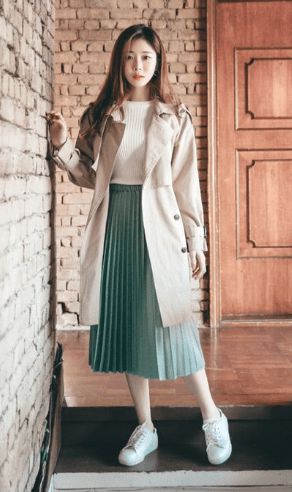 For the elegant and casual look, you can get a pleated midi skirt, crewneck tee, and trench coat. Get a full outfit with white sneakers and you will get pretty spring outfit ideas in Korean style for girls.
Cute in Chiffon Dress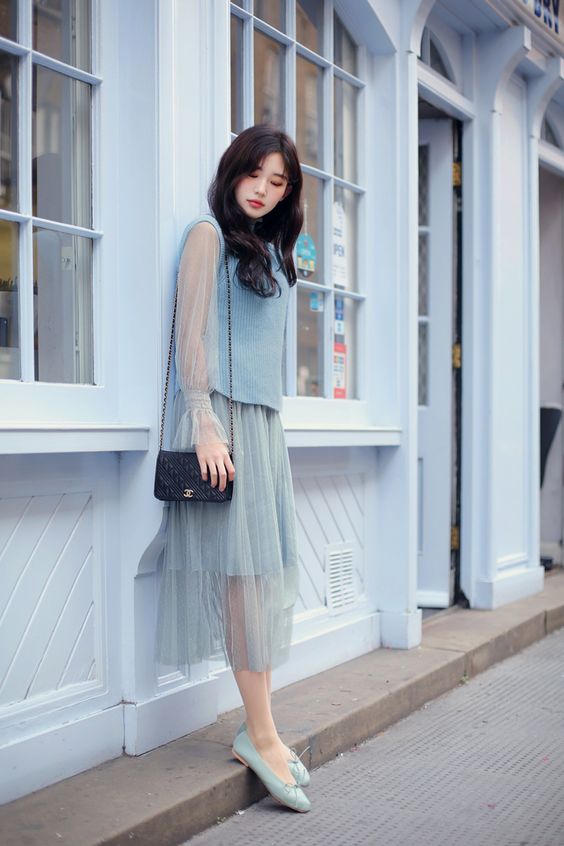 A pretty cute outfit in Korean style for every girl with a chiffon midi skirt and a blouse with transparent sleeves. You can get a chic style with a monochromatic pastel theme with blue pale shade overall pieces. Pick blue pastel flat shoes for comfortable and nice footwear. Perfect your outfit with a black mini bag.
Trendy and Pretty Korean Style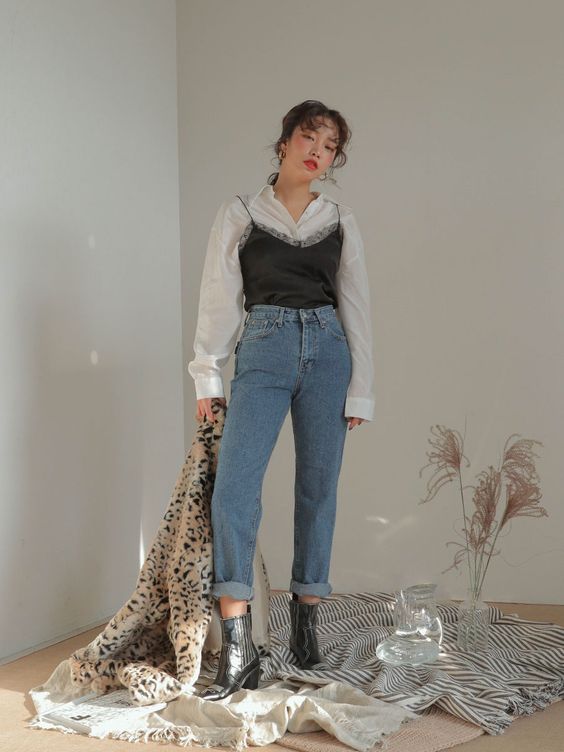 Want to look trendy and pretty with Korean girl style, you can come up with the outfit above. Get a white collared shirt, a strappy outwear over it. Tuck the topper style on high waist jeans and pair it with heeled ankle boots.
Cute in Layered Style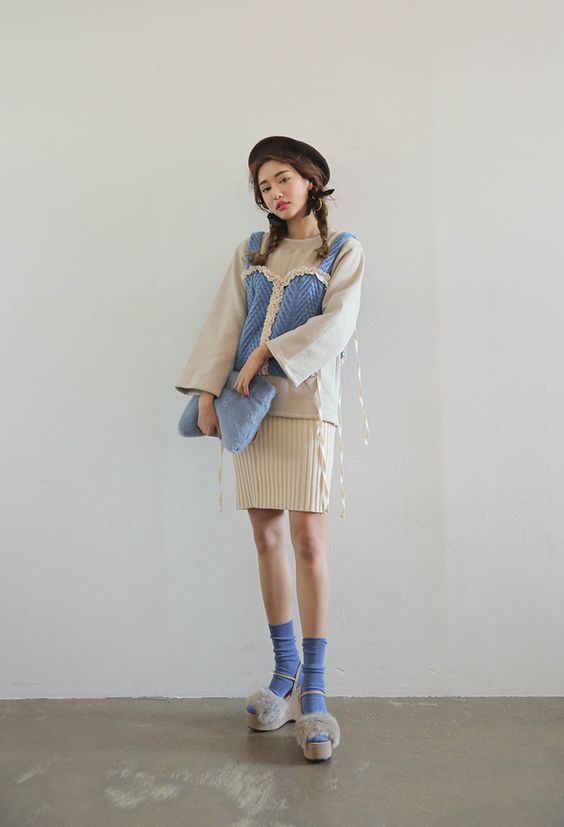 Get cute style with Korean outfits for girls by wearing a broken white long sleeve blouse, mini skirt, then a blue pastel sleeveless knitted top over the blouse for layering style. If you want to make it look cuter, you can add blue pastel socks and match them with fur wedges for matching footwear. Don't miss out on the accessories detail such as a beret hat and a fur envelope bag for other fashionable items.
Plaid Tunic Ensembles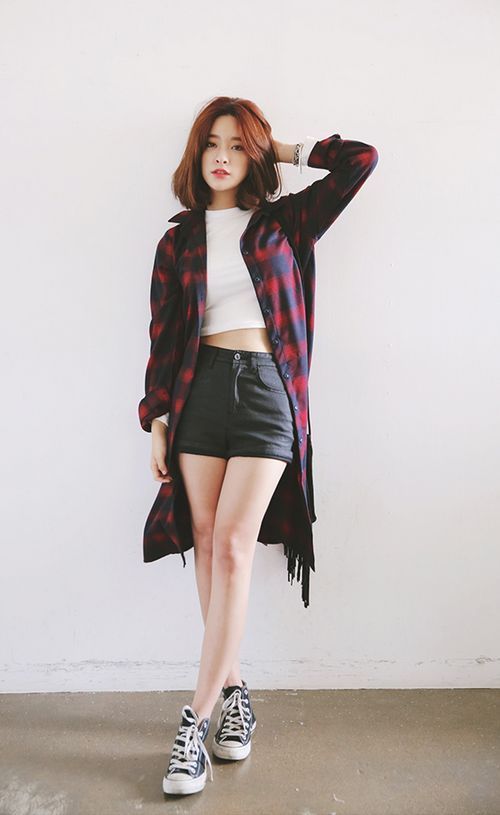 Getting a cute look with the effortless way in chic Korean style by selecting a button-down plaid tunic as for jacket. Combine this piece with a sleeveless crewneck cropped top and black denim shorts to have a trendy style. Matching up this outfit with black sneakers.
Floral Dress and Knitted Cardigan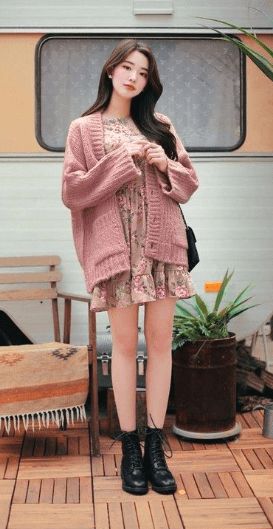 Floral mini dress and knitted cardigan are versatile pieces that are mostly used in Korean outfit style for girls to look cute. Bring out a more cool accent on your Korean outfit ideas with lace-up boots.
Simple chic Look Korean Outfit Ideas
Korean outfit style identically with the simple but chic look. They would mix and match outfits creatively. For instance, if they want to bring out a modest top like a t-shirt, they would come with fashionable bottoms such as a cream mini skirt with the ribbon embellish. As for the footwear, they usually pick trainer shoes.
Best Summer Dress for Korean Girls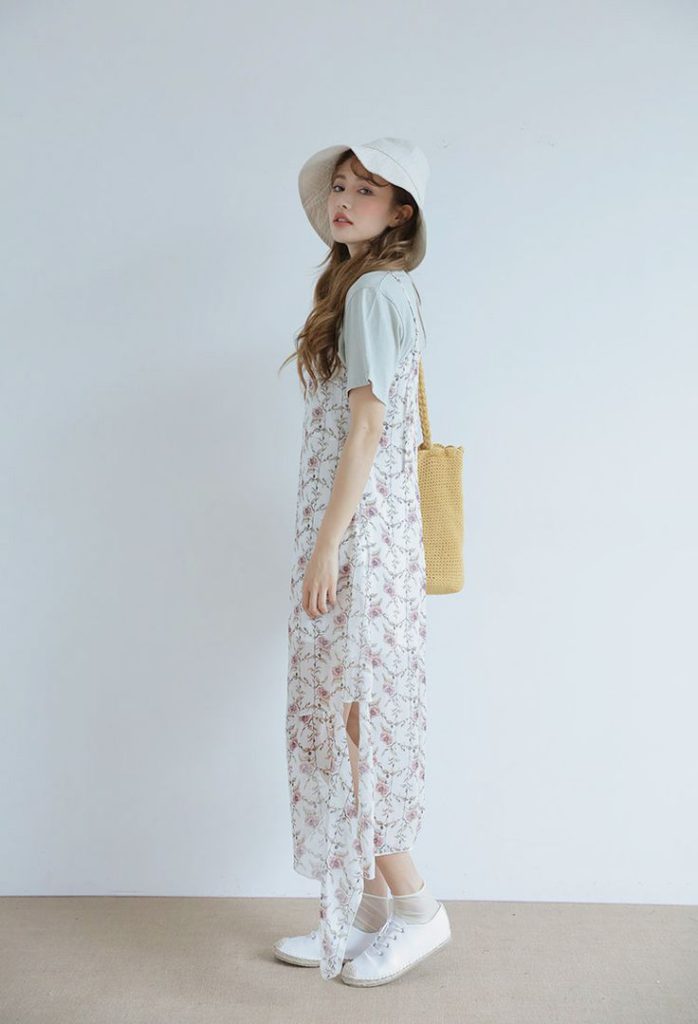 Summer is the best time to open your wardrobe and choose a fashionable outfit to go out. If you want to get a layered style in summer outfit ideas, just put on a transparent dress over your oversized tee. You also need to consider color, it would be better if you choose a bright tone like white or pastel into your outfit. Sneakers always become comfortable footwear for summer. Get dressed perfectly by having a bucket hat and tote bag as complements.
Yellow Heels to Cute Spring Style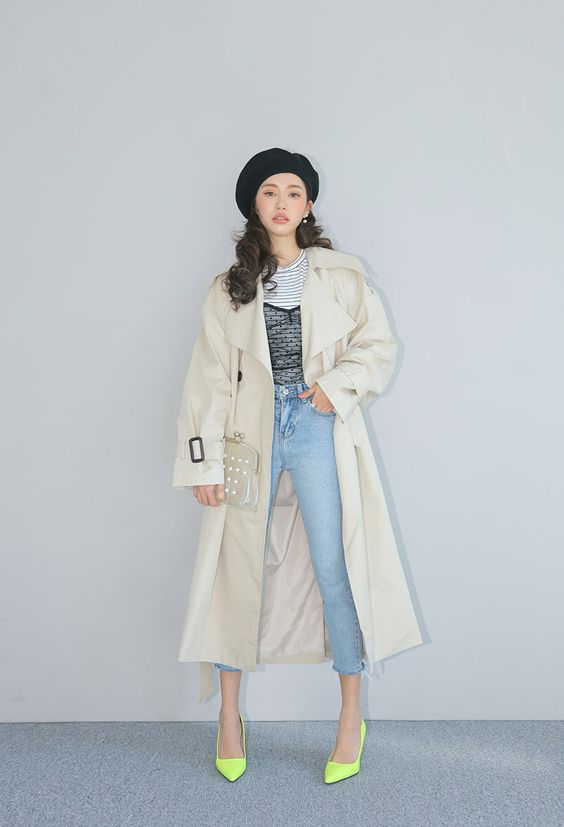 Give a statement to springtime with the yellow heels on your outfit. Wearing this heel with a striped t-shirt, transparent outer, cropped jeans, then trench coat. Give the cute details with a beret hat and a mini handbag.
Chic in Vintage Style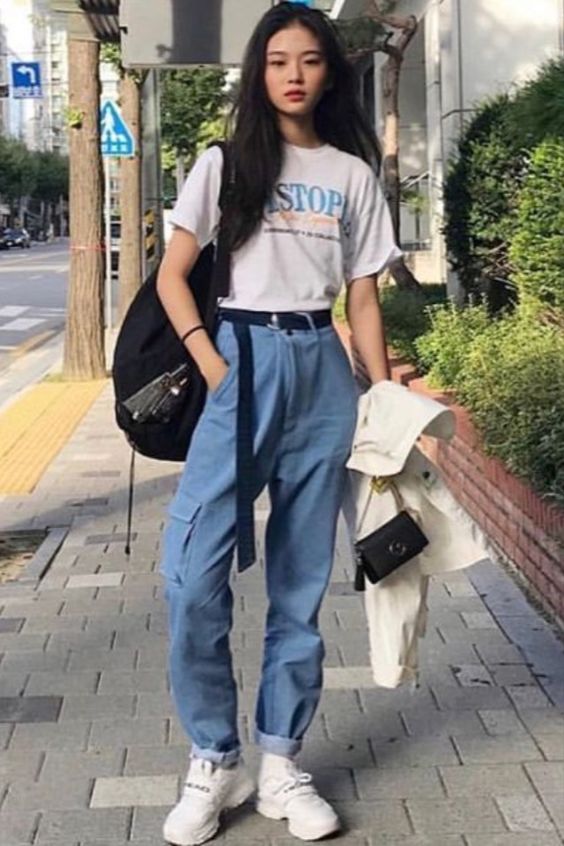 Vintage outfit ideas become popular for Korean girls. They like to dress up in printed white tee and high waist straight jeans. Get other details such as trainer shoes, a backpack, and a long belt. You can also add a white denim jacket to make you look trendy.
Sexy Elegant in Korean Style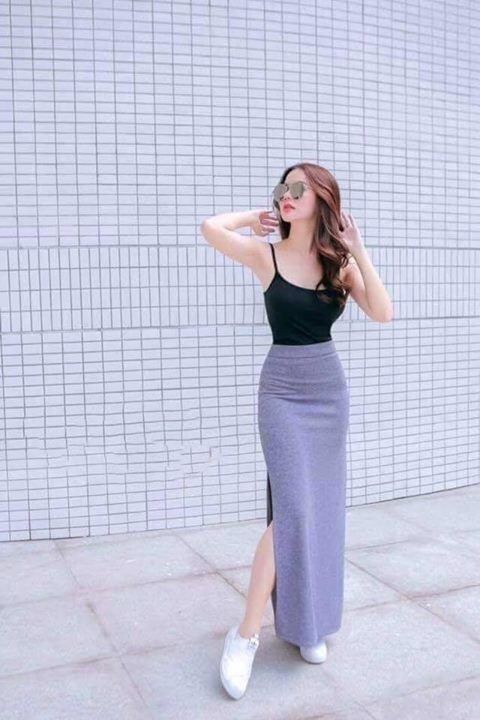 Have a sexy elegant style with the combination of a black tank top and body fit long skirt with a slit. For the footwear just wear sneakers. Pull out your overall outfit style with sunglasses as an accessory.
Preppy Korean Style for Work Attire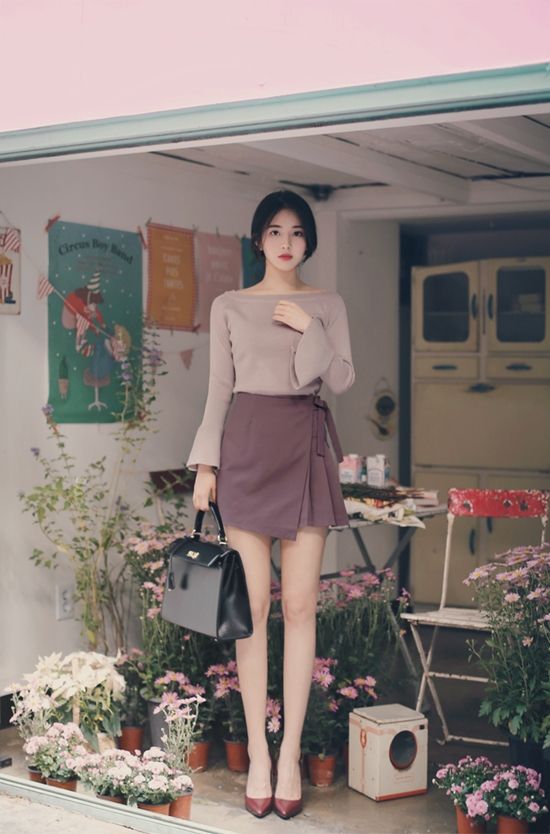 Every Korean girl has a typical outfit that looks elegant and chic even for work outfits. They always come with excellent attire for work to increase their confidence and performance. For instance, you can wear brown gradation ensembles that include a light brown blouse that's tucking on a brown mini skirt. Then astonish your overlook with wine heels and a black message bag. Styling your makeup naturally and simple hair bun for preppy work outfit inspiration in the office.
Sweet and Cute with Pastel Outfits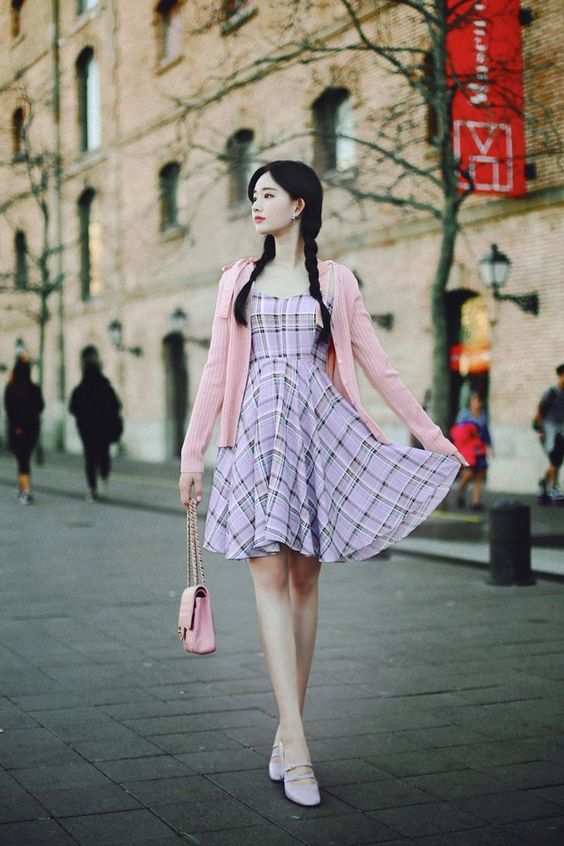 Pastel is the most color that's used in Korean Outfit style for girls. This pastel accent could present a sweet, romantic, and cute vibe in your ensembles. Have a lavender sleeveless dress and combine it with a pink cardigan. Get the pastel details on your flat shoes and mini bag to perfect your pretty pastel outfit idea.
Cool with All Black Ensembles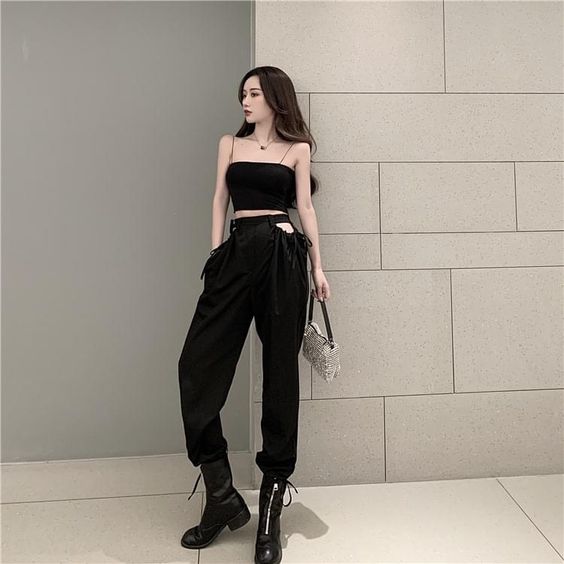 Besides being cute with the girly ensembles, in Korean style also could look chic with cool pieces such as monochromatic black outfits. For this, you can try to wear a cropped tank top, waist pants, and army boots.
Chic with Button-up Blouse
Draw a cute mysterious girl with the victorian clothing style. Just come up with the white button-up blouse with a ribbon tie. tuck this blouse in sailor pants with button embellish and finalize the look with lace-up leather boots.
Perfect Style with Shorts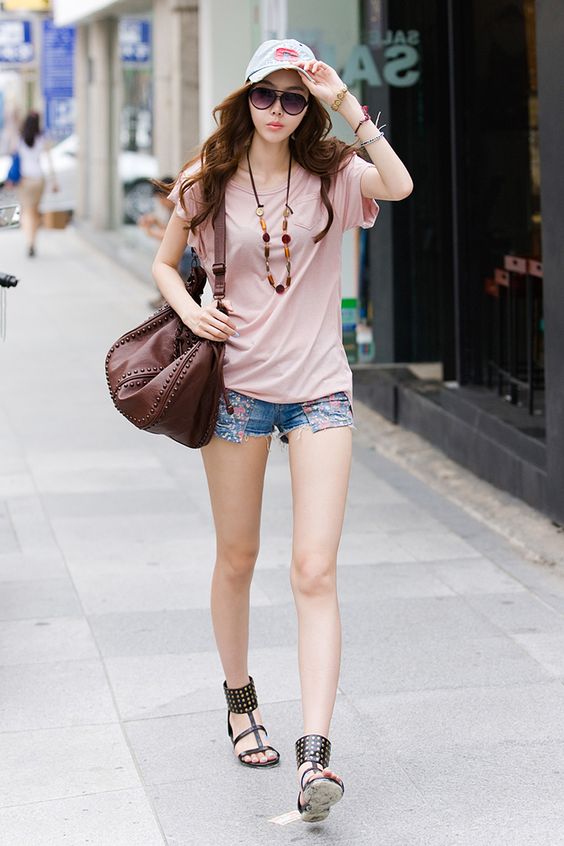 If you like something simple and always look perfect with the Korean style, you can try to use a pastel tee and denim shorts. Get more chic outfit style with some stone jewelry, a baseball hat, and a leather side backpack. Get your perfect style with gladiator sandals for stylish footwear and sunglasses as an additional item.
Tennis Skirt and Oversized Hoodie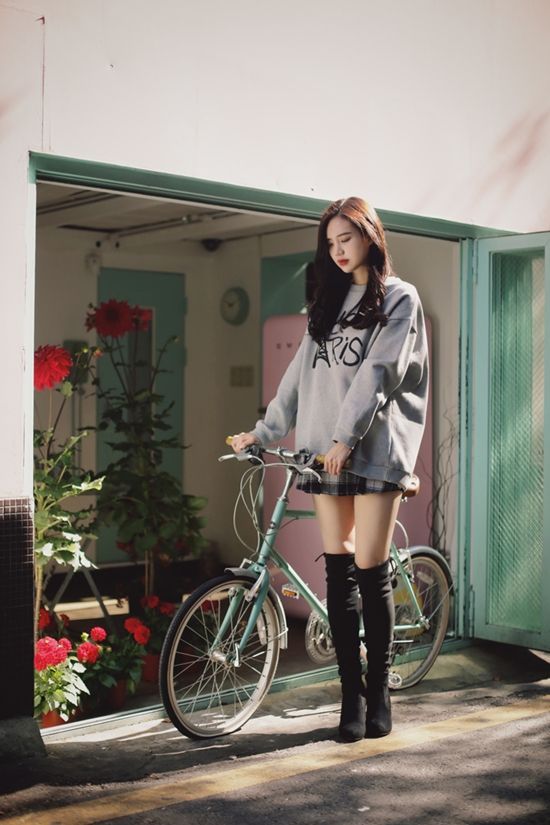 Most girls in Korea usually dress up with tennis skirts that are designed like high school ensembles. To get a chic and cute Korean outfit style, you can pair this skirt with an oversized hoodie. Finish the outfit style with high knee boots
Look Cute with Short Jumpsuit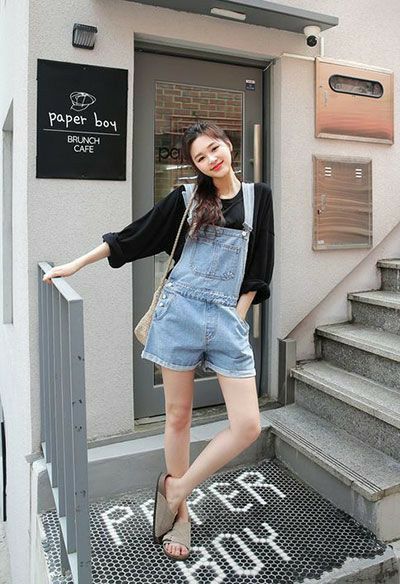 Look cute and comfortable with an oversized long sleeve t-shirt underneath your short denim jumpsuit. For a more casual style, prefer to choose a slipper and tote bag and bring up in your outfit ideas.
Modern Hanbok for Girls Korean Outfit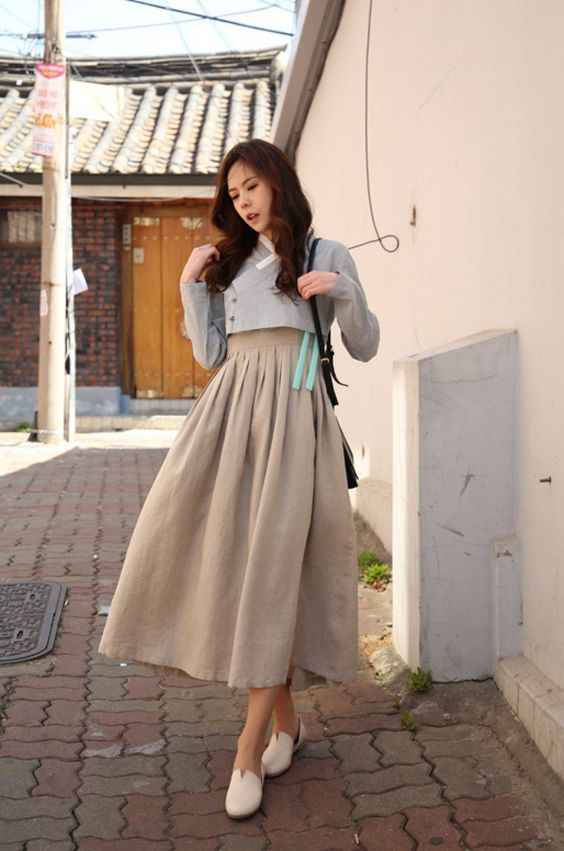 Modern hanbok is for the modern folk dress in Korean style for girls. Having a traditional accent in your outfit ideas would bring a pretty elegant image to your appearance. You can choose the hanbok design with a neutral tone like cream and then match it with the white flat shoes. This outfit would be great to wear during the folk tradition events.
Knitwear in Korean Attire for Girls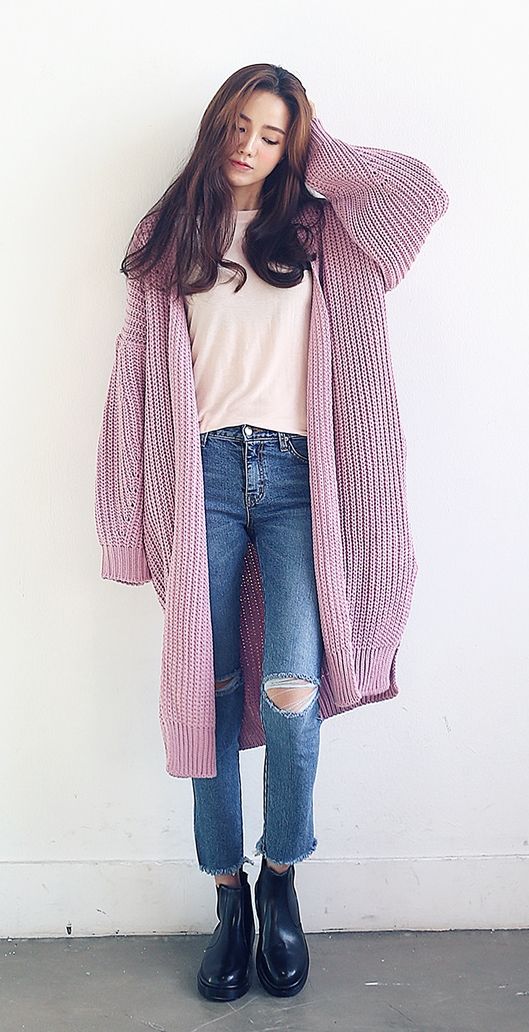 Knitwear become popular to draw Korean outfit styles for girls. You can combine it with other clothes in your wardrobe.  For example, you can pull out this item in ripped jeans and a plain white tee. Bring more fashionable style with rain ankle boots and improve your spring outfit ideas.
Puffed Sleeve Cropped Tops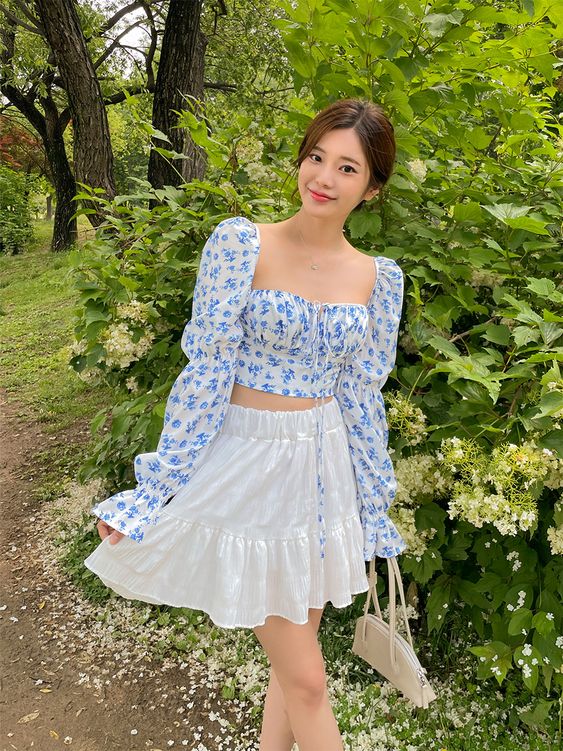 Puffed sleeve cropped top and ruffled skirt are a great combo to present a cute Korean girl style. For the footwear, you can choose heels, wedges, or if you don't like heels you can pick white sneakers or flat shoes. Have full summer style with a white sling bag on your hand.
High Waist Jeans Outfit Style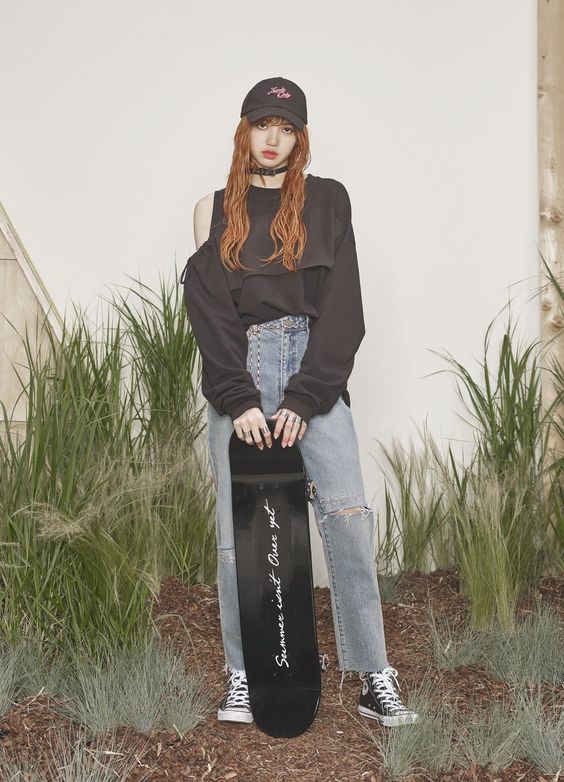 Aside from cute and pretty dresses, trendy ensembles like high waist jeans and off-shoulder blouses also could drive Korean style in girls' outfits. Supposed to match this combination with sneakers and a baseball hat to get a cool outfit.
Blazer for Chic Korean Style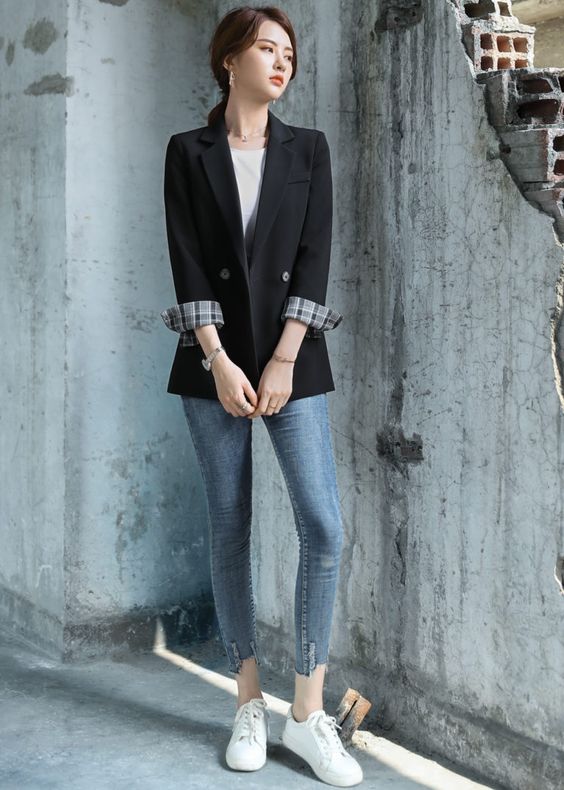 Blazer becomes flexible attire also appear in Korean Outfit Style. You can create various styles in this piece either casual, chic, elegant, or formal image. In this picture above, you can see blazer outfit ideas that are mixed with cropped skinny jeans and a plain white tee. This style also looks chic with white sneakers.
Classy in Silk Blouse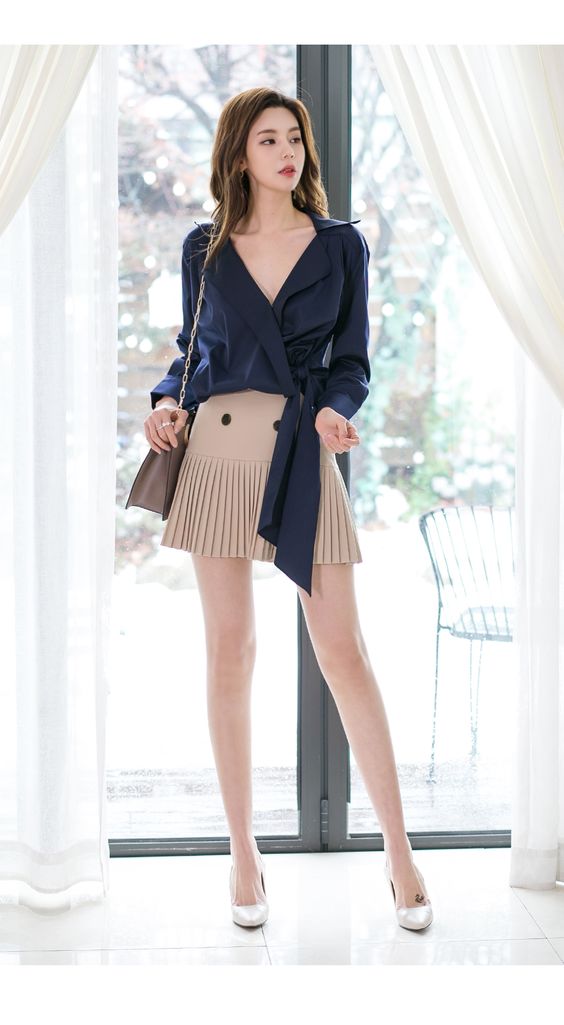 For appearing classy style in your chic Korean outfit style, you can get a silk blouse and tuck it in a pleated mini skirt. To finalize the style, just wear high heels and a mini sling bag with a sling chain. Get this dress to attend some formal occasions or wear it for work.
Grunge Chic in Korean Outfit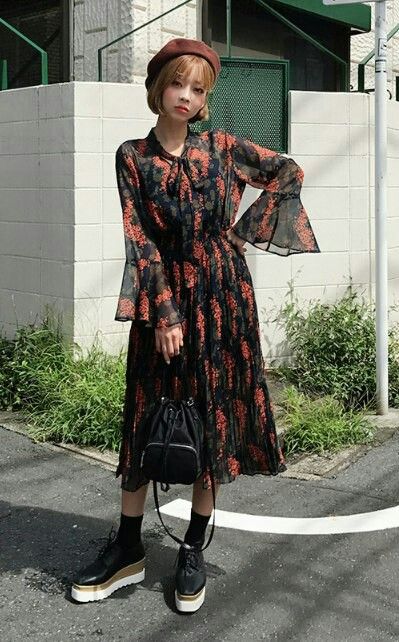 Have a cute and edgy preference with chic grunge style in your Korean girl outfit. For this, you just try to wear a red floral pattern chiffon black dress, chunky shoes, and a mini backpack. Add a beret hat for a pretty chic outfit style.
Legging and Striped Outfit ideas
Striped is the classic pattern in Korean outfit style. This is would make your outfit look chic even without adding more items. Striped knitwear, pencil mini skirt, and legging could help you get a pretty outfit in your closet. For having a sporty vibe, get trainer shoes with this outfit idea.
Korean Style with Ripped Jeans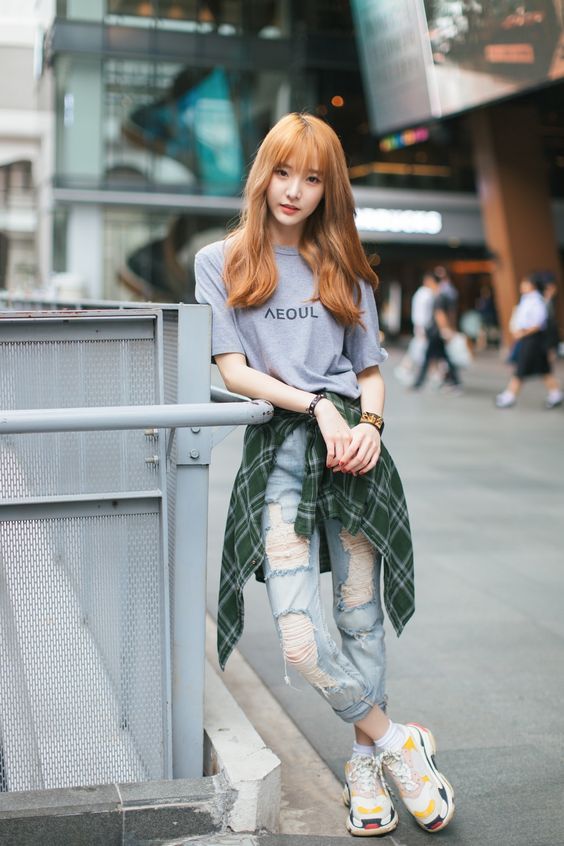 Ripped jeans, a basic tee, and flannel is the best combo to bring out chic Korean outfit style for girls. Pair up this outfit with trainer shoes and you will get a cool style for tomboy girls.
Swag with Korean Outfit Style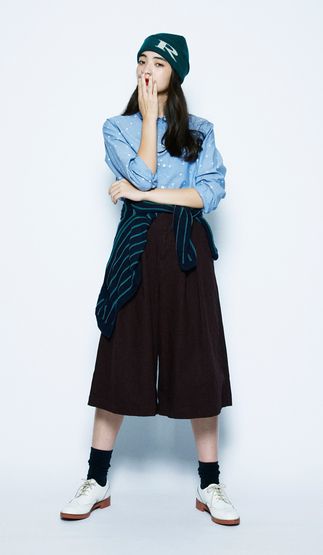 Get swag in Korean style by combining a button-up shirt, and culotte, and striped outer around your waist. Select black socks and white derby shoes to a different outlook. Make this outfit more swag and hip hop by wearing a beanie hat on your head.
Aesthetic with Shabby Chic Dress
Most of the dresses in Korean style would look aesthetic and pretty enough to wear. They are usually designed and produced with sheer fabrics like chiffon, floral patterns, and tonal schemes such as cream, broken white, or brown. Some ribbon trims would deliver shabby chic style in your dress. Pair it with pink pastel heels and a lilac handbag for an aesthetic and beautiful appearance.
Bucket Hat Accessory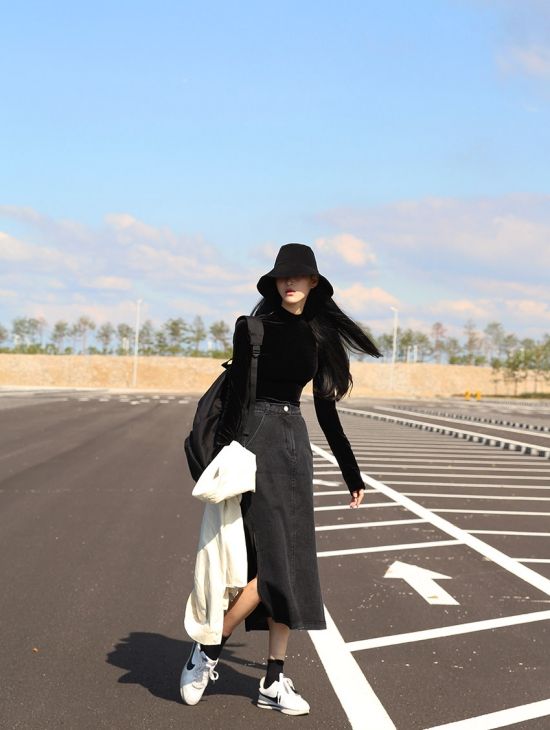 Now, let's talk about today's trend accessories for Korean Style. For chic and cute outfit styles, they push the outfit with a bucket hat. Can't be a doubt this bucket hat would improve your performance even in modest ensembles such as turtleneck and denim midi skirt. Just make sure to bring out this item in your Korean outfit ideas.
Floral Dress for Bohemian Style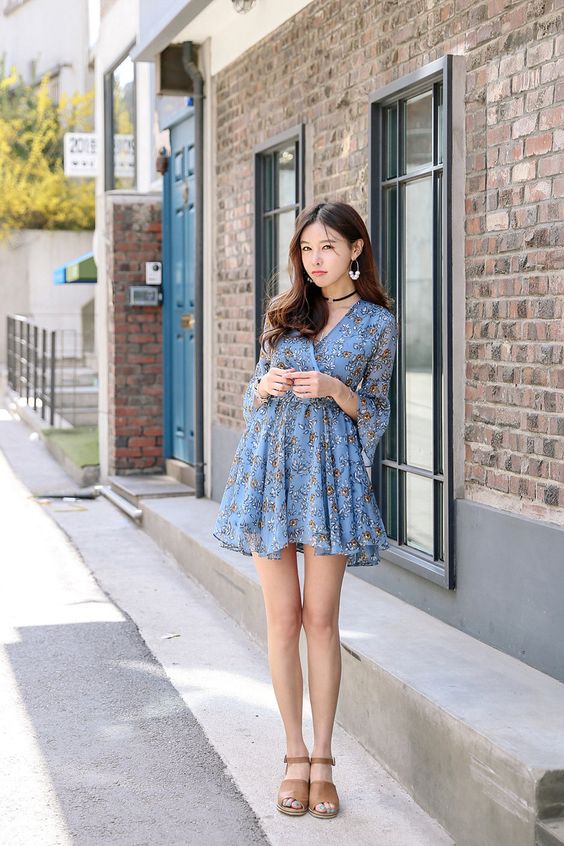 Beautiful with the tiny floral pattern in pastel blue mini dress for creating bohemian clothing style. We know that's boho style comes with a natural pattern like floral and tonal colors. Give leather accent in your ensembles and some unique accessories to finalize your overlook.