Olidfashion.com – Blazer is a versatile piece that will match every outfit of your wardrobe and also could be used on any occasion either casual or formal. This clothing also never be old to wear throughout the year. Even you have one blazer, you can get various styles from it. That's would be a good idea to bring out a blazer for daily outfit style. Just find more references about the best blazer outfit ideas here and build up your fashion style.
Best Way To Dress Up Blazer in Daily Outfit Ideas For Women
When it comes to wardrobe essential outfits, a blazer is one of them. As long as you have a blazer in the closet, you never be scared out of ideas to style your daily outfits. This attire would help you get diverse styles whether it's for formal, casual, winter, or summer occasions you will still get the best outfit. You just have to make a smart choice to pull out a blazer in women's outfit ideas. It's easy to give a statement with a blazer in your fashion design. Thinking about the colors, style, fabrics, and get the best combo for it.
This timeless outfit would guarantee to present a chic and trendy style in women's outfit ideas. You can freely combine this blazer in anything you want according to your sense.  Get your inspiration and start to find what you really want for your daily outfit ideas with blazers.
Sleeveless Blazer for Summer Outfit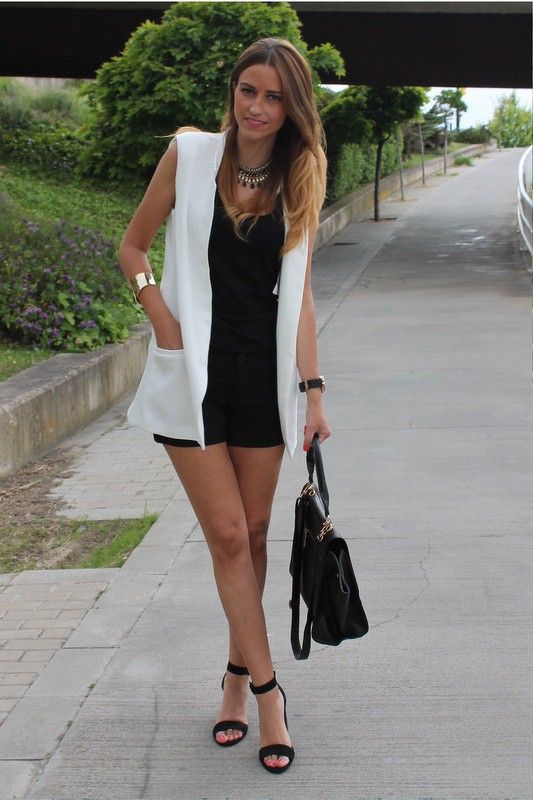 For you that want to style a blazer in your summer outfit ideas without feeling overheated, a white sleeveless blazer maybe would be the best choice for this. Mix it with a tank top and shorts to get the best overlook. Complete your daily style with strappy high heels and a women's doctor bag in your hand.
Blazer in Short Suits Style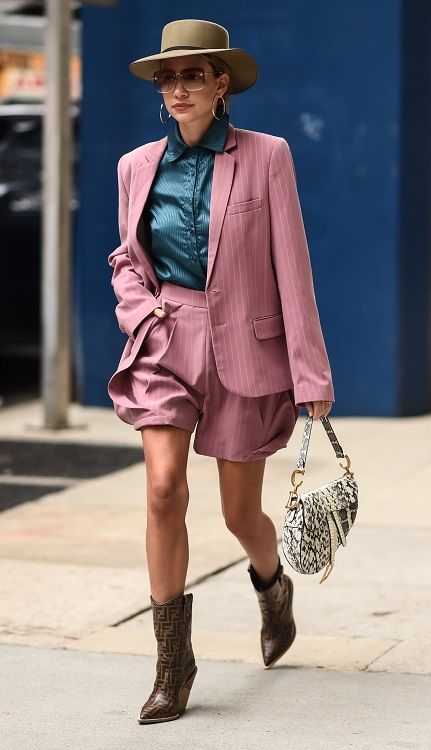 If you want to bring a different style to your blazer, you can try to come up with short suits that include short trousers and a blazer. Match the suits with a collared shirt underneath then choose cowboy boots for the matched footwear. To make it perfect you can bring a cowboy hat and hobo bag in your women's outfit ideas.
Hoodie Blazer Style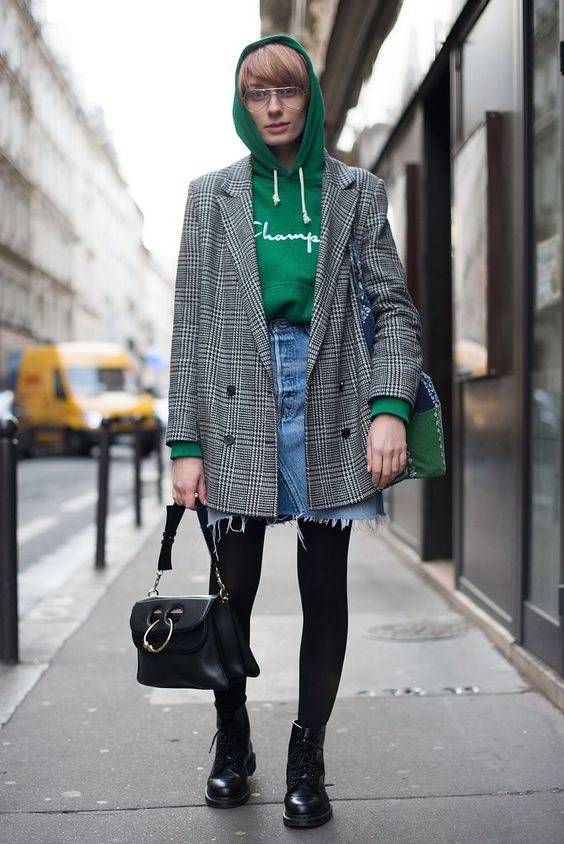 Hoodie and blazer could be matching combos to wear together. This style will give you a trendy look in a unique way. Hooded blazer style has become a trend now and it's comfortable enough to wear during low temperatures. You can come with a plaid blazer, hoodie underneath, then select denim mini skirts and tights as the bottom pieces. As for accomplishing your daily outfit style in a blazer, get army boots as the best footwear and a black mini bag in your hand.
Look Masculin in Blazer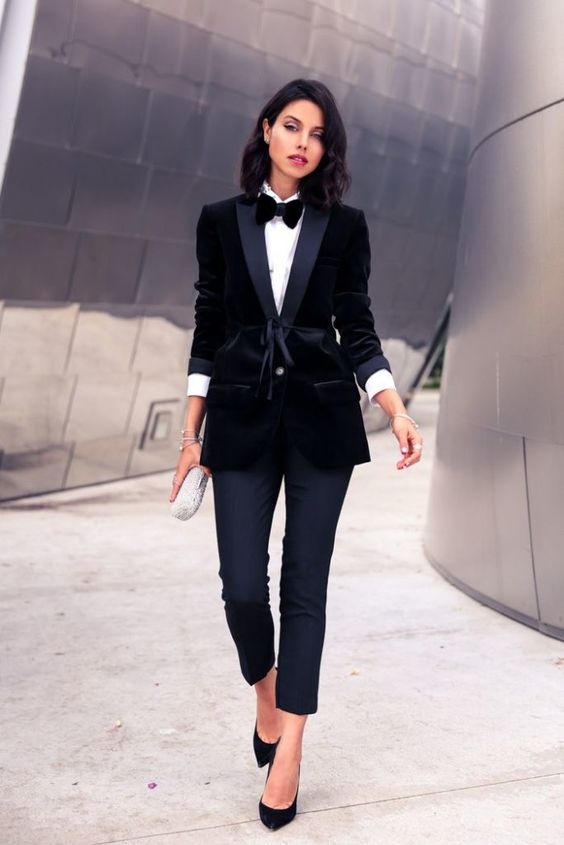 Want to have a different look with blazer outfit ideas, you can turn it into your tuxedo style for women. For instance, you should choose a black velvet blazer, a white shirt, and black skinny pants. Wear these outfits together and also put on a butterfly tie to complete it. This idea would bring masculinity without losing a feminine aura in your outfit. You can bring this style with a stiletto to attend formal events.
Complete Your Monochrome Outfit
Best blazer outfit ideas for women to wear in formal attire is wearing same shades color like black to have an elegant image in women's outfit ideas. For example, you need to put on a black long blazer together with a turtleneck sweater, a pleated midi skirt, and black strappy high heels as for your Christmas outfit ideas for formal events like office lunch.
Belted Blazer Style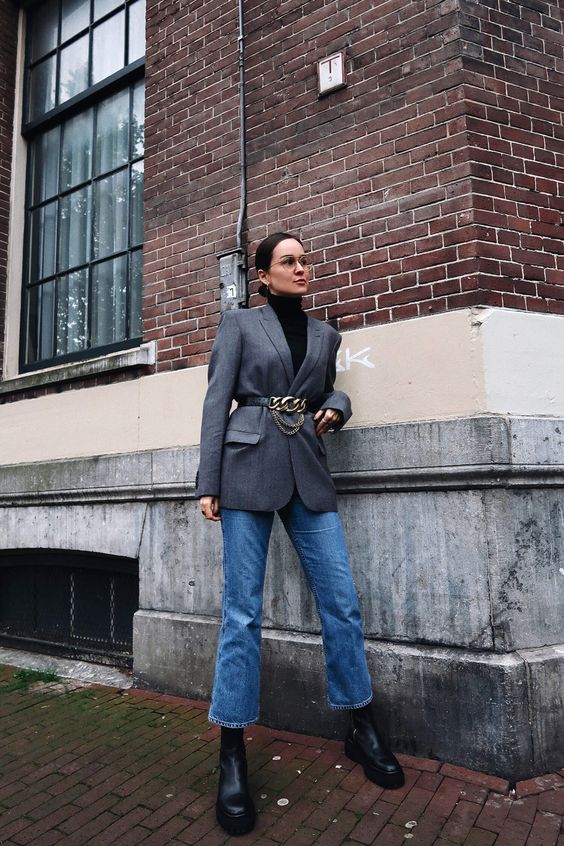 What's going to become hype today for best blazer outfit ideas for women is wearing a belt over it. This method could help to create curves and shapes in the waist and make your outfit fashionable to dress on. Pair your blazer with a turtleneck sweater, jeans, and chunky boots for having chic and trendy styles. Don't miss out to give a statement on your best belt as the main accessory on your women's outfit ideas.
Over Your Mini Dress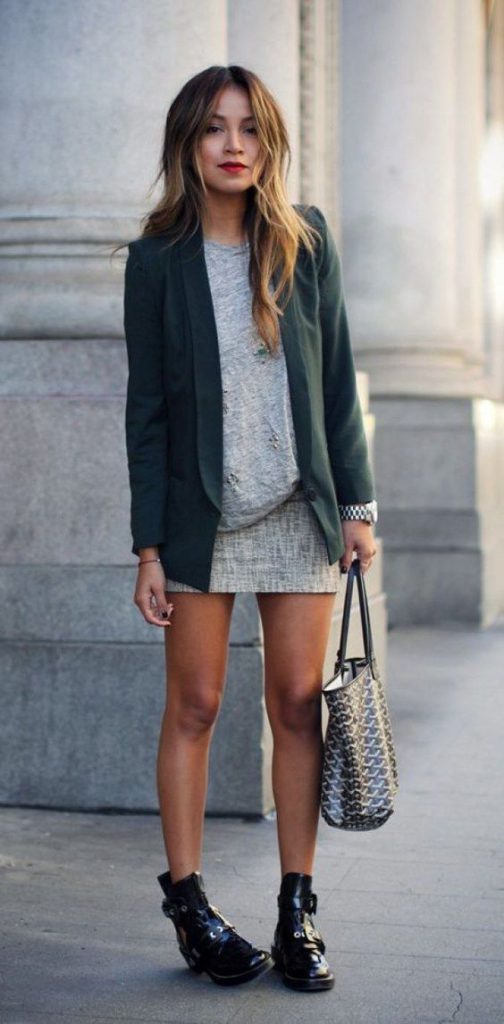 Mini Dress and blazer is an effortless style to create a fashionable outfit in your closet. This is actually a simple way to bring out your blazer outfit style. You just need to put on your green olive blazer over your beautiful mini dress then complete the style with black leather boots. Accessorized with a printed tote bag and a simple watch.
Wearing Blazer As a Dress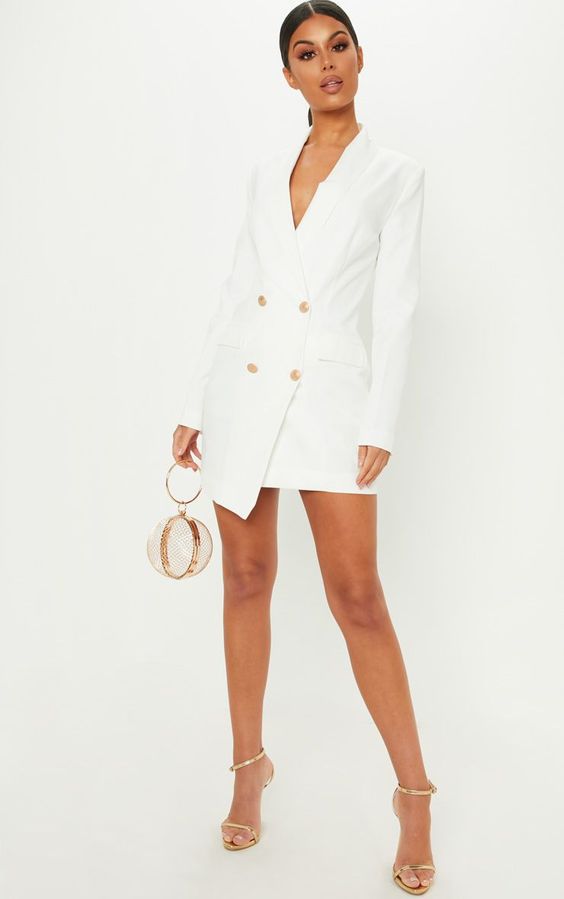 The best blazer outfit style that you have to consider is wearing an oversized double-breasted blazer as a dress. Choosing a white collared blazer and wearing it like a dress would seem elegant enough. Pairing it with a gold strappy heel and your favorite mini round bag in white and gold-tone would push you to become a fashionable socialite.
Classy in Mini Skirt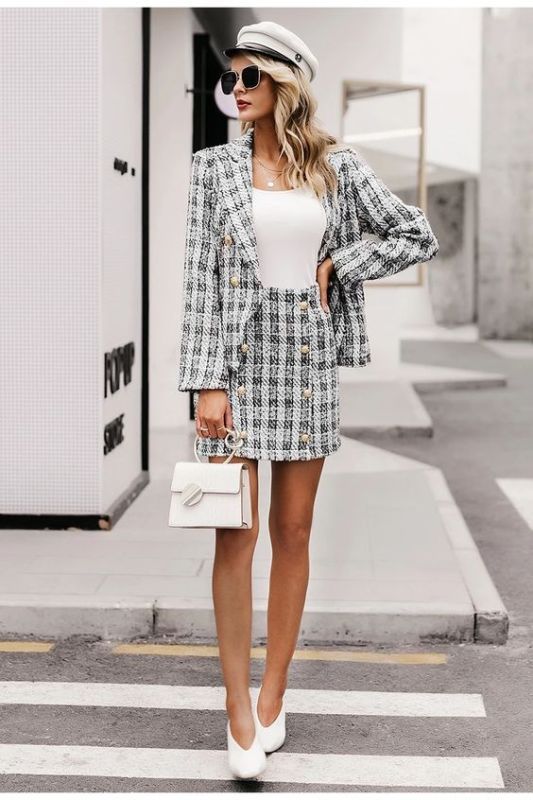 Being classy in a spring style by having a tweed one-piece outfit that includes a mini skirt and blazer. This ensemble could be great if designed in a plaid white grey pattern and match with the white tee and high heels. To increase your fashion sense, get white peaked hats, sunglasses, and a white mini bag in for the best blazer outfit ideas.
Leopard Blazer for Bohemian Style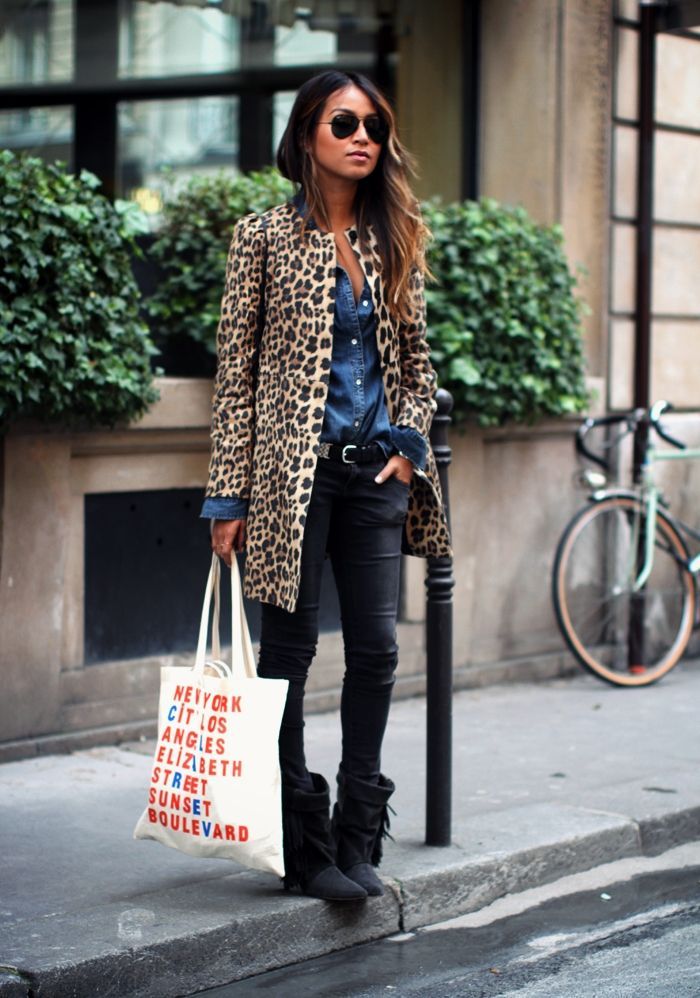 Get a bohemian outfit by bringing a leopard blazer, denim shirt, black skinny jeans, and moccasin boots into women's outfit ideas. This combo outfit could present a cozy boho chic style during winter or fall. The leopard print could make this blazer outfit idea look more trendy and chic.
Trendy in Cropped Blazer Style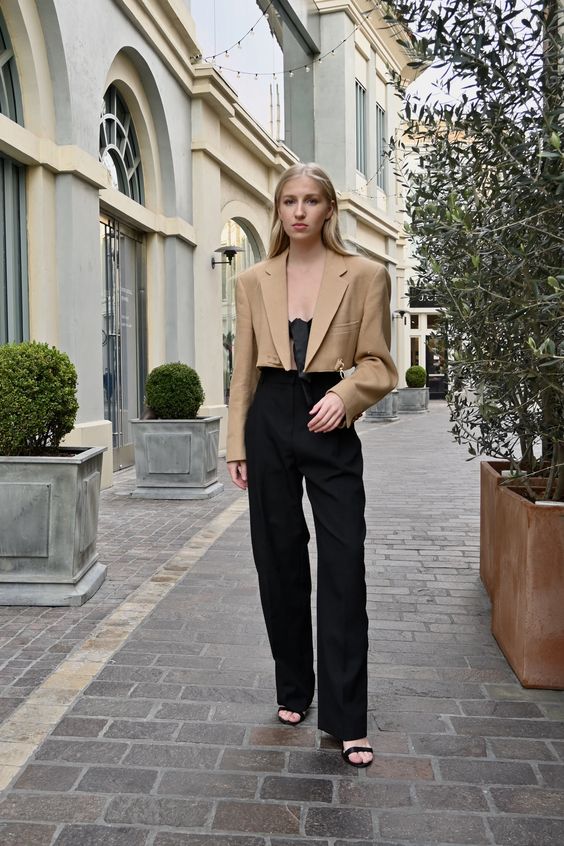 Have a more trendy and fancy impression in blazer outfit style for women by getting a long sleeve cropped blazer and sleeveless jumpsuits. Bring out this outfit together with high heels and a simple make-up style to go for formal attire.
Printed Blazer in Women's Outfit Ideas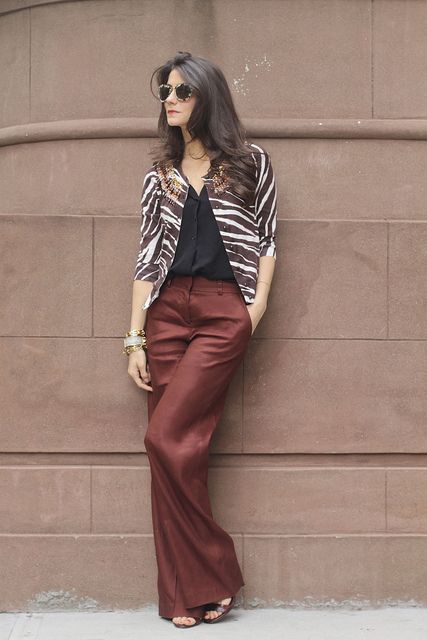 Another printed blazer style you can apply in women's outfit ideas is obtaining a brown zebra print blazer. You can take it to cover your black shirts and maroon wide-leg pants to get a preppy style for daily outfit ideas.
Bold Outfit with Light Color Blazer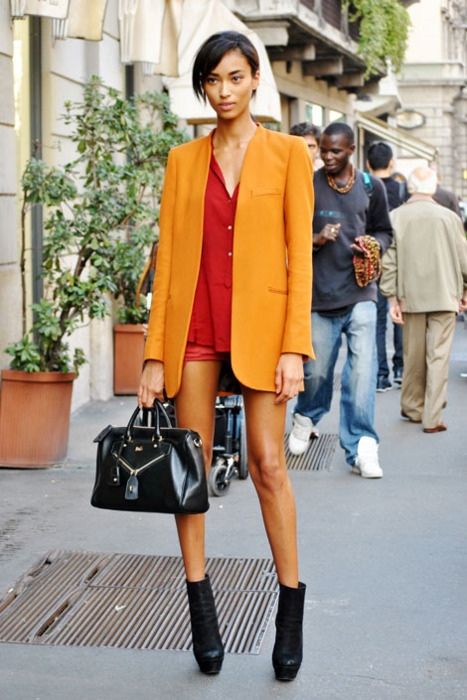 Want to bring out an eye-catching style, just bearing a light color shade like orange in your blazer in women's outfit ideas. Mix and match the outfit to be more colorful with a red button-down blouse and mini shorts. To balance the style, bring neutral colors like black into your bag and boots.
Bringing A contrast in Your Maxi Dress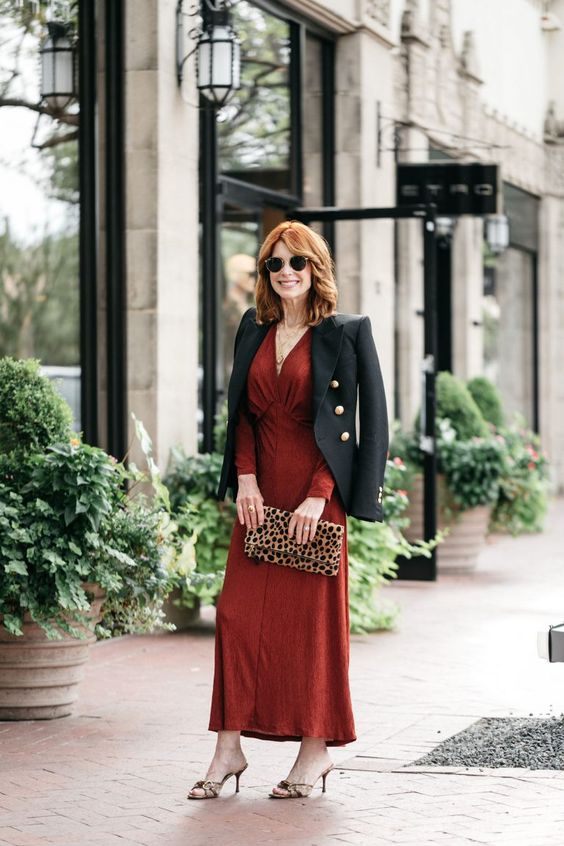 Can't doubt again that's blazer is the best formal style in your daily outfit ideas. Pick a black blazer for bringing a contrast in your maple color elegant maxi dress to wear as a dinner gown. Complete your graceful outfits with high heels and a leopard envelope bag.
Cool Girl Look with Blazer
Get your blazer outfit style more modern in a smart way by mixing it with skinny jeans and long sleeve crop tops. Give this outfit a cool-girl style with the fedora hat and heeled ankle boots. Having green leaf colors in your blazer could give a fresh statement to your women's outfit.
Casual Blazer Outfit Style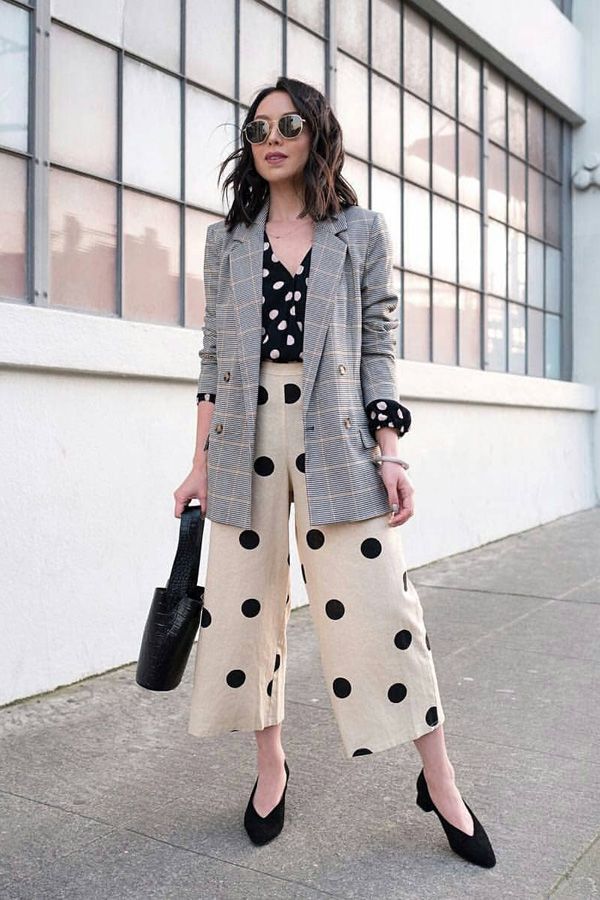 The best blazer outfit style to deliver a casual perspective in your fashion design, just combining it with a polka Dot blouse and culottes. You can have to try wearing a plaid grey double-breasted blazer with the polka dot white black blouse and beige culottes for clashing patterns in your outfit ideas. Finalize the style with moccasin shoes and a bucket bag for an adorable overlook.
Best Blazer for Winter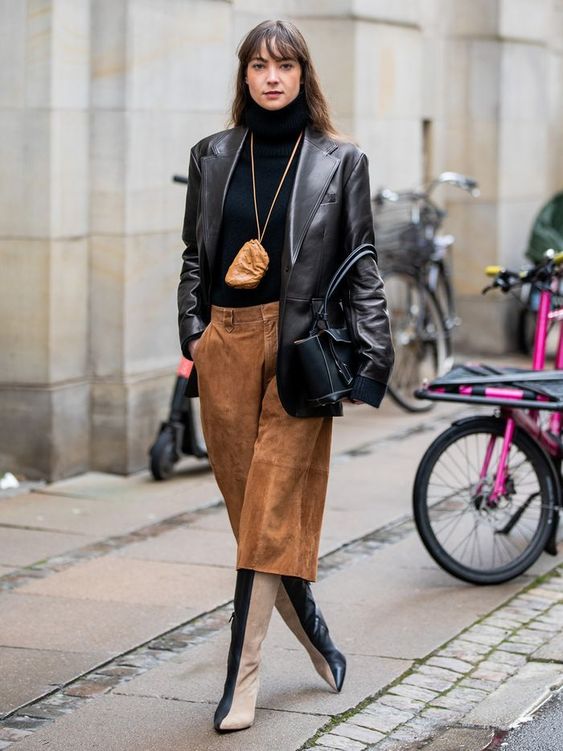 The best styling blazer in women's outfits during winter is by choosing and combining leather blazer, suede midi pants, and turtleneck sweaters. For best matching footwear, you can come up with knee-high boot ideas. To complete all your views, bring your favorite black bags for this style.
Pretty in Pink Blazer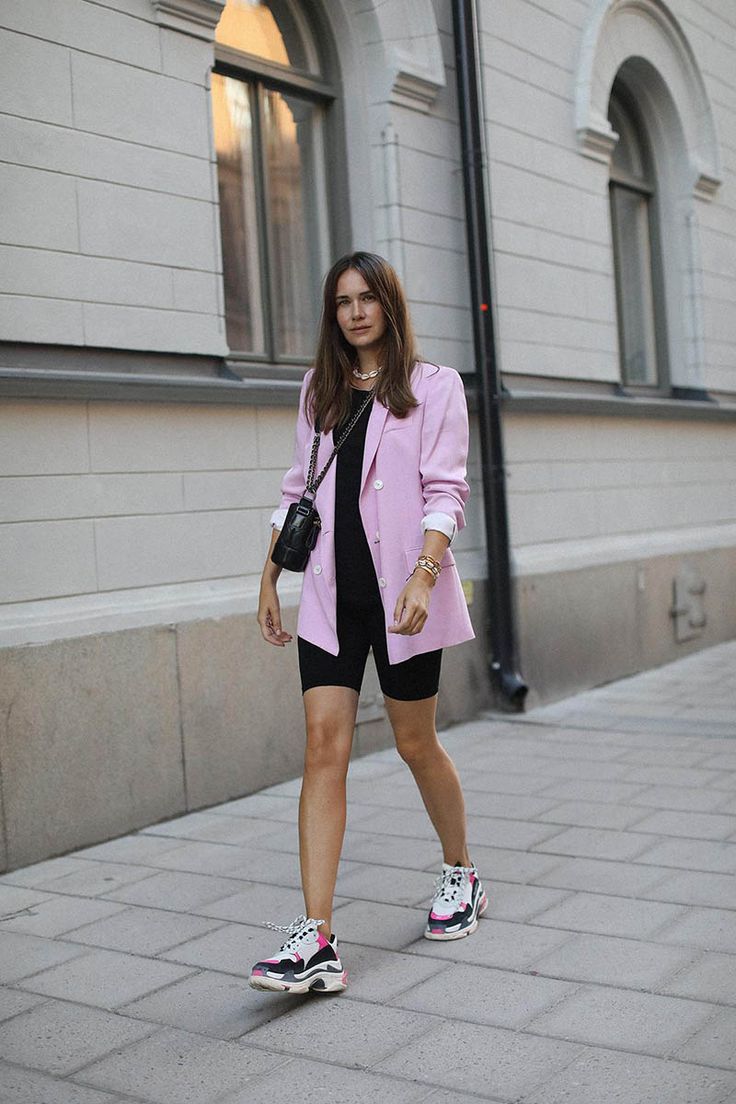 Go with a pink blazer to present pretty pastel ideas in women's outfits. Adjusting it in your black outfits would provide a feminine vibe to your fashion style. Mix and match this blazer with black fitted tops, biker shorts, and trainer shoes for sporty outfits. Finished your outfit style in a black mini sling bag and simple gold jewelry.
Preppy Style in White Blazer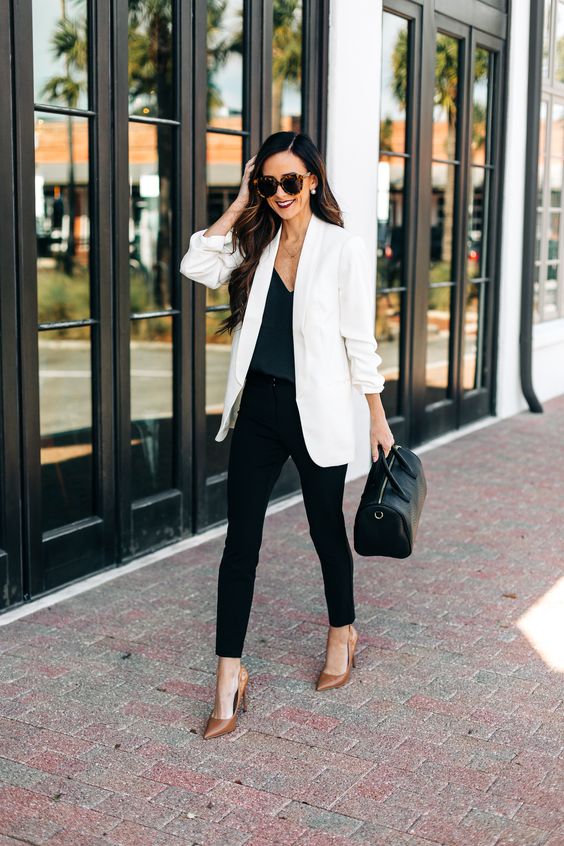 A white solid blazer is good for women's work outfit style. This is because a blazer is one of the favorite ensembles for formal workwear. For this, you just need to match the blazer with some outfits in your wardrobes like a black tank top and pants. Pairing this preppy style with high heels and a women's doctor bag to build your confidence in the office.
Sparkly in Gold Velvet Blazer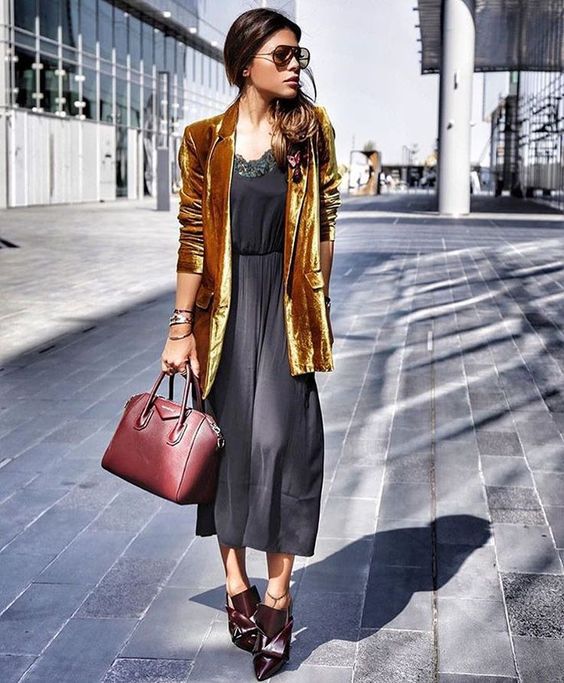 Besides giving a formal look, a blazer could also be the one to bring out glamorous in your outfit ideas. If you want to look a little sparkly, you just need to wear a gold velvet blazer to layer your black maxi dress. This is simple but turns your style dramatically. Finalize your outfits with leather ankle boots, a wine handbag, and some gold jewelry as accessories.
Sporty with Biker Shorts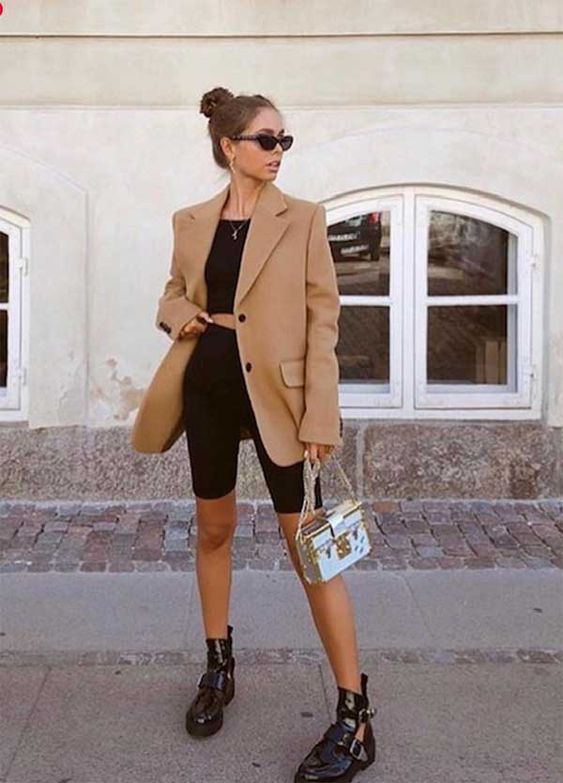 Somehow blazer could be a match to deliver sporty style in your outfit ideas. For the versatile pieces, blazers can come up with various attire even for casual sporty styles with biker shorts. Applying this combination to your daily outfits would bring a new model. Finished your outfits with chunky boots and a minibag for having fun with your friend in the pub.
Blazer in Top of Summer Bralette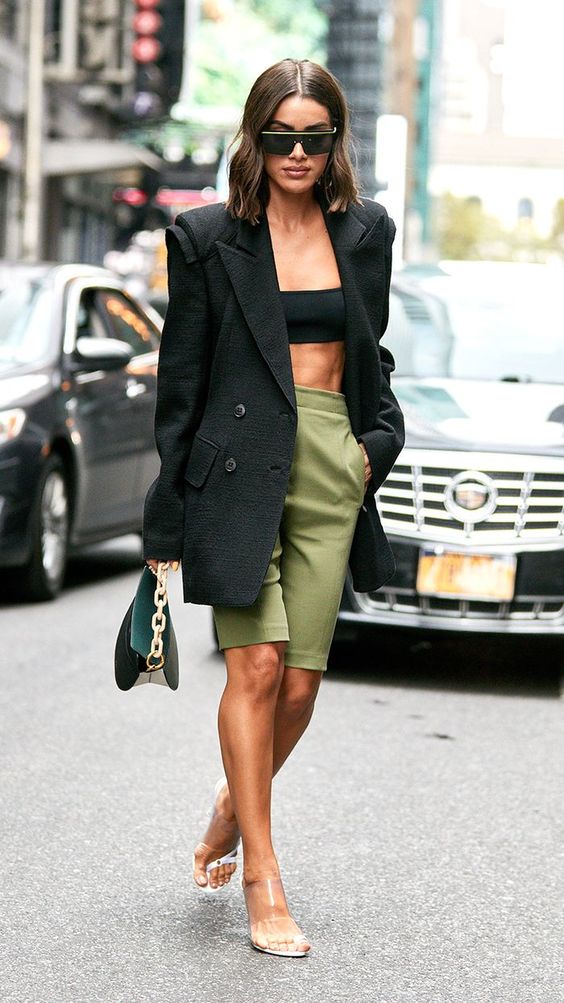 Another style in blazer outfit idea for women is making it for covering your bralette top. This style would expose a little more skin and that's why it's good for summer. The perfect combination for this outfit is when you can add khaki shorts as your bottom ensemble. As for accessories and footwear, just bring sunglasses, a mini handbag, and slippers on your outfit ideas.
Vintage in Green Velvet Blazer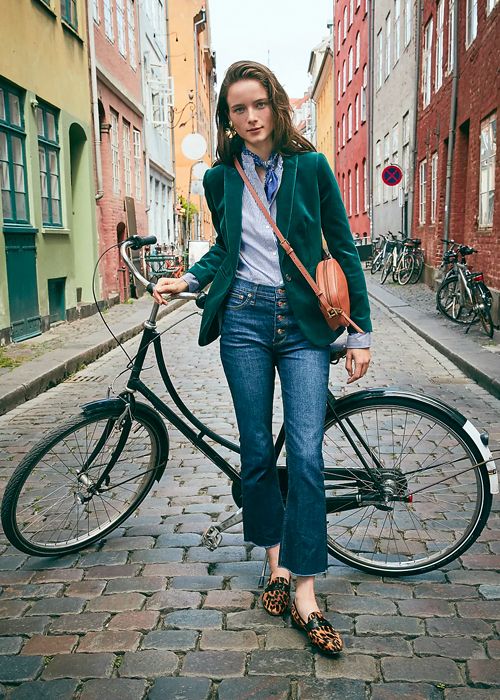 Blazer would also bring back your old fashion to become contemporary in women's outfits by picking a green velvet blazer. Bring a vintage outfit idea by wearing a blue striped collared shirt, boot-cut jeans, and then you need to tie a scarf around your neck to make it more ancient.
Blazer with Jeans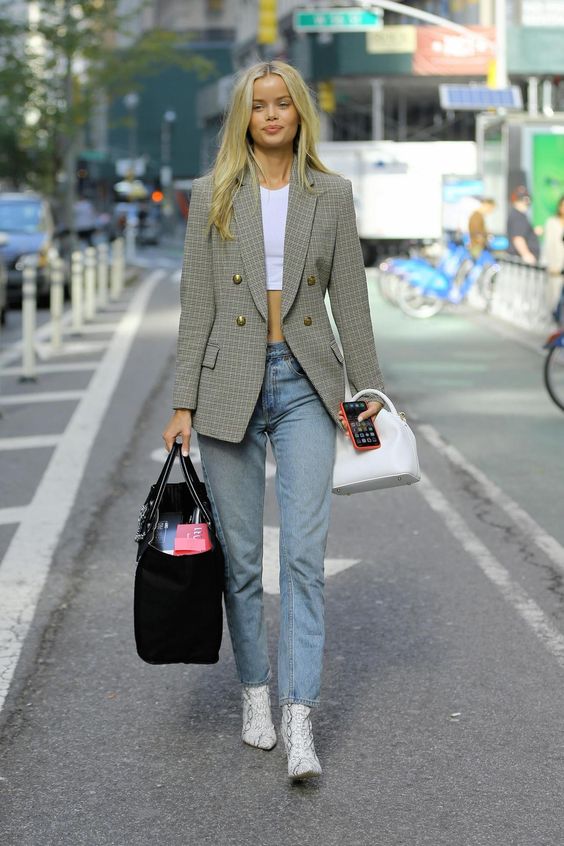 If you want to look trendy and elegant use a blazer for daily outfit ideas that you mix with jeans. Encase your cropped tops with a plaid grey blazer. Wearing a snakeskin ankle boot as footwear would give a unique style to your women's outfit. You can bring this outfit style to go out for work or as for vacation style.
Over Denim Shirts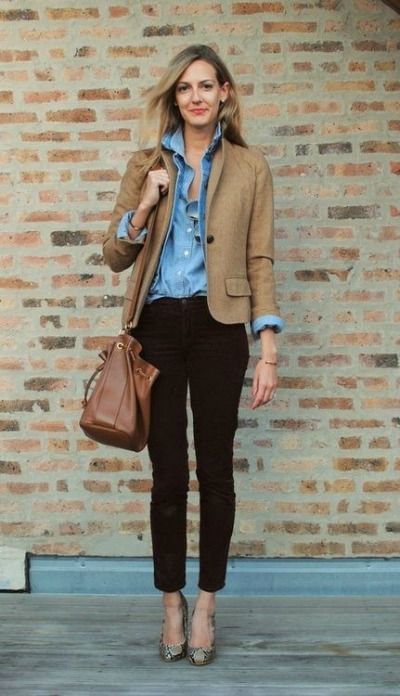 Never be bored to carry denim in your outfit idea because it's as flexible clothing as blazers that you should have in your wardrobe. While a blazer can bring a formal appearance, otherwise denim could bring the trendy and casual presentation to your fashion. Matching both of them together couldn't be a problem at all, instead, it's looked more fashionable in your outfit style. Try to combine your camel blazer, denim shirts, and black skinny jeans, then get a chic college outfit style. A tote bag and snakeskin high heels would make your performance being excellent.
Best Layering Style for Plus Size Body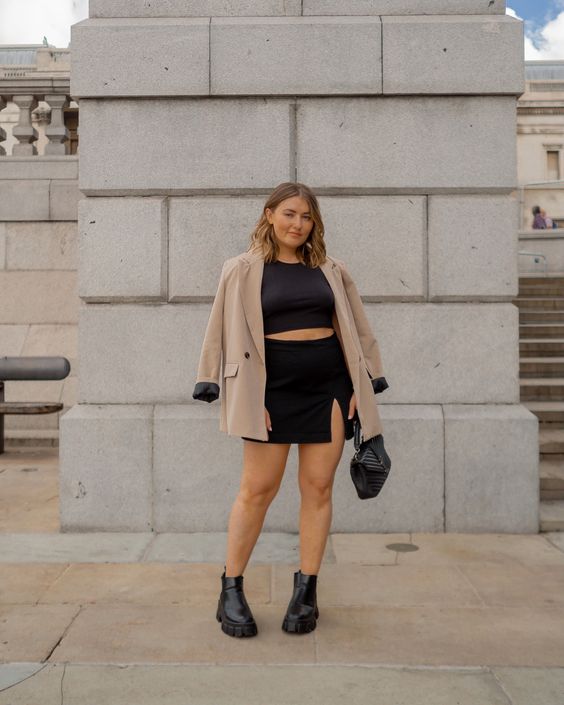 Those who have a plus-size body could try a layered style with a blazer. Choose black cropped tops and then pair them with the black mini skirt to bring an illusion because black is the best color to hide your overweight body. Choose a camel-long blazer in one size larger for balancing your style. For completing the outfits, you may pick black ankle boots and a black mini handbag to have an elegant and pretty style outfit.
Styled in Sweatpants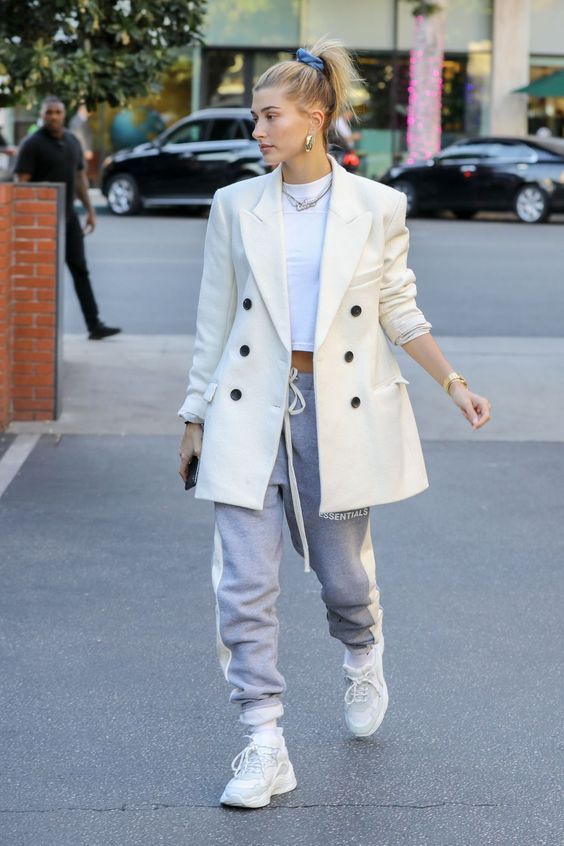 Blazer and sweatpants could be good enough to wear as comfy casual style in your daily outfits. Just match it with white cropped tops and trainer shoes to have it as your best spring outfit idea.