Olidfashion.com – After a long holiday and online school because of pandemics, it's time for students for coming back to school. In college life has usually different culture shocks that girls need to concern, especially about the clothing style. The best thing about college outfit ideas is the chic and casual style which makes every girl look pretty enough.
Bring Up Chic and Casual Girls Outfit Ideas to Look Pretty on College
When you go to college or university, you don't need to have the same school uniform. The best thing about it is you can free to have an experiment on your fashion design. Mix and match your pieces, and come up with the best combination outfits. The girls usually bring up casual and chic styles in their college outfit ideas. So, we have some compiled pretty styles here for inspiring your college outfits.
Casual College Outfit with Long Cardigans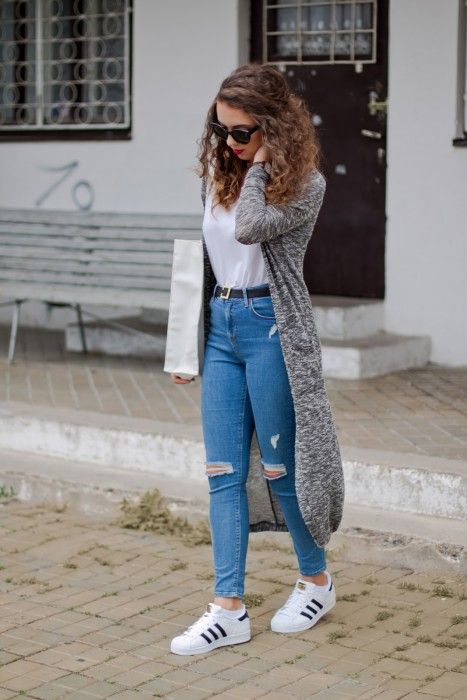 First, we come up with simple casual style college girls outfit in long sleeve cardigans. You can tuck your white t-shirt in ripped blue jeans. and then try to cover up with a long grey cardigan. Have a little detail in accessories like a mini belt and glasses, for the footwear just pick sneakers to bring causality on your college style.
Romper Mini Skirt and Varsity Jacket for Pretty Style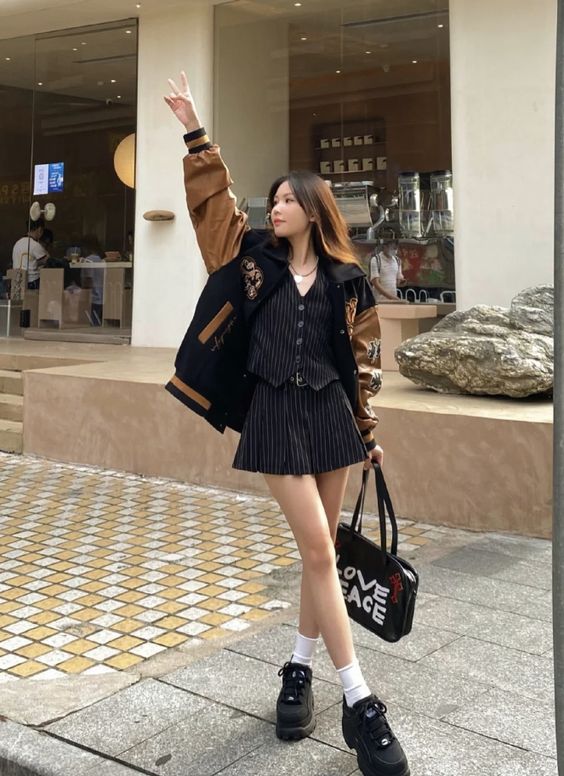 Want to have chic and pretty college outfit ideas, try to combine a romper mini skirt and oversized varsity jackets. For the footwear, pick a pair of trainer shoes with socks. Don't forget to have a trendy laptop bag in your hand and you will be ready to go study.
Chic and Simple College Outfit Style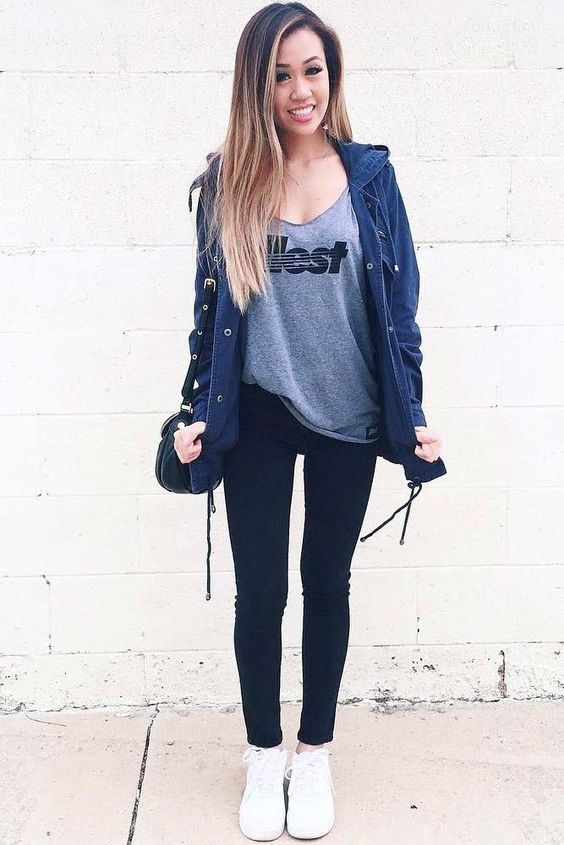 want to a chic and casual college outfit ideas, pull out your cotton summer tank top and then layering with casual jackets. For the bottom outfits, you can have black skinny jeans and white sneakers.
Pretty Outfit in Collared Shirt and Sweater Vest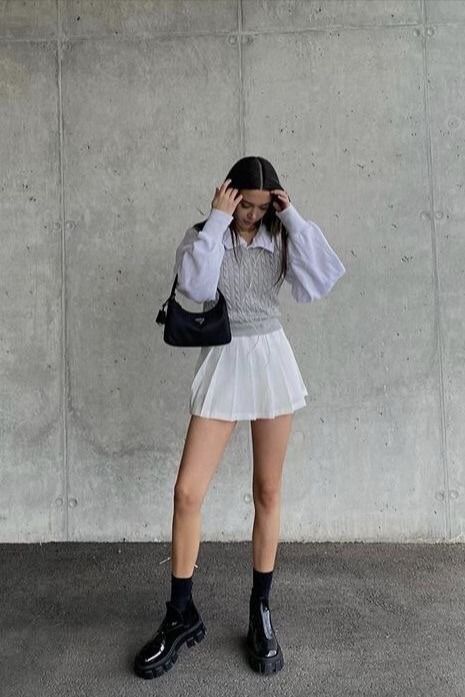 When you want to have a chic and pretty look college outfit style, you can bring up together collared shirts with a sweater vest. For the bottom, pick up the tennis skirt and more cool mode by wearing chunky shoes. You can have this sweater vest style that brings smart
Mature college Outfits
If you like simple and mature college outfits, tuck an oversized t-shirt in your high waist pleated midi skirt. To complete your pretty outfit ideas, bring up the sneakers and mini bag.
Simple in Denim Midi Skirt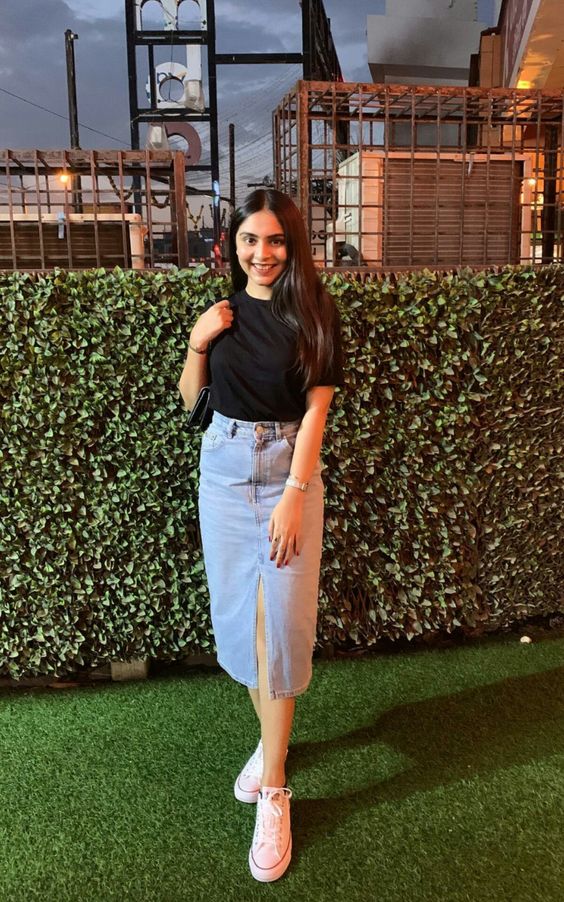 Another simple but chic outfit style you can wear in the college is pairing a casual t-shirt with a waist denim midi skirt. For more casualties, you can get sneakers for your favorite college footwear. Wear some simple accessories like gold jewelry, a watch, and don't forget to get the mini bag in your hand. This style is great to wear for hanging out after the class is finished.
Trendy College Girls Outfit Idea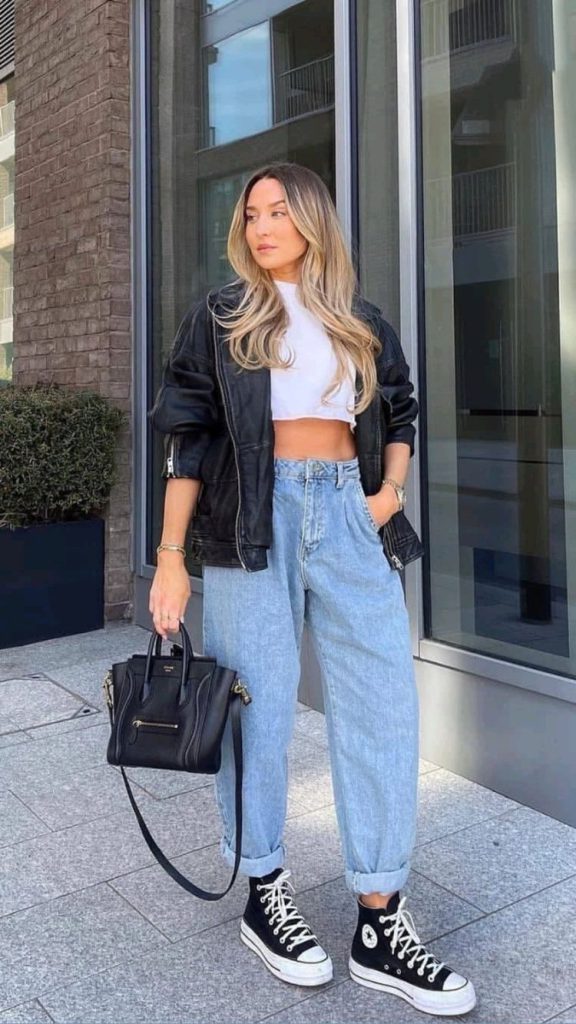 For you that want to look a little manly but still feminine, combining crop top, leather jacket, and boyfriend jeans would be a good option. When you get this outfit with sneakers, you will perfect your trendy college outfits. Don't miss out to bring the tote bag for the finalize.
Casual College Outfit in Denim Jackets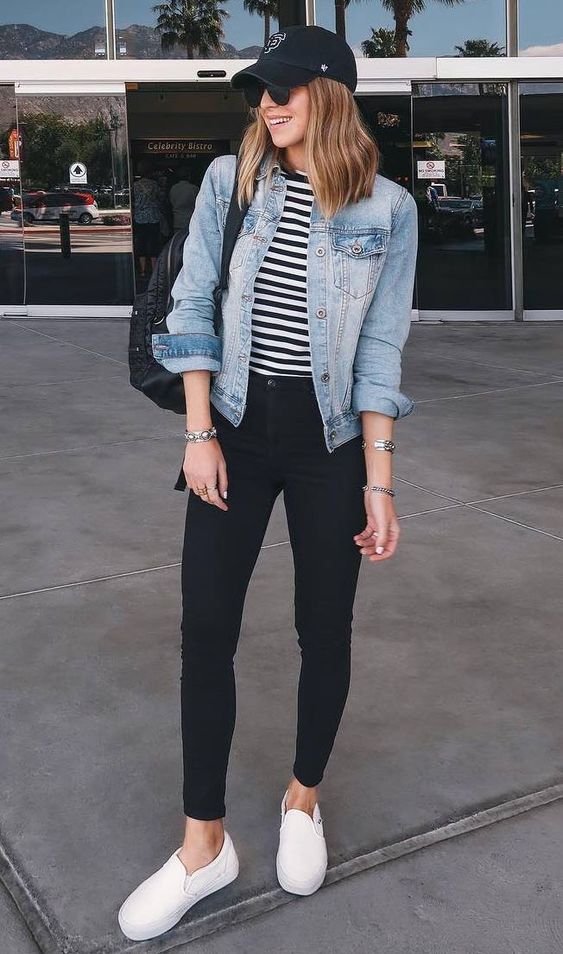 Have a more casual style in your college outfit with a denim jacket. You can make it to layer your striped t-shirt and mix it up with the black skinny jeans. Besides sneakers, slip-on shoes also could be chosen for the trendy style. For the accessories, you can select a backpack bag and hat on your head.
Long Tunic for Cardigans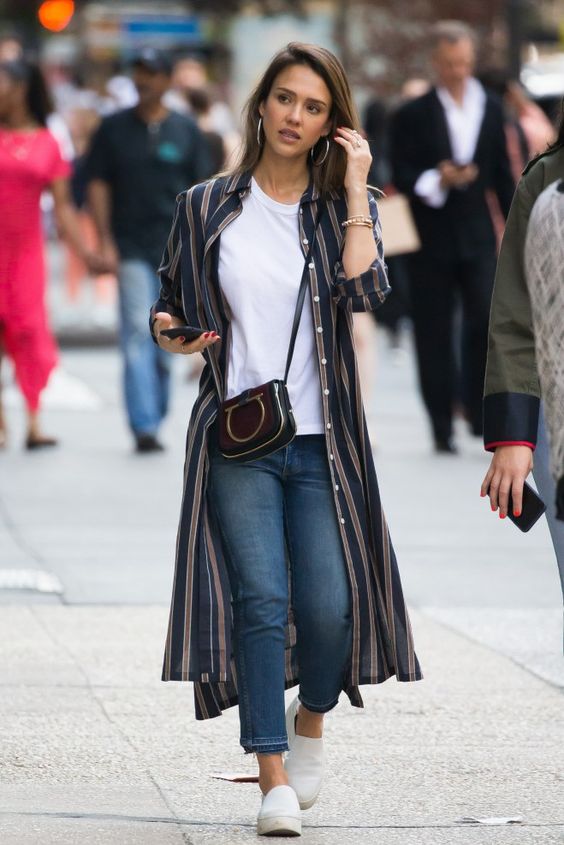 Want a unique model for your college outfit ideas, turn your long tunic become a cardigan. Recreate it by matching casual outfits like t-shirt and jeans then cover the outfits with a button-down long tunic. Choose slip-on shoes and a mini sling bag to astonish your outfit. Grab simple accessories like gold jewelry to make you more shining.
Bermuda Shorts as College Outfit Ideas for Girls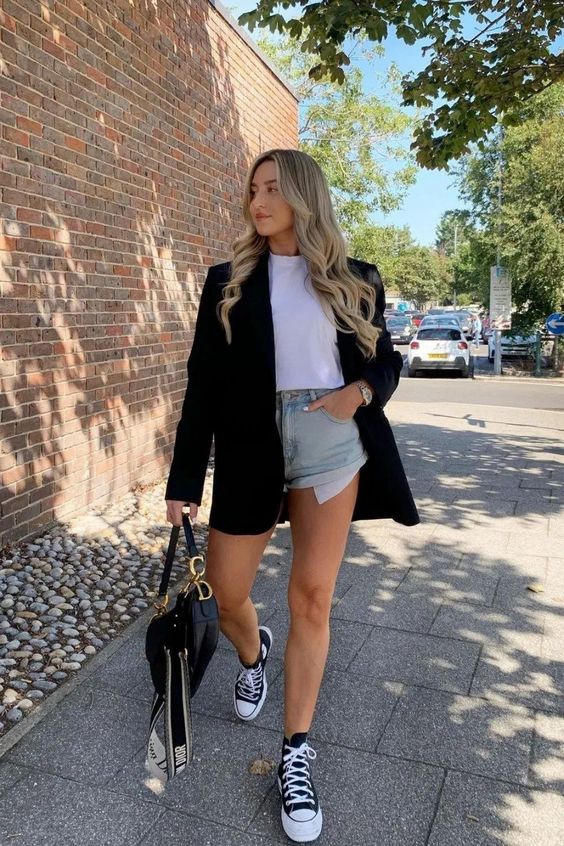 You also can wear Bermuda shorts as your college outfit ideas for girls. For this, I recommend you combine denim shorts, t-shirts, and cover the outfits with an oversized blazer. Make it all perfect by giving sneakers and a handbag on your outfit style.
Comfortable College Outfit Style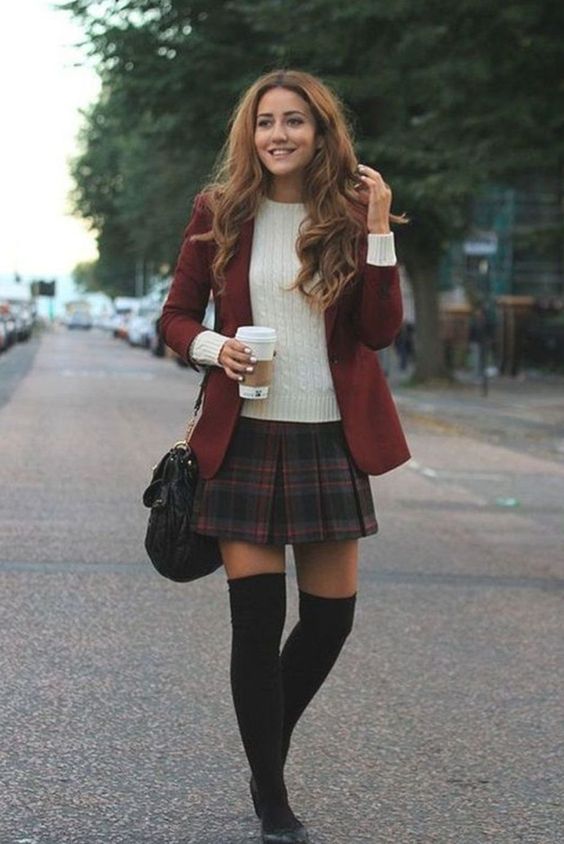 Should attend a class in colder time, you need to wear something warmer and comfortable as your college outfits. This outfit combination could be your preference, you just need to bring up your sweater under your blazer and then have a tennis skirt for the underline. To make you cozier you can have over-knee boots as your footwear.
Pretty College Girls Outfit Ideas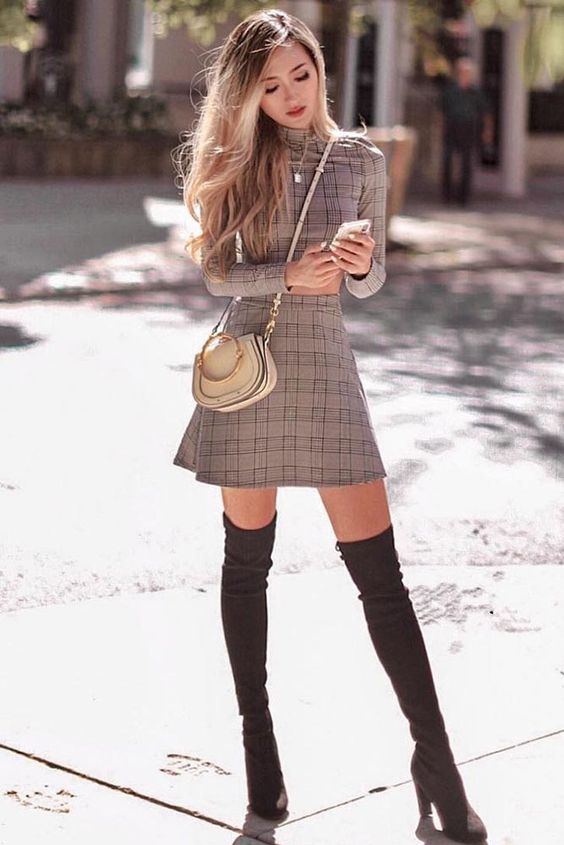 Other pretty college outfits for girls, try up to wear a long sleeve beautiful mini dress and tight high boots. This is simple but pretty enough to use as a college outfit style.
Styling College Outfit with Bomber Jackets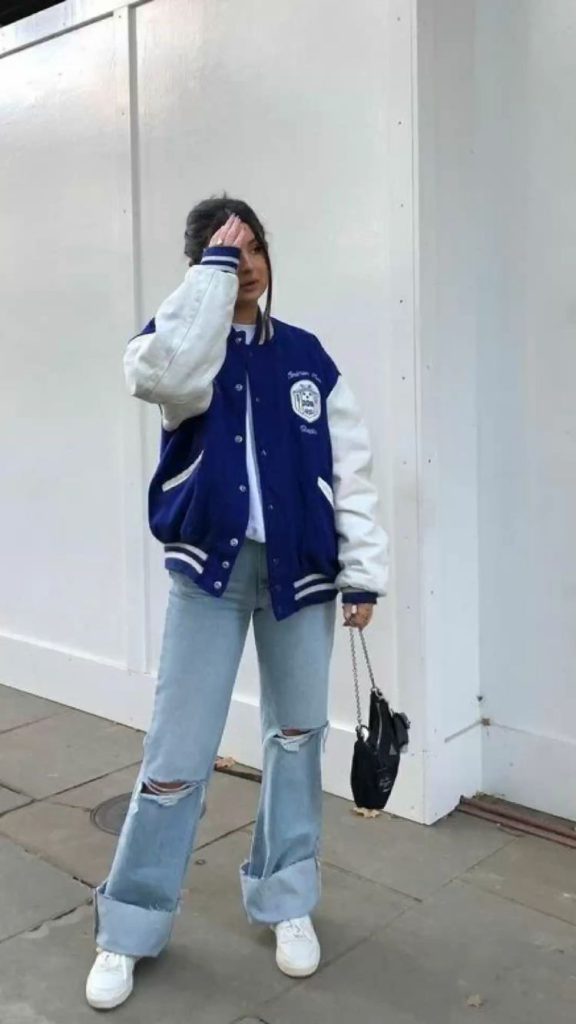 Chic and trendy college outfit ideas by matching men's bomber jackets with your ripped jeans. This outfit also helps you look sporty and can pull out your natural beauty more.
Lazy Outfit Style for Class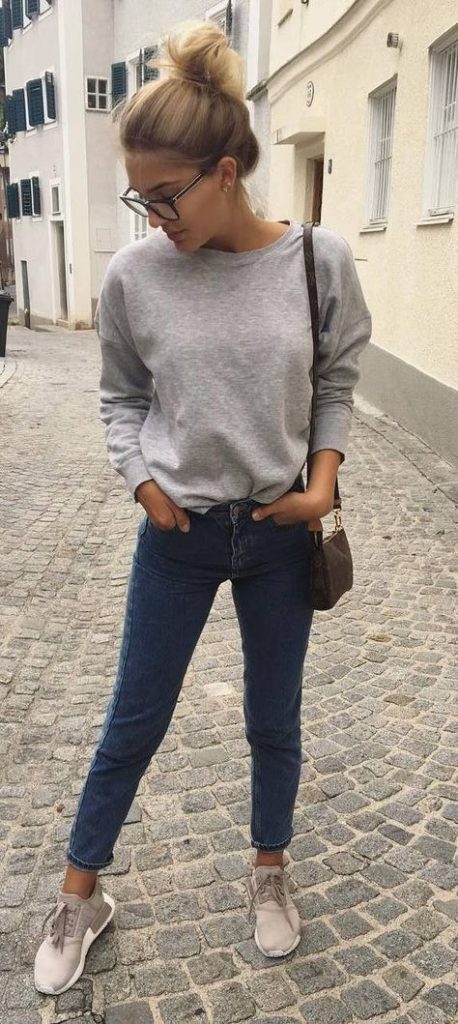 If you want to have simple and get the lazy way stay to come in class, just try using this outfit is on. Tuck Your grey long sleeve sweater into your blue jeans. To have more coziness outfits, bring out trainer shoes in your style.
Casual and Chic College Outfit in Hoodie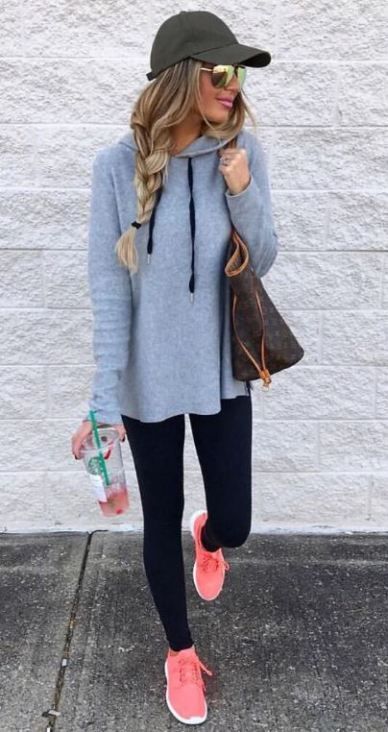 This is also a casual and chic college outfit idea that you should apply because can make you still look pretty enough. Wearing a hoodie, legging, and trainer shoes has your mood today. Complete all your stuff with a hat and tote bag. It's simple but makes you feel comfy or gorgeous at the same time.
Sporty and Chic College Outfit Style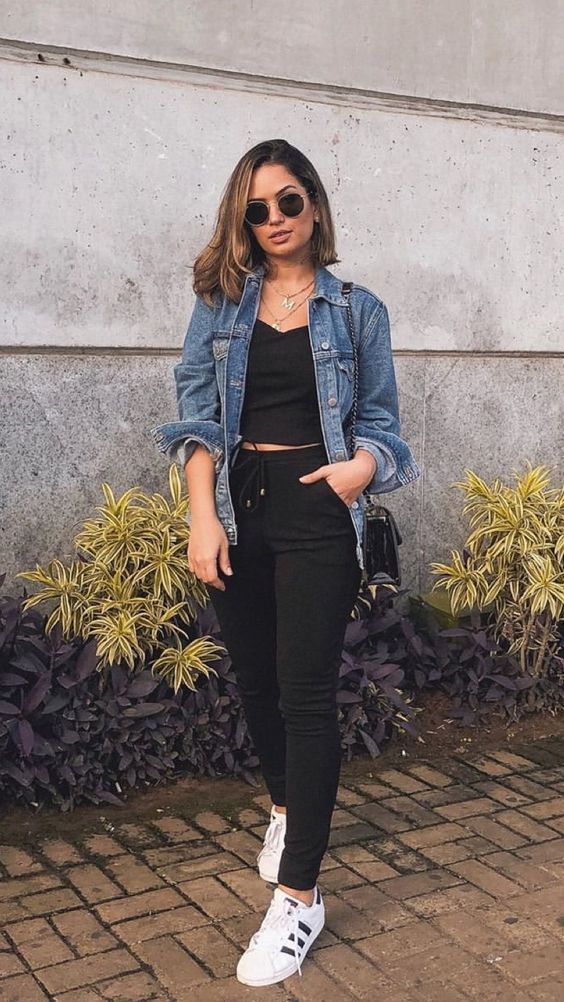 Trainer shoes or sneakers are the most favorable style that girls used to have a trendy and casual outfit. These kinds of footwear could be suitable for any type of outfit. For example, you can prepare a top cropped, sweatpants, and denin jackets to create a sporty and chic college outfit style.
College Outfit for Summer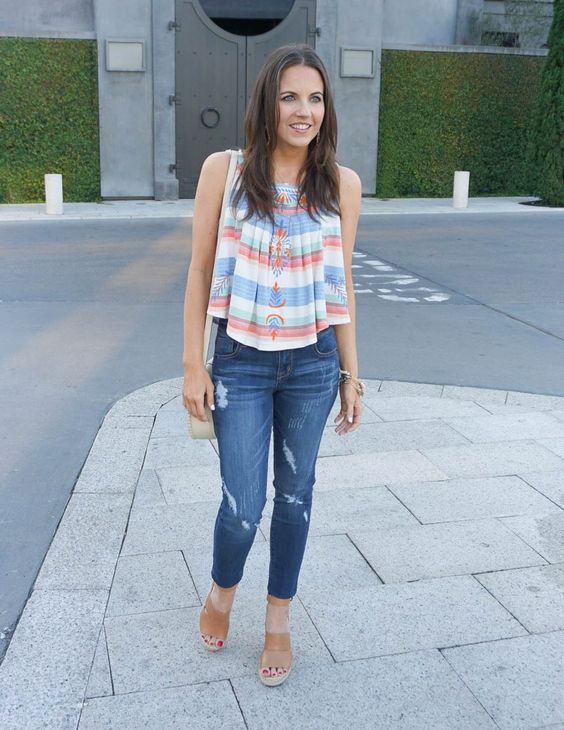 Having attended your class in the summer, you need something great enough like a cropped top and blue jeans. You can choose the colorful top-like pastels palette combination. For the button, a little ripping on your jeans would give a cool detail to your style. Get the feminine vibe by bringing a pair of wedges to your college girls' outfit ideas.
Have Boyfriend Shirts as College Outfit Ideas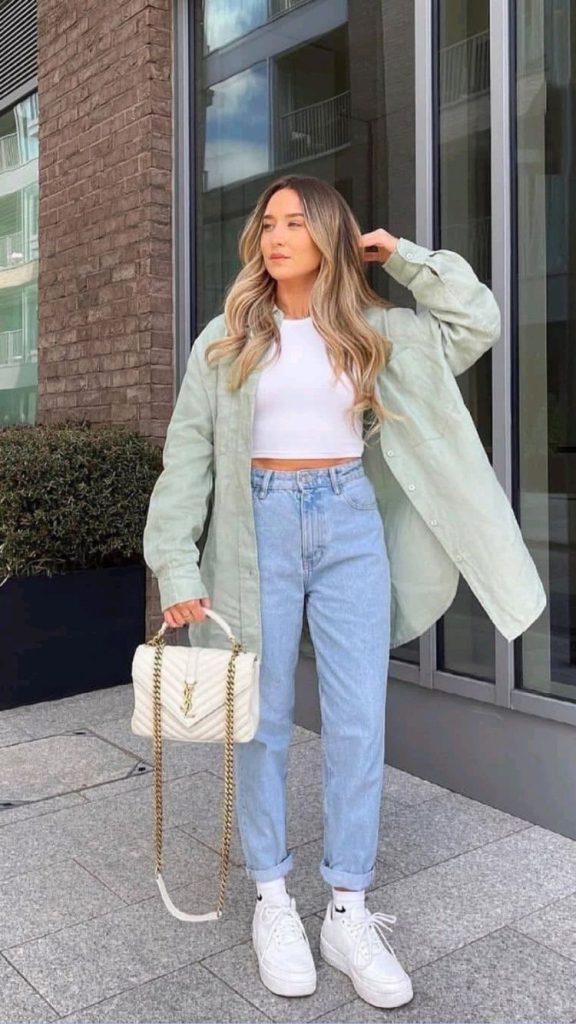 To have your boyfriend shirts as your outfit style, just make it good enough with some pieces in your closet. Mix and match your boyfriend's oversized shirts with the white cropped top, in this way you turn it for a jacket. Carry waist denim and trainer shoes may have good overlooking style.
Simple Trendy Style for College Girls Outfits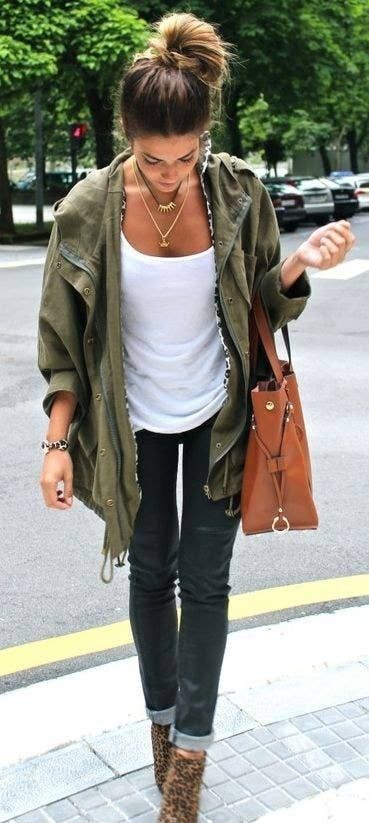 For you who is like a simple trendy style should try to apply this outfit style. Match your white tank top with black jeans, and then pair it with oversized jackets. For a more classy and trendy style, just come your outfit with leopard ankle boots for the shoes. Don't forget to bring your appearance cooler in simple accessories and a tote bag.
Cute and Trendy College Style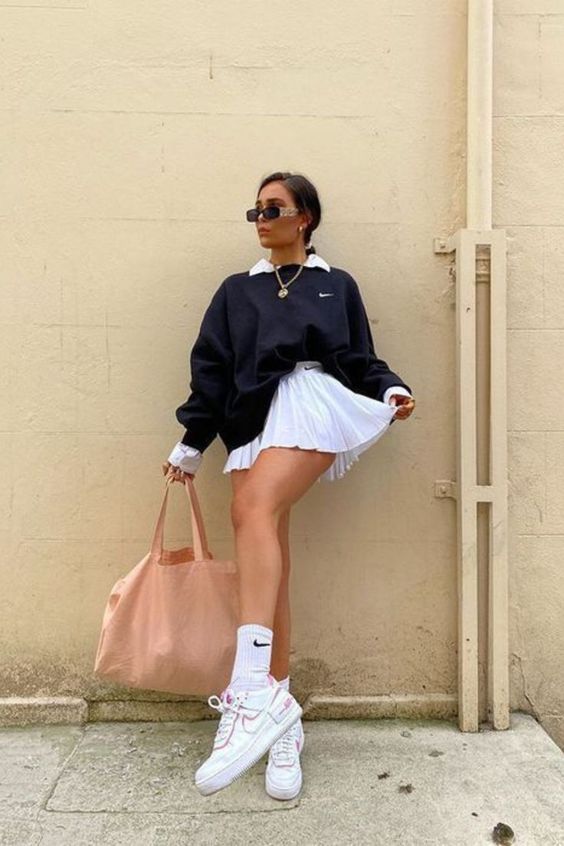 For those who want to have a cute and trendy style in their college outfit, you can create layered outfit styles by covering your shirt with an oversized sweater. Then to have a cuteness on your outfit, bring out your tennis skirt for the bottom outfit. This obviously would help to give you a pretty and sporty image. Complete the look with trainer shoes and a tote bag.
Cool College Girls Style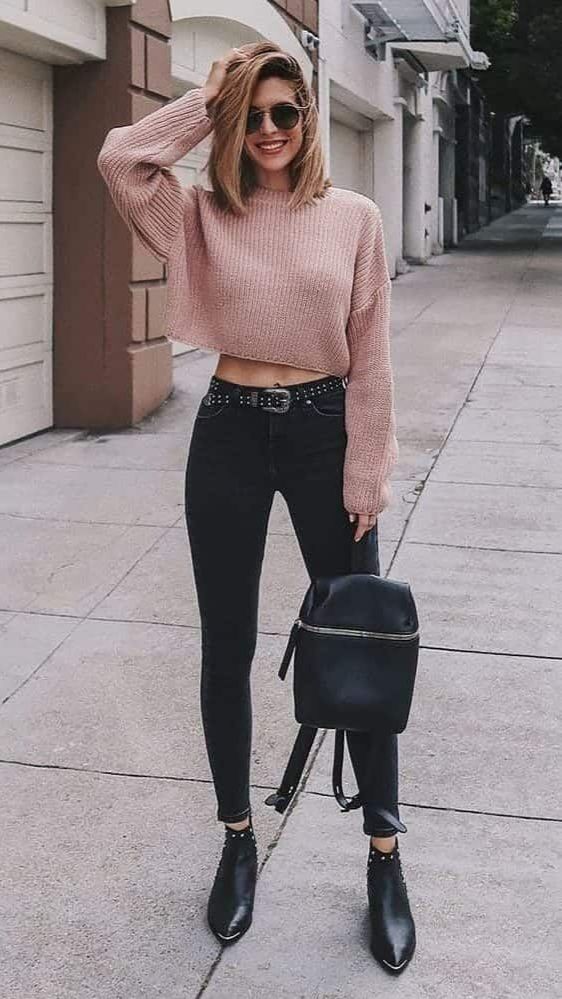 Other styles that wouldn't make you be like a freshman in college, pull on your cropped sweaters with skinny jeans. More confidence with ankle boots for a little cool-girl style. Just complete your outfit style with a backpack rather than a girl's handbag.
Grunge Style for College Outfit Ideas
Girls not only can wear something cute to look pretty. You can wear an indie or underground outfit such as chic grunge style. This kind of outfit makes you look beautiful in a different way like monochrome black or messy outfits. You can cover your long sleeve cuffed t-shirts with your shabby oversized t-shirts. One another grunge style that you must have is ripped jeans. For footwear, you can pair the outfit with chunky shoes.
Beautiful Mini Dresses for Pretty College Outfits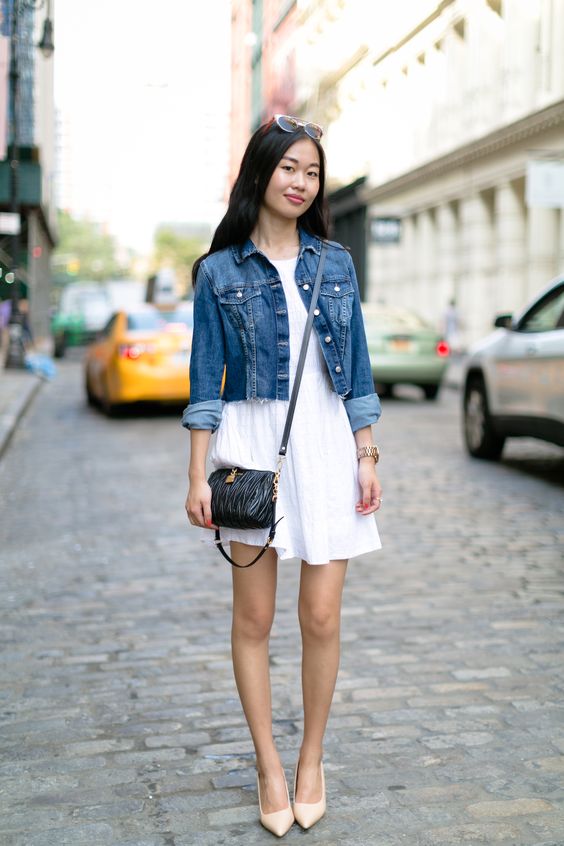 We know that your beautiful mini dresses never fail to present a pretty idea in your college girls' outfit. You can make it simple but fashionable by pairing this mini dress with denim jackets. To support your overall outfit, just pick beige high heels and a mini handbag. Simple accessories like a watch or sunglasses could also be stood up to your performance.
Preppy and Nerd College Girls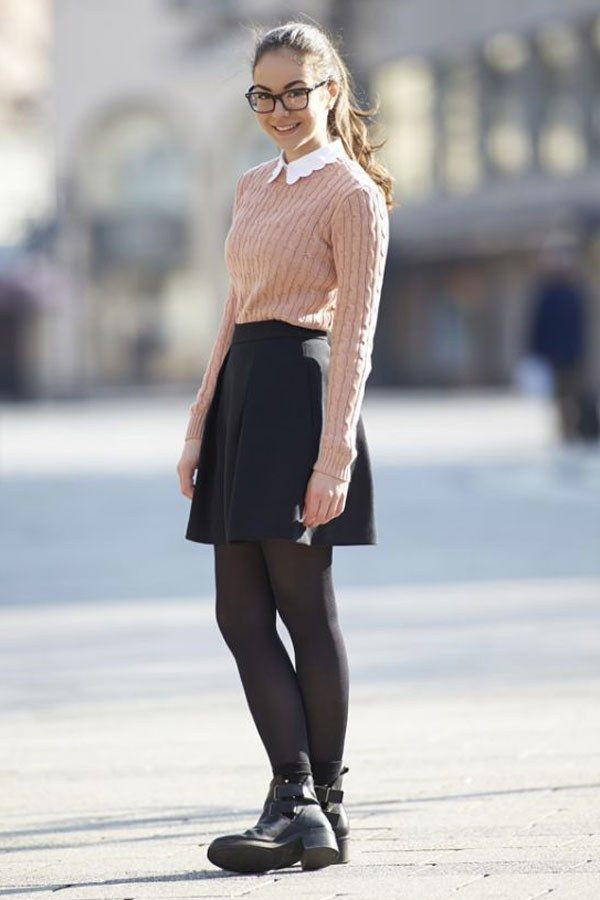 Preppy and a little nerd would also become a beautiful theme in college outfit ideas for girls. You can have this impression by wearing a collared sweater and a mini skirt. For making this outfit more pretty, have tight and boots for the bottom outfit. This girl's outfit could be presenting a smart image to your college fashion.
Hooded Blazer Style for College Girls Outfits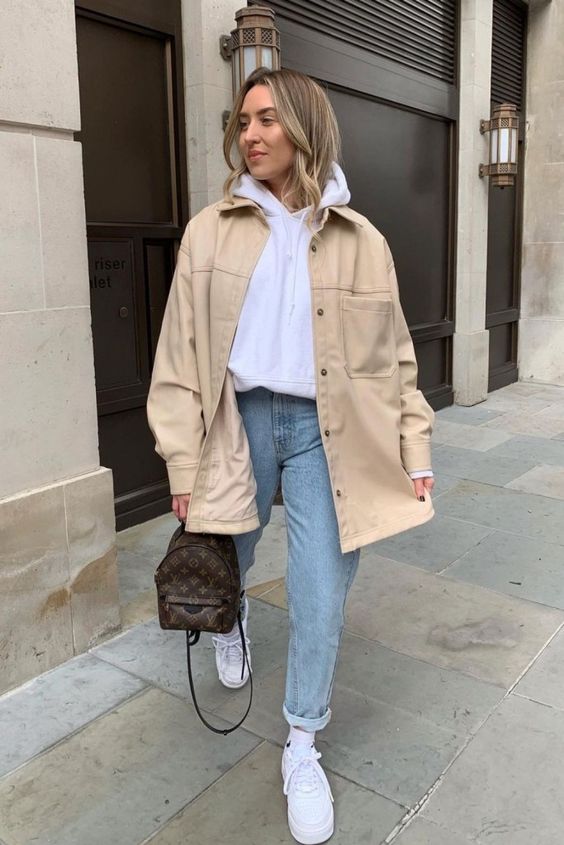 Hooded blazer style could also become the best college girls outfit idea to wear during colder weather.  You can be layering your favorite hoodie with a jacket. Tuck in your hoodie into your blue jeans. Trainer shoes and backpacks would be appropriate for this outfit idea.
Trendy Outfit Style for Tomboy Girls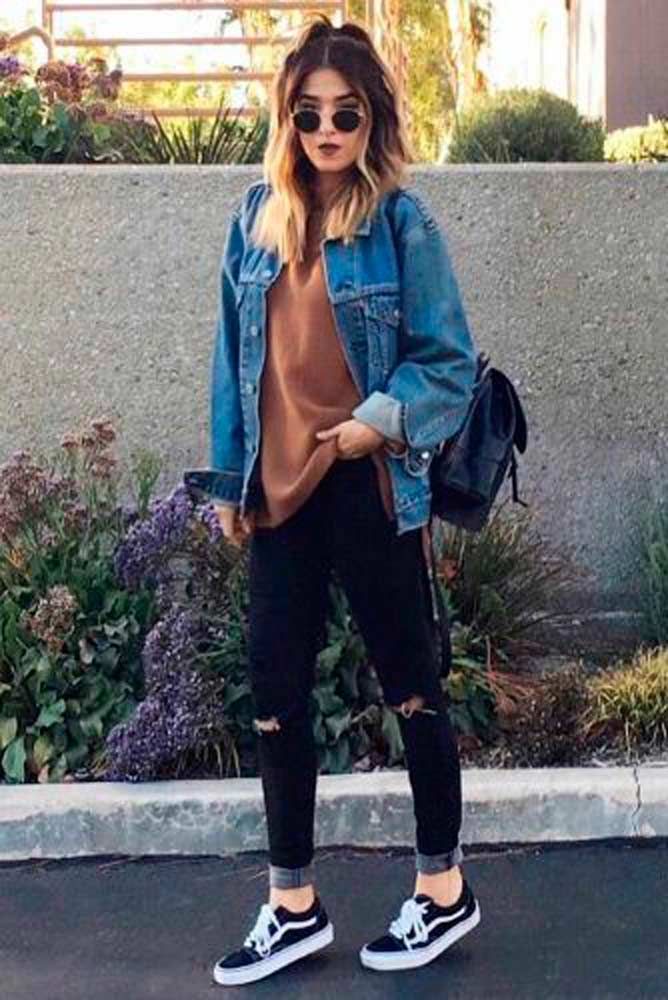 Tomboy girls always have their own style, they usually choose manly outfits such as ripped jeans, t-shirts, and denim jackets. For the footwear, either trainer shoes or sneakers are their favorite ones. This also is a trendy casual college style for those who meant to have a chic impression.
Chic College Outfits in Cropped Top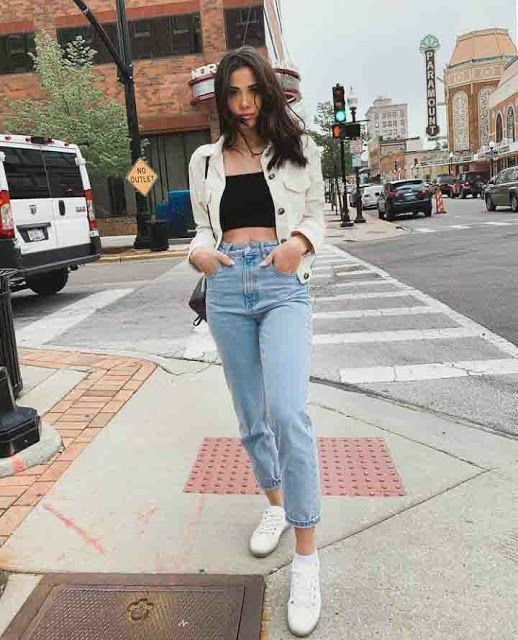 Want super chic and casual college outfit ideas during summer, just put on a cropped top and then coat it with a beige denim jacket. Match this style together with high-rise skinny ankle jeans.
Pretty College Outfit in Pastels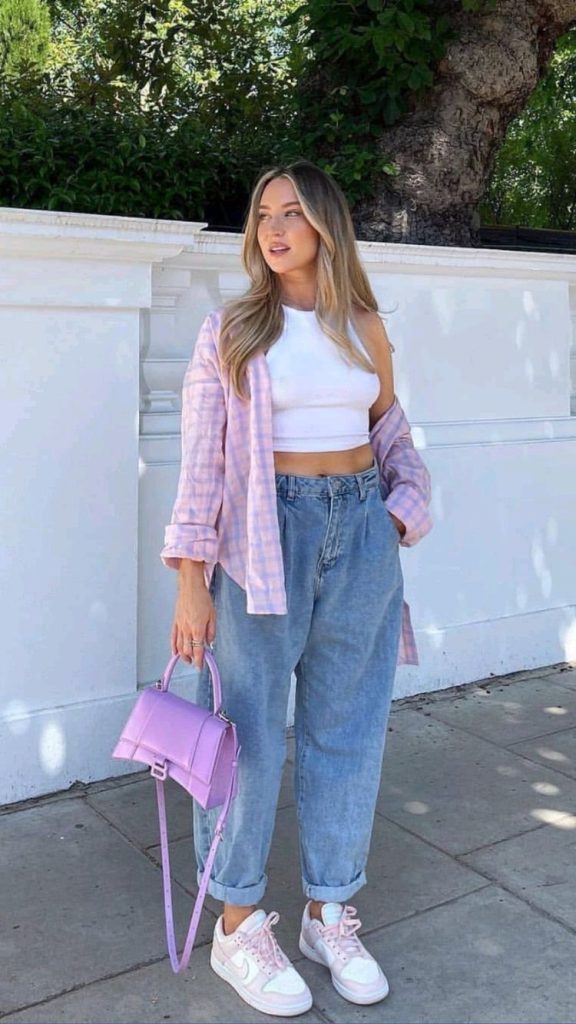 Want a cute college outfit without using mini dresses or mini skirt style, you can apply pretty pastel outfits in your fashion ideas. This color palette is always successful to create and could represent cute girls' outfits. You can add these colors into your college girls' outfit such as violet flannel and then combine them with a white cropped top and high waist pants. Accomplish your chic outfit with white trainer shoes and a lavender mini bag. That seems really sweet and adorable for teenagers.
Cute College Outfits in Jeans Jumpsuits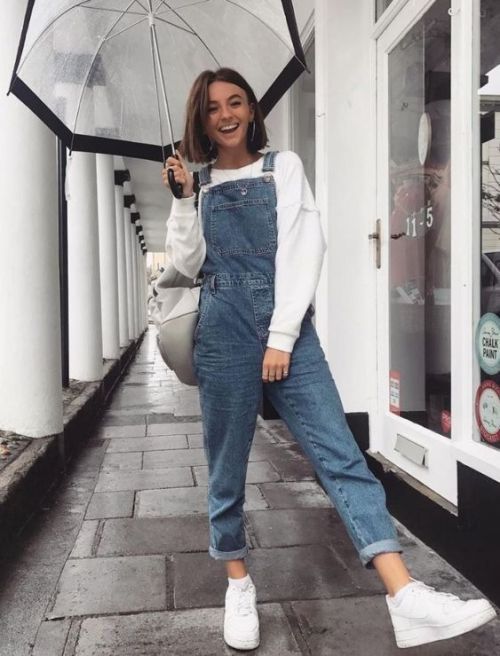 To deliver cute and chic college girls outfit ideas, work into your denim jumpsuit and long sleeve t-shirt or sweater. This actually shows up the youthful in your outfit style. For the completion, just pair with sneakers and a backpack.
Preppy College Outfit Ideas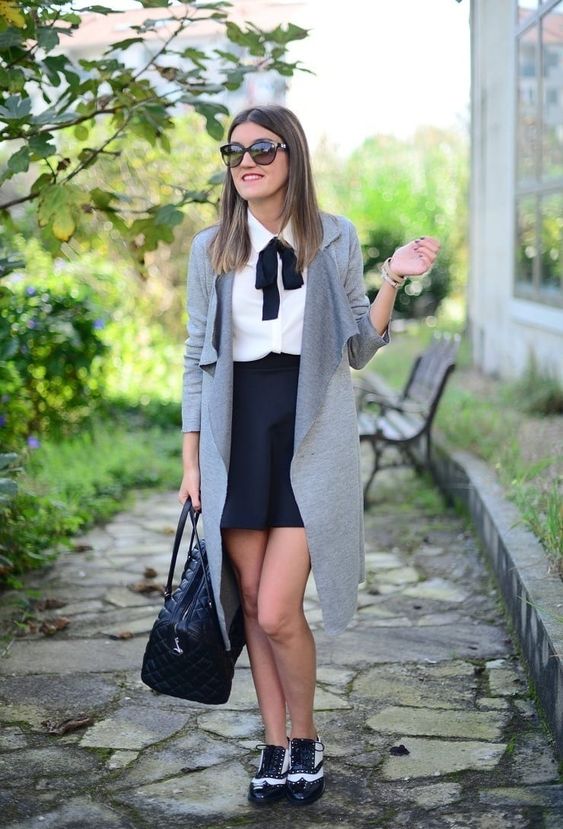 Have a mature and classy look in your college outfit ideas for girls by tucking your collared shirts into a straight mini skirt, and then covering the outfits with a long cardigan. Bringing on the ribbon tie on your outfits could possess a cute image. Perfect the outfit with brogues shoes and duffel bags.
Lace Mini Dress for College Style During Summer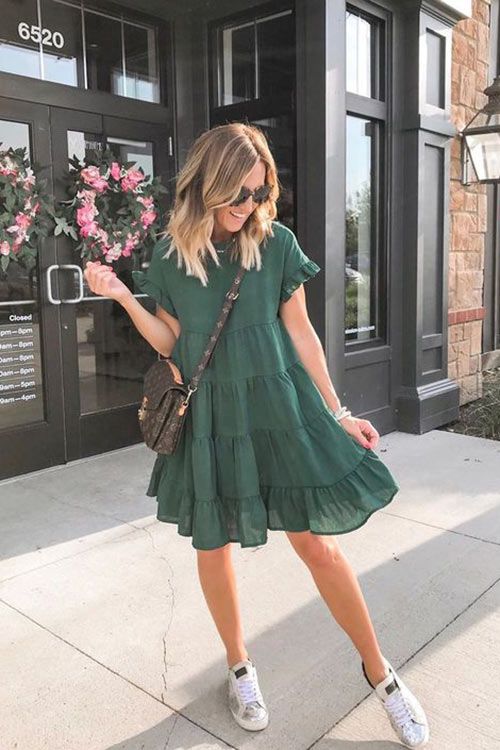 It's simple but pretty enough to wear during summertime, a lace mini dress. The modest design wouldn't make you look old-fashioned, rather it looks cute and casual. Wearing this outfit style with sneakers and a sling bag would help you get inspiration for a chic college outfit for girls.
Pretty in Blouse Fashion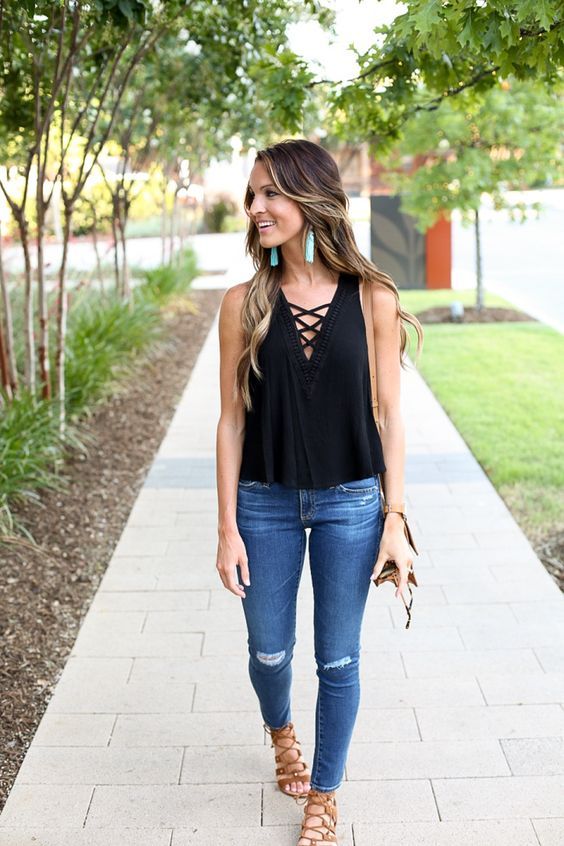 Another chic college outfit idea for girls to look pretty, you can bring a sleeveless plunging neck blouse with skinny jeans and gladiator sandals. Finished your outfit with a leather mini sling bag and some modest accessories.
Oversized Outfits for College Style
If you want an easy outfit for going to college, you can adopt oversized outfit ideas. For this style, you just have to wear your baggy t-shirts to modify as a dress and cover it with a jacket. Finalized the outfit with sneakers and a mini backpack. You will be ready to gather with your friends in class today.