Olidfashion.com – When you think about a funky and trendy outfit, grunge style could be an election for this. Unusually recreate your fashion style by bringing Chic grunge outfit ideas. Mix and match your outfit to find out the best combination that would make you look cool and contemporary.
What is Grunge Style
This kind of outfit has come from grunge music in the middle of 1980. This fashion has been found in Settle that has a unique style from oversized and layered outfits. Grunge outfit's style is usually influenced by heavy metal and punk rock.  This is identical to the cozy, messy, and flannel clothes. You commonly find baggy clothes, fishnet stockings, ripped jeans, combat boots, and more in grunge fashion style.
How to Create Chic Grunge Style on Your Outfit Ideas
Grunge outfit style is originally created from the music scene in the '90s. The best way to create grunge style is by bringing it in your make-up, hair colors, and clothing style. You can get a nostalgic feeling from the iconic pieces in older times.
It seems that grunge is a simple style to follow, but it's not as easy as you think. There is something that you should know and get to bring grunge style to your outfit ideas. When you want to take on this style, you can start by choosing the pieces.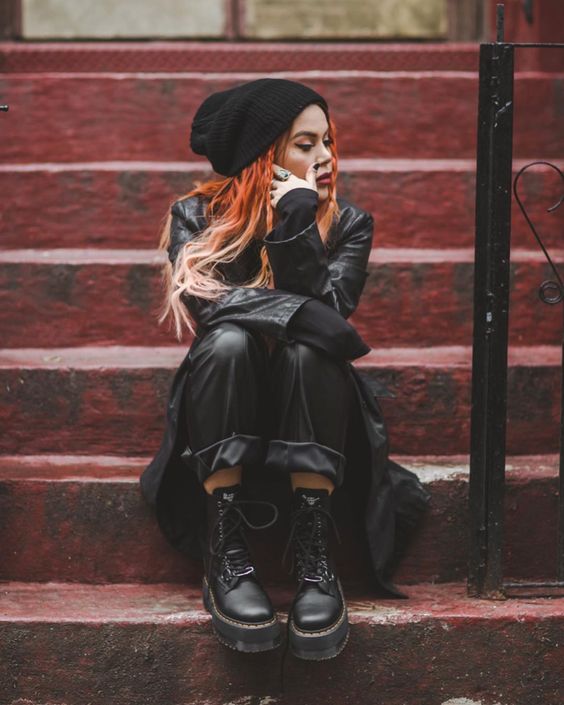 For the upper outfits you can try to wear:
Black or printed T-shirt
Oversized outfits
Tank top or Cropped top
Transparent top
Flannels
Denim jackets
For the bottom outfits you can choose:
Ripped jeans
Black fishnet stockings
Tights
Plaid mini skirt
Shorts
For the footwear you can use:
Army boots
Ankle boots
Sneakers
Chunky Shoes
Bring an edgy and eccentric style to your fashion ideas in chic grunge outfits. When it comes to grunge style, it doesn't necessarily wear baggy clothes or black outfits. Nowadays, you can draw your own grunge fashion by wearing either color clashing combinations, mismatched outfits, or pastel colors style. You can also focus on how you layering outfits and get accessories into your outfit ideas. Just throw up the rules and express your thoughts in your fashion style. You can discover some of the best-compiled chic grunge outfit ideas below.
Soft Grunge Outfit Ideas
This soft grunge outfit idea could be more flexible to adopt by combining the classic grunge style with your favorite modern outfits. You can get the plaid flannels, ripped jeans, and some modern elements that make this style more versatile and aesthetic to use.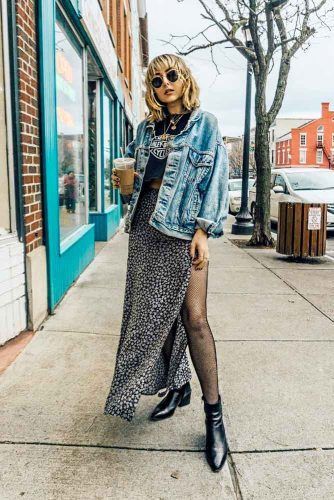 Have your soft grunge style by combining t-shirt, maxi skirts, and oversized denim jackets to your outfit ideas. Complete your look with ankle boots and some grunge accessories.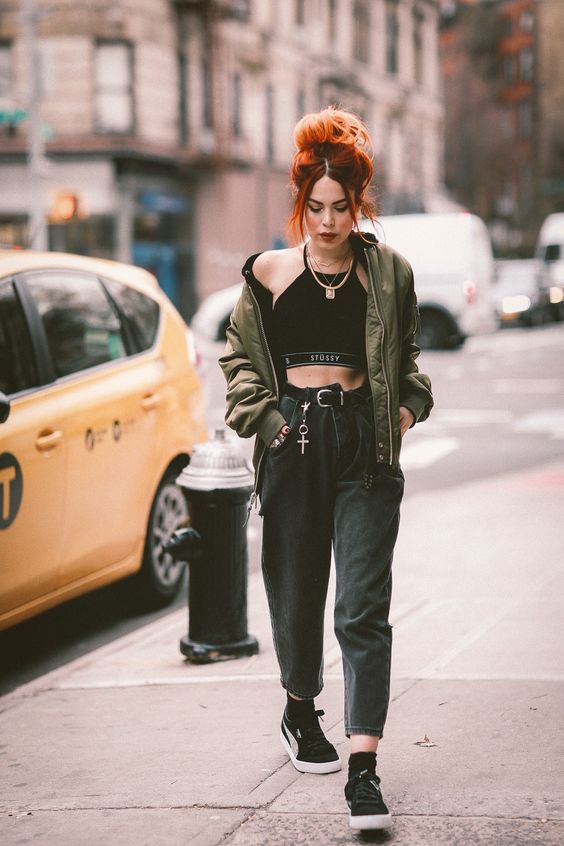 Pick a cropped top and cover it with men's bomber jackets. For the bottom, wear waist boyfriend black jeans and sneakers. To perfect your chic grunge outfits, bring simple accessories such as a grunge necklace.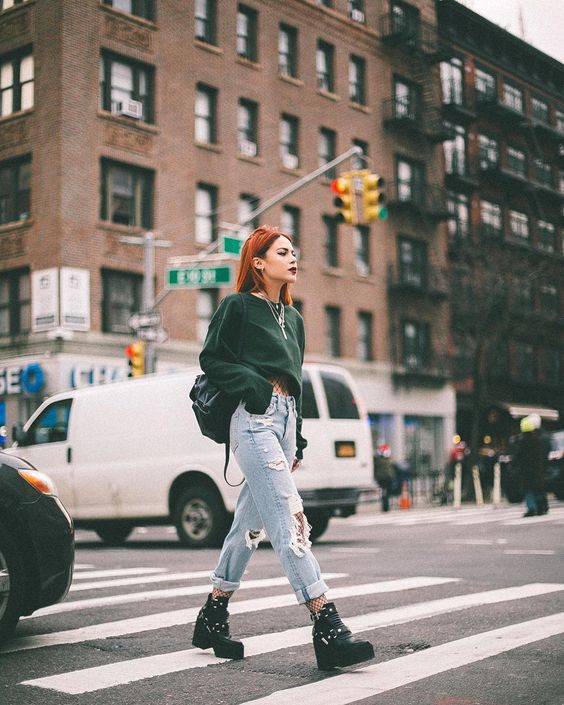 Create your soft grunge outfit style by matching your oversized long sleeve t-shirt with ripped jeans. To bring more grunge fashion, wear black fishnet stocking underneath. for the footwear, you can wear your favorite chunky shoes and accomplish it all with grunge accessories.
Combine your plaid mini skirt with the leather jackets and army boots would produce grunge style on your outfits. Supported by your hair colors and make-up could obtain you like a cool girl.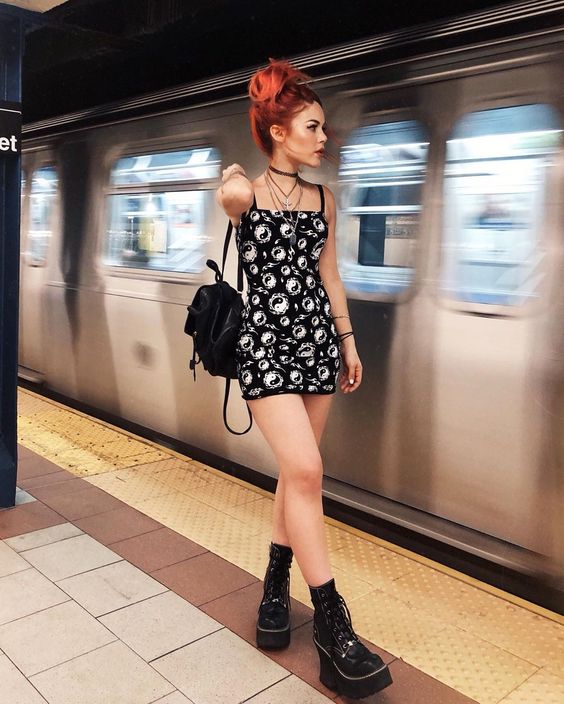 When you want to have a simple soft grunge outfit style, a black mini dress would be well-chosen. Prefer a bodycon mini dress, bring it together with the army boots to have grunge and edgy style. Don't forget the other details and bring perfection to your performance.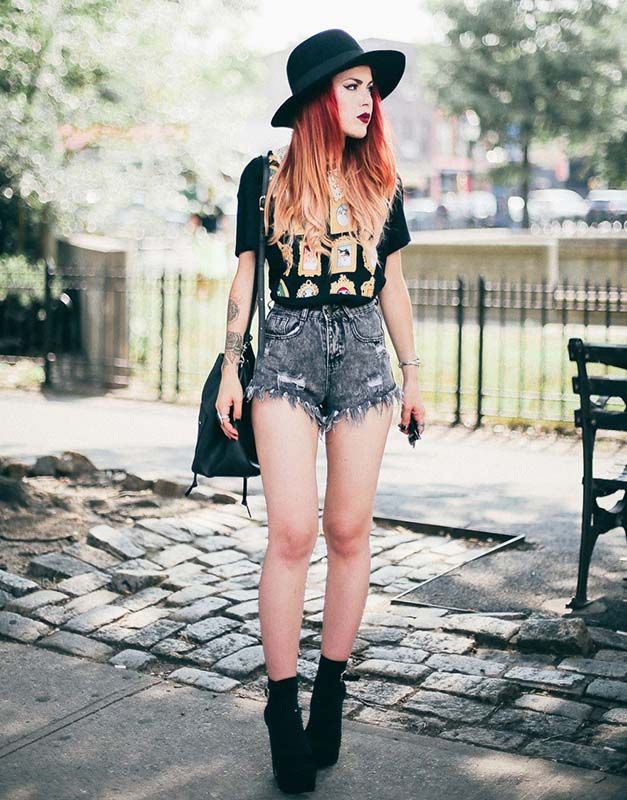 We know that the soft grunge style involves modern pieces that mix with the edgy style. To get a casual grunge outfit you can try to tuck a pattern black t-shirt on the shorts. For the full attire, bring ankle boots, fedora hats, and a sling bag to make it your daily outfit.
Cute Grunge Style
This kind of style is fusing the metallic and feminine in one outfit. The point is you should bring up together punk fashion with cute ensembles such as dresses, oversized sweaters, and pastel outfits. Balance the outfits you wear with the make-up and hairstyle. To give a cute impression, you can make a hair bun style.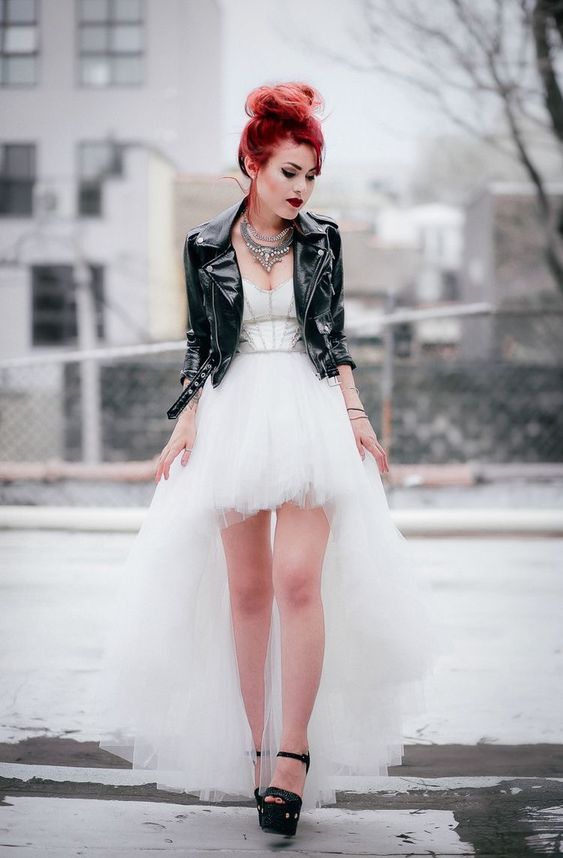 If you want to look adorable but still have an eccentric feel, mixing up a white high low mini dress and punk leather jackets would help you. This would designate something different in how you wear your beautiful mini dress. Using bold makeup, bun hairstyle, wedges, and simple grunge accessories would be stunning for your appearance.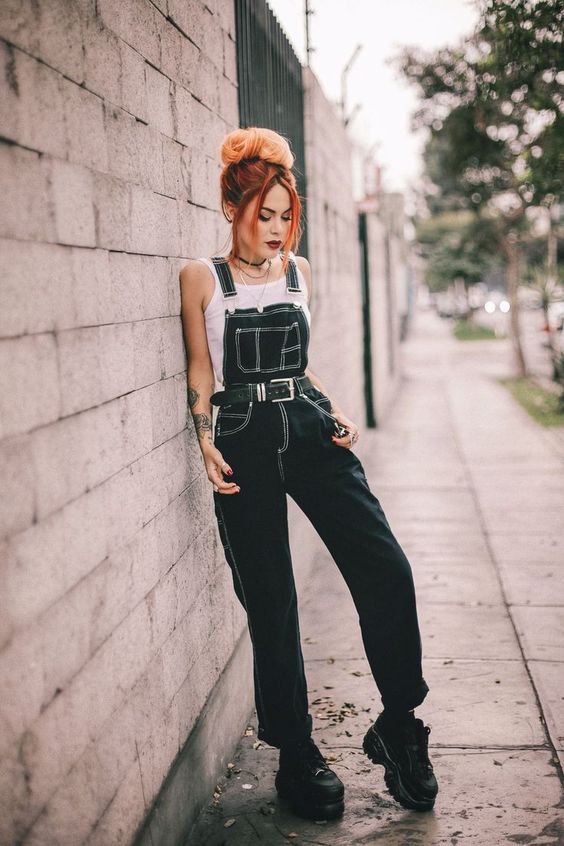 Romper jeans jumpsuit also could be used to get cute style on your grunge outfits. You can match it with the tank top and chunky shoes. Bring edgy style with tie belts over the outfits and add some silver accessories.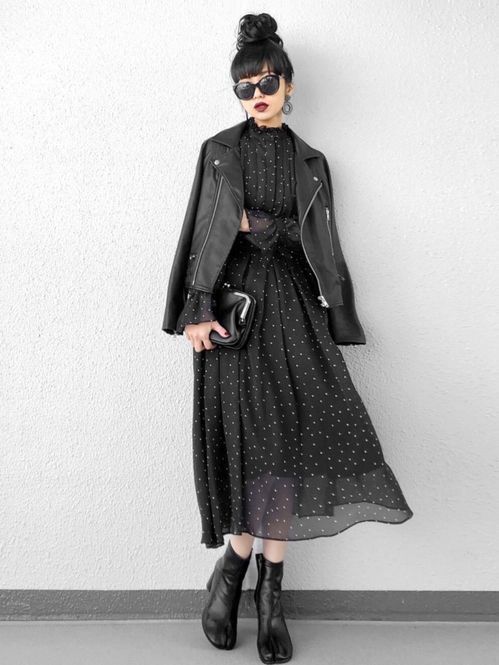 Bringing your elegant maxi dress for designing a grunge outfit,  that's not a bad idea. Just make it simple by deciding on a black-white polka dot sheer maxi dress and pairing it with leather jackets. As for the footwear and accessories, you can pick black ankle boots and simple jewelry.
The chill weather wouldn't make your fashion sense outdated if you embrace this chic cute grunge style. Cozy and stylish with an oversized sweater that you wear with tights, grunge winter long socks, and army boots. Keep you warm by adding a scarf to your outfit. Finalize your appearance with a faded brown sling bag and simple accessories.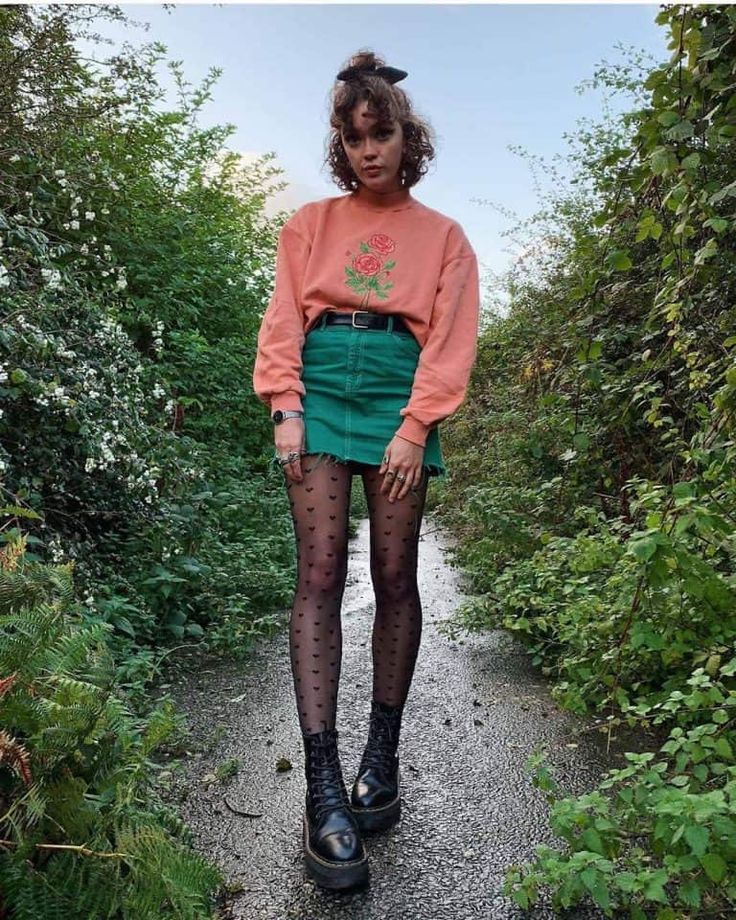 Not all grunge styles are almost darker shade outfits, have pretty pastel colors outfits such as a pink sweater and pale green mini skirt. Add together with tights and army boots to draw cute grunge style into your chic outfit ideas.
90's Chic Grunge Style
When you want to come back to 90's fashion, you can try to apply grunge style by adopting plaid patterns on your outfit ideas. Besides that, grunge in the '90s is about layering style that could cover your body shape and generally wear boots in their outfits.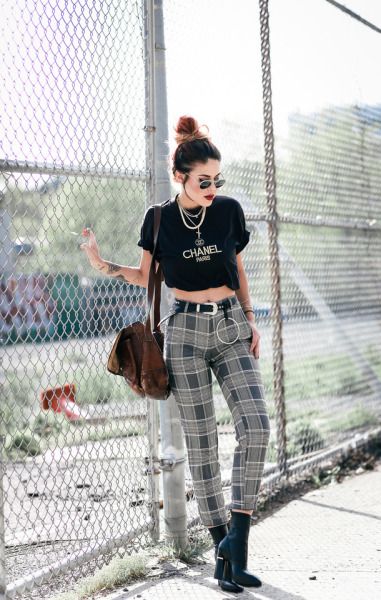 Plaid pants and t-shirt never fail to acquire classic style into your women's outfit ideas. You should have it with ankle heel boots, bold makeup, and natural hair bun style to design the 90's grunge style. Don't miss out on the accessories.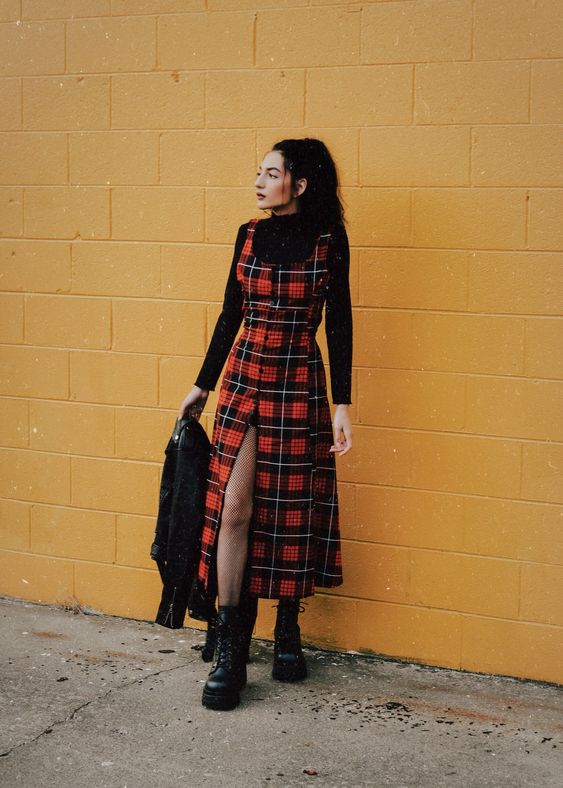 When it comes to 90's style, the plaid ensemble is the main piece that you should carry out on your outfit ideas. You can try to apply a button-down plaid jumpsuit dress with the black long sleeve t-shirt underneath. For the bottom outfit, wear fishnet stocking and army boots to turn out your chic grunge outfit. You could also bring leather jackets for the layering.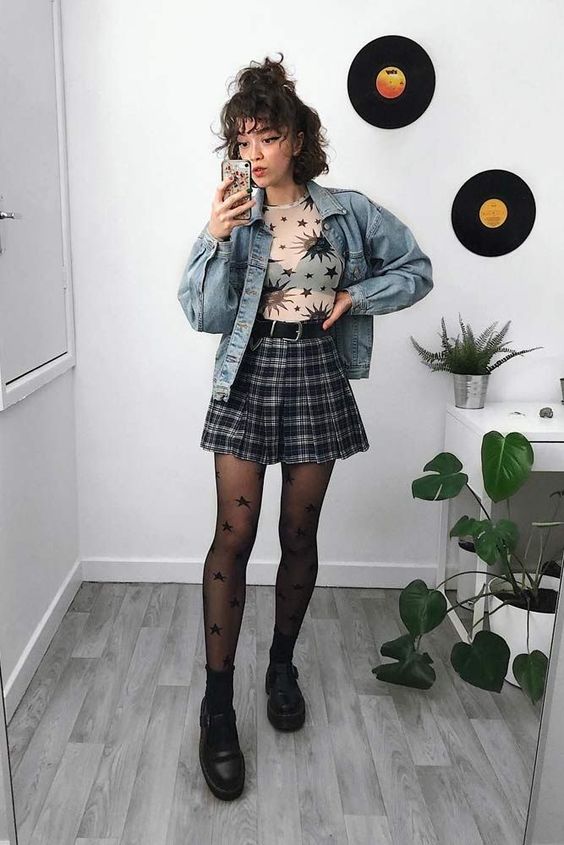 Plaid mini skirt, transparent top, and denim jacket are a perfect combination to create your grunge style. Compose your outfit style with the tights and black loafers shoes to finish all.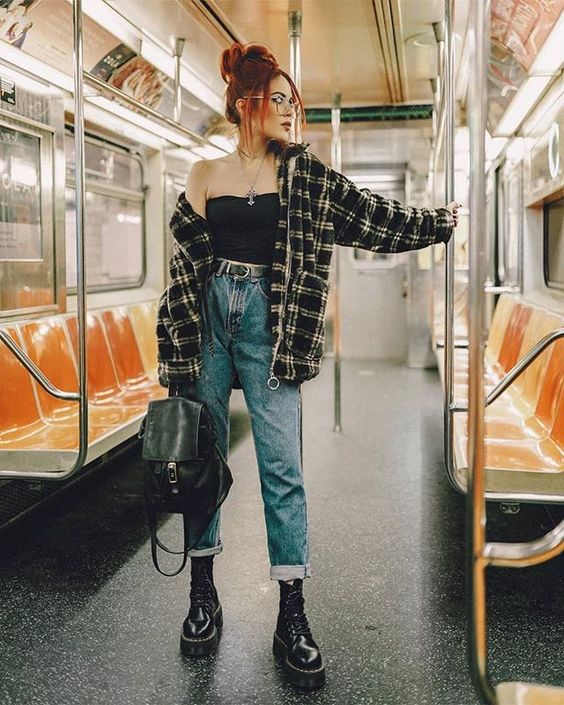 Have inspiration from the 90's style by fetching flannel jackets and blue jeans. Select a sleeveless top, army boots, and then smooth your make-up a little bold.
Indie Grunge Outfit Style
Grunge music also includes indie and underground which have a unique style and is adopted for fashion design. Even though this chic grunge style is smoothly worn as your daily outfits, but it would be better to wear for festival and concert outfits.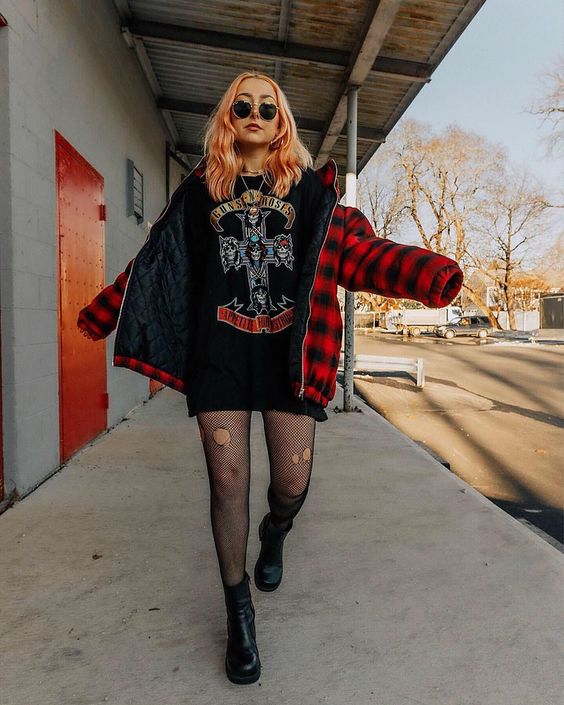 Indie style is all about your model and you can make mix and match outfits to your taste. Oversized outfit ideas are mostly grabbed to create indie grunge style. An oversized t-shirt and baggy jackets are perfectly matched to wear as simple concert outfits. For the bottom, wearing fishnet stockings and boots would make you ready to go outside.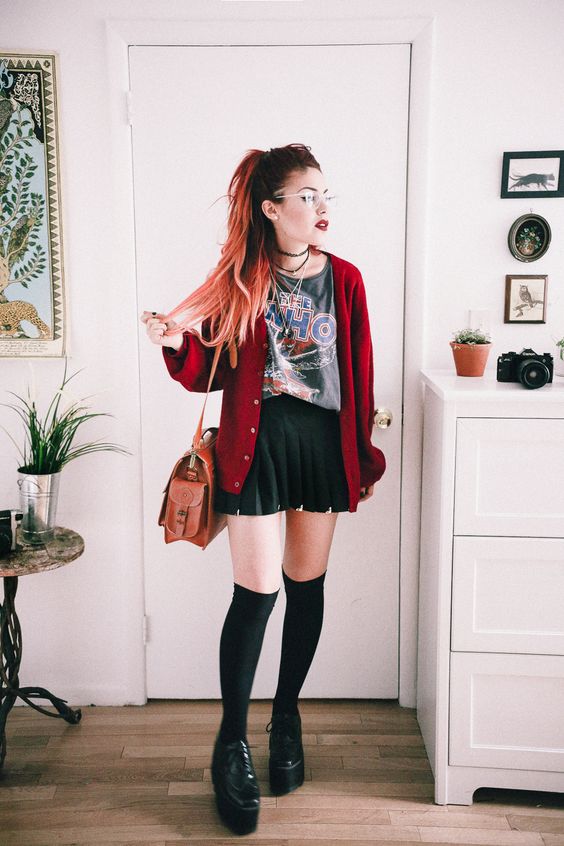 Another option to create an indie grunge style, tuck your t-shirt in a black tennis skirt and then cover your outfit with a long cardigan. Long socks and chunky shoes would satisfy your performance.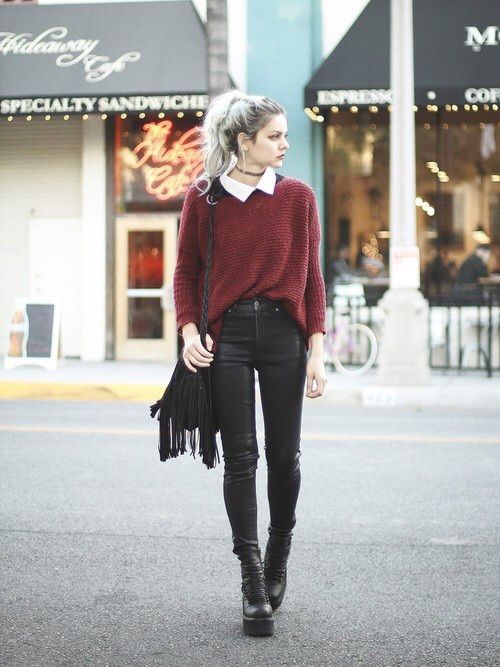 Have a simple and casual style by layering a collared shirt with the baggy sweater and then pairing it with tight pants. For the footwear pick up boots as usual to support your chic grunge fashion style.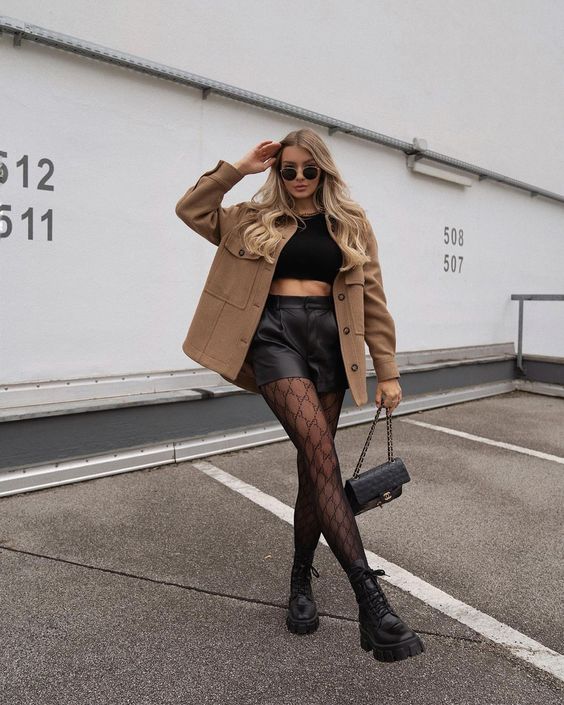 Want a little classy on your grunge style, playoff your outfit with cropped top and leather shorts. Coating this outfit with baggy jackets, and for the bottom pick tight and army boots.
Vintage Grunge Outfit Ideas
Get your inspiration from the past fashion trend that combines with grunge outfits to draw vintage grunge style. This would lead you to come up with the colors and pattern clashing combination that bring retro styles to your grunge outfit ideas.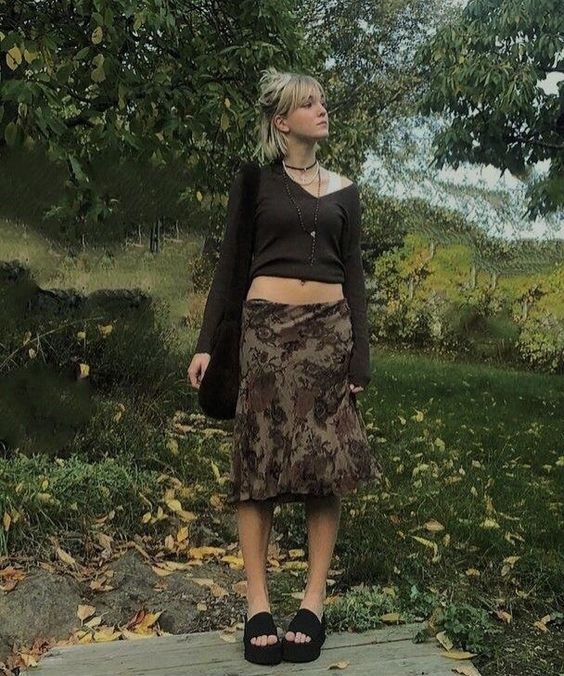 Vintage and grunge outfits would be a good mixture and it's easy to apply. We all know that grunge comes from old fashion style in the past time. There is more inspiration for you and one of them by wearing a floral midi skirt, long sleeve cropped t-shirt, and chunky sandals.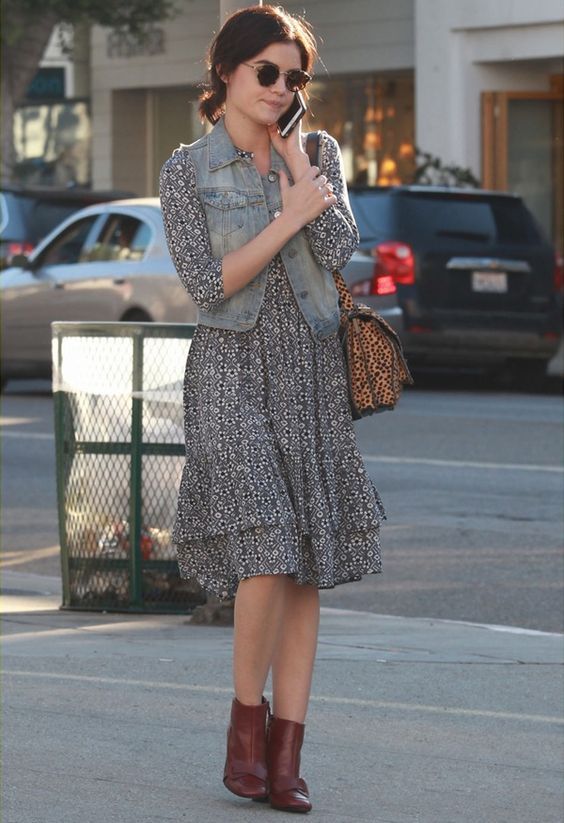 Combining a midi dress and denim vest could bring a retro image to your women's outfit idea. Especially when you add the ankle boots and leopard bag could accomplish your fashion style.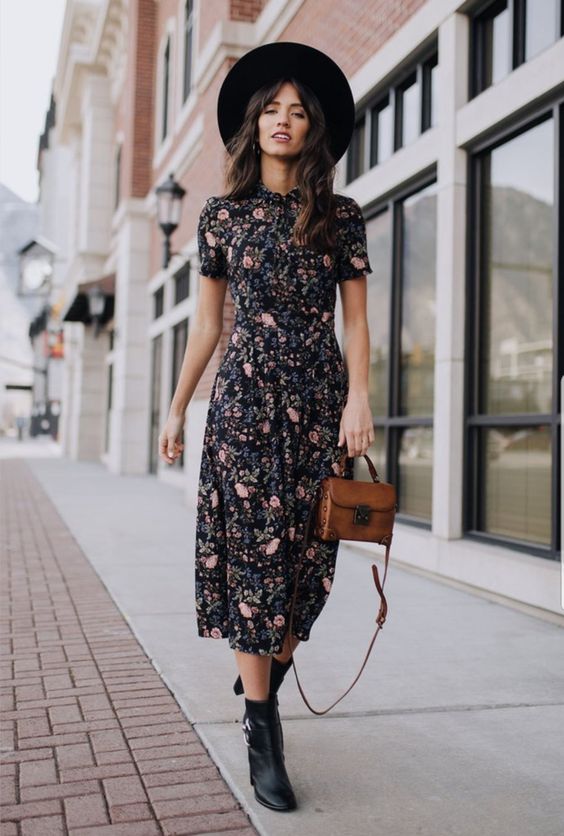 The mixture of the floral maxi dress, homburg hat, and ankle boots would deliver quaint to your grunge style. It seems you could have a countryside style in the past time on your outfit.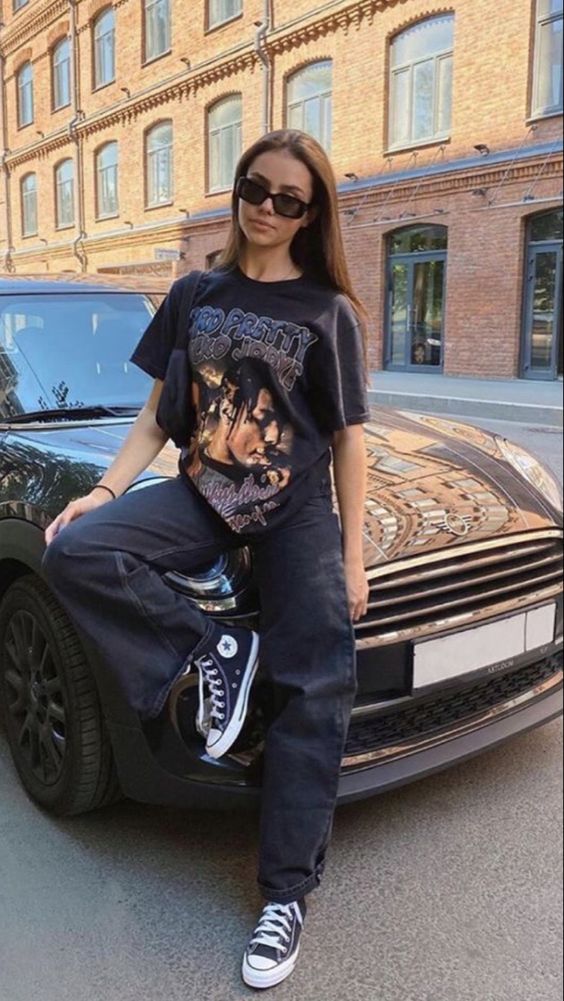 Prefer a retro and grunge style, just try to model your baggy printed t-shirt, straight jeans, and sneakers together. This is simple and easy to use for your daily outfits.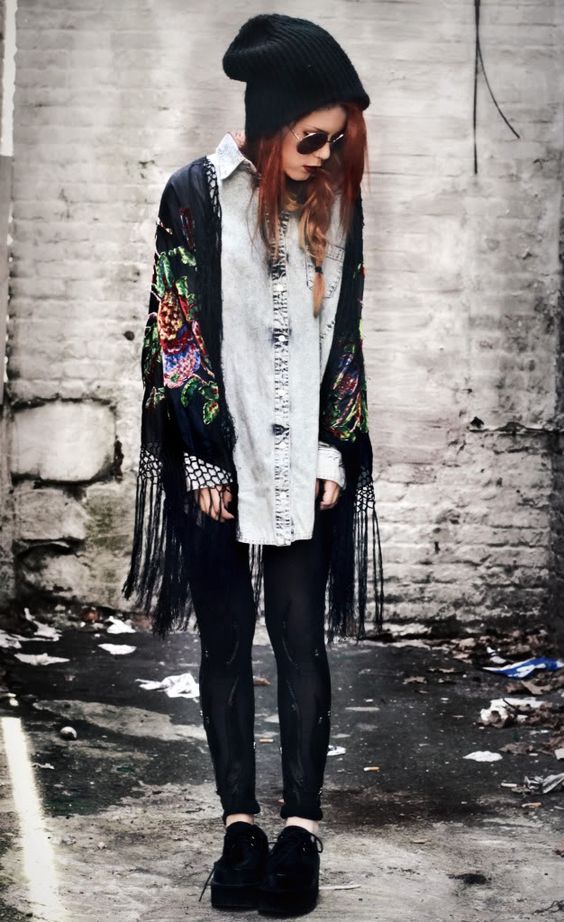 Other ways to give you a unique vintage grunge outfit, try to add boho-chic style to your women's outfit idea. Bear your tassel oversized scarf to cover your denim shirt. Tight pants and chunky shoes can you include to improve your fashion style. Beanie hats and sunglasses that use as accessories could divine your grunge outfit ideas.
Black Aesthetic Grunge Style
Grunge outfit identical with a darker shade which visualizes the metallic and punk style. It's simple to create a chic grunge style by wearing monochrome black on your outfit ideas.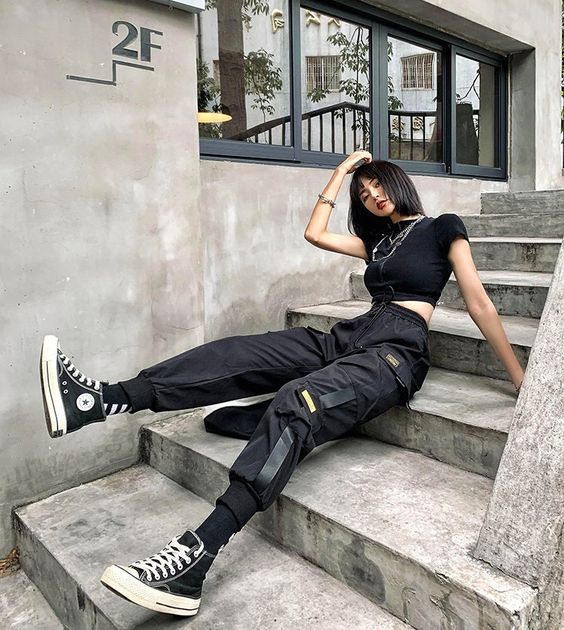 All black items that could you wear for a cool and trendy girl's style are black cargo pants, cropped t-shirt, and sneakers. Tuck out your outfits with accessories, make-up, and hairstyle to produce a chic grunge style.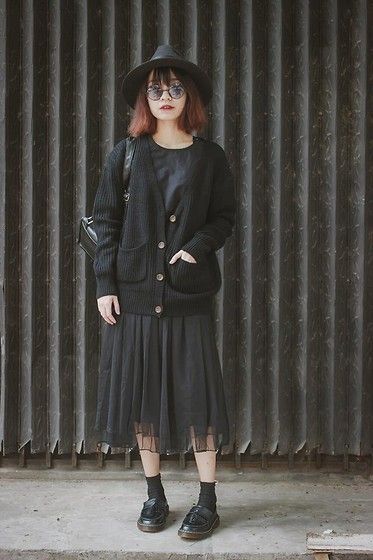 Monochrome black not only contains a gloomy aura, but it could be a way to create an aesthetic into your attire. For example, you can get a pretty look without leaving your grunge style by choosing a combination of sheer midi skirt, t-shirt, and oversized cardigan. The loafer shoes and fedora hats would amaze your black outfit.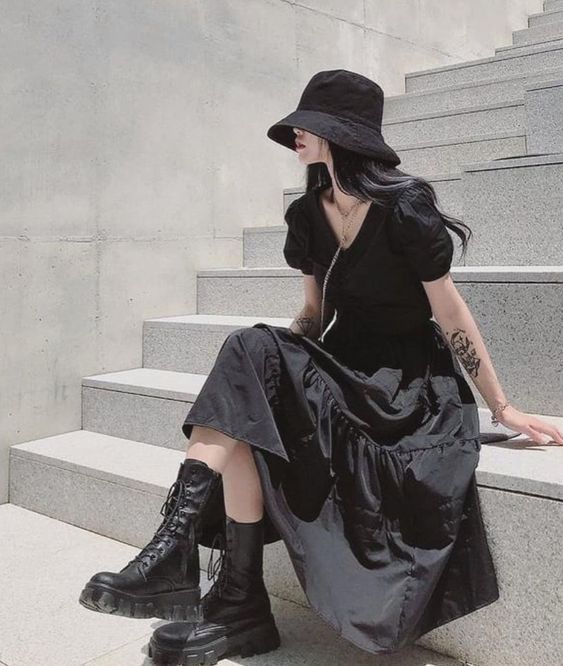 For girls who want to have a beautiful guise in edgy style, take a black v neck maxi dress and army boots. To give a mysterious aura, wear bucket hats to cover your face.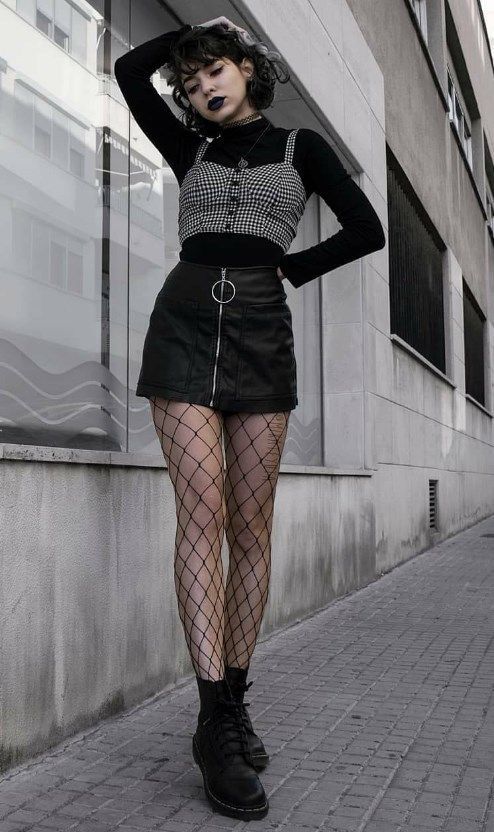 Have a sexy look in grunge style with a leather mini skirt, cropped outer, and long sleeve t-shirt underneath. Give a more sensual look by using fishnet stockings. As for footwear, boots are the most favorite one.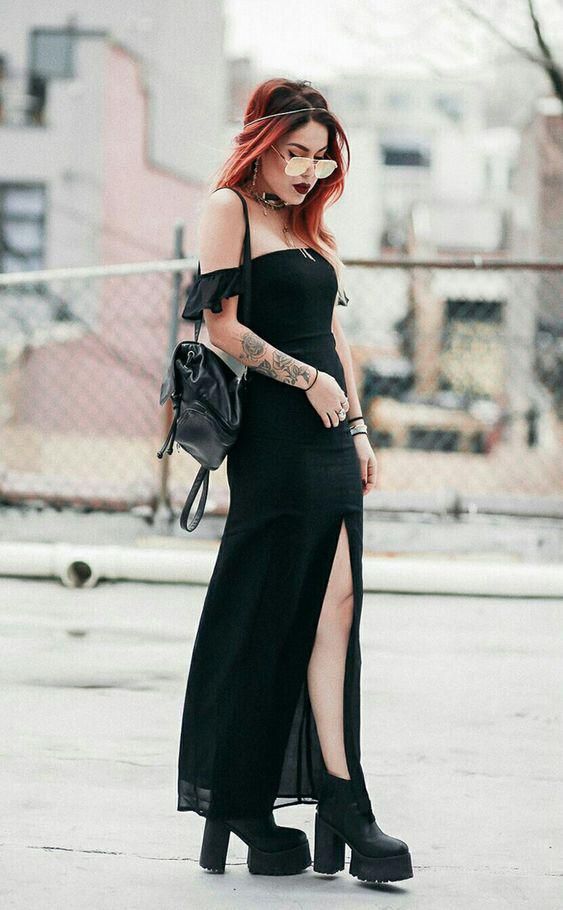 Elegant and grunge styles could be merged in one outfit if you decide on off shoulders maxi dress and chunky shoes. Having black as the basic color would carry eccentric style on your monochromatic outfit.
Bold Grunge Outfit Ideas
When it comes to bold grunge outfit ideas, that you can do just embellish them. You can just make something unique and different in your outfit ideas such as bringing clashing patterns, bold colors or wearing mismatched outfits. Not only for the outfits but bring this bold grunge style either on your make-up or hairstyle.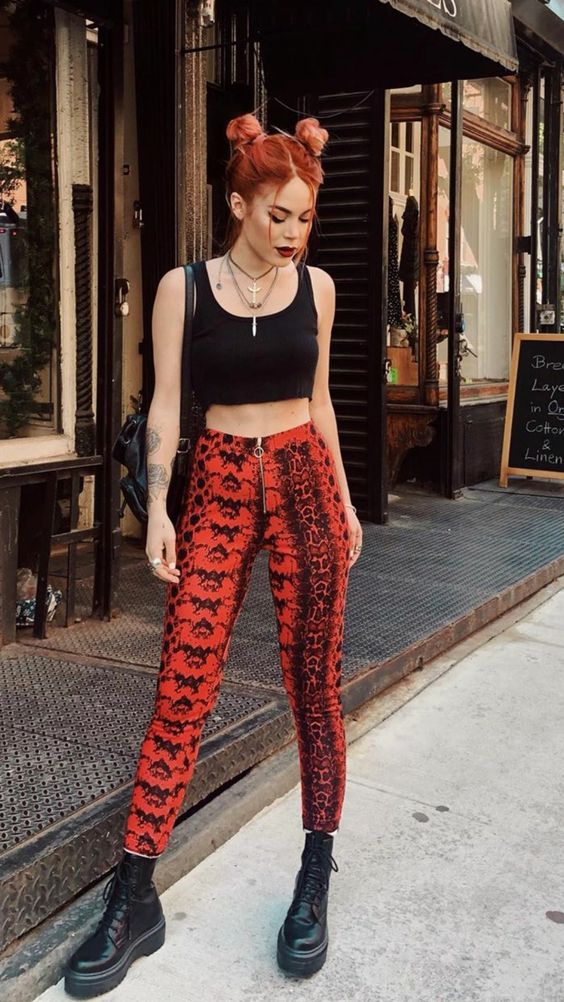 Simple bold grunge outfit idea by selecting snake pattern red skinny pants, cropped tank top, and chunky boots. Drag out the eccentric and edgy vibe either with the grunge accessories or with your make-up and hairstyle.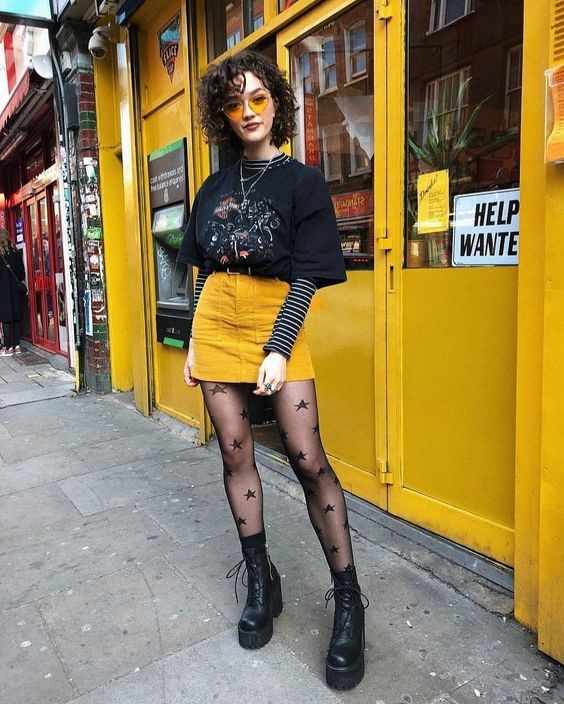 The number one tip to have a bold grunge style is not frightened with layering outfits and color combinations. Have a try in layering long sleeve striped t-shirt with an oversized t-shirt, and then pair it with a yellow mini skirt. In fact, tights and chunky boots have a major effect to fetch on designing grunge style on your women's outfit ideas.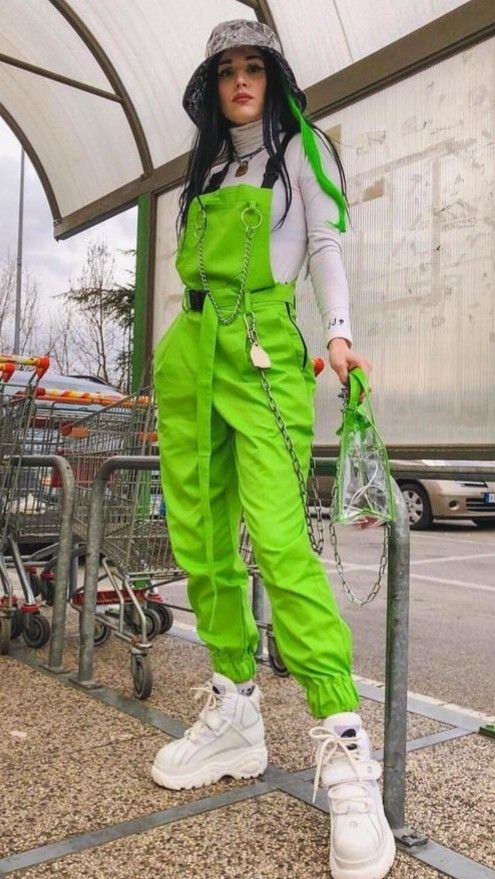 Comes up with your bold grunge outfit ideas in a neon jumpsuit that's combined neutral outfits. The grunge style doesn't all contain black outfits, but an eyecatching outfit could be a choice as long as you could match this outfit in the right way. For example, you can add chain accessories to appoint the grunge style.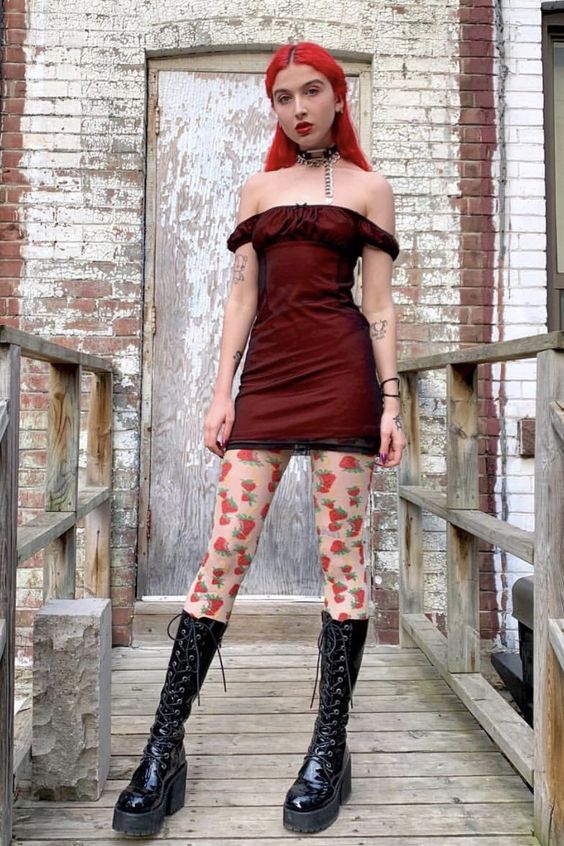 Create your bold grunge style in a maroon off-shoulder mini dress, strawberry printed tights, and lace-up knee boots. Maintain a cool side in your outfits with the chain necklace for accessories that can draw the metallic vibe.
Besides the outfits, grunge style could show from the hair and make-up style. Either grunge makeup or its hairstyle, they bring a natural style. Regardless, grunge makeup could also be forceful with bold eyeshadows, mascara, and nontraditional lipstick colors such as black, purple, berry, or red. The grunge hairstyle is commonly an effortless, messy, and unique style. If you want to take it further try to apply a long blob style, undercut, have baby bangs, or use unique hair colors. This all would form your chic grunge outfit feel excellent.