Olidfashion.com – The fashion changes every time and comes with a new style. Nowadays, fashion design always releases unisex outfits for example sweater vest trend. This outfit style can be used by either women or men to make the outfit look good enough. Get your women's outfit idea to become more fashionable by discovering some of the best ways to style your sweater vest.
Best Sweater Vest Style For Your Women's Outfit Idea
Sweater vests have become popular to bring a comfortable and warm feel. They are good for layering your outfit without making it look bulky. Generally, it's a basic outfit but when you can wear it in the right ways this actually would be stunning your appearance. Whether it's fall, winter, or spring, and on casual or formal occasions, carrying this outfit never fails to amaze your women's outfit idea.
If you want to get more fashion style in one outfit, a sweater vest could be a good choice for it. You can draw a preppy, casual, and even fancy outfit concept just by modeling it on your women outfit ideas. Find out the best way to style your sweater vest to look good here.
Casual Trendy Outfit in Long Sweater Vest and Ripped Jeans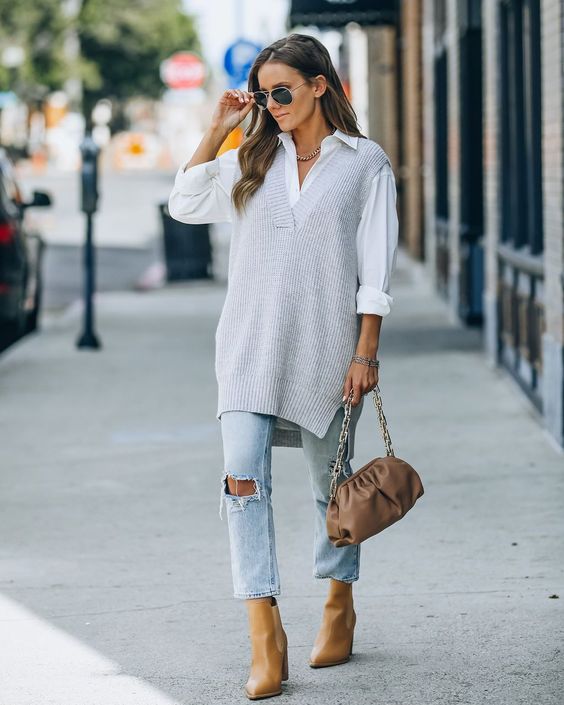 Having a grey long sweater vest as your best women outfit idea would be perfect if you combine it with ripped jeans and a white collared shirt. This would make you look good in a casual and trendy style. Complete the style with brown leather ankle boots and a mini bag. Don't forget to give simple accessories such as sunglasses and gold jewelry.
Pretty Outfit in Pastel Suits and Sweater Vest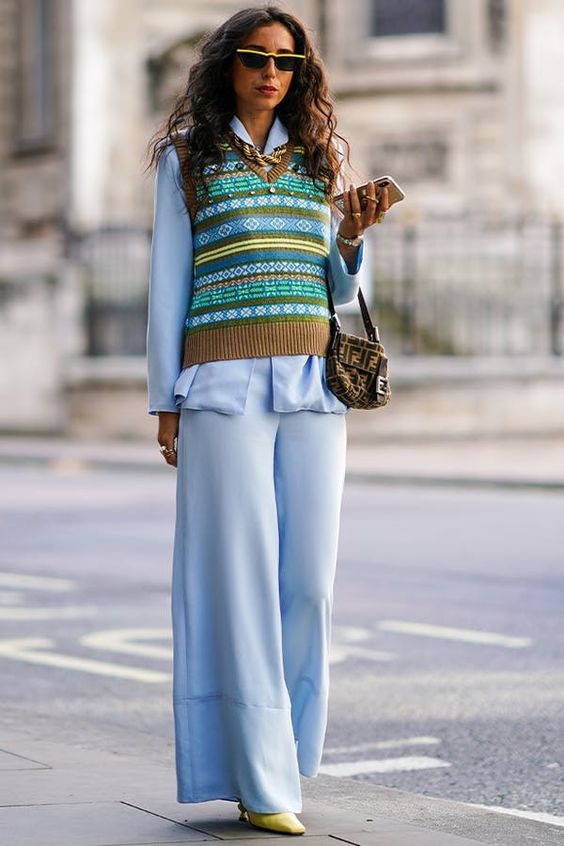 Pastel colors outfit would deliver a pretty impression on your fashion style. This actually pulls out your feminine side, and when you want to diverse your pastel suits, just try to apply the sweater vest idea into it. Choose a green pastel sweater vest as the outer for your blue pastel suits. Give a flawless image with the brown mini bag and yellow high heels to your outfit idea.
Comfy in Sweater Vest and Hoodie Style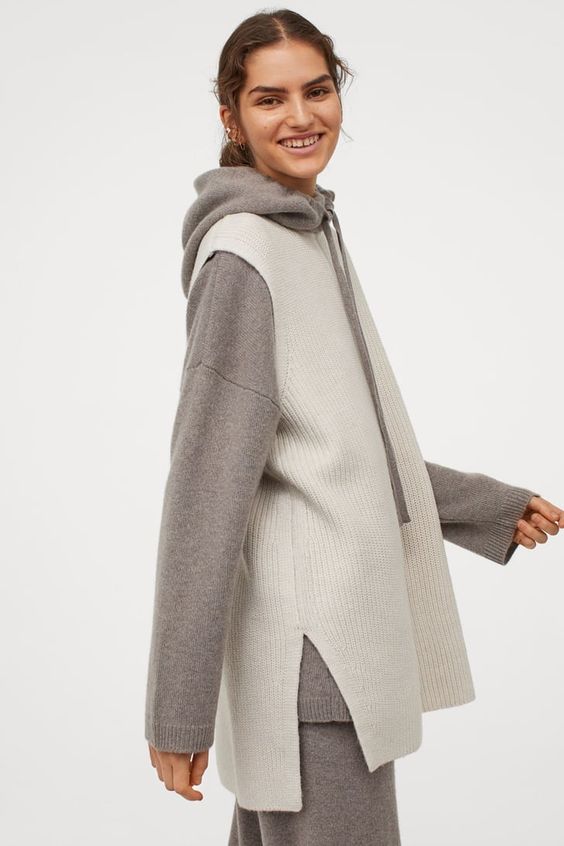 Face on the colder temperature with something that is warm and comfortable. You can pair a long sweater vest with a hoodie. Having sweatpants for the bottom outfit would accomplish your women's outfit idea. After all, this comfy sweater vest outfit would be useful to warm up your body especially during winter.
Chic and Trendy in Sweater Vest Style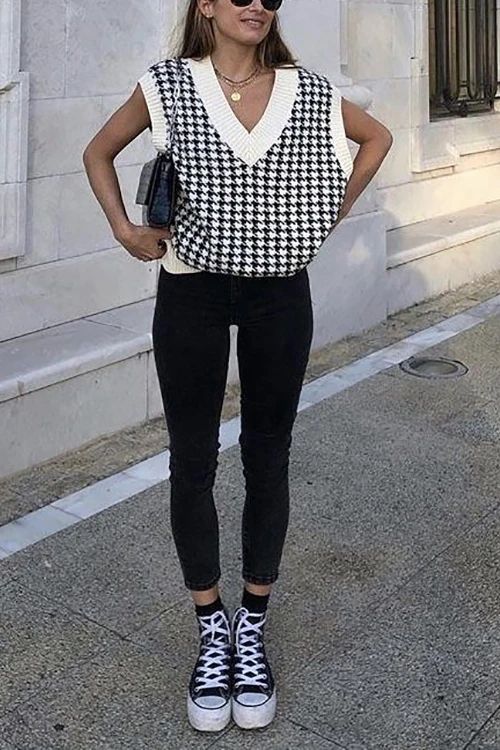 When you want to look chic and trendy in a sweater vest, wearing it with skinny jeans and sneakers would be an option. Get black and white as the basic color combination to impress you like a cool girl. Add some girly pieces to the accessories like a mini bag and gold necklace to make you seem sweet.
Layering your Mini Dress with Sweater Vest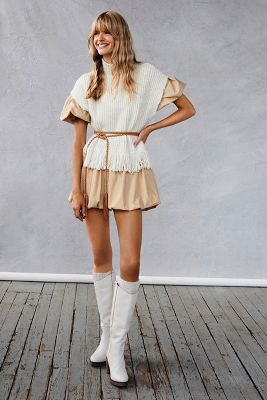 Get your fringed sweater vest to cover a mini dress outfit to become your women's outfit idea. You can use a mini belt over the outfits to bring a little variation that makes your outfit better. Complete the style by choosing knee boots for your favorite footwear. Have a fringed element and obtain the earth tones, it could pull out the boho-chic style in your outfit ideas.
Classy Sporty Style in Sweater Vest Outfit Idea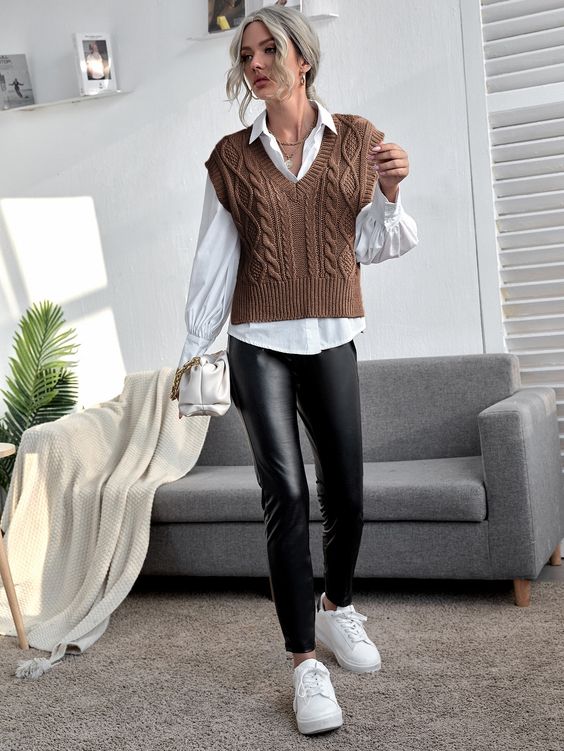 If you want to get a classy and sporty style in your women's outfit idea, try to pair a collared white shirt with the sweater vest over it and leather skinny pants as the bottom. Choose white sneakers and a leather handbag for your favorite accessories to complete your sweater vest style.
Preppy Outfit in Sweater Vest and Long Pencil Skirt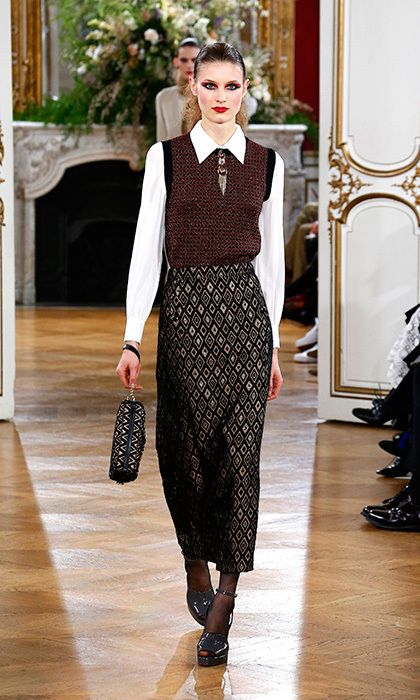 Create a preppy style in a sweater vest, you can try to combine it with a button-up collared shirt and pencil long skirt. For the footwear, you can choose strappy heels for completing your women's outfit idea. This kind of style would look good to attend some business occasion or for work attire.
Chic Women Outfit in Sweater Vest and Polo T-shirt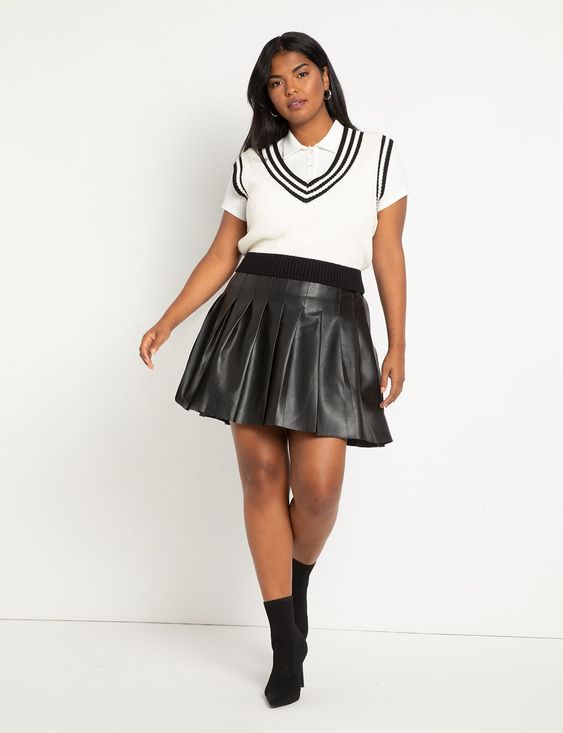 A sweater vest would also look good to mix in a polo t-shirt and leather pleated mini skirt. It gives a simple and chic style to your women's outfits if you also combine it with ankle boots. Bearing a sweater vest could give a chic and beautiful impression in your varsity outfit style.
Sweater Vest In Summer Outfit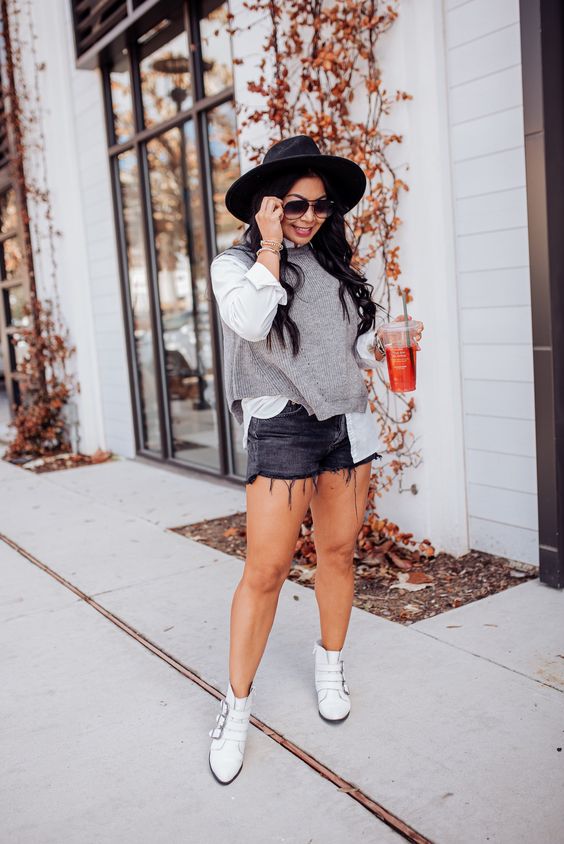 Styling your summer outfit with a sweater vest wouldn't look odd when you combine it with the white shirt and short jeans. Pick white ankle boots and a cowboy hat as the accessories would make your sweater vest idea look trendy and cool.
Monochromatic Style with Sweater Vest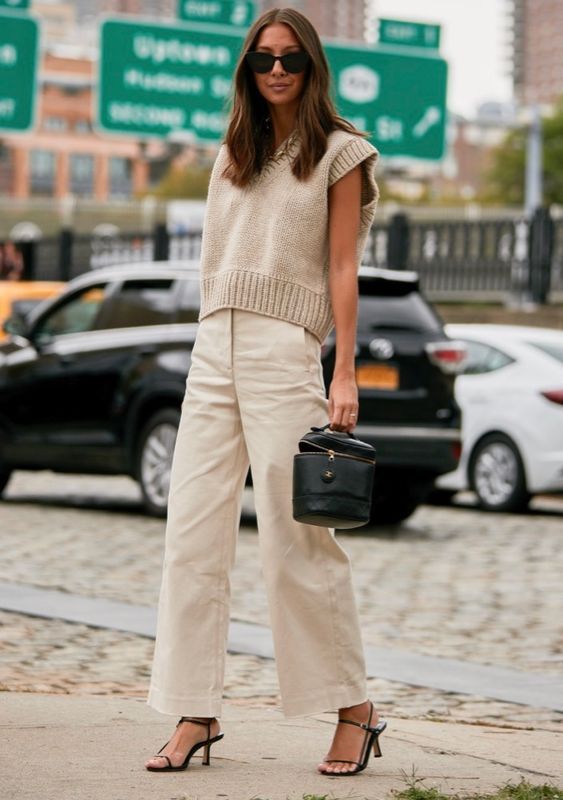 Besides layering your outfit, a sweater vest also could be used as your upper outfit. Select a beige sweater vest and match it up together with beige straight waist pants would bring monochromatic style in your women outfit idea. As for the accessories and footwear, choose a black vanity case and strappy short heels to finish your style.
Unique in the clashing color outfit with Sweater Vest
Wearing your sweater vest for a unique style, matching it with a pink tennis skirt and magenta sleeveless shirt underneath. Pick a larger size for your sweater vest to create a balance on your outfit. For the accessories and footwear, having pink shocks, black loafer shoes, a red bag, and sunglasses would bring the color clashing combination to your women outfit ideas.
Warm Outfit with Sweater Vest Style for Fall Season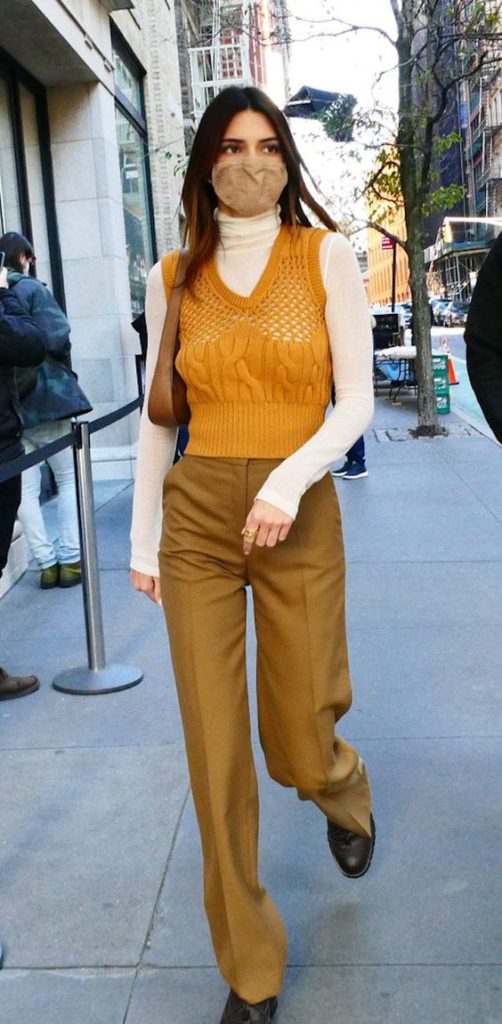 Fall has to come and you need to wear something warm but fashionable, try to apply a knitted sweater vest over your turtleneck sweaters. Getting the trousers and adopting earth tones as the theme colors would definitely bring up autumn feel into your outfit. Finalize your sweater vest outfit idea with the brown leather shoes and mini bag.
Varsity Style with Denim Outfit and Sweater Vest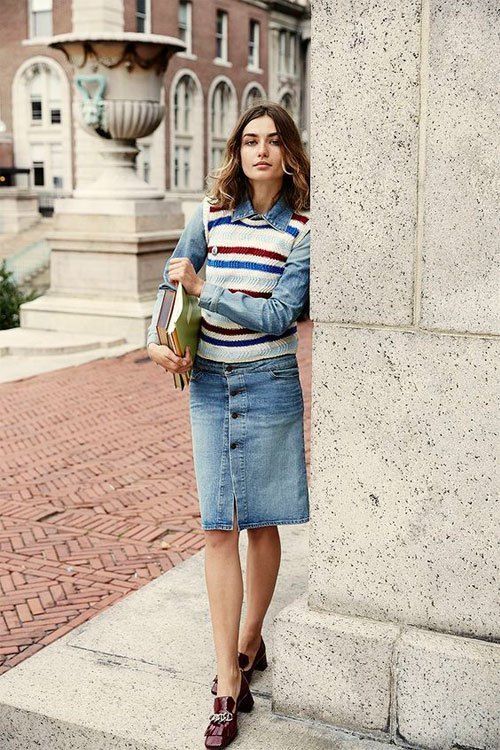 Denim as the favorite outfit to wear along the year and season would be good matching for your sweater vest style. You can choose a denim shirt and skirt and layering it with a sweater vest. Pair this outfit with the brown loafer shoes and you will get a preppy and pretty outfit to wear at the university.
Sweater Vest to Bring Casually Style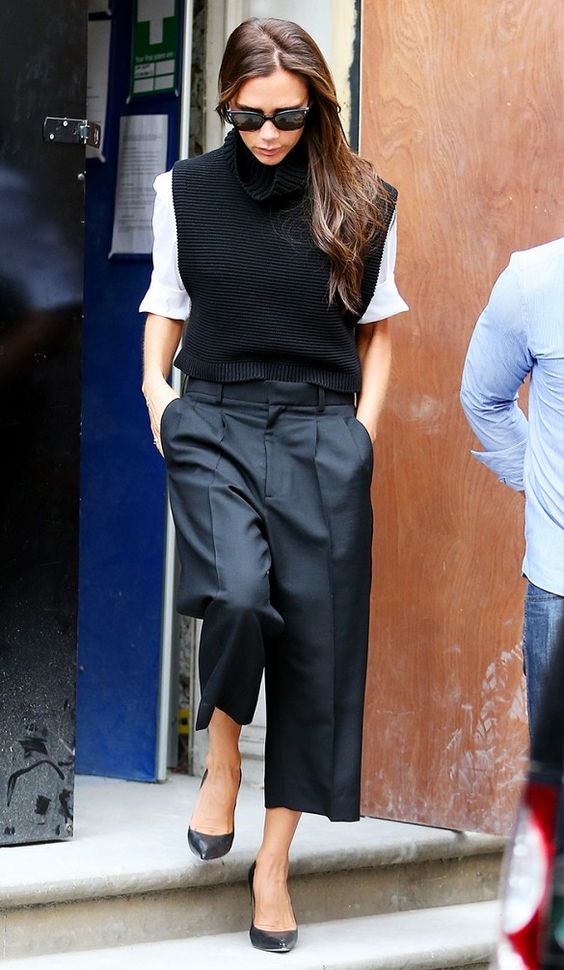 This sweater vest is a semi-formal outfit that you need to have in your wardrobe. This helps you to look preppy in any condition. For those who want to look casually, try to wear a black sweater vest with a white long sleeve shirt and culotte pants. Rather you choose heels, pairing this outfit with moccasin shoes would be perfect to draw casual style into your women's outfit idea.
Go Simple Outfit with Cropped Sweater Vest and Short Pants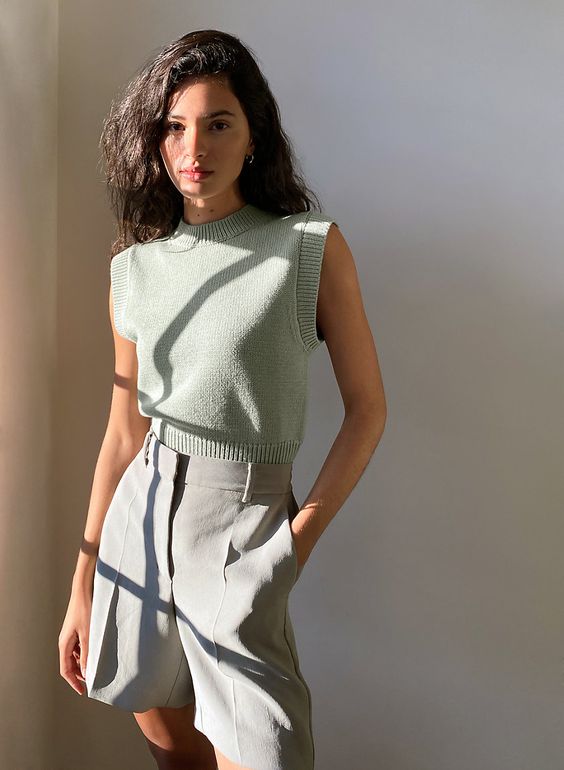 While you want to get a very simple outfit, you have to still style your outfit well. For this, wearing a cropped sweater vest and short pants could be an option. This style suits you who need a simple but preppy enough.
Women Work Outfit Idea with Sweater Vest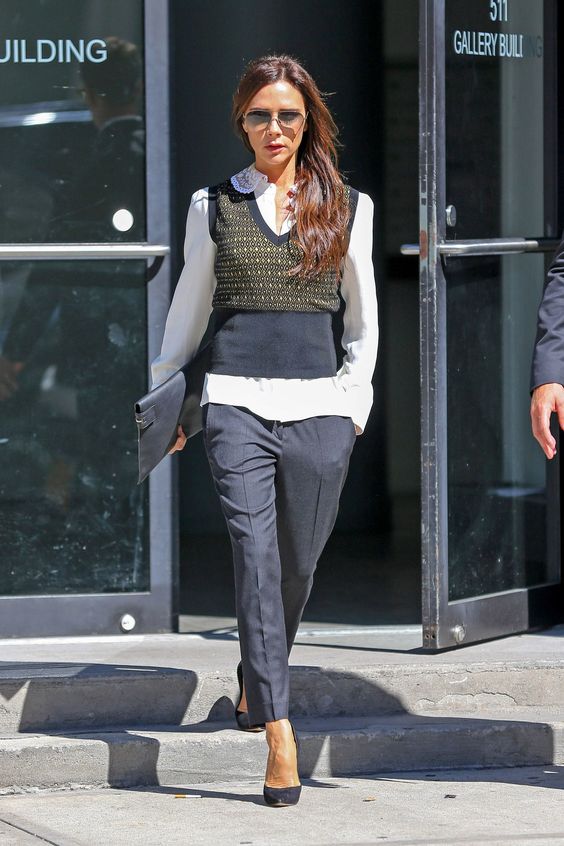 For women who work at the office, appearance is important to help them build self-confidence and affect how their business clients view them out. Because of this, those who need to spend time at work need to obtain comfy and stylish women's work outfits. Sweater vest style could you bring out as the best women outfit idea at the office. Pairing it with a shirt and trousers would perfect your performance. Don't forget to take an envelope clutch to finish your outfit style.
Trendy Outfit with Cargo Pants and Sweater Vest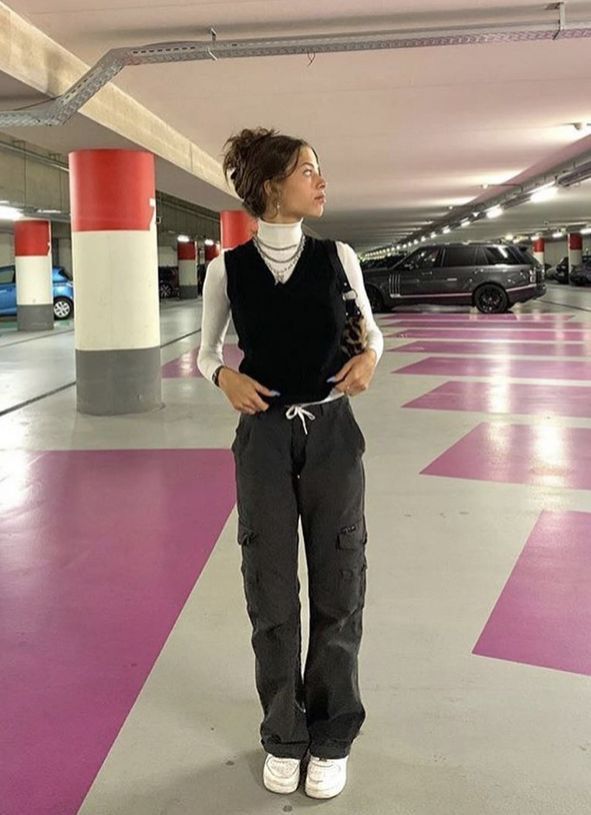 A trendy outfit in your best sweater vest style, bring this up together with the turtleneck sweater underneath and cargo pants. This would push you to have a little masculinity in your women's outfit idea. Finished the outfit style with trainer shoes and then a mini handbag. For the accessories, pick simple gold or silver jewelry.
Vintage Look in Sweater Vest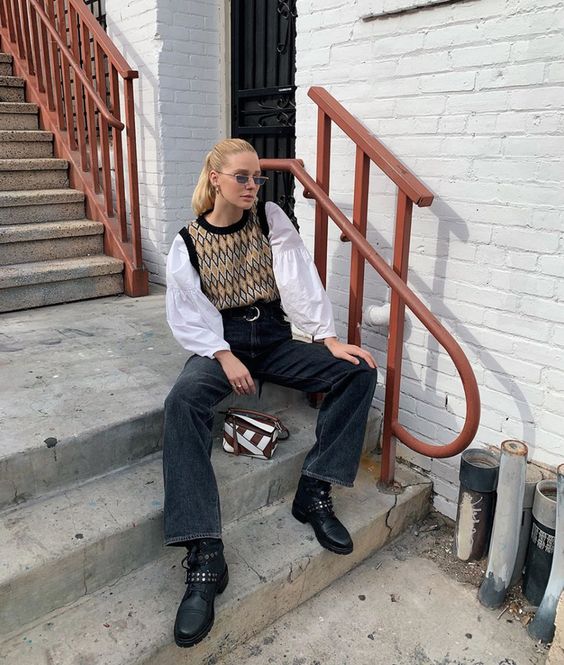 This works well in your vintage outfit for bringing a sweater vest on it. You just need to get the best outfits for pairing it such as a white blouse, black straight jeans, and black retro ankle boots. Give a little retro detail like choose vintage prints on your sweater vest and then some accessories such as a vintage belt and mini bag to complete all.
The Comfy Women Outfit Idea in Sweater Vest Style During Winter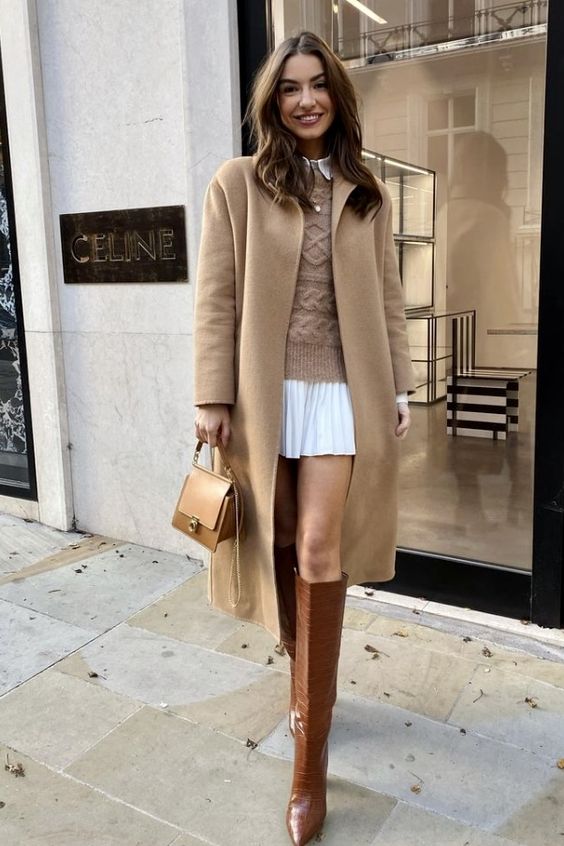 A layered outfit is the characteristic of a winter outfit to keep you stay warm in the chilly weather and sweater vest outfits are most appropriate as layered outfits. This helps you stay warm without making your outfit feel bulky. You can match up the sweater vest for covering your beautiful mini dress and then layer it again with the stylish long women coats.
Cute Outfit by Pairing Sweater Vest and Mini Skirt

Become cute in your best sweater vest style by pairing it with a mini skirt and tights. Having a long shirt underneath would match women's outfit ideas adorable enough. Pick the loafers for the footwear, mini bag, and beret hat would be stunning your sweater vest outfit style.
Oversized Outfit Idea by Matching up Baggy Sweater Vest and Maxi Shirt
Select an oversized turtleneck sweater vest and a long shirt to come up as a dress. Mixing up this outfit with tights and trainer shoes could help you to feel comfortable and trendy enough in your baggy clothes ideas in fall. Giving a mini bag and sunglasses as the accessories would perfect all your women outfit ideas.
Urban Outfit Style in Button Down Sweater Vest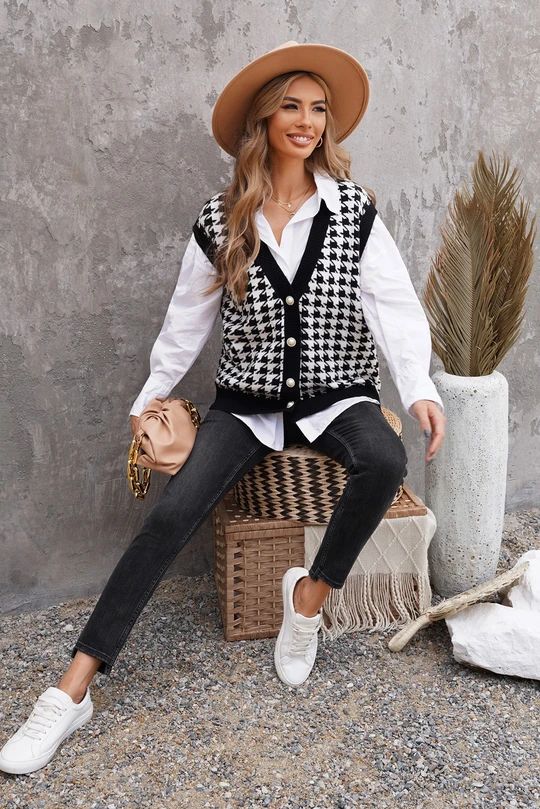 Want to get a little different outfit style in your best sweater vest style, try to create a cowboy girl outfit idea. You can match up together your button-down sweater vest with a white collared shirt and black jeans. For the completion, wear a cowboy hat and trainer shoes. This ensemble would also bring an urban style into your women's outfit ideas.
Sporty Casual in Sweatpants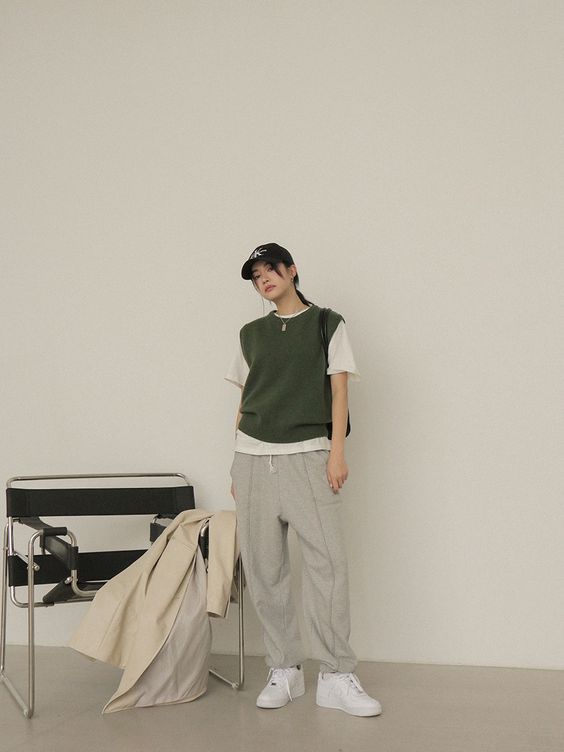 Featuring your sweater vest with a t-shirt and sweatpants would produce a sporty and casual style that you wear as your daily outfit. Mixing this outfit with trainer shoes and a hat would accomplish your sweater vest for women outfit ideas. Don't forget to tuck simple accessories such as simple jewelry to feminize your appearance.
Tuck Your Sweater Vest in Sheer Midi Dress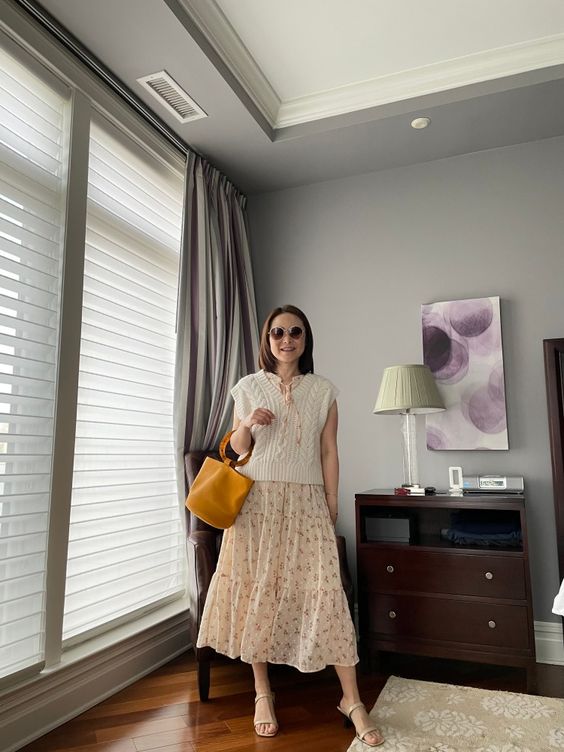 A slight twist on your sheer midi dress with your best sweater vest would make it look unique and fashionable. This truthfully brings a new unusual way to model your dress as being more stylish. It's good to wear with strappy heels and a handbag to bring it as a casual outfit idea.
Fancy Pretty Outfit in Sweater Vest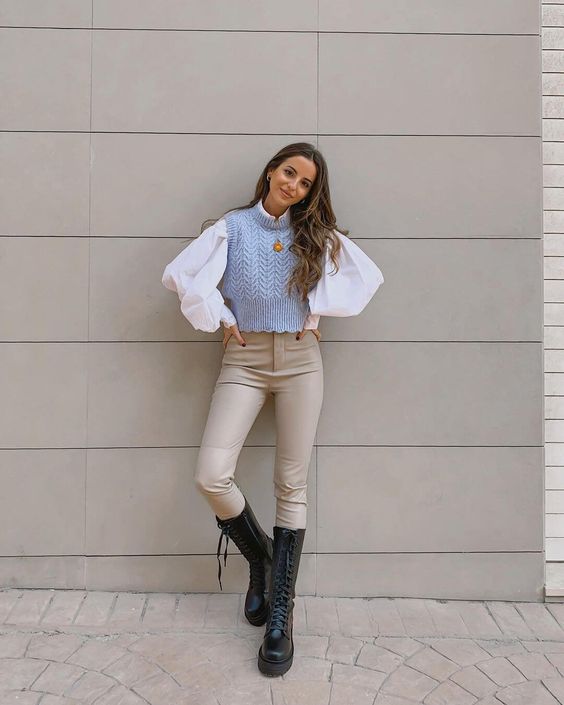 Have your women's outfit ideas fancier with your best sweater vest style by mixing it with a white balloon sleeve shirt and beige skinny pants. For the footwear, choose lace-up knee-high boots. This helps you get a beautiful outfit for your outdoor event.
Use Colorful sweater vest to Stand Out Your Basic Ensemble
You could cheer up your basic with a stand-out colorful sweater vest for women's outfit ideas. The basic ensemble could contain common trousers and a collared shirt. Pair your outfit with the loafer shoes and mini handbag. Choose pale green colors as the basic tones of your outfits to get a retro style.
Oversized Sweater Vest with Biker Shorts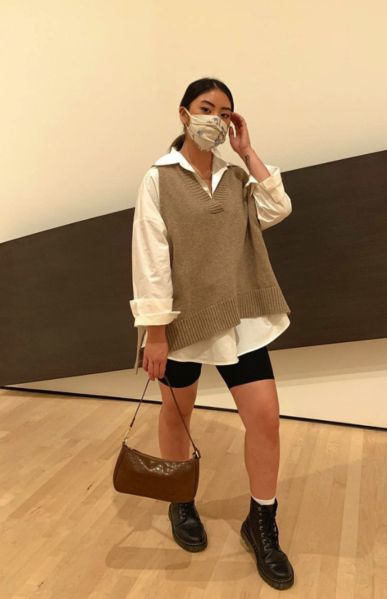 When you have a baggy ensemble, pairing it with something that is tighter such as biker shorts would bring harmony into your oversized outfit ideas. Decide on an oversized collared shirt and sweater vest. Furthermore, pair them with your biker short pants to have a casual and sporty impression. Choose lace-up boots and a handbag to complete your women's outfit style.
However, just because a sweater vest is a sleeveless outfit, it doesn't make you right to combine it with any style of outfit. Make sure to consider the proper place, season, and type. For example, you can't wear a turtleneck sweater vest to cover your outfit in summer. The best way to wear this kind of vest is when you face the frigid temperature like autumn or winter. Don't get wrong on styling your best sweater vest, it just makes your outfit look odd rather than fashionable.