Olidfashion.com – Mini Dresses could pull out your beautiful outfit to become chic and look feminine. This dress was designed to show off the lower half of your body and it's commonly worn during summer. However, you can still wear this dress not only in summer but also on other occasions such as a mini dress for a night party, going to the beach, or even during winter. Try out for styling it differently, consider what the most beautiful idea for your female outfits.
The Best Ways To Dress Up Your Mini Dress Beautifully
If you want not to look effortless in your outfit style, a mini dress could be the best solution for this. Dress up your mini dress beautifully by trying to mix and match it with other clothes and accessories in your wardrobe. Whether you want to look trendy, fashionable, simple, and get a chic outfit today, you can get some inspiring mini dress outfit ideas below.
Layering Your Mini Dress With Long Coat

The best way to wear your mini dress is about proportionating your uncovered body. If you're not wearing tight to cover the lower half of your body, try to pair your mini dress with long women's coat or blazer. This would help to cover your upper body and make your mini dress outfit look balanced.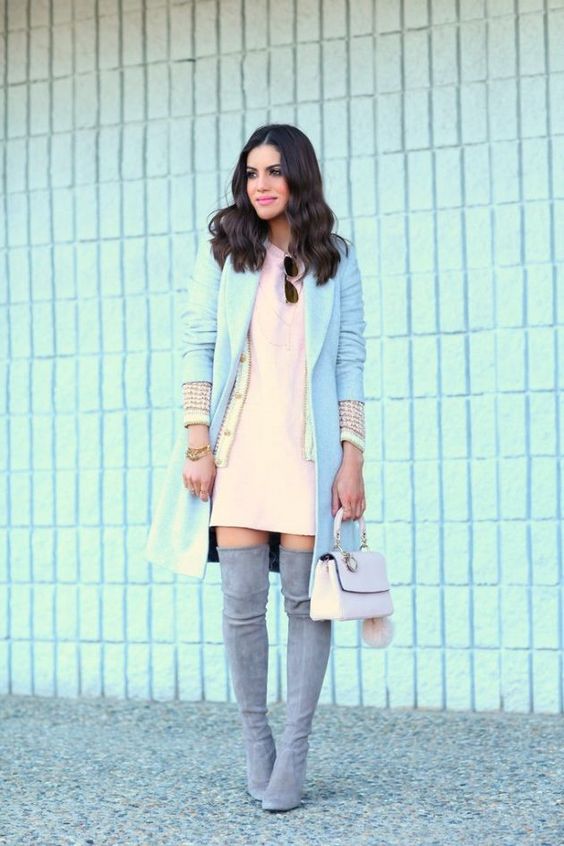 For the winter or fall season that needs to get something warmers on your female outfit, you can still wear a mini dress by layering it in your stylish winter coats and then put on the tight high boots as the option.
Wearing Leather Mini Dress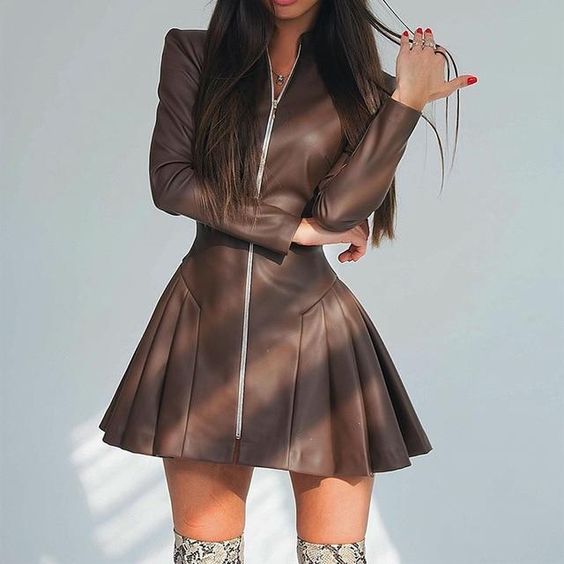 Leather is the most favorable material to style female outfits on today's trend. Adopting this material would give a class to your clothes. There are more styles for the leather mini dress as your female outfit ideas that you can choose. For example, long sleeve mini dress or a bodycon mini dress.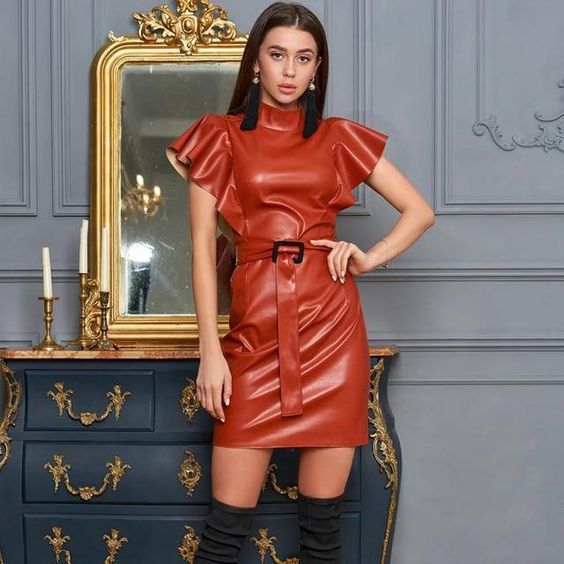 When you choose a leather mini dress as your female outfit, match it together with black tight high boots and give some simple jewelry like earrings. This would be good for outstanding your appearance.
Get Comfy with Sweater Mini Dress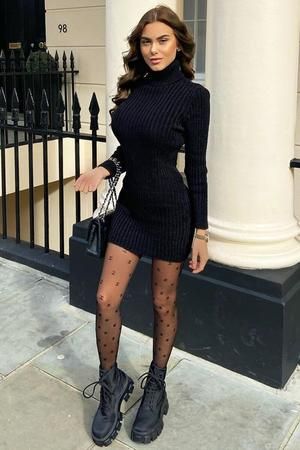 Have comfy female outfits in cold temperatures by wearing a sweater mini dress. For a simple way, you can pair this dress with tights, chunky shoes, and a black mini bag to pull out your sexy side.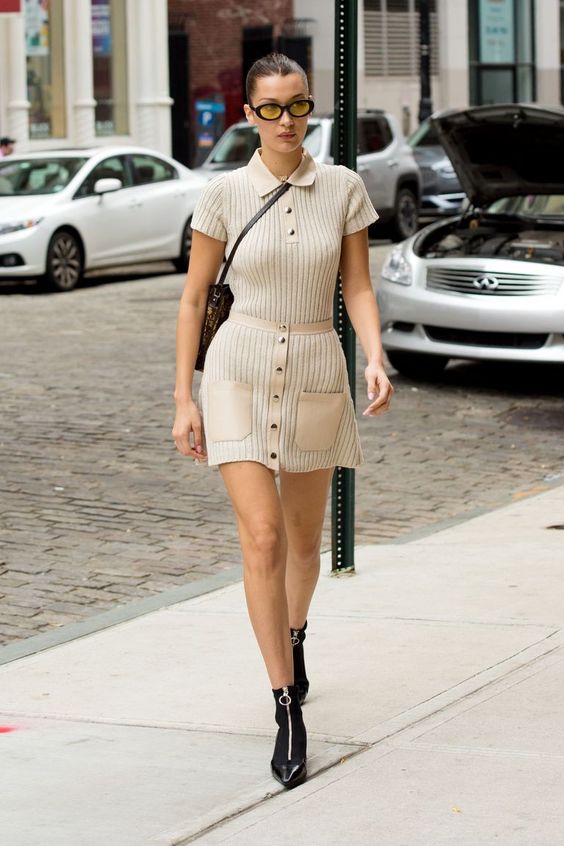 A sweater mini dress also could you wear in the summer or for your daily outfit. You just need to choose a simple design like short sleeve mini dress and then present it with ankle boots. Don't forget to add some simple accessories to bring out of your beautifulness such as a leather mini bag and glasses.
Trendy Style in Denim Mini Dress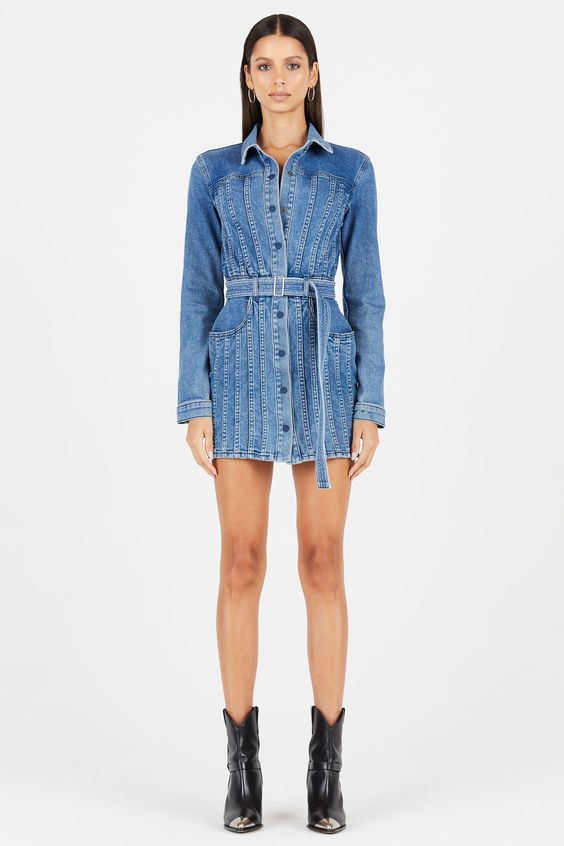 Here is another outfit that is easy to present as your female outfit idea. Choose a denim long sleeve mini dress and then pair it with leather ankle boots. Denim would give trendy style to your mini dress outfit.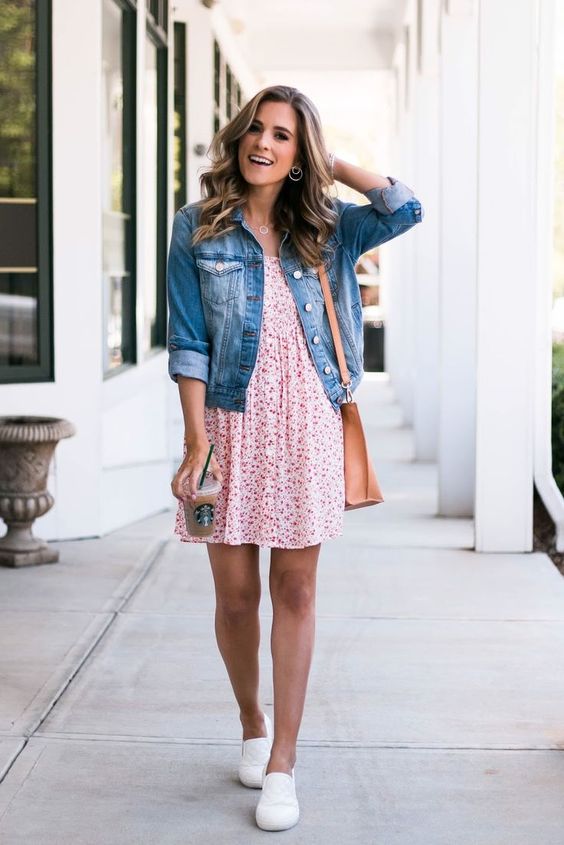 If you want to add denim fabric as your mini dress outfit idea, just try to rock on a denim jacket into your style fashion. Featuring your beautiful mini dress with a denim jacket and slip-on shoes would make it good enough to bring a casual and trendy look. Just make sure to choose the right accessories like a brown leather mini bag and simple jewelry to hook up your outfit style.
Bohemian Mini Dress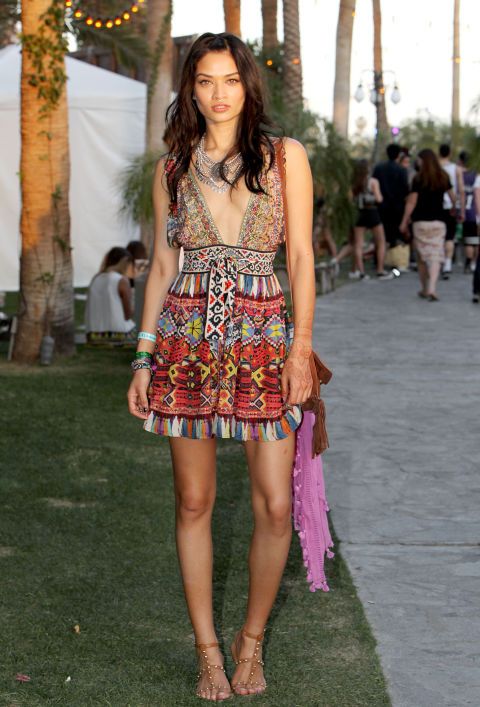 For the contemporary image, you can use a bohemian pattern for your mini dress style. This actually would bring boho-chic style to your female outfits. Complete your performance with a tassel mini bag, bohemian jewelry, and give a little clashing color combination with a purple scarf. To finalize your bohemian style, pair this outfit with gladiator sandals.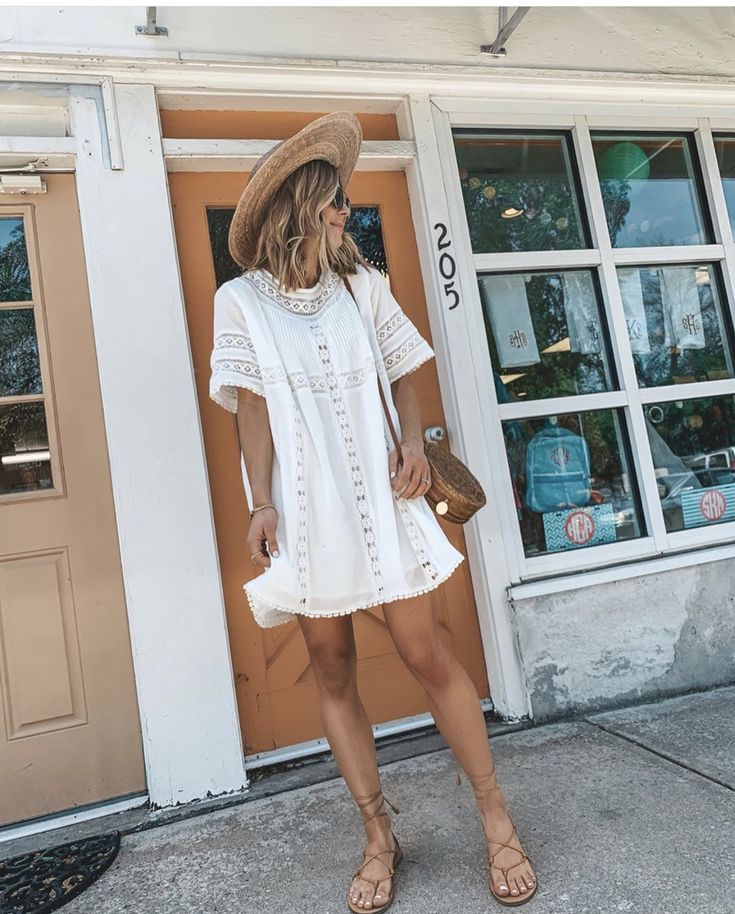 Another way to bring bohemian style is by dressing your female outfit in a white lace mini dress. Give some other boho details such as a round rattan bag, gladiator sandal, and straw hat for perfecting your outfit.
Floral Printed in Your Mini Dress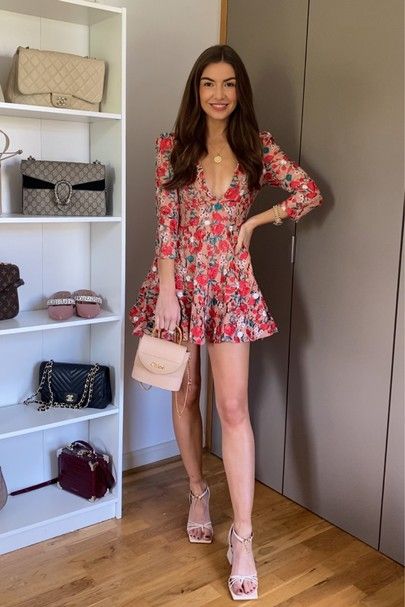 For those who like to look sexy and feminine, you can try to wear a floral mini dress. Bring beauty in your clothes with the floral print and the plunging neckline design would make your mini dress outfit look fabulous. Having it together with the strappy heels and the beige mini bag will outrageous your appearance.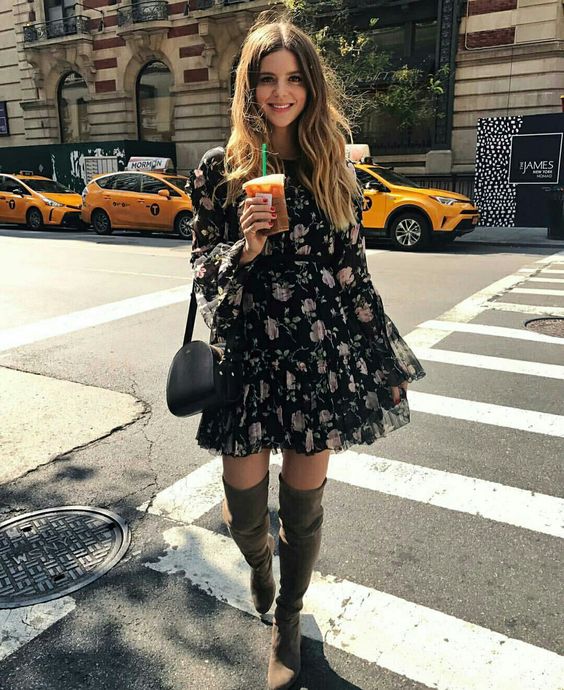 Despite bringing a sexy impression, a floral mini dress also could give a calm and modest style to your female outfit idea. It could happen when you pick long sleeve chiffon mini dress. Having black colors and big floral printed all over the dress make it look beautiful enough to wear as your date outfit with your partner. Pair this outfit with grey tight high boots and a mini sling bag to complete your look.
Dress up Casually with Mini Dress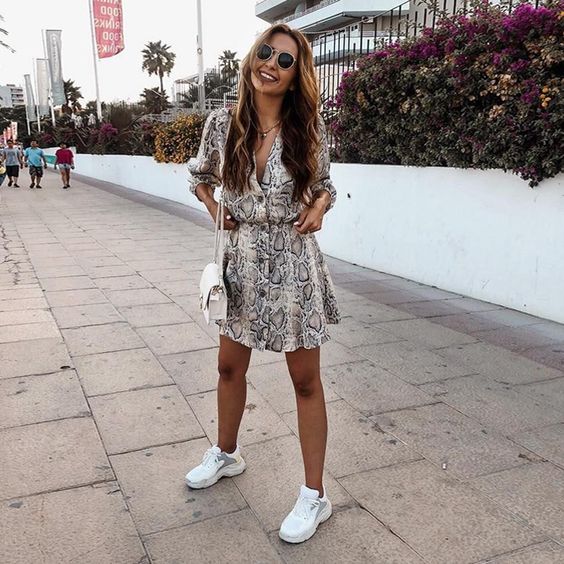 Get casually in your outfit style by picking up the button-down long sleeve mini dress. Mixing up this outfit with trainers shoes and a mini sling bag. Bring simple accessories such as sunglasses and a necklace to polish your casual dress more stunningly.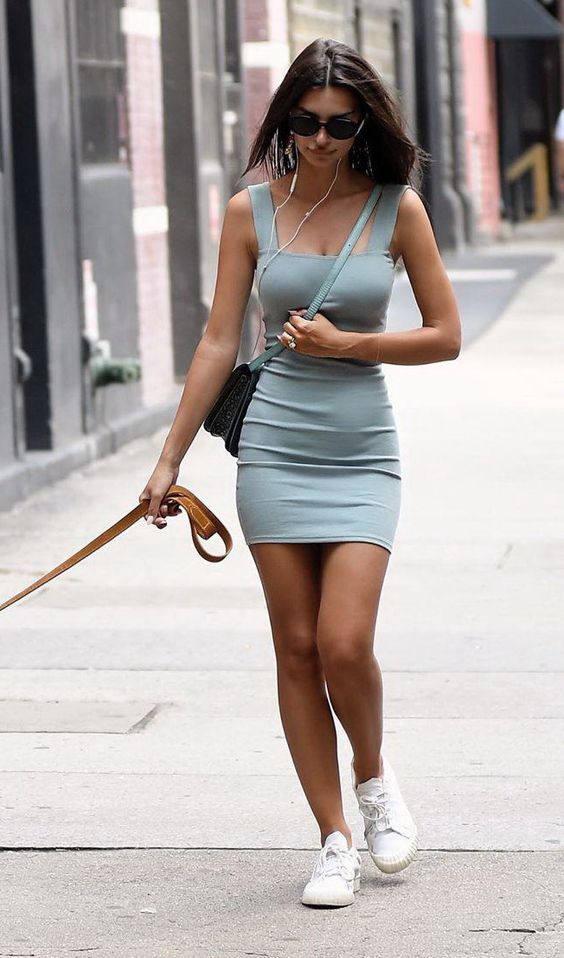 Selecting a grey bodycon mini dress for a female outfit would also be a good choice to deliver a casual look. As usual to make it more easygoing, pair this outfit with trainer shoes. Having a black sling bag, sunglasses and other simple accessories would make you ready to stroll in the city with your pets.
All-Over White in Summer Mini Dress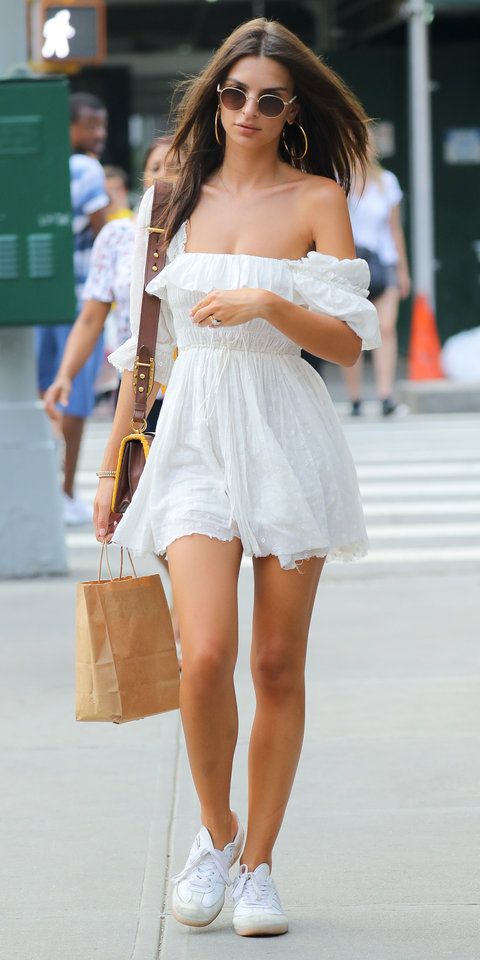 When it comes to summer, the mini dresses for female outfits would become stylish in the hot weather. This actually would make you stay cool and comfortable at once. There would be a higher chance you to dress it in this season. You will have more options to match up the outfit with the best accessories. Choosing white is a good idea to get you from the hotter temperature. You can try to wear a white off shoulders mini dress that wears it together with sneakers to go walk along the street during summer. Perfect your summer outfit using a brown leather sling bag.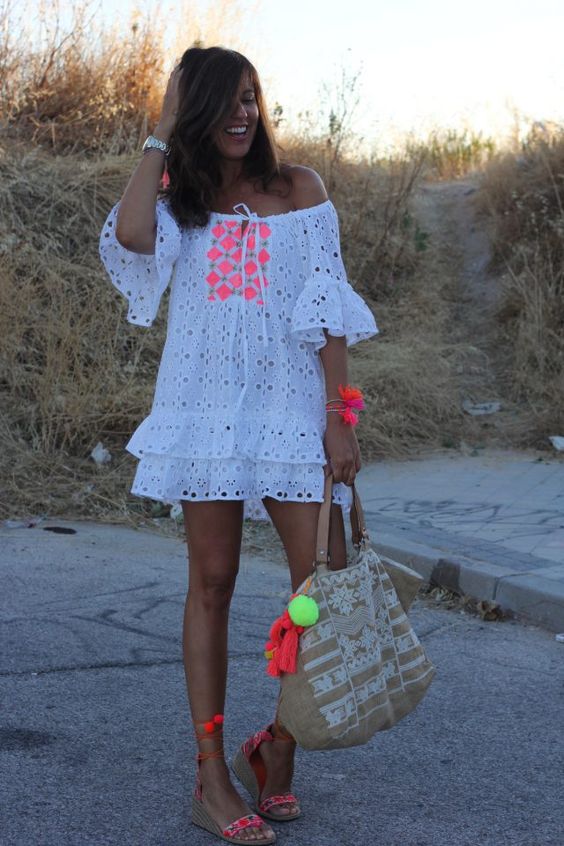 The white dress is also adorable to use on your vacation on the beach when summer comes. Choose an off-shoulder lace mini dress and then use it with a bohemian tote bag to bring boho-chic style to your beach outfit. Wearing wedges and simple boho accessories would make it perfect your summer vacation.
Go Simple by Wearing Mini Dress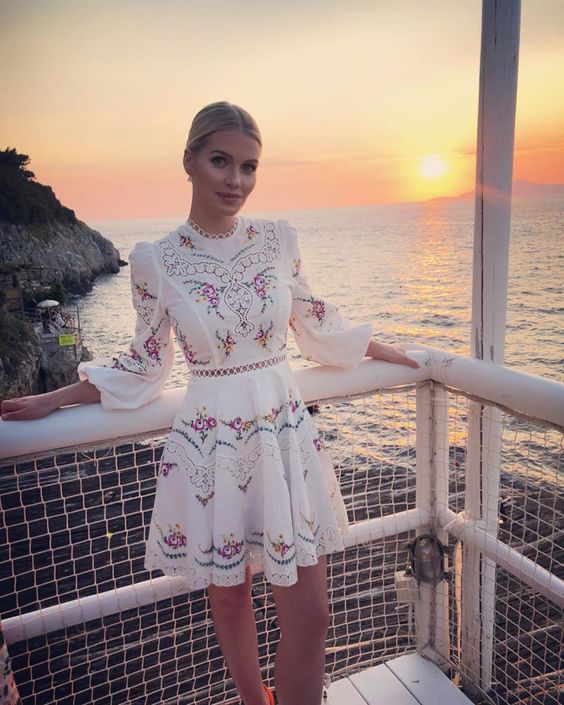 Want a simple outfit but still look fabulous, mini dresses are the answer. This outfit would help you to perform well on any occasion either formal or casual. When you want to have a little formal simple outfit, wearing a long-sleeve white dress with a little floral pattern would inscribe your appearance more. It's a really beautiful mini dress idea to wear on your date near the beach. Give your favorite heels and it would bring the best memory ever after in your life.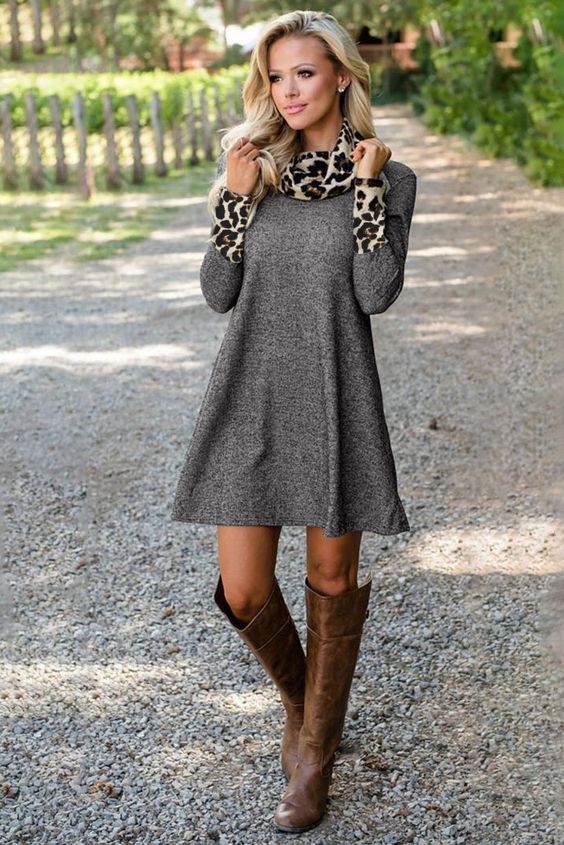 Who said we can't wear a mini dress during winter, you can still use it by choosing the right fabric and combining it with winter accessories. Choose the grey woolen long sleeve mini dress and mix it with tight high boots are a good option to style your winter outfit with a beautiful mini dress.
Sneakers for Sporty Mini Dress Style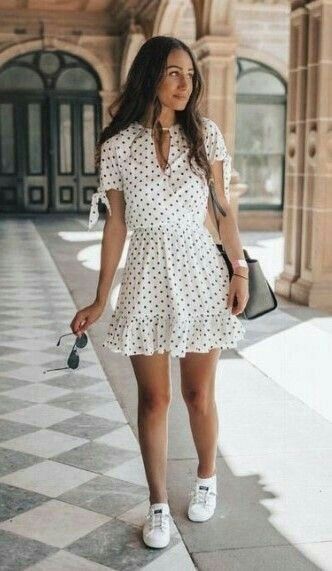 If you love wearing sneakers, you could mix this up with the mini dress. It's truly a good idea to bring this outfit to your daily activity. You can show on the sporty style without leaving your feminine aura. To look elegant and casual, prefer to suit up a white black Polkadot mini dress with white sneakers. Adopt a grey sling bag and sunglasses to accomplish your existence.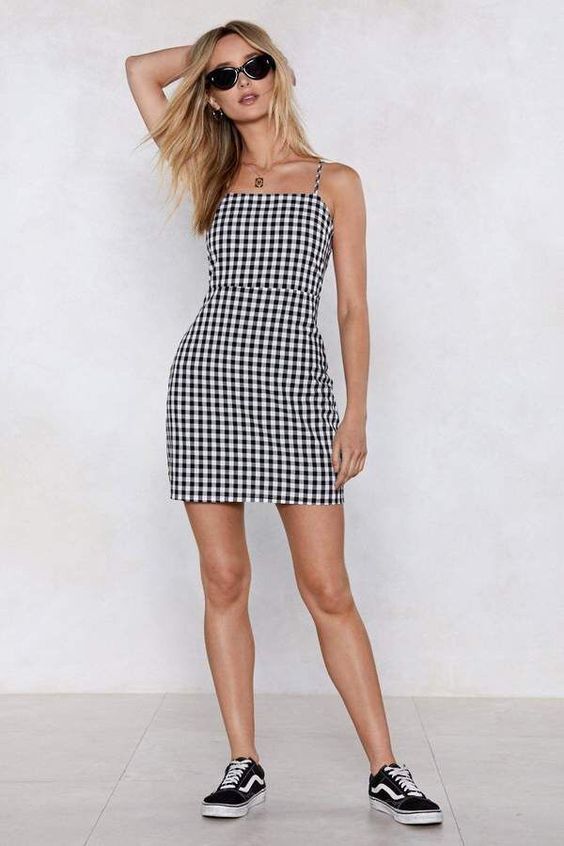 When you want to look simple and sporty at once, pick a plaid black and white strappy mini dress and then pair it with black sneakers. To bring a girly aura, give simple jewelry like earrings and a necklace. Perfect all your outfit with sunglasses and you can go out totally with this beautiful mini dress outfit idea.
Long Sleeve Classy Mini Dress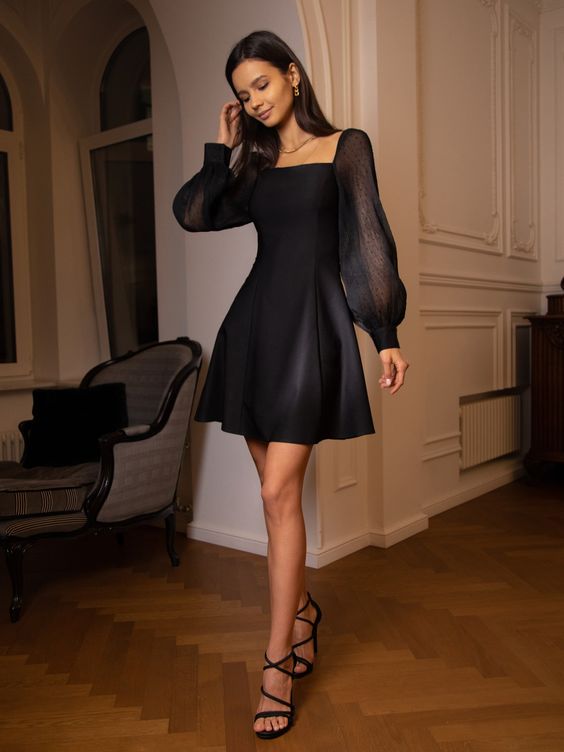 Attend your business event in a classy way by wearing long sleeve black mini dress.  Developed with a balloon sleeve would make it suitable for a formal party. Dress on with the black strappy heels and simple jewelry that would drive a classy and elegant sight in your female outfit idea.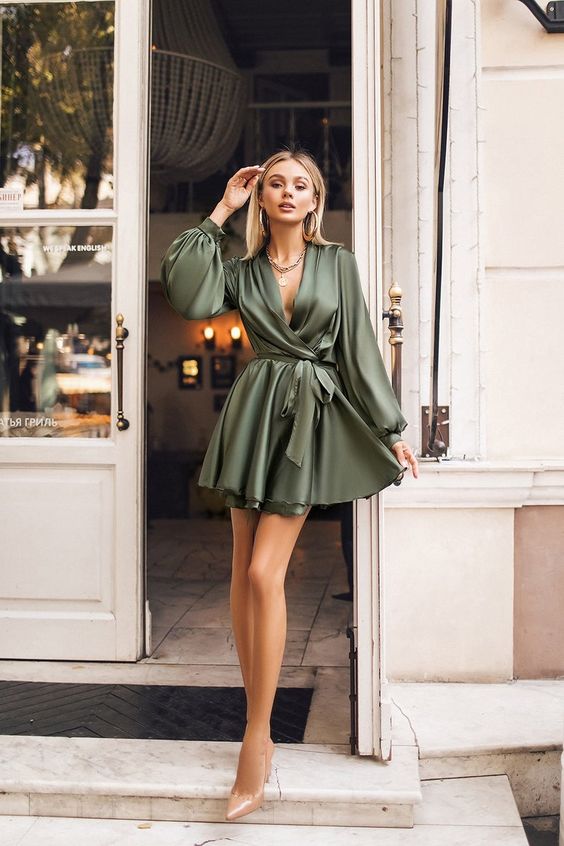 If you want to slay the people's sight and make them jealous, just bring a plunging neckline silk mini dress. Designed with a pleated dress and pairing this dress with high heels would help you to show amazingly. This will give a classy and graceful style to your outfit.
Business Formal Mini Dress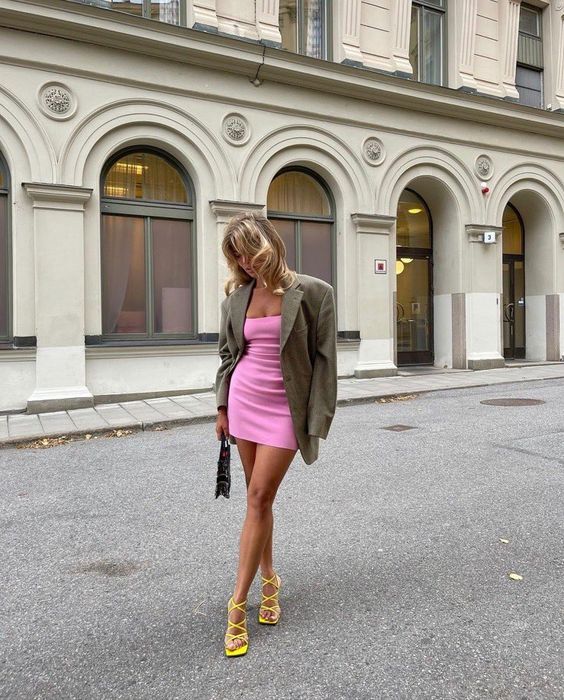 To have a business formal style, you can be covering your bodycon mini dress in an oversized blazer. Selecting a blazer would be great to draw a formal look on your mini dress outfit. To make it more unique, you can give a little clashing color combination by picking purple in your mini dress and yellow in your strappy heels.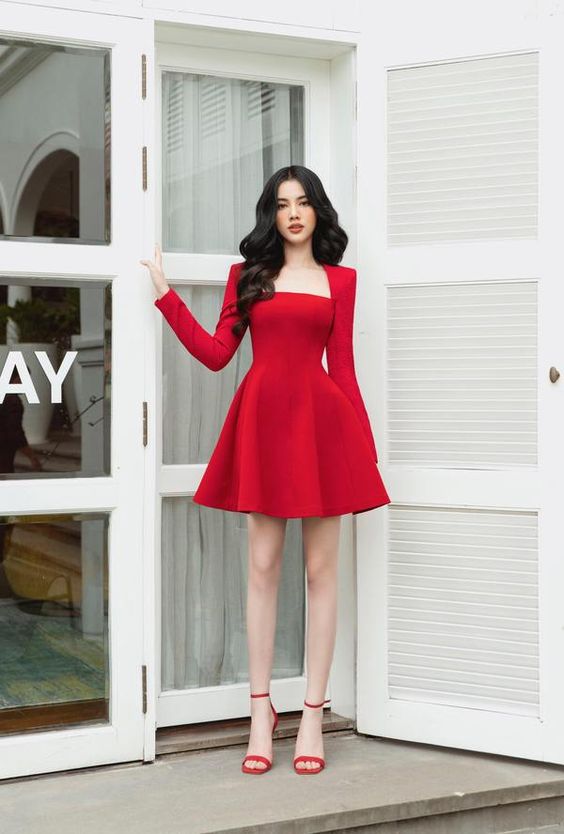 For minimal business formal outfit style with mini dress, embrace long sleeve line skirt mini dress with square neckline. This kind of dress would be good to dress in a formal event like a business party in the office. Have ankle strap heels to complete your stunning outfit. Choosing red as the basic color in your dress would bring a sexy and feminine aura.
Strappy Mini Dress with T-shirt Underneath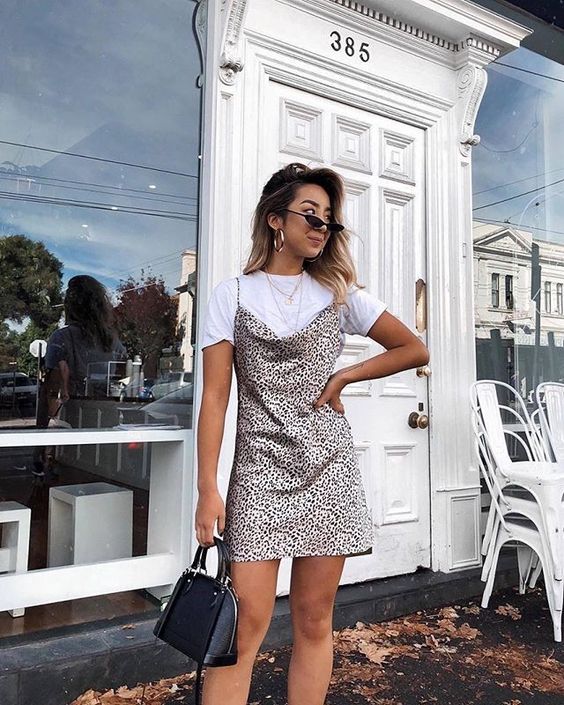 Adopting strappy mini dresses and T-shirts is the best way to stagger your beautiful mini dress outfit idea. This combination honestly gives a new vibe to your female outfit. You will get different ideas when you choose a different style. For example, to get a simple, casual, but classy image, wear a leopard mini dress with a white t-shirt underneath. Complete the image by pairing the outfit with your favorite footwear and mini bag.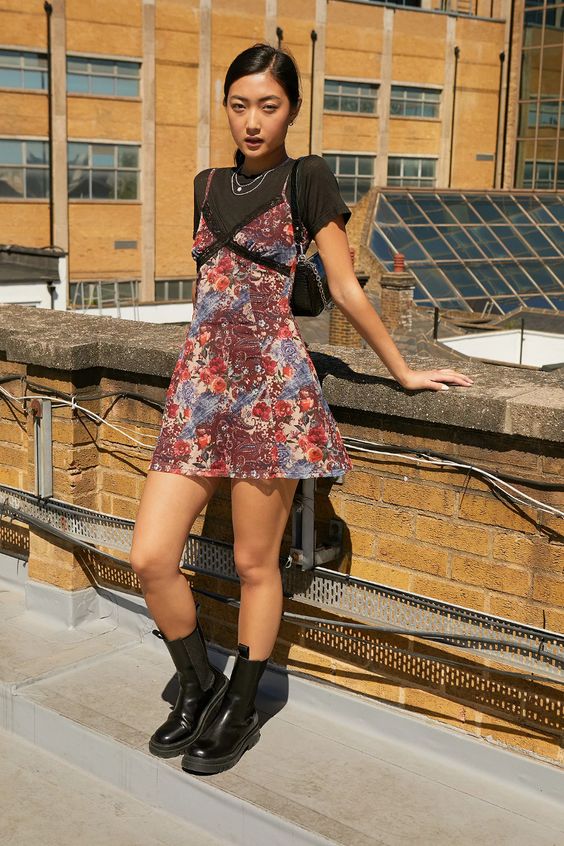 In case to get a strong and powerful image in your mini dress style, wear a black t-shirt underneath your strappy mini dress. Rather than pick sneakers or heels, it would be better to combine this outfit with black boots. Give a little girly accent with the mini bag and simple jewelry.
Mini Dress For Night Party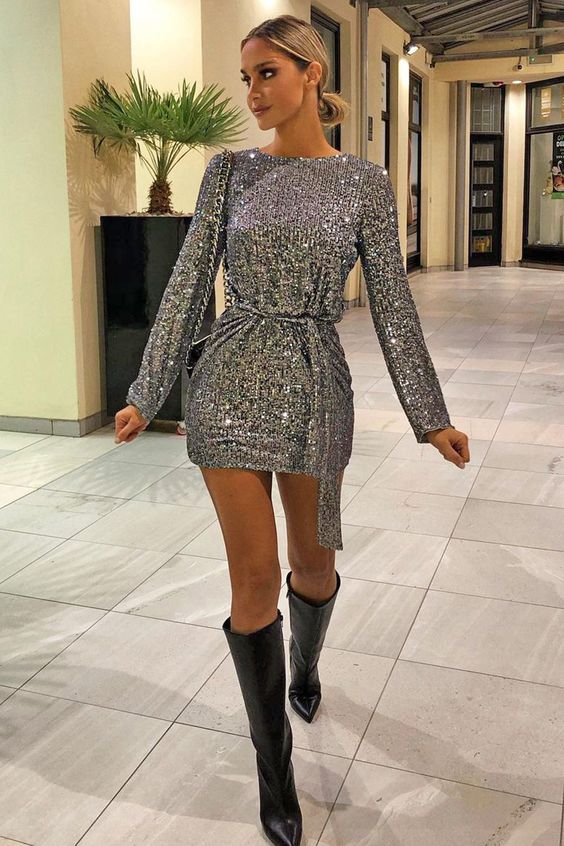 Adding youthful nuance to your party outfit rather than wearing an elegant maxi dress, you can adjust a mini dress for your evening attire. Add a little glamour by picking a silver long sleeve sequin mini dress. Designed particularly to a relaxed fit to take you from dusk till dawn, you can embrace this dress with black high boots to make you comfier for a night party.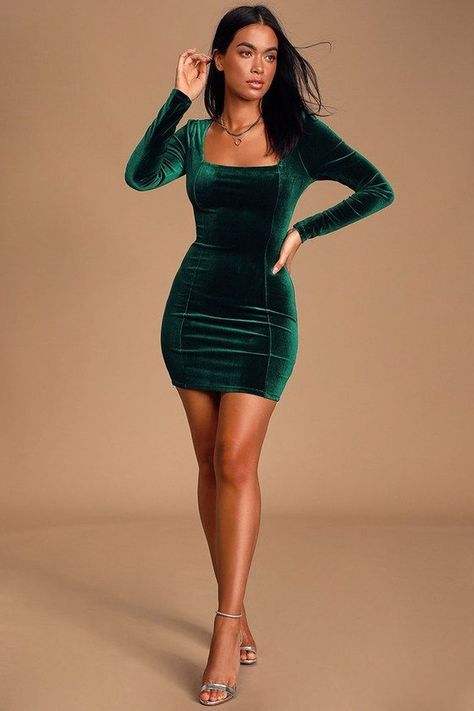 Bodycon long sleeve velvet mini dress is the best choice to make you look outstanding at the night party. The style that fits your body makes you being able to show off your sexy and feminine side. By choosing an emerald color and pairing it with silver strappy heels would help you for attracting people's attention.
Styling Mini Dress Outfit with Boots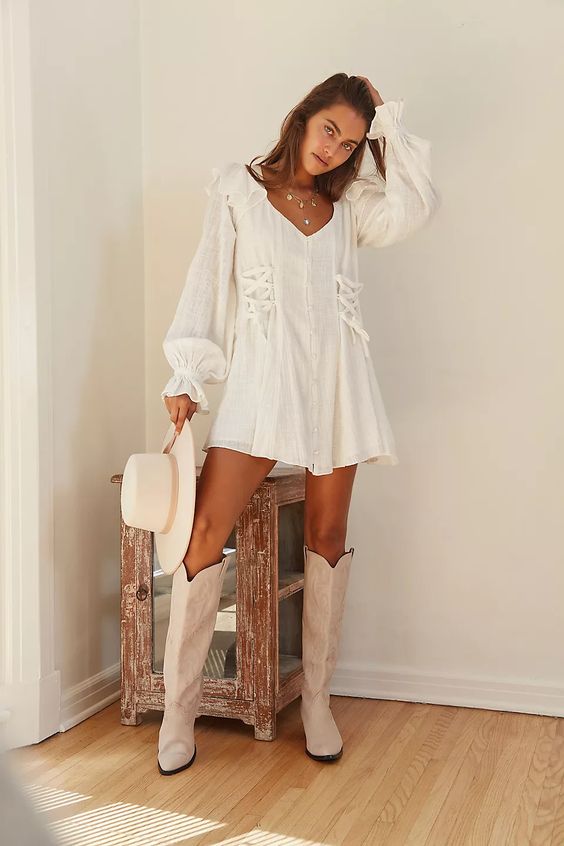 Besides combining mini dresses with sneakers, boots are also the most favorable footwear to match this dress and bring minimal energy into it. Bring this simple outfit to help you stay fashionable even with the minimal attributes. Some quick and simple outfit that you can get is by pairing a white v neckline mini dress and white knee-high boots. Rock it all together in the white cowboy hat and convey your vintage bohemian style.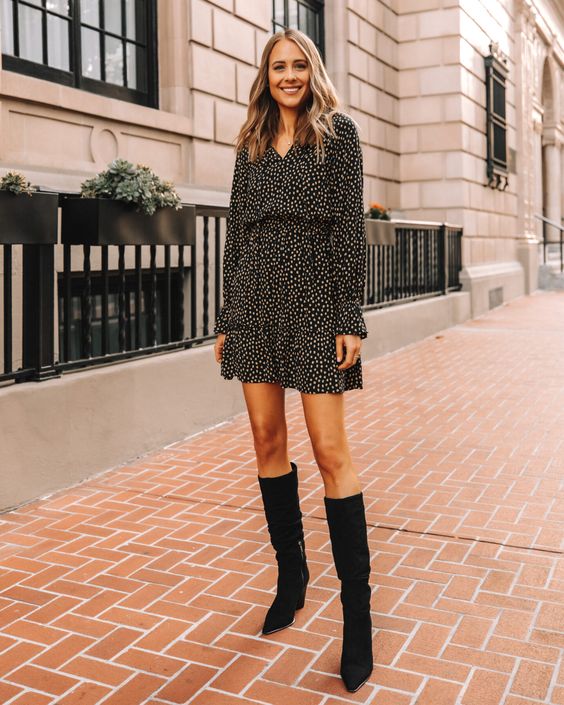 For the fall season, a black long sleeve mini dress and knee boot are the best combinations to make you stay warm, fashionable, and comfortable. Pairing this together would help you to stylish your outfit beautifully even for chilly weather at the beginning of winter
Chic Way to Style Mini Dress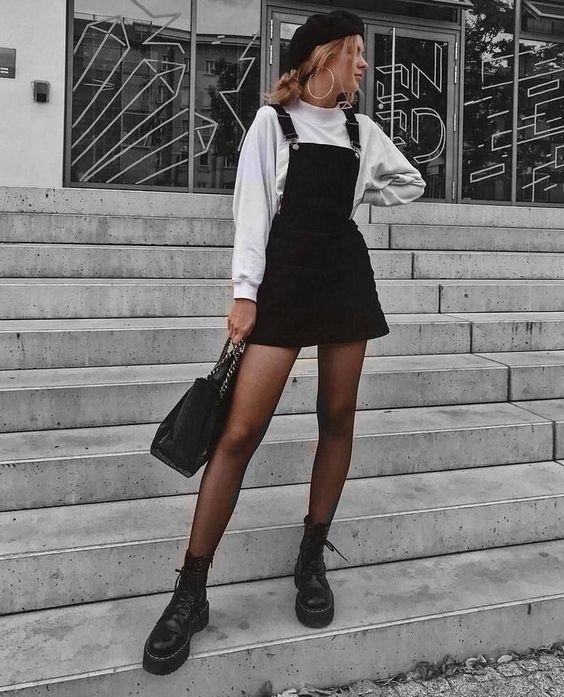 A black denim mini skirt jumpsuit and white long sleeve t-shirt would provide chic to your female outfits. Putting on this dress together with a beret hat, tight, and chunky shoes would be stood up your figure greatly.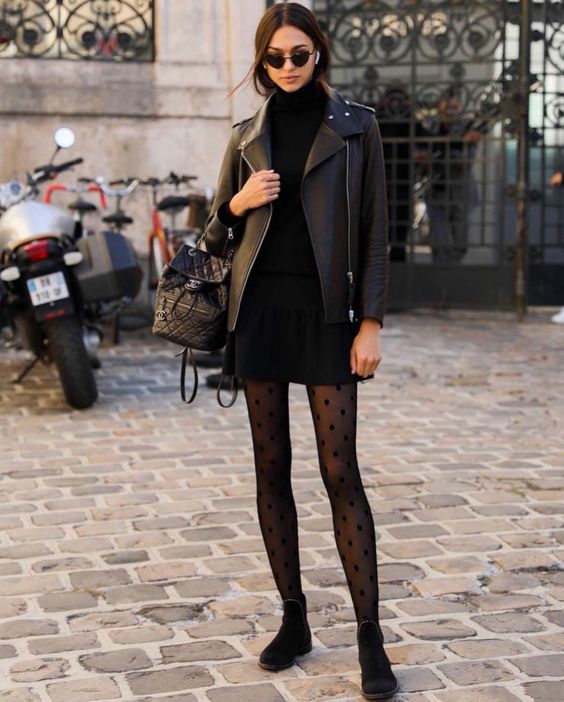 Monochromatic in black mini dress and the leather jacket also give chic style in your female outfit idea. This would be good for you when you also can pair this outfit mix with tights and black ankle boots. Bring your cool side that's shown in this outfit design.
Styling Mini Dress For Winter Outfit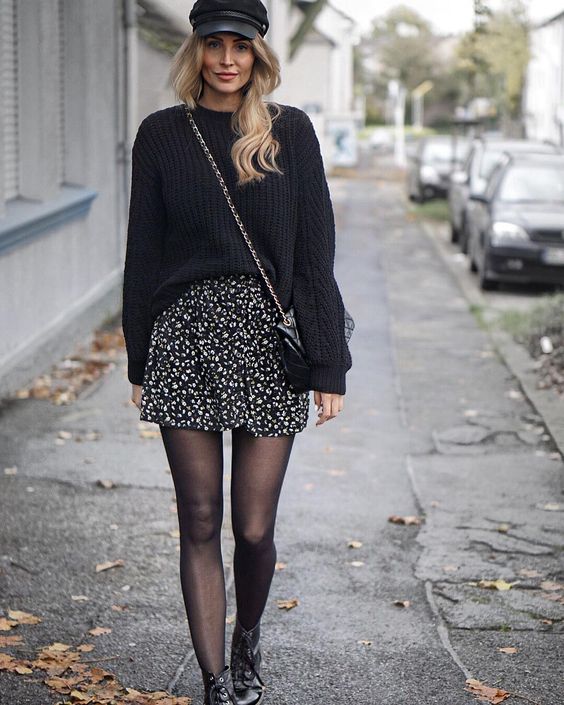 Don't let colder weather cut off your fashion senses. As dress lovers especially mini dresses, you still could impressive your fashion style by belonging this dress as a winter outfit. Covering it with sweaters or coats would be the solution. Just choose what you want to dress on and that makes you cozy enough.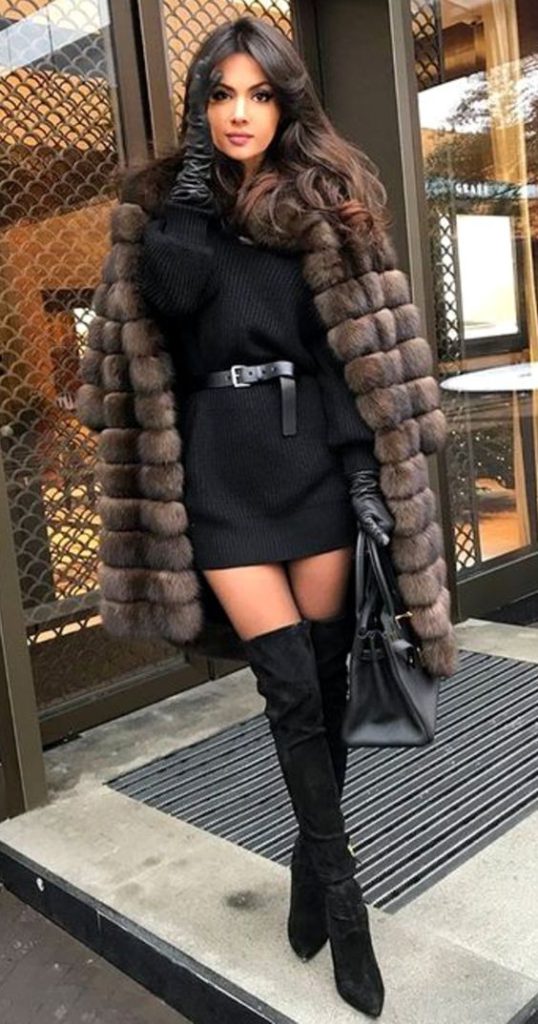 For the winter outfit, you can choose a woolen mini dress that's layered by sweaters and then match up with tights and ankle boots. Another option if you have to attend a party, you can wear a turtleneck knitted mini dress that's covered by fur women's coats as your inspiring Christmas Outfit. Combining this outfit with tight high boots and a handbag would be enough to celebrate the special day with the special ones.
Cute in Baby Doll Mini Dress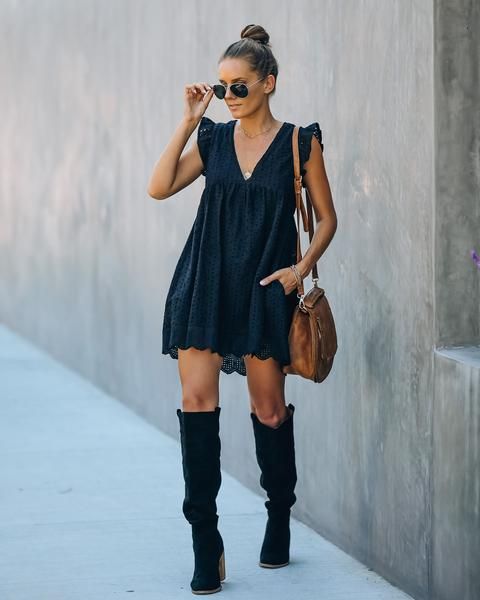 Want to get a cute or sweet impression on your outfit ideas, picking out a baby doll mini dress would aid you in this. You also could create another impression such as cute and cool at once or cute and classy style with a different mix and match. When you pair the dress with tight high boots and choose black as the color shades would bring a cute but cool view to your outfit's style.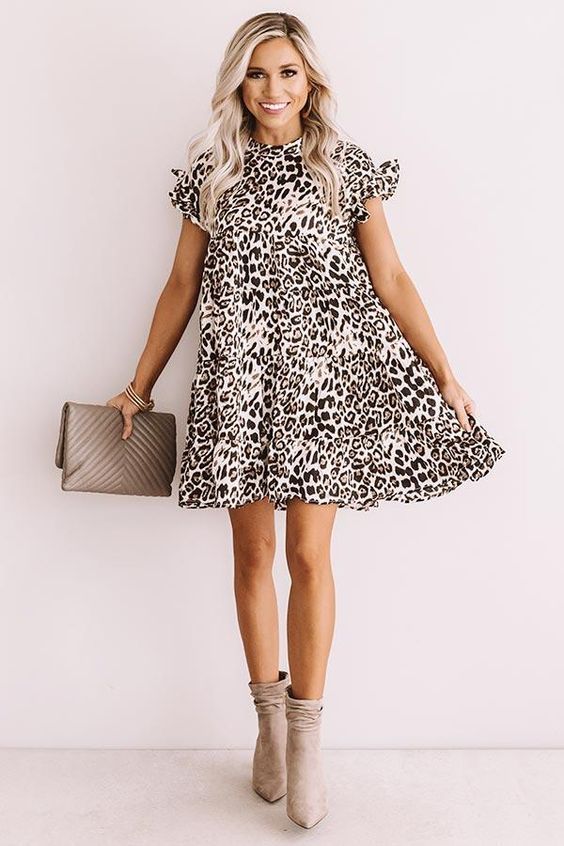 On other hand, if you build a cute and classy impression you need to get a leopard baby doll mini dress as your main outfit idea and then tide it with beige ankle boots. Also, don't forget to better your female outfit idea with the beige envelope bag.