Olidfashion.com – Pastel color is one of the most favorable shades that women included in their wardrobe. These tone colors would bring sweet and pretty gradation to your women outfit ideas. Carry delicate and softness which is very girly impressions make this color combination most adopted by those who like romantic vibes. Having any pretty pastel color style in your outfit would make your closet look beautiful and colorful.
How To Bring Pastel Colors Into Your Outfits Style
Pastel colors are pretty and can help to increase your mood. Those colors would make you seem feminine and beautiful that improving your performance better. Having this color combination in your outfit would be a great idea. If you want to bring this combination to your women outfit ideas, make sure to consider some important things below.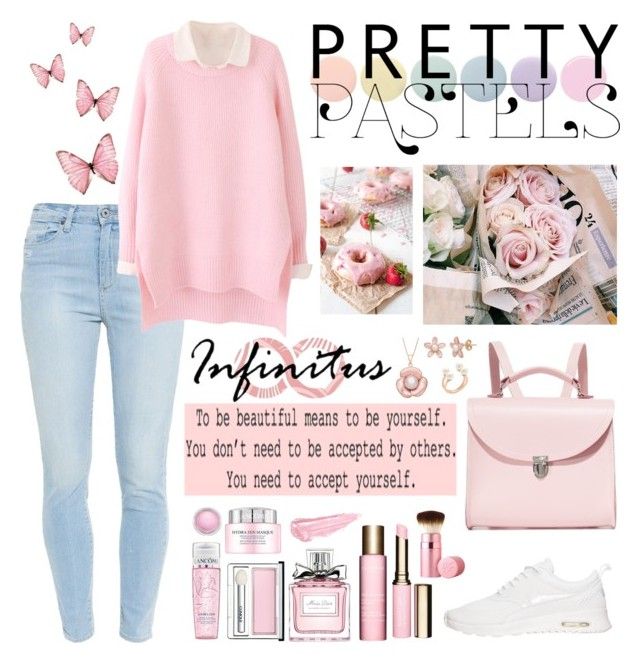 Have to Minimalist Style
If you want to add pastel colors style, make sure you won't overdo it. To avoid having odd or too colorful, match up the pastel outfits with neutral-toned or use monochrome colors style.
Go With Neutral Colors
Neutral colors like white, grey, and black also earth tone colors would make the best combination in your pastel outfit ideas.
Bring Up Pastel Color Blocking Style
This would be an option for you to bring up pastel colors style into your fashionable outfits. Blocking colors means you can match up more than two pastel colors in one outfit. The rule is you have to create a contrast such as using lighter shades on your pastel outfit idea.
Match up with Your Tone Skin and Hairs
Everyone has a different skin tone and hair color. You need to find and match up to it with the right pastel color as your outfit idea. When you have a darker skin tone and hair, you need to get lighter and creamy pastel colors. For those who have blonde hair and lighter skin tone, you should get pastel colors that are darker like coffee or earth tones and almost various pastel colors could fit this skin tone. Another rule, when you have brown and red hair, don't too much put pastel colors into your outfits. Make a little contrast by combining bright colors with your pastel colors idea.
Adjusting To Your Make-Up
While you arrange outfit ideas in pastel style, make sure to avoid being brighter and colorful in your makeup. It's better for you to have natural makeup style by using earth tones like beige, nude, brown, and others in your eyeshadow and lipsticks. If you want to adjust pastel makeup on your pastel outfits, make sure to do color blocking style by choosing opposite shades.
Giving Pattern on Your Pastel Outfits
Being monochrome in your pastel outfit might be too boring, you could offer something different by using patterns to it. Bring something such as abstract prints that are featuring pastel tone on your outfits like pastel tye-die. Consider giving minimalist modern pattern style for the preference in your pastel outfit ideas.
Pairing Your Pastel Outfit with The Right Accessories and Footwears
Besides wearing pastel color on the outfits, you can bring pastel style in your accessories and footwear. Increase your self-confidence using pastel accessories like pastel bags, jewelry, hats, and your shoes or high heels. When you have much pastel color in your outfit, it would be better to give neutral accents to your accessories and footwear.
The Best Pastel Outfit Idea To Inspire Your Pretty Style
When you have done with the dark, bright, and eye-catching color combination in your outfit mode, having cotton candy colors as your inspiration style would be a great idea. All the pastel color outfits own romantic and poetic nuance. Styling your work, formal, and casual attire in pastel color combination to impress a gorgeous vibe in women outfit ideas. You can try to adopt some inspiring and pretty modes here.
Layering Outfit in Pastel Coat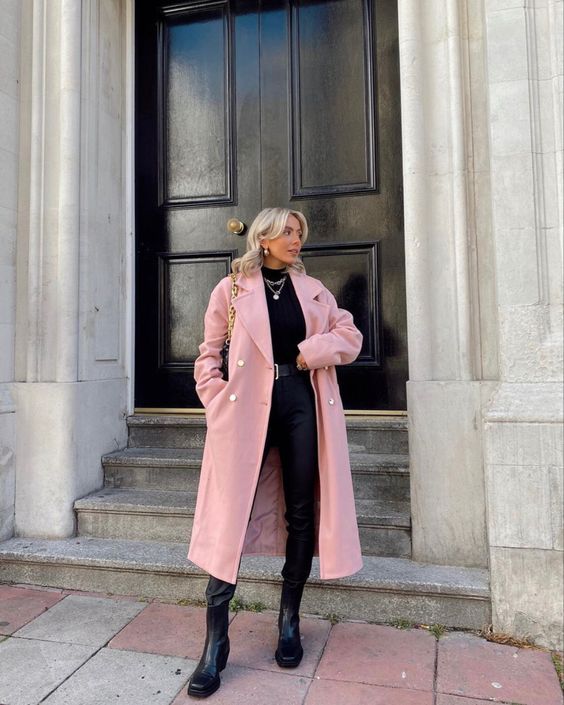 The simple way to bring pastel colors into your outfit idea is by layering your clothes in pastel coats. You can combine your neutral outfits with some inspiring women's coats or blazers in pastel color style. Covering your black outfits with pastel pink long sleeve coats would give a little pretty style to your winter or fall attire.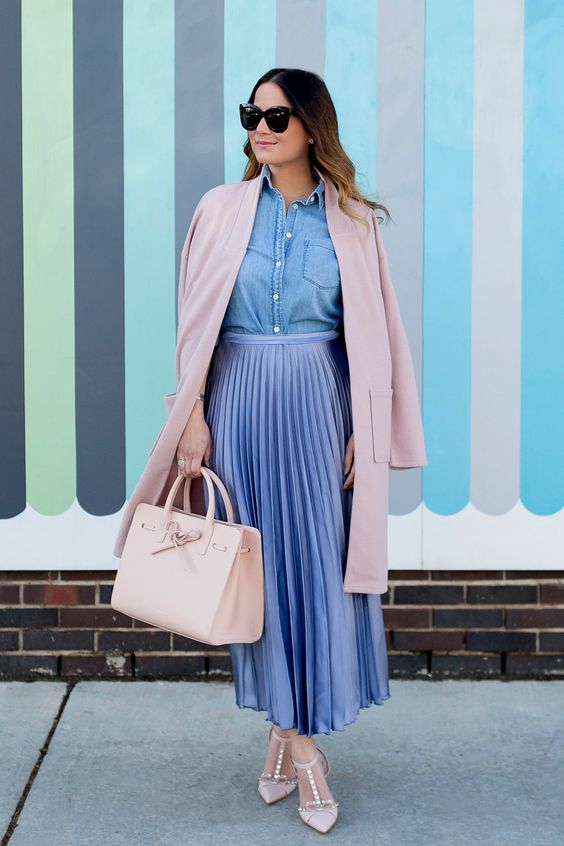 If you have a pink pastel-colored coat,  combine this outfit with darker pastel colors like a blue ensemble. This would help you to create a color-blocking style in your outfit. Making this outfit prettier with the pastel accessories such as baby pink handbags and strappy heels.
Pairing Your Outfit with Pastel Skirt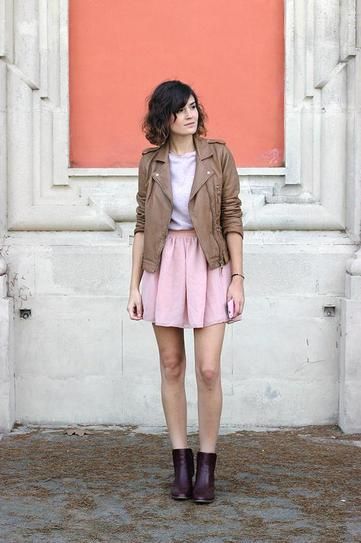 Deliver a feminine feel to your outfit with a pastel mini skirt. Math up with your white skirt and brown leather jackets. Perfect your pastel outfits with swarthier colors like dark brown into your ankle boots.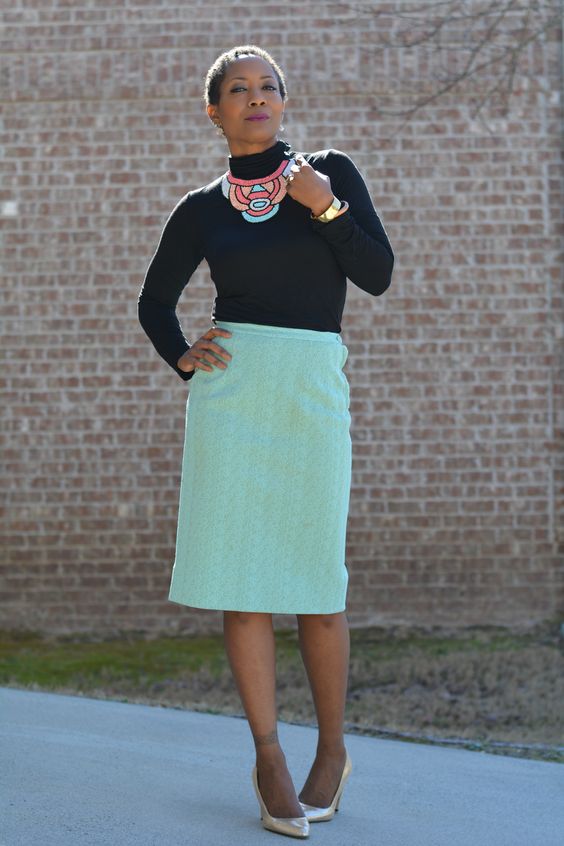 Pairing your mint pencil skirt with a black long sleeve t-shirt would be great to drive pastel style in your outfits. Choosing mint seems good for you that have a dark skin tone. Don't forget to give simple jewelry and accessories like high heels in gold colors to stunning your style outfits.
Drees Up Use Pastel Jeans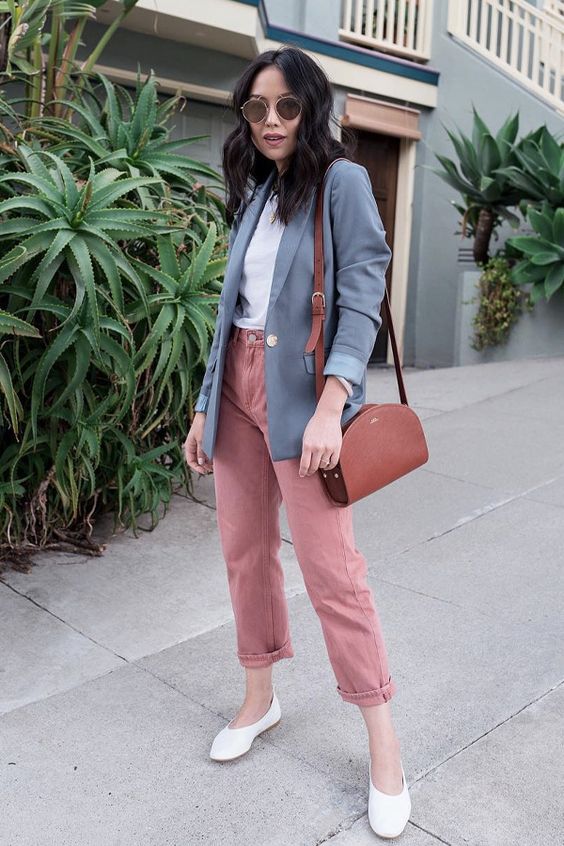 This is undoubted will make your pastel outfit idea become more trendy and appealing. Carry your pink rouge jeans with a grey blazer and white t-shirt, and then pair them with white flat shoes to become a trendy style in pastel colors. Besides that, complete the outfit with a pastel maroon sling bag.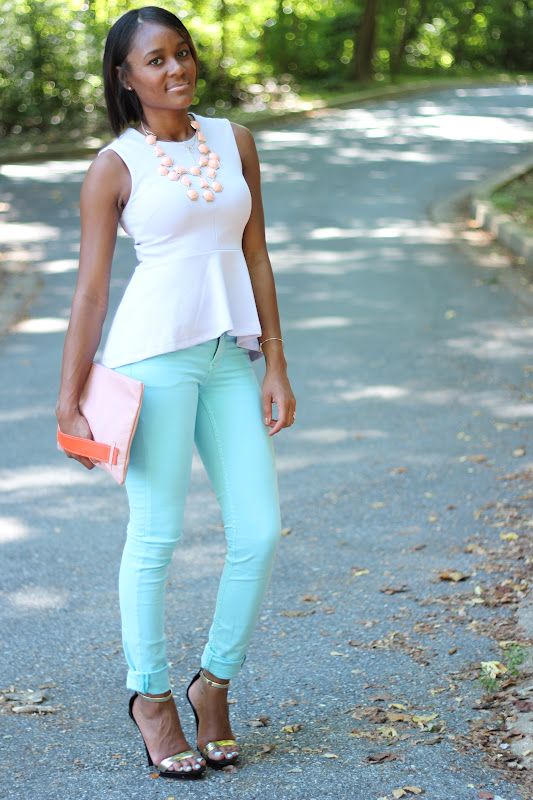 For those that have a darker skin tone, you can adjust mint skinny jeans with a white sleeveless blouse. As an option, give pastel accessories such as pink handbags or pink necklaces. Pair the outfits with a black heel with a little gold accent on it. This pretty pastel outfit is good to wear in the summertime.
Matching Pretty Pastel Color Outfit and Denim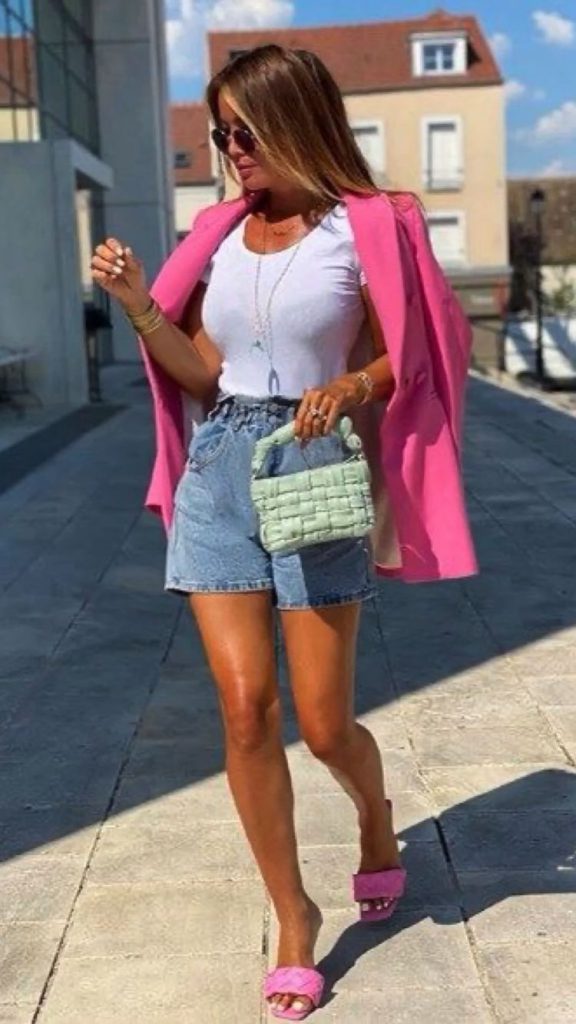 Pastel shades would be great to assert when you wear them together with the denim. Mix and match your denim with something that is pastel-colored outfits. For instance, you can try to wear your pink coat and white t-shirt underneath with denim short pants. As for accessories, get your mint mini bag, pink sandals, and simple gold jewelry.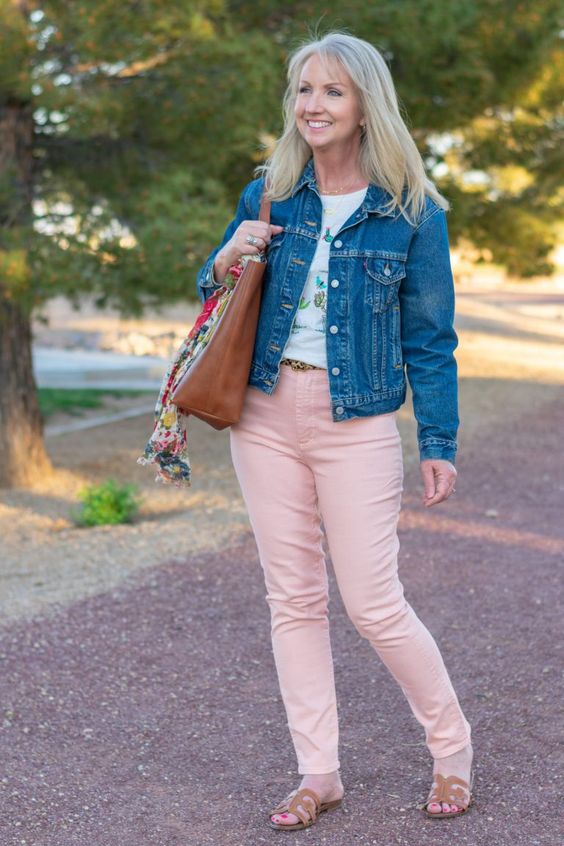 You have a denim jacket, pair it together with a white t-shirt and pink salmon skinny jeans. Have your full pastel outfit with the brown tote bag and sandals. This would make you look casual and stylish at once.
Patel Style in Your Dress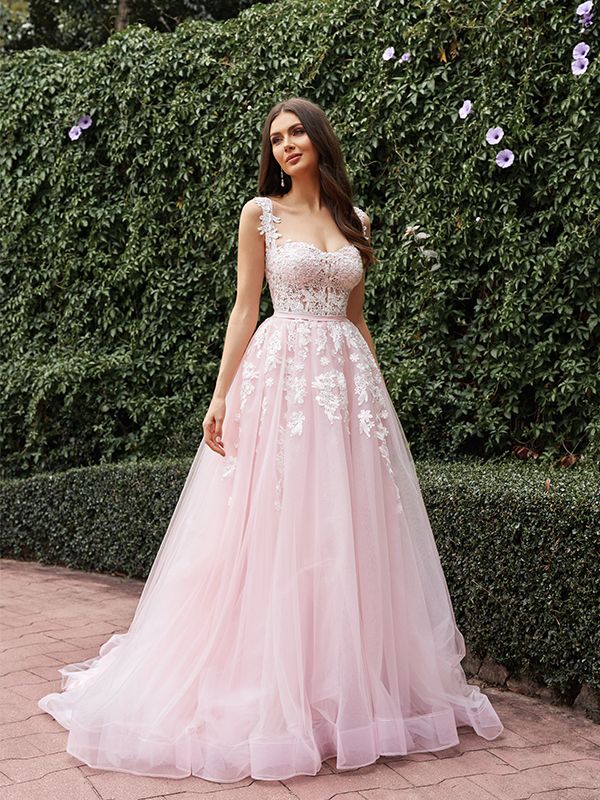 Pastel colors are commonly applied in dresses either maxi or mini dresses. This would deliver elegant and feminine style to your women's outfit idea. Using pastel in the dress also obtains romantic nuance. That's why most brides will decide on pastel colors as their wedding pieces. Aside from white, you also could select baby pink into your elegant maxi dress to make your wedding gown prettier.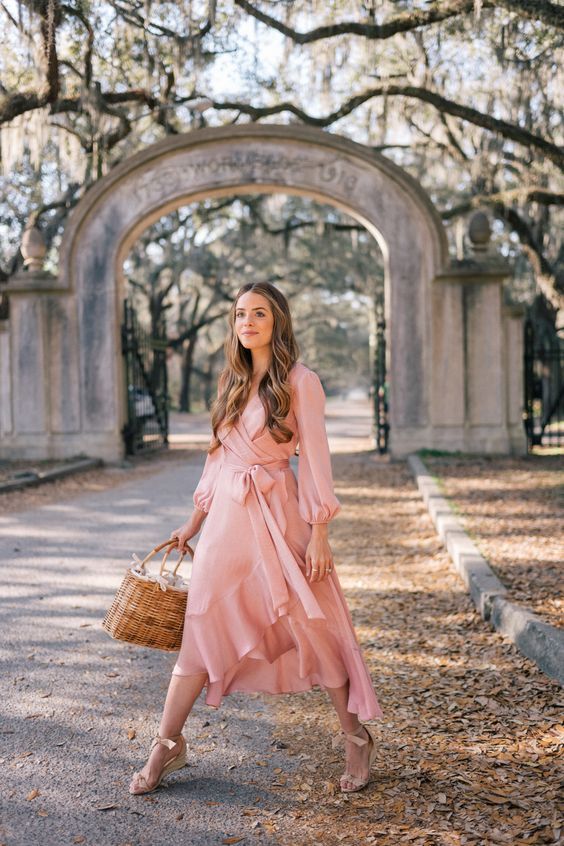 In the world of pastel outfits, wearing pastel satin midi dresses is a good choice to draw a pretty style. Designed elegantly and gracefully make this outfit would bear something romantic, delicate, and beautiful. Mixing this dress with beige strappy wedges and a rattan bag generates a suitable outfit for a romantic picnic with your partners in the garden.
Display Multi Pastel-Colored Prints to Your pretty Outfits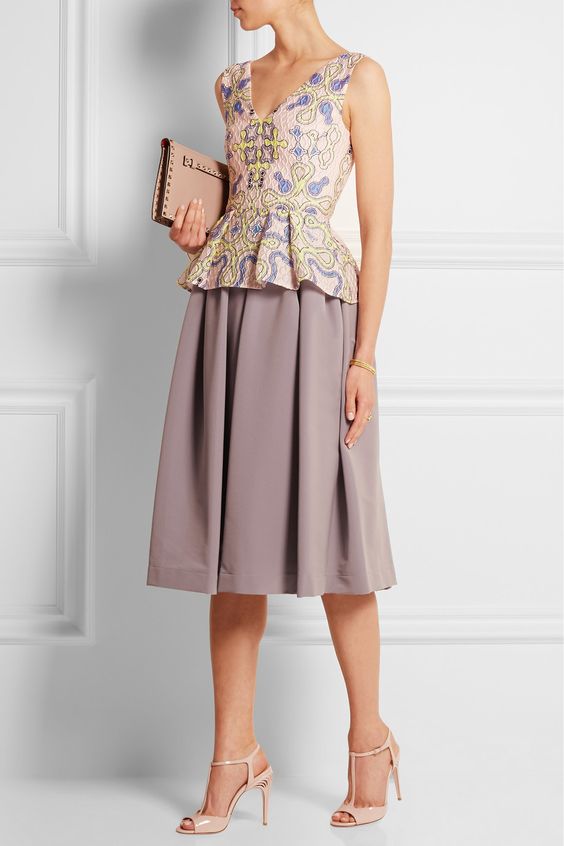 Discovering your pastel outfits idea in multi pastel-colored prints would give something unique and adorable. If you are tired of monochromatic style, this idea helps you to have fresh look. You can choose abstract blue and yellow pastel prints into your pastel midi dress. Taking nude colors strappy heels and clutch make your day colorful and pretty enough.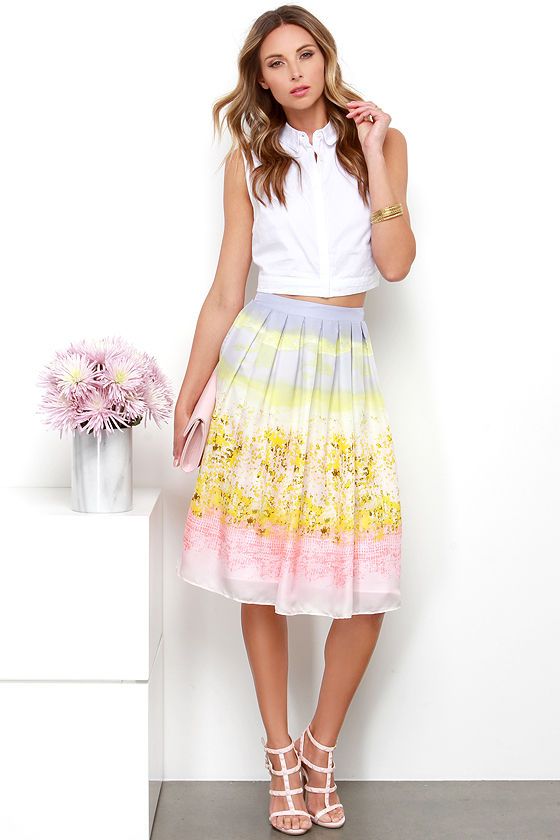 You also can match your white sleeveless mini shirt with pastel-colored prints in your midi skirt. Having pink, yellow, and blue gradation in your skirt pattern makes it pretty to wear as a summer outfit. Getting it together with a pink clutch and gladiator heels makes your appearance look better than before.
Monochromatic In Pastel Outfits
That's good for women to have reliable outfits like monochromatic pastel suits. This would fetch your self-confidence by providing a fancy and cool nuance into your all-over pale blue women outfit idea. You would be feel assured in this outfit to attend some business formal occasion.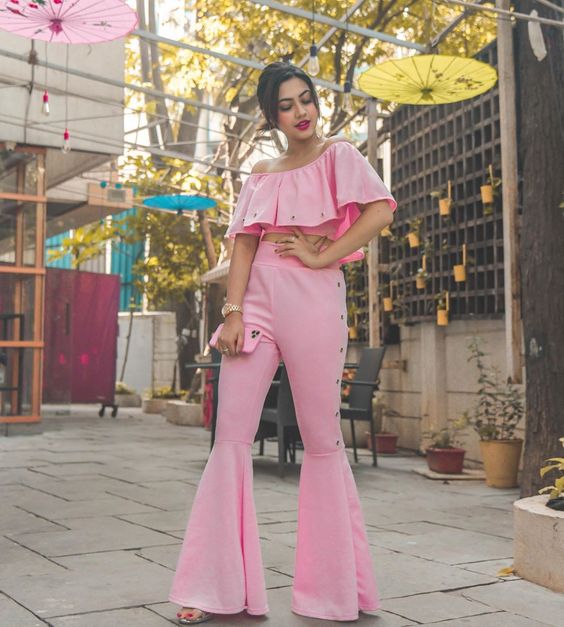 For cute and adorable styles in your pastel outfit, wearing all over pink could be a nice idea. Applying this color to your crop top and flared pants would show nicely as your pretty outfit idea. To complete your pastel style, you can adjust your makeup by choosing neutral shades then blend a little bold color like red in your lipstick and nail polish.
Workwear in Pastel Outfit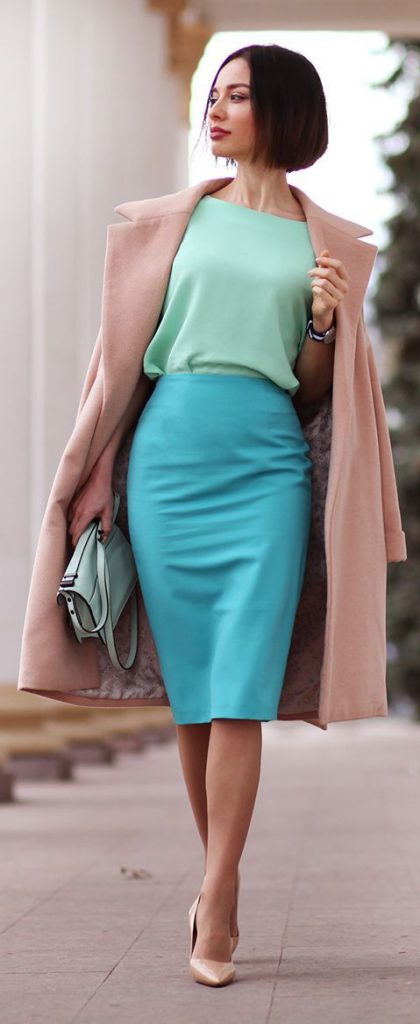 Modifying your workwear in pastel colorings will be right to express your cheerfulness and passion. Carry colorful sight but still elegant and modest in your outfit style by mixing up two or more pastel pigments into your workwear. For example, you can wear nude on your long blazer, combined with a mint blouse, and a Tosca pencil skirt. Accessorized with a minty mini bag and pair out in beige high heels would make it become your fashionable work outfit.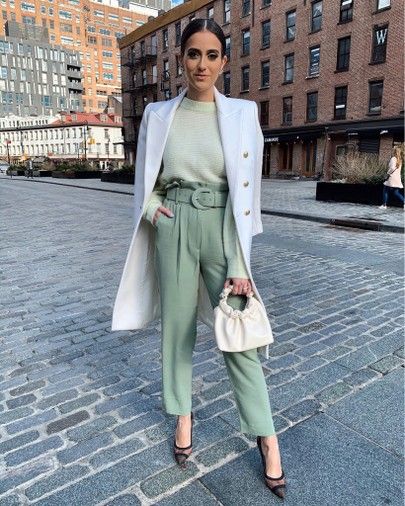 When you want to look simple but still elegant and professional in your workwear, try to improve it by applying pastel to your outfit idea. Maybe you could include green pastel shades that have matched up with white as your pretty elegant work outfits. Comprehend more stylish by selecting black heels as your footwear.
Neutral and Pastel Color Combination in Your Outfit Idea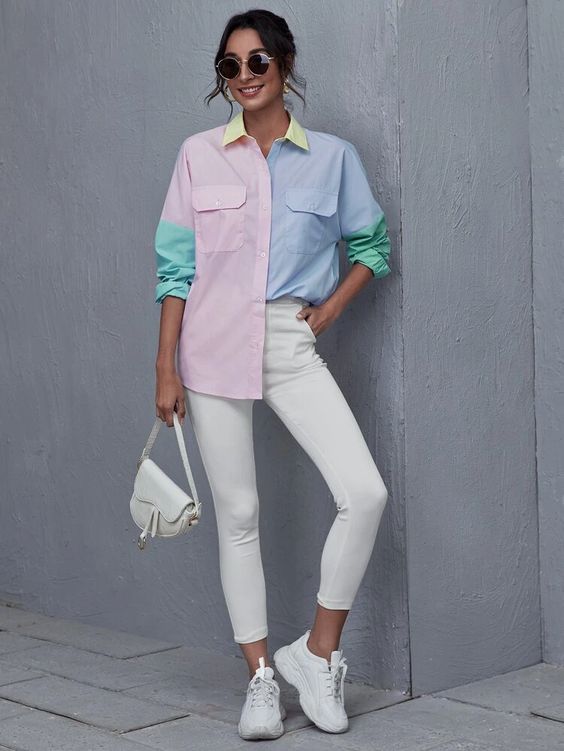 You will get the most suitable color combination by setting neutral and pastel colors together. As the type of colors which could match with mostly color shades, it wouldn't be difficult to fit pastel and neutral on your outfit idea. When you want to get a sporty pastel outfit, you could wear a pastel shirt with white legging and then fill up the outfits with white trainer shoes. Finalize your pretty sporty outfit with the white mini handbag and sunglasses.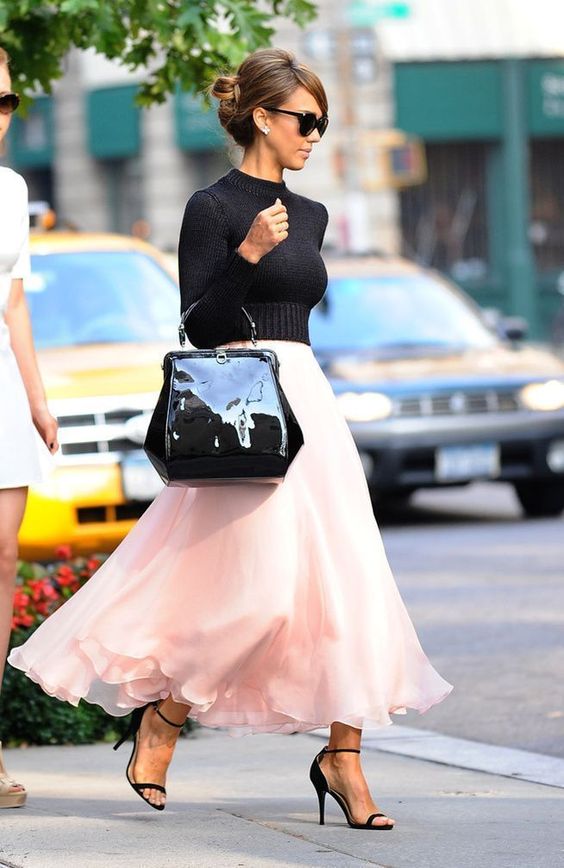 Another neutral color to suit your pastel color outfit idea is black. Cover up your pastel pink maxi dress with a black long sleeve sweater. As for the accessories, bring a black handbag and high heels to produce an elegant feel on your women's outfit. Black also could dominate and be able to polish your fashion.
Combining Bright and Pastel Color Outfits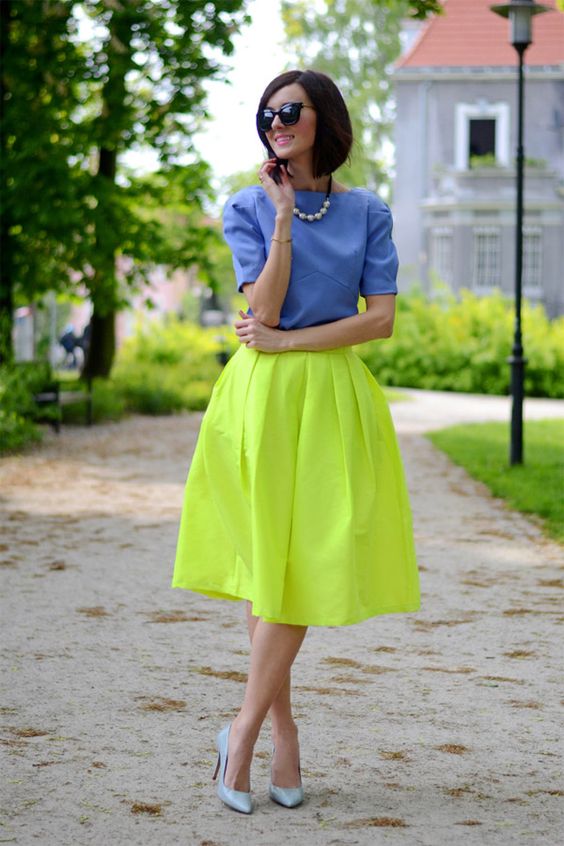 Take up your pretty pastel color outfit with bright colors for bringing clashing color style. Don't be afraid to give an eye-catching piece into your outfit such as neon colors. This kind of combination would present a joyful and pretty concept at once. Try to mix blue pastel with neon green into your outfit and find out the beauty of it.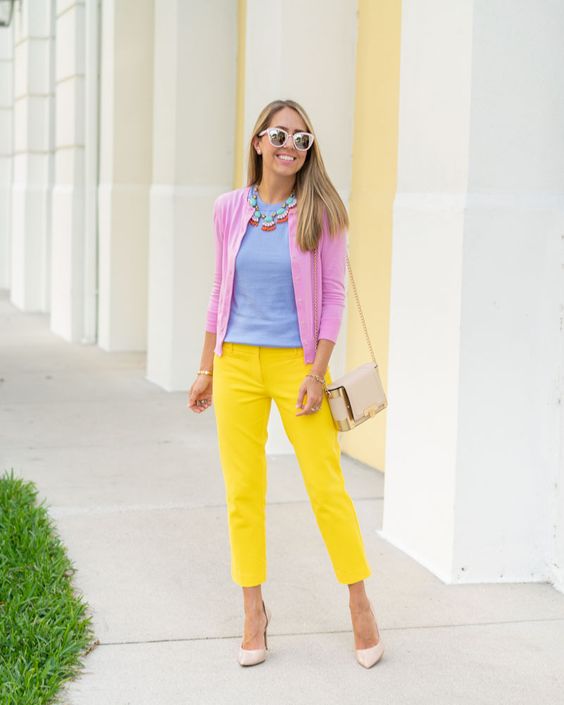 Besides that, bright yellow also sounds fetching to model with your pastel outfits. You can lay it as your bottom outfits and for the upper clothes simply pick violet and pink ensembles. To fulfill your pretty outfit in pastel color style, drop beige as your basic color in your sling bag and high heels.
Add Dark Tones In Your Pastel Outfit Ideas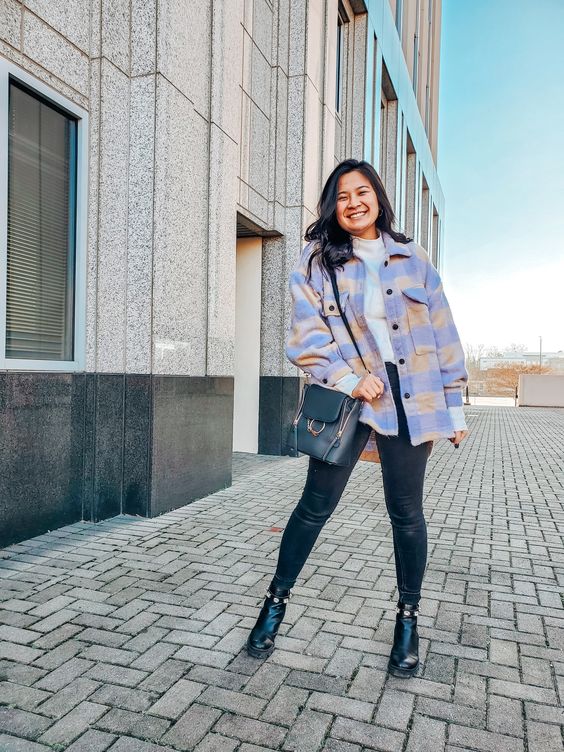 Black is a common dark tone that would match every pastel color outfit style. This could grant a modern and cool aura to your fashion. Having plaid white violet pastel coloring flannel that you paired with white sweaters, black leather shoes, and ankle boots would help to design your chic women outfits. Give other detail such as a black leather bag and you will get the best fall outfit in your wardrobe.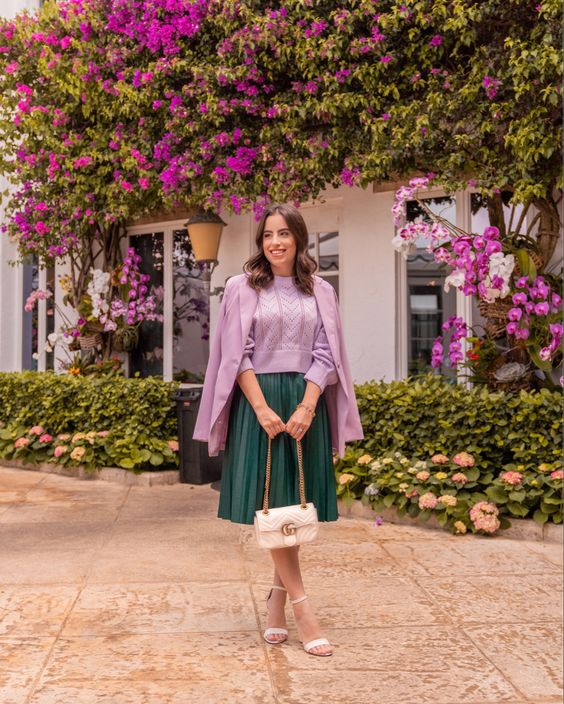 Develop your pastel outfits by polishing them with dark tone colors. Fusing violet with an emerald would get an excellent combination since pastel will be boring to set with black. Hand of some neutral colors by mixing the outfit with a white mini bag and strappy heels.
Vintage Pastel Outfit Style
Draw your pretty pastel color outfit in vintage style by using plaid pastel outfits. You can choose an oversized pink plaid blazer or oversized pink plaid culottes to give retro accents. Pair this outfit with neutral colors such as a creamy dress, blazer, and sandals. Give a brown to perfect all your adorable outfit by bringing leather handbags.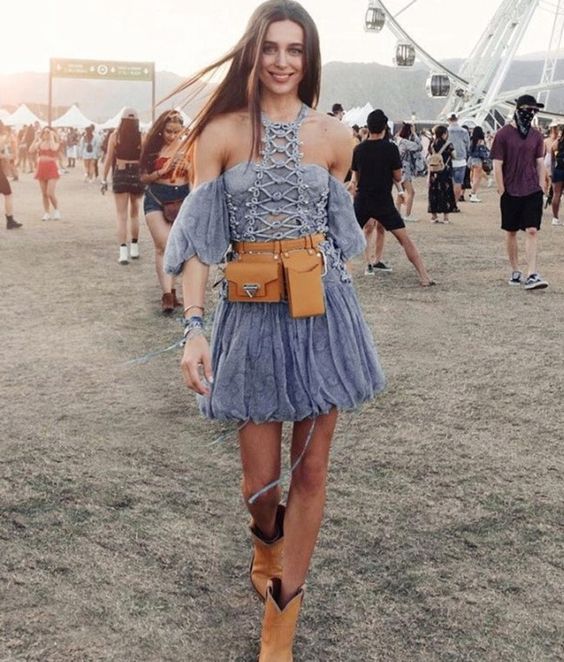 Another contemporary and vintage style in pastel outfits, you can attempt to model shabby gray off shoulders lace mini dress. This kind of outfit also brings the boho-chic style which makes you look good in a pastel outfit. Achieve all your pretty pastel style with brown boots and a leather waist fanny pack.
Wearing Pastel Accessories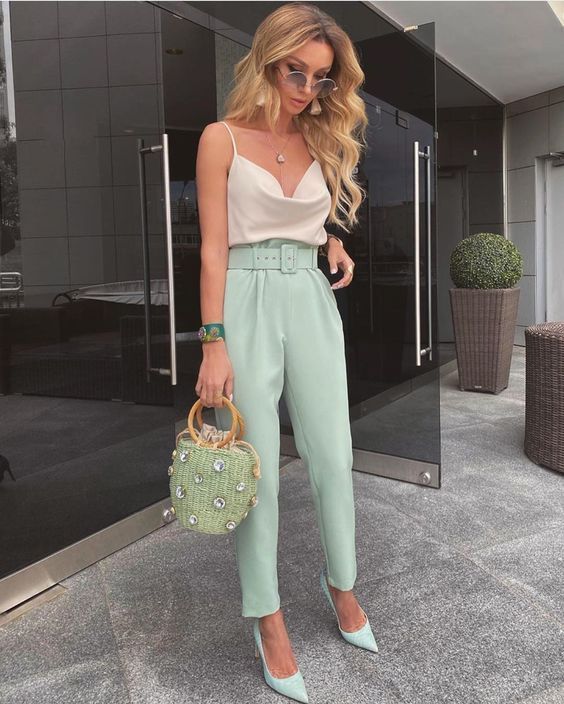 Aside from pastel outfits, you also can drag pastel looks in your accessorize. For those who want something simple but chic, pairing pastel accessories is a solution for this. There are so many pastel-colored accessories to pair your outfits such as a mint round knitted handbag. Matching it with your mint white outfits to give a monochrome vibe.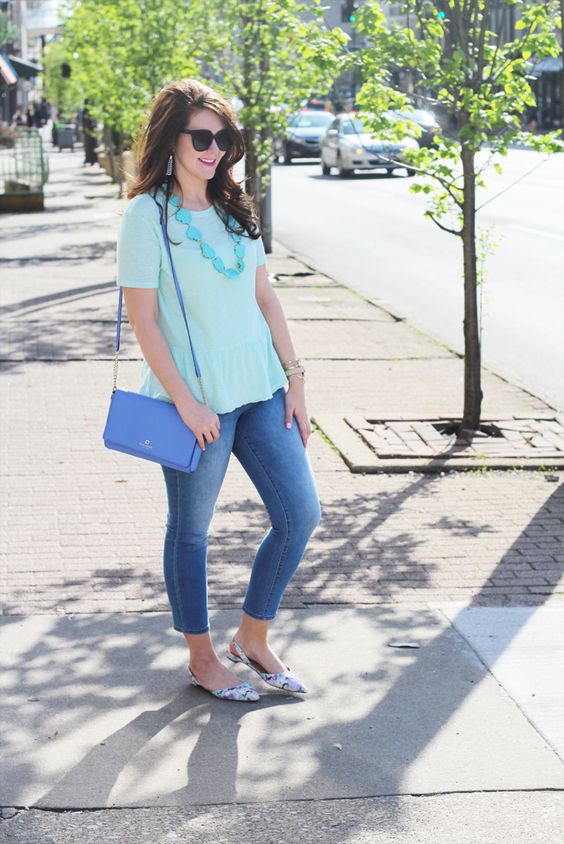 Getting pastel jewelry is not a bad idea. You can wear a turquoise necklace to amaze your mint and blue outfits. Besides thet, gold or silver jewelry is also an option to increase your pastel outfit's performance.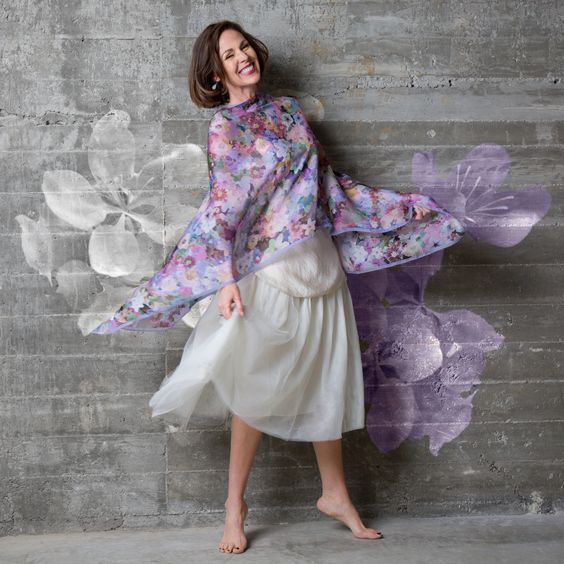 Add a pastel floral printed scarf to your plain neutral outfit. This also could be a way to deliver the beauty of pastel color into your women outfit style. Because of those floral patterns, it could feature pastel tones in a fascinating and romantic way.
Pastel Outfit Idea in Your Footwear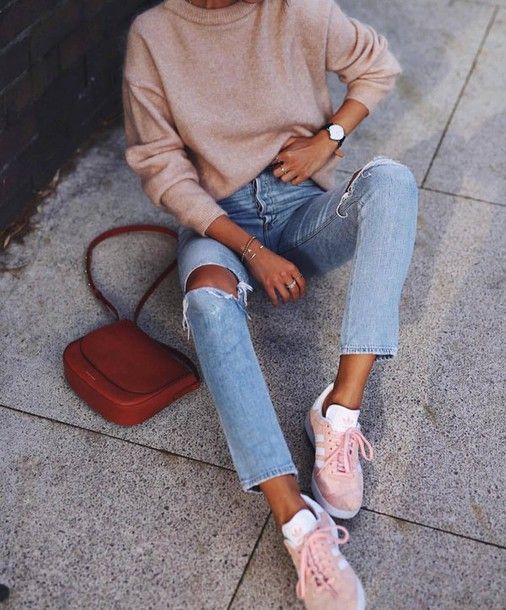 Something else that you can use to appropriate pastel colors is footwear. To create balance and harmony in your pastel outfits, it would be better to attach neutral and bright color shades either to your shoes or heels. In monochrome pastel style, you're welcome to stick on the same shades of pastel colors in your shoes.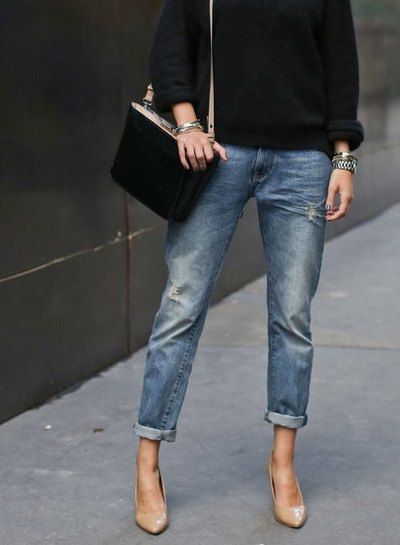 When you have neutral black color outfits, you can choose a beige or nude color in your high heels. This choice would finish off your pretty outfit style and have a spotlight with a little pastel shade on your adorable outfit.