WheOlidfashion.com – Spring comes that makes the weather warmer and fled the winter behind. It's time to bring a new season to your outfit style. For the transition climate, you have to wear something that is comparatively comfy but fashionable at one time. That's why you need to discover some cute outfit ideas you deserve to wear during the spring. Find out the best clothes to fulfill your spring capsule wardrobe here.
Pull Out Your Cute Spring Outfit Ideas To Stylish Your Fashion
When the leaves grow and flowers start to bloom, it seems that seasons have been changed. The transition from winter to summer would make you busy selecting the new outfit style. Come up with cute spring outfit ideas to create the new seasonal on your attire.
The important one you should start to consider in your spring clothes is the fabric type. You can select cotton, linen, rayon, denim, or silk for bringing a comfortable feel to your outfit. Another fabric you can choose is woolen for early spring outfits. This is because you can still feel freeze on the outside, and woolen clothing could make you stay warm.
Besides that, you can think about the style outfits and make mix and match with them to find the best combinations. The early spring season usually needs thick and warmer outfits, then it becomes lighter when the weather is near to summer. Look up here for the pattern, style, and combination outfits that have the image of springtime.
Stay Warm in Early Spring by Using Coats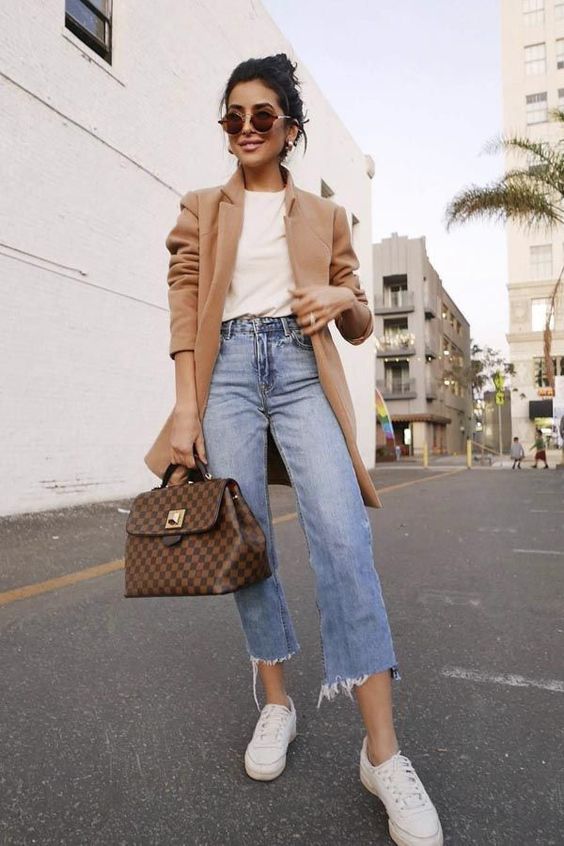 The weather is starting to increase but sometimes it feels cold outside. This is that what you get in the early spring season. You can't really take out the coat from your outfit ideas. If you want to pull out the spring nuance on your stylish women's coats, make sure to combine it with blue jeans, a t-shirt, and for a more casual look bring sneakers.
Cute Spring Outfits in Denim Mini Skirt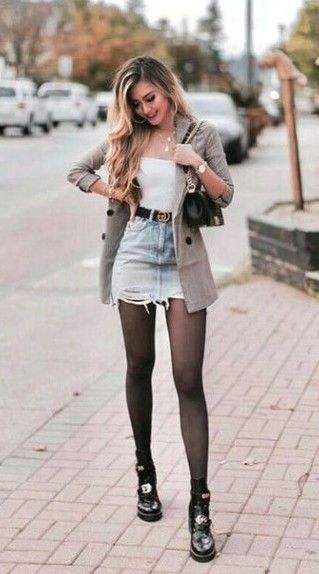 Come up your cute spring outfit ideas with a denim mini skirt, tights, and sleeveless top. Cover the outfit with a long blazer and for the footwear choose chunky shoes. Don't miss out on the accessories like simple jewelry and a mini bag to perfect your stunning look.
Trendy Spring Outfit Style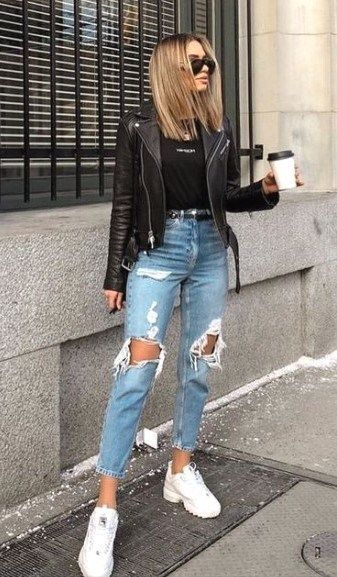 Have a trendy style on your spring outfit ideas with leather jackets and ripped jeans. Tuck the casual t-shirt on ripped jeans, belt on it as the completion accessory, and trainer shoes to finalize your performance. Bring a little masculinity with the sunglasses and it will make you seem like a cool girl outside.
Pastel Colors on Your Spring Outfits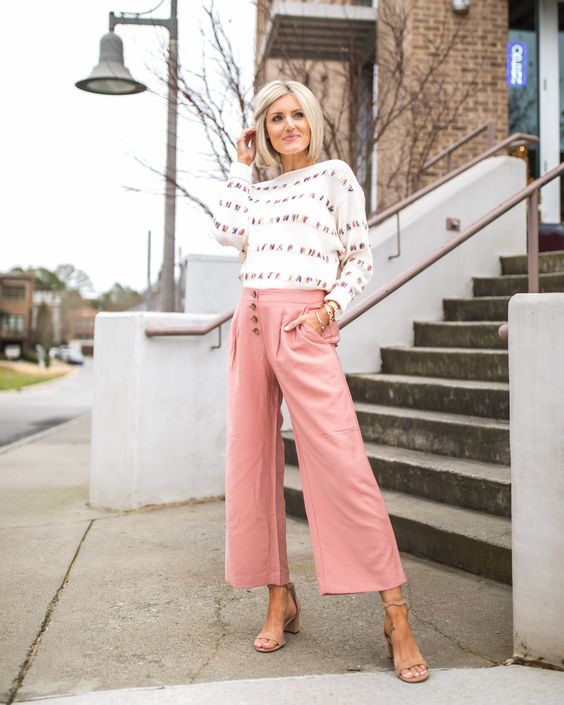 The spring has a nuance that's romantic and sweet. To bring out this vibe on your cute outfit ideas, try to have a pretty pastel outfit style. You can try to perform a simple pattern-neutral sweater with pink culottes. Pairing the outfits with stripy heels makes this style is good enough when you bring it to your spring wardrobe.
Simple Classy Outfit in Springtime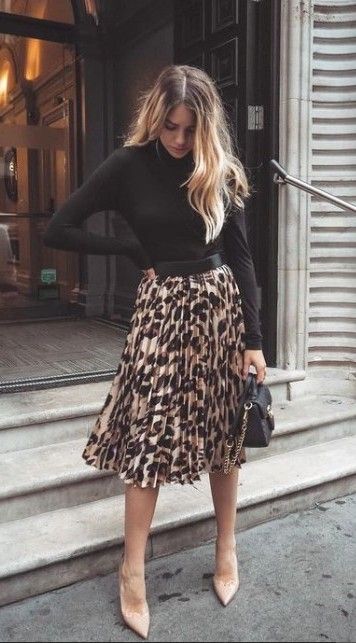 Present a simple classy style on your spring outfit ideas with the black long sleeve t-shirt and floral midi pleated skirt. Complete the fashion style with beige high heels and a mini bag. This outfit would be good to attend for brunch or semi-formal occasions.
Monochrome White Spring Outfits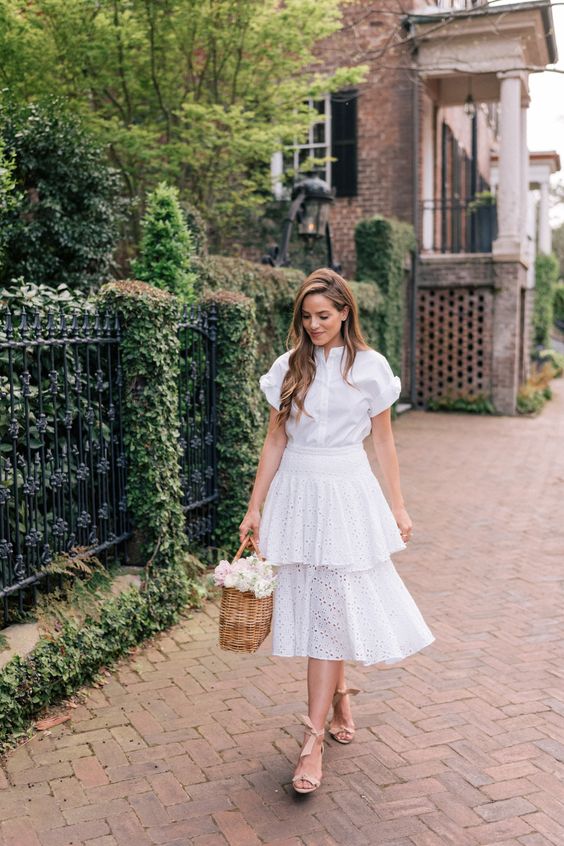 Show up a pure feeling into your cute spring outfit ideas with monochrome in a white ensemble. Mixing up the white short sleeve shirt together with lace ruffled midi skirt in white. Have a cute thing on your outfits by bringing up strappy sandals. Have a pretty impression by wearing it on a sunny day during spring.
Stylish in Your Mini Dress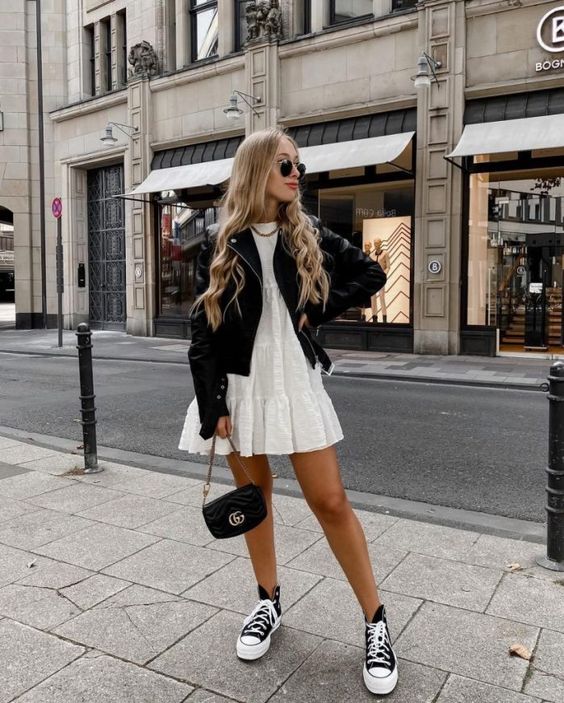 Take out your beautiful mini dress from the closet and bring it out for the upcoming season. You can start to wear a mini dress for the outdoor occasion after it's held in your wardrobe during winter. You can mix and match your dress with leather jackets and sneakers to have a cool, trendy, and cute impression on your outfit ideas.
Varsity Spring Outfit Style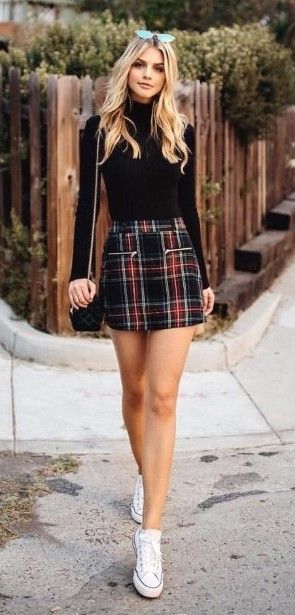 The most favorable outfit to draw cuteness after mini dresses are mini skirts. You can match up a plaid mini skirt with the turtleneck sweater and sneakers to create a cute outfit style. It's good to take on this kind of style as your varsity outfit.
Bloom your Flower in Your Cute Outfit Style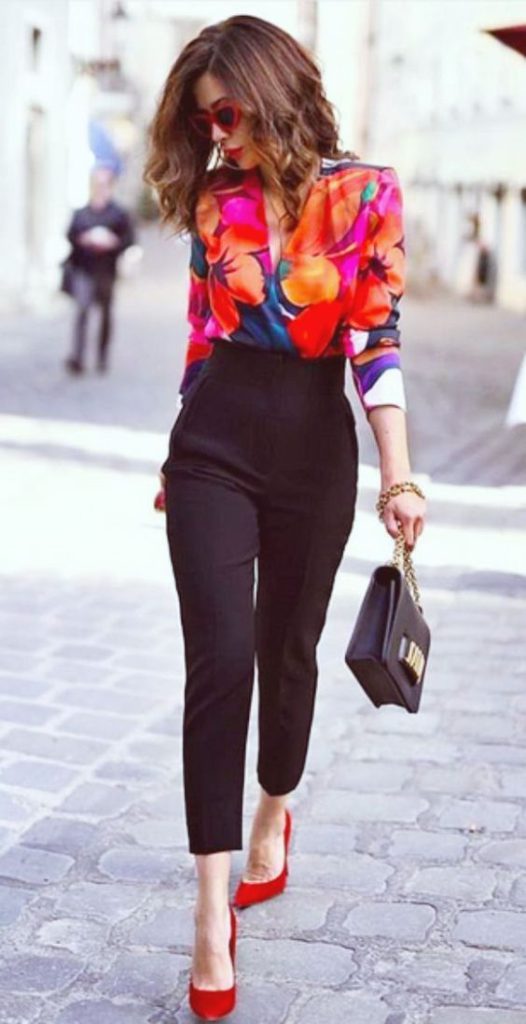 Big flower printed blouse on your outfit ideas apparently would impress the spring on your fashion style. Pairing this outfit with waist pants could have a semi-formal appearance. To give a more spring atmosphere, choose bright colors like light red on your heels and sunglasses to gleam out your aura.
Beautiful Pastel Maxi Dress for Spring Style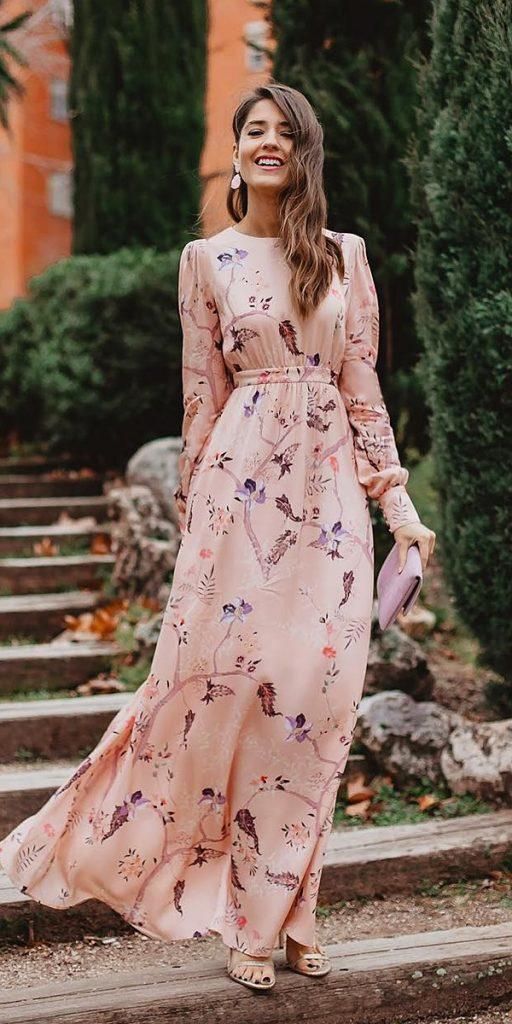 Floral printed and pastel colors are the best combination to drag out spring trends to your outfit style. Adding it to your elegant maxi dress would perform beautifulness on your women's outfit ideas. Complete your spring fashion style with gold heels, a lilac clutch, and some pastel jewelry.
Sporty Spring Outfit Ideas in Sweater and Biker Shorts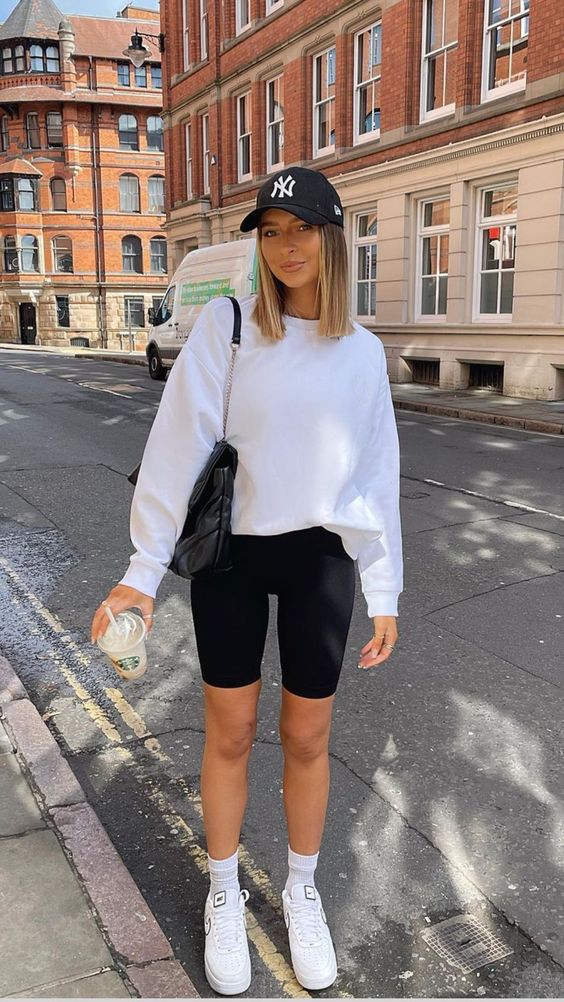 When you want to get sporty style on your women's outfit ideas, just bring up oversized sweaters with biker shorts. To have a more sporty feel in your outfit ideas, sneakers and hats would complete it. You can go with this outfit to the gym or when you want to have a little walk in the city in nice weather.
Contemporary Style in Your Spring Outfit
Have a trend on your oversized outfit ideas as for spring fashion style. Make your oversized t-shirt as a dress, cover it with a long cardigan, and pair the outfit with high knee boots. To have contemporary style on your spring outfit, use a cowboy hat for finishing your fashion.
Casual Spring Fashion Style With Floral Outer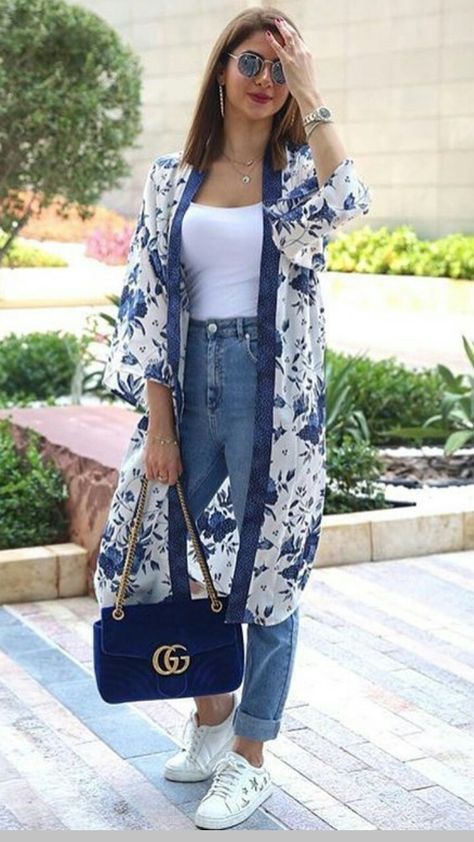 Drawing spring season on your outfits by involving floral cardigans in your outfit ideas. As we know that's floral printed usually pull the spring feel, so having it on your fashion style is the best choice. Mixing the outfit together with a tank top and blue jeans could make your spring outfits look fabulous.
Being Cute Outfits in Spring with Romper Jeans Jumpsuit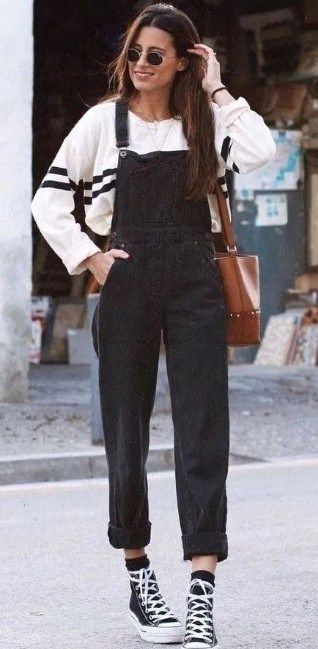 Give a youthful on your spring outfit style by wearing romper jeans jumpsuit and sweater underneath. Pairing it with sneakers could complete your timeless style. In this kind of style, you can feel come back to the youth again. Don't forget to add the accessories like a tote bag to help you ready hang out with your friends.
Lace Mini Dress for Adorable Spring Outfits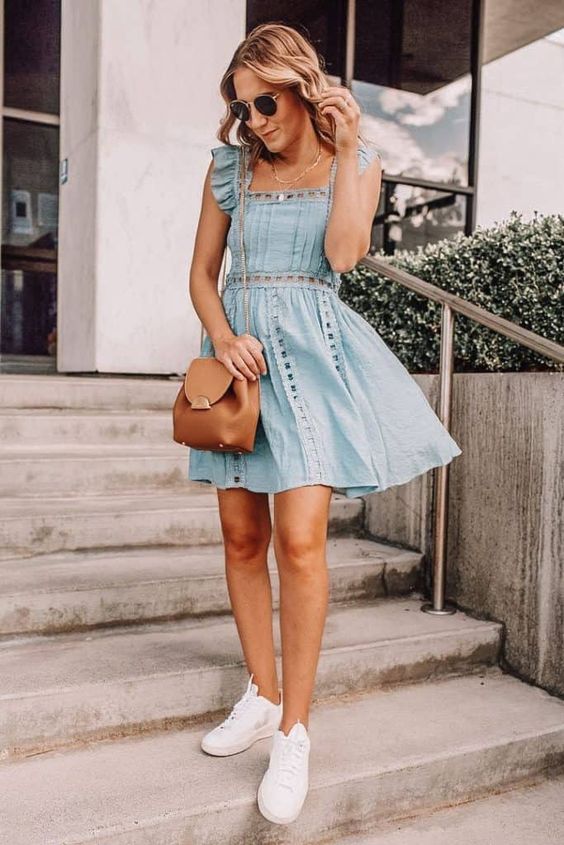 If you want to have boho-chic style in your cute outfit ideas, just try to wear a lace mini dress. This would make your adorable style in the springtime. Especially, if you try to combine this outfit with sneakers and a sling bag.
Styling Midi Dress and Denim Jackets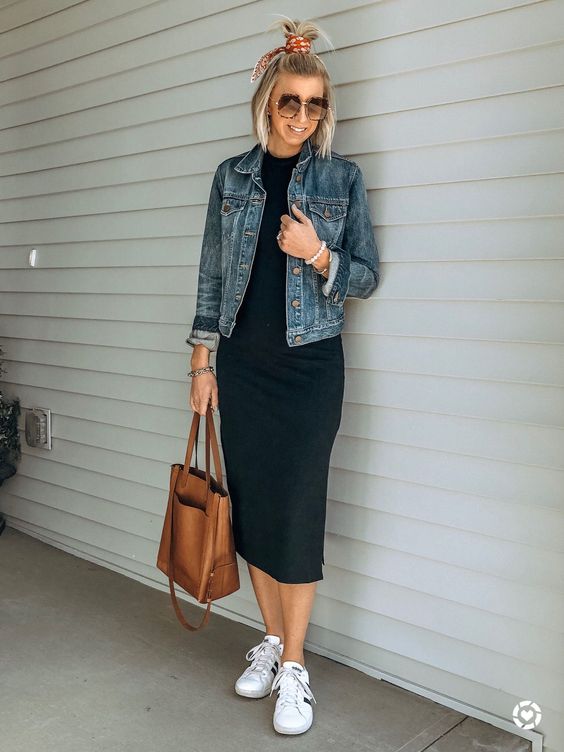 Bodycon midi dresses and denim jackets also have a higher chance to combine during spring. Whether it's early or at the end of the season, you can take out this outfit in your daily life. You can wear it as your work attire or just casual outfits.
Cool Spring Fashion Style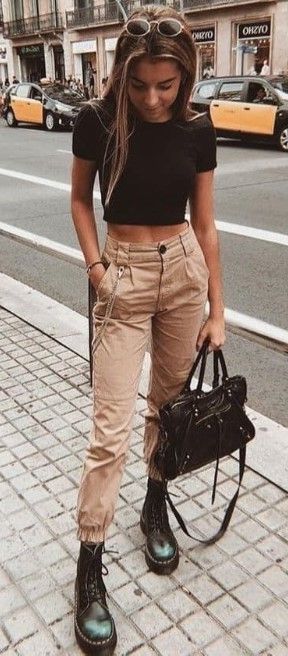 Spring is not only for the feminine style, those who want to look masculine and have a cool side could also drag their own outfit style. For example, combine short sleeve cropped top and baggy pants. To add more manly, choose the army boots and tote bag for completing your outfit ideas.
Pretty Spring Work Outfit Style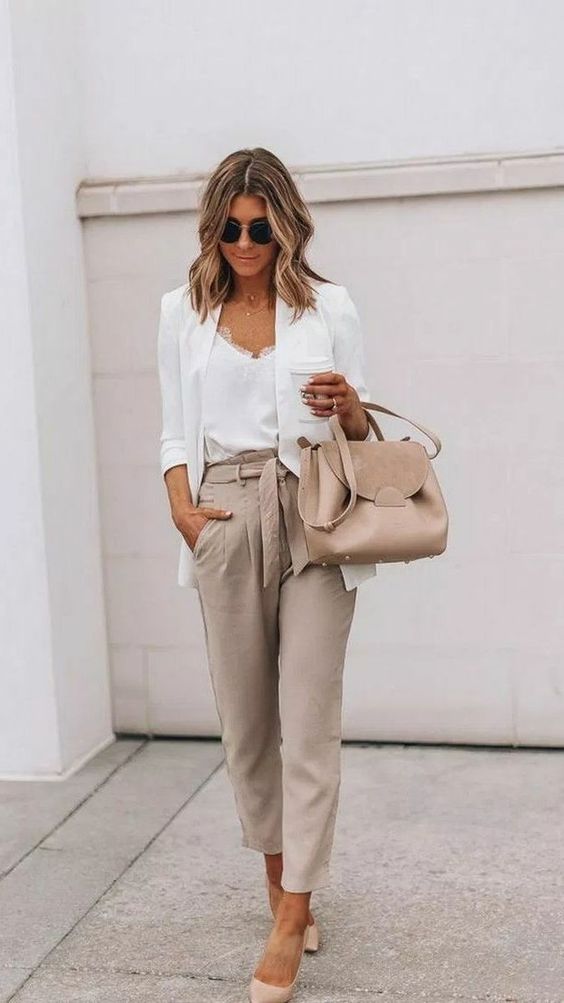 Have your pretty and preppy work outfit for women during spring by mixing a blazer, tank top underneath, and pegged pants. Complete your formal workwear with high heels. When you decide to bring out this outfit style with earth colors as basic shades, this would give a calm and mature image in your work outfit.
Bring Sweatpants into Your Cute Spring Outfit Ideas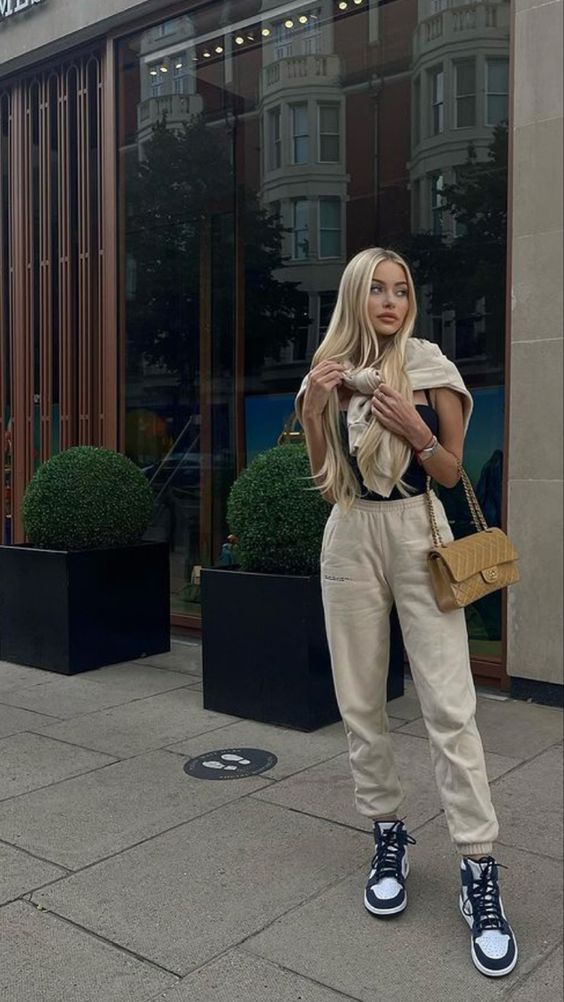 In a comfortable and cute spring fashion, you can try to take out sweatpants for your outfit ideas. This also has a sporty and feminine image if you tuck the strap tank top in it. For the option, add a sweater to cover up the outfit or just drape it on your neck.
Grunge Style in Your Spring Outfits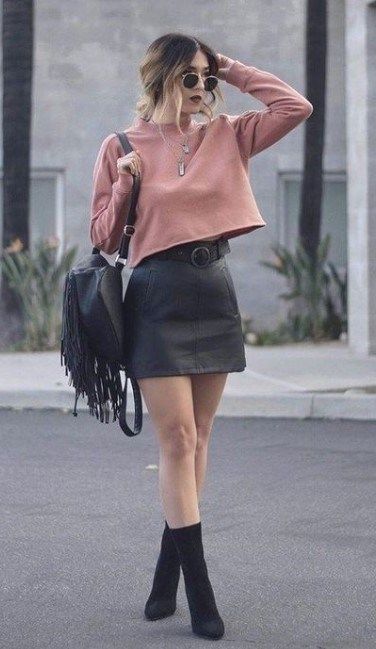 Want to come up in a little bold outfit style, you can infiltrate chic grunge style into your women's outfit. Furthermore, to design this style in a little feminine vibe you can try to combine pastel and black outfits together. For example, you could come up in the pink cropped sweater, black leather mini skirt, and black ankle boots would amaze your spring style. Perfect the outfit's overlook with the tassel bag and match up your bold makeup.
Gorgeous Spring Outfit with the Clashing Color Combinations
Don't be afraid if you want to have bright colors like neon yellow and magenta in your spring outfit style. These shade tones also could bring a color clashing combination if you pair them together. Honestly, this would give something unique and different to your outfit ideas. So, having it in your wardrobe could increase your fashion mode.
Draw Spring Style with The Accessories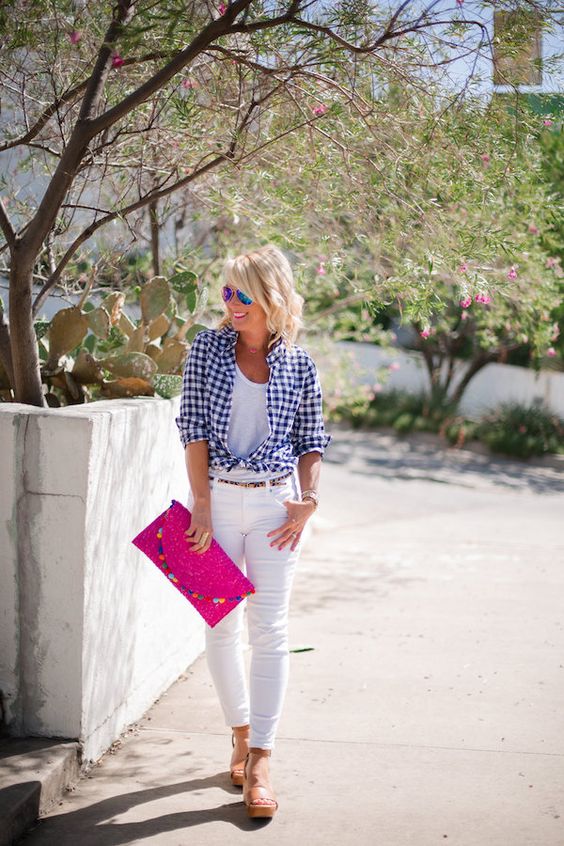 Besides could create spring style by the outfits, you could also get the look by bringing spring accessories to your outfit ideas. Having a bright color accessory within the neutral and cool tone shade outfit has actually given a spring idea into your fashion style. You can try to choose a magenta envelope bag to perfect your blue and white outfit.
Modern Spring Fashion in Cropped Sweaters and Leather Pants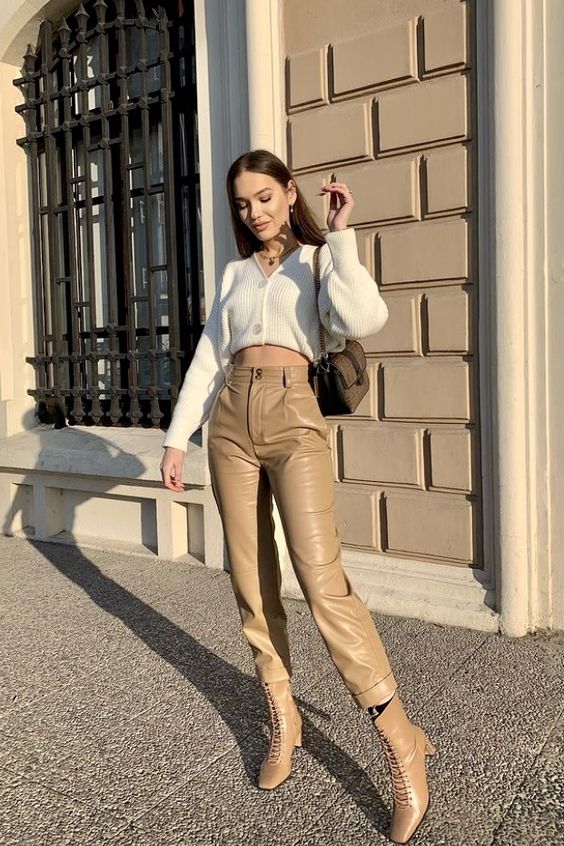 Get modern style to your spring outfit by wearing leather skinny pants and lace-up ankle boots. For the top, you can choose a little casual outfit such as a cropped button-down sweater. Don't forget about the accessories, you can choose simple jewelry and a mini bag to complete all your look.
Comfy Style in Sweater Vest Outfits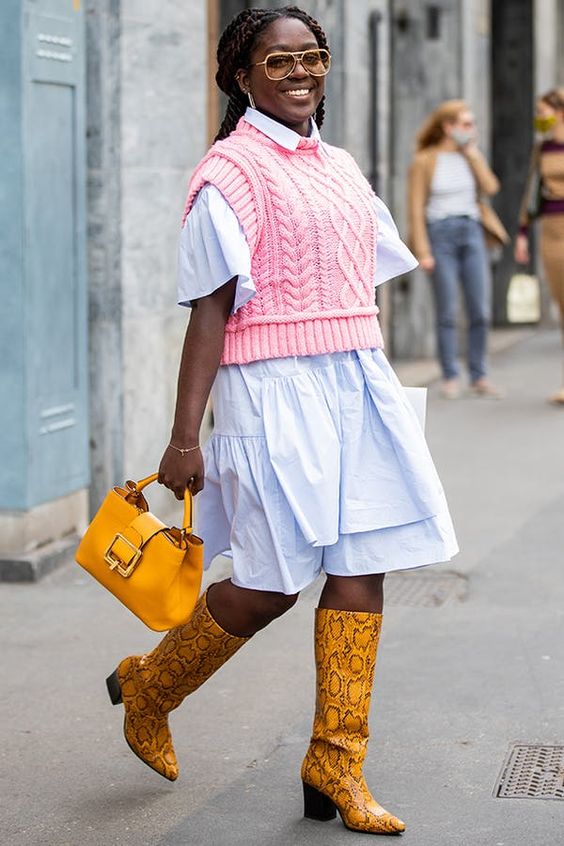 A sweater vest is a kind of comfy ensemble to allow with the cold weather without making it bulky on the outfit. Wearing a pink sweater vest to cover your neutral midi dress then pairing it with the yellow knee boots and mini bag make this style suitable for early springtime. This sweater vest style would look good for you that have a darker skin tone.
Adopting Vintage Style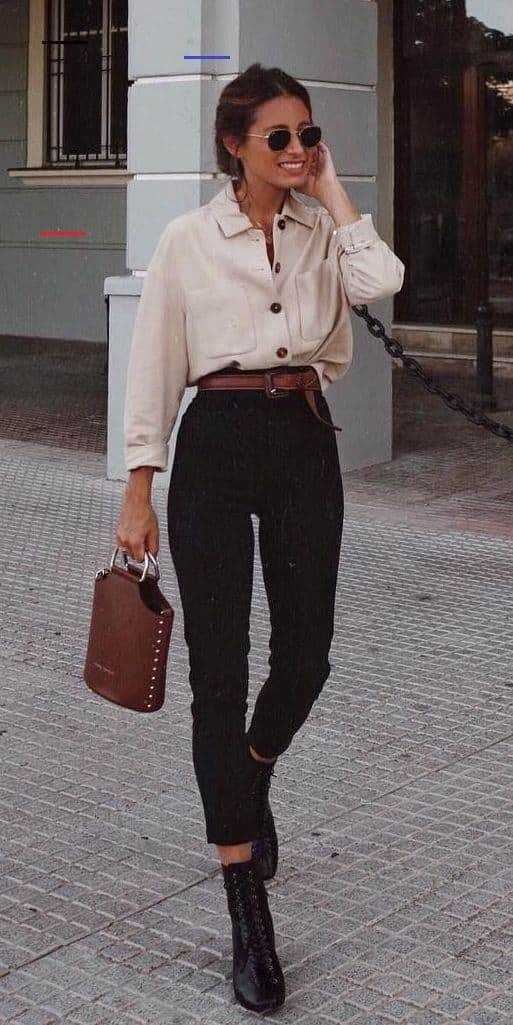 Whether it's summer, spring, fall, or winter, vintage outfit style has its appeal. You that love classic style could try to bring it as your spring outfit ideas by tucking the beige collared shirt to black waist jeans. Have a brown accent by adding a belt and mini bucket bag to your outfit. For the footwear, you can pick lace-up ankle boots to draw more vintage style.
Belt Over Your Blazer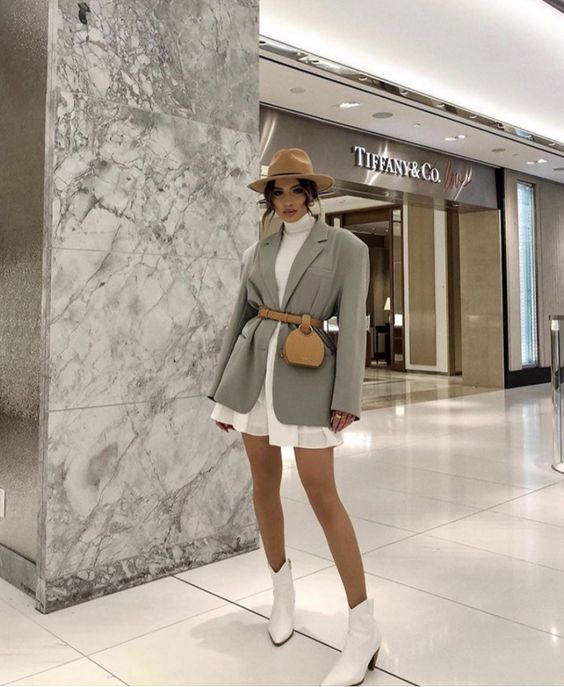 To deliver something different on your women's outfit ideas, you can try layering a white turtle neck mini dress with a grey blazer and then tie a belt over it. When you bring this outfit out with a cowboy hat, the modern and contemporary style is coming from it. Perfect this outfit with the mini waist bag and white ankle boots.
Oversized Scarf to Create Fashionable Spring Outfit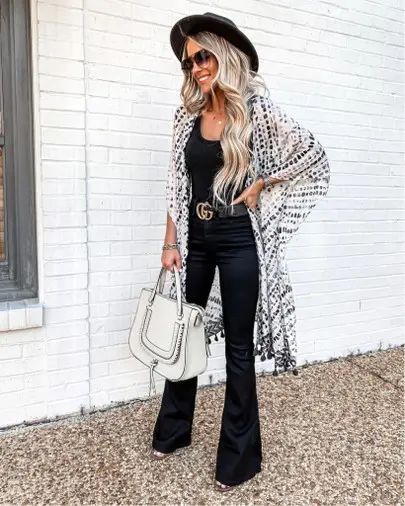 Aside from taking a cardigan for layering your outfit, you can try to make a creation with an oversized scarf to create a new style. Combining your white black bohemian scarf with a black tank top and flared pants. Finalize your outfit more gorgeous with some accessories such as a belt, cowboy hat, and white handbag.
It's time for you to beneath from sweater, knit, and puffer jackets. Now, you need to come up with different styles like dresses, mini skirts, and some cute outfit ideas to develop your appearance in the new season. Even though the weather strat to increase and warmer, the air is usually still a little chilly and you can have a cardigan, coat, and thinner jackets for layering the outfit. Spend your time to find the best combination and create a cute spring outfit style in your wardrobe.