Olidfashion.com – Women like to dress up their outfits with accessories and footwear. Boots become the favorite one that's brought to develop trendy women's outfit styles.  As for footwear that's suitable for winter, boots can be used to pull out modern styles even in any season. Just make sure to come up with the best boot outfit ideas, and you can find some inspiration here.
The Type of Women Boots
The time flies and the weather has been changed from cold to warm or vice versa. However, it doesn't mean to make you switch all outfits in your wardrobe. Some of the elements can be used to remodel your women's outfit ideas. For example, boots are a favorable one for being timeless pieces in your outfit.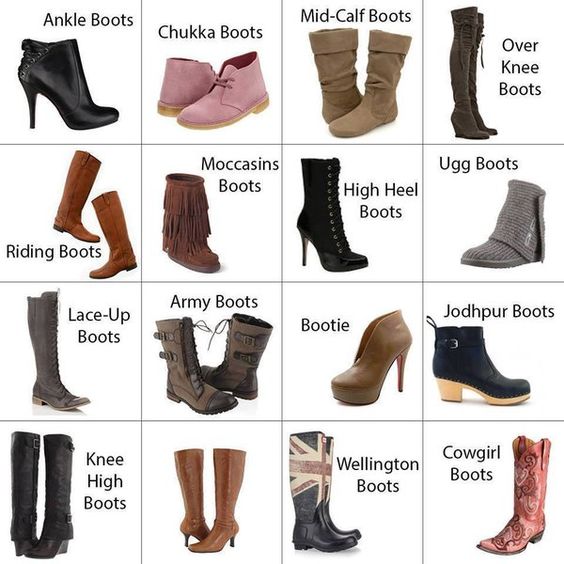 When discussing the type of boots, here are some of the best women's boots for a trendy style that should be modeled on your outfit ideas:
Chelsea Boots are the most pursued boots because they can be easily worn in any type either dress or denim outfit.
Combat/Army Boots are suitable footwear for outdoor activity where you need strong soles.
Rain Boots are commonly made with rubber or other elastic materials that are waterproof, and now you can discover fashion style in this boot.
Knee High Boots are elegant and flamboyant footwear that you can put on your outfit ideas.
Hiking Boots are the type of boot that can support you in extremely cold temperatures and help you going to either trekking or hiking.
High heel boots are the perfect footwear for the illusion to look taller and also give glamour to your outfit.
Ankle Boots are generally worn to accomplish your formal style and make high fashion outfits.
Suede Boots would bring rustic nuance but classy on your outfit.
Sneaker or chunky Boots could bring an edgy style into women's outfit ideas.
Cowboy Boots generally come in print, colors, and texture which is made different every season. This can fill up your outfits without looking old-fashioned.
How To Style Up Trendy Fashion for Women in Boots Outfit Ideas
Boots are usually worn for completing the winter outfit style. You can find this outfit out easily in the chilly weather. Nowadays, boots become timeless trends in women's outfit ideas all year. Whether sexy knee-high boots, sweet Chelsea boots, or cool combat boots, pairing them with the best ensemble would give you a chic fashion style. Just find the best way to bring your trendy style with boots to fascinate your contemporary fashion. So, now we would to highlight a number of smart outfits to wear with your favorite boots here.
Cover Up Your Legs with Sexy Tight High Boots
Over-knee boots would pull out your sexy side on your outfit style. You can come up with this boot together with a leather miniskirt and tuck the turtleneck sweater on it. This cool boot would dress up your outfit more gorgeous.
Stylish Your Trendy Army Boots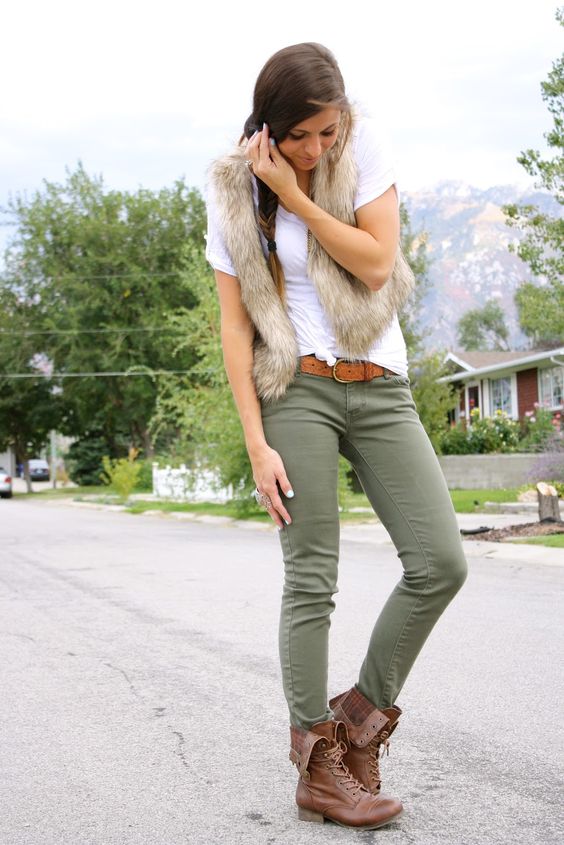 When you want to have a trendy outfit style, just have an army boot to go up with your t-shirt and skinny jeans outfit. Own this boot outfit style in your spring wardrobe and for full spring nuance, just bring out the neutral colors on your outfit pallets.
Chunky Boots for Grunge Style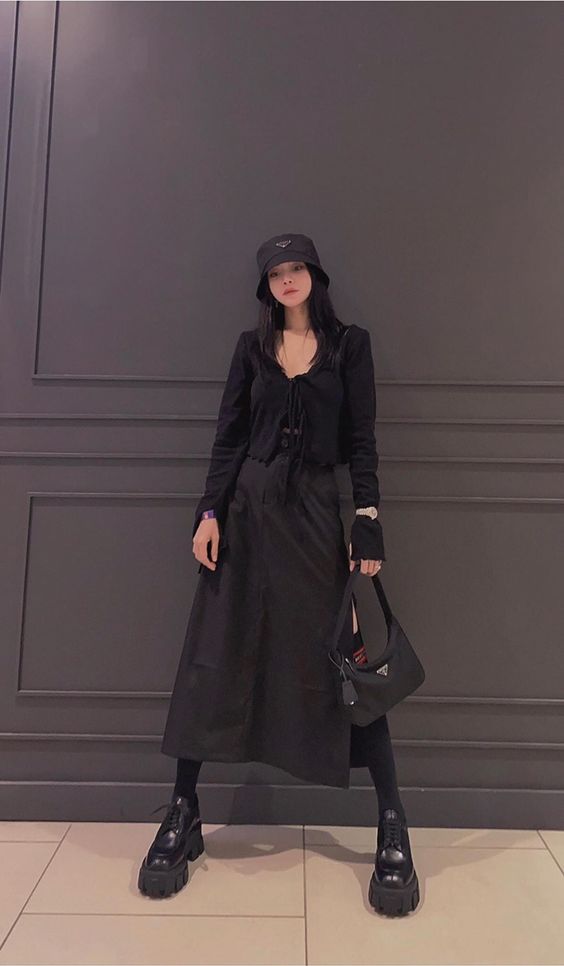 When you want to create chic grunge style into your women outfit ideas, chunky boots are the best combination in your black ensemble. You can get trendy outfit ideas by combining a black maxi skirt, cardigan, and cropped top underneath. For the accessories, give a bucket hat and handbag to finish your look.
Sporty Style in White Combat Boots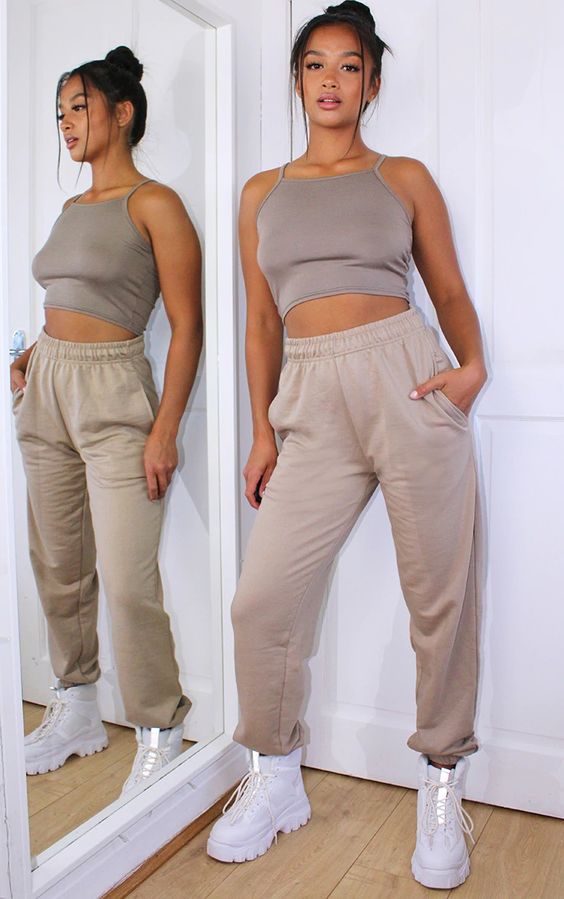 White combat boots and sweatpants are great to bring sporty style to your women's outfit ideas. For a simple and trendy style, just pair the crop tank top with the outfits. Come up with this boot outfit idea as your casual college fashion outfit.
Cool in Your Chunky Boots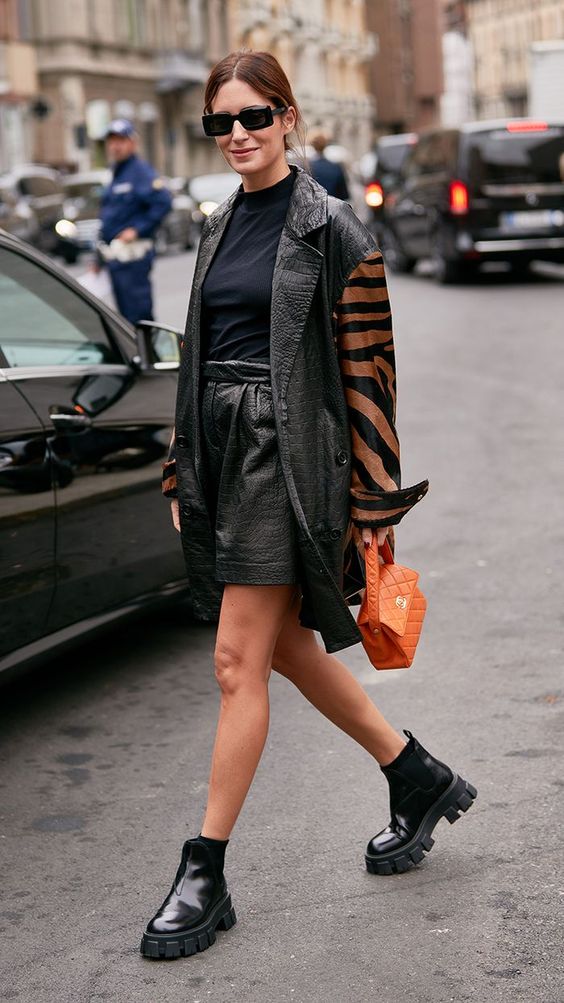 Leather outfits that include leather shorts and coats would be perfect to set up trendy women's outfit ideas with boots. For excellent performance, select black chunky boots into your outfit style. For the accessory, you can have sunglasses and an orange mini bag to bring a cheerful vibe.
Pretty Pastel Combat Boots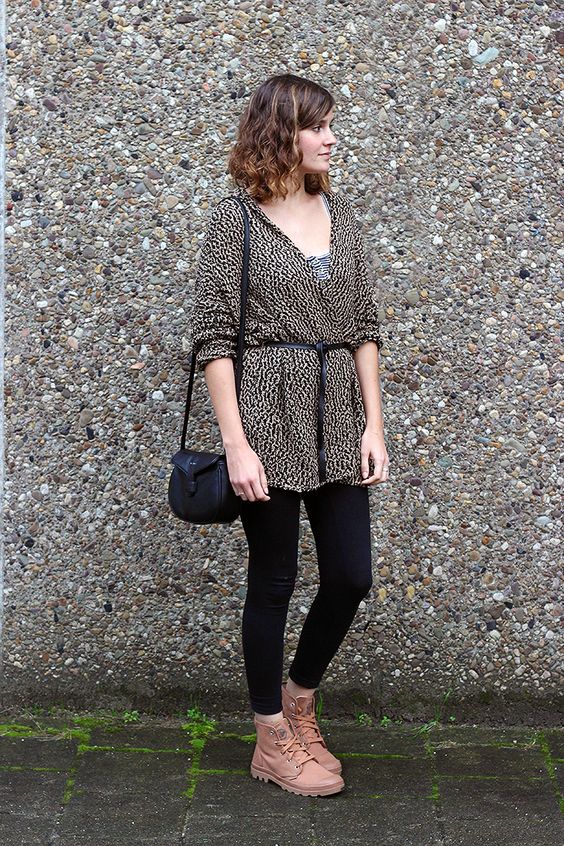 If you want to look beautiful and pretty enough in your boot outfit ideas, you can come up with pink pastels combat boots, legging, and plunging neckline panther blouse. For a little pretty look, have a mini belt over your blouse.
Combat For Trendy Style with Boots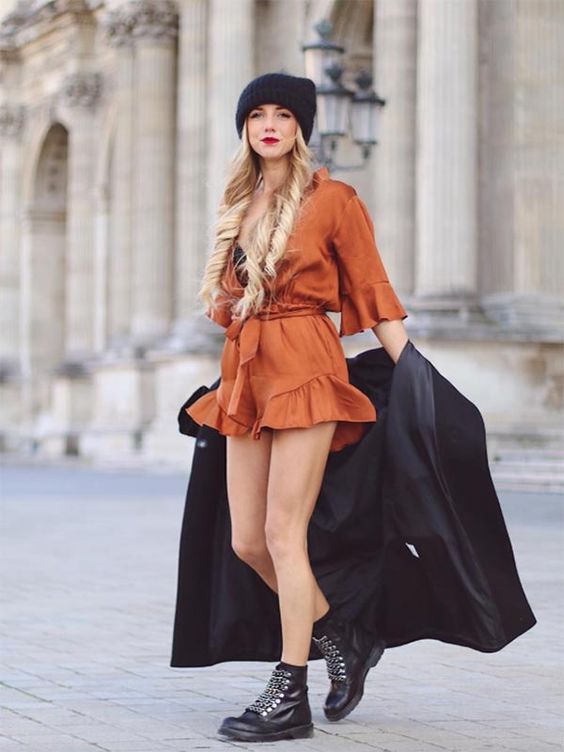 When it comes to the fall outfit style, orange mini dresses, stylish women's coats, and combat boots can maintain your presence well in the colder weather. Give more trendy and chic mode on your women outfit ideas with boots by giving a beanie hat as the accessory.
Going To White Army Boot Style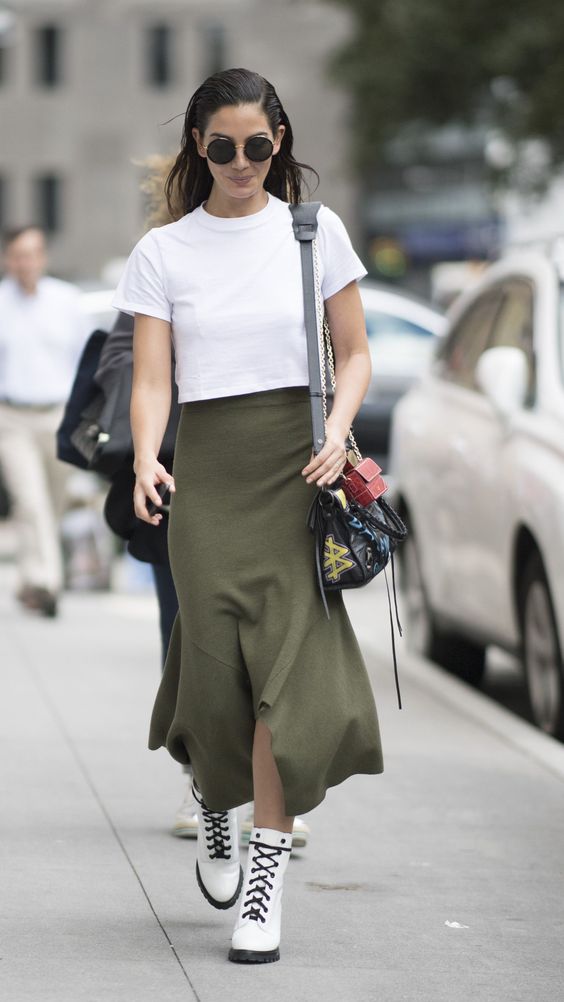 Delivering your simple casual style by going to the white army boot. You can choose cropped white t-shirt for the tops and a pale green midi skirt for the bottom outfit. To complete your boot fashion style, bring a mini sling bag in your hand.
Simple Trendy Outfit in Desert Boots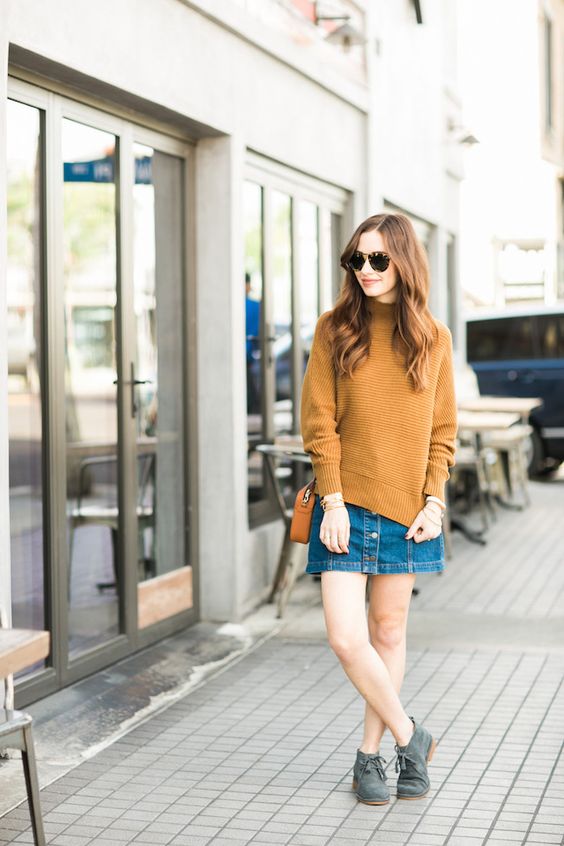 Want to have modest but still trendy in your outfit style, just bring up desert boot with a sweater and a button-down denim mini skirt. This would make you feel comfy for walking in the city without being tired in your legs.
Casual Outfit Style in Chelsea Ankle Boots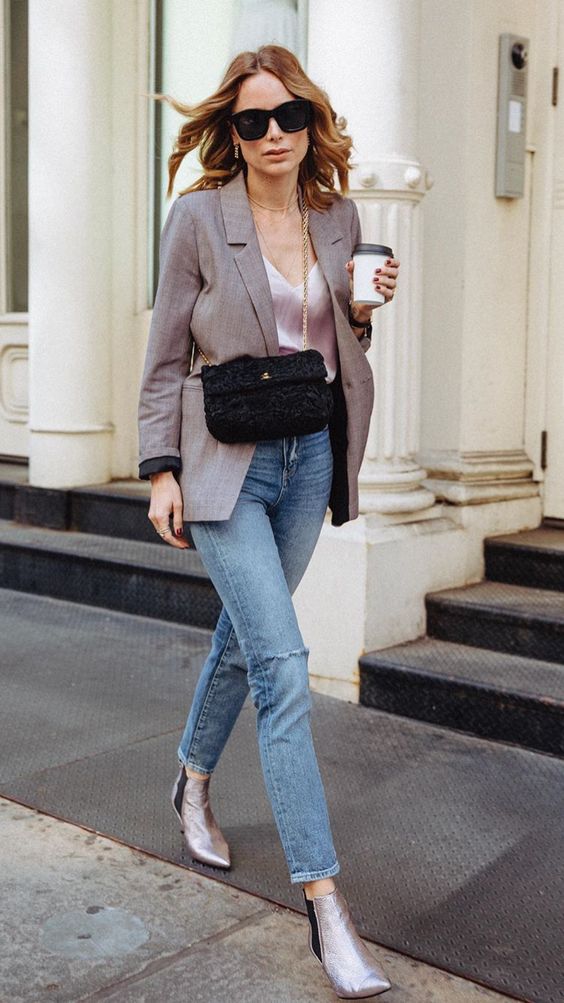 Have your ankle boots as the trendy style in your women's outfit ideas. You can match this boot with jeans, a blazer, and a tank top underneath to create a fashionable work outfit style. Ankle boots are the best women's boots for trendy style and are also good for formal fashion at work.
Contemporary Outfit with Suede Boots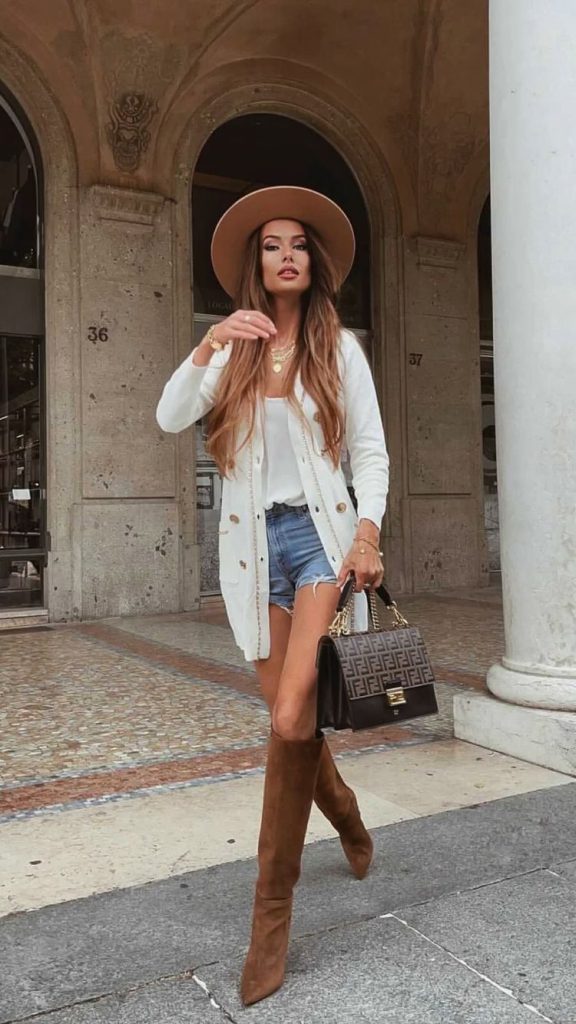 Get your suede boot from the closet to present trendy women's style by pairing it with denim shorts, a tank top, and a cardigan for the outer. Have a contemporary design on your fashion with the cowboy hat and handbag.
Best Hiker Boots for Winter Outfit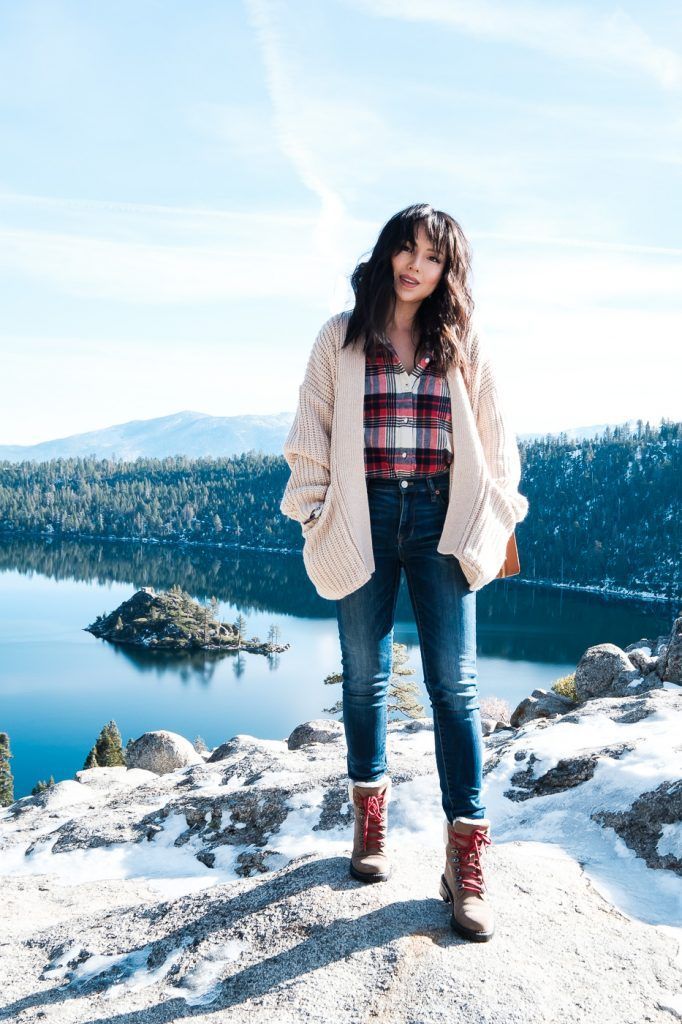 We know that the best footwear for winter is a boot. Especially hiker boots would help to keep your leg warm outside. Besides that, this boot is also well known by the mountain hiker. For the winter outfit style, you just need to mix up this boot together with flannel, jeans, and a knitted cardigan.
Red Over Knee Boots in Your Black Outfit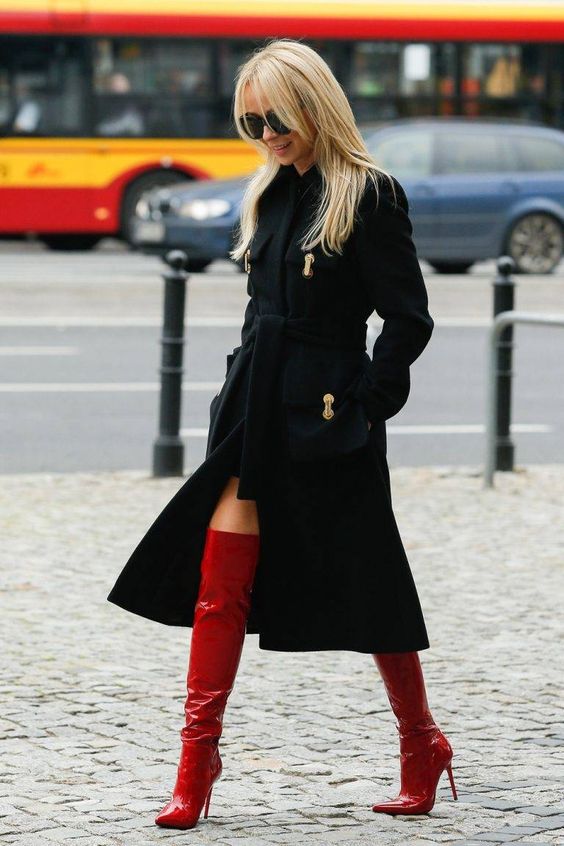 Besides could make you stay warm, you can make boot outfit ideas as your fashionable style. Moreover, you can try to mix and match the boot either with the pieces or color combinations. For example, if you want to make your black coat outfit more colorful, you can add bright red knee boots on it and carry up the color clashing combination into your outfit ideas.
Ripped Jeans and Army Boots for Trendy Outfit Ideas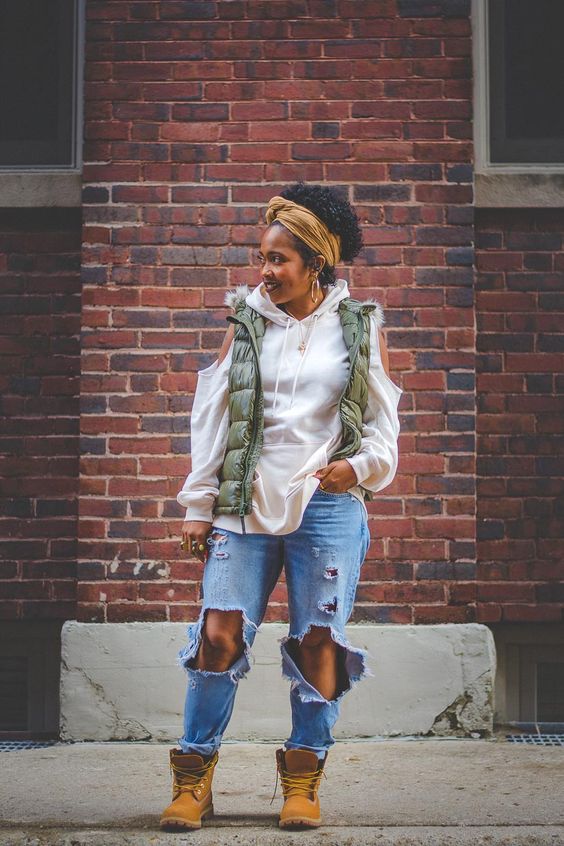 For those who like messy style, wearing ripped jeans, puffer vests, and off-shoulder hoodies actually would be stood up your women's outfit ideas. Don't forget to take your army boots or combat shoes for having a trendy outfit with boots.
Mocassin Boots Statement
Want to bring up something unique and trendy on your women's outfit ideas, give a statement on moccasin boots. You can make a point in your boot by pairing it with the common outfit such as denim shirts and skinny jeans to become alive.
Dr. Marten Boots for Fall Outfit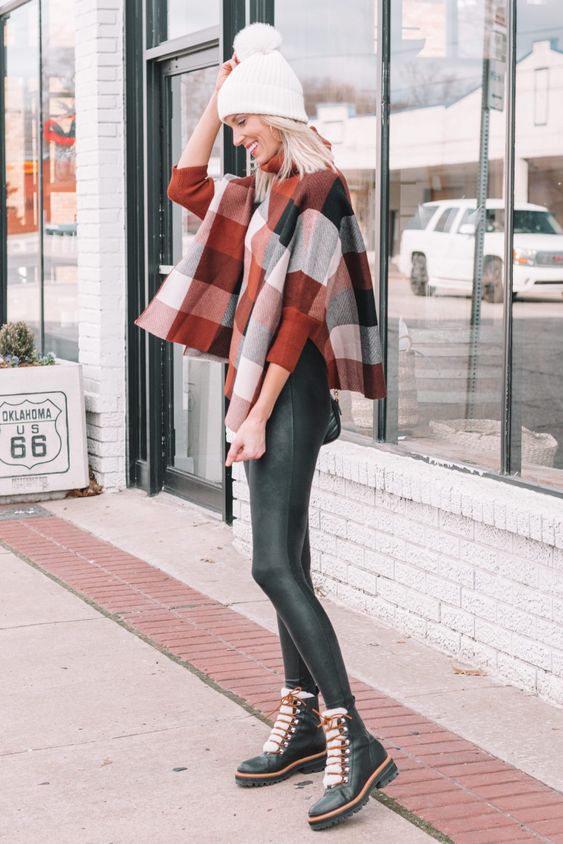 Have another trendy fall boot outfit style with Dr. Marten boots, legging, and a sweater. To make the outfit more fabulous, add a blanket scarf for the layer and a beanie hat on your head. The finished outfits would make you super cool and trendy during the autumn.
White Black Chelsea Ankle Boots
It seems comfy by wearing black white Chelsea ankle boots as a part of your winter style. You can make a trendy style in this kind of boot by selecting puffer jackets, grey jeans, and a yellow scarf on your ensemble.
White Army Boot for Your Glam Red Outfits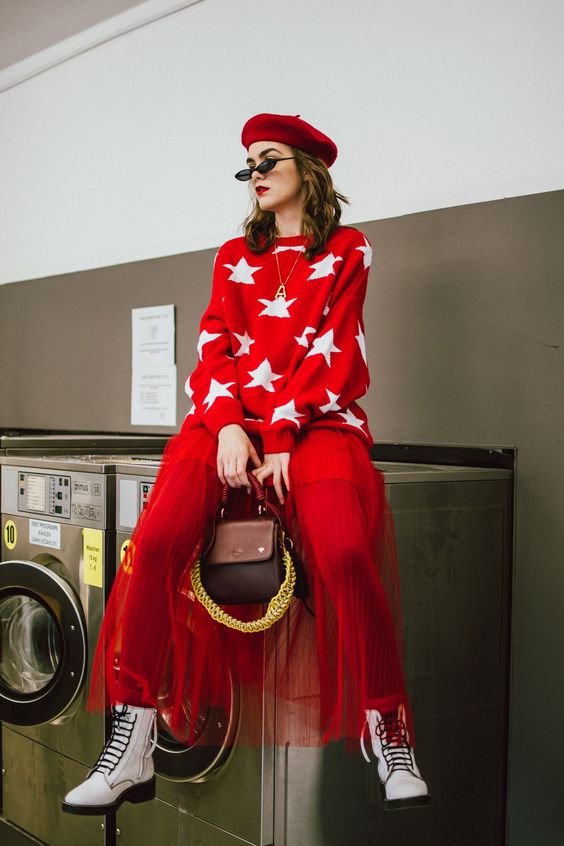 Bright red color outfits make you have glamour and cheerful energy. Having a red transparent midi skirt, legging underneath, and red sweaters that combine with a white army boot would perfect your trendy women's outfit ideas. Give more glamour stuff like a gold chain in your mini bag, gold jewelry, beret hat, and vintage sunglasses would complete your overlook.
Bohemian Style with Cowboy Boots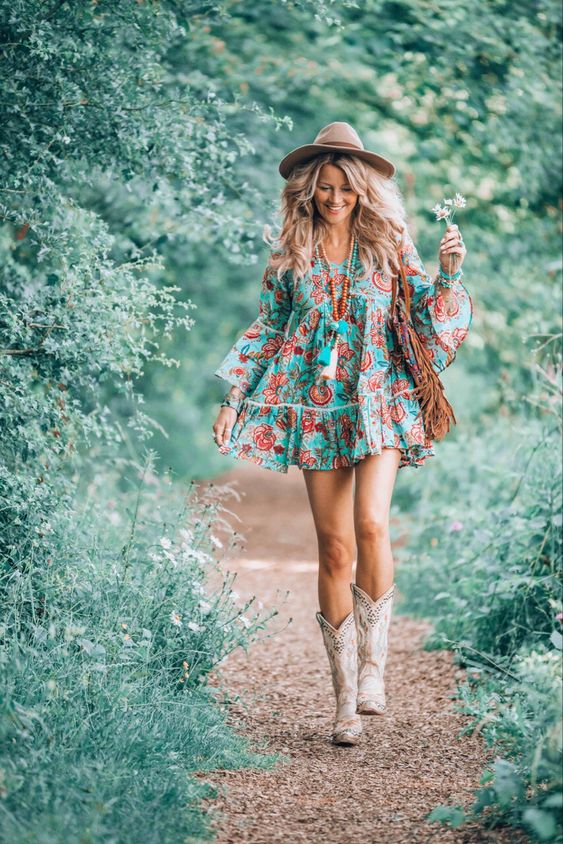 Present your boho-chic outfit style with cowboy boots and a floral long sleeve mini dress. Don't forget to add some other details such as a tassel tote bag and cowboy hat to perfect your bohemian fashion. Look fresh by taking this countryside style in boot outfit ideas for women.
Elegant Style in Leather Knee Boots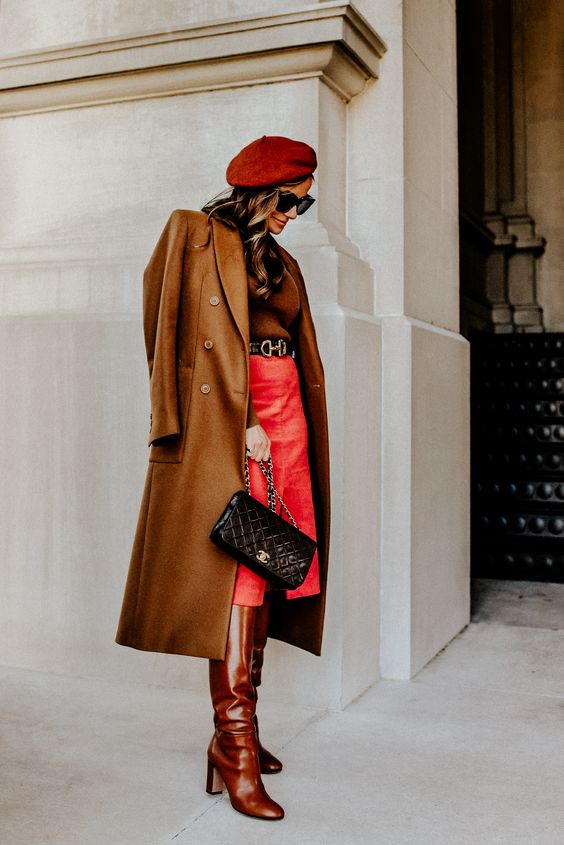 If you want to get an elegant style with your boot outfit ideas, you have to choose leather knee boots. Then, try to pair the boot with a sweater, pencil midi skirt, and long women's coat. To have a gorgeous look, obtain a beret hat and minibag for your fashion.
Stunning Printed Boot Outfits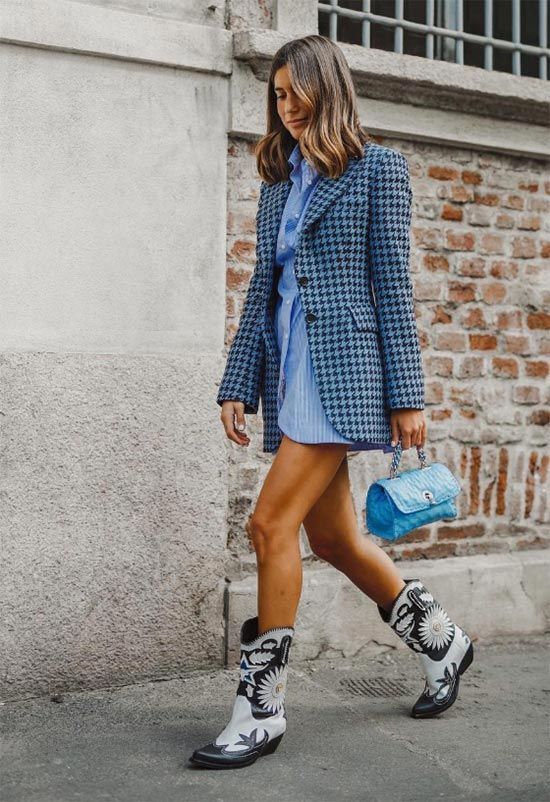 A pair of floral printed cowboy boots, oversized strip blue shirts under your blueprinted single-breasted coats would be stunning enough in your women's outfit ideas. Don't underestimate the power of this footwear for presenting vintage and trendy women's outfits with boots.
Summer Dress with Rubber Boots
Simple, chic, and trendy women outfit in summer by wearing floral pastel midi dress and rain boots. Then, you can add a simple mini bag and jewelry for completing your women's outfit ideas with boots. This makes you seem like a pretty calm girl.
Complete Your Dress Style with Combat Boots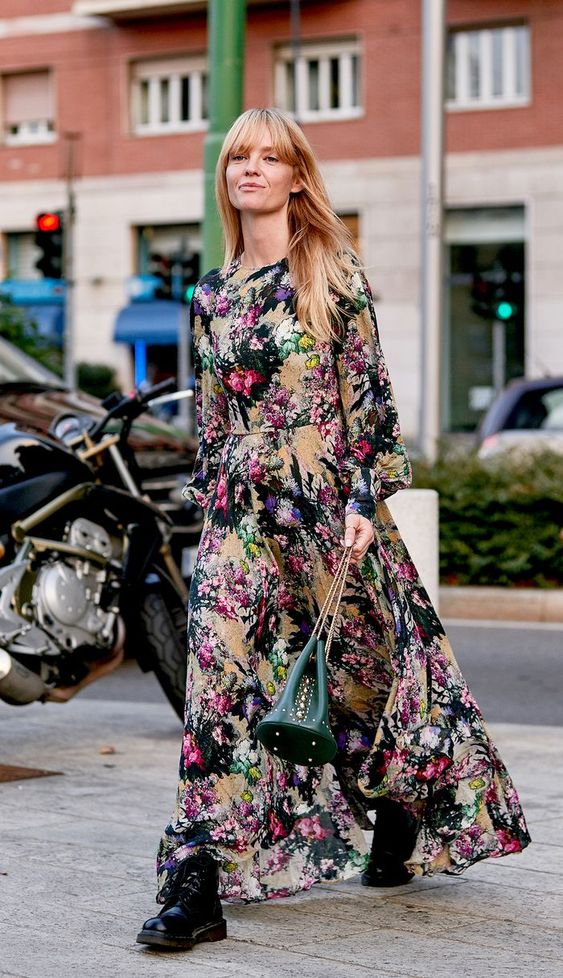 Combining the elegant maxi dress with combat boots, why not. When you are thinking that only mini outfits and jeans could fit with boots, now your maxi dress would have a place too. The fusing of feminine and manly pieces would deliver a trendy style in your women's outfit ideas.
Trendy in your Lace Up Boots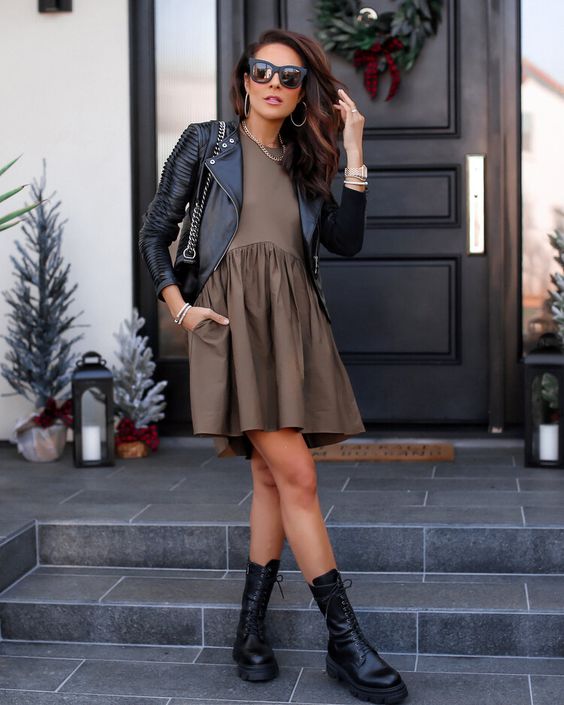 Bring your modest mini dress with lace-up boots to have trendy look in your women's outfit ideas. When you have a leather jacket as the outwear, you will be ready to bring this outfit to hang out in a pub with your friends.
Oversized Outfit with Rain Boots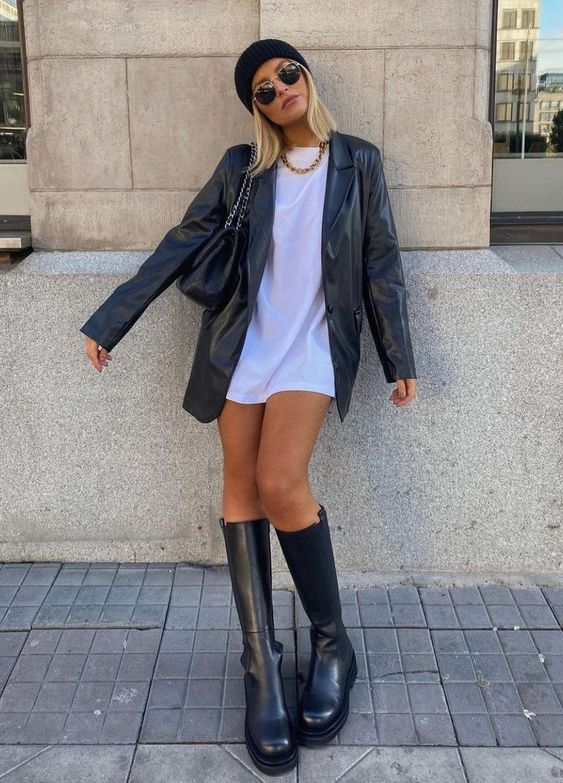 Another trendy women's outfit idea with a boot, pick an oversized t-shirt for a dress then layering with leather coats, and then pair with knee rain boots. Don't miss out the simple accessories such as gold jewelry, sunglasses, and beanie hat. To finalize your modern style with boots, bring a black mini bag to your fashion mode.
Monochrome Black Outfits with Heel Ankle Boots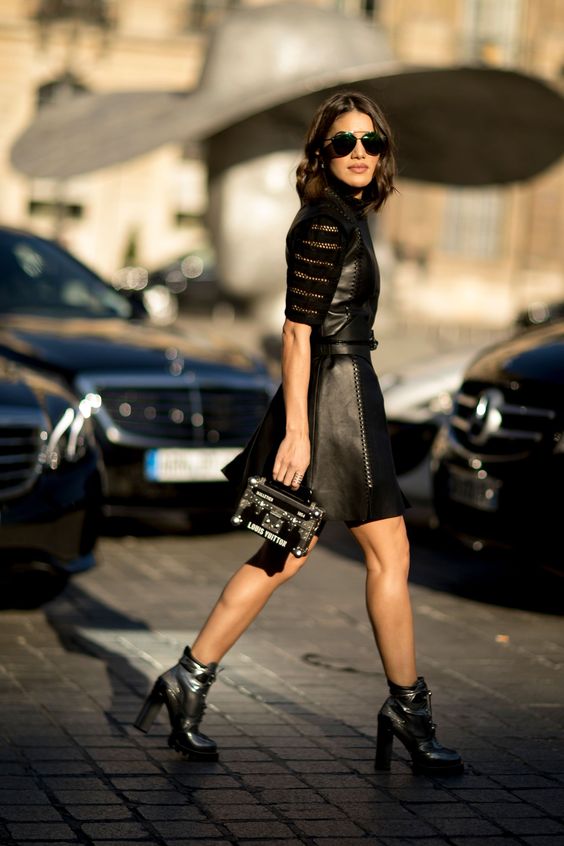 Black color outfits are a favorite one to present cool and trendy fashion styles. While the leather mini dress has a classy and glamour, combining this outfit with high heel boots would make you have a beautiful and cool image at one time.
Cool with Snake Printed Boots for Classy Style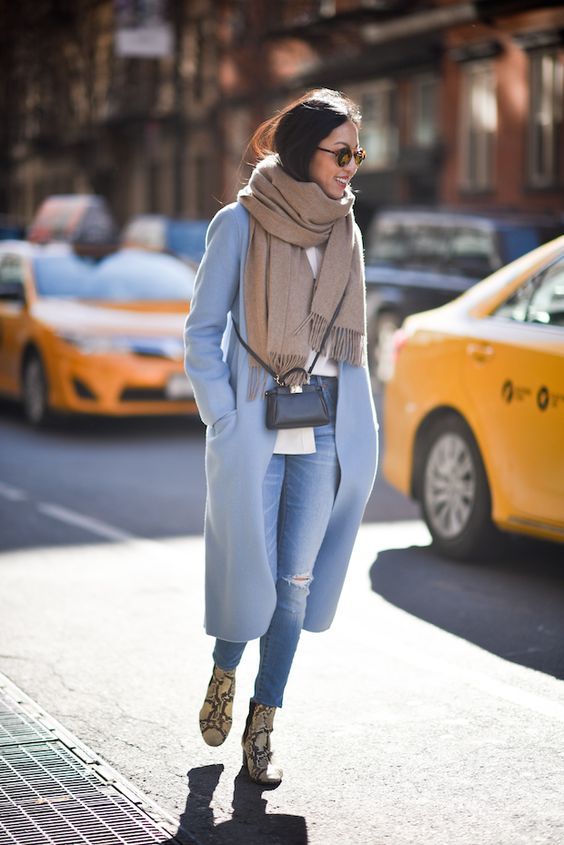 A cool snakeskin boot is never out of style especially when you pair it with your pretty pastel outfit. This would help you to give a little scheme to your modest style. Try to create a luxury in your style without looking too much by adapting this boot outfit idea.
Cute Spring Outfit in Ugg Boots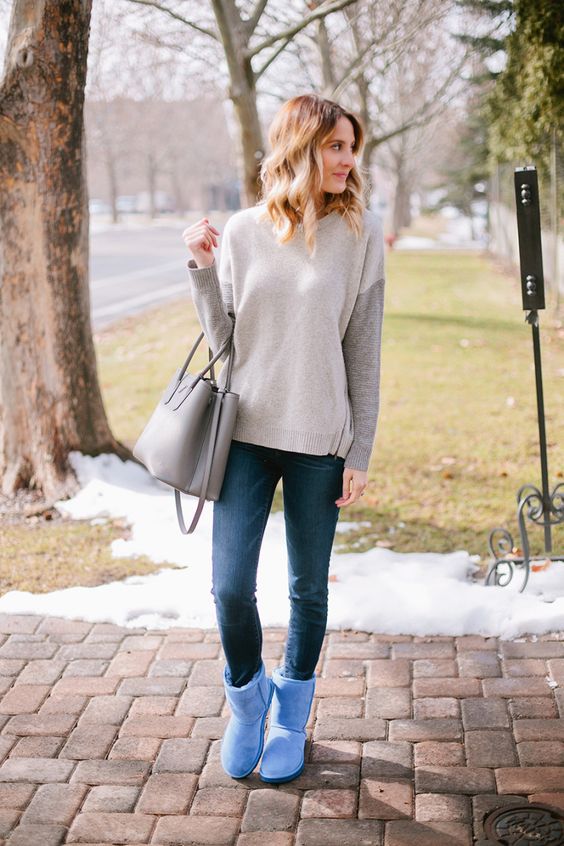 If you are seeking cute spring outfit ideas, choosing a blue pastel ugg boot into your outfit could be an option. You can match the boot with a beige sweater and blue jeans. Finish your outfit for enjoying the early spring by bringing a handbag the same color as yiur sweater.
Chic Timberland Boot Outfits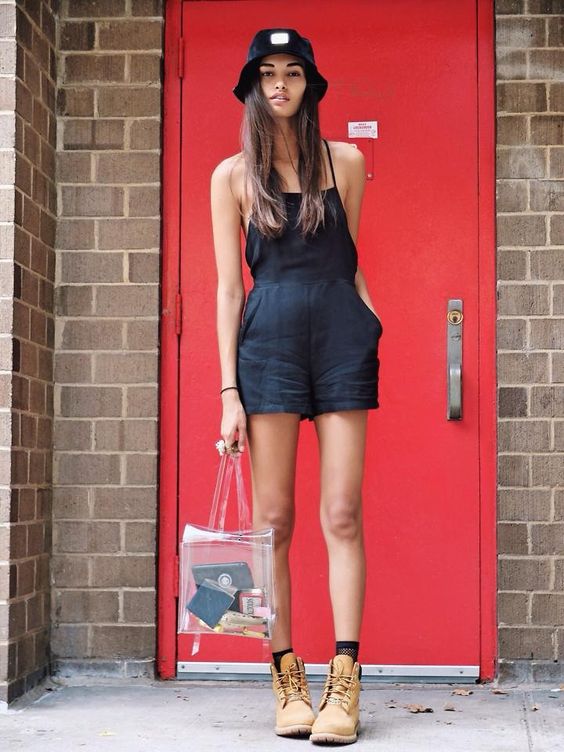 You don't have to miss out on the timberland shoes for chic and trendy women's outfit ideas with boots. To give a little feminine on your masculine boot, just pair it with a shorts jumpsuit. Completing your cute style with a fisher hat on your head and a transparent mini bag on your hand.
The boot has always had a trend on women's outfit ideas to make them have a trendy, classy, and fancy image. Pairing it on your best outfits would improve your self-confidence and perform you more beautiful.