Olidfashion.com – When it comes to fashion style, there would be some rules you have to understand especially in color combination. Combining colors are commonly used to modify outfits to become more fashionable and stylish. It would be easy to combine colors with similar shades, intensities, and tones in your outfits. However, modern fashionistas are more open about creativity and dress freely in their own style. Nowadays, you can make your own style include using color clashing combinations into your fashionable outfits.
What Is Color Clashing
Color clashing is a phenomenon where two colors have some too similar aspects but don't harmonize and pair nicely with each other. When two colors have unrelated color resonance even they are complementary, analogous, triadic, tetradic, and others, it's called a color clashing combination.
Most clashing colors will appear because of the contrast in hue or luminance. If two colors have the same hues but don't too similar enough they usually get clash with each other. For example, red and magenta have similar hues but are still different and they are usually called such as clashing color combinations.
How to Create Color Clashing Combination to Your Fashionable Outfits
Modifying your outfit's colors with a color clash combination is sometimes a little more tricky about finding the right color combinations to pull off your outfits to stylish well. Therefore, you need to play with some tricks to get fashionable outfits. You can still express your unique style by using some color clash combinations, and we'll help you to find some inspiration to get the best one.
You would get a clashing color combination to your fashion style if you can follow this concept below.
Combine Warm Tone Color and Cool Tone Color
When you pair similar warm tone colors or cool tone colors at once to your outfits, it would be easy for you to get harmony in those combinations. Although, if you want to bring clashing color outfits, you can try to combine warm tone colors and cool tone colors together to present a fashionable outfit.
Try to Combine Red and Purple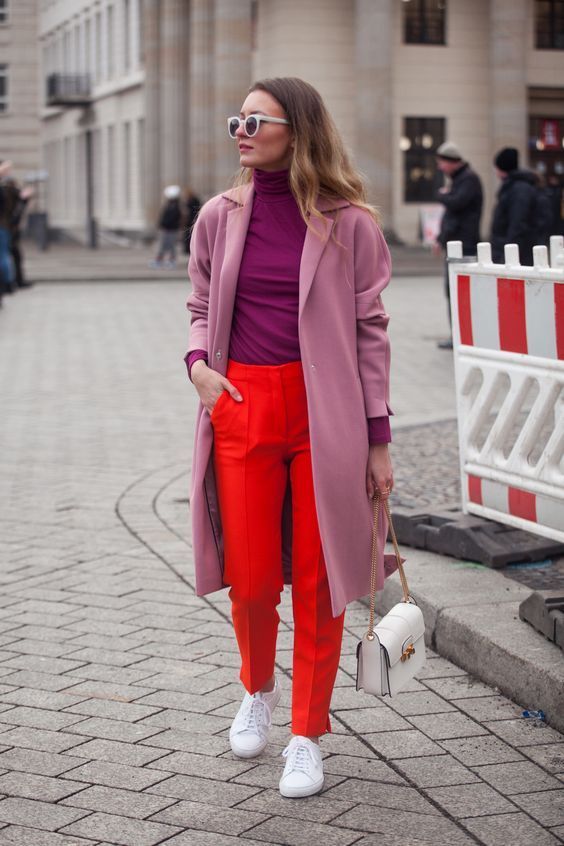 We know that purple is a cool tone color and red is a warm tone color. Matching it together into your outfit would help you to draw your clashing outfit colors. You can choose purple turtle neck sweaters and coats with red pants. Give little additional accessories in neutral colors such as white sneakers and sunglasses.
Combine your Light Blue Outfit with Some Red Belongings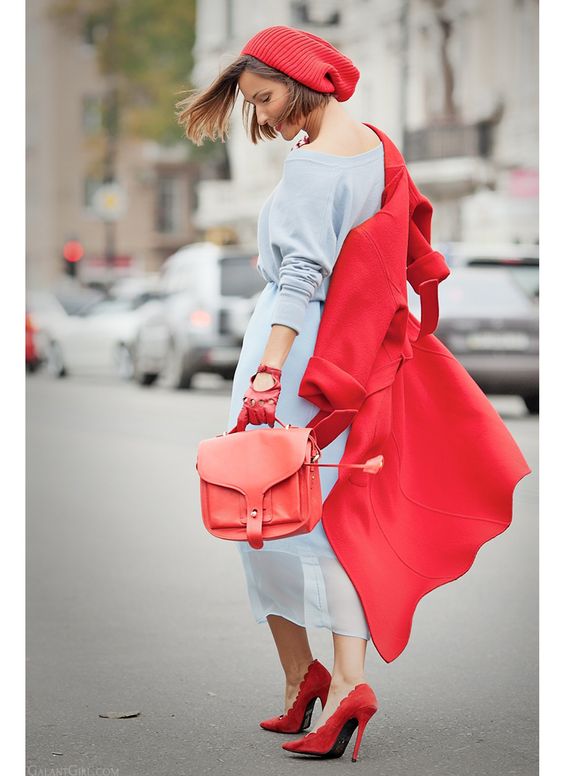 When you combine your light blue outfit with red color belongings such as red stylish women's coats, handbags, gloves, and heels would make you look fashionable in your clashing outfit style.
Try to Modify Your Blue Shirt and Orange Pants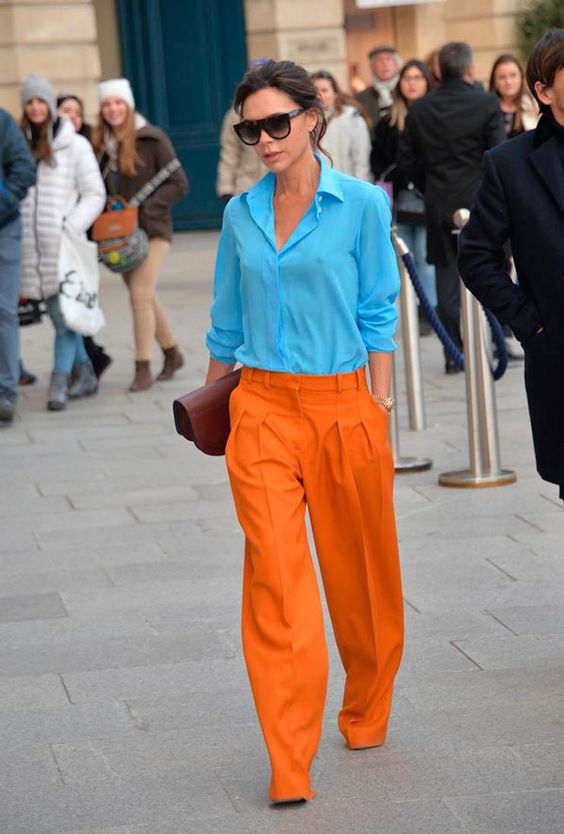 This combo color would be perfect to create a fashionable clashing outfit. You can try to wear a blue shirt with orange oversized pants and then give a little brown detail to your handbag to perfect your clashing color outfit.
Yellow and Purple is Good for Clashing Outfit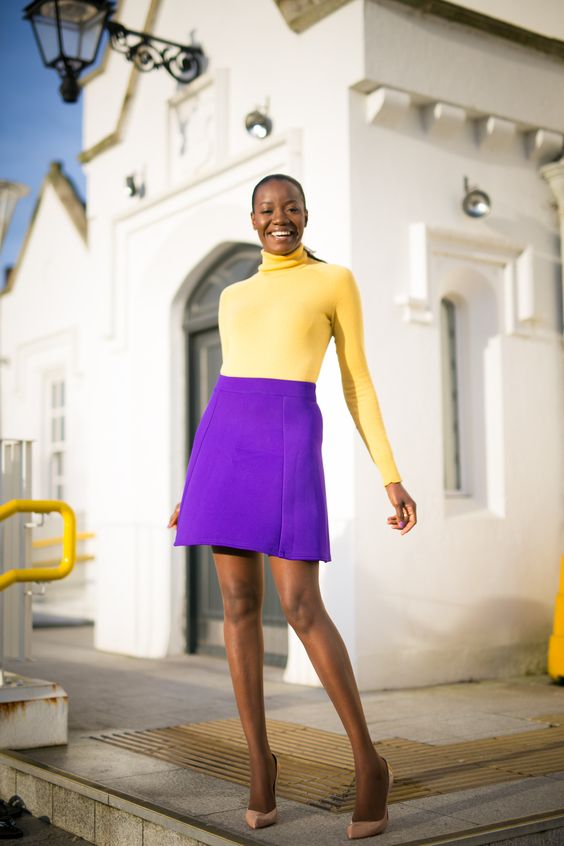 Nothing wrongs to pair yellow and purple in one outfit. This actually would give you a different and unique impression. You can wear a yellow turtleneck sweater with a purple mini skirt to clash those colors in your outfit. Wear beige high heels as the complete part to finish your fashionable female outfit.
Pairing Green and Yellow Colors into Your Outfit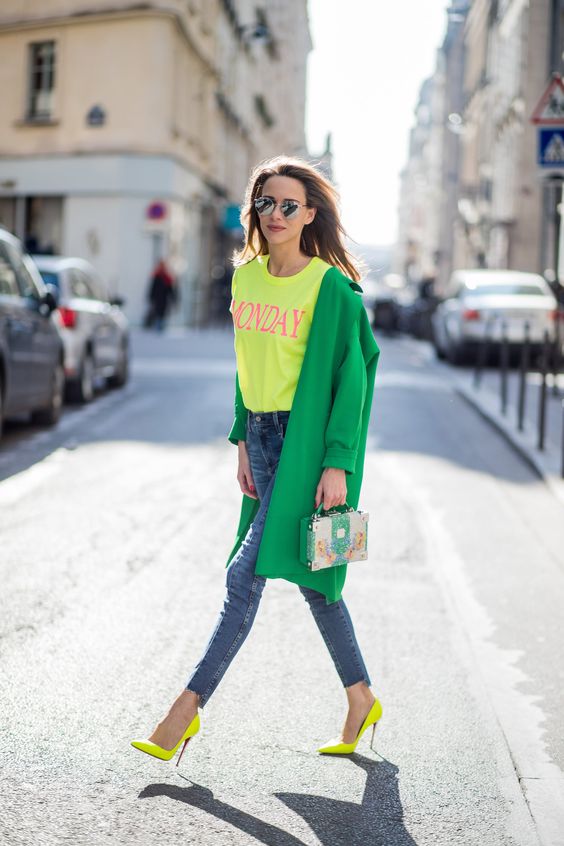 Yellow as warm color and green as cool colors actually would pull off a great mixture into your outfit, although it's a color clash combination. Try to wear your yellow t-shirt and high heels with green women's coat and mini bag. Pair this clashing outfit color with jeans and you will see how stunning this outfit is when you hang out with your friends.
Orange Sweaters and Green Straight Pants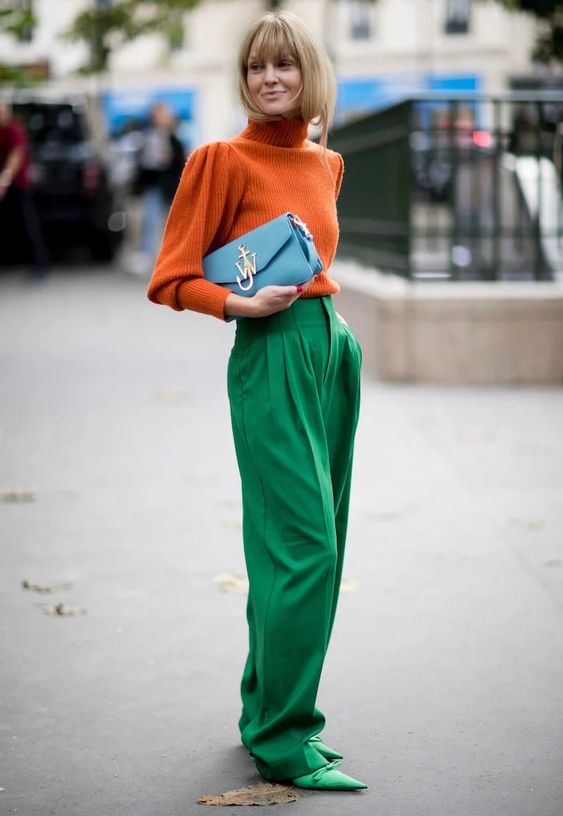 Another color combination to bring fashionable clashing combination, you can mix orange and green in one outfit. For example, match your orange turtleneck sweater with green straight pants and flat shoes, then give a little clash color like blue to produce a Christmas outfits style to attend a casual Christmas party with your family.
Green Pant and Blazer Bold Pink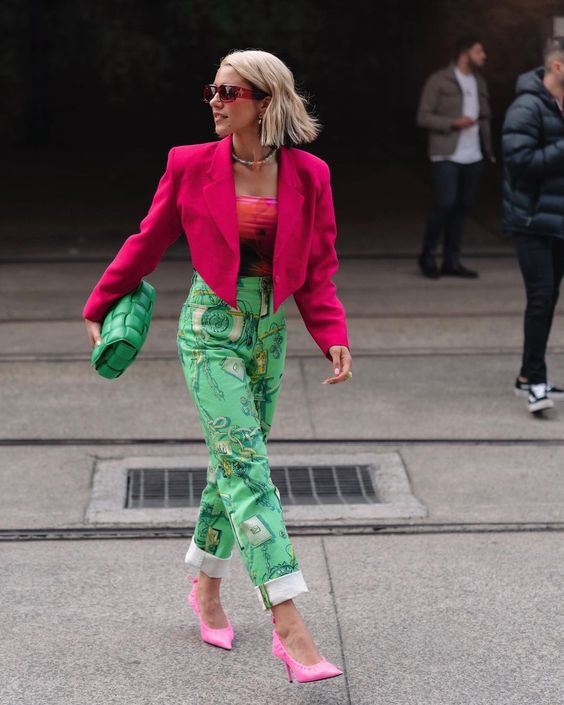 When you aim to modify your female outfits with color clashing combinations, try to mix green and bold pink. Get your bold pink blazer together with green pants. Besides that, you also could apply this to your bag and shoes that would perfect your fashionable clashing outfit colors.
Pink and Blue For Clashing Color Combination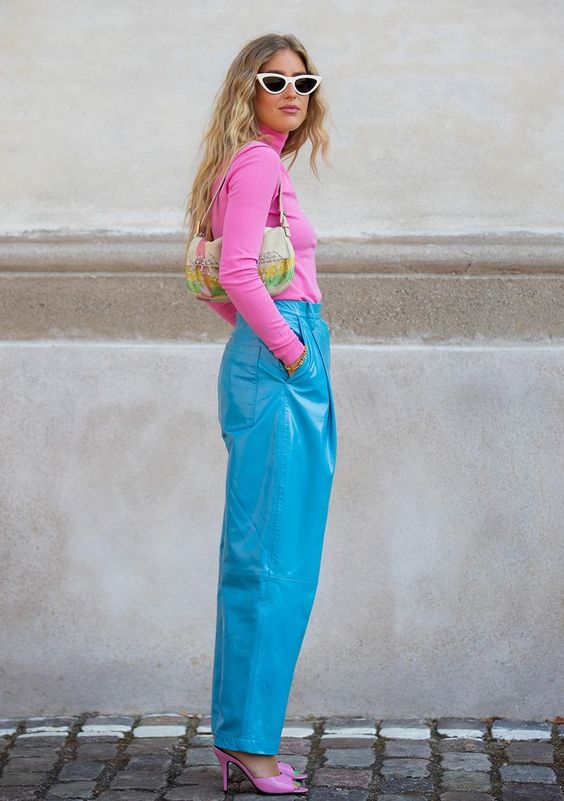 Create a good combo to your clashing color outfits by pairing a pink turtleneck sweater and heels with blue latex straight pants. To complete your female outfits more stylish, give neutral accessories like a cream mini bag and white sunglasses.
Pairing Cyan Blue and Yellow
Wearing a cyan-blue mini dress together with a yellow cardigan would deliver the color clash combination to your fashionable outfits. You can add a little more yellow shade by grabbing a yellow handbag. For footwear, you can apply orange high heels. Give a little more orange shade to your outfit by wearing an orange belt over your blue dress.
Combine Neutral and Neon Color
Neutral colors are muted shades of colors that occur in various appearances and would change in different lighting. What's commonly included in this kind of color are white, gray, black, and earth tone colors like beige, nude, brown, and others. If you want to create clashing outfit colors, you can try to combine neutral colors with neon colors such as neon green, neon pink, magenta, neon yellow, electric blue, and bright purple.
White and Neon Yellow to Create Clashing Outfits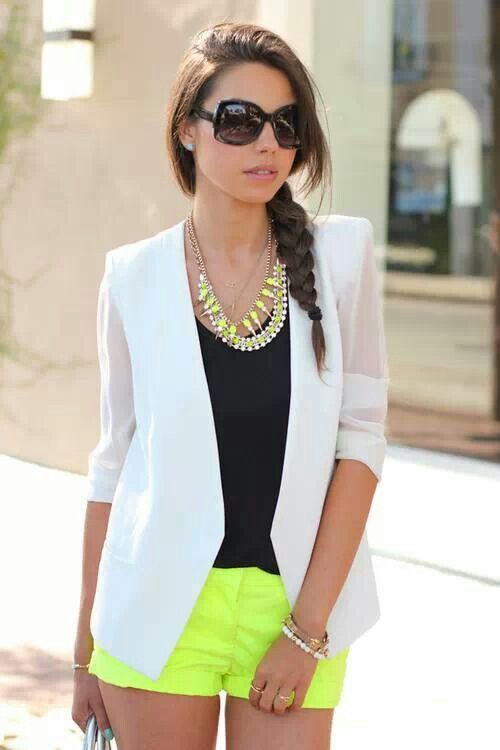 Don't be afraid to express your preference in your outfit design with a neon color combination. Actually, neon colors could bring some psychological traits into your fashionable outfits. When you adopt neon yellow colors it would take playful characteristics into your female outfits. Pairing it with neutral colors like white and black would carry the best clashing into your fashionable outfits.
White Blazer and Magenta T-shirt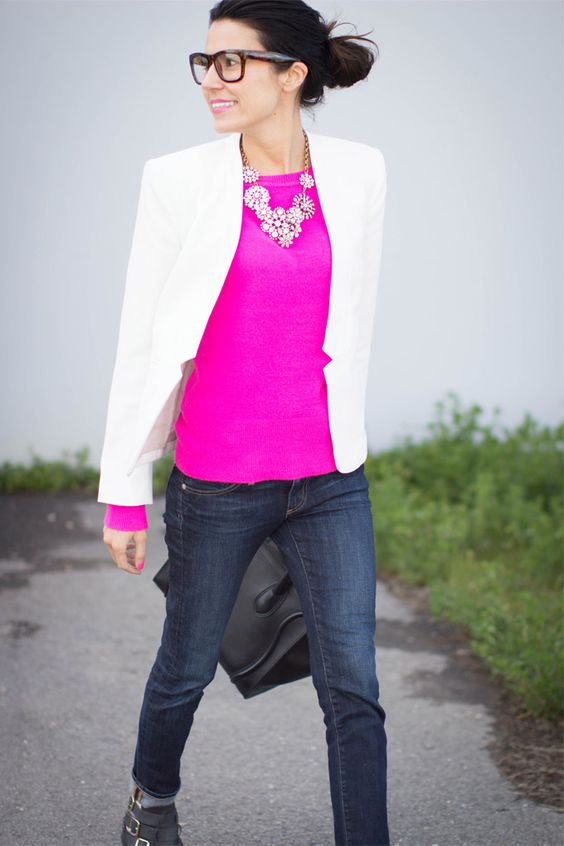 Another way to produce a clashing outfit color combination is by pairing a neon pink (magenta) t-shirt with a white blazer. Having neon pink components in your outfits would make it have cheerful and playful characteristics. While a white blazer would make it look cool. This would be perfect if you wear this outfit with denim and have a black handbag as the complement accessory.
Gray and Green Neon Green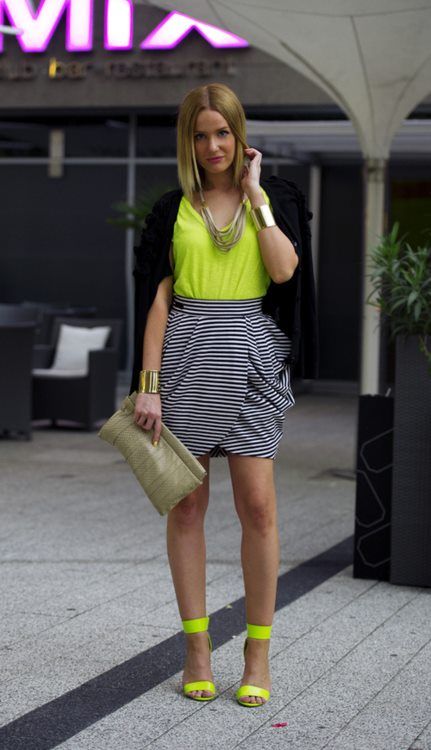 To bring color clashing combinations, try to pair neon green with gray and black colors into your fashionable outfits. Wear a neon green t-shirt and layering with black coats, and then mix up with a stripped grey mini skirt. Pull off your clashing outfits with neon green strappy heels. Give a little detail to perfect your fashionable outfits with gold jewelry and a cream envelope bag.
Combine Dark and Bright Color
We know that color clashing is all about the difference in hue or luminance. When we try to combine the dark colors that have less hue and luminance with bright colors that are opposite, it would bring clashing color combinations.
Red Long Sleeve T-shirt and Emerald Midi Dress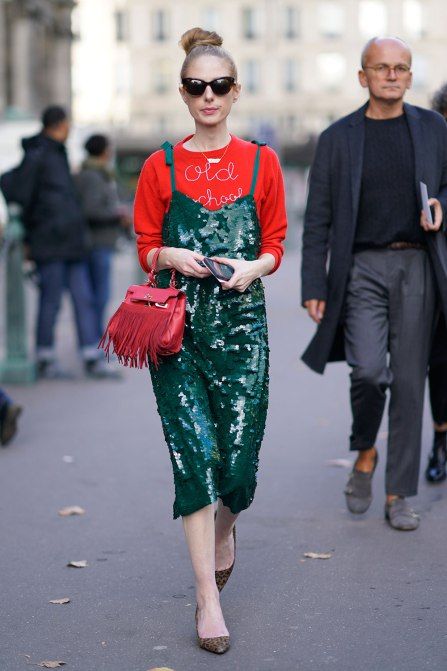 Featuring read as bright color and emerald green as a dark color accent, this literally will give you astonishing clashing outfit colors. Covering your long sleeve t-shirt with an emerald green midi dress would be a great choice. To make your female outfits being more fashionable, you can add a maroon tassel mini bag and printed brown flat shoes to help you ready for holiday fun.
Dark Blue Shade on Your Denim and Yellow T-shirt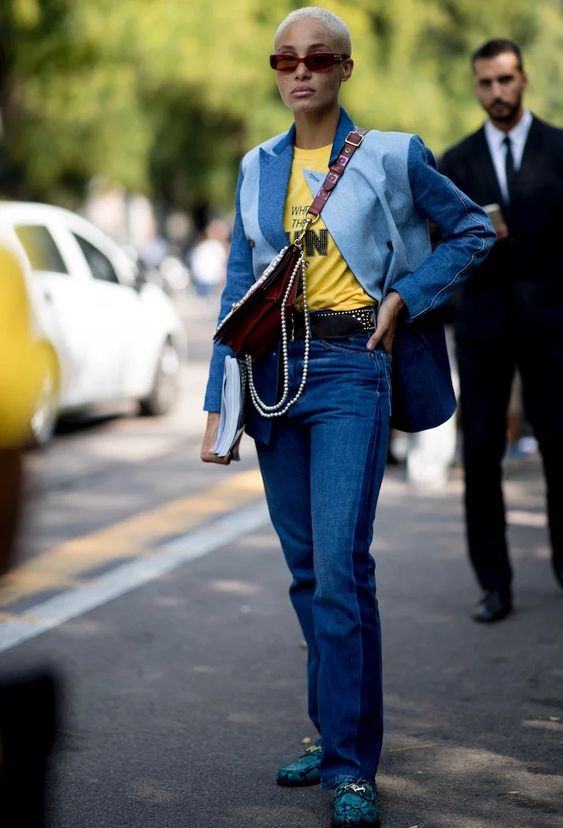 Adding a little yellow color to your dark blue outfits will give a clashing color combination to your female outfits. You can be pairing dark blue denim outfits with a yellow t-shirt and see what you get from this action.
Modify Outfit with Black and Turquoise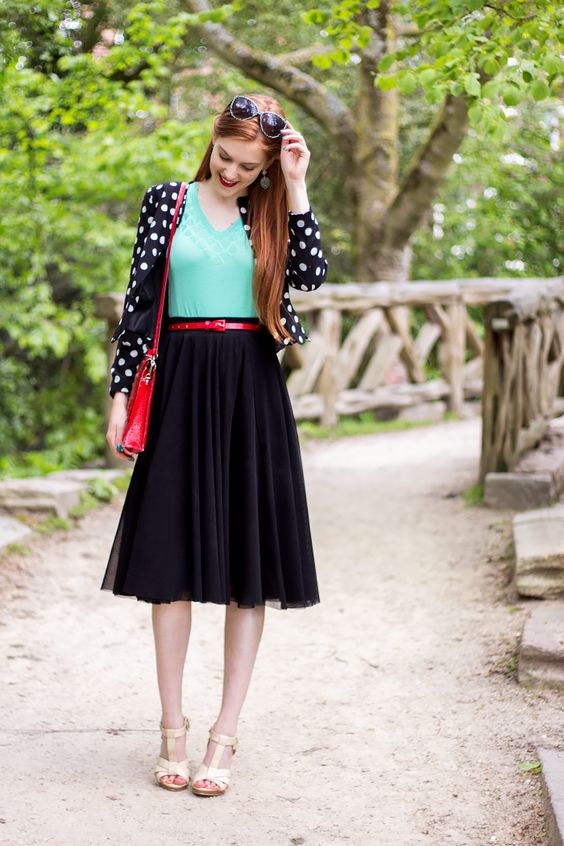 If you want to get inspiring work outfits in different styles, you can try to combine some colors such as pairing black and turquoise. Wear a black white polka dot blazer, a black pleated midi skirt, and then a turquoise v neck t-shirt. Submit another shade color like red into your mini bag and belt, and use cream strappy heels as your footwear. This obviously would bring casual and fashionable clashing color outfits for stunning your performance in the office.
The Coolest Clashing Color Combination Outfits is To Mix Red and Black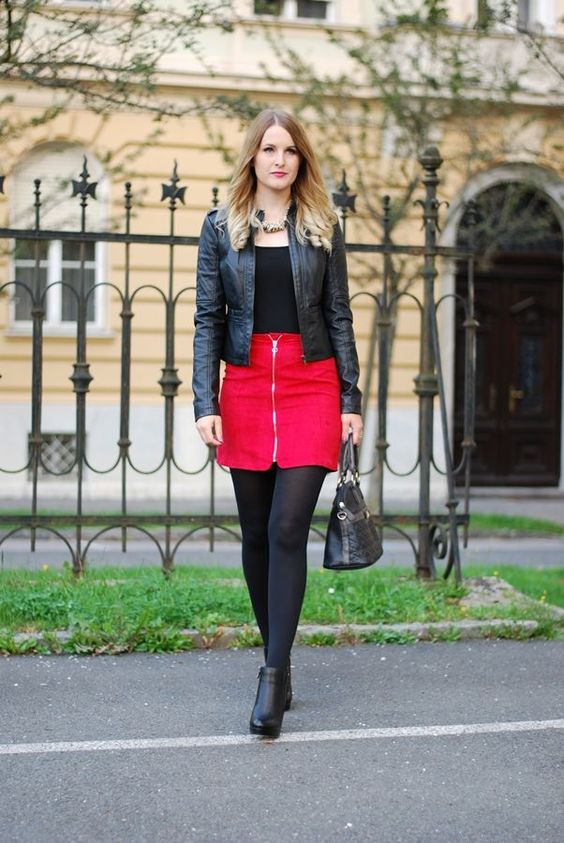 Black would make you look cool and if you mix this color with red, this honestly will increase your outfit to the next level. Bringing all-black outfits together with a little red combination in your mini skirt could impress you as cool and fashionable girls. This color clash outfit could drive your confidence more.
Dark Green and Magenta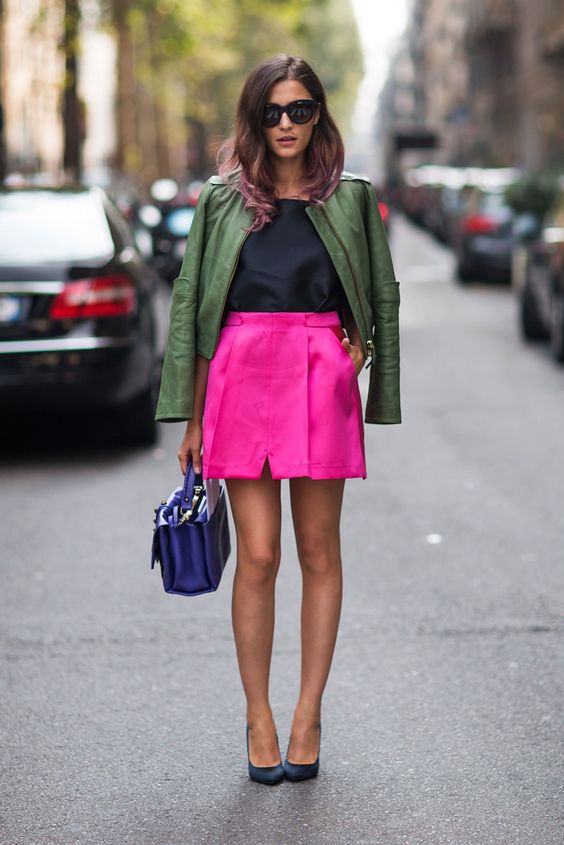 To make clashing combinations in your outfit, you can fuse dark green and magenta. Adding a little dark shade like black also makes it perfect to pull out your clashing color outfits to become more fashionable enough.
Combine Earth Color and Bright Color
Earth colors such as nude, beige, cream, brown, and others usually have the ability to pair well with a range of colors even bright colors for creating a combination of your clashing outfits.
Nude Midi Skirt and Yellow Sweater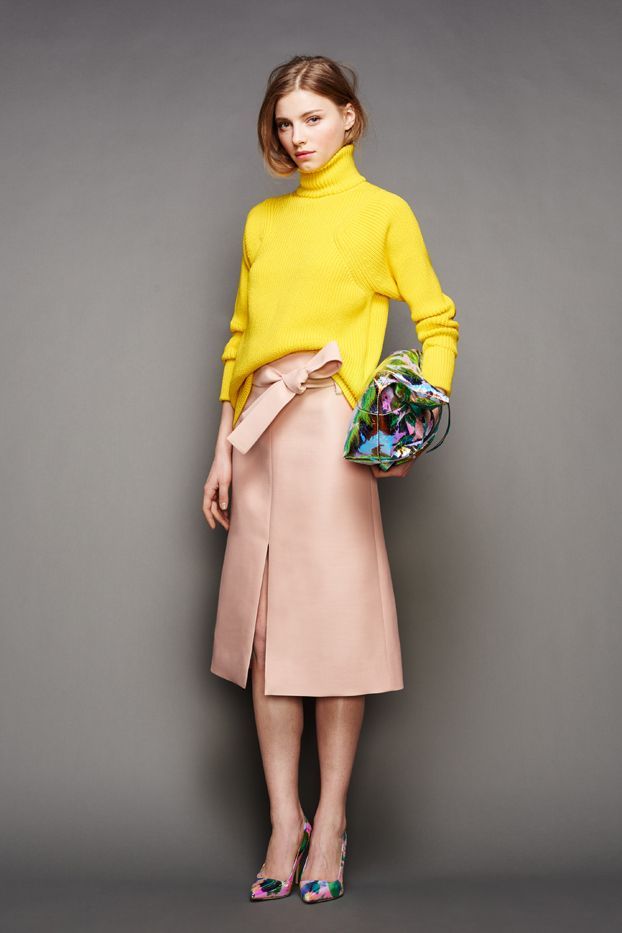 A nude leather skirt and yellow turtleneck sweaters that have low contrast and are too similar to your tone skin color would be good to modify outfits with a color clash combination. Bringing floral printed as boho-chic style in your handbag and heels would make this outfit look fashionable and fabulous.
Cream Mini Dress and Light Orange Blazer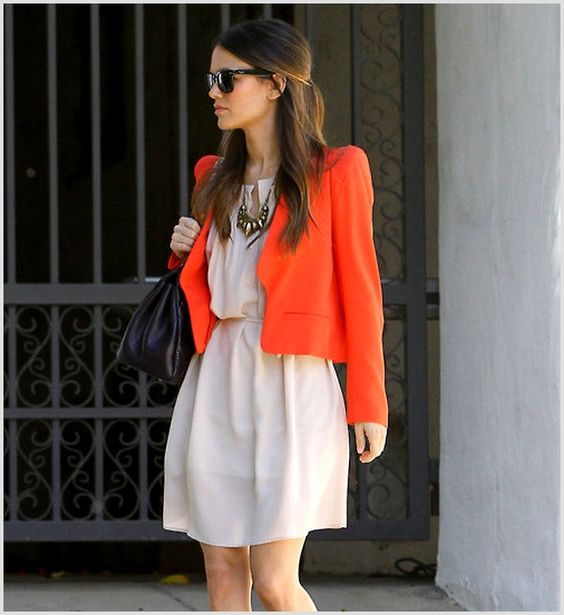 This might look a little peculiar when you try to pair beige and orange, but actually, this color combination would give a different touch like a clashing color to your outfit. You can try to mix a beige mini dress with an orange blazer and give a little neutral shade to your outfit with a black mini bag.
Khaki Coat and Magenta Mini Skirt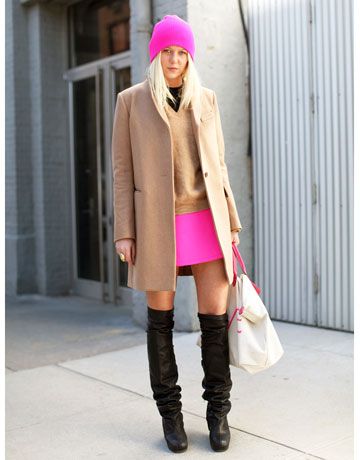 Want to get something unique in your female outfits, try to merge khaki colors with magenta. This combination would produce something unusual to help you style your outfits. Match up your khaki coat with a magenta mini skirt and beanie hat. Give another accent to your clashing color outfits by giving black tight high boots and then the final touch in the form of a beige handbag.
Brown Mini Skirt and Turquoise T-shirt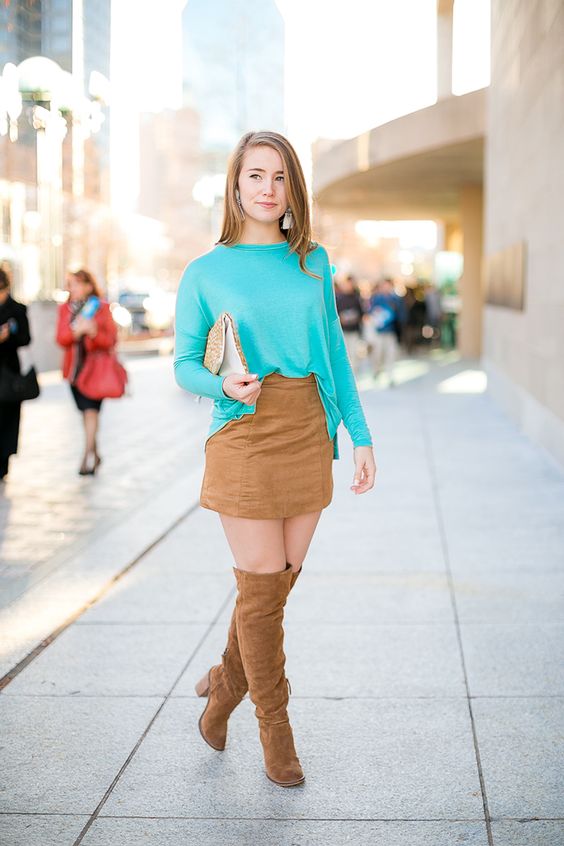 This is typically a color combination that people avoided, but when you can match it in the right way it would be cool enough. Turquoise has high hues and brightness as of makes it a little difficult to mix up with other colors. However, it's still good when you want to combine turquoise with brown. Even though it feels odd but you can play with the texture and dimension of the pieces. Pairing turquoise long sleeve t-shirt with a brown woolen mini skirt and then give brown tight high boots to complete all. Don't forget to have a simple accessory like a neutral purse bag and jewelry.
Brown and Yellow Color Clashing Combination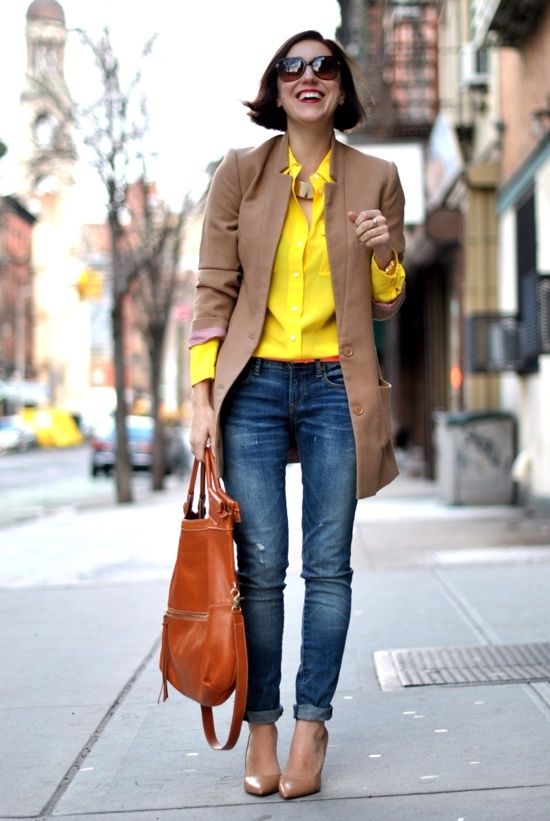 Trying to combine brown and yellow, it's no problem. Although some other people think it's bizarre to use yellow and brown together, this combination is still used by people to modify their outfits and make fashionable clashing styles to your outfits. Wearing a yellow long sleeve shirt with brown coats and then applying denim for the bottom outfit would make it look good enough. Develop your fashionable outfits with brown high heels and a leather tote bag in a mahogany color.
Combine The Same Pastel Color
Pastel color shades that are combined together would bring an amazing combination into your fashionable outfits. The most attractive way to produce the pastel trend is using pastel color blocking. This would help you to gain clashing color combination outfits for perfecting your stylish wardrobe. You can try to mix up together two or more pastel colors such as mint, baby blue, pale pink, cream, and others.
Mint Knitting Vest and Pink Mini Skirt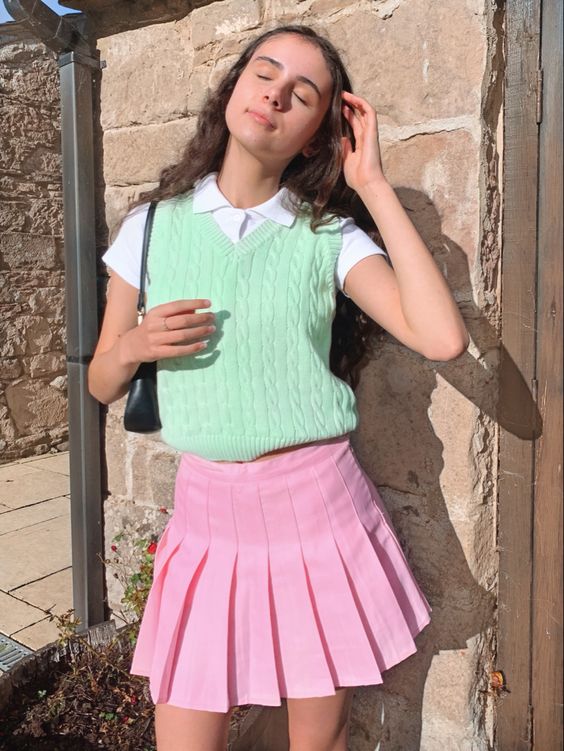 Pastel colors are good to make your female outfit look delicate and feminine. When you want to look cute, you can wear a mint knotting vest that covers a white collared short sleeve shirt with a pink pleated mini skirt. Perfect this outfit with a black mini bag and white sneakers. You are ready to hang out with your friends using this clashing outfit color.
Lilac Women's Set Outfit and Pink Long Sleeve Coat for Fashionable Winter Outfit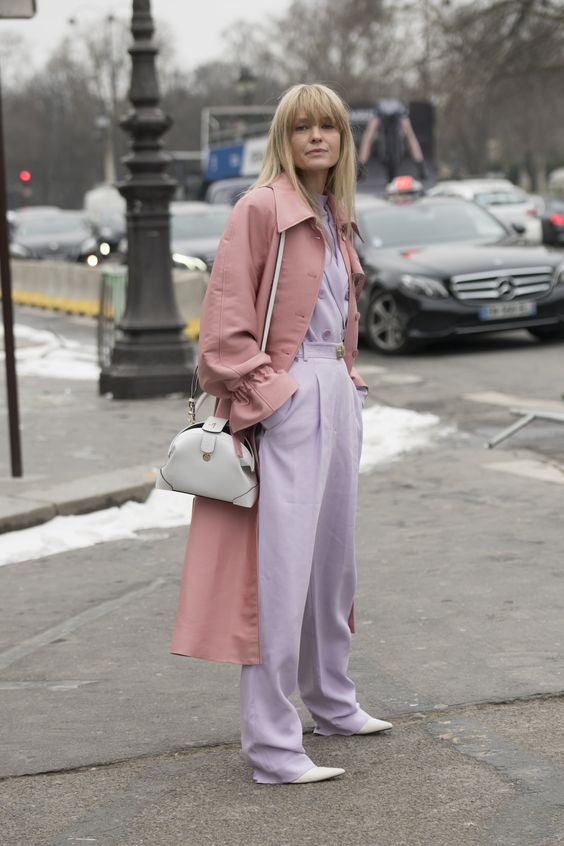 Get your winter outfits differently by wearing pastel color blocking use a lilac women's pants set outfit and a pink long sleeve coat. This color combination could produce fashionable clashing color outfits into your winter wardrobe. Matching up this outfit with your white mini bag and loafer shoes to give you a semi-formal glance at your female outfit.
Light Grey Fur Coat and Violet Pleated Maxi Skirt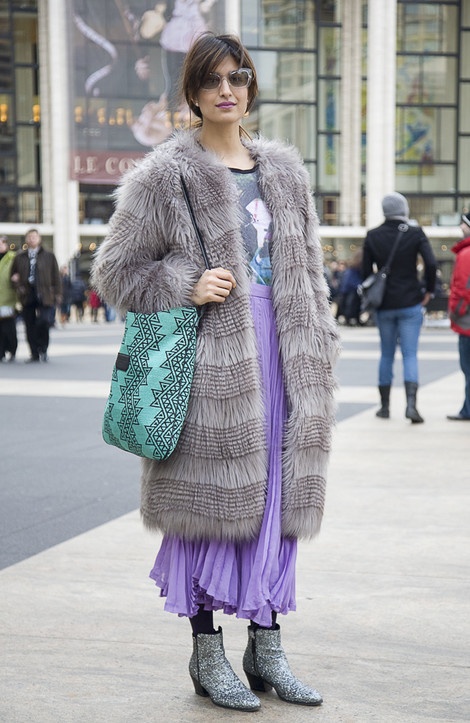 You can become a street style star by combining these outfits together. Hook up your light grey fur coat together with a violet pleated maxi skirt and finalize your appearance by using a grey t-shirt and silver ankle boot. To make it a more clashing outfit, bring a turquoise tote bag. You will look gorgeous in this pastel-clashing outfit color.
Combine Same Shade Colors with Clashing Color Accessories
Besides getting clashing outfits from combining colors to your clothes, you can make clashing outfit style by using accessories to improve the same shades of your outfits with clashing colors combination. You can insert clashing color elements for example in your accessories such as jewelry, bag, shoes, sunglasses, and others.
Beige Outfit and Green Necklace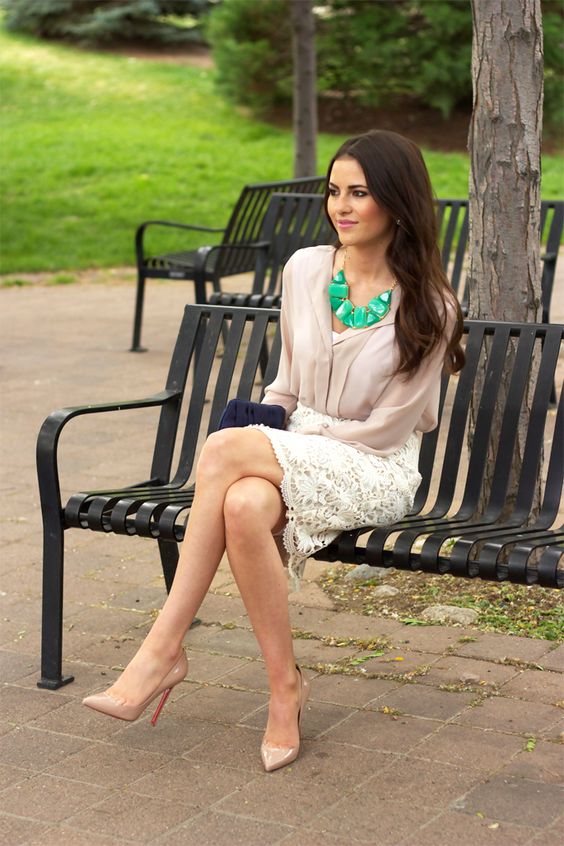 Have beige shade in your outfits and you want to give color clash style, put on turquoise jewelry. You could choose a turquoise necklace to bring different nuances to your monotone outfits to become more fashionable.
Nude Outfit and Orange Syal

You can choose an orange Syal to give a color clash vibe to your nude color outfits. The combination would carry a little addition to your plain outfits to evolve more stylish and fashionable.
Cream Outfit  and Orange Bag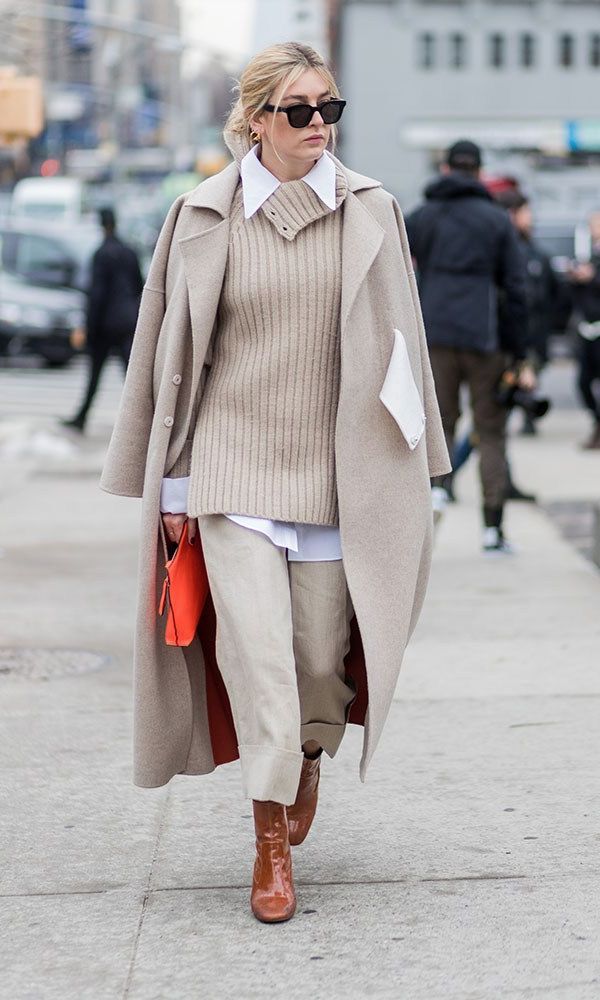 Fetch your monochrome cream winter outfits to become more colorful and fashionable by using color clash accessories such as an orange mini bag. You also can give another detail to your outfit by pairing it with a brown leather ankle boot. This is simple but gives a big impact on your image that seems more trendy and stylish.
Yellow Bag with White and Light Blue Outfit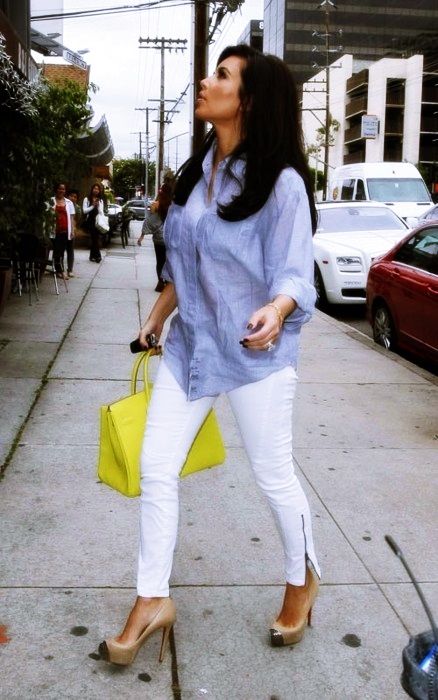 Bring clashing color style in your white skinny pant and light blue shirt by wearing a yellow handbag. Add something with neutral color into your footwear such as cream high heels. This truthfully seems casual, simple, but still fashionable to wear in outdoor activities.
Blue Coat and White Bag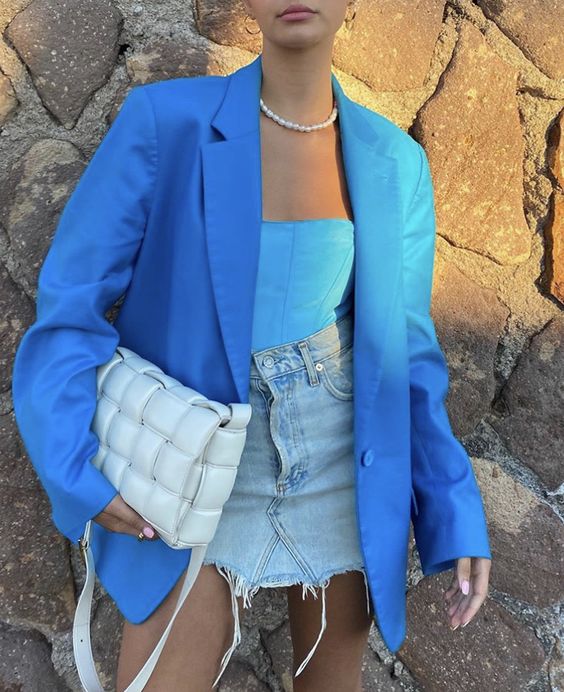 Styling your outfit more fashionable by clashing colors into it. For example, you can apply the trendy style in blue by mixing a blue coat, a light blue tube top, and blue jeans and then give neutral colors such as a pearl necklace and a white handbag.
Yellow Maxi Dress with Brown Bag
When you wear a bold yellow stylish maxi dress, you could make it more fashionable and elegant by giving something in neutral colors such as brown and white. Carry your brown handbag and white loafer shoes together with your bold yellow long sleeve maxi dress to impress people with your clashing color outfits.
Color Block Outfits
Blocking colors are means combining bright colors with darker colors. This is a way to get bold colors by pairing two or three different colors into your outfits. You can drag this style into your fashionable outfits with follow some inspiring clashing color combinations below.
Modify your Outfit with Color Clash combination in Brown and Burgundy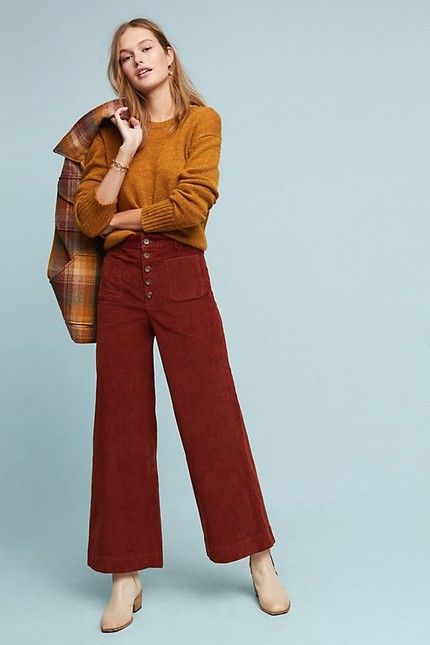 One of the best color block outfits that you can try to adopt into your female outfits is combining burgundy and light brown. You can modify brown sweaters to combine with burgundy sailor pants. Mixing this outfit with brown plaid coats and beige leather ankle boots, it's actually will give you a clashing combination outfit that is suitable for autumn.
Lilac and Emerald to Crate Fashionable Clashing Outfit Colors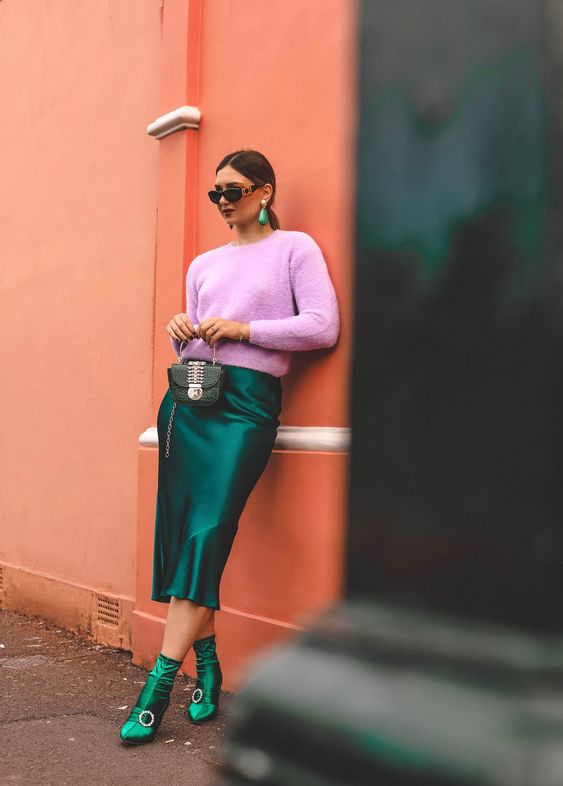 Lilac and emerald green have different color contrast and could be applied to your color-block outfit to bring fashionable outfits. Involve this idea by wearing a lilac sweater and emerald green midi skirt. Likewise, apply the colors to your accessories using emerald ankle boots, earrings, and your clutch. Give a little neutral colors such as black and gold color by wearing sunglasses and simple jewelry. This clashing combination would help you to look stunning at the party that you would be attending.
Purple Sweater and Turquoise Pants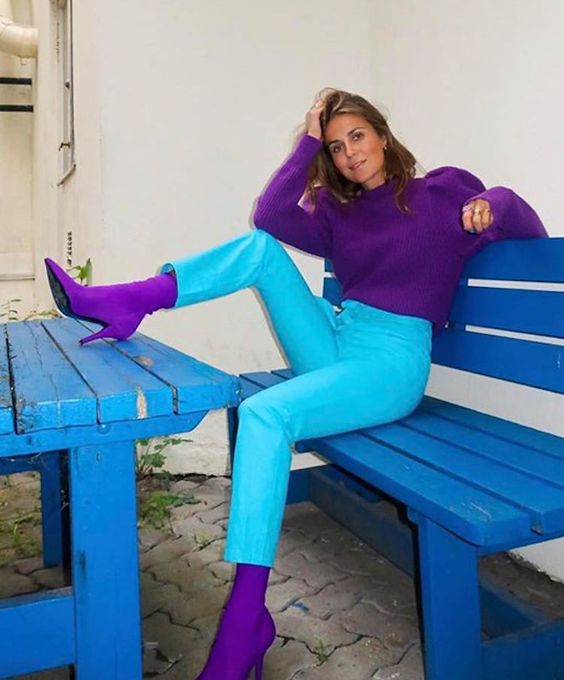 Combining light turquoise and purple would create a color block for your fashion style. It would bring clashing color style to your female outfits. If you have high self-confidence, try this color combination to attract people's attention. Matchmaking your purple sweaters with light turquoise skinny pants.
Emerald Women's Suits and Pale Pink Coat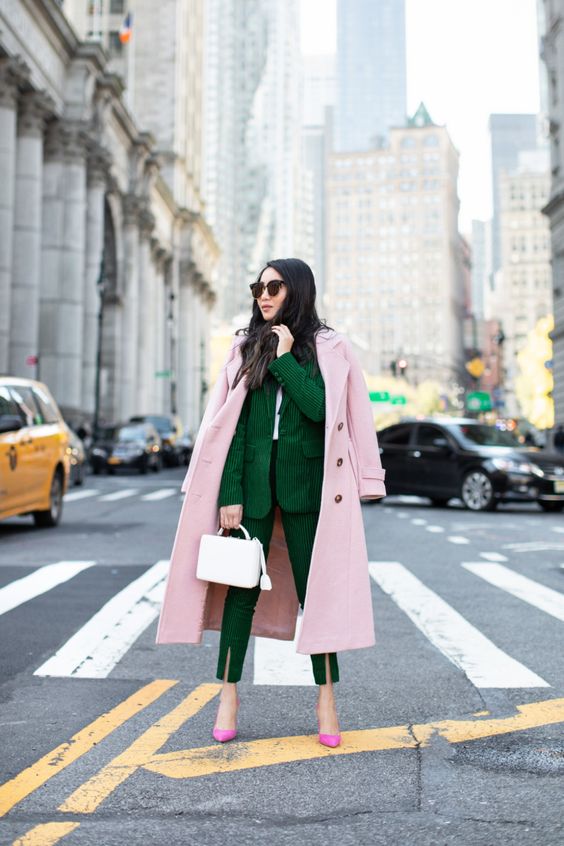 Try to attend Christmas Party in different looks by using clashing color combination outfits. Besides red colors, emerald also could make Christmas nuance to your outfits. To make a color block outfit, pair your emerald women's suits with a pale pink oversized coat. Bring more color clashing vibe to your female outfits with white handbag and magenta high heels. This actually makes you look matchy and fashionable in your clashing color outfit.
There are plenty of ways to make your female outfits fashionable enough and one of them is using color combinations. Nowadays, clashing color outfits start to become a trend and more people adopt them to pull off their style like street-style stars. Actually, having color clashing style could be a little tricky. However, when you can find the right combination you will get a masterpiece with your fashionable clashing color outfits. The key is you shouldn't be afraid to explore your creativity and express yourself in your outfits more especially about color matching.
Try something different and get bold into it. Hopefully, this concept above would inspire you to modify your fashionable outfits nicely. You will get the best results from your work by getting the most suitable color combination in your outfits.