Olidfashion.com – Make your Christmas perfect using great outfits on your special day and events. Spending time with someone special, you need to wear something extraordinary to stood up your appearance. Plan your dress code with some Christmas ideas for your inspiring outfits to make your fashion more stylish. Get ready for your Christmas outfits to maximize your performance on your celebration day.
For some people, Christmas becomes very different and the best time to gather around with your loved ones. Whether you plan to have a casual Christmas party with your family, glamour parties with your friends, or a romantic dinner party with your mate, as a woman you should try hard to look beautiful on a festive day, and we'll help you with some outfit ideas for your Christmas fashion style.
1. Business Casual Style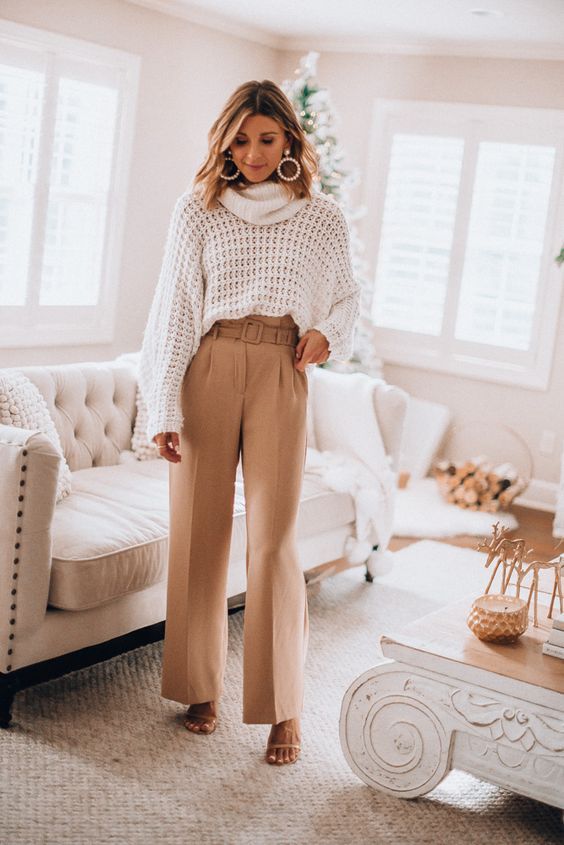 If you want to attend a Christmas party which is held by your company or your business partners, wear some clothes that image casual but formal in your style. For example, you can combine high waist pants or suit trousers with a sweater. You can apply pastel colors like cream or nude to your dress code and would be a good choice to bring a business casual feel to your outfit in the Christmas lunch.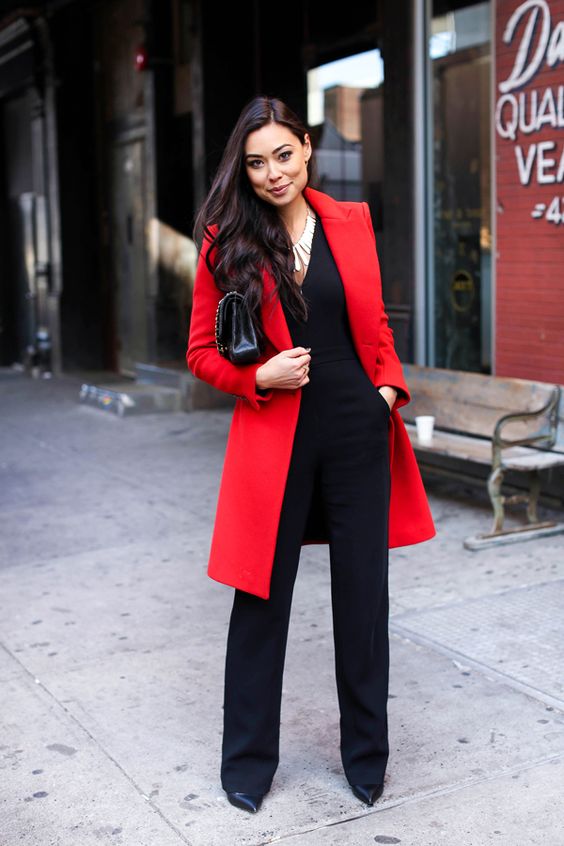 Besides that, to make you look casual you can wear jumpsuits mixed with some women's coats like long sleeve coats. Choose basic colors like black and red that would make you seem a little sexy and smart at one time. Make perfect your Christmas outfits with a handbag and heels.
2. Classy Style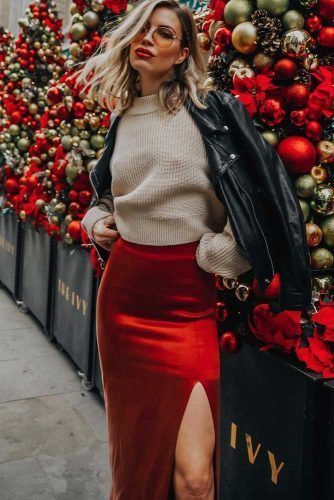 Attend the glamorous Christmas parties with the classy outfits that would make you become a fashion star.  You can mix and match some clothes or dresses in your wardrobe. Leather material would be good to give a classy taste to your Christmas Fashion outfits, wearing leather jackets with Christmas sweaters and long skirts would make you more fashionable and stylish.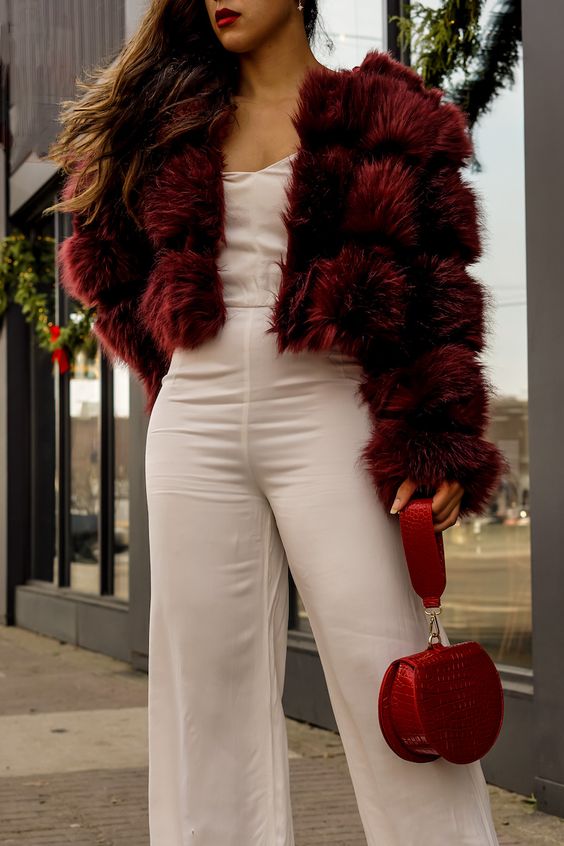 Another option, give your Christmas outfit a classy style by using jumpsuits and fur coats. This would highlight you with glamour and classy image. Come in white and red color which delivers maximum impact to represent Christmas eve in your fashion. Don't forget to add some accessories like a leather handbag with the same color as your stuff that would advance your women's Christmas outfit style.
3. Casual Style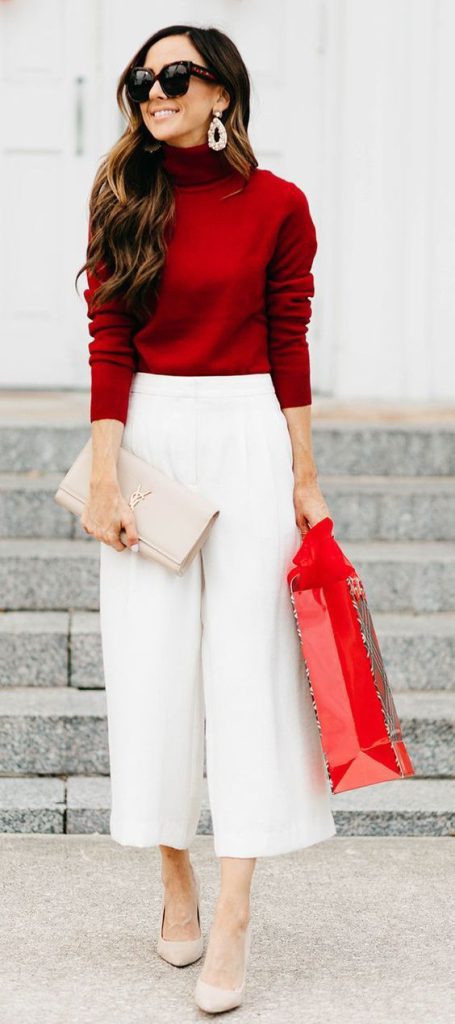 Create your casual style on your Christmas outfit to present at your family dinners and parties. Get your turtleneck sweater that combines with a culotte, short heel, and handbag. This obviously gives a casual fashion style and warm feeling to your homely party.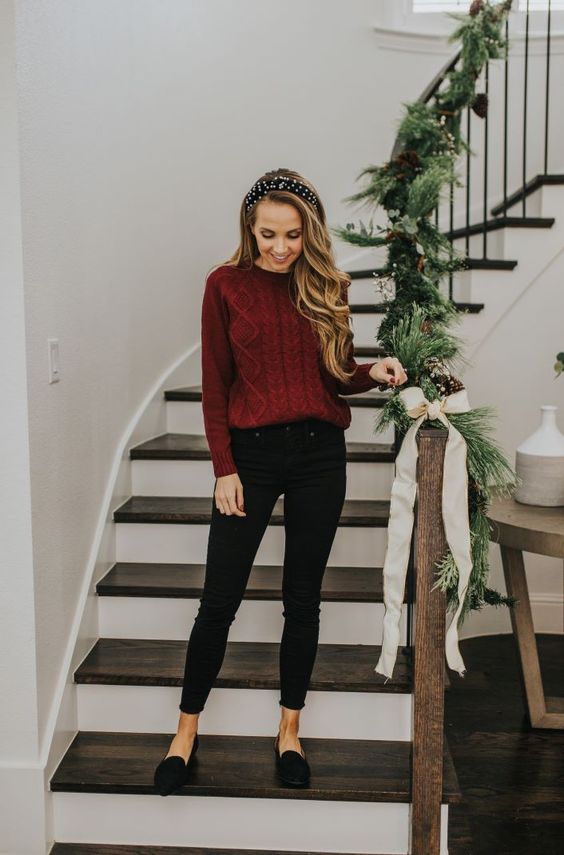 Bring a simple and casual look to a Christmas outfit for women by engaging jeans, sweaters, and flat shoes. This would be good to wear when you want to spend time with your friends. Select basic red color with some shades that become favorite to impress Christmas in your fashion style.
4. Elegant Style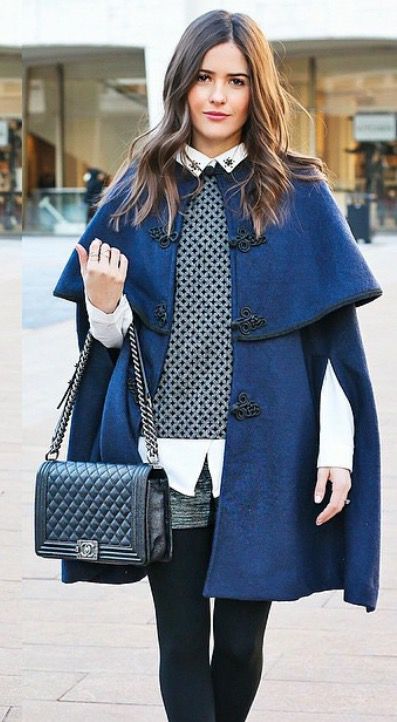 Christmas events in the office are always a casual circumstance, and we recommend you use something that elegant and simple. Clothing your outfit for Christmas lunch using a cape coat that brings a formal vibe and adds a casual sweater that matches with legging will max your appearance.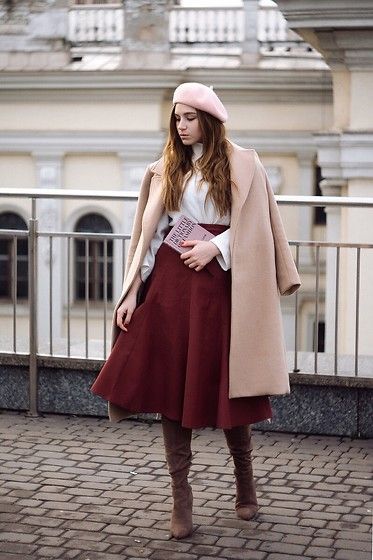 Besides that, you could try to use a skirt with a woolen long coat and a turtleneck shirt. Use pastel colors and a few shades of the red pallet in your outfits to stand up for your calm look. Pairing it with long boots would give a casual and elegant vibe to your Christmas style.
5. Glamour Style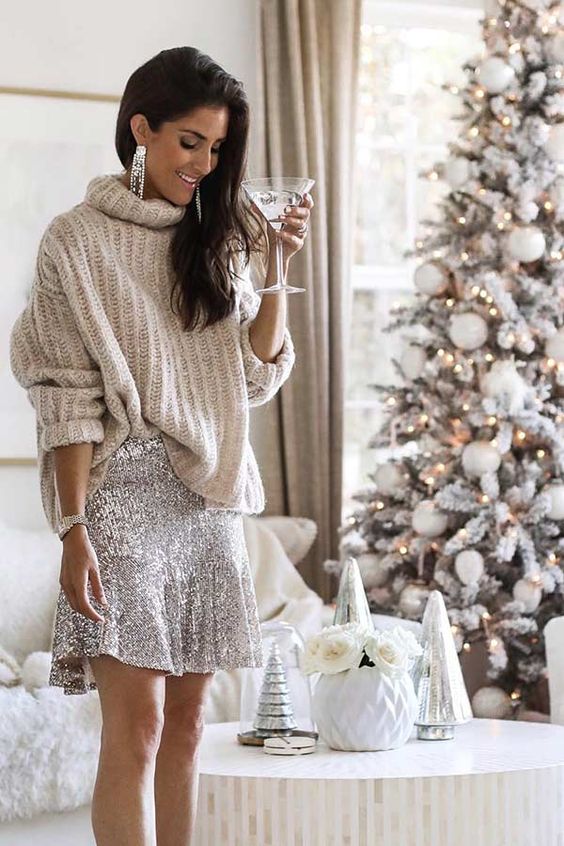 An evening cocktail would be great with something that's sparkle. Dress up your sweater with a shimmering dress that brings glamour affection into your Christmas outfit idea. Match your accessories to silver color in tune with your dress that brings a luxury impression. Get your outfit ready with strappy heels.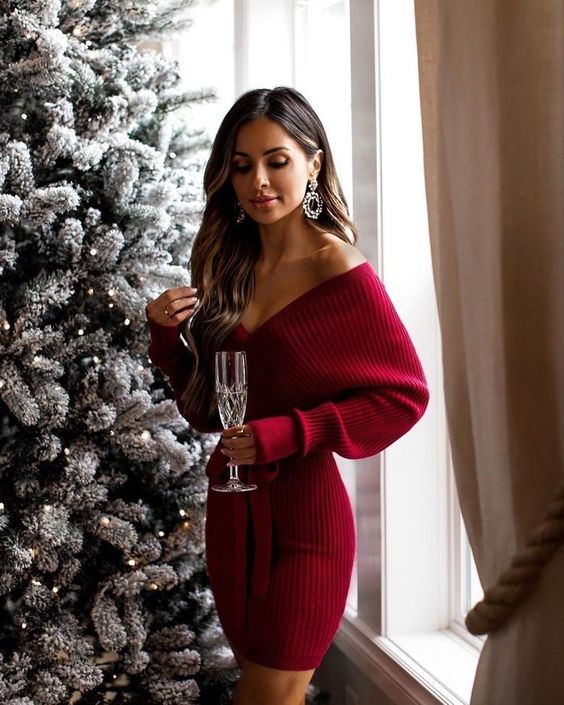 Not all glamour is about shimmering things, you can stay to look glamour in a simple v-neck red dress. Designed to fit your body using red colors make you look sexy and glamorous with minimal effort in this kind of outfit. You can apply the drees to your formal and casual Christmas parties.
6. Simple Style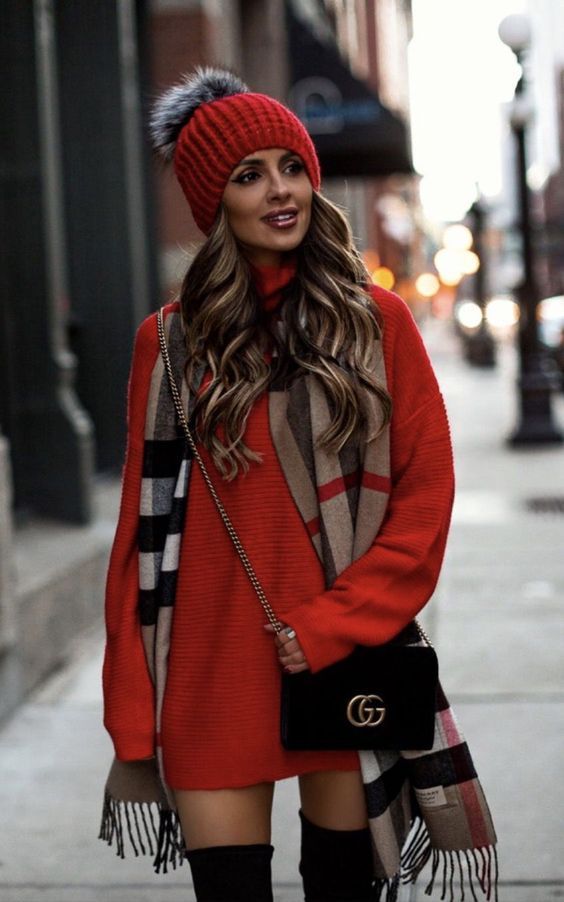 If you are likely to wear something that simple and chick, you can try to use a long sweater dress that pairs with long boots. Add some accessories like a plaid scarf and hat with a sling bag to exaggerate your simple outfit ideas. Using colors like orange in your dress would represent cheer Christmas.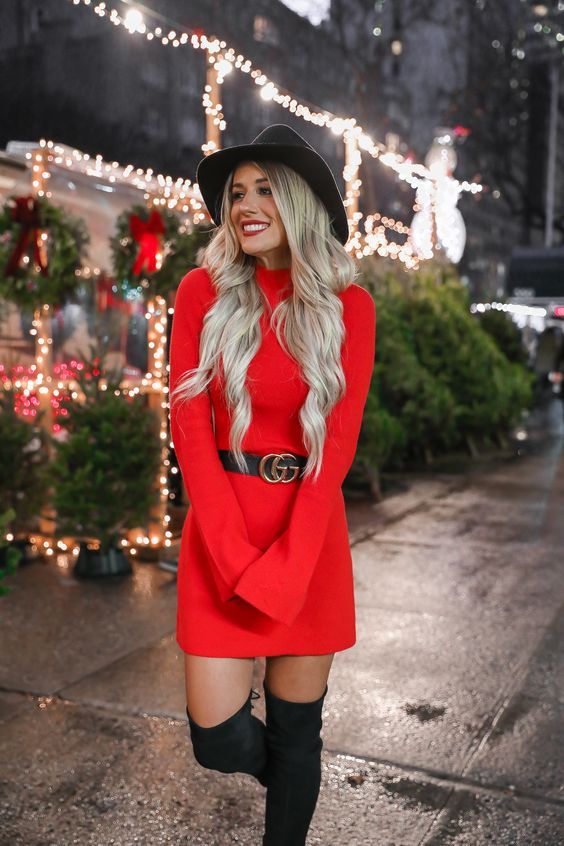 Select a dress as your Christmas outfit idea for a simple style into your fashion design. Mixing with high long boots and giving it something extra like a belt and cowboy hat would make you look stunning. You will be ready to enjoy the parties with a great outfit tonight.
7. Trendy Style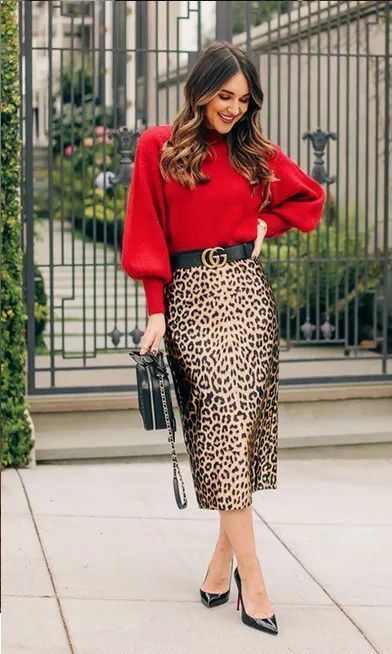 Have a Christmas lunch in your office, you have to get something trendy and stylish. Wear a leopard print tube skirt or pencil skirt as a focal point in your outfit idea to make your Christmas style look trendy and high class. Mix up it with a red sweater blouse and black short heels, then give some simple accessories such as a belt and sling bag to give a more stylish outfit.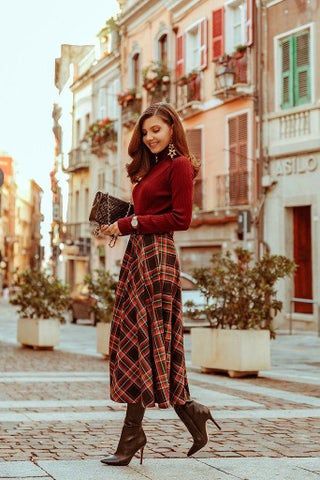 Wear a maroon turtleneck sweater with a maxi plaid skirt and putting it together with a knee-high boot is another way for bringing a trend on women's fashion style to use on Christmas eve. Complete your outfits with a sling bag and some accessories to resemble your trendy Christmas fashion style.
8. Vintage Style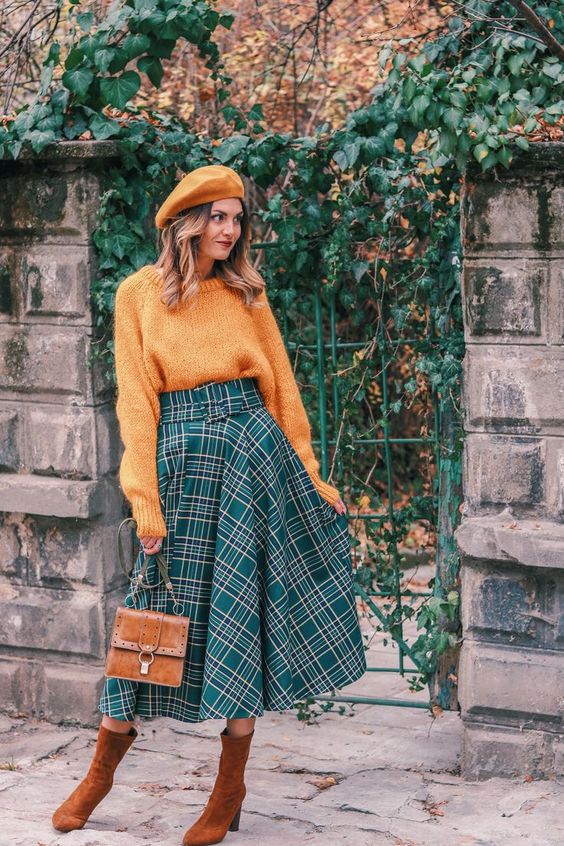 Upgrade your sweater that goes with anything by combining it using a maxi plaid skirt in a green color that would interpret the vintage look on your Christmas outfit ideas. Besides that, maximize your look using a woolen ankle boot and a leather sling bag. Mixing bright orange and brown colors to your green skirt would perfectly give the vintage vibe.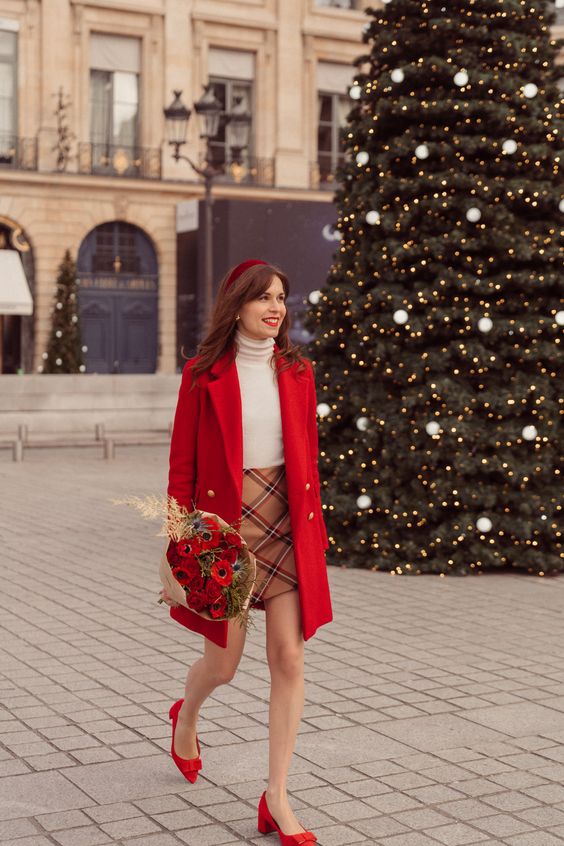 Plaid patterns really work to represent vintage style on your outwear without being outdated. A plaid mini skirt that wears with a turtleneck sweater and single-breasted coat on your winter outfit gives you a classical look but is still impressive. Using short red heels would be good to flawless your Christmas fashion style. This outfit would be good to use on your Christmas date with your soulmate.
9. Winter Boho style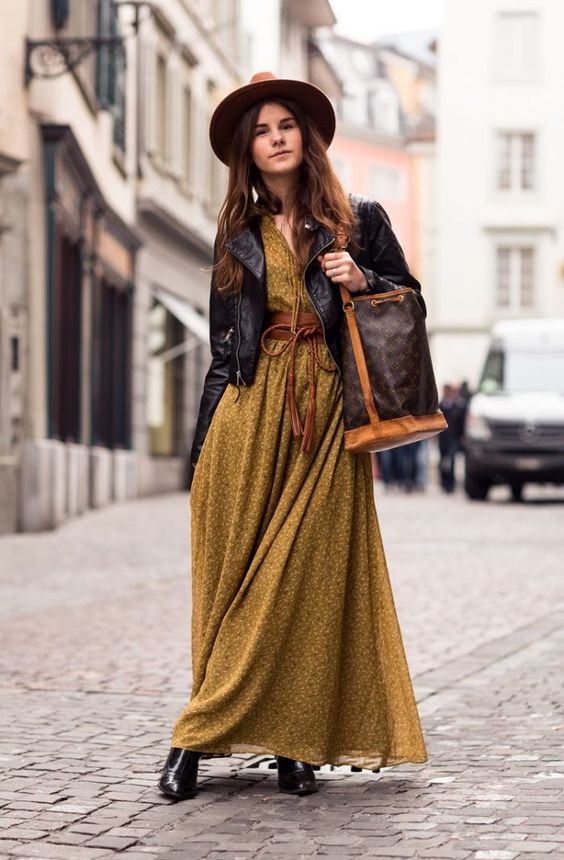 Become different at your Christmas party, using boho style would be a good idea that you can try. Introducing boho patterns like tie-dye and nature-inspired prints would be a perfect way to add boho style to your Christmas outfit idea. Wear a khaki maxi dress that's flower printed and black leather jackets to create a bohemian vibe to your Christmas fashion. Work in with a leather ankle boot and cowboy hat will figure out your style more fashionable.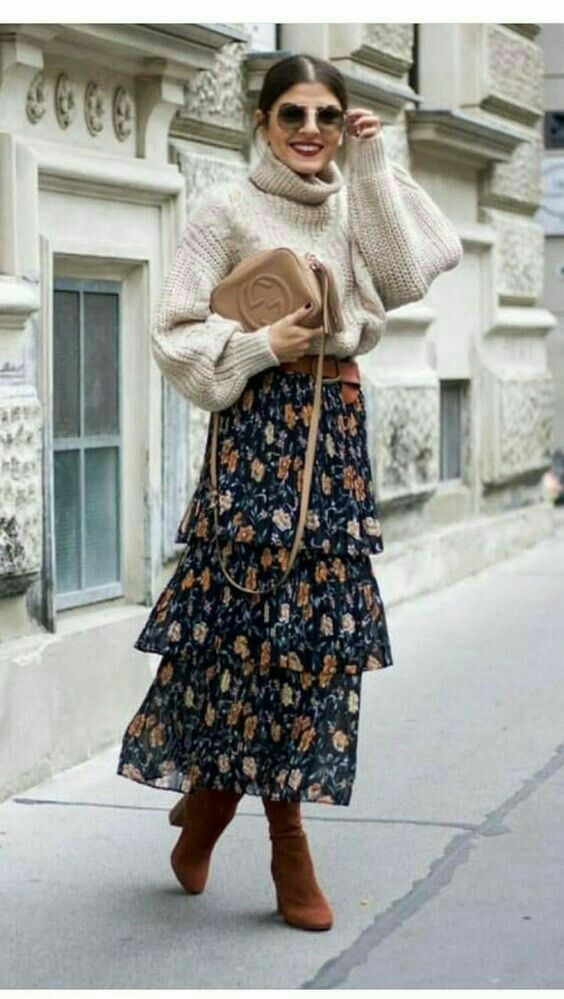 You also could be pairing a knitting sweater with a flower-printed maxi long skirt. A knee-high boot and mini sling bag would give you the best appearance in your bohemian style and bring different warmth to your Christmas celebrations with your friends.
10. Cute Style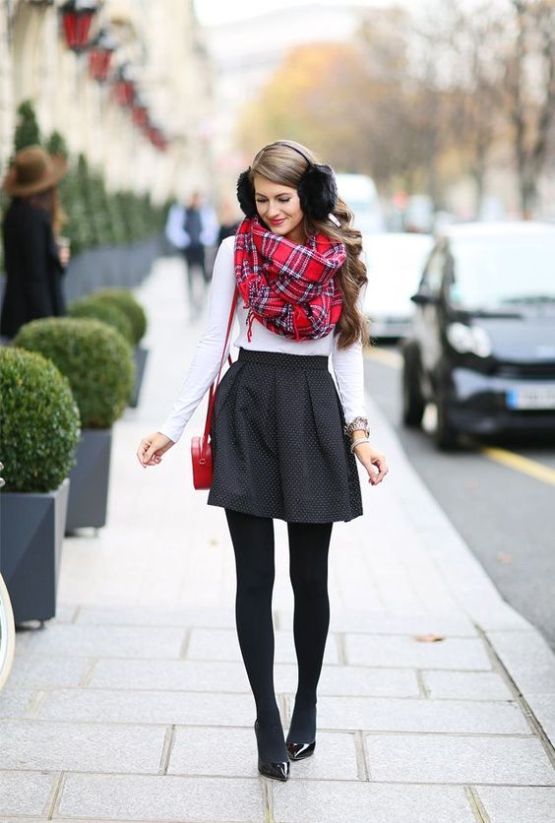 You can apply the cute style at Christmas to have lunch with your friends or boyfriends. This style is good for inspiring outfits for women to wear a long t-shirt combined with a mini skirt and leggings. It would be adorable and give cuteness to your outfit. Show up your Christmas festive in a plaid red scarf. Maximize your women's Christmas outfits with a mini red sling bag and black short heels. With all of this, you will be ready to enjoy the time with your close friends.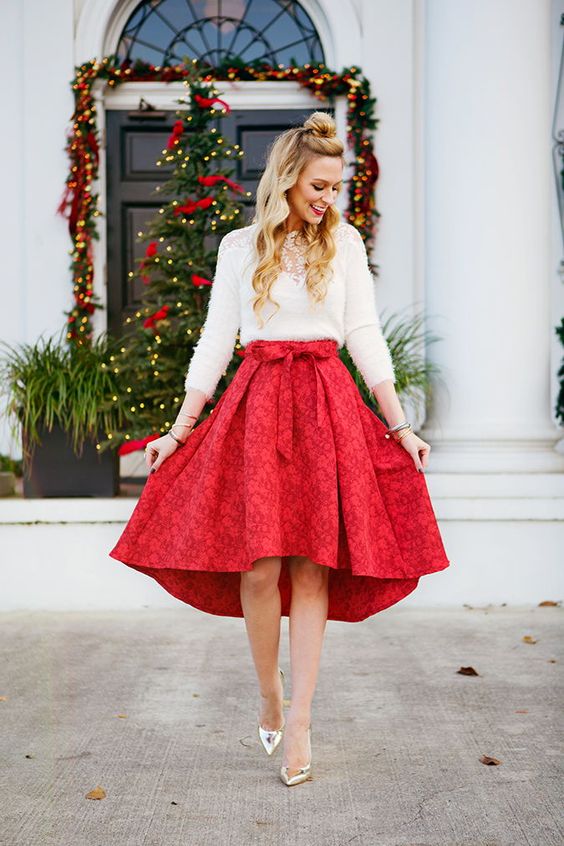 If you want to apply some cute style to your Christmas outfit without looking odd on your age, try to wear a white fleece blouse that's mixed with a high-low skirt. Using silver heels will make you look cute but elegant in your Women's Christmas outfit.
11. Smart Look Style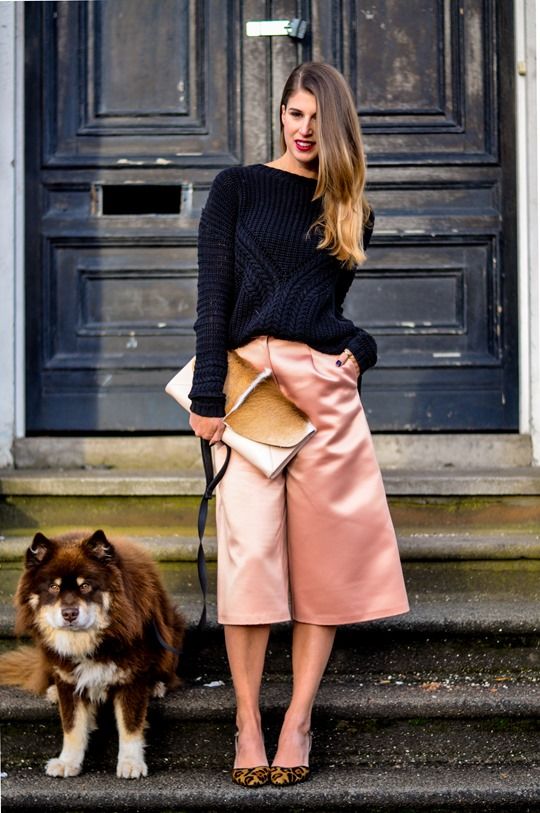 Have your Christmas lunch in the Fancy cafe more enjoyable, dressed as well as you can to look fabulous with a simple and smart look style. You can wear culottes or skirts that combine with a sweater. Mixing black navy and nude color it's a perfectly smart choice for your Christmas fashion style.  Match it with a handbag and flat shoes to make you ready for Christmas.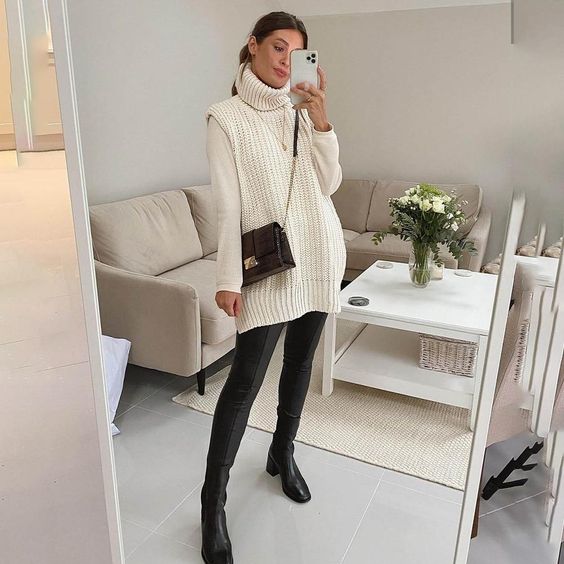 Find your style on long sweater dresses. Get it together with high long boots that cover your legs and add a mini sling bag as an accessory. This actually would bring a smart look style and elegance to your women's Christmas outfit.
12. Formal Style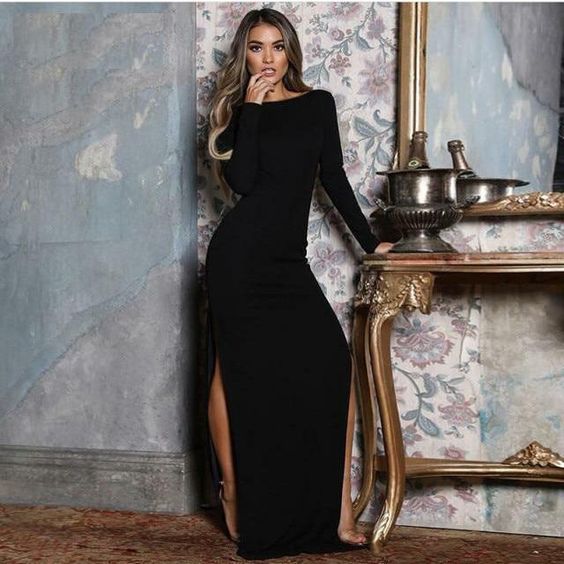 The long dress is good for your formal Christmas style. Choose black basic color as well to make you more sophisticated and elegant. Pair your dress in strappy high heels and clutch to make it more perfect.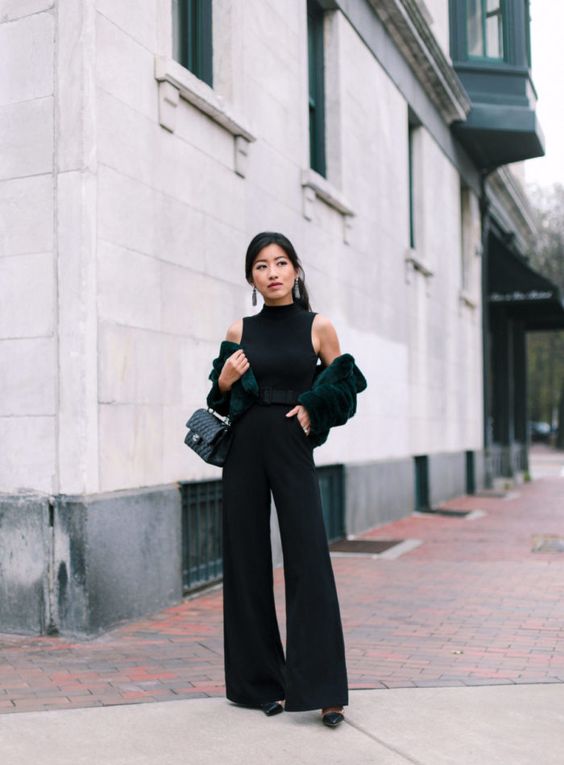 You also can show formal style with a black jumpsuit. Delivering great impact with low effort, the jumpsuit will be a good choice to maximize your fashion style. Combine your black jumpsuit with a green fur coat that would make your style look formal but elegant. Don't forget to get high heels and a clutch to make you get ready for formal parties.
Perfecting your Christmas celebrate by wearing some great outfits to attend your festive activities. Make your Christmas day meaningful and enjoyable with your family, friends, mates, and partners. Grabbing your best Christmas outfits with someone who loved you at the party will become beautiful memories for you.