Olidfashion.com – The key to staying warm in the cold weather is using cozy outfits that are designed using specific styles and materials. That doesn't mean would make you being out fashioned. You can still be fashionable using Boho Chic Style as your female outfit ideas during the winter season to become stylish and cozy at once.
What is Boho Style
Boho or Bohemian also has known as a hippie style is the fashion design which uses natural patterns and fabrics, vintage or retro patterns, and neutral warm colors shades. This trend comes from an actual culture and specific ideology that is a lifestyle of hippies in the 60-70s, even pre-Raphaelit women in the late 19th century.
The basis of bohemian style is a counterculture that went against the fashion style of the previous decade that appears after the French revolution. This is changing all the definitions of fashion that before all about classy and glamour in conventional lifestyle become simple.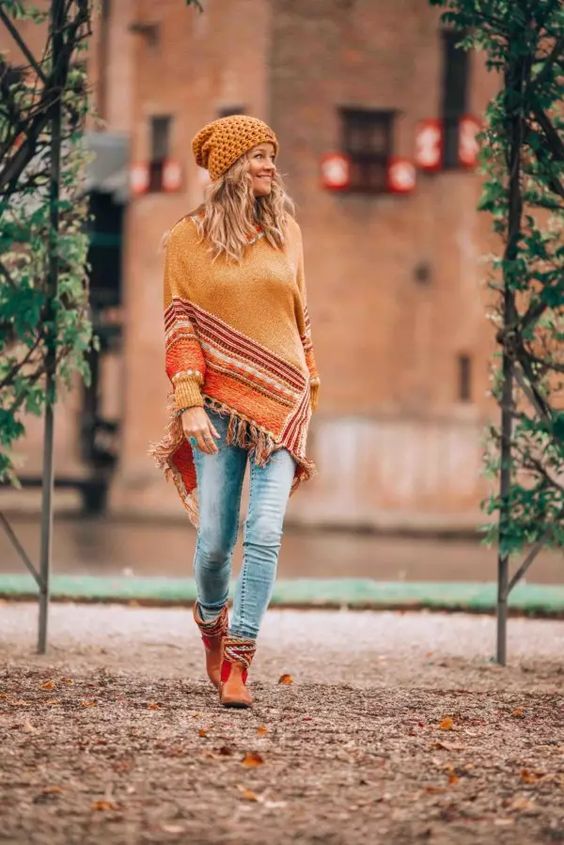 In the boho style, you will find some specific characteristics. For example, tiered dress, long flowing skirt, ethnic taste like wood jewelry, embroidery, and fringed handbags that have looked colorful. Boho style also adopts neutral color shades like white, cream, pastel green, brown, and others.
How to Fashion Your Female Outfit Use Boho Chic Style During Winter
Avoid cold weather by layering your outfits and with the right style, you can still be fashionable in the winter season. Styling your cozy female outfits with something different such as the boho-chic style as an option. As we know the boho or bohemian style has a unique form and we could describe it as natural, effortless, and flexible outfits. Boho is also all about free and original style, you can create your own design with your creativity here. Boho style is not only about the pattern, but it's more complex into the materials, techniques, and elements that uses. Find your own way with some design below as an inspiration to help fashion your winter outfit as boho-chic style.
Winter Coats and Jackets In Boho Chic Style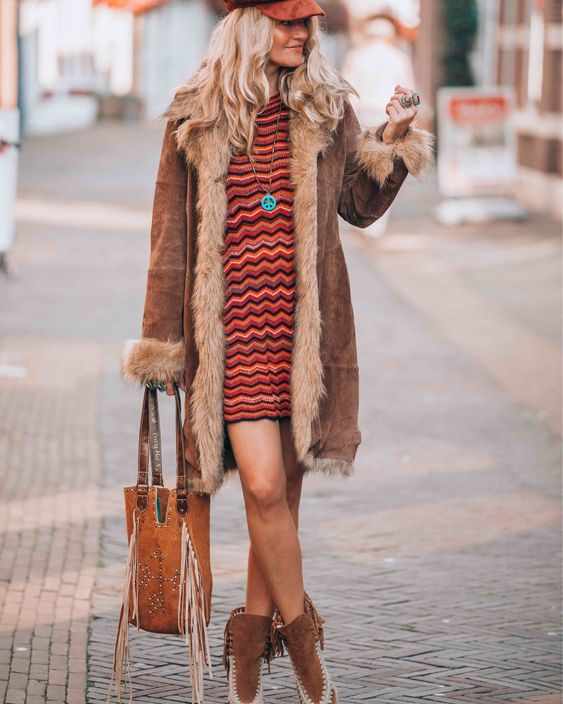 Coats and jackets are the best elements that you need to wear during colder weather to make you still warm in the freezing season. Styling your female winter outfit to become fashionable enough with the boho-chic style. As we know the boho style has specific characteristics such as using natural fabrics and neutral colors. You can draw boho style on your women's winter coats using woolen fabrics, fur, or shearling. Get brown and earth color into your clothing.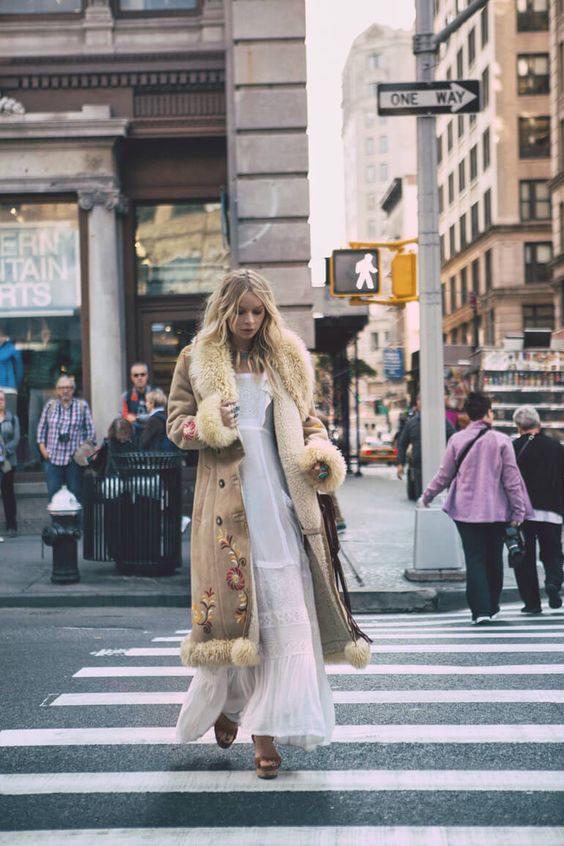 Make your floral boho coats get point with a white maxi dress. Express your inner beauty with the boho-chic outfit style into your fashion design. Oversized coats with floral patterns that combine with the long dress are a match made from heaven and become you cozier in the winter. This also makes you look like a beautiful angel. Team it with a pair of wedges and brown leather fringed handbag that would perfect your winter outfits for a date.
Midi and Maxy Dress for Boho Chic Winter Outfit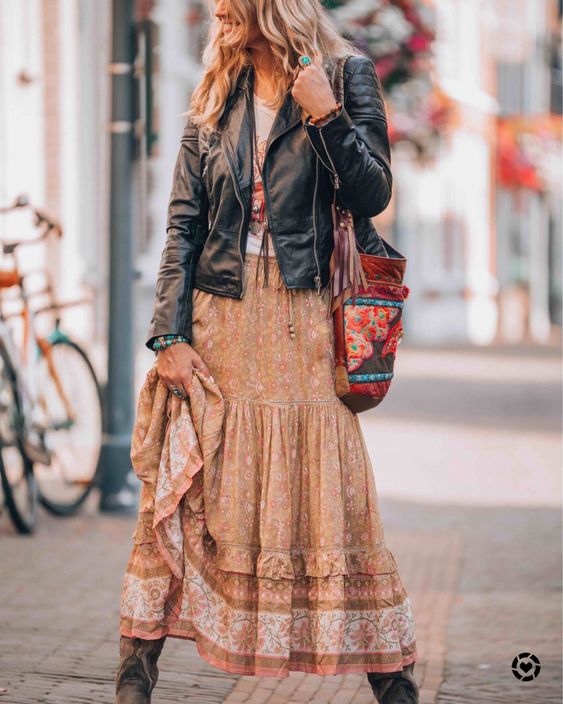 Dress is also a great choice to build up your appearance not only in the summer but also during the winter season. Get your maxi and midi dress fashionable by adopting a boho-chic style. Mix and match your dress with other outfits such as leather jackets or using knitting sweaters to draw a cozy boho chic outfit style.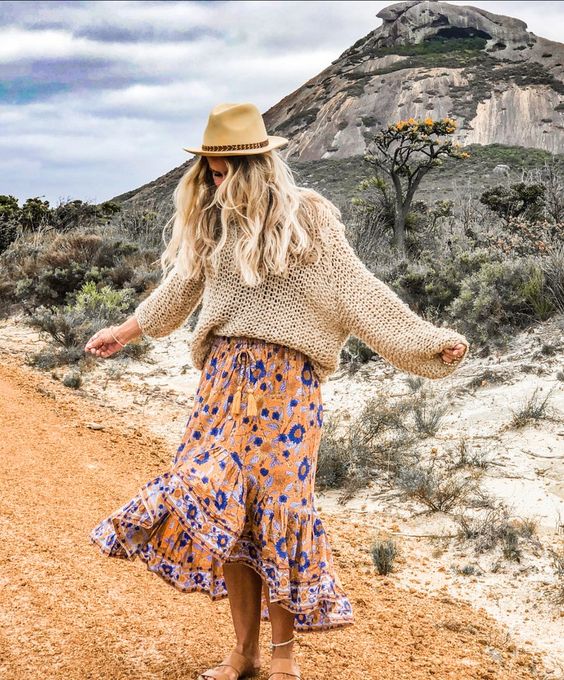 You would look like such a lovely lady with your floral print dress as your preferred cozy winter outfit for females. Dress also identically with the elegant and feminine aura. You can add something to different your appearance such as using black leather jackets that give a cool girl vibe into your winter outfits. Choose warm tone colors such as cream or brown and it would give boho-chic style to your winter outfits.
Neutral Sweaters and Cardigan for Cozy Boho style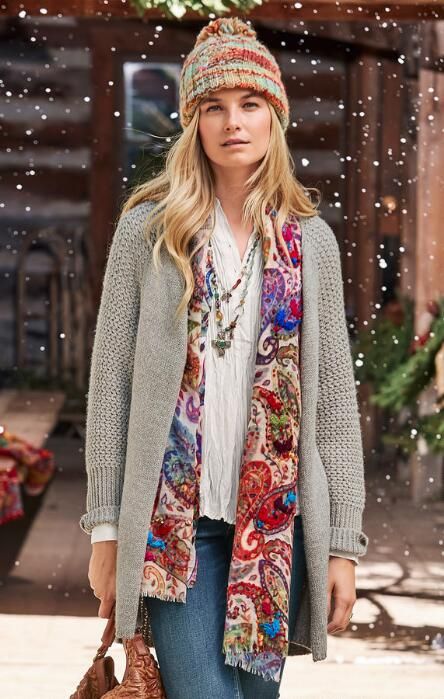 Another simple outfit that you can try with a cozy boho chic style is using sweaters and cardigans with neutral colors like gray, caramel, brown, or earth colors. Layering your outfits would make you warm enough in the colder weather. A knitting sweater and cardigan would help you with this.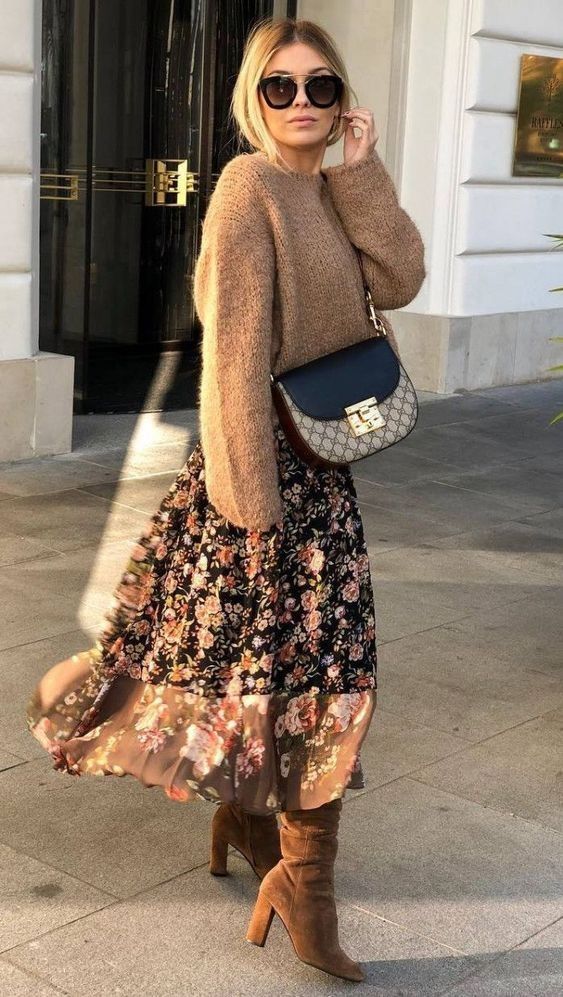 You can combine your sweaters and cardigans with dresses or other female outfits such as a white blouse and denim. Covering your long floral printed dress with brown knitting sweaters will maxi your cozy boho-chic female outfits. While pairing your a gray cardigan and jeans would be driving you into pretty retro bohemian chic for female outfits in the winter.
Boho Floral Prints on the Winter Outfits

As we know that bohemian style has its characteristics and one of them is using natural prints on their outfits such as floral print. This would make your female outfit have a beautiful glance without being odd. Adding this floral print into your winter coats or dresses actually brings boho-chic style to your winter outfits.

Have your vintage boho-chic style use a floral printed mini dress that's paired with a plaid green coat and black legging. For additional detail get ankle leather boots and a brown leather bag. Getting it more perfect with some accessories on your head such as a beanie hat and other boho accessories. This style is the best choice to wear for your Christmas outfits to attend casual parties or on your Christmas date.
Boho Chic Winter Outfit Use Cape Coat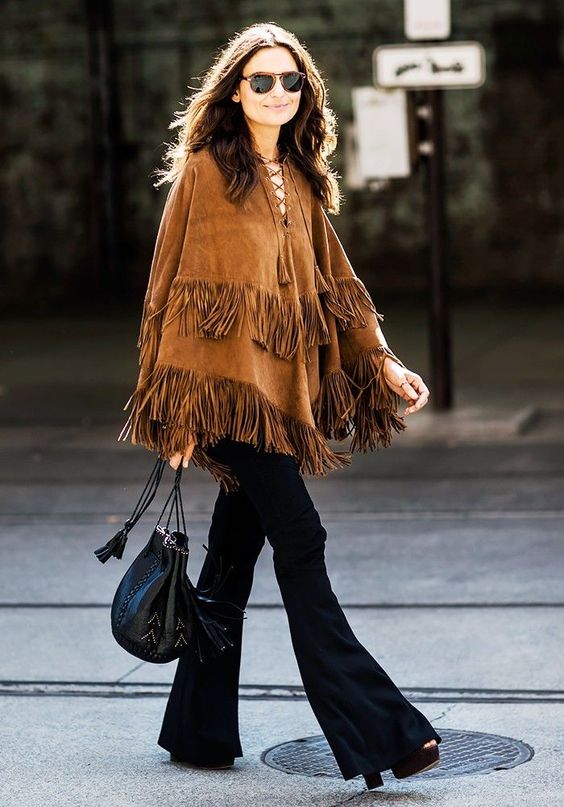 A frilled woolen cape coat is awesome to help you still be stylish during the winter. Mixing up together with black bootcut jeans would give you 1970's style into your female winter outfits without getting outdated. Complete the outfits with a fringed black handbag and chunky heels to make you ready to have activity with a cozy boho style.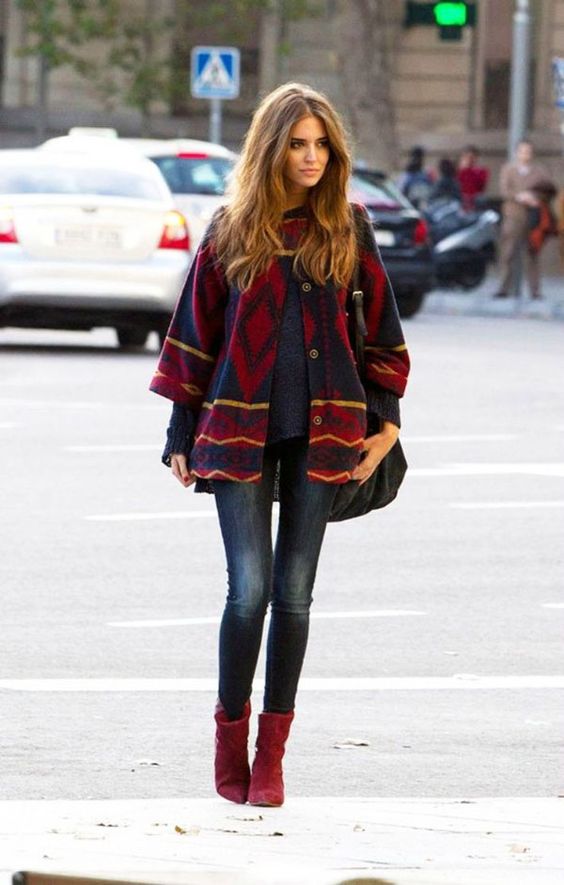 Bring boho style in your winter cape coat by giving it kilim patterns. This pattern is adapted from the Turkish style and is commonly used as a rug's pattern. Nowadays, this pattern become popular and reinvented as winter coats. Implementing this pattern as your cape coat and pairing it with sweaters, denim, and boots surely would make a cozy boho-chic winter outfit style for females. Choosing navy and maroon as basic colors for your outfit will give you something that casual and elegant.
Boho Style With Oversized Knitted Cardigan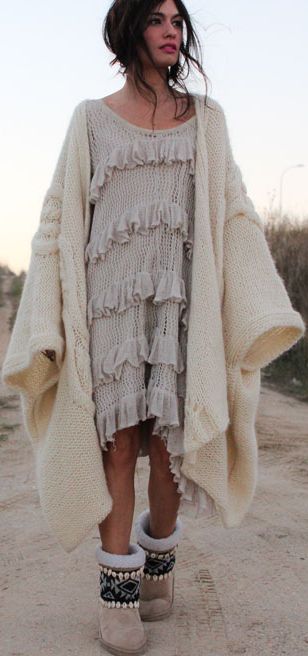 Choosing broken white colors in your oversized knitting cardigans as your winter outfit is a good way to make your clothing look like boho-chic style. Applying this outfit with a knitting frilled dress and leather ankle boots would give a retro essential to your cozy female outfits.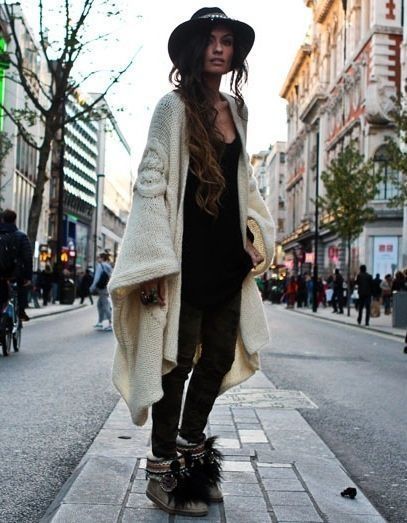 Go casual into your winter female outfit using a white oversized cardigan and pair it with a black long sleeve body top, skinny jeans, and Embroidered Suede Ankle Boots. Add some turquoise jewelry and a cowboy hat to bring country style into your cozy outfits.
Use Bohemian Pattern on Your Female Winter Outfit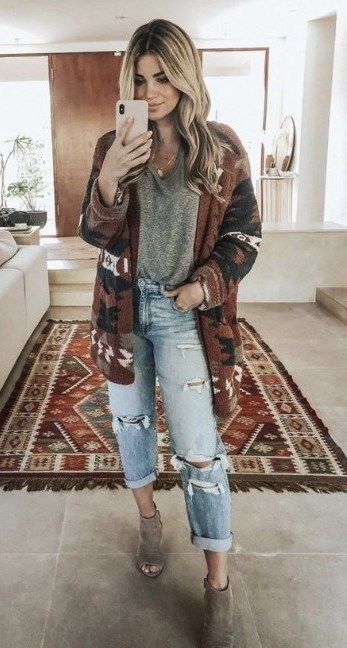 Aside from natural patterns, boho also has known for its unique patterns such as trellis, ikat, tribal, kilim, paisley, and lattice. For example, you can use tribal patterns on your cardigan and pair it with a grey t-shirt to obtain a cozy vibe in your boho-chic style. Tribal pattern is inspired by African cultures and is commonly found with bright or bold colors such as maroon, black, and white. Complete this outfit with ripped jeans and brown ankle boots.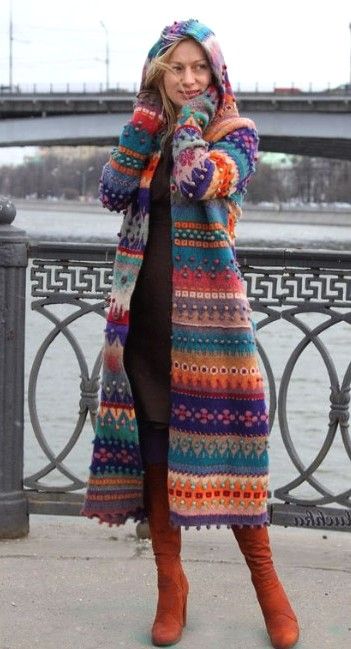 Having more than one boho pattern on your clothes would make your female outfit look chic and fashionable. Besides that, giving pom-pom embellishment into your outwear also could give boho-chic style. Just giving another detail or element such as high ankle boots, legging, and mini dress would make your boho long sleeve coat become cozy and fashionable.
Boots for Cozy Footwear as Your Winter Boho Chic Style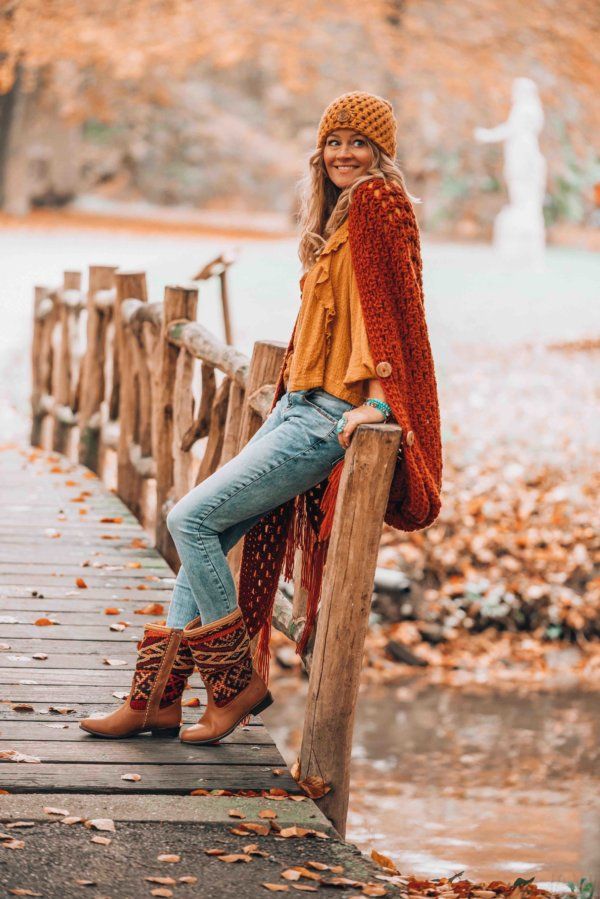 Another element to add boho-chic style into your female winter outfits is using great footwear like boots. Choose your boot types to perfect your cozy boho chic outfit style for the winter season such as ankle boots. You can modify the boots with a boho pattern to give a strong bohemian style.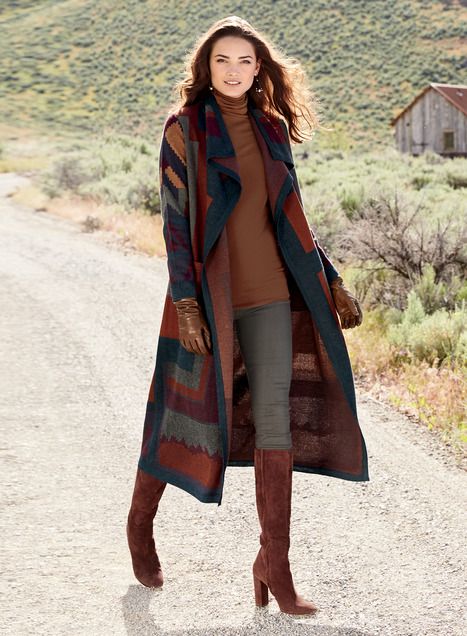 Besides that, choosing knee-high boots also becomes an option to stunning your boho style for winter outfits. This would give you an elegant appearance in your female outfits. To keep in mind not only choose the right clothes, but you also need to choose the right footwear to maximize your appearance and become cozy in your winter outfits. Get leather boots as the best choice to fill up your boho-chic style.
Some Accessories that Reflect Boho Chic Style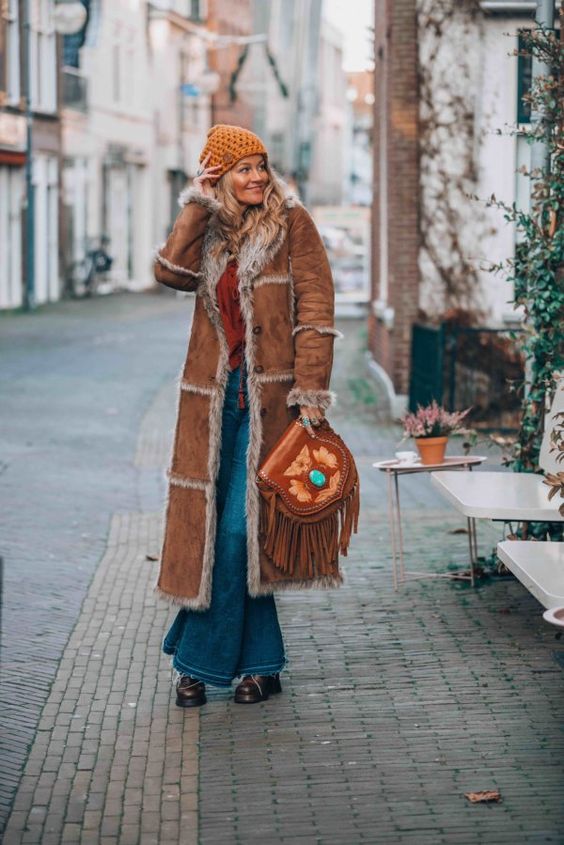 Your boho-chic style won't be perfect without using some boho accessories. Find something that has fringe, tassels, and other trims to bring boho-chic style. The common accessories to create boho style into your female outfits such as fringed bags, ethnic bags, oversized scarfs, beanies, and cowboy hats.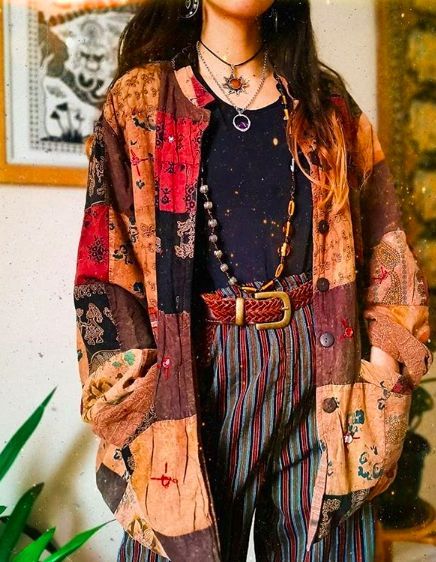 You also could finalize your boho-chic style into your outfits with some turquoise jewelry, wood, or rattan accessories. For example, you can use rattan belts for your female outfit. You also can use antique jewelry to add something that retro which can bring boho style. Boho oversized scarfs also could be a choice to ready up your winter outfits. Mix and match the accessories if you want to create a boho-chic style on your female winter outfits.
Boho Chic Style With Bootcut Pants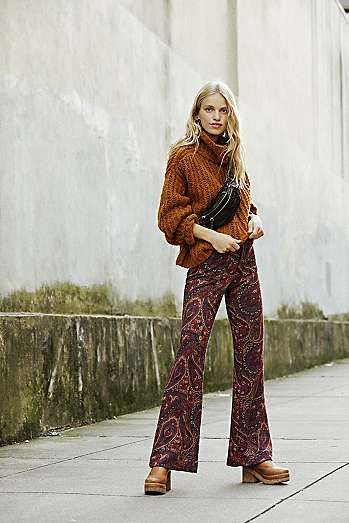 Bootcut pants would bring a contemporary vibe into your outfit. Choose printed bootcut pants and pair them with brown turtle neck sweaters give boho-chic style for female winter outfits. Getting brown leather ankle boots would ankle your boho-chic outfit style get perfect.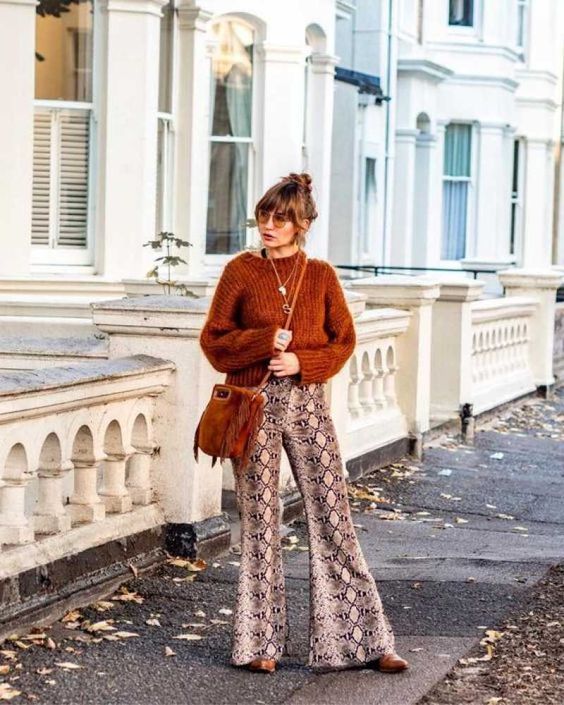 You also can use animal print bootcut pants as your choice to mix your brown sweater for creating a cozy boho-chic style for female winter outfits. Complete your style with a fringed leather bag and you can be ready to hang out with your friends.
Denim In Boho Chic Style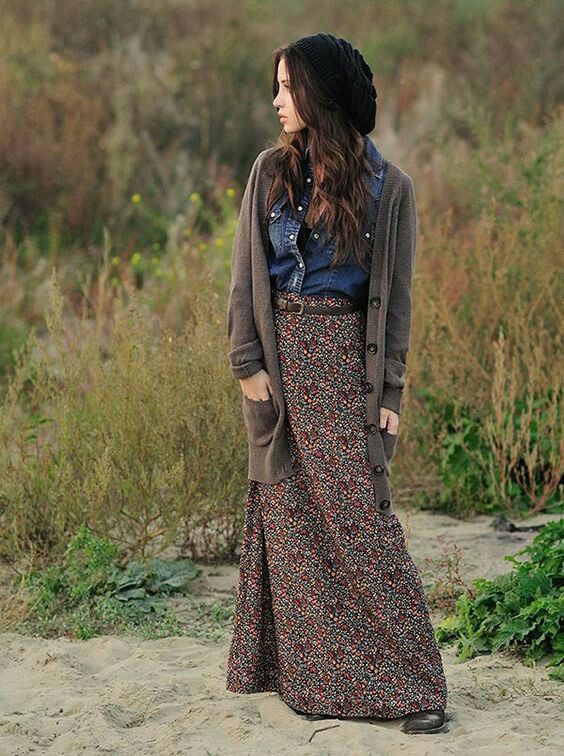 As denim lovers, you can make another style with this by making it more fashionable with a boho-chic style in your female outfits. To create outfits for the winter season with denim, you can try to wear a denim shirt with a cardigan and maxi flower skirt. Maximize your outfit by adding a knit beanie hat and leather ankle boot.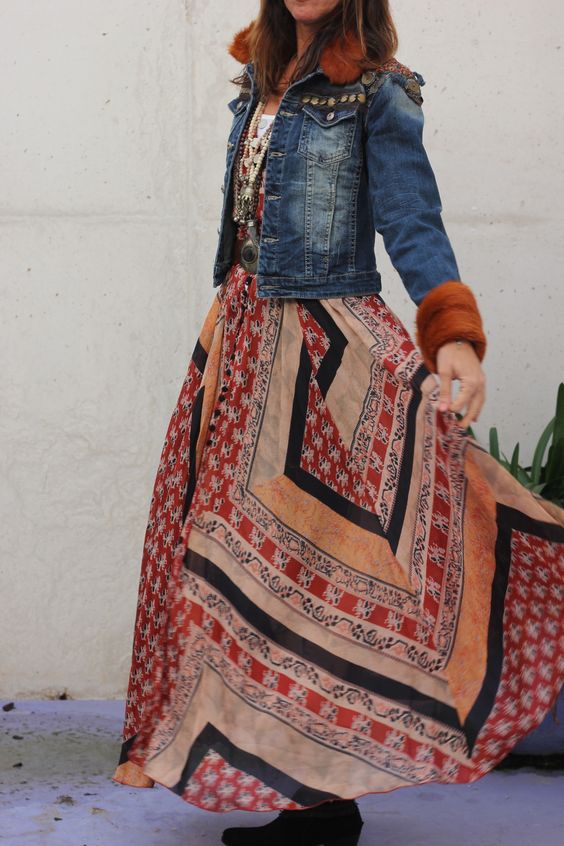 Some another way to use denim for a boho-chic outfit style, use it as a winter jacket. Matching your denim jacket with a boho maxi dress and you will get new style into your female winter outfit.
Stylish Mini Dress In Boho Chic Style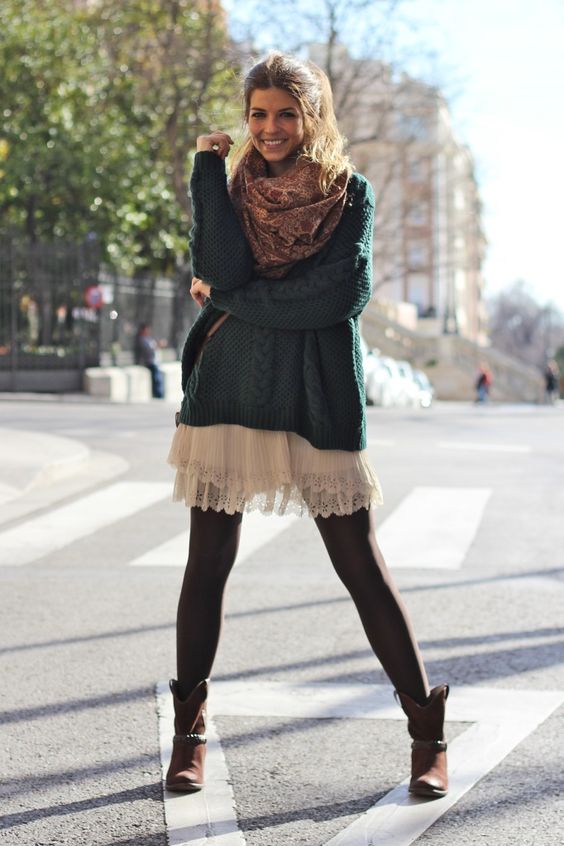 If you have some mini dress and want to use it as your winter outfit, try to make it more fashionable for your winter outfit ideas as a boho-chic outfit style by combining it in the right way. Layering your white lace mini dress with a green sweater and use legging at the bottom. Making this outfit more boho style with ankle leather boots and a scarf.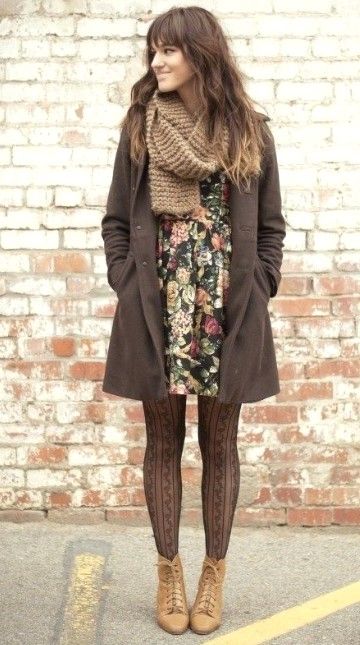 Another option you can choose a floral mini dress that's covered by a woolen coat and complete it with stocking legging. Don't forget to add army boots and a scarf to style your winter outfit more look like boho chic.
Culottes to Draw Vintage Boho Style
Make various into your female outfits using navy culottes and brown crochet sweaters to bring boho-chic style for female outfits. Wearing it together with maroon leather ankle boots and a cowboy hat. This brings a vintage aura that can represent boho in your female style.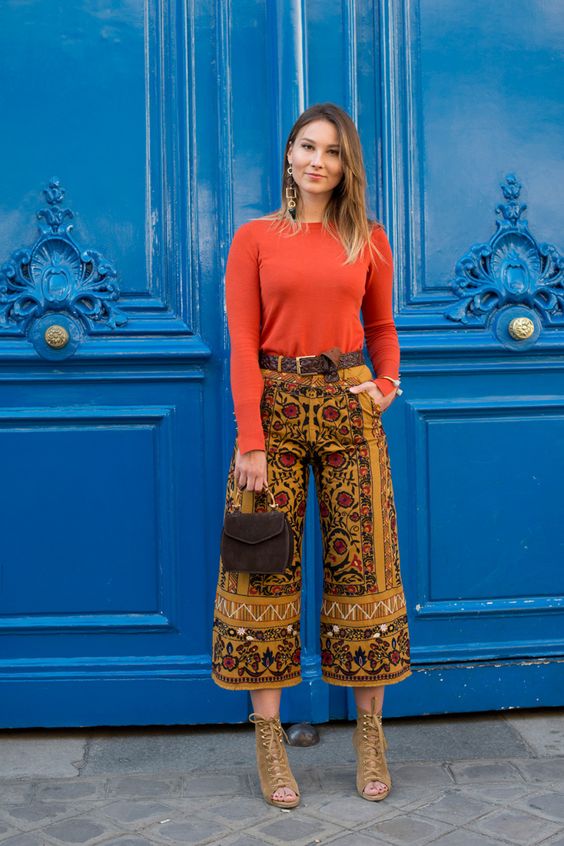 Besides that, you can make a boho-chic outfit style using burnt yellow floral printed culottes that combine with orange long sleeve sweaters. Give some details such as leather brown shoes, mini bags, and rattan belts to make your female boho-chic outfit more stylish.
Oversized Scarf to Bring Boho Style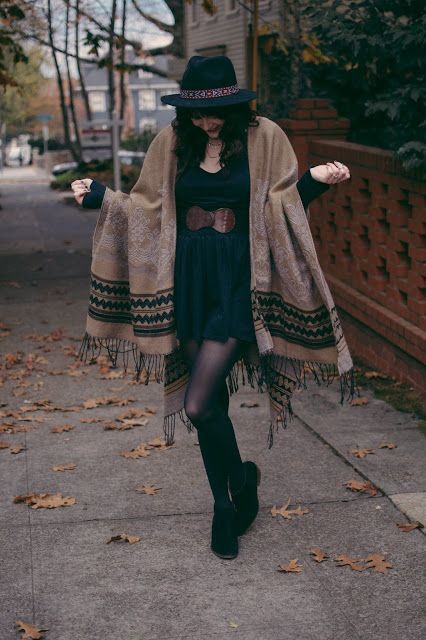 Find the perfect vintage and on-trend fashion style using boho oversized scarfs. You can make it as a shawl that covers your long sleeve mini dress. This actually would bring you to retro boho-chic style with a cowboy hat and black desert boots.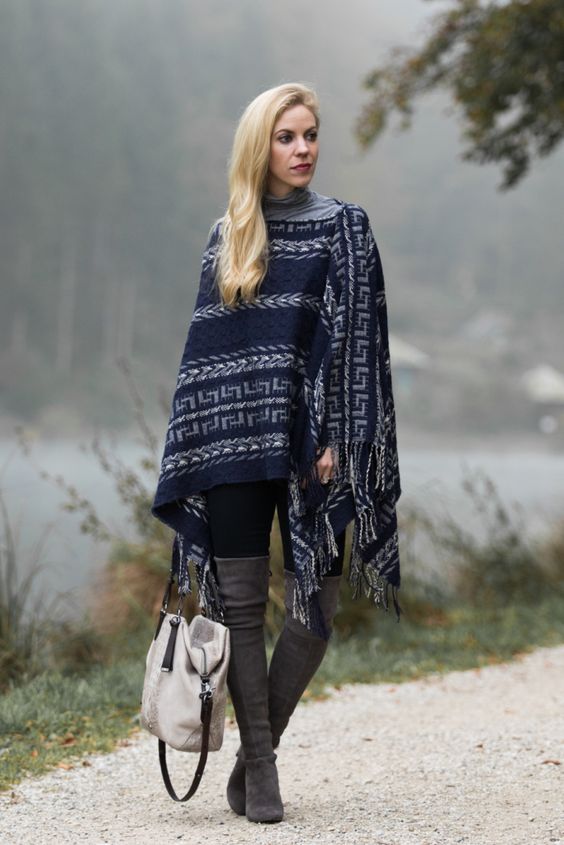 Oversized tribal scarfs also could you use as a cardigan over your tight turtleneck. This way would deliver a cozy boho-chic style into female winter outfits. Make sure to give some space on your arm to make it more comfortable. Develop your outfits more stylish using black skinny jeans and tight high boots.
Monochrome Boho Chic Style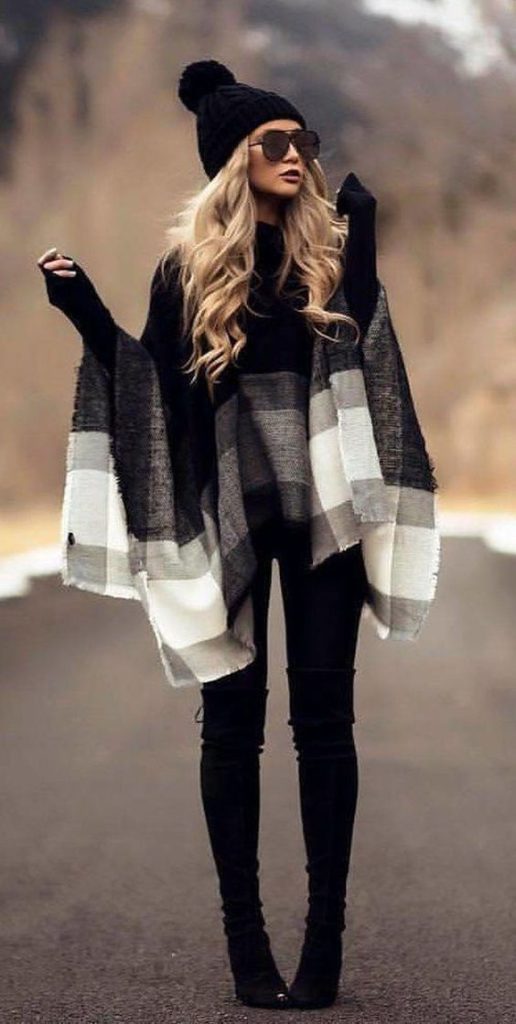 Either who want simple outfits or want to look fashionable could try monochrome boho-chic style into their female outfit during winter. Styling your monochrome oversized scarf with black long sleeve turtleneck sweaters and skinny jeans. Pairing tight high boots and beanie hats could make your appearance look cozy and boho-chic at once.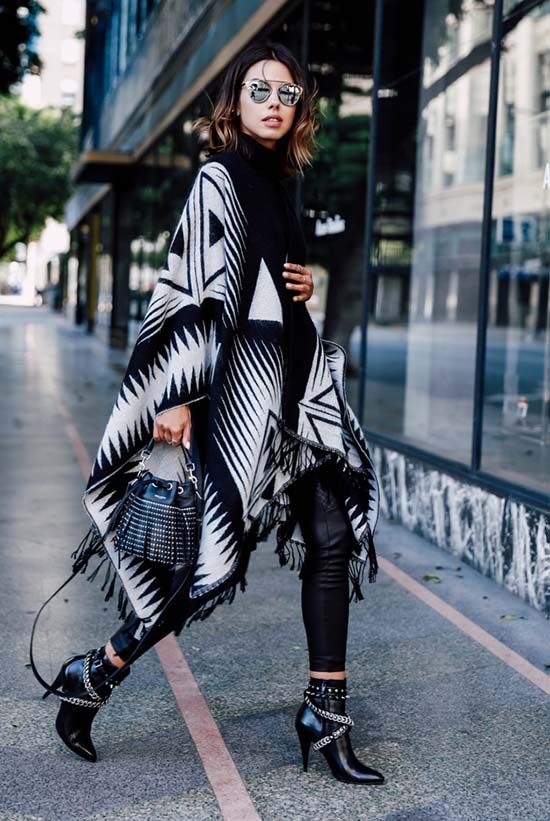 Monochrome boho-chic style also could make you seem like a cool girl with black leather pants, turtle neck sweaters, ankle boots, and an oversized monochrome tribal scarf that you wear as a shawl. Give an extra chic style to your outfit using sunglasses and a leather mini bag.
Tie-dye Technique In Your Outfit Style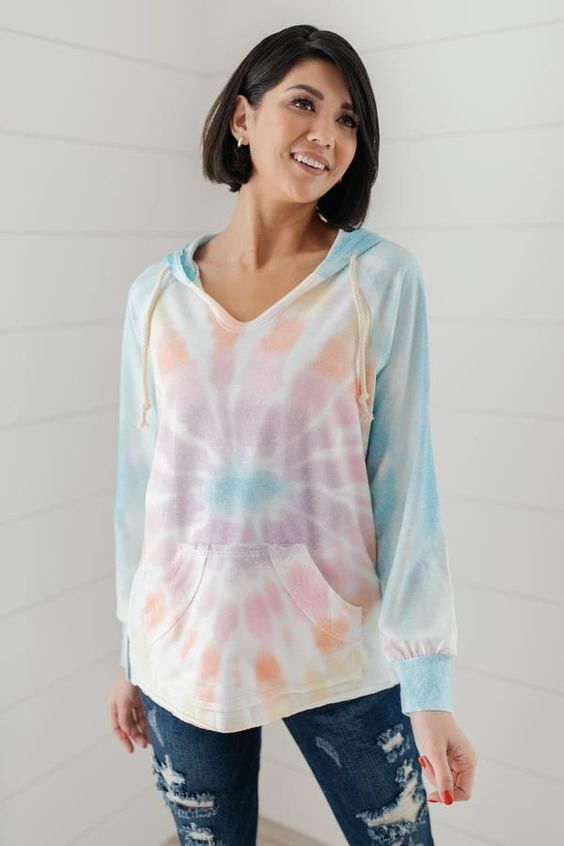 Nothing is better than hoodies as a cozy winter outfit. Try to add a boho-chic into your hoodie with tye die colors that bring casual and chic modest into your female outfits. You also can wear it with ripped jeans that would impress boho-chic more in your outfit style.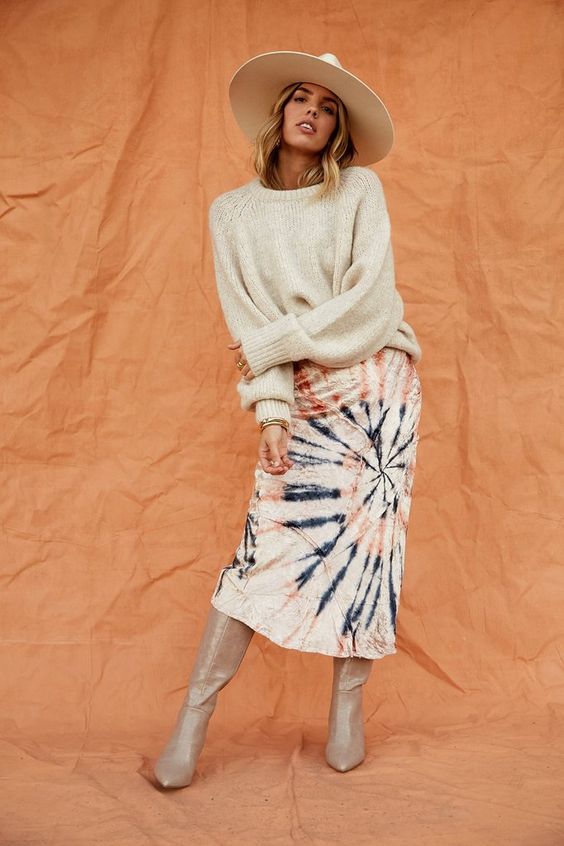 Bring tye-die colors into your midi skirt to represent boho-chic at your outfit and combining it with sweaters would produce a cozy or fashionable in your winter female outfits. MIxing up with a cowboy hat and leather knee boots to obtain boho-chic country style.
Boho Chic Winter Outfit Style in Skirt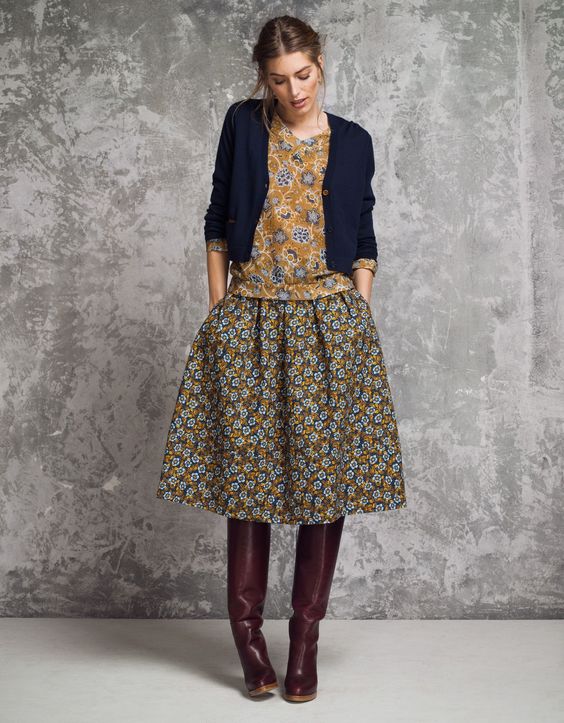 We all know that bohemian has a unique and natural pattern such as a floral pattern. You can apply this pattern to your winter outfits either the top outfits or bottom outfits. Mix and match your winter boho-chic outfits with a different floral pattern on your shirt and mini skirt. Getting thigh-high boots as the final detail to fulfill your bohemian style. Implement neutral and natural colors like broken yellow, navy, and maroon.
You can give another pattern like a tribal and use bold colors like maroon in your skirts that's featuring with dark brown sweaters to draw your boho-chic outfit style. Exaggerate your boho-chic outfit style by giving a fringe belt, tie-dye scarf, and pair it with black knee boots.
Boho Chic Style in Crochet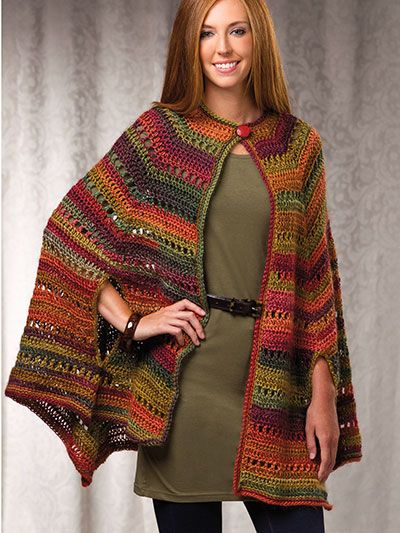 Crochet is a material and style that's common to use in bohemian fashions. You can wear a crochet cardigan to bring boho-chic style to your female winter outfits. Matching it with anything in your wardrobes such as skinny jeans and a long t-shirt. Choose a colors combination that would make your style look more bohemian such as warm tone colors.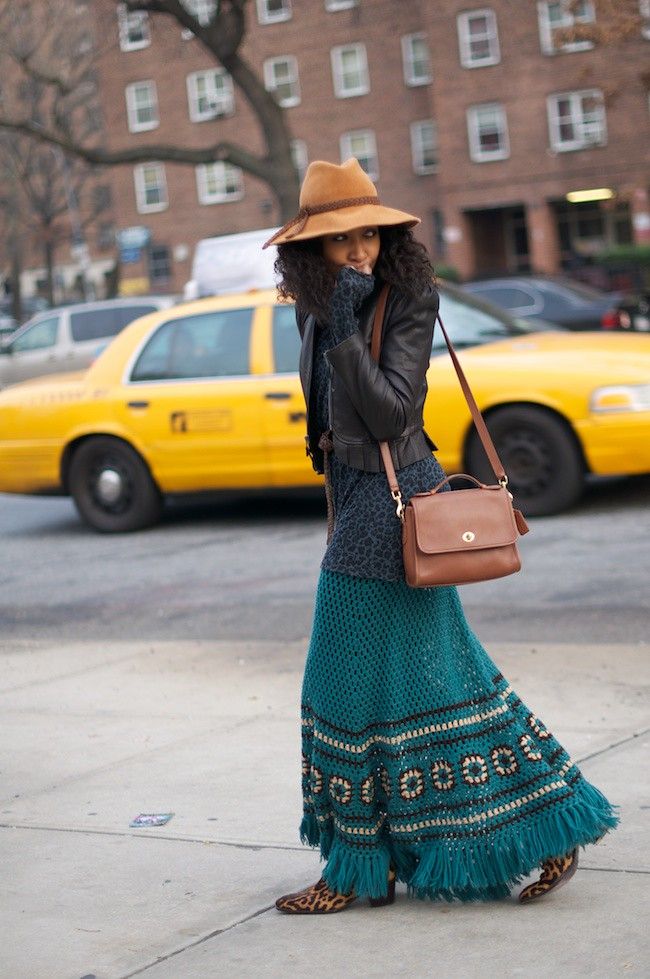 Besides using crochet as a cardigan, you can style it as a maxi skirt. Pairing this kind of skirt with animal printed long sleeve sweaters and leather jackets would be stunning for your appearance. Having a brown leather bag and animal printed shoes gives an additional boho-chic impression to your winter outfit.
Oversized Fur Coat in Boho Chic Style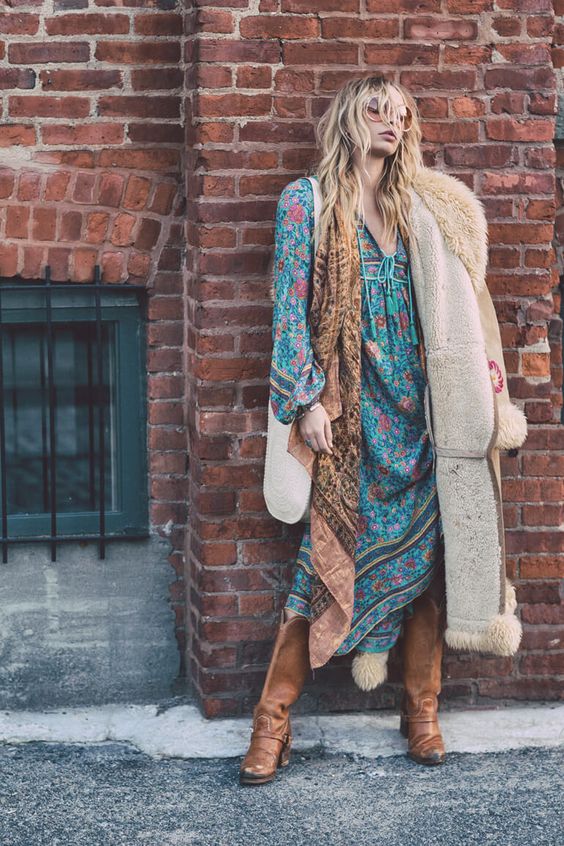 If you want to stay comfy and fashionable in winter, try to use oversized fur coats that combine with something to draw boho-chic style like a floral maxi dress. Get scarf and brown knee boots to more exaggerate your boho-chic image.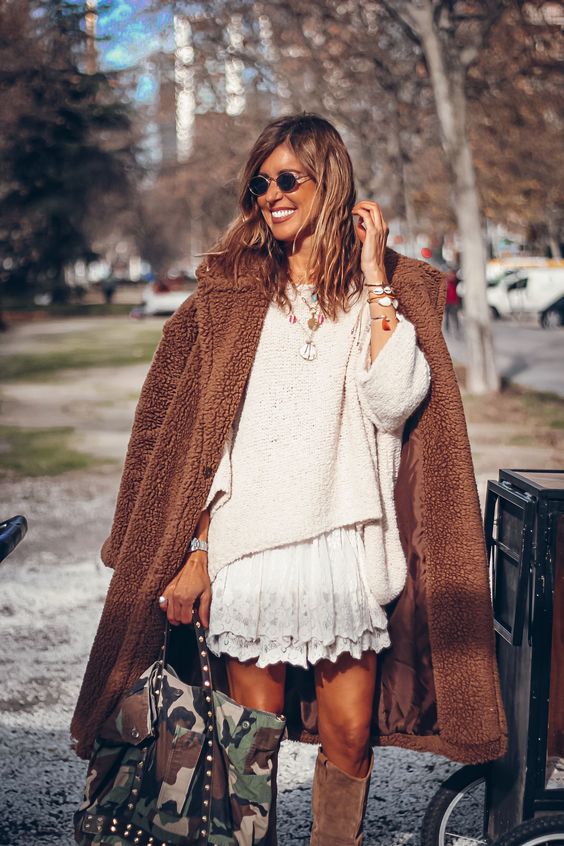 You also could pair it with a lace skirt and sweater. This would bring a contemporary and retro style that's comfortable in the fall or winter season. Wear knee boots and grab some accessories such as bohemian jewelry and an army tote bag to provide boho-chic style.
Patchwork Design In Boho-Chic Outfit Style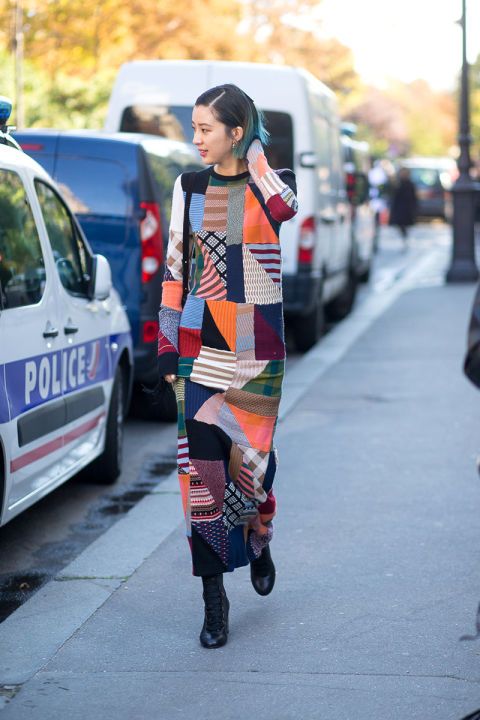 As you know patchwork fabric that's inspired by hippies and boho-chic style now is used for creating all kinds of outfits even for female winter outfits. Comes in assorted colors and patterns make this style unique and you can adjust it in your winter boho-chic outfit style. Applying patchwork patterns in your sweater maxi dress would make it more cozy and fashionable at once to use in the winter weather.
This style also works to use in your parka jackets. Styling this jacket with black skinny jeans and white army boots would carry boho-chic style into your female winter outfits. You also can try to combine some boho patterns and colors in one outfit. This also needs your creativity to make the boho-chic style become fashionable to use during winter.