Olidfashion.com – Bomber Jackets are old-fashioned in fashion design and have been known as military-style from the first world war. As military uniforms during the war, bomber jacket style has become an icon and today's trend that's essential for men's outfits. Although the original is made from leather and has formal look, today we can find plenty of bomber jackets that's look casual and formed from different materials to become your men's outfit ideas.
What is Bomber Jackets and The History
In the beginning, the bomber jacket was used for flight armies as their uniforms in the war. When they need something warm and have good durability to wear for the pilots during World War I, they start to produce this jacket. At the time, the plane has no enclosed cockpit so that pilots were highly needed it to keep them warm in airplanes while they flew high. Furthermore, the U.S Army and the Aviation Clothing Board used it as their formal uniform. Another type of bomber jacket was produced during World War II. They introduced the B3 bomber jacket which betters for the pitot because of using sheepskin as the material.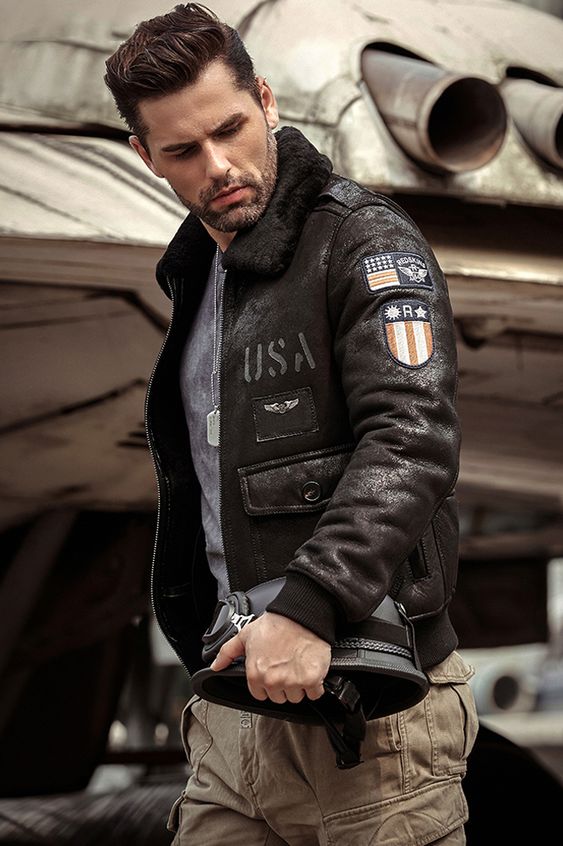 As time goes by, this jacket starts to wear by civilians and M-1 bomber jackets are the favorite ones. For the information, Europe is the one that adopts this jacket first for men's outfit style. It's come from the emergence of a subculture in the 60s up to the early 80s. Nowadays, bomber jackets become an essential part to style your men's outfit outstanding cool.
Styling Your Bomber Jackets To Become Fashionable Outfit Ideas
We all know that the bomber jacket is initially a flight army uniform and worn by military pilots. Though at the first it's designed to make the pilots keep warm in the colder temperature, today the bomber jacket stands iconic in men's outfit style. The jacket is made not only from sheepskin but also from leather, nylon, polyester, and others. It's also designed in various styles to make your man's outfit look more fashionable. Whether it's summer, winter, fall, or spring, carrying bomber jackets style in your men's outfit idea wouldn't fail at all.
Casual Style in Bomber Jacket Outfit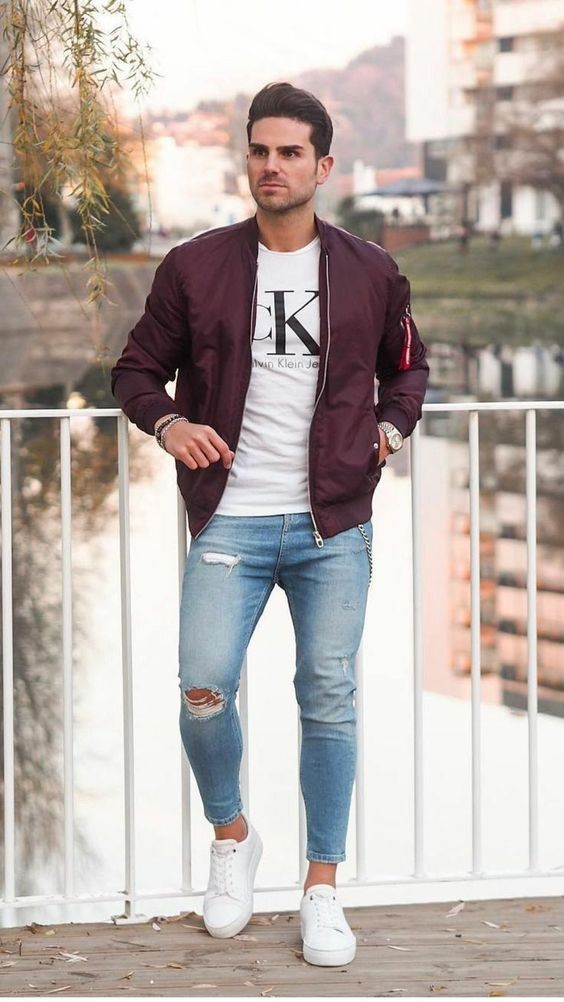 When you wear polyester bomber jackets with some other outfits like a t-shirt and jeans, this truly would make you look casual. Having additional casual footwear such as sneakers can perfect your men's outfit.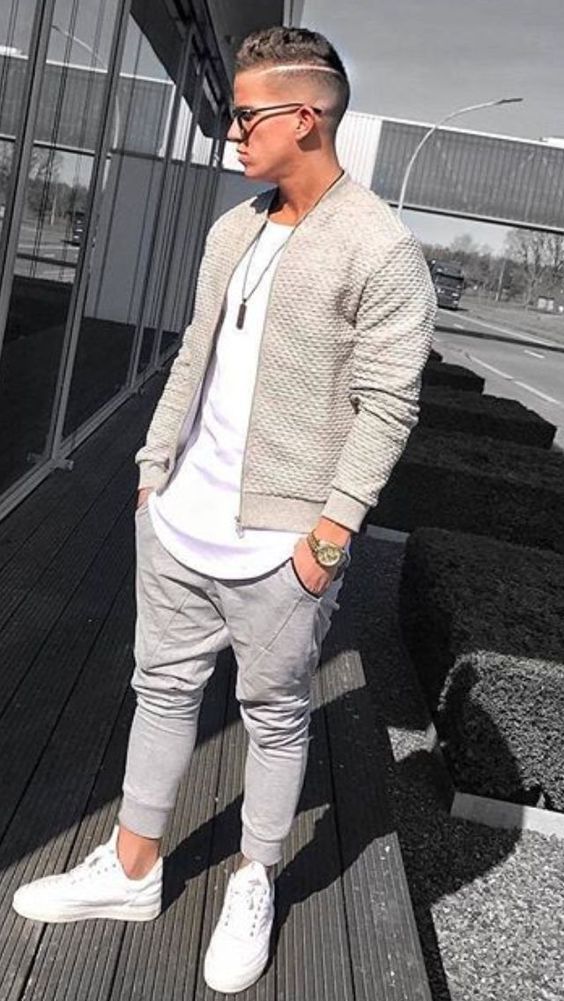 This jacket is also good to wear with sweatpants and sneakers to bring a casual aura to your men's outfit idea. Don't forget to add simple accessories such watch and sunglasses to make you ready for going out with your friend.
Bomber Jackets in Business Formal Outfits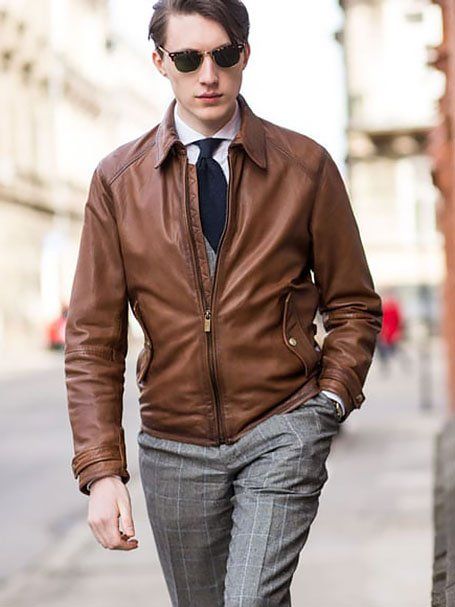 Want to create something different on your men's stylish workwear, pair your business formal outfit with a leather bomber jacket. This obviously helps you have a professional and fashionable at once in your men's outfit to wear in the office.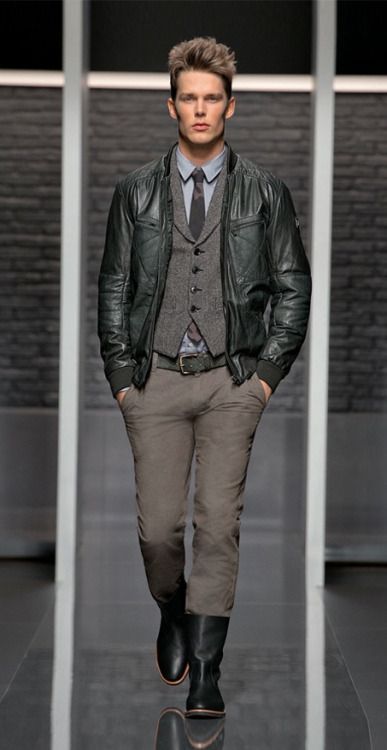 Layering your collared shirt and vest with a bomber jacket would make it seems more manly in your business formal outfit. Mixing this outfit with trousers and black leather boots for the bottom wear would make your bomber outfit style excellent.
Baseball Jackets is Sporty Bomber Jackets Style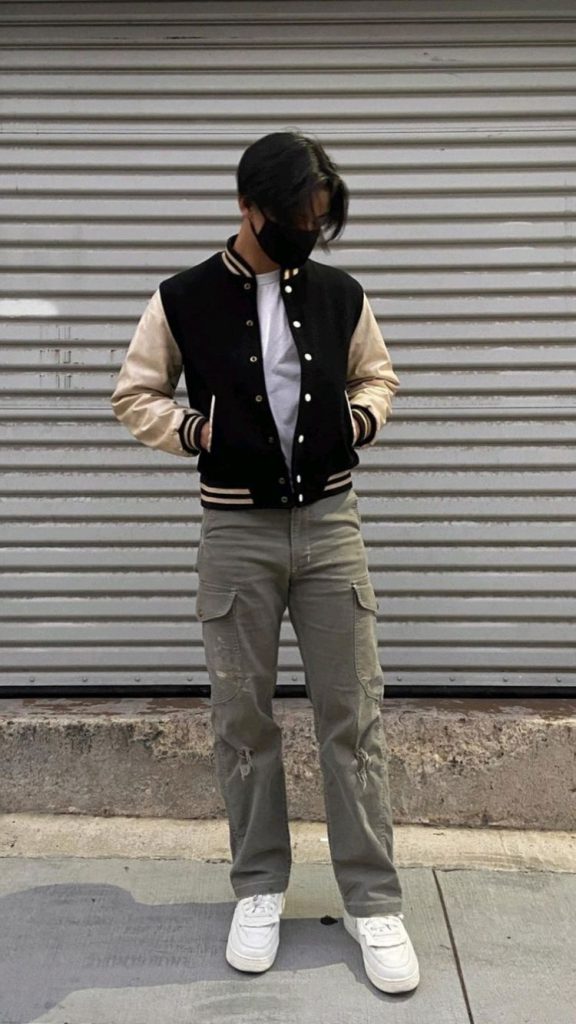 The bomber jacket has developed designs for daily outfits and one of them that we know is the baseball jacket. Using this kind of jacket would bring a sporty theme to your bomber jacket outfit idea. Commonly people try to pair it with t-shirts, sneakers, and jeans. To make it different, you could build your men's outfit by wearing a baseball jacket with a plain t-shirt, cargo pants, and trainer shoes.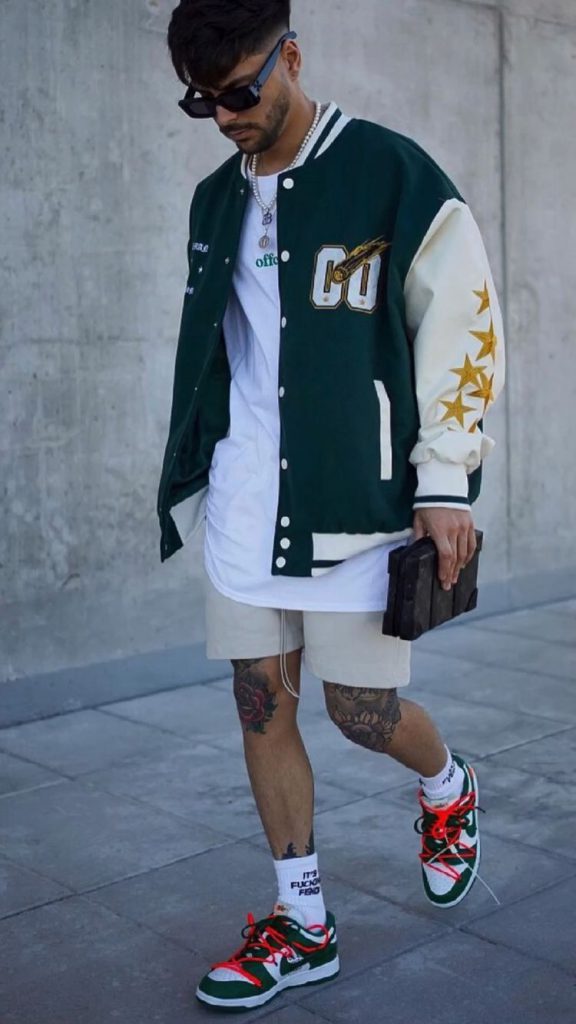 As the characteristic of baseball jackets was made to look sporty, instead of acquiring a zipper on it, they prefer to use buttons for the detail. To form it more sporty and manly, wear your green baseball jacket together with short pants, a white casual t-shirt, and then white-green trainer shoes. This would make your men's outfit style become fashionable enough.
Classy Outfit Idea in Leather Bomber Jackets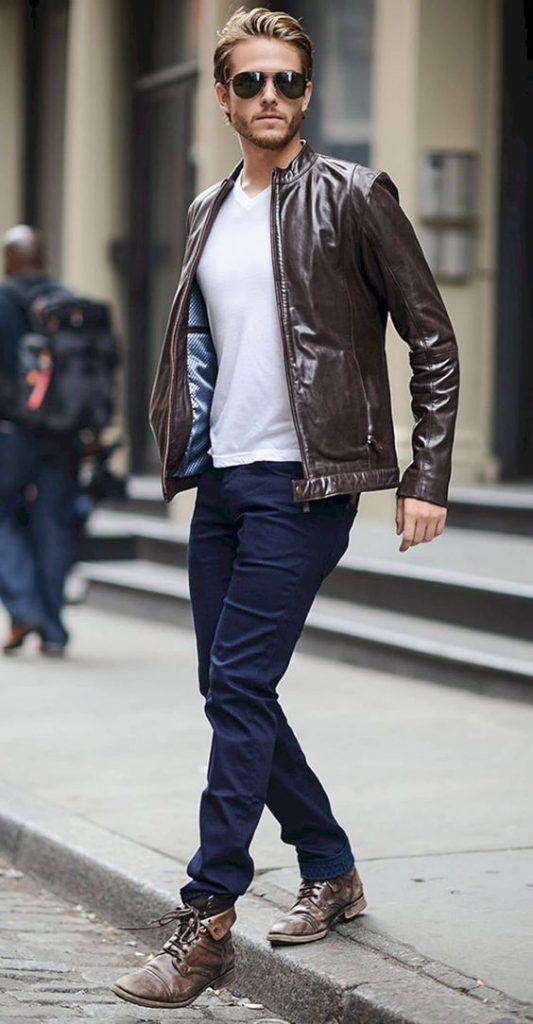 Leather is one of the best materials to bring a classy look to your bomber jacket style. Bring up this brown leather bomber jacket with a white t-shirt and navy skinny jeans as your men's outfit idea. To complete your classy style, pair this outfit with brown leather boots and give sunglasses as the accessory.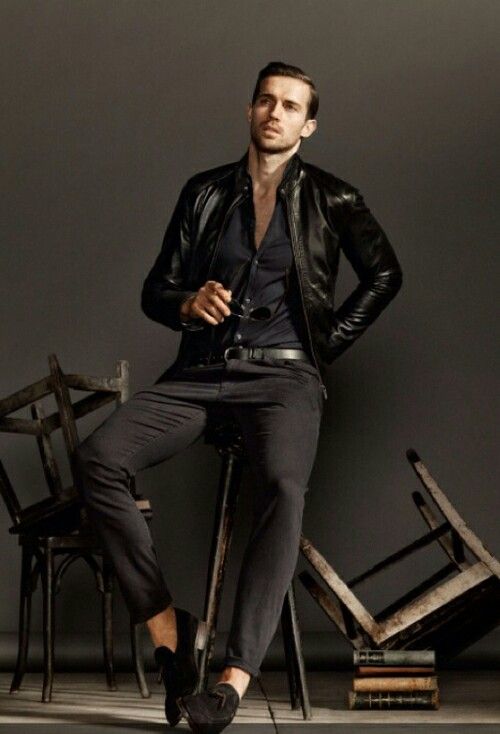 Another way to draw a classy and luxurious glance in your outfit style with a bomber jacket, you can wear this jacket with a collared shirt and jeans. Choose black as the basic color shade of your outfits. Perfect your men's outfit by choosing black ribbon pump loafer shoes as your best footwear.
Manly Look with Camouflage Bomber Jackets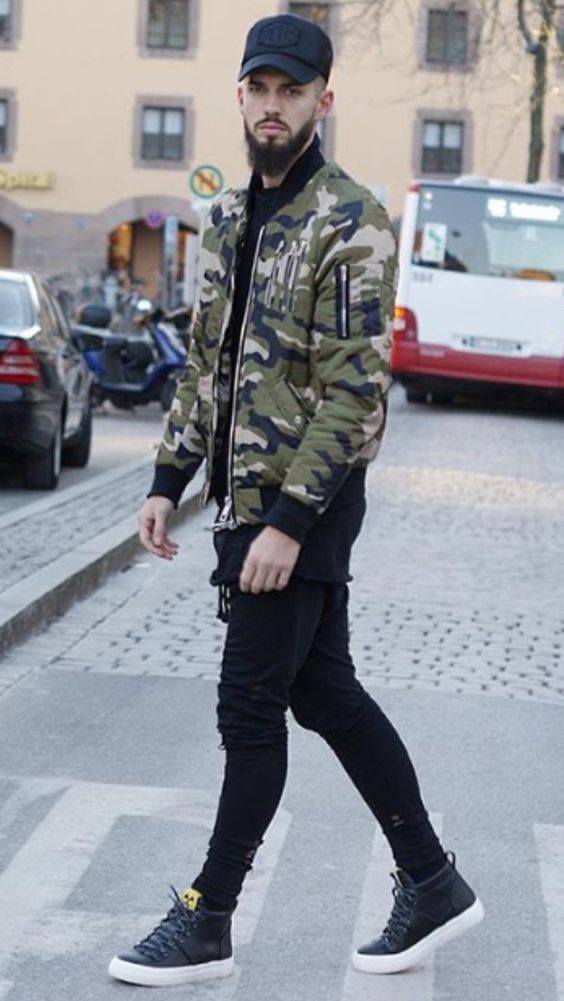 Camouflage prints would give a manly and military vibe to your bomber jacket style. Pairing it with black outfits such as a black long t-shirt and skinny jeans will make you seem more attractive. Having it together with black trainer shoes and hats would improve your presence more fashionable.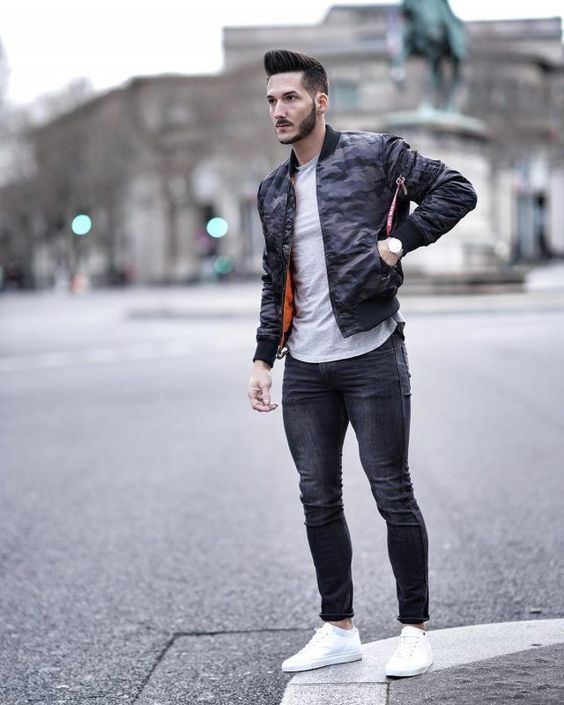 In the same jacket style, you can make a different view by choosing a grey basic color in your camouflage jacket and then wearing it with a light grey t-shirt. Complete it all with jeans and white sneakers for the bottom of your men's outfit.
Winter Outfit Style with Puffer Jackets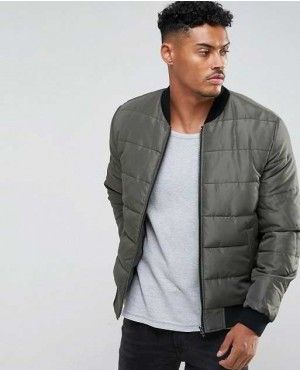 The puffer bomber jacket for men's outfits is great to wear during the winter season. It would comfort and keep you stay warm when you do the activity outdoor. This is truly the best men's jacket in the colder weather.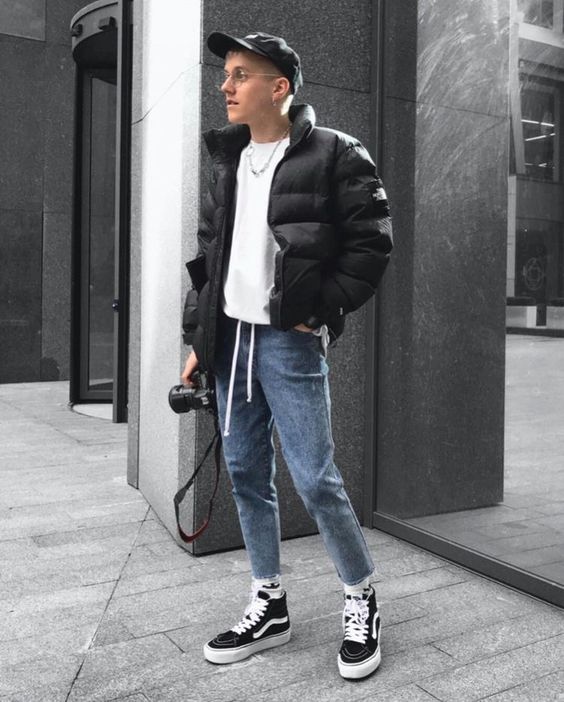 Besides helping you to keep warm in the winter, when you can choose this bomber jacket style in the right color and design with today's trend would make your men's winter outfit more fashionable. Matching your black puffer jacket and white shirt together with jeans. Complete your men's winter fashion with black-white sneakers and then also put on a black hat for the accessory. Using this outfit would make you ready to do your hobby even in the cold temperature.
Trendy Outfit Style in Denim Bomber Jackets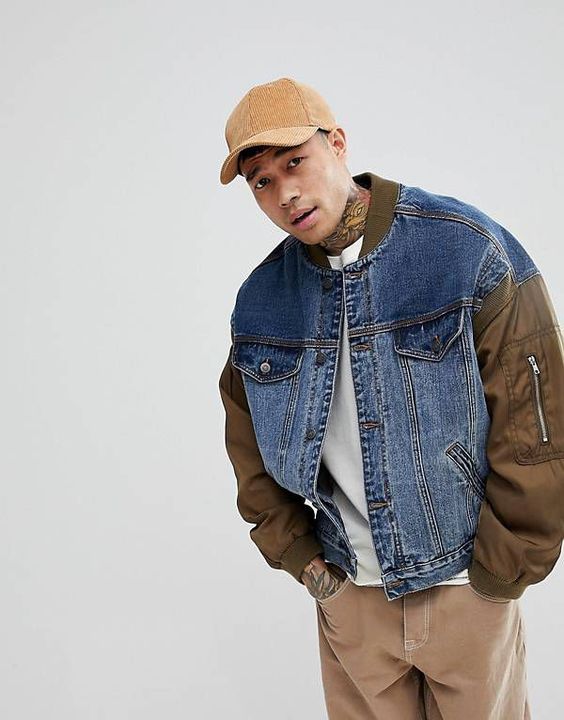 Denim is good for styling your outfit to become more trendy. Using denim as could help to improve your outfit better. As a denim lover, you can modify this outfit to become more fashionable by infiltrating this element as your bomber jacket style idea.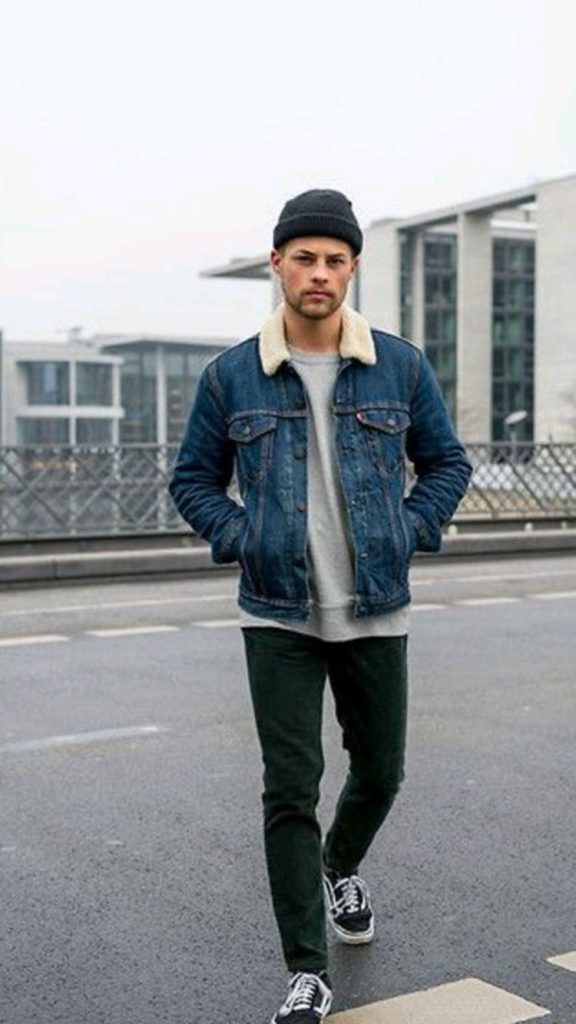 Denim is easy to make mix and match to your other men's outfit style. Wear this kind of jacket with jeans and a t-shirt for a casual and trendy style. Make it complete with the trainer shoes and beanie hat to create it perfect for your fall or the beginning of winter outfit.
Hoody is The Best Combos for Your Bomber Jacket Style Idea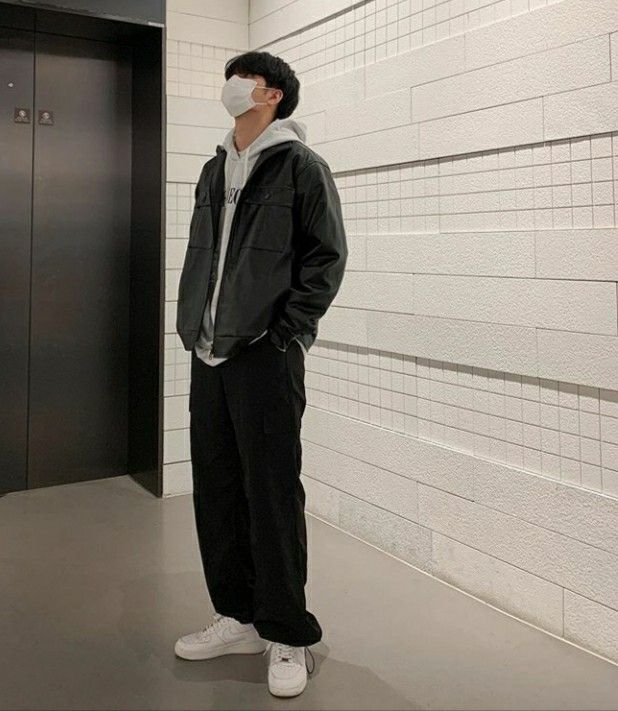 Hoody and bomber jacket would become the best combo in your men's outfit idea. Pairing it together would make it comfortable and good enough to wear in the winter or fall. For inspiring men's outfit style, you can try to mix this outfit with oversized cargo pants and trainer shoes to help you stay warm and stylish at once.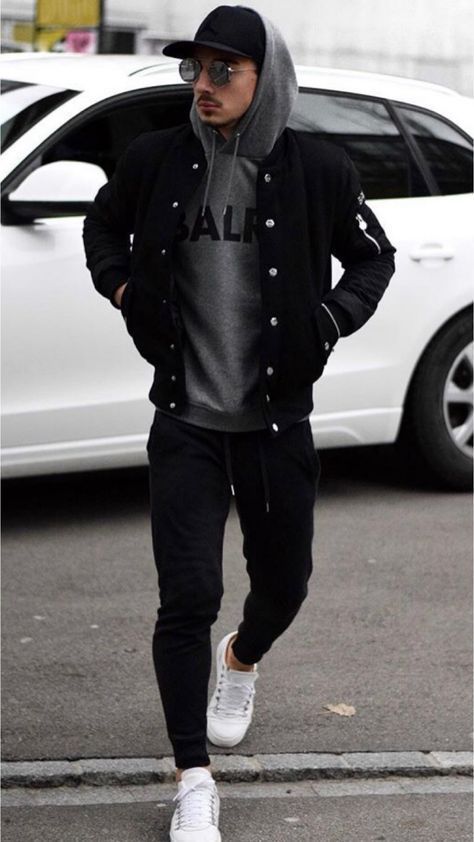 As another option, you can mix your hoody and bomber jacket with sweatpants and sneakers. This also would help you look more casual but still fashionable enough to wear when you have outdoor activity. Have a more stylish image by sporting a hat and sunglasses.
Suede Bomber Jacket is Smart Casual Outfit Style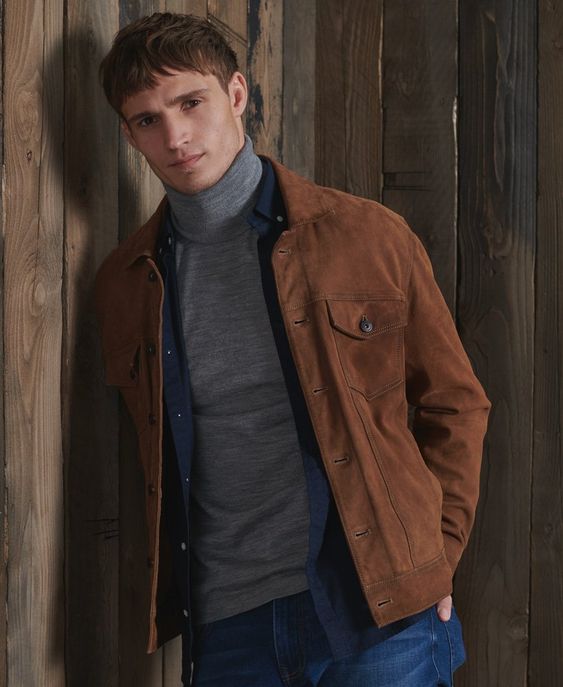 Suede is a high-quality fabric that would help you get a smart casual accent into your men's style ideas. This is genuine could make your bomber jacket style become more fashionable. Having the soft texture with neutral colors like brown in your outfit would show off your smart style. You can wear your suede bomber jacket with the turtleneck sweater to change it as your smart-casual winter men's outfit.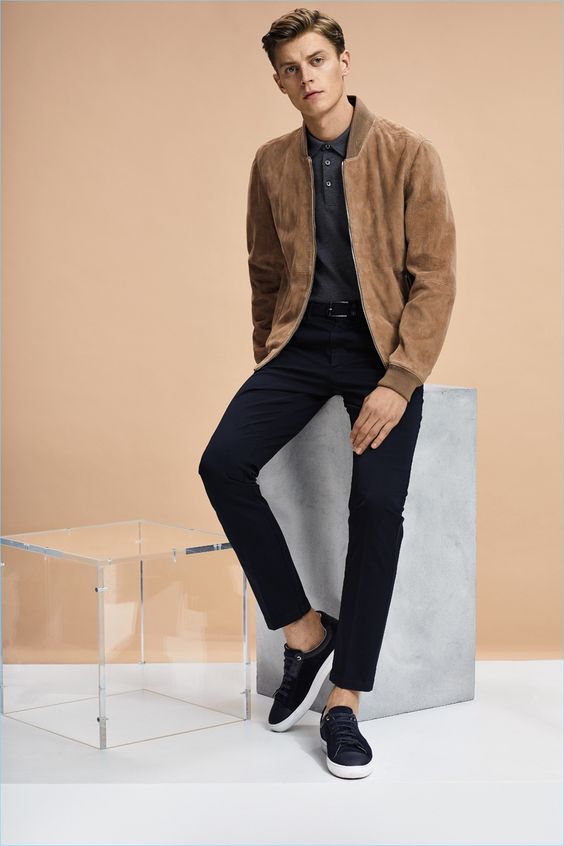 Having this jacket together with a polo t-shirt, black jeans, and sneakers would bring a preppy look to your smart-casual outfits. This outfit is suitable to wear in the summer or fall season.
Best Outfit Style in Oversized Bomber Jackets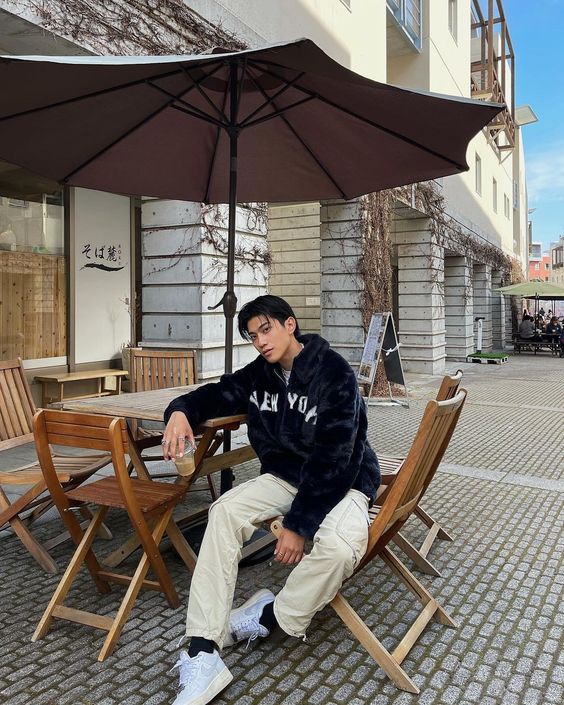 Oversized outfits have become a trend today among teenagers. For the oversized bomber jacket style, if you can find the right way to use it this would become fashionable enough. Many styles and materials you can choose to fit on your men's outfit in this oversized design. For example, you can choose fur oversized bomber jackets with cargo pants and trainer shoes to make it become the best outfit on Christmas eve to spend time with your friend.

If you want to have a simple style, mix your oversized bomber jackets with a hoody and sweatpants. This would make you comfortable and warm enough. You can make it as a simple winter outfit in your wardrobe.
Vintage Outfit Style With Bomber Jackets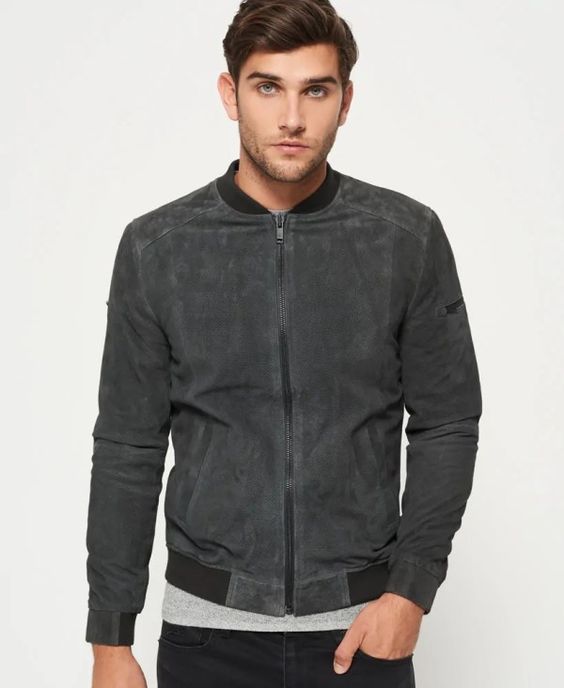 To make a retro and vintage feel in your outfit style, try to wear worn bomber jackets. For adding this nuance, you can decide to pick shabby black suede bomber jackets into your men's outfit.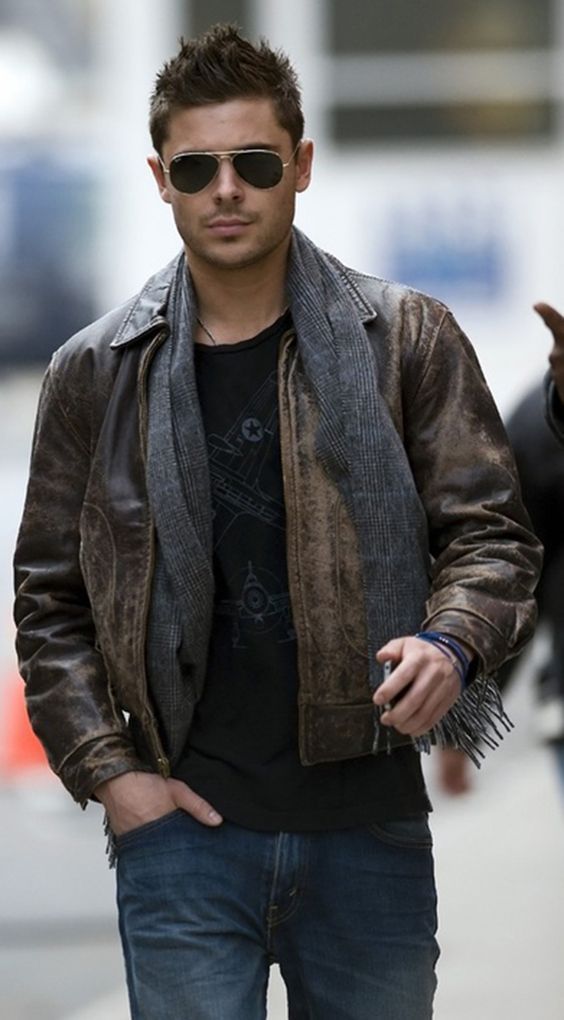 Another alternative that you can choose to make the vintage nuance in your bomber jacket style, shabby brown leather jackets could be the best idea. Rather than give crappy look to your men's outfit, this jacket can show retro style and help you to throwback in the old style but still trendy. Styling it with your jeans and a black t-shirt and then giving a little detail with the knitted Syal and sunglasses would perfect your appearance.
Men's Outfit Idea With Patterned Bomber Jackets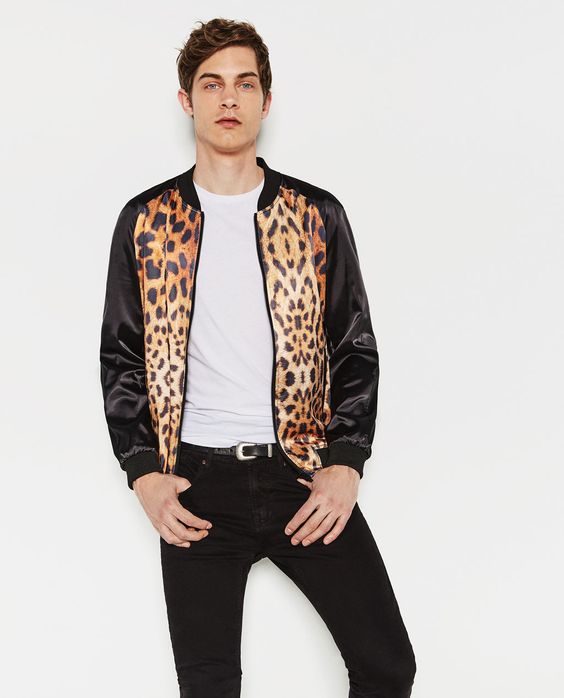 Look unique and different by styling your men's outfit using patterned bomber jackets. If you won't see plain in your outfits, but still want to become simple enough without using any accessories just choose this jacket as your outfit idea. There are some patterns you can choose like animal patterns, floral patterns, or scenery patterns. If you want to have classy and luxury style, choose a leopard pattern in your bomber jackets style. Pair it with a simple outfit such as a white t-shirt and black jeans and you will get a stunning look.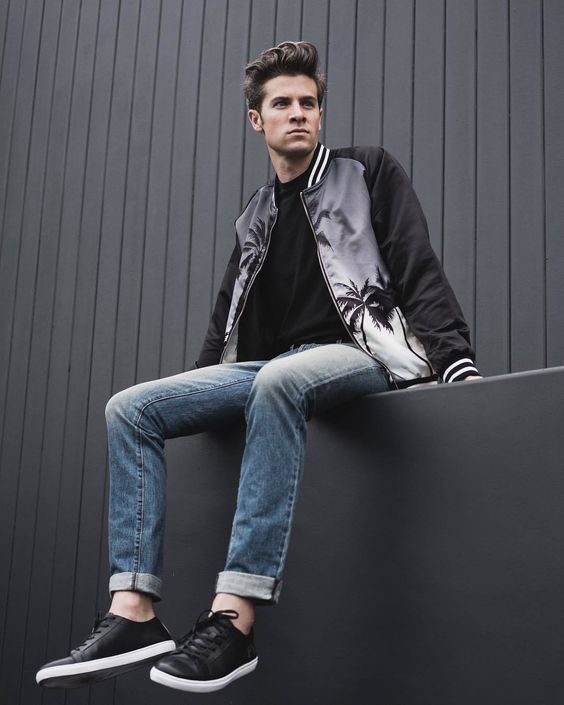 To look more casual, just choose a scenery or floral pattern for your bomber jackets style idea. Pair this jacket with a black T-shirt and blue jeans. Don't forget to wear black sneakers to complete your look.
Ankara is African's Bomber Jackets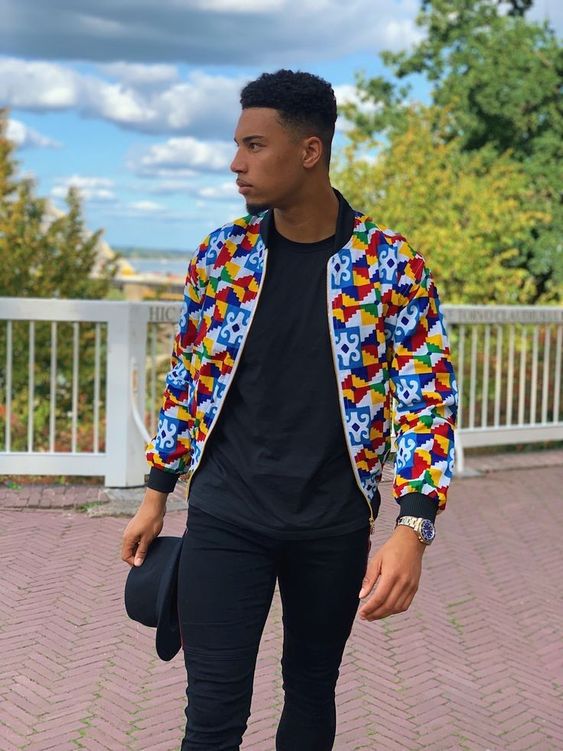 Ankara bomber jackets have a unique design by adopting African prints and fabric that would make the jacket more trendy and look African. Having an exotic pattern, color, and design makes it great to wear for a casual event which doesn't need to wear formal and conservative dressing. You can wear this jacket in diverse ways such as featuring it with a plain black T-shirt and skinny jeans. Complete your bomber jacket outfit idea with a fedora hat and simple accessories like a watch.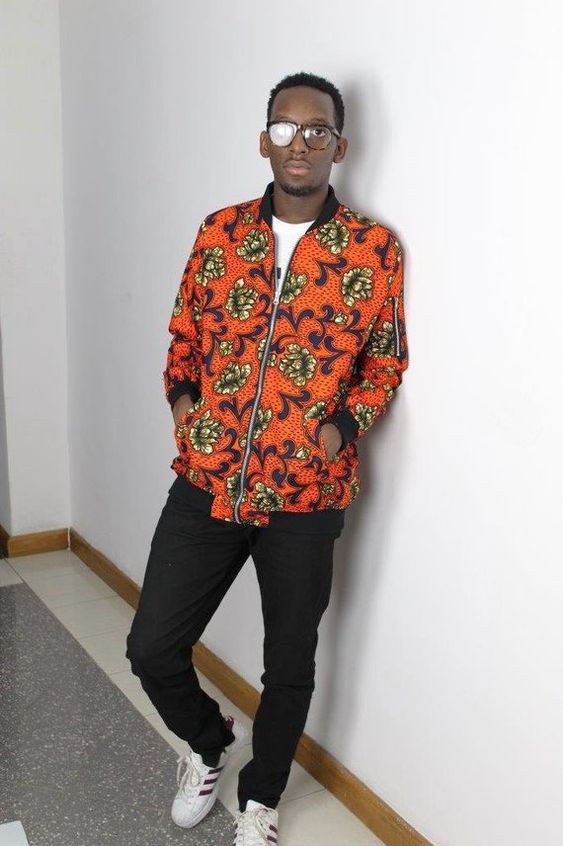 If you want to move away a bit from common style, try to wear Ankara bomber jackets with eye-catching colors like orange. Wearing it over a white t-shirt and together with black denim is the most versatile style in your wardrobe. Give the final touch by pairing this outfit with white trainer shoes and sunglasses.
Colorful Your Men's Outfit with Bomber Jackets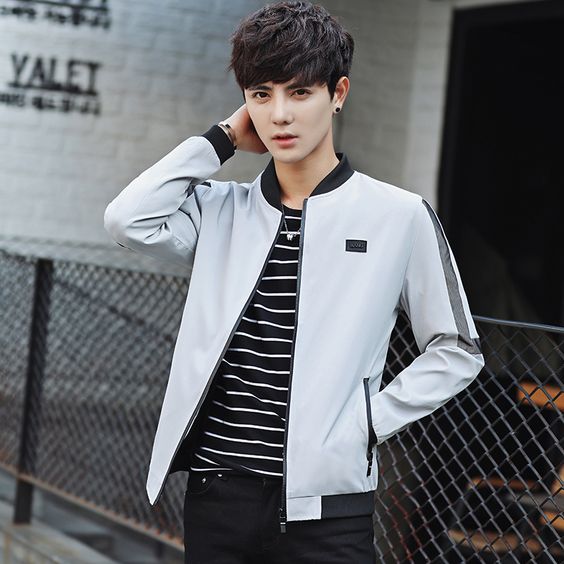 Boring with the common bomber jacket style outfit, you have to try to get a color theme on it. For example, choose a white bomber jacket. The white basic color would bring casual and pull out your calm side. Use this jacket over your black white strip t-shirt and black jeans as the bottom outfit.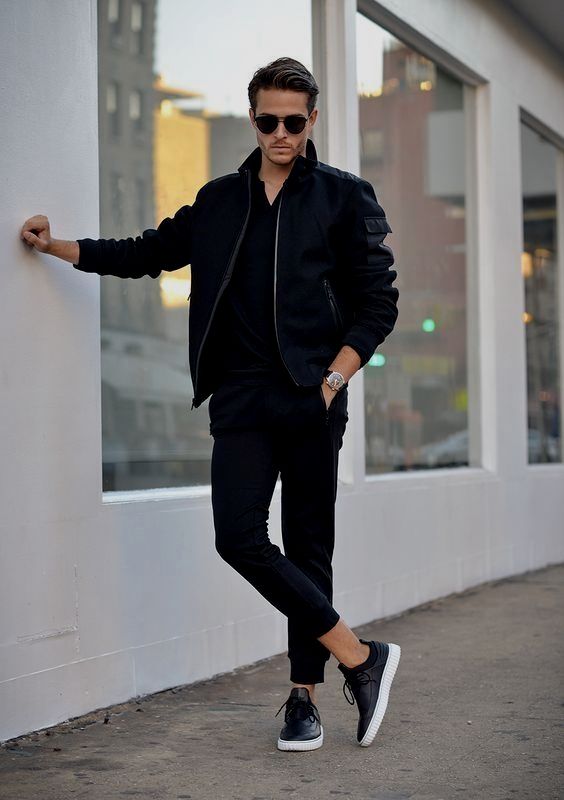 Monochrome in black is the favorite one that most men use in their outfit style. This fashion would make you look masculine and manly in your men's outfit. Choose a black bomber jacket and then pair it with also a black t-shirt and skinny jeans. Wear black sneakers and sunglasses would make your black outfit fabulous.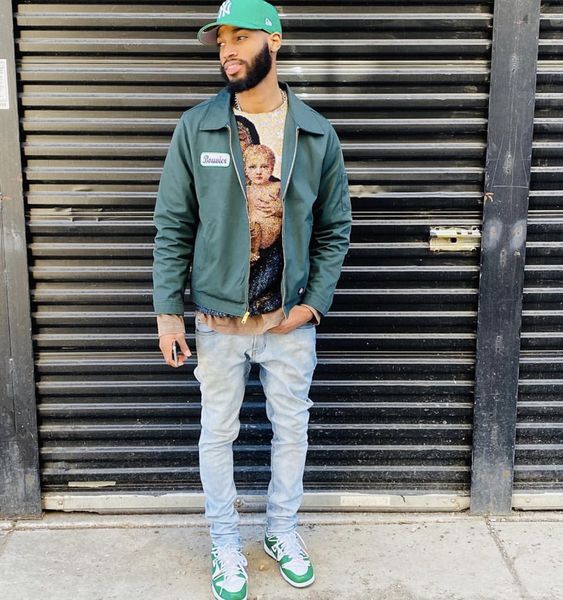 Besides that, if you want to wear something different style, considering green color in your men's outfit idea with a bomber jacket would be a great choice. Choose a collared olive green bomber jacket and integrate it with a long-sleeve cream t-shirt, blue jeans, and green white trainer shoes. Finalize your green men's outfit with a green hat.