Olidfashion.com – The fashion trend changes every season and produces fresh modes. Nowadays, baggy or oversized clothes have their appeal to develop your outfits more trendy. This style has been adopted to provide a comfy chic design on women's outfit ideas. Get these baggy clothe styles on your wardrobes to become fashionable oversized outfit ideas.
How To Create Trendy Oversized and Baggy Clothes Idea for Women
Generally, the trend comes from new things or advances from the old style. These days, baggy or oversized outfits become a trend. Many people adjust it to their outfit ideas, especially for women. This helps to obtain comfy, chic, and trendy women's outfits at once.
We find out that oversized and baggy clothes become a hype in street fashion style. Create trendy and cool looks in these clothes by selecting the best way to match them on. You can have this baggy style by using your oversized t-shirt, sweater, hoody, jeans, shirt, and others. Pair this kind of outfit with various styles in your closet. Get inspiration here for your oversized and baggy clothes ideas to make your women's fashion more trendy.
Modifying Your Oversized Shirts
If you have an oversized shirt, you can try to mix and match it with other outfits on your wardrobes such as a knitted vest, short pants, jeans, and others. Add your taste to create fashionable outfits with your oversized shirt.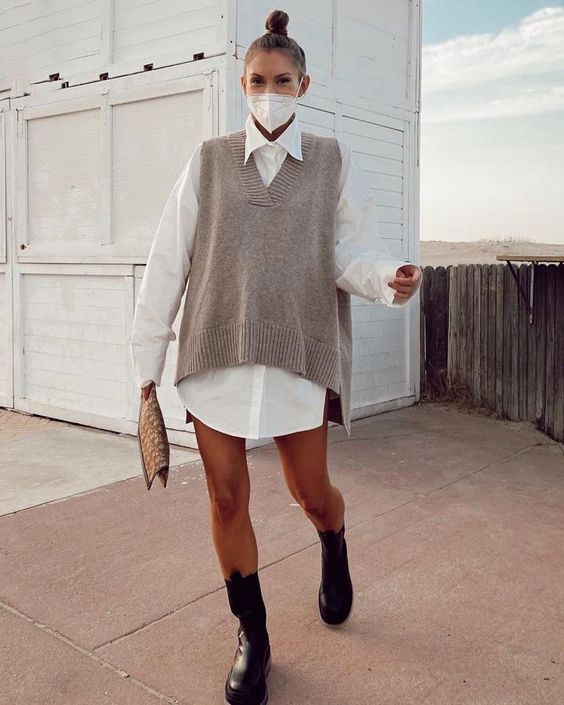 You can try to layer your oversized shirts with a knitted vest. This style would turn it totally look like a mini dress. Combine it with black leather ankle boots and a beige envelope clutch.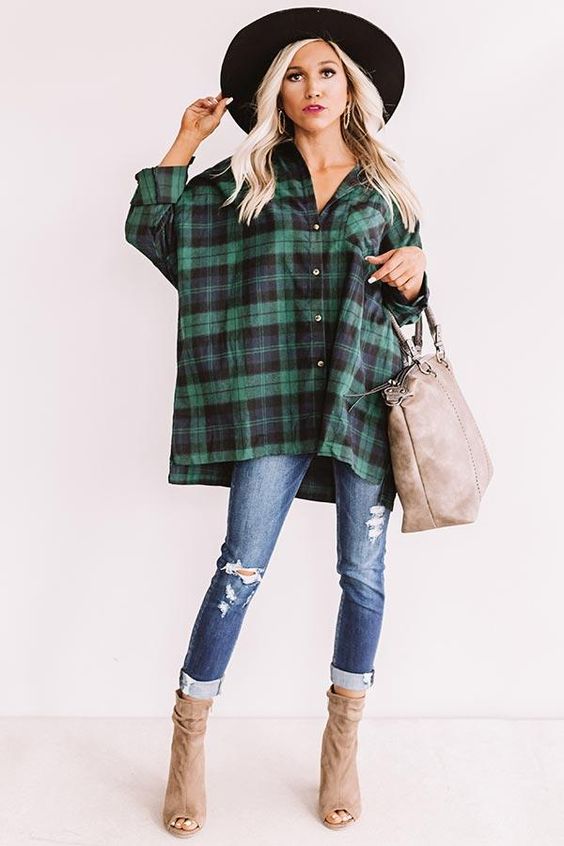 Oversized shirt and jeans are a simple combination that's never failed to bring trendy style to your women's outfit ideas. Choose green baggy flannel and then match it with ripped skinny jeans. For the accessories, put on big round earrings and a cowboy hat. Don't miss out to bring creamy ankle boots for the best footwear and a beige tote bag to fulfill your outfit.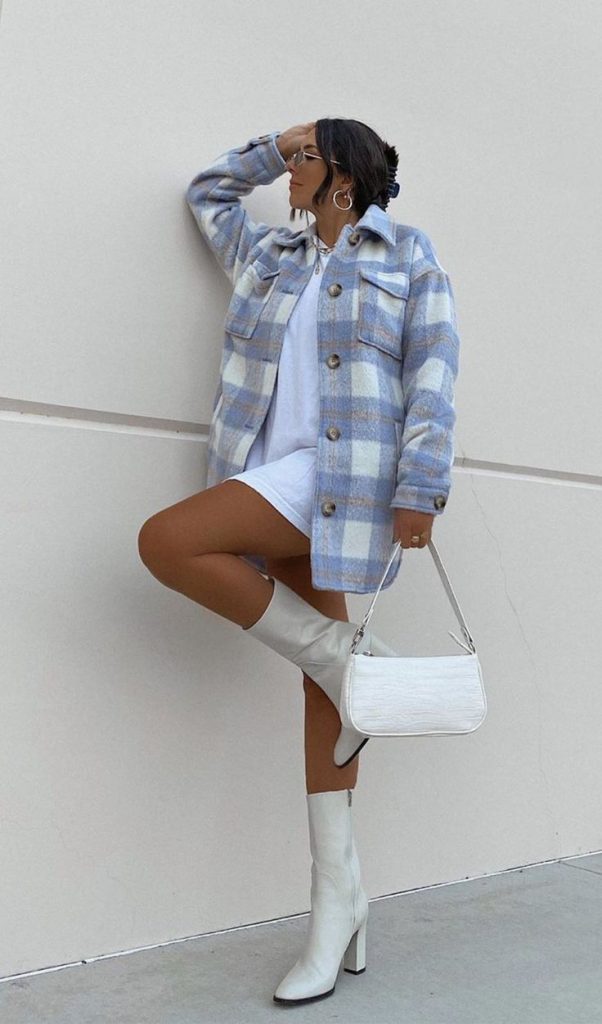 Want to bring something different on your oversized shirt, you can use it to cover your mini dress. Choose a pastel plaid flannel oversized shirt and white mini dress underneath. This also could be an option to modify the baggy shirt being a jacket. Choosing pastel color in your outfit ideas would make you being pretty enough. Complete your trendy baggy clothes idea with white high boots and a mini bag. Also, you need to have a little jewelry and accessories like earrings, a necklace, and sunglasses. This would be an inspiration for your spring outfits.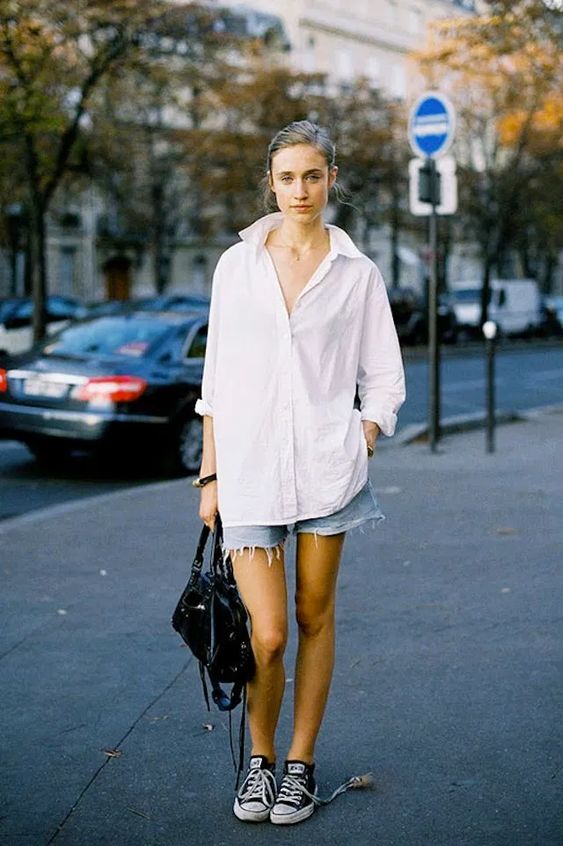 Have a simple and casual style in your oversized shirts, wear it together with short jeans and sneakers. Being trendy and effortless with this baggy clothes idea. You can adjust this kind of style for your summer outfit.
Go with Your Baggy T-shirts
Besides shirts, baggy t-shirts also become a favorite to draw oversized outfit styles. You can make a different look by modifying it in various styles. Here is some inspiration mode to deliver chic and trendy style in your baggy t-shirts.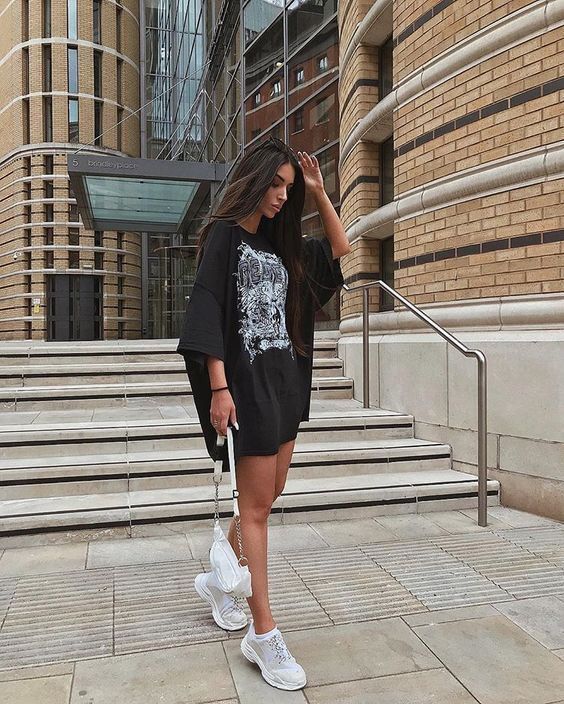 Change your baggy black t-shirt into a mini dress. Oversized outfits would be a great choice to create a mini dress style. Wear this outfit with short legging and then give a little detail to it by adding trainer shoes and a mini sling bag. You will get sporty and cool street-style baggy clothes ideas.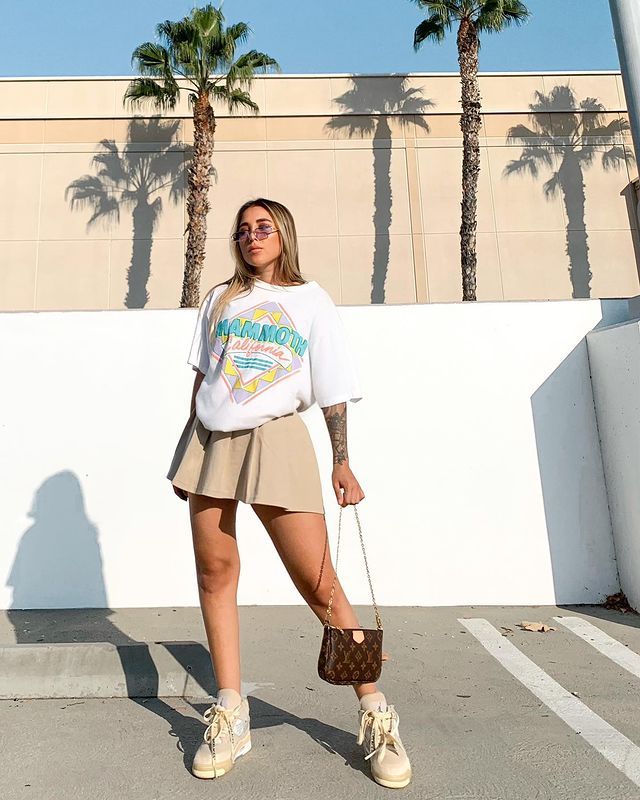 Matching it with a pleated mini skirt is a good idea to bring a trendy and feminine glance to your baggy outfit idea. This also becomes a favorite to impress the cool side without losing a girly sense in your baggy t-shirt. It also gives you an effortless and simple style for your daily outfit.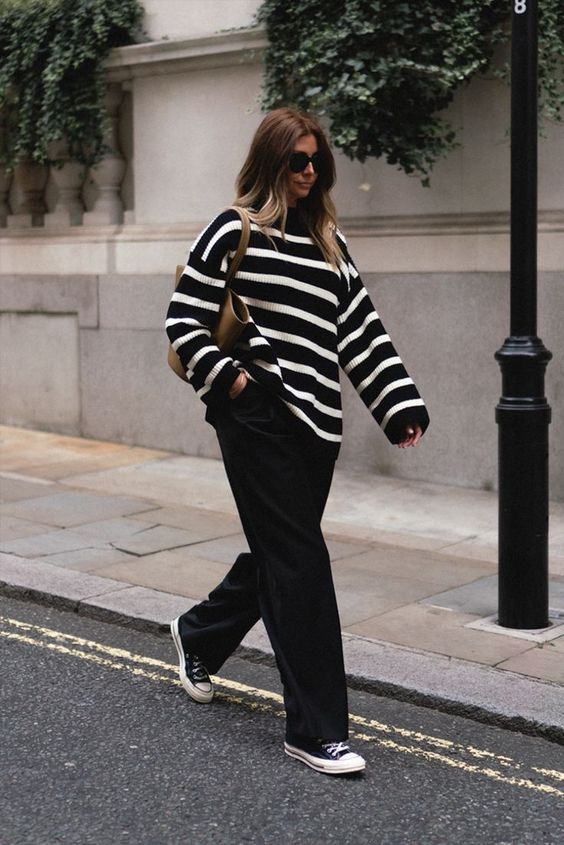 Asides short sleeve t-shirt, choosing a baggy long sleeve t-shirt would make your women's outfit more casual and simple. Try to create a black and white monochrome style by mixing a long sleeve black white striped t-shirt with black trousers. For the footwear, black sneakers would be a good combination. Add a tote bag to accomplish your trendy oversized outfit idea in the fall season.
Comfy in Your Baggy Sweaters
Sweaters are the best outfit to bring a warm and comfortable feel to your outfit style. This kind of outfit is usually worn in colder temperatures like fall, winter, or spring season. There are plenty of styles that you can try to modest your baggy sweaters.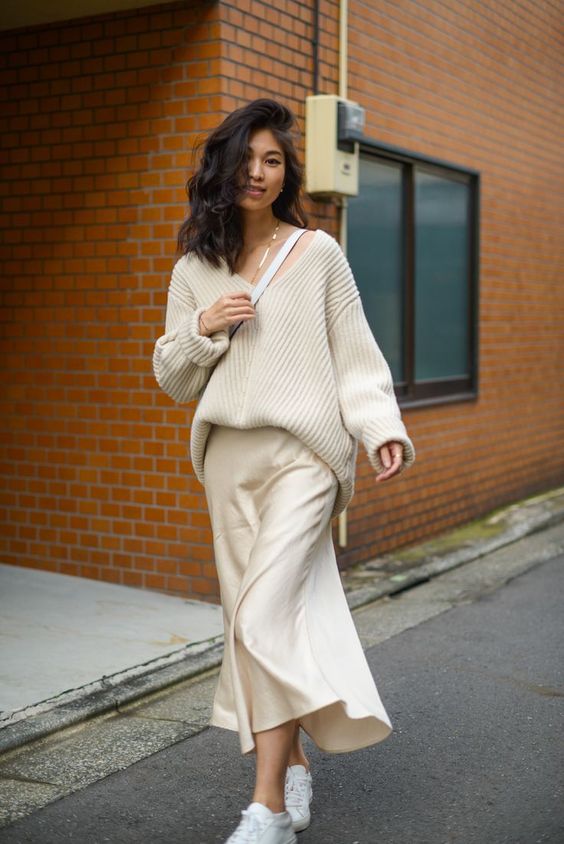 For the first, try to cover up your elegant satin maxi dress with oversized sweaters. This variety would bear a graceful look to your women's outfit ideas. Choosing monochrome beige into it would be great to mix up with white trainers shoes and a sling bag. Use this outfit style in the early winter season.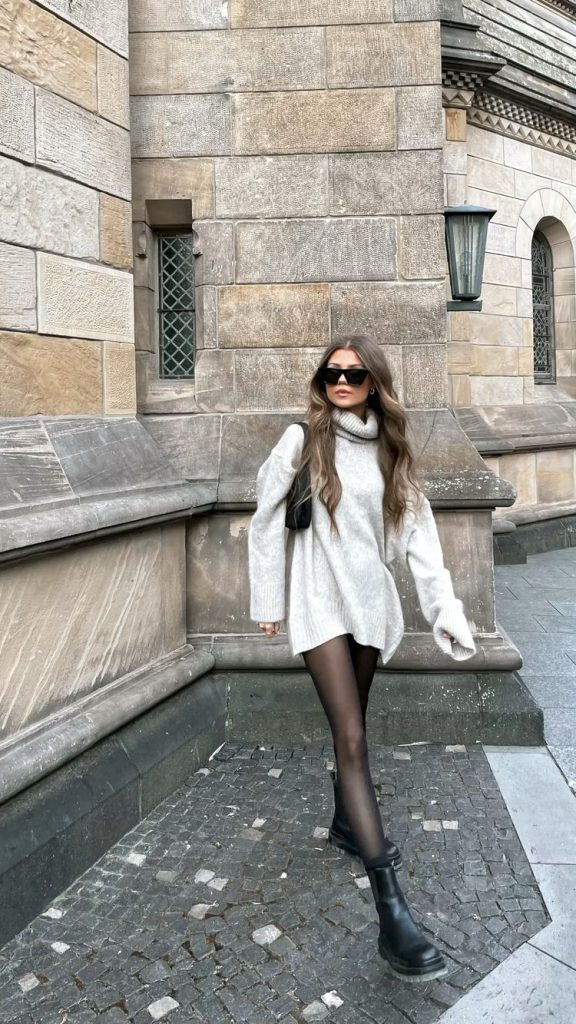 When you want to look sexy and comfortable in one outfit, try to merge your oversized sweater with the tights. Styling your oversized sweaters seems like a mini dress would make this outfit's style being trendy enough. Having it together with the mini bag and knee boots would complete your overlook.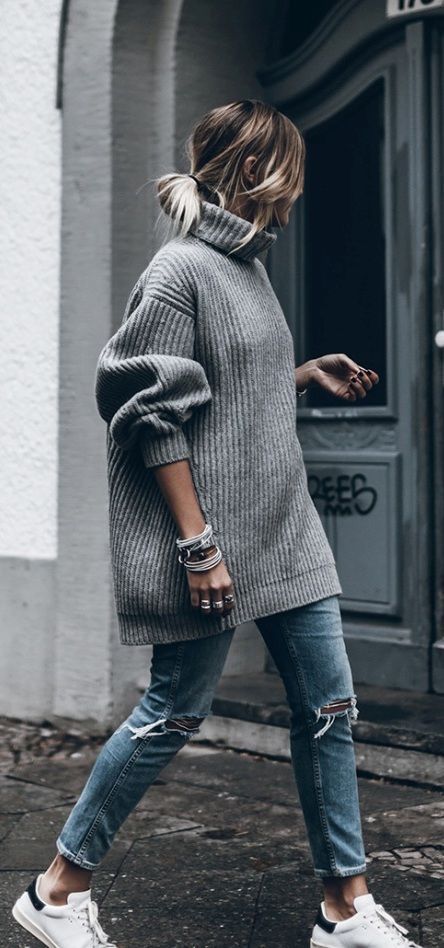 If you want to have casual and trendy style in a baggy sweater, pairing it with ripped jeans and trainer shoes could be the solution. This outfit is suitable for those who like simple fashion. It's also good to wear as your daily outfit all the year.
Oversized Jackets for Winter Outfit Ideas
We know that the best outfit for winter is by wearing oversized jackets. This kind of outfit would keep you warm in the freezing weather. Styling this jacket in the right way would help you be fashionable and comfortable.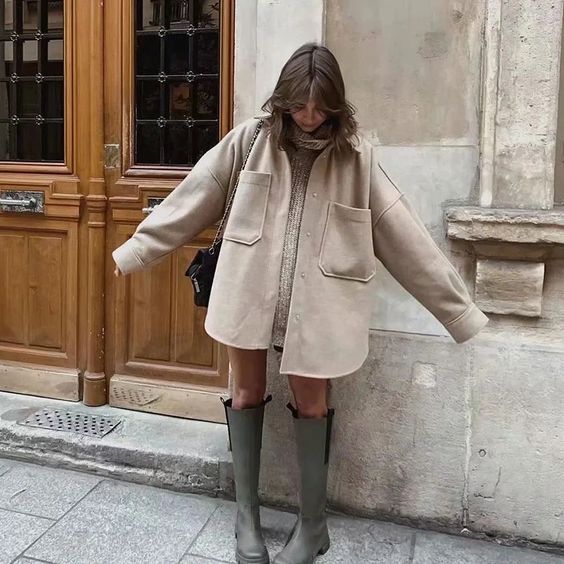 Get your oversized jacket together with a long sweater. Uniting them together would bring a trendy and pretty impression on your women's outfit ideas. Dress up this oversized outfit with knee boots and a simple mini bag. Keep chic and comfortable in chilly weather in this outfit style.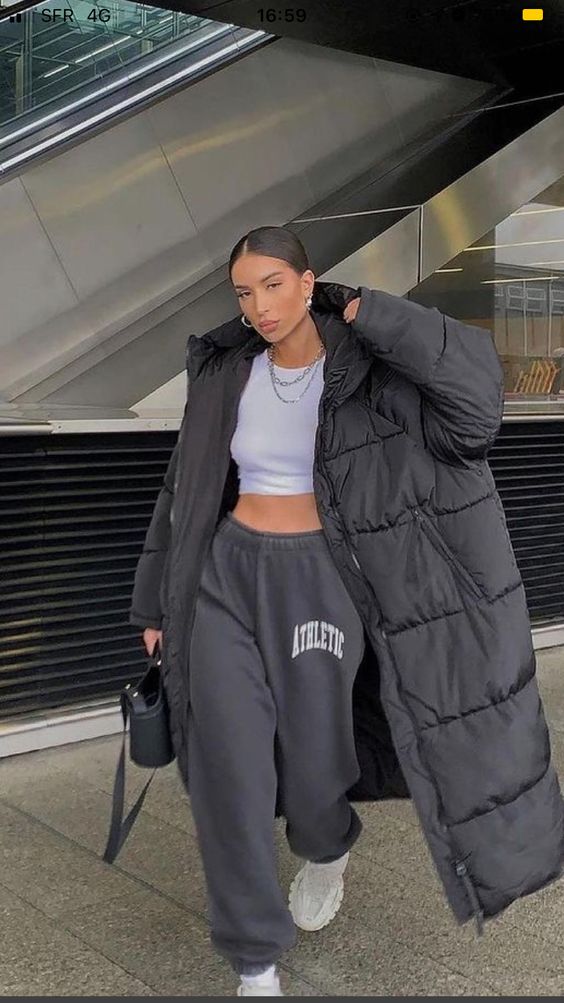 When it comes to winter outfits, layering clothes with an oversized jacket is important to make you keep warm on the outside. If you want to look a little bit sexy but still warm, oversized puffer jackets, crop top shirts, and sweatpants could help you with this. This outfit obtains trendy and sporty with the trainer shoes.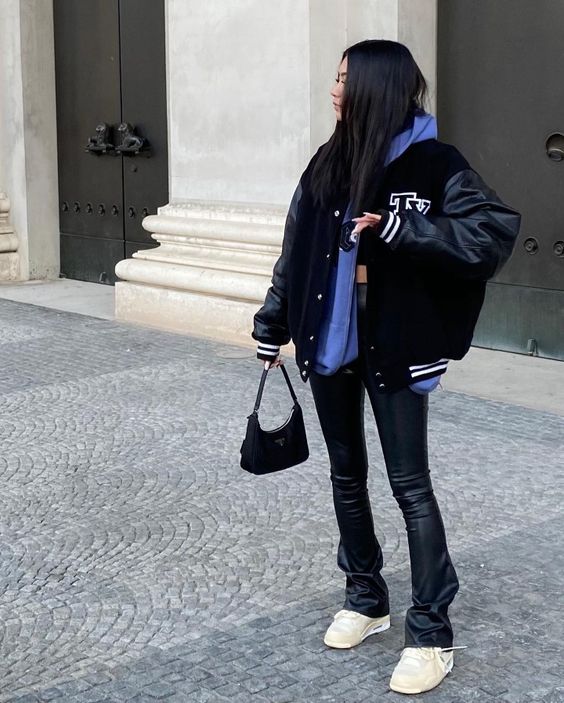 Create more oversized outfits by wearing hooded blazer outfits style. This outfit is also suitable to wear in the winter. You just need to layer your hoodie with an oversized bomber jacket. To have a cool image on your outfit, wear leather pants and trainer shoes. Perfect your baggy clothes idea with a mini handbag.
Look Trendy in Oversized Hoodies
Hoodies are so popular today either both for women and men.  This is actually a very comfy and gorgeous outfit that could be paired with almost all the clothes in your closet. It's also an all-season attire to bring trendy style to your women's outfit idea.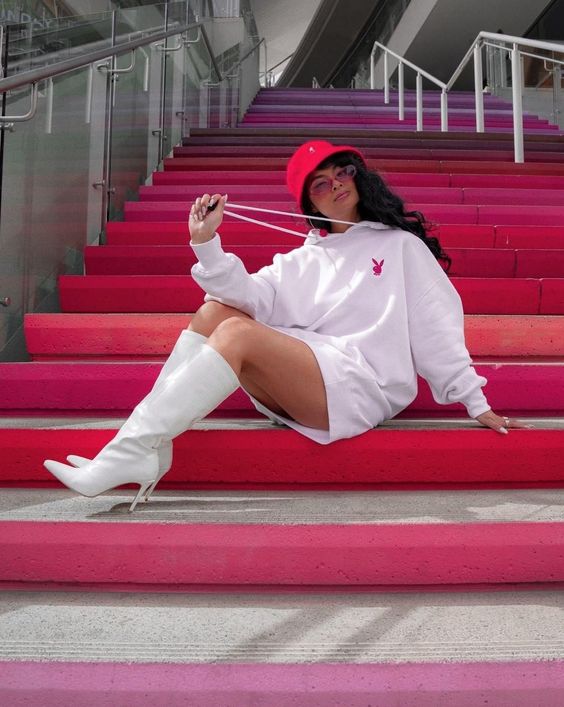 Plain white oversized hoodies and white tight high boots are the best spring or fall outfits. However, you can wear this anytime you want. This outfit is simple, cozy, and yet trendy when you put it together. Having this outfit together with a pink bucket hat and sunglasses actually great for you to have lunch with your friend or have fun in a casual event.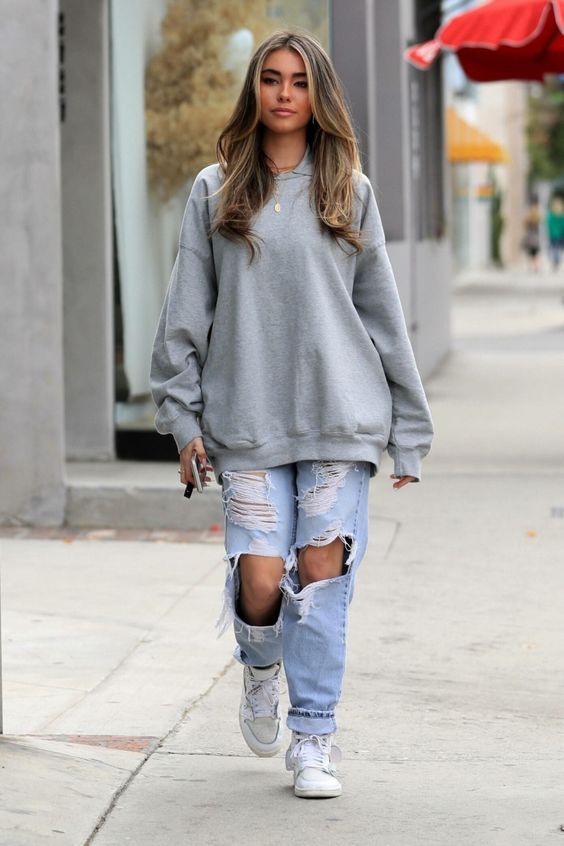 Get your trendy style with the ripped jeans that have come as a trend now. You can pair your grey oversized hoodie with the jeans to come up with a simple, casual, and trendy style at one time. Complement your women's outfit idea with white sneakers and some simple gold jewelry. Find out the comfortable and fashionable outfits in this combination.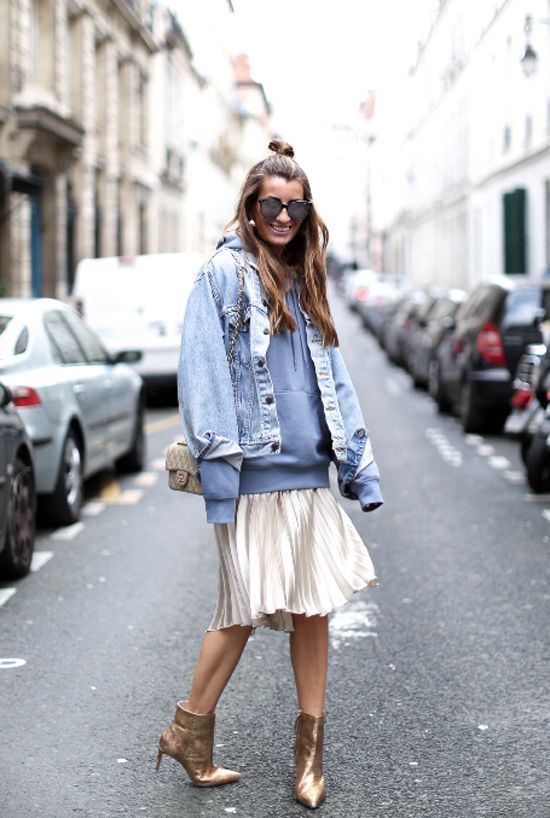 If you have a denim jacket and want to wear it differently, try to pull over it with a baggy hoodie. Choose a pastel-colored hoodie and beige pleated skirt to pair with your denim jackets and give it a go as your trendy oversized outfit ideas. As for accessories, you can pair the outfit with ankle heel boots and a mini sling bag.
Up-Size Blazers for Your oversized Outfit Idea
Stay warm and fashionable in either the fall or winter season with baggy clothes. Try to recreate your oversized blazer by mixing up the clothes with accessories for having the best styled. You can own a more trendy oversized outfit idea by using this blazer.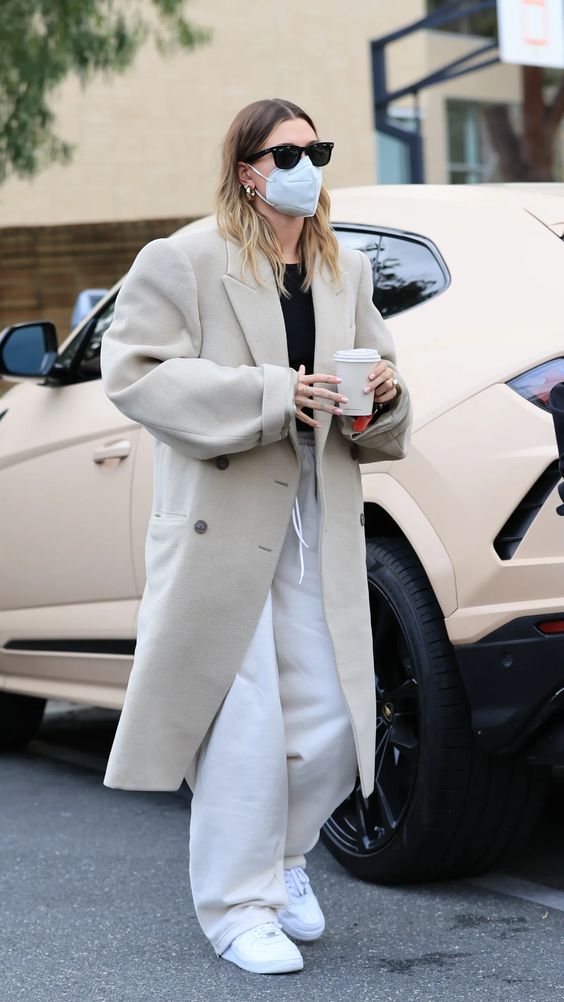 Pair your super oversized blazer with baggy sweatpants. This outfit was perfect to make you keep warm and comfortable when the temperatures go down. Come up with a plain black sweater underneath and stay fashionable by giving simple accessories like gold jewelry. Use trainer shoes as your footwear to accomplish your women's outfit idea.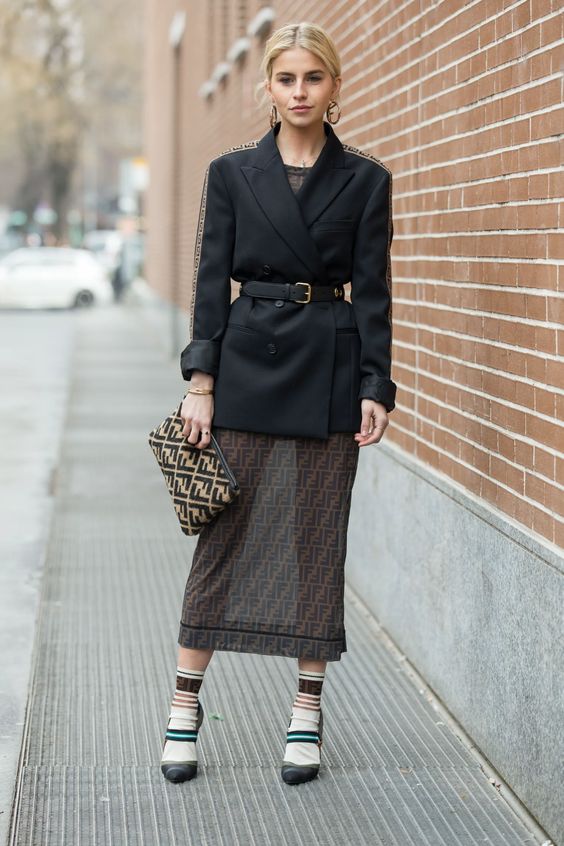 Want to go something out of the box on your oversized outfit style, try to cover your chiffon midi dress with a maxi blazer and a belt over it. This outfit also gives you a formal image and could be worn as your fashionable work outfit. Fulfill your outfit style with simple gold jewelry, clutch, and heels.
Baggy Cardigans (Outers) in Your Women Outfits
Cardigans could be important outerwear in the women's wardrobe. This outer is easy to modify as the trendy and fashionable outfits. You will get various styles in this outfit either formal or casual look.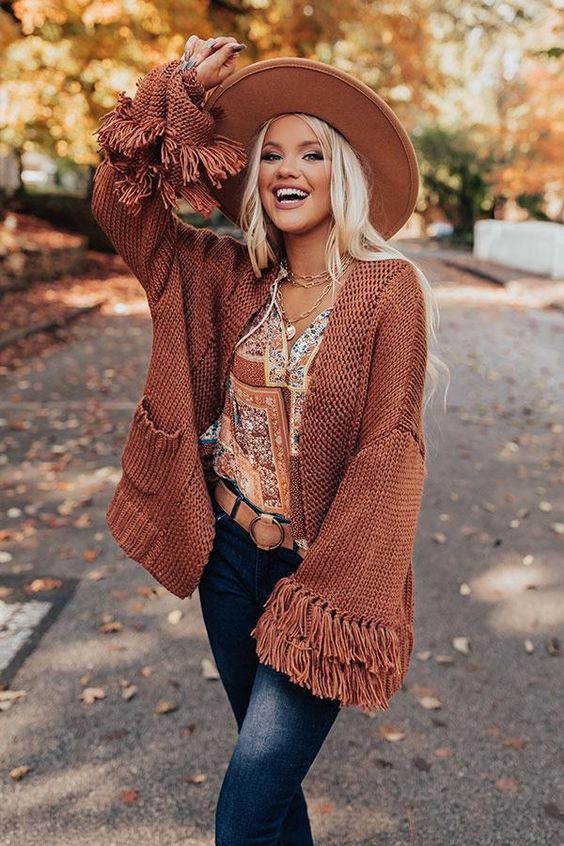 Go with a tassel knitted baggy cardigan to bring up boho-chic style on your women's oversized outfit idea. This outfit would be the perfect outer to use when the season starts to change from summer to fall. Combine your baggy cardigan with a v neck bohemian pattern t-shirt and navy skinny jeans. Choose a pastel color in your outfit idea such as brown that would present the autumn.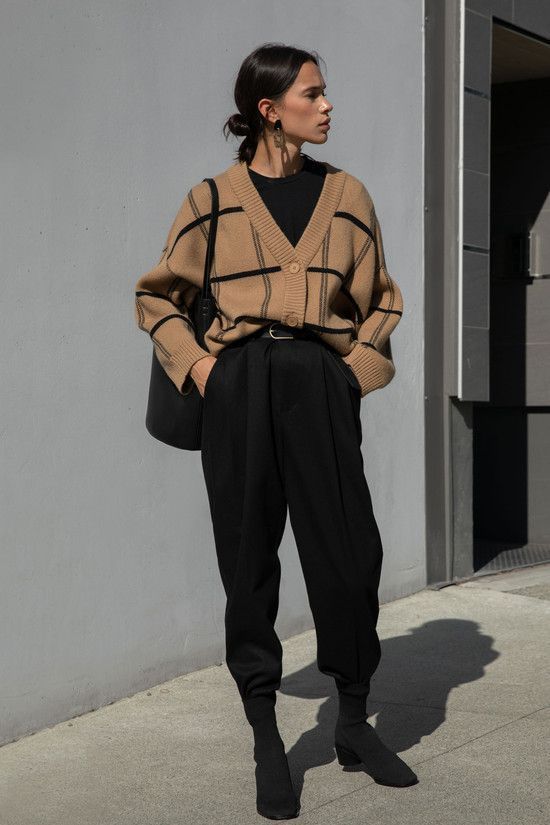 When you have to attend a formal occasion but you want to get something unique, modeling your oversized cardigans and trousers could be helping you. Take black as the basic color's outfits and then pair it with brown baggy outer to have a clashing color combination on your outfit ideas. For the accessories, get hold of the black tote bag, black belt, jewelry, and black ankle boots.
Business Casual Style with Oversized Trousers
We know that trousers and suits are designed for the business type. When you want to bring a little casual nuance in this outfit, you attempt to maxi trousers as your outfit ideas for women.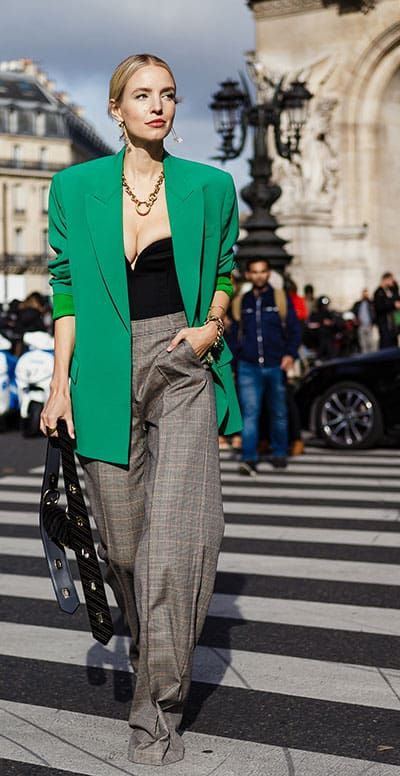 Become trendy with your oversized trouser, style it with a blazer and a staples t-shirt underneath. For making it not too plain, give a little more gold jewelry, and then rather than wear a common bag better you carry an aesthetic mini bag as a complement for your business casual women's outfit.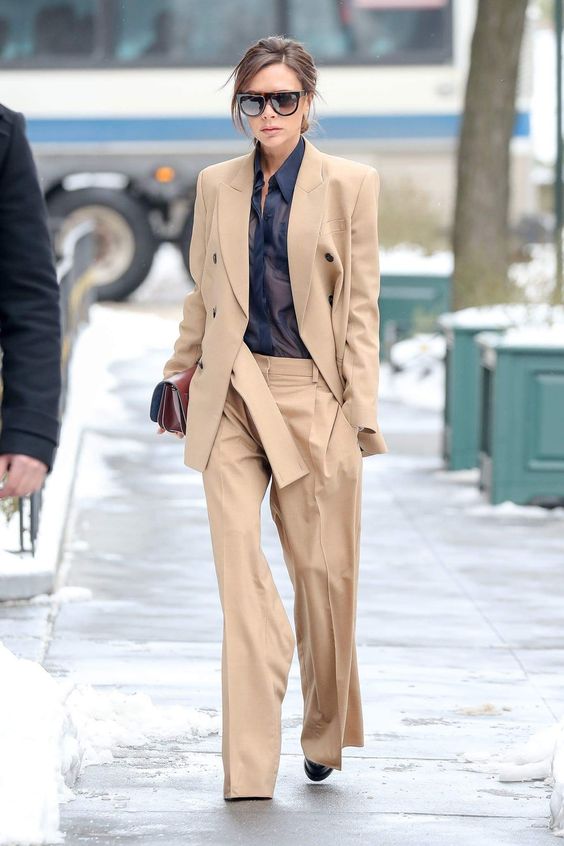 Another option to get a business casual outfit, combine your oversized brown sets that include a blazer and trousers with a black sheer top. Pairing with the black loafers and brown clutch. Give simple accessories such as sunglasses to become trendy and astonishing your appearance.
Casual Weekend Style in Baggy Jeans
Spend your weekend in comfy and trendy outfit style and for this, you can pick baggy jeans as your oversized outfit idea for women. Arrange it according to your sense of fashion style to amaze your performance in the holiday.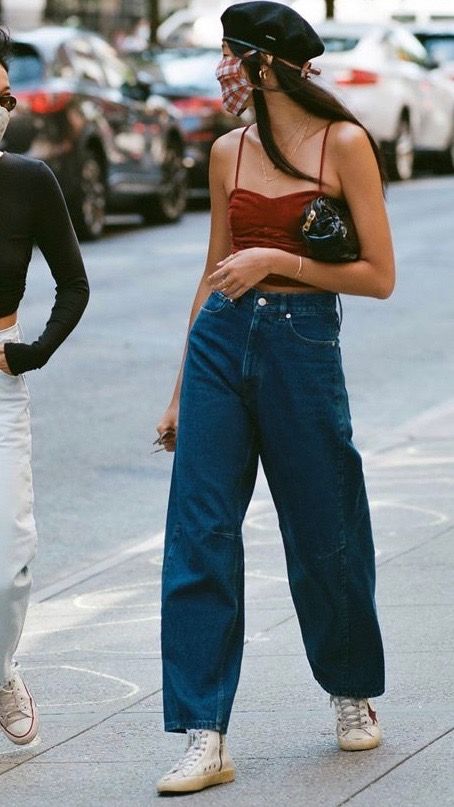 You can start by pairing baggy jeans with the spaghetti strap crop top for a simple way. Matching this outfit with the sneakers and beret hat. Give simple gold jewelry and a black leather clutch to stir out your appearance.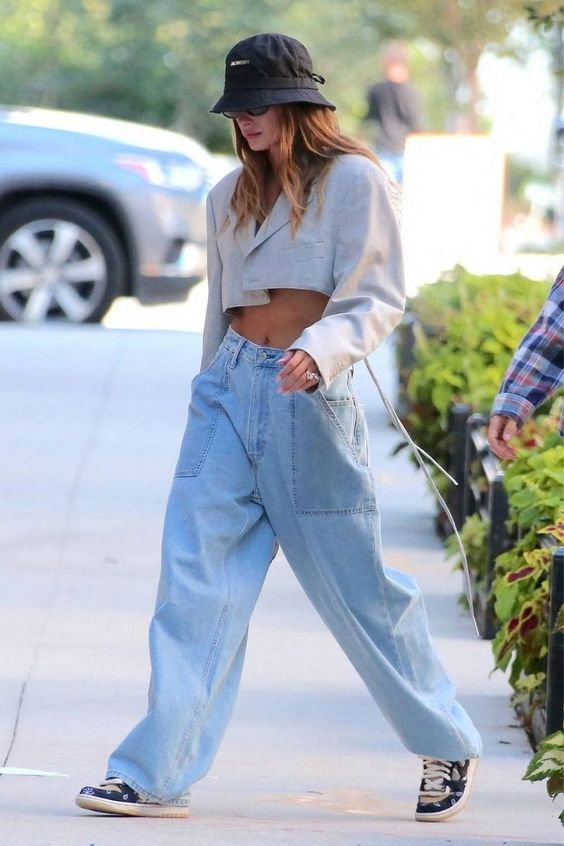 You also could adjust a cropped blazer for the top of your baggy jeans outfit. For the footwear, select sneakers as the favorite to draw trendy outfit ideas. A bucket hat and sunglasses will look out cool on your women's baggy clothes idea.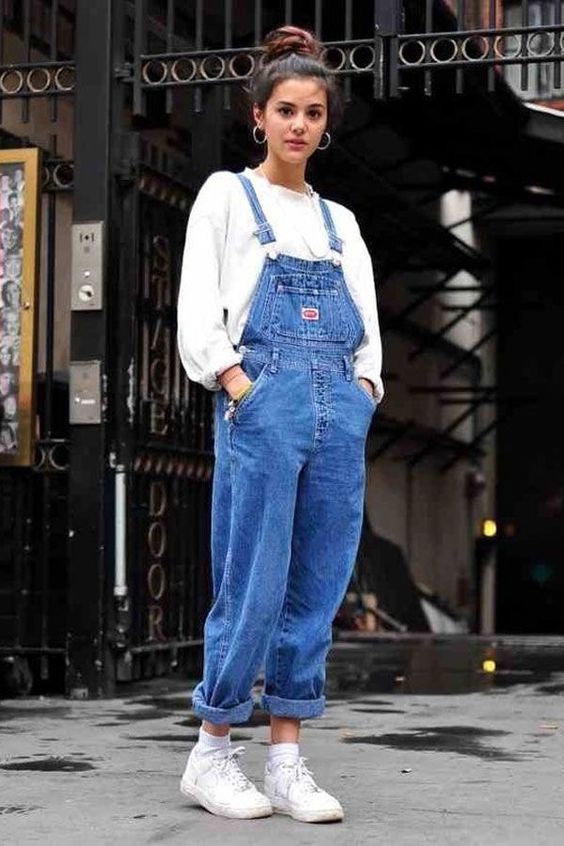 Baggy jumper jean is something else to go with an oversized outfit style. Keep it together with the long sleeve white t-shirt and for the footwear, you can pick sneakers. This kind of outfit would give adorable and trendy fashion to women's oversized outfit ideas.
Oversized Clothes with Leather Mini Skirt
A miniskirt would bring harmony to your baggy clothes. This gives balance to your oversized outfit to become more stylish. You can get a more creative mix and match those two outfits so that's not looking sloppy.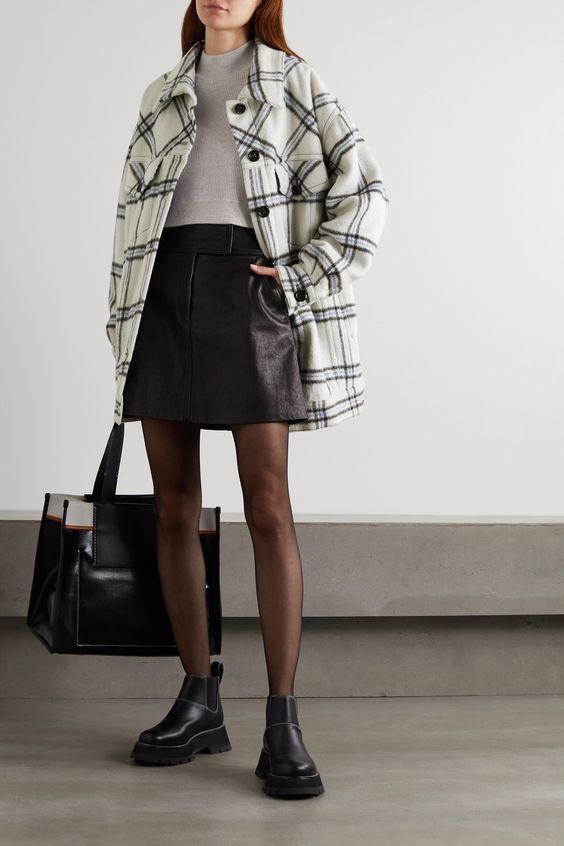 When you have a leather mini skirt in your closet, pair it with an oversized flannel shirt and sweater underneath. You will get the best fall or spring outfit to wear this year. Dressed up in tight pants and chunky boots for the bottom of your outfits to drive your trendy style.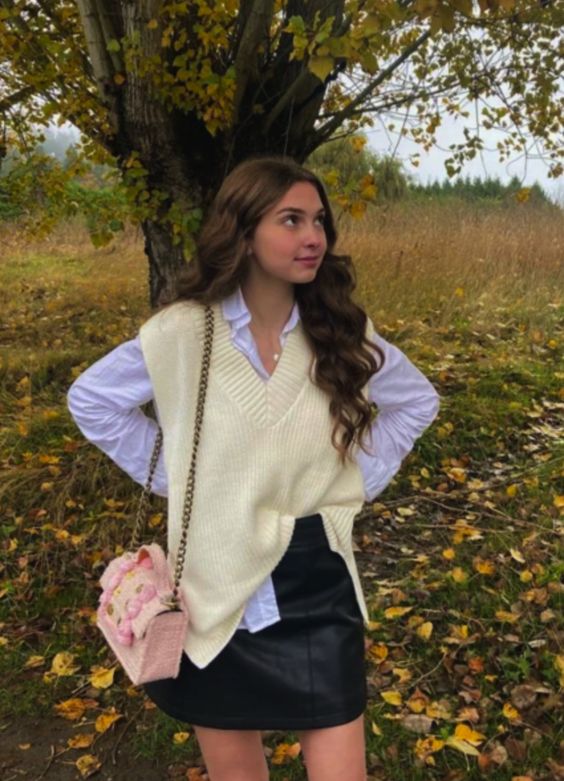 Whether you want to look trendy, classy, and girly in one outfit, get a leather mini skirt together with a big knitted vest and a baggy shirt underneath. Added some feminine pieces like a pink pastel knitted mini bag and simple jewelry to make you look girly and cute. Apply it as your fall outfit by adopting a pastel color combination into it.
Styling Your Baggy Clothes with Cargo Pants
Cargo pants usually come up for the men's outfit because they can show off the manly and masculine side. However, this cargo pant becomes a unisex outfit today that could also be used by women to create trendy and cool outfits.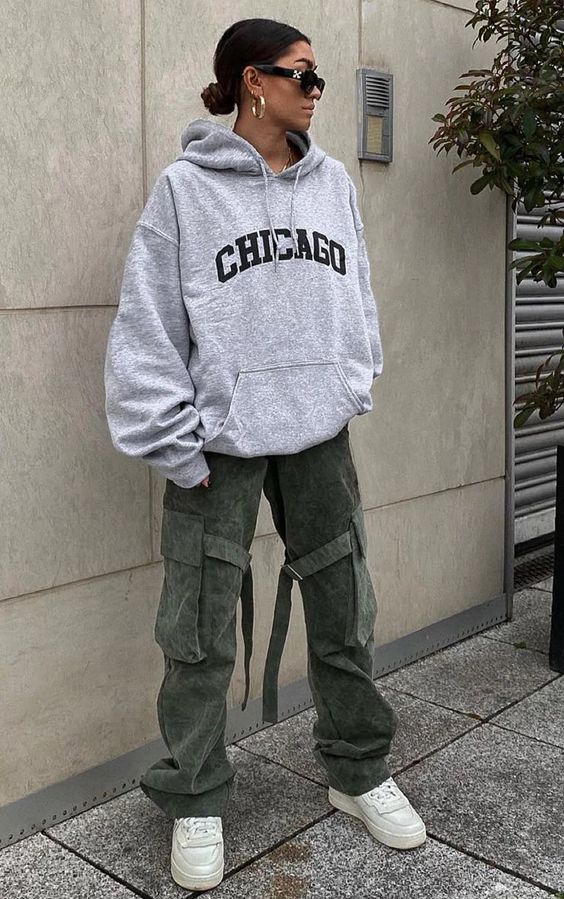 Wearing your oversized hoodie with cargo pants to show up the trendy and a little tomboy style in your women outfit ideas. In addition, you can get trainer shoes to settle your performance. Perfect your outfit with simple accessories and sunglasses. Present your masculinity and feminine side at once in this outfit style.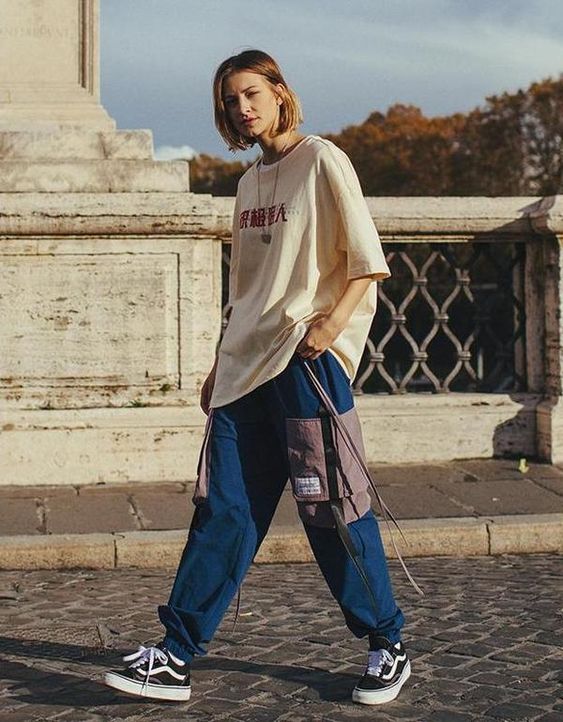 Cargo pants and an oversized t-shirt are the best combinations to your baggy clothes style. It seems simple, casual, and yet trendy. Though you are a woman, this outfit can point out your masculine side perfectly. Finalize your tomboy sight with the sneakers and fetch this outfit when you hang out with your guy's friends.
Build Your Creativity with Oversized Scarf
Oversized outfit ideas don't just turn up from the baggy clothes, but also you can get an idea from an oversized scarf or blanket scarf. Remodeling your scarf to layer your outfit would be a nice idea that obtains a trendy outfit.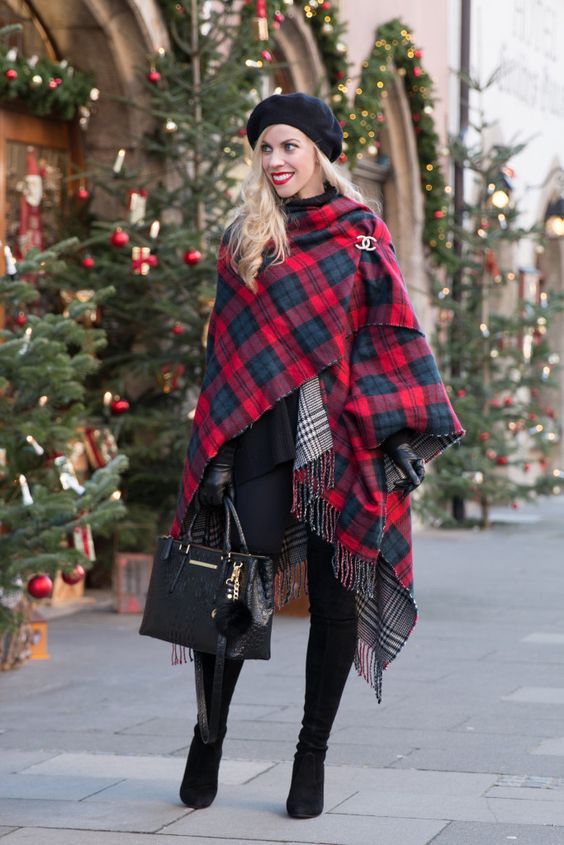 You can take the thick blanket scarf as your winter outfit idea by creating it to become a poncho jacket. Putting a red-black plaid scarf over your black sweaters and the skinny pants for the bottom would produce an inspiring Christmas outfit. Perfect your outfit by giving accessories like a black handbag, beret hat, and high knee boots to help you ready on Christmas eve.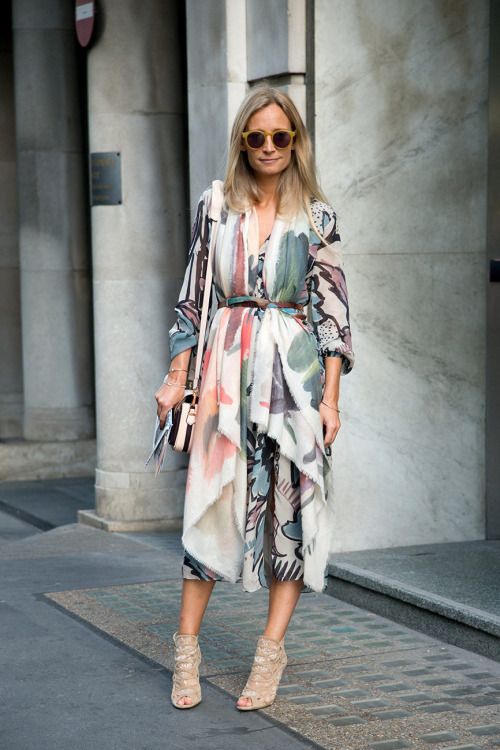 The scarf is mostly used in the winter. However, if you want to use it in the warmer season try to pick the sheer scarf and belt it over your outfits. For instance, you can try to wear a midi dress then drape your oversized scarf around the neck and tie it with a belt. This would create an illusion that you layering the dress with a cardigan. Just allow the end of the scarf to hang freely. Voila, this is like magic that would turn your women's oversized outfit to become trendy with one accessory.