Olidfashion.com – During winter you may have to wear something warmer like layered, long, and thick outfits. However, some girls usually want to look pretty and fashionable in a mini-dress style. We know that a mini dress is an essential outfit in summer. You shouldn't lock up your mini dress in the closet, just take it in your fashion style even in the cold temperature. Now let's find out how to style up your mini dress in winter comfortably but stay chic.
1. Cover your Mini Dress in Coats and Jackets
When it comes to winter, coats and jackets are essential pieces you have to obtain in your wardrobe. This helps you to style mini dress for layering during winter and make you keep warm also fashionable at once. There are many types of stylish women's winter coats that you can choose to pull out your fashion. Let's find out the best styling coats and mini dresses for winter outfit style.
Camel Coats and Sweater Dress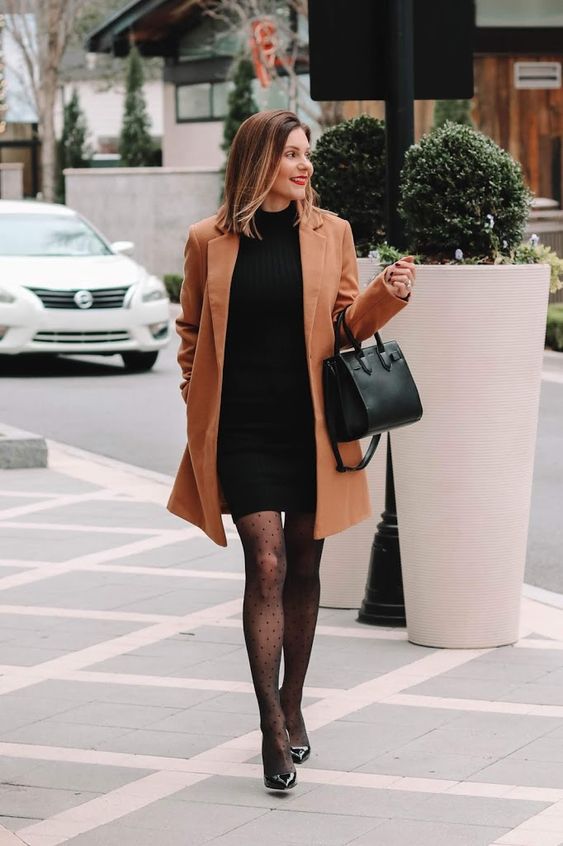 Look stunning with the camel coats and black sweater mini dress during winter. Pair it with a black fishnet stocking and then wear high heels for a more chic style. Finalize your winter style with a black minibag to turn it into your fashionable work outfit.
Puffer Jackets and Tweed Dress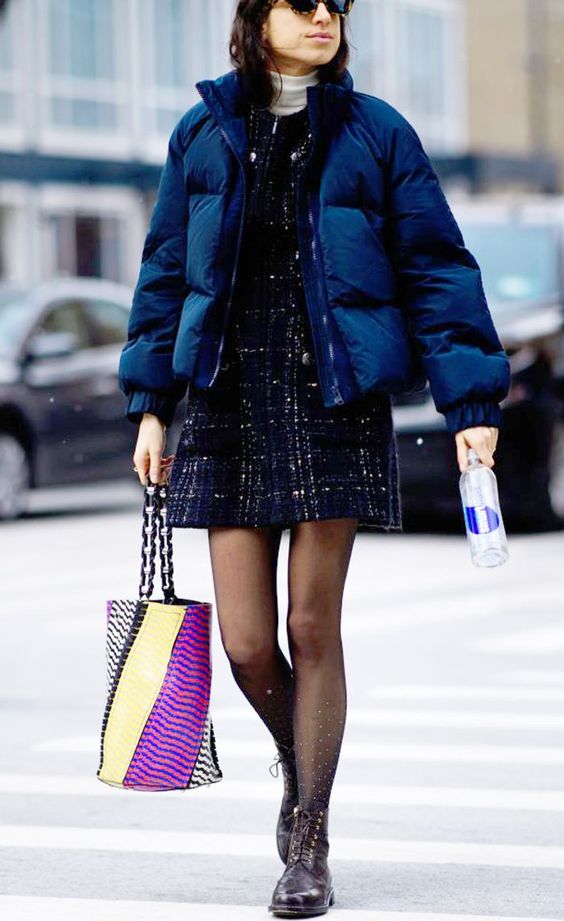 A puffer jacket is the best outwear that makes you stay warm during winter. This would be good if you use it to complete your mini dress style. To have fashionable style in mini dress during winter, you can try to combine this jacket with a tweed dress, black stocking, and lace-up boots. Give more fashionable pieces like a patchwork prints tote bag in your winter outfit ideas.
Long Leather Coats and Bodycon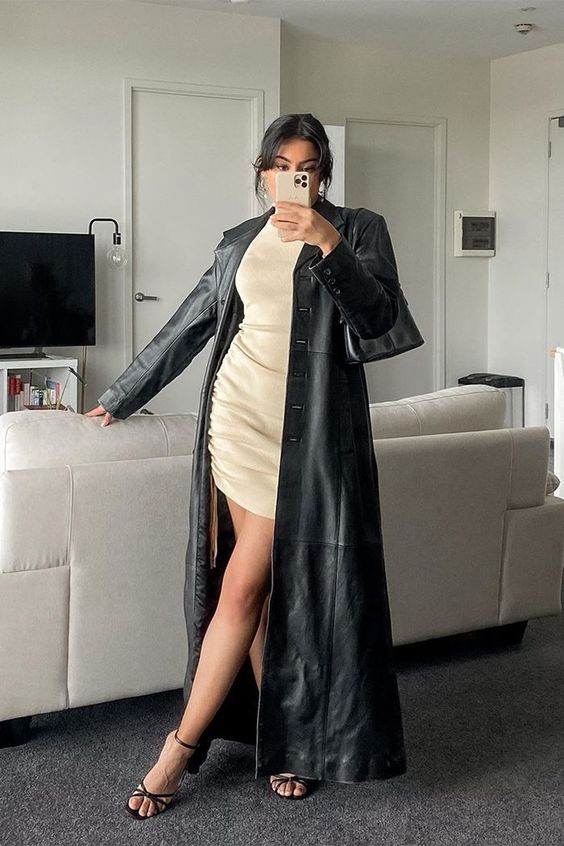 Want to have trendy with a fashionable mini dress for winter, just bring your bodycon dress and combine it with an oversized leather coat. Get it more fashionable with high heels and a mini bag. This is actually an effortless way of styling up your mini dress perfectly.
2. Wear Turtleneck as an Extra Layering
Other essential outfits in the winter wardrobe are turtleneck pieces. Designed to cover the neck would be suitable for winter style and help you stay warm either outdoor or indoor. You can come up turtle neck as an extra layering in your fashionable mini dress style.
Suspender Mini Dress and Turtleneck Sweater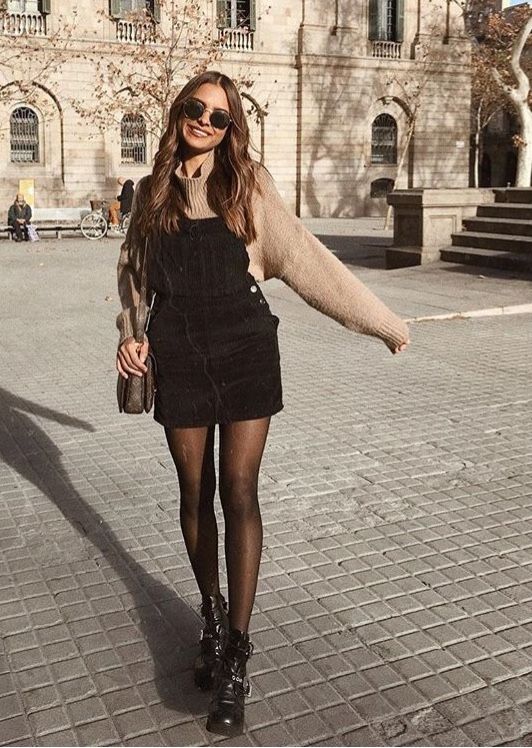 Want to bring out a mini dress in your winter style, you can have the suspender dress with the turtleneck sweater for this. Wear all pieces together as layered style then finished with the stocking and army boots. To make it more chic and fashionable, add some details like sunglasses and a mini sling bag as accessories.
Snakeskin Dress and Black Turtleneck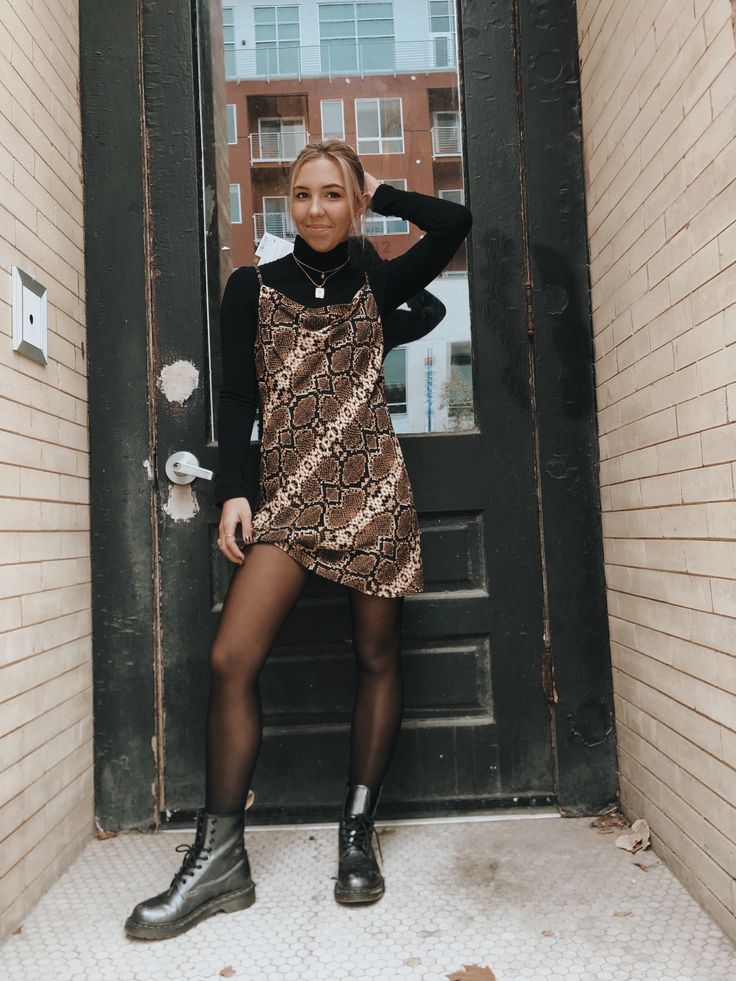 Combine turtleneck sweater underneath snakeskin print strappy mini dress would be modest style during winter. Making it more trendy and chic by adding stocking and army boots. Don't forget to wear simple gold jewelry like a necklace and wear it over the turtleneck.
Sleeveless Dress and Turtleneck Underneath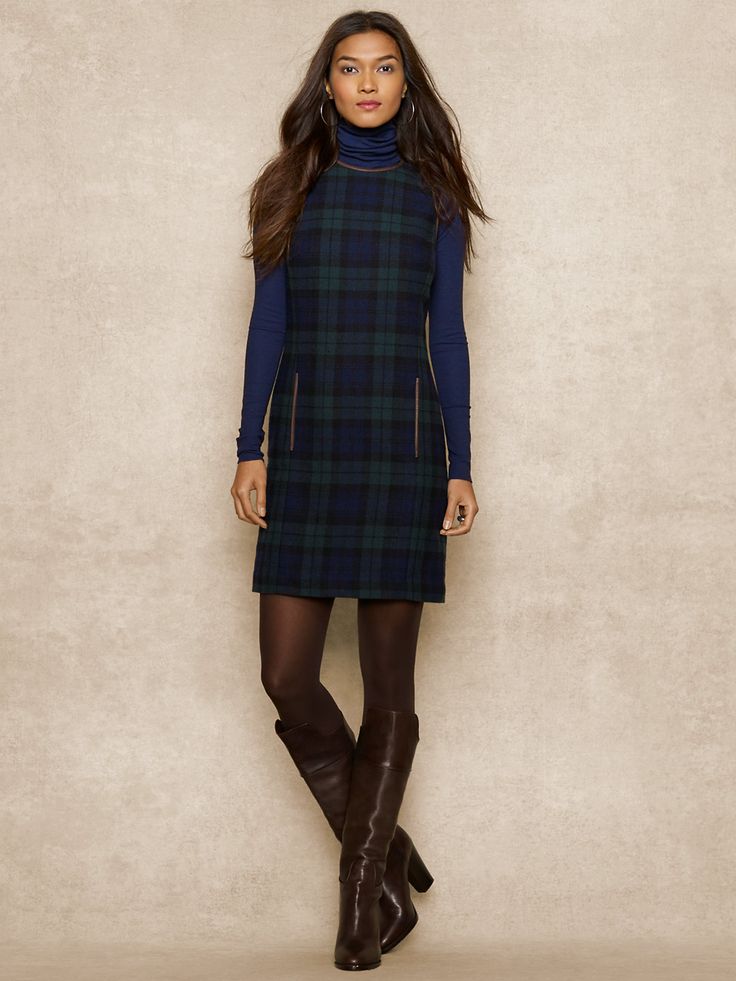 Give a statement in your winter style by wearing a plaid green navy sleeveless dress and a navy turtleneck underneath. This mini dress style would be good to wear as a fashionable  Christmas outfit idea when you pair it with tights and brown leather knee boots.
3. Use Faux Fur Coats in Your Chic Dress
Besides coats and jackets, faux fur coats are also the main winter ensemble. You can make it as the piece to bring chic, elegant, even classy appearance in winter outfit ideas.
Lace Dress and Cropped Fur Faux Outer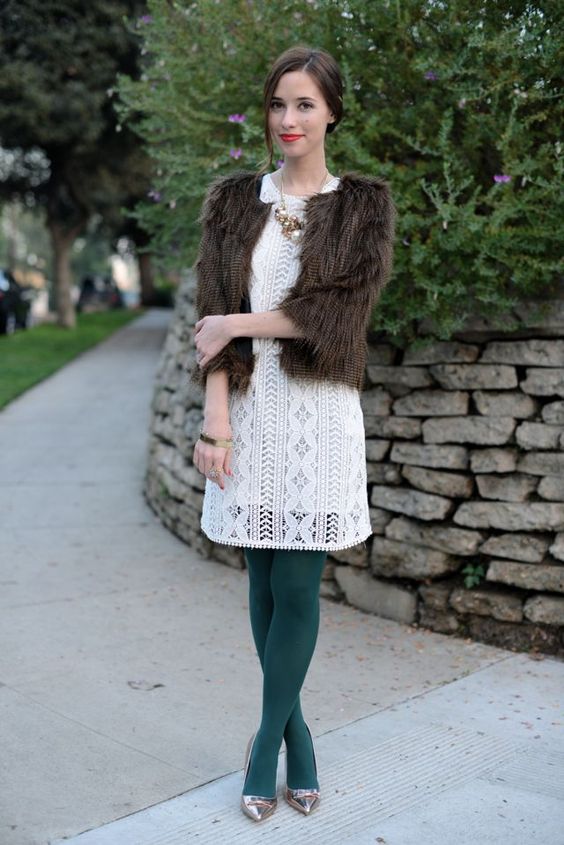 For an elegant look, you can wear a white lace mini dress and brown fur outer over it. Get this dress together with green tights and silver high heels for a little color-clashing combination. Get a full dress-up with some accessories such as pearl and gold jewelry in the necklace and a simple bracelet on your wrist.
Leopard Coats in Fashionable Winter Mini Dress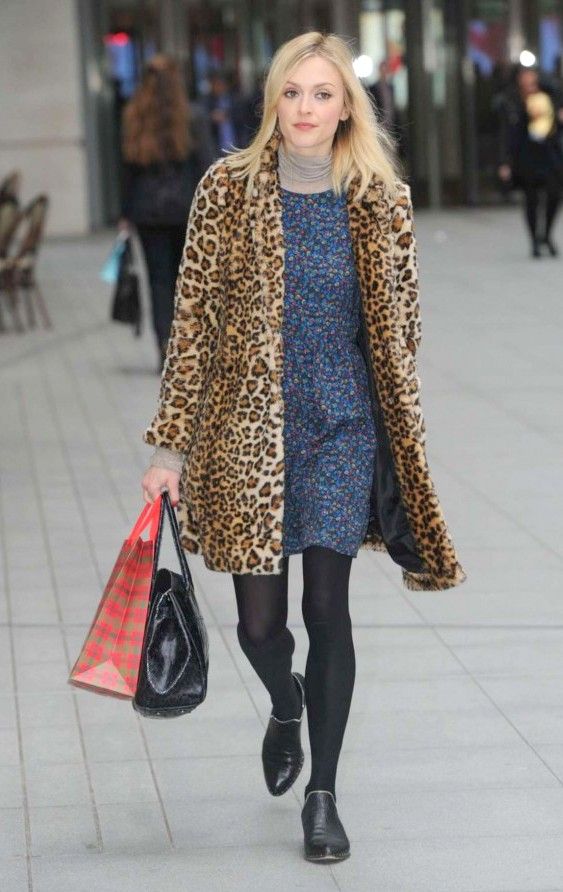 For modest and classy style, choose leopard print outer in your mini dresses style for winter outfits. You can have it on your faux fur coats and use it to cover your floral mini dress. For the bottom outfit style, choose tights and a piece of loafers. Perfect all with the handbag and you are ready to go shopping outside in the freezing weather in this fashionable outfit.
Fur Faux Coats and Bodycon Dress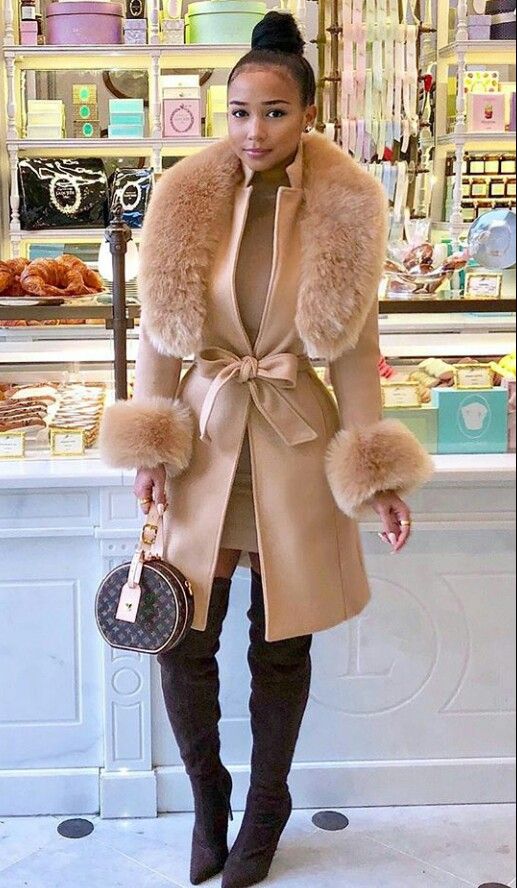 If you want a chic and adorable performance in mini dress style for winter, you may need coats that have fur trims on the neckline and wrist. When you pair this coat with the bodycon and then apply knee-high boots as matching footwear, you will look pretty enough. Bring this outfit style on your date or have dinner on Christmas eve.
Fur Cardigan and Long Sleeve Mini Dress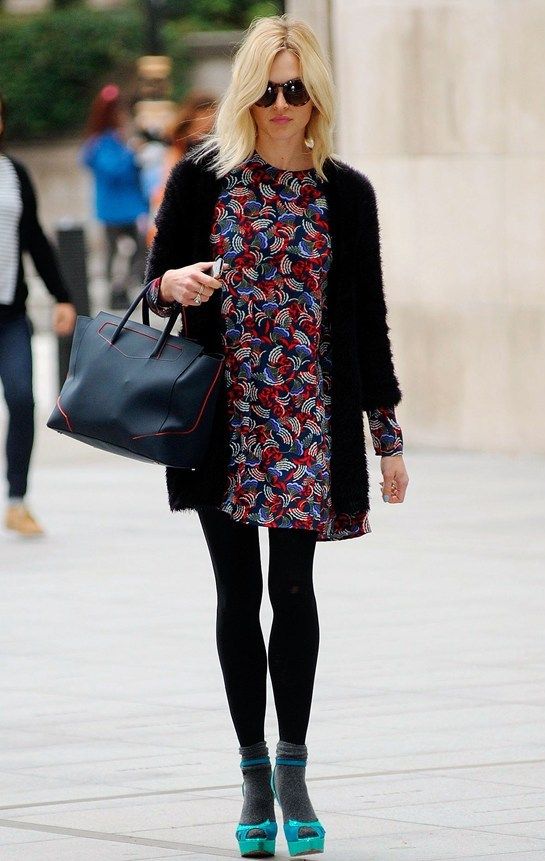 Looking for a mini dress style for women over 30s, maybe you will impress with the fur cardigan and mini dress style. Choose a long sleeve mini dress with the abstract pattern and a black faux fur cardigan. Layer the bottom outfits with legging, give socks, and then pair with turquoise strappy high heels. Take on a doctor bag in your hand, wear simple jewelry and accessories to turn you into a fashionista.
4. Get Scarf for Layering Mini Dress
Through winter outfits that's need something warmer, comfortable, and also have layered style, we thought about a blanket scarf to merge with your mini dress. This is could also be the best way to pull out your mini dress style become fashionable in winter without feeling cold.
Apply Scarf as Cardigan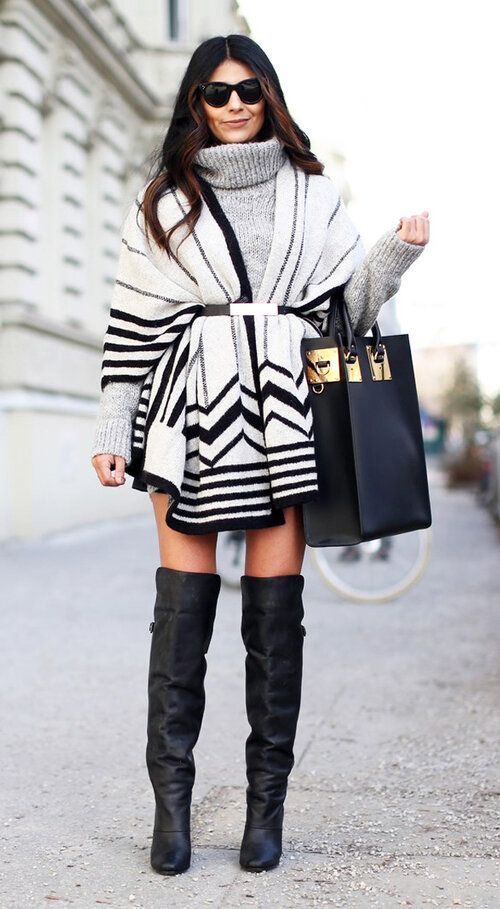 If you wondering to style a scarf in your winter outfit ideas, you can try to turn it into outwear. What you should do is just arrange the scarf over your turtleneck mini dress and then belted it to look like a cardigan. To get overall style, you need to bring out knee-high boots for complements.
Drape Scarf in Your Mini Dress Style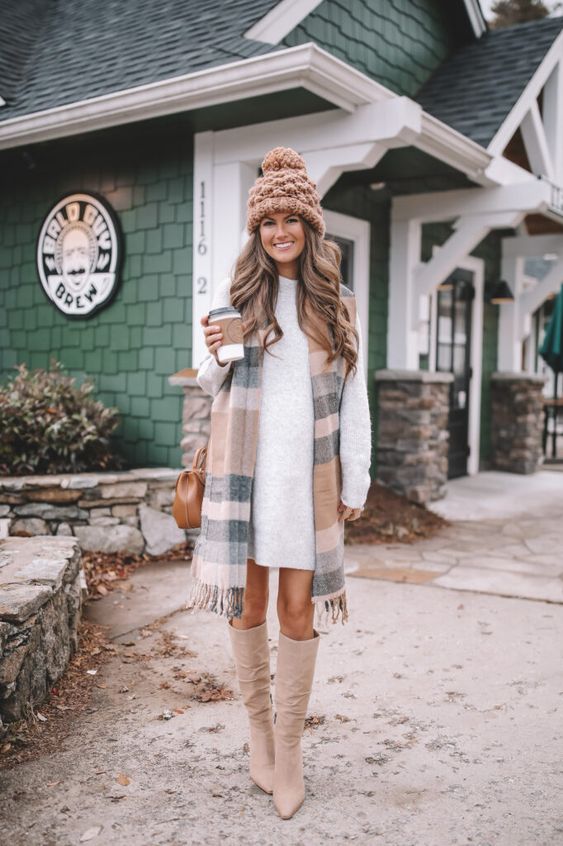 Another way to wear a scarf in your fashionable winter mini dress style is just to drape it around your neck. For calm and mature style, just choose neutral tonal in your winter outfits that include long sleeve sweater dress, plaid scarf, suede boots, and a beanie hat.
Wear Scarf Like Poncho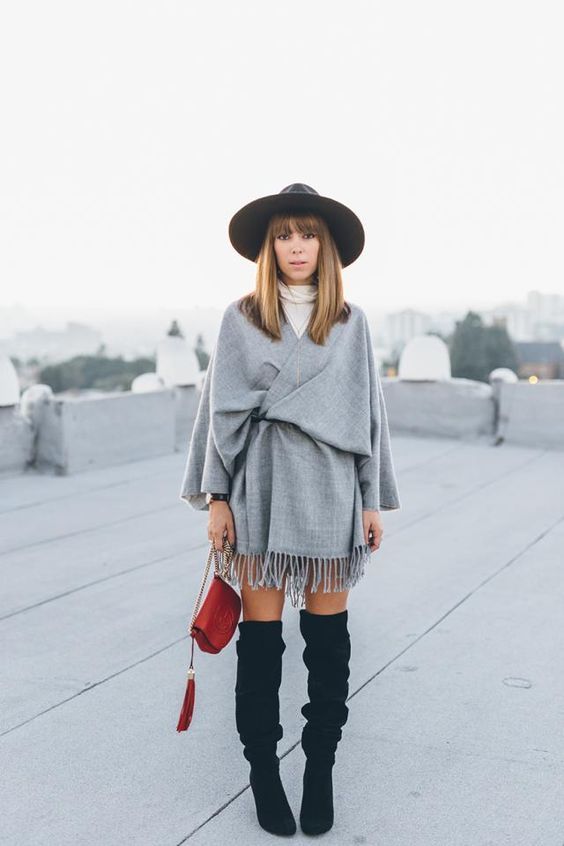 Styling a blanket scarf like a poncho in your winter style is the best option to draw fashionable outfits. This piece is suitable for those who want to have something lighter rather than jackets or coats but still makes them warm and comfortable.
5. Pair Dress with Tight or Legging
Either tights, legging, or stocking is the major ensemble to wear in your mini dress style as layered at the bottom outfits. This could be used to substitute pants to get trendy, chic, and fashionable outfits during winter.
Long Sleeve Floral Mini Dress and Tights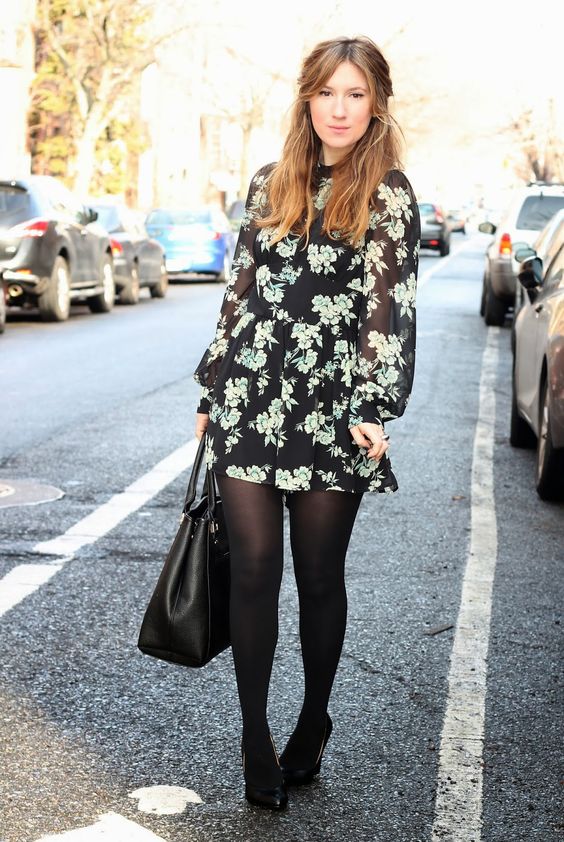 Get tights in your long sleeve floral mini dress for a chic and pretty image. Besides that, wearing tights could help your leg stay warm and make your mini dress look stunning. You can match the outfit with short heels and then a tote bag to were it as your work attire.
White Mini Dress and Black Legging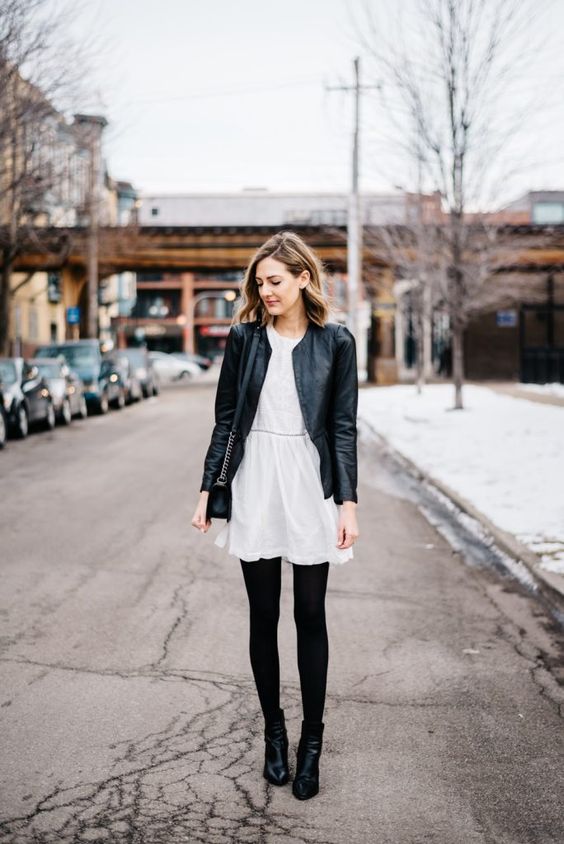 For a trendy outfit in mini dress style in winter, come up with a white dress, black legging, leather jackets, and leather ankle boots. Get all ready by adding a mini slang bag to make you ready to hang out with your friends in the cafe.
Fishnet Stocking and Sweater Dress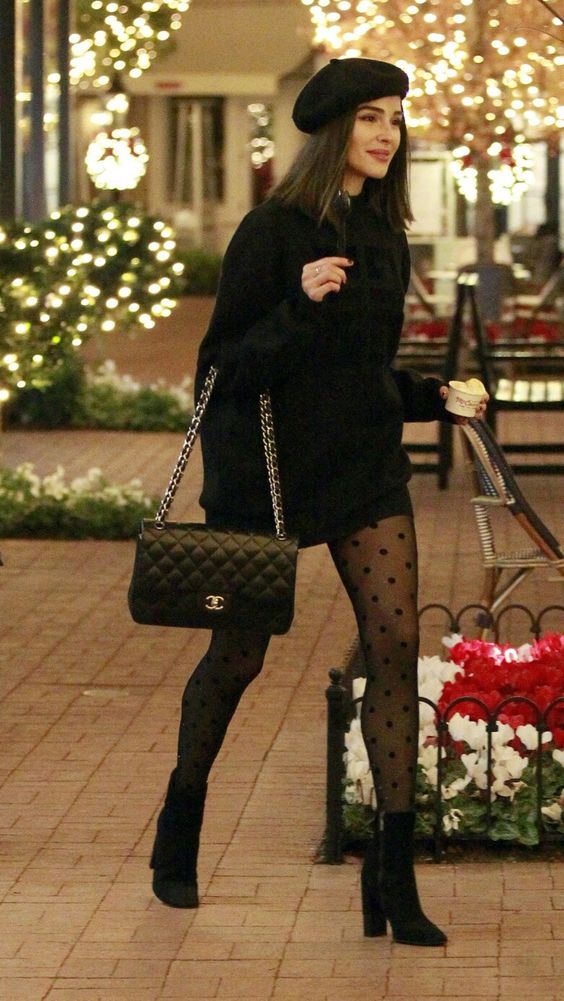 To sexy and pretty style in winter, you can combine a black sweater mini dress and fishnet stocking. Add adorable details such as a beret hat and then get heeled ankle boots to make you look beautiful enough in monochrome black. Don't forget to bring your favorite sling bag and actually it's black to accomplish your style.
6. Wearing Sweater for Dress
The sweater is a must attire that you should have during winter. This kind of ensemble that's important enough to bring out fashionable outfits and keep you away from freezing outside. When you want to create a mini dress style for winter, you can come up with a sweater dress. Here we deliver some exclusive ideas for you.
Turtleneck Sweater Dress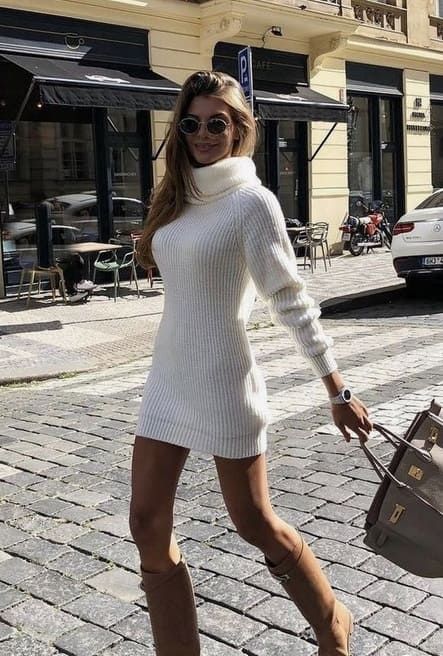 Turtleneck sweaters and rain knee boots are the best combos to style your mini dress fashionably. Having white and neutral color in your outfit ideas could pull out real wintertime.
Cowboy Style in Sweater Dress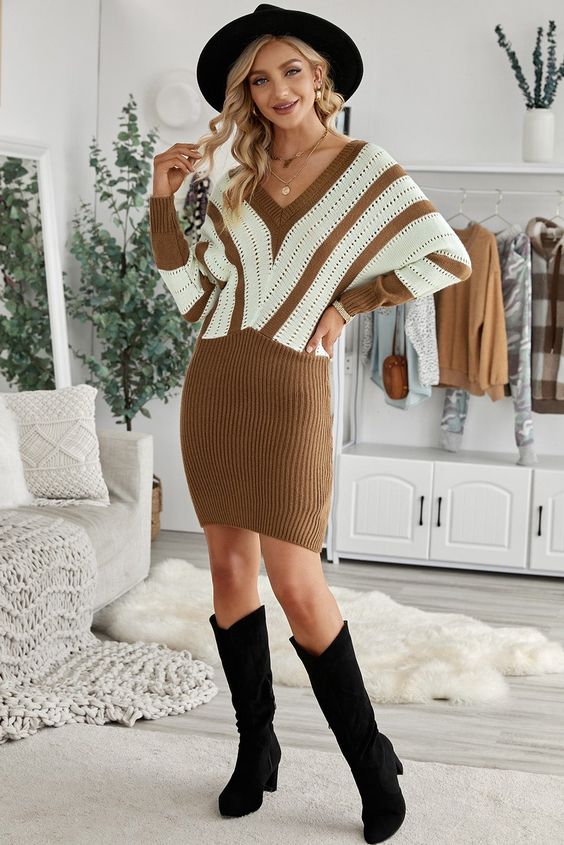 Get dressed up nicely in a mini dress during winter with the cowboy girl style by wearing long sleeve sweater dress. Combine this dress with a cowboy hat and also cowboy boots to present more countryside feels. Appear your outfit with neutral colors by combining bright like light brown and dark like black.
Sweater Dress and Over High Boots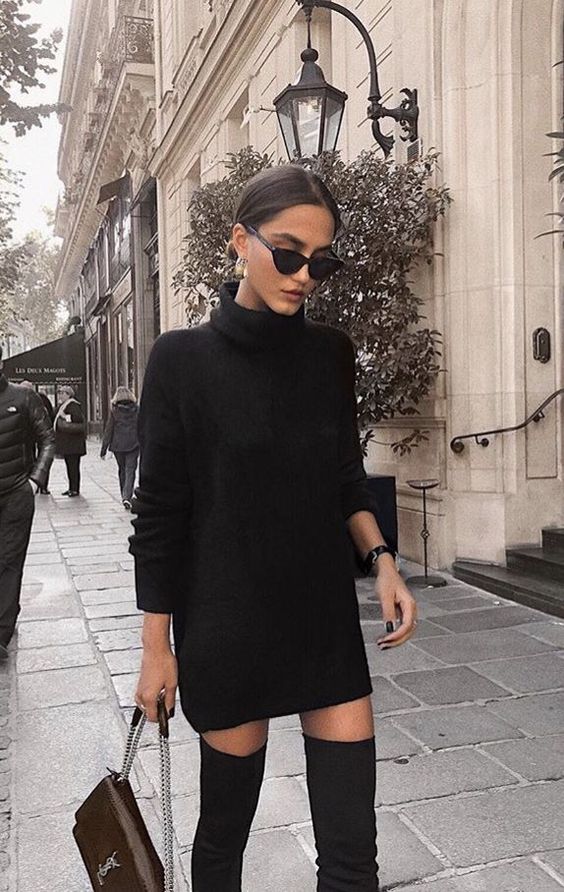 Pairing turtleneck and over-knee boots never fail to stand up your performance in winter with the mini dress outfit style. If you want a bit more cool, choosing a black outfit is the best option. Accessorize with sunglasses, wristlet bag, simple jewelry, and then use simple make-up and hairstyle to get a little classy look.
7. Dress up Your Mini Dress with Knee High Boots
The best footwear to combine with a mini dress style is knee-high boots. Getting these boots would make your leg stay warm because cover half of your bottom especially your leg. We all know that's leg is one part of your body that's easy to feel freezing, that's why knee-high boots are a great idea as matched shoes to your mini dress during winter.
White Coats and Suede Boots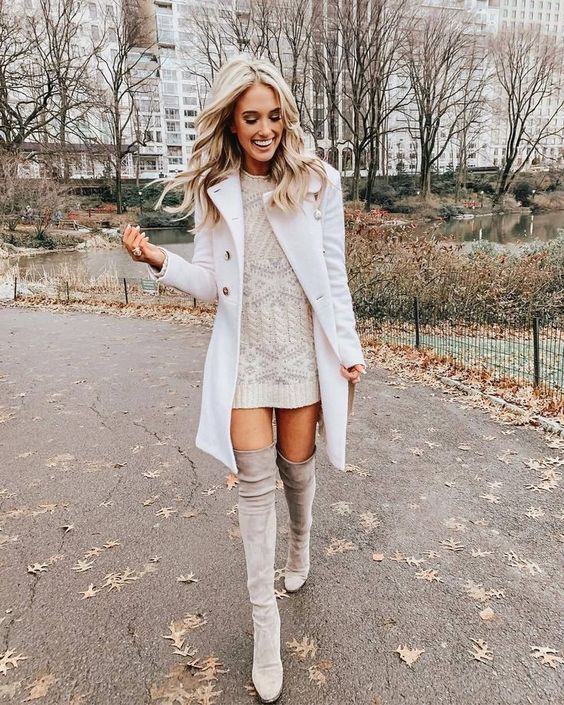 A beige suede knee-high boots would be the perfect thing to wear with a knitted sweater in a similar tone and white single-breasted coats. In this style, you will come with a casual and comfy impression.
Bohemian Style in Black Suede Knee Boots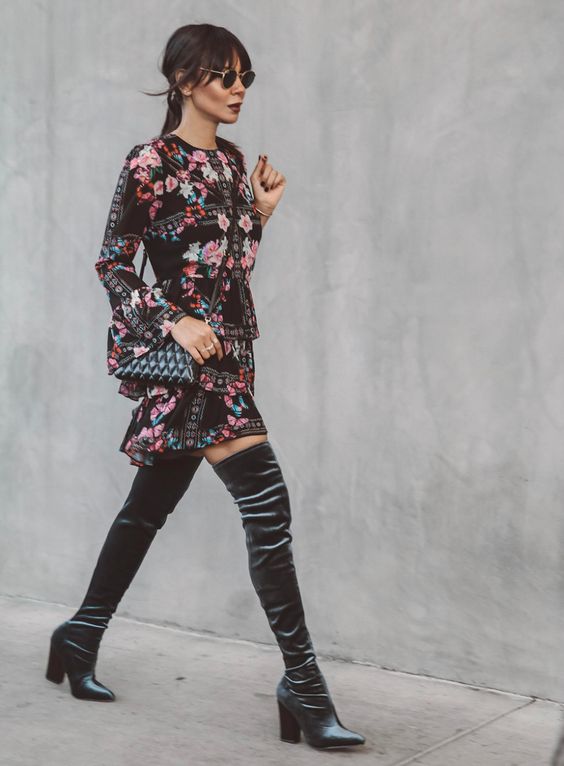 If you get a long sleeve floral printed mini dress together with heeled suede over knee-high boots, you will get the boho-chic style that's you want in a winter mini dress style. For a bit more trendy and cool vibe, choose black in your outfit ideas.
Mini Dress and Heeled Knee High Boots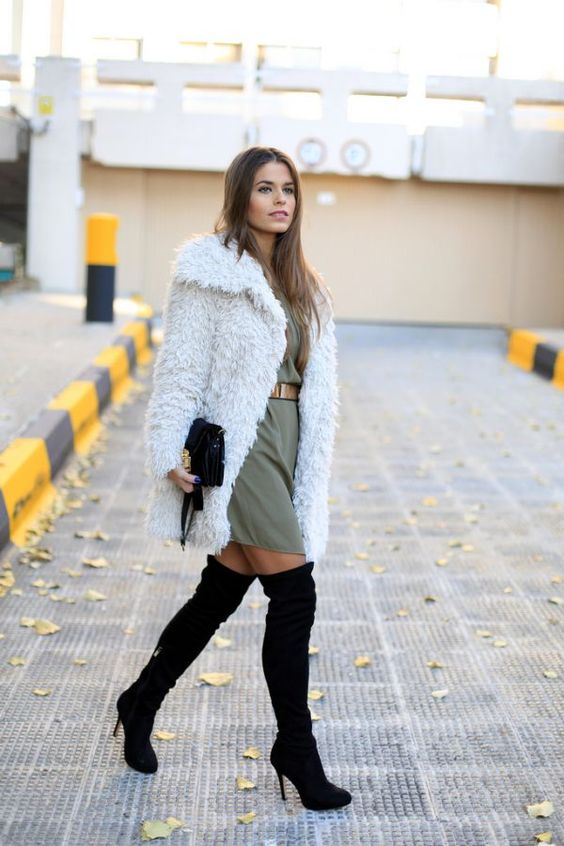 Get extra warm and fashionable with heeled loose suede knee boots in your mini dress outfit ideas for winter. Getting these boots in your style would help to get a more feminine accent and classy style.
8. Pair Dress with Thermal Crewneck
Thermal crewneck is also the favorite one to dress up on winter outfit ideas. This dress is designed with thick and warm fiber that makes you comfortable. Get this attire in your mini dress style as layering over a dress or underneath the dress.
Crewneck Sweater and Plaid Jumper Dress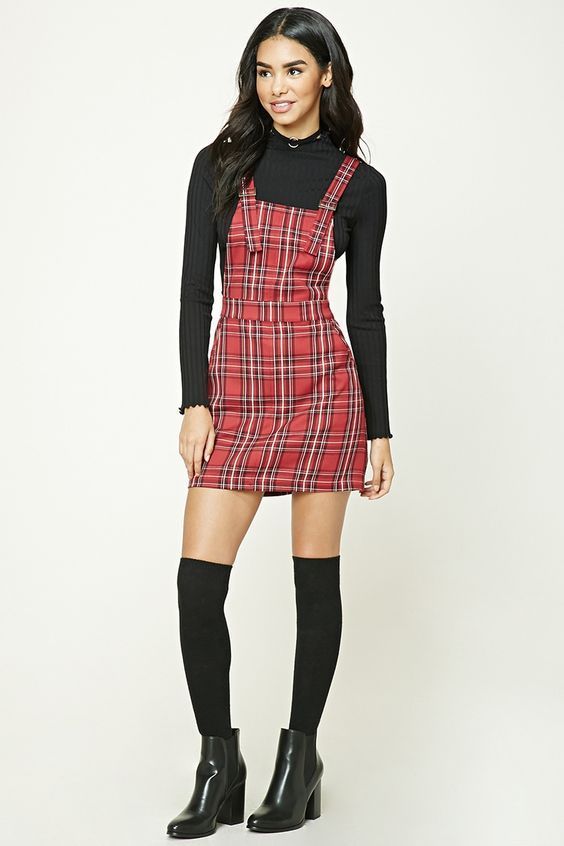 If you really miss wearing your summer mini dress, you just need to style up and make it suitable for winter. For example, you can get it into layered stye by having a long-sleeve crewneck underneath. Choosing a red plaid jumper dress would really present Christmas eve in your style. That's why it can be one of the best Christmas Outfit Ideas for you. Just pair it with a complementing outfit like black high socks and heeled ankle boots.
Layering Dress with Crewneck Sweater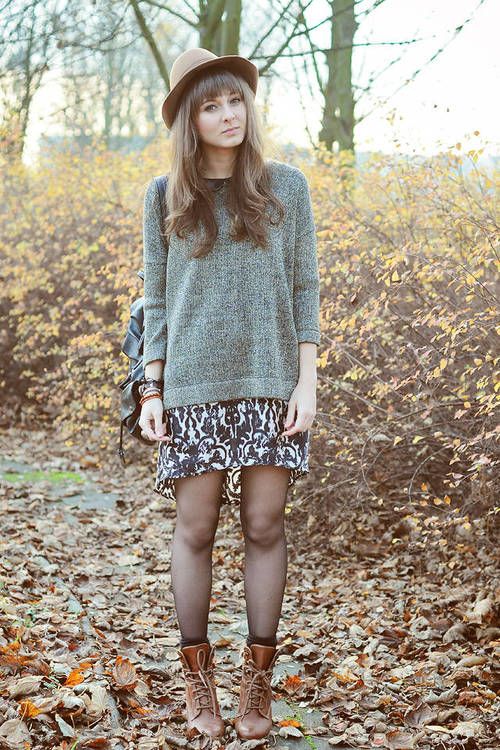 Aside from the underneath in your mini dress, a crewneck sweater also get to use for layering over your mini dress. For chic and trendy styles, you can add stockings, army boots, and a backpack bag to your ensemble. Add a fedora hat to your idea to increase your fashion sense.
9. Get Extra Layer with Mini Skirt
As we know that's winter is about layering style to get an extra warm and cozy feel in your outfits. When you want to bring a fashionable winter outfit with the mini dress style, matching up your baggy topper such as sweater and turtleneck together with a skirt would create it with extra layering.
Oversized Outerwear and Pencil Mini Skirt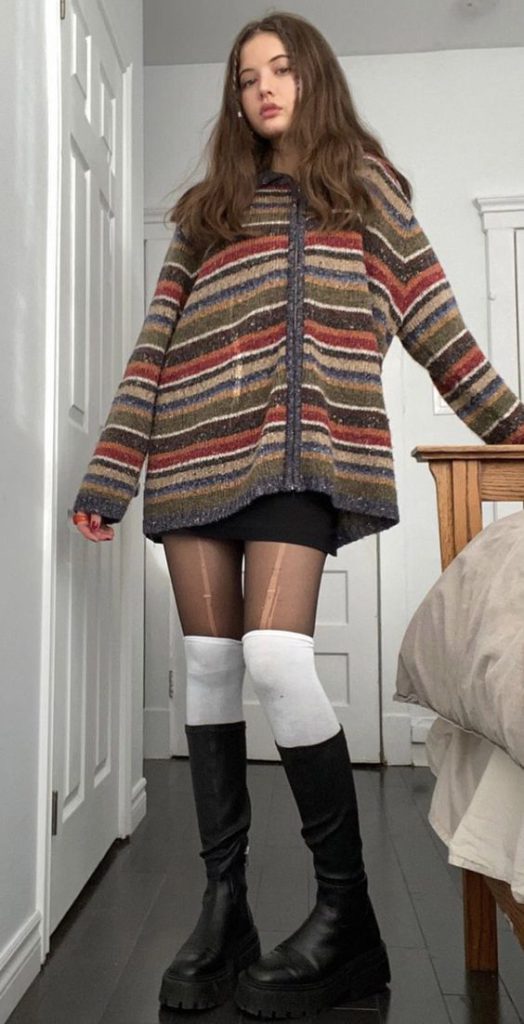 Get your oversized knitted outwear with the pencil skirt underneath as an extra layering and deliver a mini dress style in your winter outfit ideas. Pair this combination with high white socks and knee chunky boots for an extra warm. Choosing striped colorful patterns makes this outfit style would look good enough for teens.
Turtleneck and Lace Mini Skirt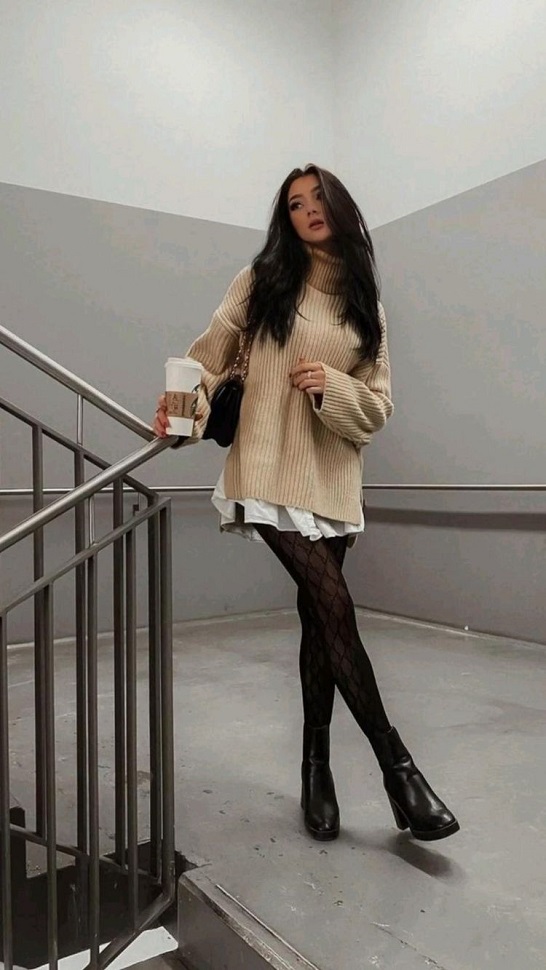 Attend college during winter and you need to wear something fashionable like mini dress style, why not you bring layering style with the lace skirt and oversized turtleneck sweater. Don't tuck your sweater in the skirt if you want to draw it like a mini dress. Add black fishnet stocking and ankle boots to give a little sexy and chic style. Modify your college outfit ideas fashionably with this technique.
Oversized Crewneck Sweatshirts and Tennis Skirt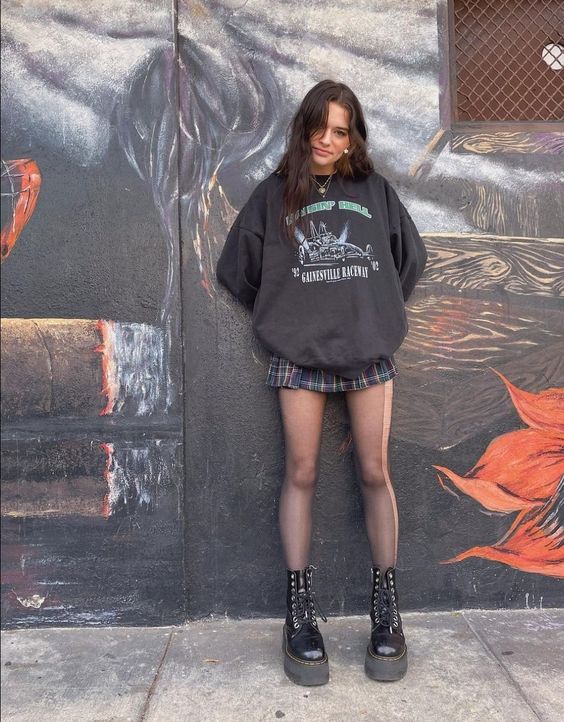 An oversized hoodie as dress and tennis skirt is the best combo for your winter mini dress style. Get the stocking and chunky lace-up boots to present a little swag on your oversized outfit ideas.
Wearing a fashionable mini dress for winter style never goes wrong as long as you know how to style it to become better and more suitable in cold weather. For the first, you need to consider layering style. Match up with everything in your closet like tights, legging, or stocking to build an extra warmth in the bottom. For the topper outfit, you also need to bring up the thicker ensemble or get layering with coats, jackets, wearing a sweater dress, and others that help you stay warm. For the last, choose the perfect shoes for completing your winter mini dress style like knee-high boots. That's all you should be doing if you want to modify your mini dress for a winter outfit.