Olidfashion.com – Geeky is all the style that's taking concept students in the school. Geeky chic is a fashion style that brings about stereotypes about "nerd" clothing and accessories are cool, trendy, smart, and fashionable. The more prominent detail in a geeky chic style is by wearing reading glasses and the preppy look like button-up shirts. However, the geeky and nerdy girl styles are started to adopt in their daily fashion style.
Get Your Geeky Chic Style By Dressing Up Like Nerdy Girls
In the past "nerd" and "geek" have a negative connotation that means about someone that has their life, style, and they are also called anti-social. All about them are also unique and have the old-fashioned model. Nowadays, the geeky or nerdy style becomes a trend in fashion. As the girls who want to get dressed up like nerdy with geeky chic outfit style, you can try to follow the outfit inspiration below.
Collared Shirt and Colorful Sweater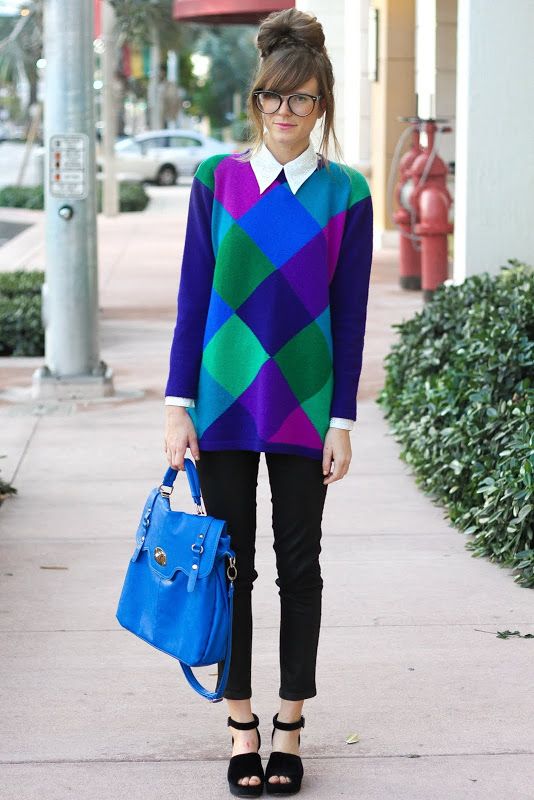 Drawing your geeky outfits with some components such as a plaid colorful sweater and collared shirts, then for the bottom style, you can choose black skinny jeans. Accessorized with reading glasses and a blue suede handbag. For shoes, you can get your favorite strappy heels for chic style. Perfect the nerdy look with natural makeup and a simple hairstyle like getting a hair bun.
Vintage in Geeky Chic Style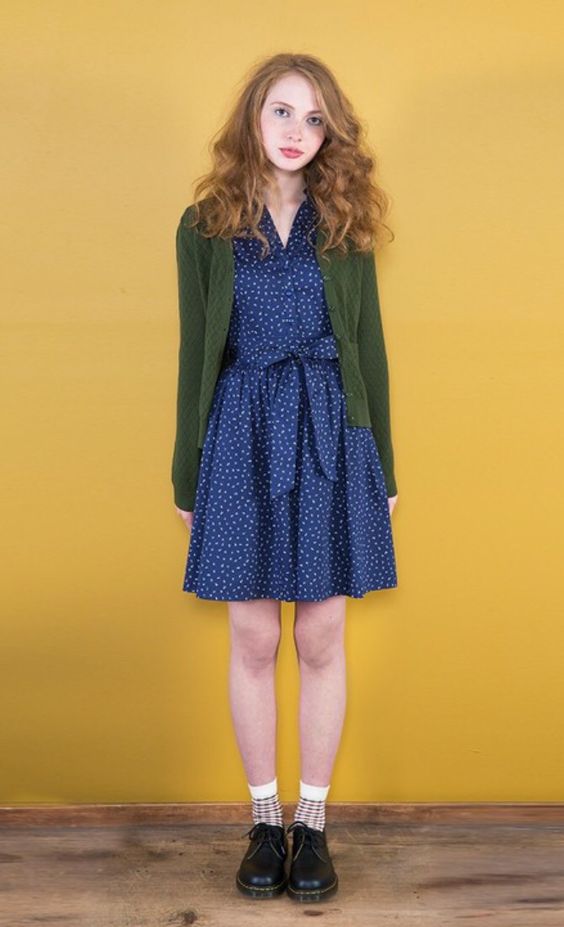 If you like to look vintage and retro in your geeky chic outfit style, you can come up with a blue polka dot mini dress and a green olive cardigan. Pull out your outfit like a nerd by having funny socks and black oxford shoes for the footwear style.
Geeky Style in Winter Outfit Ideas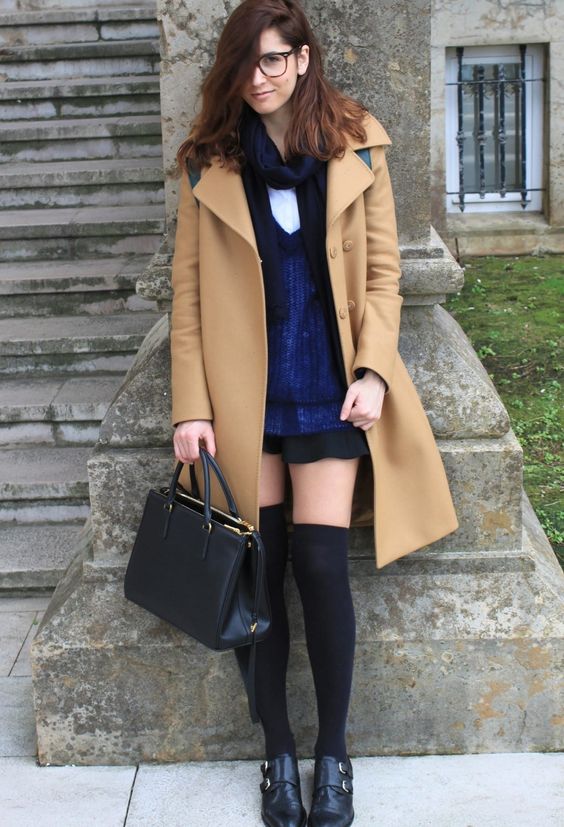 Being nerdy is not always look bad. When you need a unique and different fashion style, you can get a geeky chic style in your women's outfit ideas. For this, I recommend you to bring out stylish women's coats, sweater vests, shirts, and skirts for winter outfits. Turn it more like nerdy girls by having glasses, a doctor bag, loafers. and high socks.
Best Geeky Style for College
Adorable look in geeky chic style by wearing polka dot shirt, strappy mini dress, and grey tights. Pair this outfit with brown oxford shoes and beret hats then turn it as your college girl outfit ideas.
Elegant in Nerdy Girl Style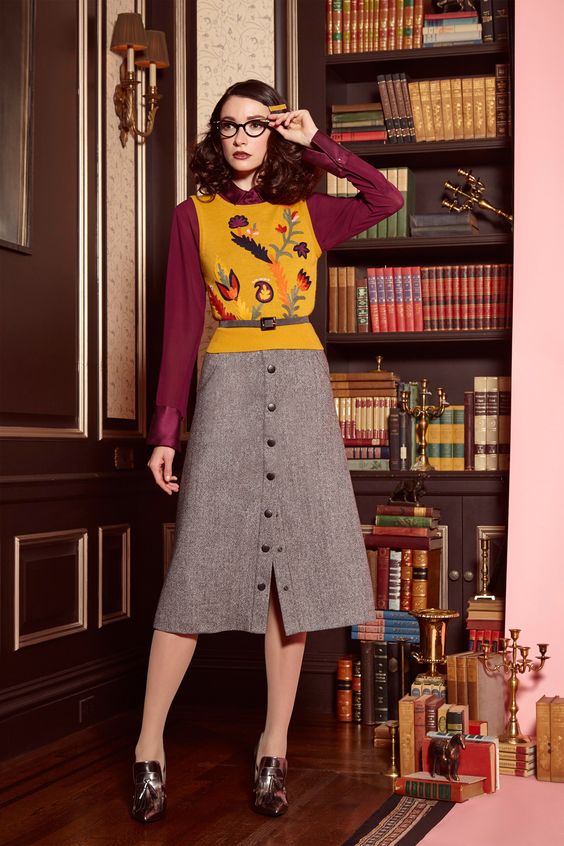 We know that's geeky style is about nerds and having a smart look with a little retro and old-fashioned. However, that's become a point to make this style unique. For an elegant image nerdy outfit style, simply adopt librarian style. Team up a grey button-up midi skirt, a wine-collared shirt, and a yellow sweater vest with floral patterns. For the footwear, just bring moccasin shoes.
Nerdy Girl in Mini Dress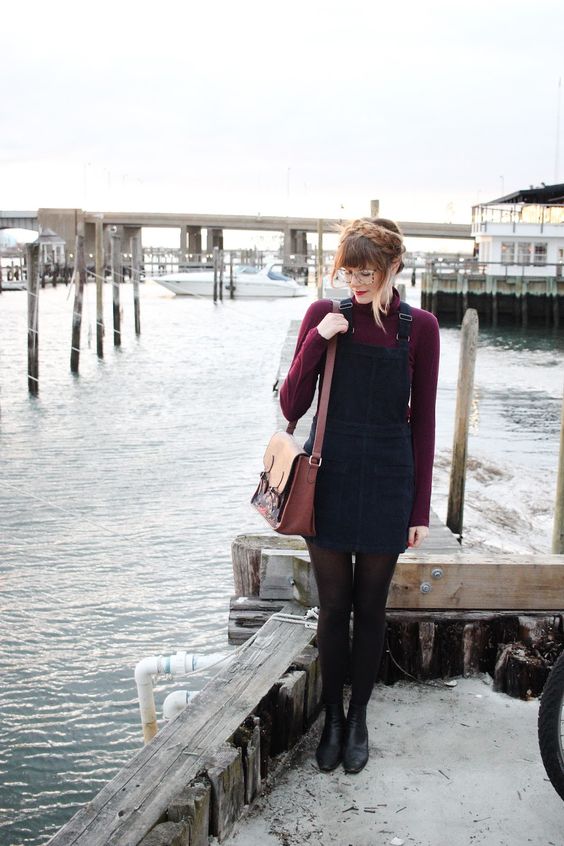 Nerdy girl in mini dress style for winter by wearing jumper mini dress and turtleneck sweater underneath. Looking up chicer by wearing tights and ankle boots. Perfect your all performance with glasses and envelop bags. Getting a hair bun will achieve you a geeky style but still pretty.
Bright Outfits in Geeky Style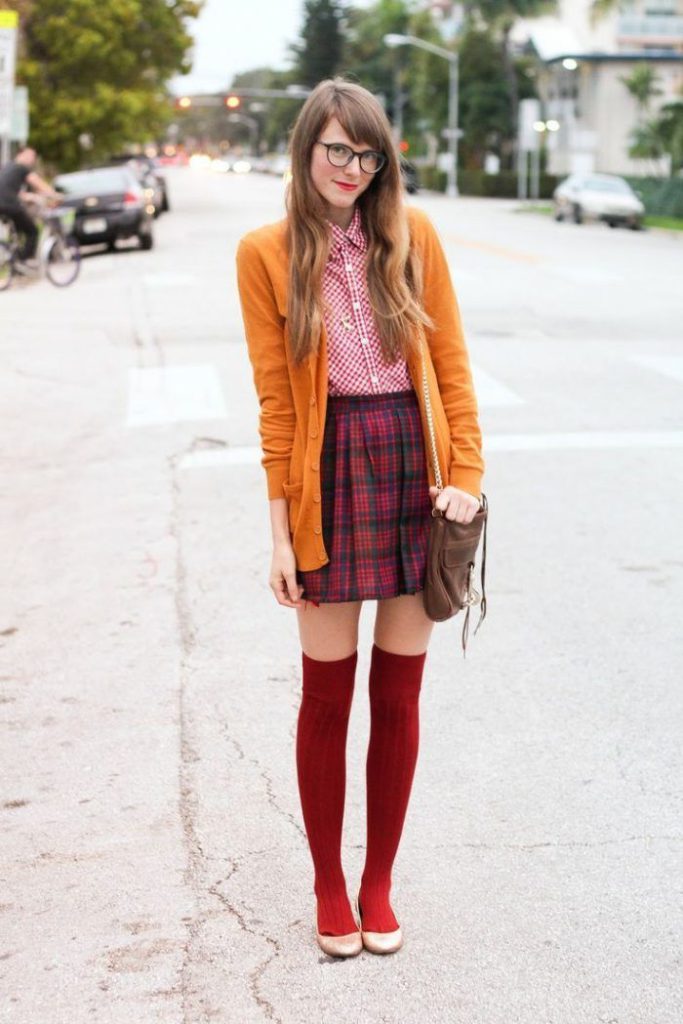 One of the ways to bring out the geeky chic style in your women's outfit ideas is by wearing bright colors like an orange cardigan, red shirts, high funny socks with red color shade, then completing all with the waist plaid skirt. Accessorized with glasses, ballerina flats, and a side sling bag for the impression of a nerdy girl style.
Simple Nerdy Outfits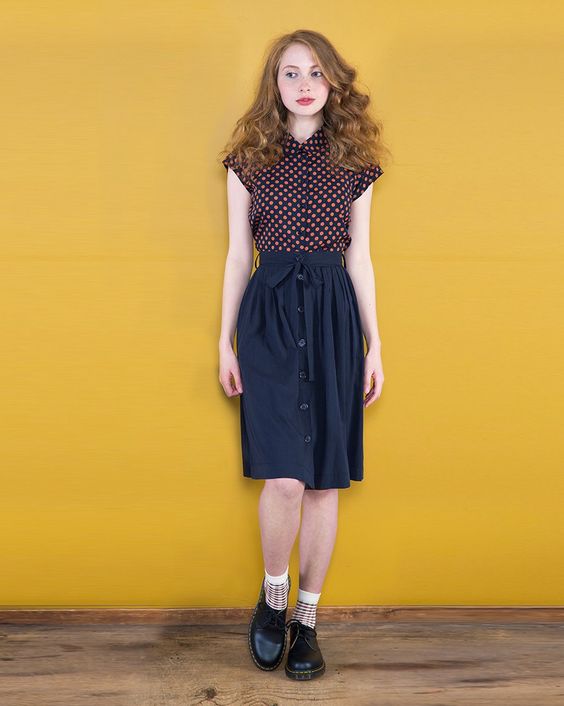 For a simple way to get nerdy girl outfit ideas, you can pick and combine a polka dot short sleeve shirt with a button-up midi skirt. Get the funny socks and oxford shoes always be the best pieces to present geeky chic style.
Ribbon Tie in Geeky Style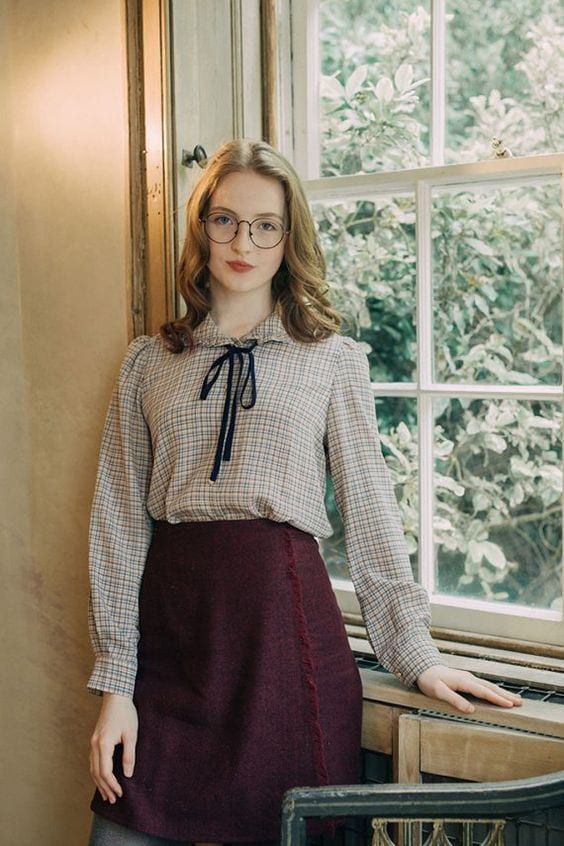 Another geeky style for completing your closet is a collared blouse with a ribbon tie and waist pencil skirt. Get layered with tights or stockings to make it more elegant. As for the footwear, whether oxford, loafer, moccasin, or ballerina flats can be your option to select.
Oversized Hoodie and Straight Pants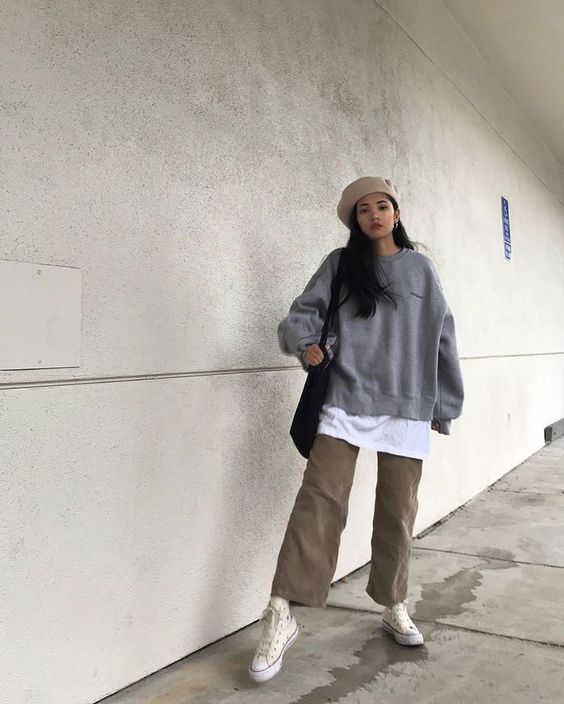 Boring with skirt and dress, wearing an oversized hoodie and straight pants could help you to get the best geeky outfit to deliver a trendy and tomboy style. You should pick up a hat and sneakers also a tote bag if you want to see the perfect overall look.
Striped T-shirt and High Waist Pants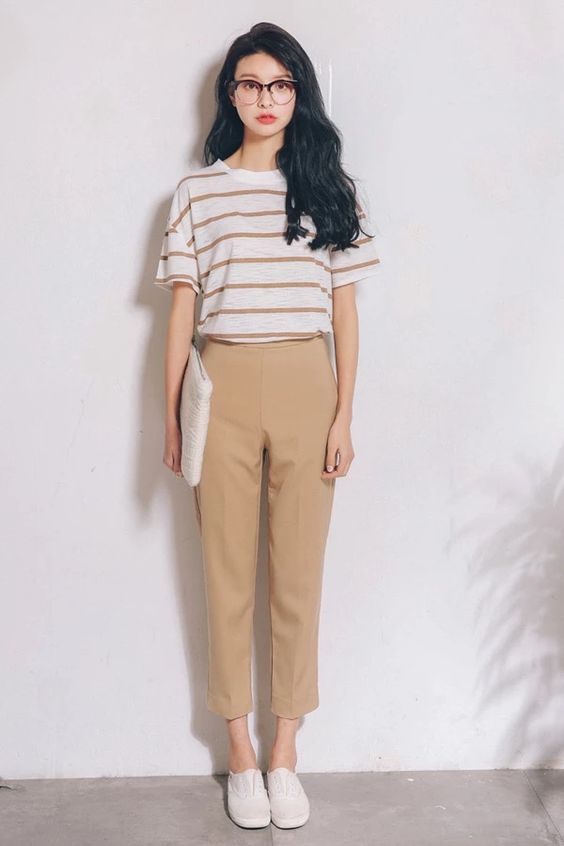 Tuck your striped t-shirt in high waist pants and mix with shabby sneakers if you want a simple geeky chic style. Don't forget to wear glasses and then envelope bags to perfect your outfits.
Smart Look in Geeky Style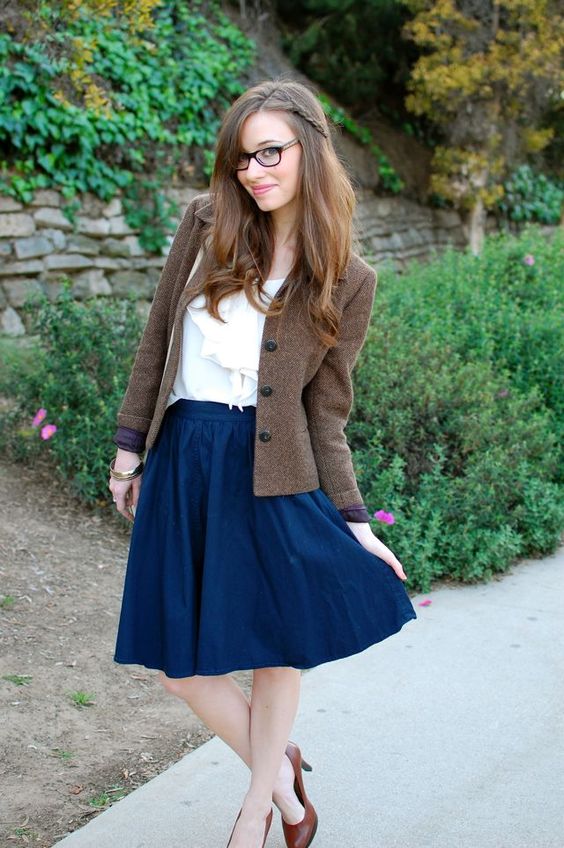 A geeky chic style for workwear, why not. When you want to appear in a smart look, just combine a brown woolen cardigan, white blouses underneath, and a dark blue line midi skirt in your women's work outfit ideas.
Spring Geeky Outfit Style
Nerdy girl style is not all about shabby or dark colors outfits, you can also come up with bright colors like green and yellow. A long sleeve polka dot shirt with a peter pan collar and a yellow pleated midi skirt would help you with a fresh sight for spring outfit ideas. When you pair lace-up ankle boots, fedora hats, and glasses it's all done to give you fashionable style.
Geeky in School Outfits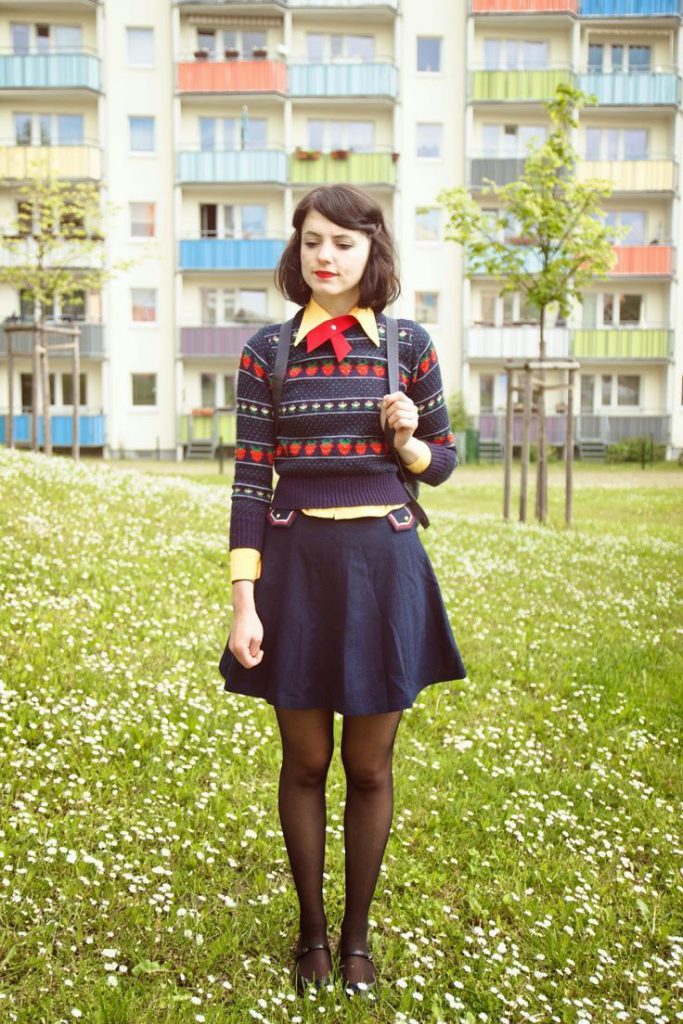 Nerdy style usually comes with old-fashioned style, a preppy look, and bearing vintage outfit ideas. If you like this style for school, you can carry a printed sweater, a yellow collared shirt, and a waist mini skirt. Applying tie on your outfits,  then getting dressed fully in stocking and ballerina shoes would be stunning your appearance in a unique way. Rather than a handbag or sling bag, a backpack would be the best match for this outfit style.
Casual Geeky Chic Style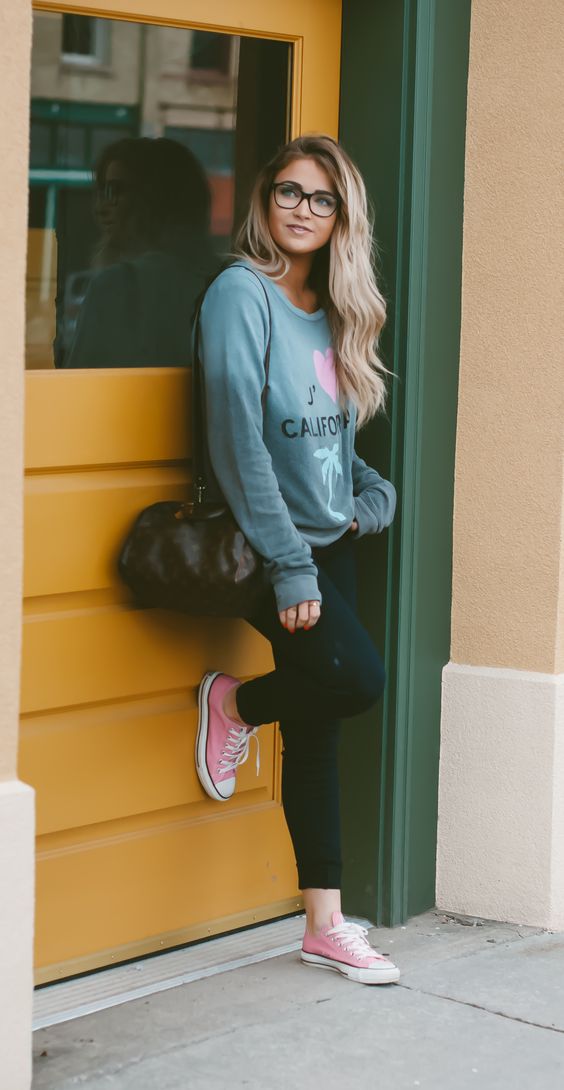 With the sweater, legging, and sneakers you will get a casual geeky chic style easily. These kinds of outfits are always stapled in your wardrobe. You just need to perfect your performance with glasses and a side bag.
Pretty Simple in Nerdy Style for Girls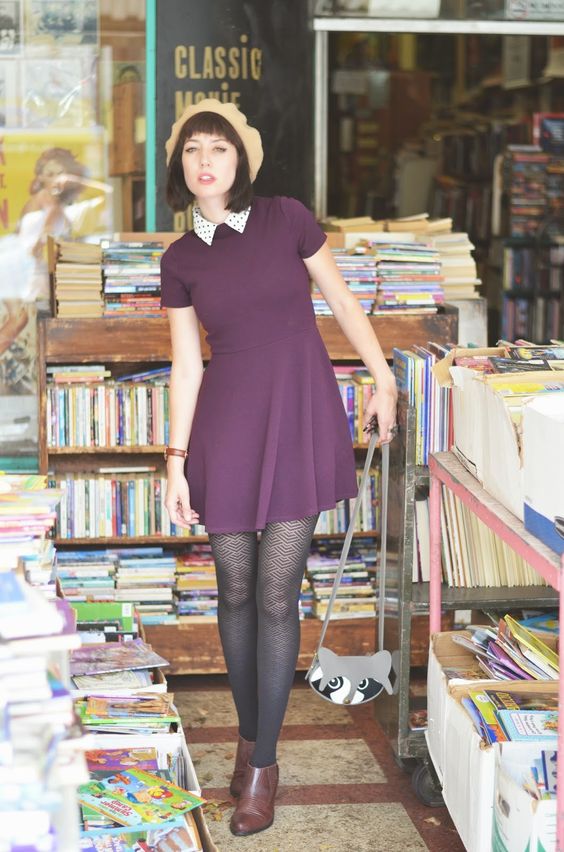 In your geeky outfit style, try to combine a collared mini dress and fishnet stocking for girls for a pretty simple look. Support the outfit with a beret hat and ankle boots. Give attention to your hairstyle and make-up too such as choosing a bob style and natural makeup.
Sweet in Jumpsuit Style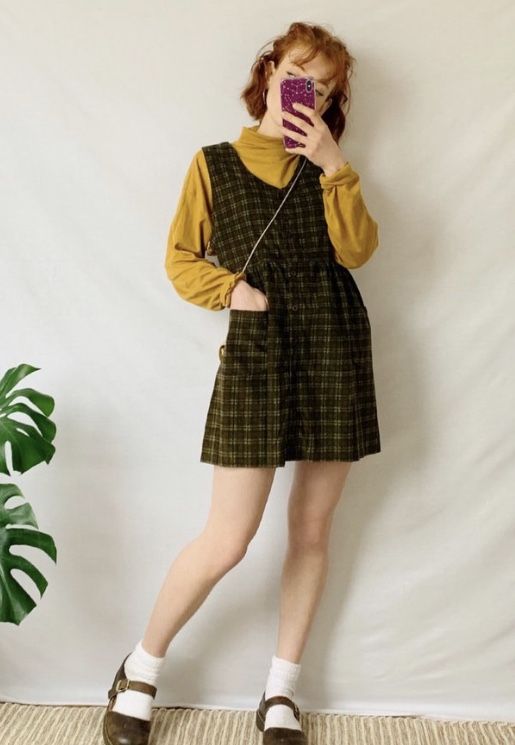 Get the sweet look with a geeky outfit style by having a turtleneck underneath a sleeveless jumpsuit. For the shoes, mary janes could be matching in your style. Choosing mustard yellow and olive green as the basic color of your outfit can be really supported your geeky theme.
Geeky Chic Style in Printed T-shirts
Those who don't want to bother with girly dresses can make the geeky chic style by wearing printed t-shirts and ripped jeans. This is also an effortless fashion style and still fashionable enough to carry in your daily outfits.
Swag Style in Nerdy Outfit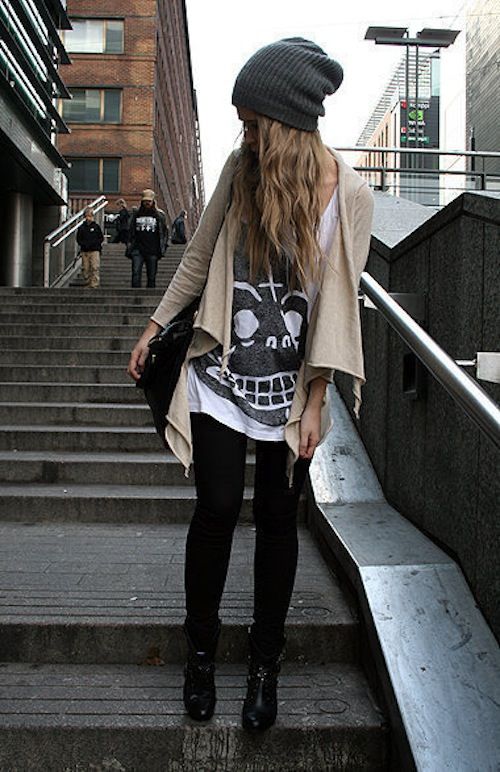 Get a little swag style in your nerd outfit by getting a skull-printed t-shirt, loose cardigan, skinny jeans, and army boots. Give another statement in your head by wearing a beanie hat. Don't miss out on glasses and a backpack for identifying the geeky style that modified become grunge chic style.
Button Up Shirt and Midi Skirt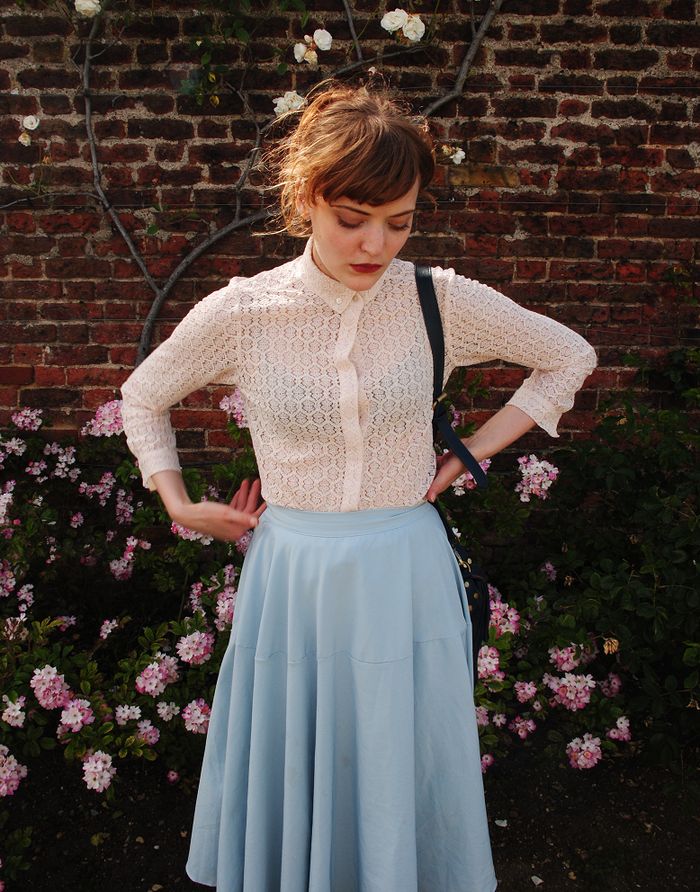 Dress up nicely in preppy geek chic style by wearing a button-up long sleeve shirt and then tuck it in an a-line midi skirt. Choose lace fabric for the topper outfit style to get an adorable style. Pick a sling side bag and then loafer shoes or your favorite flat shoes to complete your performance.
Suspender Dress for Geeky Chic Style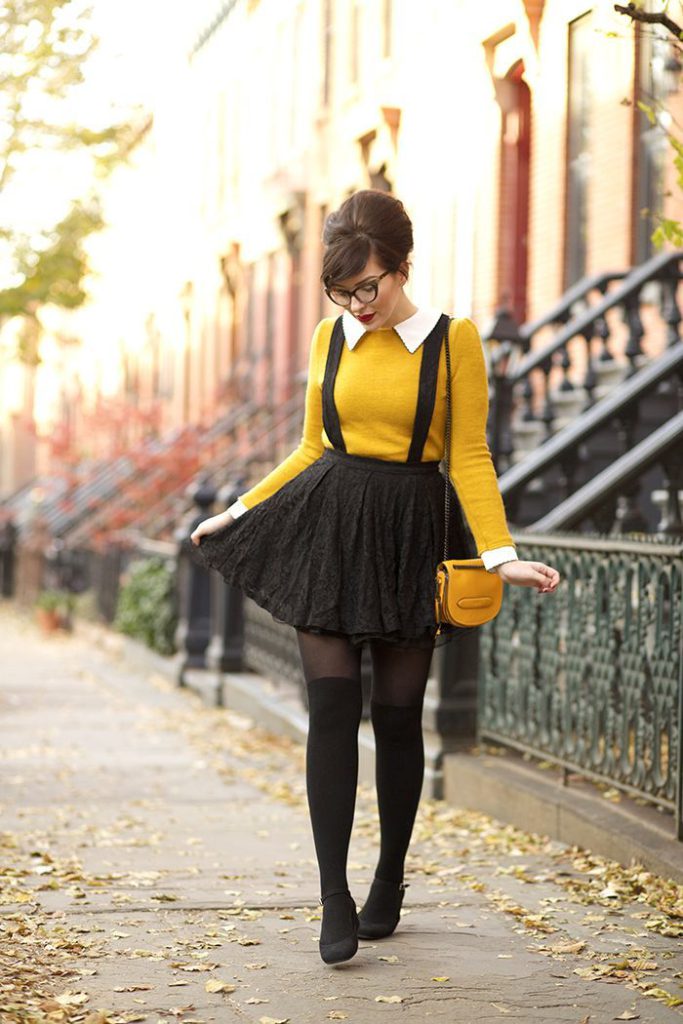 Have a soft and chic geeky style by layering a white collared shirt, mustard sweater, and black suspender dress. Add stocking, high socks, and ballerina shoes that could support your outfit style in cold weather like fall. Compose your makeup and hairstyle appropriate to your nerdy girl style.
The Button Up Skirt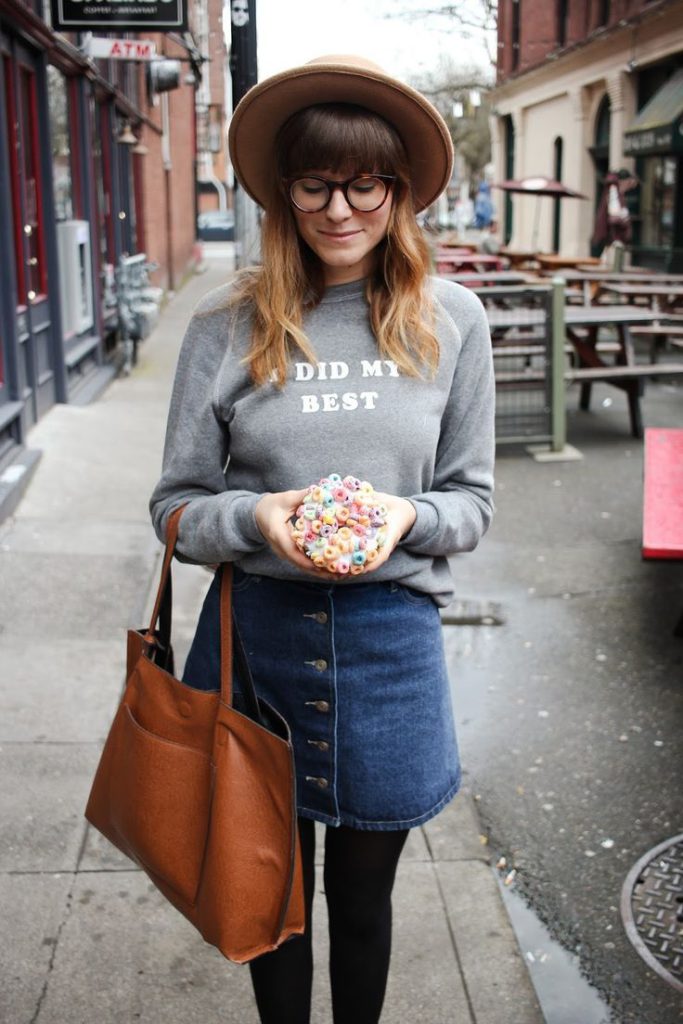 Tucking your long sleeve tee in the button-up mini skirt and then pairing it with a black legging underneath the skirts would be a great idea for geeky chic outfits. Get the dresses full of theme with the accessories such as fedora hat, glasses in must, a tote bag, and footwear you can get loafers or oxford shoes.
Preppy Style in Suits for Nerdy Girls
Trousers, cardigans, shirts, and vests are the components to produce preppy style, and we know that's nerdy and geeky are identical to a preppy outfit. This kind of outfit is commonly brought up by the boys but if you want a little different, just wear it for nerdy girls' style.
Layered Outfit for Nerdy Style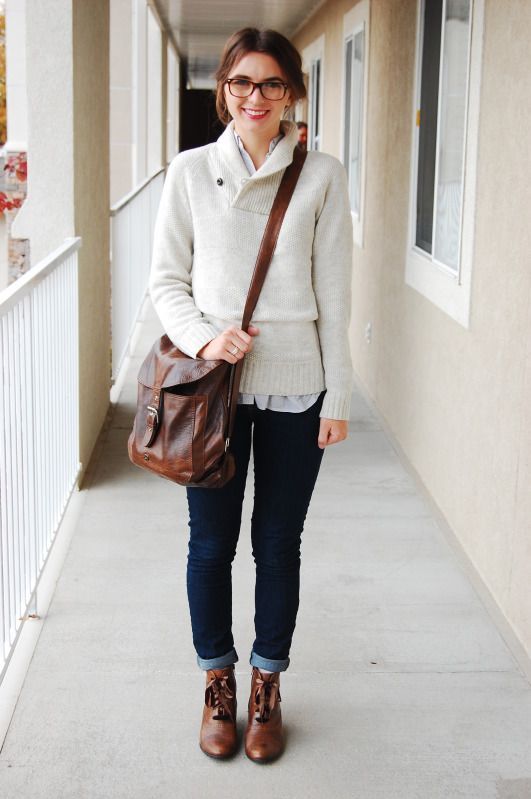 Layered style never fails to draw geeky chic style in your women's outfit ideas. Wearing a collared shirt and then sweater over it to match with blue jeans is a wonderful combo for a nerdy look style. Get all the images by having lace-up ankle boots, don't miss out on the accessories such as a sling bag and glasses that must you bring in this outfit style.
Geeky Chic in Pastel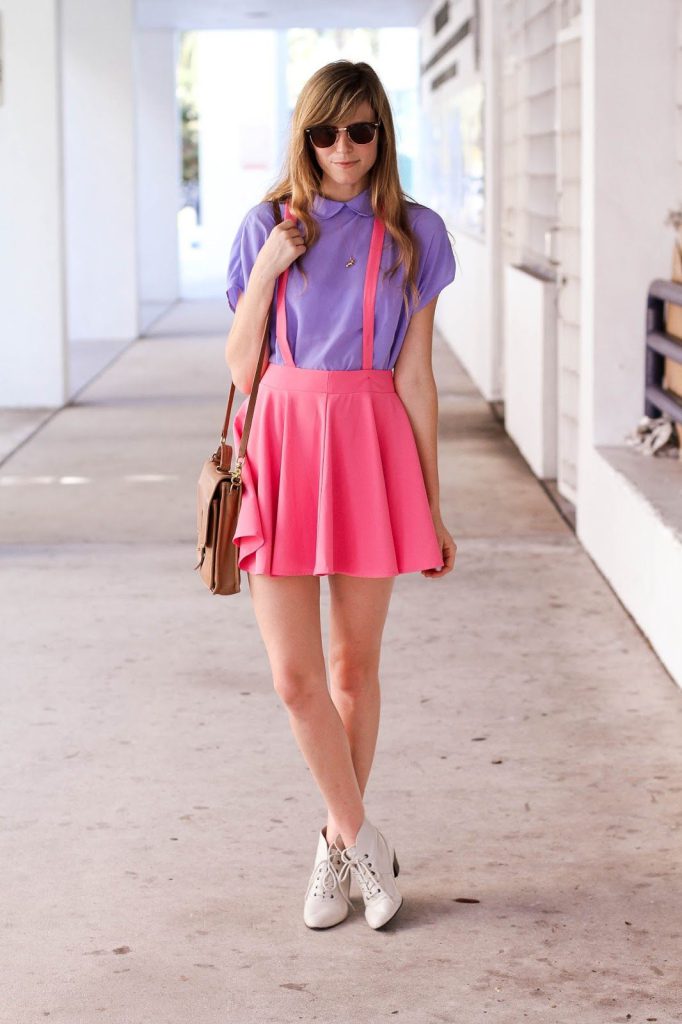 To create a pretty girl in geek chic style, adopt pastel ideas in your outfit. For instance, you can wear a lilac peter pan collar blouse and a pink suspender skirt together. As for the footwear, select beige lace-up ankle boots, accessorize with a brown sling bag, and get ready to go with your school friends out.
Tips and Tricks To Dress Up in Geeky Chic Style for Girls
For the conclusion from the inspiration outfits above, I will give you some tips and tricks on how to dress up in geeky style for girls.
Mix and match either patterns or colors into your women's outfit ideas. For example, you can combine bright solid color outfits with printed t-shirts or striped sweaters and button-up skirts.
Get layering style in your clothes such as pairing sweaters, collared shirts, and suspender dresses.
You can get the nerdy style with some high waist bottoms like waist skirts or pants by tucking the tops in them.
Besides high waist bottoms, plaid and pleated skirts also could be used to stand up your geeky chic style.
For the simple and easy way to create a nerdy girl outfit, picking printed t-shirts is the best selection.
Nerdy style is about preppy outfits and for this you need collared and button-up shirts.
Rock on your blazer outfit to draw geeky chic style in women's outfit ideas.
Choose matching accessories that would help you to build up a geeky chic outfit style for girls like reading glasses, suspenders, ties, backpacks, and fun socks in your fashion ideas.
Choosing oxford shoes or loafers to perfect your nerdy style.
Don't miss out on the make-up and hairstyle because it would really help you create a geeky chic style.
The geeky chic style becomes hype and gets its place for some girls to look fashionable in nerdy outfits. They usually come with the preppy style that includes collared shirts in button-up style, peter pan collared outfits, suspender dress, midi skirt, and more. For the iconic items, you need to get reading glasses and loafers or oxford shoes for accomplishing your outfit style.