Olidfashion.com – Nerdy or geeky fashion style has a few iconic items such as thick reading glasses, preppy clothing, and ancient style. However, the old-time nerdy outfit has a little bad image rather than today that's become a hipe and trendsetter. Both girls and guys start to embrace this geeky chic style in their outfit ideas. Mix and match pieces in your wardrobe to create a cool nerdy guy style and dress up with the right fashion style. Stay to scroll down here and find out your inspiration.
Best Ways to Get Cool Nerdy Fashion Style in Men's Outfit Ideas
Nowadays, the nerdy style has never been underestimated again by people because it actually has its art. When you can bring this style in the right way, you may get the stunning style to increase your level your fashion. As we know that's a nerdy style in guys' outfits can present preppy, calm, and smart references to contemporary fashion style. You will get the 25 best ways to dress up like nerdy style for guys in this article. Let's check out.
Preppy Style for Winter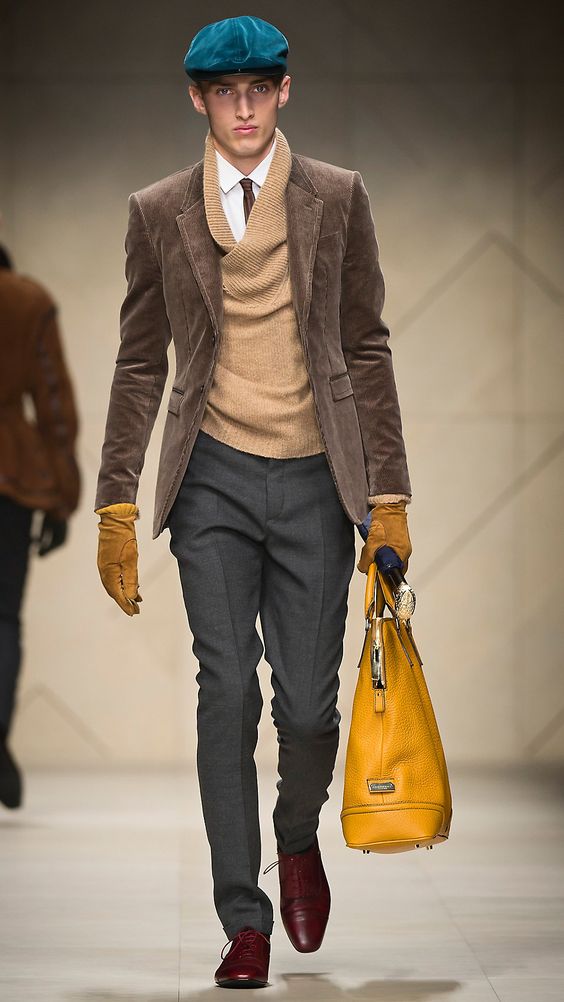 The nerdy style is also gotten from preppy outfits such as having a blazer, sweater, collared shirt underneath, and trousers. This layer style is good to wear as your preppy workwear in the office during winter. Get all your style finished by having loafers and tie in your shirt. For making it cooler, you can get some other details such velvet beret hat, gloves, and yellow tote bag.
Short and Button-Up Shirts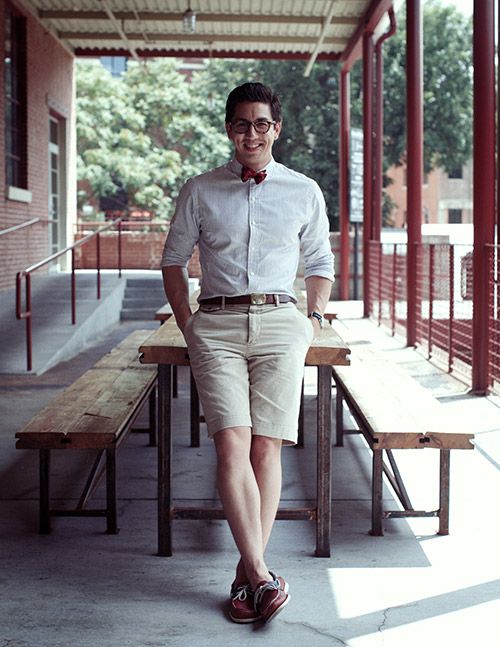 As we know that nerdy guys come with preppy styles such as button-up shirts. Bring it in a cool way by tucking it in Bermuda shorts and then give it details such as a bow tie. Don't forget the required accessories like glasses, belts, a watch, and then pair this outfit with sneakers.
Sweater and Plaid Mustard Pants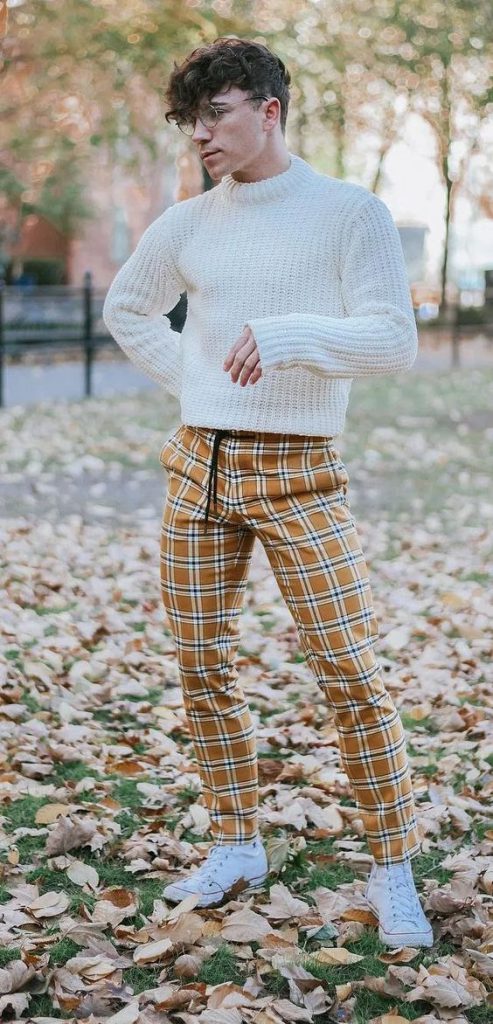 Get other nerd guy style in sweater and plaid mustard yellow pants for fall outfit ideas. As usual pair the outfit with geeky accessories like glasses. for a cool accent, you can bring it on your footwear by choosing sneaker boots.
Cool in Flannels Style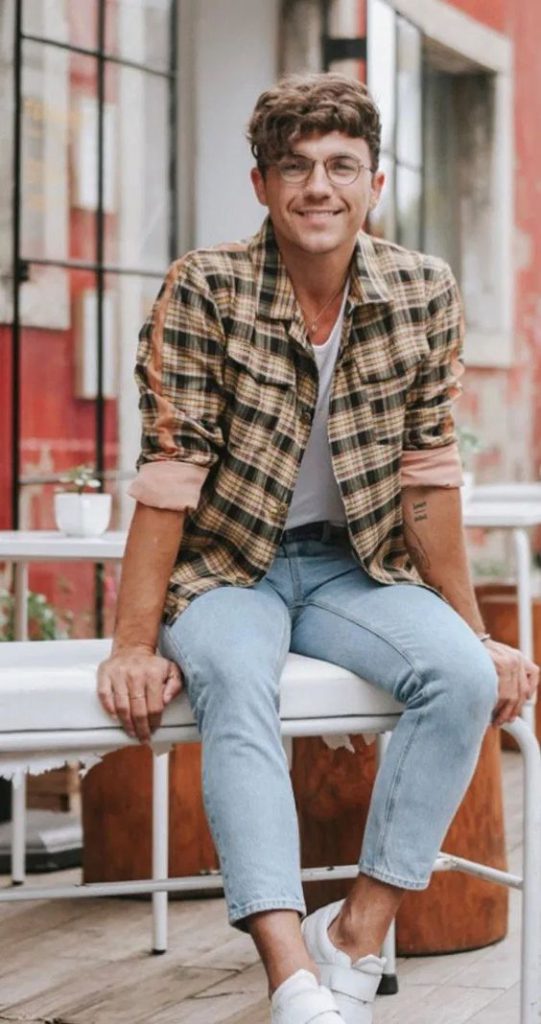 Flannels and jeans are the easiest way if you want to get a cool outfit style. When you want to draw a cool nerdy style with this outfit, you just need to wear glasses and get trainer shoes.
Get Layered in Yellow Clothes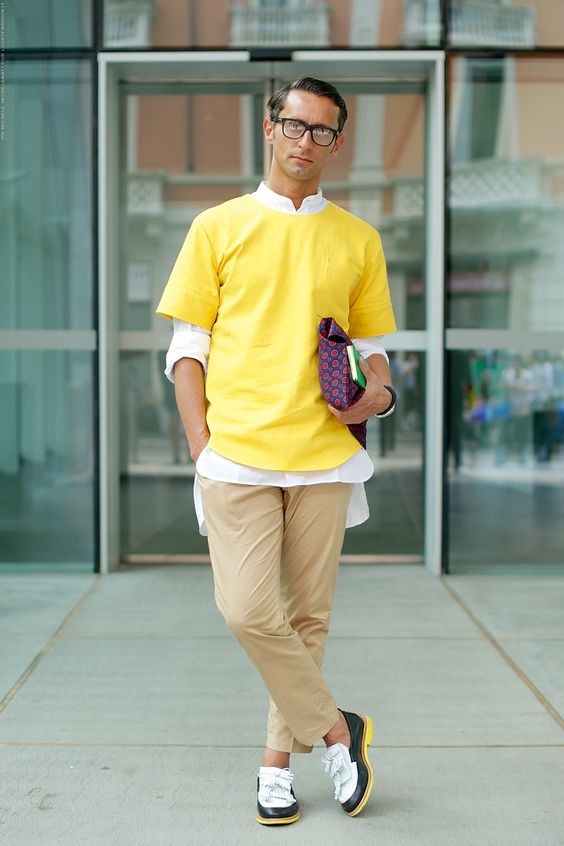 Bright colors in your nerdy guy style by getting layered with an oversized yellow t-shirt and stand collared shirts underneath. Pair this outfit with chinos and then get dockside shoes for the footwear. Don't miss out the accessories like glasses, a watch, and a handbag to complete your performance.
Casual Nerdy Style 
Tucking a plain t-shirt in striped trousers and then match the outfit with your favorite trainer shoes to get a cool nerdy style for guys. Get this simple casual look nerdy by having round glasses and a beanie hat as accessories.
Cool Nerdy Guys in Denim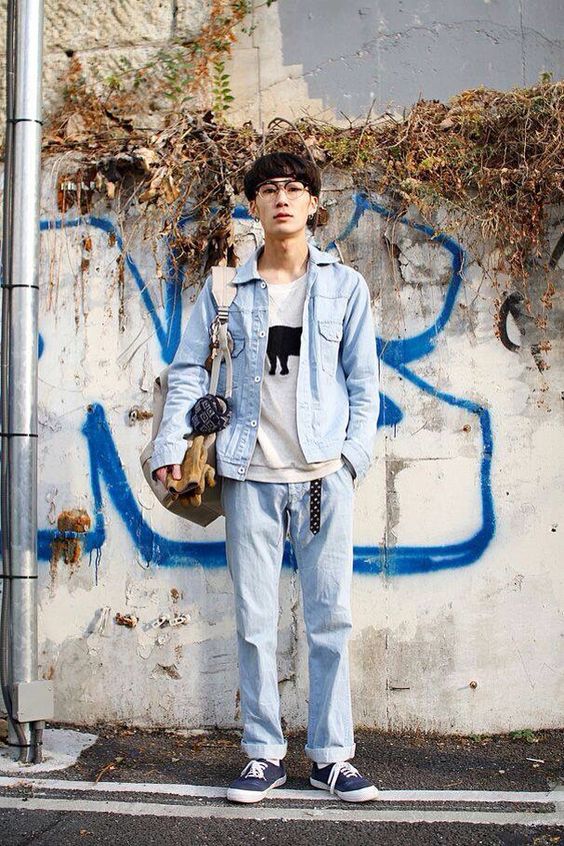 Denim is the style for every guy even if you want to get a nerdy guy style you can bring these pieces. For instance, you can get denim jackets for the topper and denim pants for the bottom style. Match the outfit with a printed t-shirt underneath and get accessories such as glasses, backpack. and sneakers to finalize your college outfit style in a cool nerdy look.
Rock on Your Blazer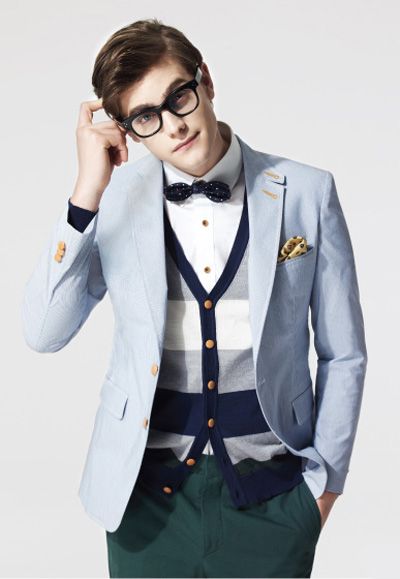 Get layered style in a blazer, cardigan vest, and a collared shirt are common for nerdy guys style to apply. You can get full ensembles by wearing chinos, loafers, and have accessories such as a bow tie and glasses.
Geeky Style in Cardigan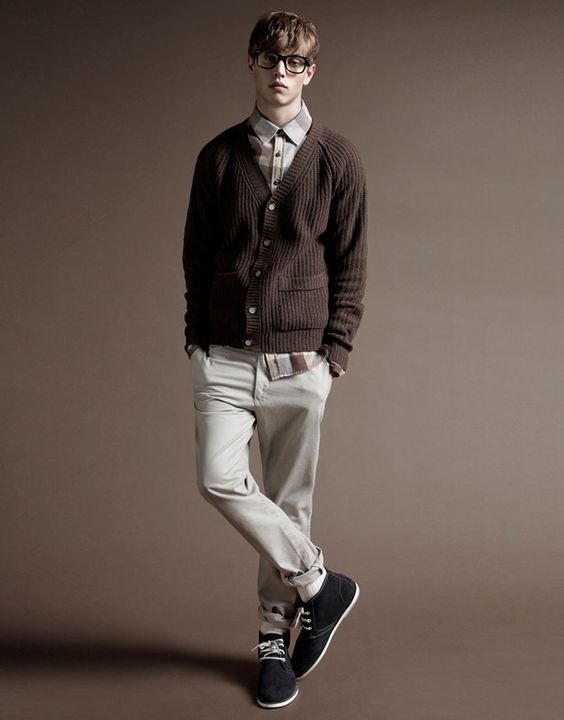 Have your geeky style easily by wearing a cardigan and button-up shirt. Pick chinos for the matching bottoms, and sneakers for the footwear. As usual for the accessories, you should bring glasses.
Get Statement on Your Bow Tie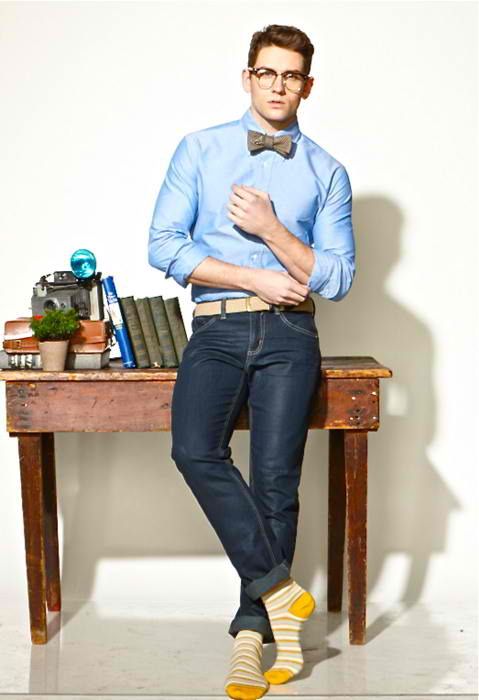 Combining collared shirts and jeans is a common style for a cool guy. However, when you try to put bow ties and glasses into your style, this actually turns into a nerdy style for guys.
Best Combination For Nerdy Style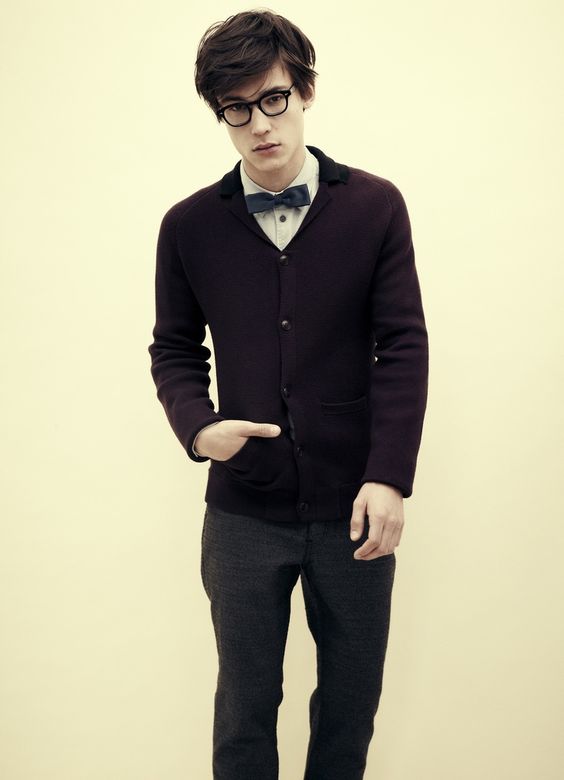 If you look for the best combination in a cool nerdy style for guys, I think it comes to a button-up shirt, cardigan, trousers, and loafers. You can mix and match these pieces together and then bring geeky accessories such as glasses and a bow tie to make you more look like a nerd guy.
Shabby Crewneck Sweater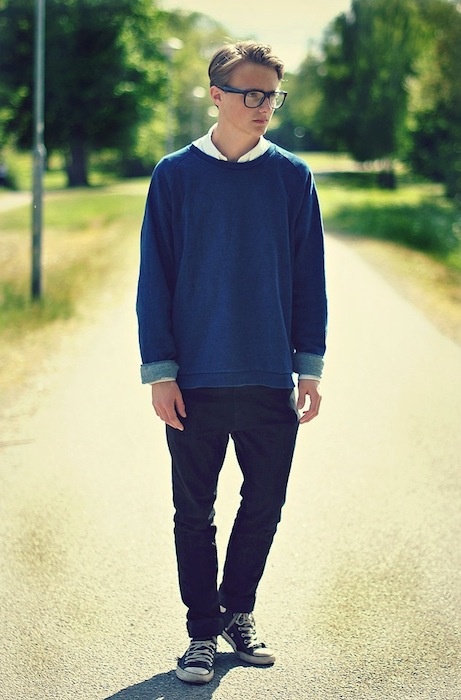 Grab anything in your closet to create a nerdy fashion style for guys such as your favorite crewneck sweater. Pair this item with a collared shirt underneath and then your favorite jeans. Get the nerd image by having glasses as common accessories. For the footwear, just choose sneakers for a cool style.
Swag in Your Nerd Style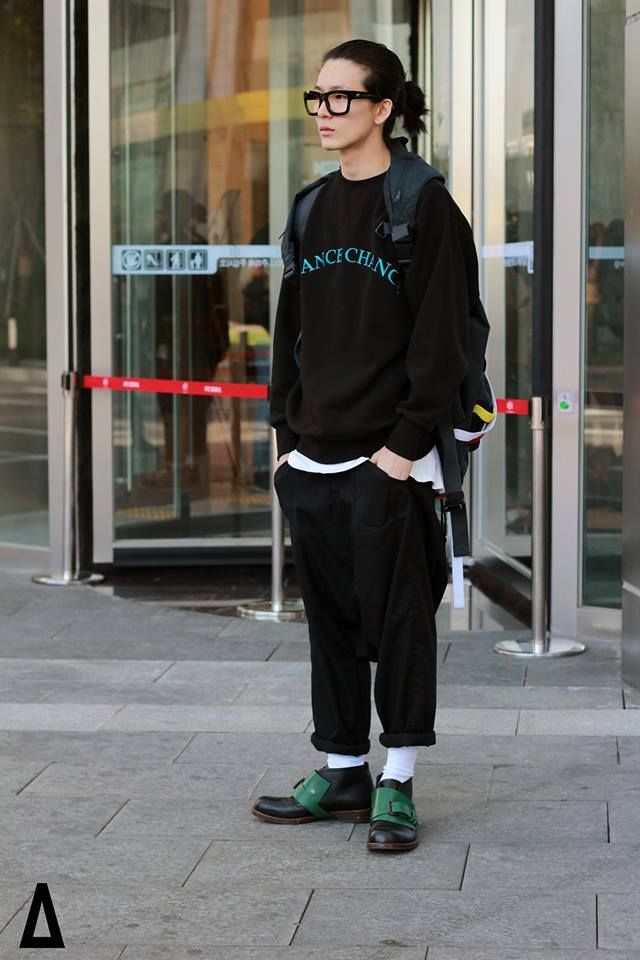 Support a nerdy fashion style for guys in swag outfits like a black hoodie, baggy pants, and monk shoes. Get the look more trendy in geeky style by having glasses with a thick frame and then a backpack.
Vintage in Sweater Vest for Nerdy Guys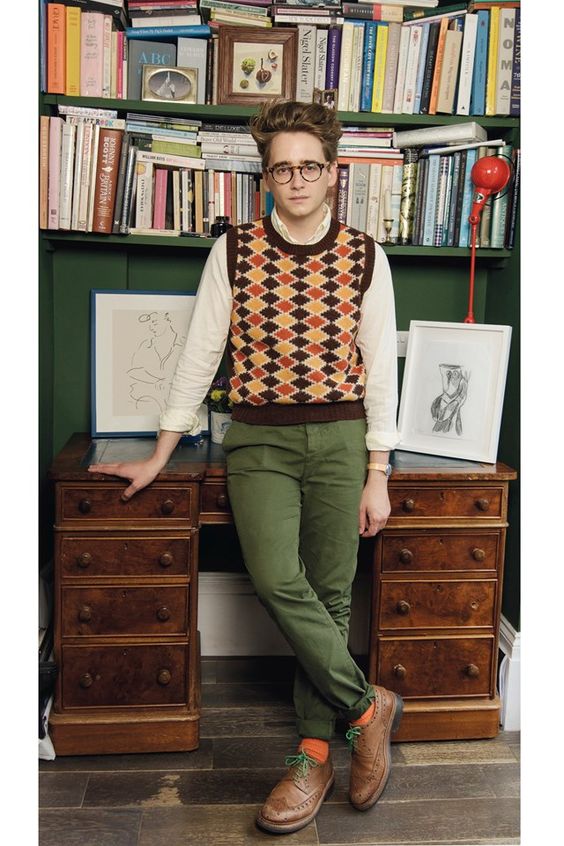 Get your nerd guy style by adopting vintage outfit ideas in a sweater vest. This outfit might look a little shabby and grandpa style, but when you style it in the right way you will get the chic style. For example, you can try to pair this sweater vest with a collared shirt, khaki pants, and brogues shoes. Bring this style nerdier by having glasses as a typical accessory.
Bring Nerdy Outfit with Plaid Shirt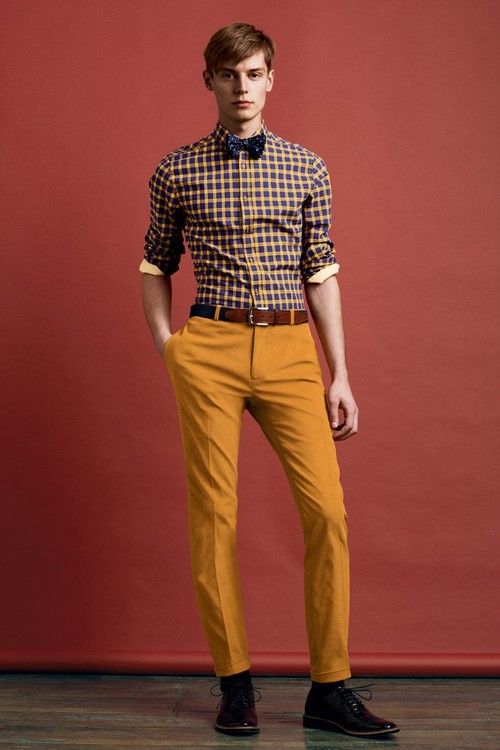 Work with a plaid collared shirt, chinos, and bow tie in the mustard yellow color shade if you want to have a nerdy fashion style for guys. This style would bring you a geeky impression even without wearing glasses. Perfecting the style with black derby shoes as for matching footwear.
Get Suspender in Your Nerd Outfit Ideas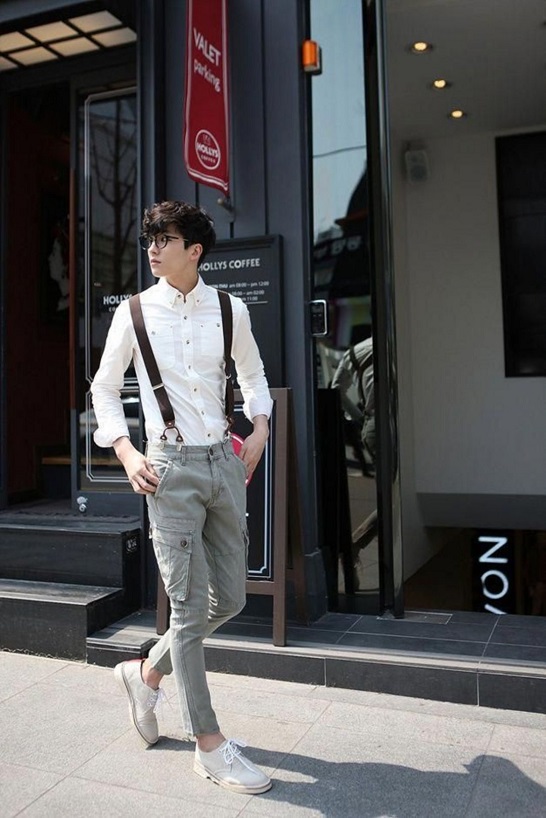 If you want to get a little nerdy in guy fashion style, you can set up a suspender in your long sleeve shirt and slim-fit cargo pants. Match this style with sneakers and glasses to give you a smart geeky look.
Wearing Bermuda Shorts and Blazer for Geeky Style

Fusing two styles in one outfit is a smart way to astonish your performance. You can get cool nerdy guy style as a fashionable idea by modifying your blazer style with Bermuda shorts and a bow tie. This is an unusual design that you need to regard and apply as a casual preppy style. Get this outfit more trendy with the sneaker, beret hat, and a modish laptop bag for completing overall outfits.
Cardigan and Tie For Nerdy Guy Style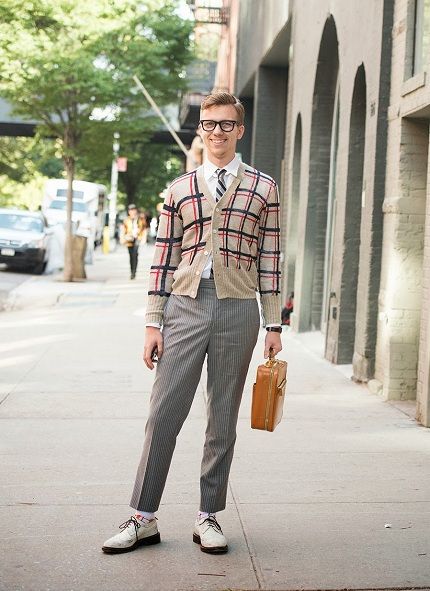 The preppy style is the characteristic that comes in nerdy outfits for guys. You can get this style by having suits without a blazer and changing it with a cardigan for more chic and trendy. Carrying oxford shoes is the best matching footwear for this men's outfit idea.
Blue Denim Jackets and Collared Shirts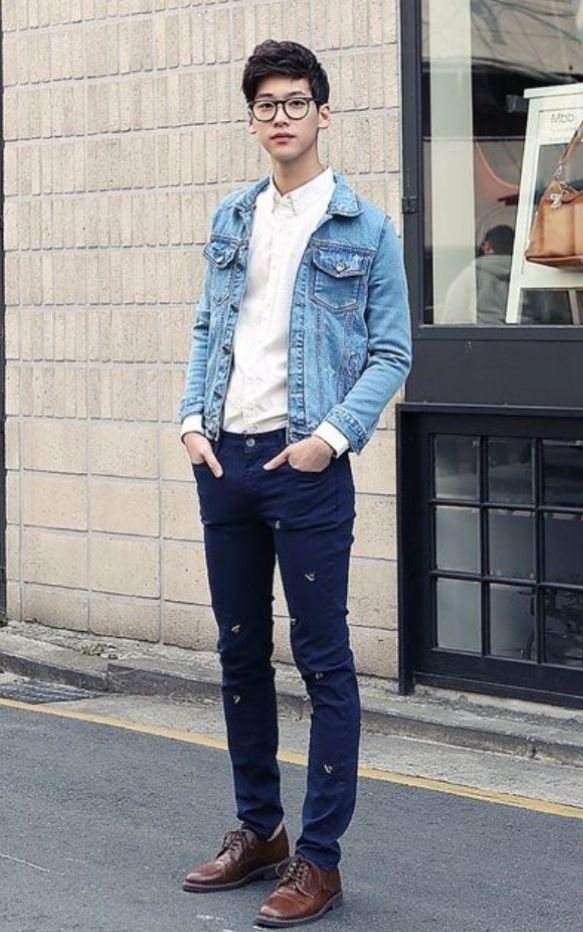 You will not be bullied by your friends if you embrace this cool nerdy style for guys even you look a bit geeky. Furthermore, you may get more attention from the girls with a trendy style and calm at once. This would bring a mysterious charisma to yourself. You just have to come with the combination of a denim jacket, a button-up shirt, and then navy chinos. For the footwear, derby or brogues shoes are the optional matchings to your style.
Cool and Nerdy in Sweater Style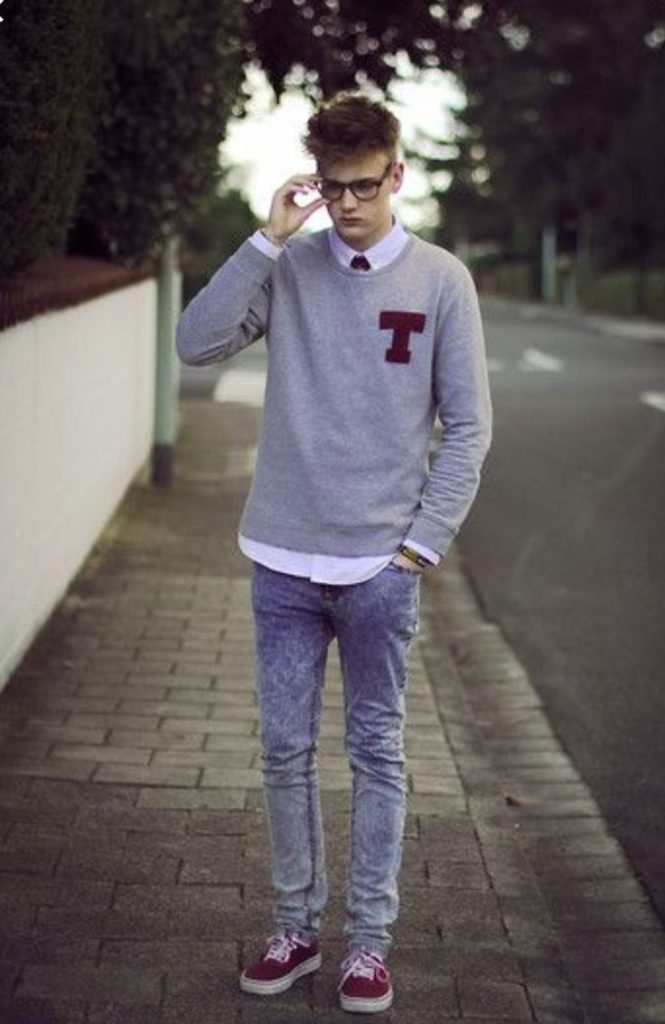 Get the face of cool nerdy guy style in a sweater, shirt, jeans, a tie, and sneakers. When you combine these pieces as one of the men's outfit styles, you actually would get the preppy smart image to your outfit in a modish way.
Simple with Printed T-Shirts and Shorts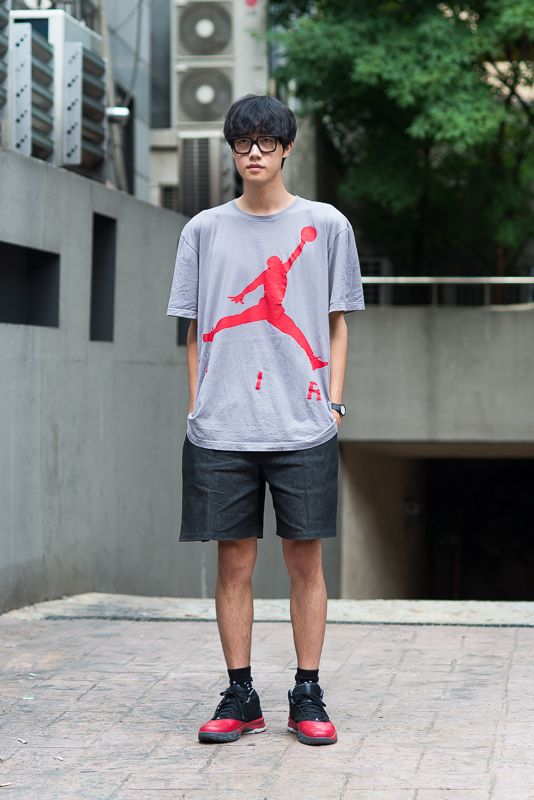 The simple nerdy guy style that you can be embracing for your daily men's outfit ideas is by wearing a baggy printed t-shirt and Bermuda shorts. Pair this style with trainer shoes and then always get the glasses on your nerd fashion idea. It's easy and practical to apply for everyday style.
Bomber Jackets and Trousers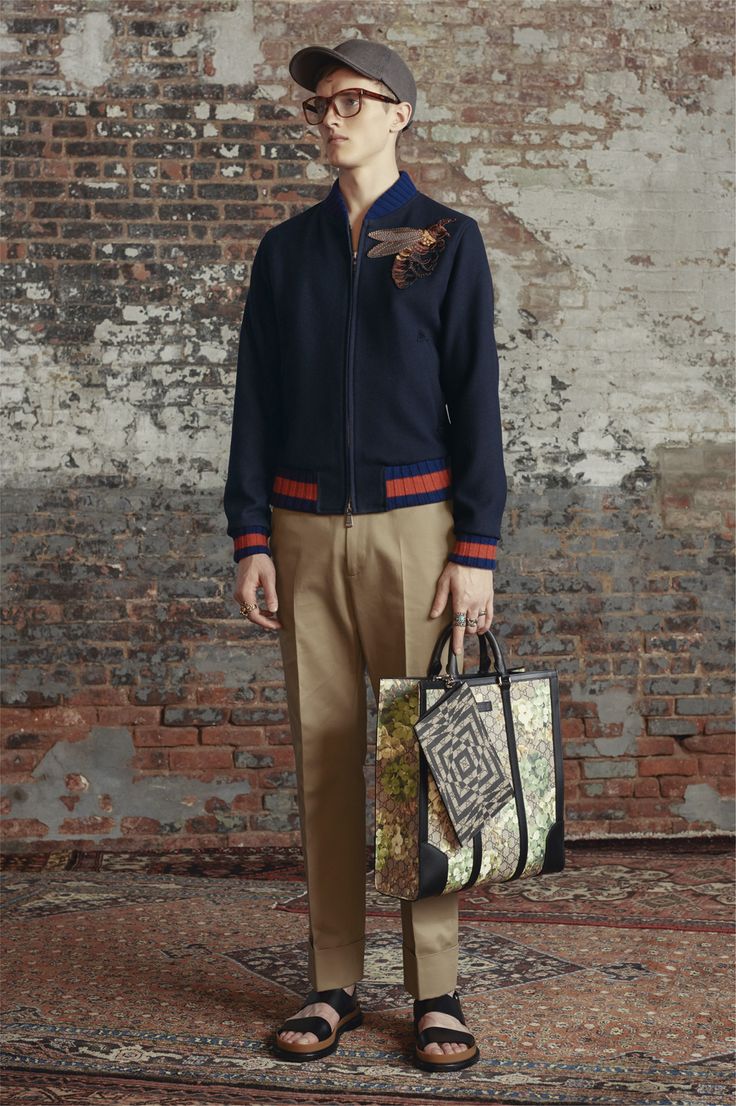 Perform with bomber jacket style in your nerdy fashion for guys' outfits by having it together with brown linen trousers. Get the performance more casual and trendy with slippers and also a hat in your head. Don't miss out on the glasses, a big tote bag to complete all the men's outfit styles.
Cool Nerd Style in Leather Jacket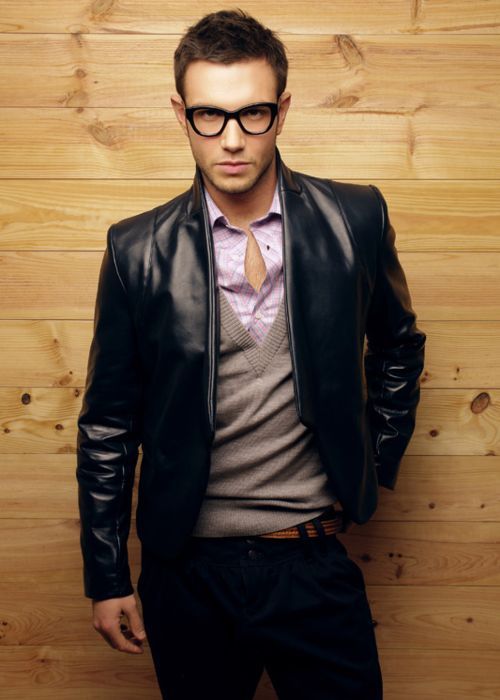 Leather is the best piece if you want to look cool in nerdy style for guys. This also could bring out a classy and elegant look. When you want to get a cool nerdy style for guys' outfits, a leather jacket is a great choice. Make it a layered style by combining a black leather jacket, a brown sweater vest, and a collared shirt for the topper. Get this men's outfit together with blue navy trousers or chinos. Take on some details such as glasses, a belt, and then oxford shoes or loafers to equipped your style.
Bohemian Sweater and Brown Velvet Pants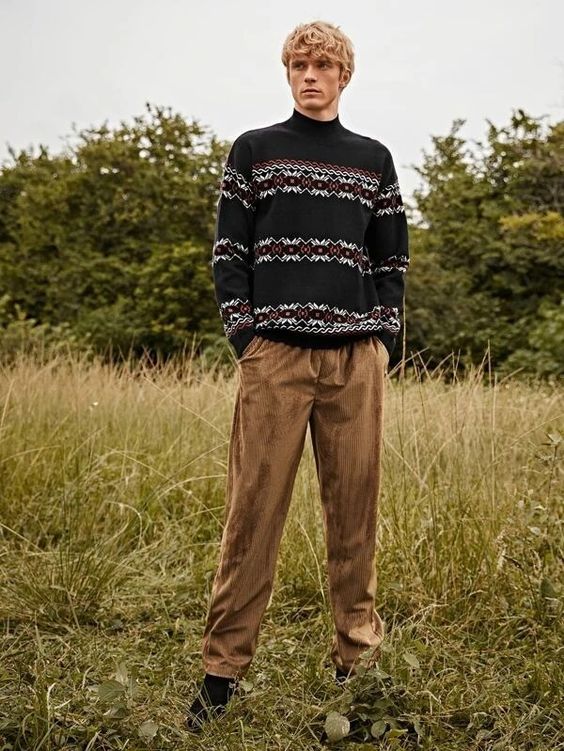 Pull out your cool side even getting nerdy style by having a bohemian outfit in your day. You can choose a sweater with a bohemian pattern and then mix it up with brown velvet pants. Bring your favorite shoes to perfect your overlook.
Being Retro in Nerd Style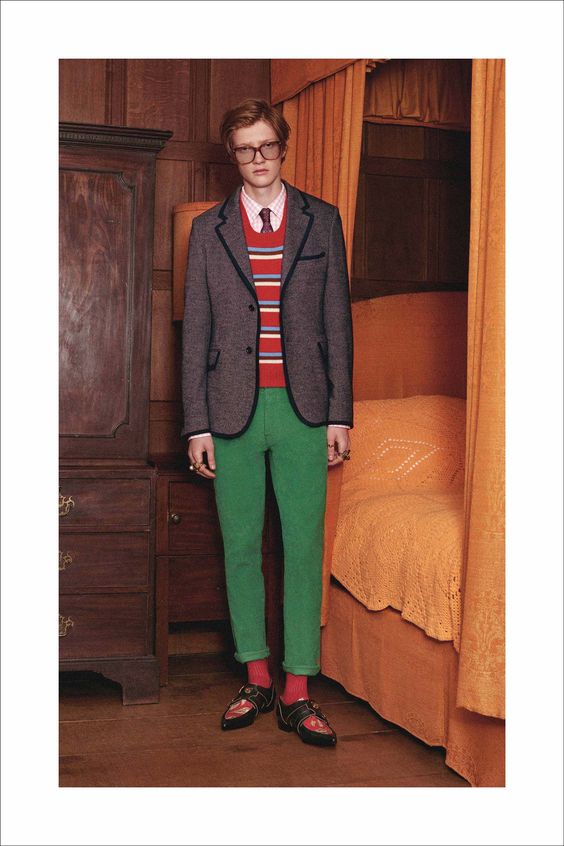 Get dressed up properly for nerdy guy style in vintage outfits by getting a blazer, sweater vest, collared shirt, and pants. For this, you should have chosen a color clashing combination like brown, red, and green in your outfit to make it get a retro image. To perfect the look, you have to get a tie and glasses in your men's outfit idea. Funny socks and monk shoes would be matching in this style.