Olidfashion.com – Shabby chic is a typical sense for a design that's drawing a vintage style with a soft color hue and conventional design. To come up with a frumpish and old-fashioned style and the fuse between vintage and contemporary could make your outfit look fashionable enough. So, don't be doubtful to wear shabby chic clothing in your vintage outfit ideas.
Great Ways To Take Your Shabby Chic Clothing for Vintage Outfit Style
Actually, shabby chic is a design that most people use in interior decoration. However, you can adjust it towards your fashion design and produce a nice vintage style. Look back to your old wardrobe and find some pieces of old clothes and remodel again to become fresh and fashionable fashion style.
When you want to take your shabby clothing and present vintage style, there are some ways you can do about it such as:
Mix the old trend with the new ones from your wardrobe for a chic and sophisticated style.
Bring your outfit ideas in neutral and shabby shade colors
Bring back the old-fashioned dress and suits that have a past portrayal
Go on with suede, velvet, or lace fabric to create shabby chic clothing for vintage style
Get some old and antique accessories to create a vintage look in your outfit style
Put on layers to your outfit ideas if you want to bring out more vintage style.
Shabby Chic in Women's Outfit Ideas for Vintage Style
Shabby chic clothing is all about past fashion style and also gets the sweet romantic look in women's outfit ideas. These clothes are commonly about the lace fabrics, shabby toned, feminine frills, velvet outfits, and floral patterns to draw vintage style into your ensembles. Find out some inspiration shabby chic outfits below.
Go with Feminine Frills in Your Shabby Clothing Style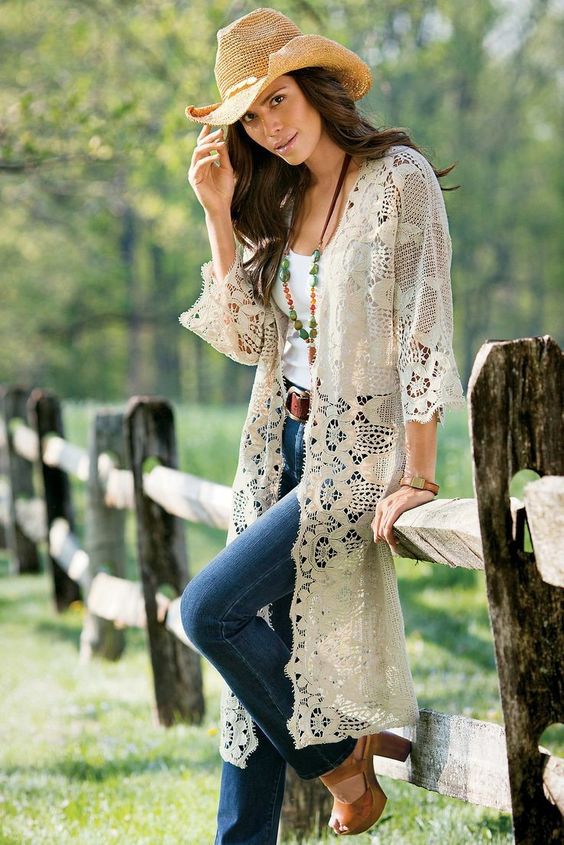 Cowboy girl style in feminine accent with the brocade cardigans that's a comfortable style in summer outfit ideas. Having this cardigan also can create a vintage clothing style, you just need to put on it together with a sleeveless top, jeans, and chunky heels. Accessorized the outfit with a straw cowboy hat and some stones jewelry.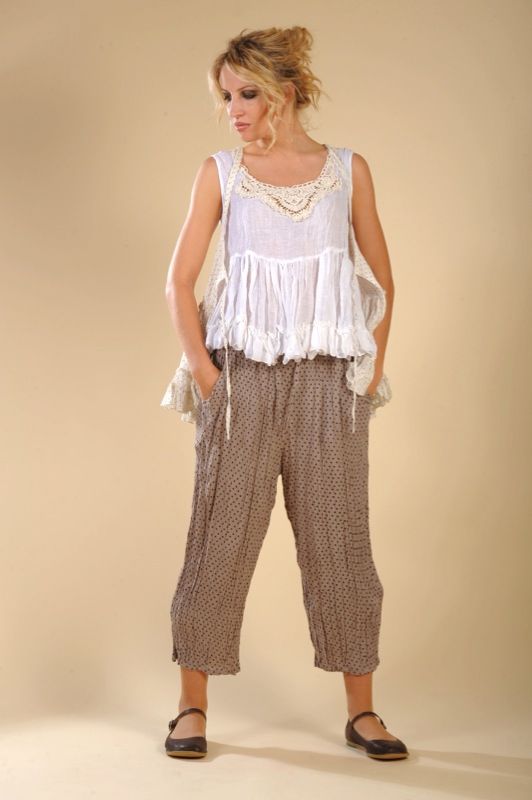 When you want to have a simple shabby chic clothing style, you can start wearing your old dress or tops. For this, put on your white lace sleeveless top as feminine frills and pale brown ankle pants in a messy way. Then pair the outfit with mary jane shoes to bring a vintage clothing style.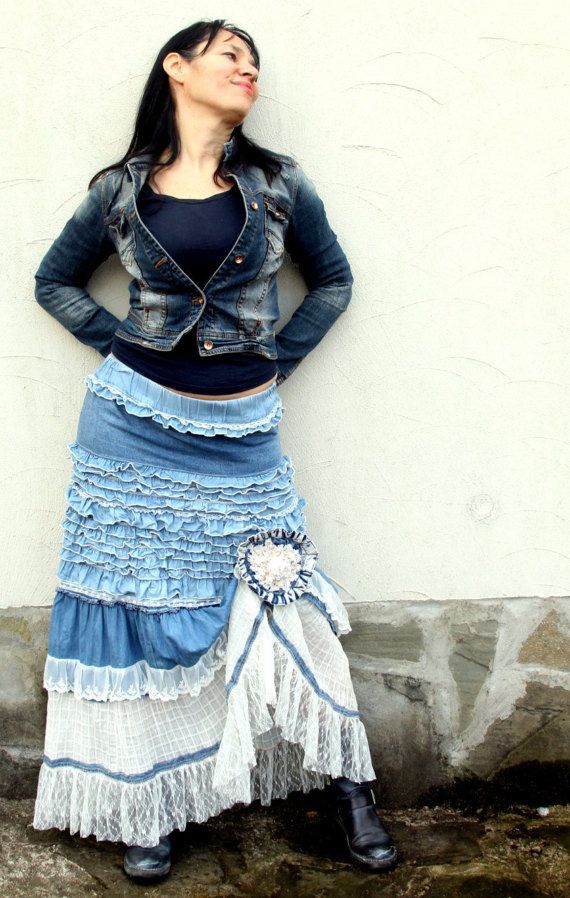 Another feminine frilly that you can bring in shabby clothing for vintage style is by having a lace layered ruffle long skirt. Bring out this piece together with the black tops and denim jackets for having an innovative style. Complete your outfit ideas by picking boots for the matching footwear.
Having Velvet Outfits for Vintage Style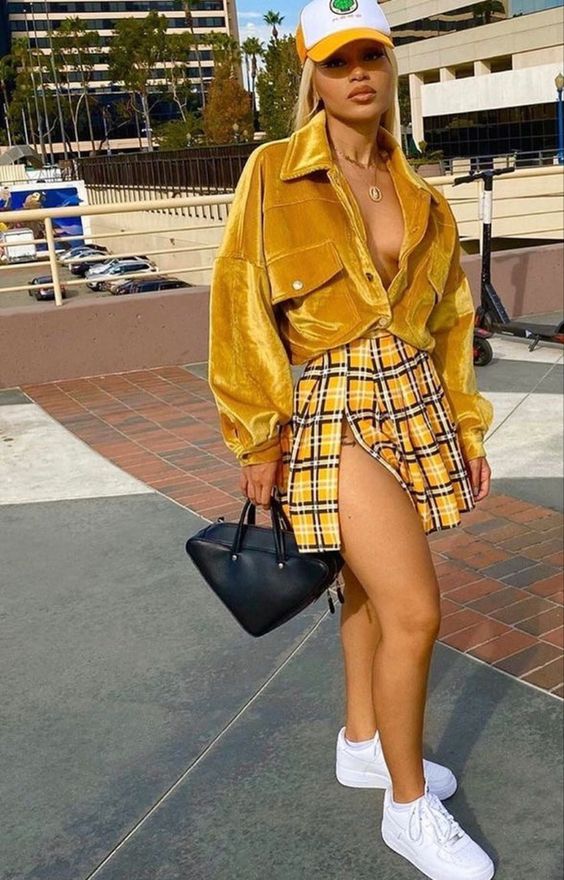 Having velvet in your outfit style would give you a luxurious and glamorous look. For instance, you can bring a button-down velvet shirt in light yellow with a plaid slit mini skirt. This combo would give you a vintage outfit style. Make this outfit a bit more modern with sneakers, a hat, and your favorite mini bag.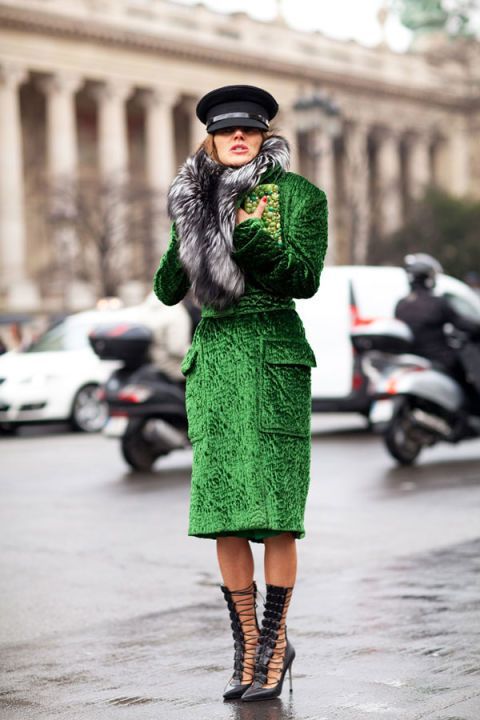 Set your velvet fabric in your one-pieces outfits including blazer and midi dress. Choosing green as the basic color would draw vintage outfit ideas. Make this outfit more classy by having a fur scarf around your neck and a peaked hat in your head. For more stylish you can pick gladiator heels and a green clutch. Bring this outfit style as your Christmas fashion Ideas.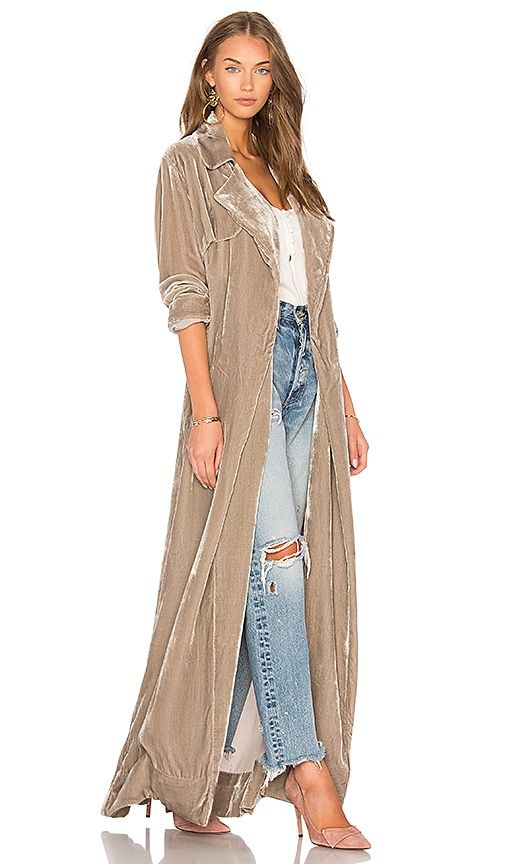 To bring shabby chic outfit ideas, you can wear a velvet long brown coat. The colors make your outfit look a bit more shabby in vintage style. Match it with a white sleeveless top, ripped jeans, and pink pastel heels to perfect your performance.
Pull Out Floral Outfits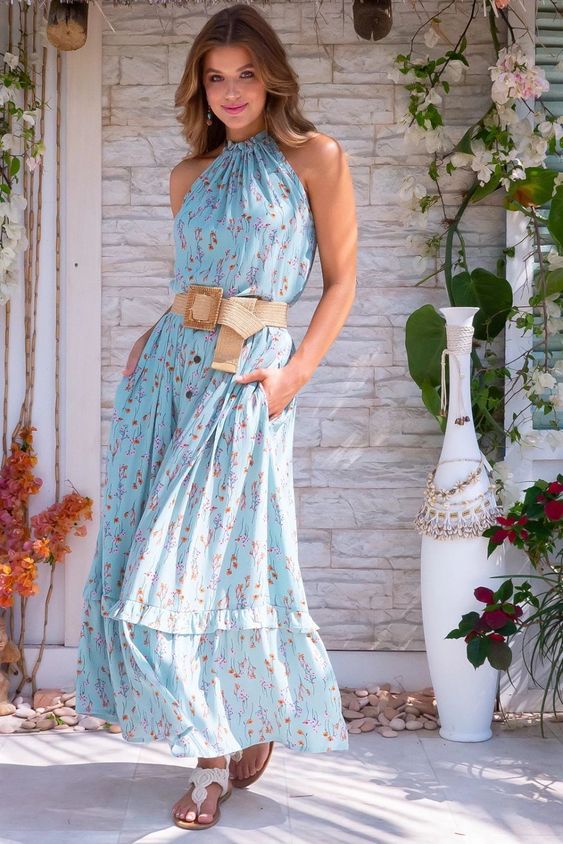 Great pieces that would help you get the shabby chic style in your outfit ideas are floral printed clothes. Having flower prints in sleeveless ruffle maxi dress truly pulls out vintage outfit style like bringing you back to the past era. Give some details like rattan belts over the dress and sandals with embroidery trim could bring an elegant impression to your fashion design.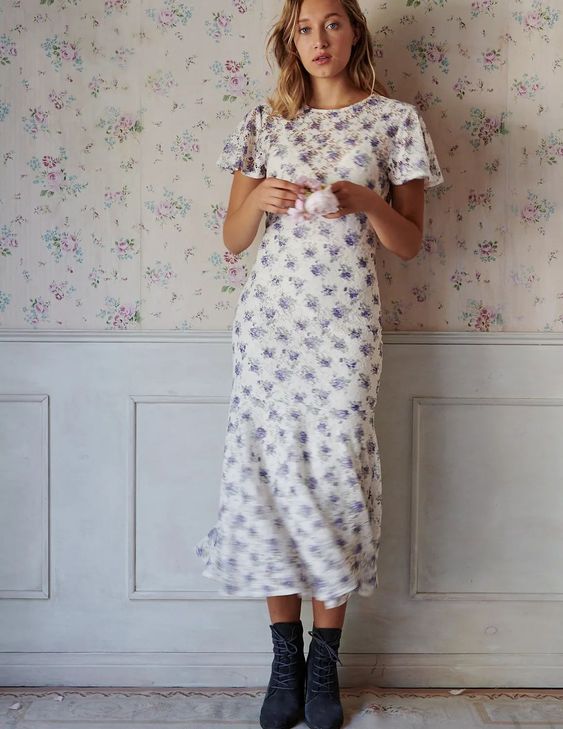 Get your short sleeve floral maxi dress and lace-up boots to have a modest vintage style in your shabby chic outfit. This is easy to apply and never be fail to help you get the best shabby chic style.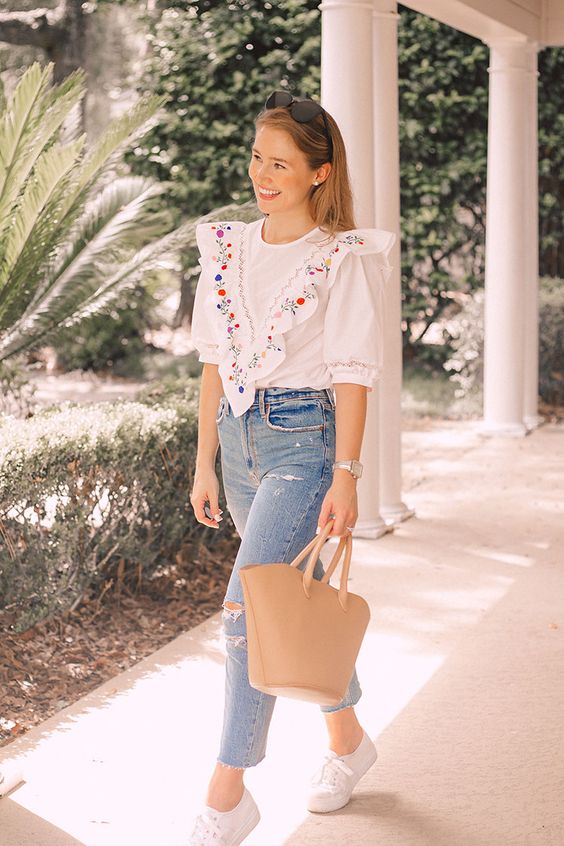 Besides floral prints, giving beautiful embellishments like floral embroidery also could present vintage looks in your outfits. Some of the embellishments sometimes bring out the folk style that has a more vintage feel. Give a little floral embroidery in your white blouse and pair it with ripped jeans. For the accessory, you can get simple jewelry, a beige tote bag, and sneakers to give a little contemporary twist.
Free Flowing Style for Feminine Look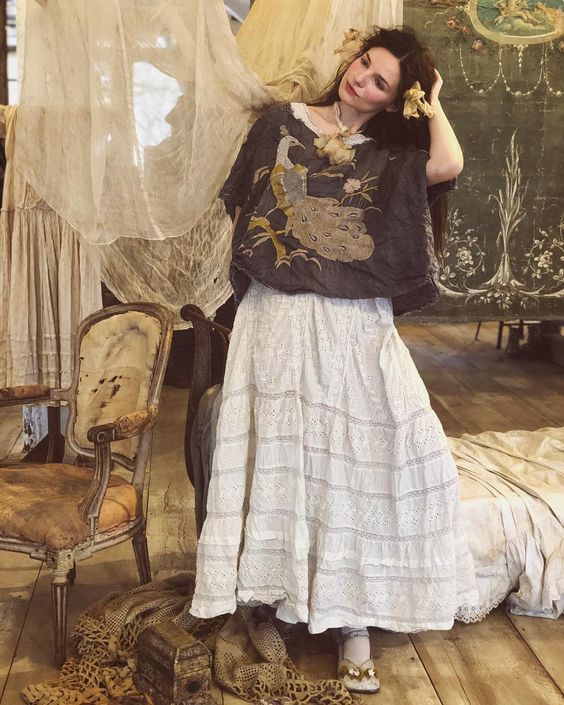 When it comes to shabby chic clothing, you may imagine free-flowing pieces like a white lace maxi dress. You can bring it as your main outfit to deliver vintage style. Adding shabby oversized t-shirts with animal print as for layering the dress would truly bring out a vintage look.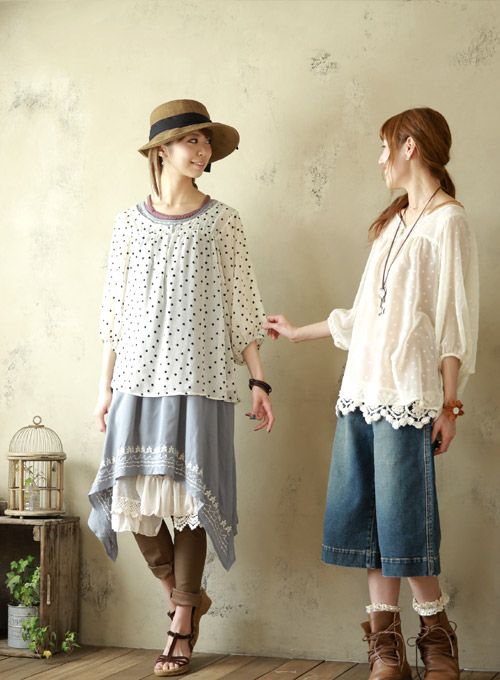 The favorite style that's mostly adopted by Asian girls to bring out shabby chic clothing for vintage style is the Mori girl dress. This outfit style has a lot of similar sense like bohemian or victorian fashion by having layering style and lace outfits. When you want to get this outfit style, you can come up with a layered skirt, blouse, tight pants, or denim pants.  for the footwear choose strappy sandals or army boots with lace socks.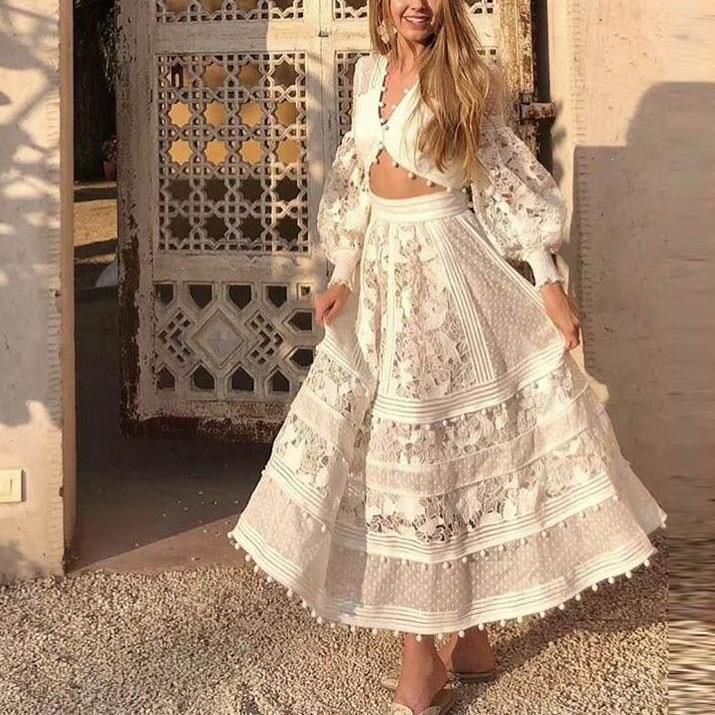 Shabby chic clothing is also closely related to boho-chic style. We know that the bohemian accent is all about the lace fabrics, fringes embellishments, and neutral tonal colors. With this, you can try to have brocade lace outfits with the pom-poms trims around the border. This style would make you have a pretty and fashionable look.
Layered Looks in Your Vintage Outfit Style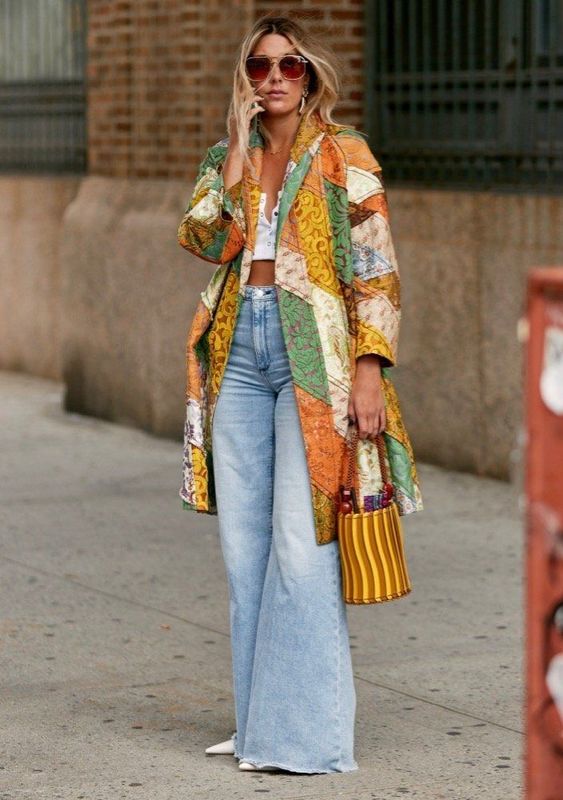 A patchwork coat would bring a vintage style to women's outfit ideas. This technique could be creating a new style by fusing a few fabrics in different colors and patterns. To give a more old-fashioned style, combine your patchwork coats in wide jeans and cropped tops for a layered style.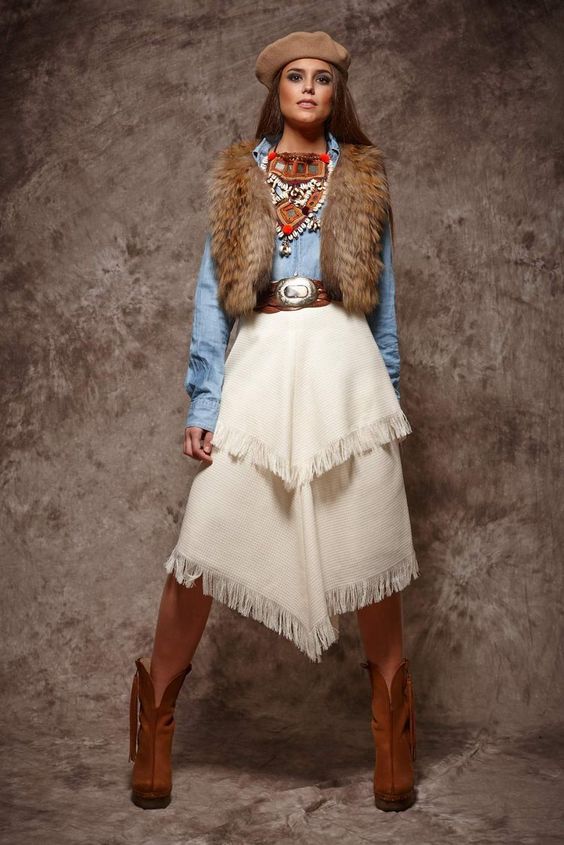 A fur vest as a layered look in your vintage outfit ideas for a luxury and classy style. You can match it with long sleeve shirts, a white midi skirt with tassel border trims, and cowboy boots. Complete your style with a beret hat and some unique accessories.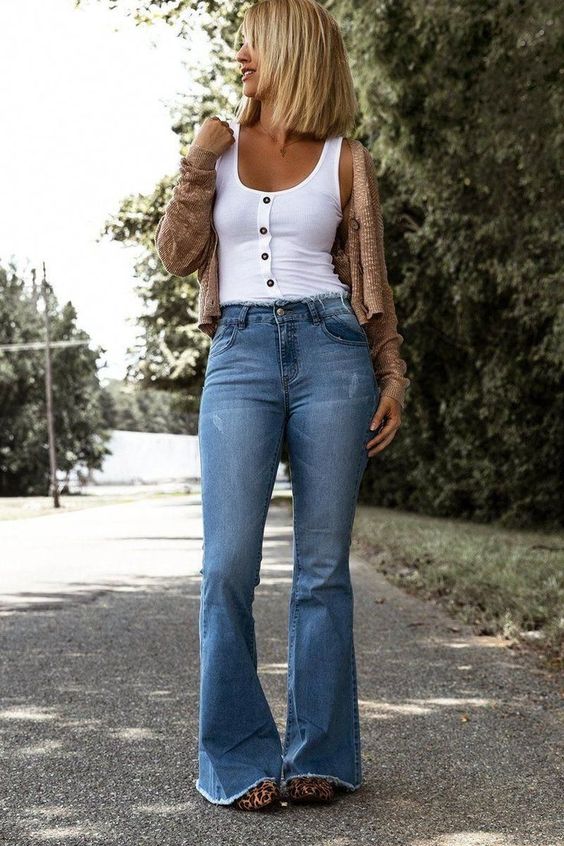 Feel fresh in summer with layered style by getting vintage outfit ideas. With this, you just need to combine some old-fashioned styles like button-down sleeveless tops, a knitted cardigan, and boot-cut jeans. For the footwear, just select panther heels to get a contemporary impression.
Wearing Pastel Color Shades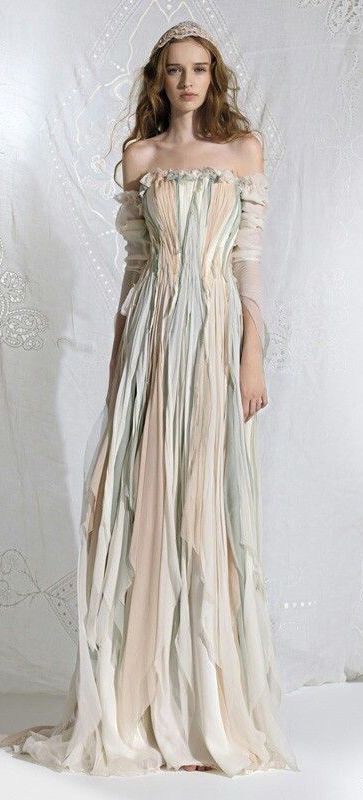 Pastel shades are the suitable colors to adjust on your shabby chic clothing style. You can try to bring out the pastel on your elegant maxi dress and make it more stunning to wear even it looks a little shabby and messy.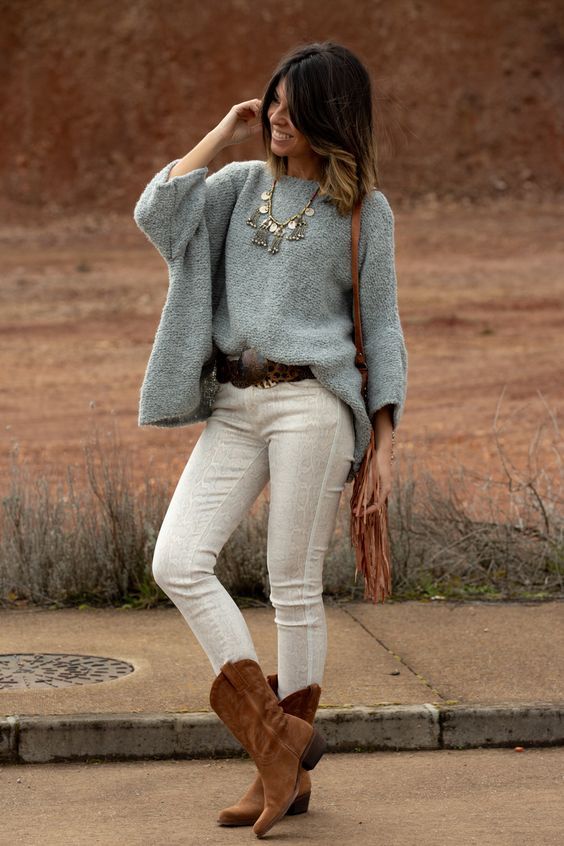 Want a bit more shabby chic looks you can bring light grey colors in your outfits. Take on a light grey sweater, white skinny pants, and suede boots for having a vintage style in your fall outfits. Match it with a tassel bag and silver necklace to accomplish your overview.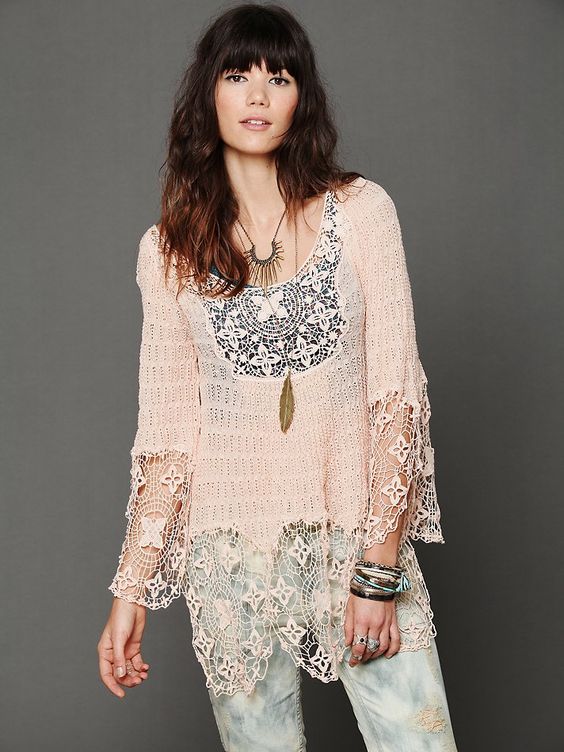 Another pastel tone that would bring a shabby chic clothing style in your vintage outfit ideas is nude. While a lace top is the best component for vintage and bohemian style, you can add a little shabby style to it by having nude colors. Get on this top with shabby jeans and your vintage style has been accomplished.
Shabby Chic Clothing in Men's Outfit Ideas for Vintage Style
For shabby chic clothing in men's outfit ideas, that's maybe more vintage nuance here like old t-shirts, suede clothes, old-style suits, neutral colors, and others. You can mix and match or remodel the outfits in your wardrobe to have sophisticated ensembles. Get your best men's outfit ideas here to modify your old styles to become new ones.
Styling Your Old T-shirts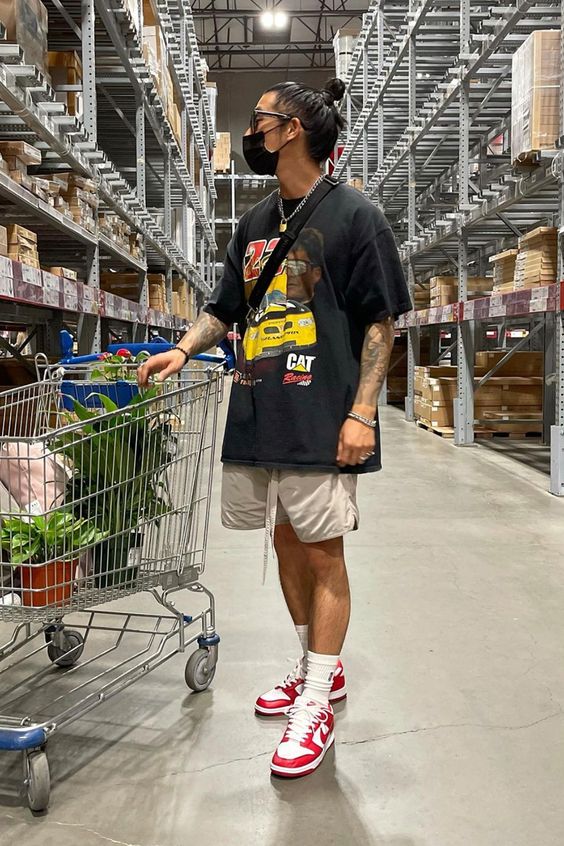 The easiest way to bring out vintage ideas in shabby chic clothing is by getting your old t-shirts and coming up with a fresh style. Combine it with modern outfits such as Bermuda Shorts and trainer shoes could be useful to stand up your vintage tops. This ensemble would be great to wear as your essential men's outfit in summer.
Green Velvet Outfits for Vintage Style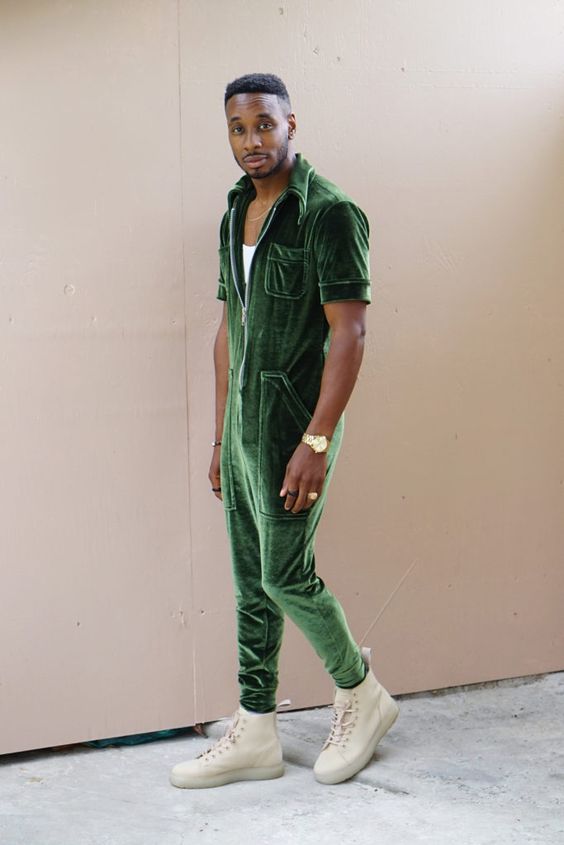 Choosing green in velvet jumpsuits in men's outfit ideas actually could bring a vintage style to your fashion. This is because velvet outfit generally has a little shabby sparkle twist. You can mix this outfit with sneaker boots and gold accessories.
Patchwork Outfit Ideas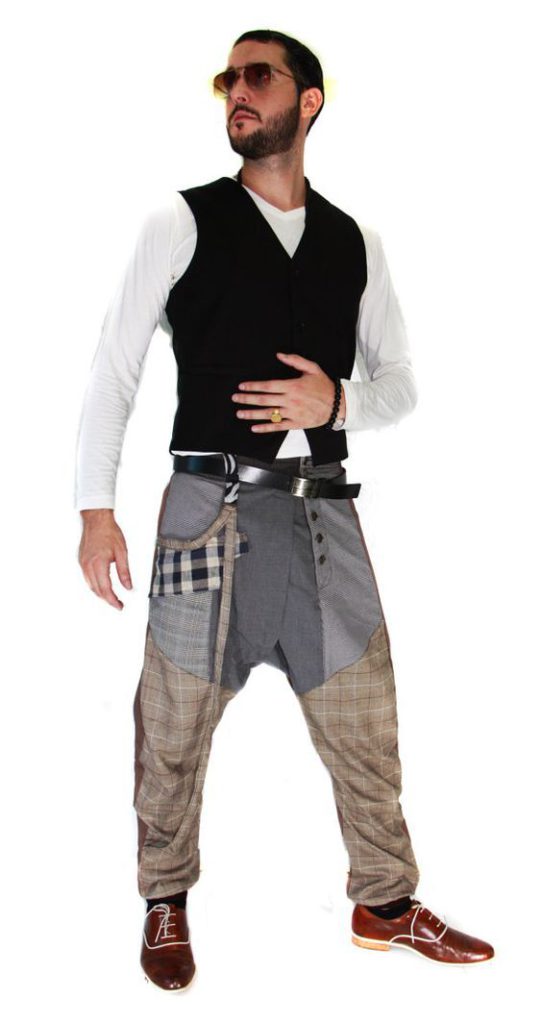 Bring out your jodhpur patchwork pants together with long sleeve tops and vests to get vintage clothing style. Want a little classic accent, you can pair your outfit with brown leather derby shoes.
Brown Corduroy Jackets for Shabby Chic Clothing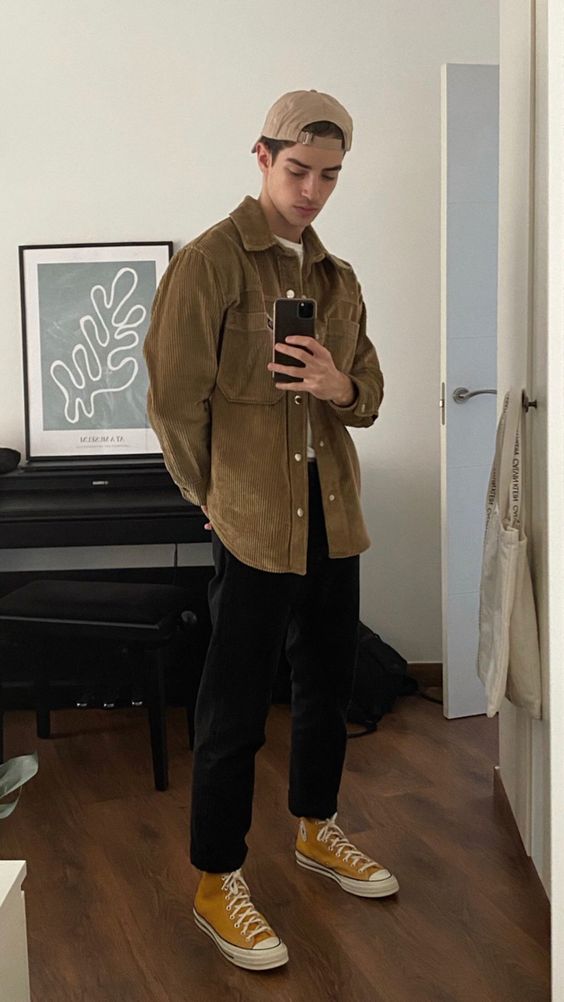 The best outfit that could deliver a shabby chic style is a brown corduroy jacket. This jacket has a worn-out twist to create vintage style in shabby chic outfits. Combine it with the straight black jeans, white short sleeve tops, mustard sneakers, and a brown hat to get the modest college outfits for boys.
Get Your Outfits in Shabby Colors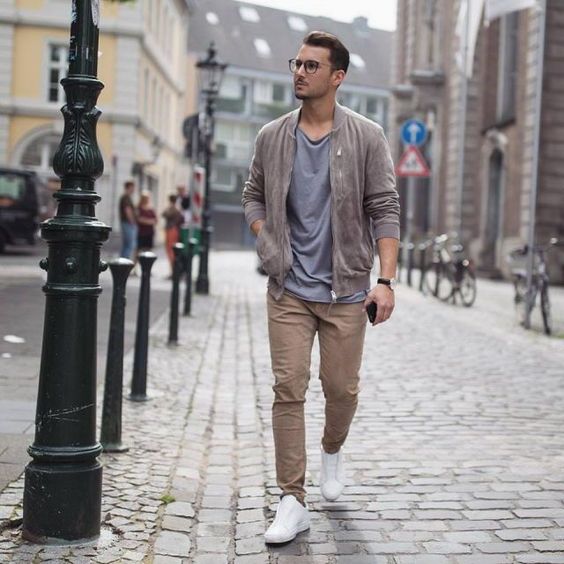 Let's dress up casually in shabby chic clothing style with suede jackets and chinos. Try to mix up the outfit with grey tops, white sneakers for the footwear, and glasses for accessories to get a smart casual look.
Making Color Gradations in Your Outfit Style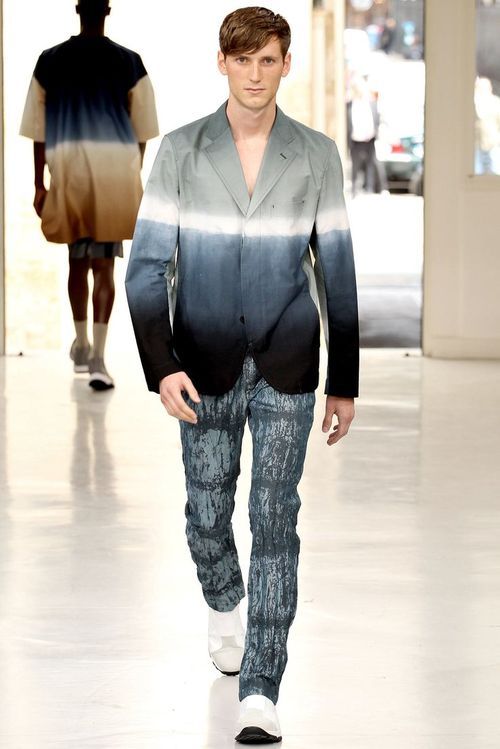 Having color gradation from dark to light in your outfits could bring an image of shabby chic style. For instance, apply this technique to your blazer and trousers to obtain formal performance in fashionable style. Match the outfit with loafers and you will get the perfect overlook.
Get Layered in Shabby Chic Outfit Ideas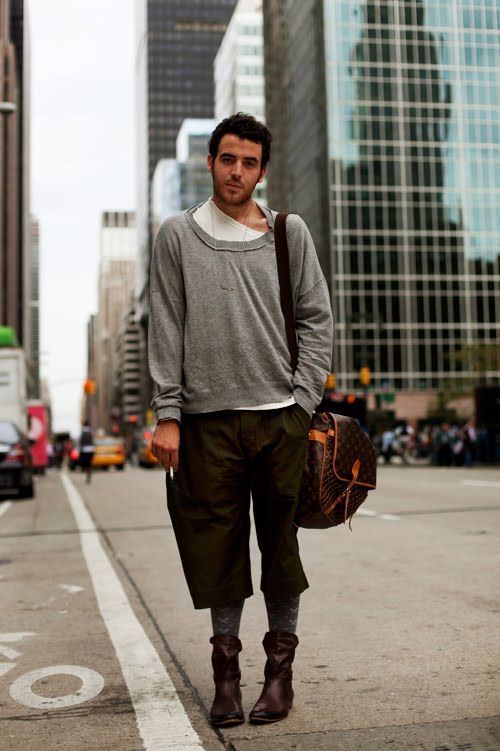 Get the option to wear some of your old clothes together to bear vintage style in men's outfit ideas. You can start by layering your old t-shirts with a grey sweater and then matching them with your vintage midi pants. Putting long grey socks and then ankle boots over it would be perfect to style a more shabby but still chic.
Mustard Yellow Suits for Vintage Outfit Style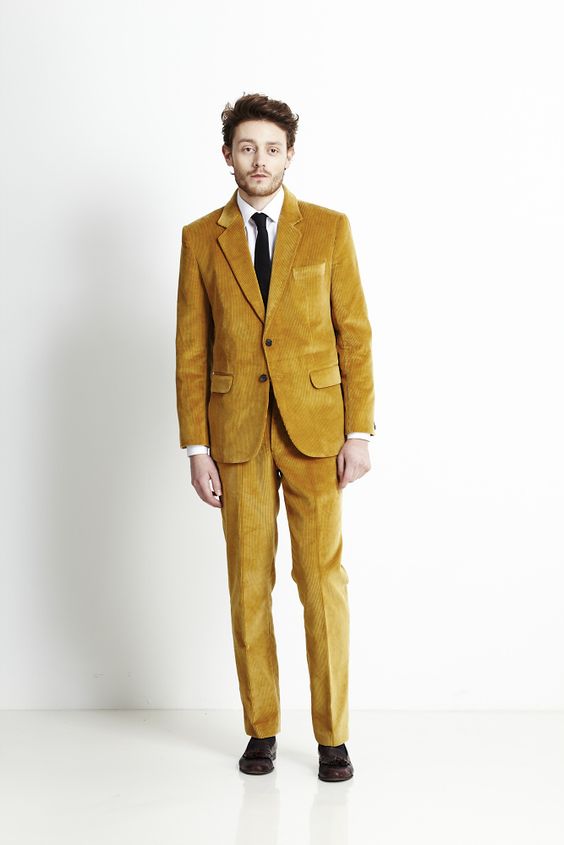 Pull out mustard yellow colors in your suits if you want to get vintage outfit ideas. Wearing this color may be a little eye-catching to see in men's outfit ideas. These suits are still good to put on at formal events or evening parties.