Olidfashion.com – Patchwork pattern is a trick in fashion design by combining different fabrics and patterns in one outfit. You can have it as the option to modify your old outfits to become a new and fresh style. Nowadays, patchwork trends strat to use by designers to produce sophisticated outfits. So, let's find out how to adjust the patchwork trend in your smart outfit ideas by scrolling here.
Patchwork Trend in Your Outfit Ideas for Smart Fashion Style
Patchwork is a type of embellishments and fashion design that combines more than one fabric in different colors and patterns. This style has been popping up as today's trend and is mostly adopted by designers in their fashion creations. When you see through deep in this style, besides getting a colorful and chic outfit you can also find out the funny, cheerful, and youthful standpoint in this messy design.
Furthermore, there are plenty of advantages you could get patchwork trend in your smart outfit ideas such as:
Could reduce cloth waste and save your money because usually use leftover fabrics to create the outfits.
This is also a great way to remodel your old outfits and make them have a fashionable look with smart combinations.
Increasing your creativity with the abstract design to bring out the unique style in your outfit ideas
This technique is perfect to complete your outfit in a simple way without buying an additional fabric but still can produce trendy items.
We want to share some inspiration to set up your smart outfit ideas with patchwork trends and get unique fashion designs. The first thing you have to select is the best pieces to embrace the patchwork print in your fashion. Then, you need to scroll down here to get some ideas about trendy and chic outfit styles in patchwork clothing.
Chic Style in Patchwork Mini Skirt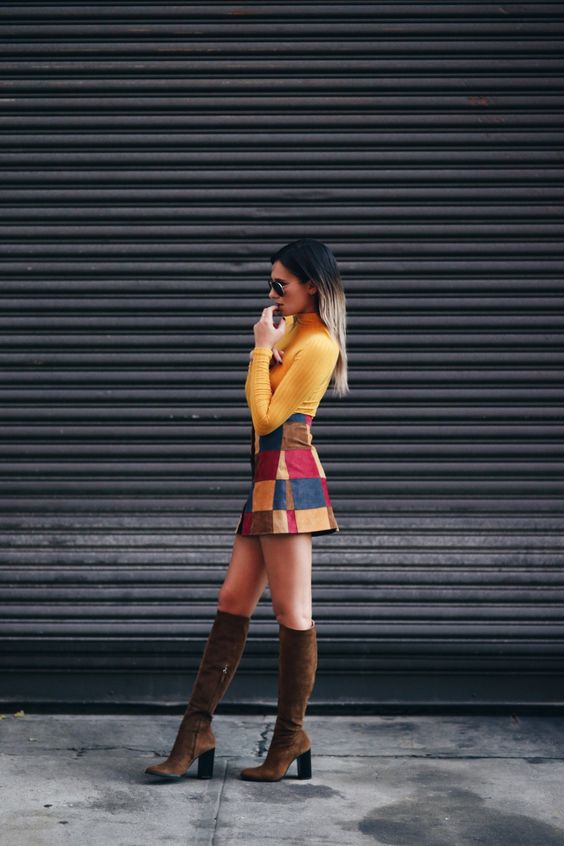 Get a different look with patchwork trends in women's outfit ideas. For a chic style, you can try to have a high waist a patchwork mini skirt then tuck long sleeve mustard yellow top in it. For the best footwear, heeled knee-high boots would perfect your smart outfit ideas. Wear this outfit style as your fall ensembles.
Patchwork Style in Comfy Cardigans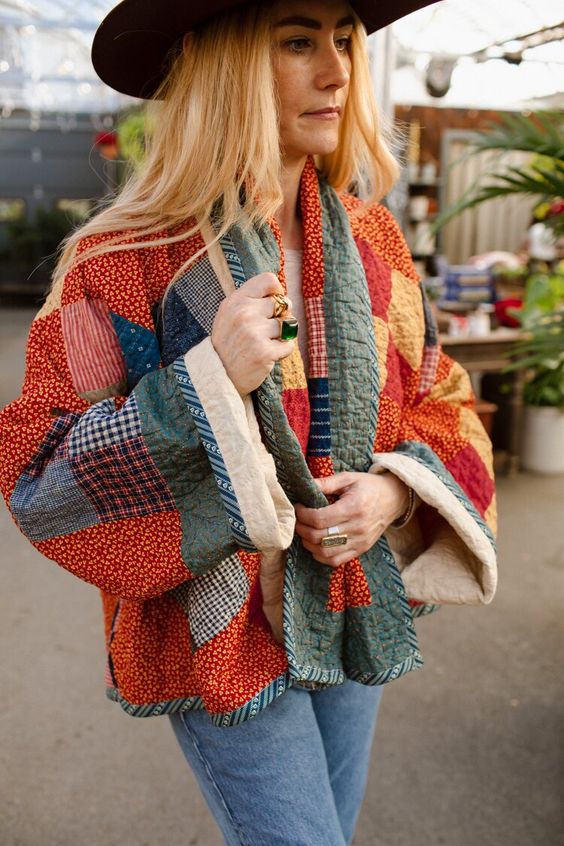 Have comfortable in a smart style in patchwork outfit ideas with this cardigan. When the weather becomes cold, you need something that makes you stay warm even on the outside. However, winter style is always monotone with coats and jackets. As for alternatives to help you stay fashionable, you can have a patchwork to bring out the boho-chic style in winter fashion. Match it with a sweater, jeans, and cowboy hat to get smart outfit ideas.
Get Patchwork Trend in Your Sweet Pastel Combination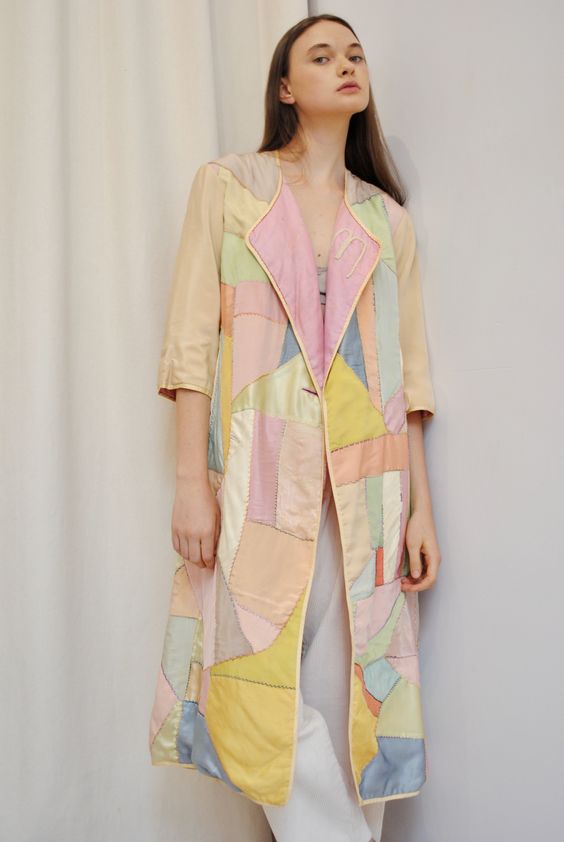 We know pastel colors are one of the combinations that bring a sweet and romantic feel to women's outfit ideas. Bring out these shades on your patchwork outfit ideas for a unique and pretty outfit style in a smart way. Adjust this trend in your coat or blazer and then make it as layered style in pastel outfit ideas to look pretty.
Patchwork Tops for Smart Outfit Ideas
Bring your sophisticated style in patchwork tops as your smart outfit ideas. Combine two or more different pastel colors in a long sleeve crop top and then wear it together with your favorite jeans actually could increase your confidence. Accessorize it with chain gold jewelry and a white mini bag to astonish your appearance.
Look Classy and Trendy in Patchwork Pants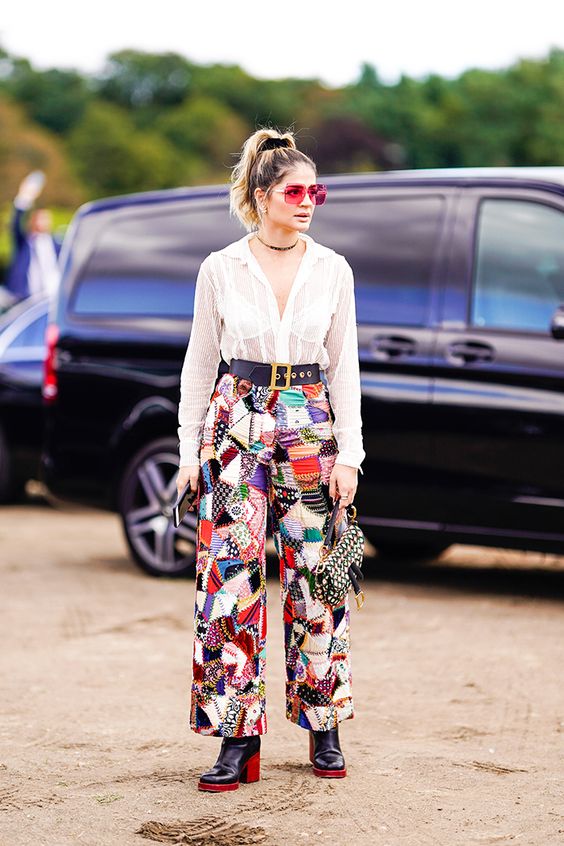 Look trendy and classy in patchwork clothing by wearing a button-down long sleeve shirt and colorful waist patchwork pants. Having more patterns in different colors and then sewing them together in your pants would drive smart outfit ideas. Complete your outfit with a knitted bag, trendy belt, and heeled ankle boots to amaze your performance.
Classy Style in Simple Patchwork Dress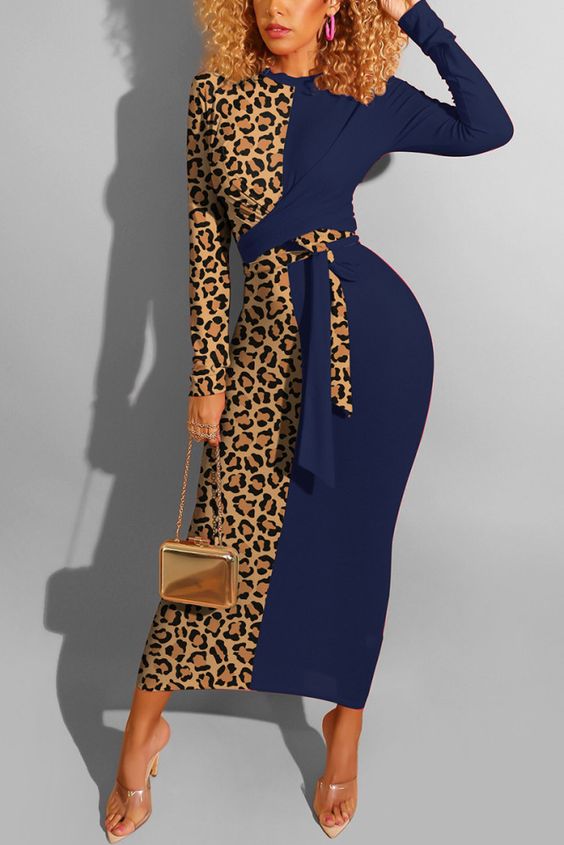 You can also get a classy style in a unique way by applying patchwork trends to your dress. Give it a simple design like combining blue plain fabrics with panther pattern fabrics to become a maxi dress. This combo will give you a classy style to wear as your evening outfits. Having this dress together with transparent heels and a mini gold clutch for making your performance seem beautiful.
Best Patchwork Dress in Summer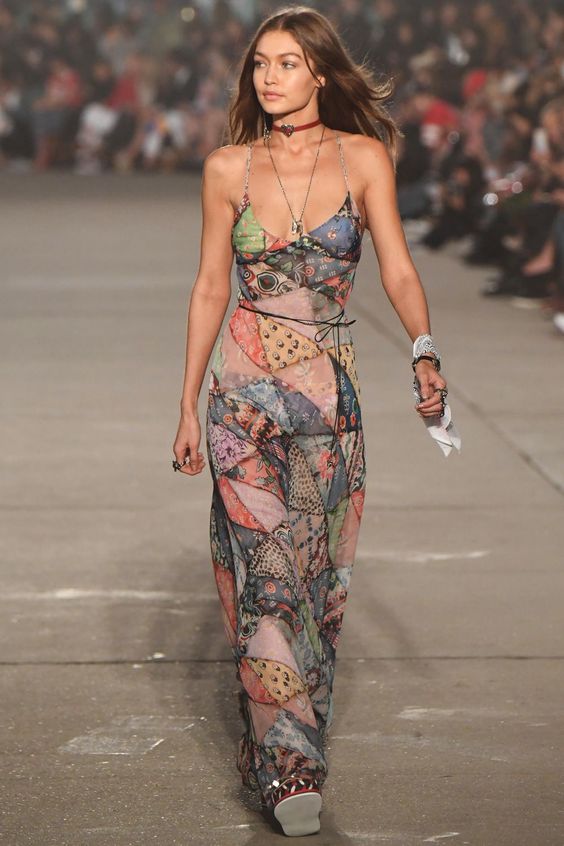 Choose a strappy maxi dress with patchwork style for the best dress in summer. This dress is good and simple to wear for your vacation on the beach. Match it with your favorite bags, slippers, and accessory for having a better style in your holiday and staycation.
Trendy in Denim Patchwork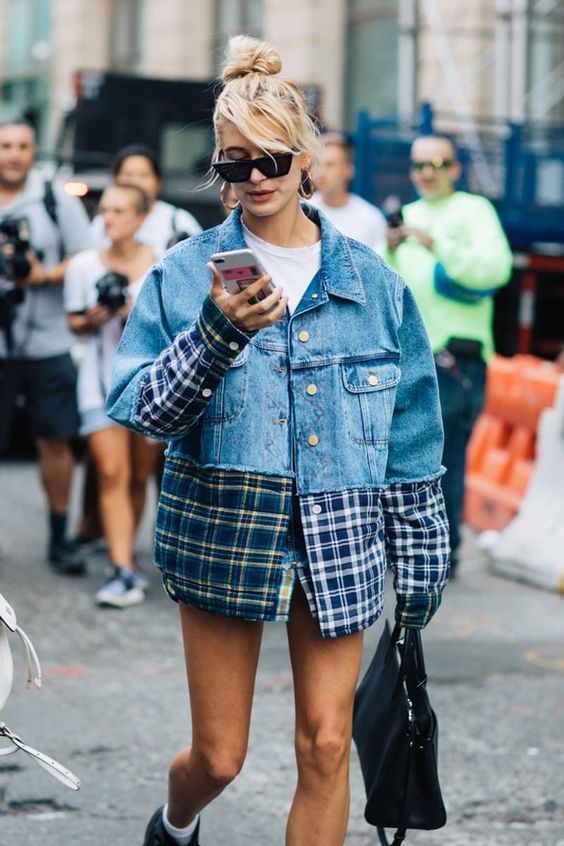 If you really want a trendy style, just try to have patchwork in your denim for smart style. For instance, you could style oversized outfit ideas with patchwork denim jackets. Fusing your denim jackets with plaid fabric each half, up and bottom parts like the picture above. Complete your outfits with trainer shoes or sneakers, your favorite bags, and simple jewelry. You can also have this jacket as a layered outfit style.
Cool Girl in Leather Patchwork Combos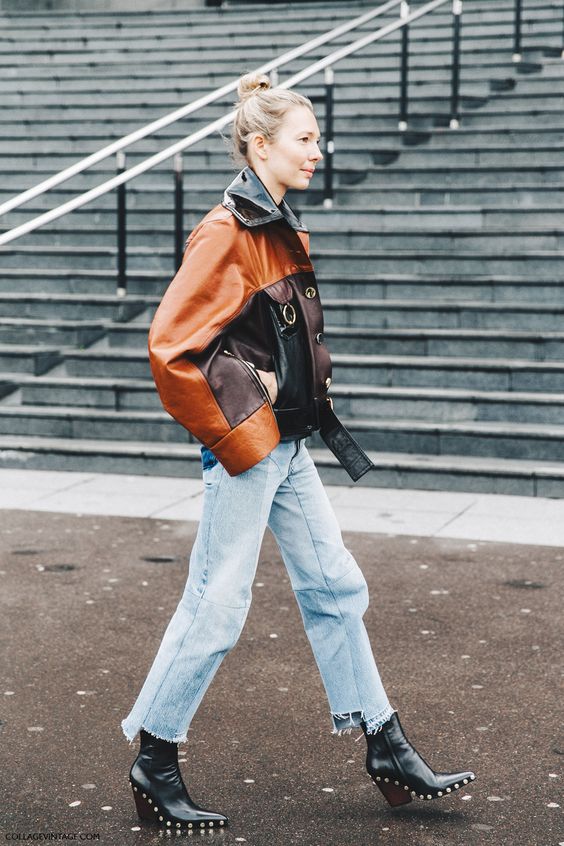 Get a look like a cool girl in patchwork outfit ideas with leather jackets. Besides fabrics, you also can include leather as a combination of patchwork techniques. When you adjust it in your smart outfit style, you should put on a leather jacket with different colors combos. Pair it with blue jeans and have heeled ankle boots to accomplish your appearance.
Flower Patchwork Design for Dress Embellishments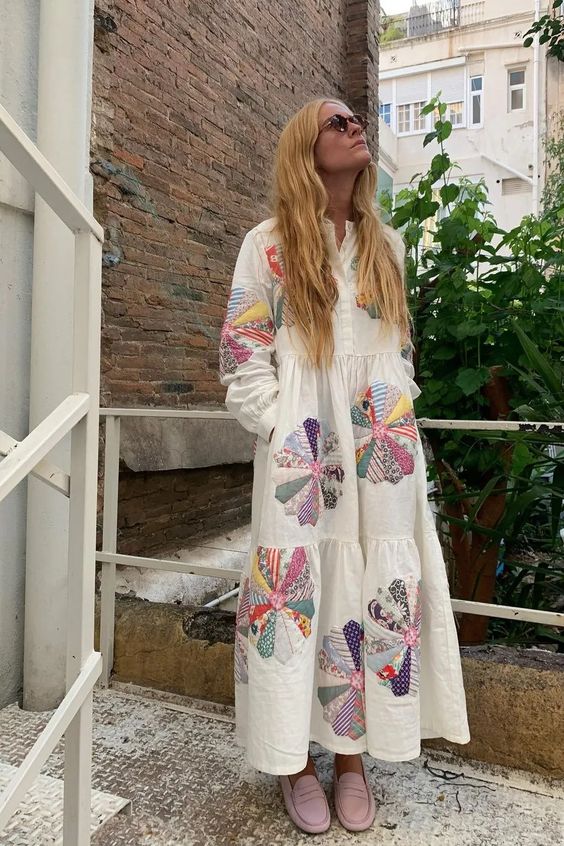 Modify your plain maxi dress with beautiful embellishment ideas in patchwork style. For example, you can create flower patchwork in it and recreate your old dress to become more fashionable and fresh. Make your casual dress pretty enough to wear in classic style.
Patchwork in Striped Outfits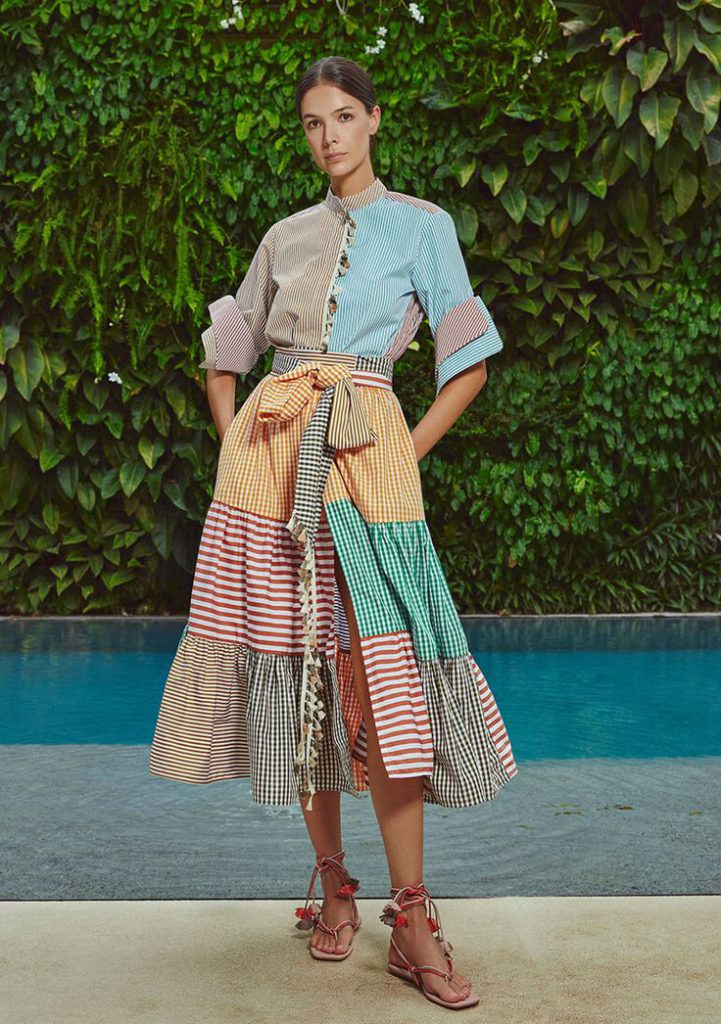 As usual patchwork trend remains about the combination of many different patterns, fabrics, and colors in one outfit and makes it has a unique picture. For this, having striped outfits in different colors with patchwork design maybe get a new hype in your fashion. Making it more beautiful with some bohemian trims like tassels and pom-poms. Take on your strappy sandals and finished your pretty dress.
Vintage Style in Patchwork Outfit Ideas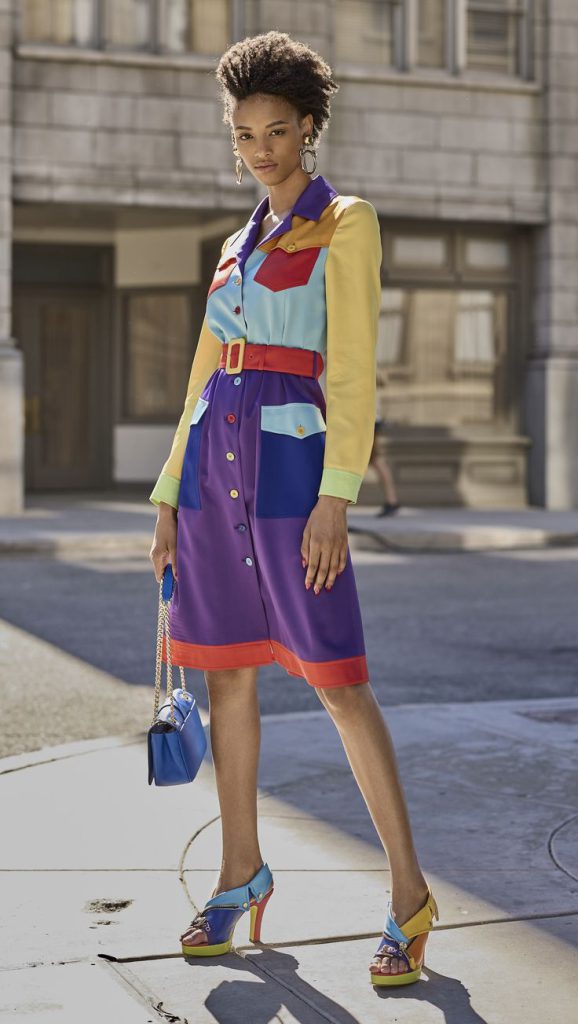 Get the vintage style in the patchwork trend for smart outfit ideas by having a colorful mini dress. You can get a button-down long-sleeve mini dress in more than three color combinations. To get it more in vintage clothing style, you should have colorful accessories like in your high heels and your mini bags.
Patchwork Pants with Boots For Smart Combos
Patchwork pants and boots are some of some great ideas for you who need to get the trendy and classy style. Combine your black patchwork pants with blue navy cardigans with line borders then complete your outfit in army boots. Don't miss out on addition such as white handbags and sunglasses.
Geeky Fashion Style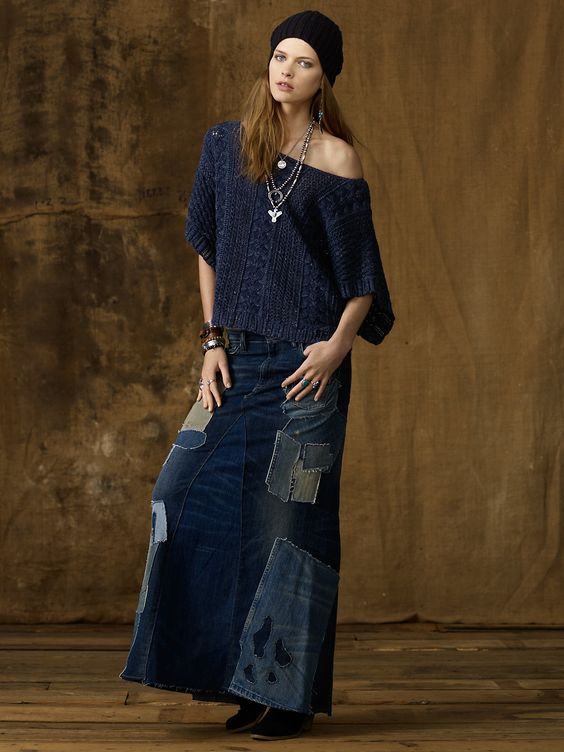 Dress up like geeky style by choosing patchwork prints in denim maxi skirt. Pair the skirt with a knitted top and get a beanie hat to stylish your mode. Give it a fashionable part by having boots as the matched footwear. You also need to bring out some accessories like silver jewelry for perfecting your image.
Preppy Style in Denim Patchwork Dress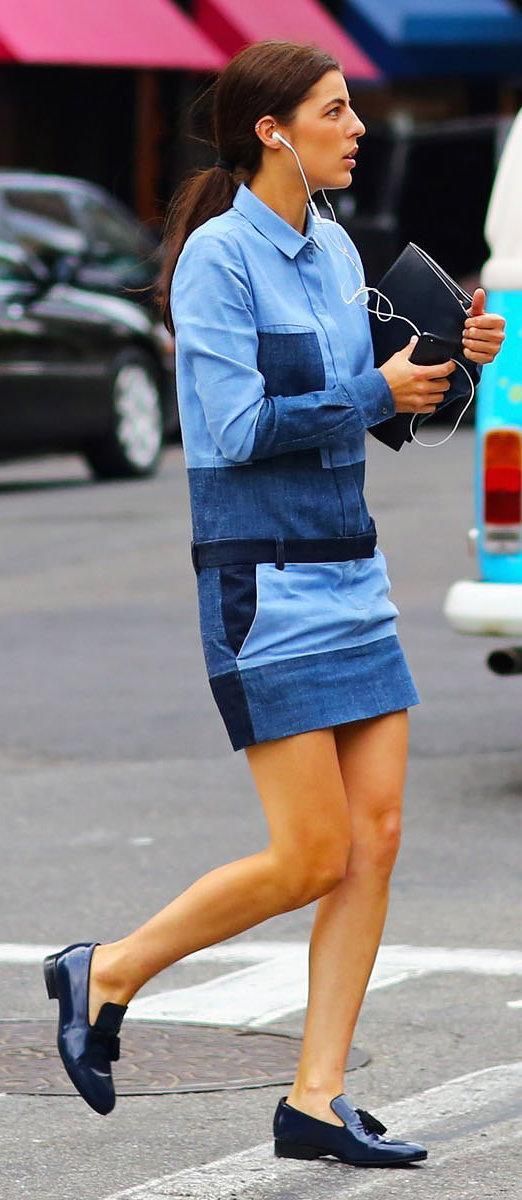 Want to style your preppy attire to get more fashionable enough, just come up with a denim patchwork mini dress. Styling up with a collared and long sleeve dress would make this ensemble good to wear as your inspiring work outfit in the office. For this, you just need to pair up the dress with loafers for perfecting your work outfit style.
Best Plaid Patchwork Clothing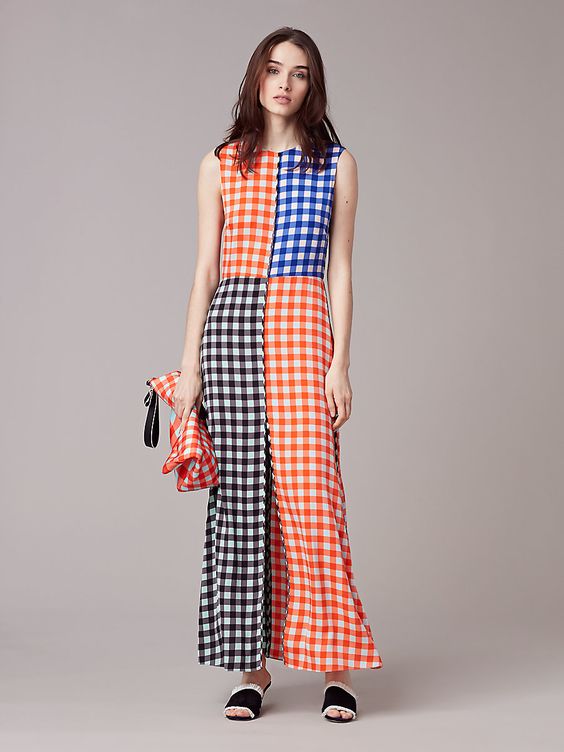 If you like a modest style, plaid patchwork clothing is one of the election for this. Come up in different colors with cross styles making your sleeveless maxi dress look good enough even without any trims. Match this outfit with slippers to turn it into a casual outfit at the home.
Combine Bold Colors in One Outfit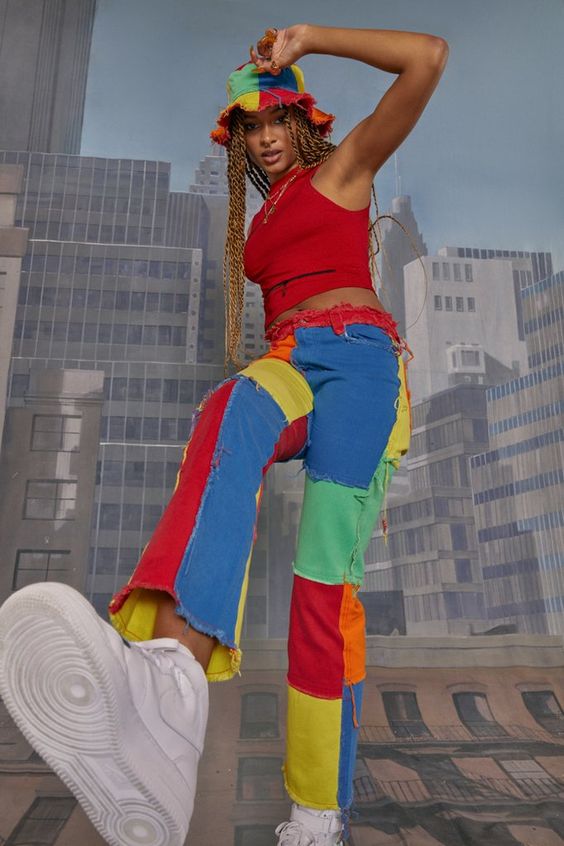 Need something unique in bold style, why don't you get patchwork trends in smart outfit ideas with bold color combinations. You can fuse some bold color hues like red, yellow, blue, and green in your jeans. Mix up these pants with solid red sleeveless tops and also get a patchwork hat in the same style for the compliments. Get your favorite sneakers to perfect all your smart outfit ideas. This outfit is chic with the color-clashing combination that will be stunning enough for your appearance.
Patchwork Bags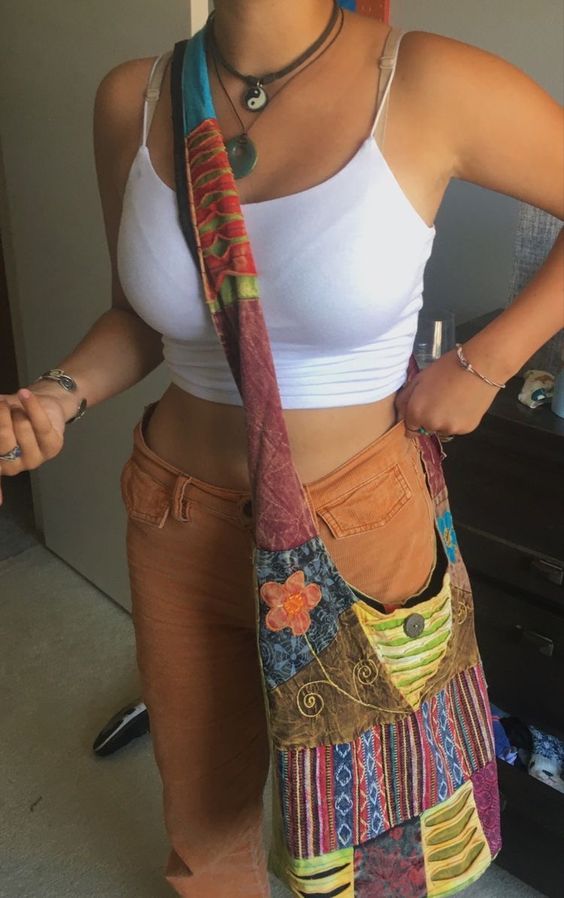 Patchwork trends are not only adopted in your clothing style, but you can also draw them in your accessories like bags. Having patchwork bags could deliver a bohemian style in your smart outfit ideas. You can wear this bag in any style of your outfit whether casual or chic look.
Patchwork Trend in Your Shoes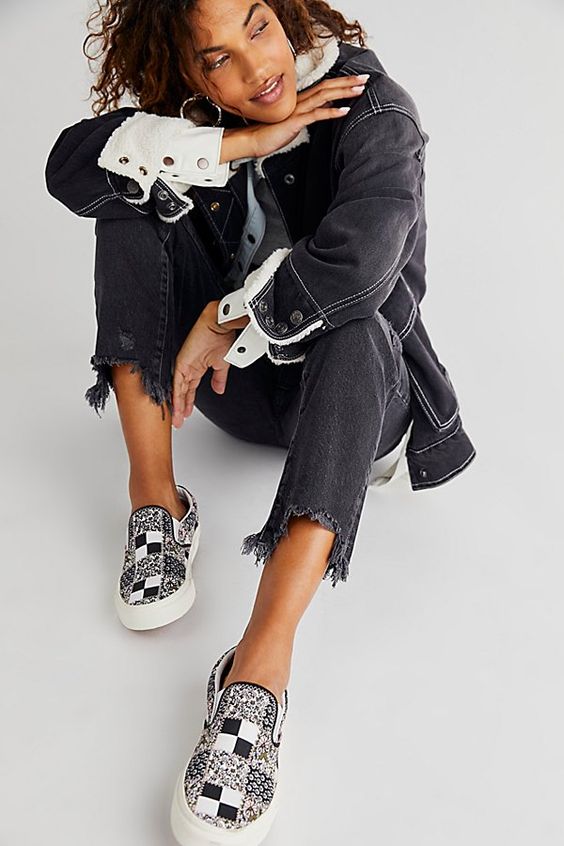 Another way to get smart outfit ideas in patchwork trends is by having patchwork prints in your shoes. This is can be the best choice for you who want to get fashionable with the plaid outfit in a unique way. You can choose the patchwork design like monochrome black and white style for trendy accents or colorful style for a little more cheerful style.
The Tips and Tricks To Get Patchwork Trend in Your Sophisticated Outfits
If you want to start remodeling and modify your outfits with patchwork prints, you can be following the tips below:
1. Choose one color shade like a neutral or darker tonal.
The basic colors for your patchwork style are important to fill up your outfit smartly. If you like light ones you can choose the style with neutral color combinations.
2. Have your patchwork outfits with the solid ones.
To get balance and harmony in your smart outfit ideas, you need to combine your patchwork ensembles with solid ones. For instance, if you have a patchwork print in your skirt or pants, you need to come up with solid colors like neutral or other colors tonal.
3. Choose one area that you want to emphasize with patchwork print
You have to select one outfit style that you want to stand up more in patchwork trends. If you want to amaze your bottom style, you can come up with patchwork jeans, pants, skirts, and others. This is also used to set up your upper outfits in patchwork trends.
4. Full off in patchwork style by having patchwork print dress
If you want to have patchwork trends full in your outfits, choose a dress as a fashion style. Get your maxi or mini dress with patchwork in different prints and color combinations. For the information, this kind of outfit is commonly used to draw bohemian style.
5. Go with a patchwork pencil skirt for fashionable preppy style
If you want to have a preppy outfit with a different design and smart look, you can choose this type of skirt. Put on together with a tonal blouse or shirts for getting chic and sophisticated fashion in patchwork trends.
6. Denim patchwork for trendy and contemporary style
Want a little modern and smart outfits ideas in patchwork trends, come up with denim as the main pieces. Remodel your jeans, denim jackets, or skirts with patchwork techniques with different patterns, colors, or even fabrics, and look at how fashionable is it.
7. Use patchwork prints in your accessories
Bring your fashion trend with patchwork not only in your ensembles but also in your accessories like hats, bags, scarves, or even shoes. Mix and match the accessory in your outfit style whether in solid or patchwork design. Just bring out your creativity here.