Olidfashion.com – Knee-high boots have become a trend for styling your outfit to look more classy and fancy. For those women who want to have a flamboyant and elegant outfit style, pairing your ensemble with this kind of boot would be a good choice. I have seen so many people who bring up knee-high boots for women's outfit ideas. Now, you can get some of the best compilation outfits to inspire your fashion style here.
Best Women's Outfit Ideas with Knee High Boots to Look Classy and Fancy
You should know that knee-high boot is one of the best investments for your fashion style. It's because this boot can be matched with any kind of outfit in your wardrobe. You can have many classy and fancy styles in knee-high boots when you can find the best combination outfits. Keep scrolling to discover some insight about knee-high boot outfit ideas and choose your favorite styles.
Give Statement in Snakeskin knee High Boots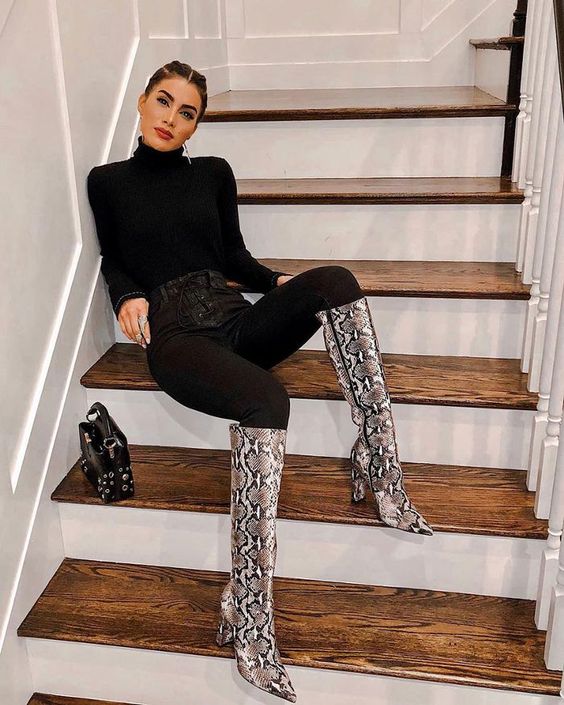 If you are going with a black outfit style, you can bring a statement with snakeskin knee-high boots. This boot would make your women's outfit ideas more stylish, trendy, and fancy enough. Wear this boot with a black turtle neck sweater and high waist skinny jeans. Give accessories like gold jewelry and then a black leather mini bag for completing your classy style.
Classy Bohemian Style in White Knee High Boots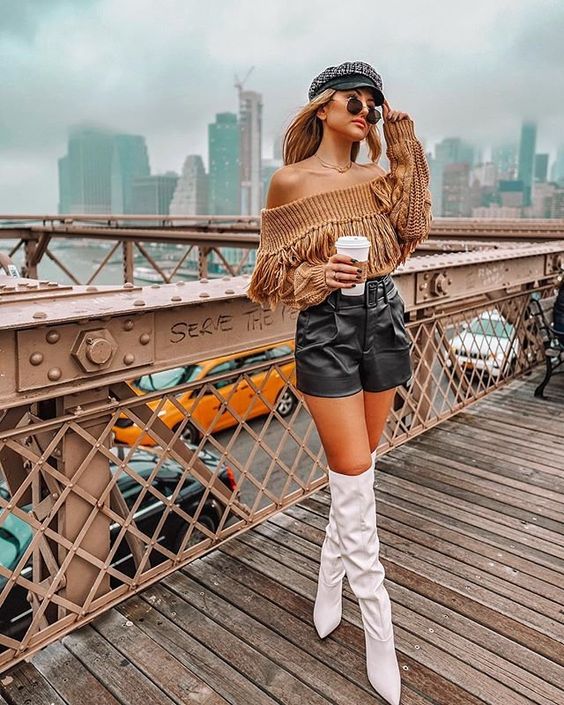 If you are going with a bohemian style, having white heeled leather boots could bring your outfit fancier. Tuck your boho-chic style in an off-shoulder knitted sweater with tassel embellishments and leather shorts. This outfit would be perfect if you give a beret hat as the complement.
White Knee Boots and Denim Skirt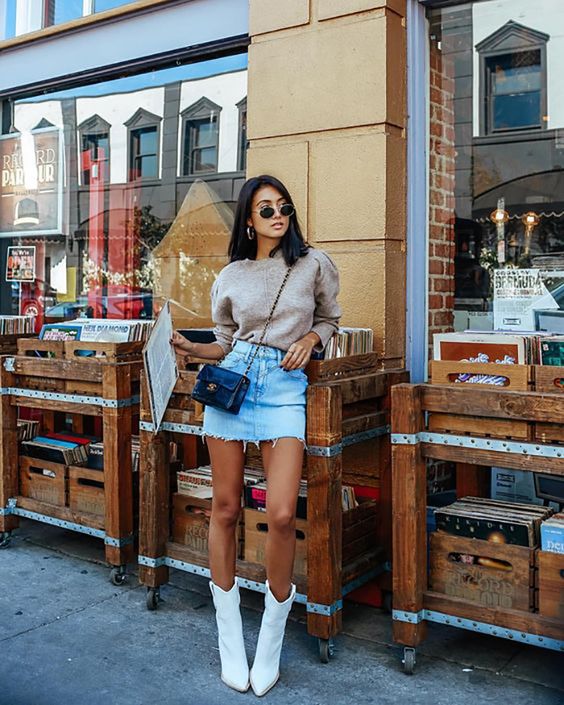 For a highly fashionable and classy look, white cowboy boots can be an option to complete your denim mini skirt style. The mixing between denim, sweater, and knee-high boots would bring casual and trendy style to your women's outfit ideas.
Fancy Style in Black Knee High Boots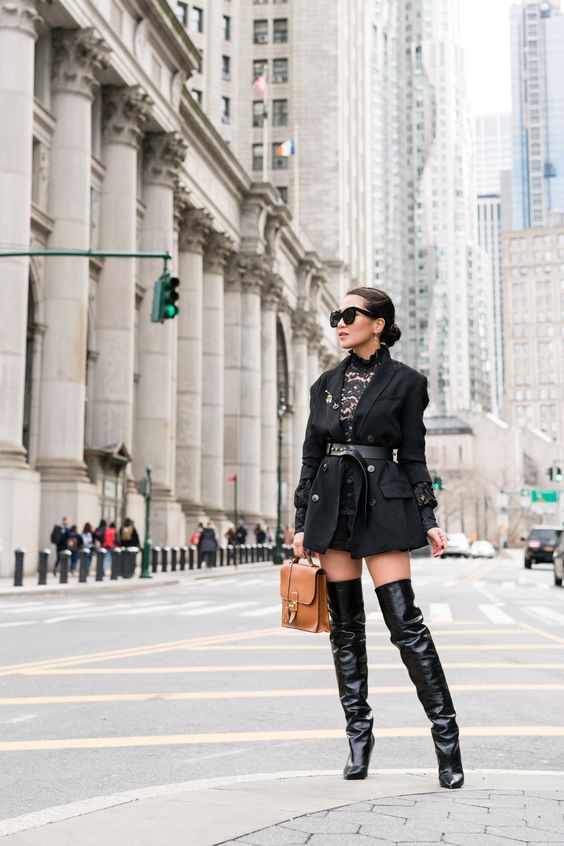 If you want to play safely in your outfit style, just bring out black heeled knee-high boots in your monochrome black style. For classy and fancy women's outfit ideas with knee-high boots, work your black boots with a black brocade outfit and a belted over your black blazer. Offer a little light color tone in your outfit by having a brown mini bag on your hand.
Tuck in Your Jeans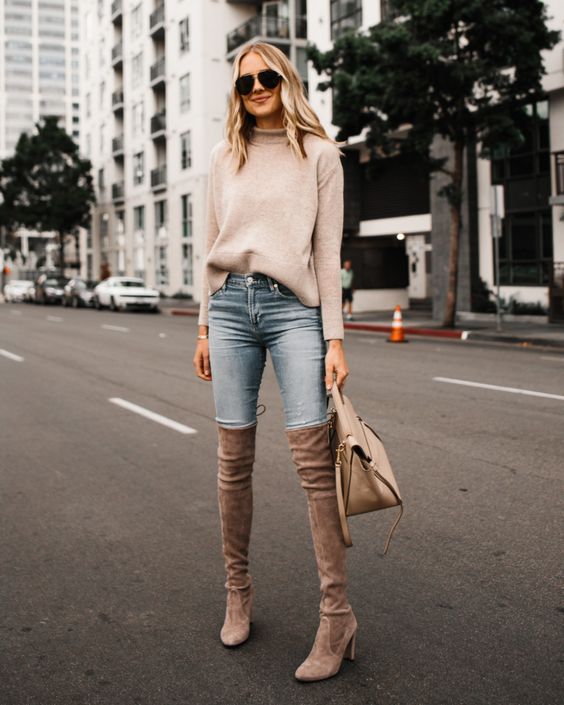 If you want to make the right outfit style, get your choice in brown suede boots. You can tuck the boots over your jeans and with heeled style, it would make it have a classy and sexy look. This would be best to wear in the chilly months like fall or early spring season. Pair it with a brown sweater and bring a handbag that would perfect your performance.
Simple Classy Style with Knee High Boots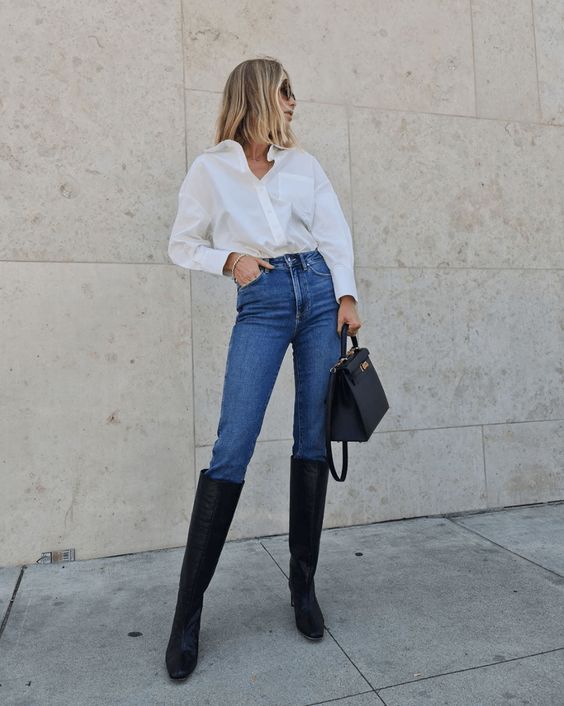 Knee-high boots are have been proofed can bring classy women's outfit ideas. While leather boots become popular for the type of fancy outfits, you can still get rain boots for helping you to have fashionable outfits. Pair this boot on your simple ensembles like a button-down shirt and blue jeans could make it have a different level of style. Especially if you could bring out your fancy handbag, your performance will be perfected.
Styling Your Boots in Layered Outfits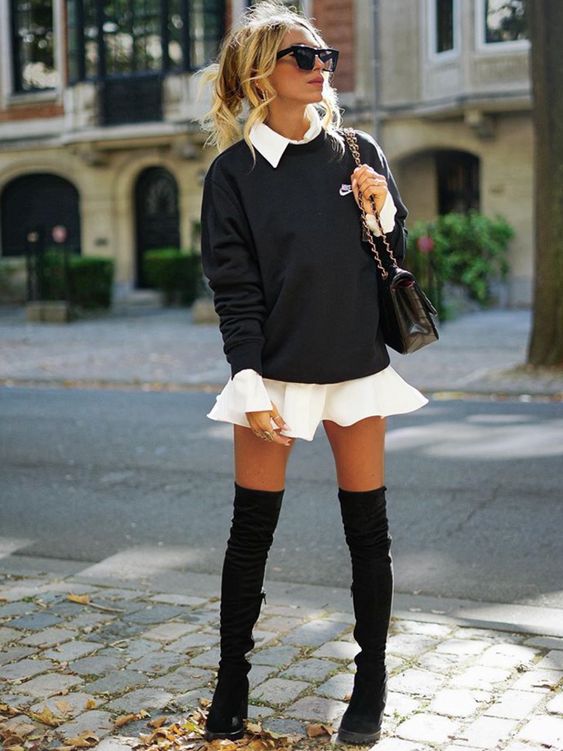 Looking for the best footwear that's can be worn all along the year, flat knee-high boots would be great for this. You can style this boot in any style of outfit. For example, you can have this boot on your mini dress style for balancing the outfit by covering the open part of your body. Wearing layered outfits like an oversized collared shirt that's covered by the baggy sweater and make it look like a mini dress, and then accomplish the outfit with boots and a mini bag.
Color Clashing Style with Red Boots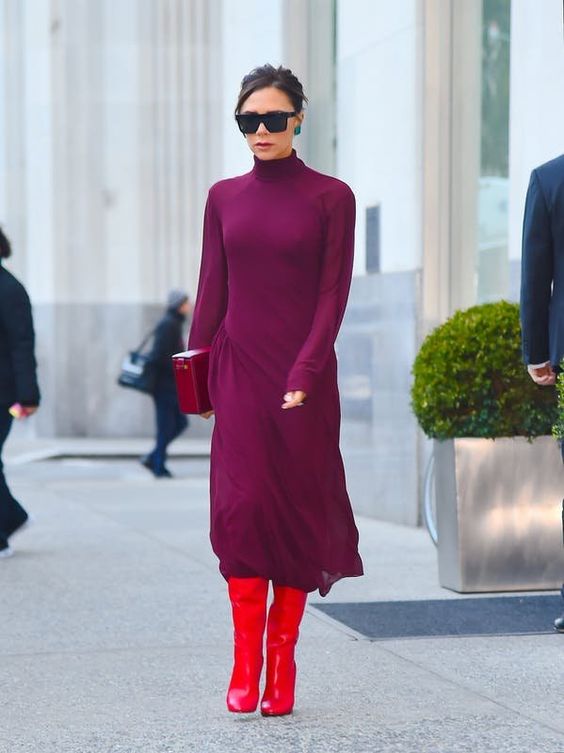 Another bold option in your fancy style with knee-high boots, you can go with a red boot and purple maxi dress to draw a color clashing combination on your women's outfit ideas. You can choose a turtleneck chiffon long maxi dress to match with your red high boots and become an extra layering. This is simple but could help you to give an extra warmer in the colder season.
Pull Out Your Suits Style with Boots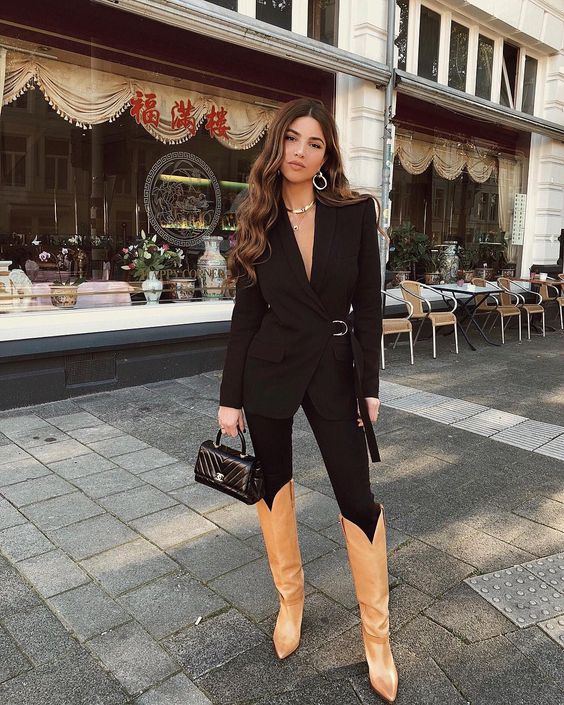 Have boots on your formal attire by combining your suits with knee-high boots. This makes you have a classy and fancy style in your women's work outfit. This elegant style would help to build your confidence and bring positive energy when you are at work. You can bring the maximum result with a comfy and good outfit style.
Preppy Outfits with Boots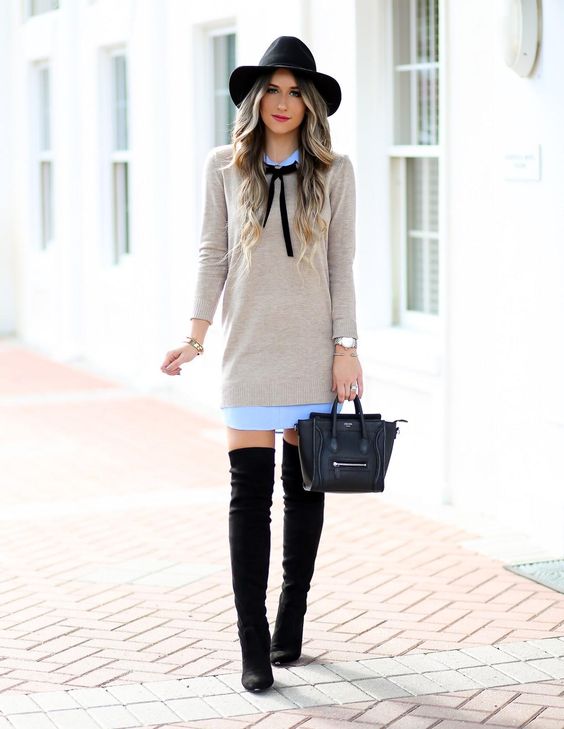 From casual to fancy style, boots have their magnet to bring your outfit on many different occasions. Even you want a preppy sight, you can go with this boot outfit style. Have your knee-high boot together with a long sleeve mini dress. Give a little ribbon tie as an embellishment and some accessories like a fedora hat, simple jewelry, and mini handbag to finished your classy outfit ideas with knee-high boots.
Highlight Your Fancy Style with Snake Print Boots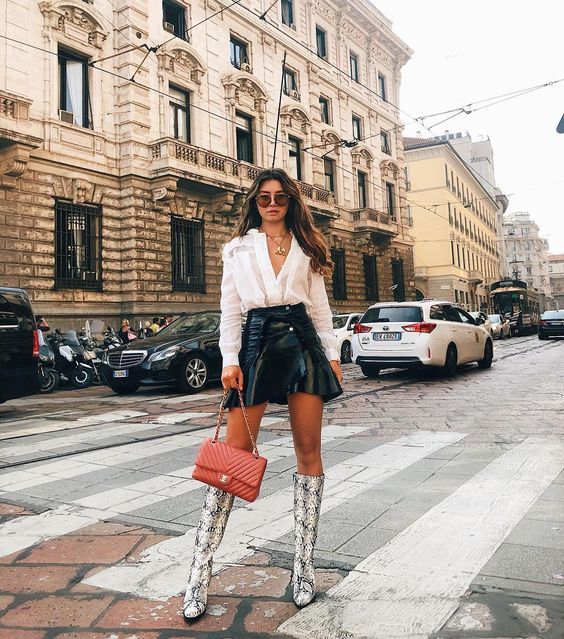 The great thing about knee-high boots is they can stand up your outfit confidently. As we know leather is genuine tends to be an expensive piece, having snake pattern boots could perfect your classy and fancy women's outfit ideas. You can make a highlight on your snakeskin heeled knee boot by wearing it with long sleeve button-down blouse and leather mini skirt. Have an entire fashionable outfit while you bring a brown leather bag to your style.
Bring Your Cowboy Girl Style in Moccasin Boots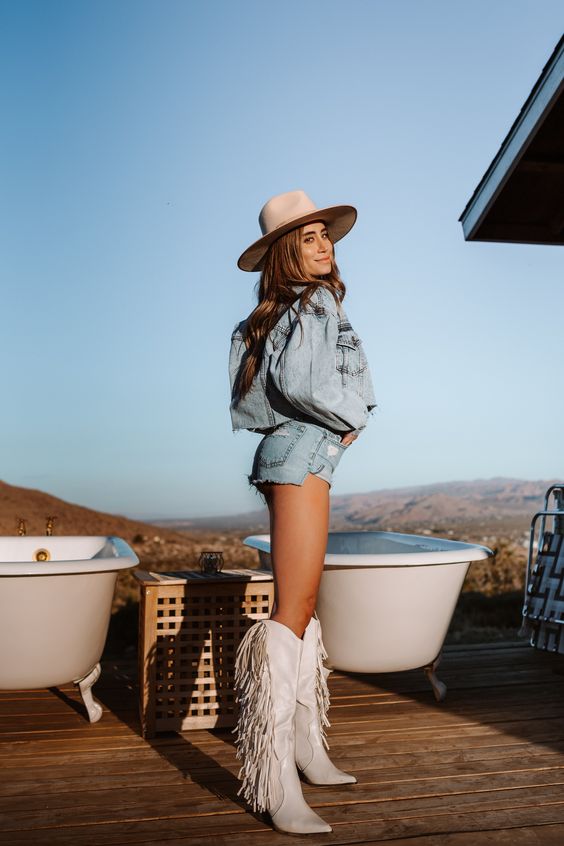 Pull out your trendy cowboy girl style with boots. This style looks cool with the countryside theme. To have a stunning cowboy girl ensemble, you can take on knee-high boot outfit ideas by wearing denim jackets, denim shorts, and for the best footwear pick the moccasin boots. The final touch, you can bring out a cowboy hat into your classy style.
Semi-Formal Outfits with Boots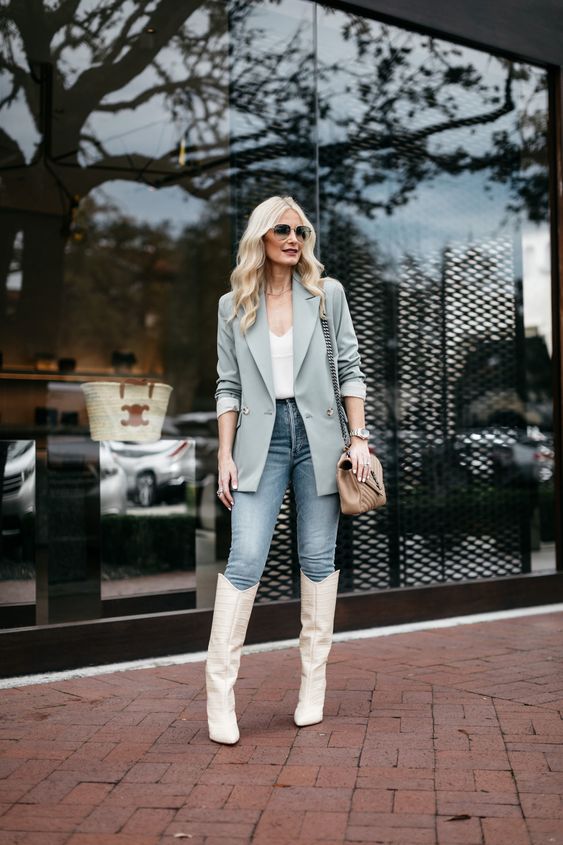 You can't go wrong tucking knee boots in your jeans and blazer outfit for presenting a semi-formal outfit. Bringing a blazer is the best piece to go for formal style and when you mix it out with jeans and a tank top, you will get a semi-casual mode. Put on your knee-high boot, with this you will get a classy impression too.
Sporty Style with Biker Shorts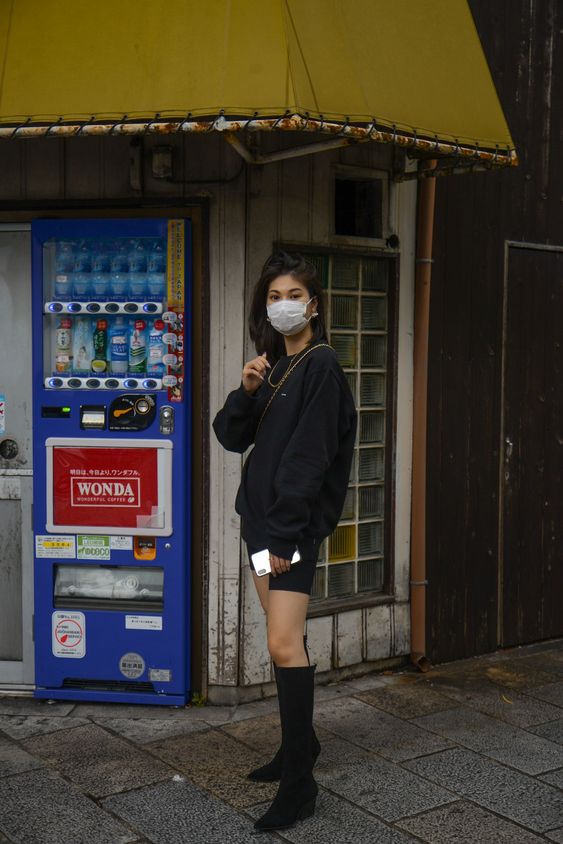 When you think about knee-high boots, it's all about sleek shoes with a more feminine vibe. However, you still can have a sporty style with this boot as long as you can get the best matching sporty outfits. For this, you can have biker shorts and then for the top choose sweater. The finished style would look comfortable, sporty, and fashionable at once.
Have Glamour Style in Sequin Boots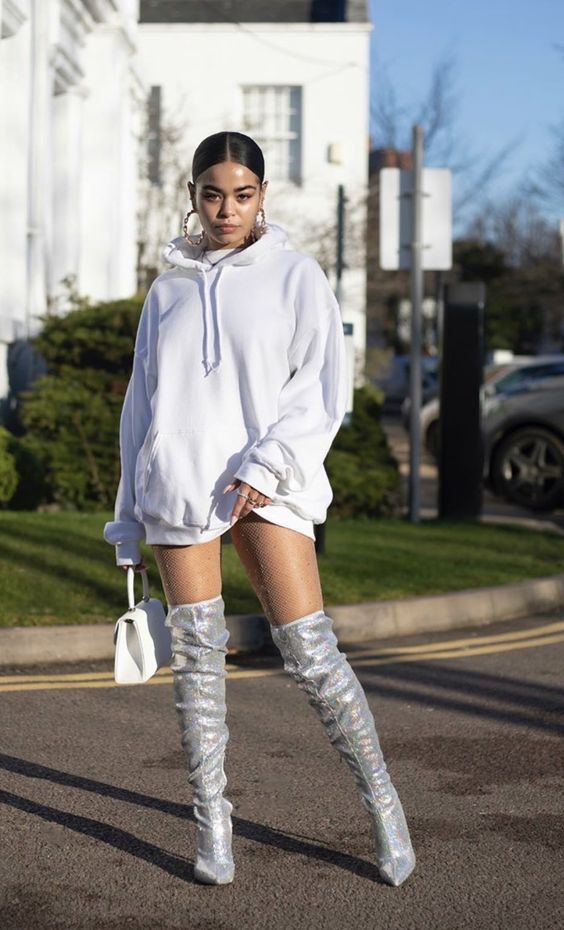 There are some high knee boots with a metallic or silver accent that can convey glamour to your classy and fancy outfit style. Even when you have simple attire such as oversized hoodies, you can still be stunning on in sequin knee-high boots. This kind of boot will give sparkle to your outfit. You can get an effortless fabulous outfit to attend a pub party.
Fill Up Your Spring Outfit Style with Boots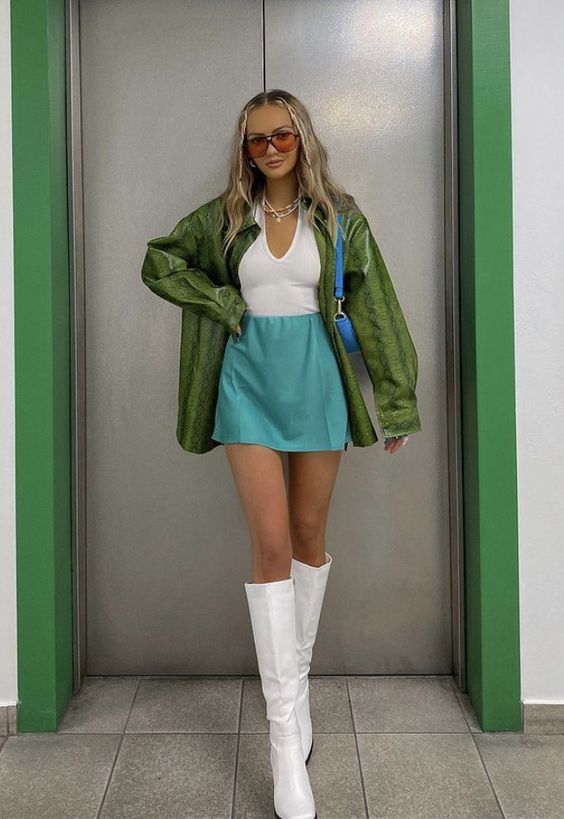 When spring has coming, you can start with a new style of outfit. Still, not all the pieces can be thrown up from your closet. Most boots have a big portion to recreate become cute spring outfits. When spring you still can feel a little frigid on the outside, so it's better to wear something warm and comfortable. You can try to adopt a mini dress for matching up together with a leather jacket and knee-high boots. Stuffed the outfit with spring color palettes such as turquoise, green, and also neutral shade. You also can bring a slight color-clashing style with a blue mini bag in your outfit.
To Pull Out Classy Shirt Dress Style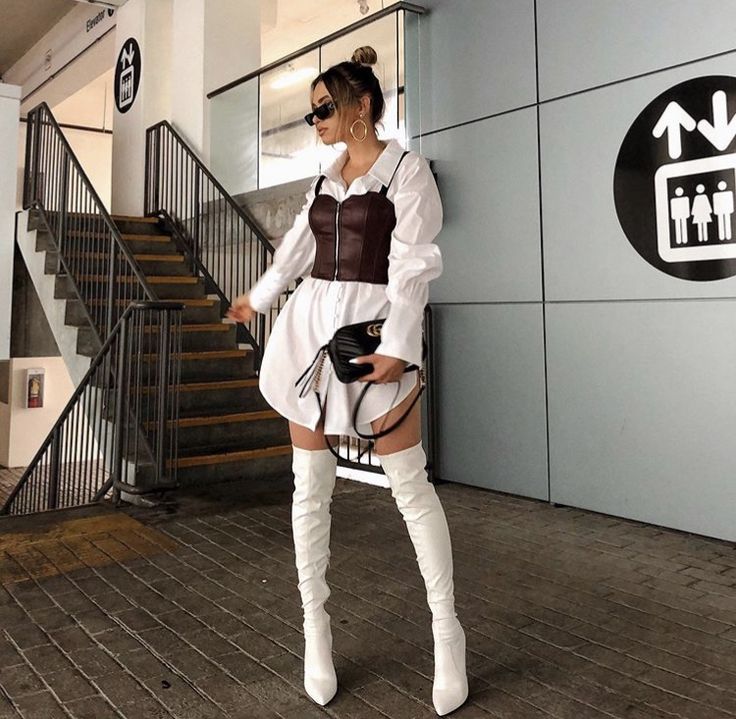 Shirt Dress is the type of oversized outfit idea that you can try to apply as the classy style in your fashion daily. When you get your collared oversized shirts and put leather outwear over it would present classy and fancy style with knee-high boots. Fulfill your elegant outfit with gold jewelry and your favorite mini handbag.
Match Your Cute Flower Dress in White Boots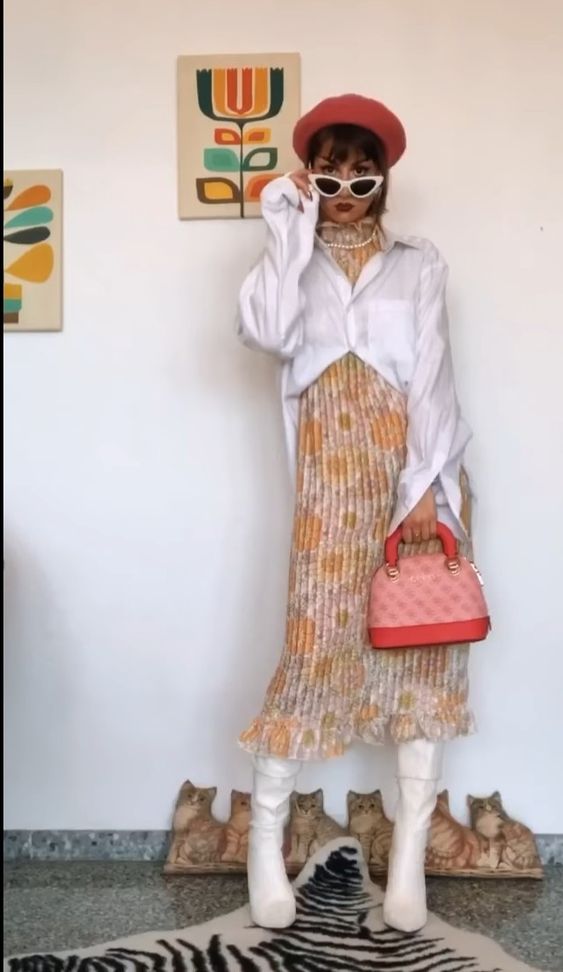 Have a cute and classy style in a pleated maxi floral dress as your main outfit. You can fuse it with big shirts as the layer on top of the dress. Make it done with knee-high boots, mini handbag, and beret hat for bringing a classy designate.
Keep It Neutral in Beige Outfits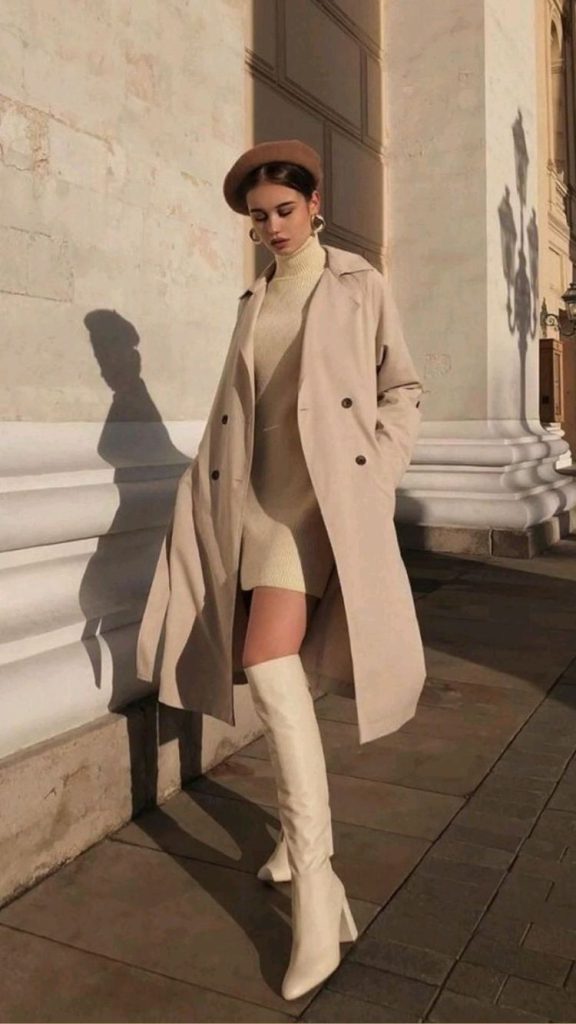 Monochromatic style is never wrong to ensure that you go done with a fancy and classy outfit. This also could be an effortless and modest style for you to embrace. That's you need just one color palette to express an elegant figure such as a neutral tone in beige. Combine a beige turtle neck sweater dress, stylish women's coats, beret hats, and then beige high knee boots to pull out a classy winter outfit.
Bright Colors Scheme in Your Knee High Boots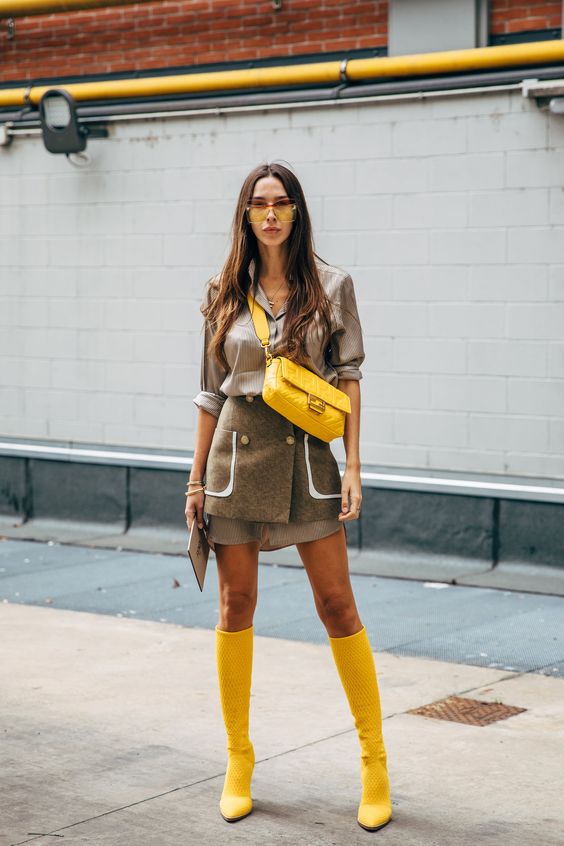 Come out with a lighter color in your women's outfit ideas, you can push yellow high knee boots into your fashionable outfit. Give it a more classy impression by tucking a button-down tunic in your mini skirt. It brings a unique style that makes it like a layered outfit at the bottom. Besides that, selecting brown and light yellow also could have a chic clashing color combination.
Brown Leather Boots for Pastel Outfits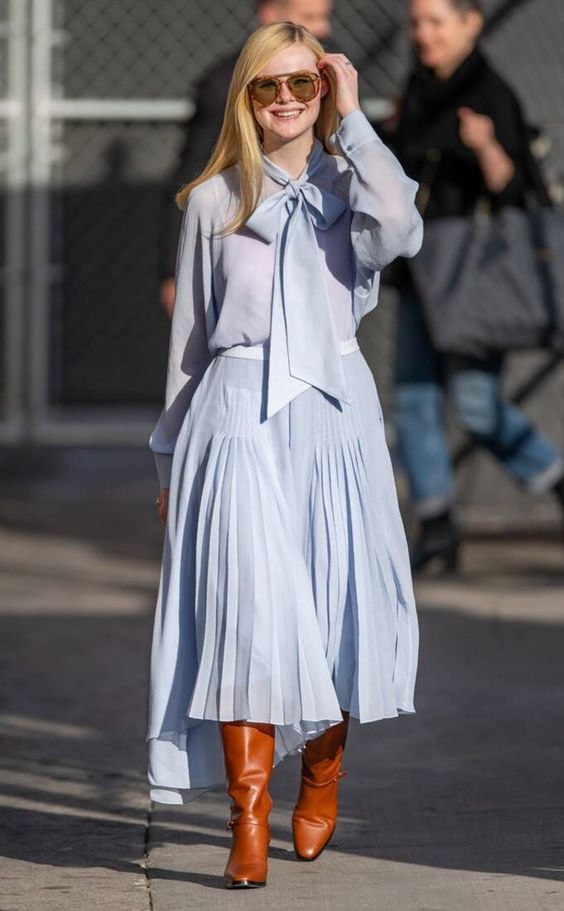 Bring out brown knee-high boots for women's outfit ideas in your pastel ensembles. Having it together would give a different style that's fashionable enough to figure out. You can start to combine this brown boot with a lilac blouse and a midi pleated skirt. You will never regret bringing this leather knee-high boot on your pretty pastel outfit ideas.
Get Casual Style in Suede High Boots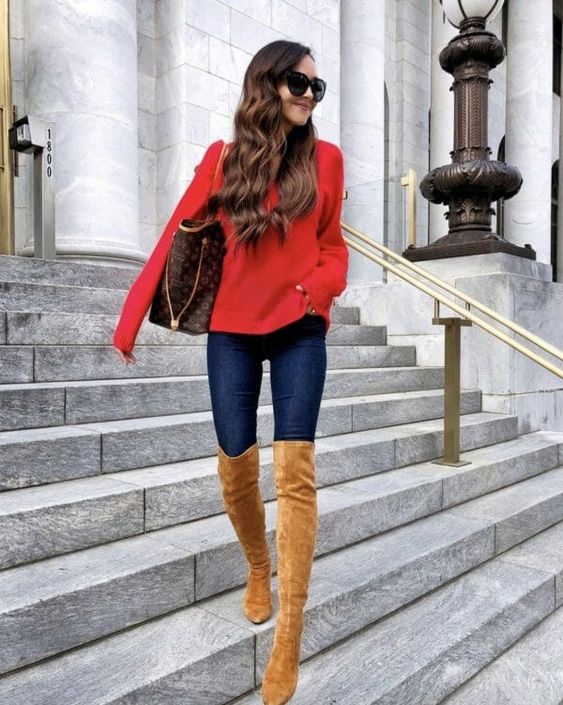 Suede knee-high boots for women's outfit ideas, you could have it for a casual outfit by wearing it over your skinny jeans. For the topped outfit, you could pick casual pieces like a sweater. Don't miss out on the complement like a tote bag to finished your overlook.
Pairing with Plaid Mini Skrit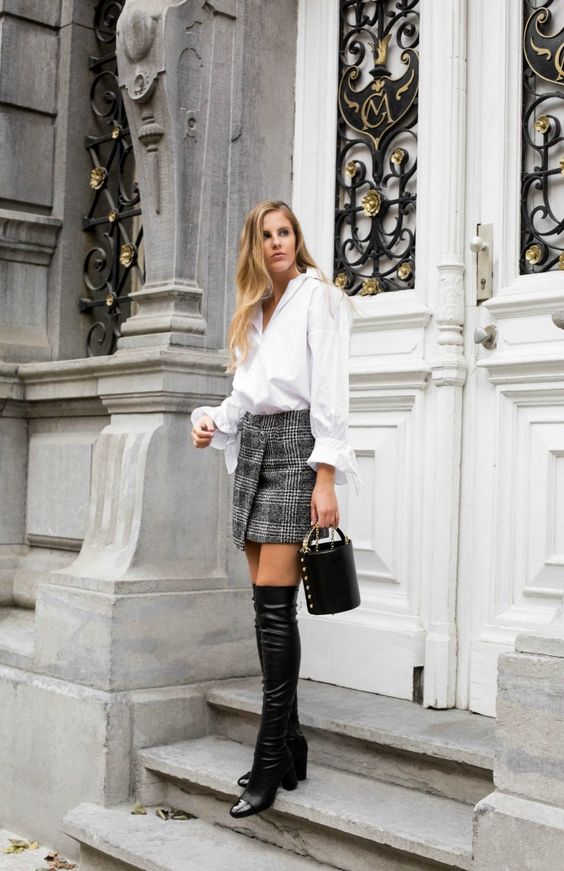 Over heeled knee boots truly help those women who want to have classy and fancy style with an easy outfit that's can be found in their wardrobe. This boot would be matched if you wear a button-down shirt and woolen plaid mini skirt. All of those outfits always be placed in your closet and it's suitable for formal occasions.
Trendy in High Heeled Boots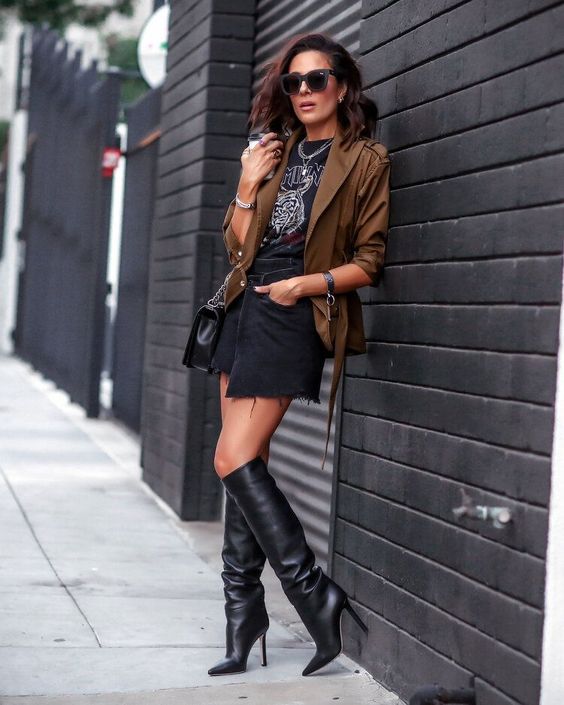 If you want to have a trendy and cool-girl style with knee-high boots, just come out with a leather mini skirt, a black printed t-shirt, and brown jackets. For a little classy and sexy nuance, you have to select boots with heels rather than flat boots. Making this style more indie with some silver and leather jewelry, sunglasses, and a black mini bag.
Wear under Maxi Dress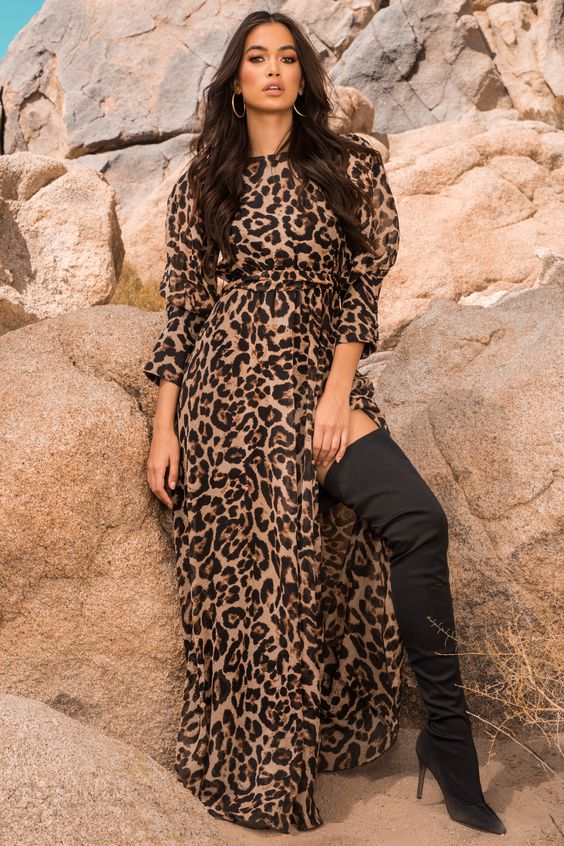 Another classy and fancy outfit idea with knee-high boots for women that you can try is wearing over-knee high boots under your elegant maxi dress with a high slit. Choose a panther pattern on your dress and black as basic colors for your footwear. This combo would bring a high-class outfit for a casual party.
Cozy Summer Outfits with Boots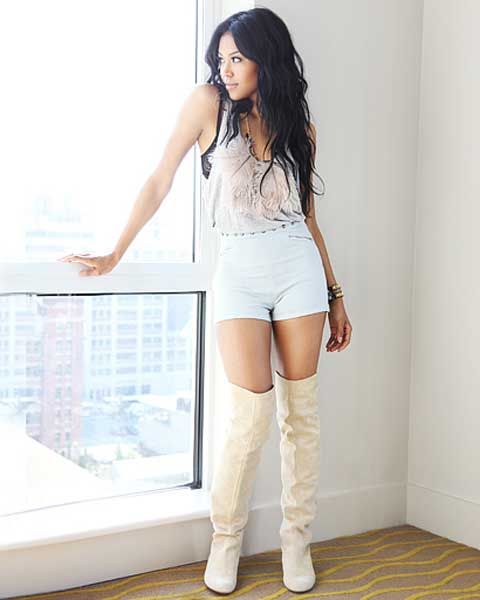 Don't pack away your winter outfit just yet, especially your boots. You can still apply the boots even to your summer outfit. When you want to get knee-high boot outfit ideas during summer, you can try to go with a tank top and shorts. Then give some accessories to perfect your look. This is simple but give an adorable style.
Giving Illusion for Slim Body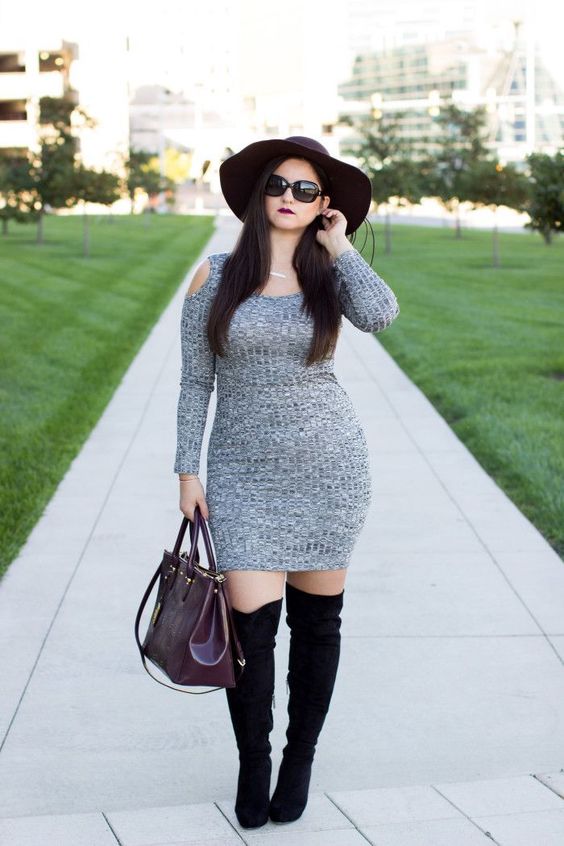 When you need sleek boots to give an illusion for your outfit style, black heeled boots for a sexy style can be stood out for those who have oversize bodies. You can match this boot with a silver long sleeve bodycon mini dress which is fit your body shape and make it look sexy and classy. As for the accessory, you can add a floppy hat and handbag with maroon colors shade.
Edgy Style with Boots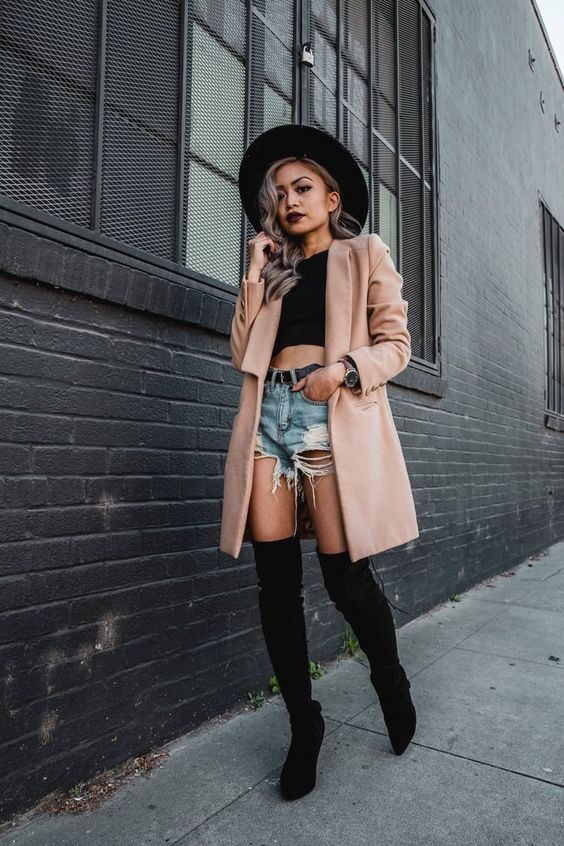 For a true statement about edgy style, you can come up with black heeled knee-high boots on your grunge chic outfits. Match your boots with the cropped top, ripped denim shorts, and then give a long blazer for fancy style. Choose accessories like a fedora hat and a simple watch to finalize your appearance.
Perfect Your Fall Outfit with Knee High Boots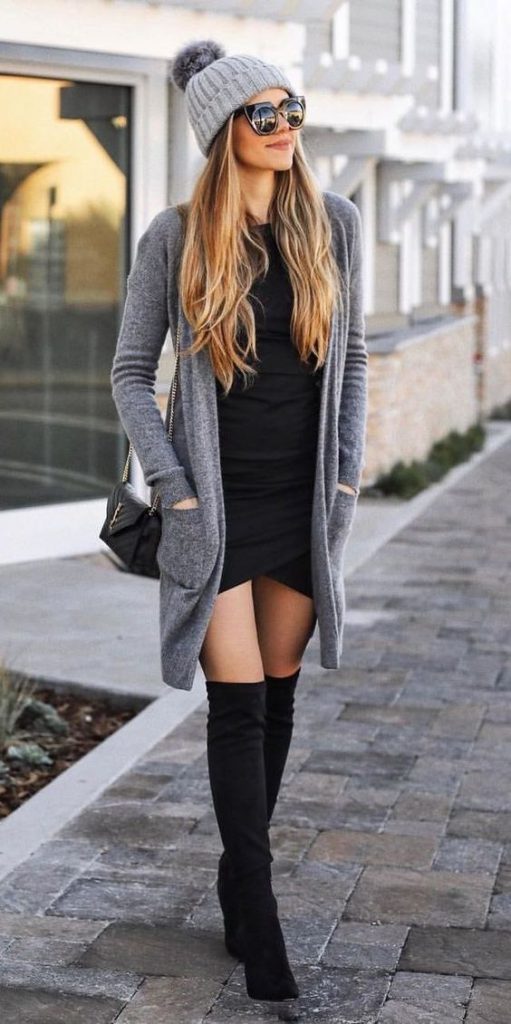 As we know boots are the best and perfect footwear during cold weather. You can easy to style women's outfit ideas with knee-high boots during the fall season. For example, you can match your over-knee-high boot with a mini dress and then have a long cardigan to cover your outfit.