Olidfashion.com – Having a special moment in life like a wedding, as for the girls is one of their dreams. They also want a perfect day full fill with something that's excellent such as a wedding dress. To create a beautiful bride you need a pretty dress to capture a big moment in your life. For this, I give you some inspiration about beautiful wedding dress styles that you can choose as your best dresses ever on your wedding day.
The Beautiful Timeless Wedding Dress Style That You Should Know
Here are some of the timeless wedding dresses you have to know if you want to perform beautifully with confidence at your best moment.
1. Ball Gown Wedding Dress Style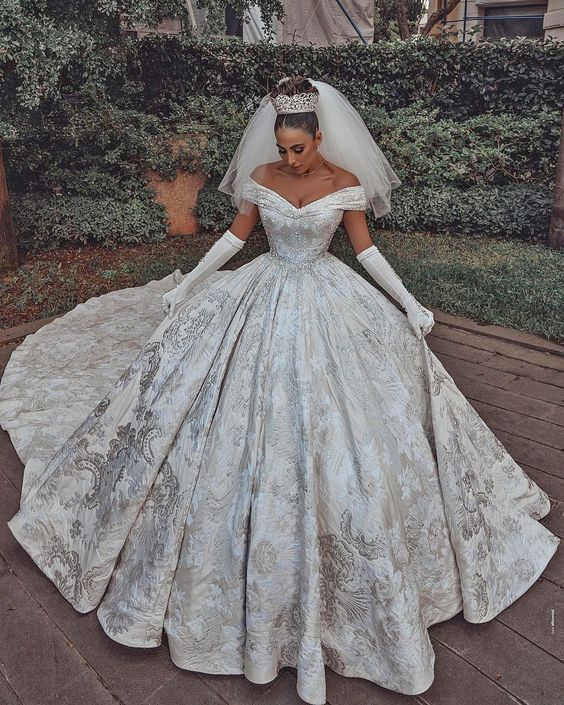 This is the most classic wedding dress style and gives you the princess look on your big day. Ball Gown dresses commonly have features a fitted bodice like a corset for the upper piece and a wide skirt such as tulle or crinolines on the bottom style. This dress is made for those who want to have an illusion for wider hips and to cinch their waist.
2. Trumpet Wedding Dress Style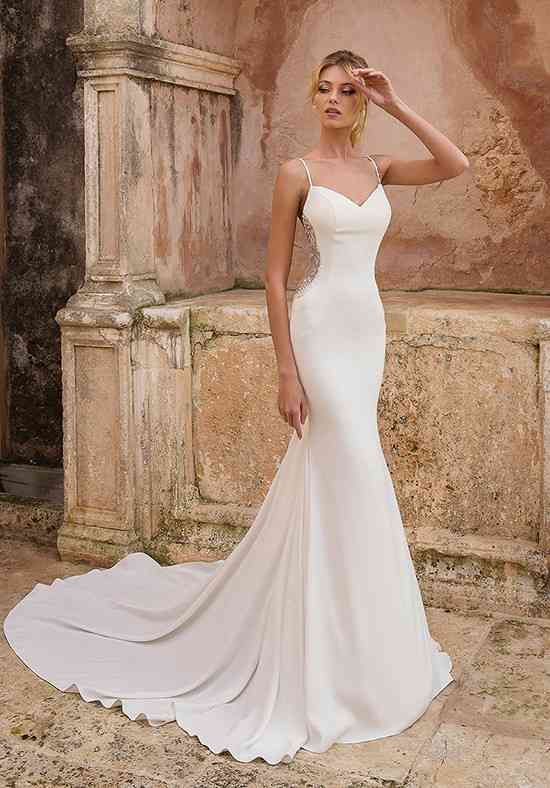 The trumpet wedding dress is a gown that's fitted at the hips and starts being wider from the lower thigh to the floor. This dress helps to highlight your body curves without restaining your movements. This also could be the best gown for any type of body without exception and show the beauty of your body perfectly.
3. Mermaid Wedding Dress Style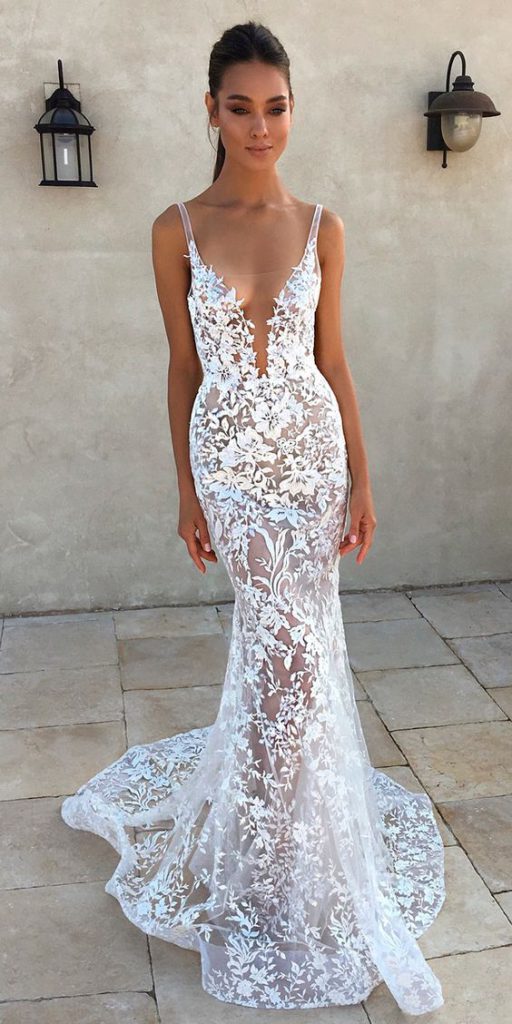 When you need a gown that can approach the hourglass body type, the mermaid wedding dress style is the best for this. This dress gives you a flirty sexy look with the fitted at the bust, waist, and hips part. It has the similarity with trumpet dress but has wider parts starting from the knee to further down. You may not easy to move in this dress, but when you get it you would grab attention more on your special day.
4. Sheath Wedding Dress Style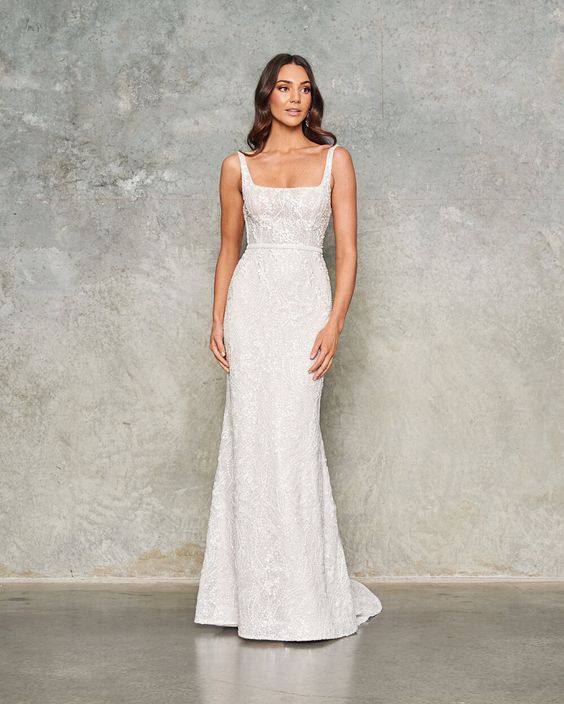 This is a high dress that's fitted on the waist, becomes wider, at the skirts, and falls straight to the floor below your hips with a minimal flare. For those who like modest wedding dress design with less layering style, you can go with this gown. If you have an hourglass or slim body type, better you choose this sheath dress as your bride dress.
5. A-Line Wedding Dress Style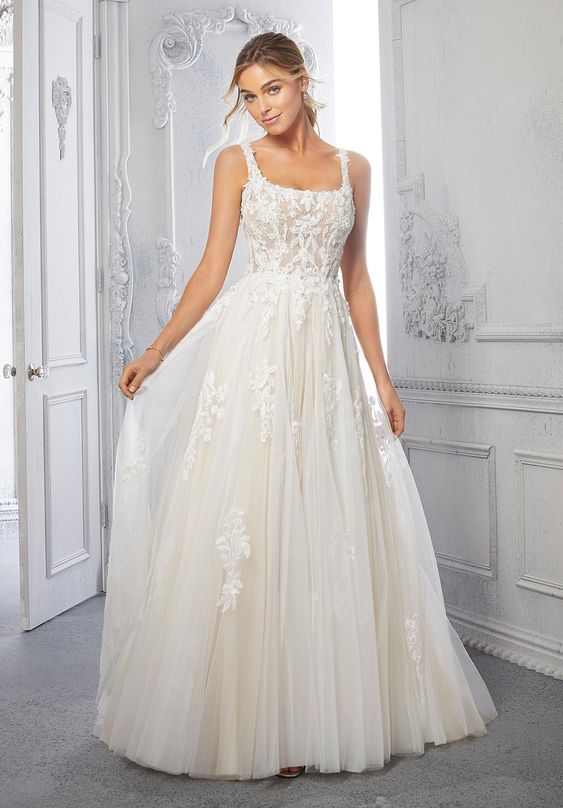 When you see a line wedding dress you will see the combination between sheath and ball gown style. This is a type of bridal gown that can create a line in your body, has a flare in the lower waist, but not as dramatically as a ball gown dress. Not only the trumpet gown that's can be fitted for all types of bodies, but this dress can also be an option for filling up your best moments. Whether for a classic, modern, boho-chic style, or beach theme you will be stunning in this dress. A-line wedding dress is commonly coming up from lace, tulle, but also could be featured by structured fabric such as silk.
6. Tea Length Wedding Dress Style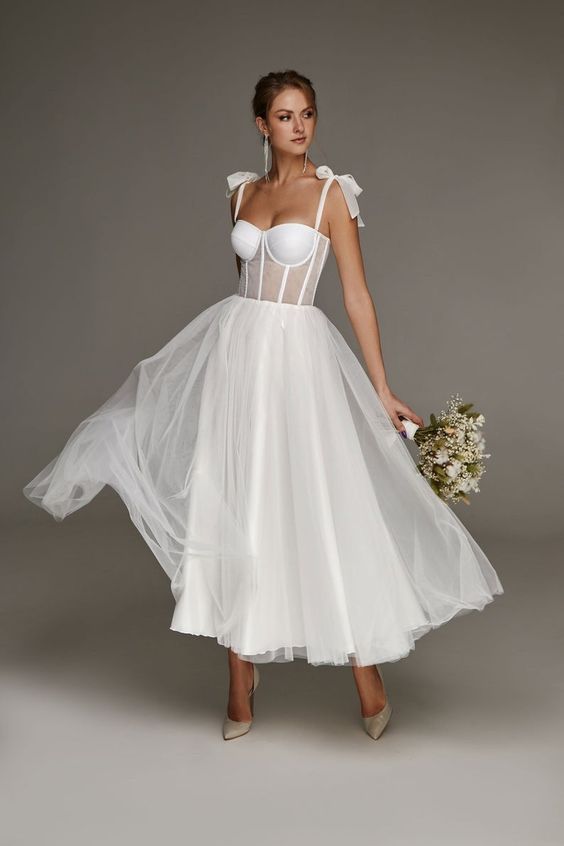 Tea-length also called a midi wedding dress is a kind of bridal gown that is popular and suitable for pre-wedding, engagement, bridal shower, and also for a modest wedding style. For you that want a classic theme for your wedding, you can try to include this dress on your list. Having a longer shape than a mini dress but also has a shorter skirt that doesn't fuse at the floor making it good for you that's want to wear and show up your wedding shoes.
7. Column Wedding Dress Style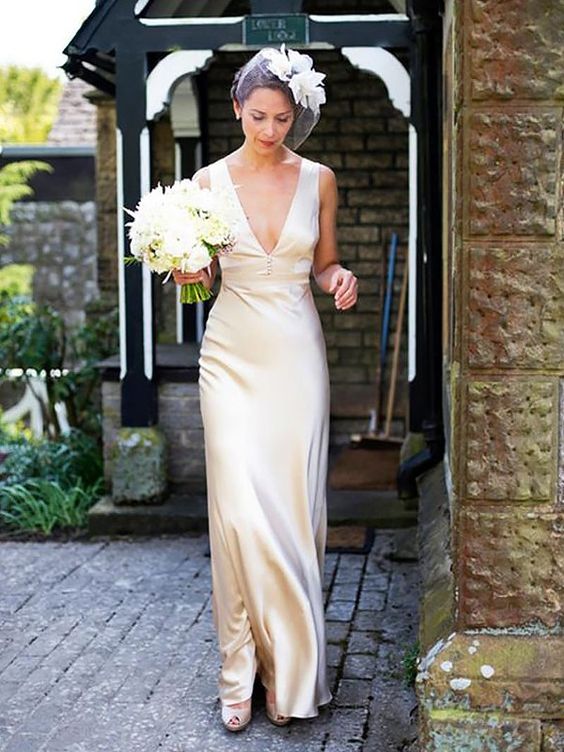 For those who want a simple wedding dress, you can have this column dress as your bridal gown. Have a similar look with the death wedding dress but don't have any flared skirts but in a straight-up look. This dress is good enough for petite brides who wouldn't feel overwhelmed by their small body in the wedding dress. This dress is generally made from thicker fabrics such as silk, crepe, sequin, or beaded satin.
8. Fit and Flare Wedding Dress Style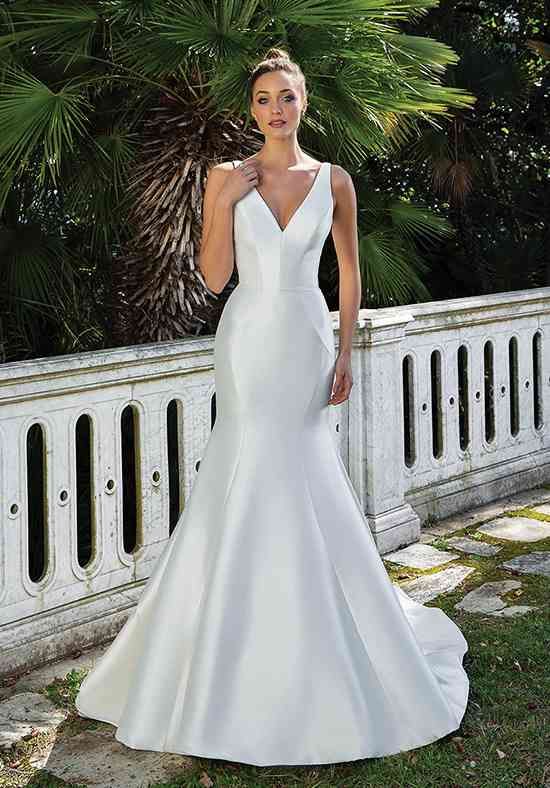 If you want to show up the beautiful shapes and curves of your body without a dramatically wider skirt and flare, just wear this gown on your wedding day. This is one of the most simple dresses that give you the perfect silhouette. This dress is created by fitting at the upper body and giving more freedom on the bottom side. You will get the best wedding dress style if you form this dress in the sweetheart or V neckline and off-shoulder style.
Look Beautiful with Best Wedding Dress Style in Your Special Moment
Every bride wants to look beautiful at their wedding and to achieve the best performance, they wear something dramatically for their wedding dress style. There are plenty of timeless wedding dresses with a variety of styles, fabrics, or colors that you can pick for your best bridal gown on your big day. Get ready to full fill your list with some dream wedding dress ideas here.
The Best Beach Wedding Dress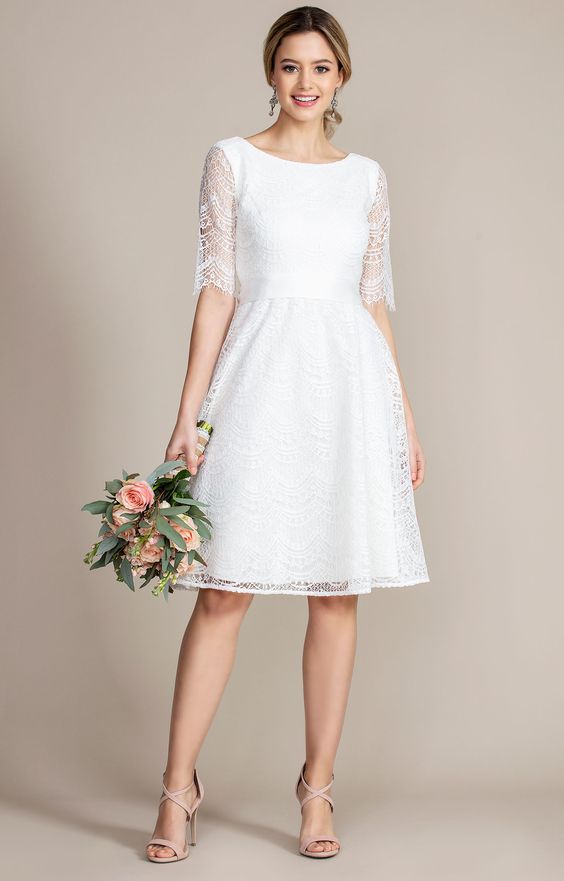 Hold a wedding outdoor such in the beach, it's better for you to choose a short wedding dress style. You can choose a layer of lace fabrics over the satin gown. This dress would be good if you pair it with pink pastel strappy heels and with simple make-up. You actually would have a pretty look even in modest style. Just take out this beautiful mini dress for someone your love.
The Disney Wedding Dress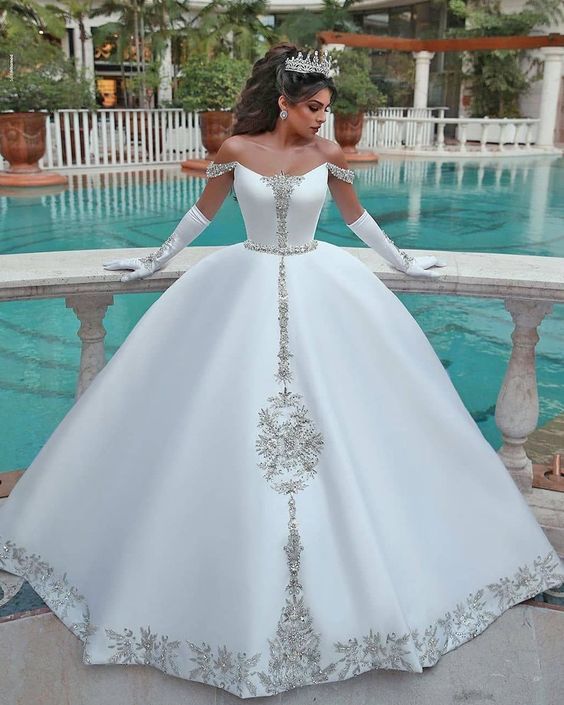 Some girls dreams to become a Disney princess one day and you can make it happen by wearing a beautiful wedding dress in ball gown style. Choosing this gown and then having a princess style by wearing the crown as for the accessory would bring your dream come true in your special moment.
Romantic Spaghetti Strap Dress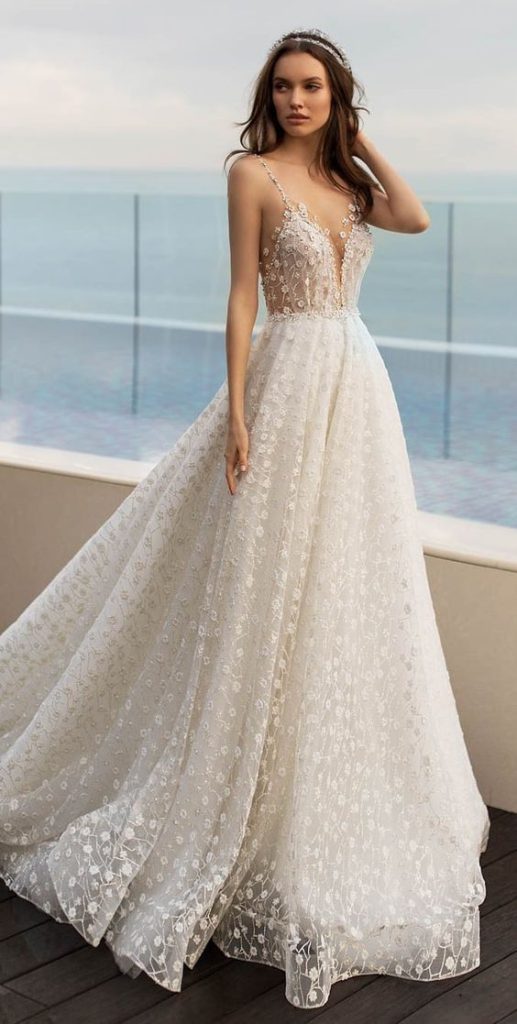 Have a romantic vibe on your wedding day by wearing a spaghetti strap dress. Turn it in dramatically with the dress that is full of beautiful floral embroidery on tulle lace. The plunging neckline would make it a timeless wedding dress to wear and give a bit more sexy vibe.
Wedding Dress for Winter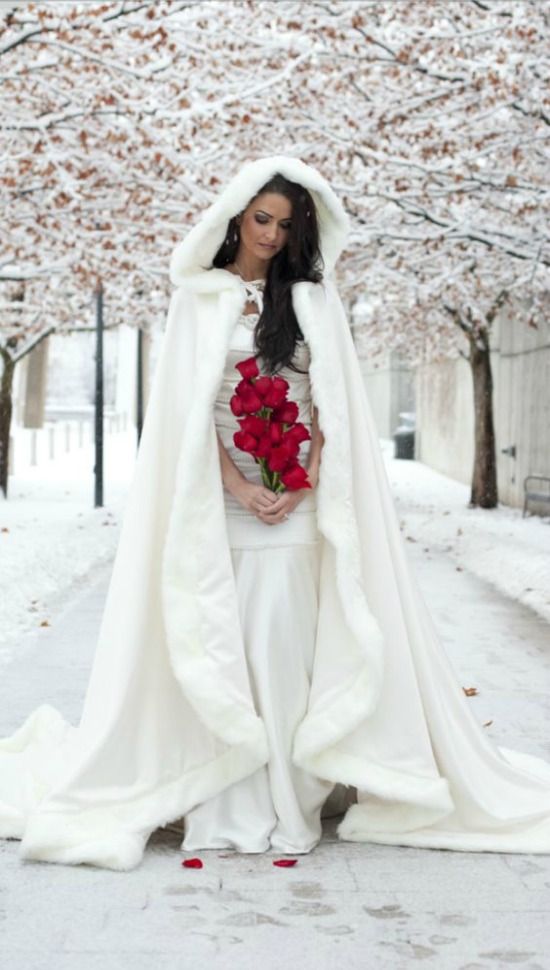 Getting stylish winter coats in your bridal dress during colder weather is the best option to make you keep warm and beautiful at once. You can choose fur hoodie coats in white colors that match your wedding dress.
Building Illusion to Your Shape Body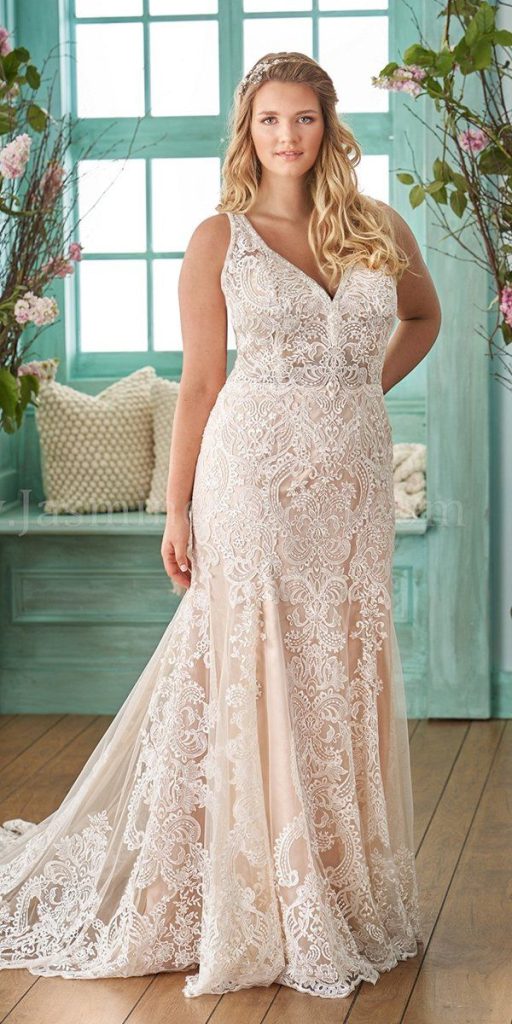 For you that want to make curves and shapes of your body in your wedding dress, just try to adopt a trumpet dress style. This would give you an illusion of a perfect hourglass body. You can choose brocade lace in your gown with a rose gold color to give a sweet accent.
Sexy in Sleeveless Trumpet Wedding Dress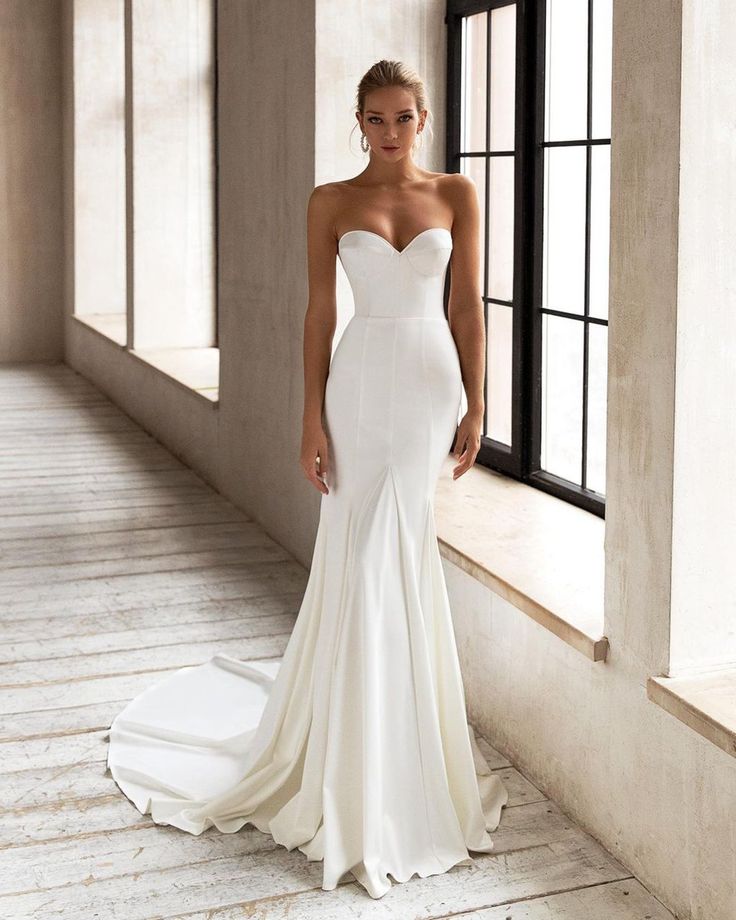 To have a sexy and flirty style in your beautiful wedding dress, you can come up with a sleeveless heart neckline silk dress. With the trumpet wedding dress style that's fitted your body actually would make you become stunning effortlessly. This dress truly gives you a sexy and elegant glance at once.
Bohemian Wedding Dress Idea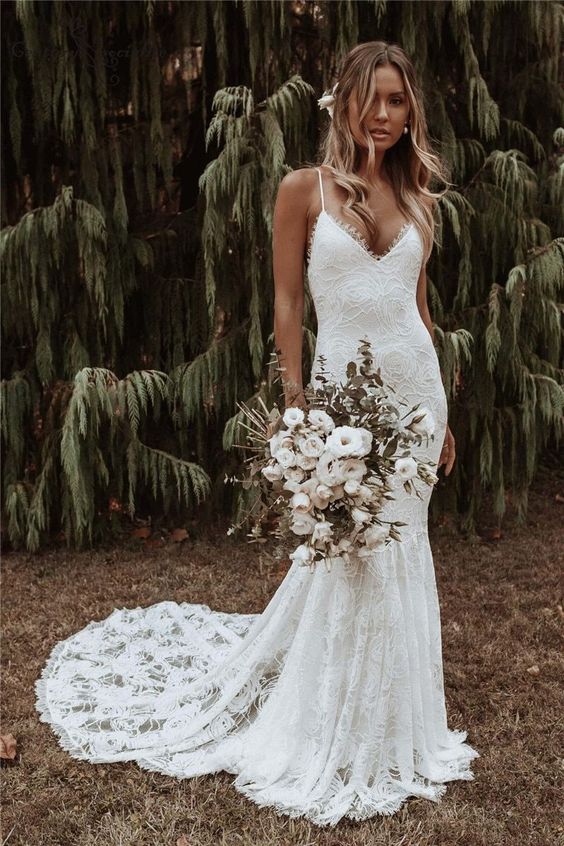 Another modest wedding dress design that most girls want to wear is the boho-chic style. This is a simple gown but still can make you look beautiful on your day. It's made from lace fabrics and is designed with an easy mermaid dress style, making this dress becoming a timeless wedding dress style.
Wedding Dress Style with Fur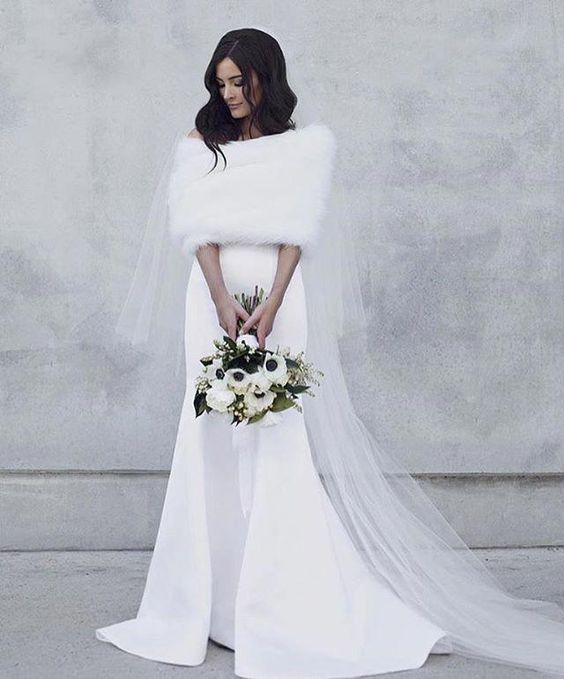 Getting married during fall or winter, you need to have a bridal gown with something that is comfortable like fur as for the outer style. Designed in the perfect trumpet dress style in white making it become the best wedding dress style you should wear.
Best Tulle Wedding Dress for Plus Size Body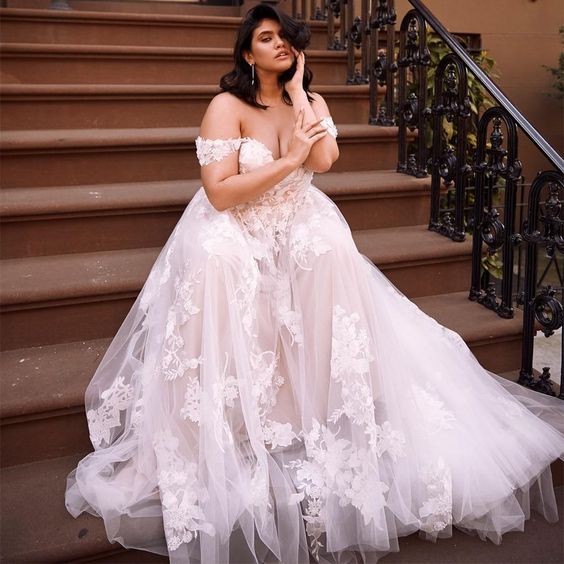 When you search for the best wedding dress to give an illusion to the plus-size body, a line wedding dress would help you more. Made your dress in off-shoulder style in heart neckline and select the pink lace fabrics would make your performance better even in your plus-size body. This actually would cover up your flaws.
Casual Silk Wedding Dress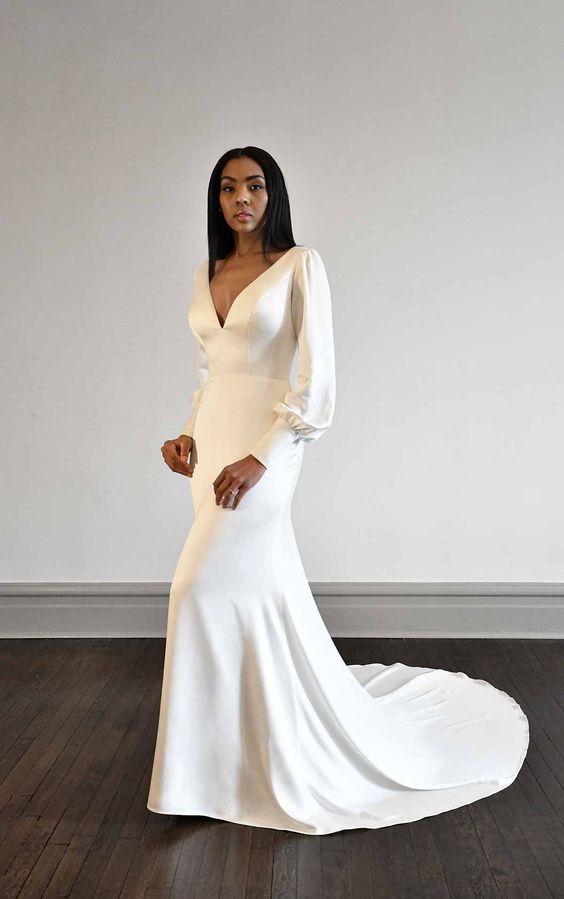 If you like something simple and casual with a little detail, you can try to have a trumpet wedding dress with long sleeves and v neckline style. Choosing silk for your beautiful wedding dress makes it look classy even in a simple design.
Sequin Wedding Dress for Sparkly Style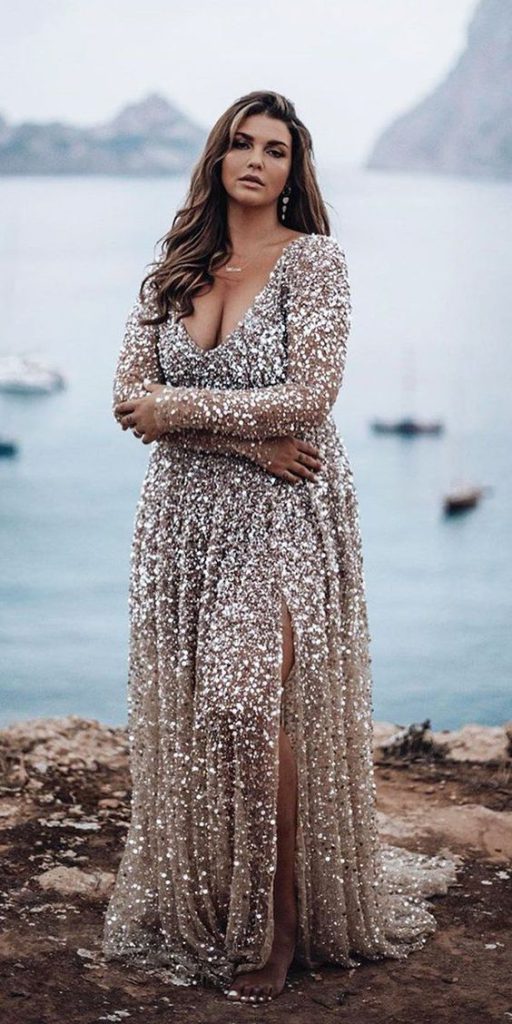 Get a glamorous style in your wedding dress style by having a long sleeve sequin dress. This dress would make you get a sparkle sensation and grab more attention from the people.
Beautiful in Lace Wedding Dress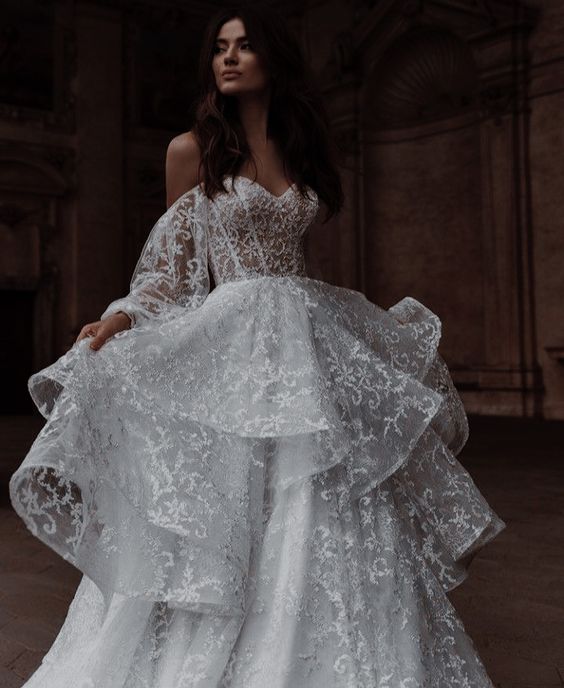 Lace and tulle are some of the favorable fabrics that most designers use to produce timeless beautiful wedding dresses. Applying this kind of fabric could add a little pretty fragment to your bridal gown. For instance, you can create a ruffle layered wedding dress in lace with the v neckline and off-shoulder style to get an adorable wedding dress.
Elegant Wedding Dress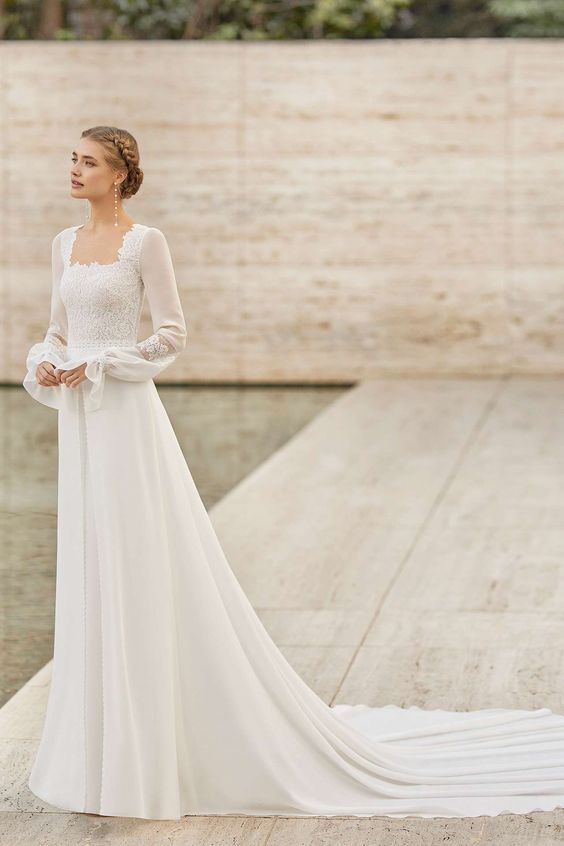 For the elegant wedding dress style, you can bring out long sleeve sheath wedding dress style on your special day. Have a detail in square neckline and fitted in the waist and straight lose to the floor making this dress look graceful to wear on the altar.
Light Modern Wedding Dress for Summer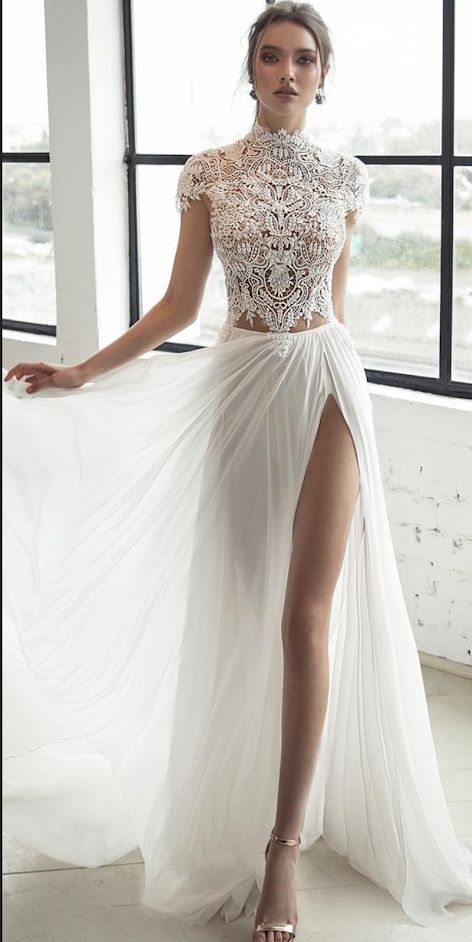 Summer is the best time to hold a wedding party. You can also come up with various summer ideas for women to form beautiful wedding dresses. You can try to take on a one-pieces style that involves brocade fitted tops and tulle slit maxi skirts as the best wedding dress style during summer.
The Countryside Wedding Dress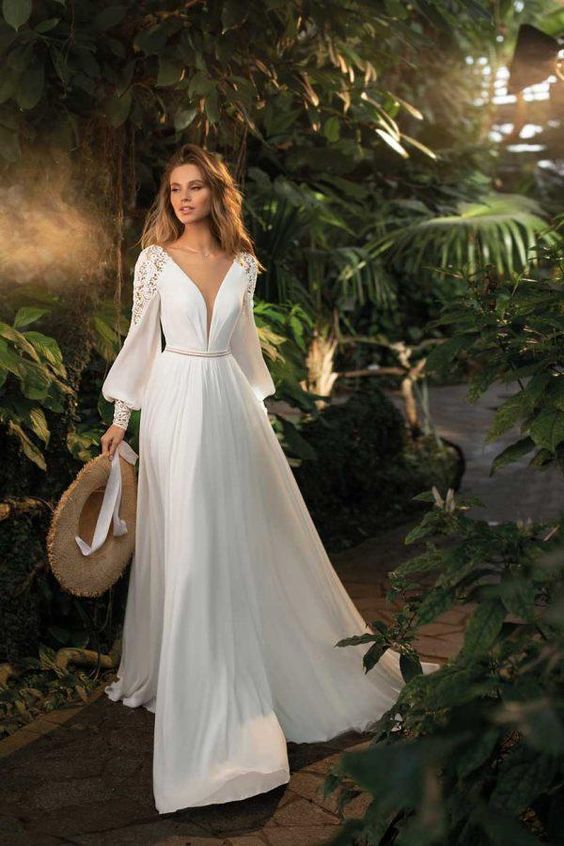 When you want to have a countryside style, you can have a silk long sleeve fit and flare wedding dress as your bride's gown. Customize your dress in a little brocade detail in the sleeve and bring up the cowboy hat as the iconic accessory.
Classic and Vintage Wedding Dress with Gloves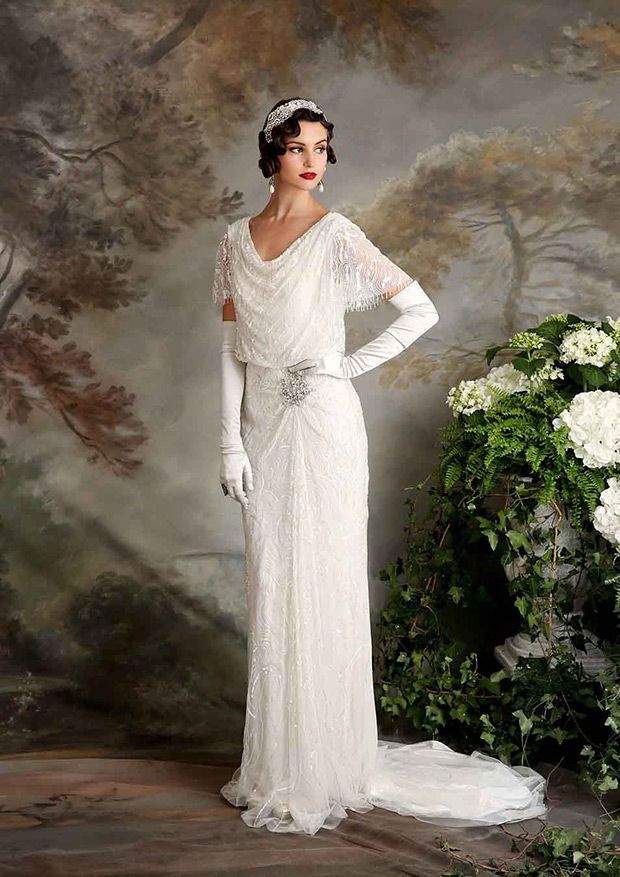 One of the timeless wedding dress styles to wear is the column wedding dress style with the glove. Having little loose in the upper style, fitted at the waist, and straight loose to the floor would deliver a vintage style in your beautiful dress.
Mini Wedding Dress with Puff Sleeve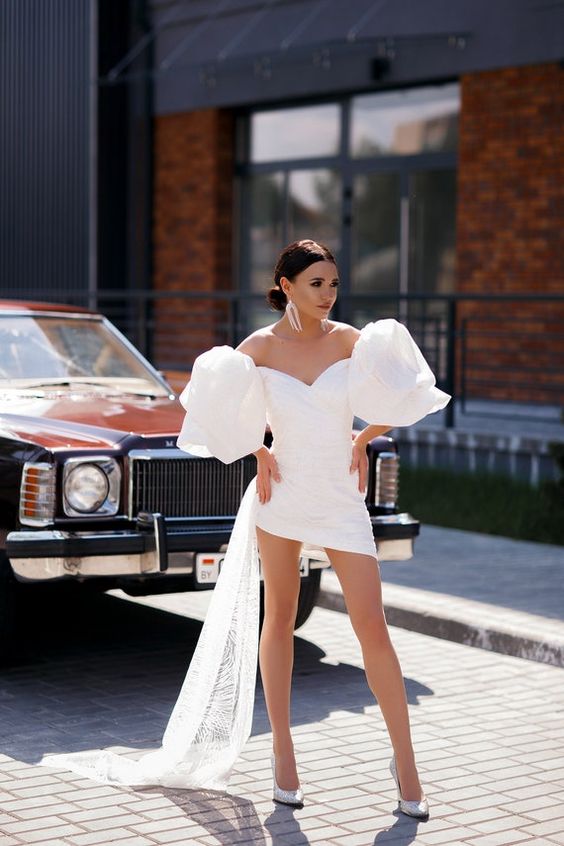 Wedding dress is not only about the loose straight gown at the bottom, but the mini dress style could also be formed as your beautiful wedding dress style. For this, I recommend you to try a puff sleeve mini dress. To give a dramatic piece, you can add a bridal cape behind the dress.
Wedding Pantsuits for Modern Style
Become different in your wedding by choosing wedding Pant Suits as your modern wedding dress style. This is a kind of bridal style that includes pants and a lace high low mini dress.
Floral Wedding Dress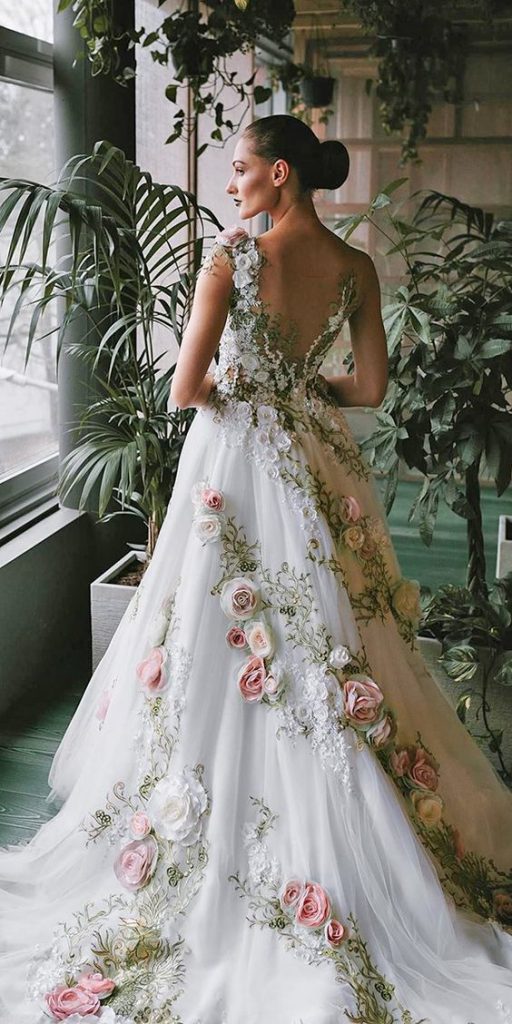 Beautiful embellishments ideas in your wedding dress maybe could deliver a unique and dramatic style in your wedding dress. You can adjust some of the flower ribbon embroideries as for trims in your wedding gown that's have a natural theme. This dress is will look beautiful for the brides and also look like dressed up with flower rather than a gown.
Amazing Red Wedding Dress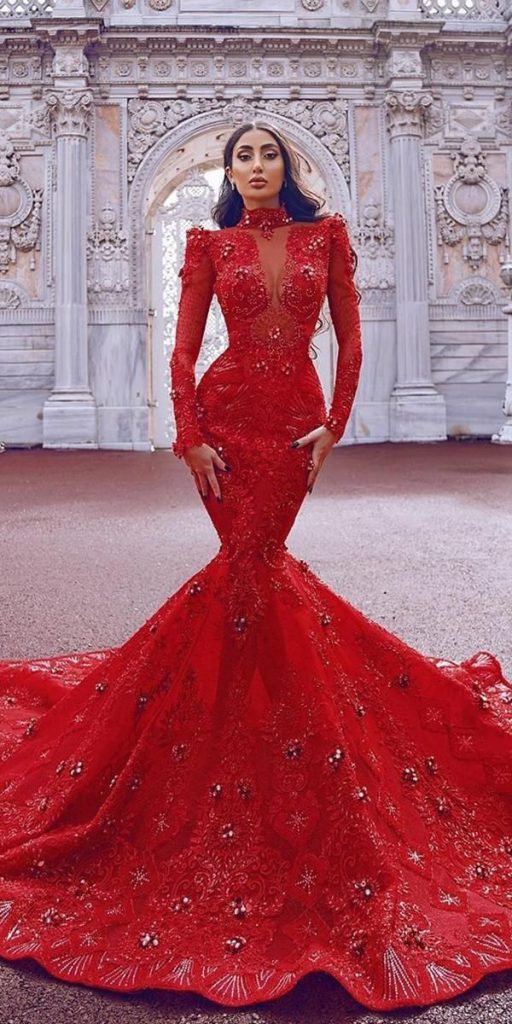 Have an amazing dress in a red long sleeve mermaid wedding dress. Commonly wedding dress is always coming up in white colors, if you want to make it bold you just have to choose red as the main shade in your dress. In the mermaid style and red colors making this combo brings out a sexy and hot style in your wedding.
Wedding Dress in Modern Folk Style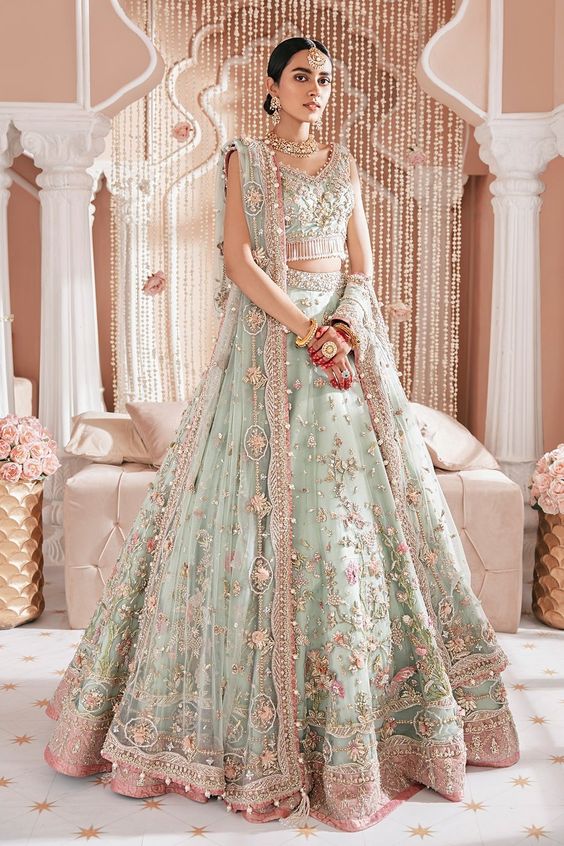 Some of the countries have their wedding dress style. They give a modern folk style in it such as in Pakistan. In there you will find out most of their bridal gown usually are designed like Saree that's traditional dress. You will get a dress in two pieces that include a corset and wider skirts. The dress is full of beautiful trims like floral embroidery in any kind of color. For a more modern style, they adjust pastel as the basic color of the dress.