Olidfashion.com – When it comes to summertime, people usually have more events either formal, casual, or even some vacations. On many occasions, you should wear something that's suitable and comfortable at the events. Because of this, you need to know some men's essential outfits to help you get a smart and trendy style in summer.
How to Create Smart and Trendy Summer Fashion Style in Men's Outfit Ideas
That's a little challenging to find the best outfit for men to wear during summer. We know that's men outfits don't have many styles and designs like women have. Men's outfits are commonly monotone and it's all about shirts, t-shirts, trousers, and jeans. For this, we would help you to find out some inspiration to stylish your summer fashion in a smart and trendy way.
Essential Outfits That Men Should Have During Summer
After we discover how to style women's outfit ideas during summer, now we start to come about men's outfit style in summer. Let's find out the essential clothing that's needed in a men's wardrobe first.
Shirts are the best outfit for men to create a preppy style and usually wear on formal occasions.
Polo T-Shirts is also a great ensemble to have in your wardrobe to bring out trendy and cool styles.
Denim Jackets are essential pieces to have in men's closets. This jacket is versatile clothing and could be matched in any outfit.
Chinos are most favorite pants to wear on men's outfit ideas. This can bring a smart casual style into men's outfit ideas.
Bermuda Shorts are casual pants and suitable to wear during summer.
Jeans are flexible pants and also an outfit that can wear all seasons throughout the year.
Sneakers and trainer shoes are the best footwear and also favorite ones that are comfortable to put on in summer.
Mix and Match Your Outfits for Smart and Trendy Summer Style
While you have been found what you need, it's time to create your style by combining them like your fashion sense accordingly. For this, I'll give some compiled men's outfit ideas for your inspiration below.
T-Shirt and Slim Fit Cargo Pants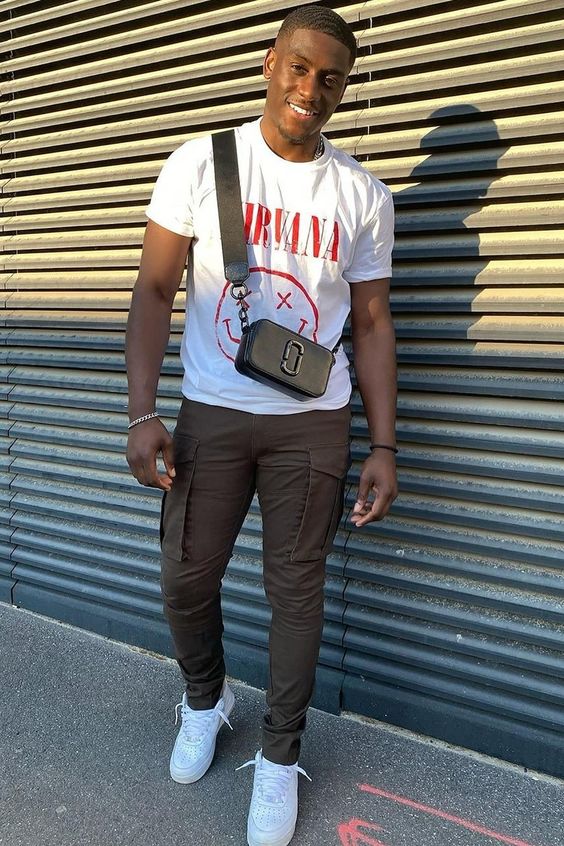 For men who like simple casual style, just try this outfit style. You can combine a white t-shirt with brown slim-fit cargo pants. As for the footwear choose white trainer shoes and then complete your trendy mmen with a mini sling bag.
Shorts and T-Shirts for Sporty Casual Style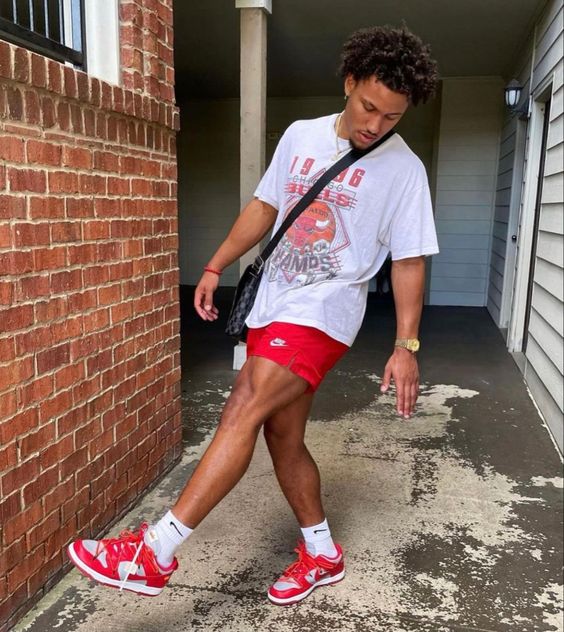 To have a sporty casual style, you can match a t-shirt with sporty shorts. Bring out your confidence more with trainer shoes and a sling bag. Complete your trendy outfit style in summer with simple accessories like gold jewelry and a watch.
Smart in Summer with Polo T-shirt and Chinos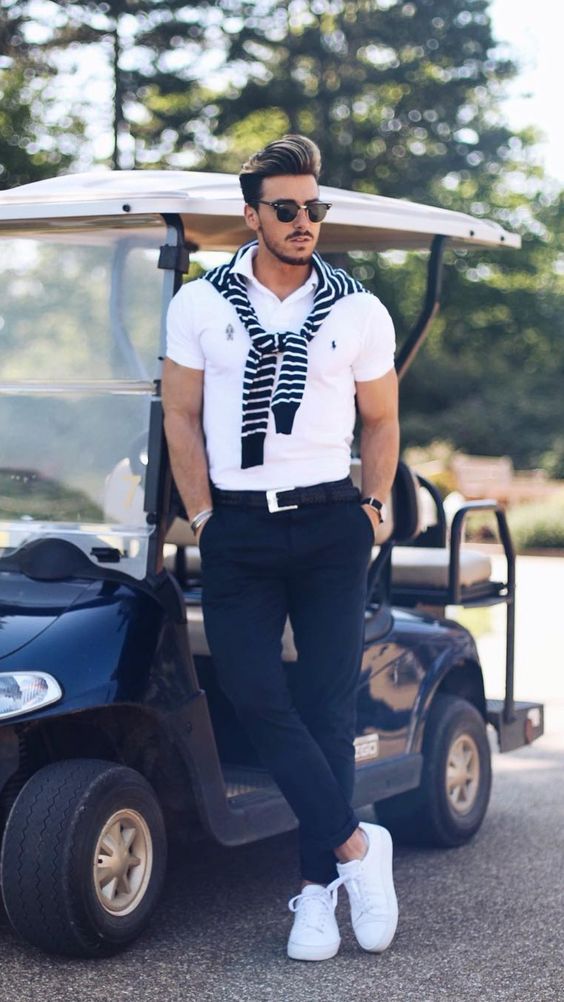 For you that want to have a smart casual look, a white polo t-shirt and navy blue chinos would create it. You can also add some detail like draping a striped cardigan around your neck, some accessories such as a leather belt, watch, and sunglasses. To help you get a more trendy style in summer, bring on sneakers on your outfit ideas.
Trendy Summer Outfit in Floral Printed Shirts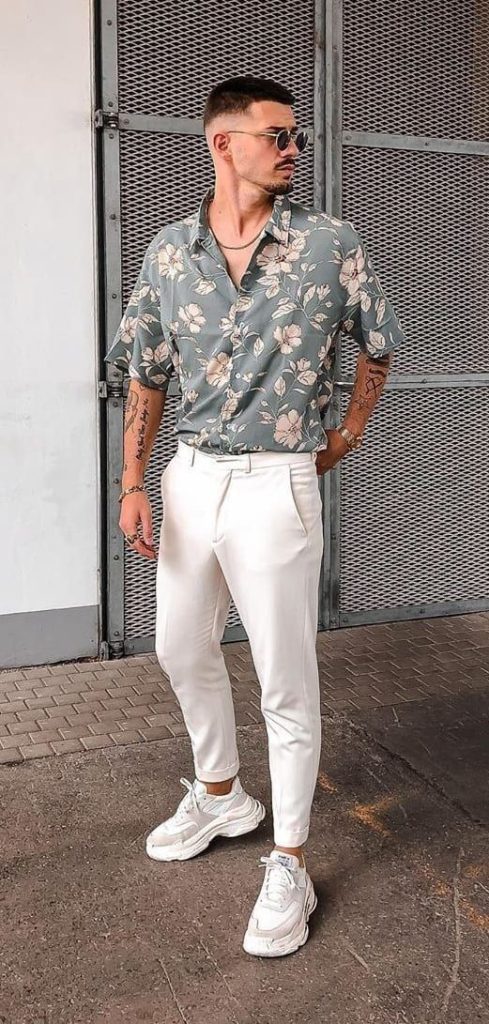 Floral print may be identical with women, but this also looks good to apply in men's outfit ideas. As long as you can pair it with the right style and combo, you will get smart and trendy summer outfits for men. For instance, get a floral printed shirt and then pair it with white pants. For the shoes, you can pick white trainer shoes.
Bring Out Pastel Nuance for Smart Outfit Style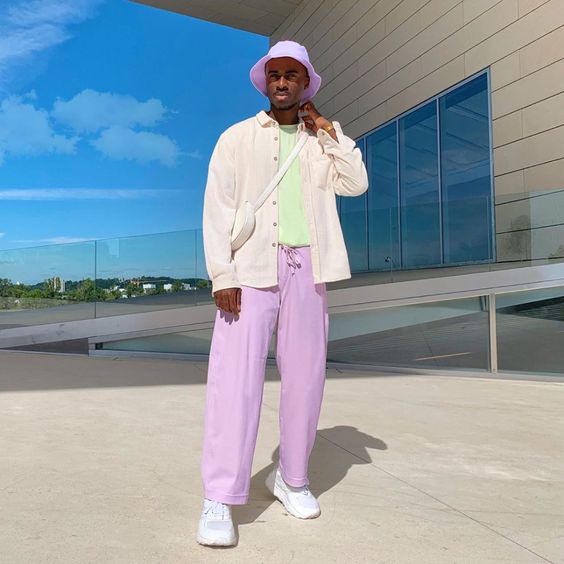 Another feminine side that you can adopt into men's style is pastel outfit ideas. For you that want a smart style in pastel without being odd, you can bring lilac, mint, and white as your color shades. For this, you can determine lilac pants, mint t-shirts, and broken white long sleeve shirts. As for accessories and footwear, you can have a lilac bucket hat, a broken white mini bag, and white trainer shoes.
Give Statement with Light Color Outfits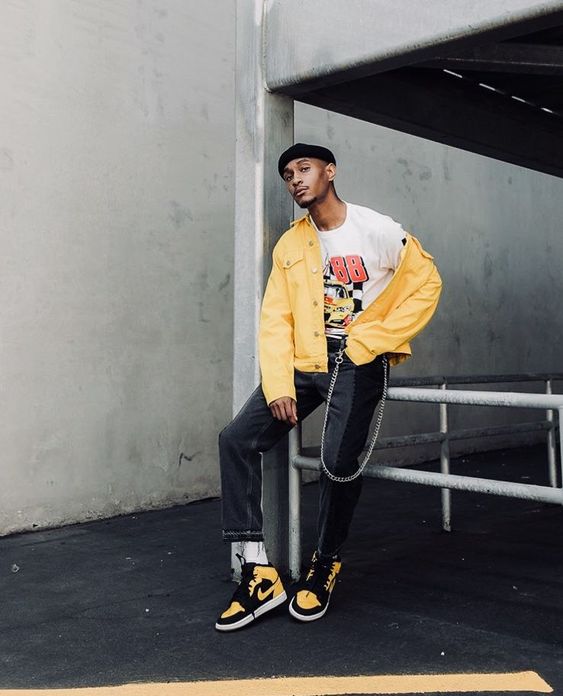 Summer is actually about the cheerful and energetic vibe. You can also draw it into your outfit style by having light color outfits such as yellow in your black and white style. Pull out a yellow denim jacket to cover your white printed t-shirts and then have black jeans for bottom outfits. As for the footwear, having black and yellow trainer shoes would be matched with your smart and trendy outfit for summer.
Hoodie and Short Sweatpants
Hoodie and short sweatpants could be an option to bring out trendy outfits during summer. You can choose a black hoodie and grey short pants to look lazy casual style. Stood up your appearance with orange and white trainer shoes that also bring color clashing combinations into your outfit ideas.
Trendy Summer Outfit in Baggy Clothes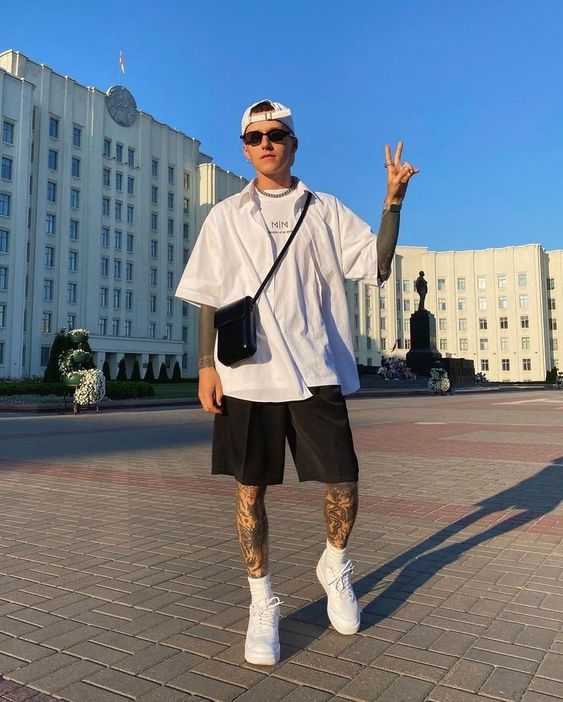 Having baggy clothes for summer is not a bad idea. You can bring out a layered style by wearing an oversized short sleeve shirt to cover your t-shirt and Bermuda pants as for bottom pieces style. Bring trainer shoes, a mini sling bag, and a hat actually would complete your smart and trendy style in summer.
Casual Men's Summer Outfits
For simple casual style in summer outfit ideas for men, just put on a stringer tank top and Bermuda shorts as your main outfits. This kind of outfit would fully expose your big muscles. This may look effortless but it can show up your masculinity more. Pair it with a flip flop and straw hat would be perfect to go hang around the beach on holiday.
Sweater for Summer Style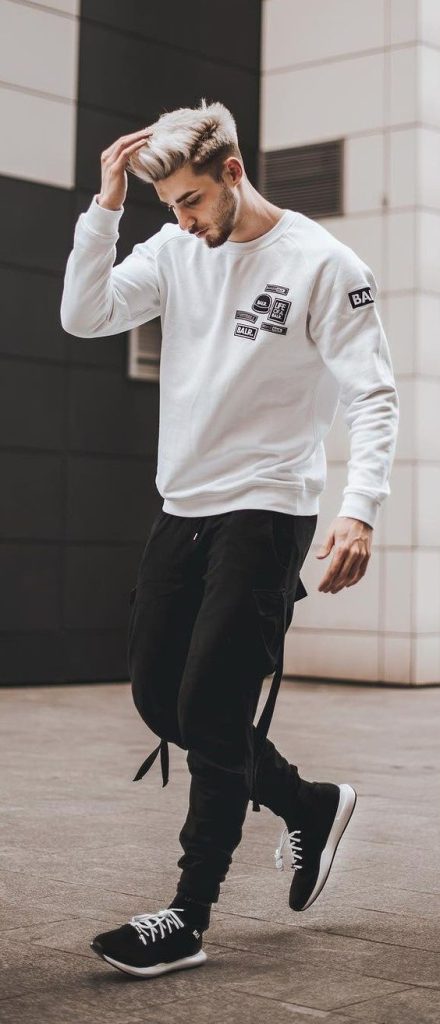 Wearing a sweater for summer style, it's possible. Just make sure you ring out a sweater made on a suitable fabric for summer. Actually, you can also wear it at the end of summer that has a lower temperature. To have a smart and trendy men's outfit style, you can match it together with bondage pants. Prefer your favorite sneakers to complete your outlook style.
Best College Outfit To Wear in Summer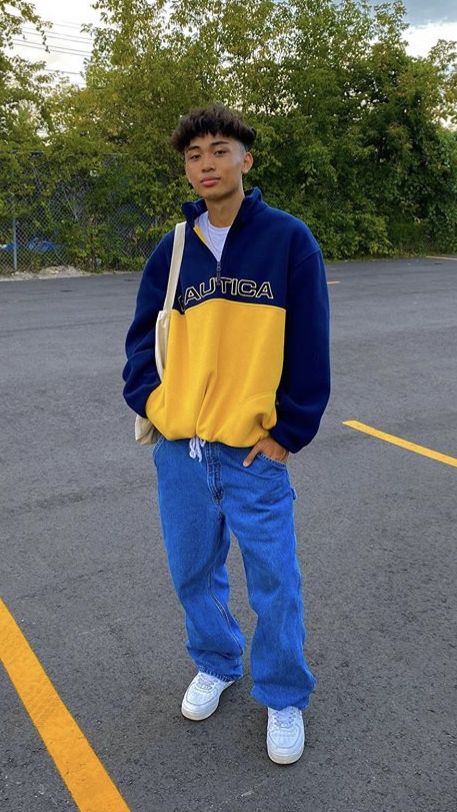 Attend college during summer, bring out your smart and trendy style in a sweater and baggy jeans. This outfit style would make you have a bit more retro for boys in the '90s era. Complete your outfit by having trainer shoes and a tote bag. Get this out as a modest college outfit style.
Tropical Shirts the Best Beach Style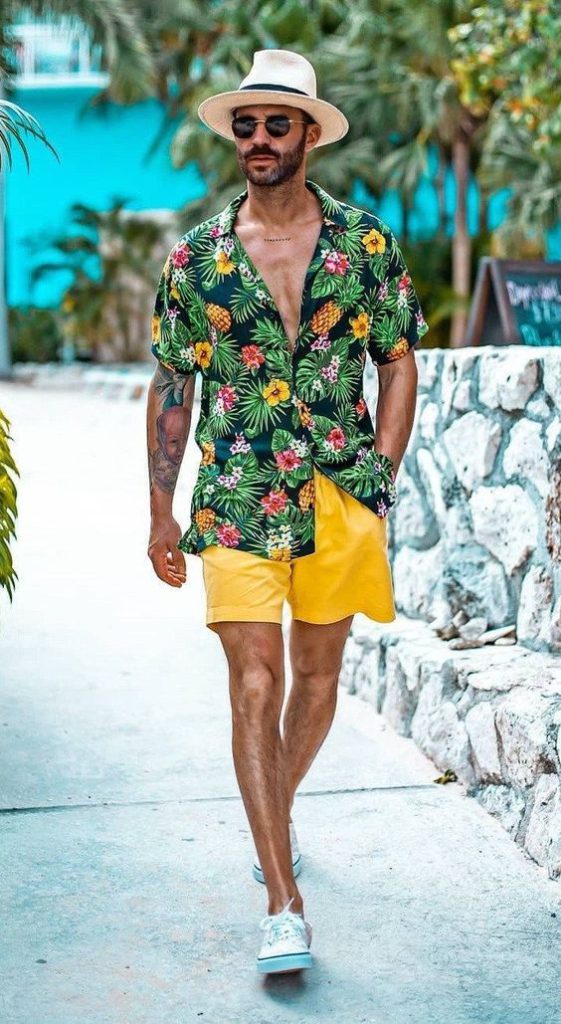 The essential outfits in summer that you can wear on the beach are tropical shirts. This kind of shirt with a floral pattern that feels equatorial. It would be the best outfit style that you have to bring when you get holiday onto the beach. Pull-on your tropical shirt with Bermuda shorts and sneakers. Don't forget to put on accessories like a fedora hat and sunglasses to take in a smart outfit style.
Combine your Shirts with Bermuda Shorts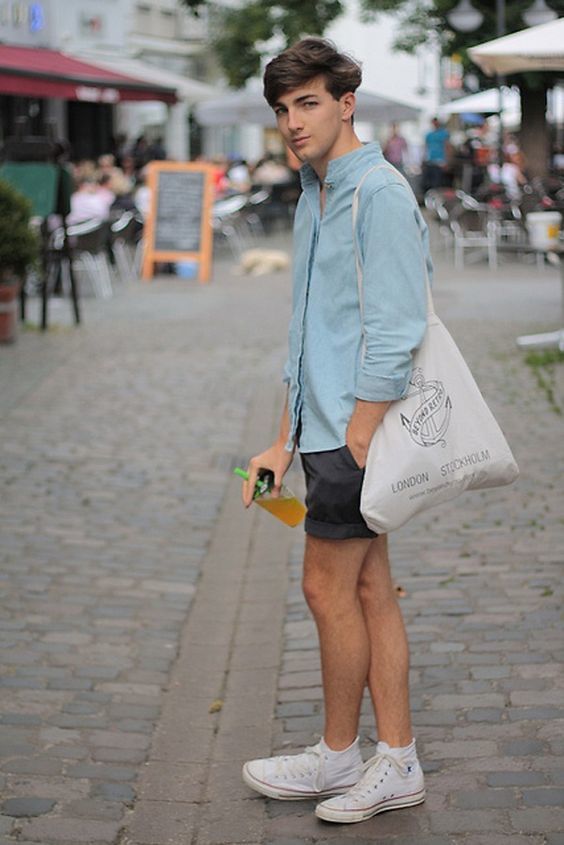 Shirts and Bermuda shorts have become the best combos to set on men's outfit styles in summer. You will get the smart guy image in it and also bring out the casual style in a different way. Perfect your shirts style with sneakers and a tote bag. Turn out this style as your casual outfit in school.
Trendy in Denim Jackets and Shorts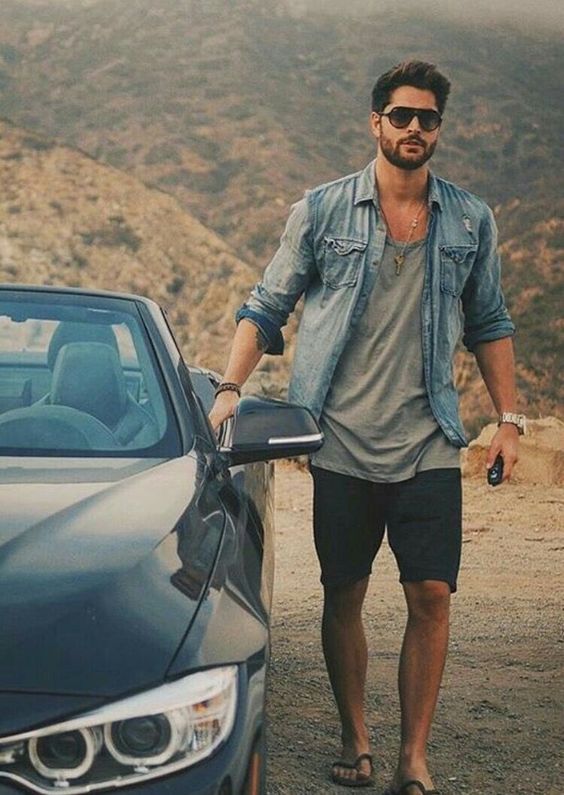 We know that denim is the best outfit for men when you want to have a trendy outfit during summertime. This is also called a flexible outfit that suits all along the year. When you want to place on denim accent on men's summer fashion, prefer a denim jacket to pair with t-shirts and Bermuda shorts. This may look simple but having it on your men's outfit ideas wouldn't disappoint you.
Sporty Style in Basketball Outfits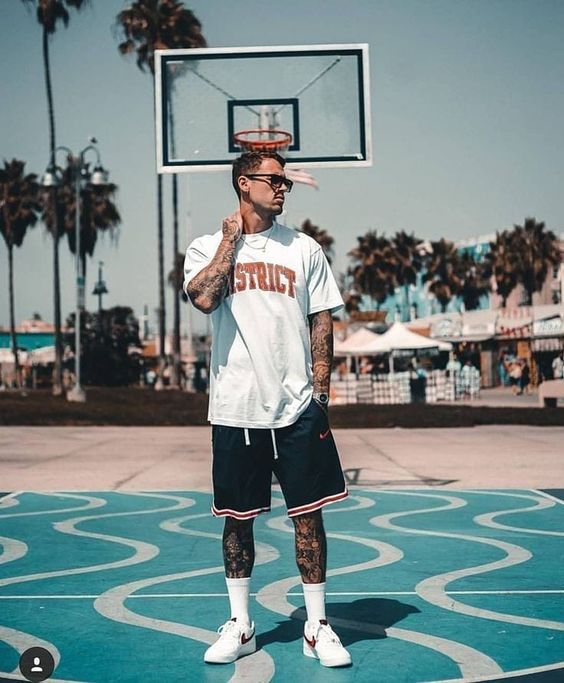 Bring out your manly side over in your fashion outfit with sporty style. There are more styles you can try to wear, one of them is by wearing a basketball outfit that includes a basketball t-shirt and sweatpants shorts. Match the outfit with trainer shoes and you will get the sporty style in summer.
Plaid Shirts for Fashionable Summer Outfits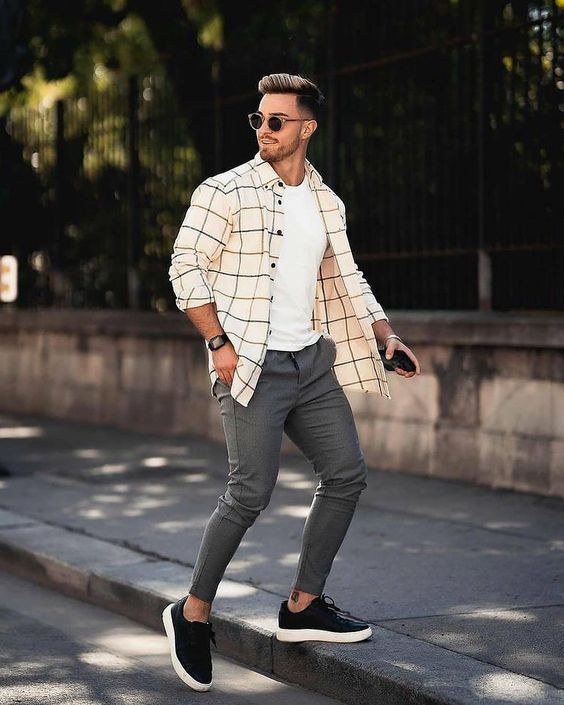 If you find out a fashionable outfit to wear in summer, just apply this style to your men's outfit ideas. Plaid shirts, plain t-shirts, and slim-fit pants are a good combination to crave in your style. Match it with sneakers and it's ready to bring you a trendy outfit for dating.
Vintage Outfit in Summer Fashion Style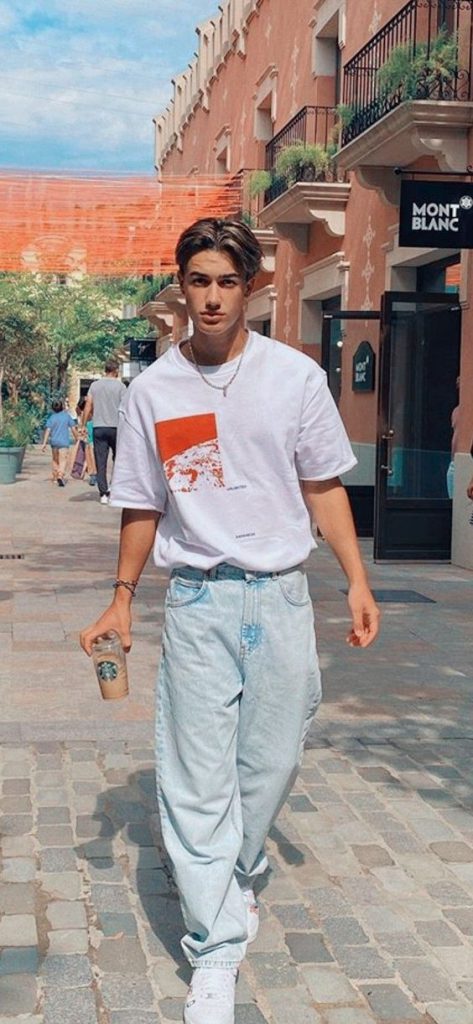 As for timeless style, vintage has its appeal when it comes to fashion sense. Adopting from old fashion trends makes this style have a unique feel like you back in the 80s century. Tucking a printed t-shirt in your baggy jeans and then wearing trainer shoes could bring out the retro dominant in your fashion design.
Smart Style in Summer with Bomber Jackets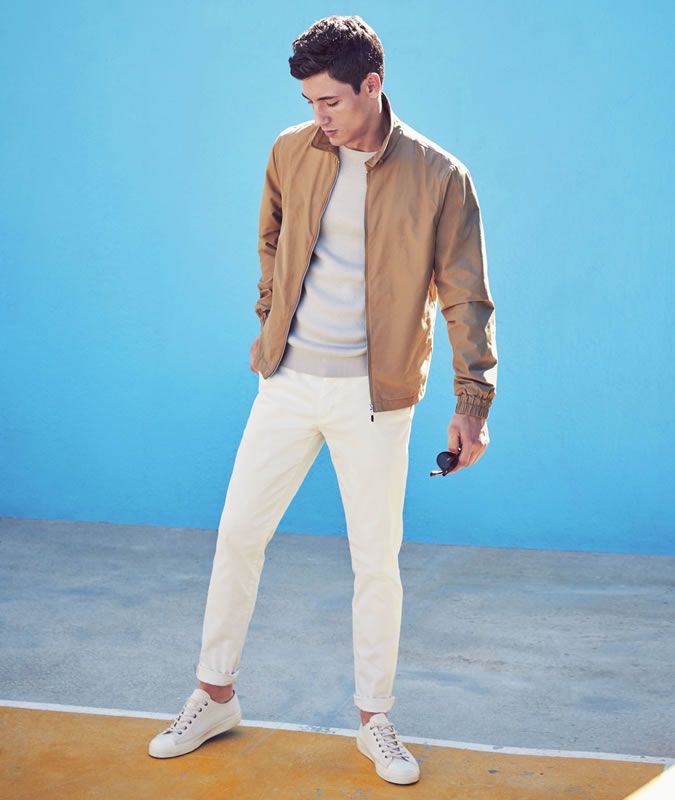 Bomber jackets are also essential pieces that you should have in your wardrobe. This is a versatile jacket that you can wear either for a casual or formal look. For the smart and trendy men's outfit in summer, you can wear it together with a t-shirt, white chinos, and sneakers.
Come to Gym with Simple Trendy Outfits
Summer is a good time to build up your body muscle in the gym. This is necessary to help you get the perfect look when you wear something. You can come to the gym with a simple outfit but still trendy enough with a stringer tank top and jogger pants. For the shoes, you can choose one of sneakers or sporty shoes. To complete your trendy style, you should bring a duffel bag in your hand.
Shirt and Ripped Jeans for Smart Casual Style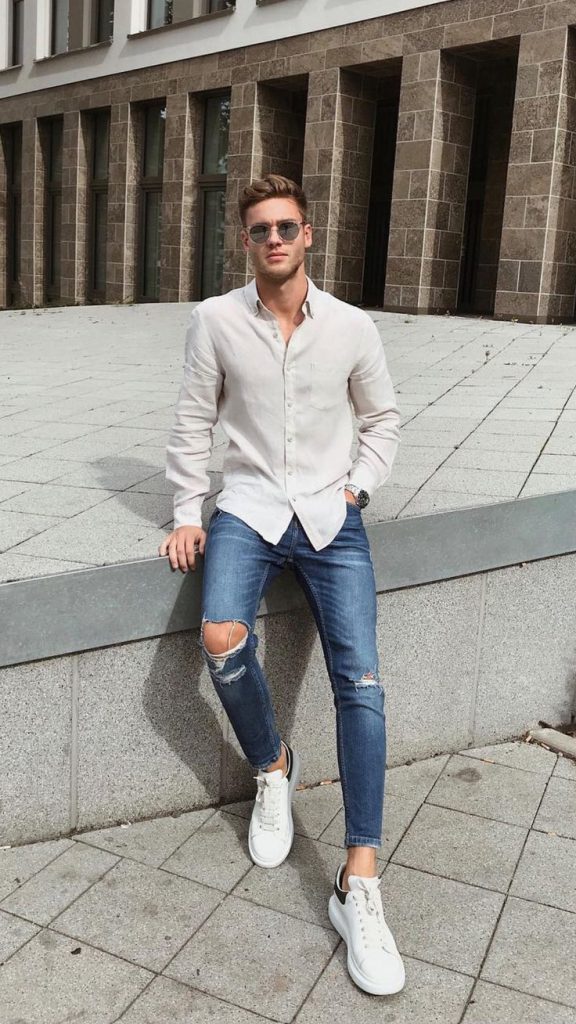 Another matched piece for your shirts to present a smart and trendy men's outfit in summer, you should combine them with ripped jeans. Pick your favorite cream long sleeve shirts to mix up with blue ripped jeans, and then perfect the style with sneakers.
Monochromatic Style in Summer Outfit Ideas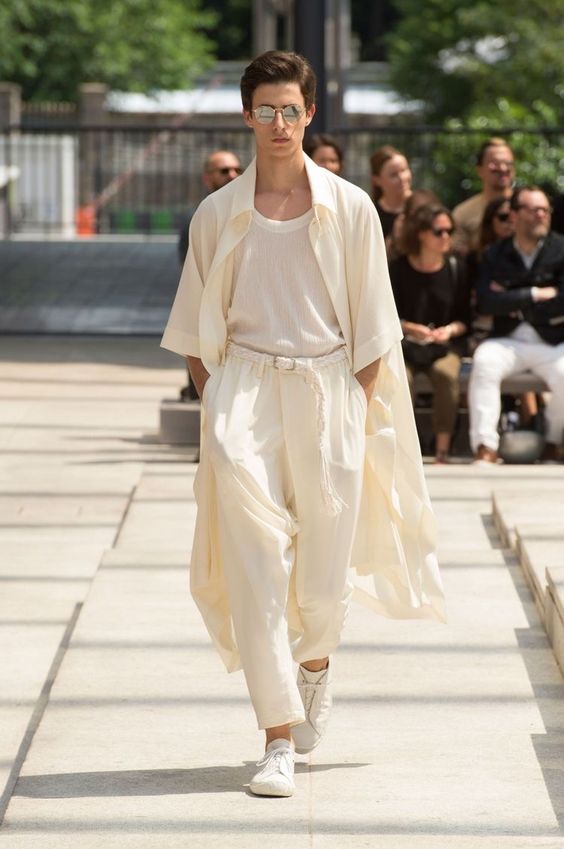 Monochromatic style is always successful to give you fashionable outfits. This is also a modest style that's easy to apply as the smart outfit ideas. In summer, I prefer you to choose light or neutral color shades rather the dark ones. This is because these kinds of colors would avoid you from stiflingly hot feelings in the summertime. For instance, just bring out broken white color outfits that involve singlet, button-down short sleeve tunic, and pegged pants in men's summer style.
Classy Outfits with Blazer Style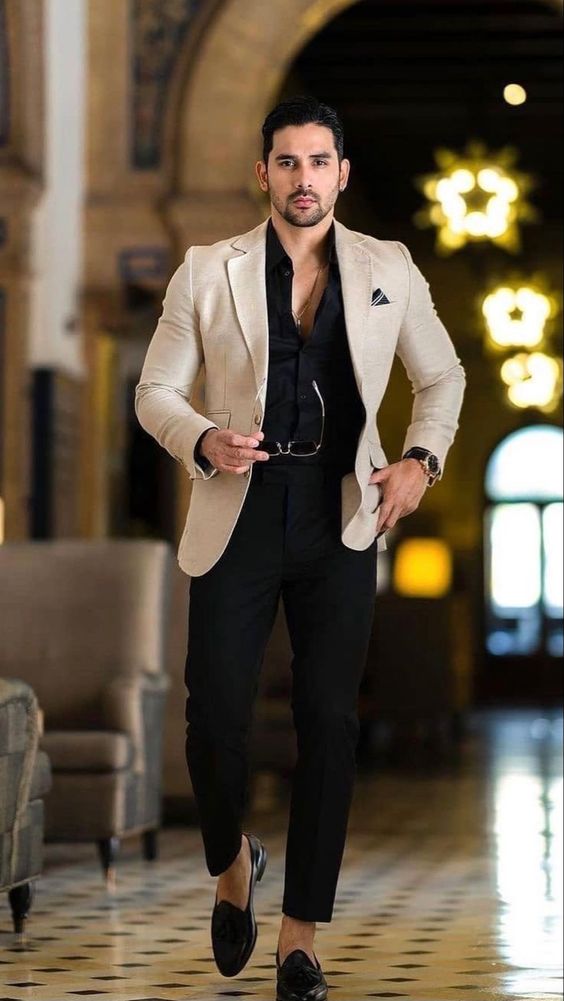 Want to attend meetings or have formal events, you need to wear something classy like blazer style or suits. Choose black as your shirt and trouser and then give a little contrast shade by choosing a cream blazer. Make your style more excellent by having loafer shoes as the other formal parts. You can wear this outfit with or without a tie. That even will give you the same formal and classy impression for preppy workwear in the office.
Hip Hop Style in Summer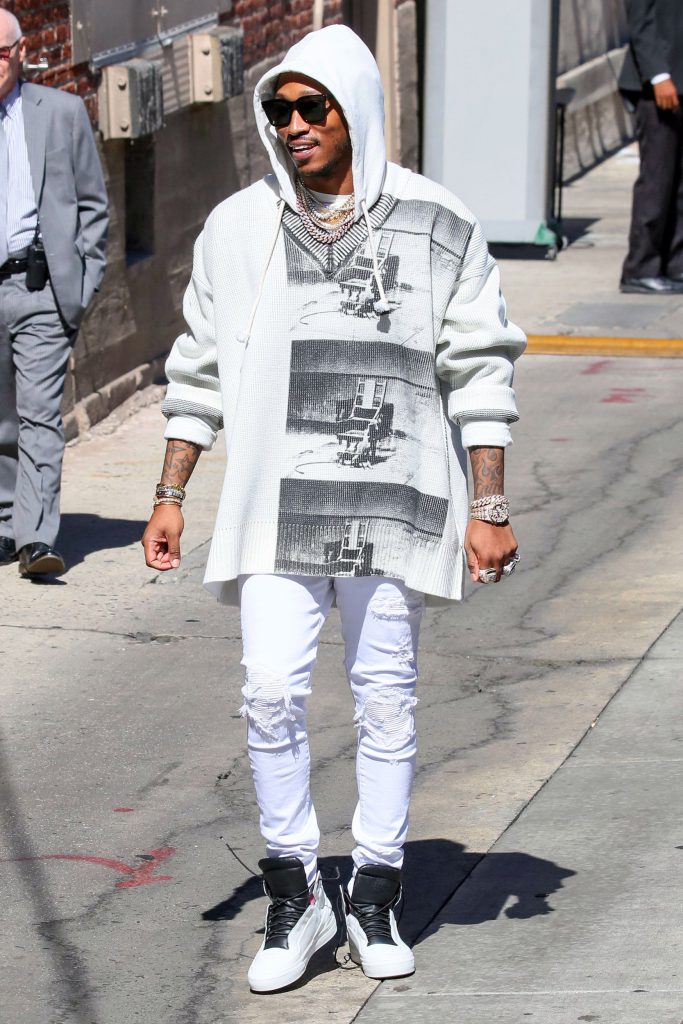 Get the look of hip-hop style on your men's summer outfit style by having a baggy hoodie and white jeans. Bring more street style with the chain accessories for the necklace and bracelet. Prefer you pick boots to perfect this style.
Suede Pants as for '40s Men's Outfits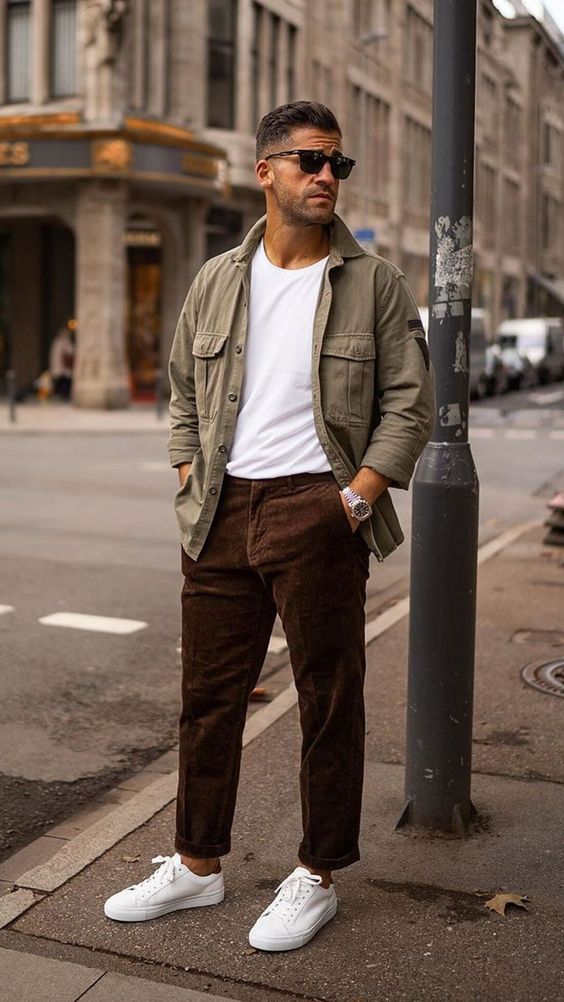 Turning 40s doesn't make you lose your fashion trends. You can still become fashionable even still you get older. Just find the match outfits and wouldn't make you look odd like suede pants. This will be great if you match it with a t-shirt and denim shirt. Rather than pick loafer or slip-on shoes, better you select sneakers to bring a youthful on your trendy outfit style in summer.
Bring Out your Jogger to Create Trendy Outfitsmen's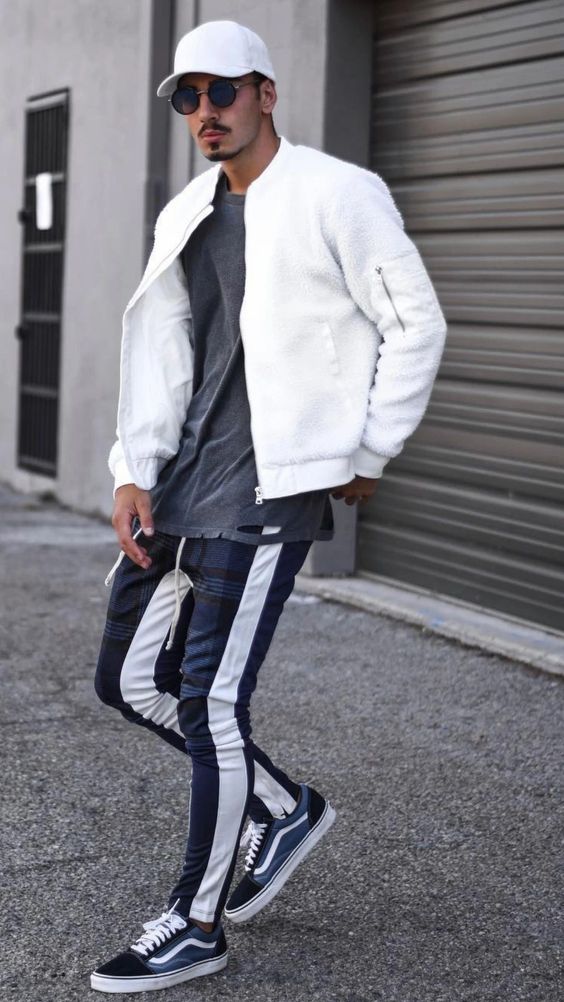 When it comes to essential outfits in summer for men, jogger pants, t-shirts, bomber jackets, and sneakers may have the place to form a smart and trendy style in your fashion. Make this outfit to build up your fashion style and increase your confidence. Don't miss out to show a bit more trendy vibe with a hat and sunglasses.