Olidfashion.com – Nautical looks in your fashion are born from traditional navy outfits. When you imagine the nautical theme, you will find traditional sailor dresses, anchor patterns, and stripped outfits in white, blue, black, red, and neutral colors. This honestly would bring a unique style to your women's outfit ideas. Get your inspiration for contemporary women's outfit ideas in Nautical fashion style here.
The Best Women's Outfit Ideas To Become Inspiration on Your Nautical Fashion Style
Nautical themes can draw creativity in your fashion style and produce great women's outfit ideas. This style was inspired by life in the sea and also featured navy uniforms. The Brenton strips, anchor print, white blue striped, sailor pants with button details, are some of the most iconic in nautical style. As a trend now, you can bring all these components to inspire women's outfits in nautical style.
Nautical Outfit Ideas for Summer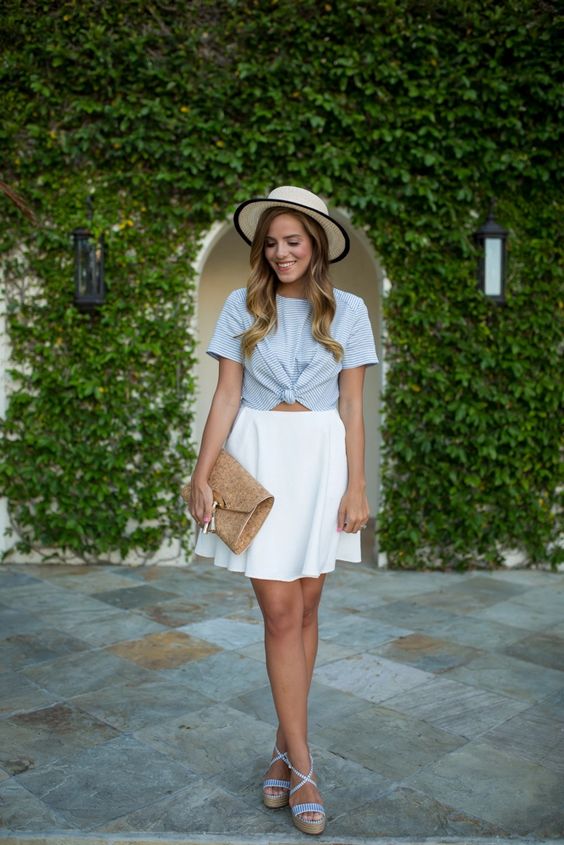 Bring out nautical style to create chic and casual summer outfits by wearing a light blue short sleeve blouse and a white mini skirt. Give more beach statements with a straw hat, rattan envelope bag, and light blue strappy wedges.
Vintage Style in Sailor Dress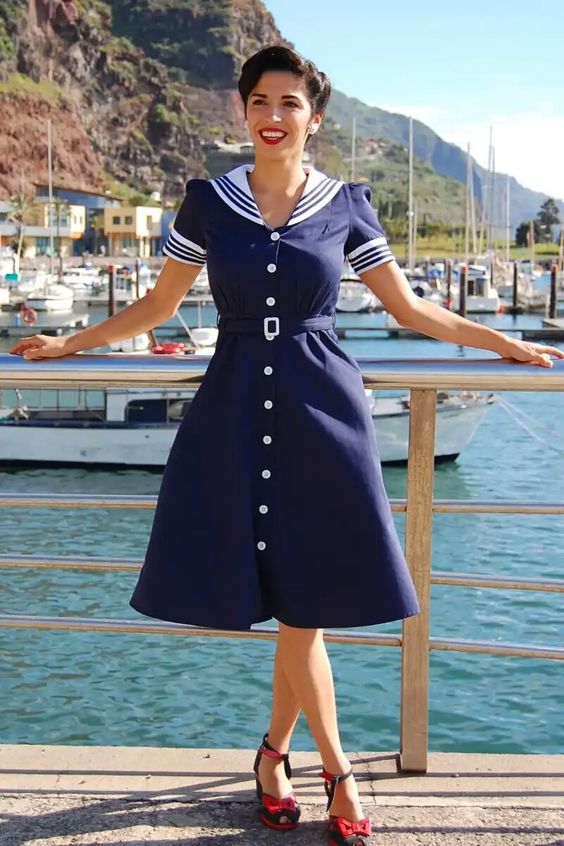 If you are thinking about a casual yet vintage outfit, a sailor midi dress could be an option. Having button-down details and a navy blue as a basic color would draw a nautical style in your women's outfit perfectly. To bring out a more deep vintage impression, you can match the outfits with red ankle strap wedges.
Bikini Tops to Create Sexy Nautical Style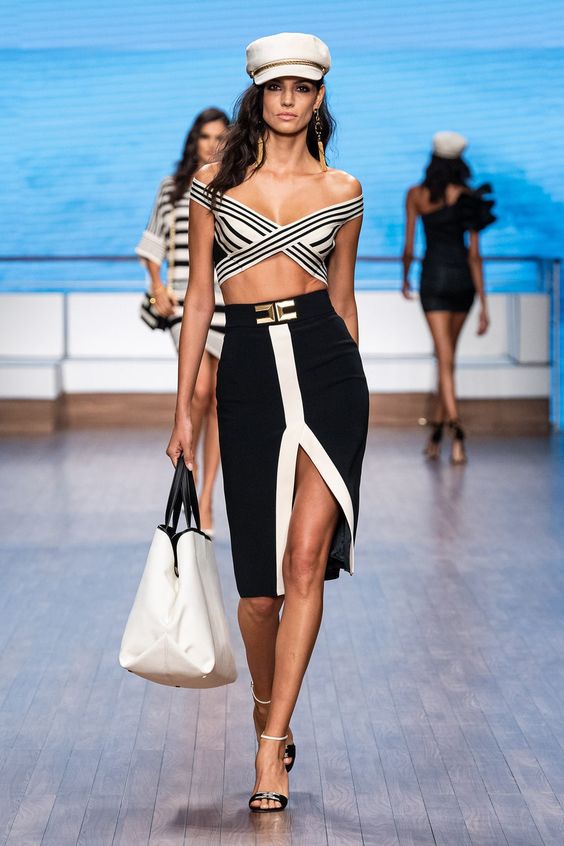 Nautical fashion style for summer would be really matched. To get a sexy style, just try to have strip bikini tops and black slit midi dress. Match the outfit with strap ankle heels, beret hat, and black-white tote bag to have complete your nautical outfit.
Sailor Style in Your Maxi Dress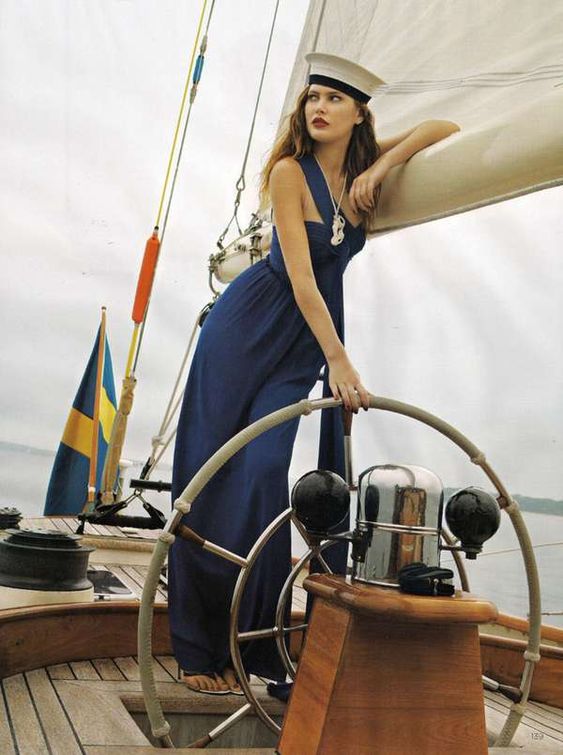 The most graceful outfit for a boat party is an elegant maxi dress in sailor style. You can bring nautical fashion style by choosing a sleeveless blue navy maxi dress and then styling it with a sailor hat as the accessory.
Fancy Outfit in Nautical Theme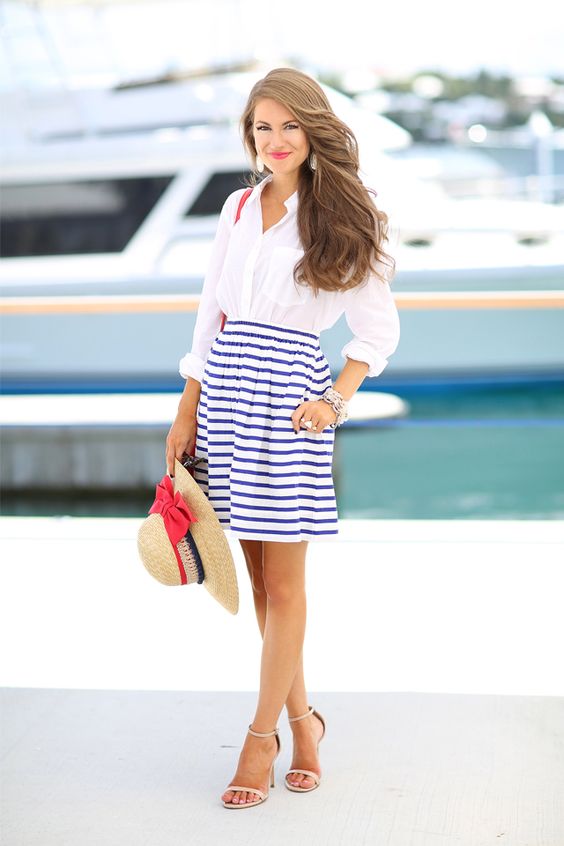 While you have boating trips, I will give you some nautical fashion inspiration to wear. We can't think of another outfit besides a white shirt and Berton strip mini skirt for featuring fresh and fancy style. Some strappy heels would be the perfect match for this outfit. Accessorized with a straw hat and red mini bag would get the fancy boating style in a nautical theme.
Double Breasted Blazer in Your Nautical Style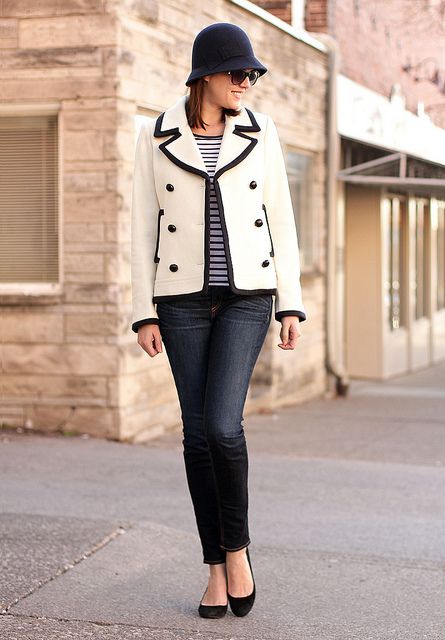 This is double-breasted blazer looks perfect for chilly weather like the fall season. Matched it with Breton striped t-shirts for layering style, and then get black jeans as the bottom outfits. Choose black and white as the color shade and you would get nautical outfit style here. As for accessories, you can have a black bucket hat, sunglasses, and ballerina flat for matching footwear.
Cute Nautical Style in Tutu Skirt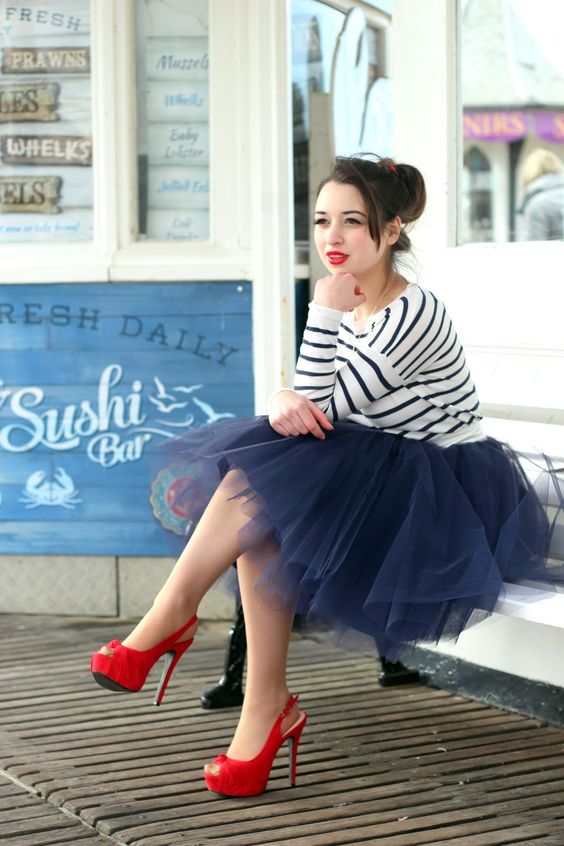 Look fresh and cute in nautical fashion style by having long sleeve Breton stripe t-shirt and navy blue tutu skirt. A red Lita heel would amaze your appearance. For an option, create a bun hairstyle to pull out your cuteness like ballerina girls.
Best Winter Outfit in Nautical Style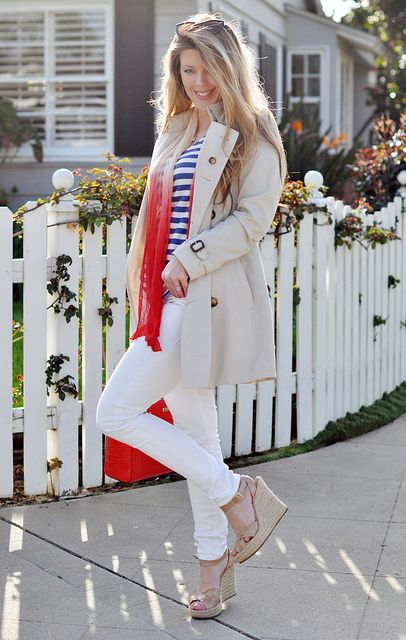 There is something more nautical in striped outfits and no doubt can give you the best outfit ideas for winter. For this, you can try to have a stylish women's coat and Breton striped t-shirts for the top's style. Furthermore, white skinny pants, wedges, and red shawls would perfect your winter performance.
Classy Outfit for Party in Yacht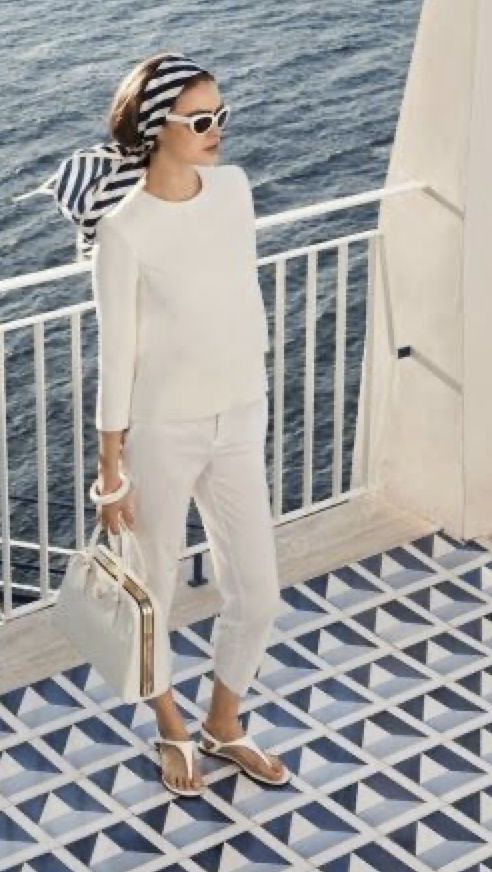 For those who joined a yacht club and want to attend a party, they need something classy and simple like nautical outfit style. As for the effortless way just take your yacht outfit in monochrome white like a long sleeve t-shirt and ankle pants. Get the nautical vibe by wearing a blue-white striped bandana in your head. Finished your outfit with sunglasses, t-strappy sandals, and a white doctor bag.
Trendy Nautical Style for Fall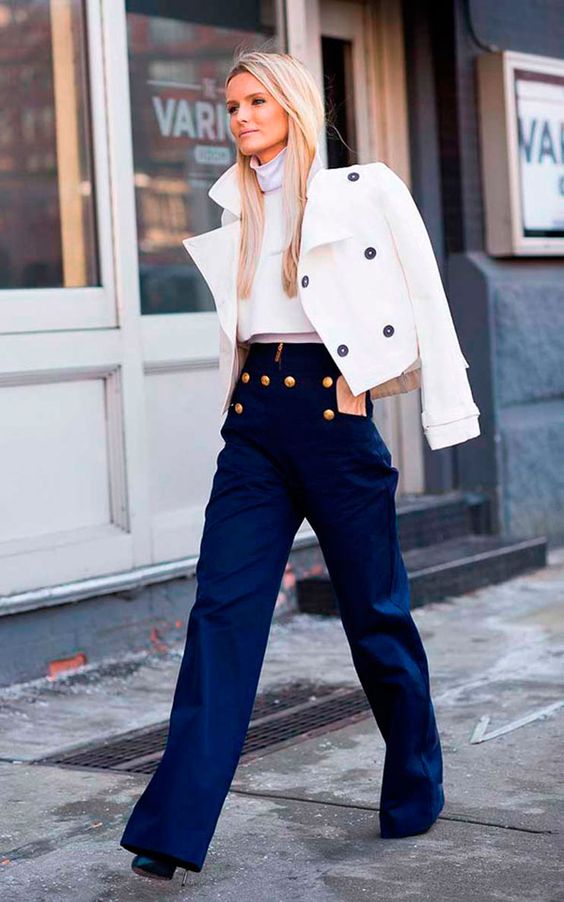 For an overall comfortable and trendy outfit during fall in nautical fashion style, you can bring out a blazer, turtleneck underneath, and sailor pants with button details. Matching up the pieces together you will get contemporary outfit ideas for women. Add some detail with heels and you will be ready to attend some formal events with this outfit.
Stylish in Red Sailor Jumpsuit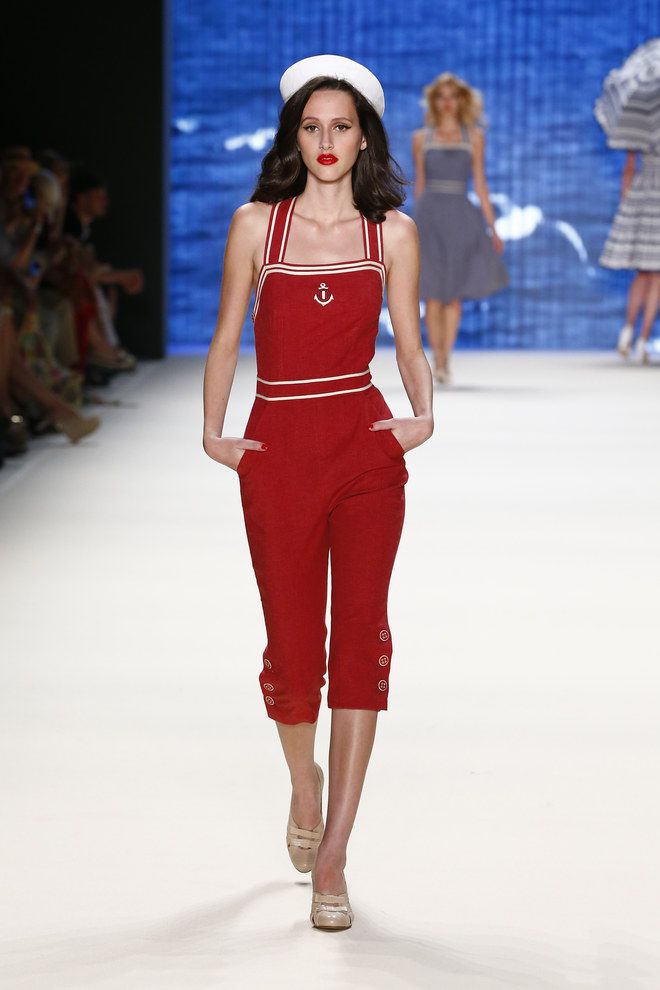 Rock on your red sailor jumpsuit to show a contemporary outfit in nautical style. Giving some elements such as a tinny anchor print and button details in your jumpsuits could represent traditional sailor outfits. Perfect the outlook with a sailor hat and flat shoes.
Sailor Dress Code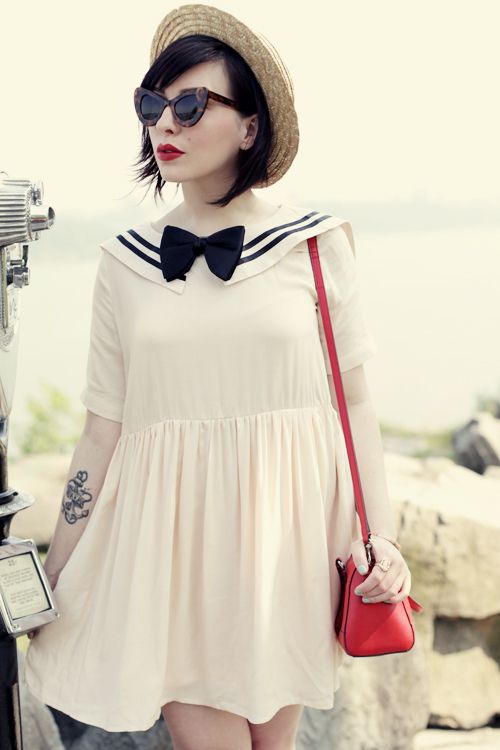 Having a sailor dress code in your beautiful mini dress could be an election to stand up nautical style in women's outfit ideas. For this, you can pick a white and blue striped collar mini dress, accessorized with a straw hat, sunglasses, and a red mini bag. To give a little cuteness, you can add a ribbon hat to the dress as trims.
Simple Casual Nautical Dress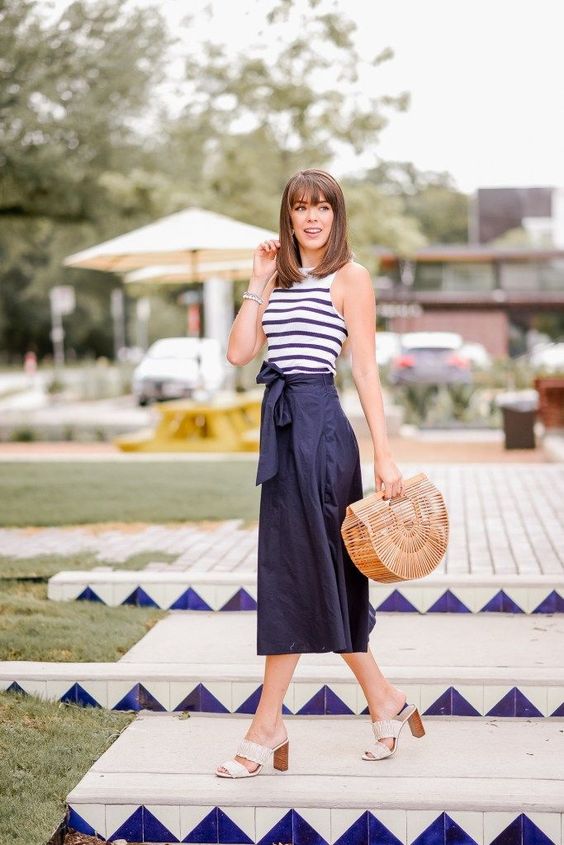 Dress on a sleeveless striped t-shirt and navy blue high waist midi skirt to get a contemporary style in nautical outfit ideas for women. Complete the look with a rattan bag and heels for having a simple casual outfit.
Breton Striped T-shirts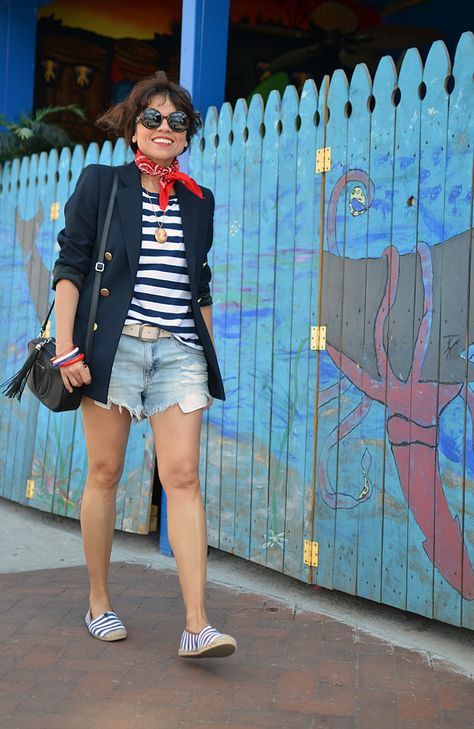 Breton striped outfit is an iconic design in nautical fashion style. This has a special structure like a blue or black white stripe. If you want to have a contemporary outfit with this outfit, you can try to mix it with a double-breasted blazer and denim shorts. Bring more nautical style in women's outfit ideas by tying a red scarf around your neck. Then add a bit more detail such as simple jewelry, slip-on shoes, sunglasses, a black mini bag, and a belt.
Nautical Theme in Navy Blue Outfits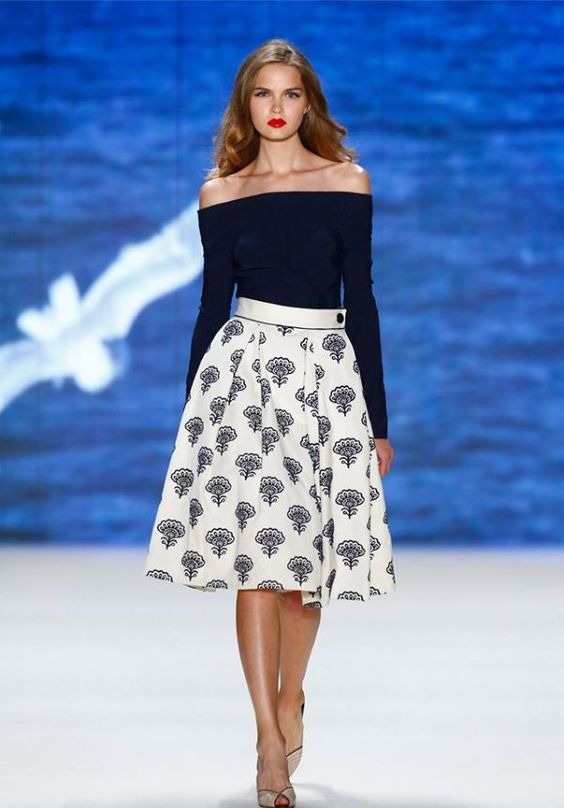 Nautical fashion style is not only about striped outfits or anchor prints, but also getting navy blue in your outfit ideas. For instance, you can try to wear an off-shoulder t-shirt in the navy blue color shade together with a printed midi skirt in a white tone. Perfect your nautical performance with heels and bring this outfit on your date.
Striped Sweater and high Knee Boots for Spring Style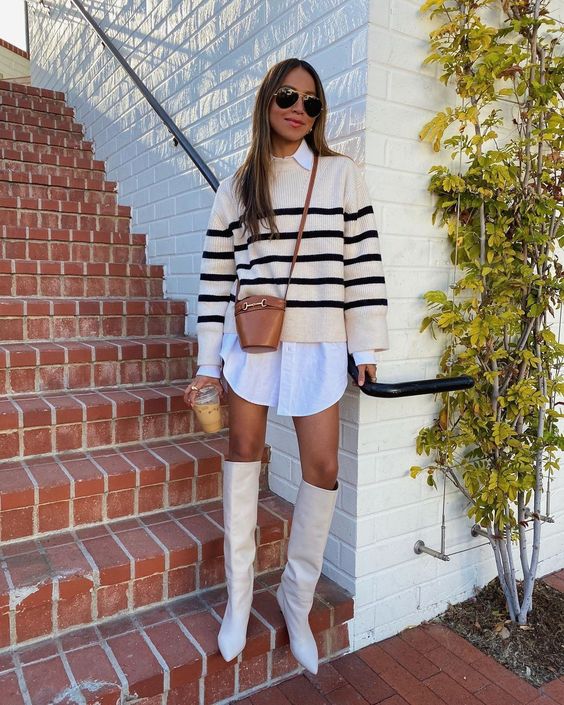 Beat the cold weather with a baggy sweater and knee-high boot in your outfit style. If you want a little nautical tone, obtain a striped sweater and white basic colors in your women's outfit ideas. This style would be matched to wear in the early spring season that has a lower temperature.
Anchor Sweaters for Fall Fashion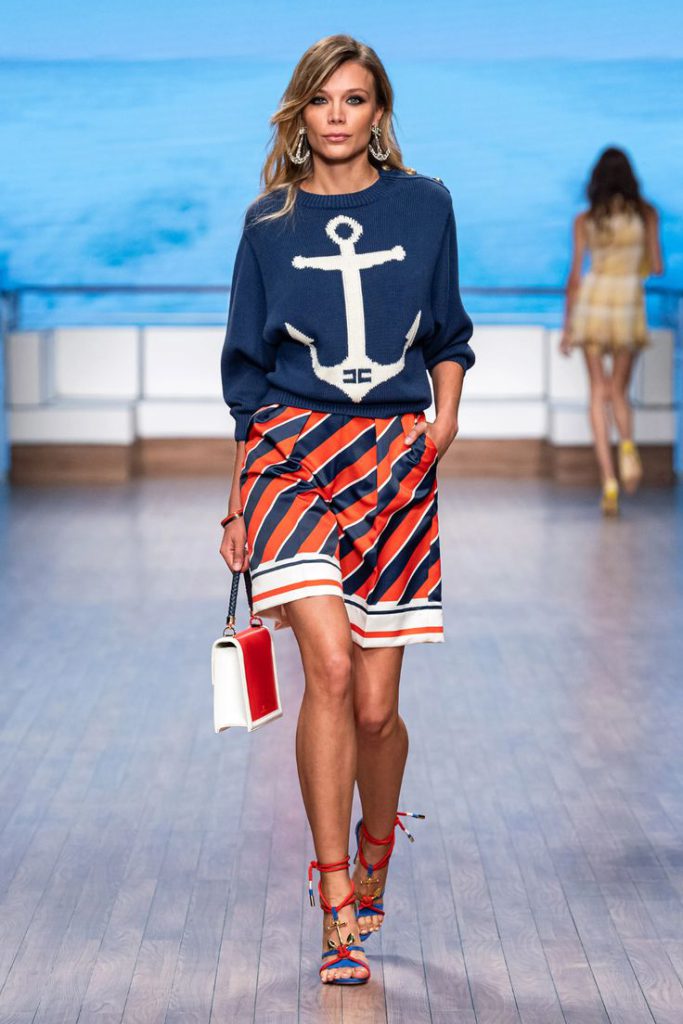 When it comes to contemporary fashion outfits for women, anchor sweaters become the best pieces to pull out the nautical style. Combine it with a red-blue striped mini dress, strappy sandals, and a mini bag to help you have a beautiful overlook. When you add anchor earrings, they would be implied the nautical style for more again.
Best Boating Party Outfit Style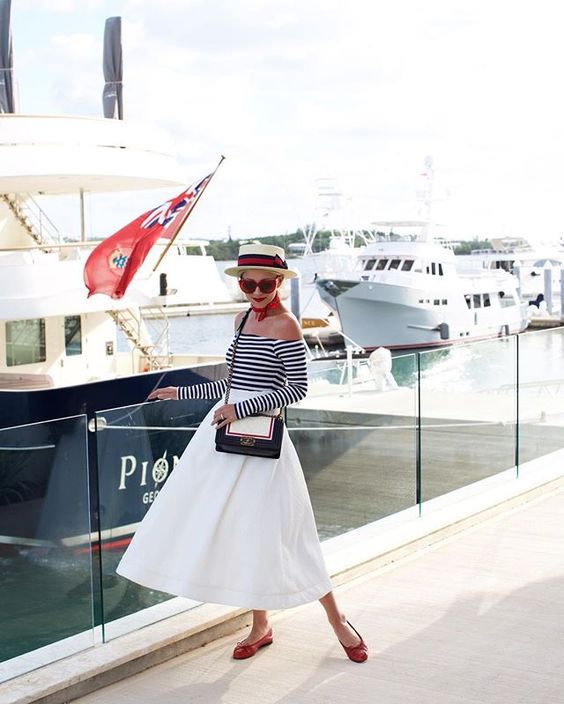 Take your boating style for a party in off-shoulder striped tops and a white line maxi skirt. It's a classy and classic look to inspire your nautical fashion style. You can have an excellent outfit style with some accessories such as a beach hat, a handbag, a pair of red ballerina shoes, a red scarf around the neck, and then sunglasses.
Chic and Casual Nautical Outfit Style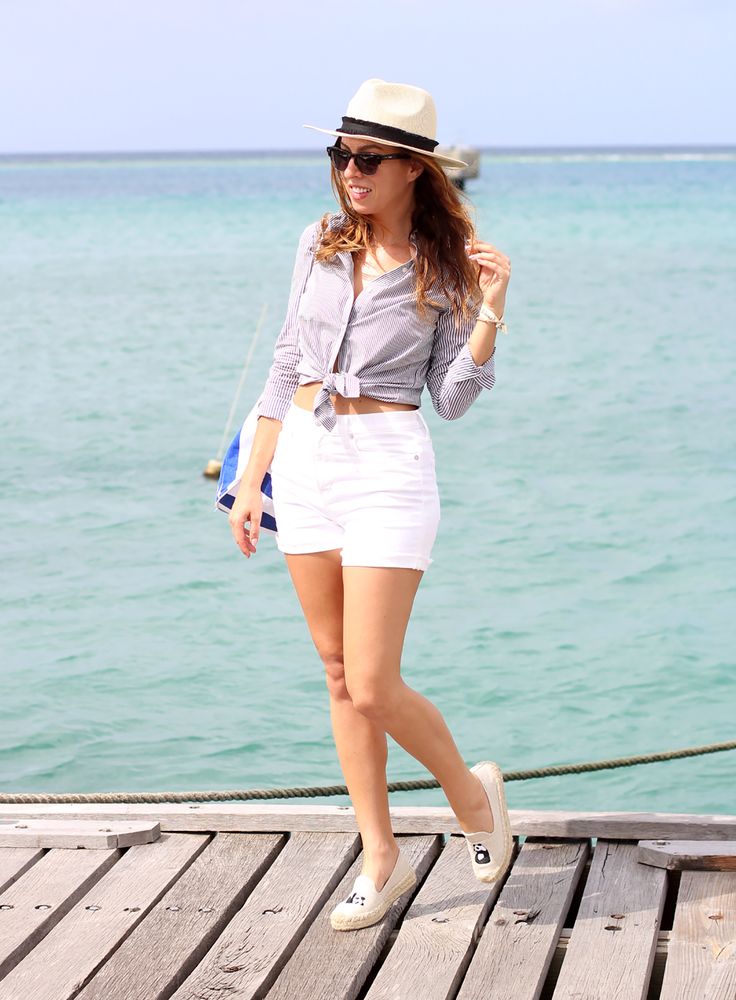 Have a chic and casual nautical fashion in women's outfit ideas by getting blue striped shirts and white Bermuda shorts. Also, you should put on beige slip-on shoes, a straw hat, and a white blue striped tote bag in your contemporary style.
Preppy Nautical Style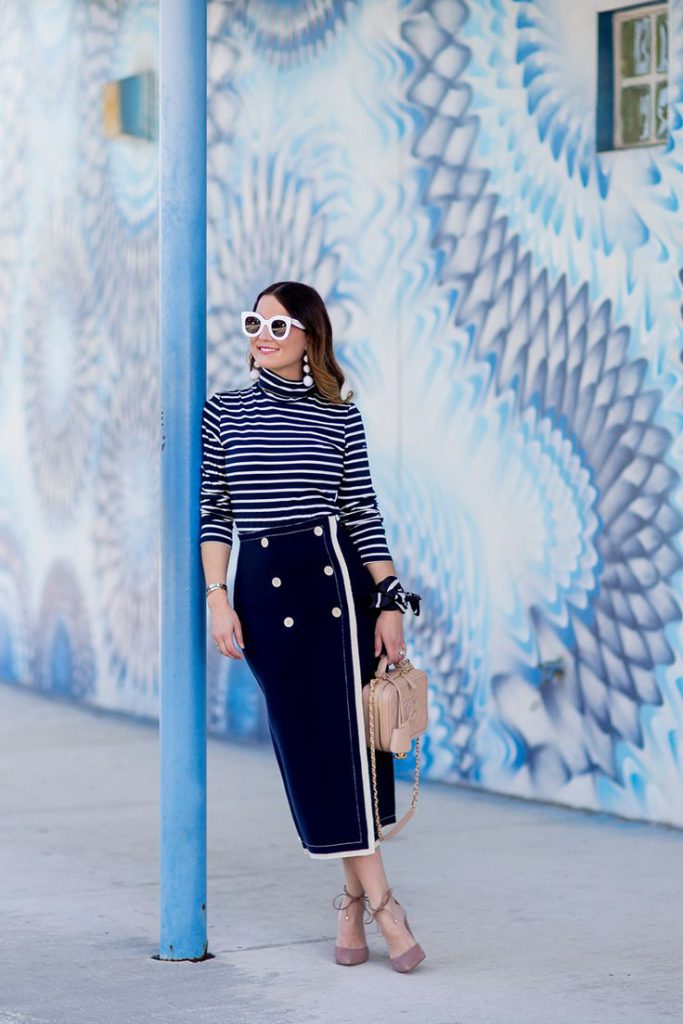 Being pretty and preppy in work outfit ideas for women with nautical style, you should dress on in long sleeve turtleneck striped tops and sailor midi skirt. Place on more accessories to complete your looks like simple jewelry, pastel mini bag, and pastel heels. This style is suitable for meeting or seeing clients outside the office.
Tie Scarf Around The Neck for Nautical Style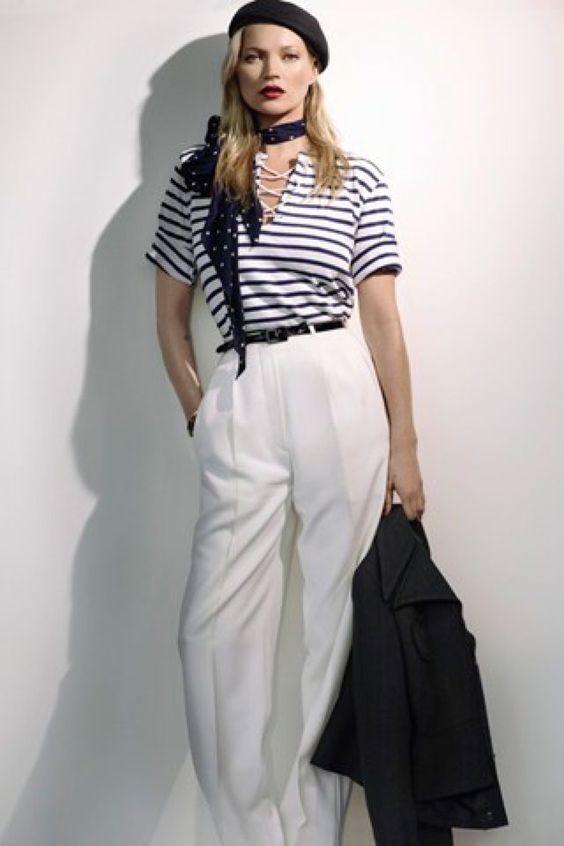 As we know that nautical style is completely about a striped outfit or anchor style. However, when we see through the past times, traditional sailors usually have a unique style by draping a scarf around their neck. So, you can try to apply it to your contemporary women's outfit ideas. Tuck on your striped tops on white trousers and then tie a scarf around your neck. Don't forget to bring a barret hat for completing your style. You can also bring out the layered style by having a blazer to cover the upper outfit.
Navy Oversized Sweaters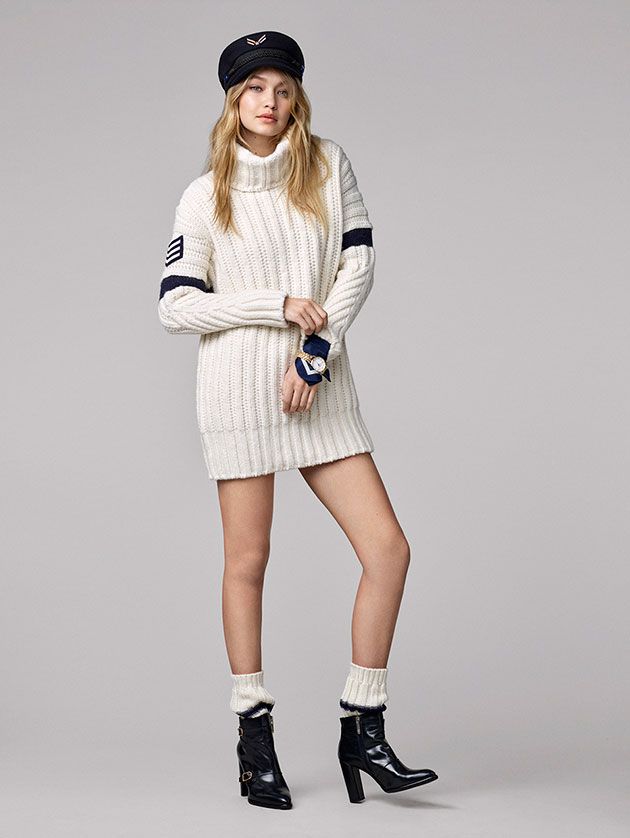 Another fall outfit in nautical style is by presenting oversized outfit ideas into your fashion design. For an easy way, wear a turtle neck sweater in navy pattern and turn it for a mini dress style. You can match it with heeled ankle boots and a navy beret hat for the adorable overlook. Don't miss out to wear simple accessories like a gold watch.