Olidfashion.com – Nautical fashion style has the power to bring more fashionable outfits with its iconic design. Regardless of any moments or events, these outfit ideas will turn you to become a fashionista. Make your day being memorable with family and friends on beach vacations or yacht parties in men's nautical outfit ideas for casual style.
We have been discussing nautical fashion styles in women's outfits, now let's find out the best outfit ideas for men in a nautical twist. Here is some inspirational nautical outfit style for you.
Go with Monochromatic Dark Blue Style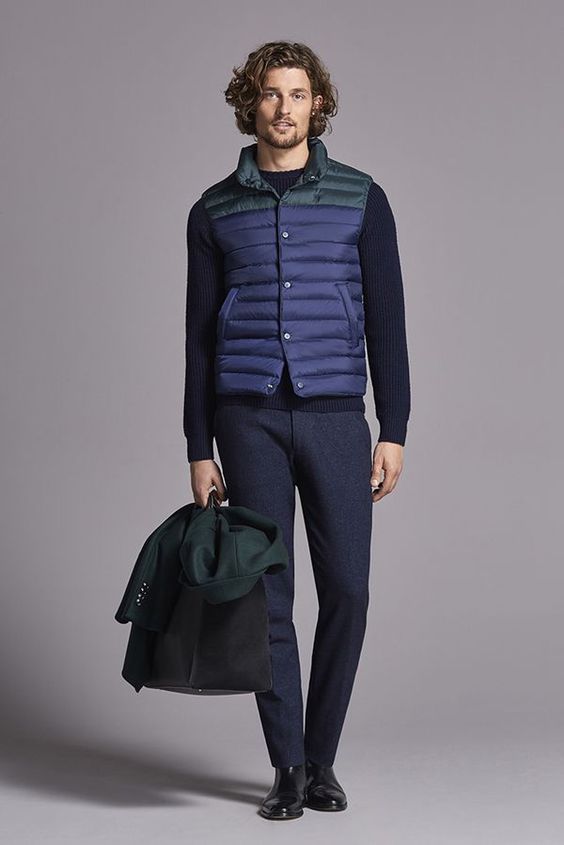 We all know the nautical theme identically with striped outfits and navy blue colors. If you don't like something that's colorful in your outfits, monochromatic dark blue style is suitable for you. It's simple and easy to adjust because you just have to match several outfits in the same color shades. For this, you can put on navy sweaters, puffer vests, and trousers together. For the footwear, pick up black leather shoes, and when you bring out a dark green blazer this style is great to wear as your preppy workwear in the office during winter.
Breton Stripe Outfit Style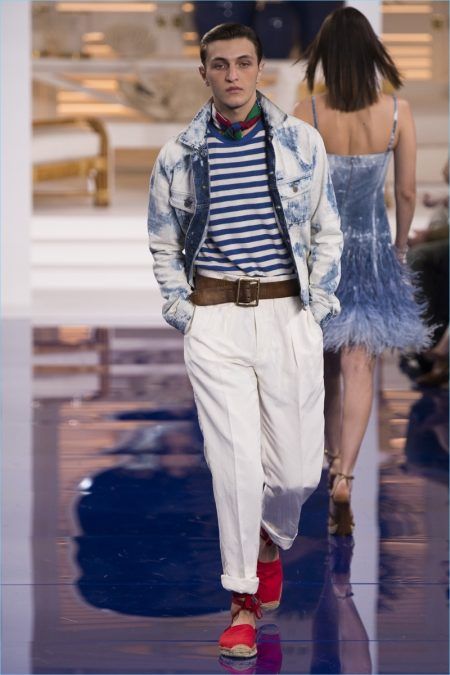 When it comes to nautical fashion ideas, just give it to French design like Breton stripe style. This is an iconic pattern in blue or black-white striped whether in long or short sleeve shirts. When you add this pattern to men's outfit ideas, it would give you a nautical accent. For a casual style, tuck your Berton strip t-shit in white linen pants and then layered with a tie-dye denim jacket.
All Striped Pieces for Nautical Fashion Ideas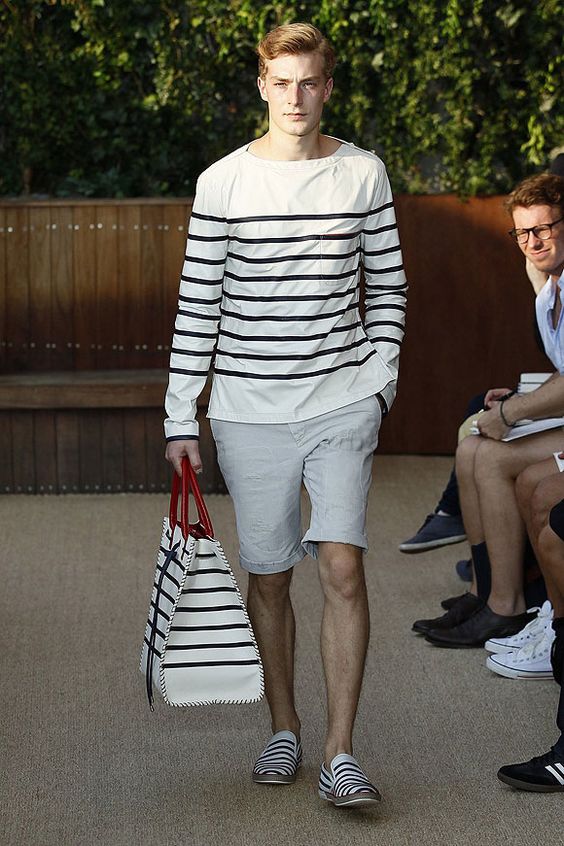 Striped style all over your outfit ideas could also bring a nautical theme to it. For instance, you can bring out the clothes in white basic colors that have black striped patterns in your long sleeve t-shirts, slip-on shoes, and a tote bag. To complete your style, choose white Bermuda shorts.
Trendy Look in Striped Tops and Ripped Jeans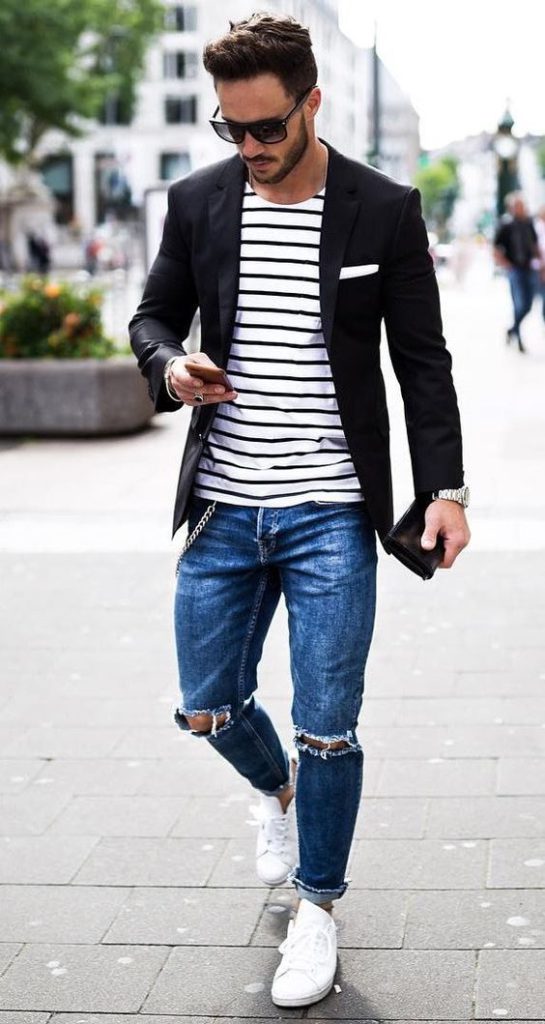 Have a trendy look in a striped t-shirt, blazer, and ripped jeans for casual outfit ideas in nautical style. Perfecting the outfit look with white sneakers or trainer shoes. Don't miss out to give accessories like a watch, sunglasses, and chain accessories.
Red Scarf to Bring Out Nautical Style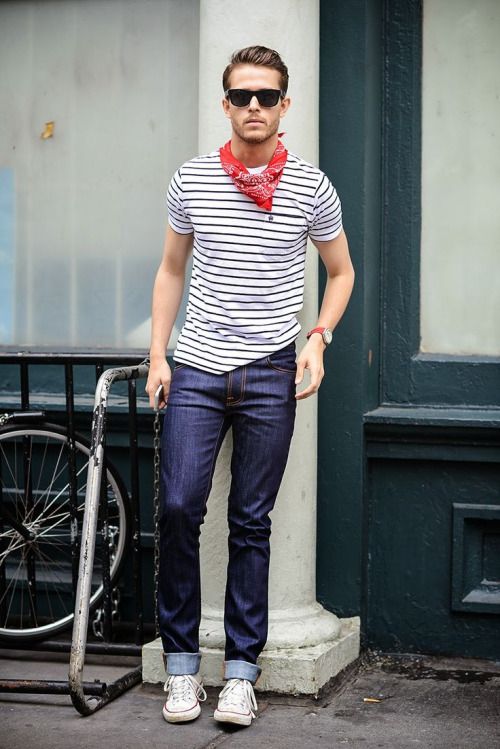 Give a statement on a red scarf to bring out nautical outfit ideas for men. You can drape it around your neck and give your striped outfit a traditional sailor look. Combine the outfit with denim and trainer shoes. Accessorized with simple pieces such as a watch and sunglasses.
Summer Outfits in Nautical Style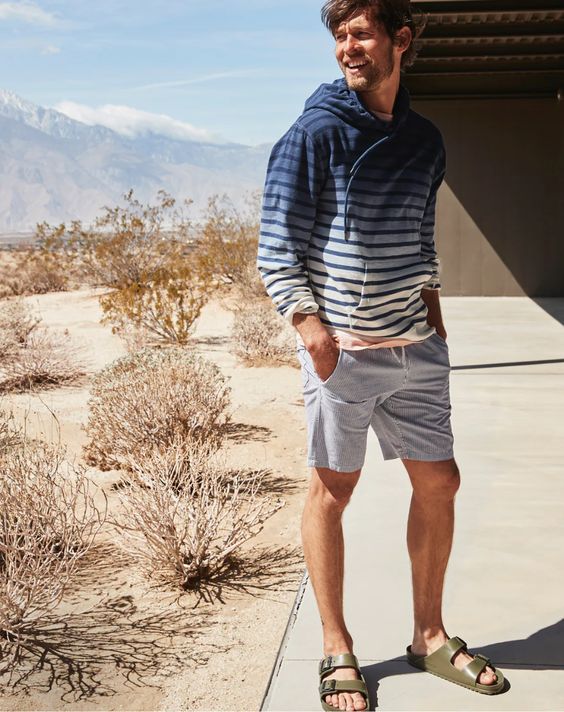 When you feel like having a casual style in nautical outfits, try to wear a blue-shade striped hoodie and Bermuda shorts. Then choose sandals to complete your outfits and get the best summer fashion style for men.
Go to Beach with Nautical Outfits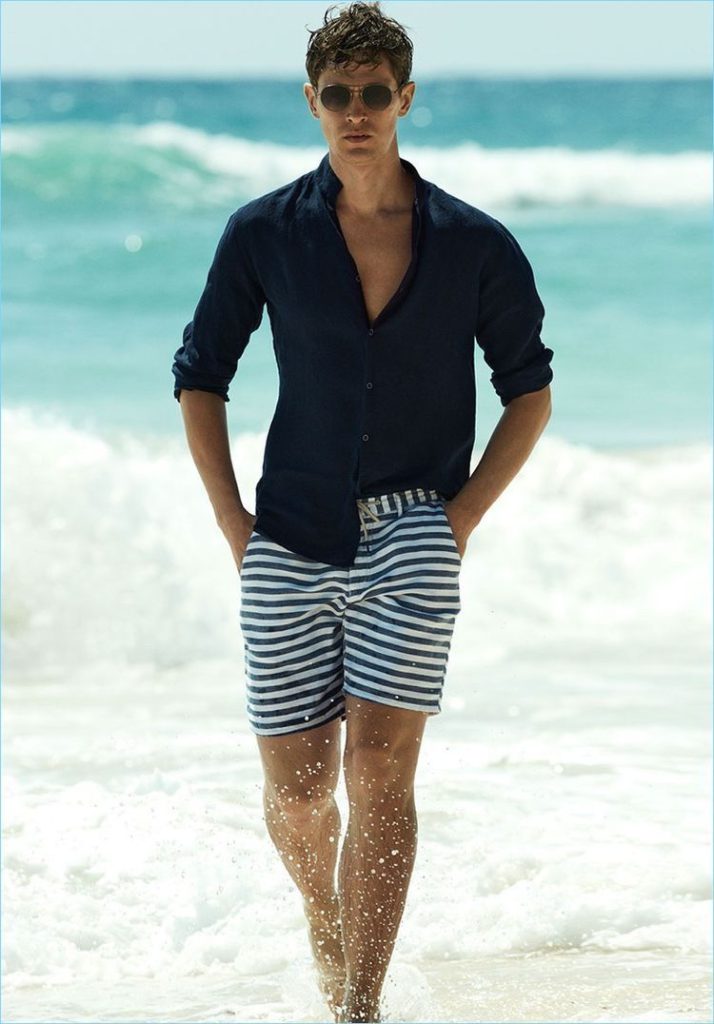 Breton stripe design becomes a favorite and never be fails to draw a nautical theme on men's outfit ideas. You just need to adjust it on your outfits such as in Bermuda shorts. For a more chic and casual image, you can pair it with a navy shirt and have a fashionable style on the beach.
Double-Breasted Blazer Style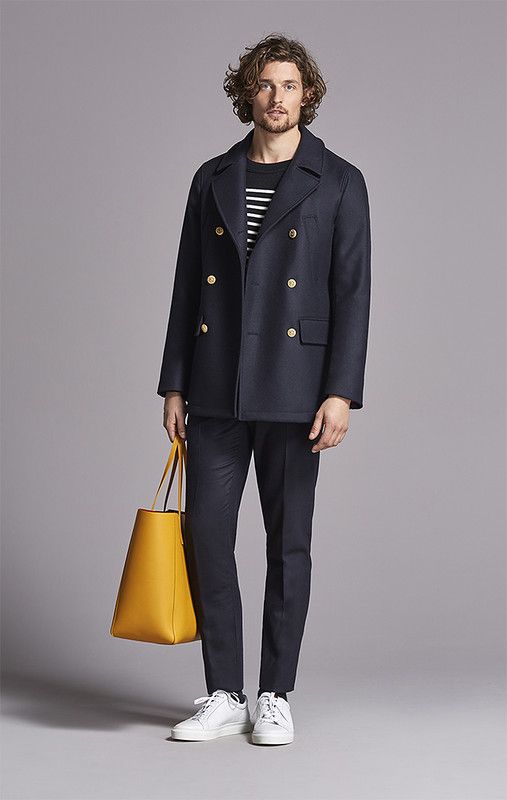 Another piece of outfit that you can wear to draw nautical fashion style is a double-breasted blazer. This men's coat and jacket style is commonly worn during winter but can also wear in any season. It's easy to button up this blazer over the Breton tops and drag your casual fashion style in a nautical twist. Give a little detail by having a yellow tote bag and sneakers to perfect your fashionable outfits.
Styling Nautical Outfits in Duffle Cardigans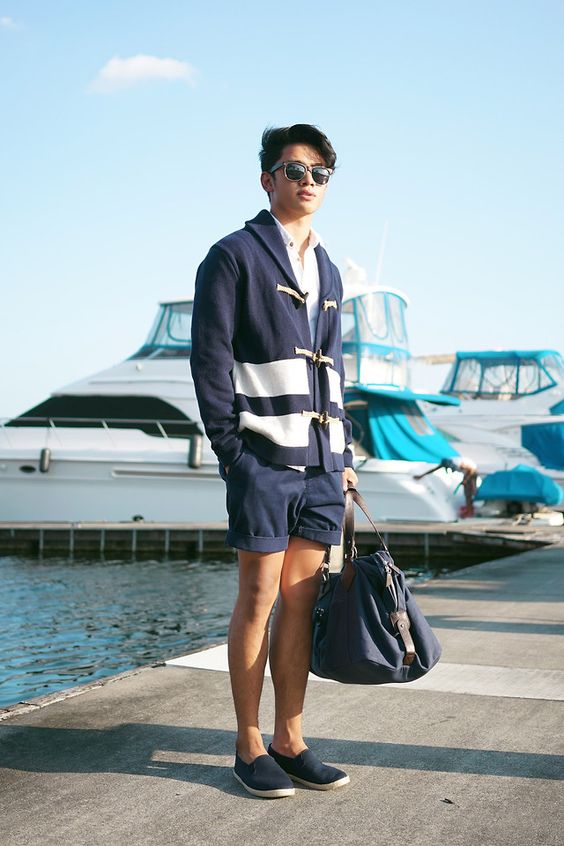 Besides a double-breasted blazer, duffle cardigans in the navy shade also would be matched for your nautical outfit ideas. Mixing it with Blue navy shorts and white collared shirts would bring casual style. Choose blue loafers and a duffel bag to perfect your nautical fashion style.
Khaki Shorts and Striped Tops for Smart Casual Style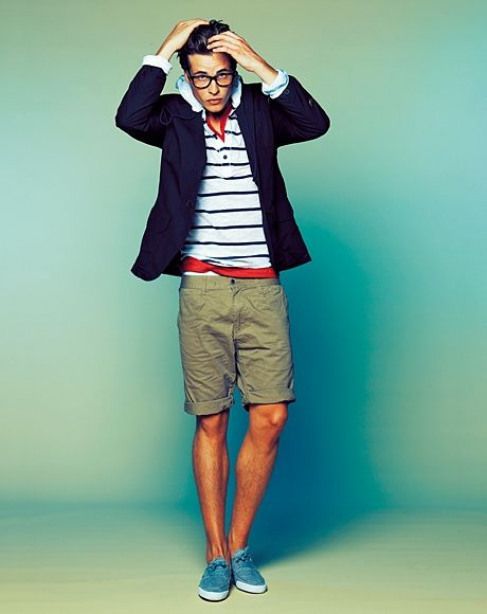 Khaki shorts combined with red splash white and blue stripes tops, and then a hoodie truly can deliver casual style in nautical outfit ideas.  For the best performance, pair this outfit with a blue loafer and when you add glasses you will get a smart casual look.
Urban Style in Men's Nautical Outfit Ideas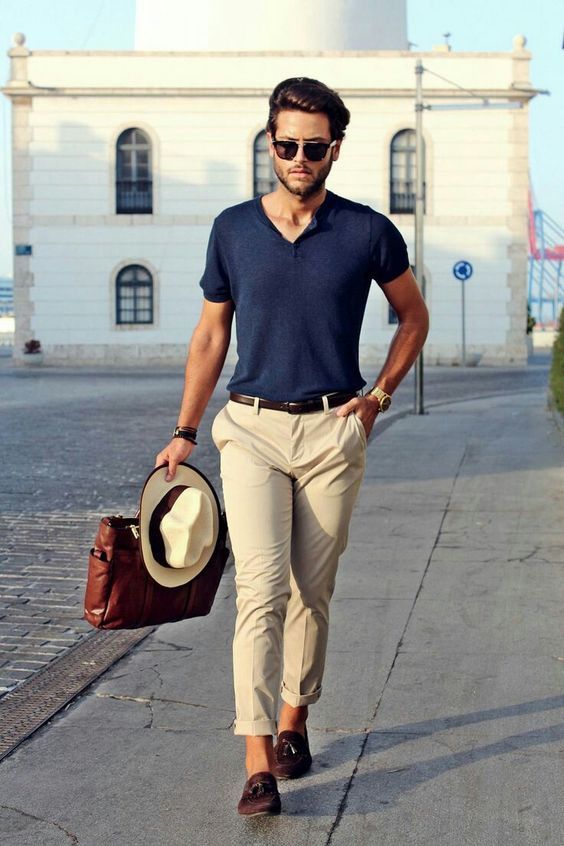 For urban style in nautical outfit ideas for men, have chinos and blue navy tops for this. This is a kind of lightweight cotton pants that's good to wear in warmer weather such as summer and generally has cream color tones. That's why chinos great pieces to bring on your nautical style, and it's also good to create a formal look. Chinos paired with t-shirts could produce a semi-casual style, especially when you add other detail such fedora hat, loafers, leather accessories, and brown duffel bag.
Classy Outfit Style in Luxury Yacht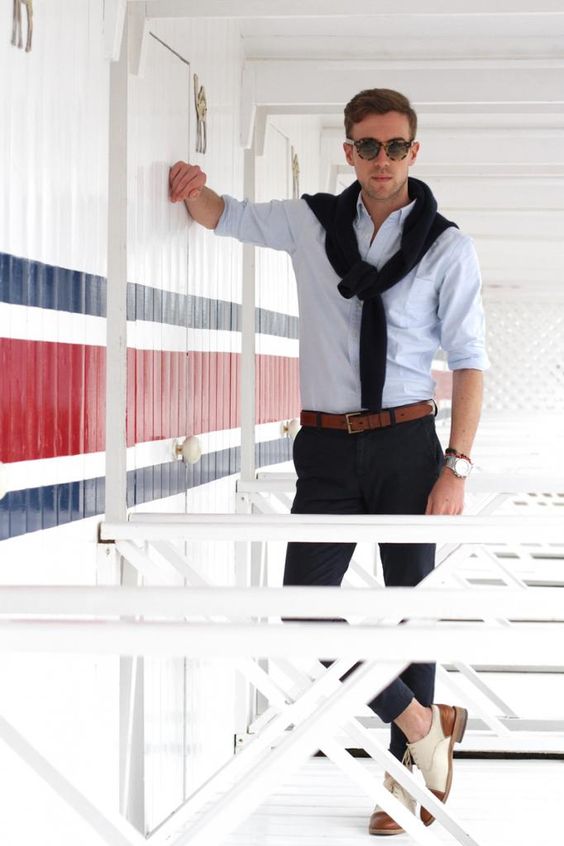 Attend some boating party in a luxury yacht, you need something classy and preppy like having blue navy chinos, a white collared shirt, and then a cardigan. for the footwear, you can have brown oxford shoes. Give another classy detail with a leather belt and your favorite watch.
Men's Nautical Style in Red Bermuda Shorts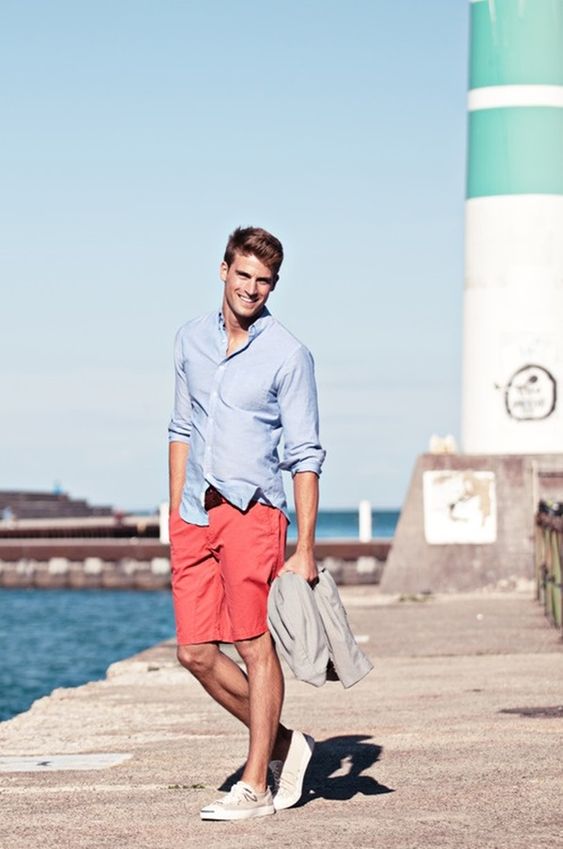 Bermuda shorts are mostly used to create a casual style in men's outfit ideas. When you want to obtain nautical style in it, choose a red color short and put on it together with light blu shirts and sneakers. This style really effortless and also fashionable enough to carry on.
Shabby Clothing for Conventional Nautical Style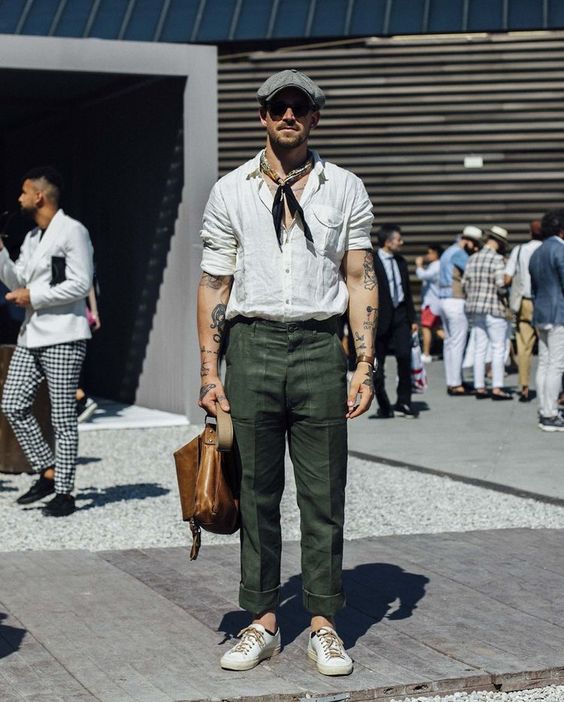 Have a deep nautical style like a conventional sailor with a shabby outfit style. Bring out your shabby white button-down shirts with khaki trousers and white sneakers. To draw more like a sailor-style, get on a beret hat and tie a tiny scarf around your neck like a necktie.
Best Boating Outfits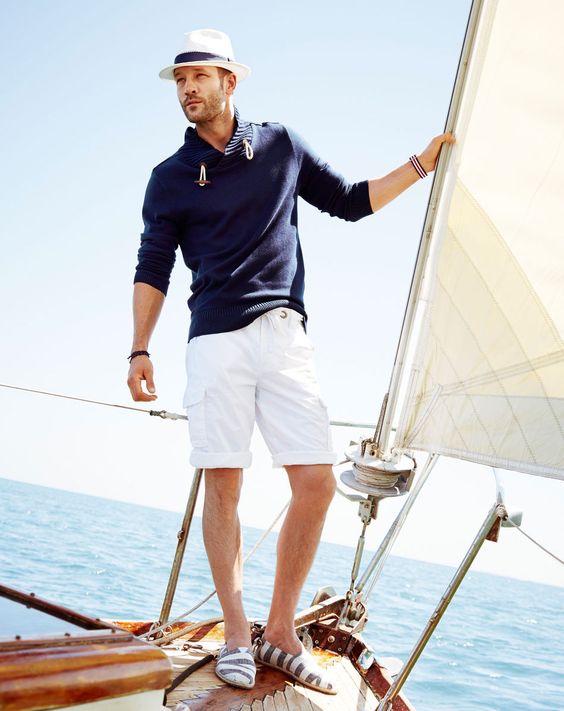 Getting the right outfit for traveling in boats or yachts, the nautical fashion style could be an option for the outfit ideas. To keep you away from the wind and cold temperatures in boats, it's better for you to wear something warmer like a sweater. Select a blue navy sweater and white Bermuda shorts, and also bring a fedora hat. For having more nautical style, get boat shoes like striped loafers.
Fishing Outfit Style for Fall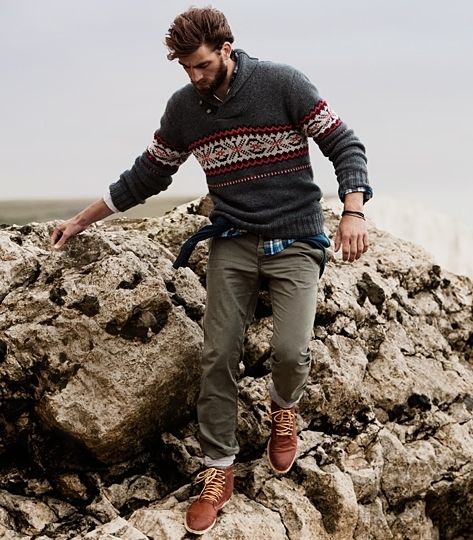 Go fishing outfits with layered style in sweaters, shirts, and khaki pants could deliver men's nautical outfits in casual style. This would be great to wear during the fall or winter season when you match it with boots.
Best Suits in Nautical Style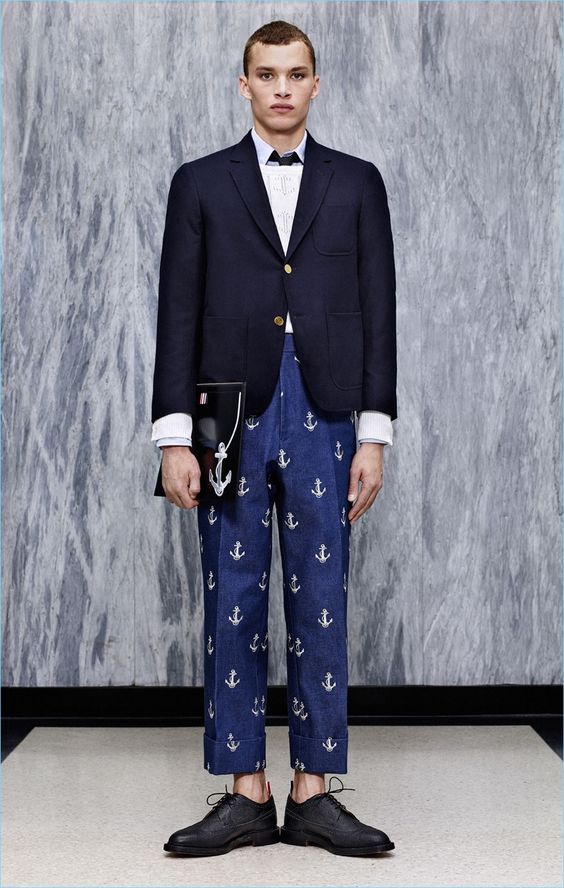 Besides getting striped outfits for a nautical theme, you can also get a marine icon like anchor prints in your outfit. This may be an easy and simple way you can try. For instance, get the imprints in your trousers and make them as a dress code for a party outfit. Have the trousers in your suits and perfect the look with black leather shoes and anchor printed bags. Wear this outfit style as your fashionable outfit on Christmas.
Sweater Vest for Casual Style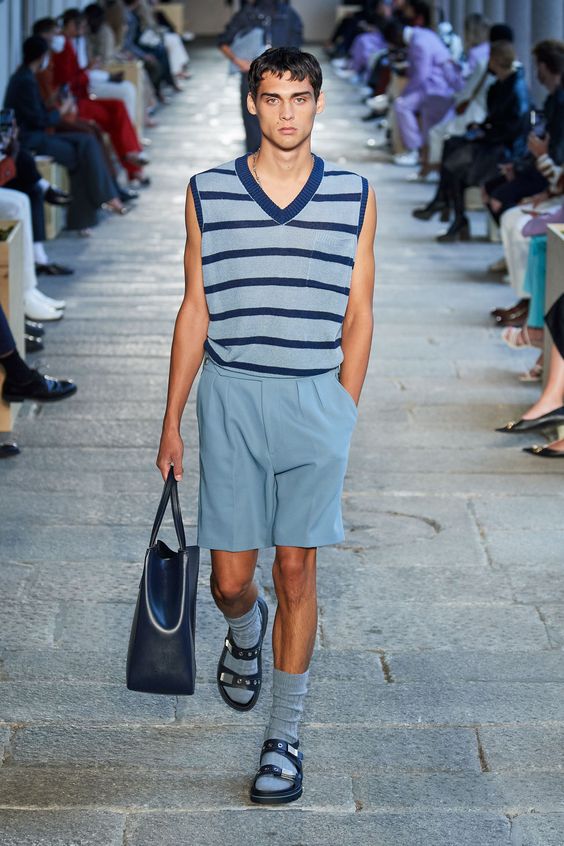 Fashionable in a sweater vest for producing a nautical fashion style in men's outfit ideas. As usual, to have a nautical theme choose a striped pattern, marine color shades like blue, and adjust it on your fashion design. For the casual vibe, shorts and sandals are the best pieces. Make your outfit more fashionable by getting grey socks and a navy blue tote bag.
Layered Style in Marine Color Shade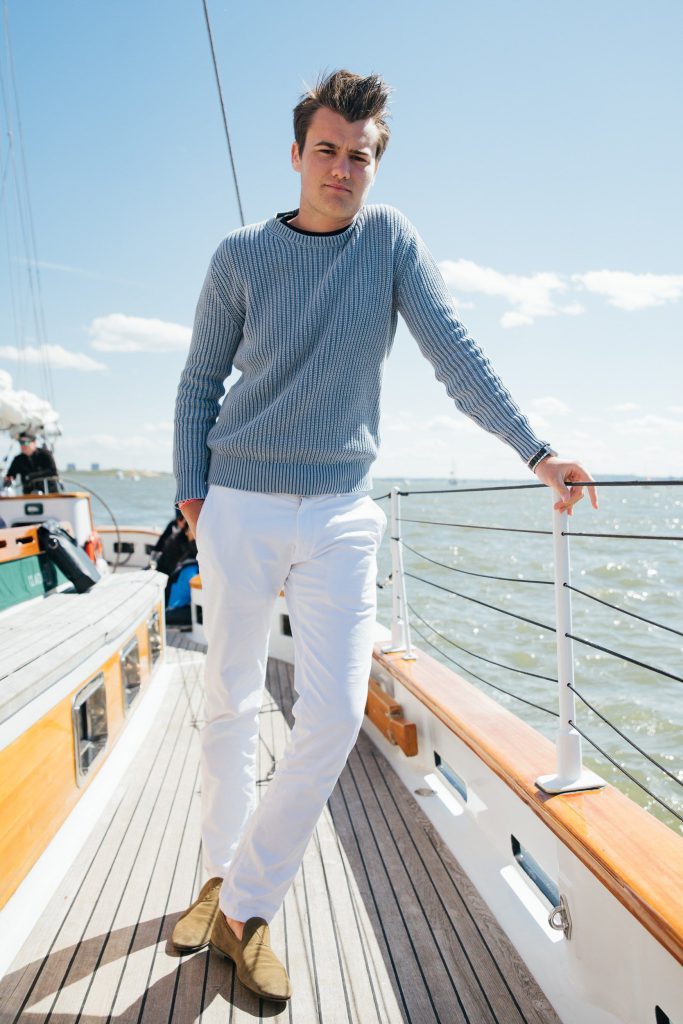 Go layered style in marine colors like light blue sweaters to get a casual style in your men's nautical outfits. This is also good to use as the boating outfits that help you to stay warm at the open sea. The perfect match for this style is white pants and loafers.
Marine Detail in Your Outfit Ideas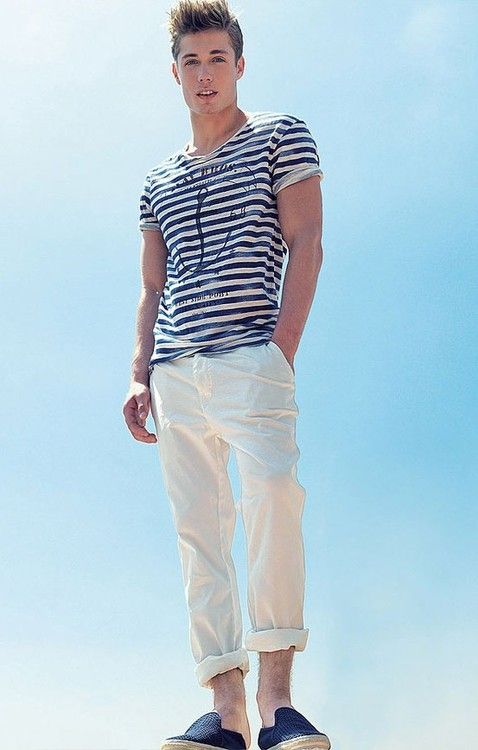 Just never be bored to attach stripped and anchor patterns in men's outfit ideas for nautical fashion style. It's because this style is an easy way to adapt and become a special icon in nautical fashion ideas. White blue striped tops, white pants, and blue loafers are the best choice for casual style. Having a little marine detail like anchor prints on your top outfits would stand up to your men's nautical outfit ideas.
How to Dress Up Casually in Men's Nautical Fashion Style
The nautical style is inspired by the sea and ships. The nautical theme has a unique style in identical patterns to navy, sailor, or sea. This style is well pictured in sailor outfits, white uniforms, anchor patterns, and fisherman sweaters. When you want to dress up casually in nautical fashion style, you need to adjust a few things below:
If you want to apply a nautical theme you need to use a white, blue, black, red, or khaki color palette into your men's outfit ideas.
You have to choose key wardrobe pieces like Borton striped style into your nautical outfits.
Bring out denim or chinos for the matched pants to your nautical fashion style.
Pull out the nautical and marine twist in your outerwear styles like a double-breasted blazer or light blue sweater.
Highlight the nautical style in your accessories by having sailor hats, scarves, bags, and jewelry.
Styling your nautical outfits either with boat shoes, loafers, or your favorite sneakers.