Olidfashion.com – Bohemian style is the fusing of old and new fashion design and creating a different look. This style has come from either the '60 or the '70s and involves in mainstream culture. Bohemians represent the free-spirited and refuse to dress conventionally. We also know this style as hipster, hippie, and gypsies that seem funky and trendy at once.
Those who want to get a funky and trendy look maybe could be adopting the bohemian style for men into their clothing ideas. Just keep scrolling and get your inspiration fashion here.
Essential Pieces to Deliver Funky and Trendy Look in Men's Bohemian Style
Bohemian style has come with typical details in the outfits such as natural printed like floral or animal, neutral colors, bohemian patterns, and more. This style is all about back to nature and their own senses of design. No rules and special requirements to create bohemian style in men's outfits.
This is the kind of hipster style (Hippie) that has free souls. You just need to mix and match the pieces in your wardrobe and bring your bohemian vibes into it. It's good to adopt for those who enjoy a simple, indie, and fashionable style in their outfit ideas. Here are some essential pieces of outfits you should know to wear in your bohemian clothing ideas.
Get Tonal Outfit Style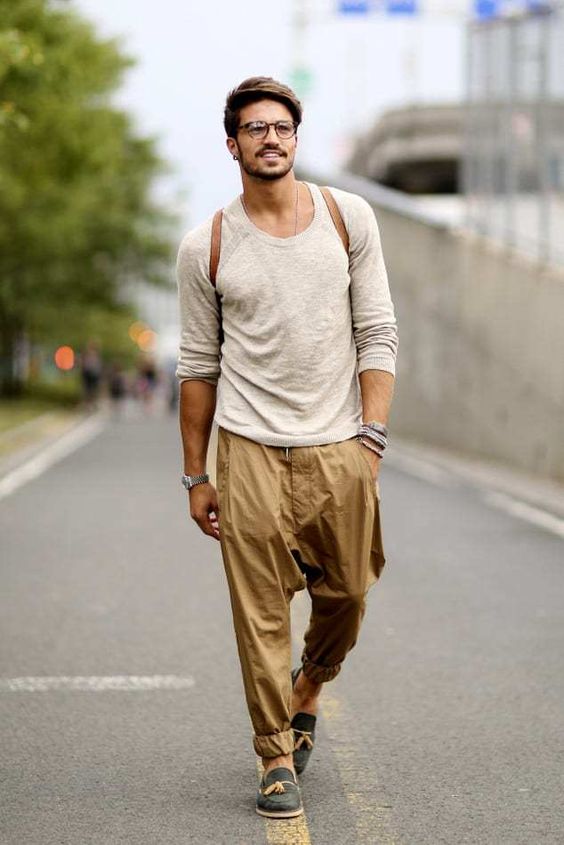 One way that's simple and easy to bring bohemian style in men's outfits is tonal clothing. These kinds of pieces have neutral and solid colors like earth shades. For instance, you could put on a shabby white long sleeve tee together with khaki jodhpur pants. For the footwear, you can bring black loafers. Wearing glasses, a backpack, and some accessories to turn this ensemble into your trendy college outfits.
Leopard Topper and Cropped Jeans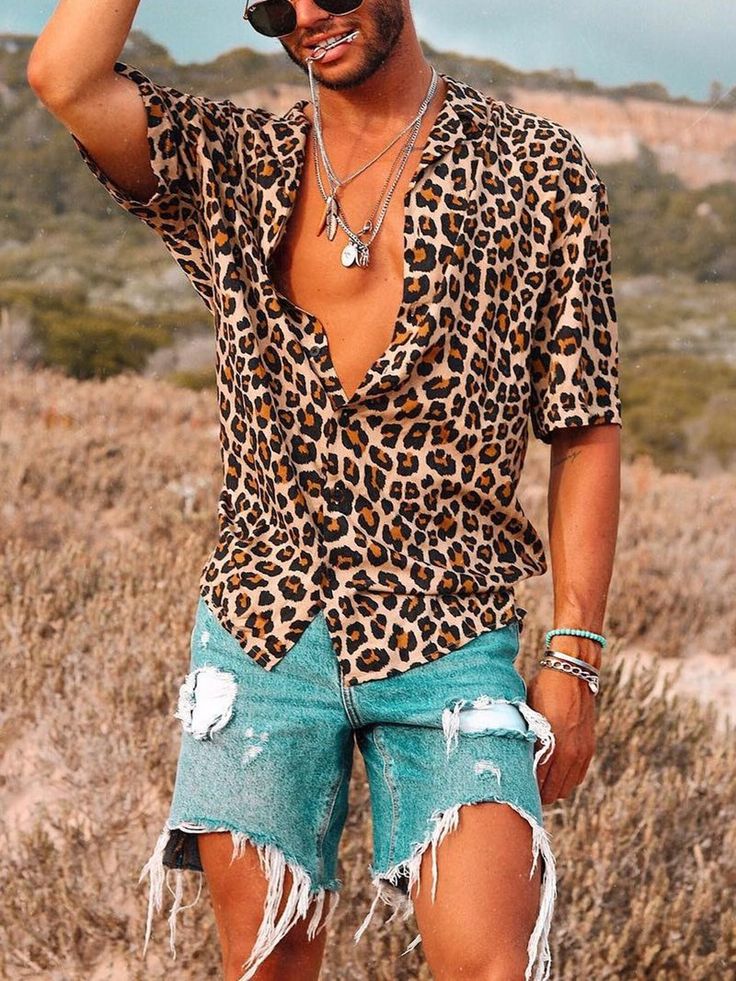 We know that's bohemian is adopting natural elements in their fashion design. For this, you can come with a leopard print shirt and cropped jeans. Get dressed perfectly by adding boho-chic accessories and matching shoes.
Give Statement to Your Vest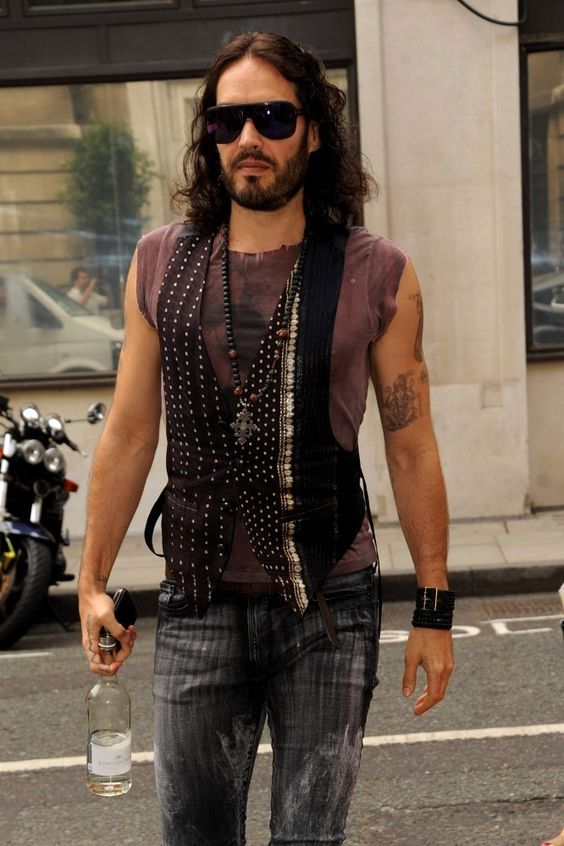 Bohemian style for men is also closely related to the messy design. This style would bring a little masculinity typical of an adult man. If you want to present boho style in your sense, you can come with shabby fitted toppers and then give a statement to your boho vest. Then, get the shabby jeans to complete your overlook.
Urban Bohemian Style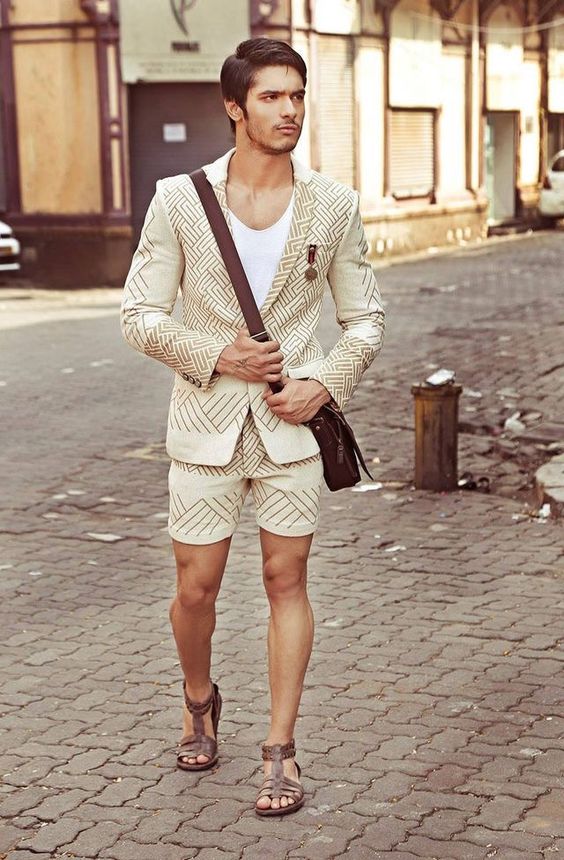 You just want to wear something different, just capture bohemian style in your men's clothing. Dress up contemporary in urban men's bohemian style by wearing short suits in mosaic patterns. Get this outfit with gladiator sandals and a leather sling bag that would be perfecting your funky and trendy bohemian look.
Boho Tops and Midi Pants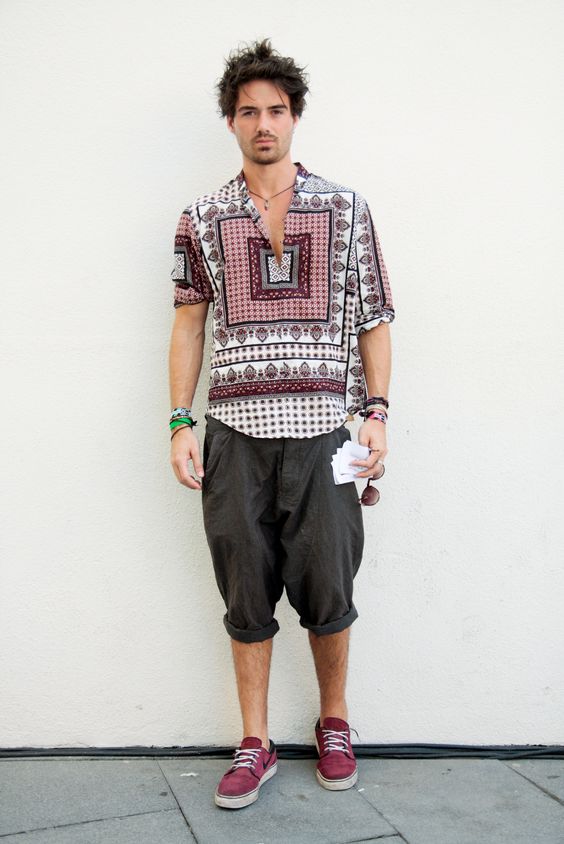 The easiest way to get a casual bohemian style for men is wearing a boho pattern in your top and then matching it with neutral bottoms like black midi pants. Get this outfit a more funky and trendy look in bohemian style by pairing it with red sneakers and then simple accessories.
Bohemian Hippie Style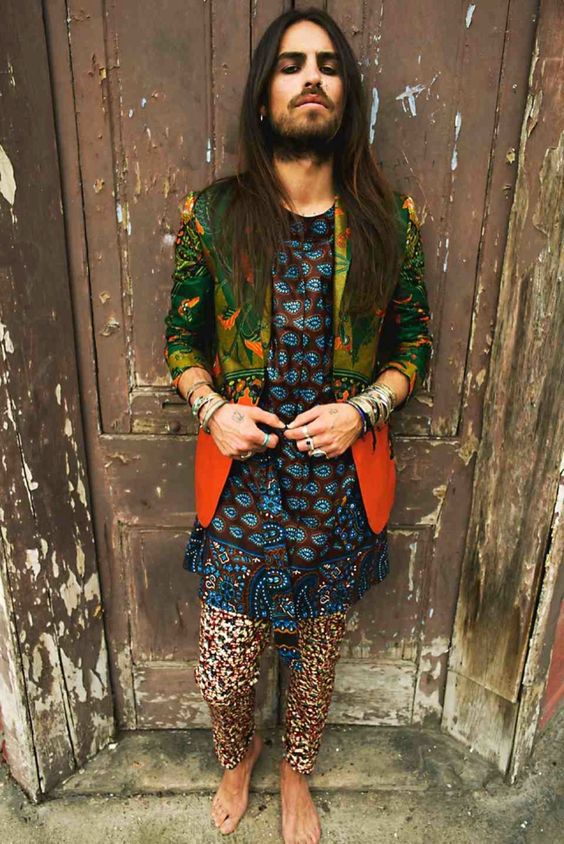 Hippi has its palace in a bohemian style that's come to free choice and no rules in their outfits. For example, you can match more than two patterns and colors in your fashion style that's bring out clashing combination outfits to get the funky style.
Bohemian Patterns in Overall The Suits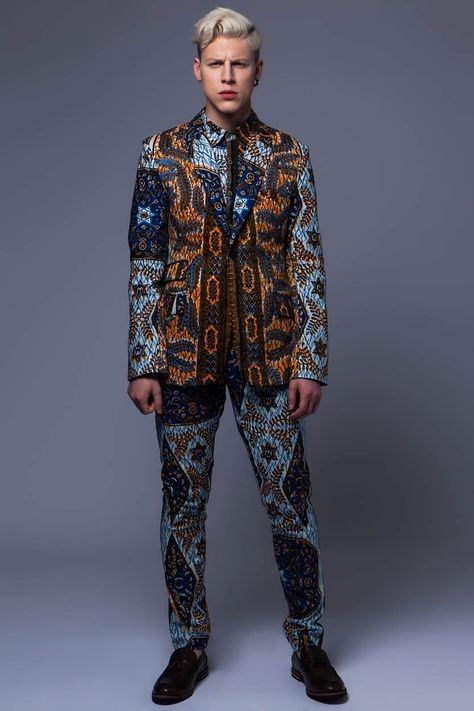 Adopting bohemian prints all over your suits also could be a great idea if you want to obtain funky and trendy styles in men's bohemian outfits. You can choose this outfit as one of your party collections in your wardrobe. These suits can be perfect to wear as your evening style on formal occasions.
Create Bohemian with Suede Jackets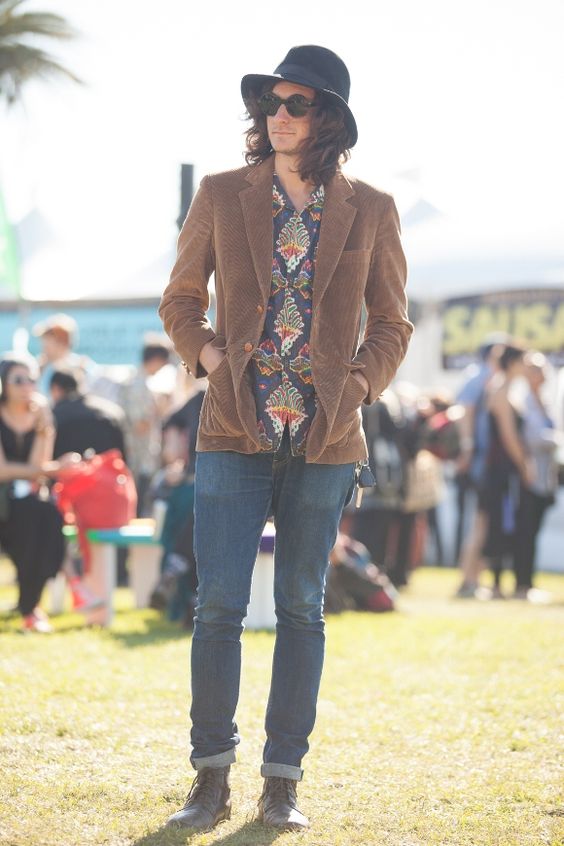 When you want to describe trendy in bohemian style for men, suede jackets may help you with this case. What you should know that's suede jackets could give a past image to your outfit style. Combine this jacket with a collared boho shirt and jeans. Complete the outfits with lace-up boots then give some details by wearing a fedora hat and sunglasses.
Having Patchwork Details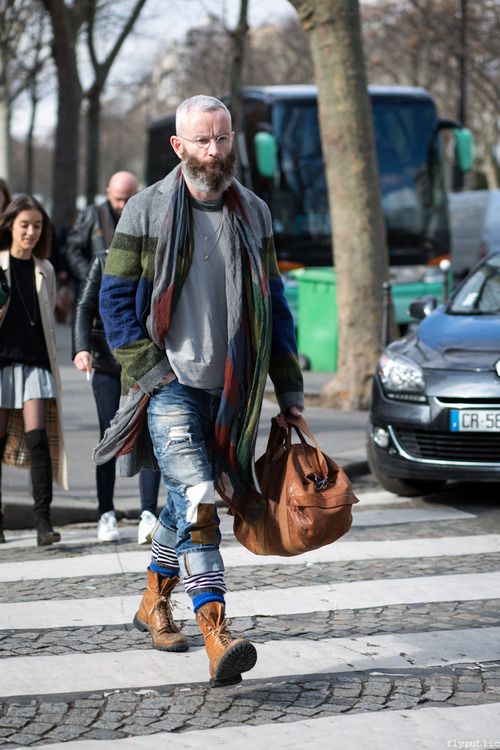 If you find out about the bohemian crafts, techniques, and outfits you will find out about the patchwork method. This is a way when you sew and combine more than two fabrics in different colors and patterns to become one item. There are plenty of patchwork trends in the outfits you can try to apply such as patchwork jeans to present funky and trendy bohemian style for men. This style would look worn out with the irregular patches in your clothes but actually seem fashionable enough.
Bohemian Patterns in Your Blazer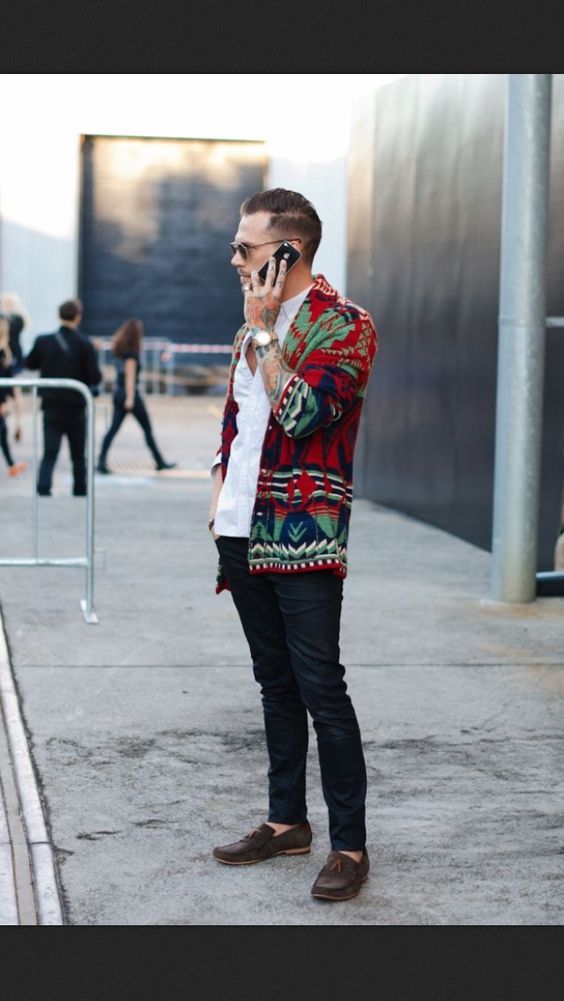 Having a funky and trendy bohemian style for men with a blazer that's has been got mosaic pattern with red, navy, and green colors shade. This is really typical of the bohemian style. Get this simple but fashionable style by mixing it with a white collared shirt, black jeans, and loafers.
Tassel Leather Jackets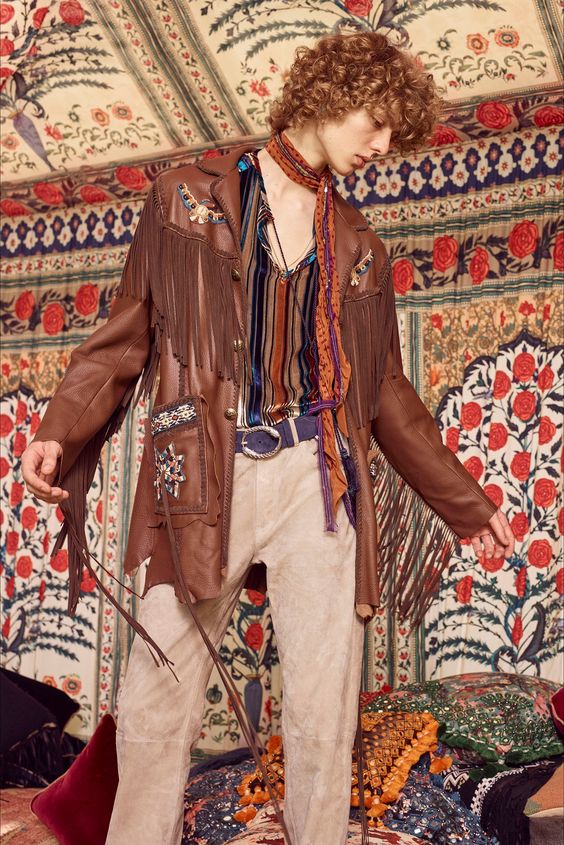 Having tassels as the embellishment in your leather jacket is the way to create funky and trendy bohemian style in men's outfit ideas. Bring this item to cover your striped topper and match it with either the beige suede pants. To make it more boho chic, you can get the outfits with some detailed accessories such as a leather belt, a small shawl around the neck, and simple boho jewelry.
Ripped Jeans and Tropical Shirts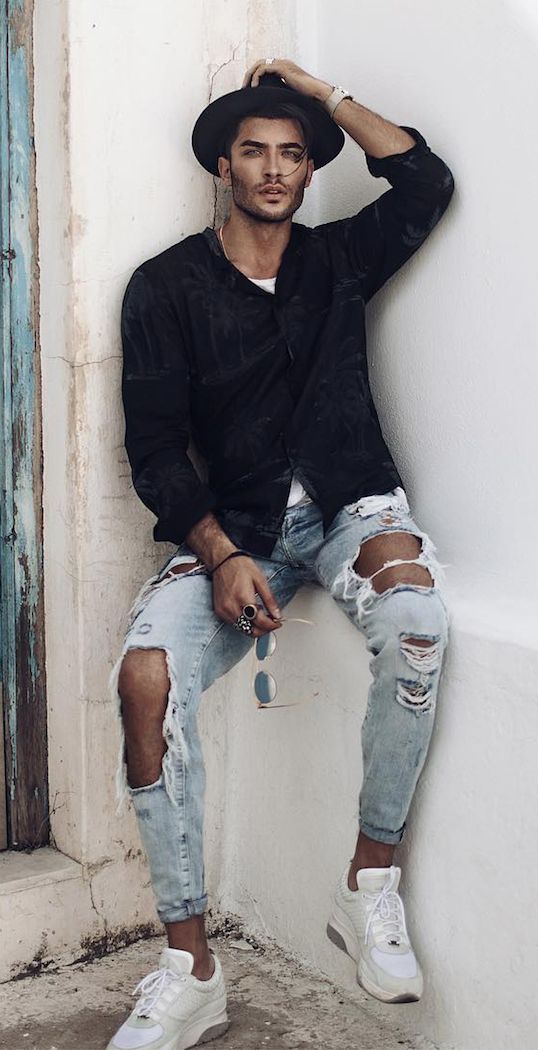 Ripped jeans and tropical shirts are the best combos to drive a casual trendy men's bohemian style. This comes in the beach style and the best matching outfits for having a vacation. As usual, you just need to give some additional items such as a watch, fedora hat, sunglasses, and a few boho accessories. Get dressed up properly by finishing this outfit style with trainer shoes.
Put on Bohemian Shirts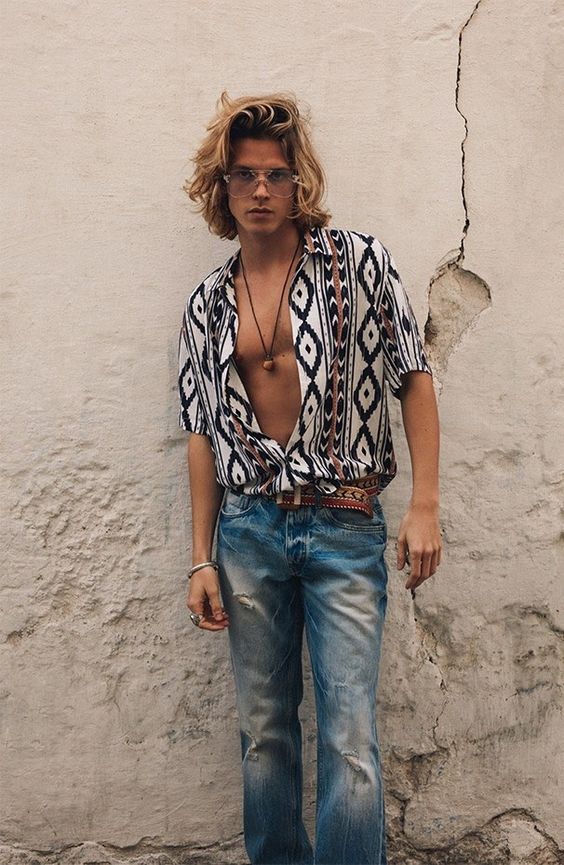 Never get bored with the bohemian tops to complete your boho style. For this time, we go with the ikat pattern in your button-down shirt and then try to mix it with shabby jeans. Don't forget the other components to build your funky and trendy bohemian look by wearing boho accessories as one of the keys to outstanding your appearance.
Semi Casual Style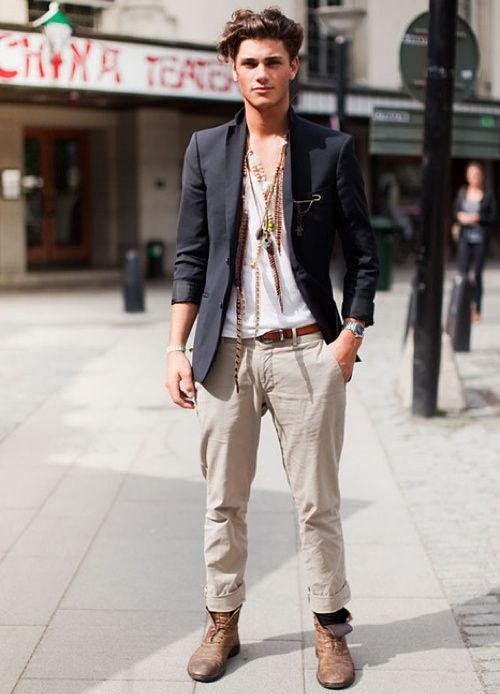 While you want to bring bohemian style but you don't like the rousing outfits, just try to give a statement with the accessory and boots. Wear something that's common and plain like a black blazer, a white tee underneath, and chinos. Pull out a bohemian look in your semi-casual outfit style by adding a feather necklace and worn-out boots to it. You can bring this outfit idea as stylish workwear in the office with a casual environment.
Tassels Cape for Fall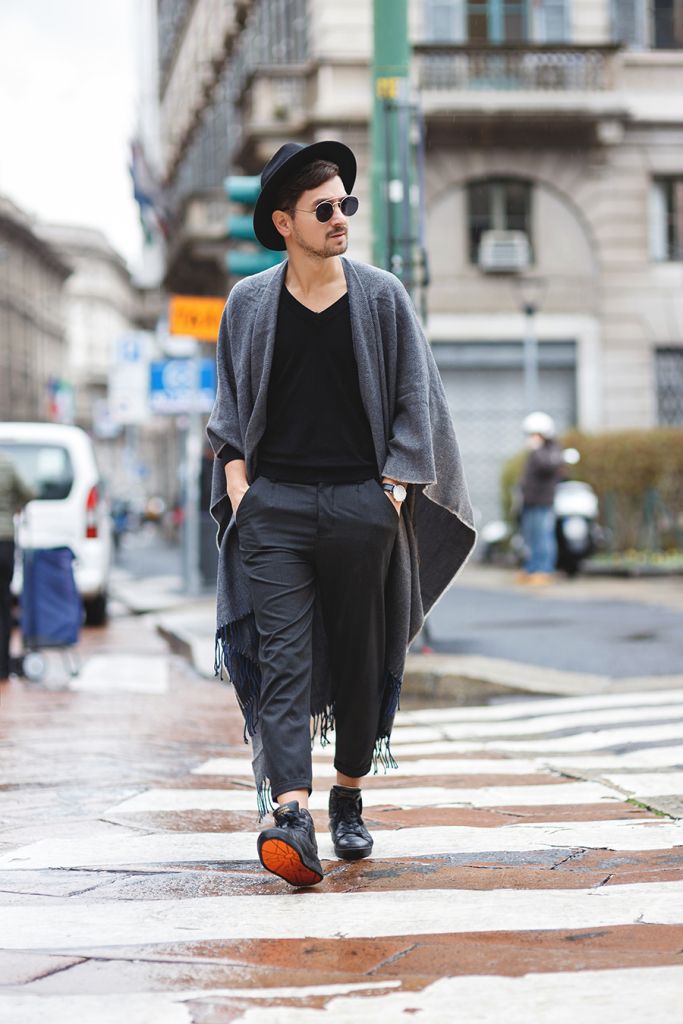 Glad to go along the city in comfortable outfits during cold weather, you may like this one of bohemian fashion. The combination of long sleeve t-shirt, a black chino, and a blanket tassel scarf that's you modify like a cape style would be good to wear as your fall outfit ideas. Getting it a more funky and trendy look in men's bohemian style with the fedora hat, sunglasses, and trainer shoes. That's the final look to increase your coziness and confidence when you walk alone.
Have Shabby Style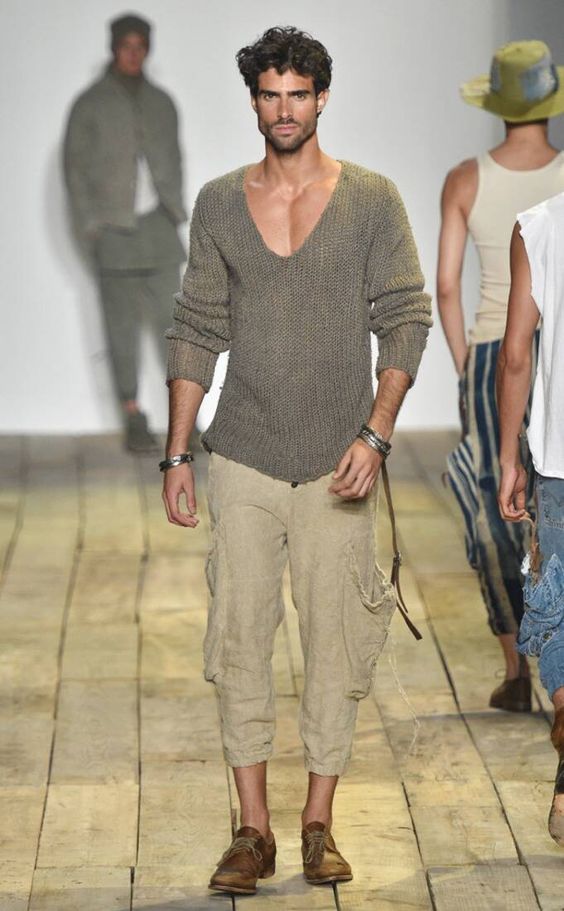 Shabby style is told all about worn-out items that look old. This style also involves the funky and trendy style in bohemian look by wearing pale color shades, dirty, messy, like you don't care. To create this style, you just need to put on a shabby knitted sweater, messy beige ankle pants, and worn-out leather boots. Perfect the appearance with a simple silver bracelet.
Become Hipster with Harem Pants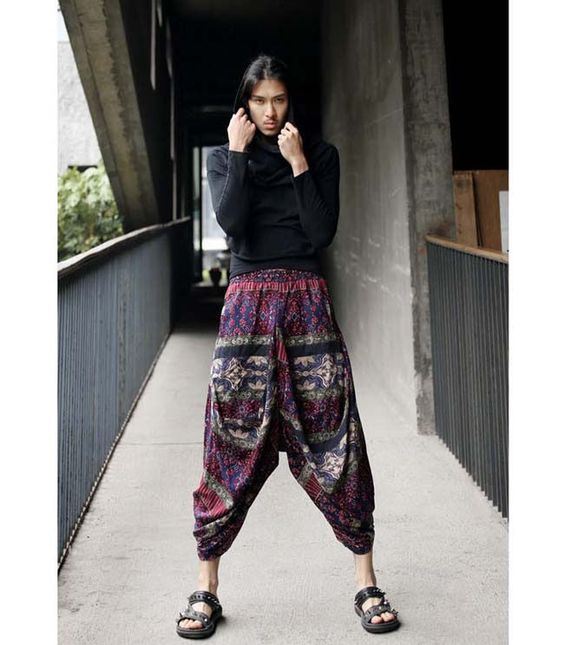 Hipster is like a free soul that's never be connected with the rules, in fact on how the fashion style is presented. They only think about their style and sense of fashion. The hipster outfit could complete the funky and trendy style for men by picking outfits in unusual patterns, models, and combinations. As an example, they're mixing a black long sleeve hooded tee with floral hareem pants. Then, take on sandals for matching footwear.
Sleeveless Denim Shirts and Jodhpur Pants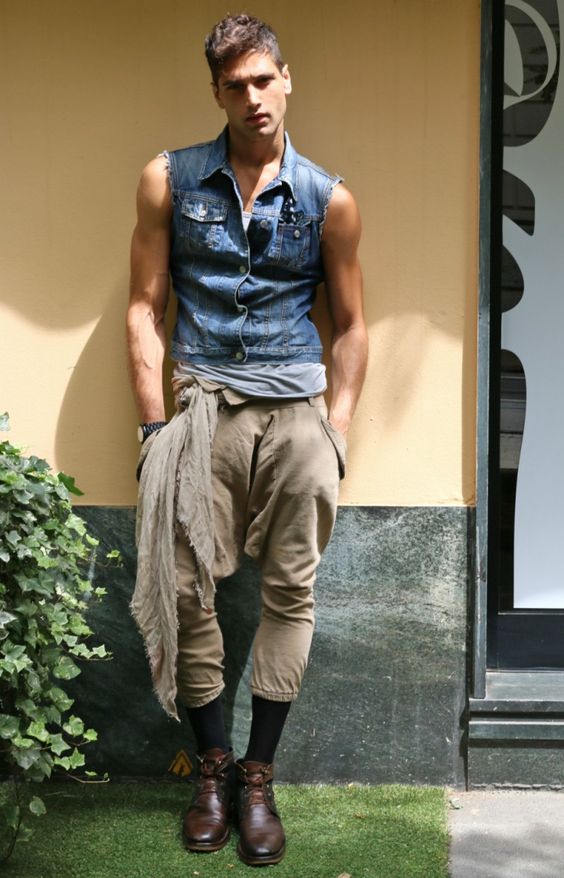 As we pointed out before, bohemian is the style that's refuse conventional fashion which has typical with classy, preppy, and fancy outfits. This style also comes in an old-fashioned model, not preppy, and looks a bit dirty. However, that's the point that makes this style look funky and trendy for men. Supposing you mix the sleeveless denim shirt and shabby jodhpur pants then complete with the socks and leather shoes, this is enough to bring on bohemian style for men.
Tie-Dye Outfits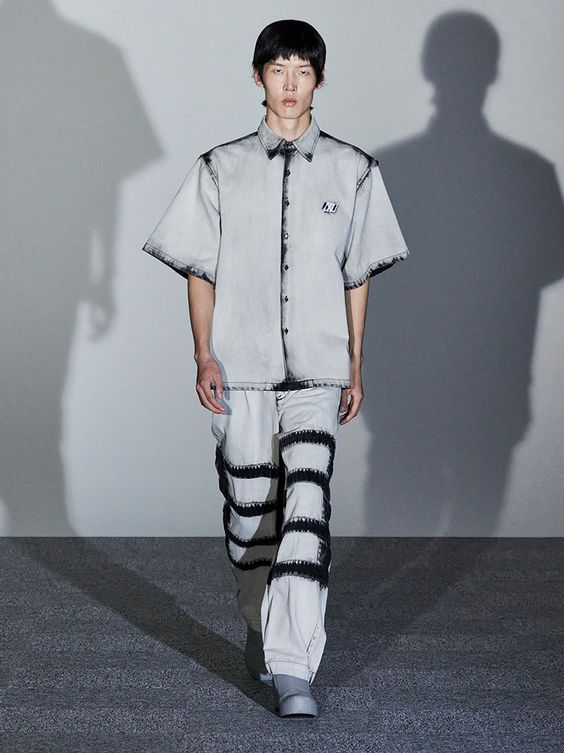 Tie-dye is also one of the bohemian techniques used to produce fashionable outfits. This method uses plain white fabrics that are modified with some colors in unusual patterns. This also shows color's gradation in the patterns that are unique. Like the outfit above, you can see a tie-dye pattern that's more structured and produce a trendy look in men's bohemian style.
Bring Bohemian Syal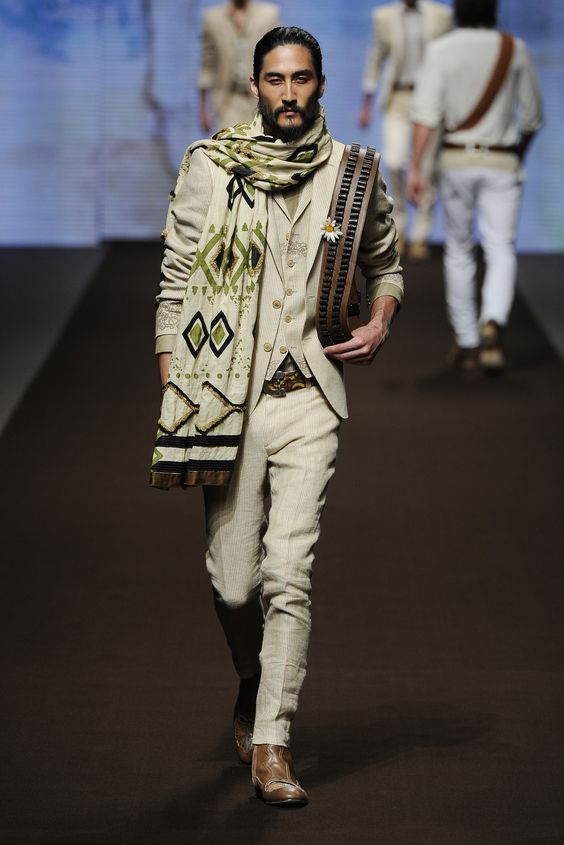 Ikat is the most favorable bohemian pattern for styling up outfits, either both for men or women. This pattern can be suitable in any style of a piece like shirts, bottoms, or even just for the scarf. Get bored in common accessories in your suits, look differently by wearing an ikat cloth as a scarf. Wearing it around your neck and getting a trendy style from it.
Using Bright and Bold Colors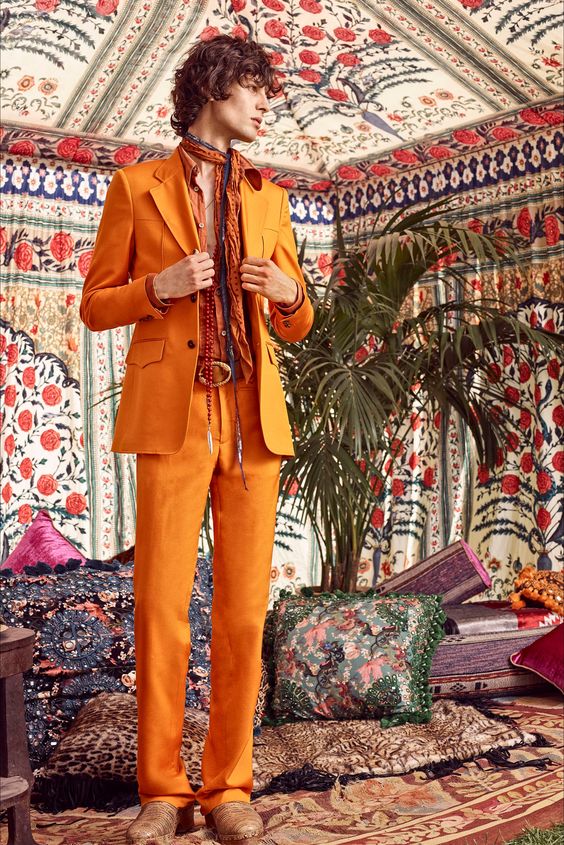 Being bold with the bright color outfits is the key to a funky and trendy look in bohemian style for men. Don't be afraid to come out with eye-catching outfits like a bright orange suit. Accessorized with a scarf in the same color as your suit, boho jewelry, and leather shoes clearly increase your style to the next level.
Bring Floral Shirts on Your Fashion Style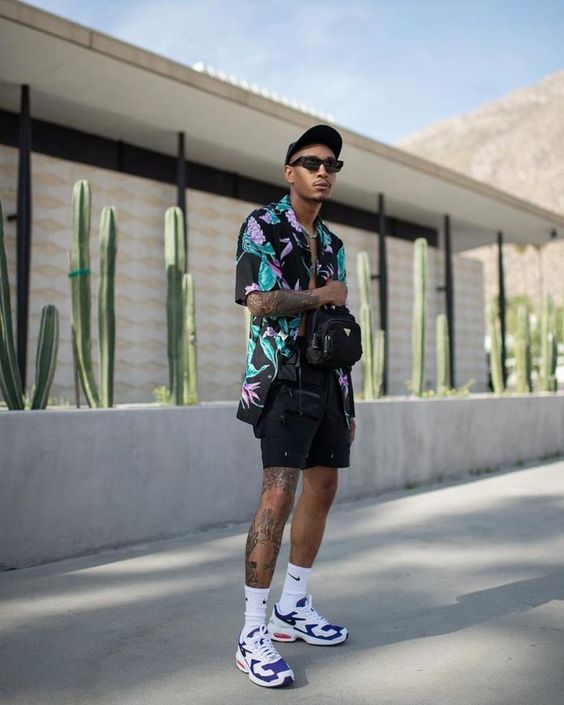 Floral patterns would work to show bohemian style in your men's outfit ideas. This might look a bit feminine, but I think is just suitable to bring on in men's fashion. You can get funky men's style by wearing a button-down short-sleeve floral shirt with Bermuda shorts. Get full ensemble by having trainer shoes, a hat, waist bag, and sunglasses. You can go through these pieces for your spring or summer fashion style.
Match the Outfits with Cowboy Hat for Bohemian Look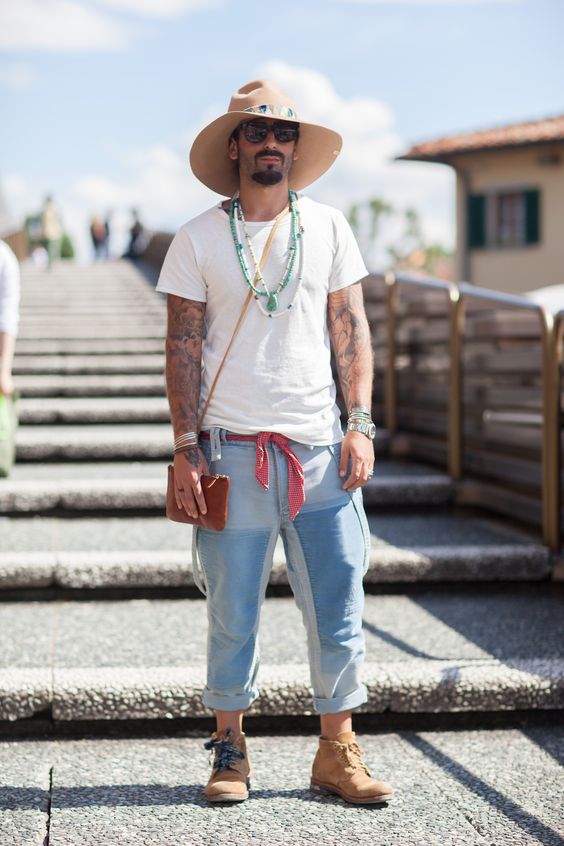 An accessory that's generally worn to drive bohemian style in men's and women's outfit ideas is a cowboy hat. It's easy because you can match this hat with anything the pieces and items in your closet, even it's just a white tee and jeans you will look trendy on it.
Bring Bohemian Accessories into Your Outfit Ideas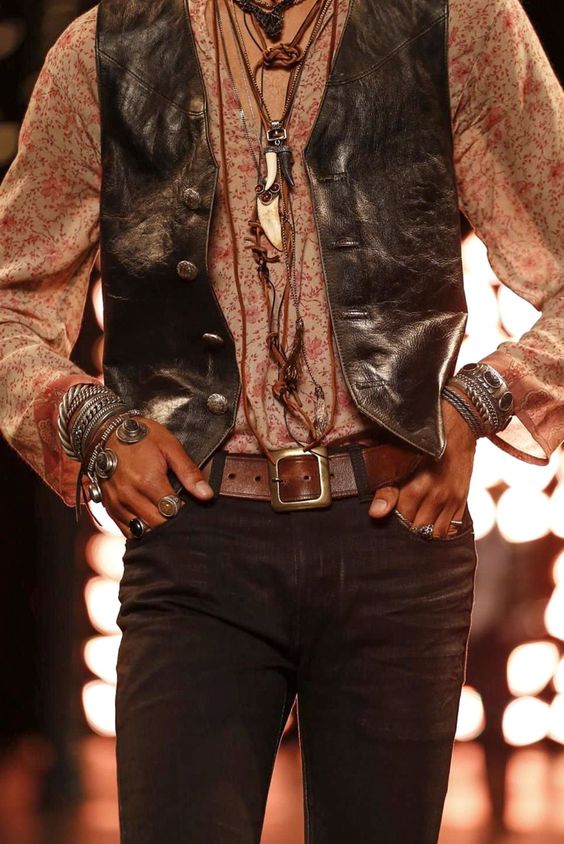 Start to shops some of the bohemian accessories if you want to pull out this style on your clothing ideas. For men, the common accessories are feather necklaces, woven leather bracelets, turquoise jewelry, leather belts, silver jewelry, and ivory pendant. You can choose your favorite ones and match them with your bohemian outfits.
Choose Matching Footwear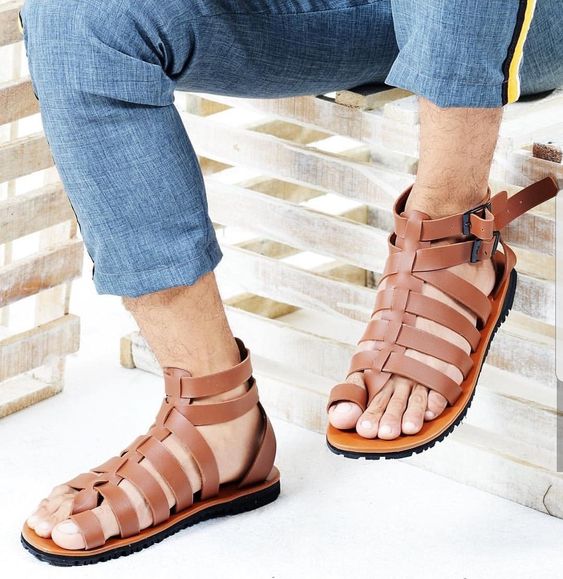 Besides accessories, the other essential ones in men's bohemian style are matching footwear. The characteristics of bohemian footwear are involving embellishments like pom-poms, embroidery, and tassels in the footwear. Especially for men, they come with embroidery shoes that are colorful, sandals, gladiator's shoes or sandals, leather boots, and suede shoes or boots. Just pick that you like and match it with your trendy bohemian style.
Support with Your Hairstyle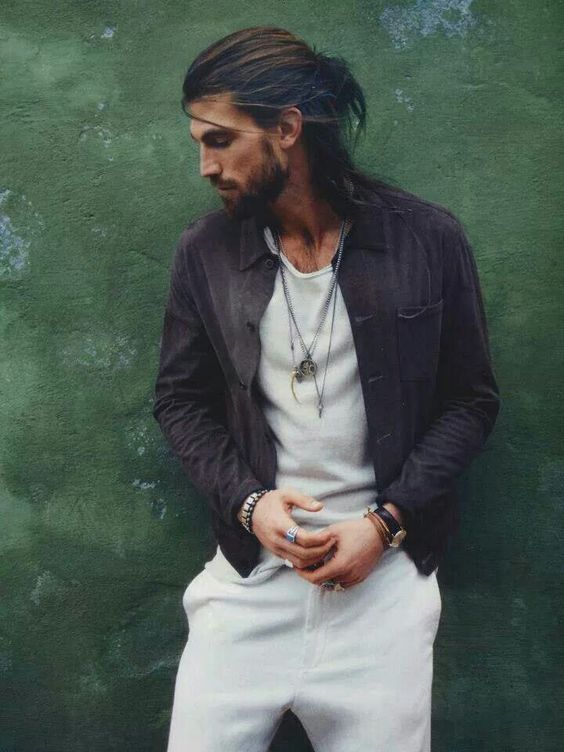 The last that's you need to consider about bohemian look for men is about hairstyle. Having a bit messy image with long hair and getting a beard may help to draw bohemian style for men. You can let your long hair unravel or tied it carelessly style, that doesn't matter for a bohemian sight. Just choose what makes you comfortable and confident.
Tips to Look Trendy with Bohemian Style in Men's Outfit Ideas
Men are usually unconfident to mix and match their clothes to get the perfect bohemian style. From this article, I hope they start to understand the essential items to use for creating a funky and trendy bohemian style. If you are men who want to fetch the bohemian style into your outfit ideas, here are some tips and tricks for you to follow:
Light up your denim in bohemian style by having ripped jeans, denim jackets, vests, or more. As we know that's denim is the type of versatile piece that can be matched with various styles.
Work in some bohemian arts and patterns in your outfit style. There are more kinds of typical bohemian printed you can choose and apply in trendy style for men.
Wearing floral or animal prints or natural accents in your outfit ideas.
Do it with your accessories. For your information, there are plenty of accessories such as antique jewelry, turquoise jewelry, and tassel ensembles that you can get into your outfit ideas.
Just try to come with a little shabby and messy outfit style like you don't care.
You can go with vintage and artisanal hints to draw trendy bohemian styles in men's fashion.
Have a long hairstyle and also go with the beard for supporting your bohemian look.
You can also get the bohemian image with oversized and baggy clothing that's lightweight and also loose.