Olidfashion.com – The bohemian culture lets people express themselves and choose what they want especially about clothing style. For women, bohemian has its charm through fabric, patterns, and colors they show. Recently, most designers make pretty outfits for women in bohemian style to wear daily or at certain events.
Bringing Bohemian Ideas in Women's Clothing Style
Bohemian style in women's clothing ideas is a bit more different rather than in men's bohemian style. This is because women more adopting sweet romantic nuance from boho culture, whereas men more look like hippies with messy and shabby styles but funky. Actually, bringing bohemian style into your outfit is easy, you can follow some guides below to help you get inspiration.
The Guide to Styling Up Bohemian Clothing in Women's Outfit Ideas
Colors. When you want to dress up in bohemian style, the color palette is important. For this, you need to get neutral colors, tonal tints, and sometimes shabby pieces. However, for the modern ones you can get light and bright color schemes such as yellow.
Patterns. The bohemian style usually comes in any kind of pattern such as ikat, kilim, tribal, floral, or animal. For the simple ones, you can get the floral printed dress with bold and colorful style as your bohemian clothing ideas for women.
Accessories. For this, the bohemian style has a unique design such as turquoise jewelry, ethnic craft, rattan bags, fringes or tassels, pom-poms, and patchwork ornament.
Materials. To come up with the bohemian style, you need to adjust some of the materials like lace, wood, rattan, leather, suede, or crochet into your fashion design. For example, lace for your tops, rattan for bags or footwear, leather for jackets or accessories, and others.
Footwear. For footwear, you can wear either ankle boots, cowboy boots, suede shoes, gladiator sandals, chunky heels, or rope sandals. Just pick what you want to wear and match it with your bohemian outfits.
If you really want to adopt boho style in your women's outfits, here are some bohemian clothing ideas for all occasions.
Bohemian Tops and Denim Shorts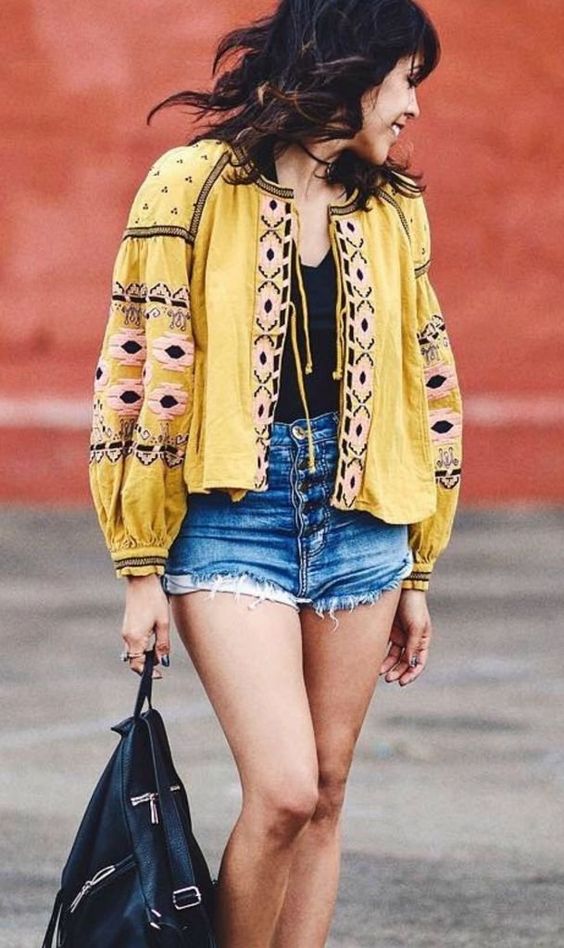 When you like something simple and pretty that brings out your personality well, bohemian style is the answer for you. Wearing a yellow bohemian top with denim shorts is fitted for those who bear cheerful energy and high confidence. Wearing it with your black tank top underneath. Then, get the backpack and sneakers to finalize your pretty college outfit ideas.
Off Shoulder Midi Dress with Floral Patterns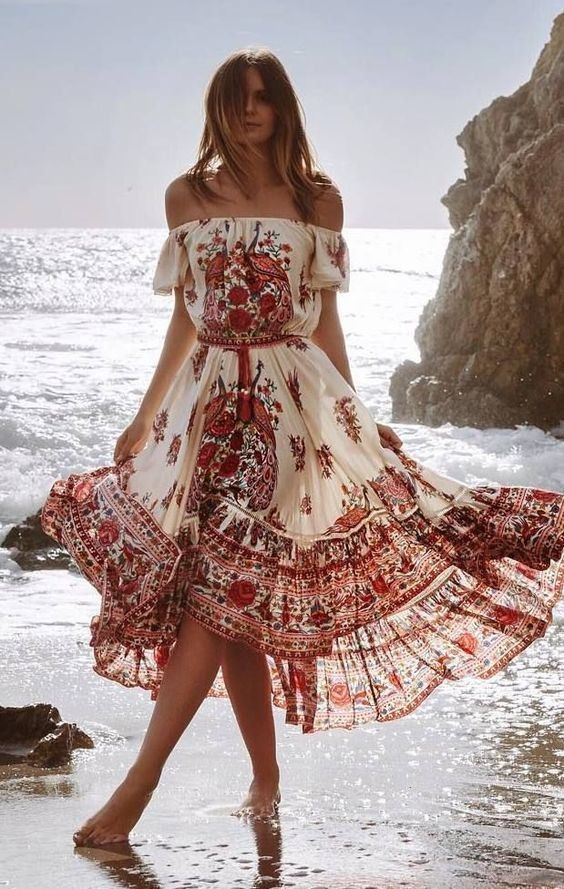 For you who like romance and sweet nuance in your outfit ideas, just try to put on an off-shoulder lace dress with floral patterns for bohemian style. You can insert this piece as your summer outfit ideas and also your beach vacation style.
Wearing Headband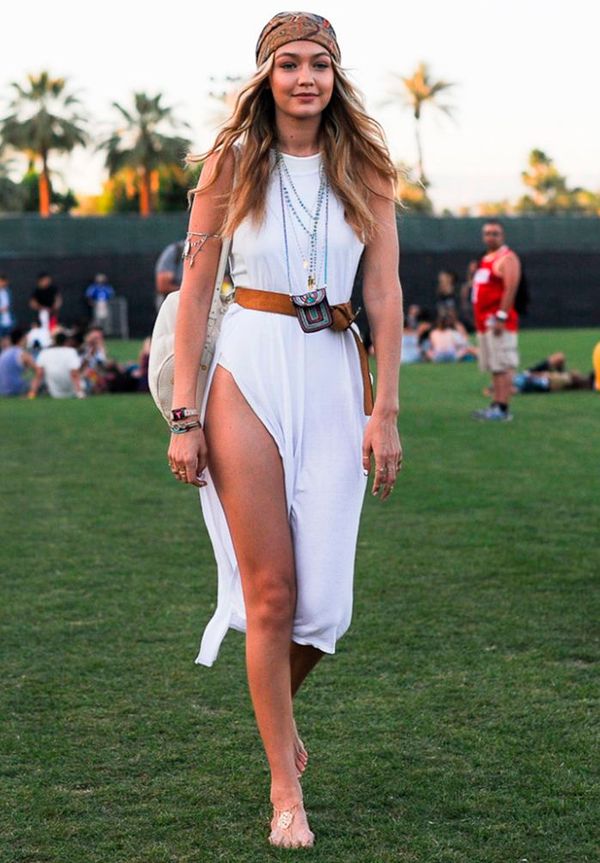 Not only from the patterns or fabrics but you can also present pretty bohemian style in women's clothing ideas by wearing complements such as headbands. For instance, try to come up with a slit white midi dress and then accessorize it with a leather belt over it. To have a perfect style, you can bring a headband, some bohemian jewelry, a duffel bag, and matching footwear like rope sandals.
One Piece Boho Outfits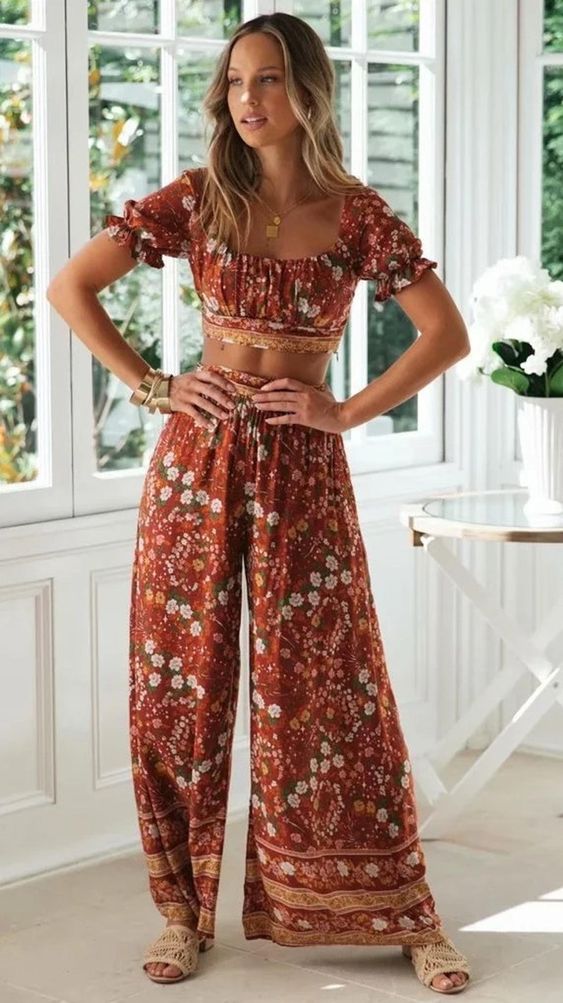 Get dressed up with one-piece floral boho outfits that include cropped tops and wide-leg pants for pretty style in women's bohemian clothing ideas. Choose tonal shades like brown as a basic color that would make you look chic. Applying the dress with rattan sandals to give a rustic vibe to your bohemian style.
Bohemian Style in Boot Cut Pants and Cardigans
Getting a little vintage outfit idea in the women's bohemian style by wearing high waist bootcut pants. Pair these pants with a white tank top and a long floral cardigan. Don't forget to bring out some other details such as an ancient belt, a worn-out brown tote, a craft necklace, and then match all the outfits with high heels.
Beautiful Lace Mini Dress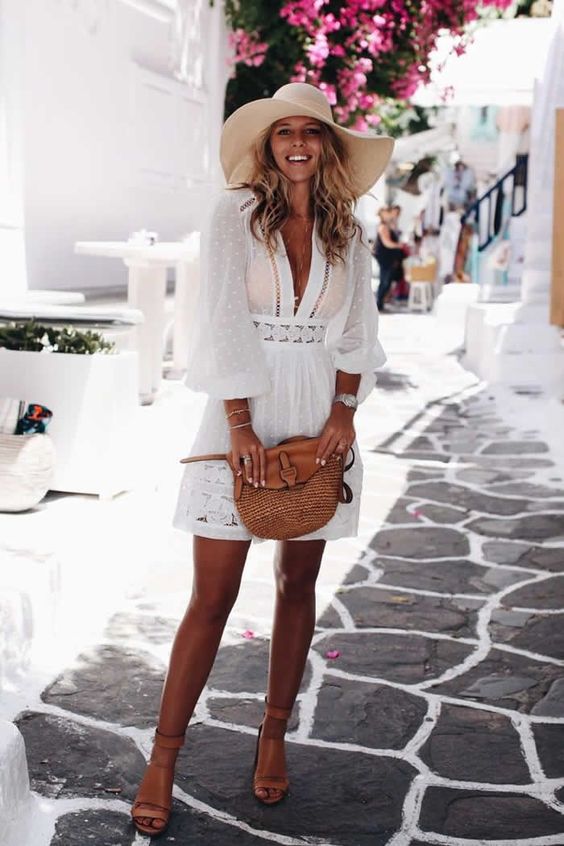 Lace is one of the fabrics that most designers use to produce bohemian clothing styles. This fabric comes with a unique texture that's sometimes has a floral pattern and generally has white or tonal shade colors. With this fabric, you can get a beautiful mini dress like the picture above. Bring this dress to attend some garden parties with your family or friends. You can match it with your accessories like a straw hat, rattan bag, or simple jewelry and footwear such as strappy wedges.
Elegant in Boho Maxi Dress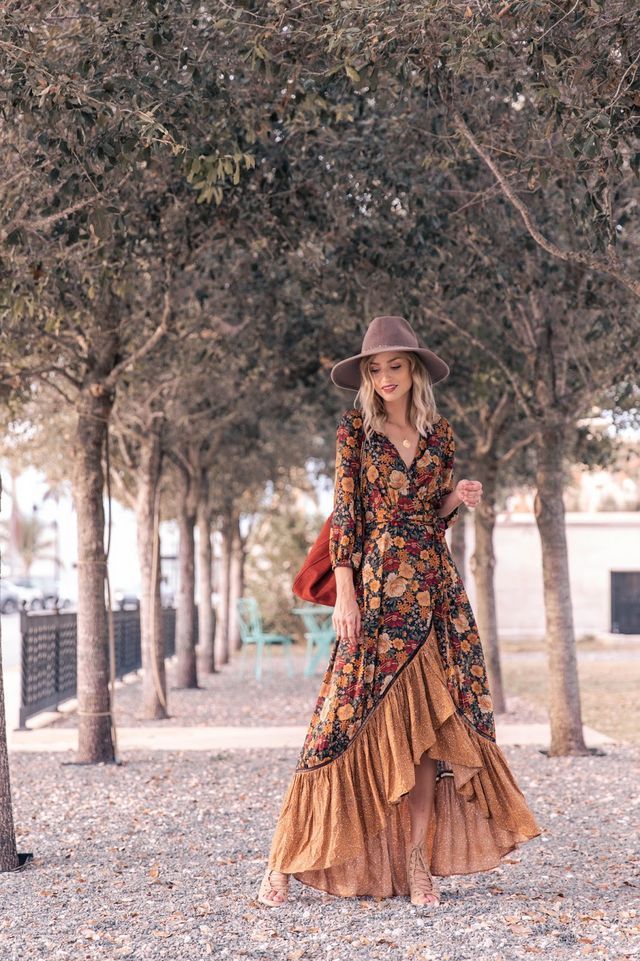 Make your best maxi dress elegant by choosing a floral print for a pretty bohemian style. Design the dress in high low style with a v neckline and have long sleeves. Mix and match this dress with a cowboy hat and gladiator sandals, finalize with a maroon tote bag to make it a fashionable outfit in fall.
Nautical Theme in Your Bohemian Style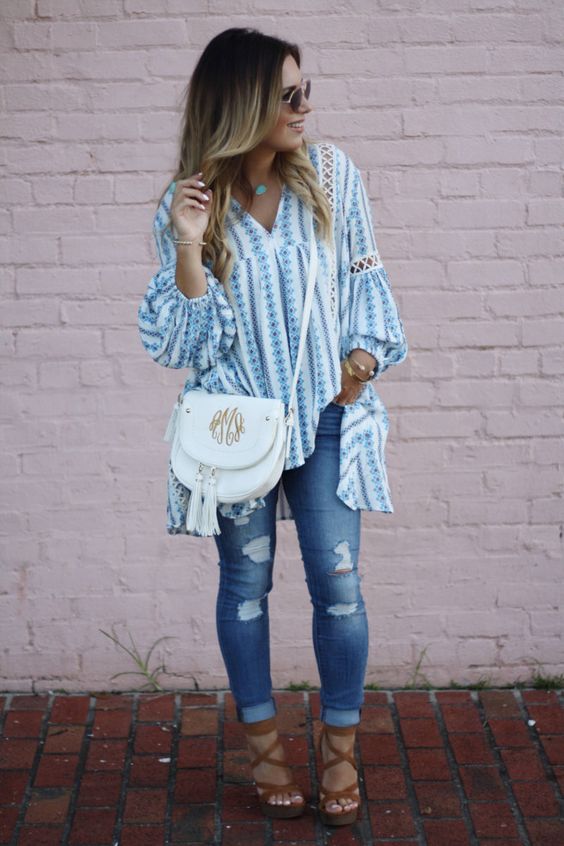 For a contemporary and chic bohemian style in women's clothing ideas, toppers like a balloon sleeve blouse in white and blue vertical striped could be the option for you. That makes you get nautical outfit ideas in your bohemian clothing. Match the blouse with ripped jeans and strappy wedges. Don't miss out to finish your appearance with some accessories like turquoise jewelry, a white mini sling bag, and sunglasses.
Chic in Monochrome Black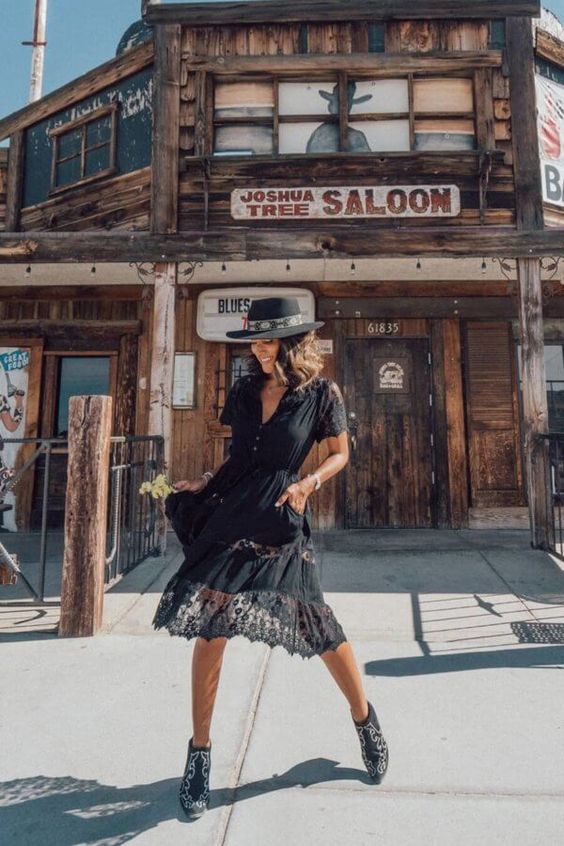 Become chic and cool in one outfit by adopting monochrome black in bohemian style for women. Maybe you can get dressed in cowgirl style by having a black short sleeve lace dress, a cowboy hat, and ankle boots.
Fur Vest in Bohemian Clothing Idea for Fall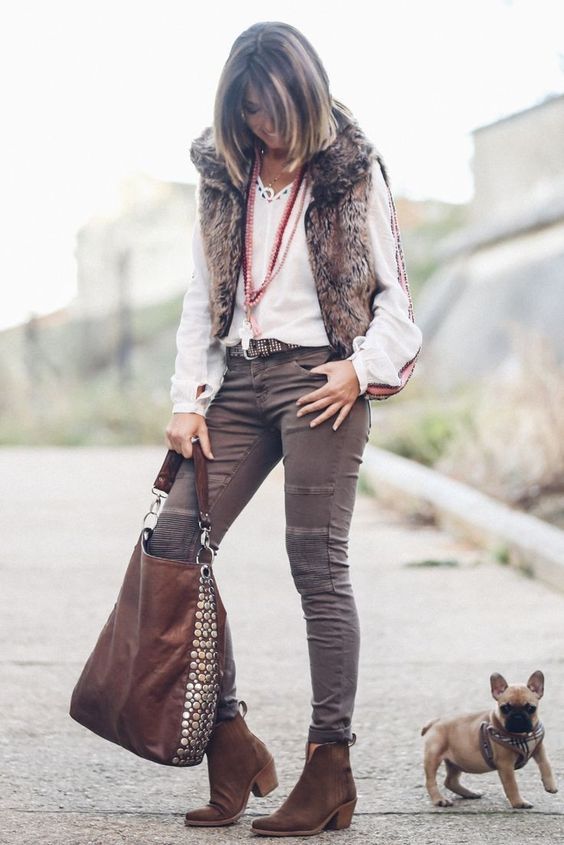 To look trendy in bohemian style for women, you may get a fur vest, long sleeve blouse, and brown jeans in your outfit idea. Completing the outfit with suede heeled ankle boots and a brown tote bag for creating fashionable outfits during fall.
Grunge Bohemian Style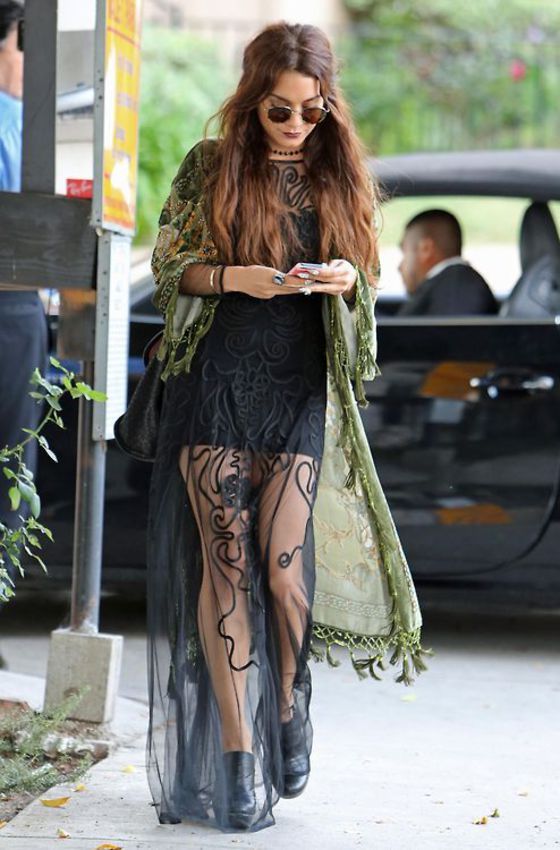 Fusing chic grunge style with bohemian is the best presentation to improve your performance. To bring those fashion styles together, you can get a black chiffon maxi dress and green tonal floral cardigans in your clothing ideas. Also, consider the makeup, hairstyle, and accessories to perfect your eccentric appearance in boho style.
Fashionable in Flare Pants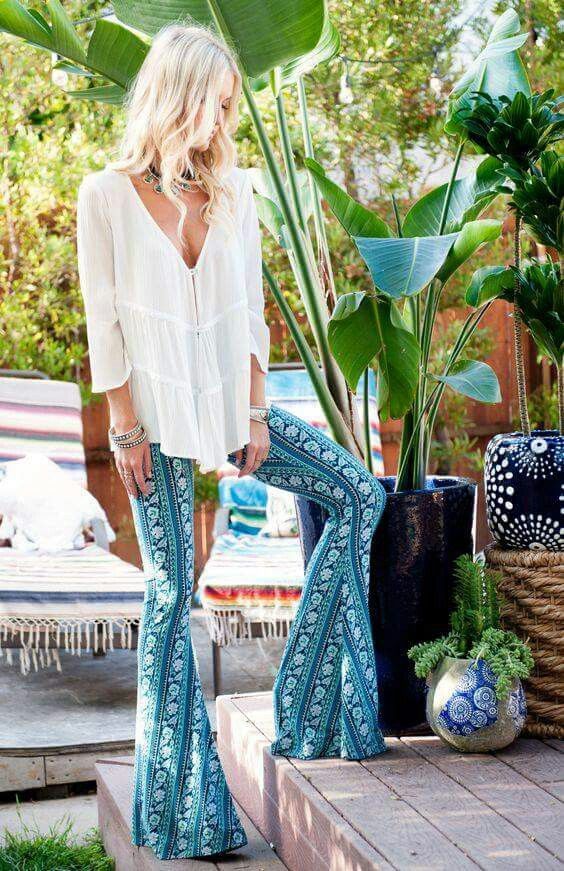 In bohemian's bottom outfits, there are some favorite pieces and one of them is flare pants. This kind of pants is designed with the fitted on the tops and start to wider from knee to lower. At one glance you look these pants the same as the boot cut style, but it actually different. Mix these pants with a white lace blouse in a v neckline, then accessorize with a turquoise necklace and some simple jewelry. For footwear, you can pick wedges or chunky shoes to complete a pretty bohemian style for women.
Stylish with Off-Shoulder Top and Cropped Trousers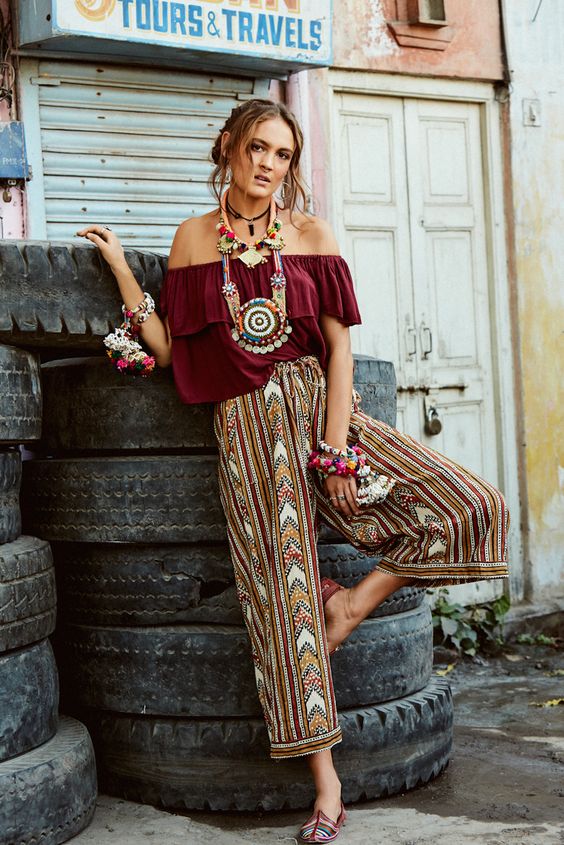 Another pretty bohemian style for women that's you can adjust into your daily outfits is wearing off shoulders solid blouse and cropped trousers in bohemian patterns. You can be pointed more to the bohemian style by wearing some boho accessories and footwear.
Look Pretty with Long Lace Skirt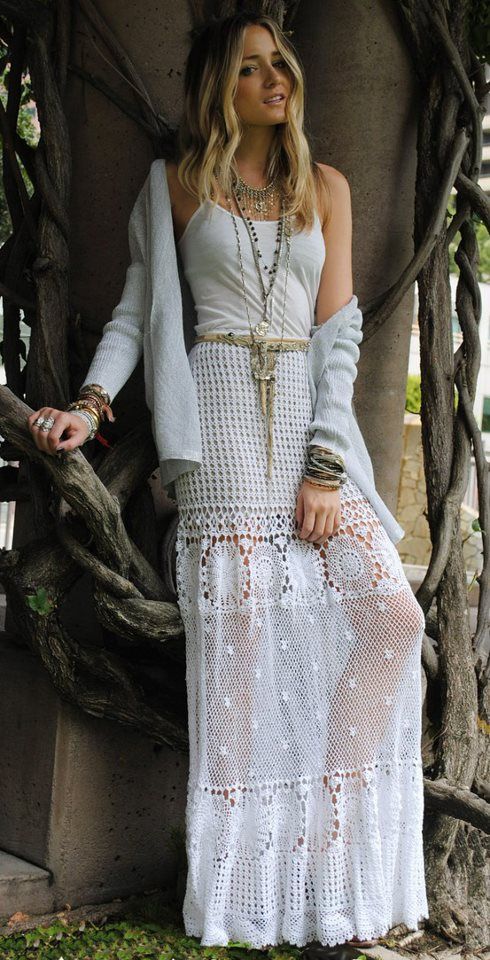 Women also want to look pretty and mature in their outfits. Get this concept with the bohemian style for women's clothing ideas by applying a layered style with white basis pieces involving white sweater cardigans, a tank top, and a lace long maxi skirt. This style would help you draw a mature and sexy style but still look calm.
Get Dress Up in Cool Bohemian Style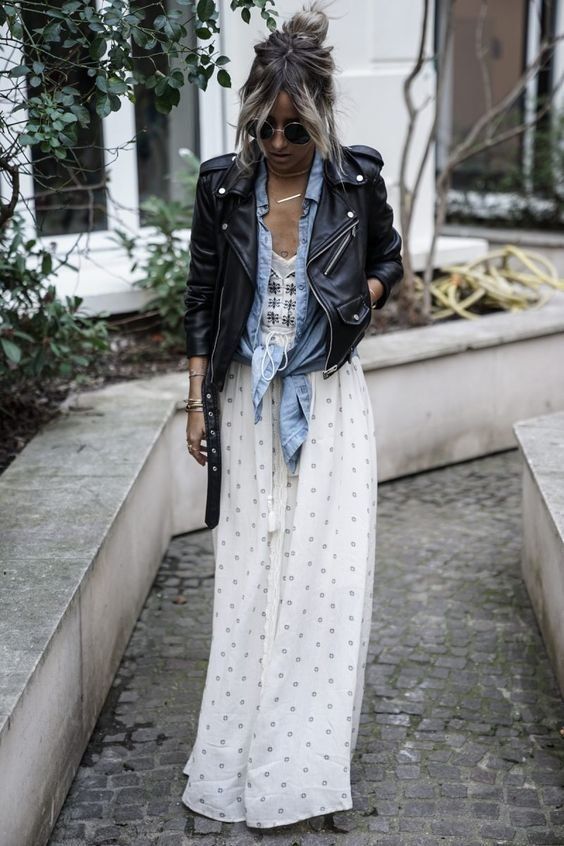 When you like to dress up like a cool girl in bohemian style, you can bring this outfit as your daily ensemble. Just try to match up a white sleeveless long maxi dress in a polka dot pattern together with the denim shirt and a black leather jacket. Convey this outfit style by adding some cool accessories such as simple gold jewelry, sunglasses, and maybe you can go with the boots as your matching footwear.
Tassel and Fringe Embellishments in Boho Chic Style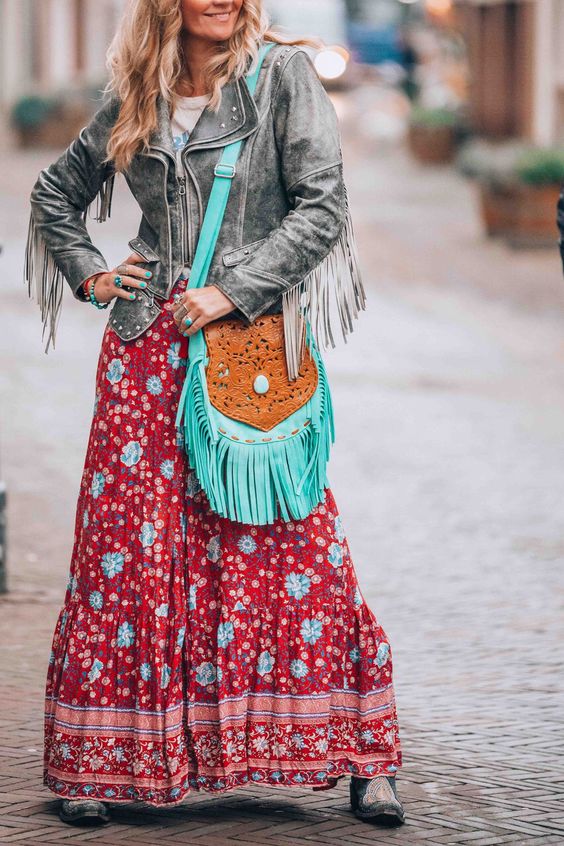 When it comes to bohemian style in beautiful embellishments ideas for your outfits, tassels or fringes are the most favorite ones to apply. You can fetch this detail on your leather jackets, bags, dresses, or your boots to highlight more pretty bohemian style in women's clothing ideas.
Fill Up the Bohemian Style with Accessories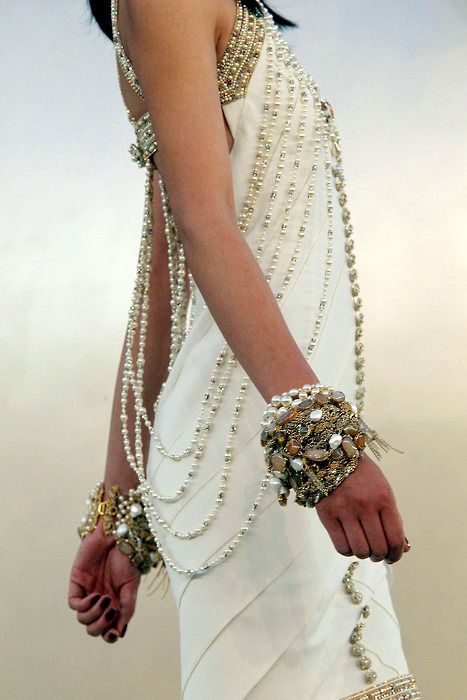 In women's bohemian style besides the outfits, we usually found some of the unique and ethnic accessories. This comes in jewelry, trims, and embellishments. That common accessory in bohemian styles is turquoise, rattan craft, braid detailing, embroidery, fringe, rhinestone, sequin, beads, and much more. You can fill these accessories in your clothes or as jewelry and complements.
Gladiator Sandals for Bohemian Clothing Ideas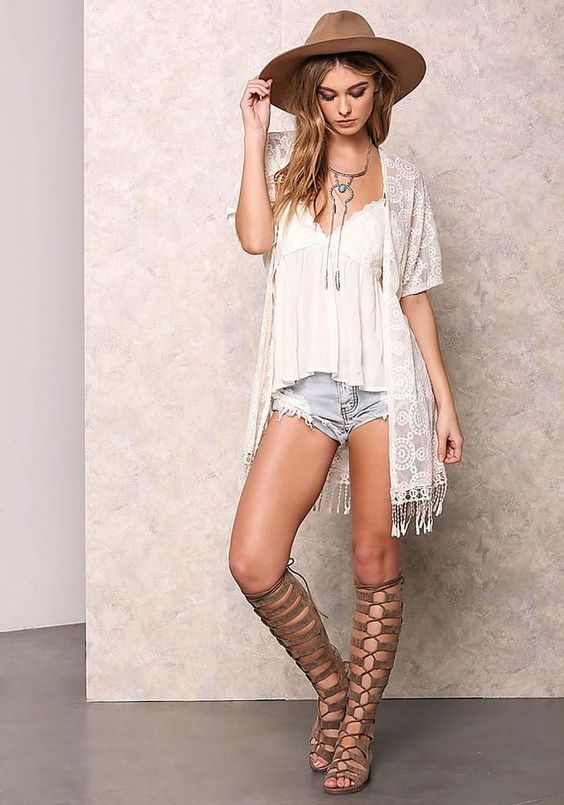 If you ask for the best footwear to build up your bohemian clothing ideas, gladiator sandals are the great ones. Get a trendy and pretty bohemian style with these sandals. You can choose high gladiator sandals to perfect your bohemian style in shorts and a cardigan.
Cowboy Boots is the Suitable Footwear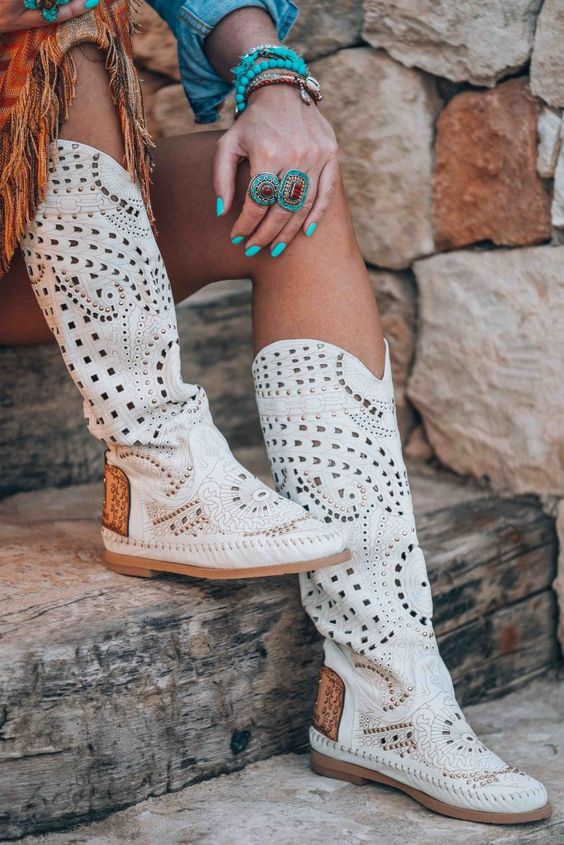 Most of the bohemian style usually wear cowboy boots as the suitable footwear. These boots help you to bring bohemian in countryside styles like a cowboy. There are also plenty of types and colors in the boots that you can adjust to your outfits. Some of the cowboy boots usually come with prints and embroidery like floral. This truly could bring a pretty style in bohemian clothing ideas for women. Pair this boot in your ensembles or dresses to impulsive your performance.
Matching Your Outfit with Bohemian Hats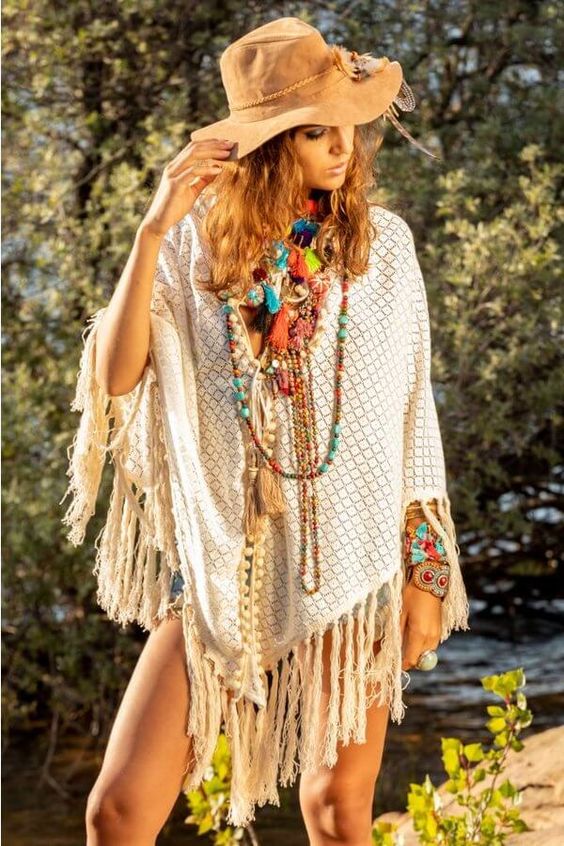 The countryside details in your bohemian outfit ideas that you could be choosing as complement accessory is bohemian hats. For this, you can try to pick straw hats, cowboy hats, Chupalla hats, derby hats, or fedora hats into your bohemian clothing style.