Olidfashion.com – Summer comes with beautiful things, especially this is a good time to plan your holidays. While you need to think about the destination for vacation or staycation, you also need to consider the clothing and outfits to wear. If you want to get the perfect holiday, just make sure to prepare your summer vacation outfits with the fashionable style. Find some women's clothing ideas for a better vacation vibe here.
Best Women's Outfit Ideas for Summer Vacation Style
Get ready for the summer holidays and go on vacation to any destination to create beautiful memories with your family and friends. What you need here are some of the vacation lists such as beautiful places, resorts to stay, and the same important is vacation outfits. Besides you preparing some clothing, you should know what place you would go. Is it that tropical place, or having hot weather, indoor or outdoor. The essential about it, your summer vacation style should be comfortable and practice to wear. Find out your inspiration vacation outfits style here.
Bohemian Style in Beach Vacations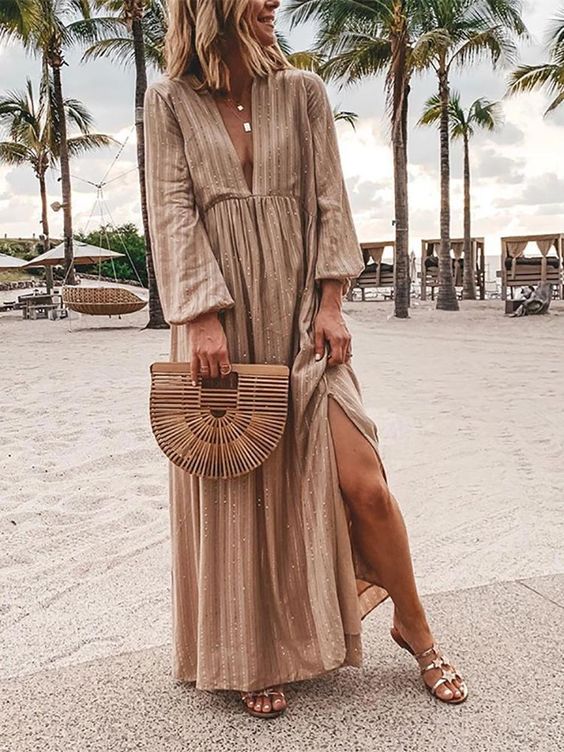 If you want to staycation on resorts near the beach, women's bohemian style is a must in your vacation outfit ideas. This is simple to wear and supports your appearance. For this, you just need to choose a brown long dress with a plunging neckline and then choose sandals rather than shoes. To perfect your overlook, bring a rattan bag in your hand.
Swim Outfits for Yacht Style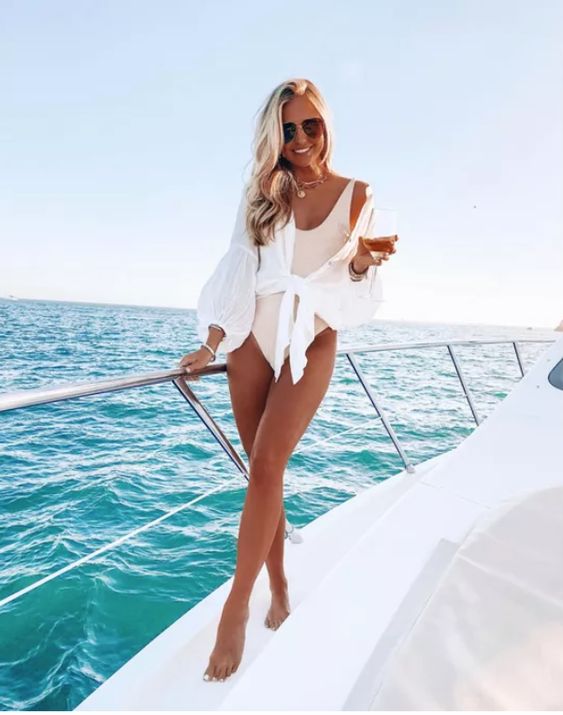 When you have a vacation on the beach and go around with a yacht, a swim outfit is the best option for boating style. You can choose a white one-piece swimming outfit and then cover it in a white button-down shirt with balloon sleeves. It's simple but makes you look pretty for yacht party style in summer.
Pastel Mini Dress for Lunch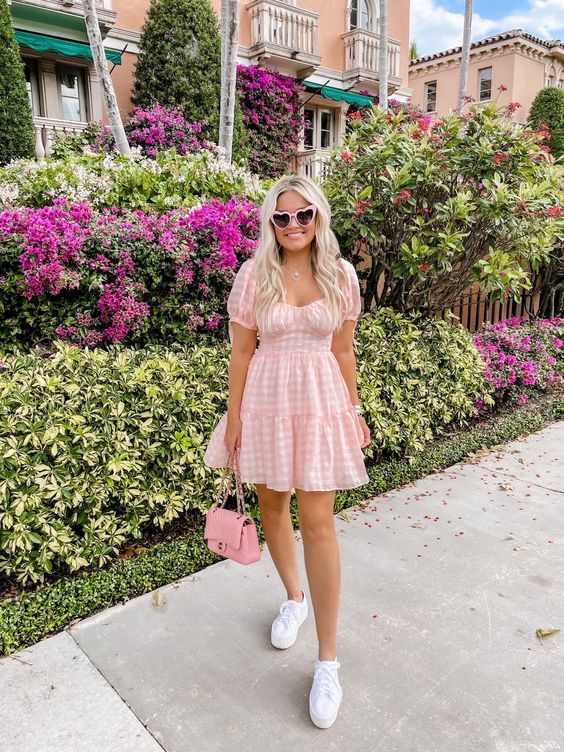 Spring and summer is the season that is full of flower blossom. Women actually represent it in their outfits by choosing pretty pastel ideas. When you want to get around the city, just wear a pink mini dress, trainer shoes, and then get the pink mini handbag as your summer vacation style. You can attract all the people's attention with this pretty clothing style.
Shorts in Kimono Style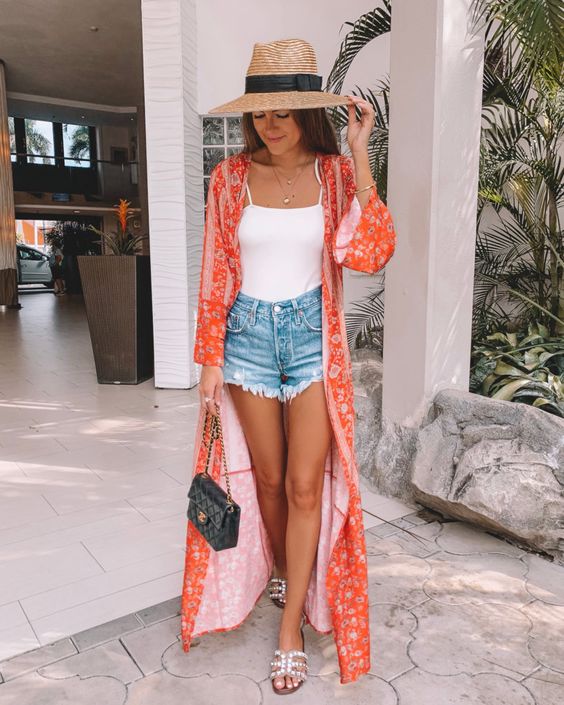 Another vacation clothing style that works in summer is a long kimono and shorts. You can get the floral kimono with bright colors such as orange then use it for covering your tank top and denim shorts. Pair this outfit with your fashionable sandal, handbag, and straw hat to astonish your performance.
Chic with Denim Jacket and Midi Dress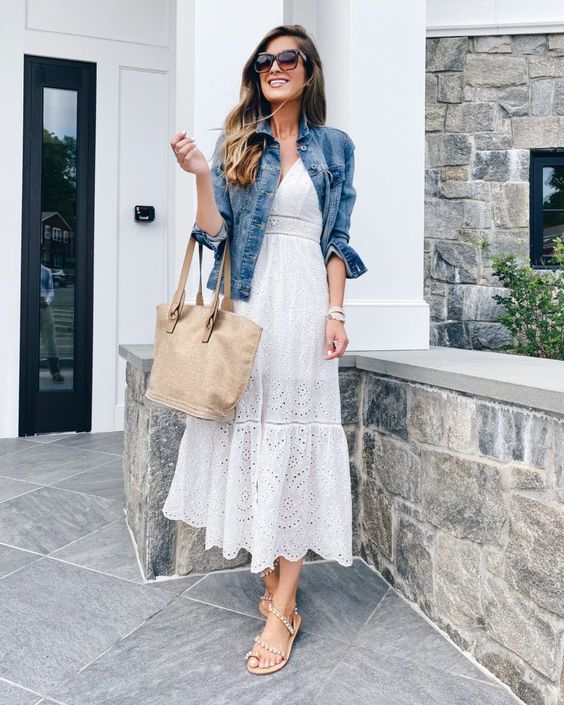 Have a chic style in your summer clothing ideas by matching your white lace midi dress with denim jackets. For the footwear, you can bring the sandals as for comfortable ones. Get the dress to be more chic and adorable by having accessories such as simple jewelry, sunglasses, and a tote bag.
Boarding Outfit in Airport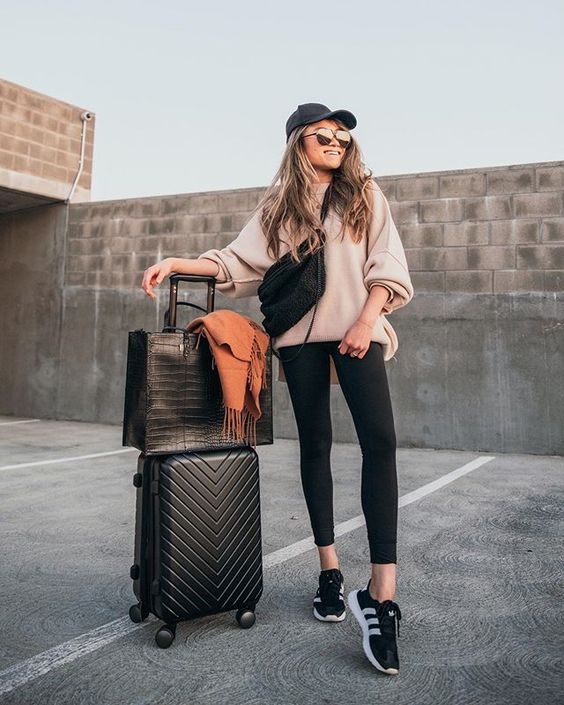 A boarding style is also essential to consider when you go to the airport and go by plane to reach your destination for holidays. You should pick comfortable clothes such as leggings and oversized sweaters to wear on the plane. Choosing trainer shoes, wearing a waist bag to put your important items such as wallet, handphone, and others. Complete your overlook with glasses and a hat.
Simple Outfits To Wear in Your Vacation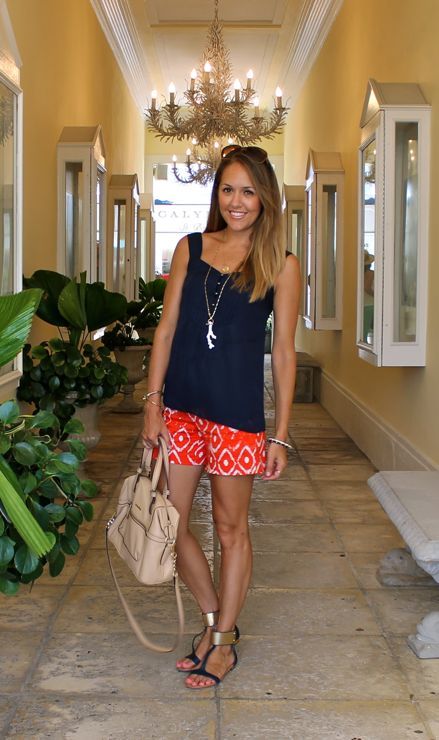 A simple style is the best vacation outfit idea that you should think about in your luggage. To this ensemble, you just need to prepare a black sleeveless top, boho short pants, and then strappy sandals. You can go in this outfit to go around the resort or hotels. Don't forget to bring out other details such as chic accessories and a message bag to perfect your casual and chic outlook.
Bikini Swim Skirt for Beach Style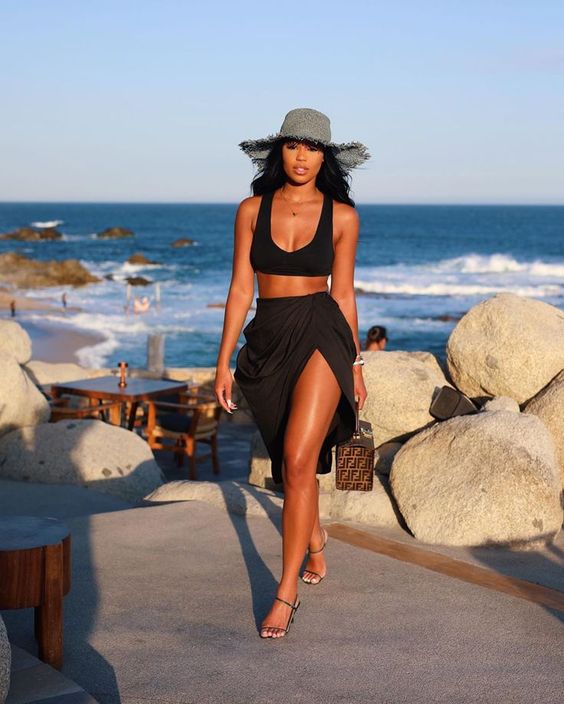 A bikini swim skirt may be one of the favorite summer outfit ideas for vacation style that's must be on your list. This would help you to come up with a sexy and fashionable style when you come to the beach. Just wear this outfit with a straw hat in your hat, high heels, and a square tote bag and make you look elegant.
Traditional White T-Shirt And Pleated Skirt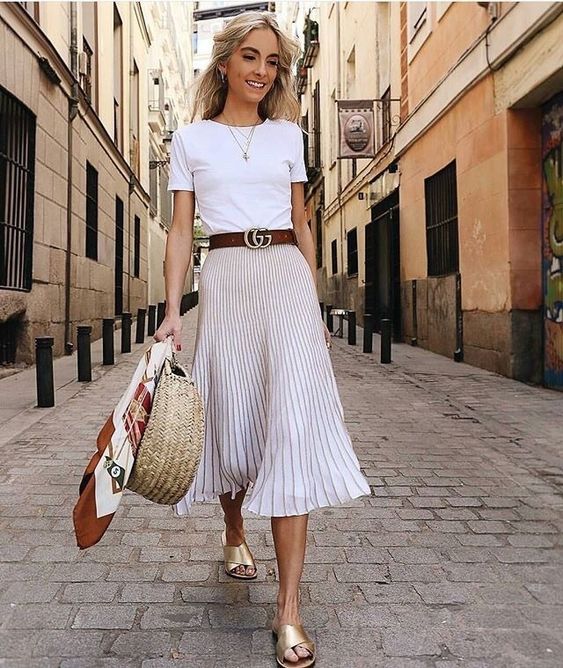 Traditional white t-shirts still are important pieces that are a must on your backpack. This is because they can be matched with any style of bottoms and that's actually could lessen your luggage. For example, you can tuck this tee in a pleated midi skirt then pair it with casual sandals. That's would look awesome if you also wear a belt around the skirt, then get a rattan round bag and scarf as for complements.
Bright Summer Outfits for Vacation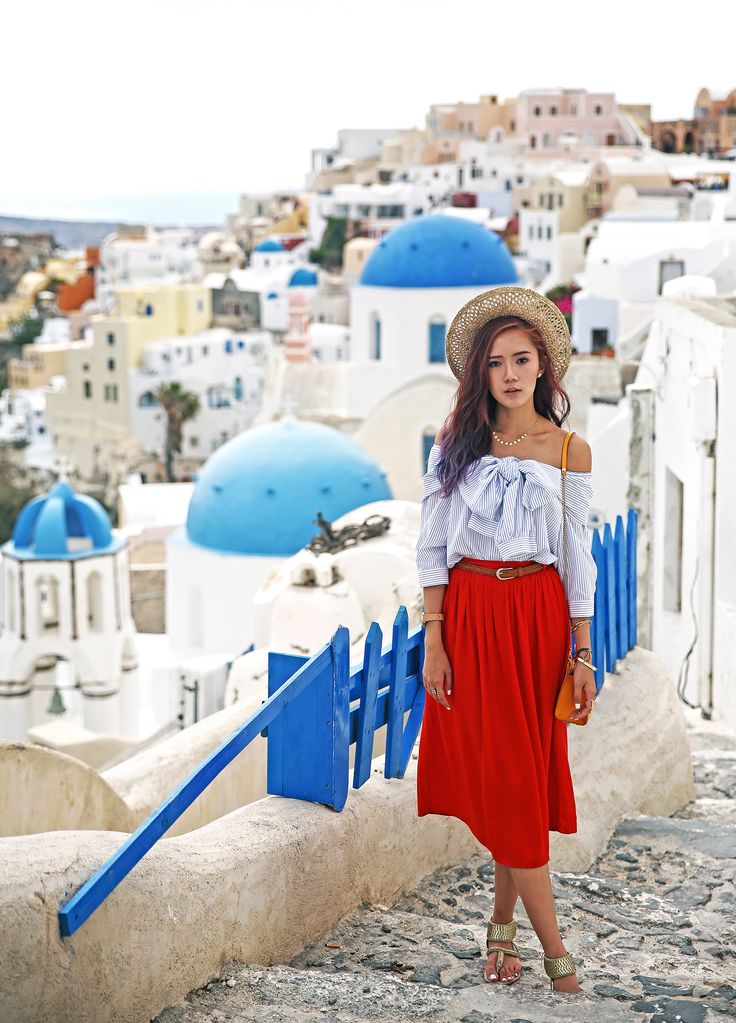 Pull out something eye-catching in your vacation outfit ideas such as a red midi skirt could give something different to your holidays' vibe. Stood up this skirt by combining it with a long sleeve off-shoulder blouse in striped prints, pairing it with sandals, then accomplishing the style with accessories. For this, you can come in with the straw hats and an orange mini handbag to give a little color-clashing combination to your summer vacation outfit ideas.
Cute Beach Mini Dress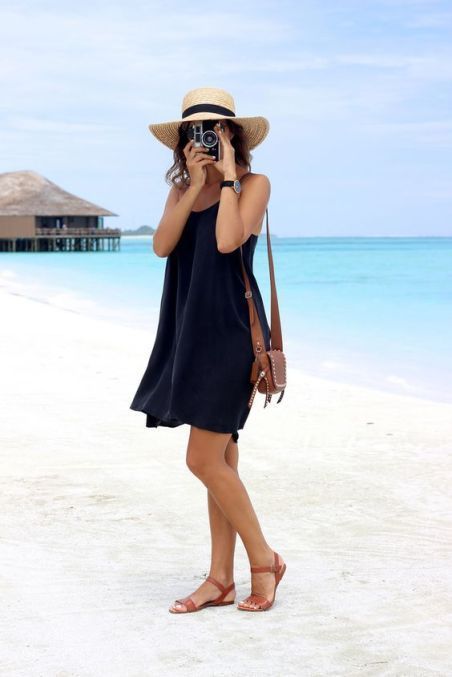 A beautiful mini dress could be an adorable outfit in your vacation clothing style if you wear it as beach attire. Having a black strappy mini dress then wearing it with a straw hat, leather bag, and strappy sandals could make you look cute enough.
Classy Dinner Outfit Ideas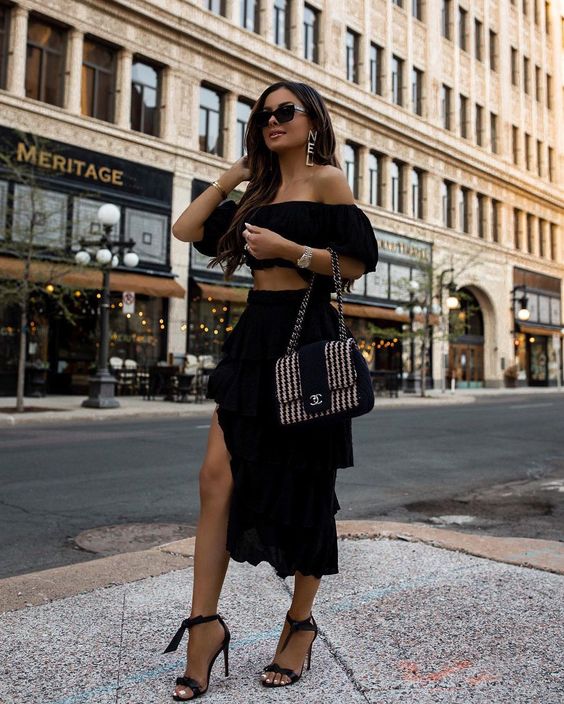 Food traveling is the joy of vacation that's you should be to experience in every place you go. Because any place has particular foods in a unique taste that is a pity to miss, you also need to prepare special outfits for this. You can bring a black one-piece outfit that includes cropped tops and asymmetrical midi skirts for dinner in a classy place. Matching this outfit with a stiletto, your favorite handbag, and then also fancy accessories to amaze your performance.
Tropical Dresses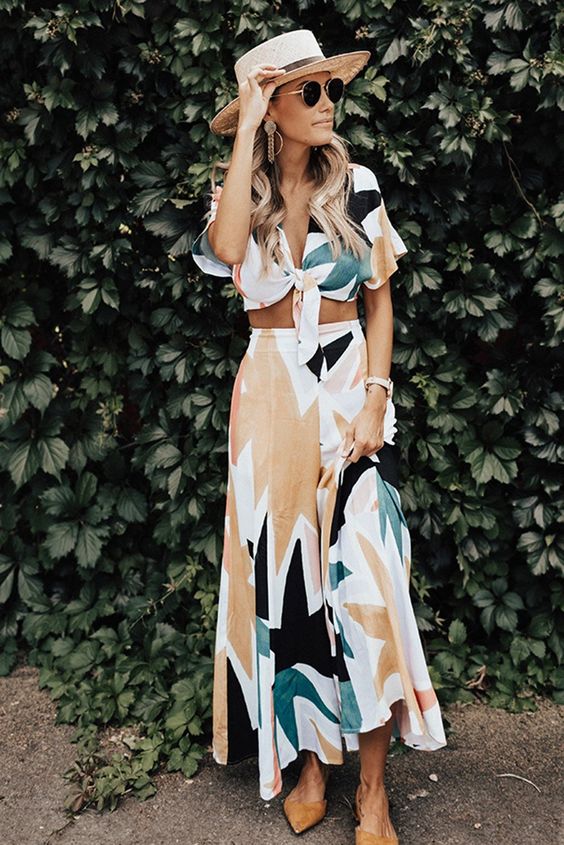 Tropical dresses are a typical vacation outfit style that's common to wear on holidays. These clothes come in any design, print, or color. For example, you can wear a cropped top and a high waist maxi skirt in iconic patterns with tonal colors combinations. Perfect your look with regular straw hats, sunglasses, and flat shoes that have the same color shade as your outfit.
Casual Vacation Style in Cropped Tops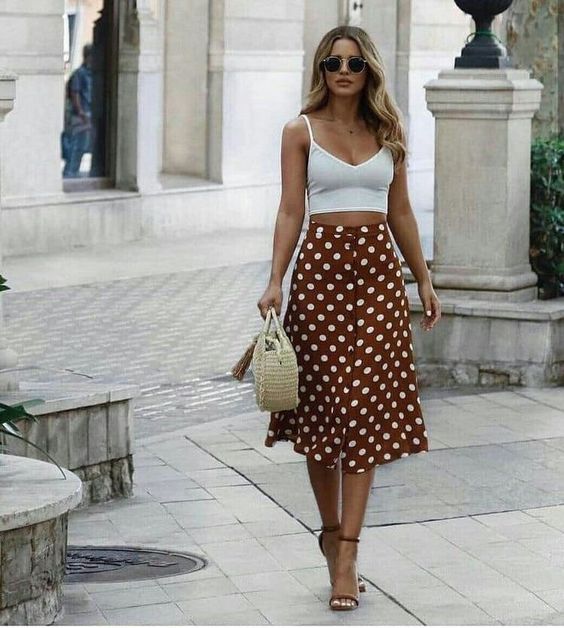 Cropped tops and white are designed for summer outfit style. These really become suitable outfits for daily during hot weather. I recommend you get this outfit to your baggage if you think to go for summer vacation. Match this piece with a brown white polka dot waist midi skirt, high heels, and also bring rattan bags to accomplish your style.
Effortless Style with Shorts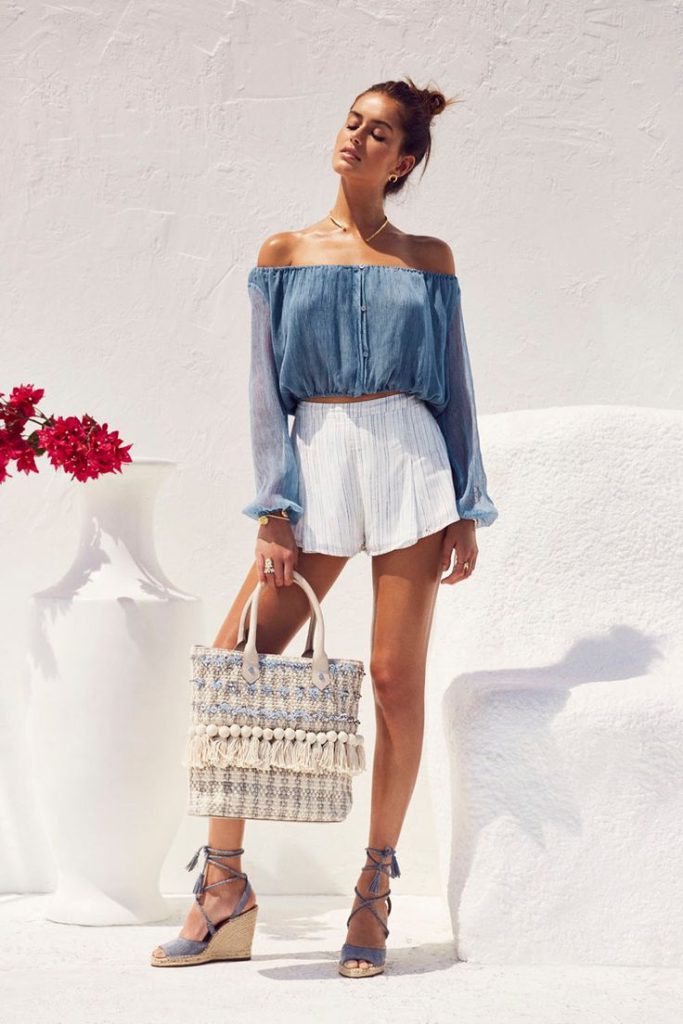 During vacation, effortless clothing is the best style that's you really need to bear. This helps you get fashionable mode with the minimum effort. For this, you just need to bring out your white Bermuda shorts with an off shoulders blue pale blouse. Wearing wedges as footwear would help to stand up your appearance more. As for the compliments, you could get a knitted tote bag with tassels embellishments.
Shabby Chic Clothing for Vacation
We know that's shabby chic clothing style is all about the old fashion and also a bit more bohemian accent. This could be your vacation outfit idea that's unique and fashionable. You can wear a light grey baggy shirt with strappy style in the neckline and turn it into a mini dress. Mix up this outfit with sandals and a round leather bag to create a little vintage view.
Modest Clothing to Go for a walk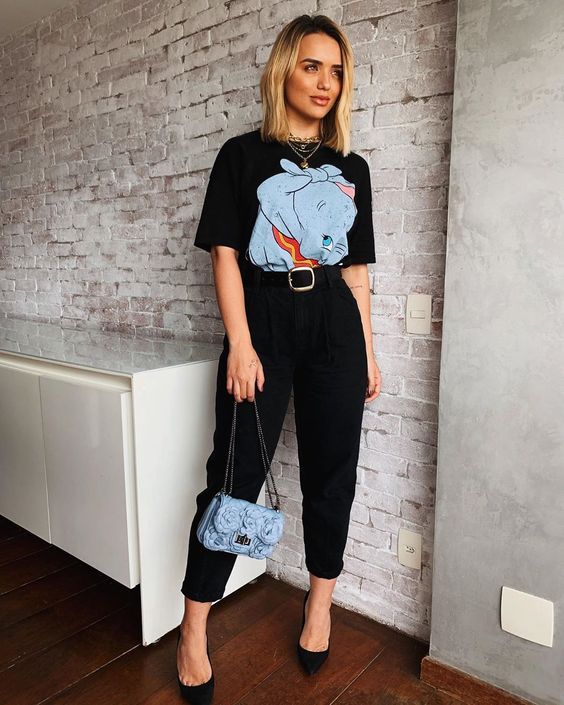 The black t-shirt is a versatile piece that's really useful to bring on your vacation. This would help to bring out more style to your outfit ideas. You can make it a trendy style, casual, chic, and more. Having a modest outfit to go walk in the city, you can try to match a black printed t-shirt with high waist pants, and then accessorize with the blue handbag and simple accessory for a chic fashion. Getting the high heels to make you look elegant and pretty.
Best Summer Vacation Outfits
Mini and short cloud be the best clothing in summer and also a good style for vacation outfits. Look for your summer dress suck as a yellow off-shoulder cropped tops and tropical green short pants and bring them on your vacation list for resort-style. Make your staycation comfortable with the right outfits to wear.
Jumpsuits Your Style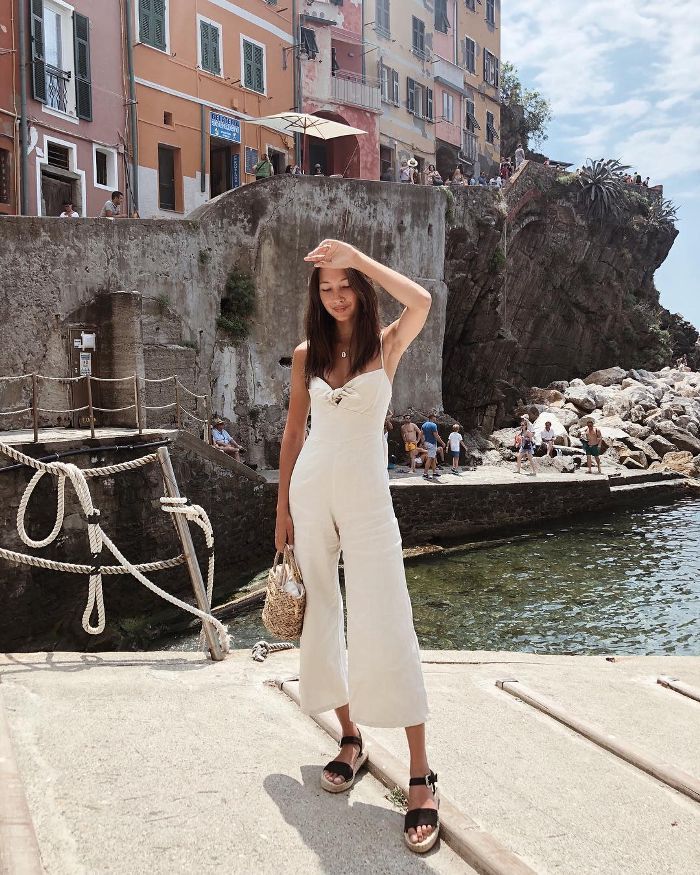 When you go on vacation, you may need something that's simple and easy to wear such as a jumpsuit. For this, you can select a sleeveless white jumpsuit as your summer vacation outfit idea. Combine this outfit style with your cozy sandals, a rattan bag, and a simple accessory. You may have this style as your boating outfit and enjoy the beach scenery from the ship.
Go Sporty in Your Holiday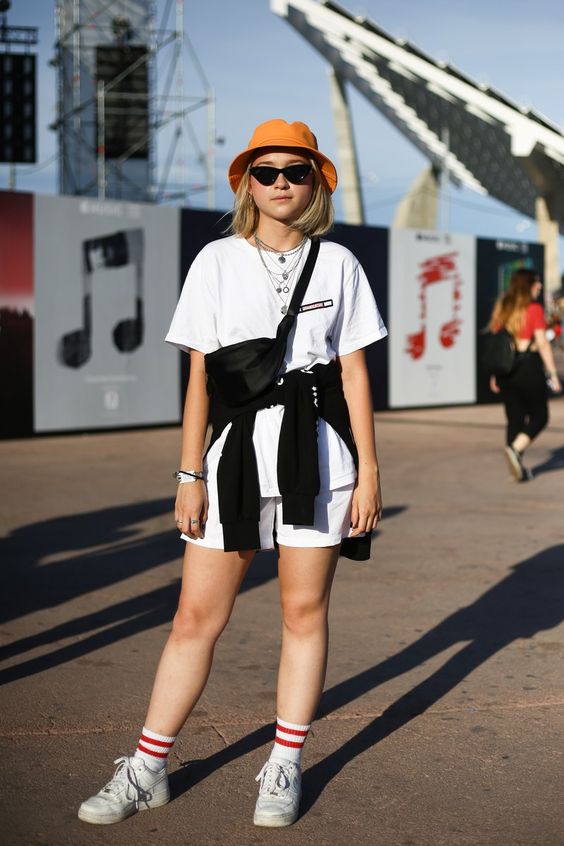 The sporty style is also a good idea to apply in your vacation style during the summer holidays. You can wear white pieces tee and shorts together with the black hoodie by tying it around your waist. Perfecting the style with a bucket hat, waist bag, trainer shoes, and other accessories.
White Tops for Fresh Look in Your Vacation Outfit Ideas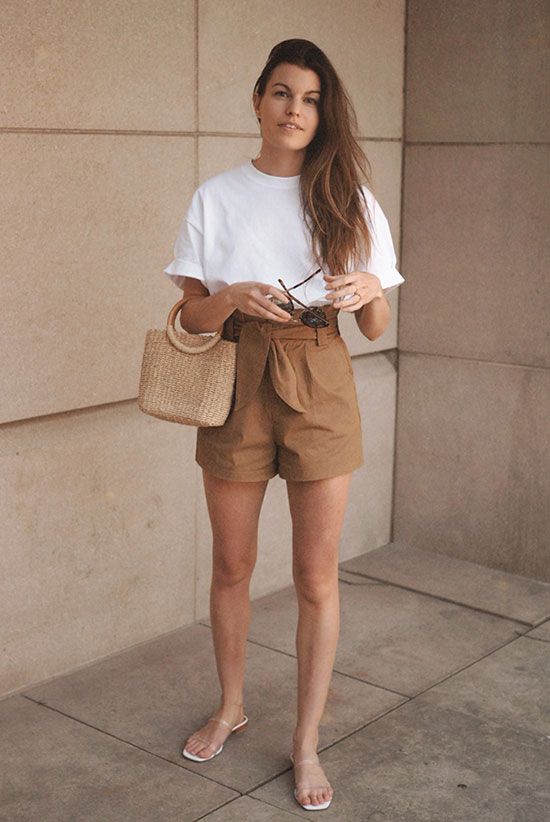 High waist Bermuda shorts and white tee is the best combination to wear during summer vacation. This outfit would give you a fresh look and an effortless costume. You just need to mix this outfit with sandals, a rattan bag, and other simple accessories to perfect your holiday.
Vacation Style for Women Over 30's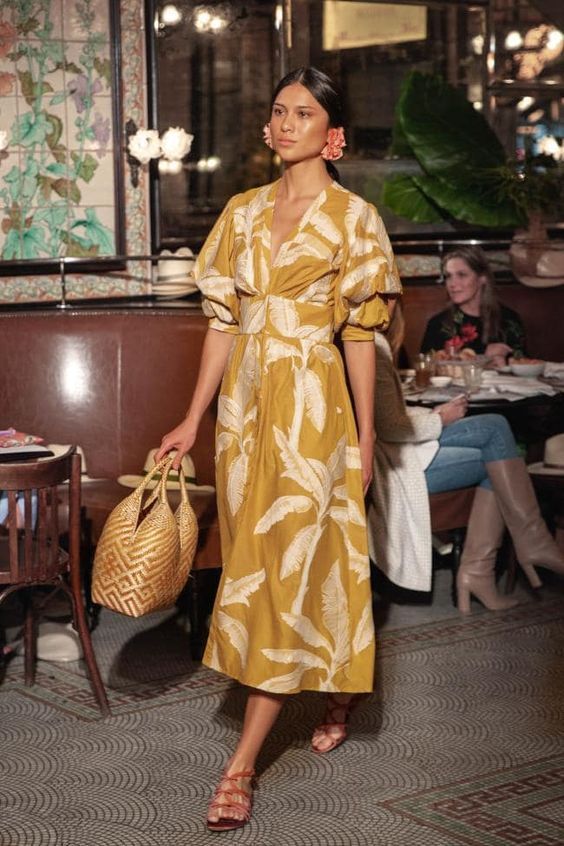 Those women over their '30s who want to look fashionable in an easy way during vacation, choose a tropical dress with a v neckline in mustard yellow colors. Then, pair the dress with gladiator sandals, a rattan tote bag, and bring adorable accessories such as floral earrings to make it look beautiful on you.
Stunning in Balloon Sleeve Blouse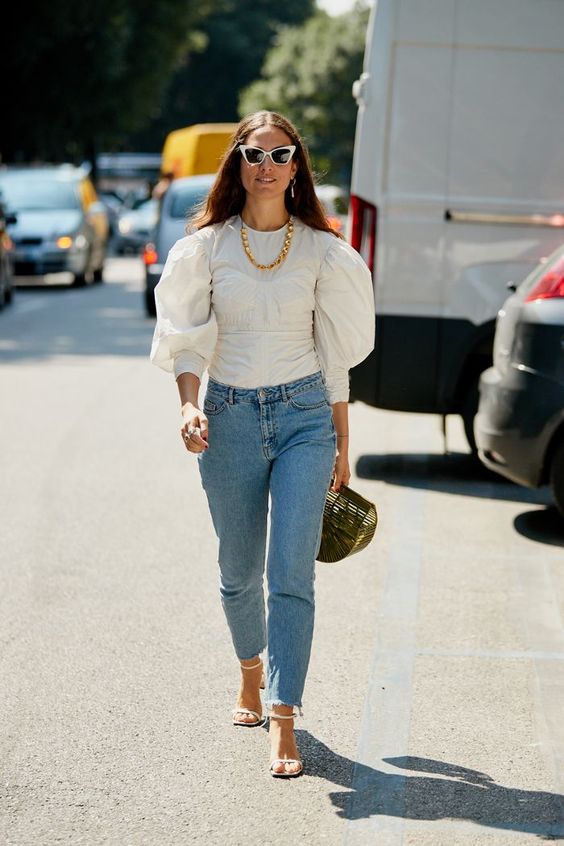 Get the classic gaze in women's vacation outfit ideas by wearing a white balloon sleeve blouse and matching it together with the high waist jeans. Bring a big gold chain necklace as for accessory to give you fancy style. Besides that, you have to choose strappy heels for ideal footwear to make your appearance more excellent. Don't miss out on other details such as a rattan bag and sunglasses to help you more fashionable in your summer vacation style.
Summer Style in Resorts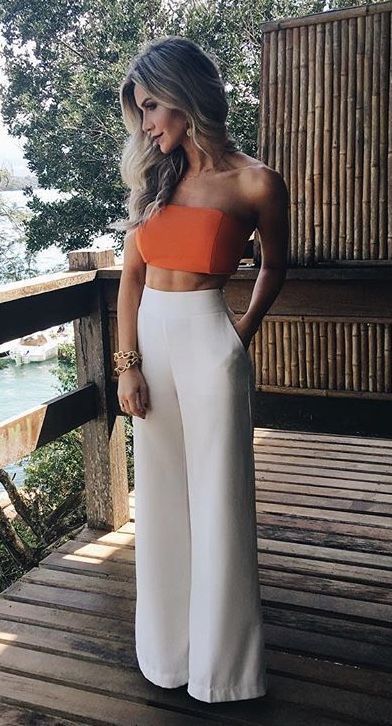 Look fancy and elegant during a stay in the resort for a summer holiday, you can bring this outfit out into your vacation outfit list. An orange bikini top and white high waist wider leg pants may look adorable to wear. You can get the perfect look with some gold jewelry and also the best footwear like high heels or wedges.
Cute Disneyland Outfit Style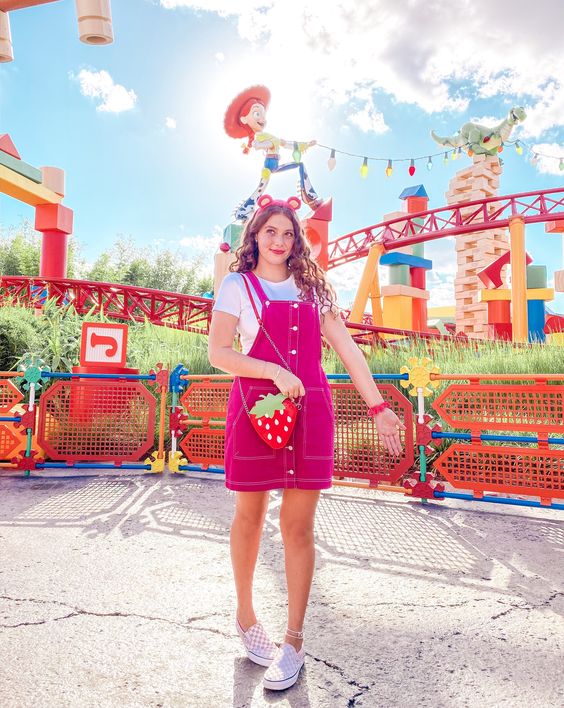 If you plan to go to Disneyland during this summer holidays, wearing something cute like a magenta suspender mini dress and white short sleeve t-shirt underneath could be a great idea. Make it cuter by having a Micky bandana as an accessory in your head, a strawberry sling bag, and then pair this style with plaid pink slip-on shoes. This outfit is an adorable summer vacation style in Disney.
Elegant Style for Vacation in Paris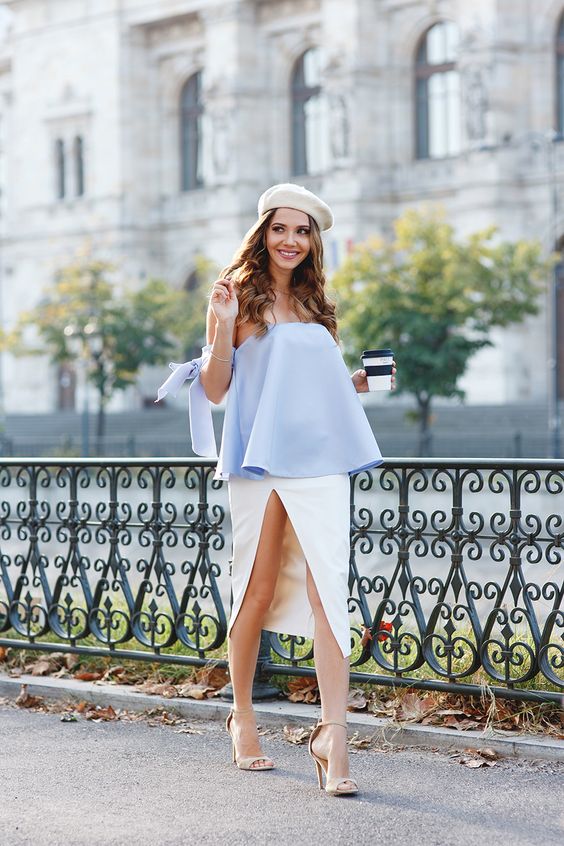 Paris is the center of mode and fashion in the world. This is also a romantic country that has plenty of places to go with your couple. Attend this sweet romantic city with some elegant style by having a blue pastel off-shoulder top with the ribbon embellishment on the sleeve then pair it together with a white long slit midi skirt. Make your outlook more gorgeous with a piece of strappy high heels and then a beret hat on your head.
Summer Vacation Outfits in Nautical Theme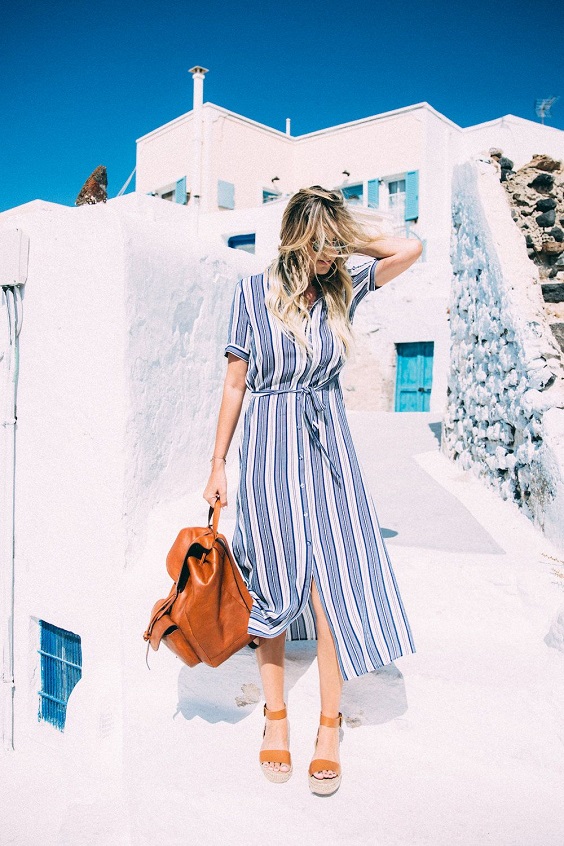 Feel a more relaxed atmosphere on the beach by having a nautical outfit style in your vacation clothing ideas by having a blu white striped button-down long tunic. Mix and match it with brown sandals, a leather backpack, and some simple complementation such as sunglasses.
Wearing Vacation Hats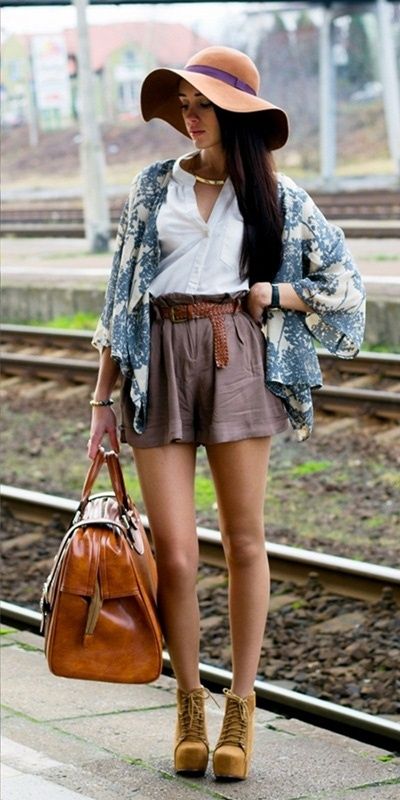 Besides the outfits, that would make your performance good while you go around during holidays is accessories like hats. There are plenty of hats that would help to amaze your performance and most favorites are straw hats for the beach style, beret hats to look cute and elegant, floppy hats, fedora, and more.
Give a Statement in Gladiator Sandals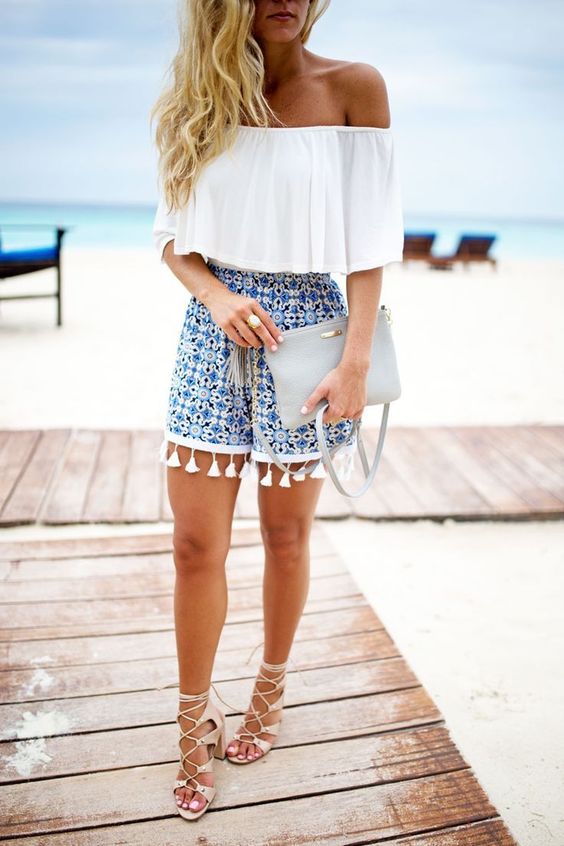 Aside from outfits and accessories, the essential piece you need to consider in your summer vacation style for women is the best footwear to match. During vacation, you usually need footwear that is comfy and stylish according to the place you visit. For outdoor style, I suggest you wear sandals, flat shoes, or sneakers rather than high heels or heeled shoes. This would help you to move freely and keep you comfortable when you need to walk for a long time.