Olidfashion.com – Cowgirl is the western theme outfit idea for women that also represents the countryside style. This style is used by the Western and Southern United States People even Mexican. For women's fashion, cowgirl style could deliver trendy, a little masculinity, and also a sexy look in different ways. If you want to find out how to create countryside cowgirl style in women's outfit ideas, I suggest you read this article.
What is Cowgirl Style?
Cowgirl is another name of cowboy style for women. This style was adopted from the Western Wild in the 19th century. In the past, cowgirl style is worn in the American frontier and started to build for either film, television, or singing industry in the 1940s and 1950s. This style continues to use for fashion design in the West and Southwestern United States even for Mexican style.
Cowgirl style is the fusing of many fashion designs such as countryside style, retro, and contemporary look. This style came from the Western culture that includes more physical activity such as horse riding, herding cattle, and having livestock. They also have a unique fashion style with many essential pieces like bohemian clothing, cowboy boots, bootcut pants, a leather belt, and many more.
How to Bring Out Countryside Cowgirl Style into Your Women's Outfit Ideas
When you want to draw and bring out this style into your fashion design, there are many essential pieces to represent it. Find out all of that by still scrolling here.
1. Boot Cut or Flare Pants
We all know that bootcut and flare pants have their place in the countryside cowgirl style. These pants have a unique design with the fitted at the upper and get wider in the lower. This kind of pants also could deliver a retro look on your women's outfit ideas.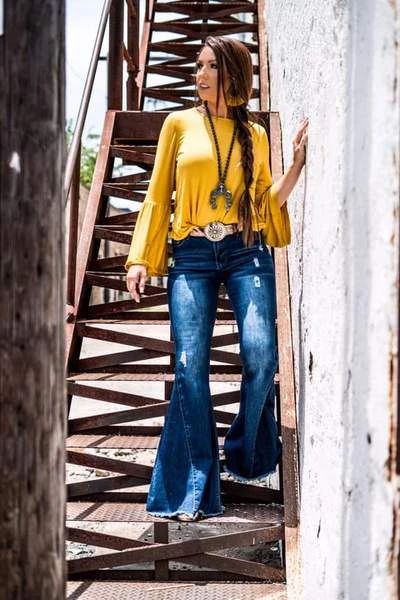 When you want to get cowgirl style with these pants, you can try to match them with a yellow long sleeve tee, boots, and then get a western style belt and necklace accessories.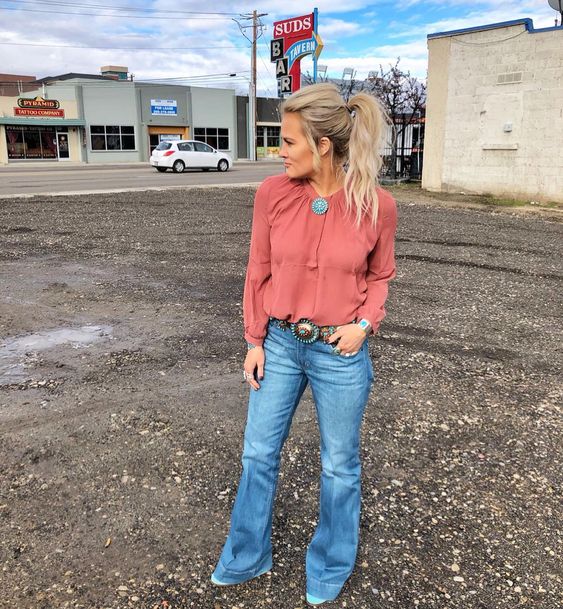 Get your cowgirl style in women's outfit ideas by combining your red pastel long sleeve blouse with bootcut jeans. Don't miss out with the
2. Tassel Ensembles
Tassels not only could represent the bohemian style in women's outfit ideas but also could drive countryside look such as the outfits below.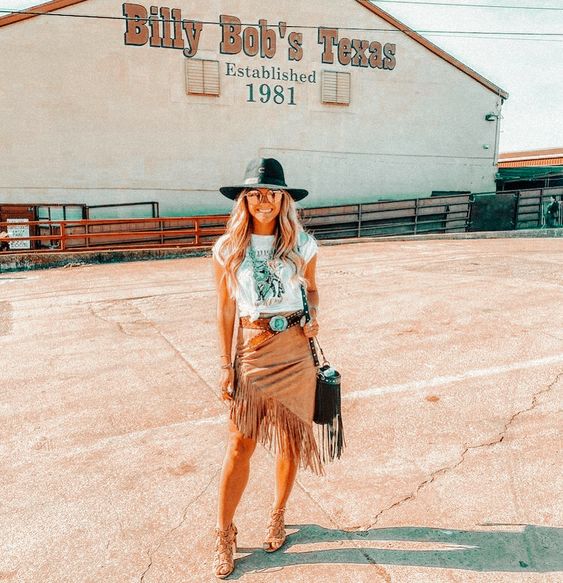 Having tassels in your mini skirt could be the main ensemble to wear if you want to get countryside cowgirl style in your women's outfit ideas. You can match it with a white printed t-shirt and gladiator heels. Don't ever miss out on iconic accessories like tassel bags, leather belts with the turquoise embellish, and also a cowboy hat.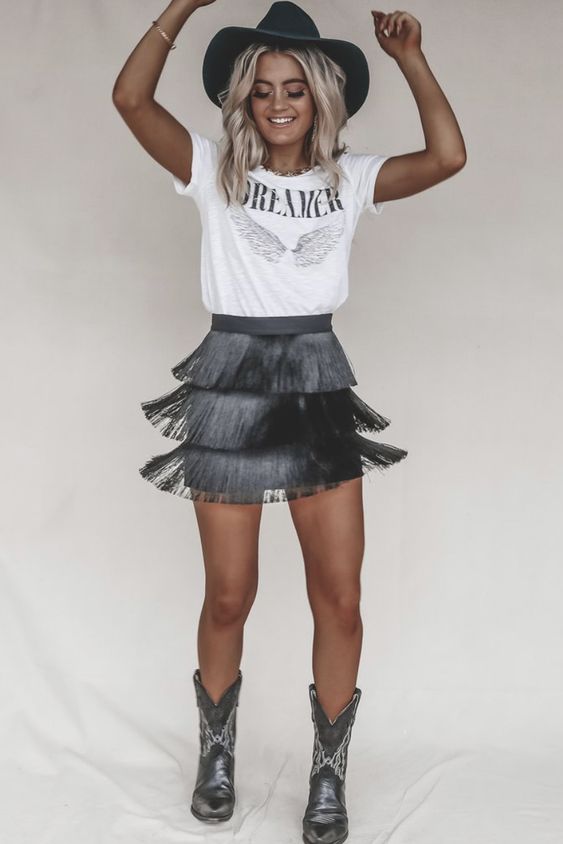 White tee, tassels or fringe mini skirt, and cowboy hats would be really matched if you combine with cowboy boots.
3. Bohemian Pattern Outfits
I think bohemian and countryside style is the best combination in women's outfit ideas. You can get the option to bring cowgirls outfit ideas by having bohemian patterns into your fashion style.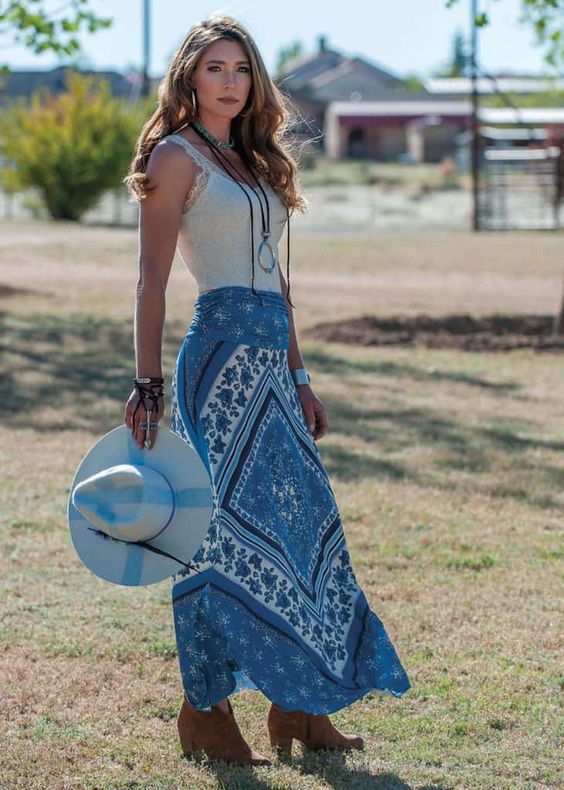 Get your waist bohemian maxi skirt to pair a tank top, and then complete this outfit with boots. You also could get other details on it by having a cowboy hat to make you look like a real cowgirl. Use this style as your chic and casual summer outfit idea.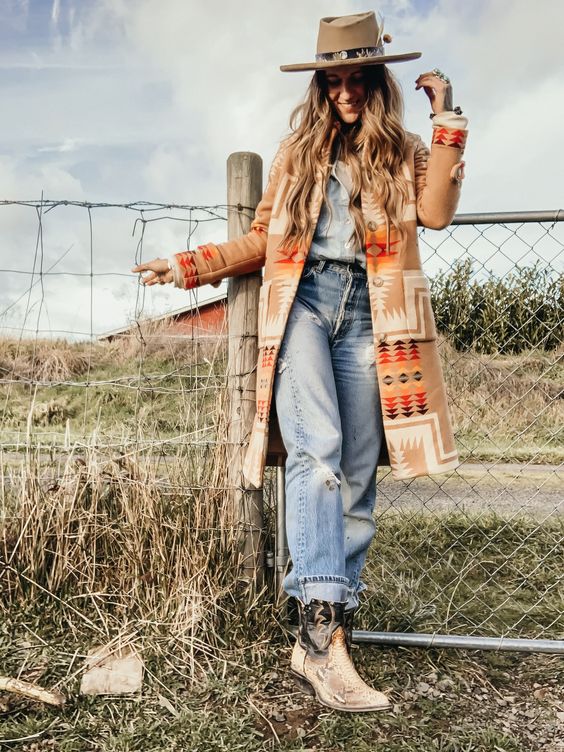 For the winter, having bohemian patterns in your women's coat style is a great choice to bring a little countryside accent to your fashion. If you bring this coat together with blue jeans and a button-down shirt underneath, then pick ankle boots for the footwear, cowboy hat as an accessory would be perfecting your cowgirl outfit ideas.
4. Boots Style
Boots are one of the essential footwear in women's outfit ideas that would astonish their performance especially in cowgirl outfit ideas for countryside style. There is some kind of boots for this outfit style, but the most favorite is cowboy boots.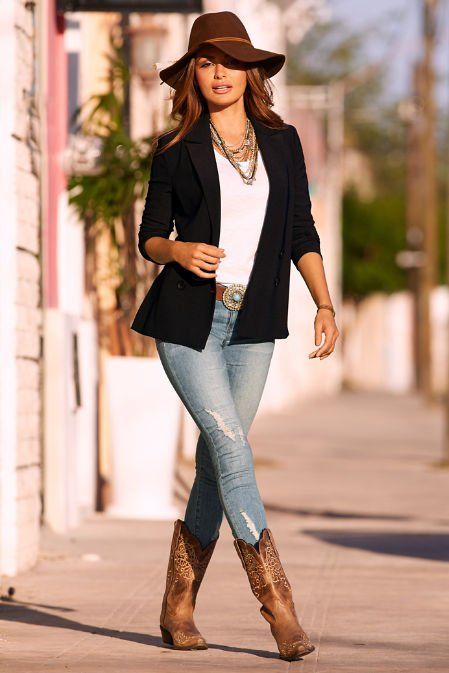 These cowboy boots would be matched if you wear them into your blazer outfit style. For instance, you just need to match up your black blazer with a white tee underneath, skinny blue jeans, and absolutely your favorite cowboy boots. Accessorized with a belt in turquoise embellish, bohemian jewelry, and floppy hat.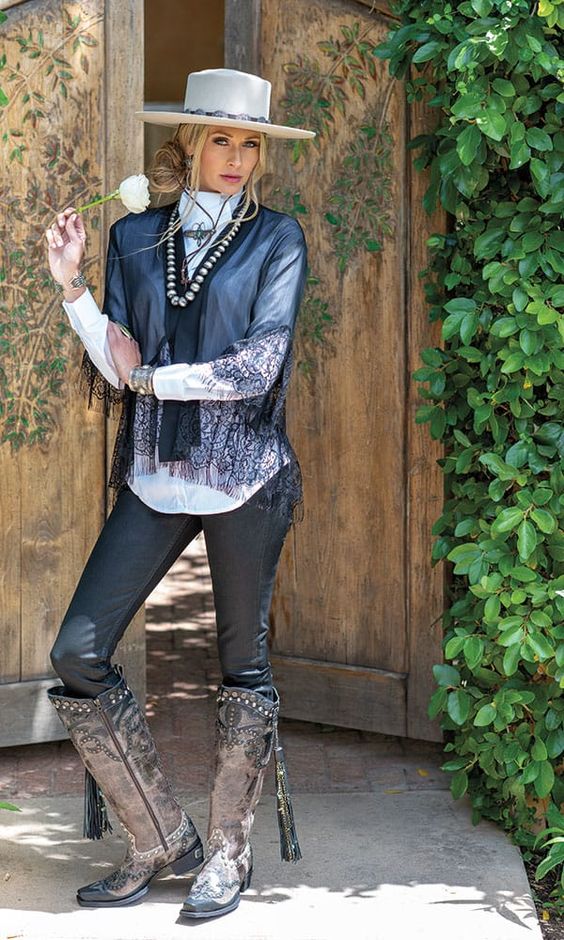 if you want to have a little pretty style in your cowgirl outfit ideas, choose cowboy boots and then match them with skinny jeans and a white turtleneck blouse. Make the outfit classy and elegant by giving transparent outer, pearl necklace, and a cowboy hat as the accessories.
5. Leather Outfits
Another item to bring out cowgirl outfit ideas for countryside style is leather ensembles. Whether leather skirts, pants, or jackets, they actually would be stood up your performance.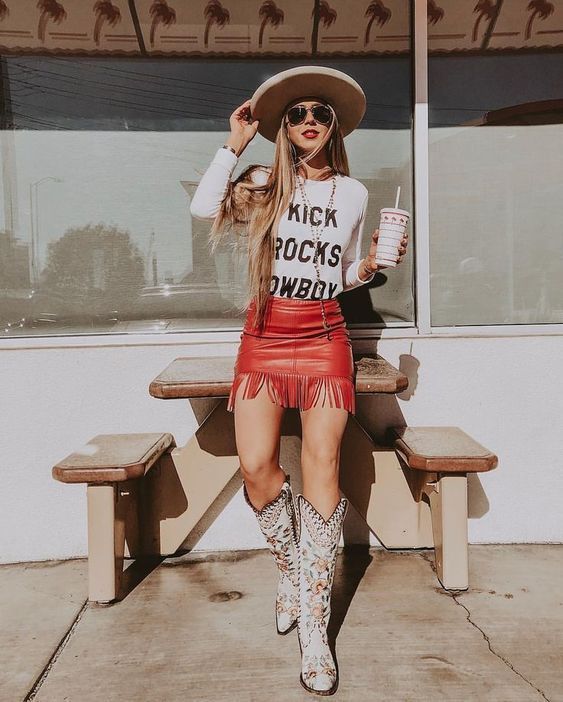 A leather mini skirt with tassel trims and a white long sleeve tee is effortless clothes to draw beautiful cowgirl outfit ideas.  Rock on cowboy boots and campaign hats would increase your staging.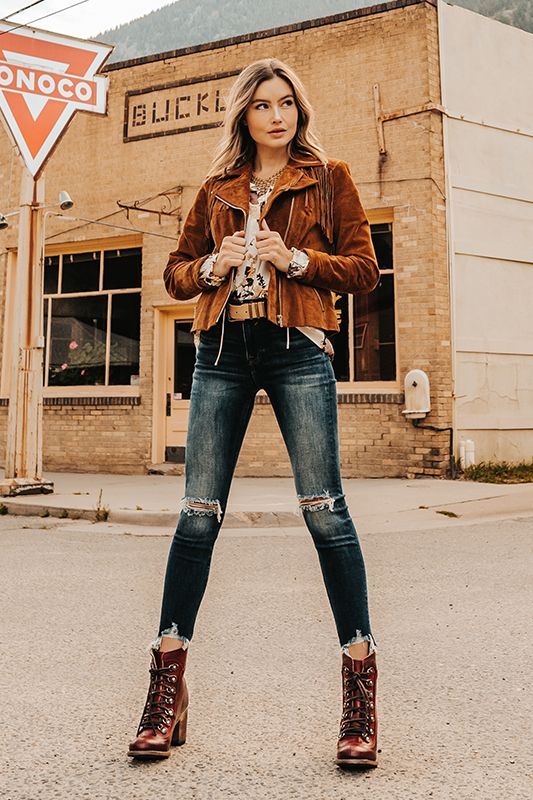 When you want to pull out trendy in cowgirl outfit style, you can come up with a leather suede jacket, printed tank top underneath, and ripped jeans. As for footwear, you can select heeled army boots to give you a cool girl image.
6. Animal Pattern Ensembles
As we know that cowgirl and countryside style is usually represented countrified with livestock and farm life. Having animal patterns on your attire would deliver this style to your daily attire. You can add this pattern whether to your boots, accessories, or your clothes.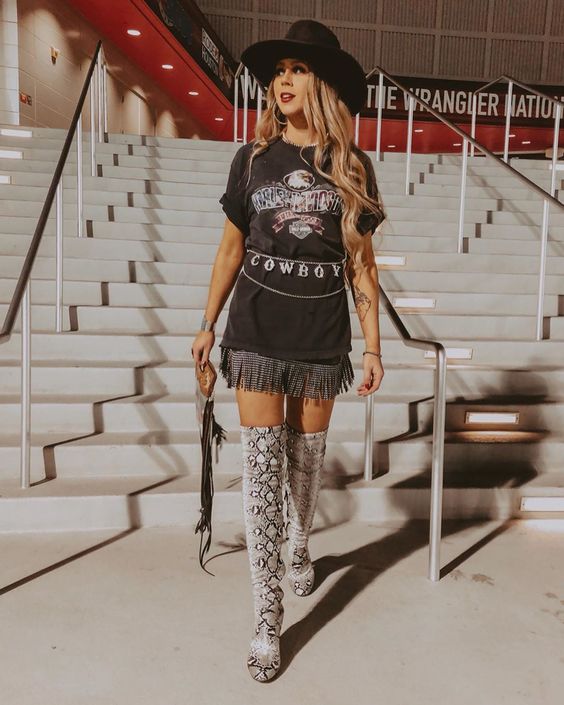 Get your snakeskin knee-high boots with the other pieces of cowgirl ensemble such as oversized printed T-shirts and cowboy hats. Dressed in countryside style properly by having layered with tassels mini skirt under your oversized tee then bring fashionable belt over it. Having animal-printed knee-high boots in a women's outfit is great to balance the ensemble.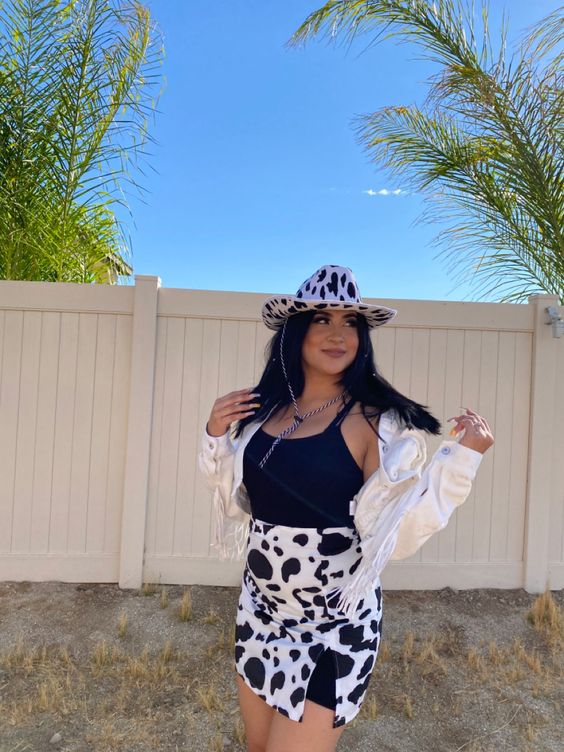 You also could apply cowskin on your attire such as having it on your mini skirt and cowboy hat. Make these items to create a cowgirl outfit style. Just bring out them with your tank top and cover them with tassel outwear. As usual, you can complete the look with some accessories and get the boots on your leg.
7. Vest Attire
Some of the cowboy or cowgirl styles usually wear vests as for the outwear. This is also become an iconic ensemble to wear on your countryside outfit style.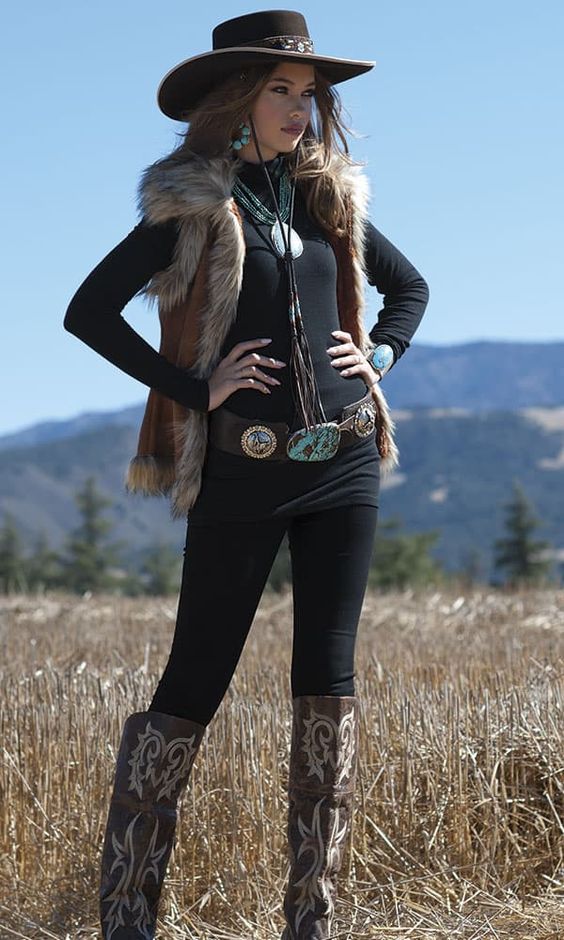 Having a fur vest on your cowgirl outfit style is the best choice to wear during fall. Merge this outfit with a long sleeve top, black skinny jeans, cowboy hats, and boots. Complete the style with silver turquoise accessories in your western belts and jewelry.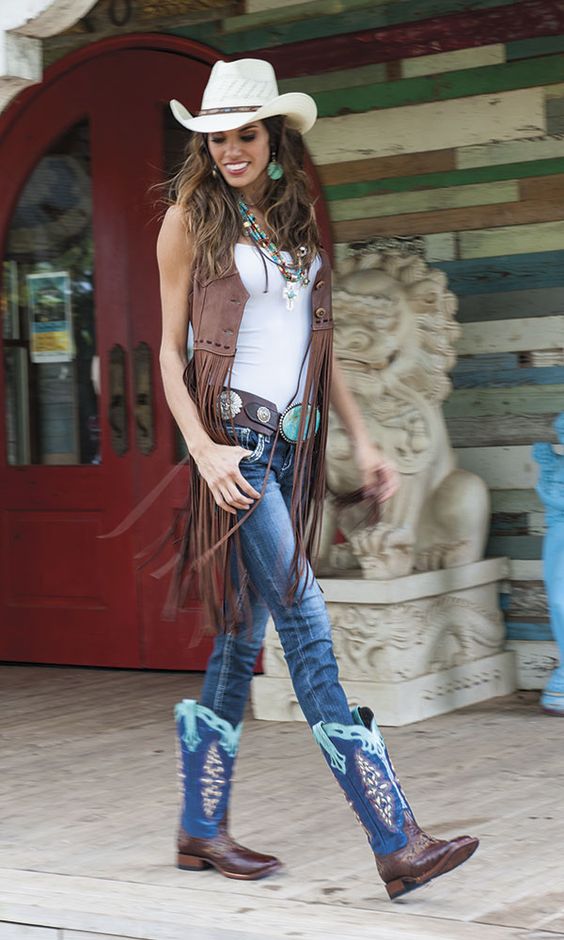 Wearing a tassels vest in your cowgirl style would present a western country look boldly. Match it with a sleeveless top, blue jeans, and even cowboy boots would perfect your performance.
8. Shabby Chic Style
Shabby chic clothing is the vintage style that's come with old outfits and shabby color design in your fashion style. This kind of mode also could deliver countryside or cowgirl style to women's outfit ideas.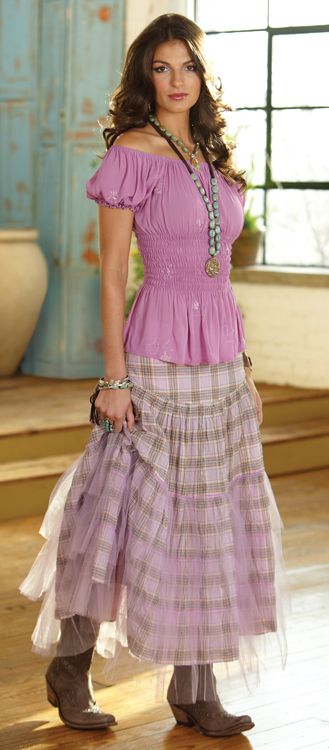 Wearing a lilac off-shoulder fitted top together with a plaid ruffled long skirt could help you to look pretty in countryside outfit ideas. To turn it a bit more cowgirl style, you can finalize the outfit with boots and some turquoise accessories that are typically in that style.
Aside from wearing ruffled skirts and tops, you can draw countryside style with a shabby grey mini dress. Make it more trendy by layering it with a floral embroidery denim jacket. Finish the outfit with a leather belt over the dress and ankle suede boots as for the fitting footwear.
9. Tonal Color Outfits
For an urban and contemporary style in cowgirl outfit ideas, you can bring it with tonal color shades such as brown, beige, or neutral color schemes.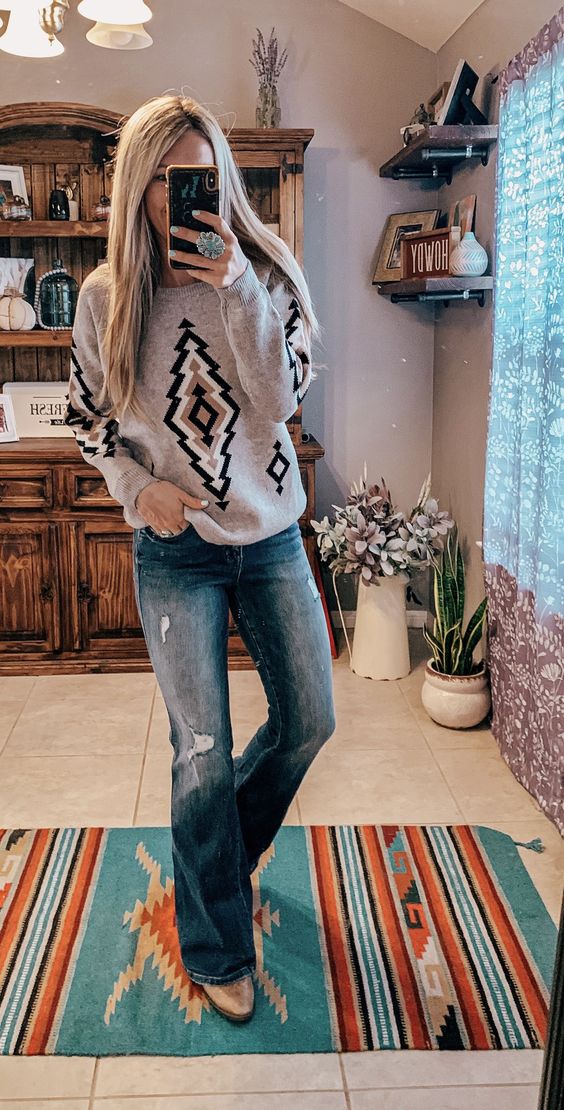 You can match your bootcut jeans with a bohemian pattern crewneck sweater in light grey as your fall or winter fashion. Complete this outfit with leather shoes and you will get a modest countryside outfit idea.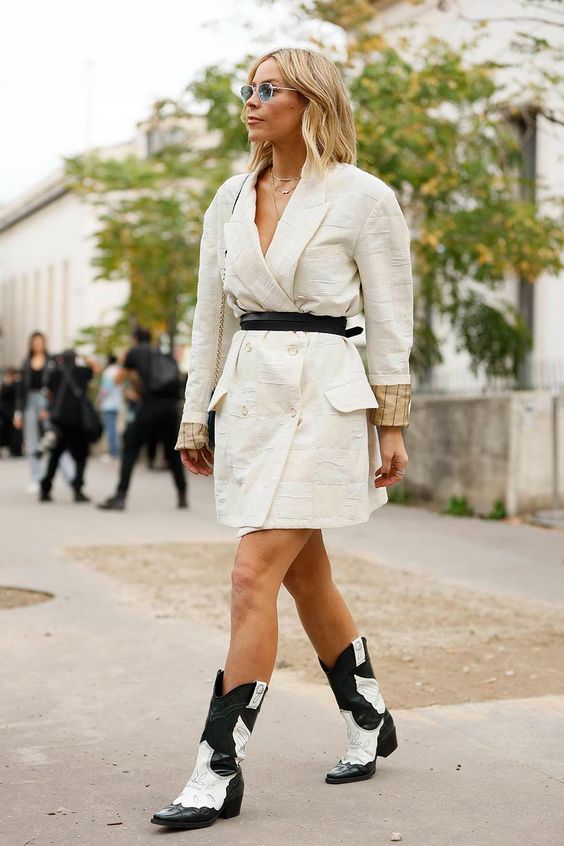 If you want to bring a cowgirl outfit idea in urban style, just choose a white oversized blazer and turn it into a mini dress.  Get a black leather belt over the blazer and then pair this style with cow pattern boots.
10. Horse Riding Style
Cowgirl has more physical activity and the most noticeable one is horse riding. You need to wear something that matches this activity to drive you fashionable and also comfortable riding your horse.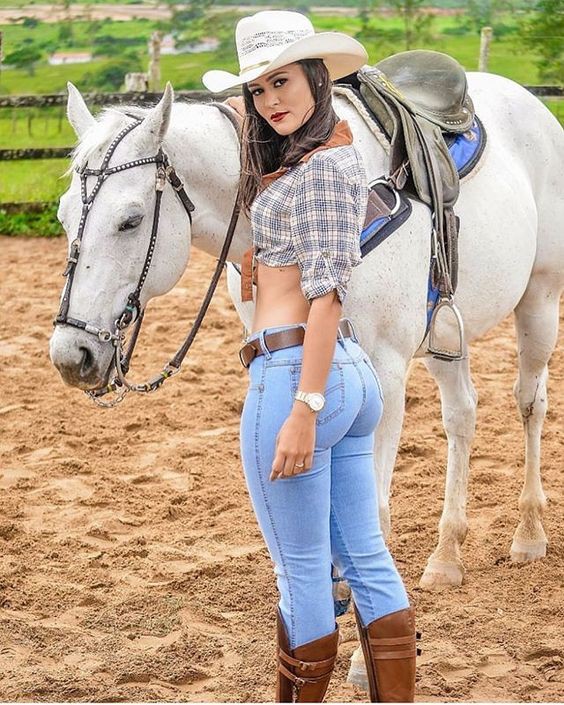 For a pretty horse riding, you can get the cowgirl style in cropped flannel, blue skinny jeans, and leather cowboy boots. This style actually would be best to wear in hot summer. Arrange the accessory by sporting a cowboy hat, leather belt, and a simple watch.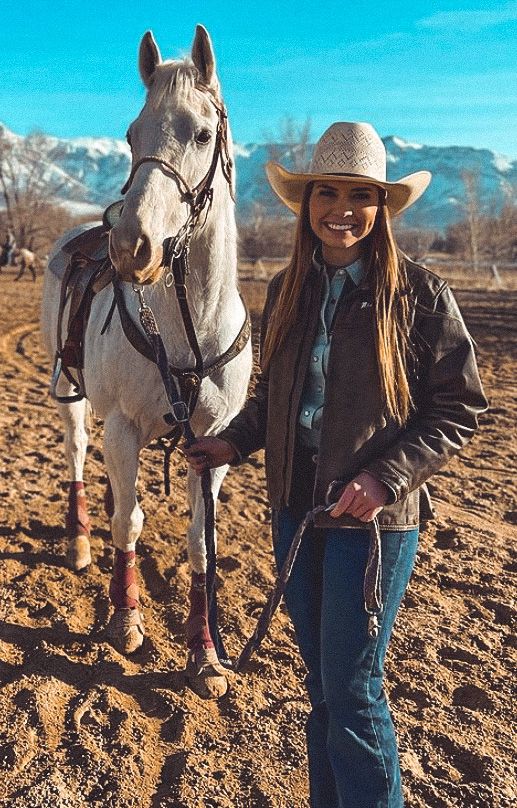 Comfortable riding a horse with layered style in your outfit ideas. For this, you should wear a shirt, leather jacket for covering, and bootcut jeans. as for the accessories and footwear you can have a cowboy hat and boots. This would seem trendy to your countryside outfit idea.
11. Cowboy Hats
Cowboy hats are iconic items in the countryside outfit for cowgirl style. This halt has been created with high crowned and wide-brimmed and usually worn for styling North American Cowboy. That's why when you want to bring out cowgirl style in women's outfit ideas, you need this hat.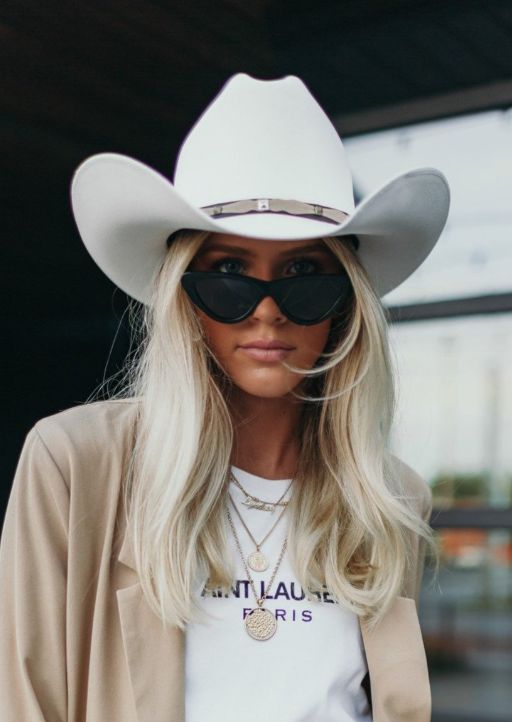 You can choose this hat in any style and color shades. If you like calm, elegant, and fancy style, you may get a white cowboy hat or another tonal color scheme. Pair this hat in your blazer outfit and you get a semi-casual fashion style.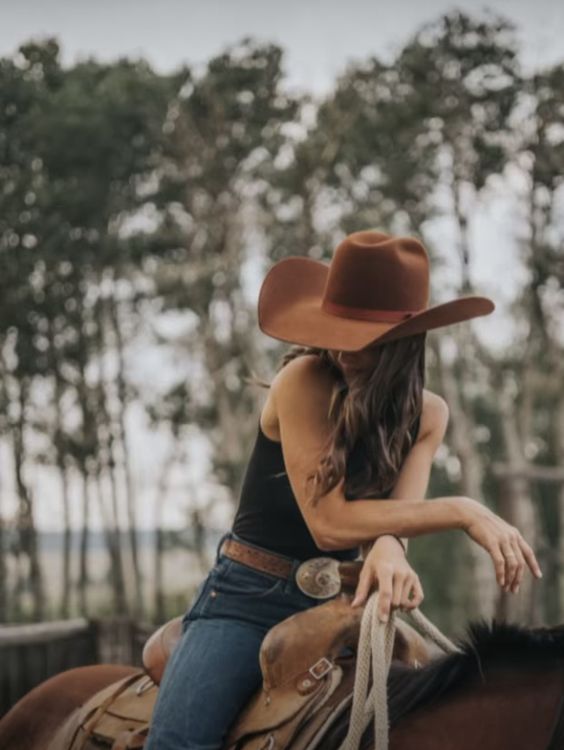 This hat also could complete your horse riding or rodeo outfit style. For a simple way, you can choose a brown leather cowboy hat and wear it to perfect your tank top and jeans. This would make the outfit become countryside cowgirl style.
12. Cowgirl Accessories
When talking about cowgirl accessories, there are more items or pieces that could be included. However, the iconic ones are cowboy hats, boho jewelry, western leather belt, Navajo bolo tie, animal printed details, and fringe or tassels embellish.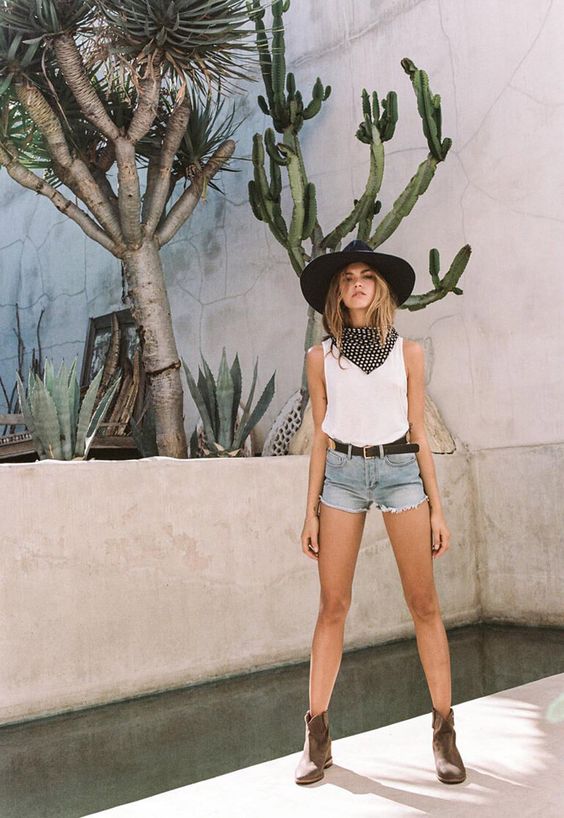 For fun and trendy sight in cowgirl style, you can try to wear a bandana around your neck for the accessory.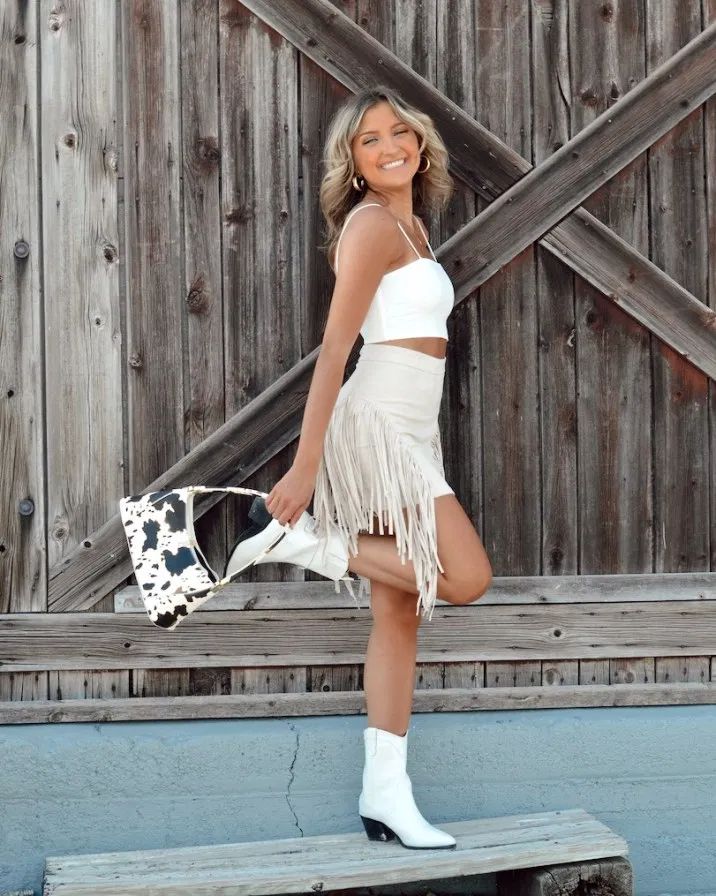 Get a unique and different ensemble with the cow skin printed in your mini bag. This helps to make your adorable outfit excellently.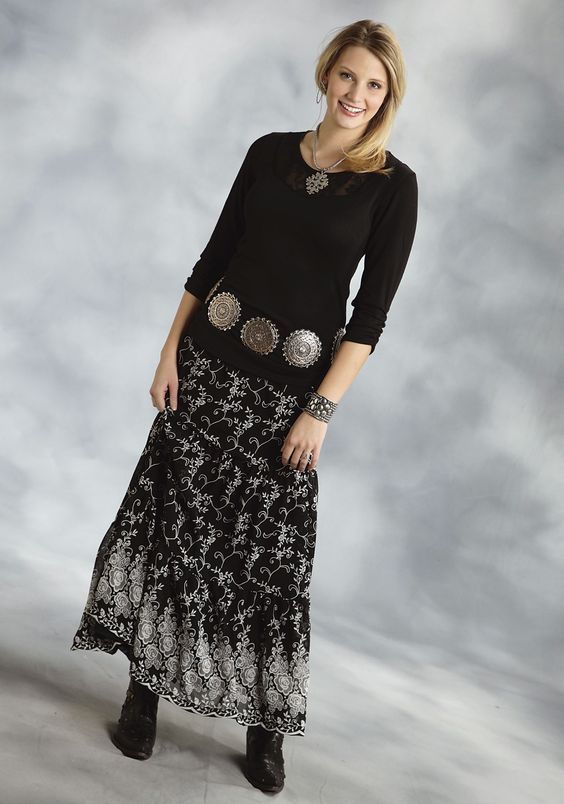 Another accessory in the countryside cowgirl outfit for women is silver things such as silver jewelry and embellishment in the western belt.
13. Printed T-Shirts
Other items to bear countryside cowgirl style in women's outfit ideas are printed t-shirts. Pick the printed tee with an animal pattern, floral, or just words.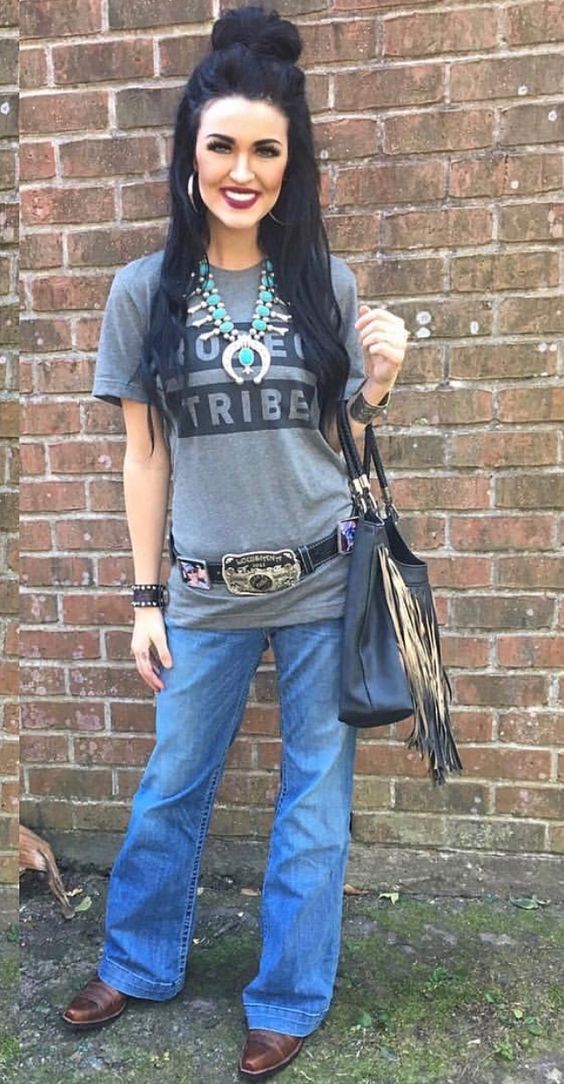 For instance, you can combine your printed grey t-shirt with bootcut jeans. Get dressed up properly by having accessories like a western cowboy belt, a tassel tote bag, and turquoise jewelry. Finish the style with leather shoes or boots.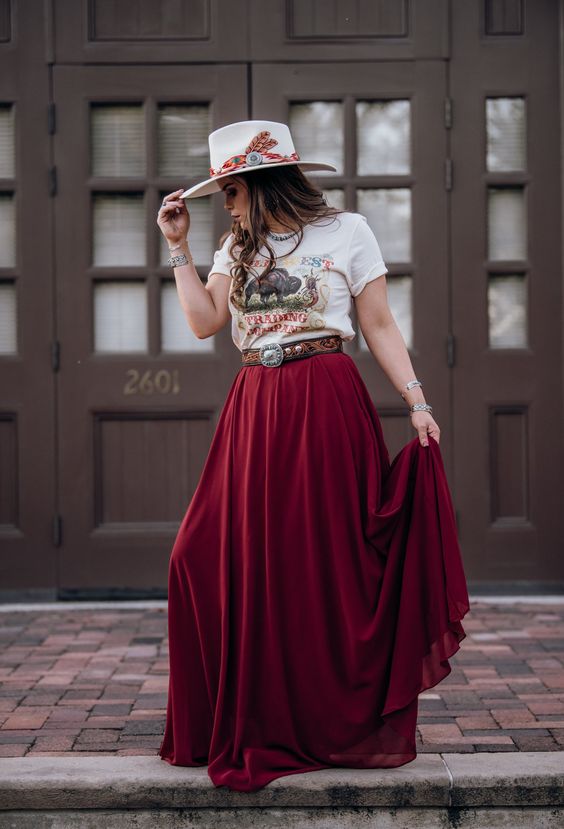 When you tuck a white printed t-shirt in your red a-line maxi skirt, you will get a retro cowgirl style in women's outfit ideas. As usual, just give some little details such as a cowboy hat, silver jewelry, and a leather belt. For footwear, you can choose ankle boots or cowboy boots.
Another Cowgirl Outfit Ideas to Inspire Your Fashion Style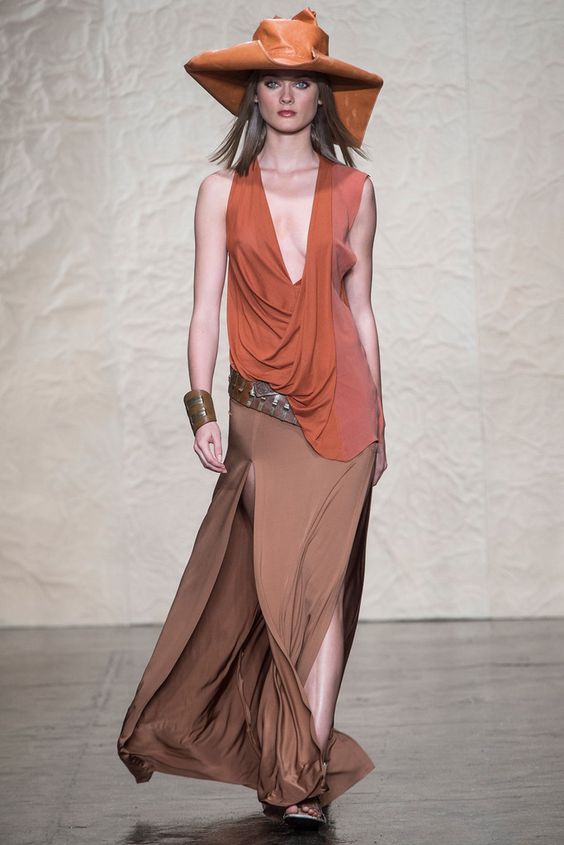 Get cowgirl style in a long maxi dress for an elegant and pretty outfit style. You can choose a silk or satin elegant maxi dress then accessorized with a cowboy hat and leather belt over the dress to bear countryside outfit style. Rather than pick heels, better you wear sandals to complete your overlook.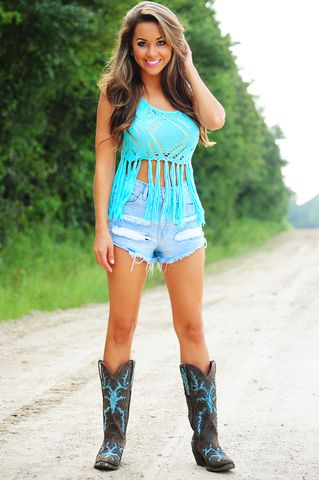 A bright or light color scheme like turquoise in cowgirl style for unique and colorful women's outfit ideas. Bring turquoise tops with tassels embellish and math it with denim shorts and cowboy boots for a summer look.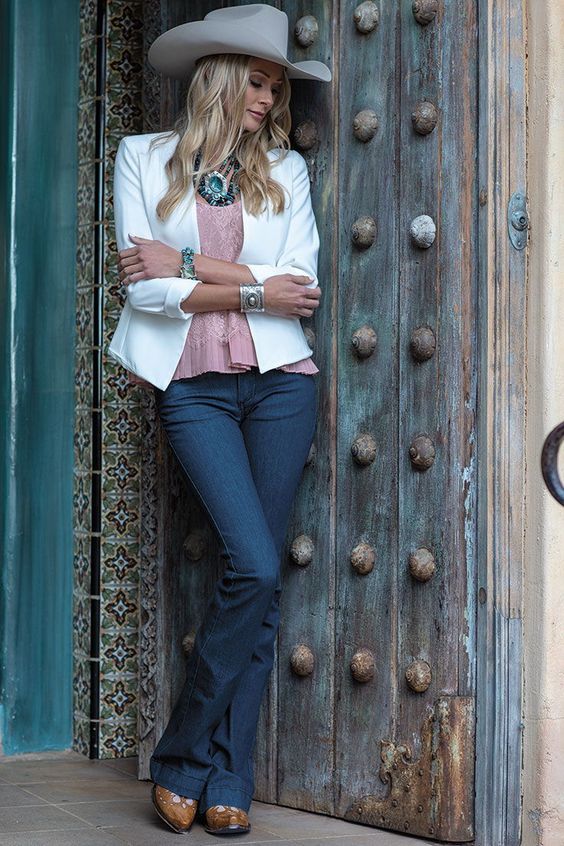 Looking for elegant and fancy cowgirl outfit ideas, just combine lace tops, blazers, and bootcut jeans. Complete your style with leather shoes, a cowboy hat, and turquoise jewelry.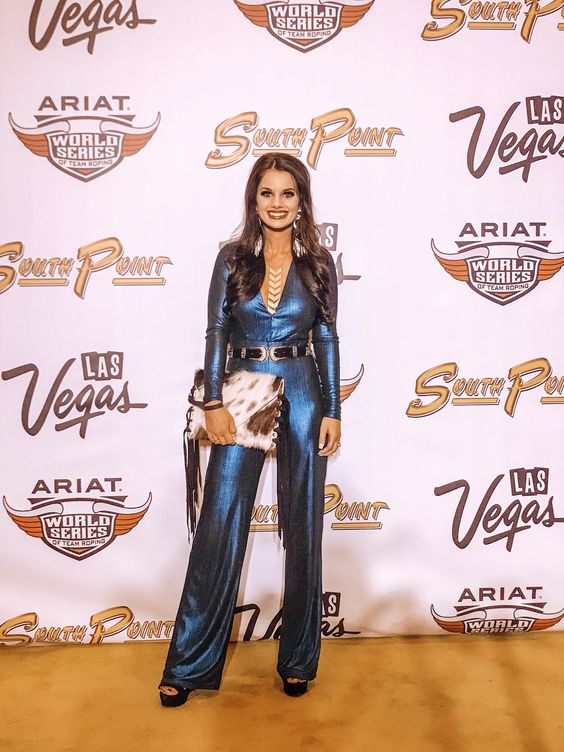 Another fancy cowgirl style to use in women's outfit idea, just come up with a glittery jumpsuit in plunging neckline style. You can turn this item into an evening dress and match it with a fancy fur envelope bag.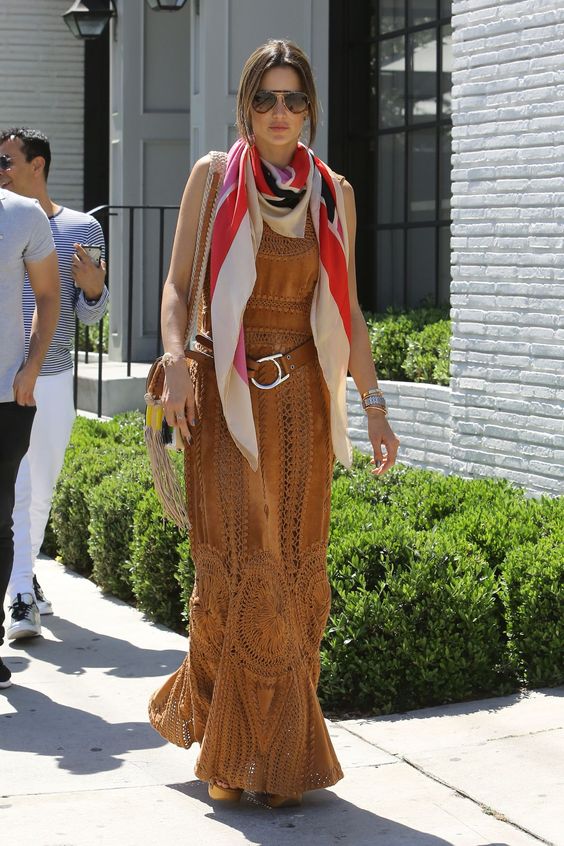 Put on your sleeveless bohemian embroidery maxi dress to create a modern cowgirl outfit style. You can accessorize with a leather belt over the dress and scarf around the neck to look more countryside style.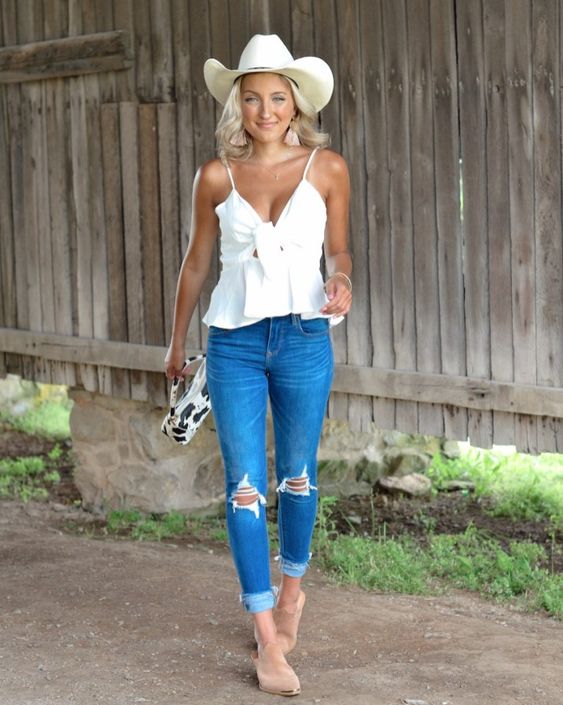 Pretty in women's cowgirl style by wearing strappy tops with ripped jeans and slip-on shoes. To have a cuter image by wearing tassel earrings, a cowboy hat, and a cowskin pattern bag.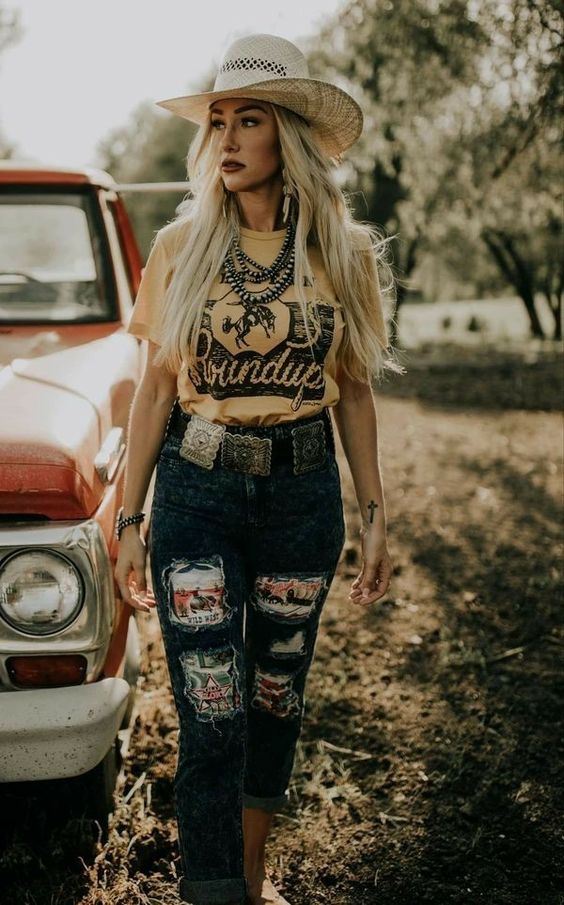 Patchwork outfit ideas in cowgirl style are also could bring a trendy view. You just need to have patchwork jeans in your cowgirl outfit ideas.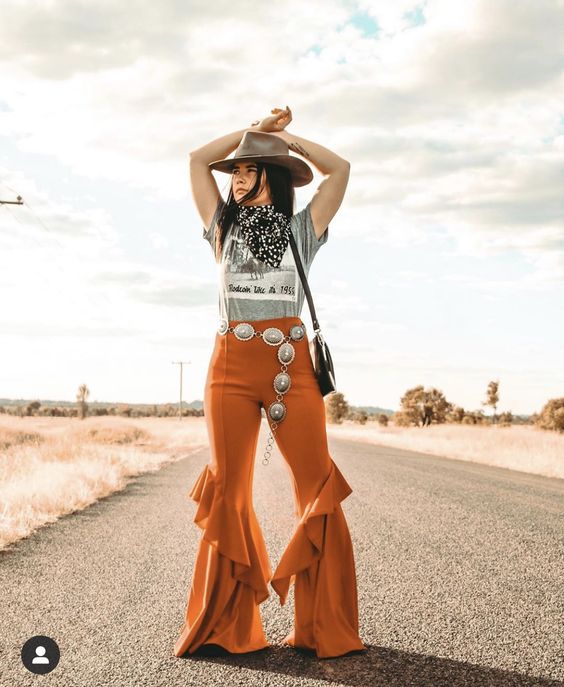 Don't miss out to drive a countryside cowgirl outfit style by wearing flare pants, a common t-shirt, and a cowboy hat together. As for accessories, you can apply a bandana around your neck and then a silver belt over your clothes.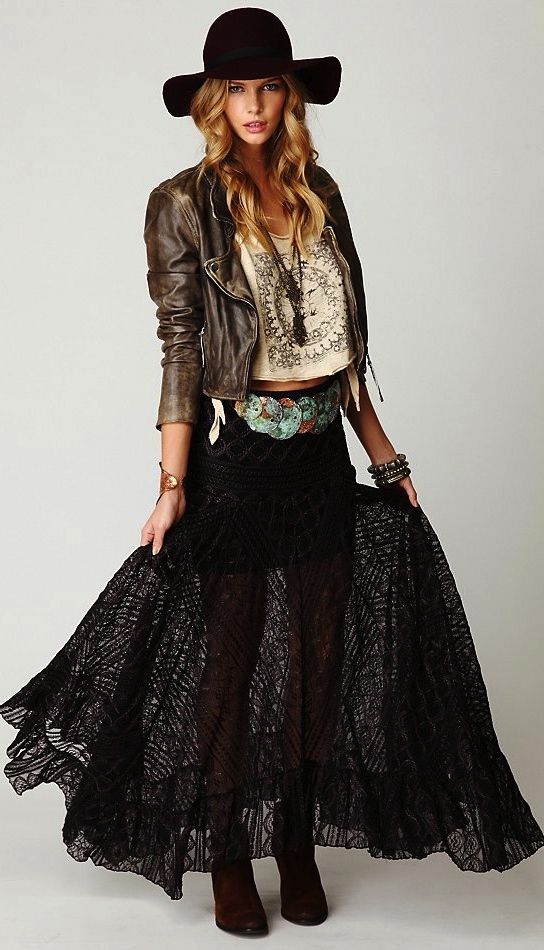 Dress up like cowgirl in chic grunge style by wearing a black transparent maxi skirt, a cropped shabby tank top, and leather jackets. Get all the outfits by bringing ankle boots, a cowboy hat, and some eccentric accessories in your women's outfit idea.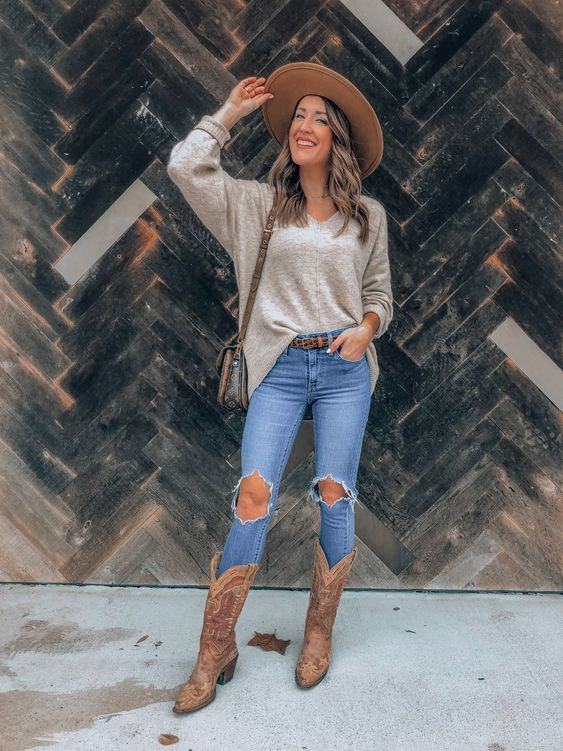 Sweater, ripped jeans, cowboy boots, and cowboy hats for trendy cowgirl outfit style during spring or fall. Wear it as your pretty college girl style to appear conspicuously.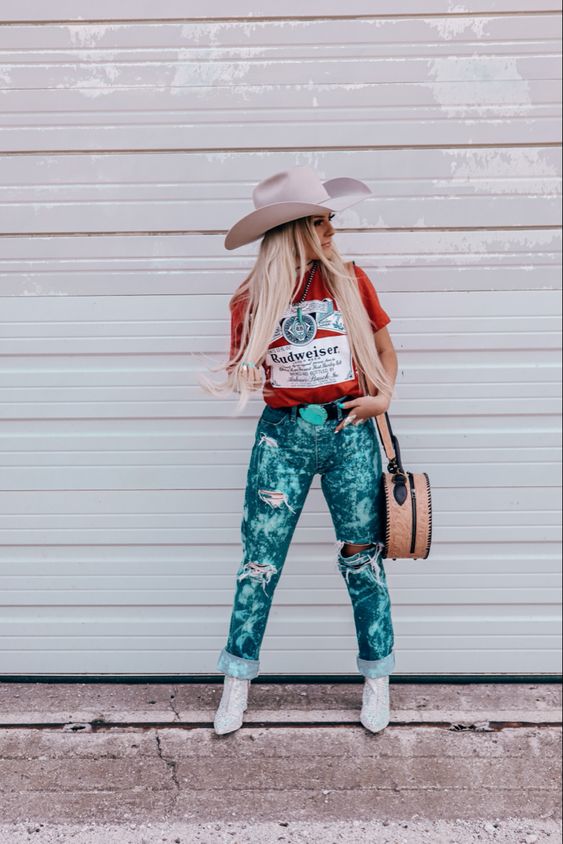 Tucking your printed red t-shirt into your tie-dye ripped jeans, then complete overall the style with ankle boots, cowboy hats, and round bags. Don't miss out on the other accessories for amazing your performance more.
A long-sleeve denim shirt, tassel mini skirt, and cowboy boots never fail to bring stylish cowgirl outfit ideas for women. Actually, having some unique accessories such as round earrings, a turquoise necklace, and the western belt would make it perfect.