Olidfashion.com – Having a vacation to refresh your mood and mind is important to your mental health. You would travel to some beautiful places alone or with your partners. However, to have a comfortable vacation you need to make a list before. In that list, you have to include your destination, where you stay, transportation, even your outfit. Prepare your vacation outfit also important to avoid getting the wrong costume. You should adjust the outfit according to your destination. Create beautiful memories in beautiful places with your partner in fashionable vacation style for men.
Necessary Outfit for Men to Look Fashionable in Their Vacation 
Not only women that mess around with the vacation clothing ideas, but men too. They are usually not too aware of the clothes they wear especially during vacations. This is why I write this article to help every man get dressed up fashionably in their vacation style. They need to know what necessary men's outfits to bring in their holidays style.
Dressing up properly during your vacation would really help you feel comfortable and also confident. It would be better if you planned every outfit style during your vacation for months. What you need to prepare in fashionable vacation outfit style for men:
A basic t-shirt like a white or black tee. This is the most versatile attire that you must have on your baggage.
Denim ensembles such as jeans or jackets. You can get trendy and cool styles with these pieces.
Short pants for summer-style holidays would help you feel comfortable walking alongside the beach.
Tropical shirts for the beach style is matching outfits for your beach holidays.
Sneakers and sandals for comfortable footwear. You need to consider the place you go to pick suitable footwear.
Blazer or men's coat for creating a formal and elegant look if you come to classy places.
Hats and some important accessories like a waist bag or sunglasses to complete your vacation style.
To get a clear image of how to dress up properly for vacation, I give some inspiration mens' outfits to help you look fashionable here.
Trench Coats Style for Holiday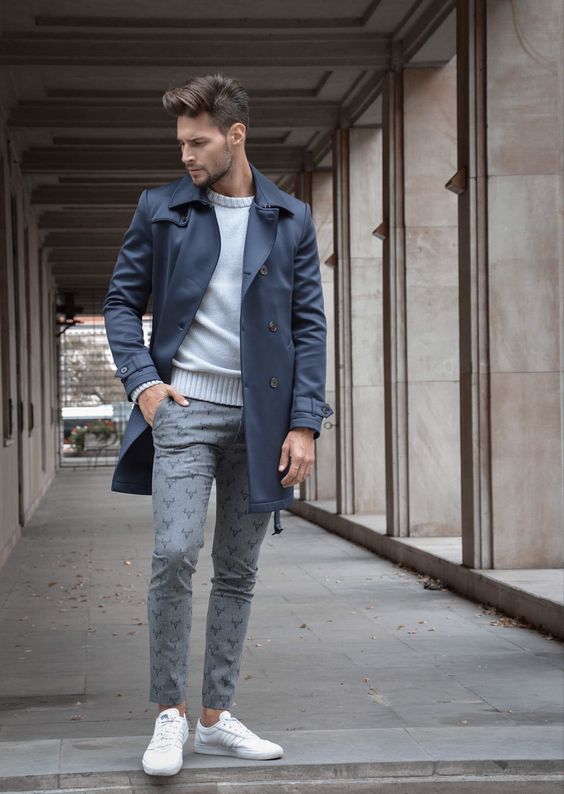 Get layered style with a trench coat for necessary men's outfits during Christmas and new year's holidays. For fashionable outfit ideas, you can match this men's coat with a crewneck sweater and wool pants. Perfect your vacation style with sneakers.
Statement Holiday Look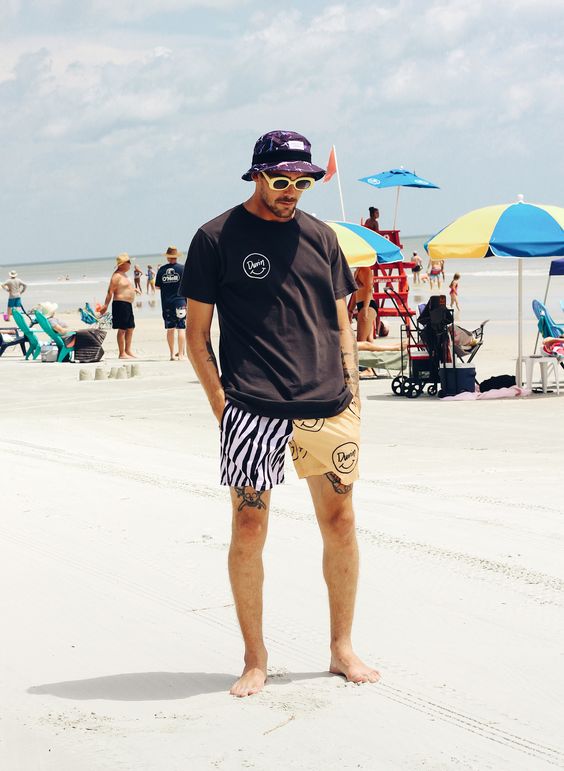 Have a holidays statement in your vacation style for men by wearing patchwork shorts and a black tee. Make it a seaside outfit with some other details such as a bucket hat and sunglasses.
Cool in Boarding Outfit Style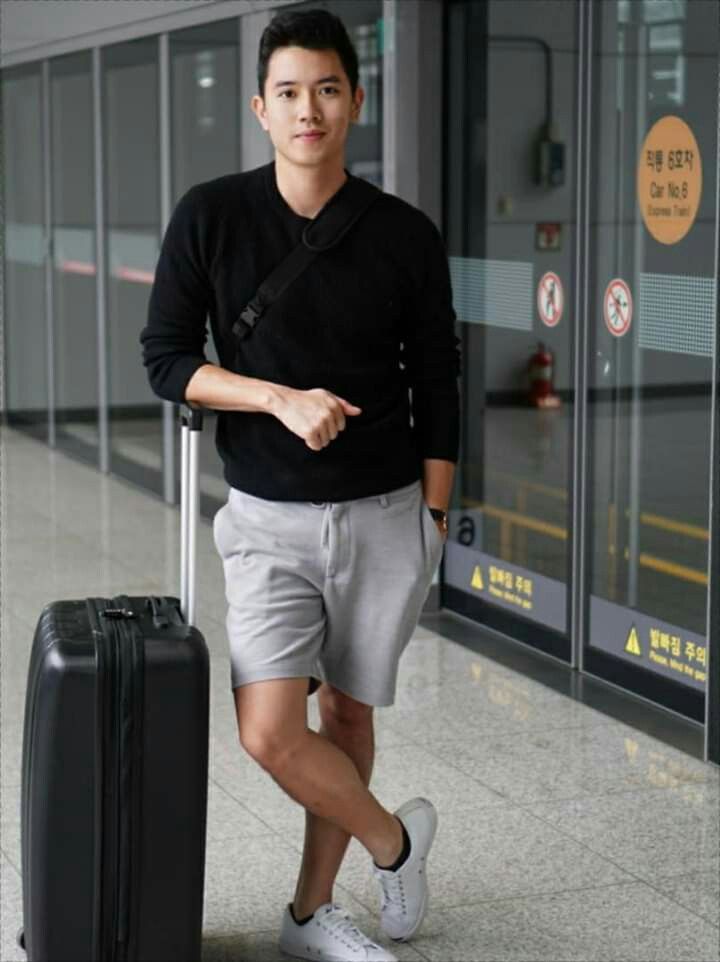 If you want a comfy and cool ensemble for boarding outfit ideas in the airport, just come with a long sleeve crew neck shirt and Bermuda shorts. For the footwear, it would be better to choose sneakers. Bring a waist bag for a necessary men's item for saving your important stuff like your smartphone, wallet, and others on the plane.
Effortless Outfit for Holiday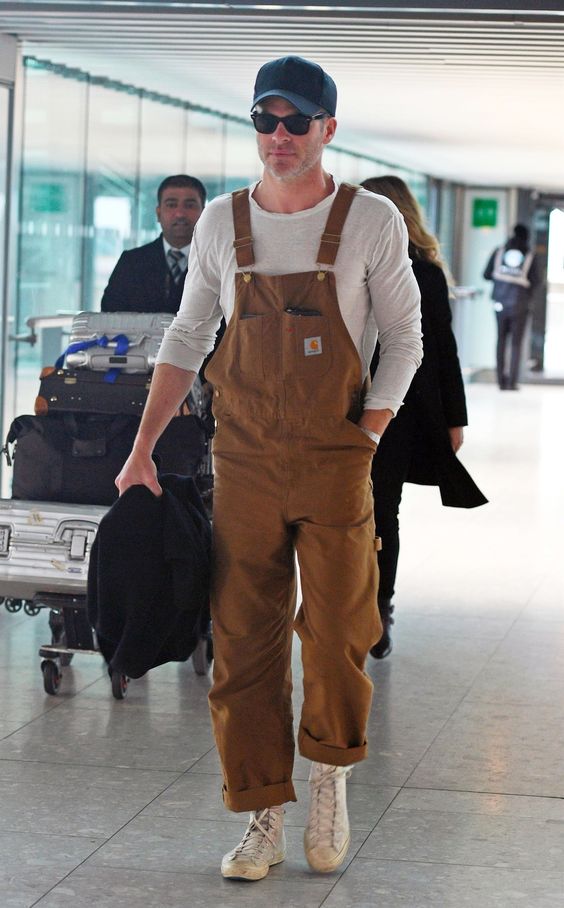 Having holidays usually needs some necessary vacation outfit for men that helps you to become fashionable. However, you don't have to wear complete suits. Just come up with effortless ensembles like a long sleeve tee and carpenter pants. Just stand up your performance by pairing the outfit with lace-up white boots.
Comfortable Outfit for Beach Vacation

If you look for a comfortable outfit for a beach vacation, get this style on your luggage. Just having a long sleeve vintage printed shirt, white tee, and white linen slacks. Complete this vintage outfit idea with sandals and a mini waist bag for a cozy vacation style.
Casual Vacation Outfit Style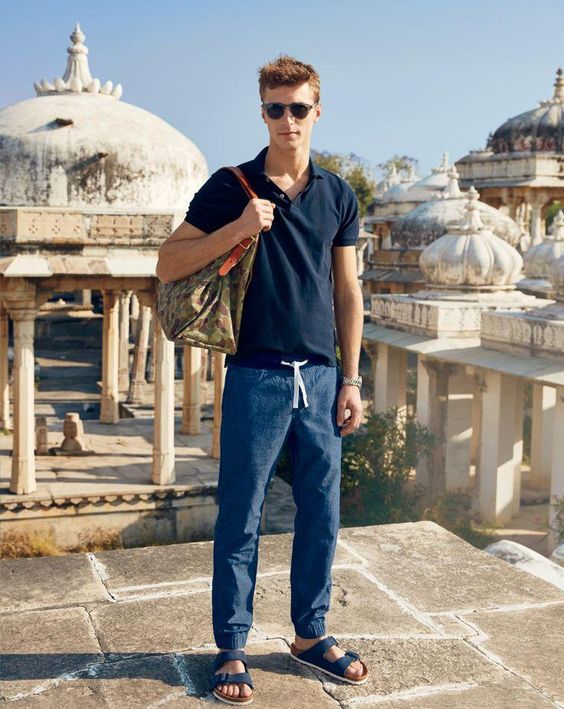 The best style for vacation is casual outfit ideas. For this, you need to wear a basic t-shirt better choose a dark tee, sweatpants, and sandals. Don't miss out the accessory like a backpack and sunglasses to increase your performance during the holiday.
Trendy Vacation Outfit for Men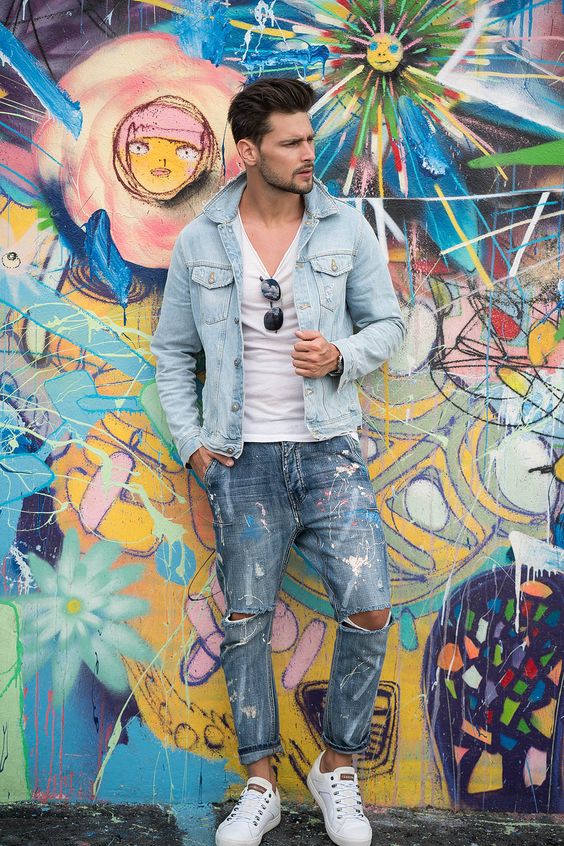 While having trendy style during vacation it would be easy to create by wearing a denim jacket and ripped jeans. You also could bring a basic white tee underneath, and also sunglasses for additional accessories. Complete your fashionable vacation outfit with sneakers for matching footwear.
Fashionable vacation Style with Hat Statement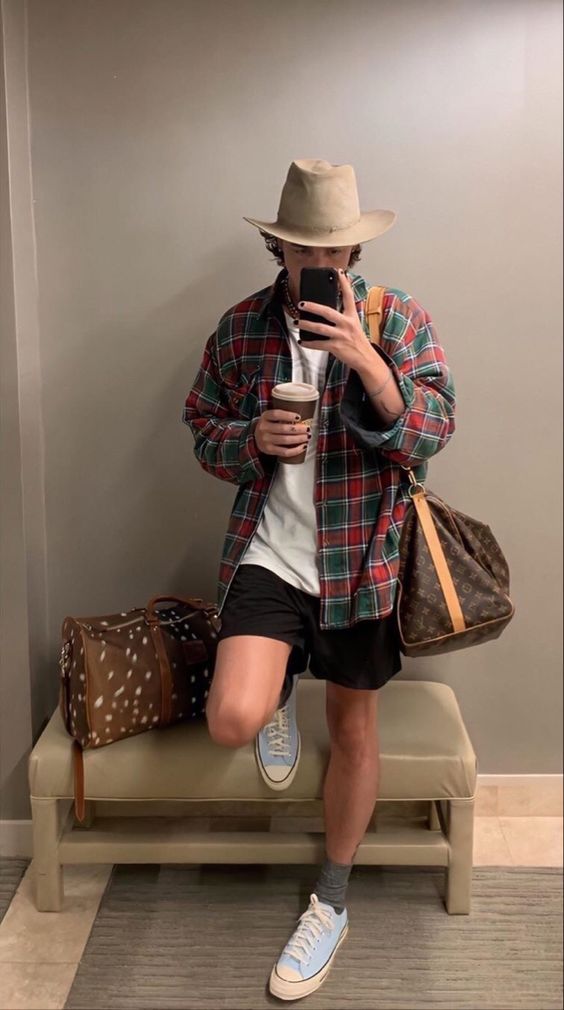 Hats never fail to bring fashionable ideas in men's vacation outfits. This is also useful to avoid you from hot summer. For a matching outfit, you can get a white tee underneath red and green plaid flannels, then pair it with black Bermuda shorts. Choose blue pale sneakers and a cowboy hat for completing your fashionable vacation style.
Take on Polo T-shirt and Ripped Jeans for Trendy Look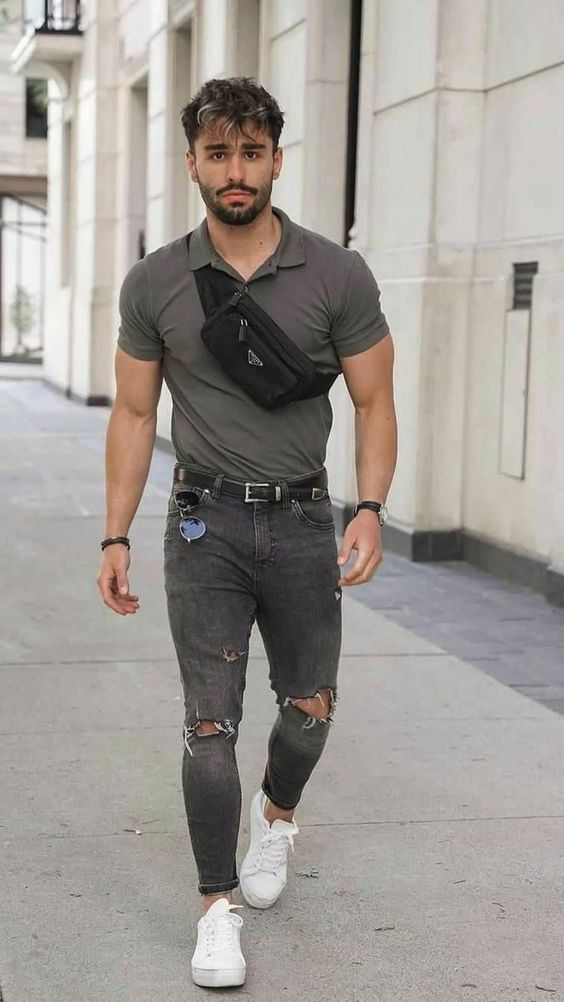 Having a modest outfit during vacation maybe help you to look fashionable and also save your luggage. For this, you should bring flexible outfits such as a polo t-shirt that can deliver either formal or casual style. Pair this piece with ripped jeans and sneakers for a trendy style. Give additional accessories such as a belt, a waist bag, and sunglasses for more fashionable men's vacation outfit style.
Floral Clothing in Vacation Style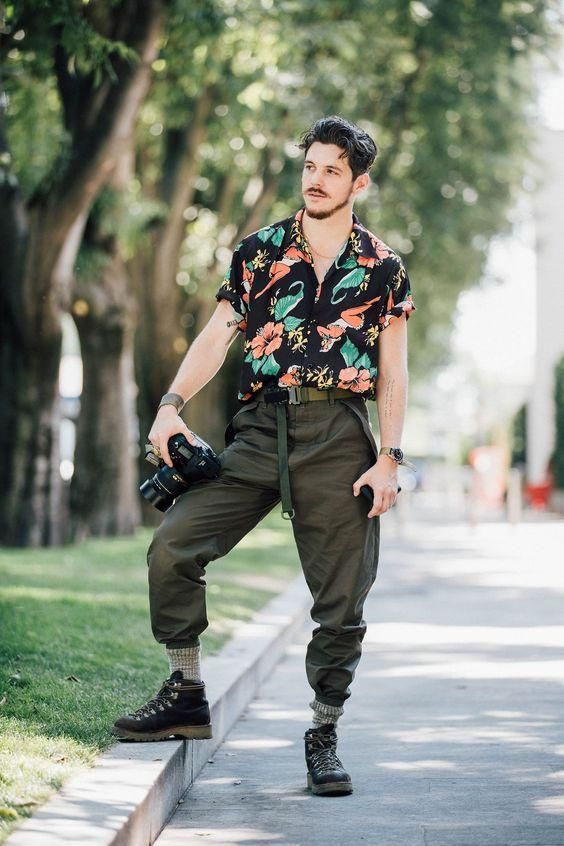 Get ready for the summer holiday with a floral print shirt in your vacation outfit for men. You can mix this chic top with cool and trendy bottoms such as khaki pants. Resemble the trendy style by having sneakers for the footwear. Don't forget the accessory like a belt, sunglasses, and a watch.
Relaxed with Bohemian Style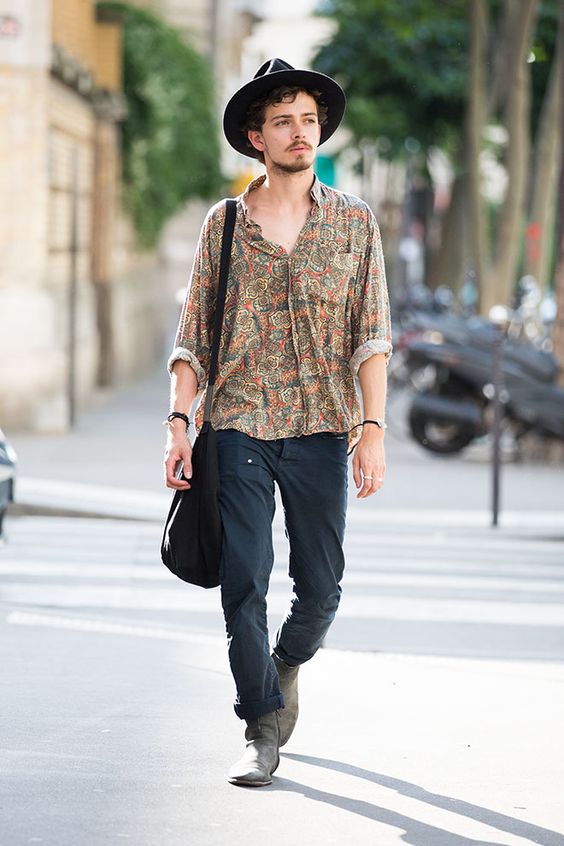 Creating a bohemian style in your vacation outfits would also bring fashionable attire during holidays. If you like this style to add to your vacation baggage, you can bring a bohemian top and combine it with navy chinos and shabby boots. Dress up fashionably with a fedora hat on your head and simple accessories.
Bring Out Seaside Style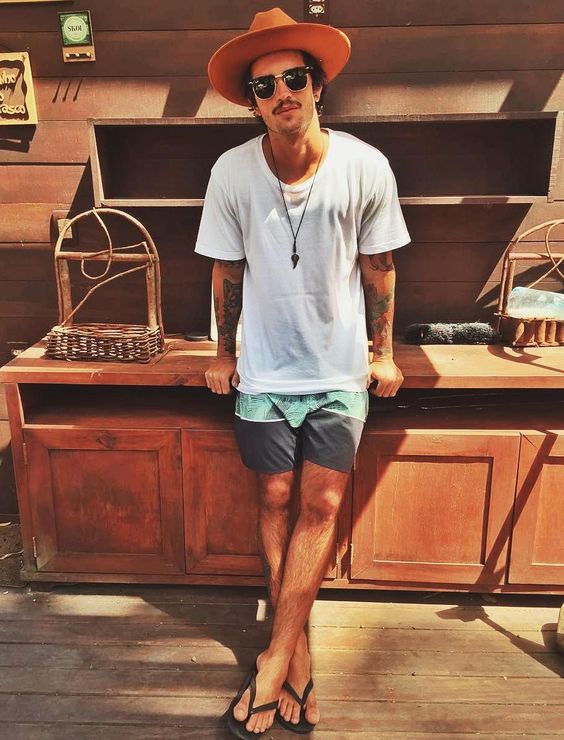 The necessary men's outfit for vacations on the beach is versatile clothes like a white t-shirt for tops and shorts for bottoms. Wear this combination with a slip-on and then finish your seaside style by having a cowboy hat.
Elegant Style for Vacation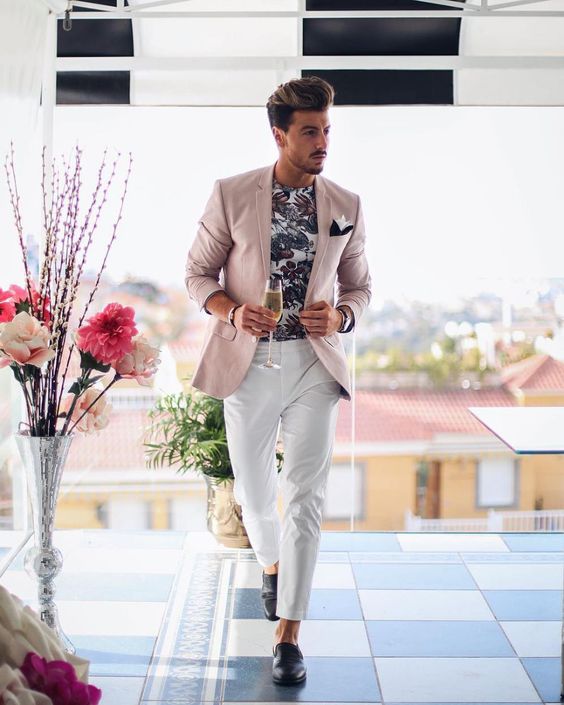 If you have a vacation with your partner, it would be better if you prepare one formal attire such as suits for having a romantic dinner. For a little casual and elegant style, just choose a floral crewneck top, a pink blazer, and white slacks. For footwear, you should wear loafers. Enjoy your romantic dinner with a fashionable outfit even during vacation.
Avoid Overheathry with Summer Outfits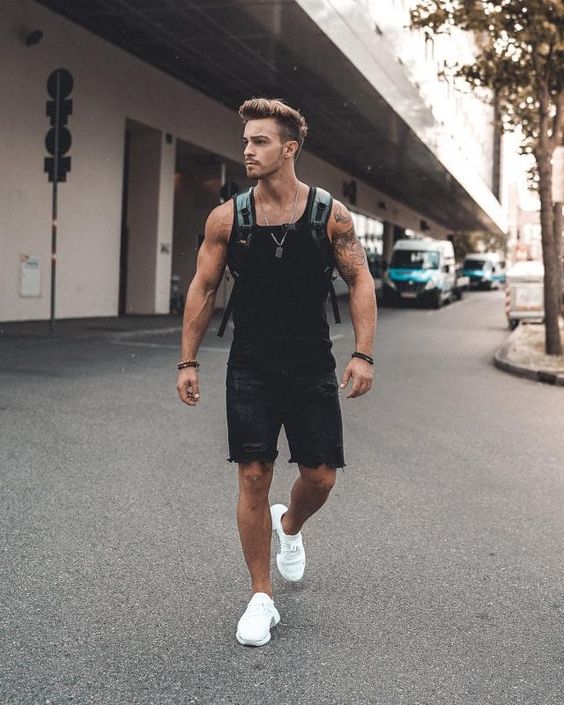 Go traveling in a tropical country or during summer you actually need to wear a summer outfit to avoid overheating. What you should be using is a tank top, Bermuda shorts, and trainer shoes. This is a simple vacation style but helps you feel comfortable even in hot weather.
Stylish and Chic Combos for Vacation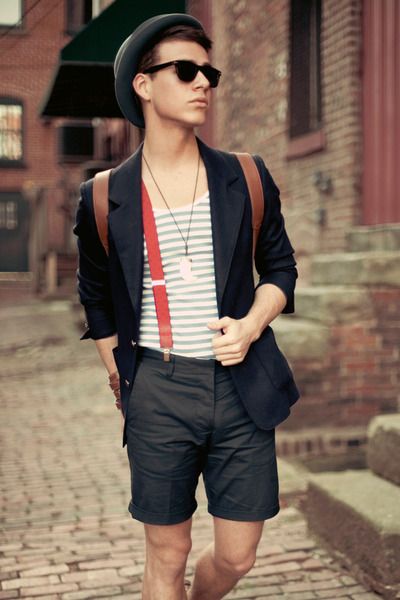 Get the stylish and chic style for a walk in the city during your holidays with fashionable vacation style in suspender style. For this, you can start to wear a striped tee, a navy blazer over it, and then pair them with navy shorts. For chic style, you can add suspender to this outfit. Bring a fedora hat, backpack, and loafers for accomplishing vacation outfit style for men.
Stylish Summer Look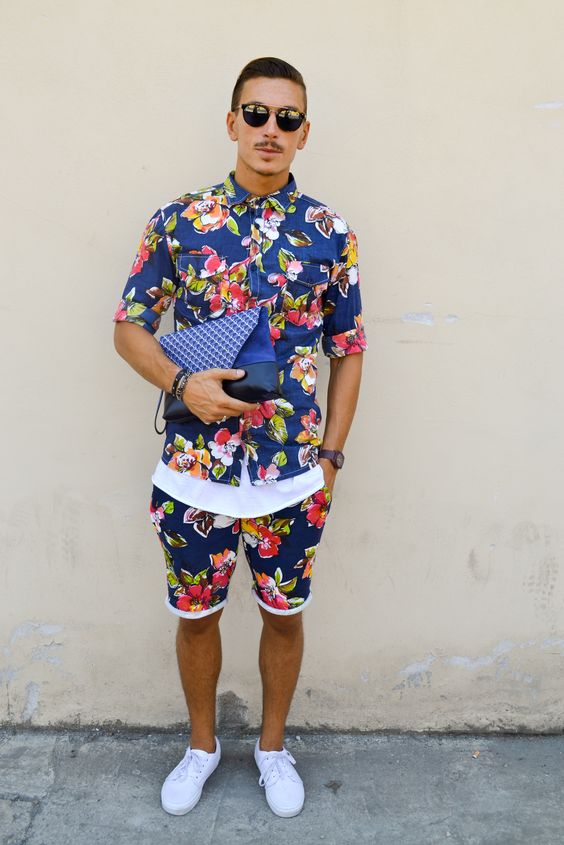 When summer comes it means flower blooms and you can present it on your men's outfit ideas. For example, floral short suits that include button-up short sleeve shirts and shorts could be used for fashionable vacation style for men. Bring this summer fashion style together with sneakers and a message bag for completing the outfit.
Simple Vacation Outfit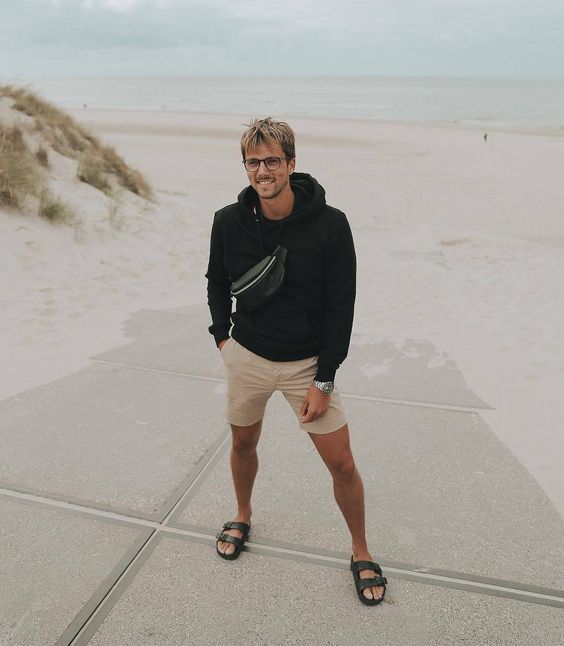 Bringing a simple look with effortless outfits such as a black hoodie and Bermuda shorts is your way to get a fashionable style for vacation outfits. Match this outfit with modest sandals. You can were this outfit for your beach style.
Quirky Touch for Fashionable Vacation Style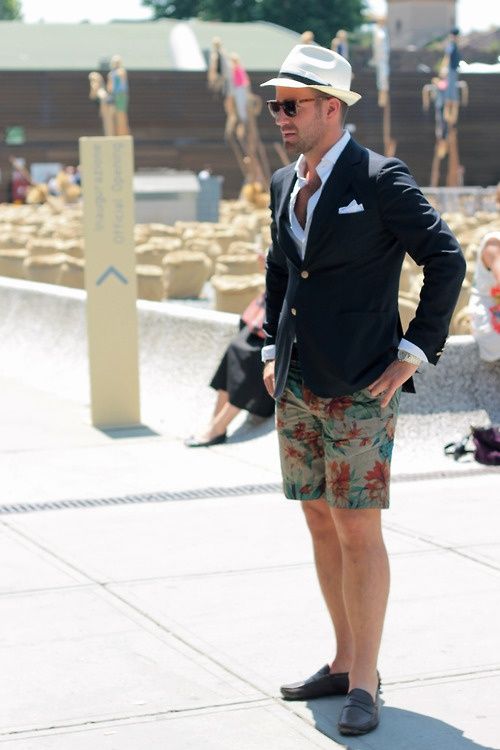 For unique and different vacation styles, you should bring quirky touch like having a blazer and floral short pants together in one outfit idea. this style combines a formal and casual look at once. Pair this outfit with loafers, a fedora hat, and sunglasses to present it as a boating outfit.
Tropical Clothing for Fashionable Vacation Outfit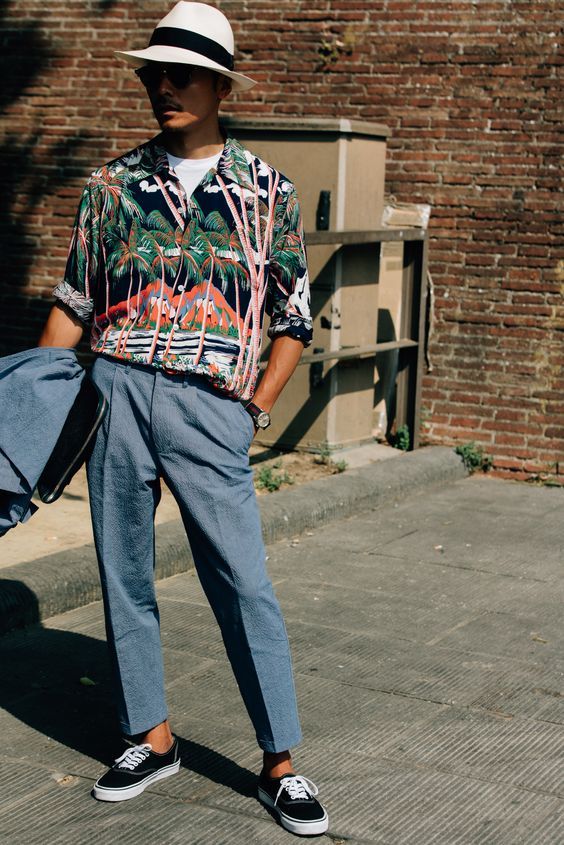 Another outfit to wear in your vacation style and must-have in your bag is a tropical shirt. With this item, you can get various styles either casual or trendy vibe. When you rock on a short sleeve tropical shirt with linen pants, a blazer, and sneakers you will get a smart outfit for the holiday. Ready your outfit with some accessories such as sunglasses, a watch, and a fedora hat to make it more fashionable.
Colorful in Summer Vacation Style
Besides having a floral pattern to present summer style, wearing a colorful outfit like bright red also become the way you bring a fashionable vacation outfit. Bring those elements together and match them with chinos. Finished your holiday style with sneakers, sunglasses, a backpack, and simple accessories.
Safari Style for Vacation Outfits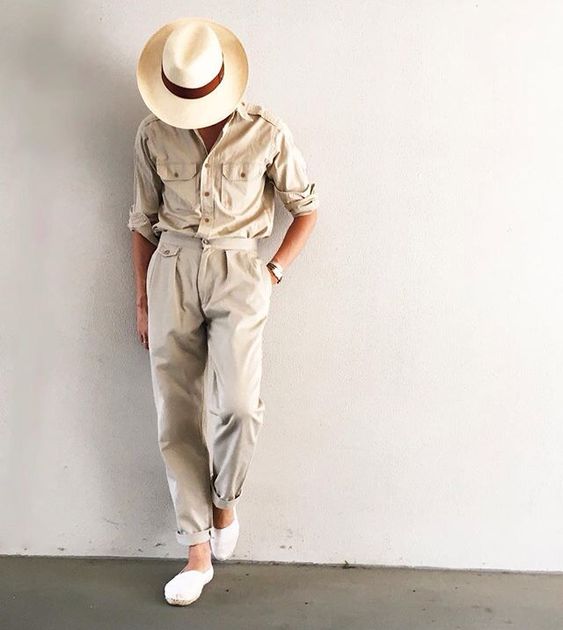 For those who want to have a vacation in the jungle, desert, or savanna this safari style is perfect for you. What's coming out from this outfit is long sleeve shirts with tonal colors like cream or khaki and chinos. For the footwear, there are some options to choose like desert boots, army boots, or trainer shoes. Making it complete by wearing a cowboy hat.
Classy Nautical Style for Yacht Outfits
When you plan to have a vacation on a Yacht you may need to get a classy style in nautical outfit ideas. Just start to wear white ensembles involving a polo t-shirt and Bermuda shorts. You can add a striped navy blue and white cardigan as outerwear. Give some additional details such as a leather belt, your favorite watch, and cozy loafer shoes for fashionable men's vacation style.
For the next vacation, you should have planned properly every detail of your holiday list, especially for your outfits. Don't think to leave this detail because it's important to increase your appearance and confidence. Looking good in fashionable outfits for vacation style is necessary because it would bring beautiful memories for you. Don't ruin your vacation because you mistakenly choose outfits. I hope from this article you will get inspiration vacation outfit ideas for men to look casual and trendy.