Olidfashion.com – Pajamas are the night outfit that's generally used for sleepwear. However, recently this piece comes to daytime style and become a trend in women's outfit ideas. Some celebrities and fashionistas start to fulfill their wardrobe with pajamas style for women's fashion. Find your new daily with some pajamas outfit style for women in this article.
How to Wear Pajamas Trend for Women's Outfit Style
Pajamas are the night outfit that's generally used for sleepwear. However, recently this piece comes to daytime style and become a trend in women's outfit ideas. Instead of wearing pajamas for night outfits, people lately turn them out to become daily fashion styles.
Get your night sleepwear to become the street style and daytime outfits with the tips-off below:
Matching with the best footwear. For this, you have to come up with stiletto heels, boots, sneakers, and other shoes that match the look you create in pajamas trends.
Play with colors. Complete your pajamas set with accessories with the same color schemes.
Get layered style. You can add women's coats or blazers to layer your pajamas and become fashion street style.
Separate the items and create your style. For instance, you can match the top pajamas with jeans, culottes, and other pants or mix up your bottom pajamas with shirts.
Bring out accessories to pajamas outfits. To get pajamas fashion trend on your women's outfit ideas, give some accessories such as jewelry, bags, sunglasses, and others into it for a fashionable look.
Looking for some inspiring pajamas trends for women's outfit style, just stay up to scroll this article and get what you need to wear.
Floral Pajamas and Bandana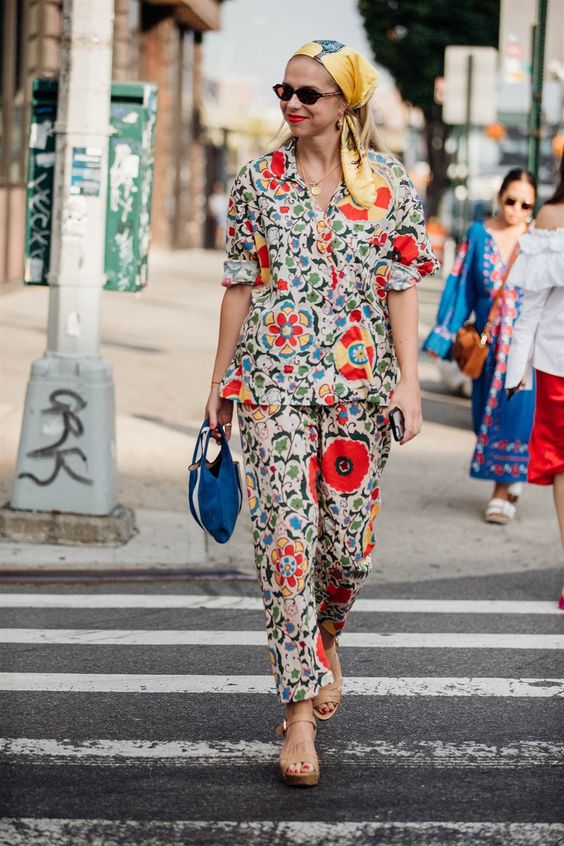 Turn your common floral sleepwear to become fashionable with bohemian clothing ideas. Mix and match your pajamas with the yellow bandana in the head, wedges sandals, and mini bags. Accessorized with simple gold jewelry, sunglasses and make it become a stylish pajamas trend for women outfit ideas.
Night Gown for Daytime Dress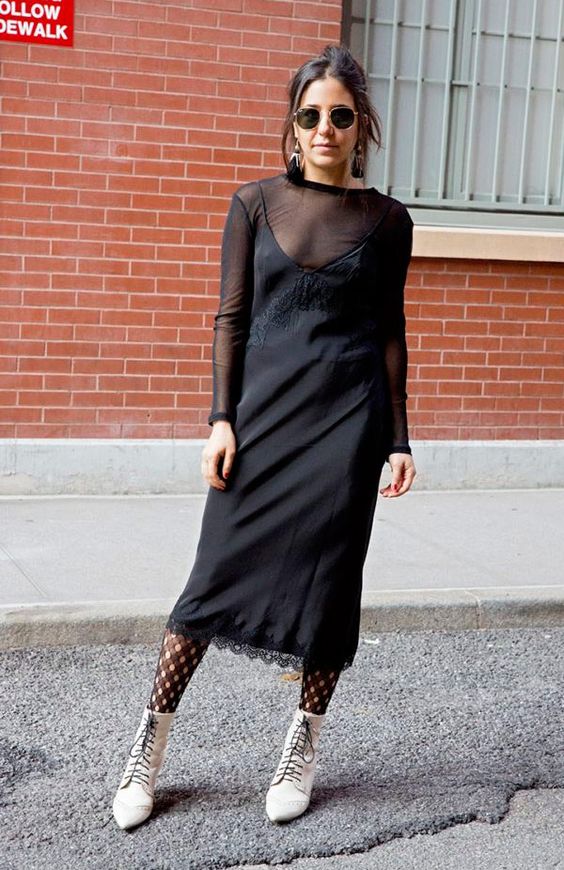 Have a goth and edgy style in pajamas trends by wearing your black nightgown. To get this style, you need to combine transparent tops underneath your black strappy pajamas dress. making it more fashionable by having stocking and white lace-up ankle boots. With all of this, you get chic grunge style in women's outfit ideas.
Pretty Mini Dress Style in Pajamas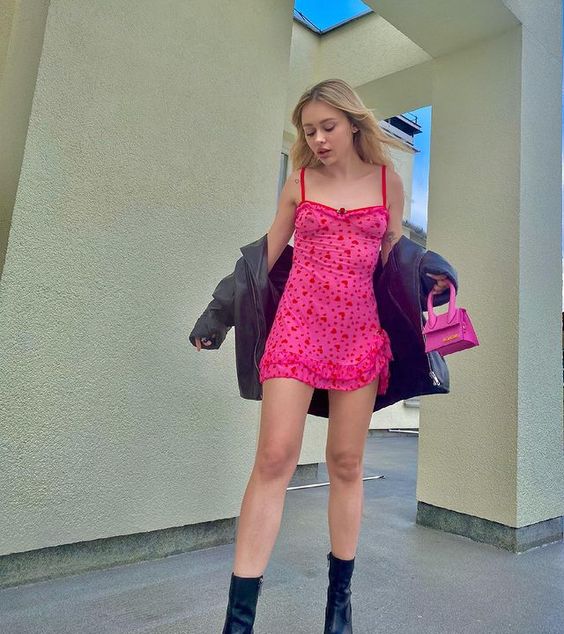 Look pretty with the pajamas trend for women in a bright pink mini nightdress. Pull this night outfit to become stylish for daytime style by having leather jackets and ankle boots for finalizing your trendy look. Bring a micro pink bag to make your outfit finished for hanging out with your friends.
Oversized Style in Baggy Pajamas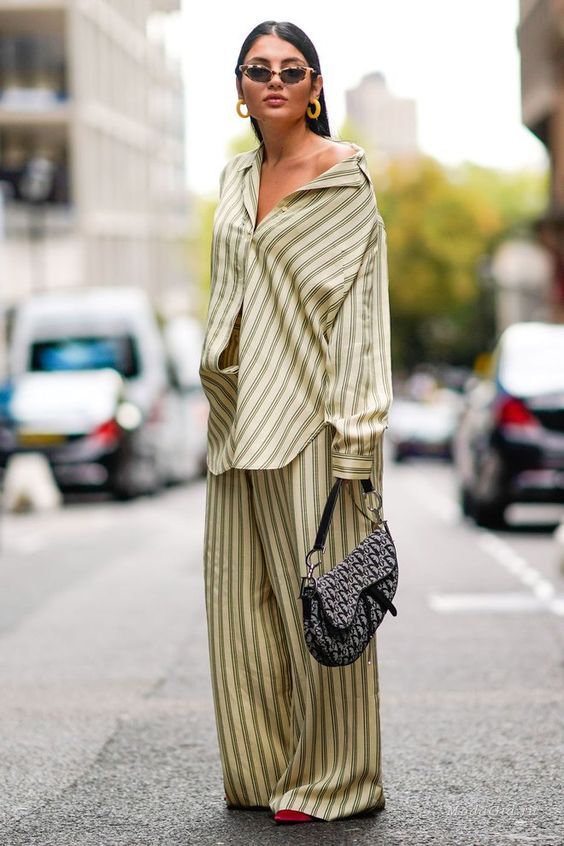 Getting oversized outfit ideas for women with your boyfriend's pajamas is such an adorable idea. For this, you can wear a baggy striped long sleepwear set with the bottom down style, pair it with yellow big earrings, sunglasses, and your favorite bags. As for the footwear, you may get high heels for this pajama style.
Sporty in Sleepwear Fashion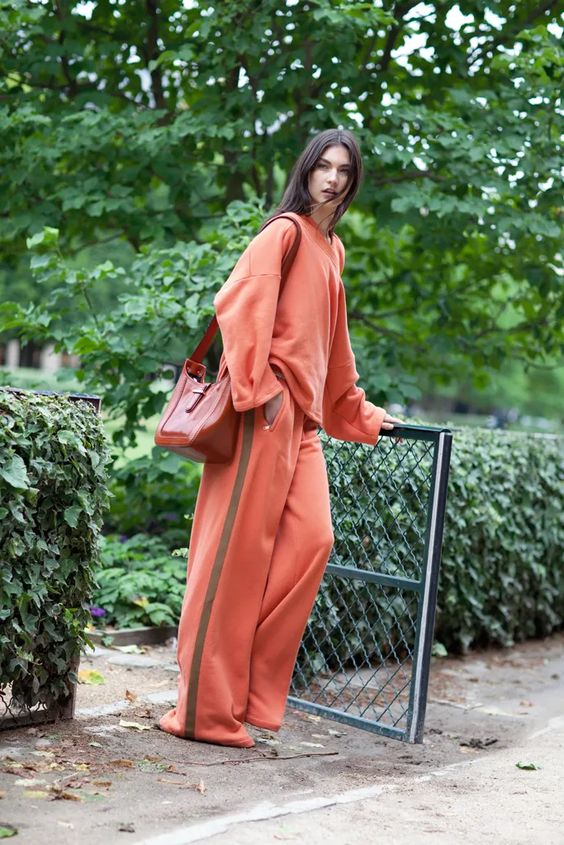 To bring sporty style in pajamas outfit ideas for women, you can try to get baggy sweat sets then pair them with trainer shoes. Make this women's style more pretty and fashionable by having a coral color palette and getting a sling bag to accomplish your show.
Chic with One Set Pajamas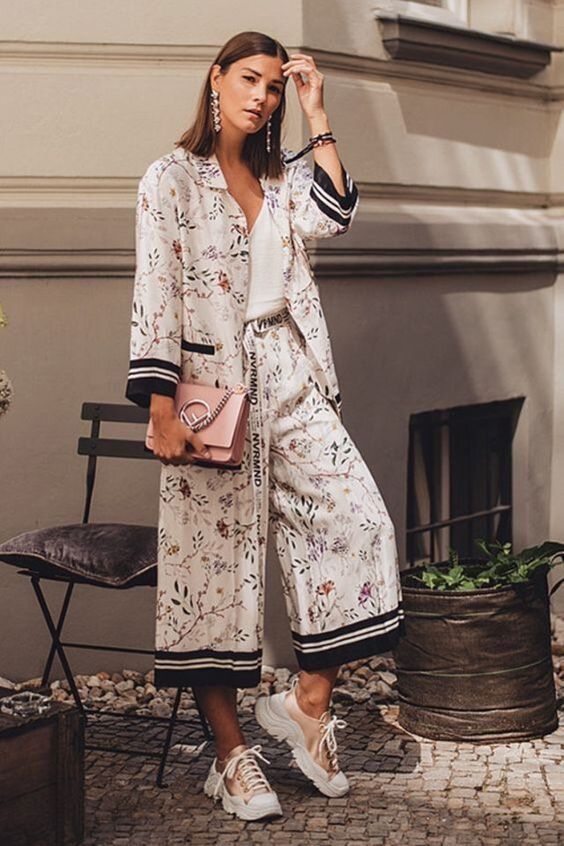 If you have one set of pajamas from a famous brand or have a pretty pajamas style, modify it for a chic outfit for women. What you need to do is just find the best accessory and footwear to match up the pajamas style. Want to chic style, just wearing light pink silk pajamas set with small floral pattern. Then, put on trainer shoes for the footwear, long earrings, and a pink clutch bag for the accessory.
Short Pajamas Set and Boots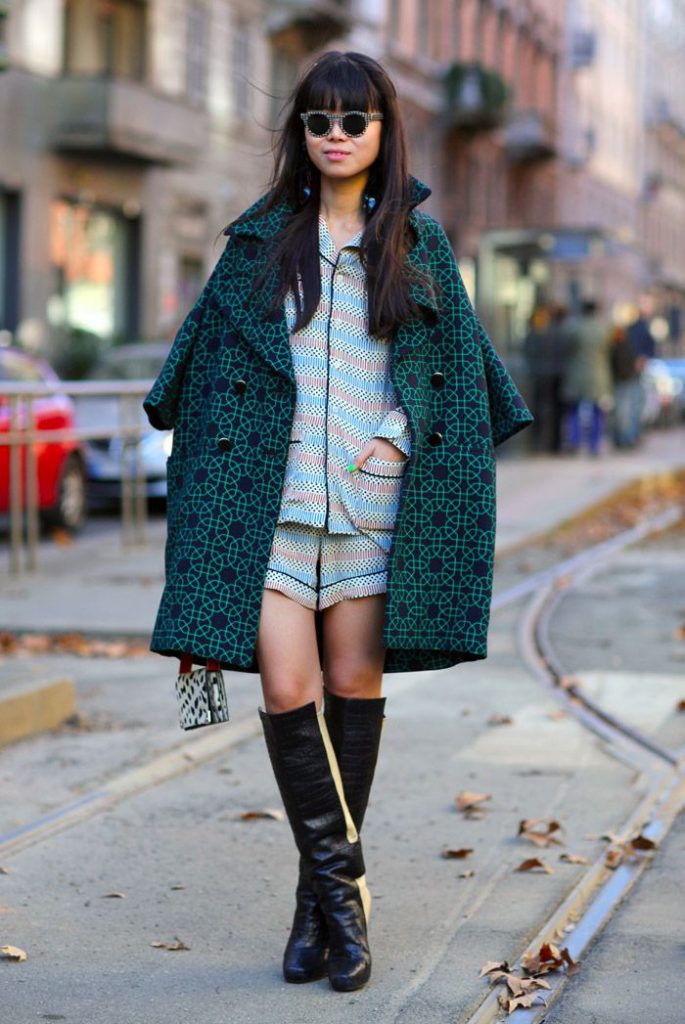 Bring new trends with pajamas and knee-high boots in women's outfit ideas. To balance the style of your high boots, put on short pajamas style and a large women's coat to make your outfit look fancy and classy. Accomplish your outfit with a simple accessory such as a micro bag, stones earrings, and also sunglasses.
Denim Shirt and Pajamas Pants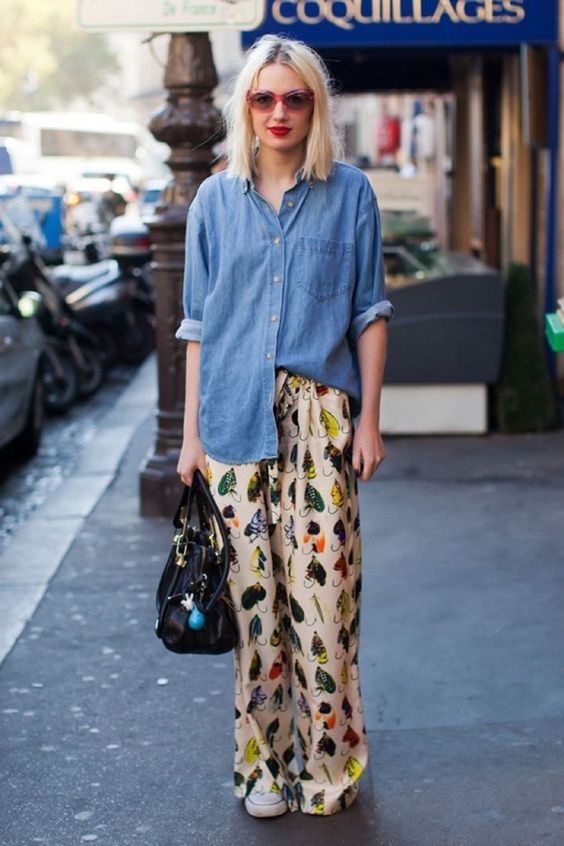 One of the smart ways to bring out the pajamas trend in women's outfit ideas is by separating the pieces and then mixing them up with other outfits in your wardrobe. When you wear a denim shirt for tops and pajama pants on bottoms, this actually gives you casual outfit style for women. Especially if you match this outfit with sneakers and tote bags, you will come up with fashionable style in pajamas trend for women.
Fancy in Pajamas Fashion Trends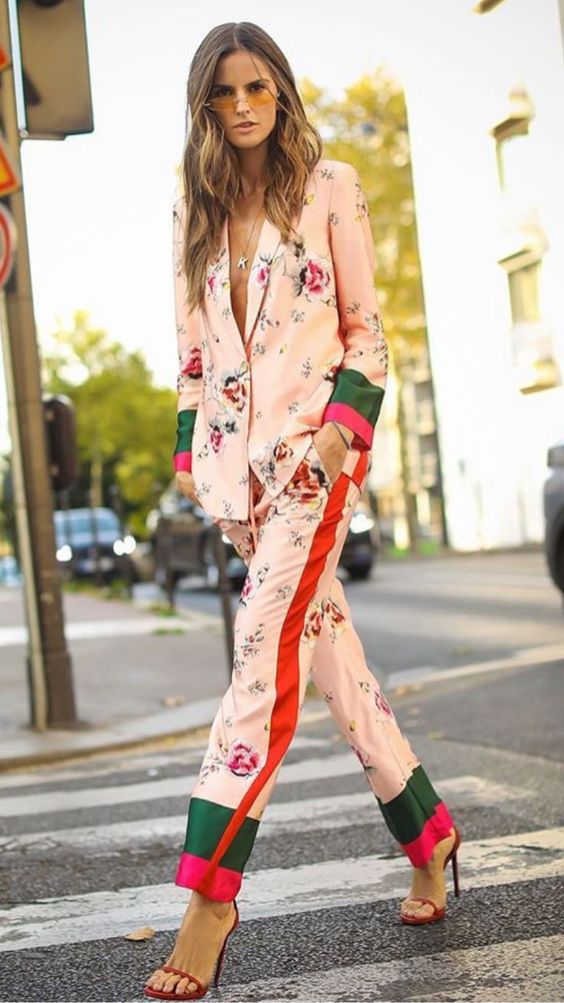 In fact, pajamas are not only just to wear for nightwear but also could be used to fancy outfit ideas for women. How come? The way is you should choose the branded pajamas and remodel them in button-down style then pair them with your stiletto heels. For additional details, you can give some simple jewelry, sunglasses, and choose mini floral patterns in pastel pink tones.
Cool with Pajamas Style in Women's Outfit Ideas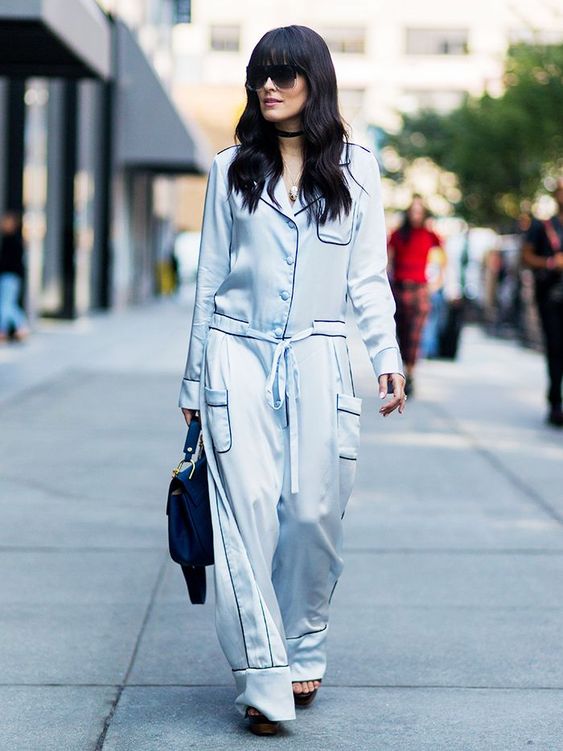 You can have a cool look with the pajamas trend in women's outfit ideas by having blue pale jumpsuit sleepwear with black border trims. Matching this nightwear with cool accessories like a black necklace, sunglasses, and wedges. Finished your overlook by getting a navy blue message bag in your hand.
Make Knot in Pajamas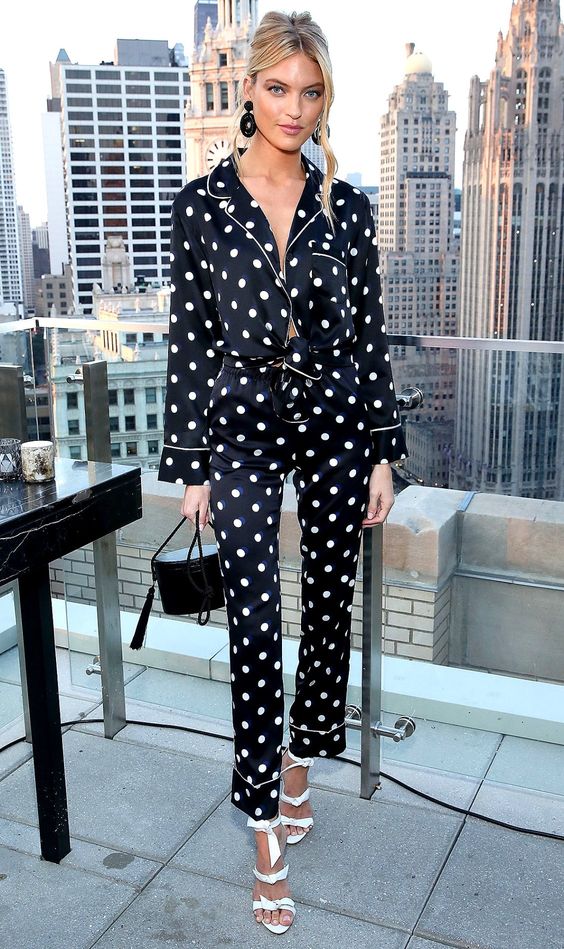 Of course, if you want to modify your pajamas to become more stylish and fashionable, knotting up the bottom shirt would help you. You can see the picture above for the example. Rather than button up the tops, the women choose to knot up the bottom shirt. This obviously gives a sexy and elegant look. To complete the style, you just need to pick strappy heels for the matching footwear.
Pairing with Coats
Another simple and easy method to bring up the pajamas trend in women's outfit ideas is combining it with a stylish womens' coat. You just need to be concerned about the color combination. Suppose you wear floral red pajamas with black long coats for balancing the view.
Night Dress for Outerwear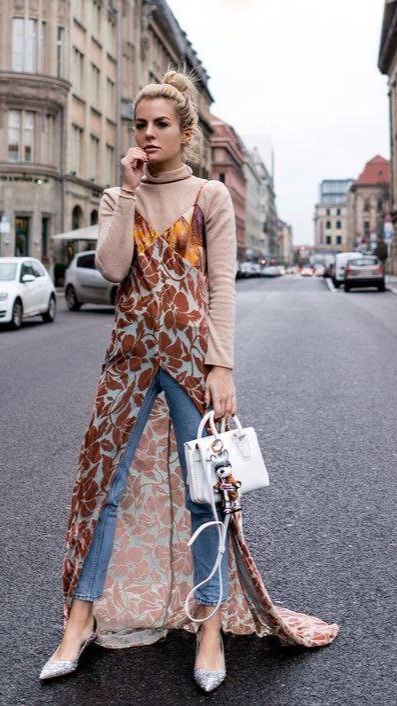 Have a nightdress in a different style for daily women's outfits by making it as outerwear in your ensemble. You can make it for layering style by having a turtleneck sweater, jeans, and a strappy long nightgown over it. Just in case you have this attire as your fall outfit ideas, you need to match up with the best silver high heels to make you look beautiful.
Classy Pajamas Style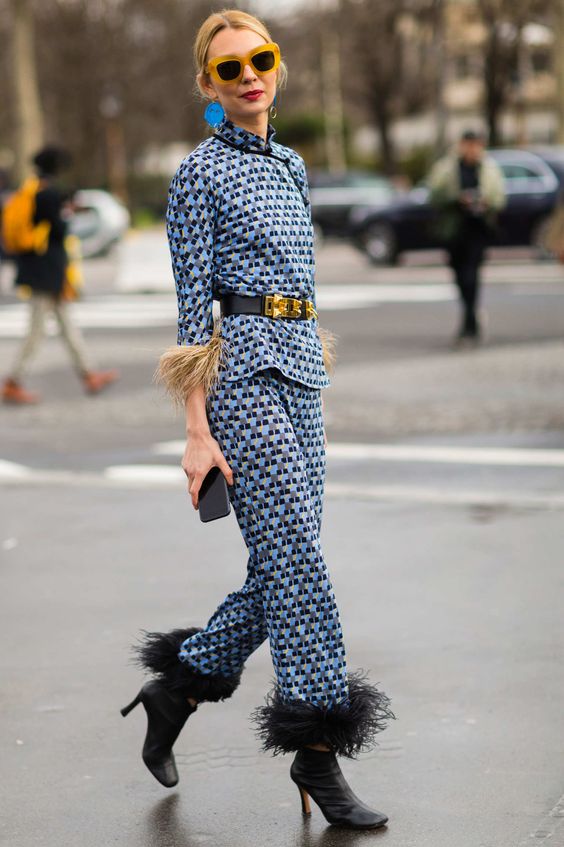 For classy and cute pajamas style, you can choose a long set of Chinese pajamas with fur ensembles on the sleeve and bottoms. To make it seem classy and fancy, give a gold accent on the belt and tie over the pajamas. Don't miss out on the accessory and also the best footwear, you need to choose heeled ankle boots for this outfit idea.
Preppy Style with Robe Pajamas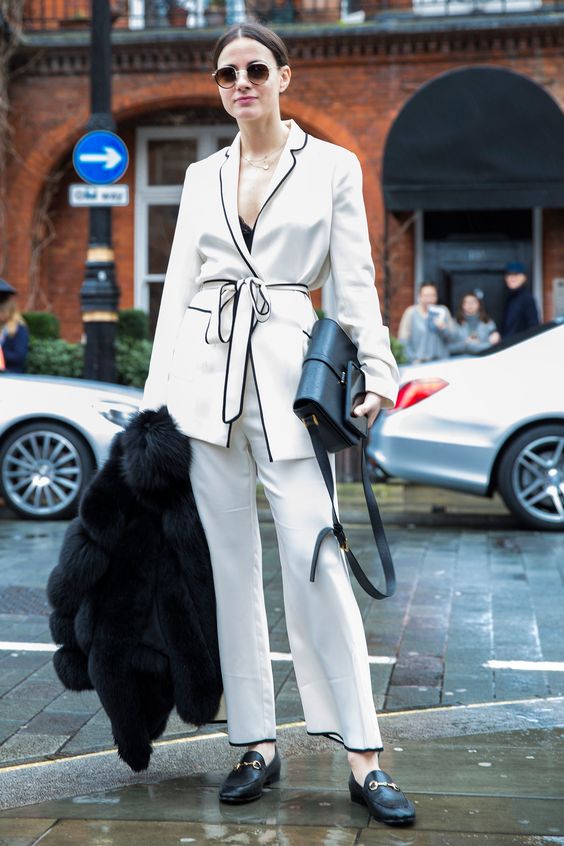 Going to work with the pajamas, sounds weird but actually could be a unique and fresh idea to try. If you need to get fashionable women's work outfit ideas in the pajamas trend, I suggest you choose the robe style. With this, you can turn the robe into a blazer for a formal image. Matching up with loafers and also get your sling bag to complete the style. If you want to have a little classy accent, you can bring a fur coat and make it your winter attire.
Get Your Pajamas Style with Ankle Boots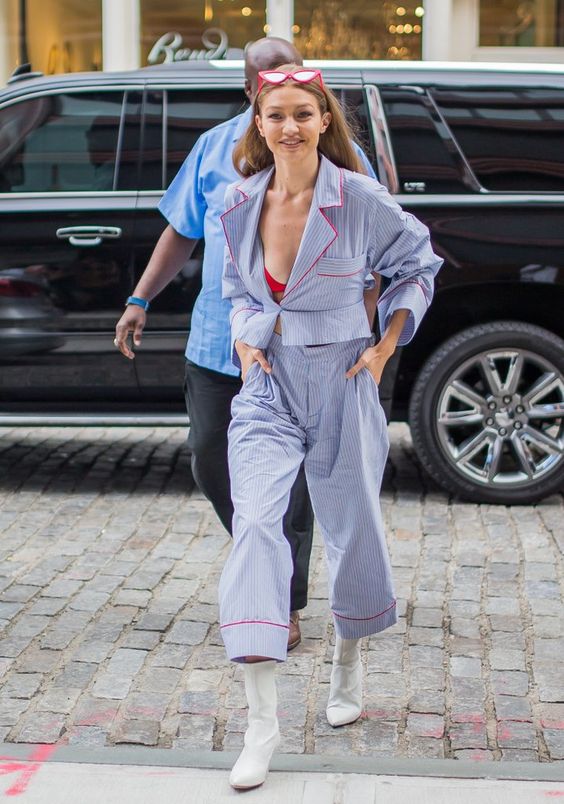 Pajamas with ankle boots could be a good combo to apply in women's outfit style. This may give a fresh outfit style to your wardrobe. You can come with the button-down pajamas with the bikini tops underneath, and then finish the style with white ankle boots. In this case, you will get a sexy and cool style outfit.
Attach in Pastel Color Theme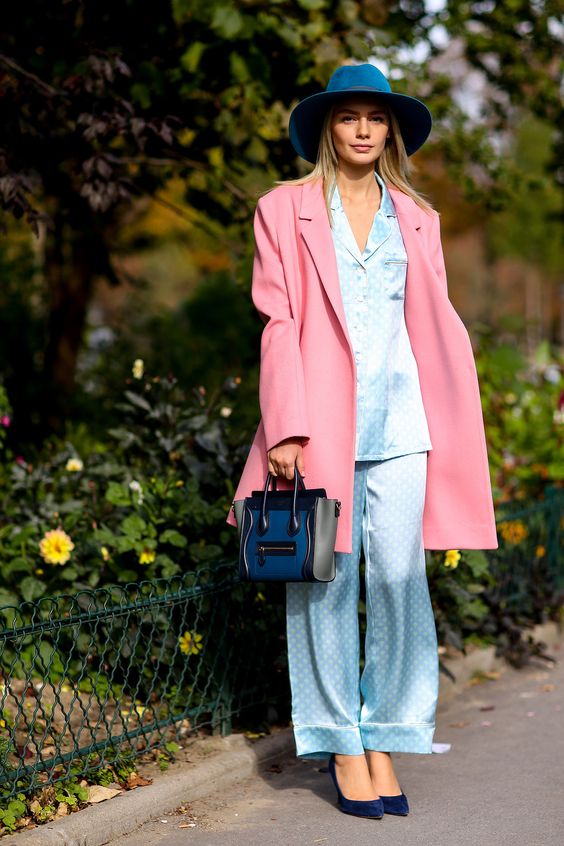 Pajamas for women generally come with a colorful theme that is pretty and nice to see like pastel. That's would be perfect to bring out pretty pastel color outfits in your women's style by having blue pale pajamas set and then layered by pink women's coats. Making it more pretty and elegant with blue fedora hats and stiletto heels.
Make Your Robe Become Jackets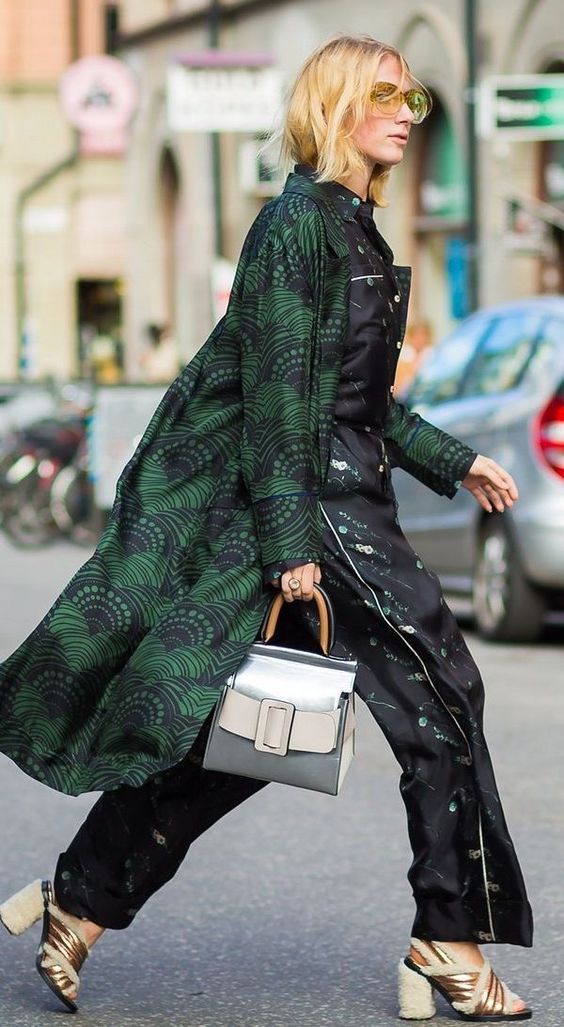 Pajamas have any kinds of styles and designs, one of them is one set robe. If you looking for a different and unique outfit, maybe the pajamas trend could give you what you need. The easiest way for this, you just need to model your robe pajamas with fancy wedges and a mini handbag. This means you need to highlight the footwear and your bag more.
Smart Way to Style Pajamas with Accessories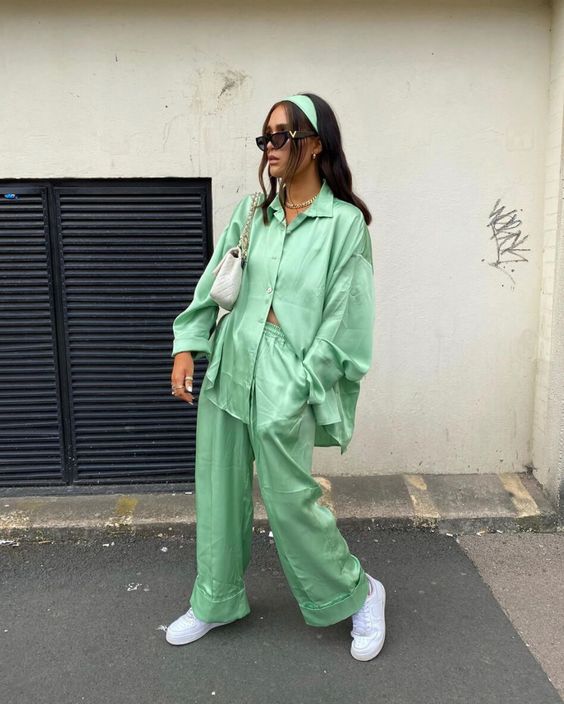 Aside from the pieces, in pajamas trend also needs to bring out additional accessories. You can wear something that has similar colors such as a bandana for hairstyling, simple gold jewelry, and give neutral tonal colors in your accomplish items such as white bags and shoes.
Tuck Pajamas Tops to High Waist Pants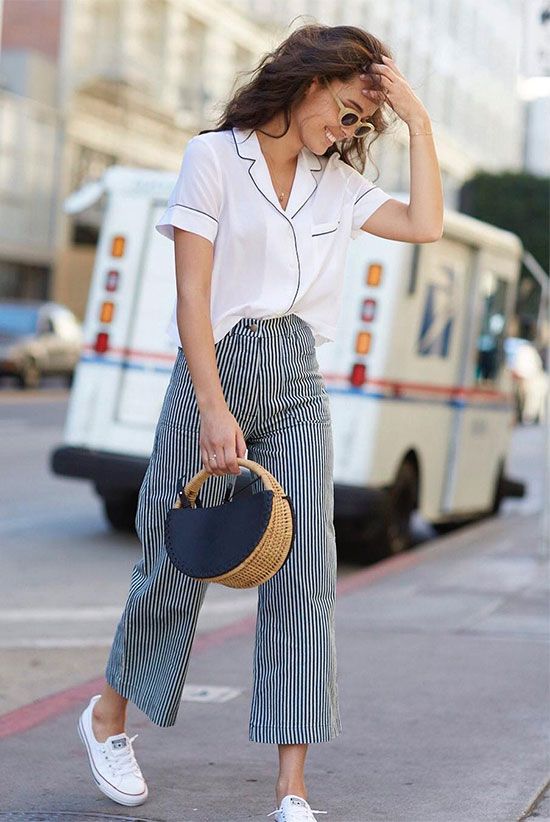 Get your classic white black striped pajamas trend for women's daily style in nautical outfit ideas. For this style, you just need to pair classic striped one-set pajamas with wedges or high heels and get your mini bag to make it your holiday style. You will be amazed at this sleepwear for a casual summer outfit style.
Gorgeous with Pajamas Trend for Women's Style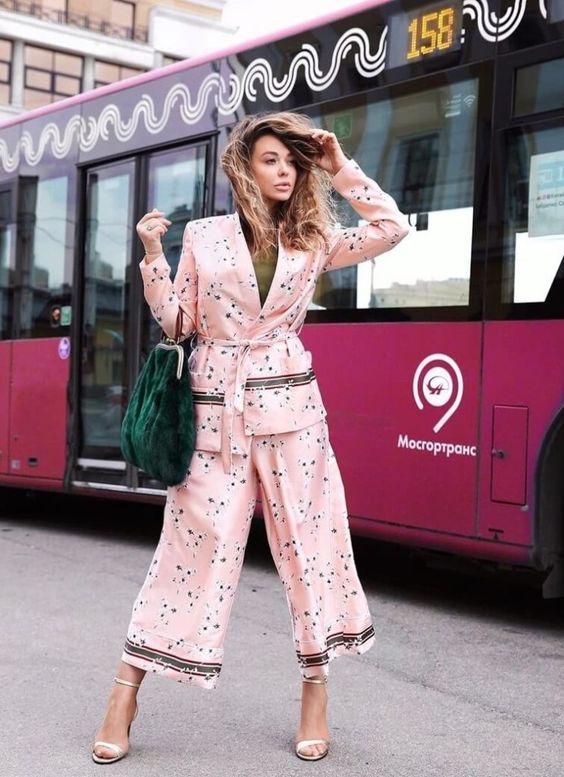 If you want to look gorgeous and fabulous with the pajamas trend for women, I suggest you try the style in the picture above. Wearing a pink silk robe pajamas and pair with white stiletto. With the culotte pants in bottoms and the pajamas robe that turns like a blazer actually would look stylish to wear as for your formal ensemble.
Play with Color Clashing Style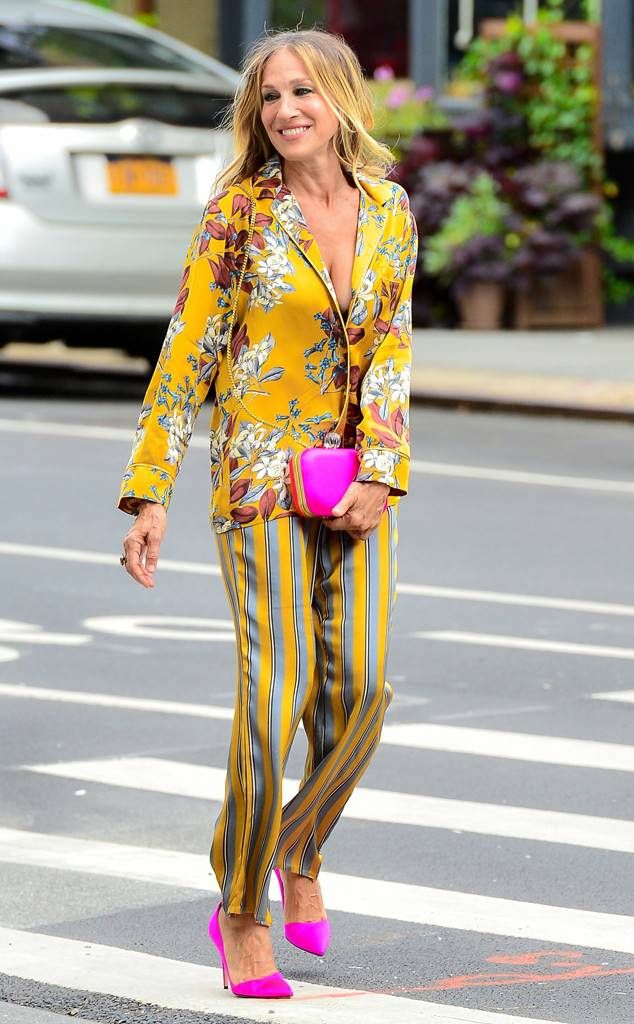 Having fashionable and colorful pajamas trend in women's outfit ideas with the color clashing combination. In this style, you need bright and light colors such as yellow and magenta to apply in your women's outfit ideas. For example, get yellow loungewear pajamas and then pair them with magenta color schemes in your mini clutch and high heels.
Classic Striped Pajamas Outfit for Daywear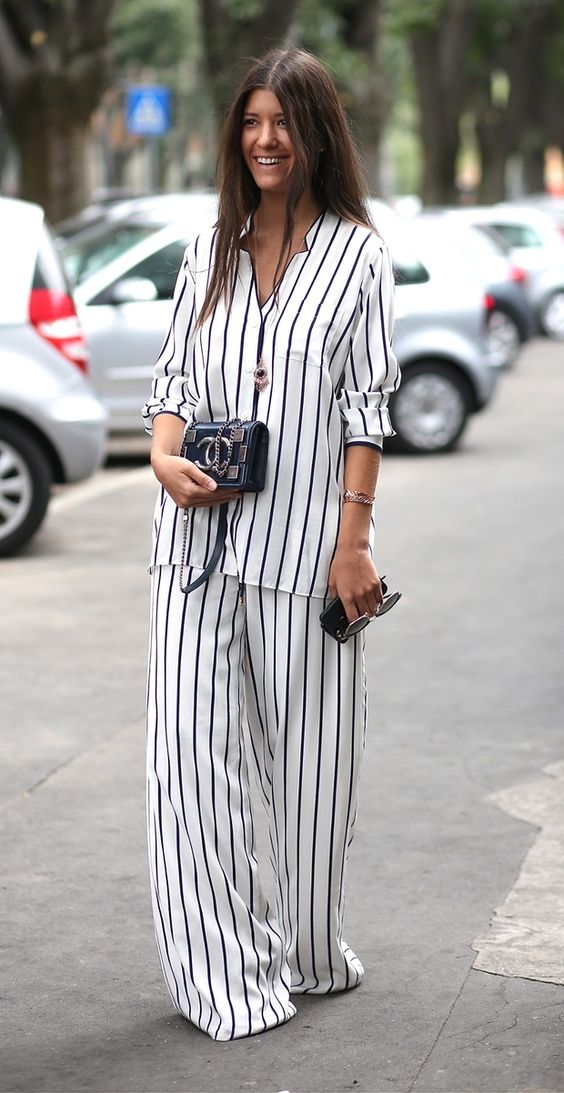 Get your classic white black striped pajamas trend for women's daily style in nautical outfit ideas. For this style, you just need to pair classic striped one-set pajamas with wedges or high heels and get your mini bag to make it your holiday style.
Pajamas Tops and Ripped Jeans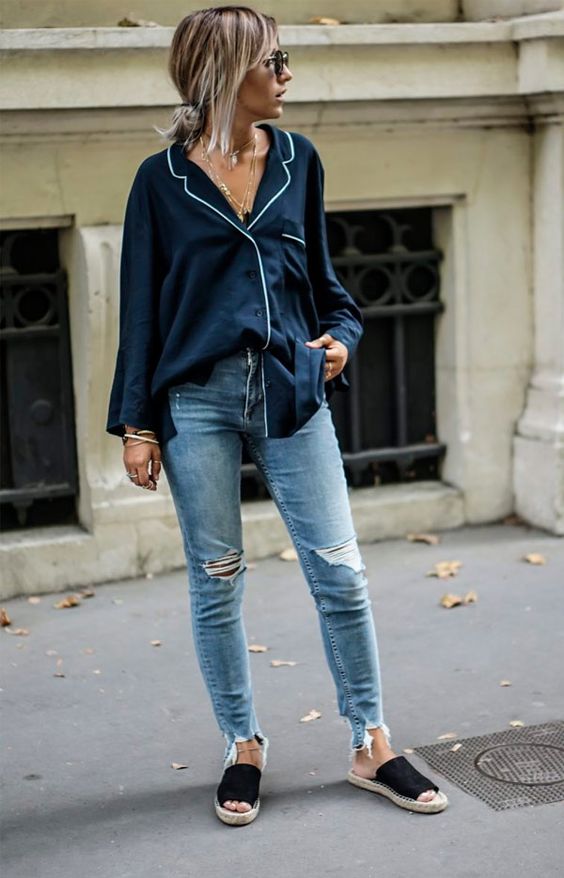 Get a little messy and trendy style in pajamas trend for women's outfit ideas with ripped jeans. Have it a more casual style with the sandals for the footwear. Don't forget to put on some accessories and perfect your performance.
Pajamas Trend for Casual Vacation Style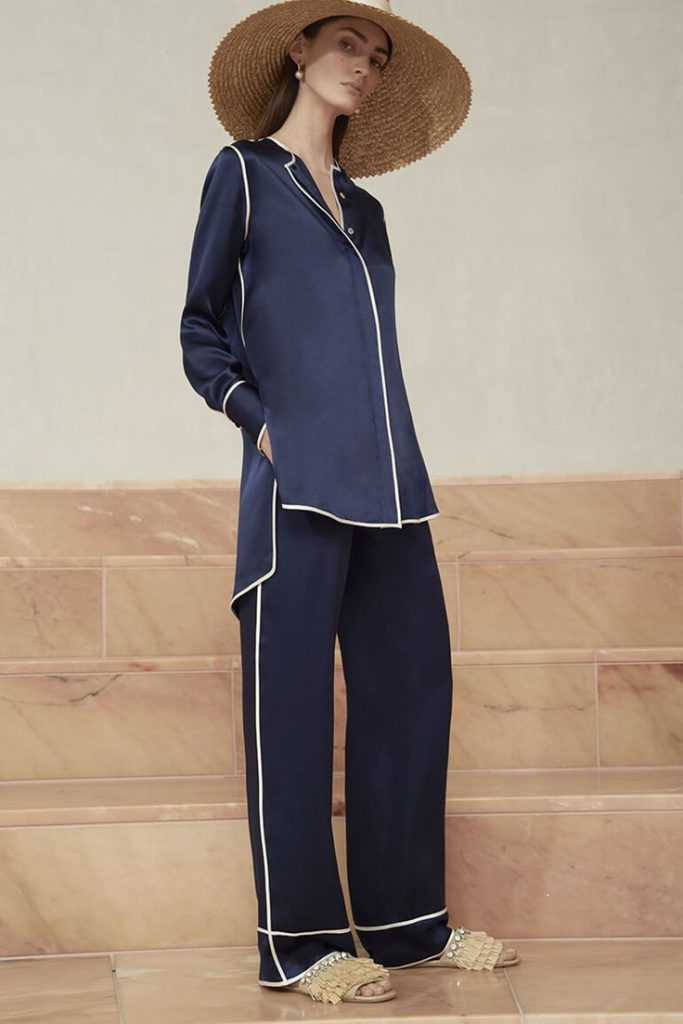 Pajamas for vacation outfit style, why not you try. You can choose sleepwear with comfy fabrics like cotton and with a loose design. Pull out this outfit with blue navy shades then get this piece with a straw hat and sandals to make it outfit for a walk along the beach.
Have some variation style with the new look by bringing up pajamas trend in your daily outfit style. Don't miss out to build up your fashion mode more excellently.