Olidfashion.com – K-pops and other Korean cultures have become trends today. Not only from the film, song, or food industry but also the Korean fashion style attract people's concern. Having nice visualization, design, and style would be best to inspire your daily ensembles. Designed effortlessly but still fashionable makes Korean fashion acceptable for stylish men's outfit ideas.
Some inspiring Korean Fashion Trends for Stylish Men's Outfit Ideas
Have your stylish men's outfit with Korean fashion trends that increases your mode and self-confidence. Stood up your appearance with the fashionable outfit ideas with some K-pop style. Feel free to stay scrolling here and get the best Korean style to apply to your daily outfits.
Athleisure Style for Winter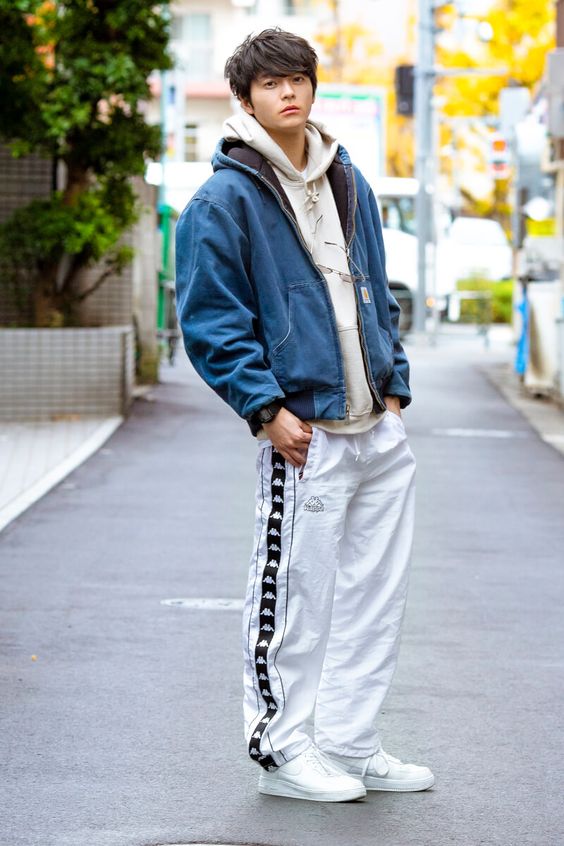 Athleisure is the outfit style with a sporty look. This more applied to the Korean fashion style. For this, you need to wear something sporty like line sweatpants, a hoodie, and then men's winter jackets. Complete your winter look by having sneakers and a watch for accessories.
Go With Strips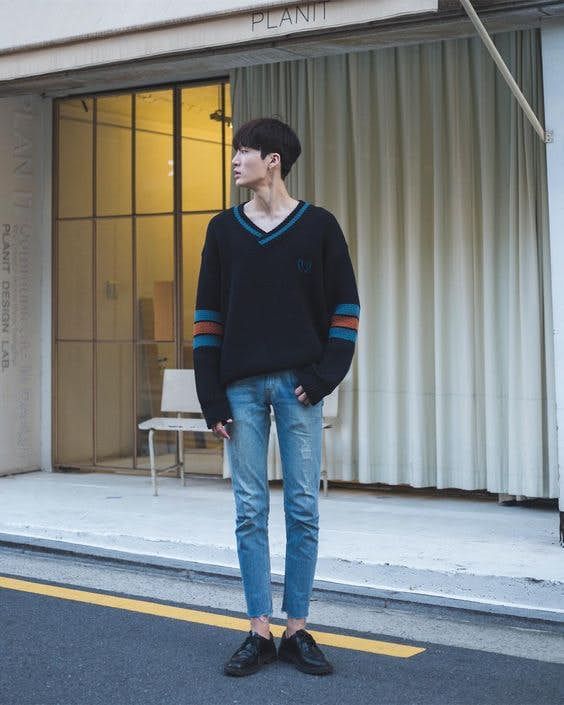 Stripes are a classic pattern that's usually stood up in Korean fashion style. It's a bit challenging to style stripes on your outfit ideas. You need to keep balance and harmonize with the pieces. For this, you can try to wear a sweater with three stripes on the sleeve. Match it with skinny jeans and loafer shoes to have stylish look.
Get your Trousers and Shirts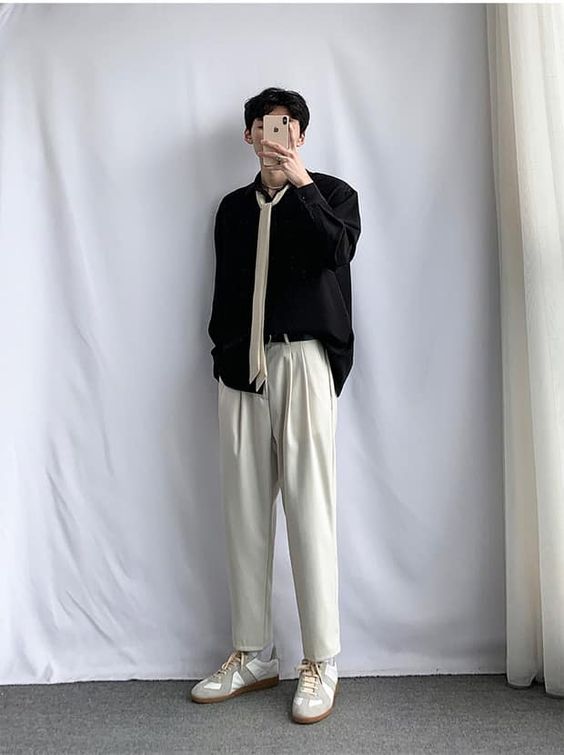 In Korean fashion style, men mostly wear trousers and shirts for their daily outfits. These items could bring a formal and elegant style to men's outfit ideas. However, you can get this outfit as a daily style for hanging out by using trainer shoes rather than loafers for a more casual look.
Turtleneck Sweaters in Korean Fashion Style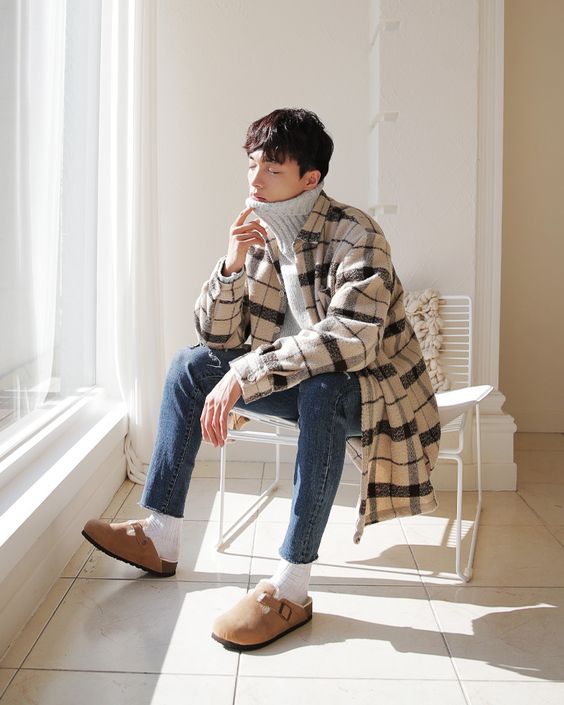 For typical Korean style usually wear turtleneck sweater in their winter outfit ideas. Combine this sweater with brown plaid flannel jackets and blue jeans to have fashionable men's outfit idea.
Pastel in Men's Korean Outfit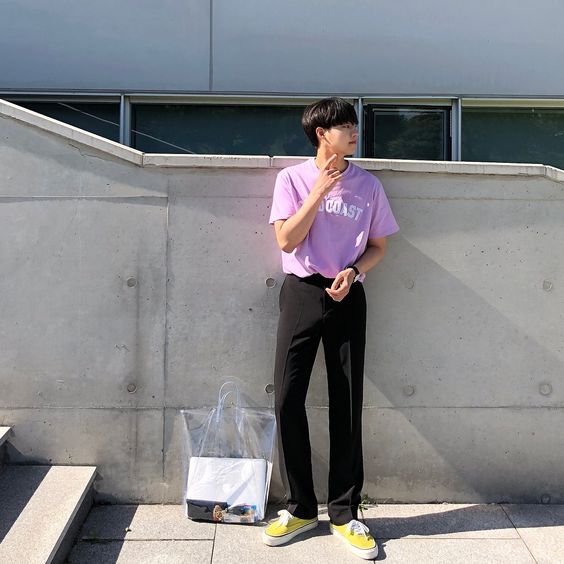 Korean fashion style also gets known with pastel tones. That's common to have men's pastel clothing in your Korean outfit ideas. You can come in calm and tonal color schemes such as brown, cream, lilac, pink, and others and then match it with neutral color shades. For instance, you can choose a lilac tee as your top, black linen trousers for bottoms, and then pale yellow sneakers for the footwear.
Elegant with Blazer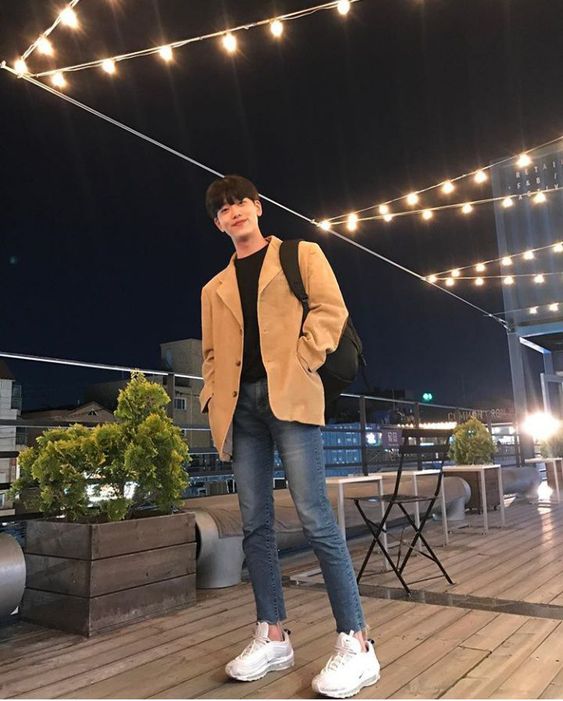 If you look for elegant style for your men's outfit ideas, you can try to put on a blazer on your common ensemble. For this, you just need to wear a classic black t-shirt and jeans, then cover this outfit with a light brown blazer. Perfecting your Korean style with white trainer shoes and a backpack.
Bucket Hat in Summer Style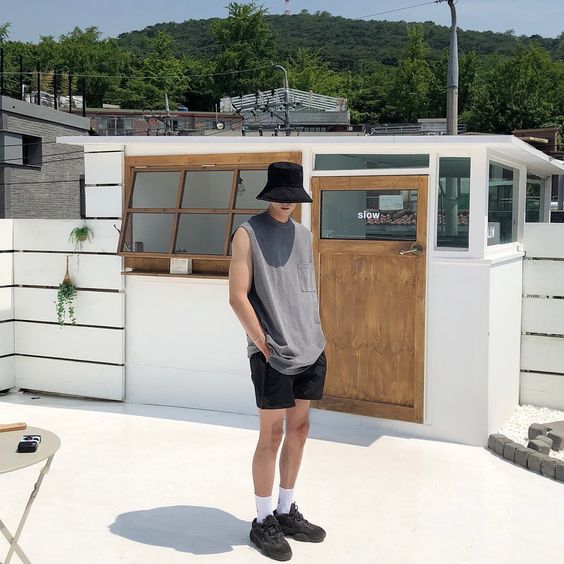 Get ready with summer in minimalist attire that's become fashionable by inserting Korean style in men's outfit ideas with bucket hat items. For the simple way, you can combine a tank top, Bermuda shorts, and trainer shoes in your summer fashion style. This would get you a comfortable outfit to wear in hot weather.
Layered Trends in Korean Outfits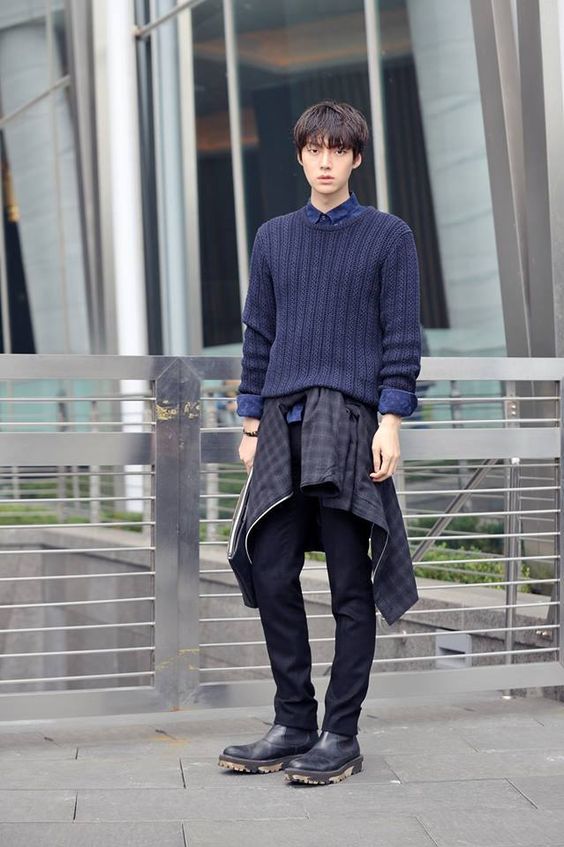 Layering outfit is also one of the trends in Korean outfit ideas. To have this style without looking bulky, you can get a knitted sweater and a collared shirt in dark tones. Combine this outfit with black jeans and then tie a jacket around your waist. Choosing a pair of black leather shoes would be stunning your outfit style.
Having Tonal Outfits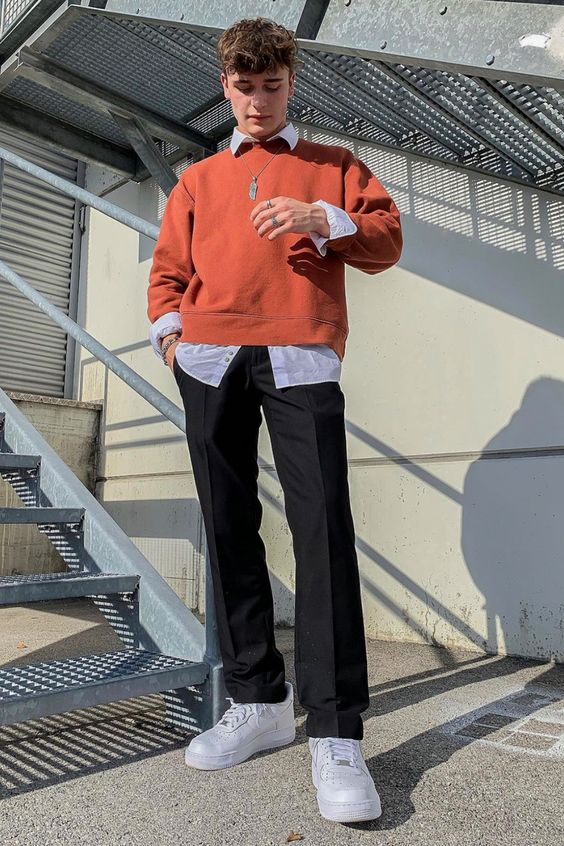 Another typical Korean trend in fashion is tonal outfits. They usually stood up the tonal colors such as pastel, neutral, or earthy tones. Mix and match those colors to your men's outfit ideas. For example, you can get a coral sweater to layer a white collared shirt then match it with black trousers. Get this outfit ready with white trainer shoes and make it your modest college outfit for boys.
Classic Tops with White T-shirts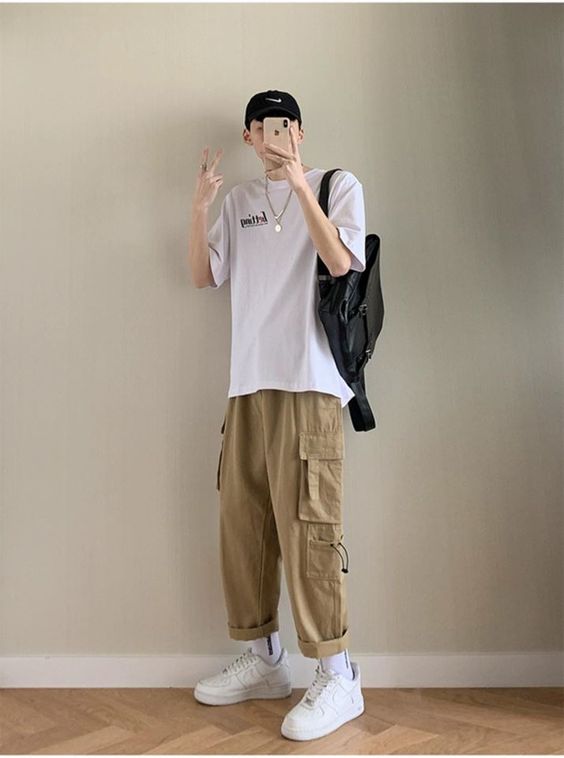 The easiest way to present men's Korean fashion style is by wearing a classic white t-shirt then mixing it up with cargo pants. Just choose one number larger for your outfits. Perfect your performance with trainer shoes, backpack, and hats.
Leather Jacket for Korean Outfit Idea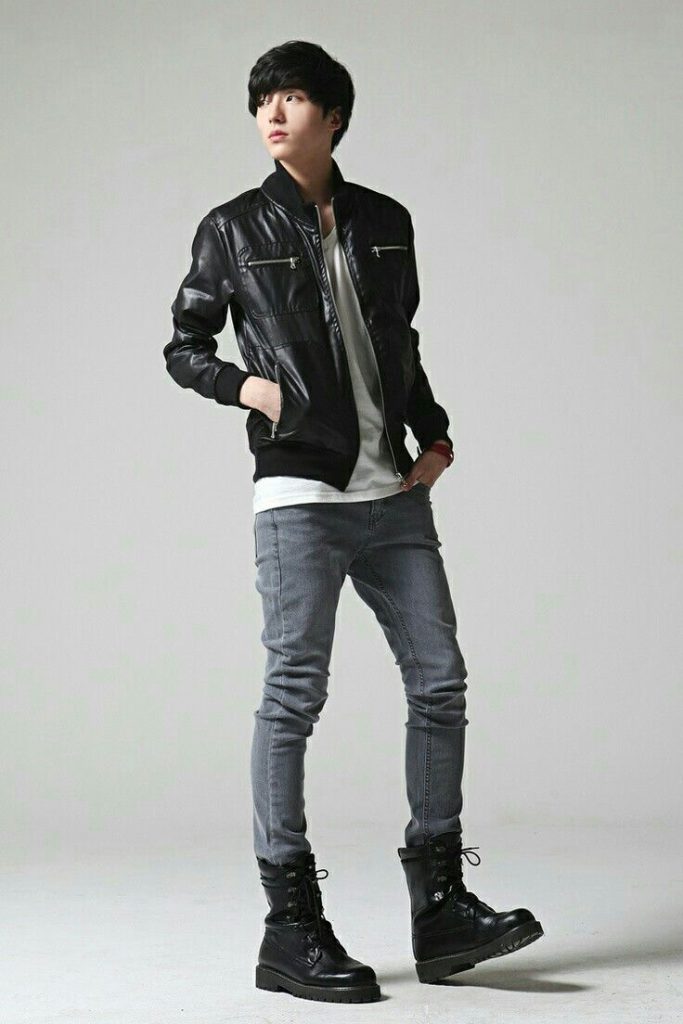 Have a trendy and cool style in men's outfit ideas by having leather ensembles on your Korean outfit ideas. Just try to put on a leather jacket on your t-shirt and jeans combination. This jacket style would be more stunning if you can pair it with army boots.
Black Skinny Jeans Style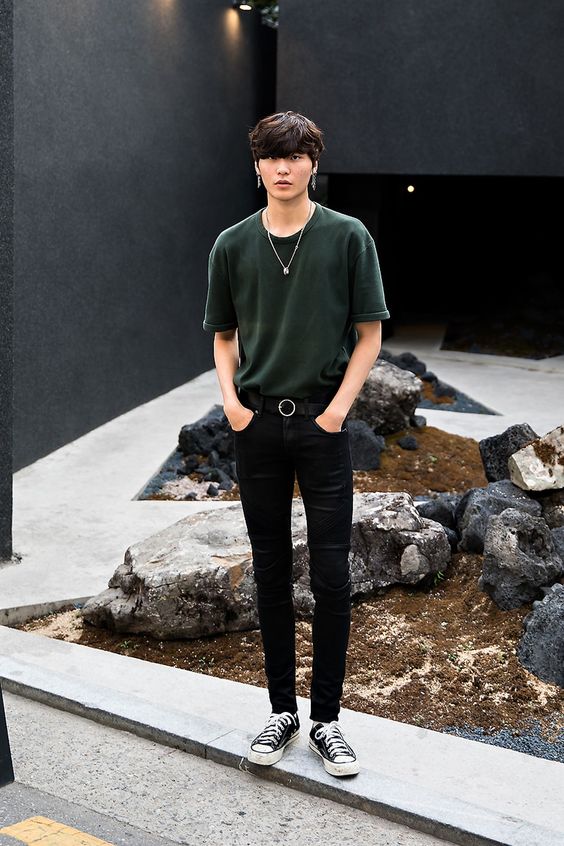 Besides trousers and jeans, other bottoms that are a favorite to get ready in men's Korean style are black skinny jeans. This bottom style would get a slim illusion to your leg. You also can easy to match matching this piece with other tops such as basic t-shirts, polo t-shirts, or flannels.
Give Statement on Clutch Bags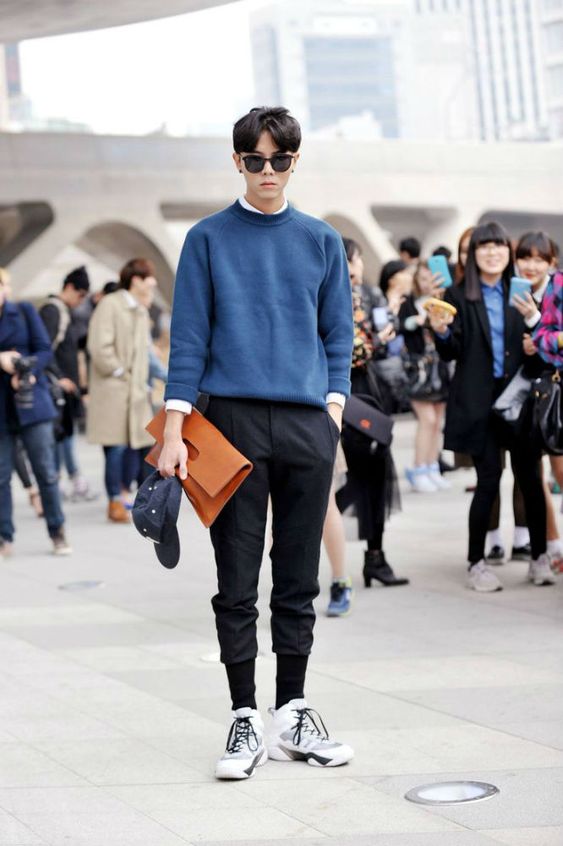 Came along with a clutch bag to give you Korean fashion trends in men's outfit ideas. This bag not only completes the women's outfit but also the men's style. For this, you just have to wear basic clothing styles such as a navy sweater, black jogger pants, and white trainer shoes and then give a statement on your brown clutch bag. Having additional accessories like sunglasses and a hat also could astonish your appearance.
Ripped Jeans Outfit Style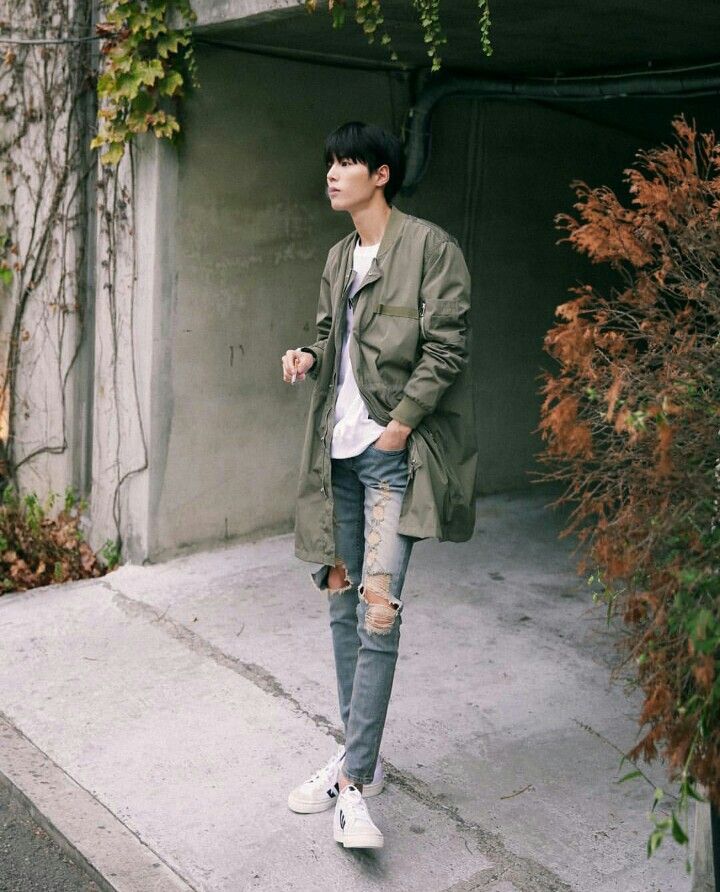 Having ripped jeans on your Korean outfit style is a great option. You can get the jeans with another outfit in your wardrobes such as plain white tee and trench coats. Complete your stylish outfit by picking a pair of sneakers.
Modest with Collared Shirts Style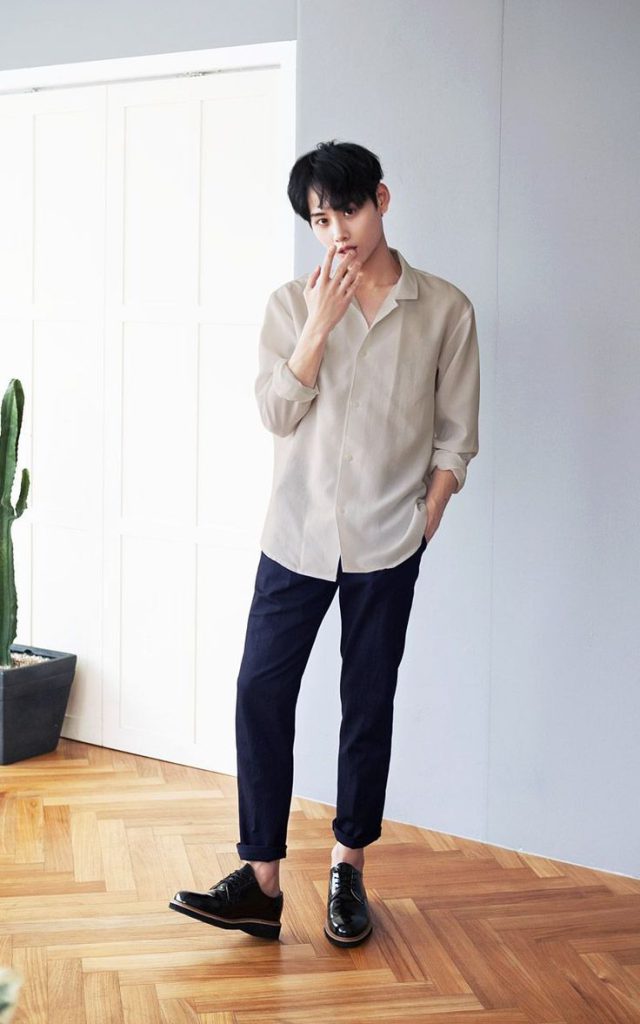 If you prefer to have modest style in a formal ensemble such as a shirt, just bring it with navy slacks. You can also turn it into preppy workwear in the office by giving other pieces like a blazer or tie. Put on loafers or leather shoes to give you the best show that you want.
Bermuda Shorts in Korean Trends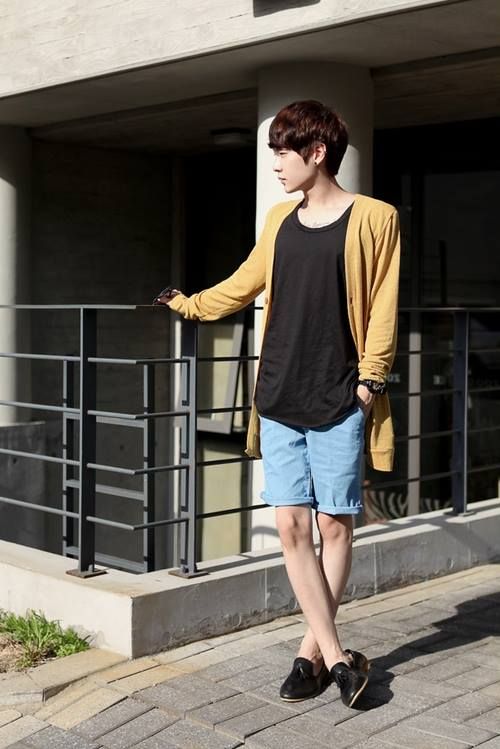 Most of the men's Korean fashion trends usually wear Bermuda shorts to bring out casual outfit style. If you look for stylish outfits with these shorts, you can get them together with a black tee and a light brown cardigan. Choose loafer or moccasin shoes to astonish your casual spring style.
Trendy Korean Menswear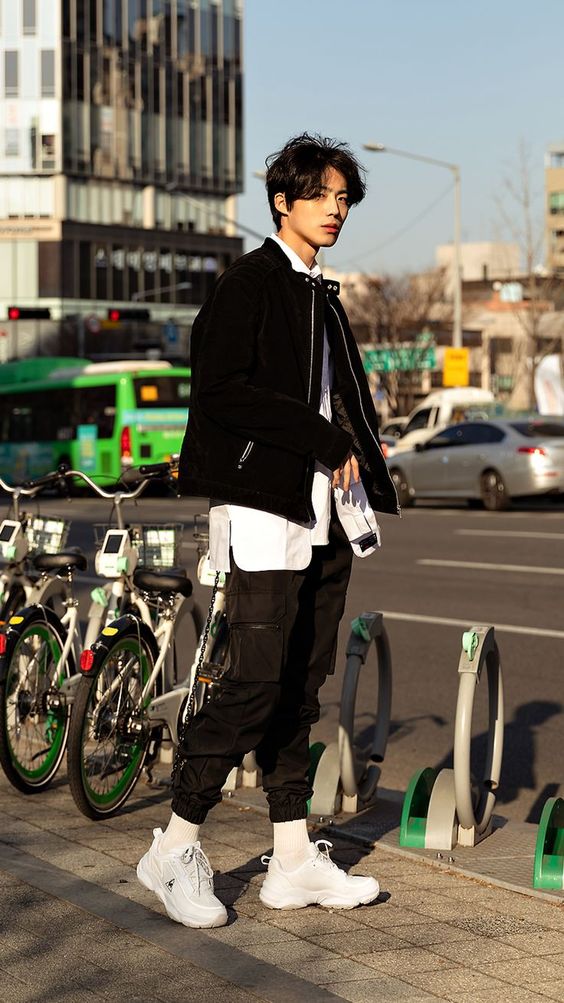 Want to look trendy with Korean outfit ideas, having this attire in your daily style. Put on a white collared shirt, a black men's suede jacket, and then cargo pants. For the footwear, just prefer white trainer shoes. This is simple but actually could bring a trendy look to your stylish Korean outfit.
Baggy Outwear 
After tonal shades, layered style, now let's give place to baggy clothing in men's Korean fashion style. We know that oversized and baggy clothing is a trend in Korean outfit ideas. Having oversized outwear to come up with a white tee and ripped skinny jeans is such a great idea. You just need to make it more trendy by wearing black trainer shoes.
Monochrome In Black for Cool Korean Menswear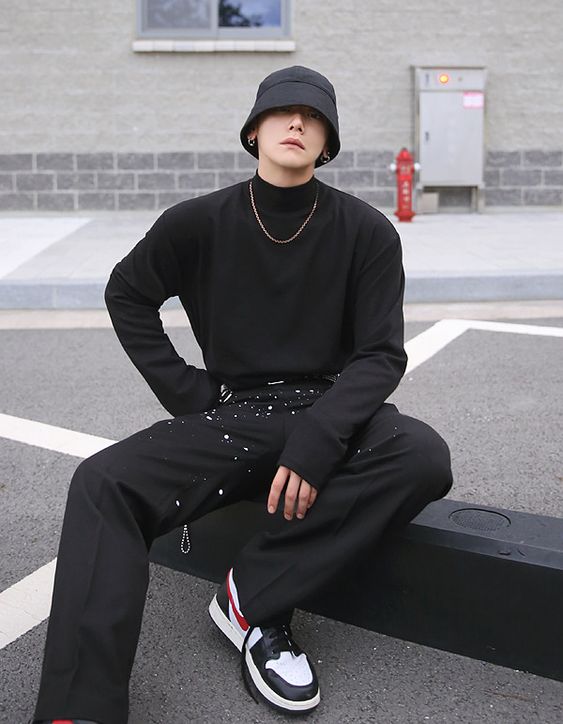 Having monochrome black for men's outfit ideas in Korean style could deliver a cool and mysterious aura. For this, I recommend you mix and match your black pieces in your wardrobe such as a long sleeve t-shirt, trousers, bucket hats, and equip with black trainer shoes. Finalize your cool ensembles with simple jewelry and accessories.
Go with Short Suits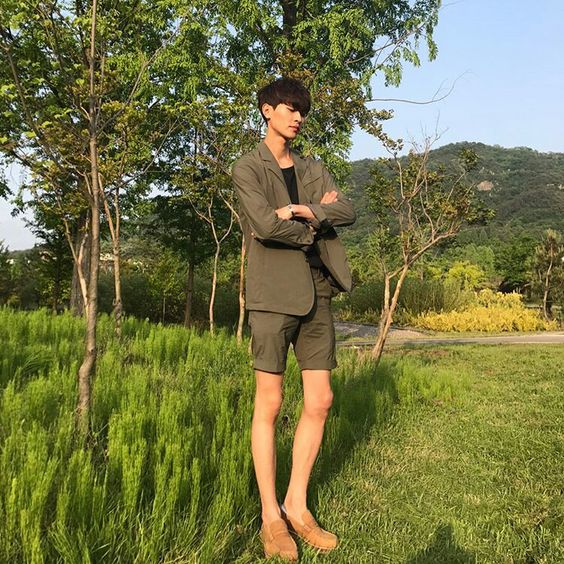 Short suits that include shorts, a blazer, and a black tee underneath is the best Korean style to apply in your daily outfit. This style is great to wear especially in spring or summer. For matching footwear, you can select a loafer or other slip-on shoes.
Sneakers are The Best Footwear in Korean Trend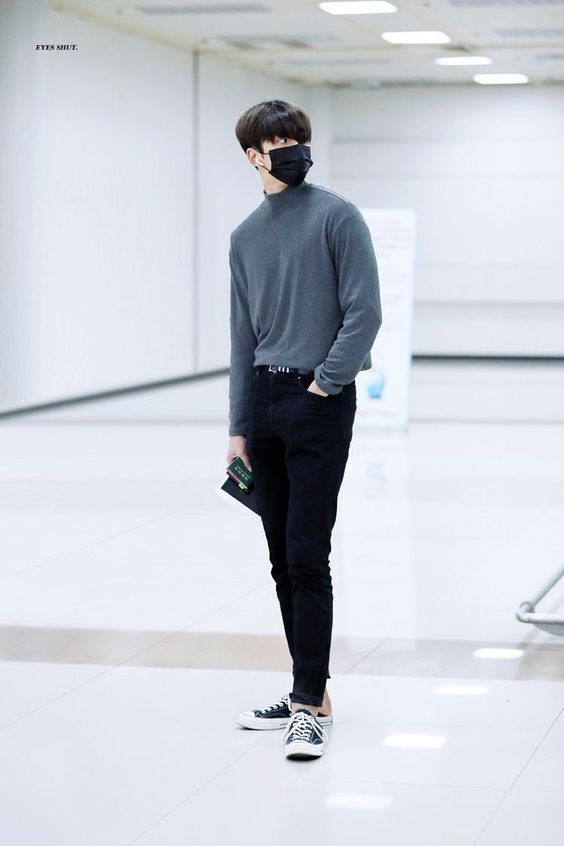 Get your sneakers out to bring trendy Korean outfit ideas by matching them with basic menswear. This footwear is a great choice to stand up casual trendy style effortlessly. Having it in your sweater and jeans style could bring your outfit to another level.
Nerdy Outfits for Korean Guys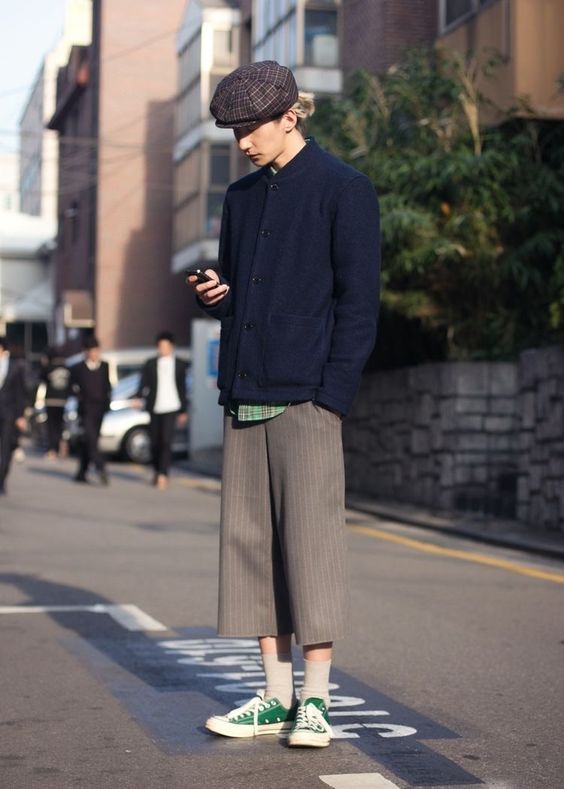 If you have a look for in cool nerdy boys outfit, you can get this fashion style. Ankle pants pair with plaid shirts and then cover them with bomber jackets. In footwear, you can bring a pair of socks and sneakers. Get this look fashionably by having a beret hat on your head.
Baseball Jacket Style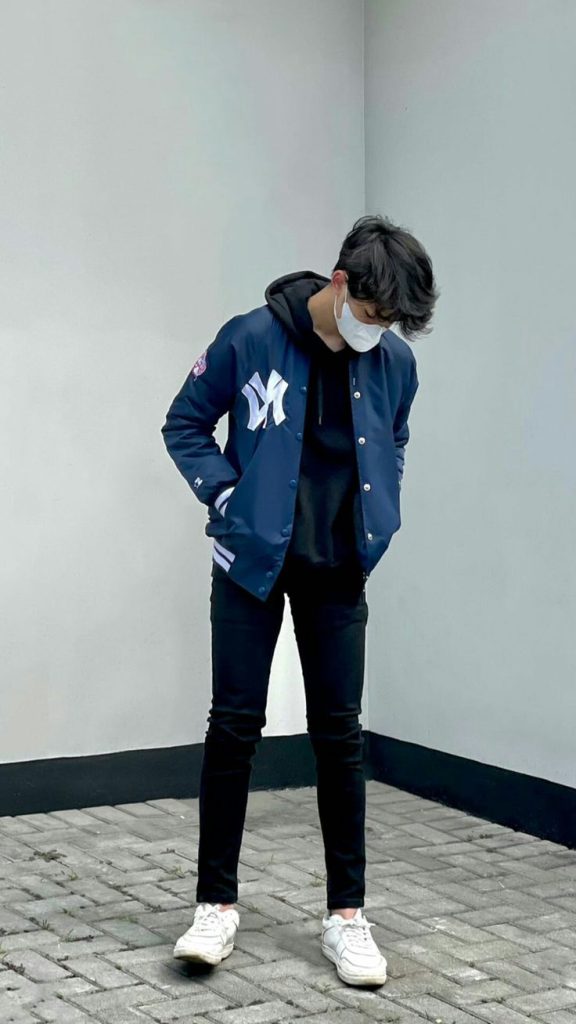 Asides from bomber jackets and men's coats, baseball jackets also become a favorite to bring men's Korean fashion style. This item is mostly applied in boys' and teens' fashion. To simple and easy style, you can match this jacket on your hoodie and jeans outfit. Make it more cool and trendy by pairing it with white trainer shoes.
Swag in Korean Fashion Trend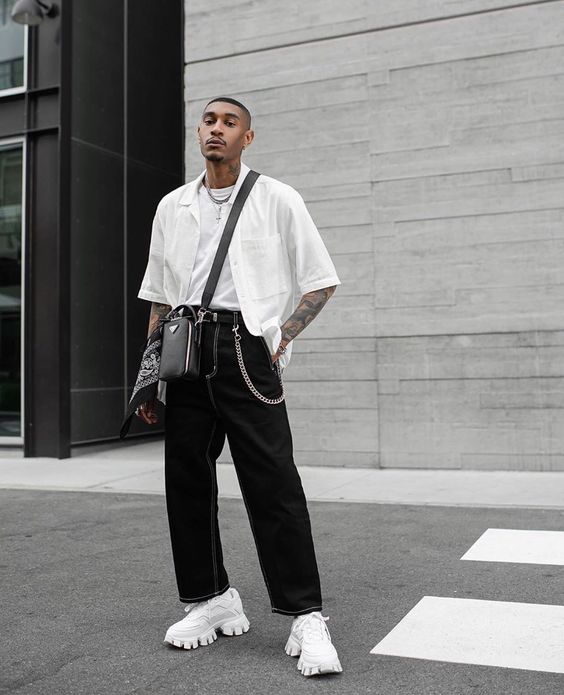 Have a swag style in Korean trend with the white and black outfits and then get eccentric complements such as chain accessories in your outfit ideas. For this, just try to pull out a white tee and shirt, black straight jeans, and white chunky shoes. Finished this style with a black bandana on your hands, and a mini wais bag.
Suspender Outfit Style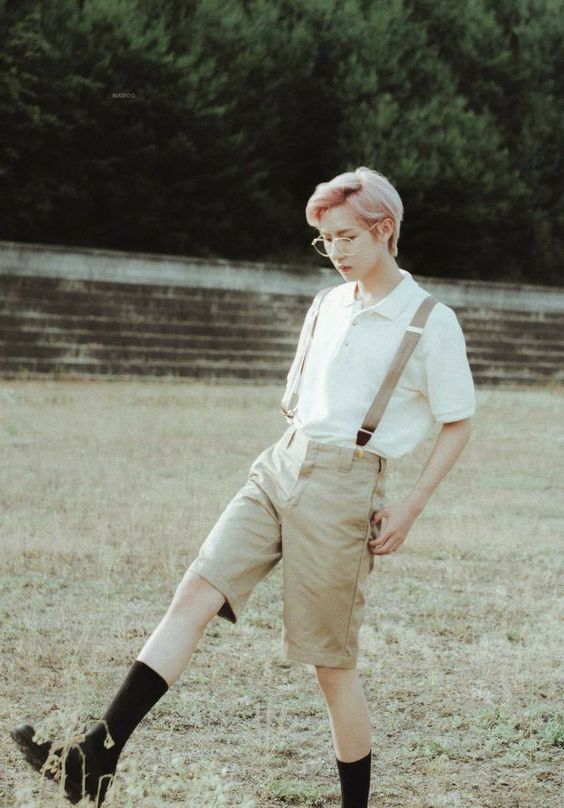 Get youthful in your Korean fashion style by having suspender shorts in your men's outfit. Match it with a short-sleeve polo shirt and then a pair of socks and loafer shoes for footwear style. Stood up your boyish look by wearing round glasses for the accessory.
Androgynous Style in Floral Outfits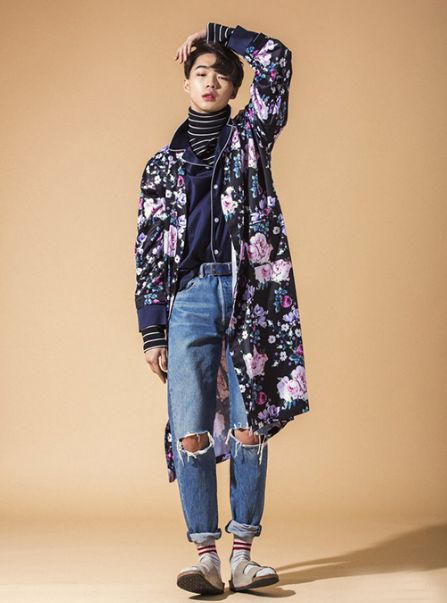 Androgynous is the style that comes to both genders, either men or women. This is usually a unisex fashion style. For this androgynous outfit, you can give a feminine accent such as a floral pattern, pastel shades on menswear. In stylish Korean Outfit Ideas, the floral pattern is most used by designers to bring an androgyny look. For example, you can look at the picture above.
Men's Vintage Style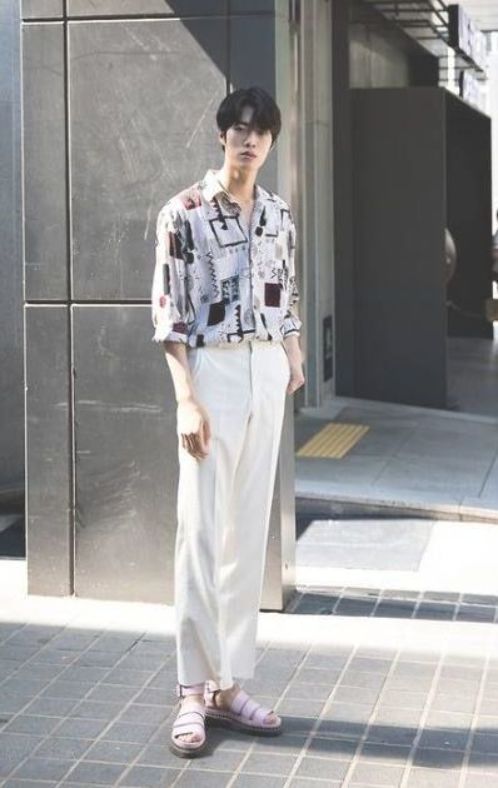 In Korean vintage outfit ideas, you can get a long-sleeve patterned shirt and then tuck it in your straight chinos. Finished this outfit idea by having pastel sandals and then adjusting your hairstyle in past trends.
Bring Out your Flannels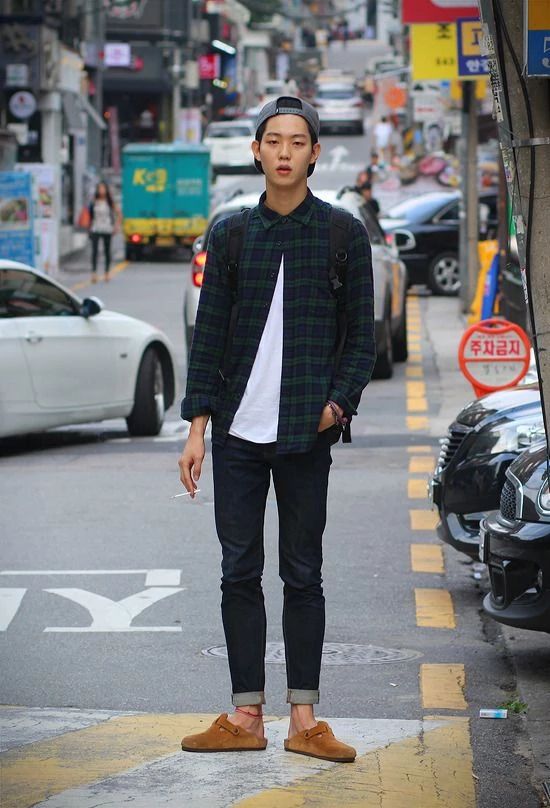 Never bored in flannel style, this versatile item is one of the major outfits to present men's Korean fashion style. Give this flannel statement over your white tee and black cropped jeans. Latching up a sum of buttons in the upper flannel and letting the lower open could give a unique design. Complete your Korean fashion ideas by bearing a backpack and suede slip-on to make it more stylish.
Round Glasses for Accessory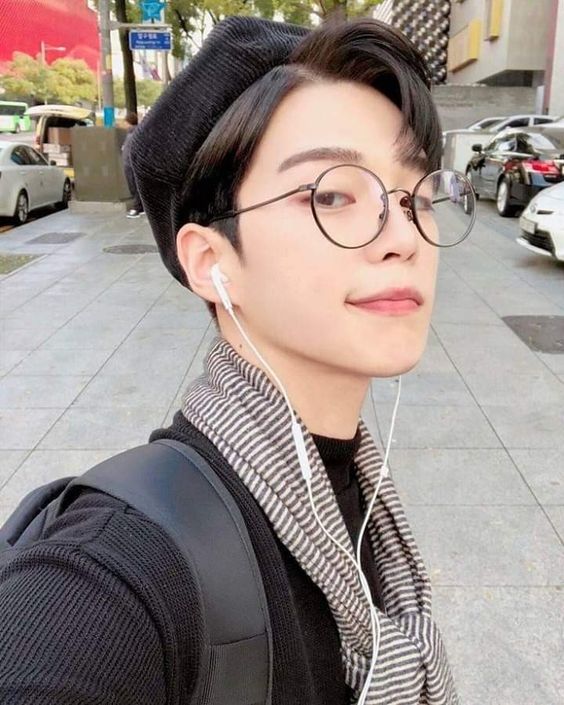 To make Korean fashion style in men's outfits, besides from the clothes you need to assume it on your accessories such as round glasses. Just bring this accessory to your smart-casual outfit, nerdy style, or even in your trendy outfit ideas.
How to Bring Korean Trends in Men's Outfit Style
From the inspiration style above, I will compile some tips and tricks to help you bring Korean trends to your men's outfit ideas.
First, you can come with the basic versatile pieces such as t-shirts, polo shirts, and collared shirts for the toppers. In the bottom style, you can choose trousers, jeans, or sweatpants.
Having tonal and pastel shades also could be a great idea to get Korean style in your outfit ideas. For this, you can choose earthy tones like brown, coral, khaki, and cream. Also, don't be afraid to apply pastels like pink or pale blue to men's outfit ideas.
Combining your pattern clothes with the solid ones. For example, if you get a striped topper you should match it with plain trousers or jeans. Furthermore, if you get patterned bottoms you have to mix them with simple tops.
Getting loafers, sneakers, and boots as for the best footwear. Just matching up with your outfit style. If you want to present a formal look, better you pick loafers, sneakers for casual style, and army boots for trendy and cool outfits.
Don't miss out on accessories and bags. In men's Korean style, they usually wear accessories such as simple jewelry like mini hoop earrings and round glasses. You also could bring hats such as fedoras or berets to accomplish your Korean fashion style. As for the bags, they come in a backpack or clutch bag.