Olidfashion.com – After bringing up some aesthetic Korean outfit ideas for girls, now let's find out what aesthetic Korean men look like. Whether you want to incorporate it into your daily lookbook or find out what Korean men are wearing, this is the place to be. We'll assist you with anything you need to become more stylish and fashionable right now.
It's widely known that Korean men have been always looking fashionable and becoming trendsetters for many men's outfit ideas. Aside from that, the rising popularity of boybands such as BTS, EXO, and others around the world has recently made the Korean fashion style popular as well. Having characterized that simple yet elegant make mens' aesthetic Korean outfits are liked by all, from young to old. While another reason that causes Korean men to look attractive is how they mix casual with formal outfits at once.
Korean fashion is unique that's different from other countries' fashion. This is not just the case for women's outfits, but also men's fashion. In Korea though, men's outfit ideas have more diversity from simple style, athleisure, and trendy streetwear, to a combination of formal and casual clothes. To help you with the look, we have compiled 24 men's aesthetic Korean outfits that we get from K-dramas and some boyband styles. To know further, just read down this list!!
1. Stay Cool in Basic Outfits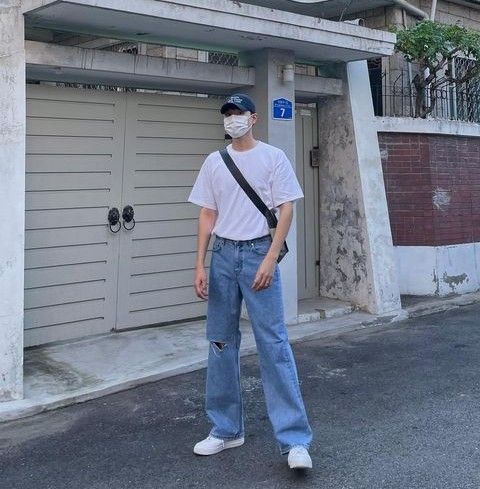 Always keep in mind, that any style usually comes from basic outfits. That's why let's start with a t-shirt and jeans combo. To make it an aesthetic Korean outfit for men, just stand it out more with fashionable accessories. For the shoes, you can wear sneakers but if you want a bit trendy and masculine, bring up your army boots in this style. Furthermore, rather than you wear common straight jeans, why don't try to pick ripped jeans? It would make you have a more stylish and trendy style. Then, just perfect your cool style by wearing a hat and waist bag.
2. Baggy Style for Winter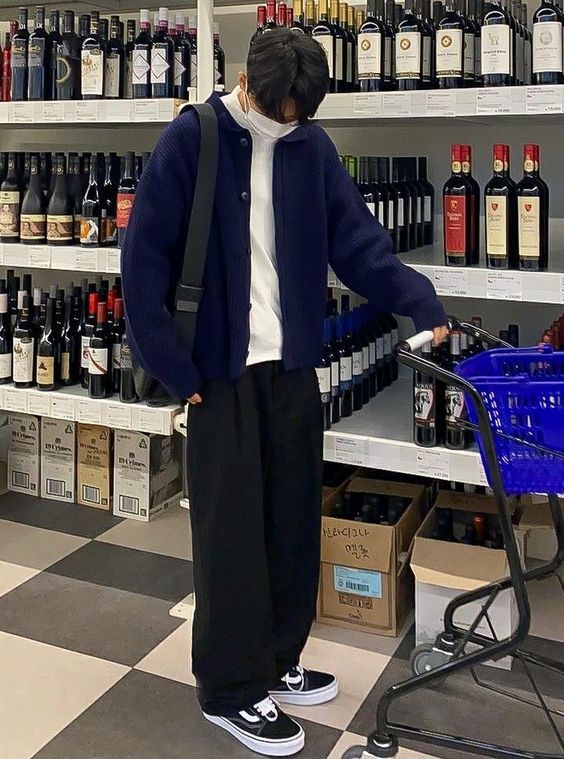 Baggy and oversized outfit ideas have become popular lately. Therefore you can use them as an aesthetic Korean outfit idea with a mix and match of baggy pants and a large knitted cardigan for the outer top. Then, get a white solid t-shirt to become the inner top. Furthermore, you can use sneakers for comfortable yet trendy footwear. For the bag, get a sling bag or waist bag to get a cooler look. You can use this stylish outfit as your staple fall outfit idea.
3. Feel Comfy and Fashionable in Duffle Coat Style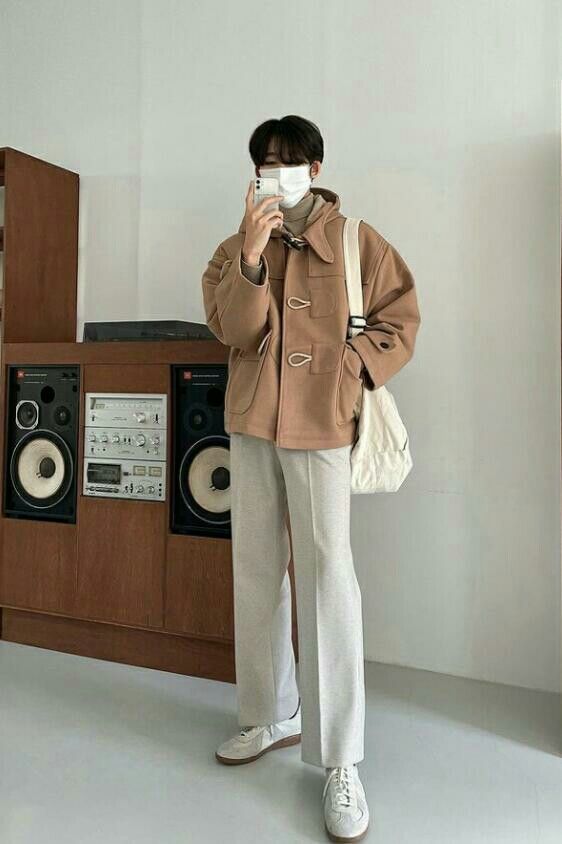 This boy's aesthetic Korean outfit is a staple during winter. This duffle coat, turtleneck top, and wool pants will keep you warm while also looking stylish in the cold weather. You can use this as an appropriate school outfit idea. For the optional style, you can wear a scarf to feel warmer, but when you don't like to look bulky just skip it. Then move to the shoes, you can wear sneakers if the weather is a bit sunny. However, if you find out that today is colder, better you get ankle boots or army boots to make your legs warmer. For the bag, just choose a canvas sling bag that looks aesthetic with this stylish outfit performance.
4. Keep Simple in Shirt and Chinos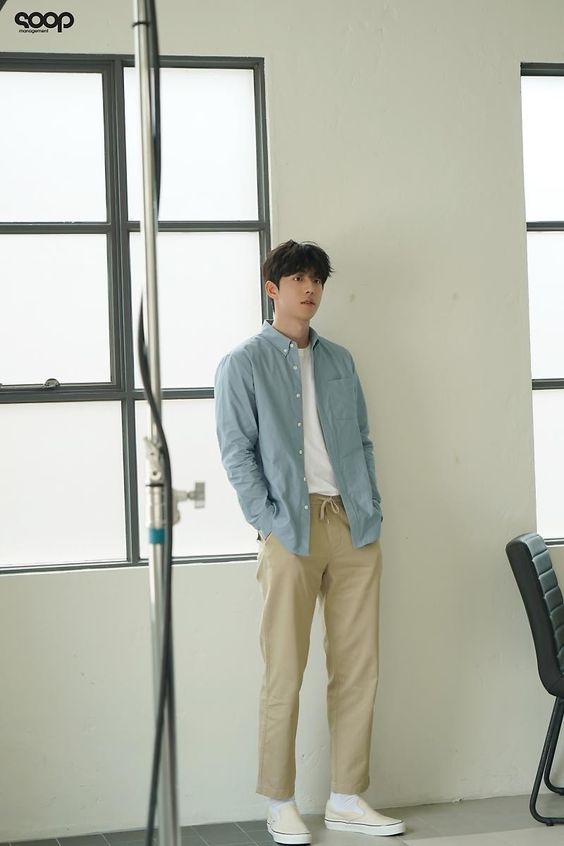 We all know that even Korean artists and boy bands prefer simple outfits for their daily lookbooks, such as this button-down shirt and chinos style. If you need inspiration for a boy's aesthetic Korean outfit, just try this one. You can wear a blue unbuttoned shirt with a white tee underneath. Then for the bottom style, pair with chinos that look cool. Furthermore, if you choose a pair of sneakers or Espadrilles, you will get a casual outfit performance. Stand more your fashionable outfits with accessories items.
5. Play Your Outfits with Cardigan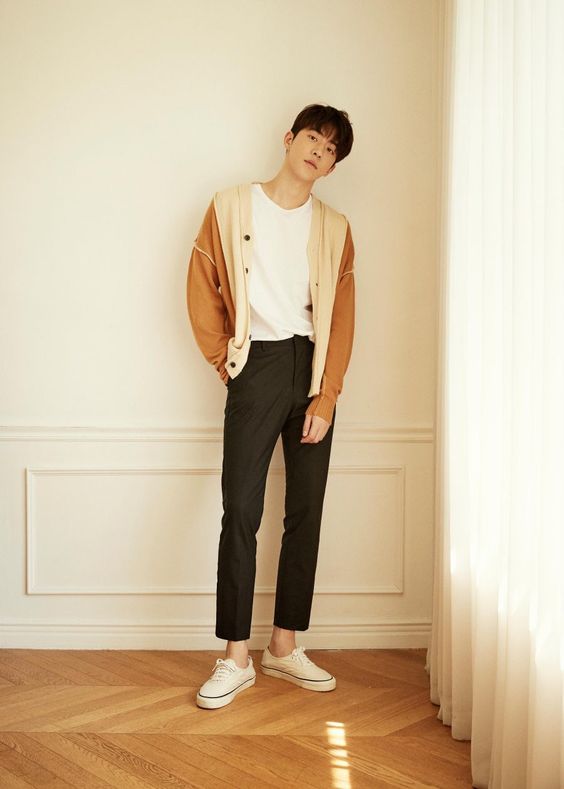 Some soft Korean boys prefer to dress in cardigans. Simply combine a basic t-shirt with an earth-tone cardigan for layering style. Next move to the bottom style, choosing black ankle pants with sneakers as stylish footwear. You can add some fashion accessories such as a necklace, a watch, and glasses to look more innocent. Continue to the bag, I think a wristlet bag will gonna complete your aesthetic Korean outfit idea.
6. Bring Versatile Denim Jacket to Daily Lookbook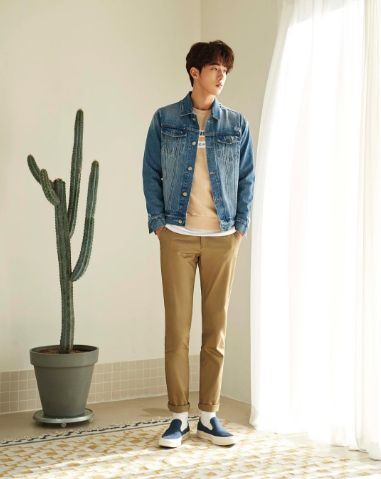 The most comfortable and versatile outfit is denim jackets. You can create many styles with this jacket either in hot or cold weather. For men who like being trendy yet aesthetic in Korean outfits, style your denim jacket with a printed tee underneath and chinos. For the shoes, Espadrilles or sneakers will gonna be fitted this outfit and look more casual. Furthermore, if you would use this stylish look, complete your performance by bringing a backpack or sling bag to save your belonging while you go hang out with your friends. Moreover, for you who need a trendy school outfit idea, this one is what you really need.
7. Polo T-Shirt and Pants for Classy Sporty Style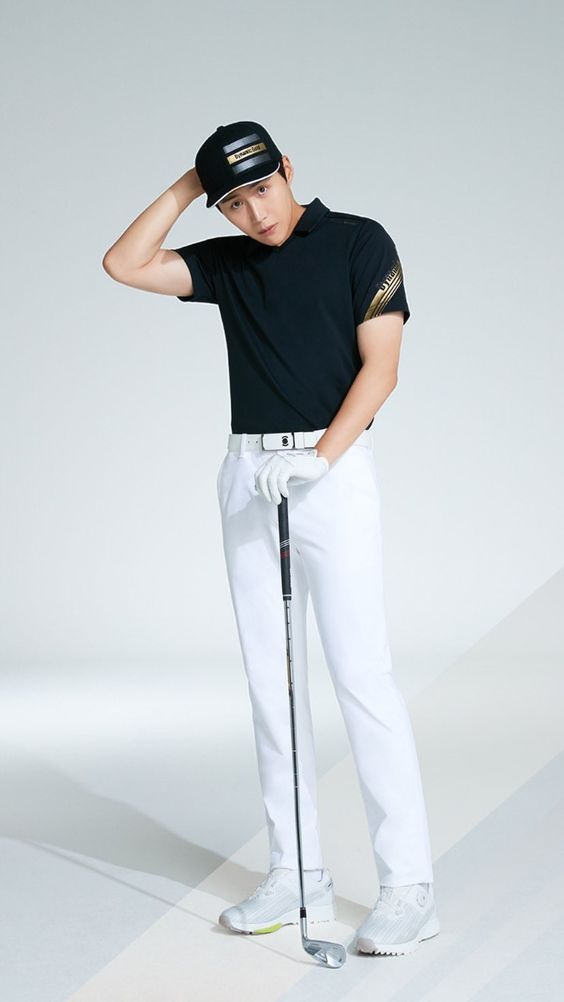 Have a plan to play golf with friends? This boy's aesthetic Korean outfit style would much help you. Thinking about a classy outfit by simply pairing a black polo t-shirt with white pants. To exist high-class performance, put some details to level up your look. You can get some classy accessories items like a watch, a white leather belt, and a cap. Furthermore, perfect your outfit by wearing a pair of chunky white sneakers. I think you'll love this black and white fashion for creating a classy elegant yet sporty style.
8. Look Attractive in Vest and Pants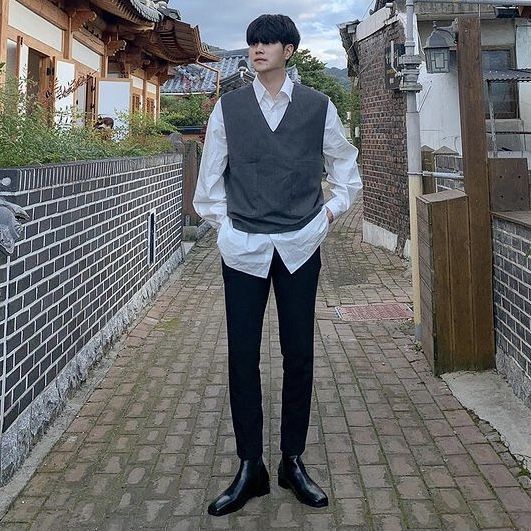 Sometimes having good-looking is not enough, you should also look attractive with the outfit you wear. So, to get everyone's eyes on you, start to get a fashionable statement from this vest style. If you love men's aesthetic Korean outfit style, this one shouldn't be missed out to put on your wardrobe. Meanwhile, people style their vests in a tidy style, you can make different with a little messy look. For the top, you may mix an oversized button-up shirt with a vest over it. And then, get trousers and ankle leather boots for the bottom look. The key to this style is not tucking the shirt and releasing some buttons. Also, this is an option if you want to add some accessories, you can select a watch and glasses if you want an innocent image. To finish out your style, just bring a sling bag or a clutch.
9. Preppy Look with Bomber Jacket Style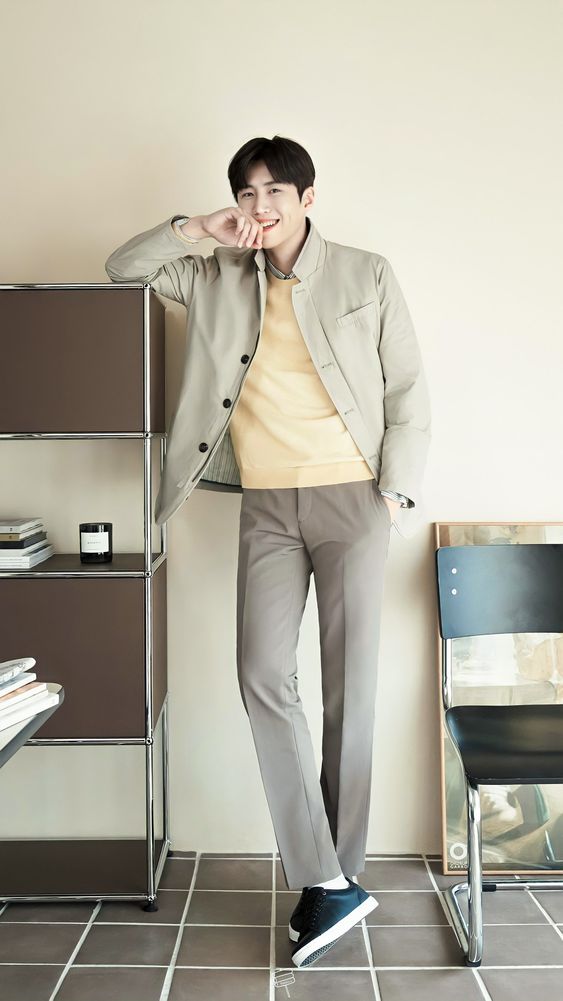 Another soft boy Korean fashion that we favored is this preppy look with bomber jacket style. I believe you'll love it too. Besides the simple look, this style is also easy to bring to any occasion. From formal events to casual hangouts. Simply you can put together a solid tee under a leather bomber jacket with a stand collar and jeans for spring casual style. But if you want a bit layback yet formal look in fall, bring this jacket over a sweater and collared shirt then pair it with trousers. Jump to the toe, you can match this aesthetic Korean outfit with socks and sneakers, or you can also pick Espadrilles.
10. Trendy Korean Style in Shorts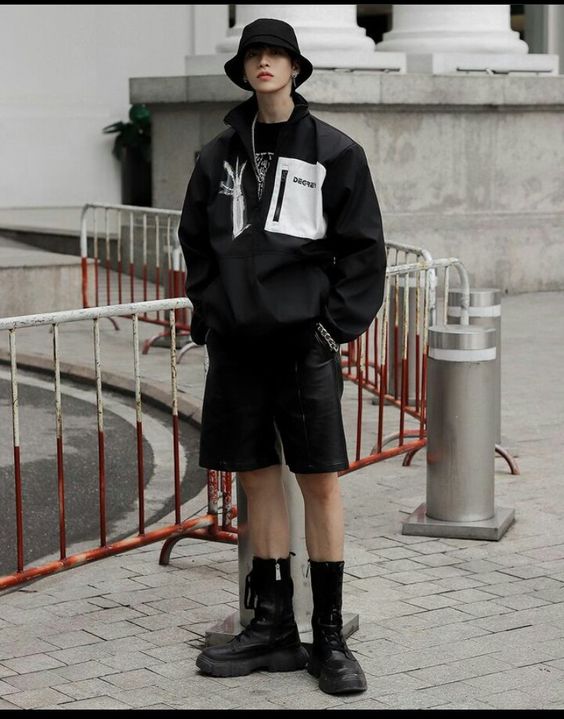 When you look at some of the personnel boy bands, they truly look fashionable on any occasion. So that you can imitate their style and turn it into your men's aesthetic Korean outfit idea for daily rotation. Consider this shorts outfit performance for inspiration. You can mix your shorts with a big jacket for the outer top and a patterned tee underneath. If you want to use it as a fashionable hangout outfit, you can try to add accessories, but still, don't overdo it. Choose a simple silver necklace or bracelet and then wear a bucket hat are enough to make you cooler. Next, use socks and army boots for the shoes and make you look trendy outside. Finilize your outfit performance by wearing a waist bag or funny pack.
11. Puffer Vest for Stylish Fall Outfit Inspired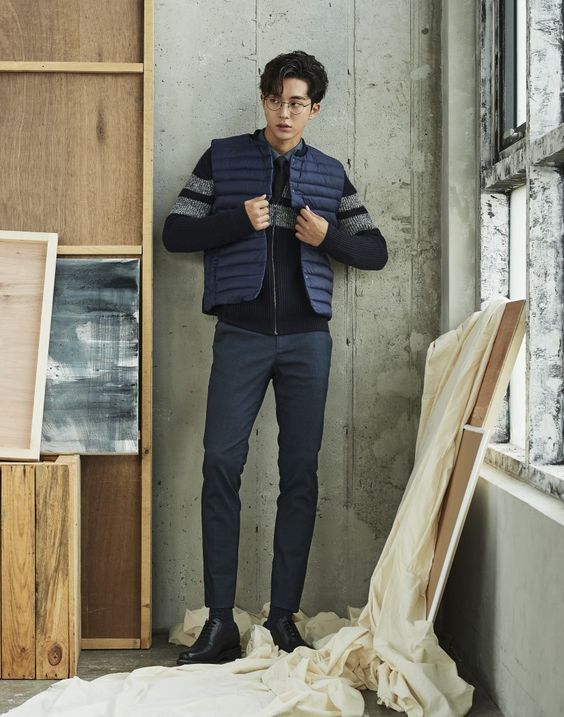 Do you need an outfit that keeps you warm yet aesthetically fashionable? Choose this puffer vest-inspired fall outfit. Simply put on a sweater and a thick puffer vest for the top and wool pants for the bottom. Wear it as an aesthetic Korean outfit at work by adding more layers, such as a shirt under your sweater, for a more complicated look. Now, get a key from the accessories items to elevate your style. Use glasses that make you look smart, a tie for a formal accent, a watch, and a leather belt. Furthermore, for the toe, you need to wear socks and pick loafers that would suit this formal look. Lastly, you should get a message bag or briefcase to carry your important belongings.
12. Simple and Easy Flannel Outfits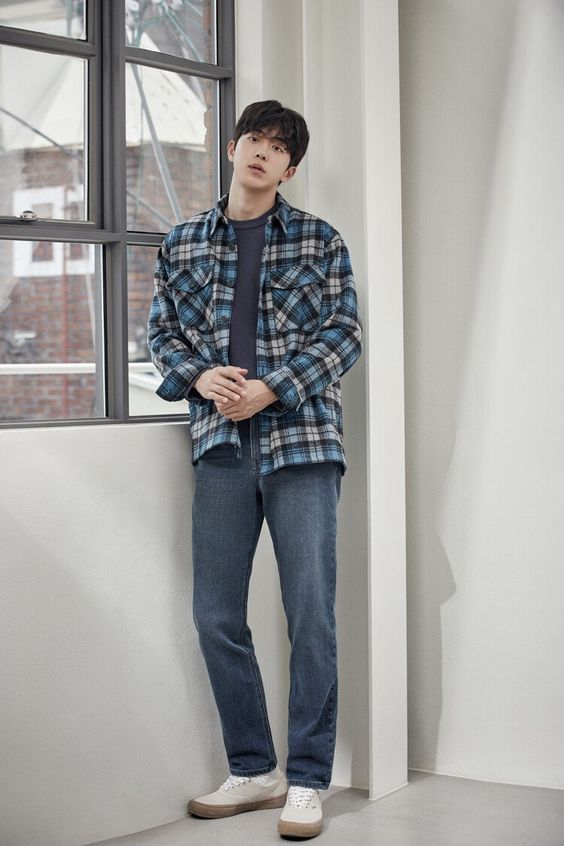 No doubt this outfit idea become your favorite for daily style. With the simple style and easy to combine, flannels usually stand in your closet. This piece you can wear for hangouts, attending class, or even for a casual date with your girlfriends. You can make it stand alone just by matching it up with jeans or ripped jeans. But mostly, flannels are used for layering style by wearing a solid tee for an extra top.
13. Fashionable Streetwear with Tie-Dye Outfits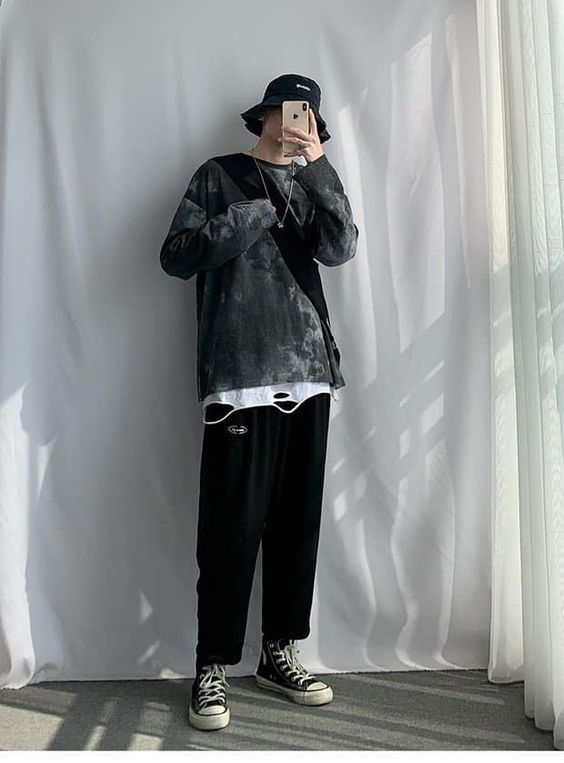 Sometimes getting aesthetic style is not always in preppy and tidy outfits, you can also get the art from a grunge look. For example, this shabby tie-dye t-shirt and sweatpants combo. I think this would be a unique streetwear style. Just elevate it with accessories detail such as a silver necklace and bucket hat. For the shoes, choose between army boots or high sneakers. Then for the bag, you can select a sling bag, waist bag, or a funny pack.
14. Smart Casual in Jumper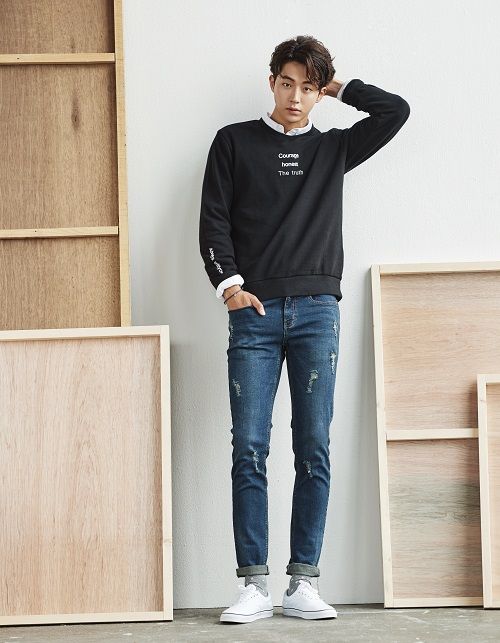 Let's take this idea and drive it to a smart casual look! As you who like something chic and cool, we suggest this simple jumper style to you. What makes this common style become cooler is how you present it perfectly using a different ensemble. For instance, you should prefer ripped jeans or skinny jeans rather than chinos or straight pants. Those pieces would help your jumper style look trendy and cool. For Besides that, you may get a layering style with a button-down shirt under the jumper. Furthermore, bring classic sneakers or Espadrilles to stand more for your aesthetic Korean outfit idea.
15. Korean Hangout Style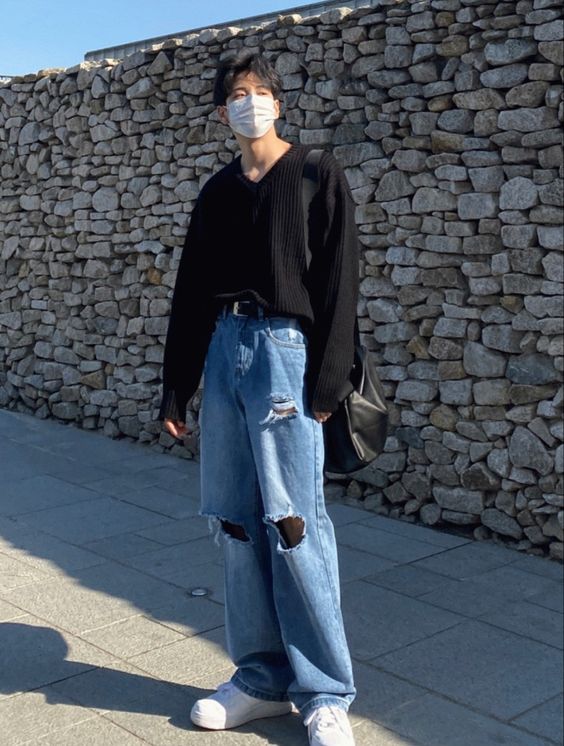 Need an outfit that easy going for a hangout or going to college? I guess you'll need this one. Yes, we suggest you mix a knitted sweater with ripped jeans. It might look usual, but you can balance the style with another fashion accessory. Because we want to form an aesthetic Korean outfit for men with these pieces, I think you can wear a bucket hat for an additional stylish look. If you need something to help you carry your belongings, it would be better if you prefer a backpack or sling bag. Then, for the final touch, you need to wear trendy sneakers for comfy stylish footwear.
16. Hooded Blazer Outfit Look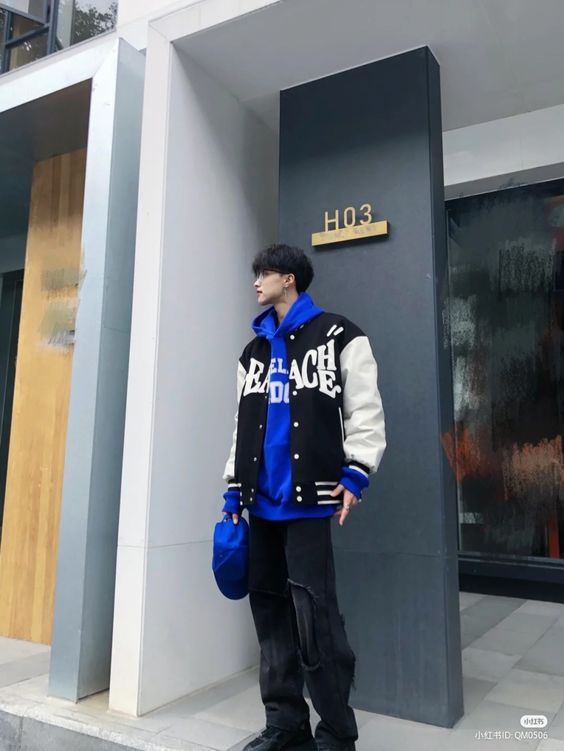 I think this ensemble is good for you who feel stuck on how to mix and match outfits. Not only comfortable, but it looks trendy enough! This hooded blazer style is just what you need to get an aesthetic Korean outfit in your daily lookbook. For the teenagers, you can prepare a cool outfit by matching up a hoodie with a baseball/varsity jacket for the outer top, then pair them with baggy jeans. You can also choose ripped jeans that feel more punk and masculine. For accessories, a cap is enough to balance your outfit look. Besides that, you need also to bring trendy and cool footwear such as sneakers or army boots. For the compliment, wear a sling bag or a waist bag that looks good with this outfit idea.
17. Sporty Look in Hoodie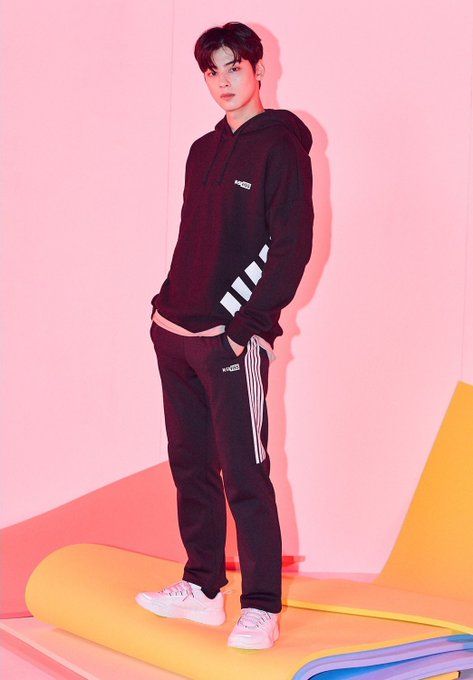 Chill out at home but still look fashionable! We offer you this simple aesthetic Korean outfit style. I thought you know this and maybe wear this style every day. Yep, a hoodie and sweatpants! What's else more comfortable than this combo to lie back at home? However, not only that. When you want to look a little sporty for hangout style, you can use this outfit idea. You may add accessories items to accentuate your outfit performance more fashionably. Next, come to the shoes, of course, sneakers are still the favorite choice. Moreover, if you get a waist bag it is more than enough to get a trendy look.
18. Sophisticated Style in Knitted Vest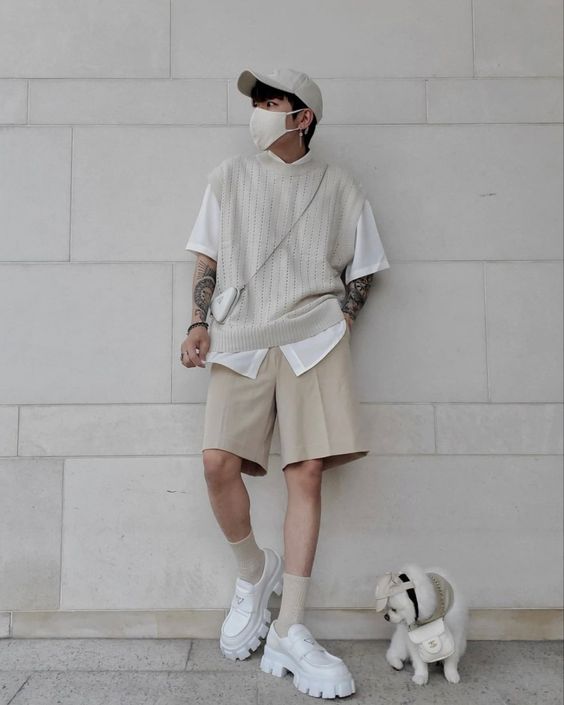 Just seeing this outfit style, we can say that it looks fashionable and sophisticated. We love this monochromatic beige look stylish in a knitted vest outfit idea. You can stand out with your shorts too. Moreover, it's very easy to bring this outfit look into your daily rotation. Because when you want to copy this look, you just need a knitted vest for the outer, a white basic t-shirt for the inner top, and get beige shorts for the bottom. For the shoes, sneakers for the usual chic style. Furthermore, when you want something different, pair your outfit with beige socks and chunky white shoes. Please add accessories items to elevate your aesthetic Korean outfit idea use a cap or bucket hat. For the bag, choose between a sling bag or a waist bag.
19. Stylish Summer Vacation Outfits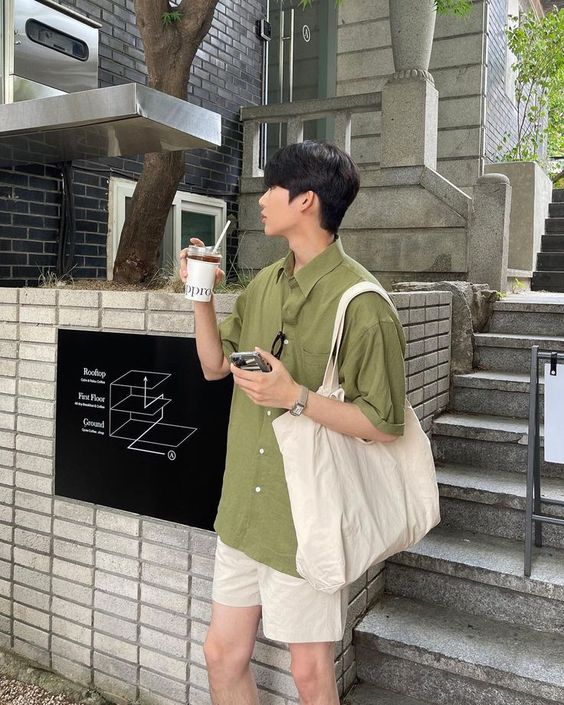 This outfit is ideal for those who prefer to look simple yet stylish during their summer vacation. What else besides a short sleeve shirt and shorts? What makes these ordinary clothes look more fashionable is when you get additional items such as a bucket hat, cap, sunglasses, a watch, and other stuff. Then for the toe, you can choose casual footwear such as sandals to balance your laid-back performance. Furthermore, for bringing your belongings you need a canvas tote bag.
20. Modest Korean Style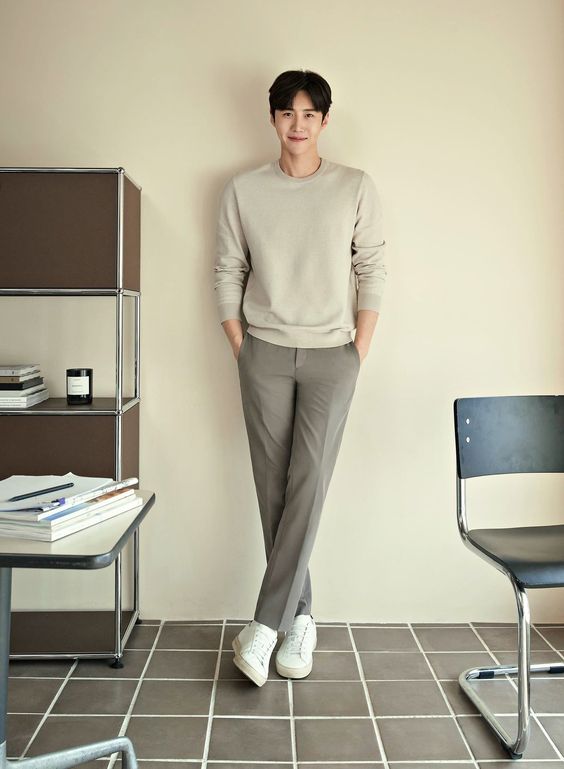 Being modest is your point to looking stylish! Featuring a minimal outfit by combining a long sleeve sweater/t-shirt and linen pants is the way you can form men's aesthetic Korean outfit idea. This outfit would really suit to have casual occasions such as hangout with friends in the coffee shop, or laying back at home while reading books. If you prefer this outfit for going out, better to pair it with sneakers for a casual-chic outfit style. You can also skip wearing accessories. Give a warm and soothing impression by choosing earthy tones like beige and brown in your outfit performance.
21. Men in Suits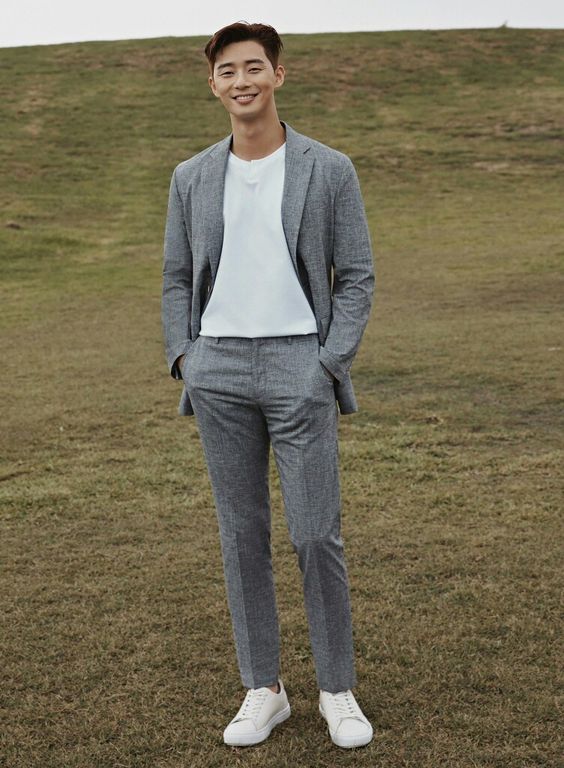 You may think it's ordinary, but for me men in suits are perfect! Just use trousers and a blazer can boost their usual performance. They would look elegant and classy at once. As an ensemble that's usually addressed to formal occasions and becomes workwear style, suits are still the main piece to create aesthetic Korean outfit ideas for men. The trick is simple and easy! You just need to mix suits with another casual style like T-shirts and sneakers. So, are you interested to try it?
22. Match Oversized Shirt with Trousers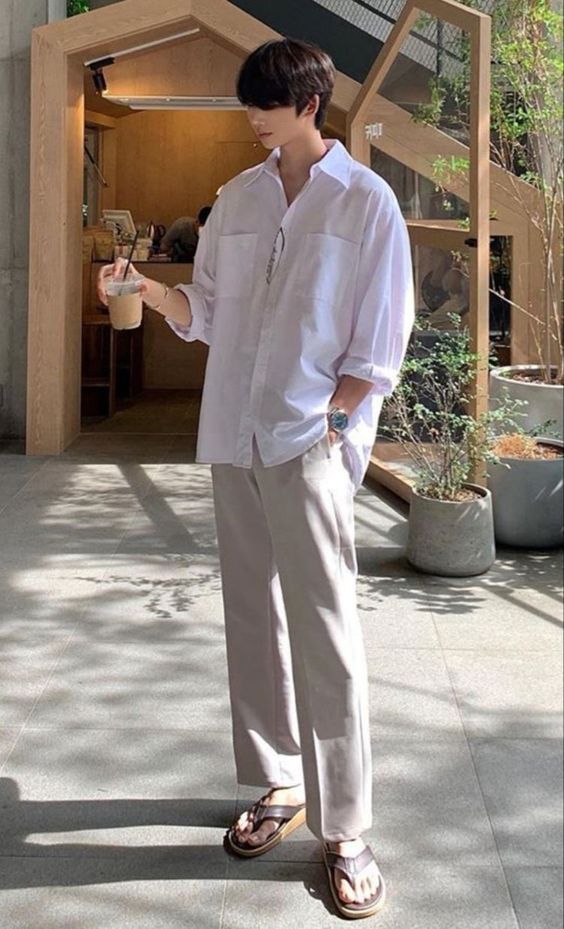 We'll give you another simple and modest outfit idea that most Korean men wear. I believe you'll love it because it's generally put in your wardrobe. Mix an oversized shirt with trousers! You can a bit roll up the sleeve if you want to appear more stylish. To make it not too look plain, just add some accessories like a watch. And for the shoes, choose between Espadrilles or men's sandals. Make it a more look aesthetic Korean outfit by wearing a fedora hat or a straw hat for a beach outfit style.
23. Trendy in Bomber Jacket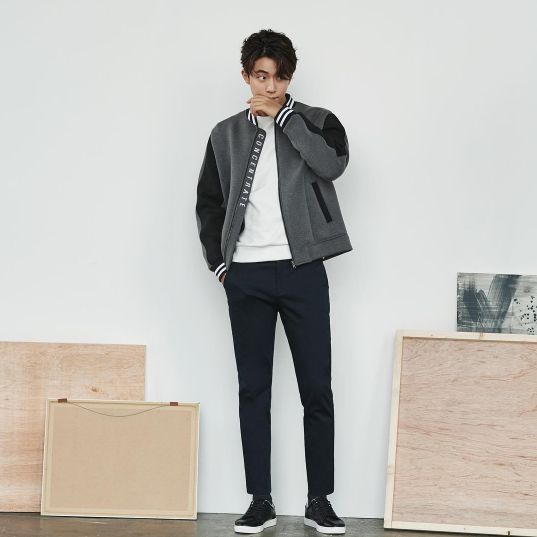 Many Korean fashions especially for men apply the layering style. You'll find men's aesthetic Korean outfits that are standing out in jackets, shirts, or flannels that are used as an outer top. If you like this look, you can combine a white tee for the inner top, a bomber jacket for the outer, and skinny jeans for the bottom style. For the toe, sneakers or army boots would suit better if you want something that trendy. Then give the final touch with accessories items such as sunglasses, a watch, and if you want you can wear a cap. Complete all by wearing a waist bag or a sling bag for a fully trendy look.
24. Parachute Jacket for Workout Style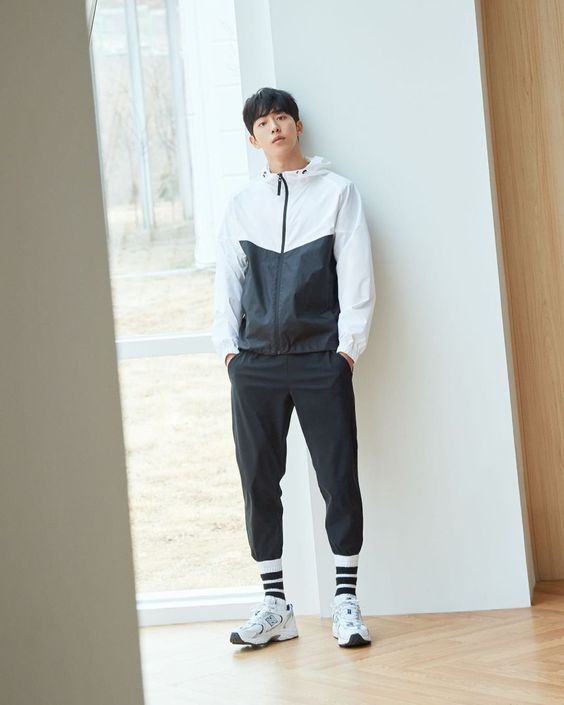 As a young man who likes to work out in the gym or have jogging outside, you'll love this outfit idea. A parachute Jacket with jogger pants not only makes you at ease while running, but it looks fashionable and becomes an aesthetic Korean outfit idea. You can pair this style with runner shoes or trainers. Also, get a cap if you want a bit trendy and help you avoid UV light. For the bag to help carry your belongings, a duffle bag or barrel bag is the best option to choose when you want to go to the gym. Moreover, if you want to go jogging better you select a waist bag.
After you find out what men's aesthetic Korean outfits look like, now start to shop for clothes. Now's your time to step out of your comfort zone and take outfit ideas you haven't tried before. You can steal these ideas for inspiration. Start with the simple ones using clothes in your wardrobe. Armed with some tips above, level up your daily lookbook even more fashionable. As the saying goes, if you never try, you'll never know!!