Olidfashion.com – As a teen girl growing up and figuring out her identity in society, you usually become conscious of your appearance. You begin to follow fashion trends, wear makeup, and experiment with accessories to enhance your performance. I remember when I was younger! During the summer, I enjoy mixing and matching outfits of various styles to create an impressive look. And for you, a teen girl who wants to look fashionable and follow the trends. We'll give you some ideas of summer cute casual outfits for teen girls.
On this topic, we'll present limitless styles of cute casual outfits for teen girls. These ideas can you put on your summer wardrobe collection. So, you'll be getting to know what kind of clothes to shop for or how to mix and match them appropriately every day. We've compiled some interesting summer outfit ideas from the internet and Pinterest that may look good for teen girls. And without any further ado, let's check them out below!!
1. Denim Overall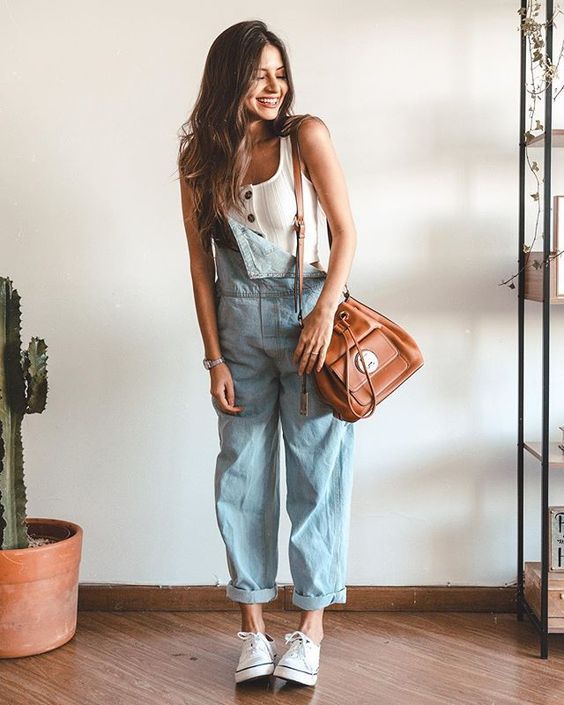 When you want to look playful, denim overall is anything you need now! As a teen girl who wants to hang around with her friends outside, this piece can create summer casual cute outfits when you match it with a tank top or short sleeve tee. But a sports bra can be an option if you want a more sexy style. To get a chic and fashionable outfit to hang out, you may pair this outfit with comfy sneakers. And for the bag, a leather backpack or canvas tote bag can be chosen.
2. Cropped Top and Floral Maxi Skirt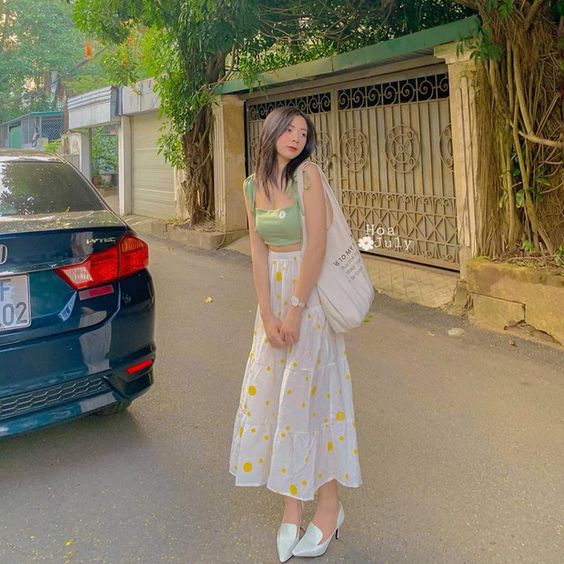 This outfit idea would suit you who need to appear in a feminine style. Mixing a maxi skirt with a cropped tank top can be a great idea. You can prefer to choose a tank top with a deep square neckline that makes you look more alluring. The adorable ribbon strappy also has a point to create summer casual cute outfits for teens. Make your performance chicer by picking a canvas tote for the bags, then get a pair of short heels for the footwear.
3. High Waist Jeans and Loose Shirt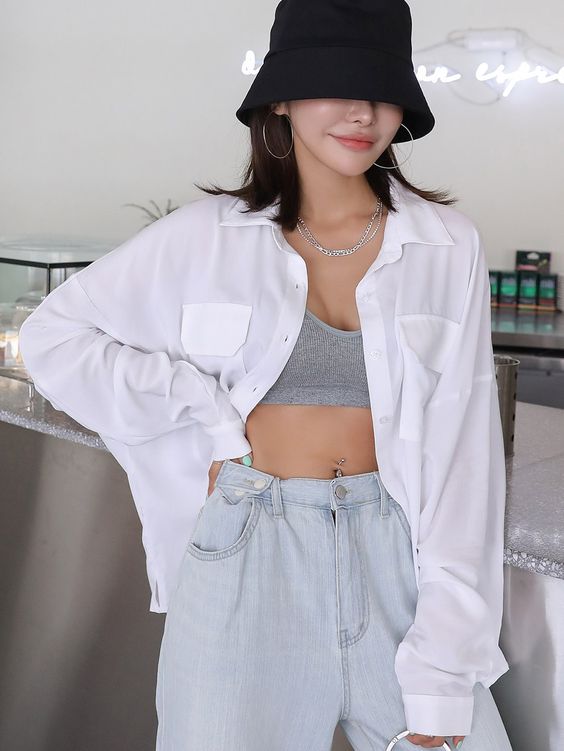 Play with your shirt to get something fun. Like this summer casual cute outfit. This would look better to wear for teen girls who want something casual and comfortable. Combine your loose shirt with a sports bra for the inner then wear your high-waist jeans. To look chicer, just unbutton your shirt and get a bucket hat in your head. Bring more accessories items such as big hoop earrings and a necklace. You can also pick a handbag for the bag, but when you want to have a chicer style just grab a canvas tote bag. For the toe, just complete your outfit look with sneakers.
4. Chic in Button Dress and Sneakers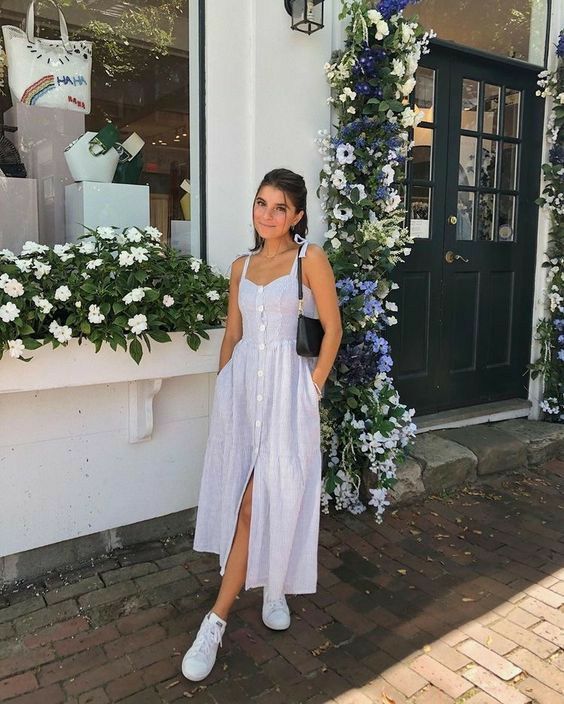 Looking for simple casual summer outfits? Stand your appearance with this button dress and sneakers style. You can choose a monochrome style by picking white as a color scheme. This dress and sneakers outfit would be perfect with a shoulder bag for more casual performance. And you can complete your look by doing a half-up hairstyle and natural makeup.
5. Wide Pants and Crop Top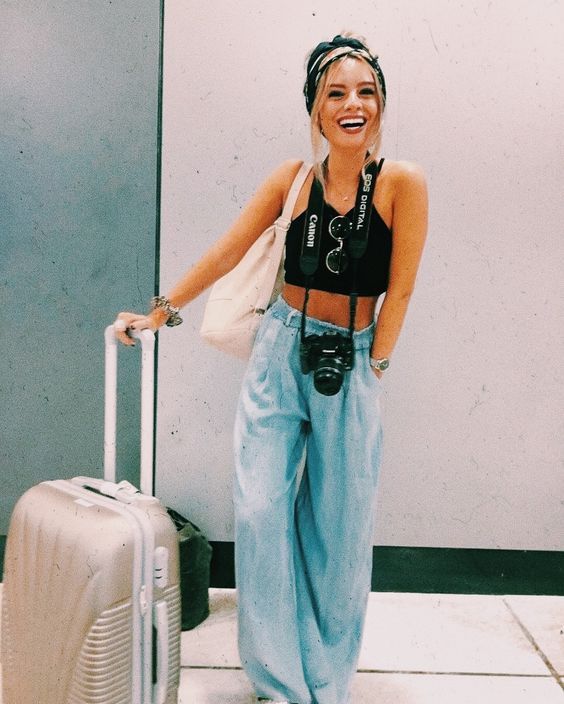 Do you plan on summer vacation? Find such a great destination with beautiful scenery and tasty food. But before that, you may have to plan this properly for the perfect journey. One you need to prepare is the outfits. If you plan to go to a hot country or not far from your home, this outfit idea is one of our favorites, especially for the fashionable airport style. If you have a short flight, just mix a tank top with wide pants. To support your summer casual cute outfit, pair up with accessories such as a bandana in your hairdo. Sneakers or sandals are perfect footwear that makes you at ease during the trip. You also need a big tote bag or shoulder bag to carry your important things. Don't miss out bring your camera to capture beautiful moments on your journey.
6. Beachy Style in Off-Shoulder Top and Span Skirt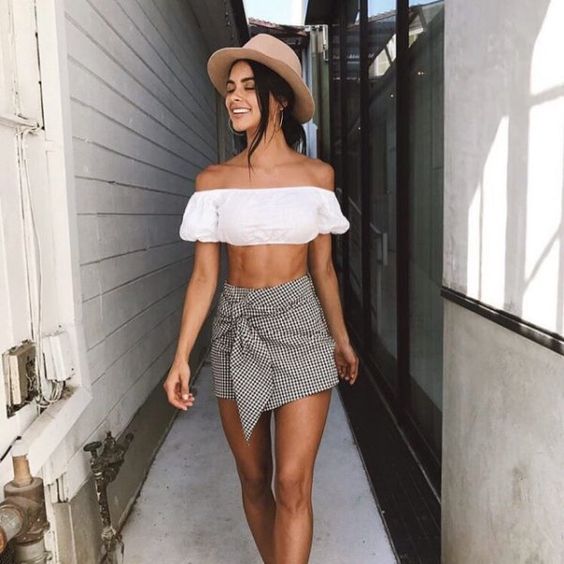 Trip to the beach and need fashionable beachy style? For teen girls who want a summer casual cute outfit, this off-shoulder top and mini skirt look great. You'll get perfect performance by using more details such as wearing big hoop earrings and a fedora hat. For additional accessories, you may need sunglasses to help you avoid UV light. For shoes, pick sneakers to look chic or if you want a bit bohemian style just get gladiator sandals.
7. Simple Style in Biker Shorts and Oversized Tee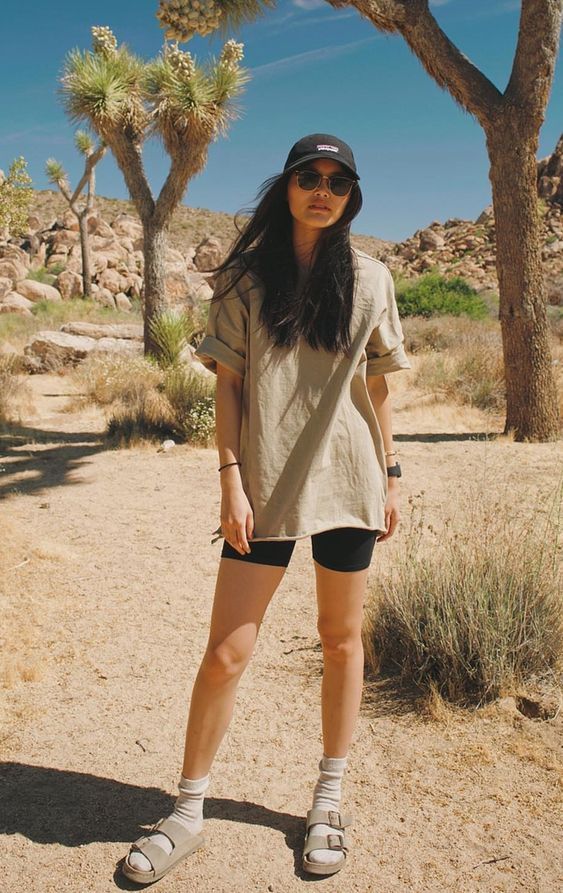 Do you like a simple look in your fashion? If you want a bit boyish outfit style, you may love this outfit idea. Yes, a solid tee that's matched with biker shorts. It's very simple, isn't it? You may bring this into your casual lookbook, especially during summer. When you want to look more trendy, you can bring a cap and sunglasses for accessories for hanging out. Besides that, you can wear this casual outfit to chill out at home. For the toe, wear on your boyfriend sandals or if you try to look sporty just bring up trainers or sneakers.
8. Play with Your Skirt Jumpsuit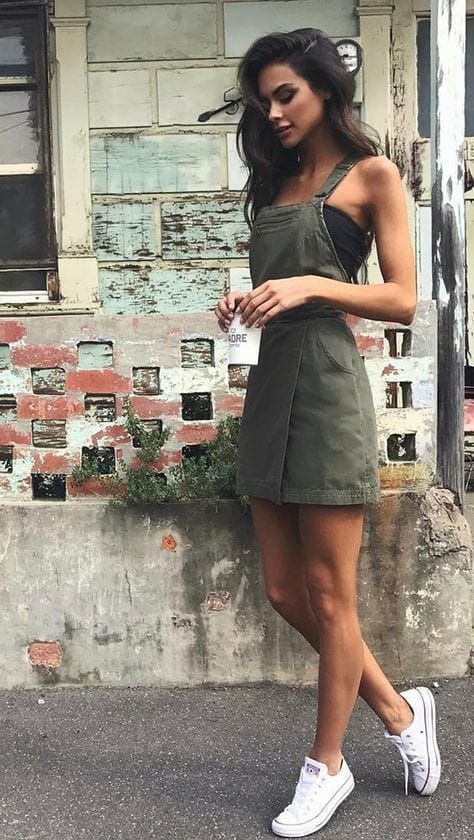 As we all know, the overall/jumpsuit outfit is playful and cheerful attire. It also has a childish vibe, but when worn to create summer casual cute outfits, it works well. As for teens girl who looks feminine with an overall/jumpsuit, prefer to get a skirt overall. Then pair it with other inner tops like a tank top, a short-sleeve tee, or even a turtleneck. Perfect your outfit performance by wearing sneakers for a more stylish look.
9. Pair Shorts with Button Tee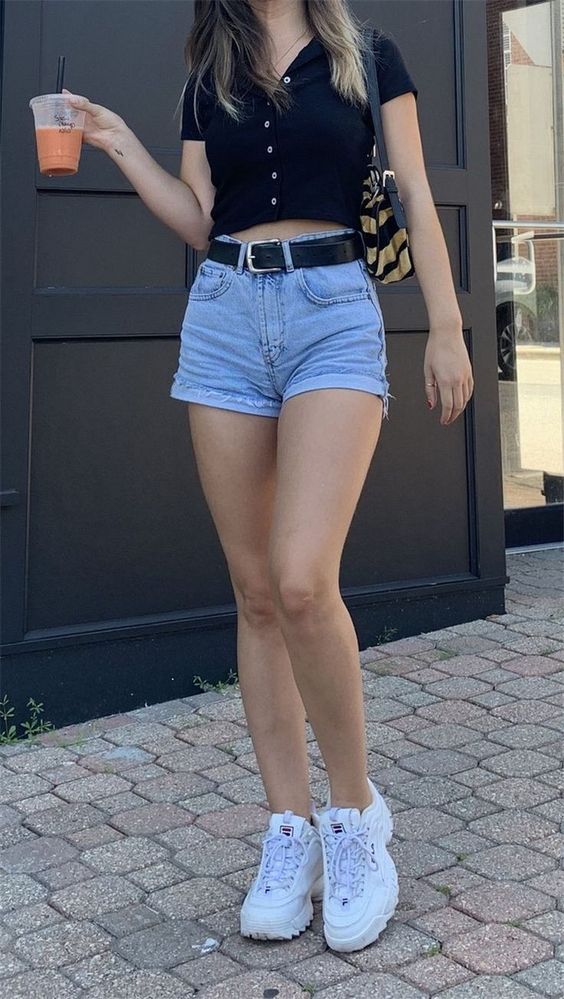 Featuring these modest shorts with a buttoned tee makes you get summer casual cute outfits for going to school or having fun in an amusement park. Just make sure you get proper matching details such as get a belt and fashion accessories. You can wear a cap to have a chicer and trendy look. For the toe, you may select sneakers or sporty shoes. And also the bag, prefer you bring a mini backpack or shoulder bag to help carry your belongings.
10. Chic Cute Outfits with Peasant Dress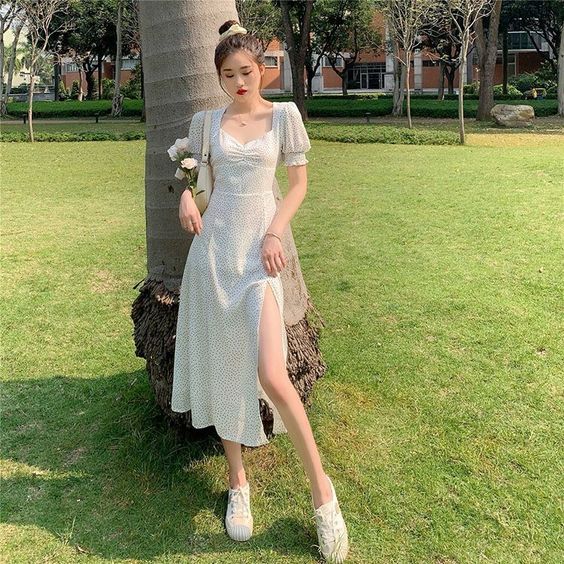 I believe every girl would agree with me that this lovely peasant dress would make an excellent summer casual cute outfit idea for teenagers. As you see in the picture above it looks cute and pretty enough, furthermore when you do a simple bun hairstyle, it makes you look cuter. Pairing this dress with sneakers is a great idea if you want something that stylish. For the bag, a white shoulder bag would help to complete your summer outfit style.
11. Wear Off-Shoulder Top with Ankle Pants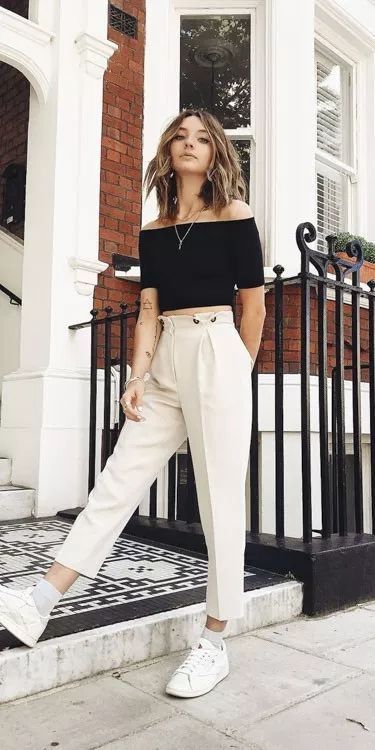 Thought you wouldn't be missed this outfit idea to adorn your wardrobe. Linen pants and an off-shoulder top is the matching combo that makes you look casual yet cute at once. If you are a teen girl who needs a simple style for hanging out in the cafe, this casual cute outfit would be your style. When you want to look a bit feminine, loafers or heels are matching shoes. But for you who prefer chic and boyish styles, sneakers are still the favorite.
12. Bohemian Style to Attend Music Festival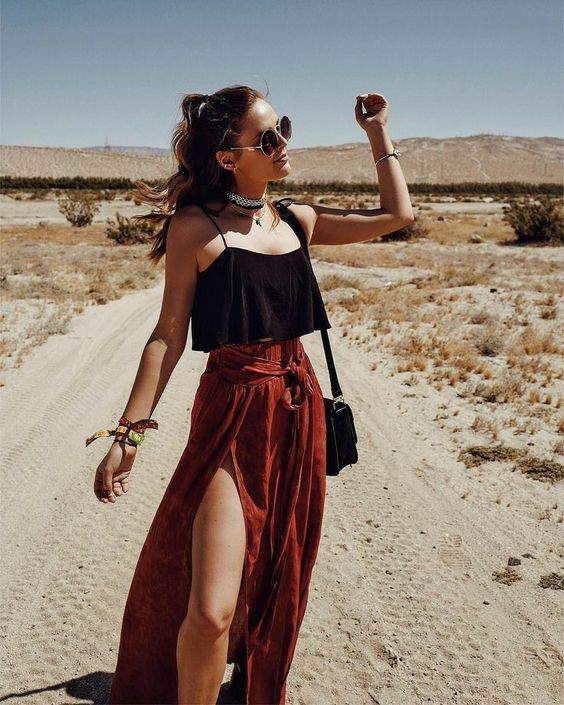 Isn't summer usually tend to a simple and lightweight dress? So you can wear this summer's cute casual outfits to the festival. Simply combine a spaghetti strap tank top with a bohemian skirt. Don't worry, accessories and shoes can help you achieve a more complicated look. You could get a cowboy hat and ankle boots to go for a bohemian look. Moving on to the bag, a sling bag or a hobo bag can provide you with fashionable style. You can also add sunglasses if you want to make your outfit look more trendy.
13. Casual Sporty with Leggings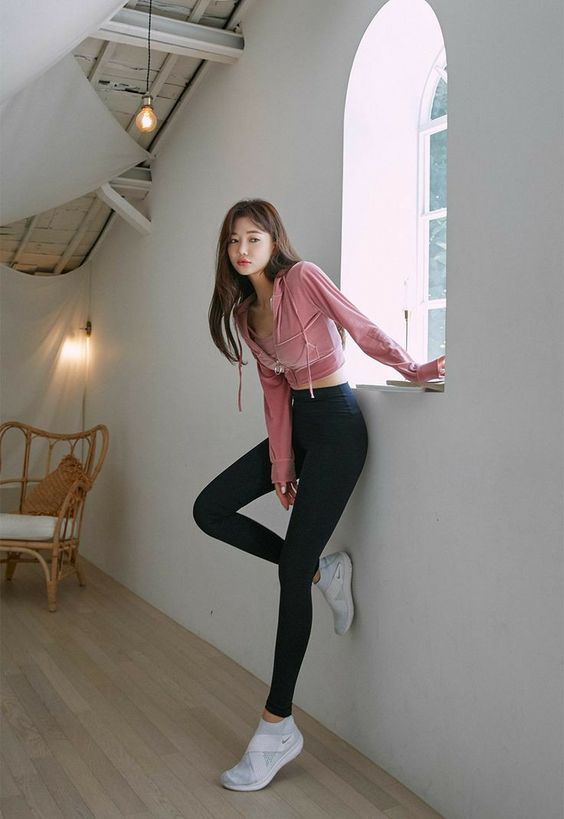 Going to work out in the morning, you need this sporty fit! You can mix your legging with a tank top or sports bra for the top then layer up with a zipper hoodie. Then to make you feel at ease during your workout, choose running shoes or trainers for the footwear. Then give attention to your hairstyle, better if you do a high ponytail or two braided hairstyles. For the bag, a duffel bag or backpack is what you need to bring your more stuff. However, you can use this outfit idea for hanging around with your friends. Just bring something different like using sneakers, pick a waist bag, or a shoulder bag to complete your appearance.
13. Chic Back to School Outfit with Varsity Jacket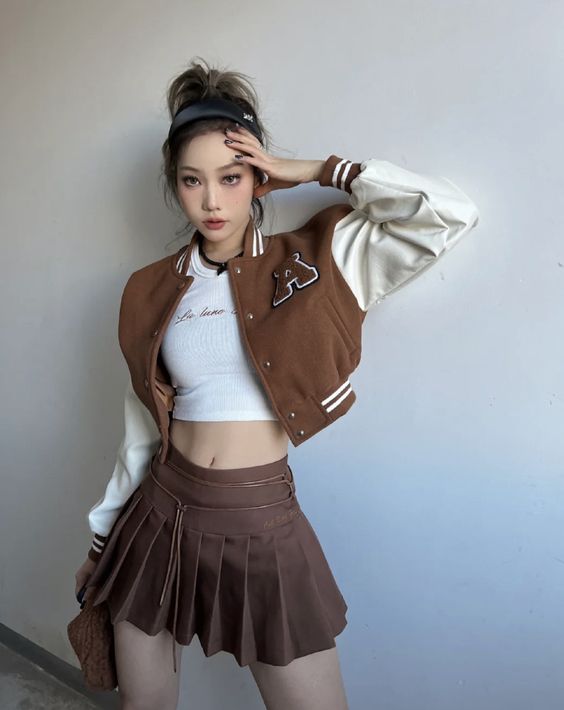 I can't stop to think about a mini skirt to bring out a casual cute outfit for teens. This piece alone can give you a variety of styles. For instance, this combo of tennis skirt and varsity jacket, both of those pieces really works well. It can make you look like a famous girl at school. You can use a sleeveless tee for the inner top to look chicer. Moving to the hair, you can choose between a high ponytail, two braided, or a messy bun with a simple bandana for accessories. For the shoes, ankle boots or sneakers. Then finish out your outfit idea use a shoulder bag, a backpack, or a sling bag as a matching bag.
14. Elevate Your Look with Long Kimono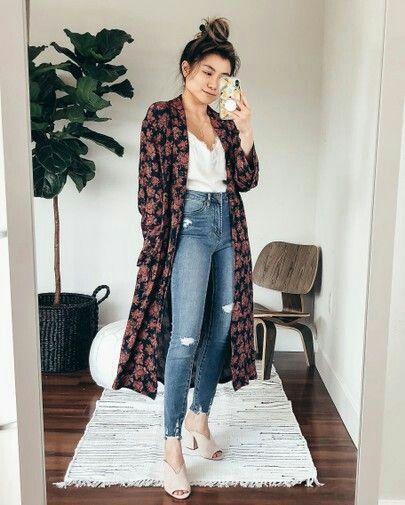 A lightweight cardigan and long kimono are great layering pieces when it comes to summer outfit ideas. You can apply it to your jeans and tank top outfit idea. This would help to elevate your casual cute outfit to become trendy and chicer. This piece would also help you when you are stuck mixing and matching your clothes. Choose clog heels and do a messy bun to support your chic casual style. And for the bag, just complete your appearance by wearing a tote bag. I think this would be a fashionable outfit to go to class.
15. Double Breasted Shirt Dress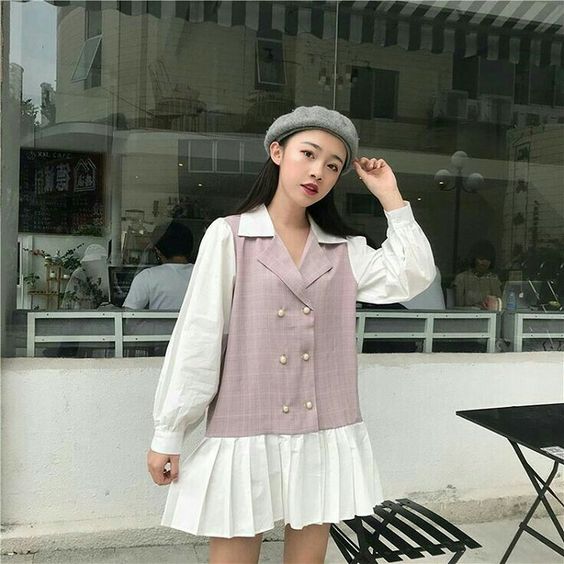 This mini dress would be your secret to looking cuter! If you like Korean outfit style, you may wear this double-breasted shirt dress and then perfect it with a beret hat, Ivy cap, or Bretton to have a casual cute outfit style. The pleated part at the tip of the dress gives the illusion of a skirt, and the top look like you wear a shirt that layers up with a vest. For this look, you may skip accessories and more focus on the shoes and bags. You can pair this dress with Marry Jane's shoes to have a cute teenage performance. For the bag, just select a sling bag or handbag to complement.
16. Two-Piece Style with Button Blouse and shorts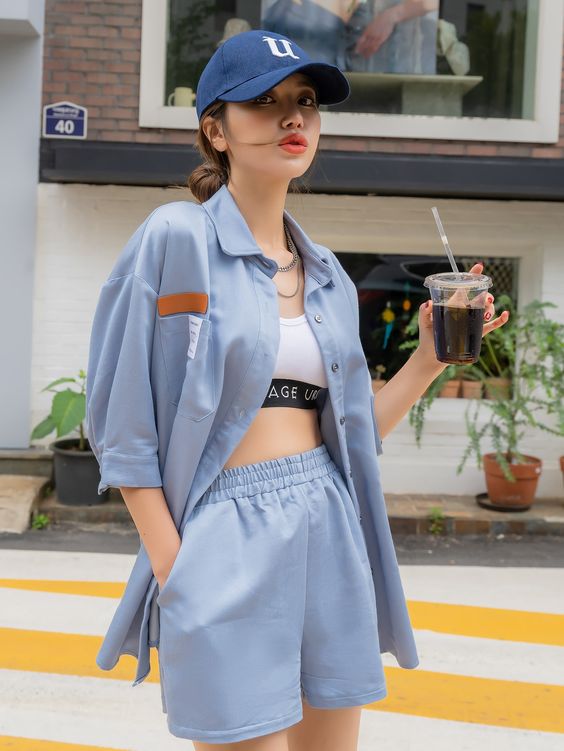 Two-piece outfit with button blouse and shorts who likes wearing shorts for summer style? This two-piece outfit idea is ideal for you! Simply wear your shirt and let it unbuttoned then get a sports bra on the inside layer. I know this is very simple to wear, especially for you who are confused to mix and match outfits. Furthermore, you can add accessories items to make it look chicer and fashionable. Maybe you can get a cap and silver necklace to enhance your outfit style. Then, get a pair of sneakers to level up this summer style.
17. Bring Out High Knee Boots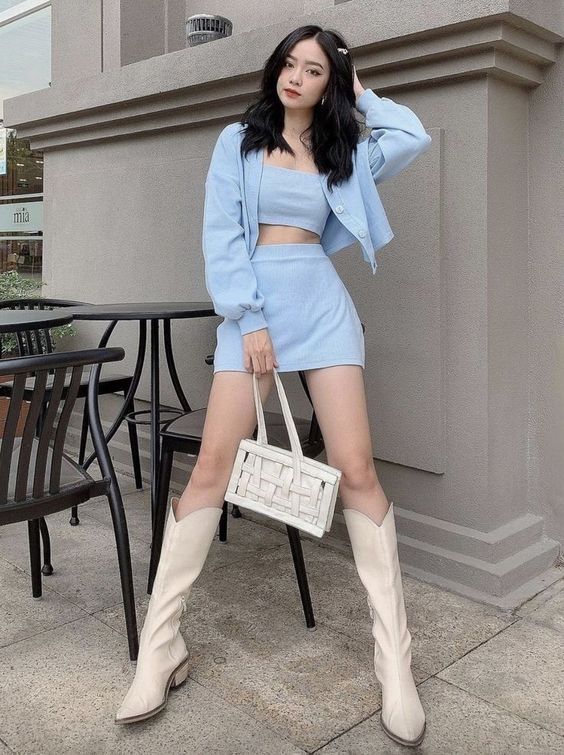 For the early summer, just look fashionable with knee-high boots style. We commonly find out this piece more wearable during fall or winter. But now, try it to create your casual cute outfits in summer. Mix these boots with a skirt set that includes a mini skirt, a tank top, and a blazer for the outer. Then choose a hairstyle that would look better in this outfit such as a natural wavy or choose a high ponytail. Furthermore, to help bring your belongings pick between a shoulder bag or handbag to elevate your outfit style.
18. Sporty Chic with Sportswear
Another sporty chic for teen girls to put on your wardrobe use this cute sportswear. Of course, you need to combine sweatpants with a zipper hoodie or jacket. Pick in pastel schemes to represent casual cute outfits for teen girls. For the shoes, select between sneakers, running shoes, or trainers. Then, for bags, you can get a high waist bag or a backpack to help save all your stuff.
19. Chic Casual in Ruched Skirt Outfit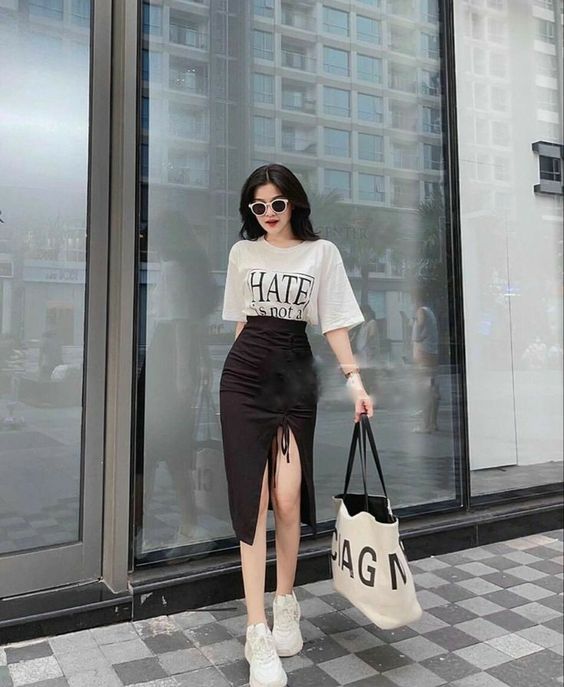 Want a simple aesthetic style? Choose this combo! A high waist ruched skirt that's combined with a basic t-shirt. For accessories, you don't need to wear much. Just choose a simple one like a women's watch, sunglasses, and a thin necklace to balance this casual cute outfit. Furthermore, you need to pair this outfit with footwear. Choose between sneakers or high heels depending on what outfit style you want to present. Then for the bag, let your style chicer by getting a tote bag.
20. Play with Asymmetrical Crop Tee
Look for something different with this asymmetrical crop top to bring up a casual cute outfit that looks great for teenage girls. For the full dress, put together a tank top that layer up with this long sleeve crop top. Then you can choose either a mini skirt or pants for a chic performance. Furthermore, match up with accessories details. Don't miss out to style your hair with something cute like a high ponytail, two braided, or just let it naturally straight but put a hairpin.
21. Span Skirt and Off-Shoulder Blouse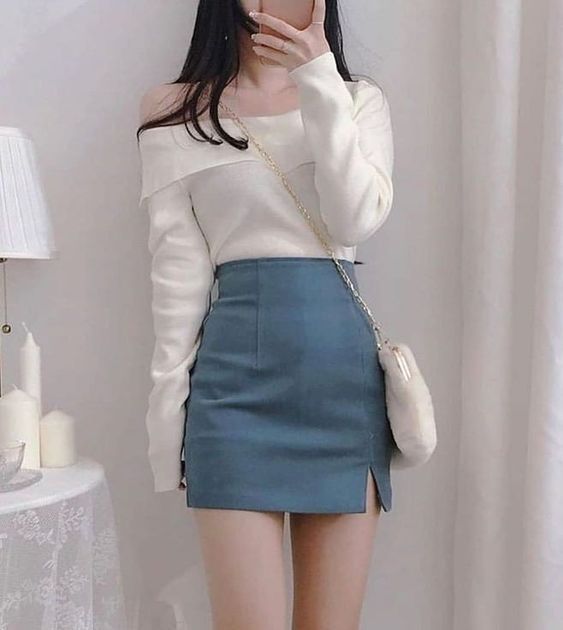 We really adore this lovely span and off-shoulder blouse. For you girls who like Korean outfit ideas, this combo should you get now! Look feminine and pretty when you go on date with your boyfriend for watching a movie or have dinner at a restaurant. Tuck in your white blouse on a high waist span skirt that creates a beautiful silhouette. With this outfit style, you can skip wearing accessories, or bring a simple one. We suggest you get a beret hat and do your hair naturally straight if you want a chic appearance. For the bags, a fluffy sling bag looks cute to match this clothing style. And for the toe, pick between heeled boots or high heels.
22. Square Neck Tank Top Outfit Ideas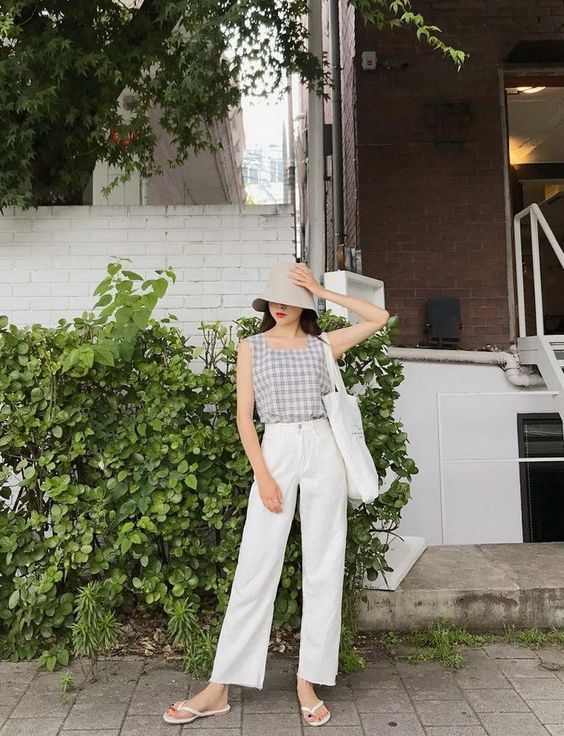 This outfit idea is easy and simple for everyday looks during summertime. Because this outfit would give you a breezy feel in hot weather but still let you look fashionable. Pair up a square neck tank top with white pants. Then, give accessories like a bucket hat to enhance your style. Next for the footwear, bring sandals for a casual cute outfit idea, or if you prefer a chic style you have to wear sneakers. For the bag, a tote bag is enough for a stylish yet usefulness.
23. Suspender Skirt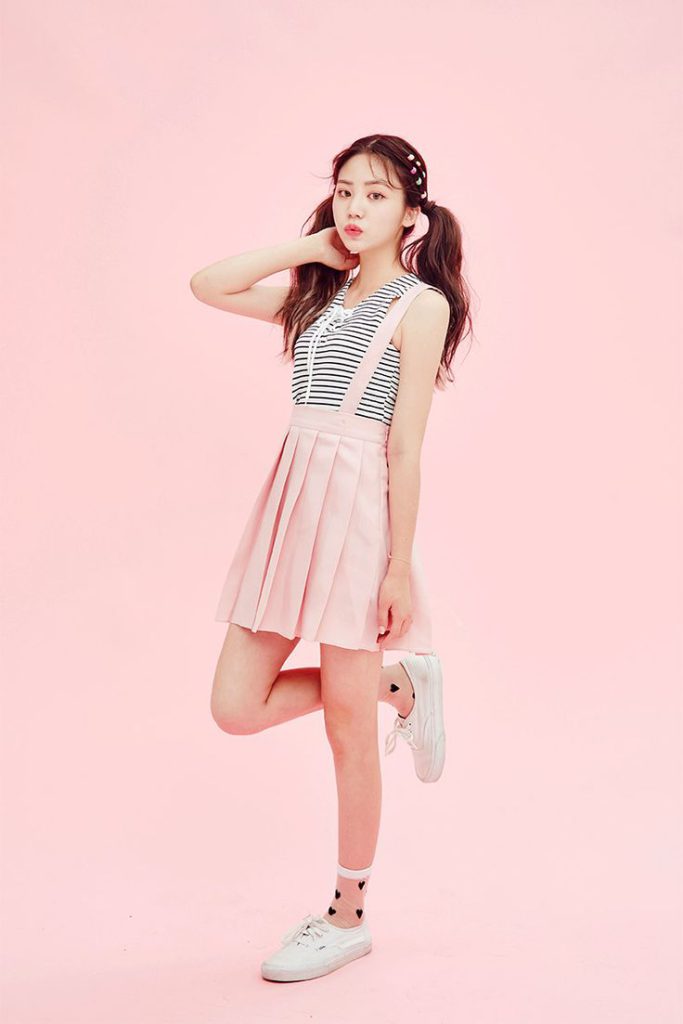 Another outfit idea for teen girls is this suspender skirt. It appears playful and cute enough to be a summer casual outfit idea. Pair it with a tank top or solid t-shirt for a cute casual everyday look. Move to the toe, you can pick up socks and sneakers for chic looks. But when you want a more girly performance, play with mary janes shoes and long socks. Then support your casual cute outfit with two-side ponytails and some hairpins for accessories. Furthermore, you can get fully dressed to go hang out by getting a mini backpack on your shoulder to carry your belongings.
24. Get Your Chic Style with Baggy Sweater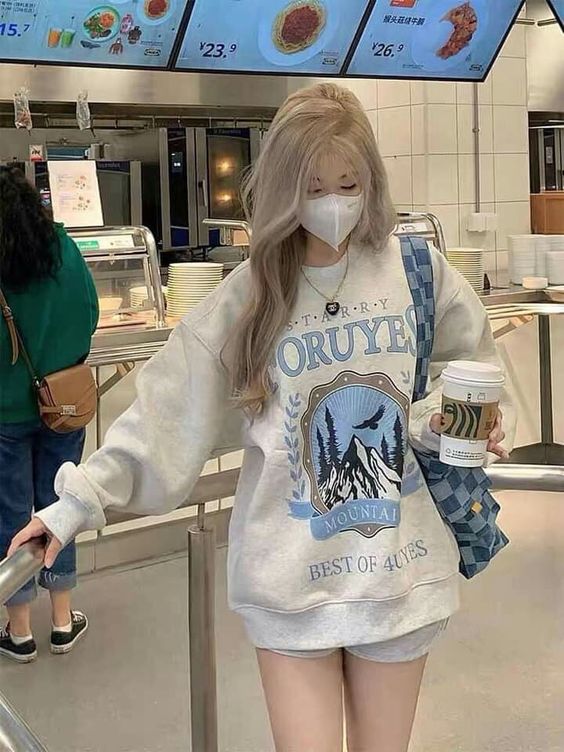 I know some teen girls prefer simple but sweet outfits. So, you can follow this one! An oversized outfit idea that creates by mixing a baggy sweater with shorts. This combo is great for a night out in summer. You'll look chicer if you show more fashion accessories like a necklace, bracelet, and others. Also, you can use a cap with a high ponytail that makes you look cuter. As for the toe, you'll look better with sneakers or trainers shoes. Then to finalize this casual cute outfit idea, bring a canvas tote or shoulder bag.
25. Stay Cool with Denim Jacket and Mini Skirt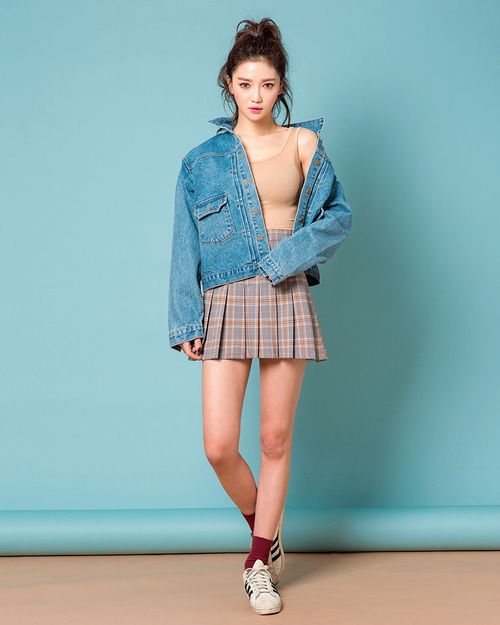 Searching for outfits that make you look pretty yet cool? Get the combo of a tennis skirt and denim jacket! You can also mix it with a tank top or sleeveless t-shirt for the inner top. I know you'll think is ordinary, but you can stand more in accessories detail that can fill space to perfect your outfit look. This outfit is not only good to wear for hanging out but also for going to class. For shoes, sneakers are a great choice. What's more? Maybe you can finilize this look by wearing a backpack. Jump to the hair, we love you to do a messy ponytail or curly hairdo that looks cute with this styling outfit.
26. Sweet in Velvet Style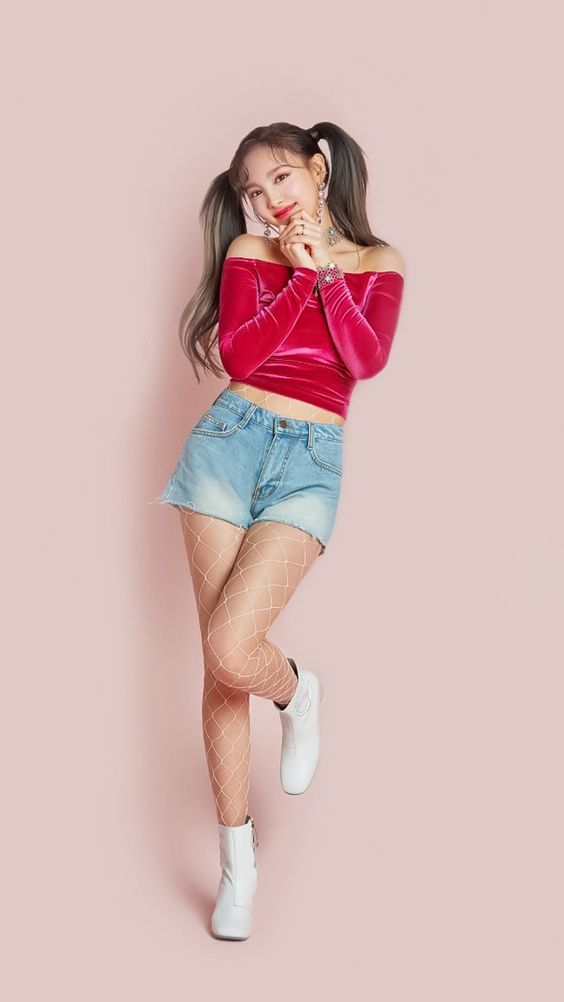 Summer is the perfect time for a girls' night out with your best friend. Considering what to wear is important that helps enjoy the night cheerfully. Therefore you can try to mix and match a velvet top with denim shorts and wrap your legs in fishnet stockings. Velvet fabric would give you a classy and fancy vibe, so it's suitable for you girls to look glamorous at night. While denim shorts and fishnet stockings would make you look mature. Don't miss out on accessories items to support your outfit performance. When you don't want to lose a cute image of yourself, do two side high ponytails and put on some hairpins for your hairdo. Furthermore, you can finish out this outfit idea by using ankle boots and getting a flap bag or baguette bag.
28. Knitted Vest for Chic Casual Outfits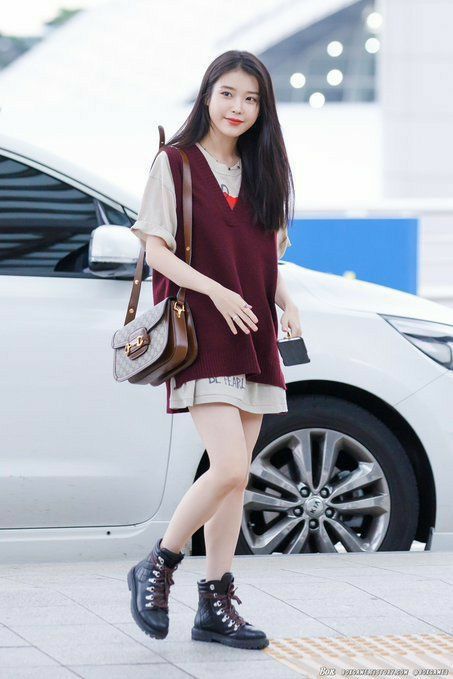 This style is what it means about a casual cute outfit in a bit trendy performance. For the look, you may mix and match a very large t-shirt or prefer a t-shirt dress with a knitted vest over it. This feature is ideal for teen girls who want to hang out as well as wear simple trendy outfits to school during summer. Get army boots for trendy footwear to achieve a more stylish appearance. Then, to complete your chic look, bring a sling bag or backpack.
29. Simple Grunge Style with White and Black Outfits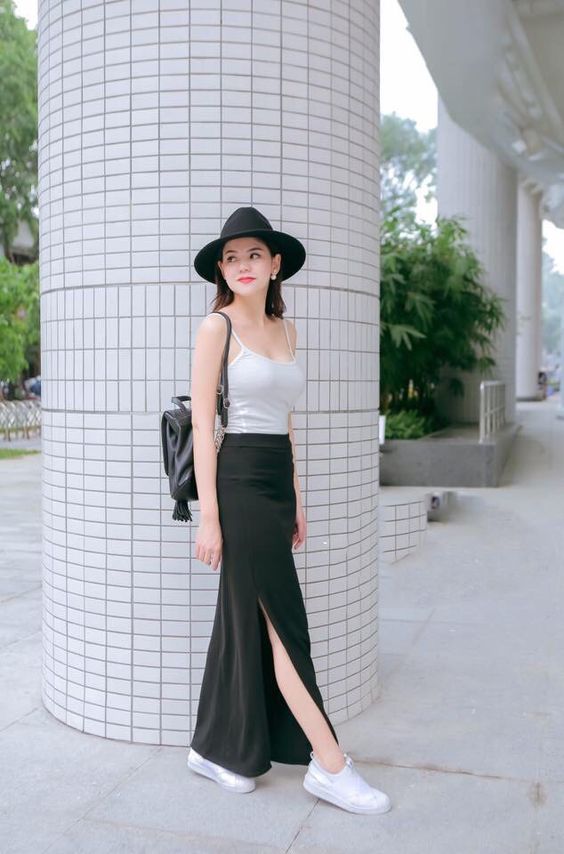 I believe you'll like this outfit style the first time you see it! Looking for a different summer outfit idea? That is why you require this simple chic grunge style. Combine a white spaghetti strap tank top with a black high-slit long skirt. What makes it look more fashionable? Don't worry, girls; just bring details like a black fedora hat and silver jewelry. It would transform your basic look into something chic, trendy, and adorable. Next, choose black army boots for more grunge and gothic look. When you want a casual and chic look, pair your outfits with sneakers. For the bag, we suggest you get a black backpack that has hanging tassel embellishments.
That's all about casual cute outfit ideas we can share with you girls. Maybe you can follow and create some fashionable styles from the clothes in your wardrobe. Or those ideas would help you to get inspiration before you go shopping for clothes. Furthermore, you can pick anything that is suitable for your personality and makes you better. So, I hope you can get help from this article to level up your daily lookbook.