Olidfashion.com – After a long break and summer vacation, now it's time for you to come back to school. Since it's a new semester, which means a new beginning. You can get a fresh look that will make you feel better about going to school. Even though school is not a fashion show, most students are always thinking about their sense of fashion. They wear something that can express themselves and their interests. From the cute girly look to simple trendy outfits for school, they try to mix and match outfits in confidence.
Mix and match outfits shouldn't be stressful if you want to create a simple trendy outfit look for school. Putting together daily school outfits is not a difficult task. Keep it comfortable and simple when creating school-appropriate outfit ideas. Even if you want to stand out more with your outfits in class, still don't overdo it. Simple style can definitely look trendy if you match outfits properly. To help you with a stylish look, we've round some simple and trendy outfit ideas for school that are easy to copy on. So, without further ado, please continue reading our school outfit collection for teenage girls below!!
1. Varsity Jacket and Tennis Skirt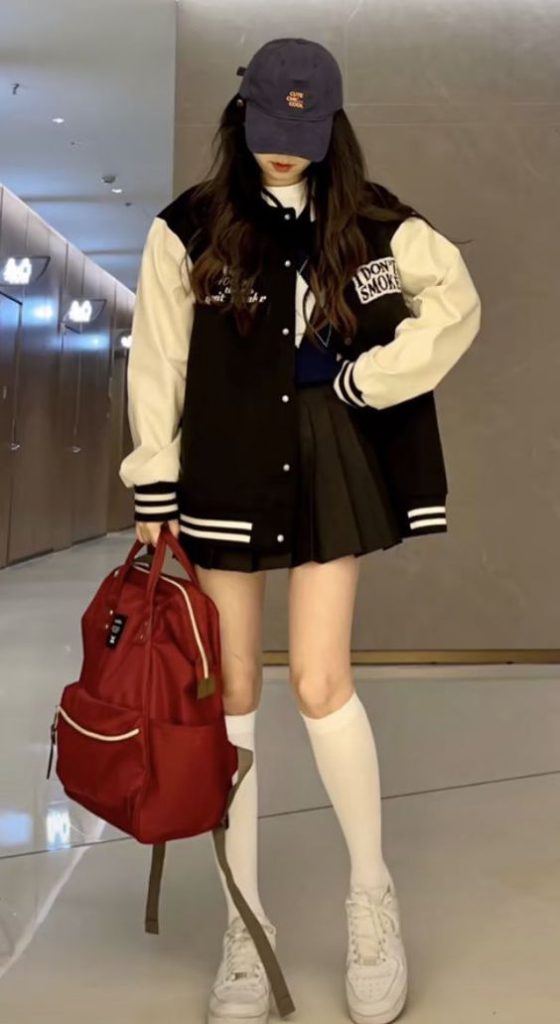 If you want to look cool in a feminine style for going to school, just match your tennis skirt with a varsity jacket. To have full style, you can mix and match a basic t-shirt, layer with a vest for the inner top, and then get varsity for the outer. For the bottom style, get your tennis skirt and pair it with sneakers. Stand more to get a simple trendy outfit for school by adding accessories such as a cap. For the bag, you can choose a backpack to carry your belongings.
2. Matching Style with Your Best Friend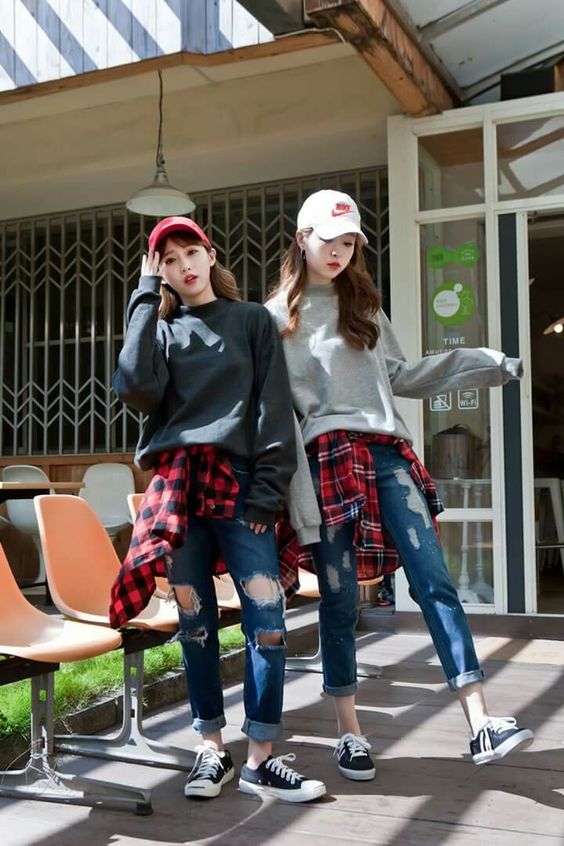 Going back to school is the best time to match your outfits with your best friends. You can use matching couple outfit ideas by picking this sweater and jeans style. To have a simple and trendy outfit for school, mix your sweater with ripped jeans or just common jeans. Then you can complete your style by giving details such as a flannel shirt for the outer. Don't miss out on the fashion accessories, get a cool trendy look by wearing a cap and simple jewelry. For shoes, it would be better if you select sneakers. Then, go for a backpack to save your important things.
3. Mix your Mini Dress with Leather Jackets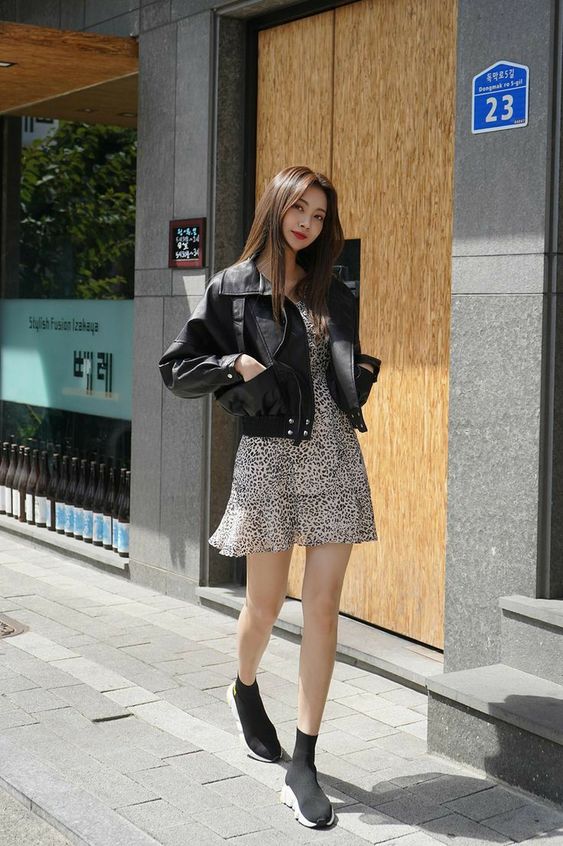 Want to stand feminine but still trendy and cool? Just come to this styling outfit. Yups, mini dress, and leather jacket. Two combos that would make your performance seems stylish and chic. You can mix your leopard flowy dress with a dark brown leather jacket. For the footwear, you can get sneakers that make you free to move. Furthermore, getting a shoulder bag is the perfect match to complete your simple and trendy outfit for school.
4. Work on Sleeveless T-shirt and Trousers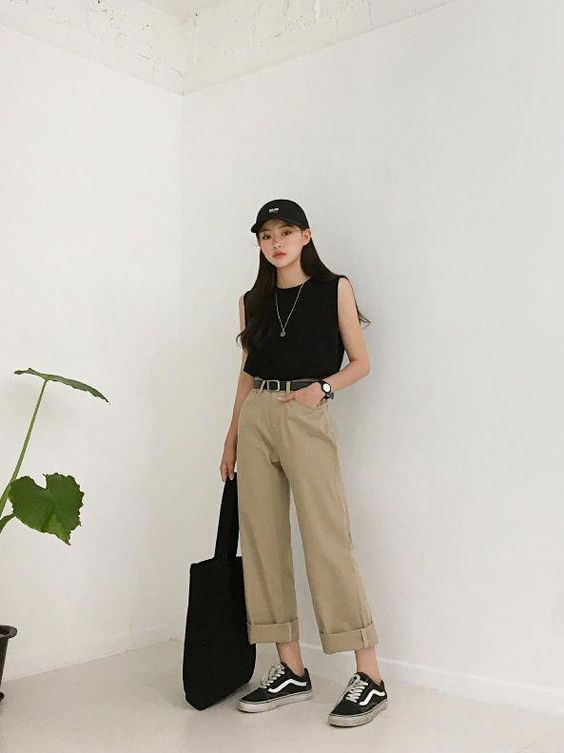 If you want a bit of lay-back style, adjust a sleeveless tee into your simple and trendy outfit for school. Simply match this kind of tee with your trousers. Then for shoes, nothing good than sneakers that can give a trendy statement. To have fashionable look, you can match your outfits with some accessory detail. Such as a simple silver necklace, a watch, a leather belt, and a cap on your head. For the bag, you can get a canvas tote bag that will bring a chic outfit performance.
5. Smart Casual Style with Vest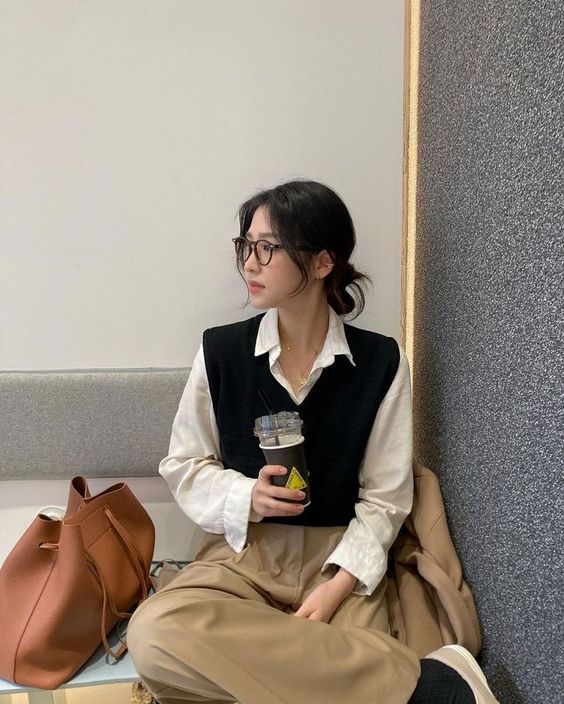 If you're confused about what to wear to school, bring simple smart outfit looks. To achieve the top outfit style, you must wear a vest and a shirt underneath. Bottom style: linen pants. Of course, to go with your simple trendy school outfit, you should wear sneakers. This would allow you to move around freely during a busy period. You can also put your hair in a messy bun and add glasses as an accessory. It'd all help you look nerdy but trendy at the same time. Moving on to the bag, you can opt for a canvas tote bag for a more casual look or a leather sling bag for a more formal look.
6. Style Cropped Top with Straight Pants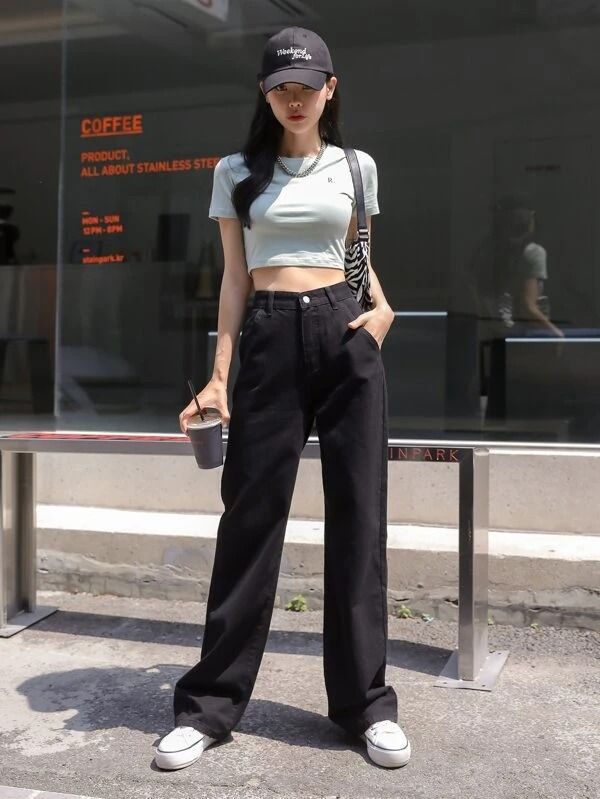 When you feel lazy on mix and matching clothes, just get your cropped top and straight pants to create a simple trendy outfit for school. Besides that, this outfit would be suitable for hanging out with your friends after school. When you want to make it not too look simple, just match it with fashionable accessories. And to support your trendy style, you can bring a cap and metallic accessories. Move to the bag, you can select a shoulder bag. Then for the toe, just prefer sneakers that seem easy to bring in this stylish performance.
6. Look Chic with Vintage Bomber Jacket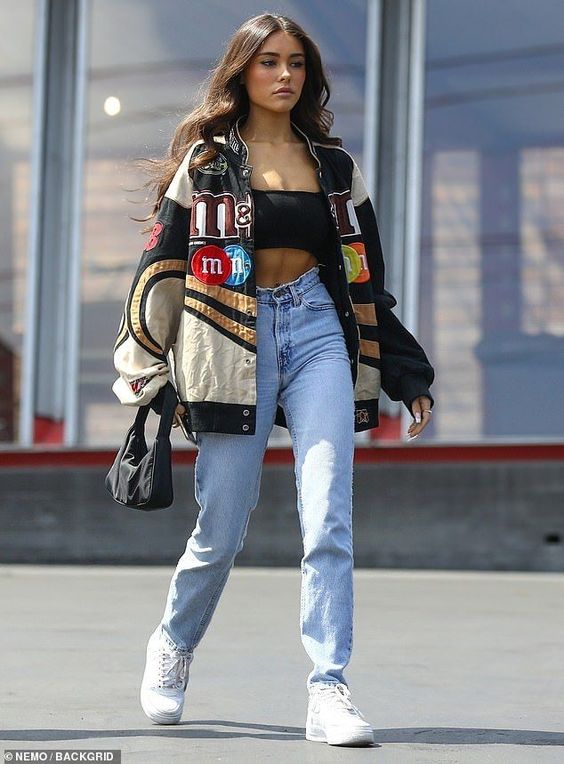 Everything old is new again and comes with a sophisticated vintage outfit idea. You can also get a simple and trendy outfit for school using an old bomber jacket that you match with blue denim jeans. To make it fashionable, get a strapless top for the inner. Then, pair your outfit with sneakers to get a more trendy style. For accessories and bags, you can get a shoulder bag and simple jewelry. This outfit would look better to wear in the warm season.
7. Have Boyish Style in a Simple T-shirt and Jeans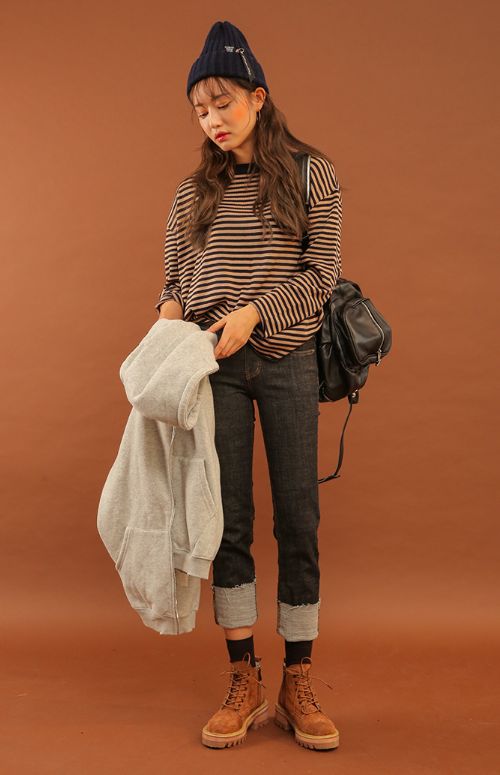 Do you want to look simple but have some pattern in your outfit? Why not try a striped long sleeve tee instead of a solid one? Simply match it with your jeans, and as a tip, roll your jeans up to the ankle. You can also get a zipper hoodie for a layering look. This will make your outfit look more stylish. If you're tired of sneakers, try army boots with a pair of socks. You can accessorize your outfit by wearing a beanie hat. Following that, you can select a backpack to help you level up your version and carry your belongings.
8. Wear Denim to Get Trendy Looks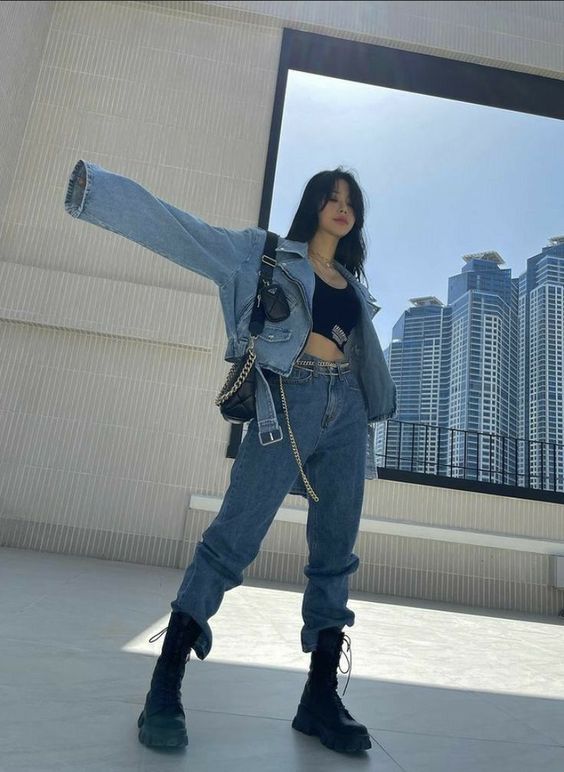 This outfit looks contain many denim pieces in creating a simple trendy outfit for school. You can combine a denim jacket with denim pants. Then for the inner top, have a trendy look by choosing a cropped tank top. If you want to have a chic grunge style, why don't you try to accessorize with some metallic accessories such chain for a belt? Furthermore, for shoes, to support this outfit performance, just bring out a pair of lace-up boots. What's more? You may bring a shoulder bag with a chain sling that would be perfect for your trendy and cool appearance.
9. Simple Sporty Style in Hoodie and Shorts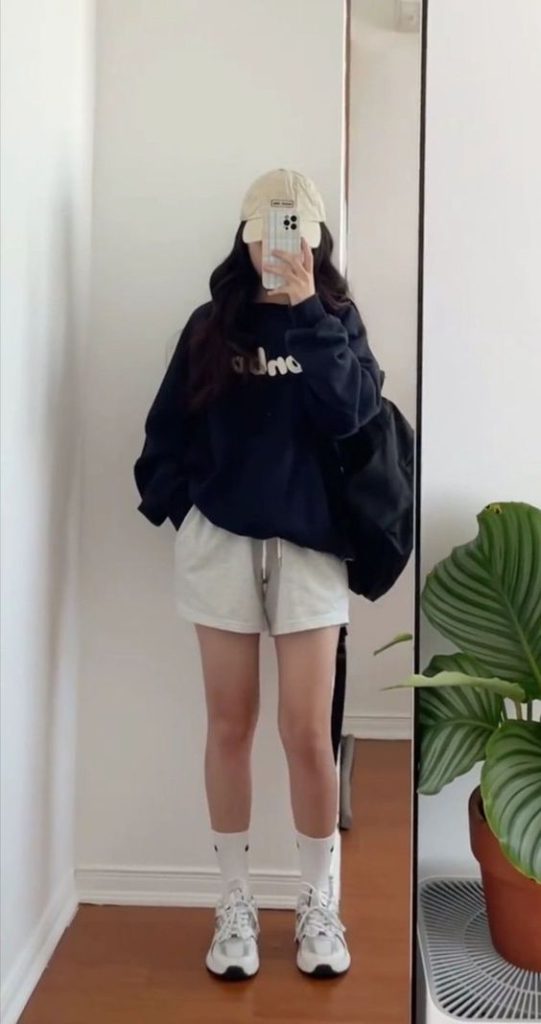 A hoodie and short sweatpants are better when you feel lazy but must go to school. Considering a coolness yet comfortable to wear, from this outfit, why not? We love how this simple and trendy outfit for school, especially when you complete it with a pair of sneakers or trainer shoes. That's feeling comfortable while still looking fashionable. To complete your look, add a baseball cap and a backpack. Furthermore, you can style your hair naturally wavy or, for a more sporty look, simply do a high ponytail.
10. Feeling Cool with Ripped Jeans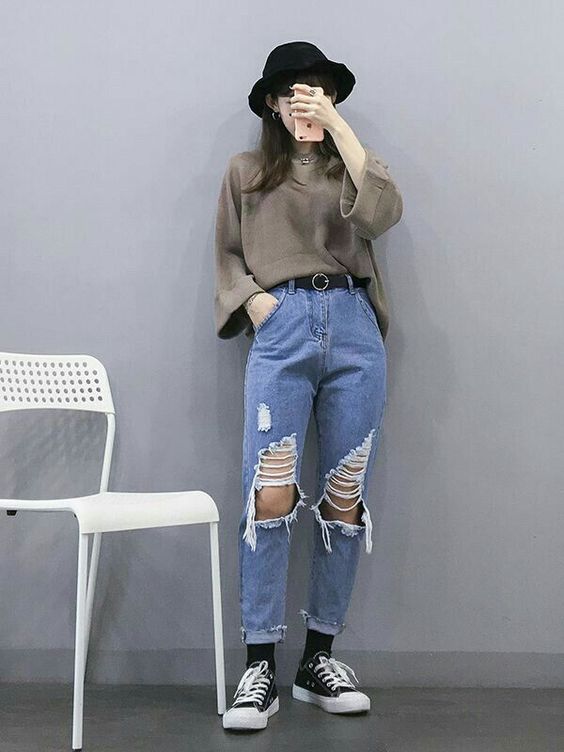 I really love this style, how about you? I believe you'll agree with us. Only pairing ripped jeans and an oversized t-shirt, was enough to give you a simple trendy outfit for school. What's give more point is you present a bucket hat for accessories. It quite brings a good impact to your outfit performance. However, you have another option for accessorizing with a hat. If you want a bit vintage but contemporary, you can choose a fedora hat. But when you want to look sporty and trendy, aside from a bucket hat, you can select a baseball cap.
11. Bring Flannels for Trendy Style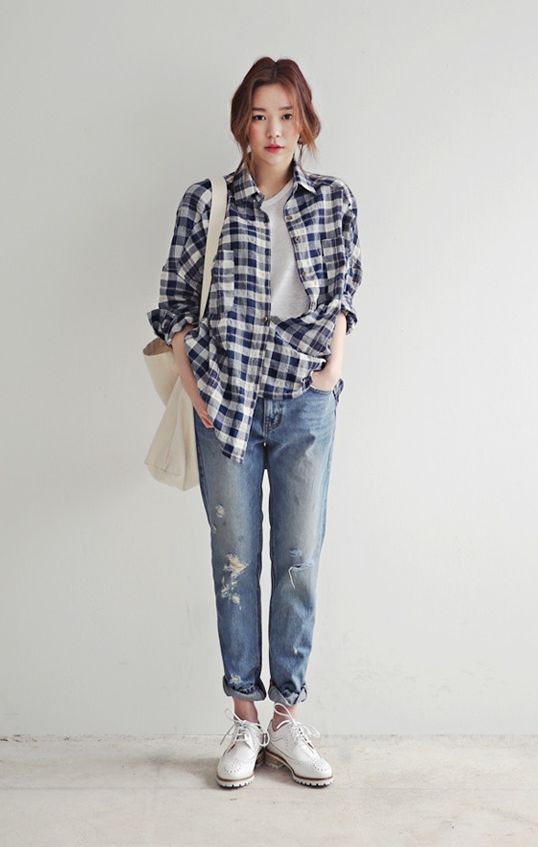 Why not go for a bit messy look for going to class? You can create a simple trendy school outfit by wearing a flannel shirt on the outside, a white tee on the inside, and jeans on the bottom. You can choose slightly ripped jeans, and unbutton the top shirt to avoid looking clumsy. As you see trendy styles mostly use sneakers, boots, or trainers for the footwear, so you can pick one from that option. Also, you can choose a canvas tote bag that seems casual in your hand. In addition, you can do your hair with a messy bun or low ponytail that would support your look.
12. Get Blazer for the First Day in School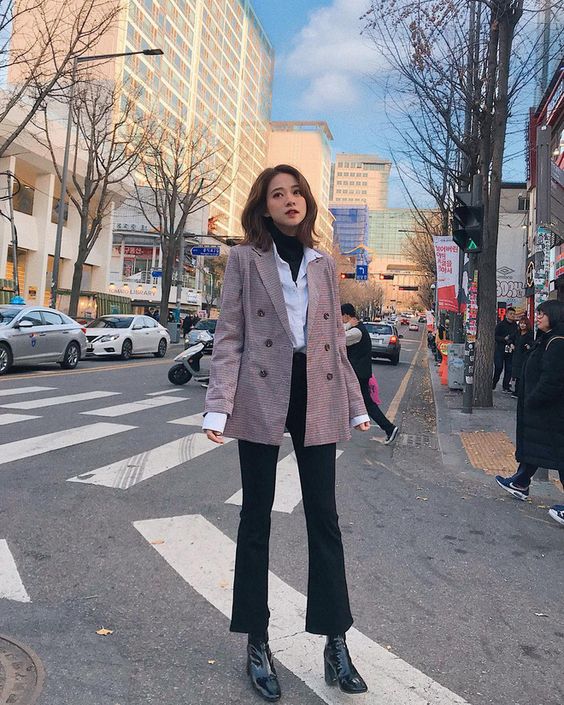 Are you ready for class now? Have you prepared some ensembles for fashionable back-to-school outfit ideas? If you don't have any idea, we'll give you one. How about this look? A formal style that's created in a trendy way. We love how the blazer can really look fashionable in this simple trendy outfit for school. What you need to do is just make a layering style using a turtleneck, an unbuttoned collared shirt, and a blazer for the top style. Then for the bottom, you just need to wear bootcut jeans. To help you look more cool and stylish, you may bring out ankle leather boots for the legwear. Not only that, complete your fashion performance by getting a shoulder bag, handbag, or sling bag. I believe this style would give you a good impression on the first day going back to school.
13. Cardigan and Wide Jeans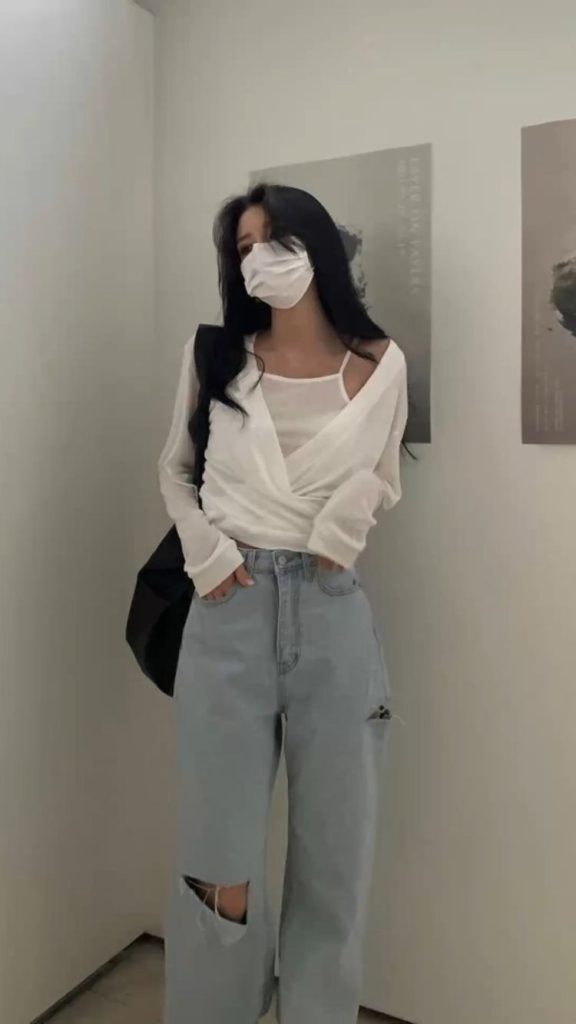 Cardigan and wide jeans. This simple outfit that many people would wear for any occasion. This combo never fails to make you look fashionable even in class. For this, you can pick a white cardigan and white tank top for the top style. Then, tuck it into your wide-leg jeans. If you want to wear it during the warm season, just choose a sheer cardigan rather than a thick one, and vice versa. To complete your simple trendy school outfit idea, you can pair it with trainers or sneakers. Also bringing on accessories like a baseball cap would make you look chicer and cooler. For the bag, select a backpack or you can also pick a canvas tote bag.
14. Black and Silver Outfit Combination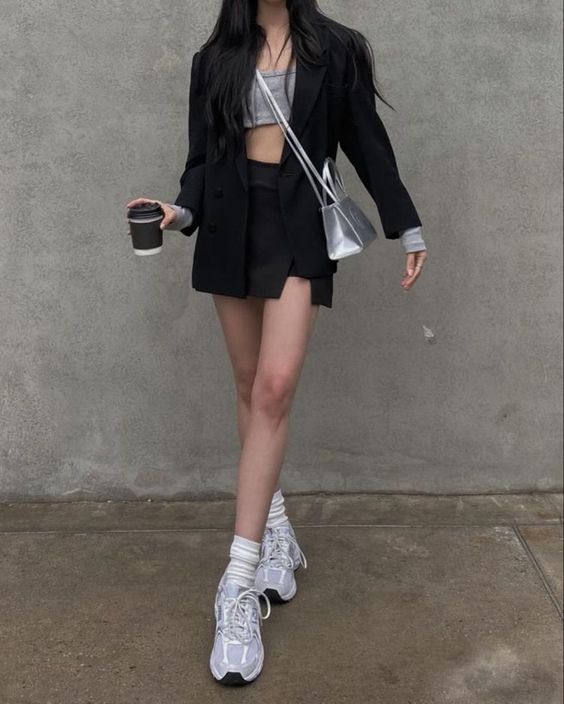 This outfit is simple but still trendy for school outfit ideas. When you feel puzzled about what to wear for class, just go with this look. Just use the combination of black and silver ensembles, such as wearing a black blazer and a silver cropped tank top for the inner. Then, match this style with a black tennis skirt for a bit feminine vibe. To complete your simple trendy outfit for school, just pair it with silver sneakers for footwear. Don't miss out on accessories items, for this you can choose a silver sling bag to carry your important things and silver jewelry.
15. Get Basic for Modest School Outfit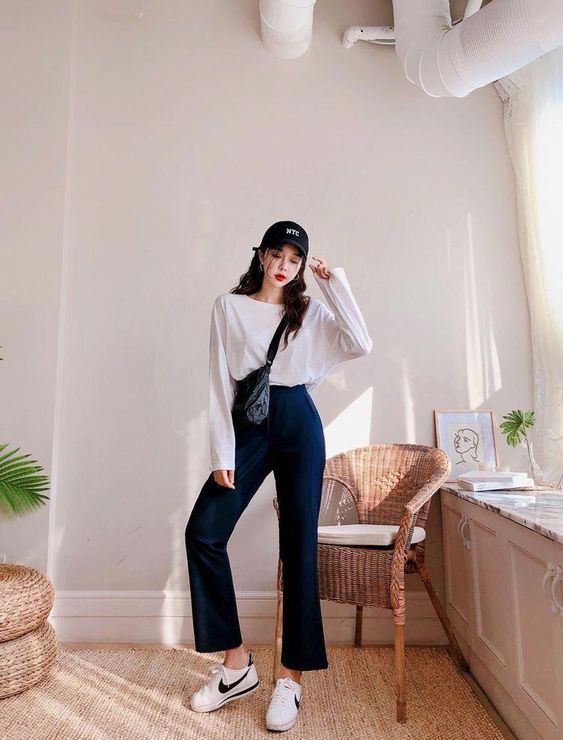 Look for an outfit style that is simple and comfortable to wear during class? You may be approved of this one outfit idea. Yes, basic style with a long sleeve tee and ankle pants. You would never fail to have a simple trendy outfit for school with this look. What you need to do is just bring additional details, like adjusting shoes, accessories, and bags. For inspiration, you can try to build up your outfit performance by matching it with a pair of sneakers. Then, you can also try to wear a baseball cap with a naturally wavy hairstyle to look quite chic. And for the bag, you may bring a waist bag if you want to look cool. When you want to have casual look rather than trendy, just choose a canvas tote bag or sling bag. Now, you are ready for the class!!
16. 90's Outfit for School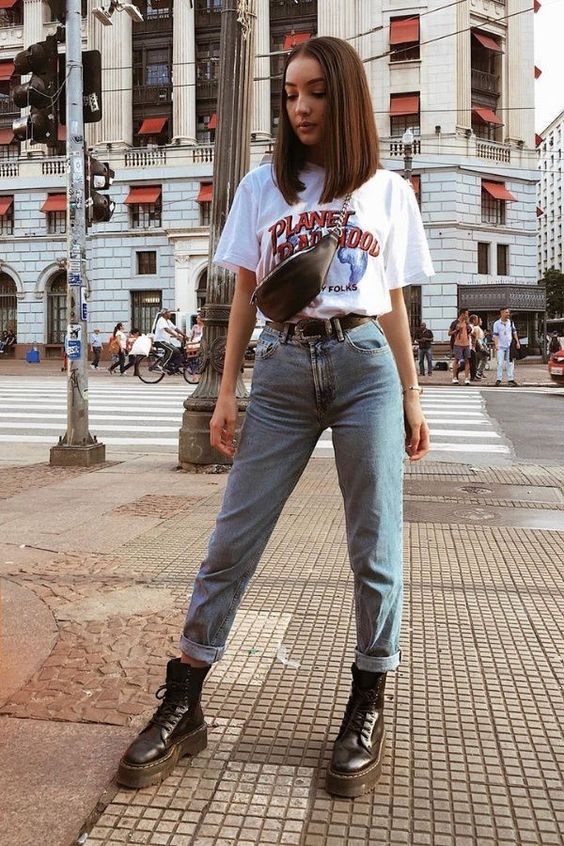 Some old fashion has come back. We love this nineties fashion that looks good to wear and brings retro ambiance. A lot of influencers and designers recreated these looks using flannels, oversized t-shirts, flared jeans, and more. When you plan on 90's style to become your simple trendy outfit for school, just appear with a printed t-shirt that you tuck in your high-waist jeans. Then, for the shoes bring your army boots for a cool style. It can give you a little grunge style. Also, opt for metallic fashion accessories and a belt to complete your trendy performance. Moreover, support your performance with trendy bags by picking up a waist bag. This is enough to make you seem cool and trendy either in school or for hanging out after class.
17. Play with Overall and Jumpsuit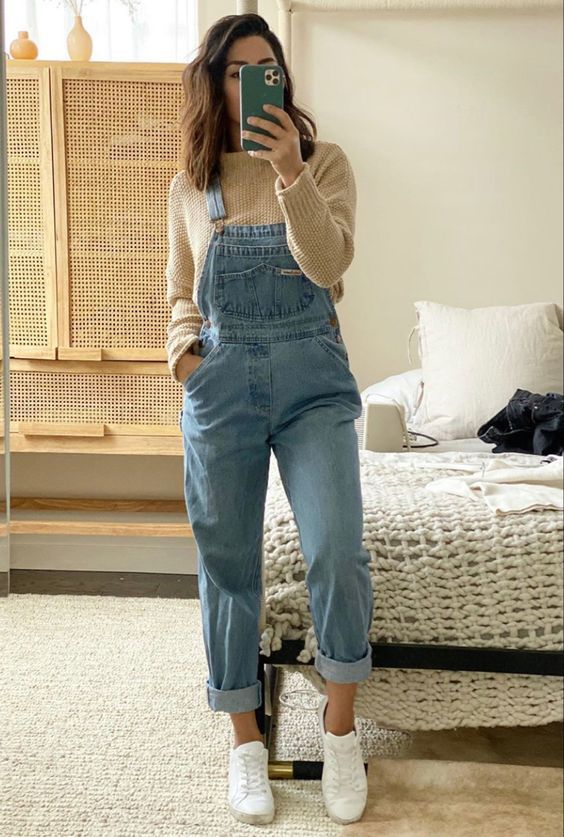 Remain to look youthful even if you are getting mature, for some girls is a kind of dream. To realize it, you can play with an overall or jumpsuit for daily outfits. Not only just cute, but this is can become a simple trendy outfit for school. For this, you can wear it with any ensemble depending on the season for the layering style. For instance, you can mix it with a sweater when you have to attend school in the fall or winter season. And you can also match it with a basic t-shirt to a tank top during summertime. When you use it for a trendy look, just add it with other fashionable accessories items. As such you can go with sneakers or trainer shoes for footwear. Besides that, bringing a canvas tote bag, sling bag, or backpack is a way to support your chic and cool appearance.
18. Keep Simple with Tank Top and Trousers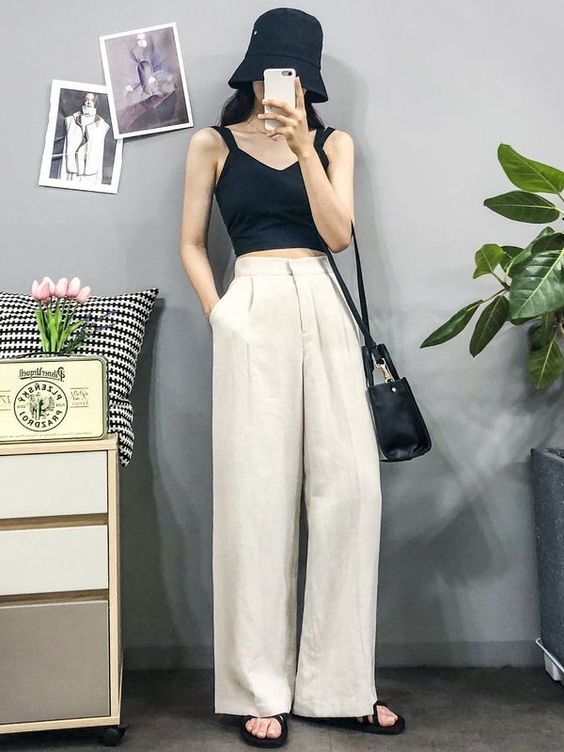 One of the easy ways to get a simple trendy outfit for school is by mixing up a tank top and palazzo pants or trousers. Choose a tank top with a heart neckline rather than a round one. When you style the outfit for attending class, better to pick sneakers for the footwear. But when you want to have a more casual performance, just use sandals to hang out in the cafe or mall. Don't miss out to give other detail, like you can wear a bucket hat, and if you don't like it just choose a baseball cap. It would be the same to give a cool and trendy look to your outfit. Next, come for bags, you can prefer a sling bag, tote bag, or waist bag.
19. Stay Cool with Cargo Pants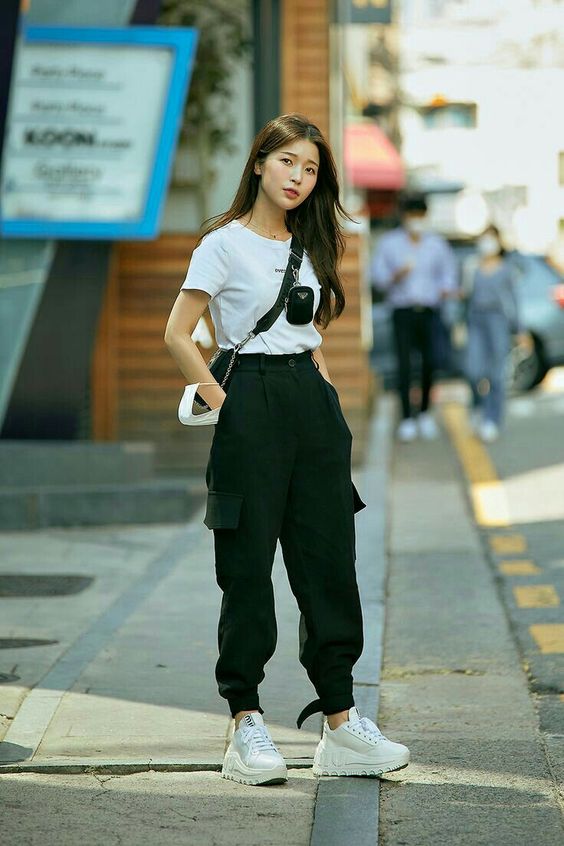 Cargo pants are the best piece to create a simple trendy outfit for school. Since it designs with a loose fit, make these pants are truly comfortable to wear especially when you have to sit in class. They actually look great even when you match them just with a basic t-shirt. Do you want to use this in class? If yes, we suggest you accessorize it with more styles by matching it up with shoes and your bags. For the shoes, the option is between sneakers, trainers, or boots that would stand your performance and have a more trendy style. For bags, we'll fall in love with waist bags that feels cool to wear with this cargo pants style.
Finally, we've shared with you some simple trendy outfits for school that may level up your fashion. Anything that you wear, make sure that it feels comfy and makes you confident in class. Furthermore, if you need school outfit ideas you can read our article before about simple comfy outfits for school. I hope you can get inspiration and increase your outfit performance when you get back to school.