Olidfashion.com – Using matching outfits is one way to express your love for your other half. However, many couples get it wrong! Wearing matching statement tees or identical tees that are written your name on the back is awkward and unflattering. Throw it all away! Change your perception of the couple's look should have the same appearance. Stunningly styled your clothing and your partner in an elegant yet intimate manner. Bring out your matching couple outfit ideas with matching suits, matching patterns, and designs, or use the same accessories.
It's lovely to see couples dressed in matching outfits for any occasion. Even if your relationships with your other half aren't public, that doesn't mean you can't express your love and affection. Wearing matching couple outfits is an adorable way to show how much you love each other. However, most couples have a hard time deciding what to wear to look cute and stunning together.
You don't have to be worried any longer. We'll help you work up the nerve to wear matching couple outfits that don't resemble Halloween costumes with your partner. We've gone around and gathered some great outfit ideas for you and your mate. Scroll down to find out some inspired matching couple outfit ideas for any occasion.
1. Coordinating Outfit Color Schemes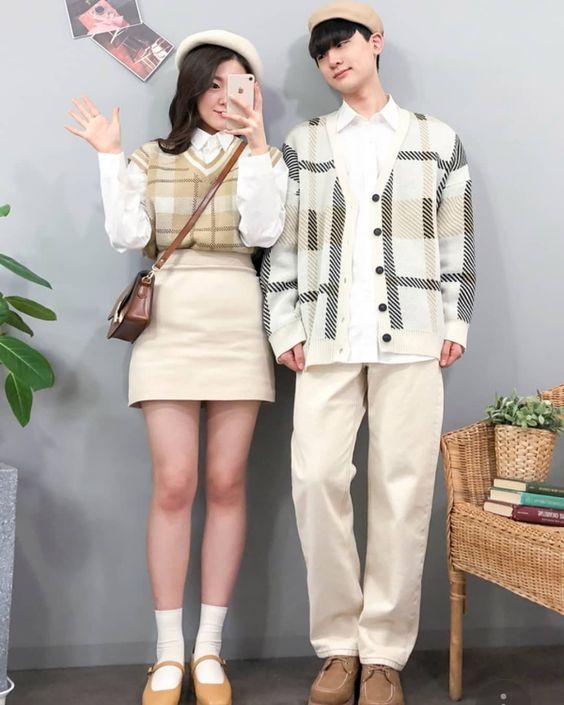 Color schemes are a simple way to create matching couple outfit ideas. You can bring neutral or earthy tones that would look good on either men's or women's styles. For a simple look, you can wear beige. Girls can wear a white shirt and a beige sweater vest on top and a beige mini skirt on the bottom. Then add a beige beret hat and a brown sling bag as accessories. Getting beige mary jane shoes and socks for the toe would complement your overall look.
Let's move on to the male version. You'll need a cardigan in the same color and pattern as your girlfriend's vest, as well as a white shirt for the inner top. Then, for the bottom look, put on a pair of chinos and brown suede shoes. Finish off your men's outfit with a beige beret hat for matching accessories.
2. Matching Suits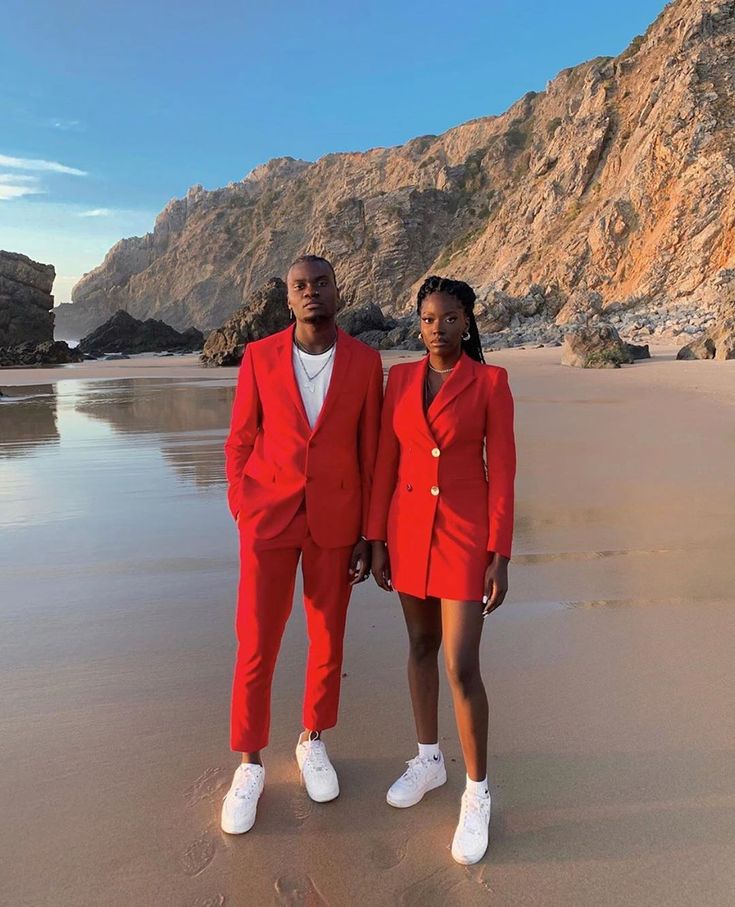 Perhaps if you want to create powerful looks, appear in suits. For those who want to take photos, either for prewedding or just creating memory, you can choose a couple of suits. For men, you can choose tailored suits paired with t-shirts for the inner to have a little casual look. Then get sneakers to support your trendy outfits.
Then comes to girls' style, you can choose a mini dress suit. You can get a double-breasted tailored for the outer and a mini dress underneath. When you opt for the bossy girl style, you can get suits and trousers rather than a skirt style. For the toe, get the same white sneakers style as your boyfriend's footwear.
3. Opt Hoodie and Sweatpants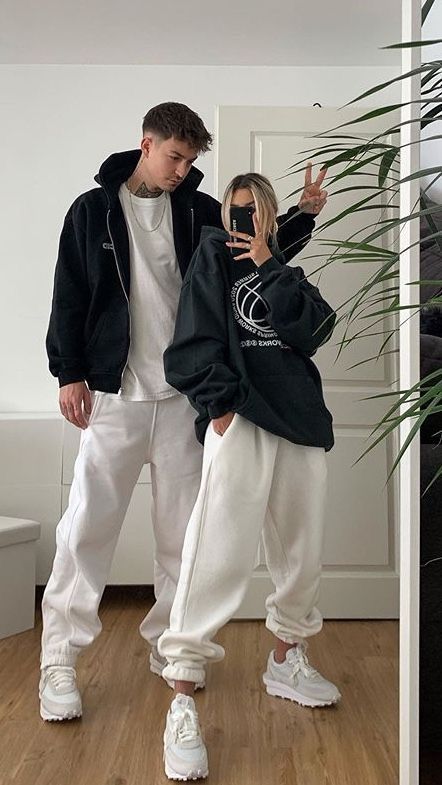 If you are looking for something that's unisex and can be worn with your partners, hoodies and sweatpants would be perfect! For girls, you can wear a boyfriend hoodie that you can match with white sweatpants. Then, get a pair of white trainer shoes for the matching footwear. Complete with some accessories such as simple jewelry and get a waist bag when you want to go outside in this outfit style.
Then for the boyfriend style, you can get a zipper hoodie with a white basic t-shirt for the inner top. Get white sweatpants and sneakers for the bottom style. Simple accessories don't forget to add to your performance, and you can complete your outfit looks with a cap to have a trendy style. This matching couple outfit idea is perfect to give you a casual date or when you want to look sporty with your partner.
4. Bring Burgundy for Thanksgiving Couple Outfits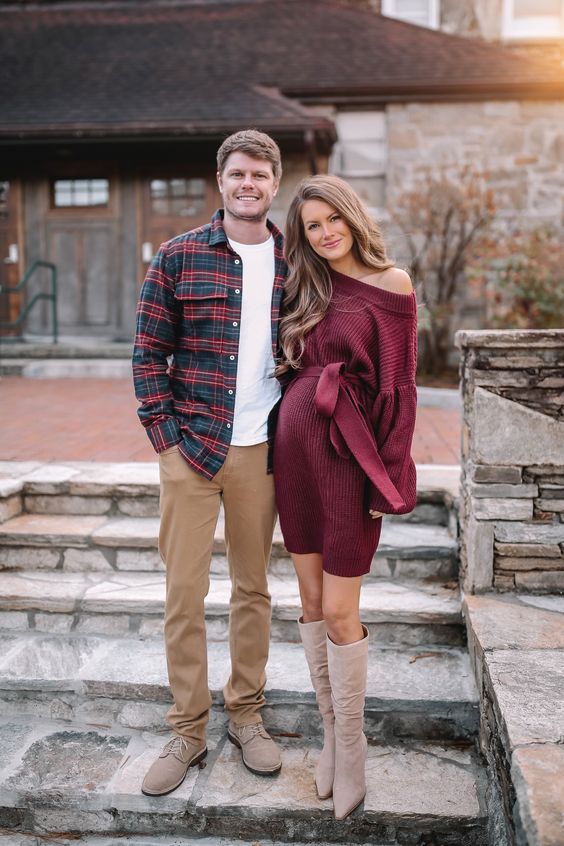 Have family dinner during thanksgiving? Thinks about what to wear? Just bring this matching couple outfit idea to style your and your partner's performance. For you girls, you can wear a long sleeve knitted mini dress with a ribbon embellishment tie on the waistline. Select burgundy schemes if you want to have an elegant style. For shoes, better you pick a pair of beige knee-high boots to make you feel warmer.
For you boys, you can match your outfits by wearing flannel in black and burgundy pattern, and get a white t-shirt underneath for the top. Then pair it with chinos and get suede shoes in beige for the bottom style. With this, you can have simple match couple fits that seem lovely.
5. Get Blazer For Matching Couple Fits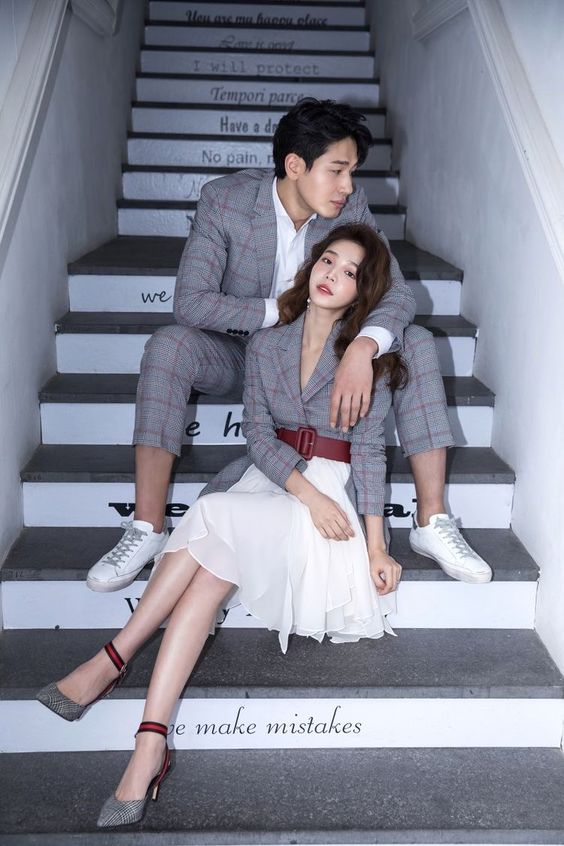 For those who love Korean outfit looks, this matching couple outfit idea shouldn't be missed. We know that the fashion industry in South Korea is increasing due to the growth of K-pop and K-drama. When we see drama, we would find out many couple outfits that look fashionable. For the recommendation, we have this blazer style for you and your partners.
Starting from the girl, you can get the look by matching a flowy mini dress that looks chic with a blazer for the outer. Then get a belt over the blazer to level up your outfit performance. For footwear, get a pair of strappy high heels that have the same colors as your blazer. Then continue with men's style, for this, you can get suits in the same color as your girlfriend's blazer. Get fully dressed by matching up a white shirt for the inner top. Then, for shoes prefer sneakers for a more casual appearance.
6. Matching Shoes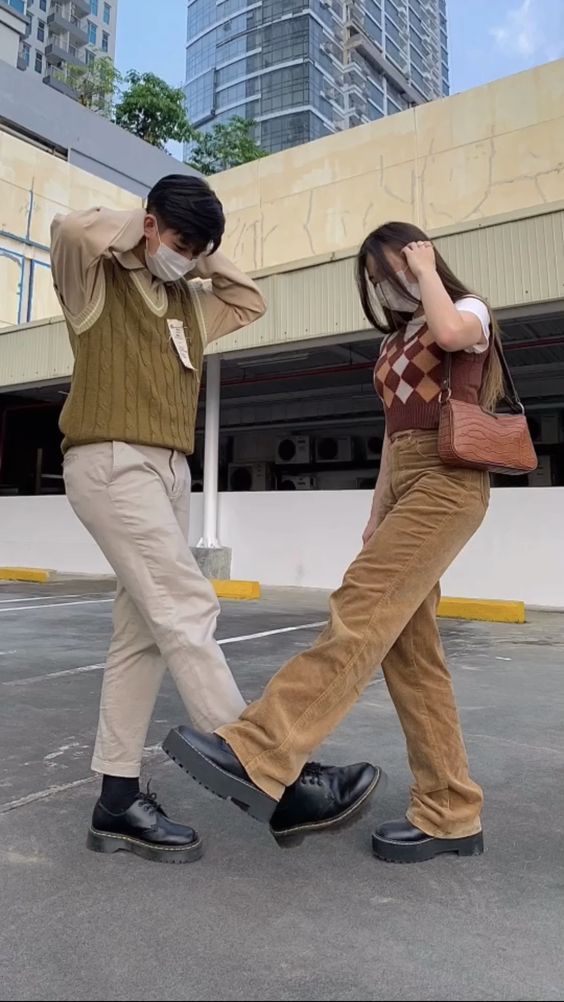 To appear lovey-dovey with your partner, look beyond the clothes. Intentionally create another matching couple fashion look, such as by wearing the same shoes. Furthermore, girls may wear sweater vest style by complete dress including basic tee, brown jeans, and chunky shoes. Then, bring accessories items and a brown shoulder bag to have a perfect styling look.
For boyfriend can get the same sweater vest style, but with different layering, for instance, a shirt underneath. Get chinos for the bottom, and identical chunky shoes to complete your couple outfit style. Bring accessories such as a belt, or use glasses if you want to have a smart casual look. And then, you can get a simple sling bag to perfect your all performance.
7. Perfect Match for Outdoor Wedding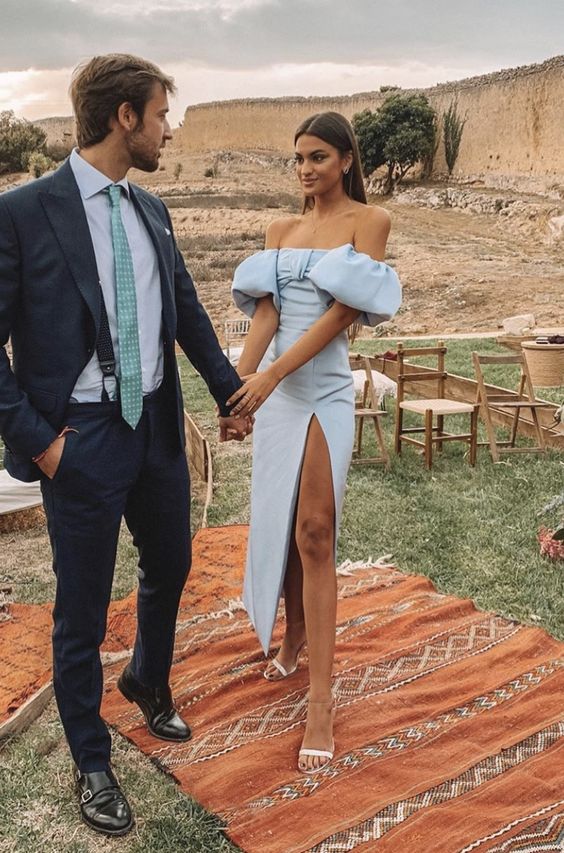 Attending wedding parties with your partner. Not only the brides who want to look stunning during the reception, but you as guests also do the same. Especially when you are married or have a partner, you may want to look lovey-dovey by wearing matching couple outfits. So, we'll inspire you with this matching outfit look. However, before you pick what to wear, better to know the theme and wedding concept.
We picture this outfit would be good to wear by you and your partner when attending an outdoor wedding, or industrial wedding. For men's style, you can wear navy suits with a pastel blue shirt underneath. Then accessorize with a mint tie, suspender, and a leather belt. Because your overlook is formal style, better to pick leather shoes for the footwear. For women's style, get a simple but stunning blue pastel off-shoulder dress. Choose a dress with puff sleeves and a long slit if you want more attention. For shoes, getting white high heels is perfect. Then, style your hair with a simple and neat straight hairstyle. Complete your performance by wearing simple jewelry for accessories, and get a clutch or Minaudiere in your hand.
8. Getting Basic for Simple Looks
When you have nothing to wear, just back to basic style. It can also help to create simple matching couple outfit ideas. If you are in a hurry to have a date with your partner, just grab your white tee and jeans, then pair them with sneakers. For you girls, you can choose a halter cropped top, ripped jeans, and sneakers. Then grab simple jewelry and a modest shoulder bag for accessories. For the hair, you can create a curly high ponytail.
And for boys, just bring your white basic t-shirt with blue denim jeans. Get a pair of white trainer shoes or sneakers for the footwear. In addition, you can also wear a jacket for layering. Then, help to boost your performance by bringing accessories such as sunglasses. This would be a life hack to help you easily get fashionable looks simply.
9. Use Monochromatic Outfits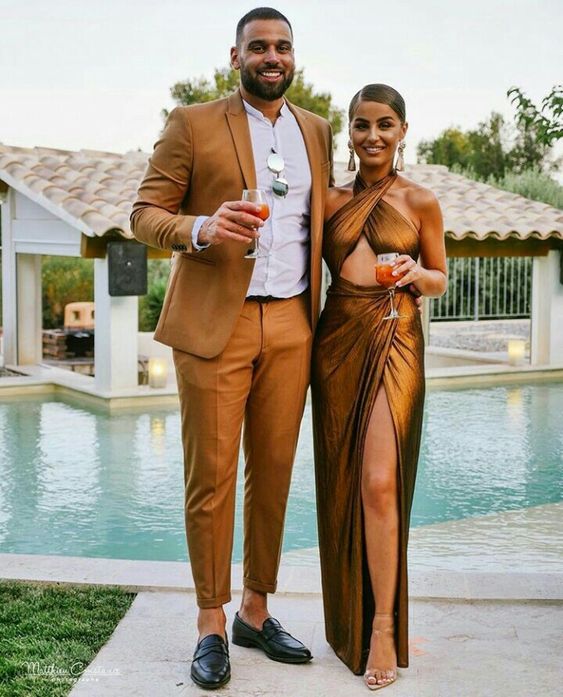 The trick to easy having a perfect matching couple outfit idea is by wearing a monochromatic style. You just need to appear in the same color outfits. For instance, when you need to show up at such a formal evening party, you and your partner can come with a classy look by choosing golden outfits.
Simply, for the men, you can get golden brown suits with a white shirt and black loafers. For the women, get a sleeveless halter evening dress with darker hues from your partner's outfits. This would help to give comprehensive yet contrasting looks that complement each other performance. Then perfect your dress by getting transparent high heels for the matching footwear. Accessorize it with simple jewelry. And for hairstyle, it would be great to have a tidy low ponytail.
10. Bring Different Color Outfits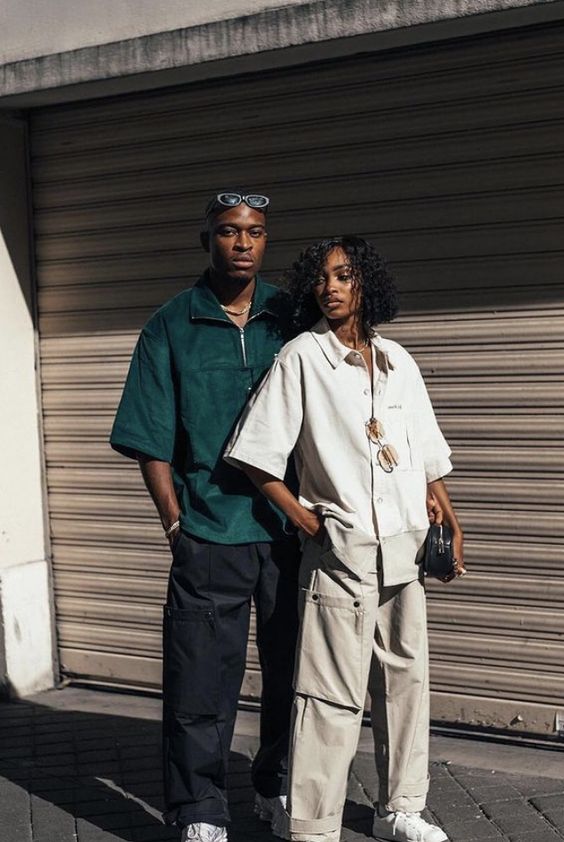 If you want to have matching looks but not too identical, just styling the same outfits in different colors for both of you. Bring unisex outfit is the answer. When you don't have a problem with boyish outfit looks for girl style, you may think of this outfit idea.
You can both wear cargo pants with different tops that have the same design. For example, for the top, the girl can wear a collared shirt and the boy can wear a polo t-shirt. Aside from that, the trick is to get different colors. One subtle color can be obtained in light tones and another in dark tones. For this, you can get black and dark green colors in boys' style, and get monochrome beige in girl style. Furthermore, you can perfect your outfit looks with some accessories items such as sunglasses, a watch, and simple fashion jewelry.
11. Stand with Denim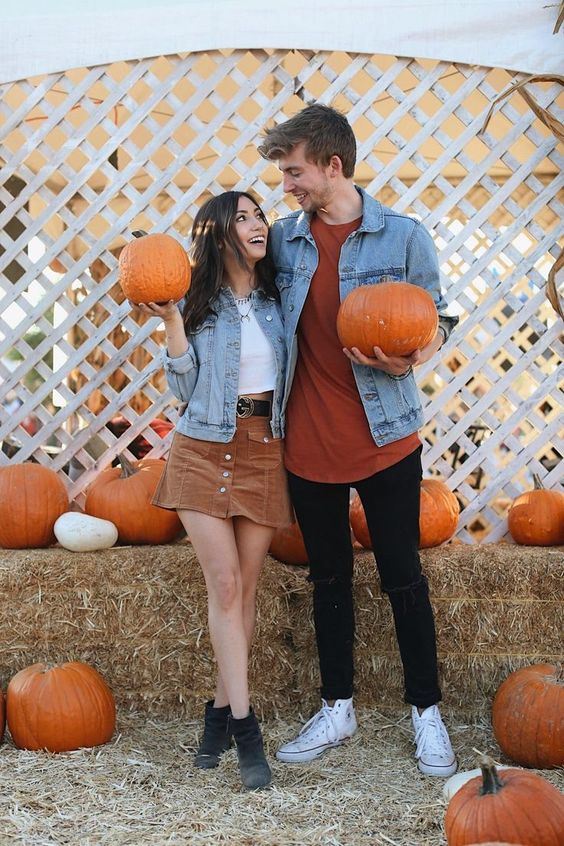 You don't have to stand out with a couple of love T-shirts with your names on them to show your feelings for each other. Just forget about it. Begin with versatile pieces such as denim, whether it's outerwear, pants, jackets, or others. You can experiment with any denim ensemble to come up with fashionable matching couple outfit ideas. I like this outfit concept.
Attending a Halloween party with your partner and looking for a matching outfit style? You may bring this one. Mix and match your denim jacket with a white cropped top for the inner top. You can also get a brown button mini skirt for the bottom style. Then, finish the look with some fashionable jewelry and a belt. Ankle boots are an option for the toe. The boy's style is next. Bring a brown t-shirt underneath your denim jacket and black skinny jeans for the bottom. Then, get sneakers for fashionable shoes.
12. Wearing His Basketball Shirt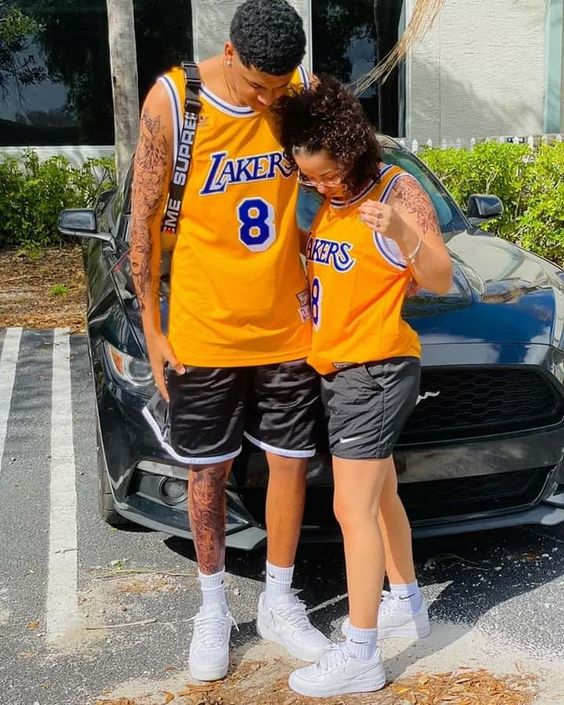 What could be more romantic than dressing in boyfriend clothes? You should give it a shot. Getting this matching couple outfit idea is actually easy. Just wear what your boyfriend wear. For example, if you need to watch your boyfriend's basketball game, simply motivate him by dressing in his basketball team uniform.
That you really need just a basketball t-shirt, include the pants also. And for girls better to layer it with a strapless top or strappy tank top underneath. If you don't like it, getting a sports bra is a solution. Then for the toe, trainer shoes and socks must wear on. In addition, you can style a ponytail for your hair to support your sporty look.
13. Matching The Patterns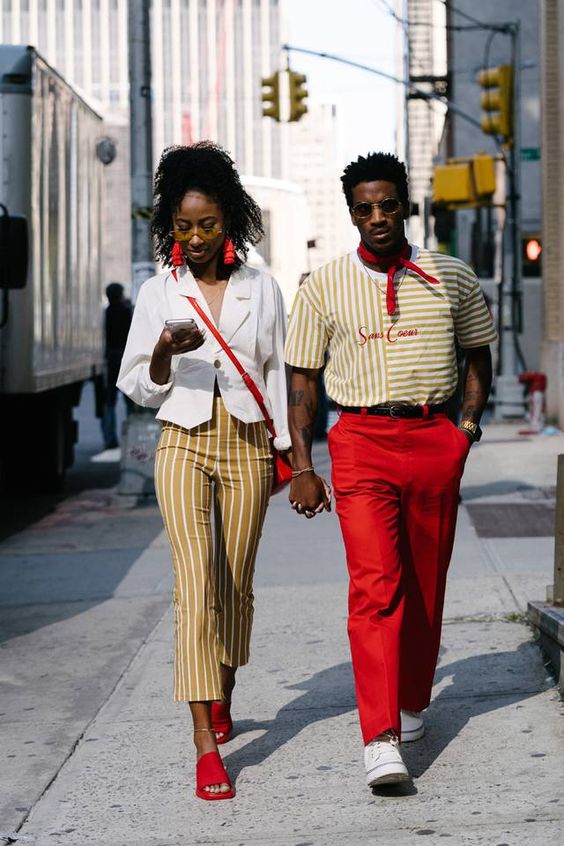 The next matching couple outfit idea is by wearing the same pattern clothes. For this, we suggest you get the pattern in a different piece. As for the example, when you girls use patterns on your pants or skirts, then choose a pattern on the topper for the boys, and vice versa.
Like this couple outfit idea, I think this is very unusual and stylish. That couple really knows what they do to have fashionable look. They not only coordinate the pattern but the colors too. When the girl wears a white blazer and stripe pants and then gives a bit red hint in the accessories. The boy chooses to wear a striped t-shirt with red pants and give a bit of white hint in the shoes. From the first impression, they look well suited and harmonized.
14. Same Pajamas in Different Shades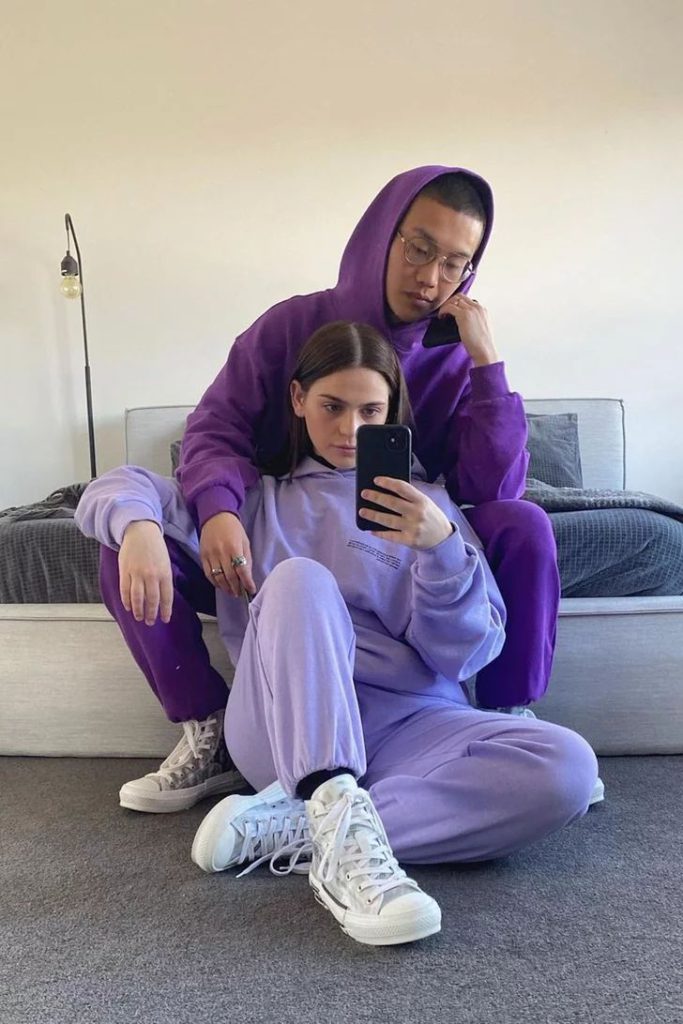 What is the couple's top choice for matching outfits? Yes, it's pajama time. This is a private ensemble that you can customize to your liking. Having matching pajamas style for couples can help them feel more at ease and intimate at home.
There are numerous pajamas available as couple fits, but my favorite is this hoodie and sweatpants set. This is a simple but comfortable style, especially in cold weather. You can get the same pajamas in different colors for inspiration. You could get purple or violet pajamas for the boys and lilac pajamas for the girls. If you want to bring something cute, bring character pajamas or patterned pajamas.
15. Couple Outfit Set for Vacation Style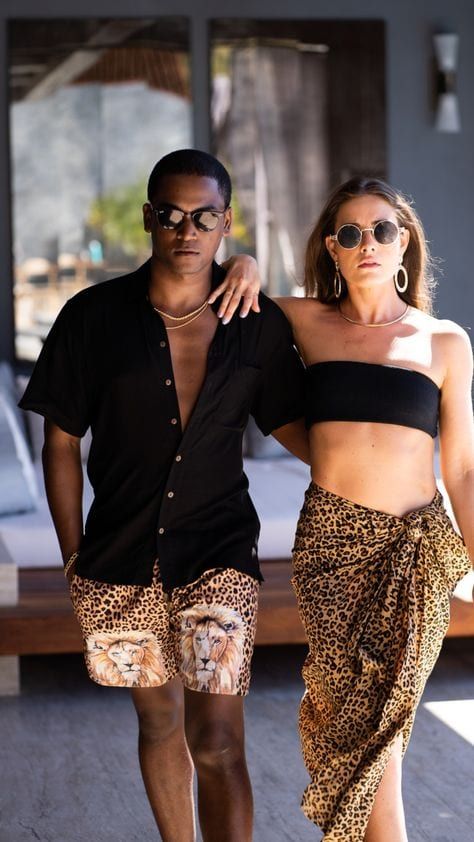 Going on vacation with your soulmate? Traveling from one country to another one needs some preparation, even the outfit too. When you have a vacation on a yacht and get a party there, bring this matching couple outfit style. Starting from the men's appearance, suppose pick a simple black short sleeve shirt with leopard pants. For shoes, gett a pair of sneakers or just wear sandals. Don't miss out on the accessories, bring simple jewelry, a watch, and sunglasses to help you avoid UV light on the beach.
Move to women's style, you can wear a strapless tube top or bikini that you match up with a leopard sarong skirt. For the toe, get high heels if you want classy elegant style, or just choose sandals for a more casual performance. Then, perfect your outfit looks with some accessories items such as jewelry and sunglasses. You can also bring a straw hat to complete your stylish beach outfit.
16. Give A Hint with Colors in Accessories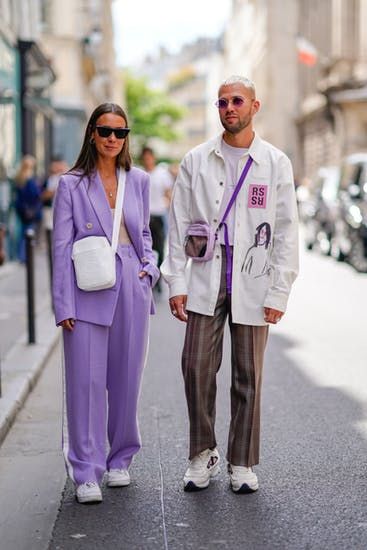 So far we've seen many couple outfit ideas starting from blazer style, suits, denim, and more clothes. Now we'll give you a different idea. Create a matching couple of outfits from accessories items. For this, there is two way you can bring on. Matching the same accessories, whether the color and design with your partners. Or playing with the color combinations.
Apart from the colors of their accessories, the couples in the photo above did not wear the same outfit. However, we continue to regard it as comprehensive and appropriate. When the girl dresses in violet suits for a more casual look, she pairs them with white accessories such as her bag and shoes. And the boy wears a white jacket with striped pants, but with a violet hint in his bags and a lilac t-shirt as an inner top. From this matching style, it looks like they can complete each other.
17. Wear The Same Coats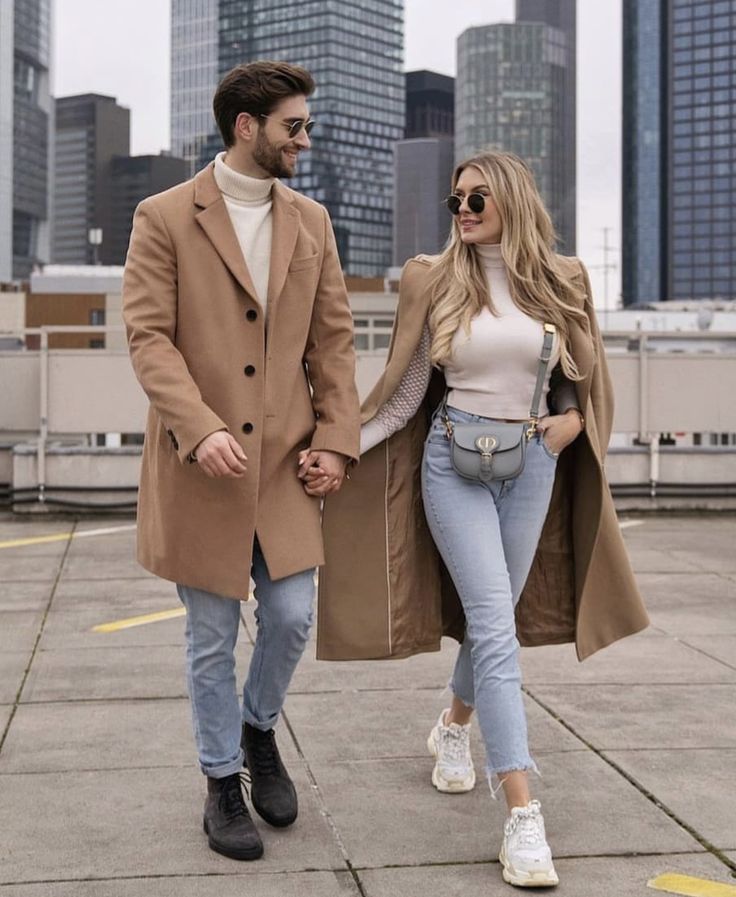 I believe you have a good understanding of your partner after a few years of living together. And with your busy marriage life, sometimes you may need a reminder to spare time with your half. Just chill out watching a movie or hang out in the cafe. Add some spice to your relationship with matching couple outfit ideas.
When you go outside during fall or winter, you can match your coats that look really a couple's goal. For this, you can coordinate your fall outfit with your partner by wearing the same color coats, turtlenecks, and jeans. Simply wear a white turtleneck under your camel coat and pair it with cropped ankle blue jeans for a women's outfit idea. Accessories such as sunglasses, a mini sling bag, and simple fashion jewelry should not be overlooked. Men should wear a white turtleneck, a camel coat, and blue jeans, just like women. You can change the color of your shoes to achieve a slightly different look. Men can wear black trainers shoes, while women can wear white ones.
18. Couple Outfits for Anniversary Date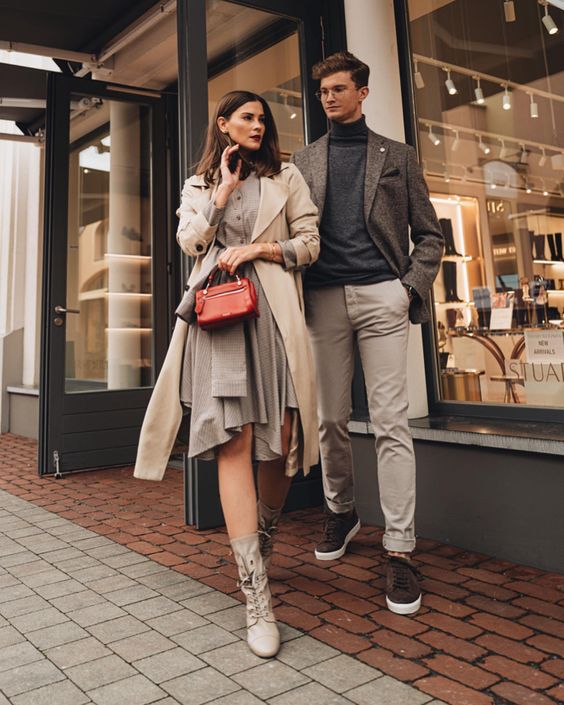 Have a romantic dinner with your half for the anniversary date? Why don't you try to look coordinated by wearing matching couple outfits? If you don't want to look a bit odd wearing identical outfits, learn a trick to have matching styles. Instead of getting really the same styling looks, try to bring a hint by syncing accessories or the color.
If you and your date decide to dine at the restaurant, simply dress in semi-formal attire. For men, combine a turtleneck and chinos, then add a blazer for a more formal look. Bring brown sneakers if you don't feel comfortable in leather shoes or loafers. Then use glasses, a watch, and a belt to perfect your performance. Move to women's fashion, dress in the same colors as your men's chinos, and layer with a long coat in a lighter color. You can complement your dress with leather boots in the same color. And get the last touch, you can get a red handbag and simple gold jewelry.
It's fun to mix and match outfits with your partner. If you are a romantic couple, you can show your feelings by wearing matching couple outfits. When both of you wear a couple's hoodie, blazer, or t-shirt confidently, it can look really cool in harmony. Now that you've come up with some chic matching couple outfit ideas, it's time to start styling!! We hope you and your partner dress photo-ready for any occasion, whether it's Valentine's Day or an event you're attending together.