Olidfashion.com – Korean Hallyu has attached world attention. This is not only music, drama, food, but also fashion style. In general, Korean fashion always looks generous, simple, and fashionable for everyday rotations. Furthermore, the design is easy to match and almost people of the right age can control it to get excellent fashion style. Even for informal ensembles, there is so many stylish casual Korean outfit inspired to wear by men.
Therefore when the Korean outfit style starts booming, we really into them. We begin to compile some favorite casual Korean styles for men to look fashionable every day. From just wearing jeans and a t-shirt to combining blazers and suits, or matching soft colors, you can start to look around here. That's would bring inspiration on how to style your daily lookbook.
So, for now, we'll offer some casual Korean outfit ideas for men to enhance their everyday fashion style. Furthermore, all of the clothing ideas we share are simple to follow up. Are you getting excited now? Let's not waste any more time and go check them out!!
1. Comfy Style with Cardigan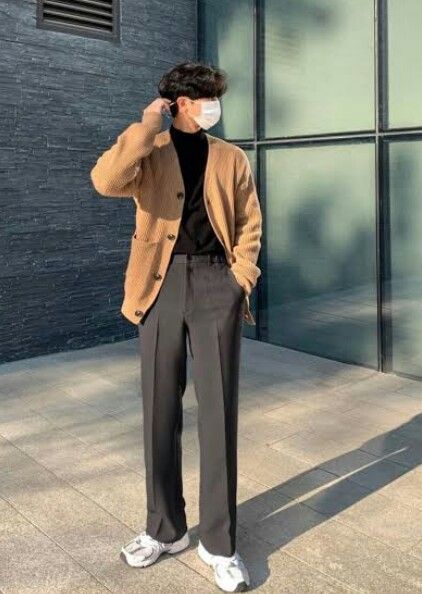 We love this style. This looks simple and easy to bring on as your comfy style in the early spring or autumn. For this matching outfit, you need to bring a knitted brown cardigan with a basic t-shirt for the inner, and get linen trousers at the bottom. Finilize your casual Korean outfit with trainers or sneakers for comfy footwear. In addition, just bring a simple sling bag or wais bag to save your stuff when you go outside with this outfit look.
2. Bring Your Shorts with Shirts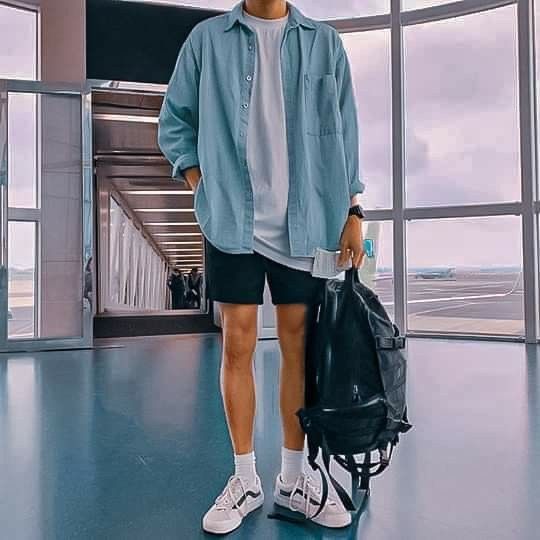 The next style is going with shorts and shirts. Two versatile pieces are usually displayed on men's wardrobes. You can go fully dressed by getting a basic white tee underneath your unbuttoned blue shirt for the top. To have a trendy casual Korean outfit, for the trick you can choose the larger size of clothes. Then, bring your Bermuda shorts with a pair of socks and trainers for the bottom look. To perfect your performance, add some accessories items such as a cap and a watch. Then for bags, bring a backpack to carry your belongings. This style is much better to wear when you need to look trendy in the airport for a short flight.
3. Look Cool in Black Jacket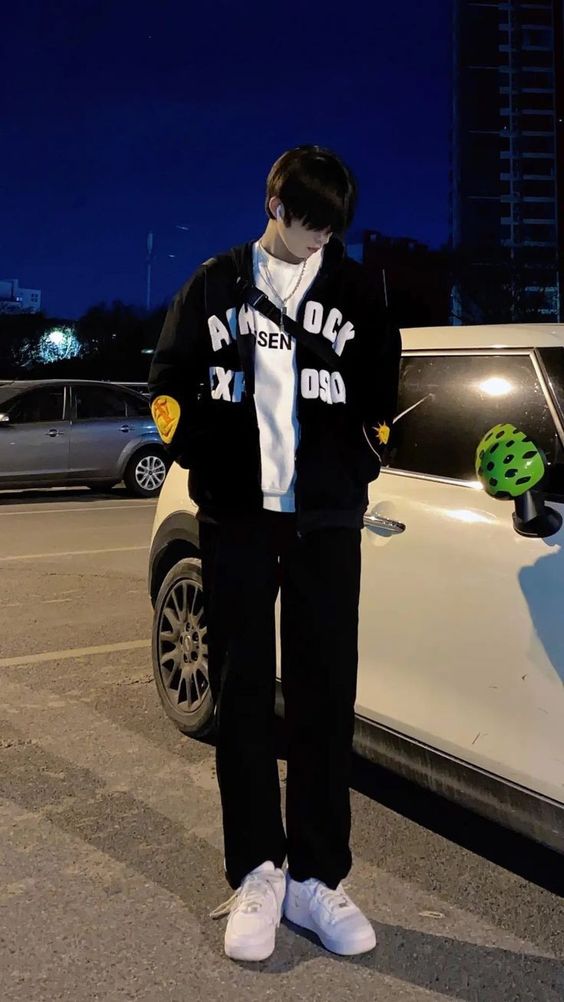 If you want to look cool plus trendy to hang out with your friends, I think you should bring this outfit idea. A simple black and white ensemble. For sure, when you want to exude a mysterious aura, black is the best color to wear. So, you can mix and match your black zipper hoodie with white t-shirts and get black linen trousers for the matching pants. For shoes, best you get white sneakers. Furthermore, get the perfect casual Korean outfit for hanging out by getting accessories and a waist bag.
4. Pastel Green Tee for Summer Style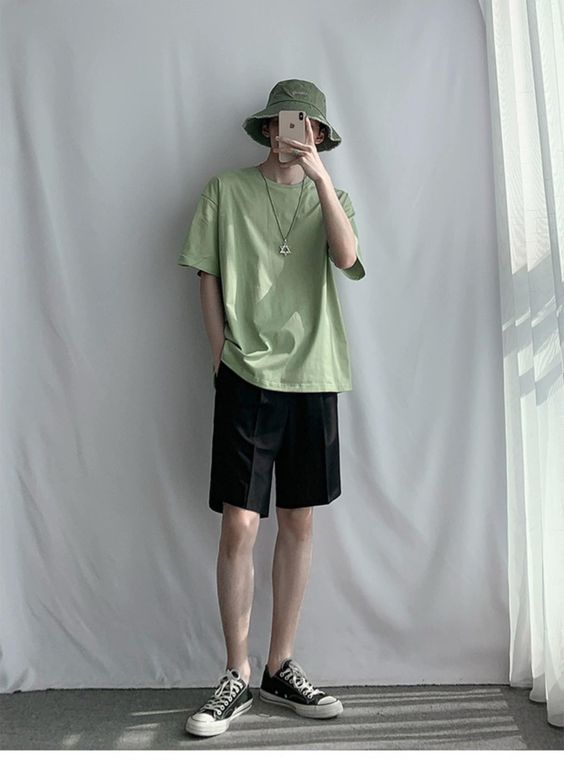 Talking about casual style in men's outfit ideas, you'll find out more shorts and t-shirt looks. But for a casual Korean outfit idea, it comes in pastel or muted tones. Like this outfit look. I believe you'll feel fresh wearing this outfit during summer. A pastel green t-shirt matches with black shorts and then perfected with a bucket hat. For footwear, nothing is more comfortable and trendy than sneakers. In addition, you can complete your stylish outfit with a waist bag or sling bag when you go outside.
5. Rock on Your Baggy Denim Jackets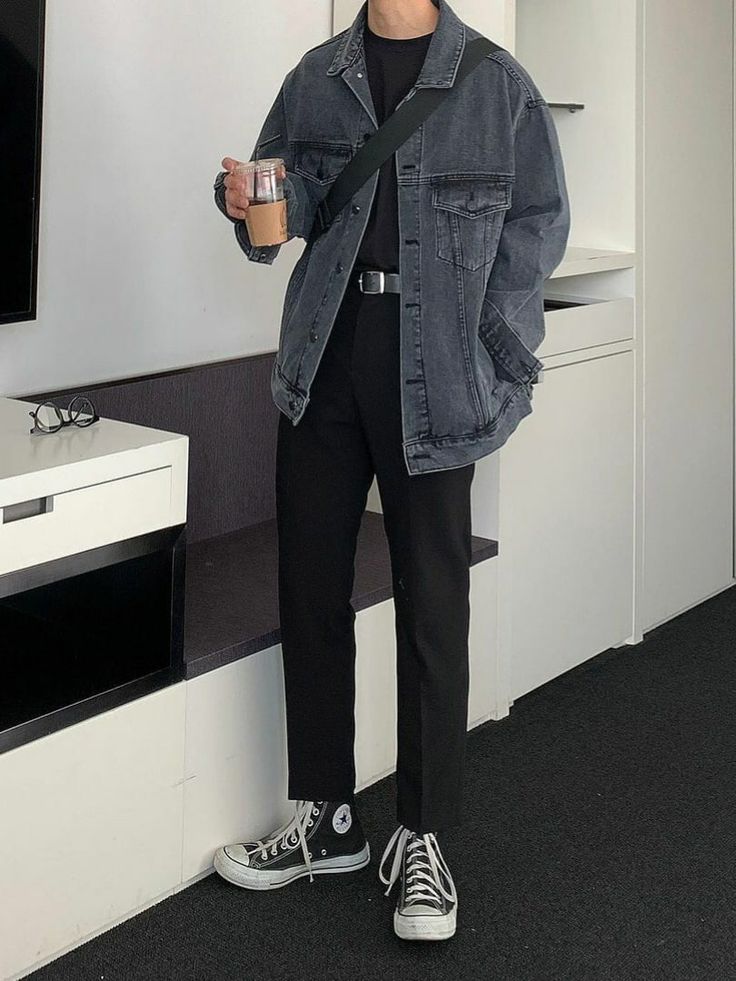 If you want something a bit baggy and monochromatic yet cool, bring out your black denim jacket. Naturally, men's favorite style is black clothes. Other than bringing casual performance, black also gets you to look cool. You can tuck a black tee on your black pants and then layer with a large black/grey denim jacket. To balance your outfit performance, better you choose ankle pants. For the toe, make your casual Korean outfit perform cooler by getting black sneakers. Finilize your style with a sling bag and accessories items like a black baseball cap.
6. Casual in Bohemian Cardigan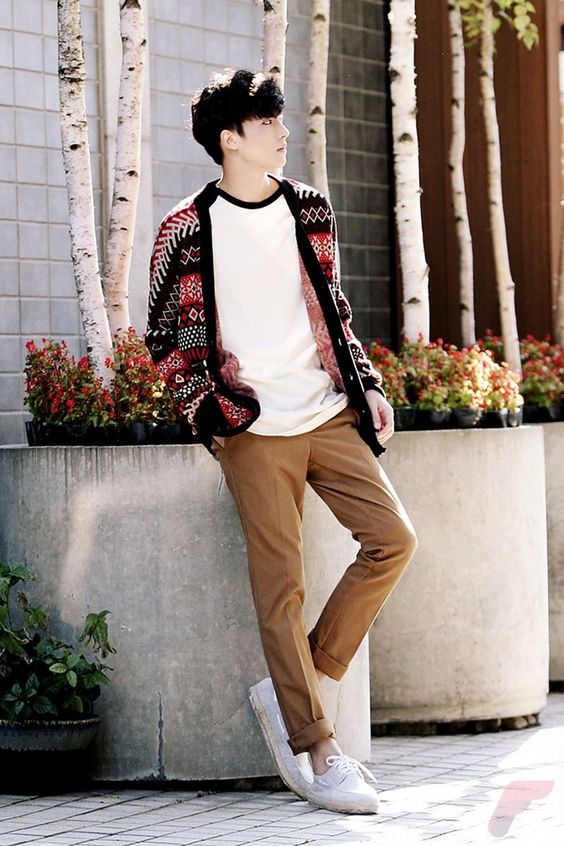 Now, we try to convey a lay-back style with a bit of vibrant accent. If you're bored with the plain and muted tones in your clothing, why don't try to get a bohemian style? Get a bohemian hint by wearing a printed cardigan in the black and red color scheme. You can match it with a white tee for the inner and chinos for the bottom. For shoes, if you want a cool and trendy style get sneakers for this. But if you want to seem androgyny style, you can get loafers as an option.
7. Messy Look with Trench Coat Style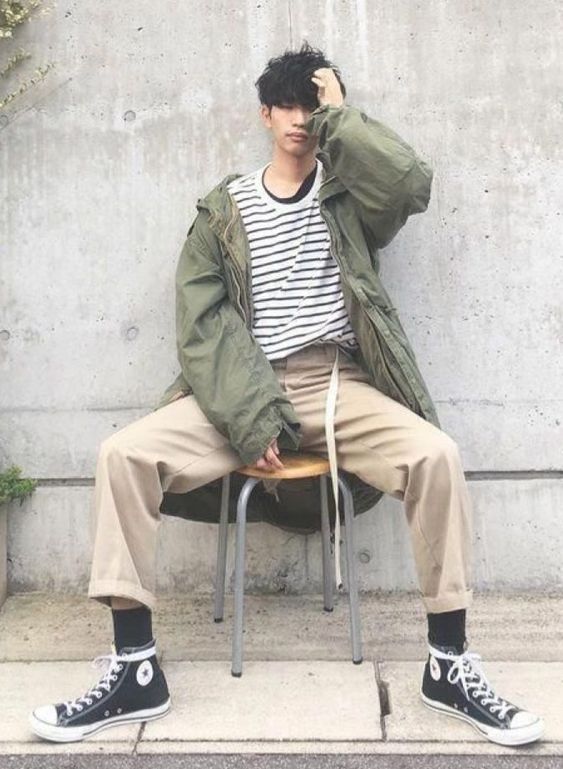 We have a variety of styles that appear preppy and elegant. Now, try wearing something a little messy but still cool. Yes, a loose trench coat to go with your chinos and striped shirt. For a humble effect, earthy tones such as green and cream must be adjusted. High shoes and other accessories need to complement this stylish casual Korean outfit.
8. Simple Preppy Style in Polo T-shirt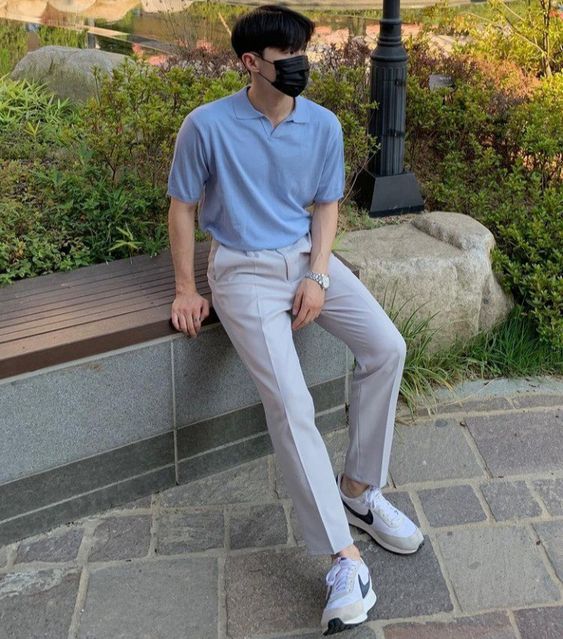 If you enjoy basic outfits that don't require much layering or styling yet make you seem preppy, we recommend this outfit. Yes, a polo shirt and linen trousers. Two combinations that will make you stand out without relying on overdone details. If you have an athletic body, this clothing can help you appear your best. Complete your casual Korean outfit with comfortable shoes and a sling bag. Make sure to bring another additional detail such as a cap, watch, or sunglasses that would make you look more handsome and cool.
9. Vintage Style in Corduroy Pants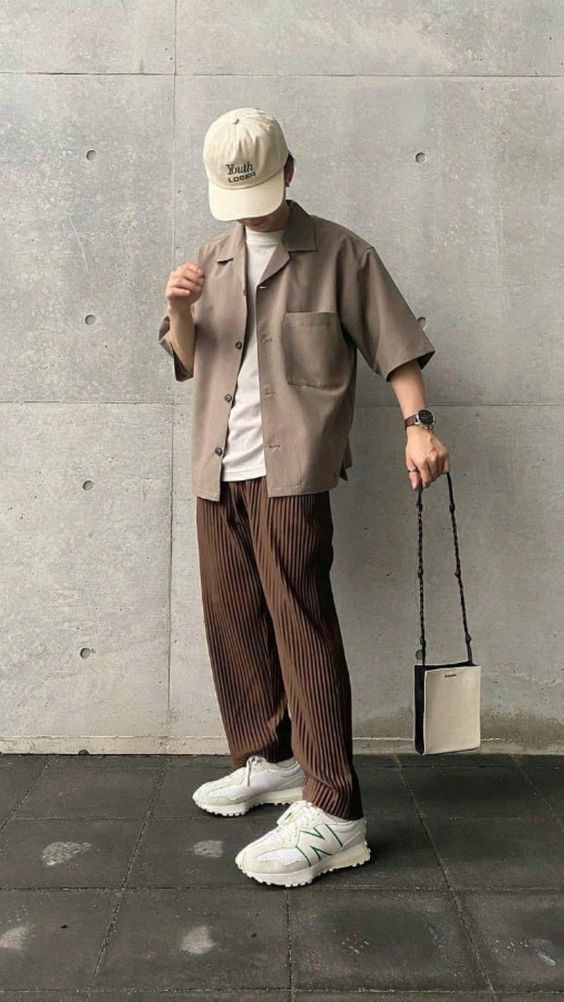 When you prefer a retro and vintage look, get this corduroy pants style into your wardrobe. We love the texture of these pants and the shabby coloring makes it much better to support your old fashion. So, if you want to turn it into a casual Korean style, you can combine the pants with a white t-shirt and a brown short sleeve shirt for the top. Then, for footwear get white trainers or sneakers. Perfect your outfit performance by adding a cap, watch, and a mini tote bag or sling bag as accessories.
10. Blue Denim Jeans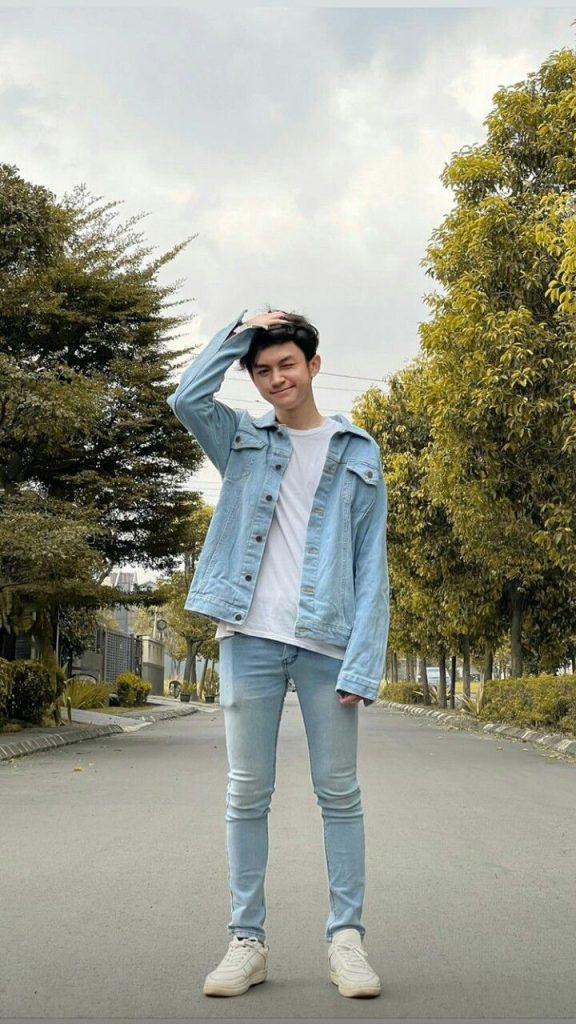 Blue denim jeans!! The one we'll offer is based on your or your partner's preferences. The unisex piece is suitable for every occasion and season. So, you may wear a blue denim jacket with blue skinny pants and a white shirt as an inner top. You may dress up your look by adding a belt and tucking your top in. Not only that, but you must complete your casual Korean outfit performance with white sneakers. Then, if you need a place to carry your belongings, just obtain a waist bag or sling bag.
11. Go with Flannel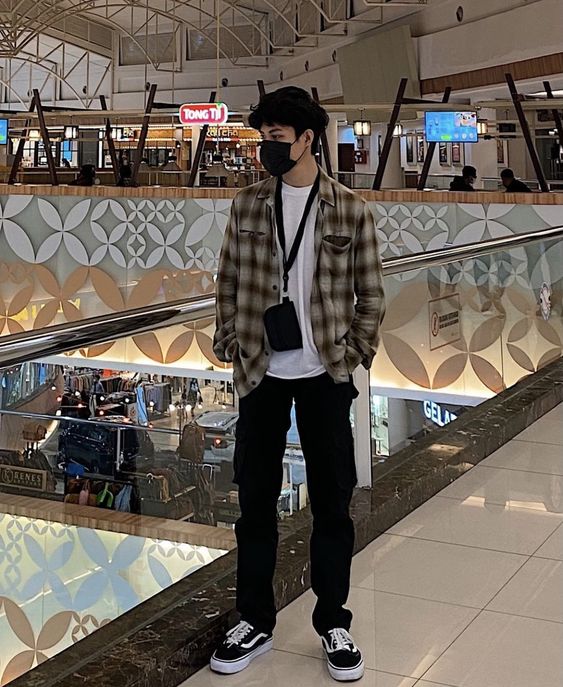 If you want to add pattern to your clothes, try flannel. This is also a must-have ensemble for men. If you're tired of wearing the same old shirt or jacket, add flannel to your trendy look. For the inner top, pair this item with a plain t-shirt. Then get skinny jeans for the bottom and sneakers for the matching footwear.
12. Dress up Comfortably with Shorts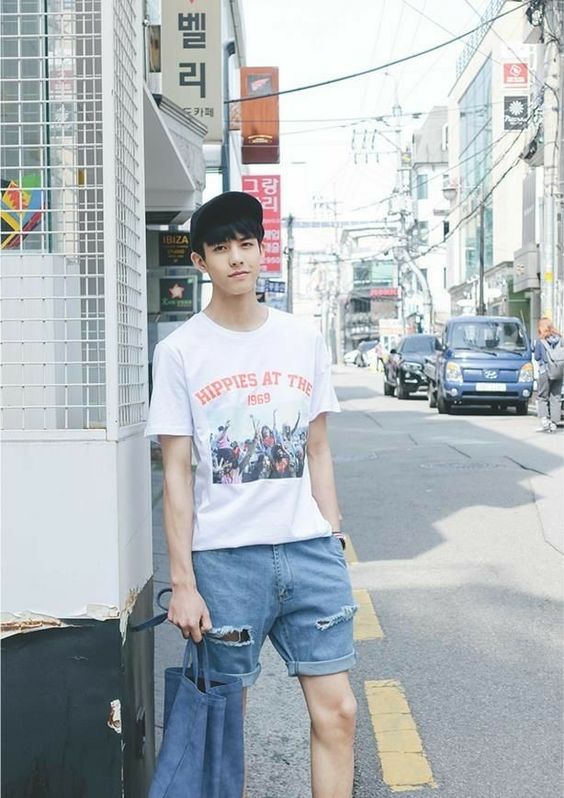 Enjoy the summer with an outfit that makes you feel at ease, such as shorts and a t-shirt combo. You may get a variety of styles by picking up ripped denim shorts and a printed white t-shirt. Then, add a cap for accessories and to avoid UV light when you walk outside. For shoes, pick to wear sneakers or trainers as usual. Then you can bring a tote bag for the matching fashion bag if you need something to save your important things.
13. Back to School Style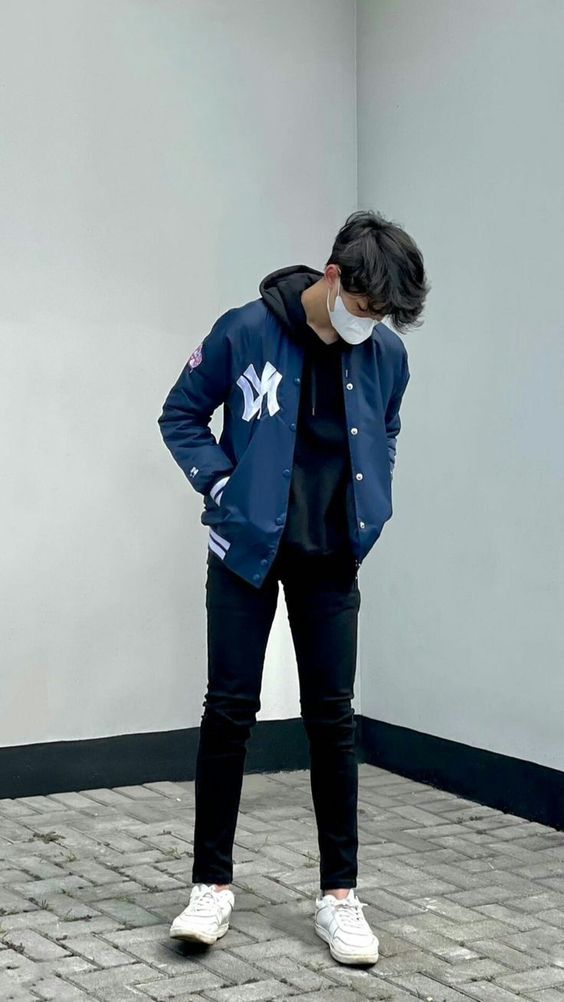 Need some inspiration for your back-to-school outfit? We feel this baseball jacket and hoodie may be your school outfit choice. You can use a navy baseball jacket, a black hoodie underneath, and black jeans for casual Korean style for going to class. Move to the shoes, you can grab trainers or sneakers for a cool trendy style. Then, you can complete the outfit style using a backpack to help you carry your belongings.
14. Simple Chinos and Sweater Combination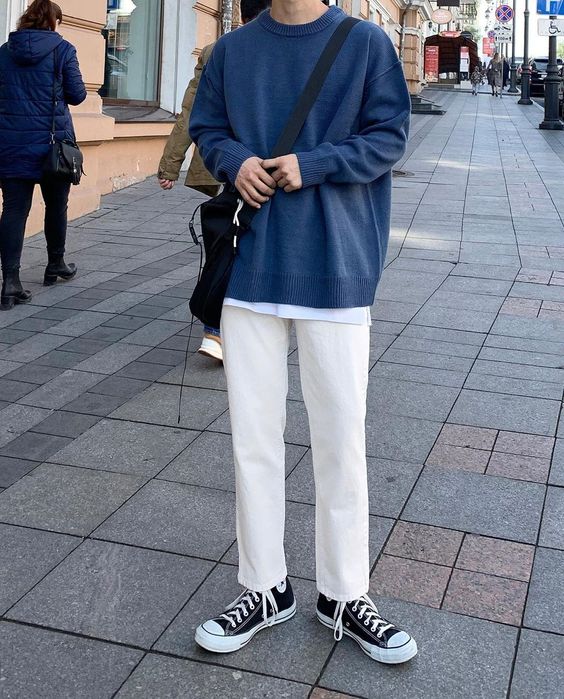 If you're stuck or lazy to mix and match clothing, take it easy, boys!! You already appear modern and stylish with this sweater and chinos. Simply get a pair of sneakers or trainers for matching footwear and make you feel comfortable outside. This casual Korean outfit idea was often worn in the fall or winter. You may even wear it to college or to hang out with your buddies at a cafe.
15. Smart Casual Look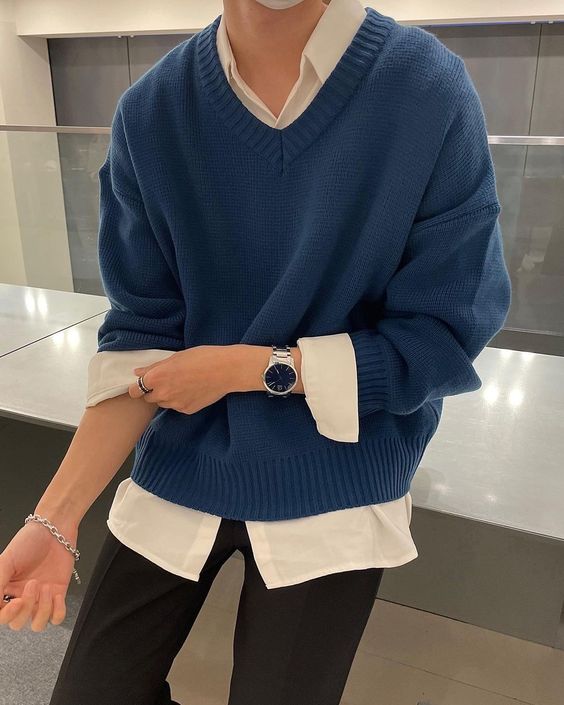 The sophisticated look is another trend to incorporate into your collection for casual Korean outfits. Simply put a sweater or sweater vest over your collared shirts and get pants for the bottom look. When it comes to shoes, loafers are preferable for preppy style, although sneakers or trainers may be used for a more fashionable look.
16. Come up in Suits Styling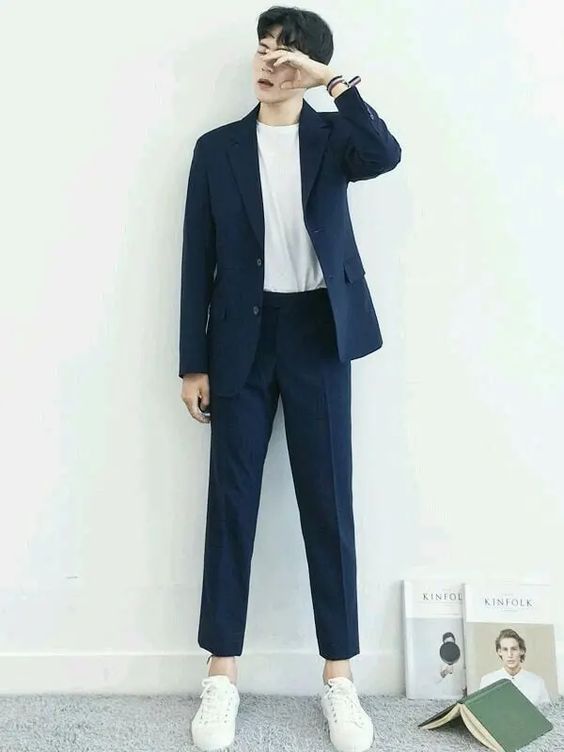 Do you need an outfit that can be worn to work or walking out in the city after work? Choose this suit style instead. However, you must make it more relaxed by pairing your suit with a t-shirt rather than a shirt for the inner and getting sneakers for footwear. Korean males frequently appear in this style for their everyday lookbook. Especially if they work for a friendly corporation. You may also get this outfit for a hangout or date with your partner. Lastly, complete your casual Korean look by carrying a sling bag or backpack bag.
17. Overall in Denim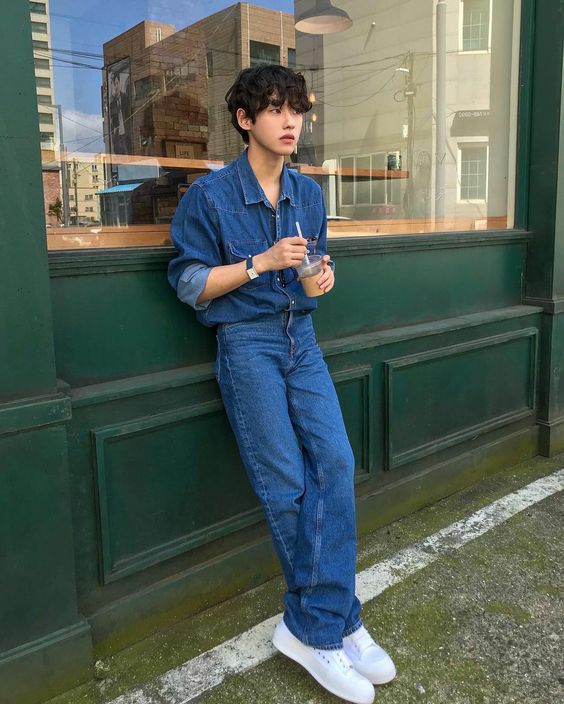 If you want a stylish casual look, wear everything denim from head to toe. You have the choice of wearing overall denim or a two-piece denim combination if you don't want to appear childlike. Even though the denim is the same style, the performance will be different. You'll seem more mature if you choose two-piece denim that contains a shirt and straight jeans rather than an overall denim jumpsuit. Then, match up your outfit look with a pair of sneakers to bring another trendy detail to your appearance.
18. Short Sportwear Style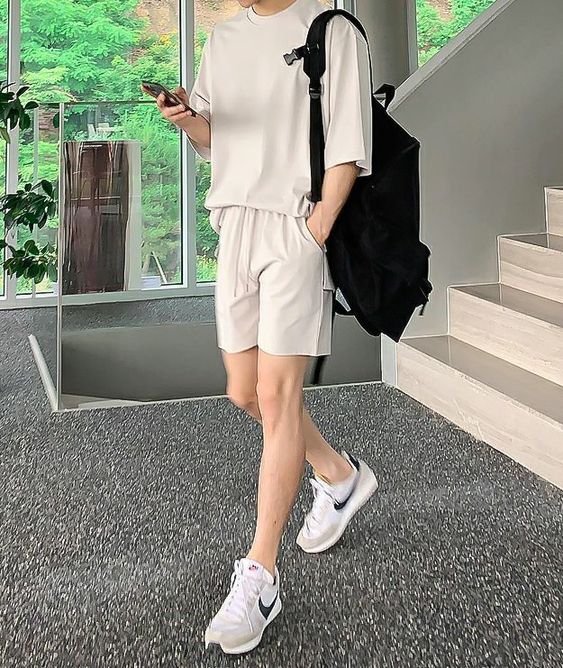 Short sportswear is a must-wear outfit in Korea throughout the summer. When you want to work out in the heat, this makes you feel more at ease. Furthermore, short sportswear may be used to create a casual Korean outfit. Simply choose thin, breathable, sweat-absorbing clothing for this purpose. And for the colors, go for bright tones or neutrals that aren't black. Trainer shoes are the greatest choice for footwear. This offers you a sporty style, and if you want to go out with this outfit, you can add the finishing touch with a backpack.
19. Get The Leather Accent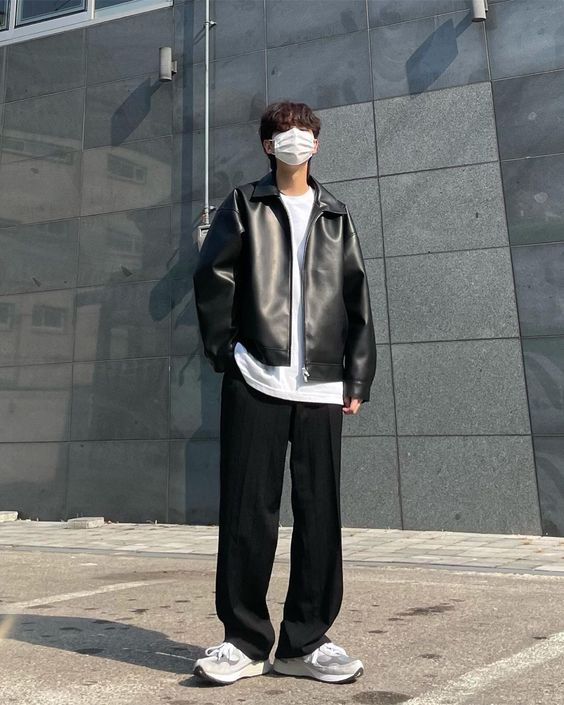 Never be bored with a black ensemble. And now for the stylish look with leather accents. Mix and match a leather jacket, a white tee for the inside, and loose pants for a basic casual Korean outfit that looks great. Simply choose trainers or sneakers for footwear. Then you may add more accessories such as a bucket hat and silver jewelry, as well as a waist bag to give you a hip-hop vibe.
20. Monochromatic White Ensemble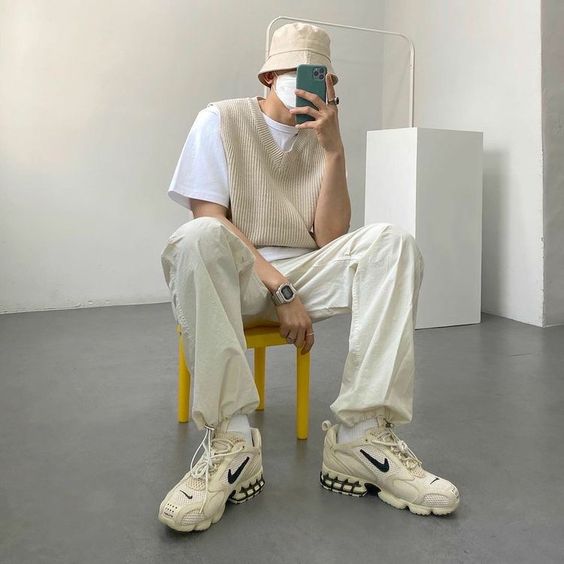 We now go on to the last style. The clothing suggestion might be for a hangout, a casual date, or a walk around the city. Choose a monochromatic outfit in one tone, such as white, by combining a white shirt and a knitted vest for the top and white baggy pants for the bottom. Finish off your casual Korean outfit style with a bucket hat, modest silver jewelry, and a sling bag. You might choose a pair of trainer shoes as your matching footwear. This would be the best casual style to fulfill your fashionable closet.
All of these outfit ideas can make you appear hip and fashionable. You don't have to be puzzled about how to mix and match your clothes to get a casual Korean outfit style. The idea is to dress in clothing that makes you appear calm and comfortable. Korean-style men's outfits are also available in muted and pastel colors. So, don't be scared to mix colors other than white and black in your wardrobe.