Olidfashion.com – Basic T-shirts are a kind of versatile piece that you can wear on any occasion. The style looks lay back and are usually worn for home clothes or to create casual ensembles in your daily option. Unfortunately, this tee is often ruled out by fashion lovers because of the simple design and looks a bit sloppy.
Every woman at least has one or two pieces of basic t-shirts in their wardrobe. Whether it's used to use for sleep, to go to the gym, or to hang around, it's very worthy to wear. The best thing about basic t-shirts is can become anything that you want. From casual to formal looks, it would still look good with this piece. Though it does not give much statement to your outfit style, when you combine it with other attires it can be outstanding enough.
However, sometimes this outfit is also considered boring and underrated. In the end, the way you think about basic t-shirts would change if you know how to dress them up properly. Now, if you style them in fashionable and chic ways, you never feel sorry to have them in your closet. To show you how to stylish your basic t-shirts fashionably, we put together some chic basic t-shirt outfit styles that are fitted in you. So, let's find out more.
How to Style Your Basic T-Shirts in Fashionable and Chic Ways
1. Stylish in Pink Blazer Set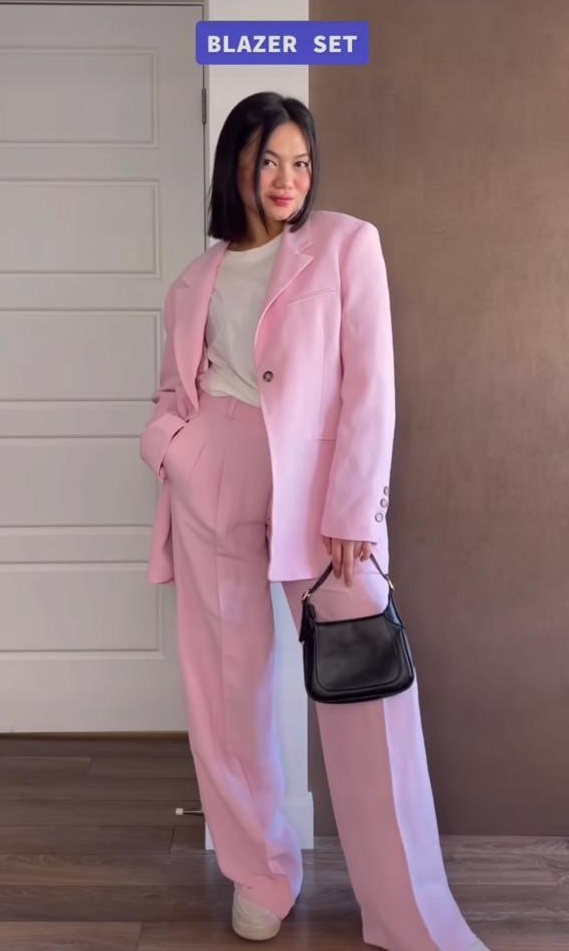 For the first, we start with the semi-formal look for a fashionable work outfit idea. You can rock on your white basic t-shirt suited for work by combining a blazer set over it. If you want something that looks chic, prefer you to choose a pink set. But when you want something elegant, you can pick the black set.
You can use some accessories to make it seem chic like simple jewelry or a watch. For the bag, you can get a mini leather bag on your hand. Then, you can begin to style your footwear. For this, there are two options, pick trainer shoes for the layback image or heels for a feminine vibe.
2. Wear Your T-Shirt among Leather Clothes

As we know that basic t-shirts are simple outfit designs. So, to bring out more statement into it, you need other clothes that seem outstanding like leather attire. If you choose leather jackets and pants for your outfits, bring something that's modest like a white basic tee in it. The classy trendy leather clothes and a simple basic t-shirt are going to blend perfectly.
For the chic style, you can add some accessories such as a bucket hat, simple gold jewelry, and a mini handbag. Don't miss out on the footwear, pair your outfit with black chunky shoes that give trendy and cool style.
3. Cover with Stylish Coats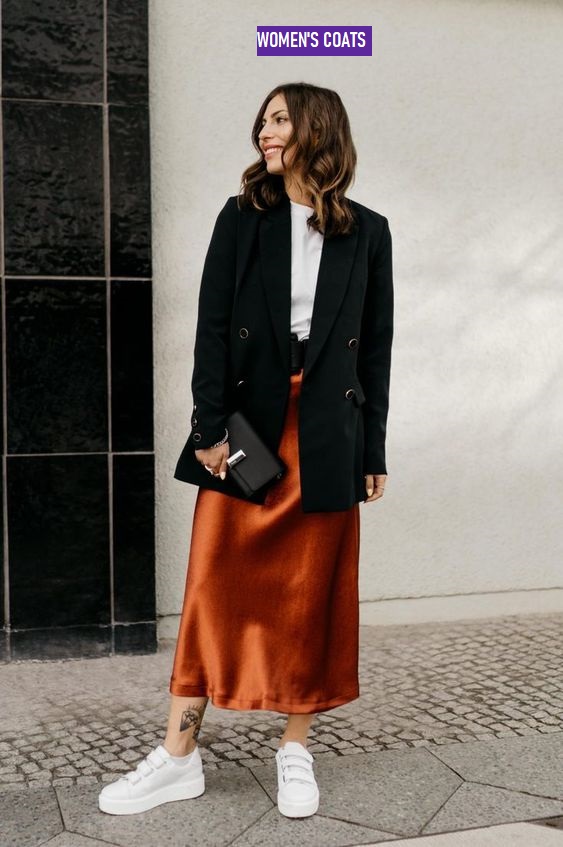 If you want something fabulous to wear with your basic t-shirt outfits, try to layer it with stylish women's coats. For this, you can use a white tee for the inner tops, and then pair it with a black trench coat for the outer top. For the bottom, you can mix it with a silk tangerine maxi skirt for a gorgeous look.
To make it more fashionable, give some accessories such as a belt, simple jewelry, and a clutch. For the footwear, if you want to look casual and comfy you can get a pair of white sneakers.
4. Pair with Your Mini Dress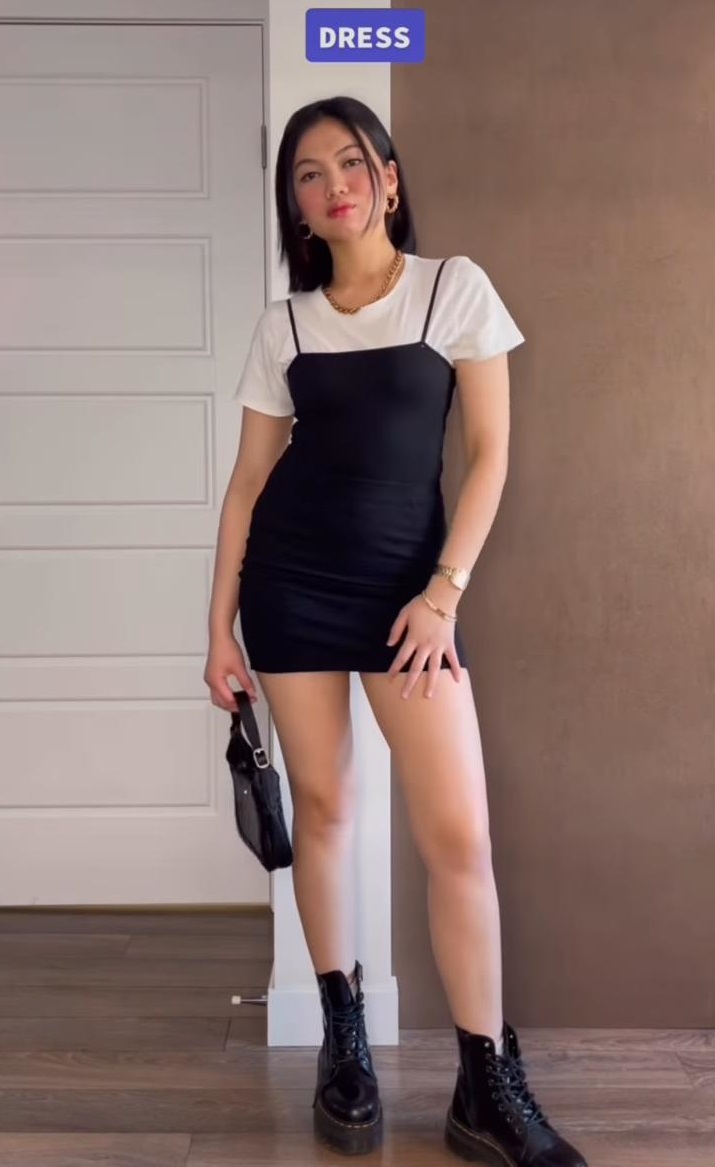 To get a chic outfit style with your basic t-shirt, just try to bring it out with a bodycon mini dress. You can use a white t-shirt underneath a black spaghetti mini dress. This outfit look also a kind of flexible style that you should put in your closet.
Your fashionable outfits wouldn't be finished without wearing accessories and footwear. In tops, you get cute style now for the bottoms best to try a little cool and trendy look with army boots. Then, finalize your performance with something shiny in your hand with a gold watch, a necklace, and earrings. Besides that, you also need a simple handbag in your hand to get ready for hanging out.
5. Layer in Sweater Vest Style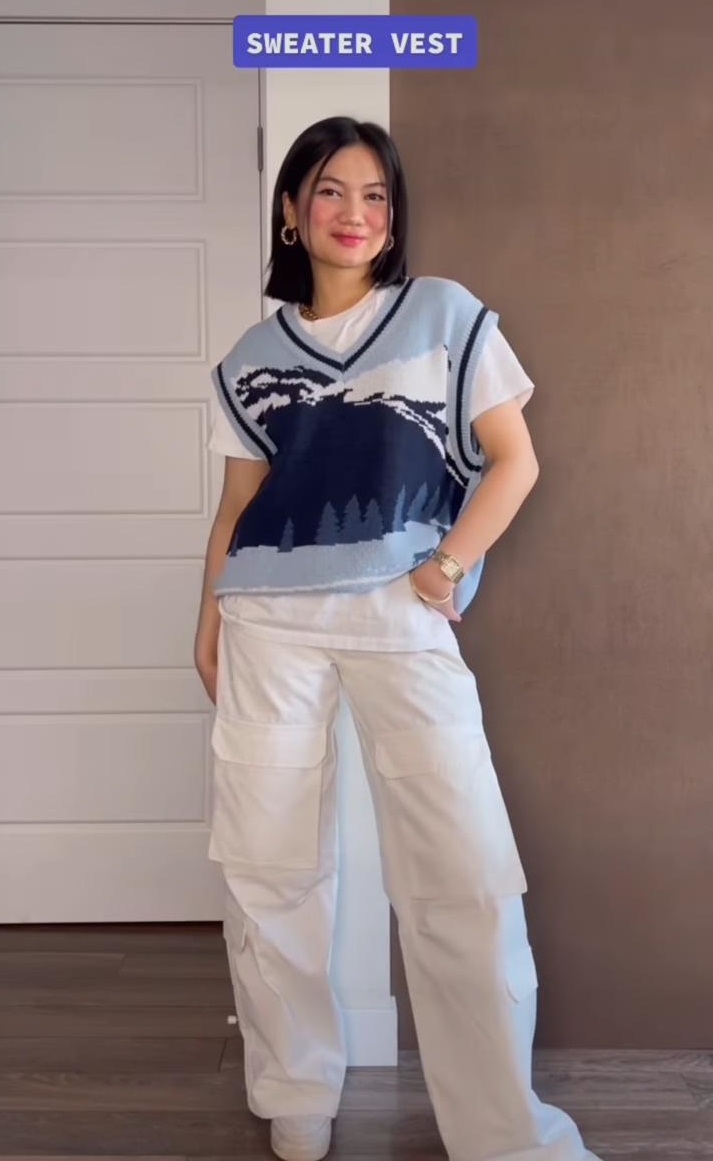 Another chic and fashionable basic t-shirt outfit style that you used to try on is combining it with a stylish sweater vest. This is the way to bring your plain white tee to become stylish. Besides that, by pairing a sweater vest you can get more outfit ideas in your tee. For example, a vintage vibe by wearing a grandpa sweater vest, white tee underneath, and cargo pants for bottoms. If you want something elegant and feminine, you can switch the pants with a tennis skirt.
To finalize your chic outfit style, give just simple gold jewelry. Other options, you can also add a cap and backpack for a cool and trendy appearance. The matching footwear for this outfit look is basically sneakers or trainer shoes.
6. Get Chic with Romper Style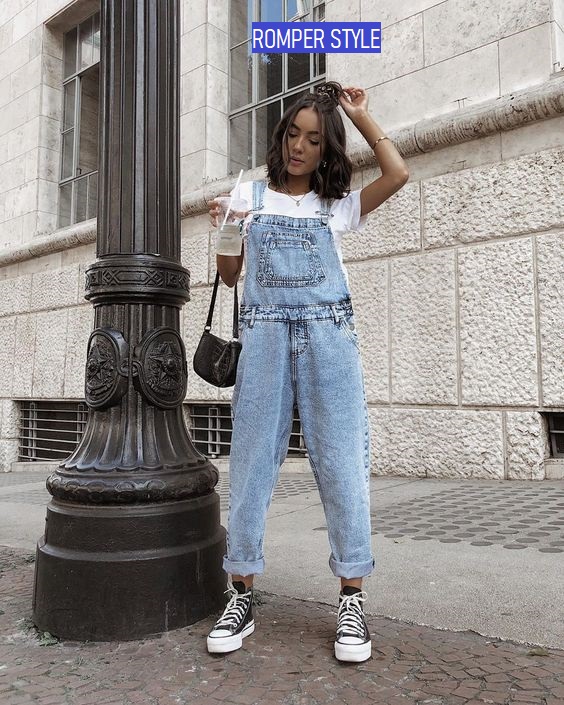 For those who want a youthful and fresh look with a basic t-shirt style, you can add a romper for the combination piece rather than common jeans. You just need to wear a white tee underneath your blue denim romper. Then, to make it fashionable and chic, add a pair of high sneakers as your matching footwear.
This outfit style actually matches for teenager style. You can use this either for hanging out with your friend, going to the amusement park, or using it as your chic college outfit style. Besides that, when you also have a lazy hairstyle with a half-high bun, it makes you really look cute and innocent. Perfect all your look with something simple and a bit feminine like a mini handbag and some gold jewelry.
7. Styling in Fashionable Skirt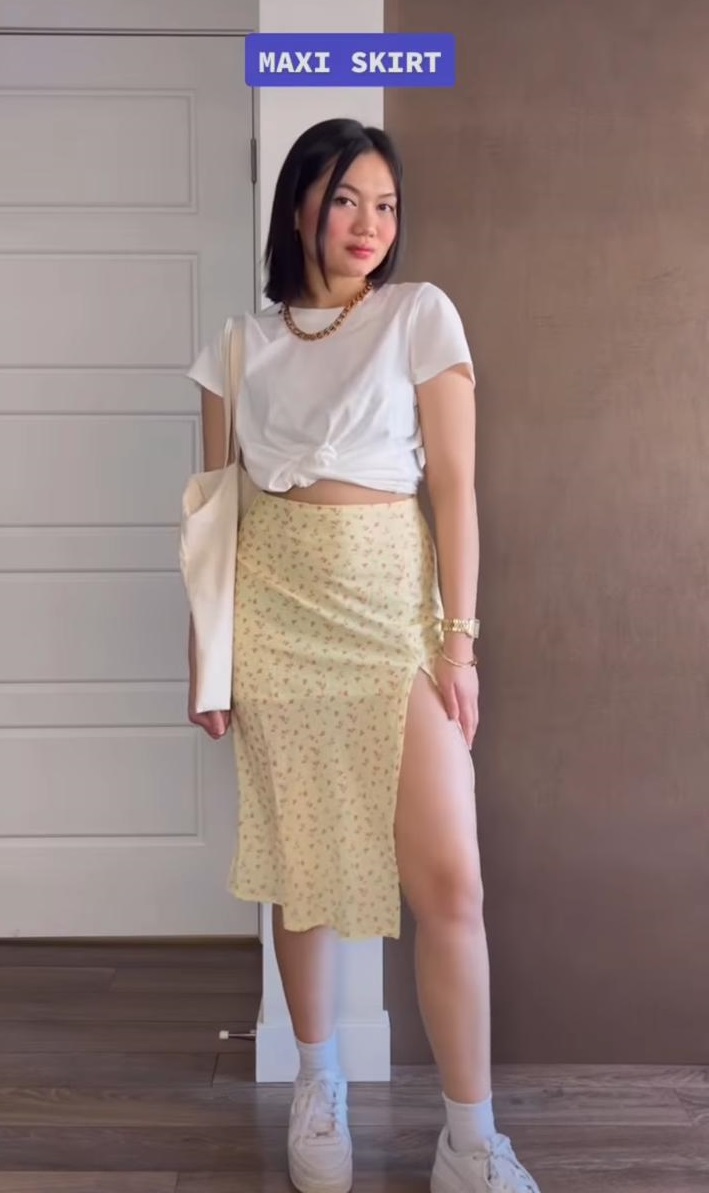 If you want to look stunning in your basic white t-shirt, try to make it look attractive with a fashionable skirt. What you need to do is just find a sheer maxi skirt with the floral pattern and then wear your tee on the top with a knot. One that would make it look outstanding is a high long slit on one side of the skirt. It would make you seem a bit sexy without looking rude.
The view of your outfit wouldn't be finished without adding accessories items. Being chic and fashionable with a tote bag, and also give blink items like gold necklace and bracelets for a little glamourous. For the shoes, if you want to have a youthful image rather than get high heels, you can change them into trainer shoes or sneakers. This footwear also can make you feel comfortable having activities outside.
8. Combine with Button Shirt and High Jeans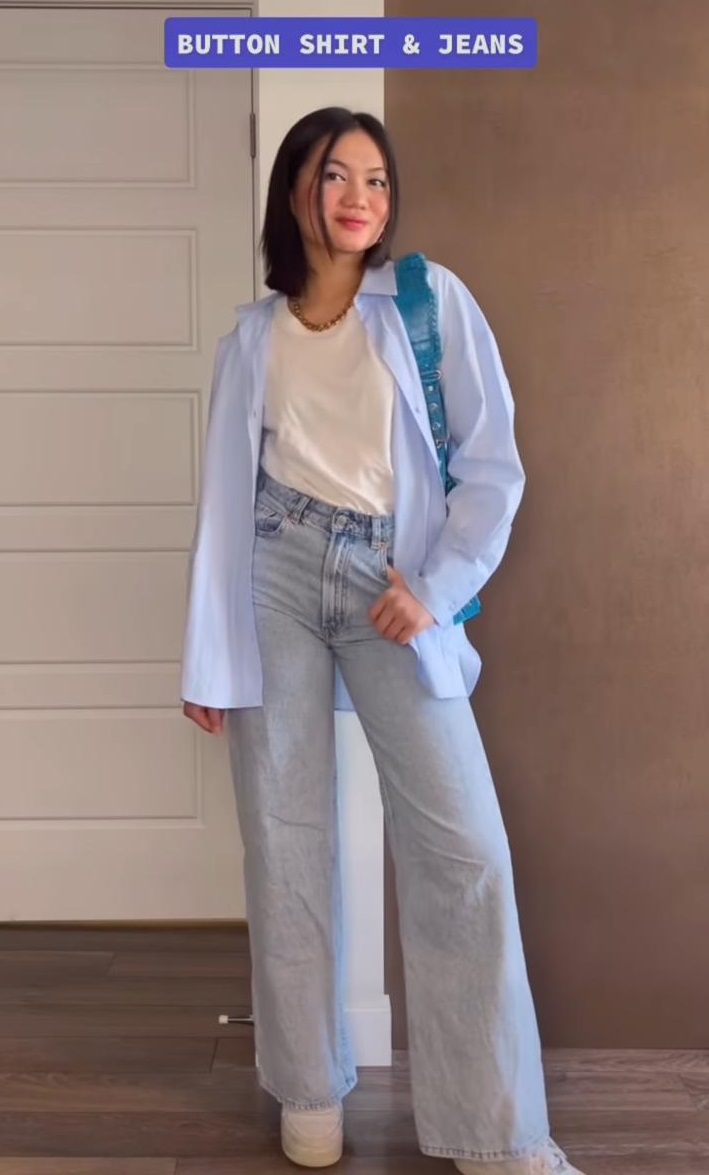 The next idea is the common outfits usually worn and set up in your wardrobe. Yups, it's a shirt and jeans. As a flexible item, the two ensembles can be matched with your basic t-shirts for making chic outfit ideas for women. The combination of a white t-shirt, an oversized button shirt for the top, and then baggy jeans on the bottom give you a boyish look that's fashionable.
or skirts. It also brings a trendy style that lay back to wear for holidays. You can wear it for going to the mall, watching a movie with your friend, or just having fun in Cafe. For perfecting your fashionable basic t-shirt outfit style, you need to bring any detailed shoes and accessories. For the footwear, better you get a pair of trainer shoes or sneakers to support your boyish style. And then for the bags, you can choose a tote or a sling bag.
9. Mix with Pleated Skirt for Chic Outfits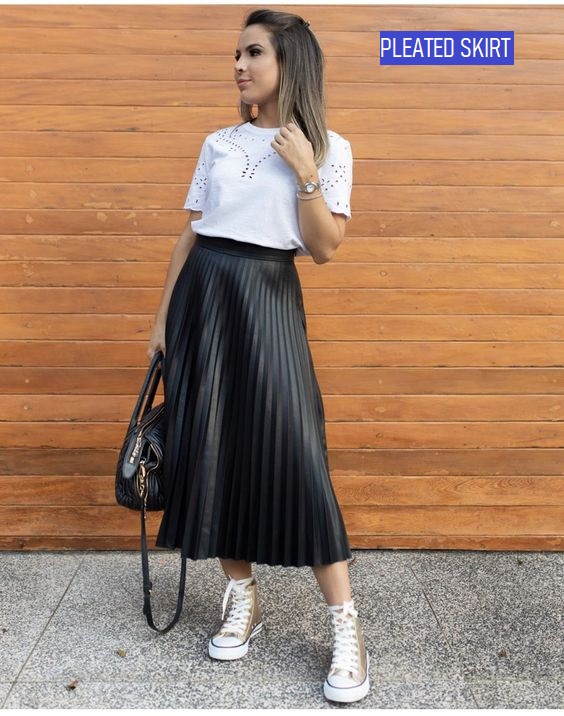 If you like a simple but chic outfit with just two ensembles, a white tee for the top and a pleated skirt for the bottoms are the answer. For this, rather than get a printed t-shirt, bring one that's plain but has a little embossed pattern on the neck and sleeve. Then, pair it with a black maxi pleated skirt to give dramatically wave to your outlook.
For the toe, to have a chic style you can go with high sneakers. But, when you have a feminine look, just bring out high heels. For accessories items, a simple watch and bracelet are enough. Then for the rest, you can get a duffle bag in your hand for a fashionable look.
10. Tuck it into Your Dress and Jeans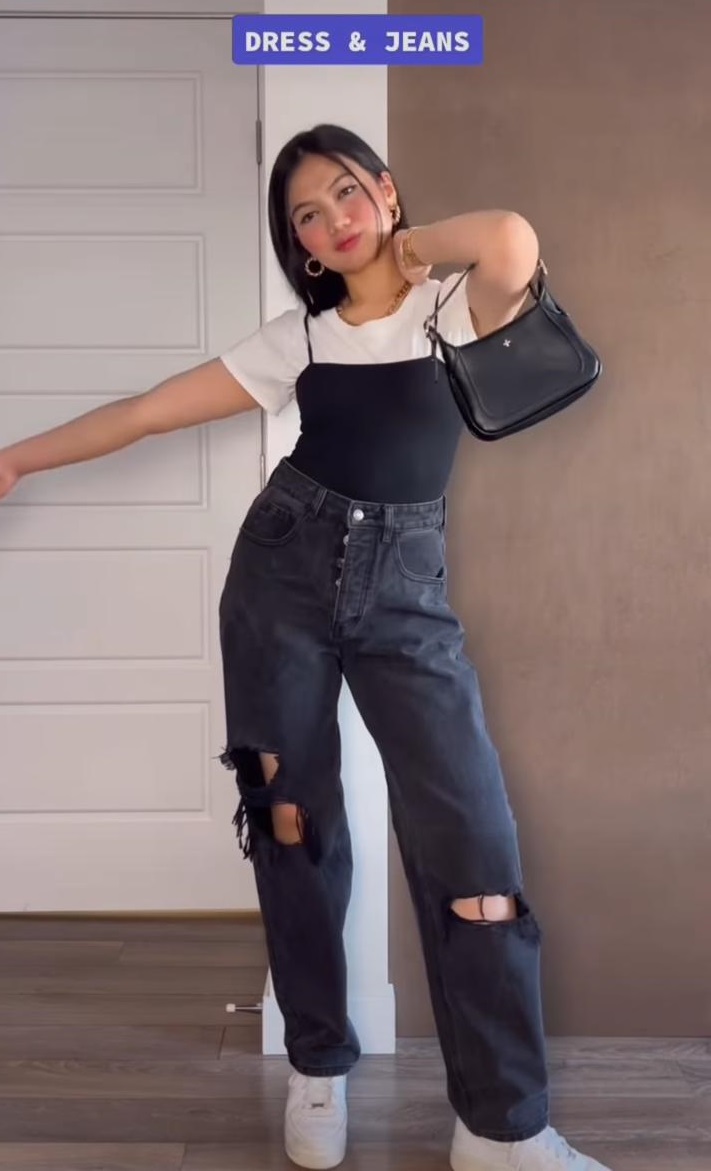 This one is another option from the basic t-shirt style before. For a unique and different style, get layered style with a white t-shirt and a silk dress, then tuck them on ripped jeans is one other choice to have a chic boyish ensemble. The girly look at the tops and boyish at the bottoms would bring your outfit style to the next level.
To maximize your basic t-shirt outfit style, adding accessories are a must. You can consider gold jewelry that is more noticeable such as big round earrings and necklaces. In your hand, you can wear a gold watch and bracelet, and also a mini bag as your favorite item. For the footwear, to support your pants you absolutely pick either trainer shoes or sneakers.
11. Rock on Your Leather Mini Skirt Style
This option that presents in the picture above is suited for those who like a cool feminine ensemble. Create a fashionable and chic basic t-shirt outfit by mixing it up with a stylish mini skirt. To bring a cool side to your feminine t-shirt look, getting a leather skirt and jacket is the way. For this, you can try to get a sheepskin jacket and printed t-shirt for tops, then a leather mini skirt for a bottom look.
Mix this outfit with white platform shoes to give you nice feet looks. Besides that, these heeled shoes would make you feel higher and sexy. For the bags, a black leather bag is the best choice. And the next level is about accessories, for this one you should choose silver jewelry if you have a cool and medium skin tone. But when you have a warm skin tone, you better wear gold jewelry. That's would make you flattering enough.
Final Thoughts on the Ways to Wear Basic T-Shirts Fashionably
Now we have given you plenty of basic t-shirt styles that you can try for your daily look. As you have seen before, this piece is really flexible to combine with other clothes in your closet. It all goes to show you that one outfit can bring different fashionable styles if you can bring it in the right way. From girly style to boyish, casual, trendy, and cool outfits, you can get all those looks by combining the t-shirts with other components. So, what's your favorite one?