Olidfashion.com – The trend of mini skirts never gets old and stays to make your outfit look fashionable. These skirts have been potentially shining during summer, but the fact is they really become versatile garments in any season and time. You just need to wear them in the right way on any occasion either casual, formal, summer, or winter. Just come with the best pairing outfits.
Mini skirts are so flexible to wear with any toppers and shoes. Take the opportunity to have stylish outfit ideas in this kind of skirt. I will show you 22 ways to wear mini skirts differently. Get your inspiration and start to bring new trends to your wardrobe.
Best Match for Work Outfit Style
Wearing a mini skirt as for work outfit in the office could also be a great idea. If you want to have a stylish outfit for work, bring it in a formal look.  Preparing a grey pencil mini skirt, a pink long sleeve blouse, and a pair of heels. Finalize your style by bringing a mini handbag in your hand.
Wear Mini Skirt with Sweater in Winter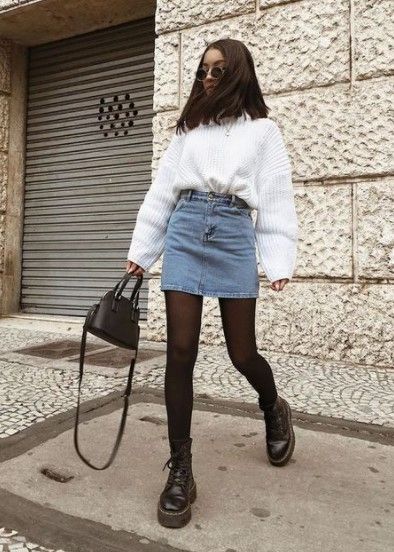 Getting a mini skirt outfit style during winter is never be trouble, as long as you can pair it for a cozy and stylish feel. For winter, get your denim skirt then pair it with a turtleneck sweater. Get layered for the bottoms to keep you stay warm by having tights or stockings. Choose a pair of boots for stylish and comfortable shoes in the winter.
Casual with Mini Skirt and Cropped Hoodie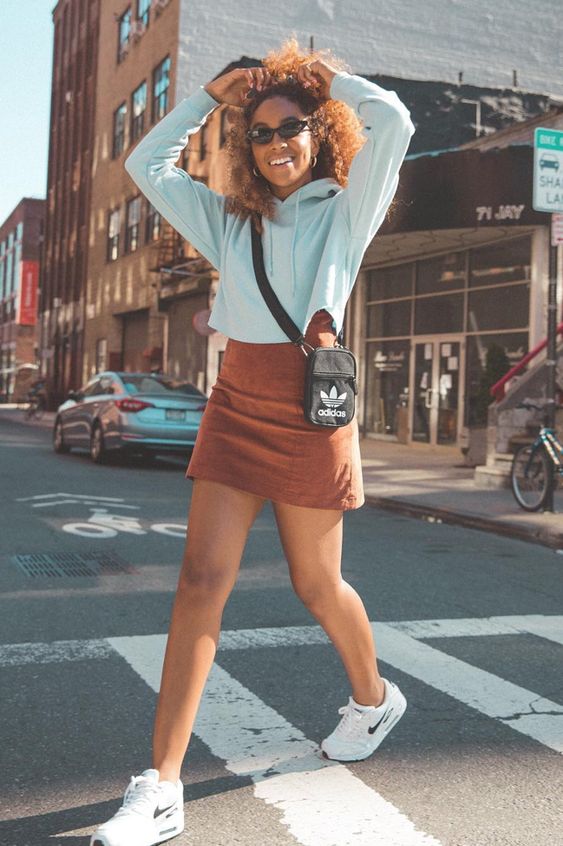 For girls that want to look sporty and chic with a mini skirt, you just have to pair a high waist short skirt with a cropped hoodie. For matching shoes, just come with sneakers or trainer shoes. This stylish outfit idea could actually increase your confidence and appearance. Accessorize your outfit with a mini sporty bag for completing your casual style.
Cool with Leather Mini Skirt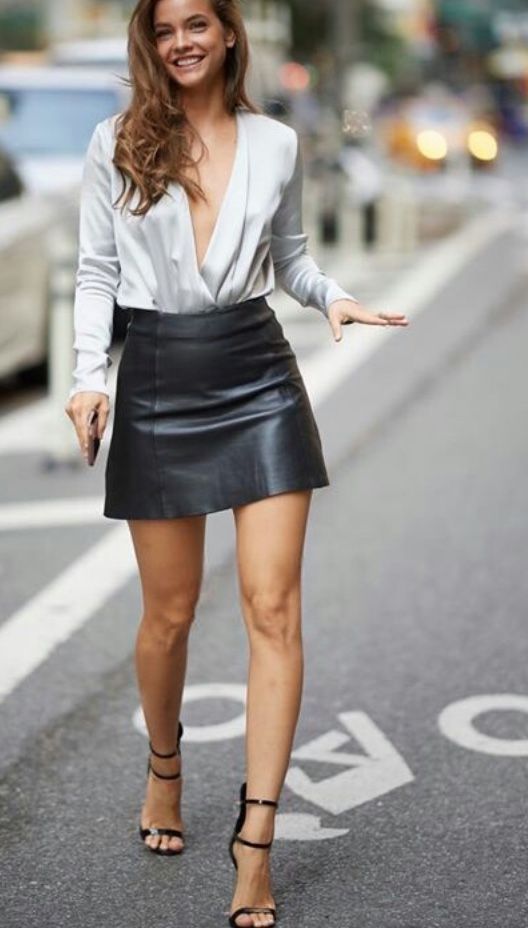 Have cool outfit ideas with a mini skirt for daily style by pairing a leather mini skirt with a plunging neckline long sleeve blouse. This would look sexy if you pair the outfit with stiletto heels. Get out this stylish outfit idea to hang out in the pub with your friends or have a night party in the bar.
Perfecting with Boots for Stylish Mini Skirt Idea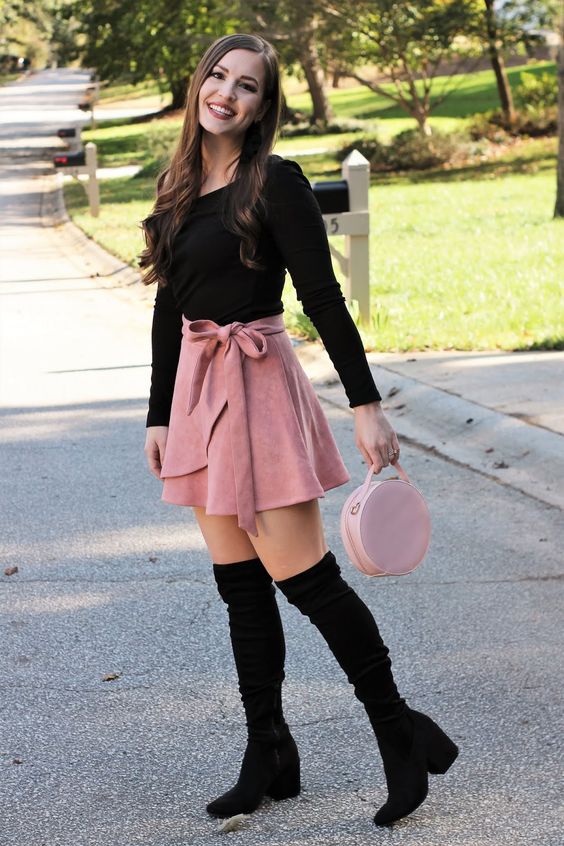 Bringing a mini skirt into the style of your knee-high boots is a great thought. This would bring a harmonize and balance to your fashion style. Combine a soft pink mini skirt with a black topper, and then pair with black heeled knee boots. For having a city look, get a round pink bag in your hand.
Mini Skirt Style in Formal Attire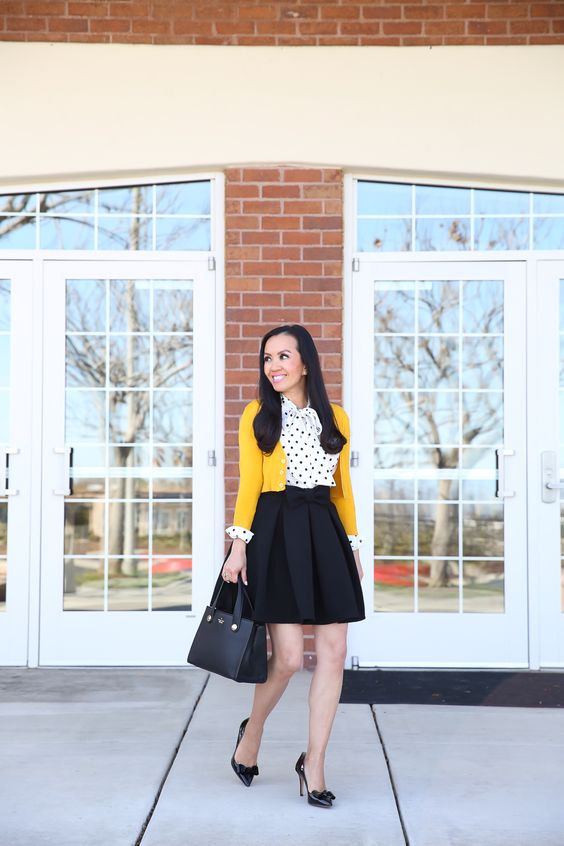 Looking for a modest formal outfit to bring on a business trip, choosing a pleat mini skirt, polka dot blouse, cropped cardigan, and heels is a perfect idea. This is because after finishing your business, you can straight to walk the city for refreshing. Bring a bit large handbag is the best choice.
Get Chic Nerdy Styke with Mini Skirt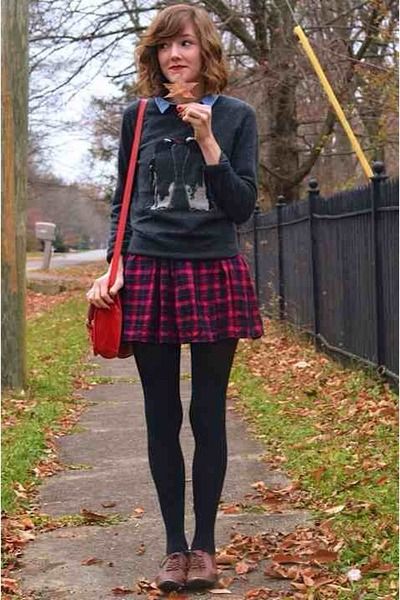 Appear in a different way with mini skirt ideas, just bearing a nerdy girl style into your college outfits. You may need to have a layered outfit by pairing a collared shirt and sweater over it. Not different with the upper style, you should get tights underneath your mini skirt. Matching footwear for this style is a pair of oxford shoes.
Boho Style for Beach Vacation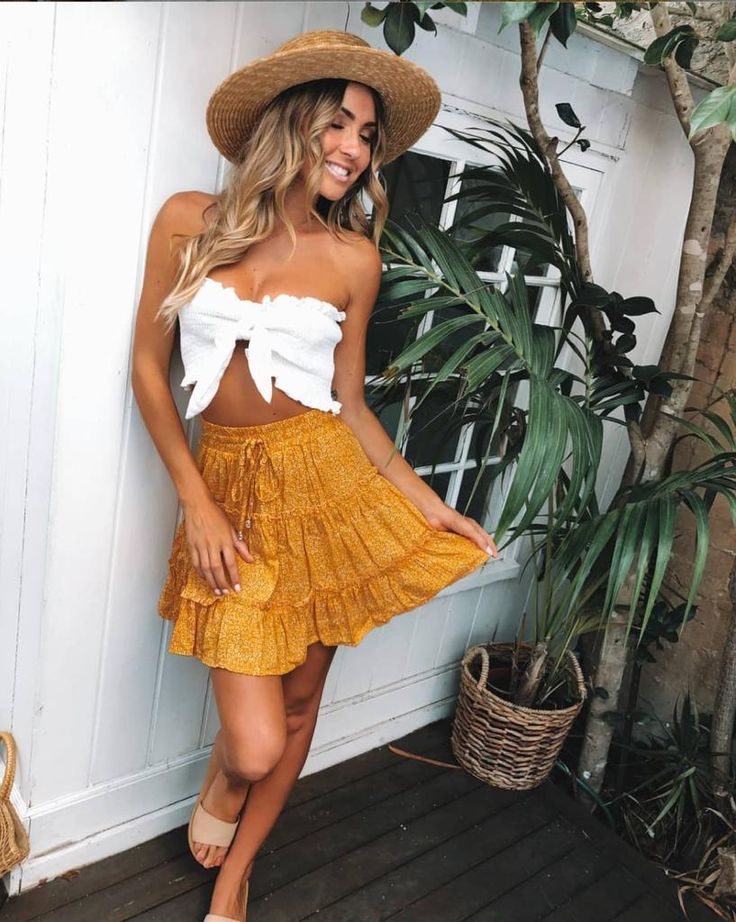 Plan your vacation not only for the destination you want to but also for the outfits to wear there. If you are scheduled for a beach vacation, pretty bohemian style with a mini skirt may look good. Bring mustard ruffled skirt then pair with a white bra toppers with ribbon trim in your traveling bag. Don't forget to also bring matching accessories like a straw hat and sandals. Enjoy your holidays in stylish outfit ideas with a mini skirt.
Grunge Style with Tweed Mini Skirt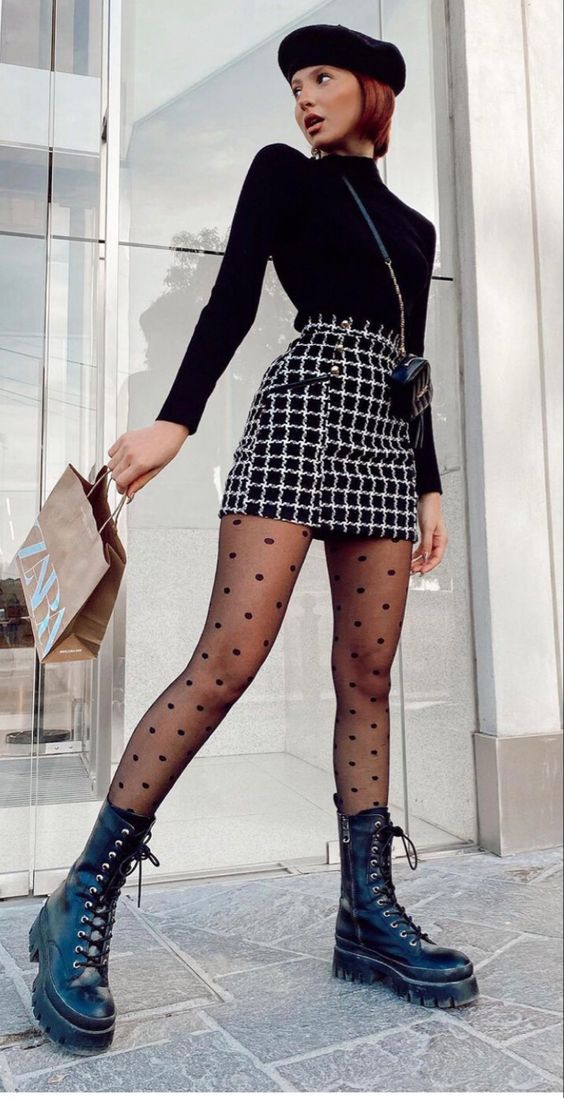 Mini skirts not only come in a chic or cute way, but they also could deliver trendy regard. You must have to begin looking for a chic grunge outfit idea on Pinterest. They have a unique impression but are still worth trying on. Here I give you one example. Try to combine a half turtleneck sweater with a tweed mini skirt. Complete the outfit by wearing black fishnet tight, lace-up chunky boots, and a beret hat.
Best Layered Style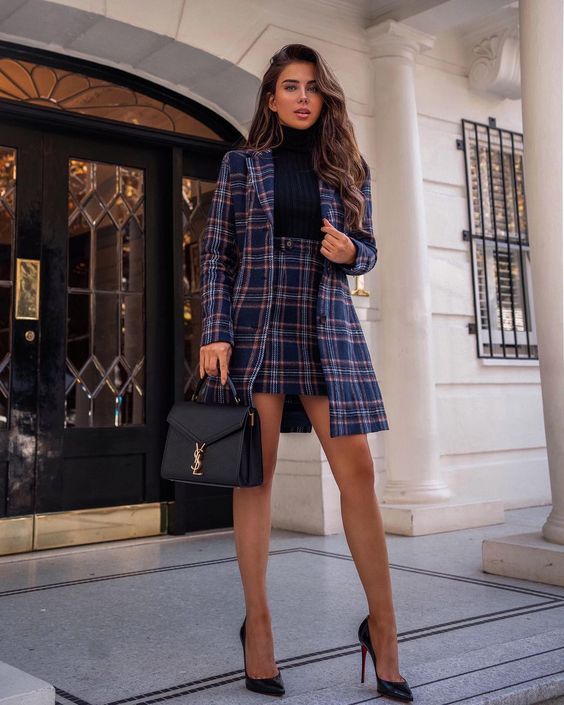 Get the best-layered style with one-set mini skirt suits. For standing with a classy version, you can have a branded one set that includes a blazer and waist pencil skirt. Pair it with a turtleneck sweater underneath and high heels. Improving your outfit is more classy with your favorite mini bag.
Lightly in Silk Mini Skirt Outfit Idea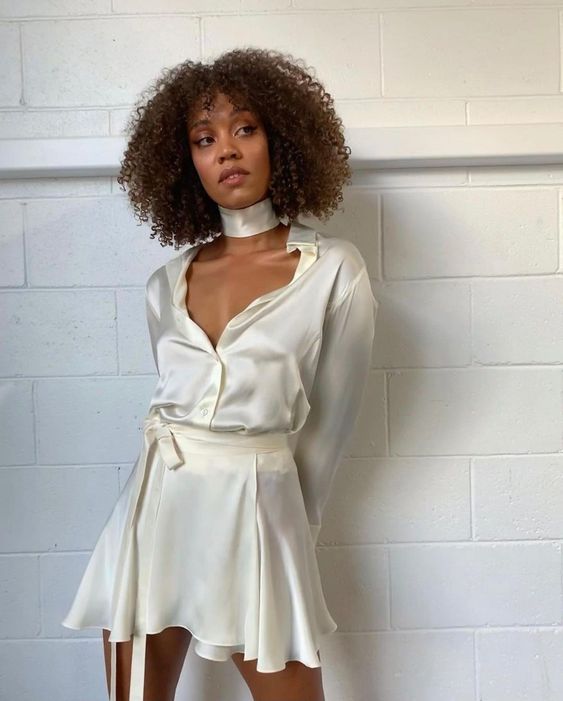 For you who want to wear outfits that are light and fashionable, getting a one-set white silk mini skirt could be an option. Silk is the light and soft fabric that would fit in your body. Creating stylish mini skirt outfit ideas with this fabric is worth trying. Just with a simple design, it could deliver an elegant and classy outfit at once. Just try it.
Best Pair for Summer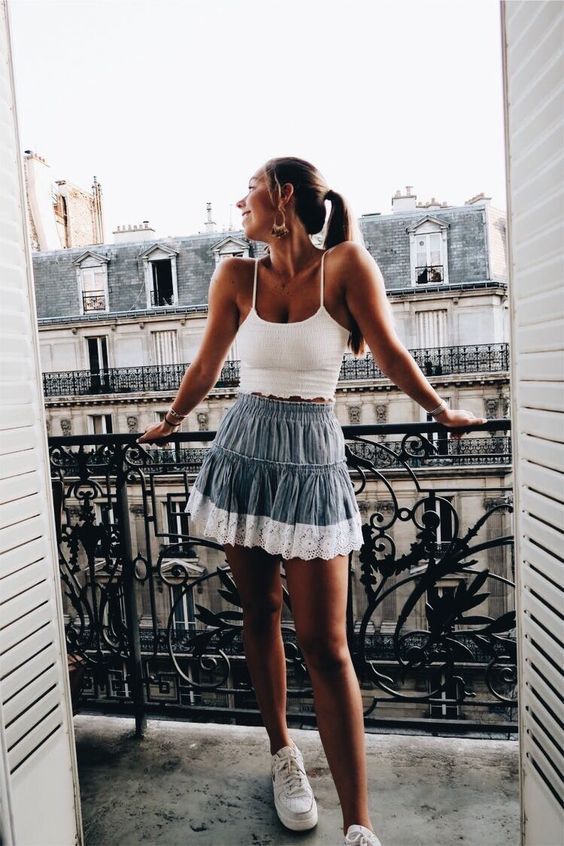 Summer is the time when you can freely wear mini skirts for daily outfit ideas. To produce a chic and casual summer outfit from this skirt, pick up a tiered mini skirt to pair with a tank top. That actually brings comfy and stylish outfit ideas to your summer wardrobe. A pair of sneakers may be the best option to make it more trendy.
Look Cute in Korean Style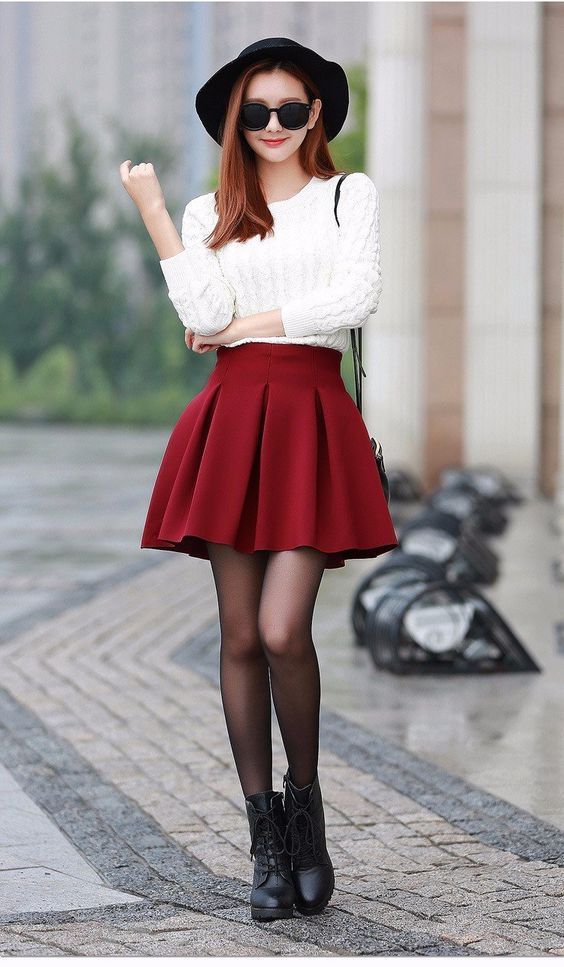 In the Korean girl outfit style, it usually comes with a chic, cute, and elegant look. The favorite outfit to present that image is mini outfits such as a mini skirt. Besides that, matching a bold and neutral color is the key. Just suppose to have a red box pleat mini skirt together with a white knitted sweater. To make it cuter, wear a black stocking and get lace-up boots for the footwear. Bring more accessories like a floppy hat, sunglasses, and your favorite bag for a fashionable outlook.
Trendy in Button Up Skirt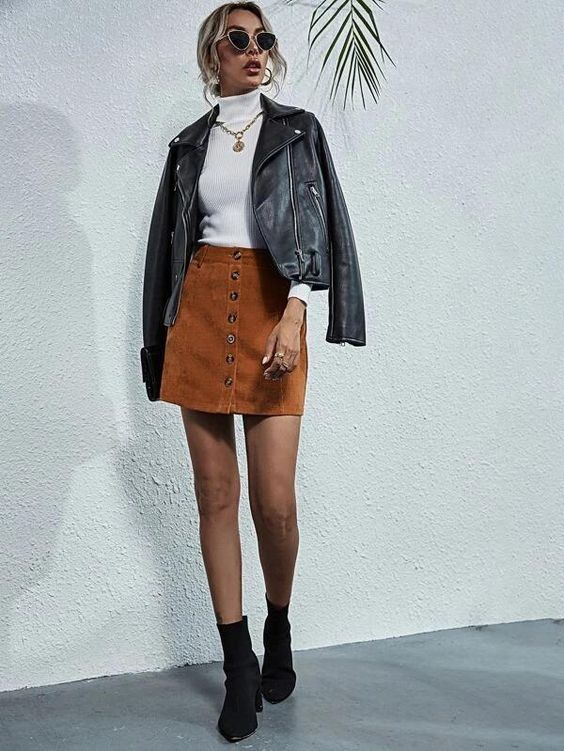 You just think that mini skirts only give a feminine feel but you know, they could also look trendy and cool to wear. For this, you have to try pairing a button-up suede mini skirt, a turtleneck sweater, a leather jacket, and ankle boots. Complete the style with a simple necklace, sunglasses, and a black clutch.
Cute with Plaid Mini Skirt Outfit Style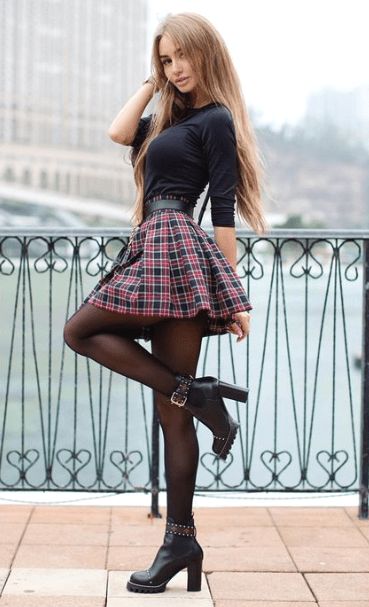 Looking cute with a mini skirt style is really possible for you who want to try it. For the ensemble, you just have to prepare a long sleeve black t-shirt, a plaid tennis skirt, black stockings, and heeled ankle boots. For the way you style the outfit, tuck the t-shirt in your waist skirt and roll up your sleeve a half. Gave a mini belt over the skirt for accessories. That's simple but could make you look pretty and trendy.
Elegant For Christmas Party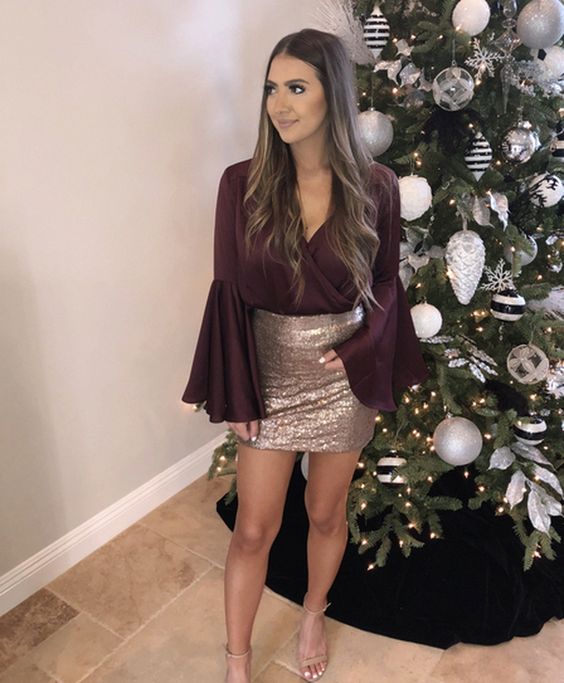 Attend a Christmas party and you need inspiration for the outfit, I'll give you one. Come to the party with a gold sequin mini skirt and a maroon bell sleeve blouse for an elegant glam look. Perfect your Chrismast outfit ideas with a gold stiletto heel. What you should remember is when you have a glamorous outfit, you should wear fewer accessories. That's the important point you should really consider to get a stylish outfit.
Look Solid in Monochrome Black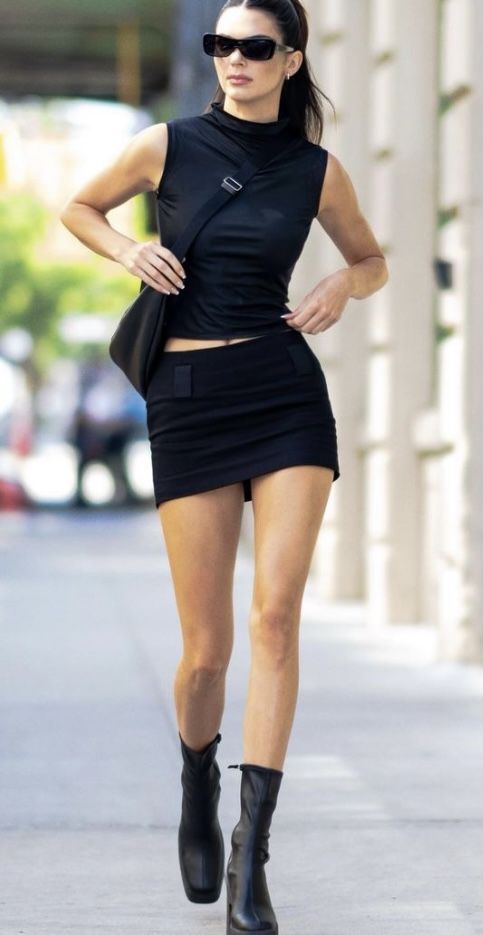 If you want a simple style with a mini skirt idea, having solid monochromatic black ensembles is the way. For this, you just need to combine a sleeveless top, a pencil mini skirt, and ankle boots in black tones. Matching up the outfit with black accessories like sunglasses and a sling bag. Get the solid black for cool style in women's outfit ideas.
Chic for Fall Outfit Ideas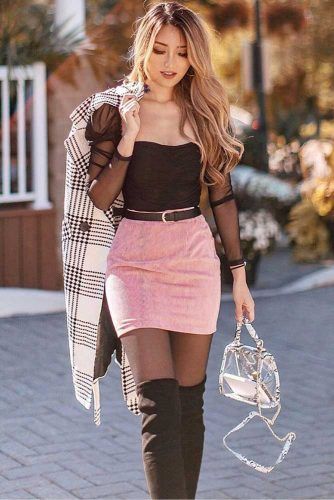 If you look for chic fall outfit ideas, just try to wear a mini skirt. Apply it with the transparent sleeve topper and bring a plaid women's coat for comfy and stylish outfit ideas. Make it more fashionable by including black stockings and over-knee-high boots for the bottoms style.
Stunning With Leopard Mini Skirt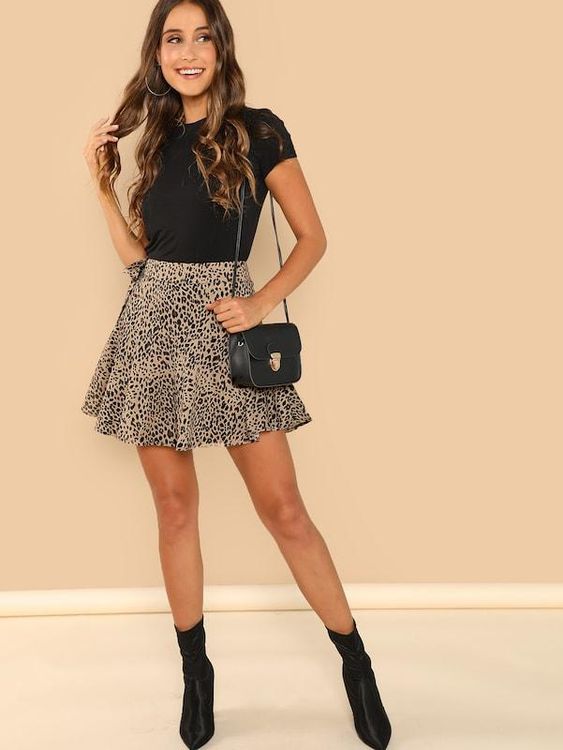 Another simple way for daily outfit ideas with a mini skirt, you can try to bring out a leopard skirt then pair it with a basic black tee.  Making it more be stunning to wear just add black ankle boots in your outfit ideas. Keep it in a modest way with big round earrings for accessories and your favorite black sling bag.
Having Countryside Look
Ready for knowing great stylish outfit that comes from a mini skirt. I present this style to you. Countryside look in cowgirl outfit ideas. That you need to prepare just a black crewneck sweater, a brown zipper mini skirt, and a leather jacket for a cool style. That would make your performance more country is by having accessories such as gold jewelry and a cowboy hat. Don't forget to the best footwear for pairing this style is boots. You can choose either cowboy boots, ankle, or knee-high boots for this.
Stylish with Blazer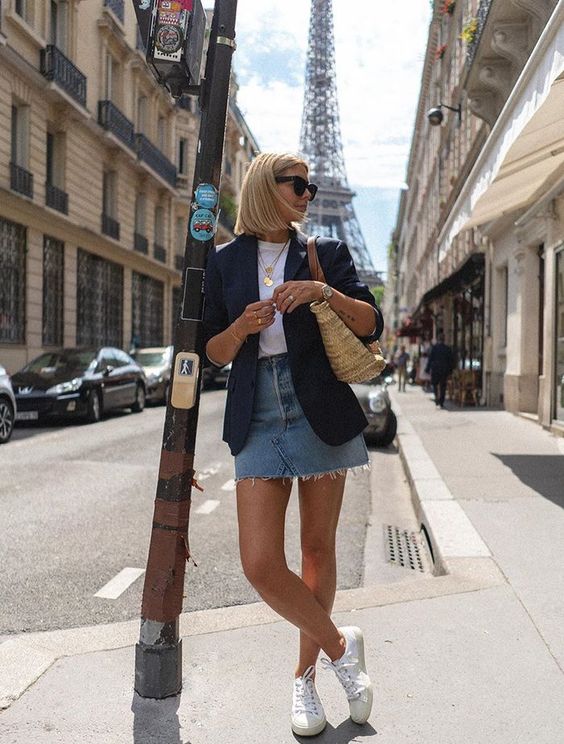 Just bring up a blazer and a cropped mini skirt to get stylish daily outfits in your wardrobe. Get your outfits perfectly fashionable by combining a plain white tee underneath and also white sneakers for matching footwear. Have this blazer outfit idea for hanging out with your friends or just use it as casual workwear.
Beautiful Pastel for Spring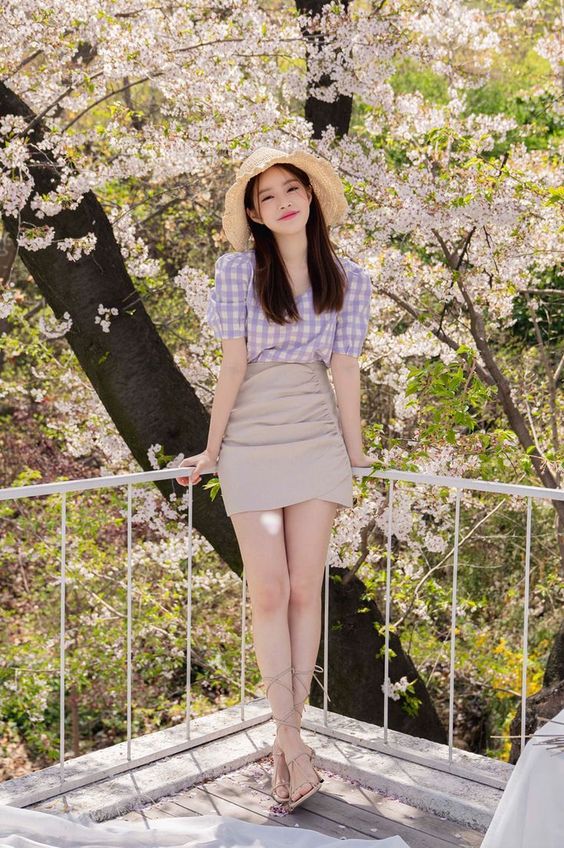 Spring has come with beautiful scenery with colorful blooms along the road. That's why some of the couples and family plan to have a picnic when the cherry blossom blooms entirely. Girls who stand to look beautiful could wear a mini skirt in pretty pastel outfits. You can tuck a plaid lilac top with a cream mini skirt. Make this more stylish by having gladiator sandals and a straw hat as accessories.