Olidfashion.com – Fall comes with cool weather and is ready to welcome you with the coldness of winter. The leaves are starting to falls and along the roads are full of orange color tones giving a romantic nuance to you. Bring this emotional season in cute styles with sustainable outfit ideas. Perform with some inspirational women's outfits that suit and are comfortable to stager your appearance during the autumn season.
Because the temperature starts to drop, you should begin to reorganize your wardrobe and then fill up it with warm and comfy outfits. However, you don't have to pull out your summer clothing from the closet. Just find out the way to mix and match it to become sustainable fall outfits. That's why I came up with some ideas about chic and cute fall outfit styles for women in this article. Let's find out what you need here.
Vintage Style for Fall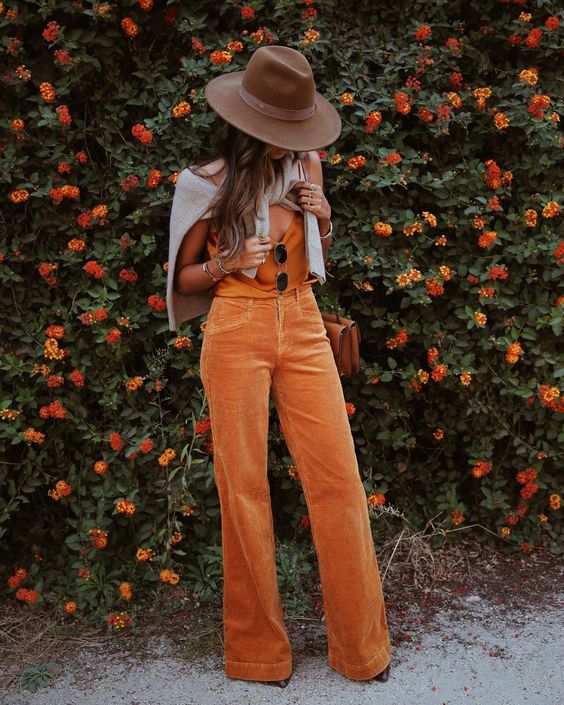 Getting an old fashioned to your fall ensembles such as orange bootcut pants and then matching up with a tank top. Make this outfit more retro with the cowboy hat on your head. Get wedges to complete your gorgeous performance. Bring out a little layer on your tops by draping a sweater around your tops. This is all that you need to create vintage outfit ideas for fall editions.
Brown and Orange Outfits for Autumn Vibe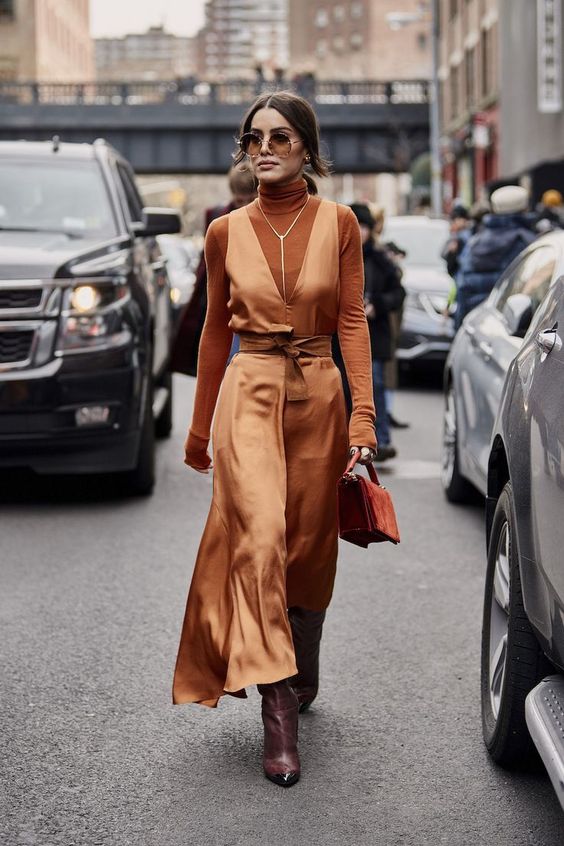 Nice colors for the fall season are brown and orange. Get this theme to your ensembles elegantly by having a long maxi dress and turtle neck underneath. Complete your cute and chic fall outfit ideas with a pair of boots. Perfect your overlook with an orange suede mini bag, brown sunglasses, and simple jewelry.
Comfortable Style in Fall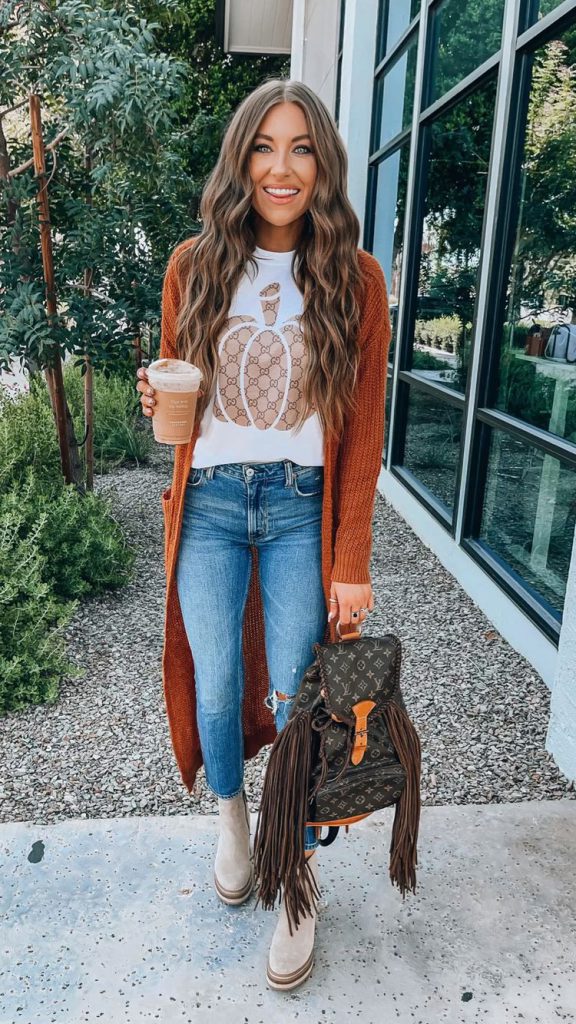 You can initiate to form your closet with cardigan style, coats, jackets, and blazer. Also, having a theme like Haloween on your outfit ideas is attractive. You can begin with a pumpkin print t-shirt, layer it with an orange cardigan, and match up all with blue skinny jeans. To make it more look a countryside style, just try to add a cowboy hat and a fringe bag. The comfortable footwear to help you with this outfit is suede ankle boots.
Trendy Look for Fall Style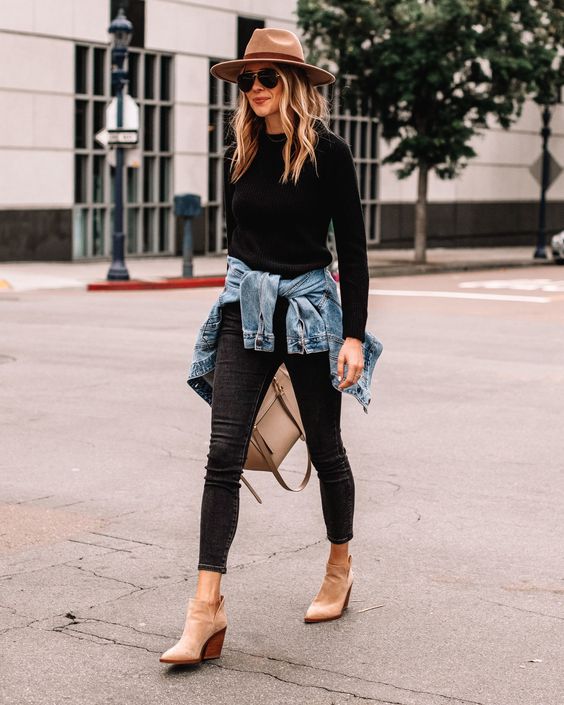 Bring trendy style during fall with the denim and black ensembles. For a simple way, you just have to combine a black crewneck sweater, black skinny jeans, and denim jackets. Make it look fashionable by having details on your head for accessories like a cowboy hat and sunglasses. For shoes, having wedges ankle boots would astonish your appearance more.
Classy Fall Look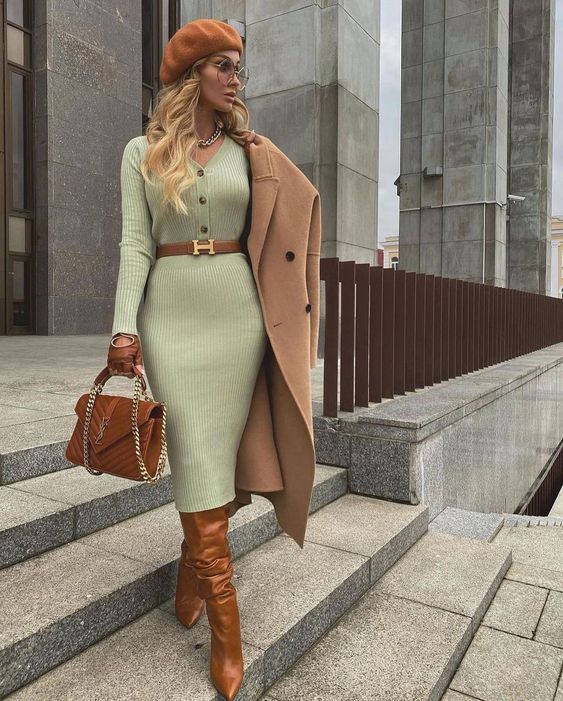 Have a classy in-fall fashion outfit with knitted dresses. Try to have a button-up knitted dress in mint color then layer it with your stylish winter coats. Turn it more fabulous with a pair of knee-high boots, a mini belt over the dress, and a beret hat for your head accessory. Get it more classy by delivering your favorite bags into your fall outfit style. Choosing brown as the basic color scheme to make it look like autumn.
Modest in Midi Pants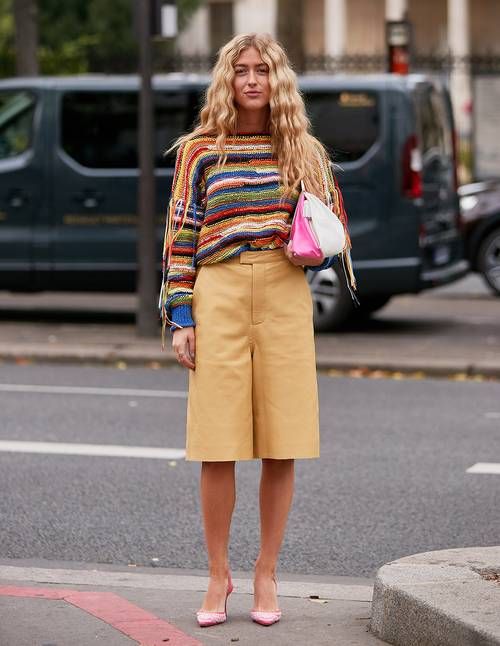 Bring a new season with modest and sustainable fall outfit ideas in this midi pant. You can try to pair a rainbow sweater with pastel midi pants for a joyful ensemble. Go for chic outfits with some pastel color details in your high heels and clutch. This clothing style also gives you a pretty pastel outfit idea in your fall wardrobe.
Fancy Fall Style with Plaid Ensembles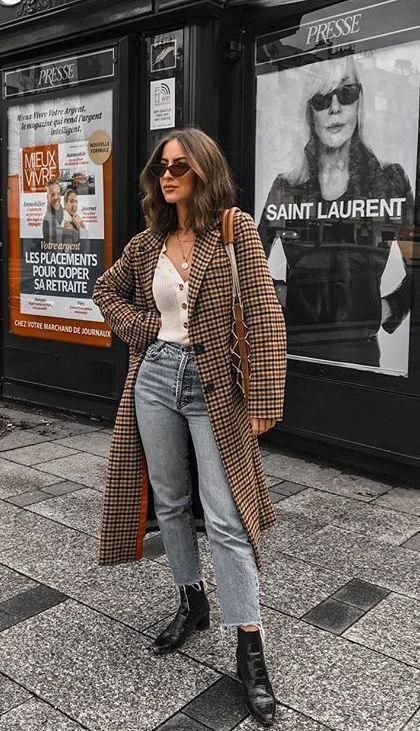 Besides stripes, plaid is the common pattern that usually comes in fashion style. This could bring a classy and fancy style to your outfit ideas. When you try to add a little something formal to your casual ensembles for fall, a plaid women's coat could be an option for this. You can pair it with your favorite sexy tops, high waist jeans, and ankle boots. Bring your tote bag to accomplish all your outlook.
Sustainable Fall Outfit in Strappy Dress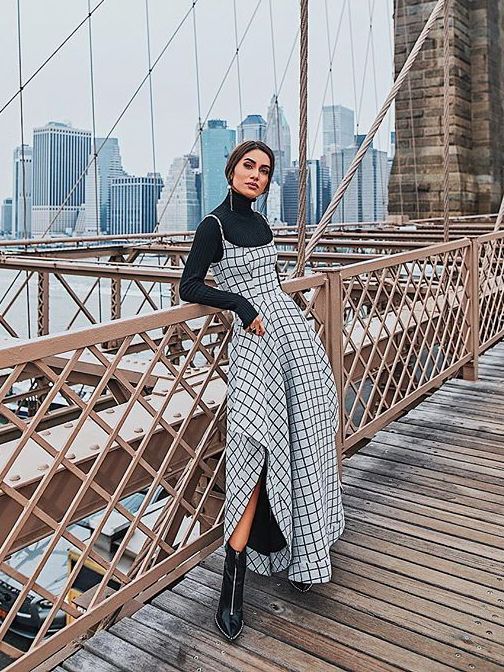 Arrange your fall wardrobe with some sustainable outfits such as a strappy long dress, black turtlenecks underneath, and ankle boots for the matching shoes. This outfit style is never outdated to wear for years and still exists to astonish your performance.
Cowgirl Outfits for Fall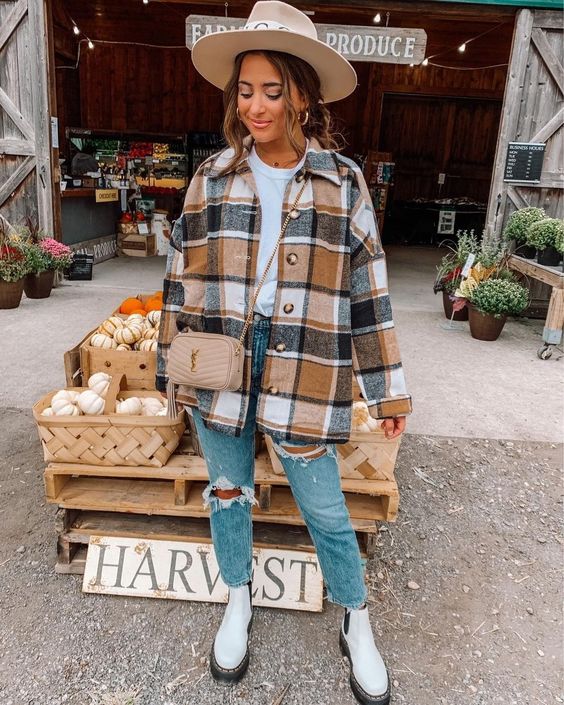 What's exactly would be bloom for fall fashion is a rustic style like this cowgirl outfit. Wearing layered style with brown flannels, a basic tee underneath, ripped jeans, and a pair of Chelsea ankle boots could increase your fashion in the cold weather. Get the full ensemble by having a cowboy hat as your head accessory and a mini bag to make you ready to hang around with friends in this beautiful fall.
Simple Fall Style from Summer Look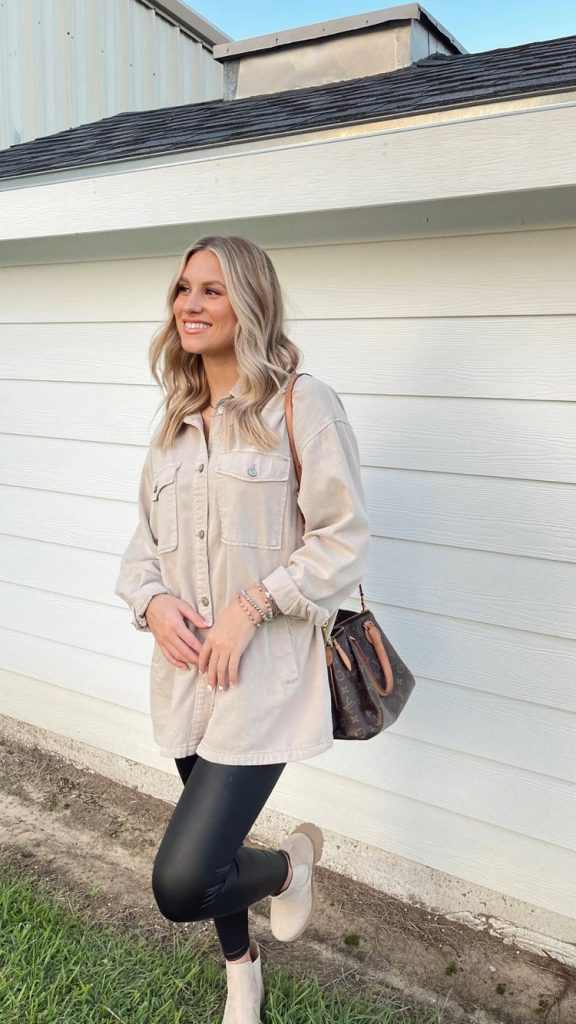 Fall is the transition season from hot to cold. That's why you still could be used your summer outfit style by mixing it with warmer clothes. For example, pairing an oversized long sleeve shirt with latex pants make you have a chic outfit for fall. Don't forget about footwear the best match for this outfit's idea is wearing ankle boots. Besides could make you look fashionable, these boots also help you feel warm on the legs.
Go with Sweater Vest Style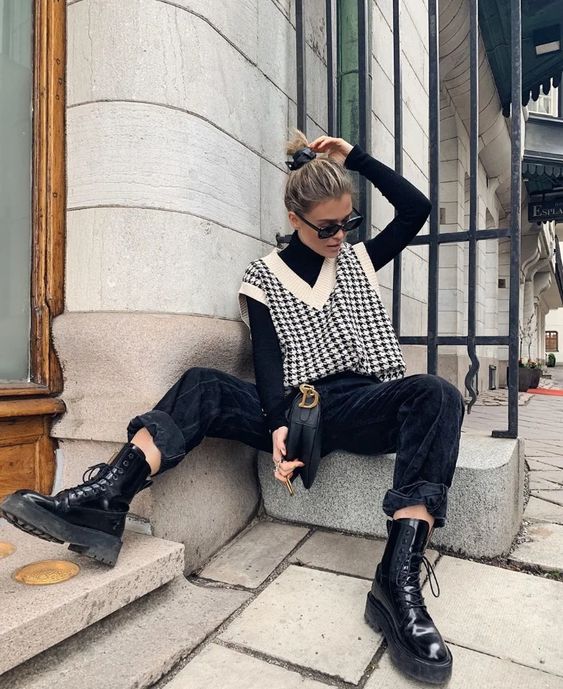 Get the comfy outfit without looking bulky by wearing sweater vest outfit ideas for chic and cute fall fashion. For this, you can try pairing an old sweater vest, a black turtle neck, and suede paints. Evade the chill in the legs by having a pair of army boots. Get your look trendier and cool with complements such as a black mini bag and sunglasses.
Oversized Outfits for Cute Fall Style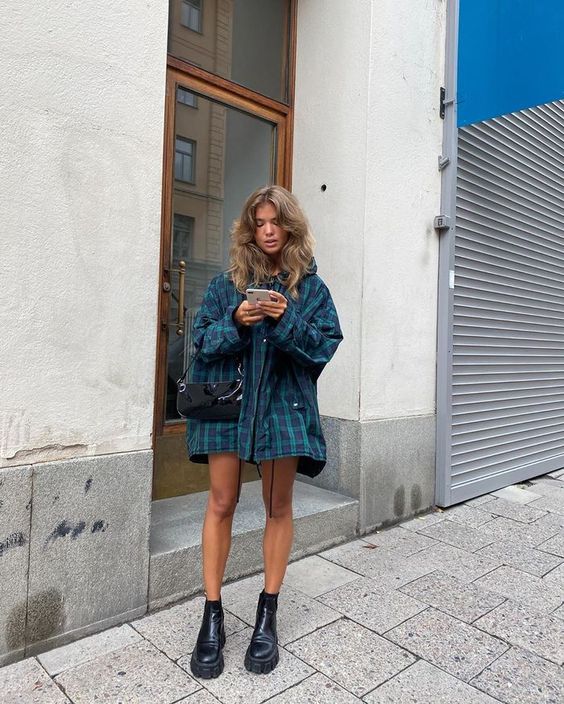 Having a minimalist look with oversized outfit ideas in baggy clothing for a mini dress is much cuter to apply to women's fashion style. You just need to get ensembles like an extra-large jacket and chunky boots to create this style. Give accessories such as a mini bag to complete your fall fashion mode.
Nautical Style in Fall Edition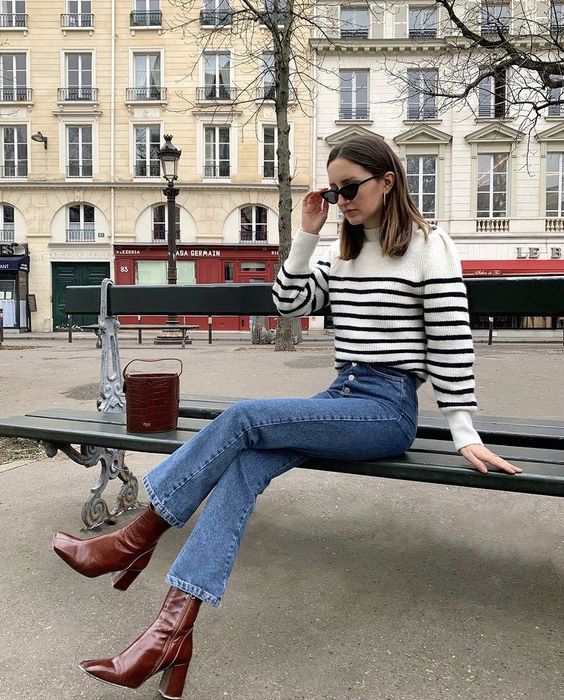 Get your different feel on fall with some nautical outfit ideas that have usually come with striped patterns like this sweater. Get this outfit perfect by tucking it with button-up waist jeans and bringing a pair of heeled ankle boots. Accessorized with a mini bucket bag and sunglasses to have a pretty image.
Classic Layering Outfits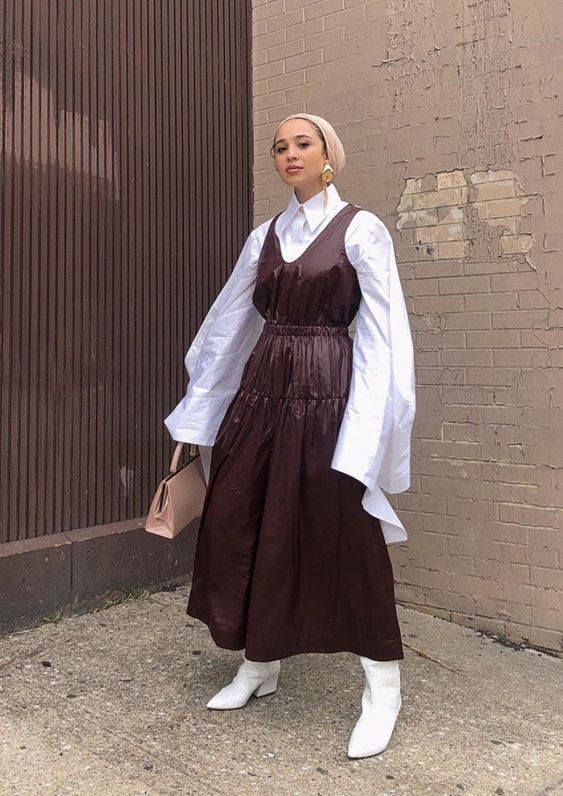 When you look for cute and chic fall outfit ideas, you can start to adopt this style. Have a little classic overview with an extra-large white shirt to layer with a brown leather long gown. Complete this women's outfit ideas with white boots and a turban on your head. Bring out your favorite pink pastel handbag and ear spark earrings for accessories.
Warm with Scarf Ideas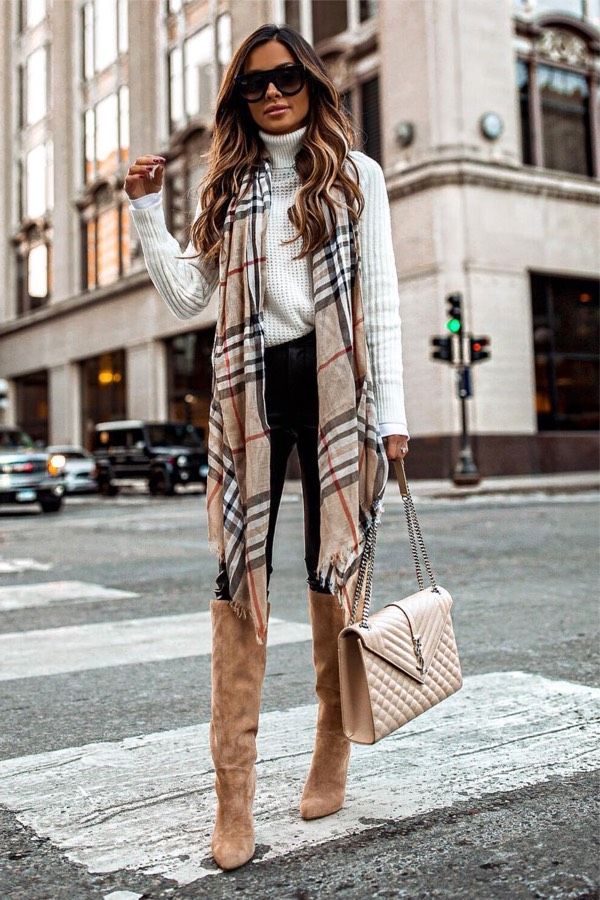 Fall comes with a strong wind and makes you feel chill outside. That's why you should wear something to make you warm especially when you stay outside. Bringing out the scarf into your fall outfits could be a solution to make you keep warm and comfortable with the cold weather. Besides that, this scarf could also convey a new trend to your mode. For the simple way, you can drape a plaid scarf on your white turtleneck, skinny jeans, and suede knee-high boots for making a chic and cute fall outfit style. Don't miss out to bring accessories like a message bag and sunglasses for a stunning style.
Tonal Outfit Style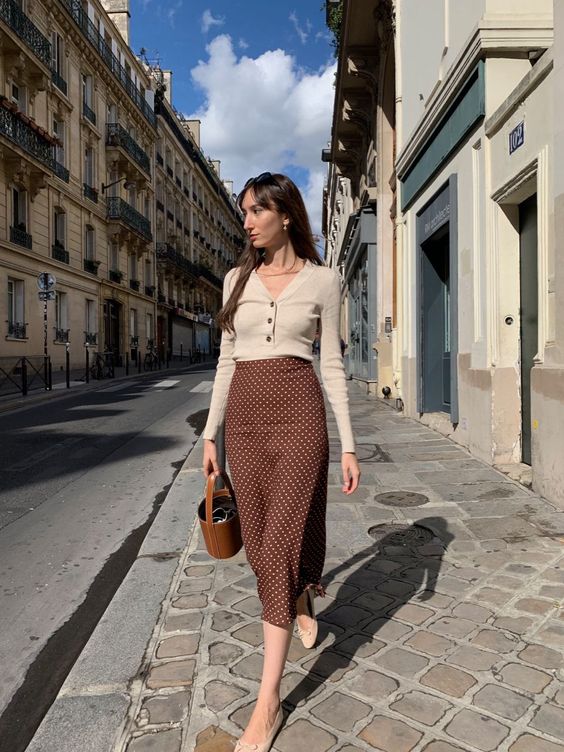 One way to bring autumn into your women's outfit ideas is by wearing tonal colors like brown, cream, or other earthy tones. For instance, you can choose a cream button-up cardigan to tuck in a brown white polka-dot midi skirt. This is simple but still, it looks elegant for you. For the best footwear to pair this fall style is wearing beige flat shoes. Accessorized with a brown bucket bag to accomplish your stylish mode.
Cute Fall Outfit Idea with Short Jumpsuit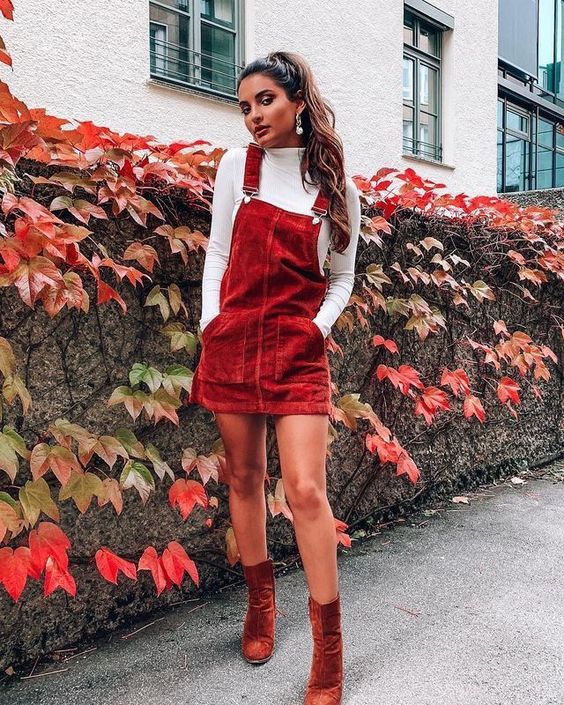 For those who want to look cute and youth in the fall, you can get a maple short jumpsuit to pair with a white turtleneck and suede ankle boots. Bring the autumn moment beautifully with beautiful maple outfits in your daily style. Get this outfit to hang out with your friends around the city.
Chic Bohemian in Floral Clothing for Autumn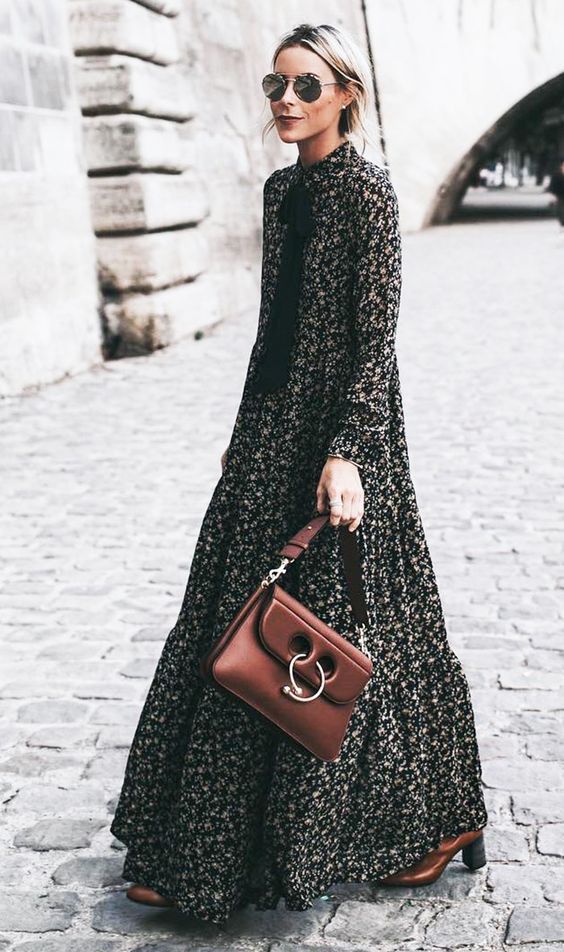 Get your simple look with fashionable boho chic style by having a tiny floral maxi dress this autumn. Having a flared design and ribbon tie for trim on the neck makes it a more chic and cute fall outfit style to wear. Perfect this bohemian outfit with a leather mini bag and heeled ankle boots.
Colorful Fall Outfit Style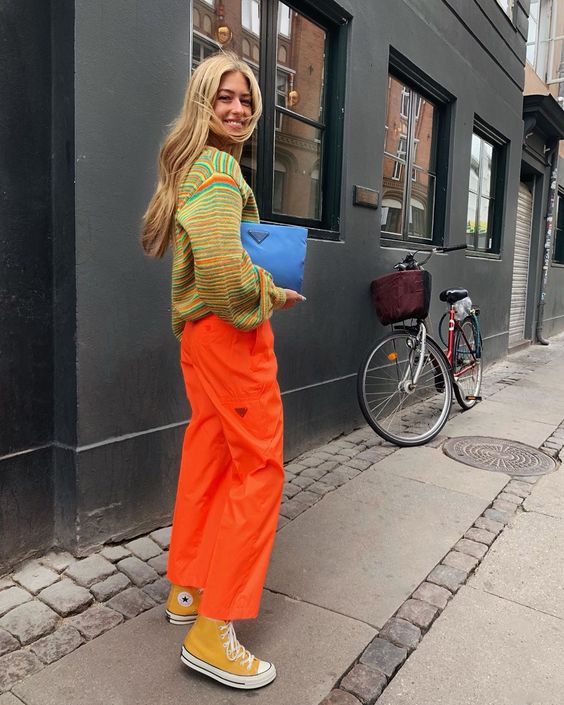 Bright ensembles for cheerful fall outfit ideas by coming up in light orange pants and a rainbow sweater. Making it more joyful with the yellow converse as for the footwear. Give other colors detail to this fall outfit by adding a blue clutch bag in your hand.
Boots Style for Fall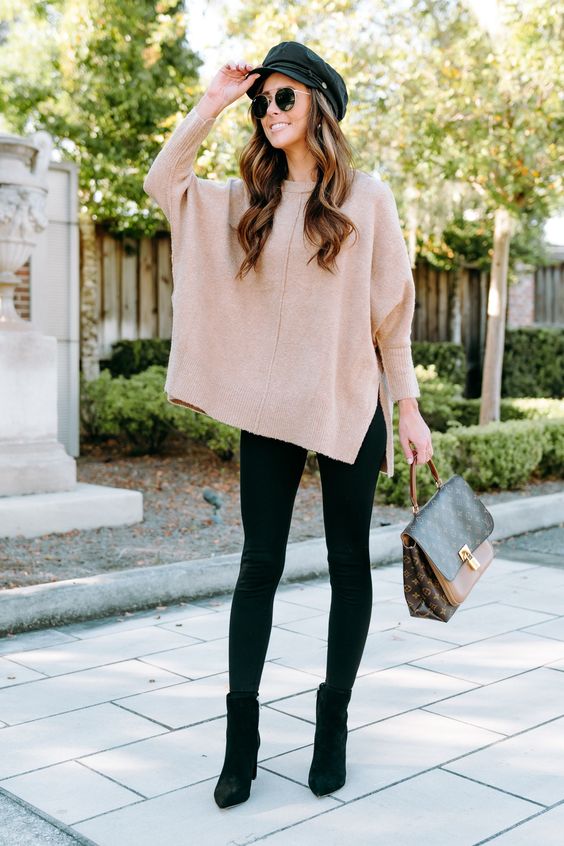 When it comes to fall season, boots are the most liked by women to stand out in their fashion style. For chic and cute fall outfit ideas in boots, you can come up with a pastel baggy sweater, and the bottoms you can wear black tights with suede ankle boots. Perfecting your cute overlook with a beret hat for accessories. Don't forget to bring your favorite bag and it's complete all your fall fashion style.
Cute Look in Tulle Skirt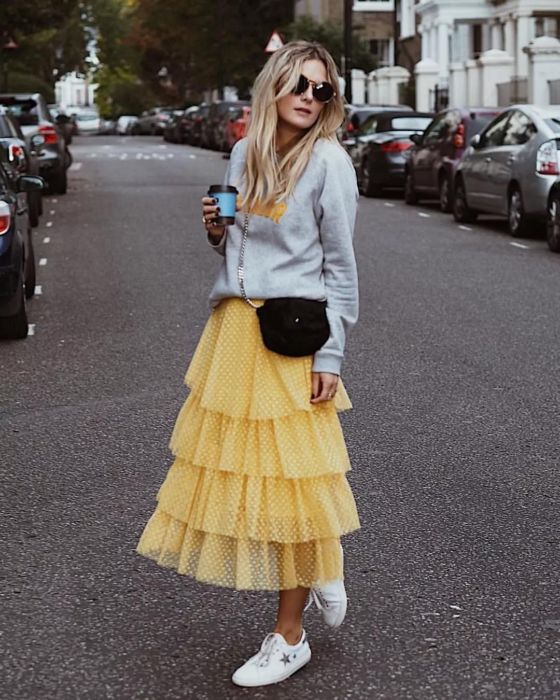 Try to drive a chic and cute style in fall outfits by bringing a pastel tulle skirt in your outfit ideas. Since you want to have a little casual look, you can pair this skirt with a crewneck sweater. Get the trendy outfit by choosing sneakers for the footwear. Accessorize with a black mini sling bag, simple jewelry, and sunglasses. Having it for to go casual date with your couple.
Casual Outfit for Fall with Ripped Jeans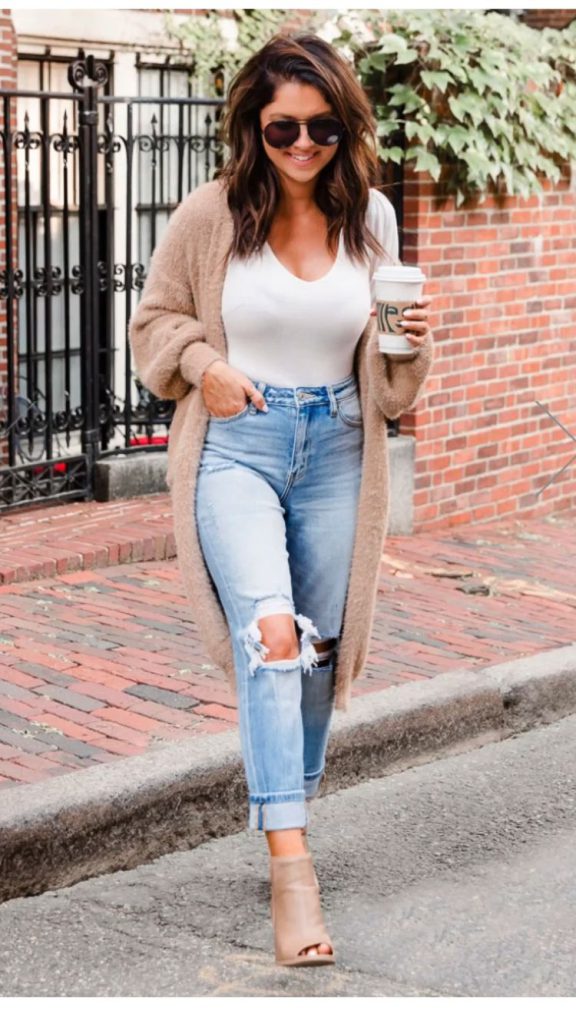 Wearing summer ensembles like ripped jeans for fall is great when you combine them with a warm long cardigan. This idea truly would make you feel comfortable and fashionable at once. Just perfect your casual appearance with a white tee v neckline for the top. Stand out your open-toe Lita boots for astonishing your look.
Monochrome White Outfits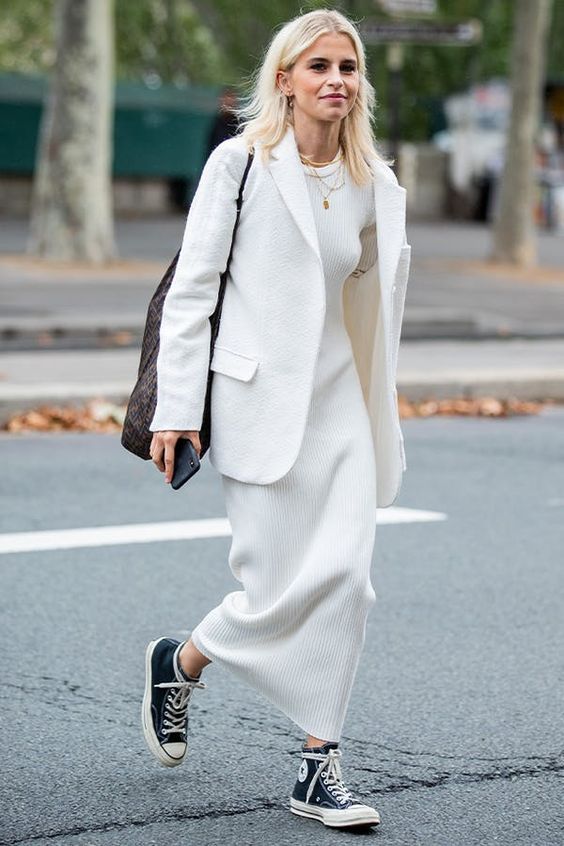 If you want to have a fashionable work outfit for fall, having monochromatic white is great to utilize. Since it's neutral, you can wear it in any season even autumn. For this, you just need to combine a white turtleneck long dress and match it with a white blazer for a formal accent. Make this outfit more comfortable by wearing sneaker boots and then bring a tote bag in your hand.
Best College Girl Style During Fall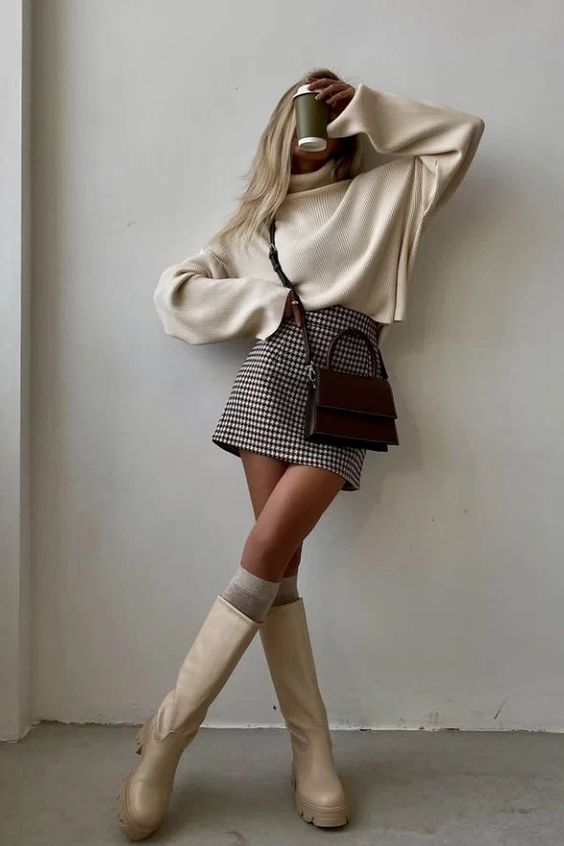 Attend a class during fall make you should know what to wear. Because the dropping of temperature makes this challenging for you to have a cute and chic college girl style. You can still look fashionable and comfortable at once. You may combine a summer mini skirt with a warm turtleneck sweater. For the footwear, make it for balancing the outfit and give more warmth by having a pair of knee-high boots. Finalize your style with a brown mini bag and you will be ready to go campus now.
Chic and Cute Fall Style with Blue Accent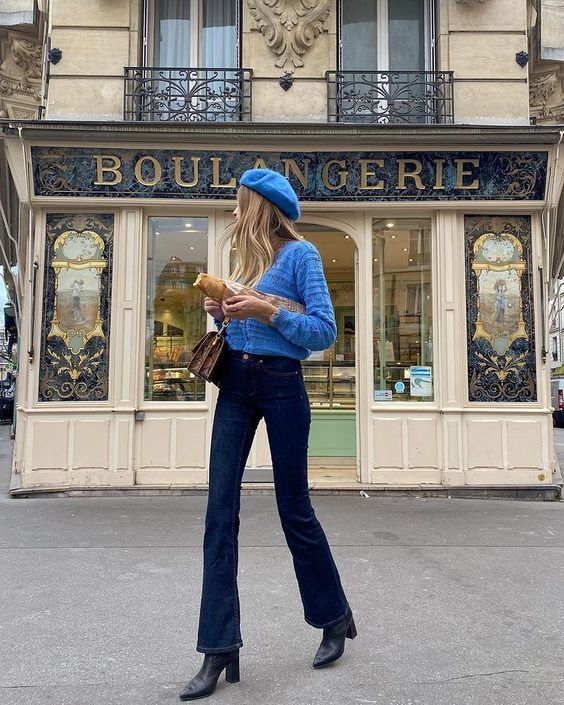 Dress up with chic and cute styles for fall with some blue outfits. You can mix a blue sweater, bootcut jeans, and black heeled ankle boots for fall style. For the cute and chic style, bring out a blue beret hat for your head accessory. Finished this outfit with a mini bag with a chain on the sling.
Trendy with Black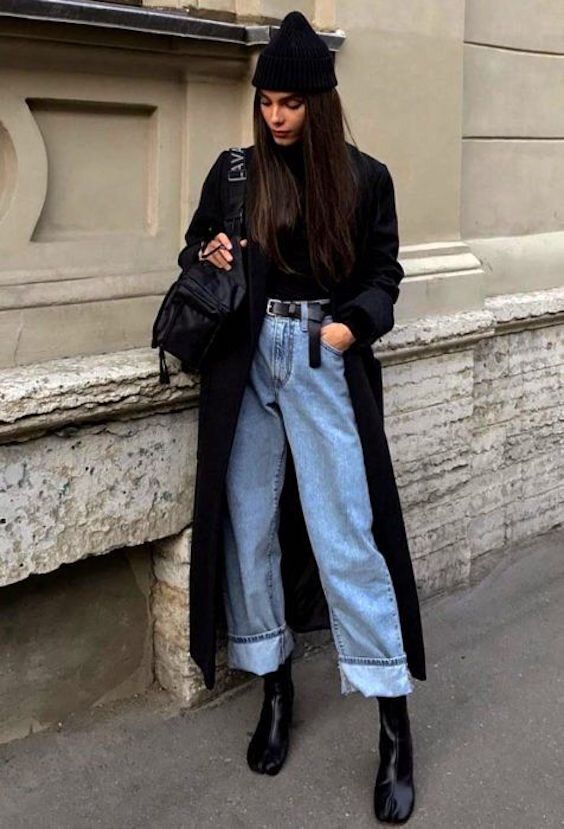 Black clothing is a versatile outfit that could be used around the year. This can bring a cool and trendy side to your ensemble like a chic grunge outfit style. In a simple way, you can be stood up with a black turtleneck, a black long women's coat, and blue jeans. Get them all complete with trendy heeled boots and a black backpack. Give additional accessories like a beanie hat for the chic overlook.