Olidfashion.com – These few years, either loose clothing or oversized outfits most liked and favorite to place in the wardrobe. There are many celebrities, influencers, and fashion models that come in oversized outfit ideas. You can also get these ensembles to astonish your daily style. For this, you have to know how to dress up properly with oversized outfit ideas with loose clothing styles for men.
How to Bring Up Oversized Clothing into Men's Outfit Ideas
For the past years, oversized outfit ideas is the trend for fashion models. There are more influencers, celebrities, and designers adopting this trend and modeling their outfits fashionably with this fashion idea. For you who want to staple this fashion style in your wardrobe, you can begin to follow the tips below:
Adjust it with to every Occasion
Wearing loose clothing also needs to adapt to the events you'll be attending. Don't make you look weird or has the wrong costumes. For the formal style, better you choose a baggy blazer or suits to deliver this style. It's different from the casual style, you can make mix and match with anything in your wardrobe. Just make it look fashionable and layback to wear.
Get Balanced Combinations
Having oversized outfit ideas also needs to consider the balancing of clothing combinations. Get dressed perfectly by matching up slim-fit pieces with loose outfits. For this, you can try to add a fit of tops like a t-shirt, sweater, or shirt then pair it with baggy pants. Otherwise, you can get baggy tops to mix up with slim-fit pants. That's all need to make harmony and balance on your men's fashion style.
Choose The Right Items 
Another thing you need to take note of if you want to make your men's outfit fashionable with oversized style, just choose the right items. Don't forget about the balancing, color harmonies, and also accessories. You should know what you want to wear for the right either formal or casual events. Don't be ever make it look bad and spoil your appearance.
Play with Color Palette
When you want to go with a big clothing style in your men's fashion, go easy with the color scheme. You really need to bring out neutral or earthy tones like grey, navy, white, or black into your loose clothing style. However, don't be afraid to embrace the bright ones. You can still be fashionable on eye-catching color schemes like orange, yellow, and red as long as you match it right.
Baggy Sweater Vest for Summer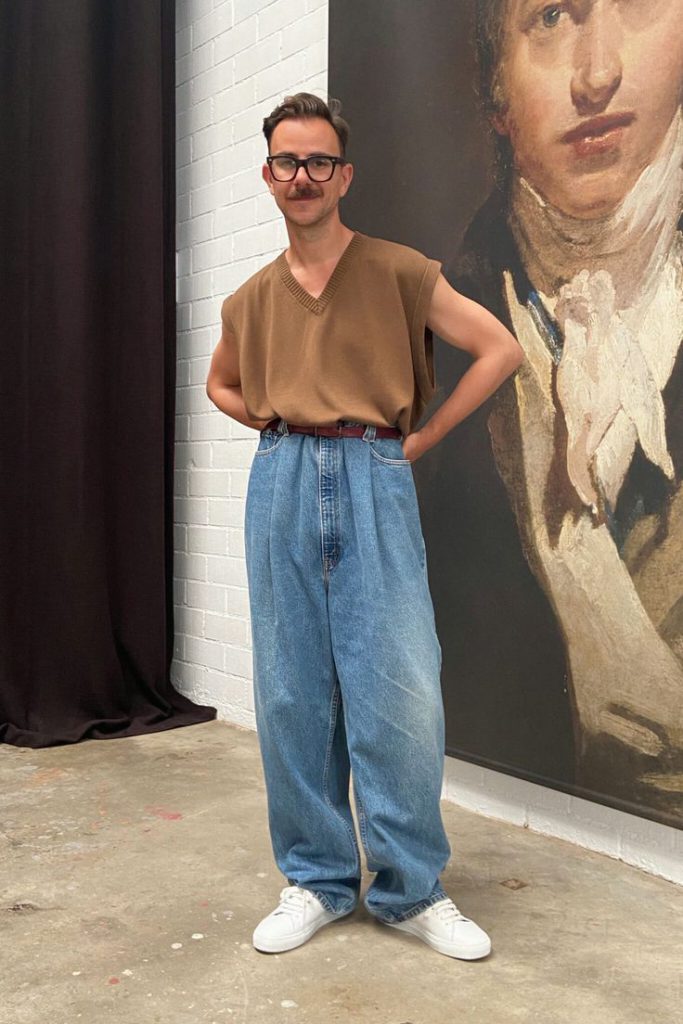 Feeling comfortable and fashionable during summer by wearing an oversized sweater vest outfit and baggy jeans. You also should be combining this outfit with trainer shoes to have more coziness. The sleeveless top and baggy bottoms make your day feel fresh even in the hot weather.
Oversized Blazer and Trousers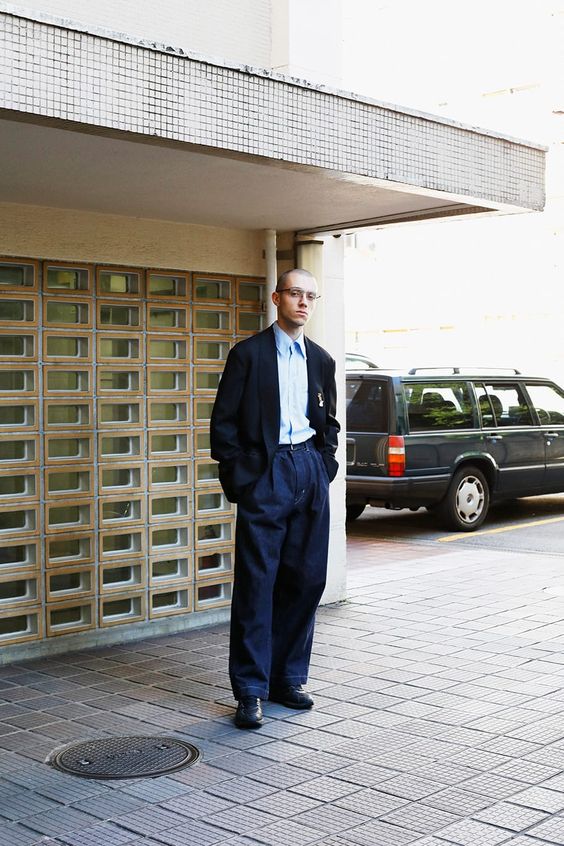 Having fit clothing is good but a loose one is something comfier. You can draw a little unique men's outfit ideas with some loose clothing such as a baggy shirt, oversized blazer, and trousers. This would give a little formal look to your men's outfit. Stood up more your style by having trainer shoes as for matching footwear in this outfit.
Oversized Baseball Jackets for Loose Clothing Idea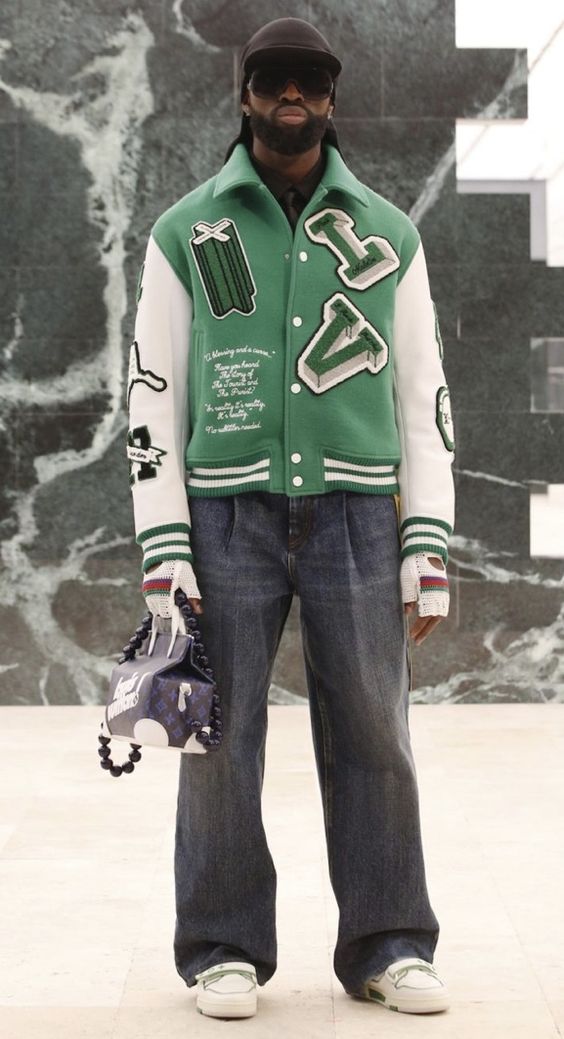 An oversized baseball jacket is a favorite piece to apply in loose clothing style for men. This item is actually easy to match up with anything in your wardrobes like baggy black jeans, tee, and others. For making it unique and swag, you can get a black shirt with a tie rather than a basic t-shirt. For footwear, you can choose between trainer shoes, sneakers, or boots. Just pick your favorite one.
Loose Blazer and Shorts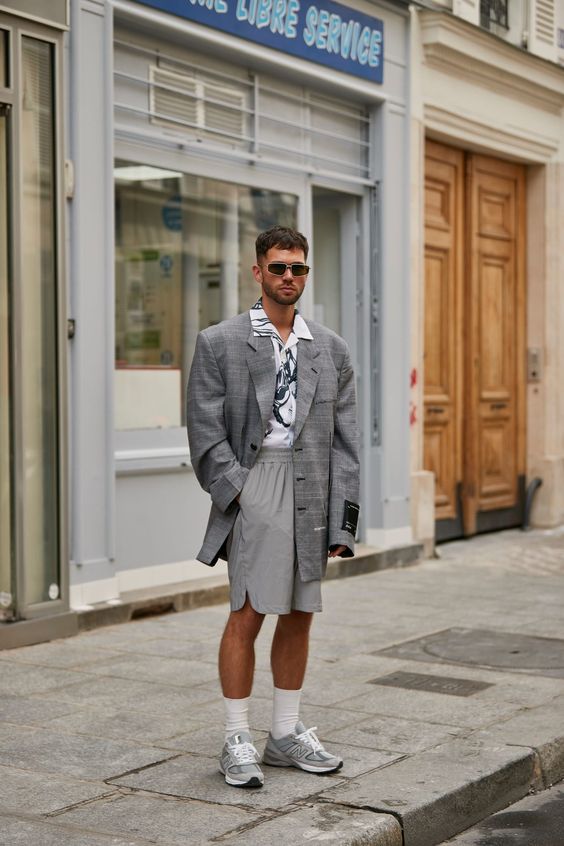 wearing a loose blazer, short sleeve shirt, and short pants make your oversized outfit ideas for men feel refreshing and fashionable. Completing the outfit with trainer shoes may give you a casual accent to match your shorts.
Oversized Clothing Style for Cold Weather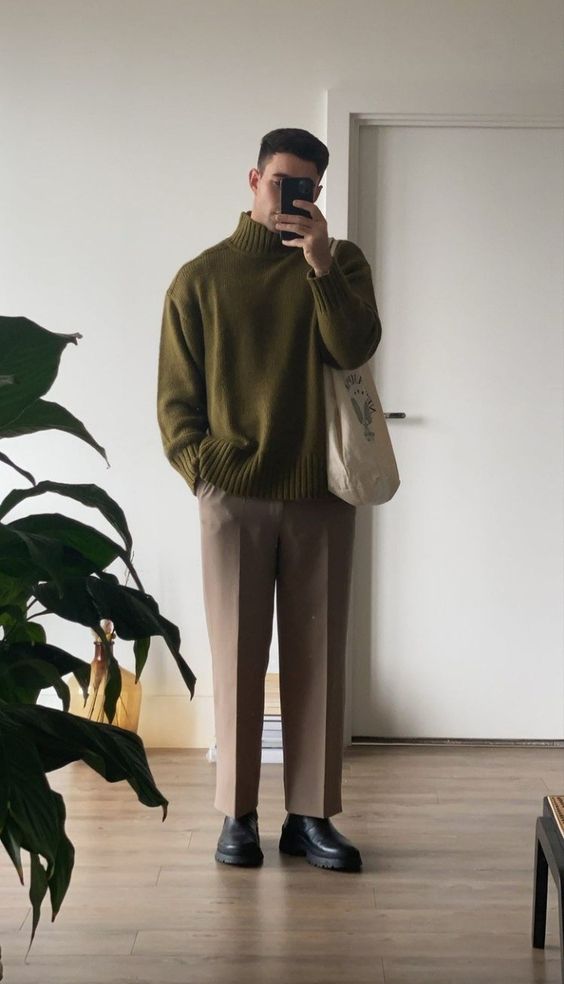 Loose clothing for fall or winter is something that's common. Most of the outfits on these seasons usually always oversized styles such as winter coats that are have long and large models, loose knitwear, and baggy pants. To help you get a simple smart style you can come with turtleneck knitwear, linen pants, and boots. Having it more modest style with a tote bag.
Comfortable Style in Oversized Outfit Ideas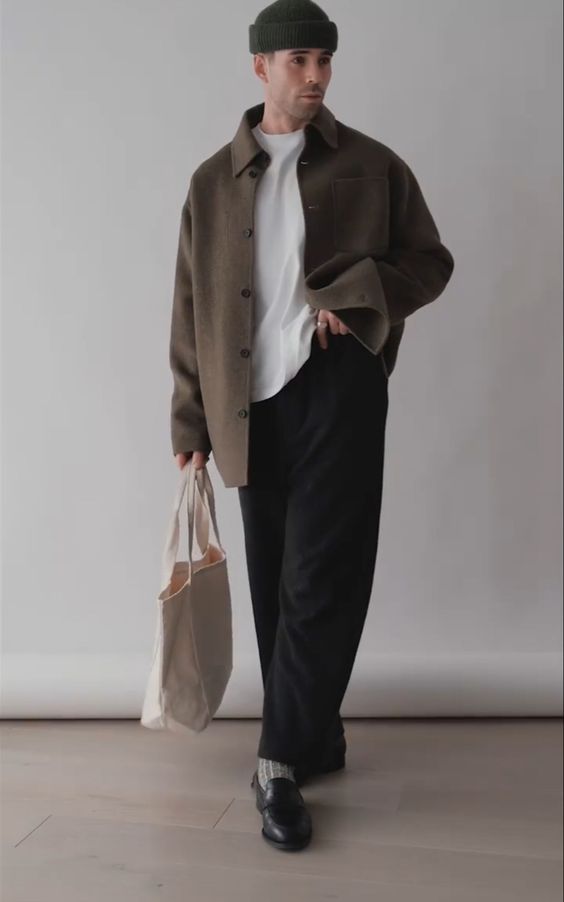 While you find the best comfortable oversized clothing for men to wear during winter, the combo of an oversized white tee, wool men's coat, and baggy pants could be an option. You can make it have a more trendy style by giving some details like leather shoes and beanie hats. Complete all over the style with a tote bag.
Baggy Ensembles for Street Fashion Style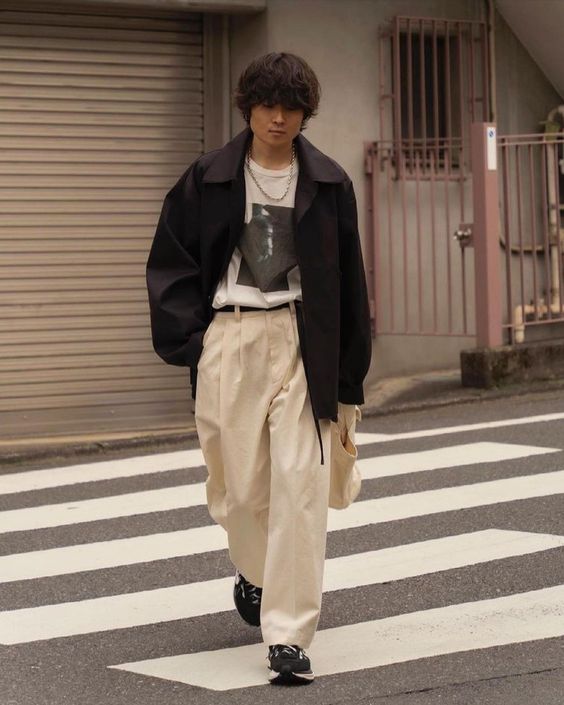 Why don't you try to mix a baggy shirt with a white tee and oversized chino as your trendy and street style ensembles. I thought it would look really better for you in loose clothing style. Furthermore, you put on trainer shoes for finishing the outfit ideas.
Classy Baggy in Leather Outfits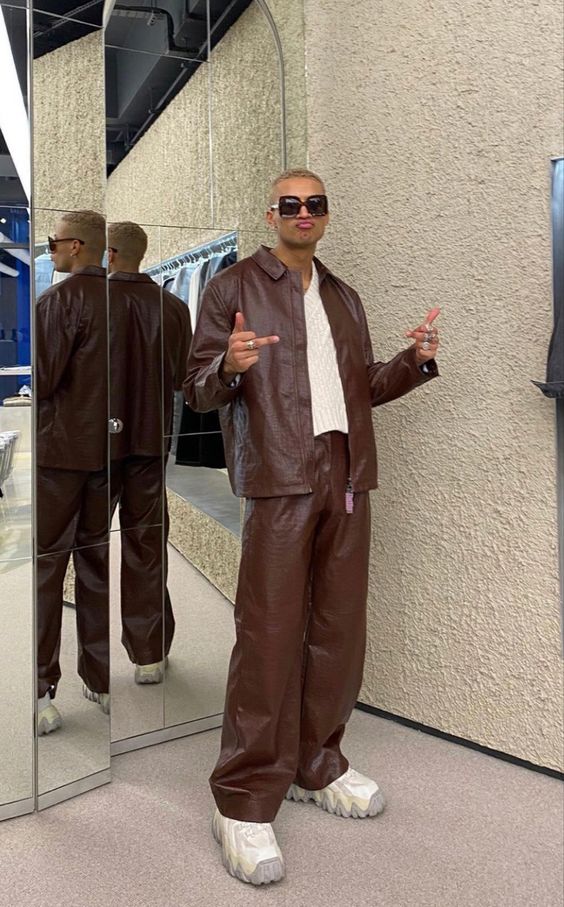 Getting a classy style in oversize outfit ideas with leather ensembles such in the picture above may be enough to astonish your performance. A brown leather jacket, white t-shirt underneath, brown bag leather pants, and also trainer shoes would help you to look handsome.
Chic Colorful Oversized Fashion Style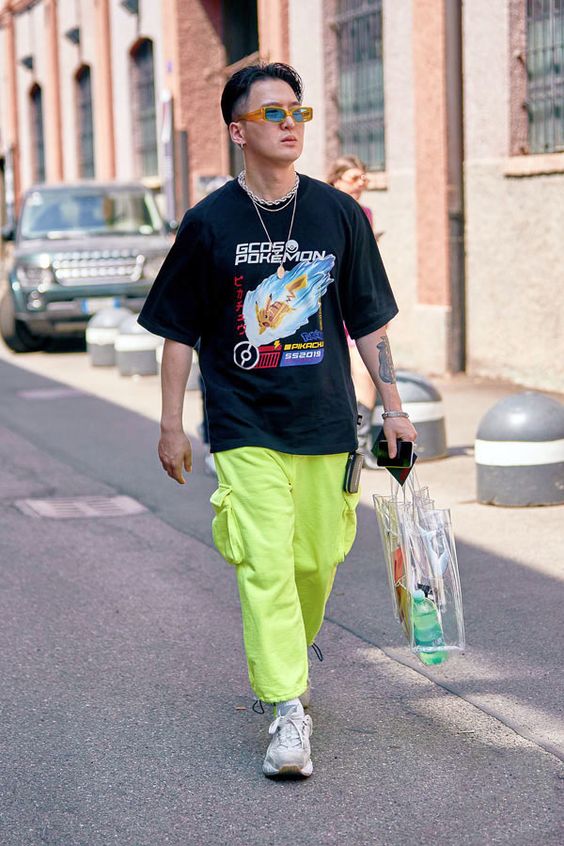 Stand to look chic and colorful with bright neon colors in your cargo pants and a baggy printed shirt for matching outfits. Get a pair of trainer shoes to bring a casual accent. You can get this ensemble for street style or having fun with your friends.
Casual Look for Vacation with Oversized Outfits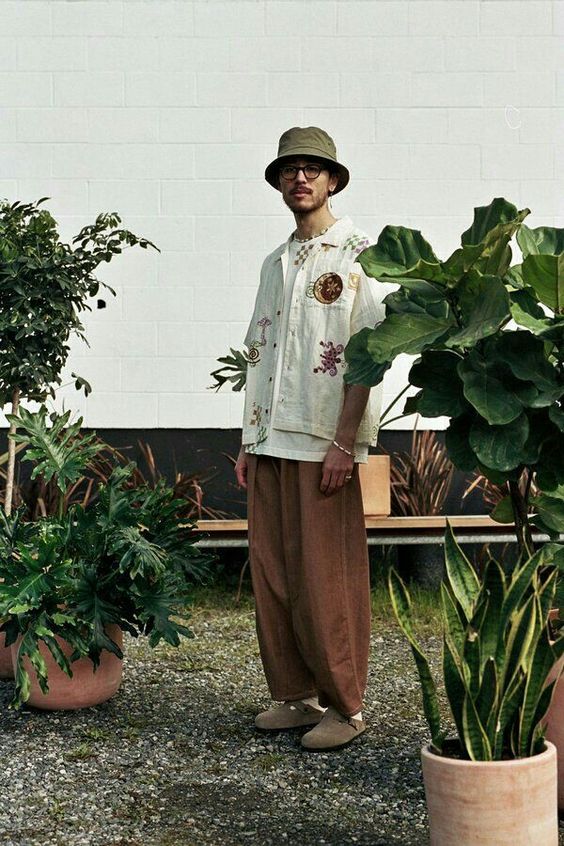 Get the casual style in loose clothing ideas in men's vacation style by wearing a loose short sleeve shirt, baggy t-shirt, and extra-large pants. To make it more fun, you can get some other details like a beanie hat and trainer shoes for the very comfortable footwear to this outfit.
Loose Clothing Idea with Carpenter Pants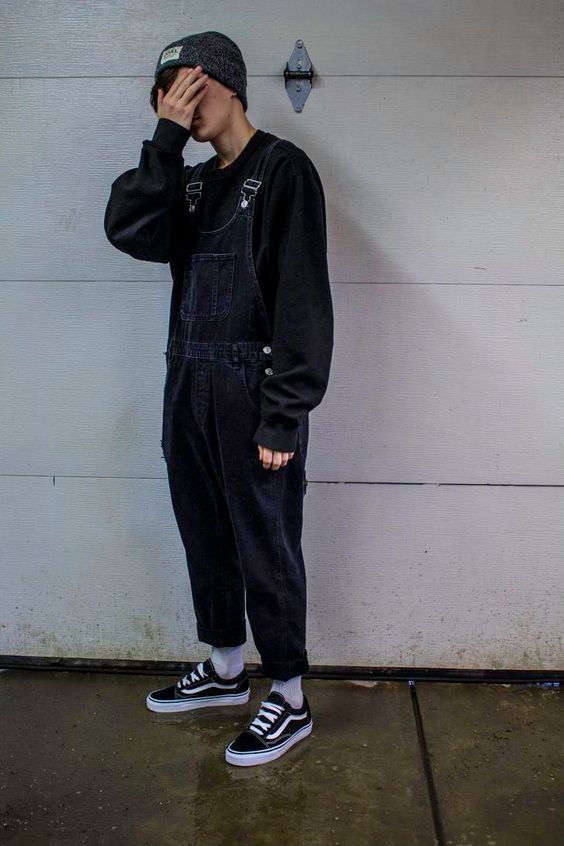 Loose clothing is not always huge. You can get something a bit more slim fit like this style above. Team up your oversized long sleeve sweater with carpenter pants. Don't miss out on other accessories such as a beanie hat to show you youthfulness.
Oversized Striped Tops for Fashionable Outfits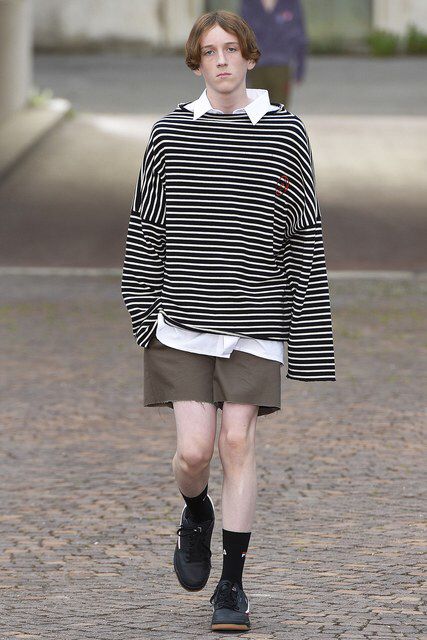 The striped dress is the classic favorite pattern for many men to deliver fashionable ensembles. Besides that, having this pattern also could bring an illusion to your outfits. Getting an oversized long sleeve striped tee to cover your white shirt and then match it up with cropped Bermuda shorts could actually bring new fashion.
Hoodie and Large Men's Coats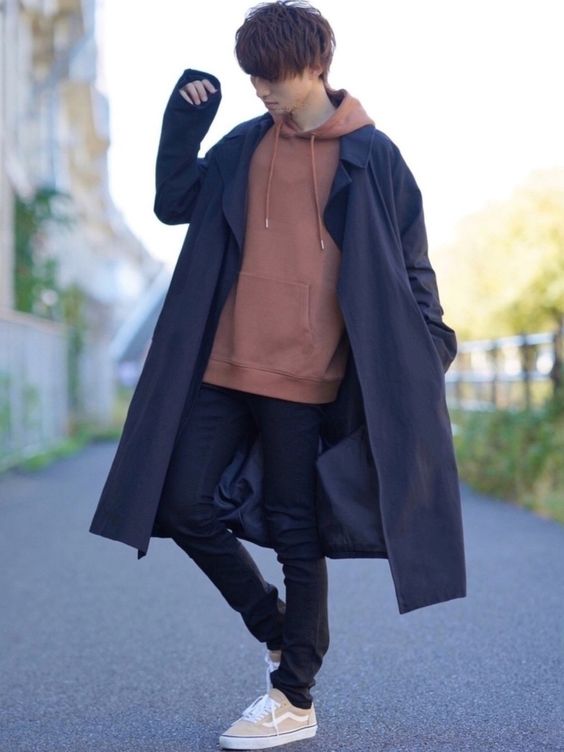 The smart pairing for an oversized outfit idea for men fashionably is wearing a hoodie with large coats. Make it balanced by having skinny jeans for bottoms. The trendy items you can bring sneakers into it. That's would be perfect to complete your winter wardrobe.
Simple Baggy fashion Style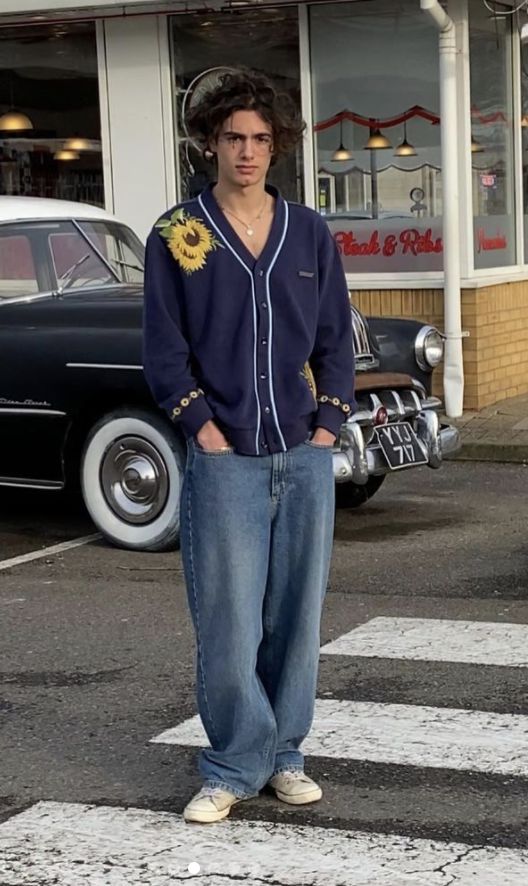 If you looking for a loose clothing style, just see that picture. This style is perfect for you that's like baggy jeans and simple outfits. You just have to combine your straight large jeans with floral cardigans. You actually would be got a vintage look in this outfit style, especially when you tray complete it with the trainer shoes or sneakers.
Staple with Oversized Shirt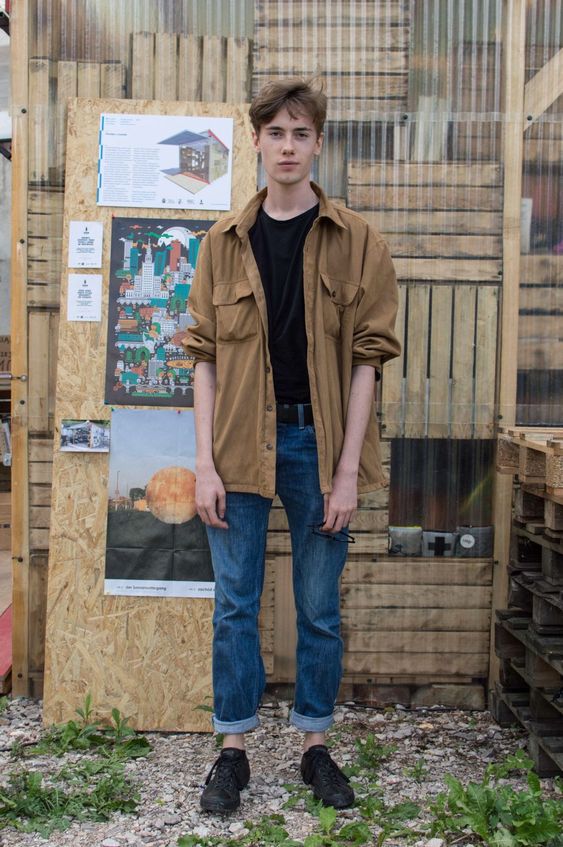 Look fashionable with an oversized shirt that matches up with a black tee underneath, straight jeans for bottoms, and trainer shoes for the footwear. Having them in your closet would bring vintage outfit ideas into your men's fashion style.
Cool Nerdy Style with Loose Clothing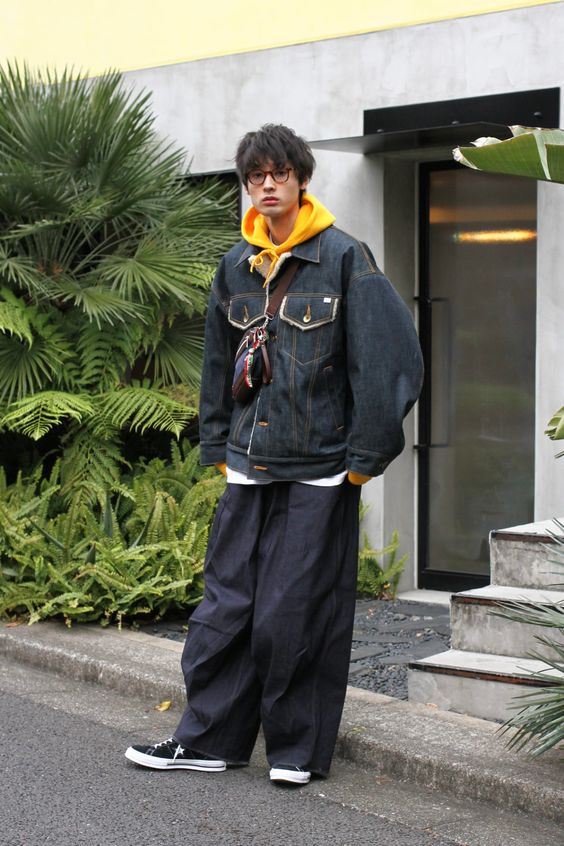 Wearing an outfit like a cool nerdy guy fashion with an oversized clothing idea by having a hoodie underneath your denim jackets and extra-large jeans. If you want to full-dress properly, you need to come with sneakers for the matching shoes. Don't forget to bring geeky items such as glasses and a bit trendy piece such as waist bag to your men's outfit ideas.
Baseball Shirt and Baggy Jeans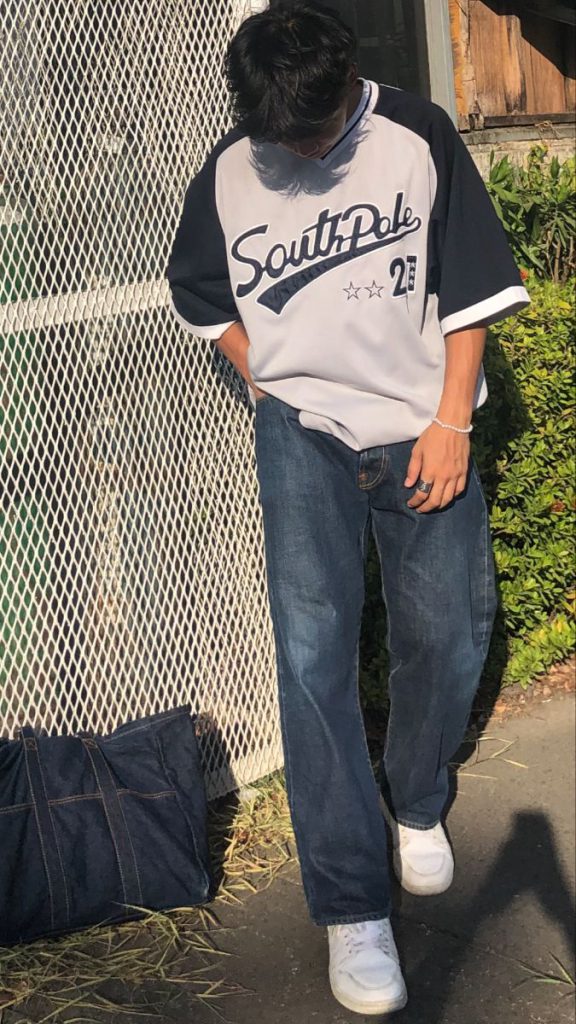 get the simple trendy look with oversized outfit ideas by having a baseball shirt and baggy jeans. Then, team up your outfit with trainer shoes for completing your look. Make this trendy style your modest college outfit idea.
Hip Hop Style with Loose Clothing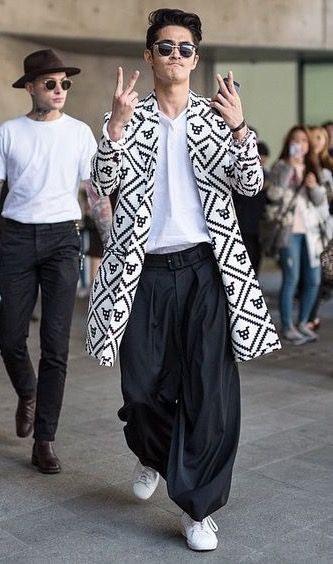 Oversized fashion is always hand in hand with hip hop style in men's outfit ideas. Get this style for men with harem pants, bohemian coats, and also a white shirt underneath. Staple it more fashionable and trendy with a pair of white sneakers. Don't miss out on the accessories such as sunglasses to make you more swag and handsome.
Eye Catching Oversized Outfit Style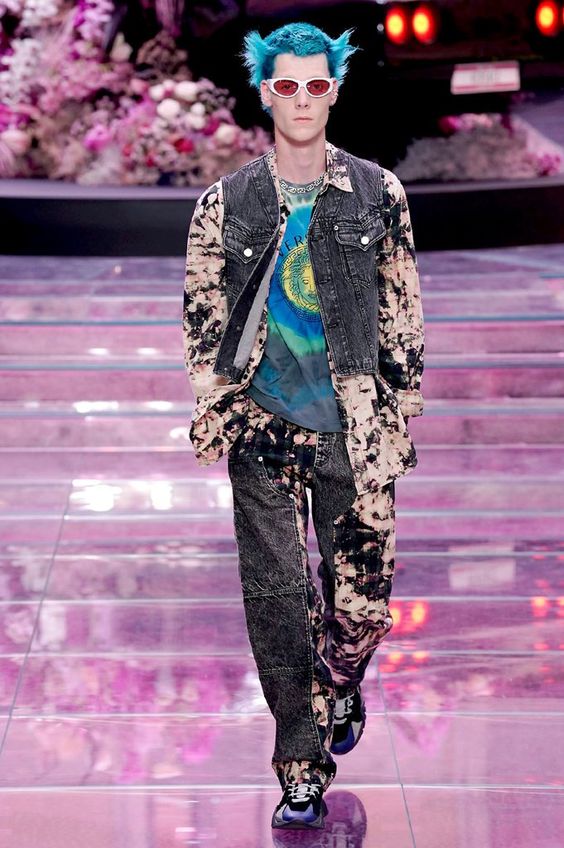 Have an eye-catching style in your men's outfit ideas with loose patchwork outfit ideas. For this, you can get patchwork jeans to pair with a tie-dye tee and shirt. Make it look smart and sophisticated with the denim vest and up-to-date trainer shoes.