Olidfashion.com – Sweater vest that's popular in your grandma era, and now it becomes a trend again. A garment that is typical with preppy style for work, high school uniform, and nerdy look, sweater vest start to appear on the catwalk constantly. Some designers also start to bring this attire for fashionable men's daily outfit ideas. For those who haven't known how to style sweater vests properly and stylishly, you can start from this. We've put some compilations of sweater vest outfit ideas to inspire your fashion style.
Sweater Vest Outfit Ideas for Men's Fashion Style
In the fashion trend circle, a sweater vest is considered just an upholstery clothing. As we know that this kind of vest is constantly used in the past by your grandad for delivering a preppy, smart, and formal look where you still find about suits style.
As time goes, men's fashion trends become growing and developing. They come in a modern style that's sophisticated and fashionable. So, the sweater vest that a long ago was regarded as an old man's clothing, now has its place and start to famous among teenagers.
Styling a sweater vest is not hard, I will show you how to rock on your sweater vest in men's outfit ideas fashionably in this article.
Sweater Vest for Korean Style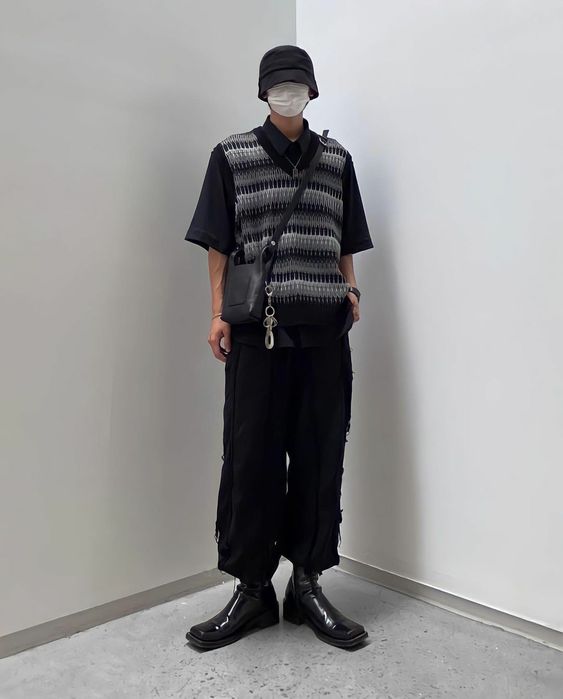 A sweater vest is usually worn in Korean outfit style for men. They deliver this vest with some cool ensembles like a baggy short shirt and cargo pants. For making it more trendy, you can match the outfit with army boots. Complete your Korean look with a bucket hat and a mini sling bag.
Casual Sweater Vest Outfits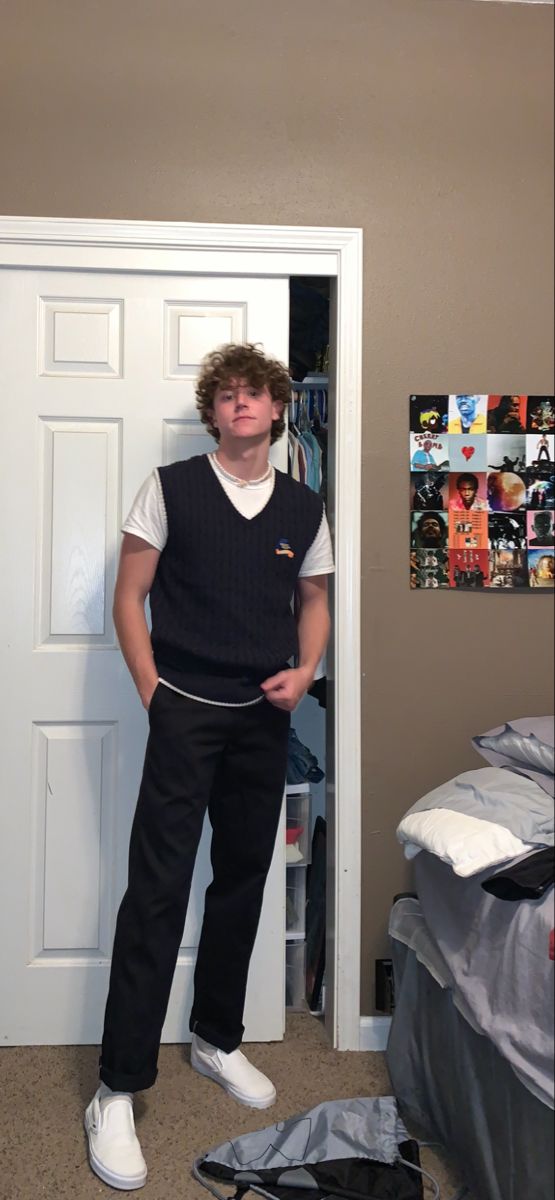 Get your sweater vest for hanging out with your friend by matching it up with jeans and a short tee. Getting it more casual with slip-on shoes. You also can add another style like denim jackets to make you look handsome.
Sweater Vest for Countryside Style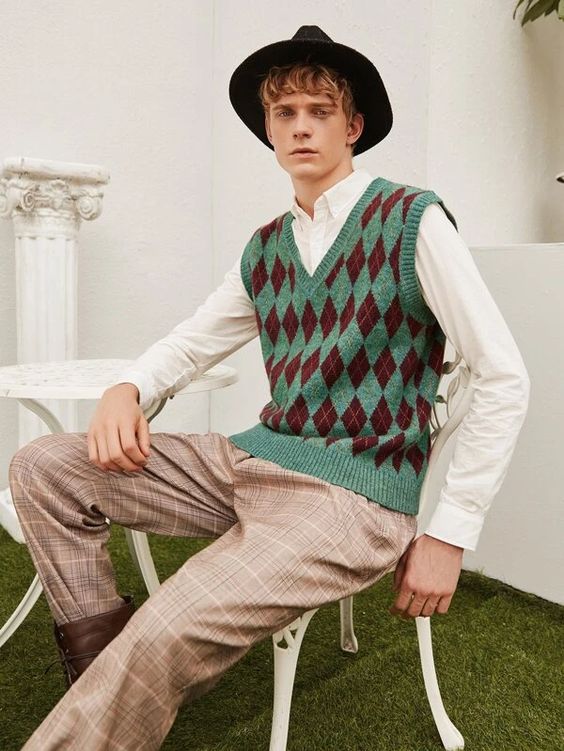 Have a little countryside style in your sweater vest outfit ideas for men by wearing it with a cowboy hat and lace-up boots. You can choose the classic motive on your vest to make it like a rural look. Mixing up with a white long sleeve shirt and plaid brown pants for having rustic style.
Vintage Look for Daily Outfit Style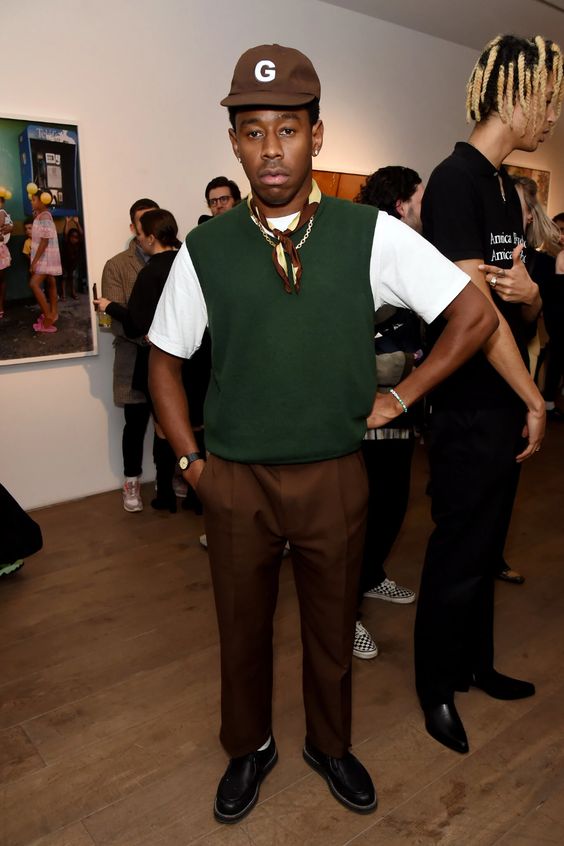 As we know that's sweater vest is originally from the past fashion trends. So, that's not hard to bring vintage outfit ideas with this ensemble. For the effortless way, you just match this vest together with a white tee and brown trousers. Spice up with matching footwear like black leather shoes. Getting it a more past image with the accessory like a mini scarf around your neck and a baseball hat.
Chic Style in Pastel Sweater Vest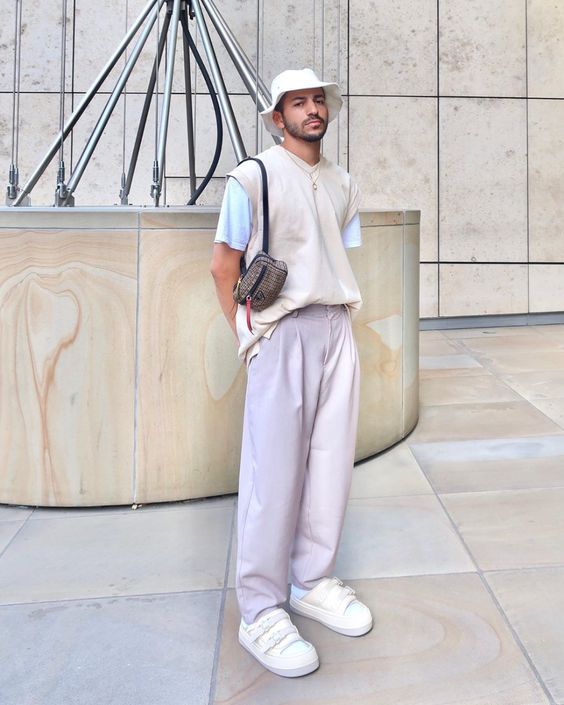 How to look chic with a sweater vest in your men's style just try to apply it to pastel outfit ideas. Men's wearing pastel, why not. You can get fashionable daily outfit ideas with this attire. Just choose neutral colors like white then combine them with earthy tones like broken white in pastel clothing for men.
Fashionable Sweater Vest style for Summer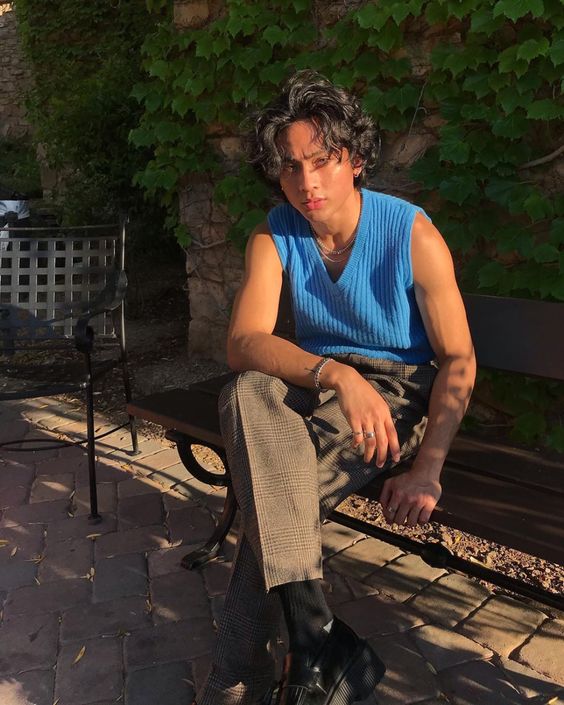 Give your daily style some fashionable outfits with a sweater vest to your wardrobe. This versatile clothing can refine your performance better. You can make experimental with this vest such as summer outfit style. Put on this sweater vest with trousers and leather shoes for making a cool appearance.
Layered Sweater Vest for Winter Outfits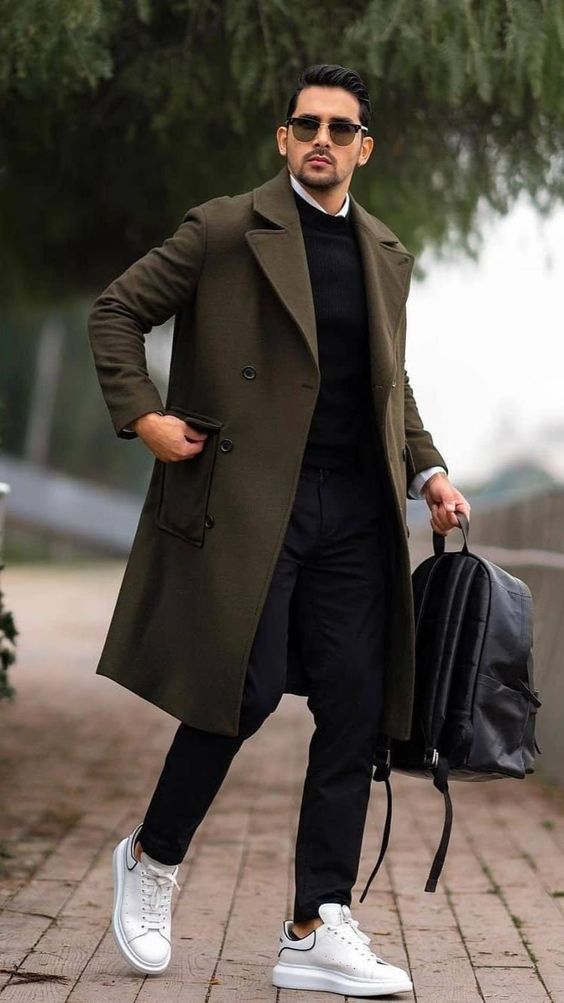 A sweater vest actually is a flexible attire that you can use in any style and condition. Matching it up with a men's winter coat and a collared shirt underneath for winter style. Get fully dressed in black pants and trainer shoes. This men's outfit idea would make you comfortable and warm without feeling bulky.
Shorts in Sweater Vest Outfit Ideas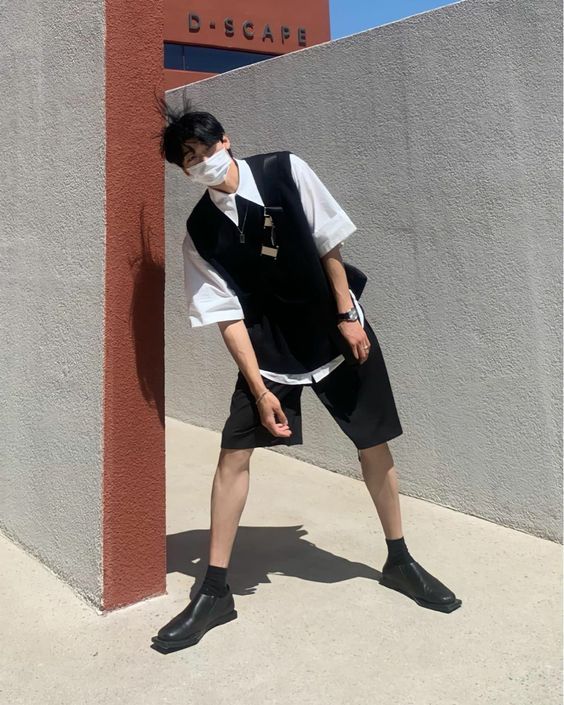 For a more youthful style try teaming a black sweater vest with a white shirt collared shirt and Bermuda shorts. Get the all-out outfit with black slip-on shoes. Make this style to hang around with your friends or use as your varsity style.
Nerdy Outfit in Sweater Vest Style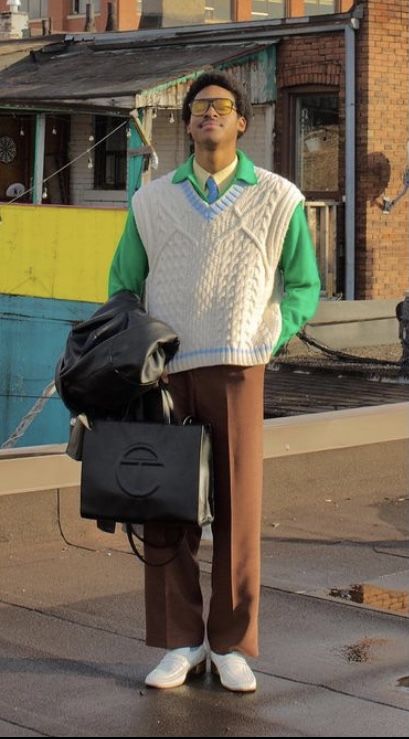 Get a cool nerdy guy outfit in a simple way, you can be styled a sweater vest into your men's outfit idea. If you want effortlessly up this outfit, just combine the vest with a green jacket and yellow collared shirt. To make it more look like geeky style, add a tie and linen pants. Give a casual accent to your footwear by choosing trainer shoes.
Swag Sweater Vest Style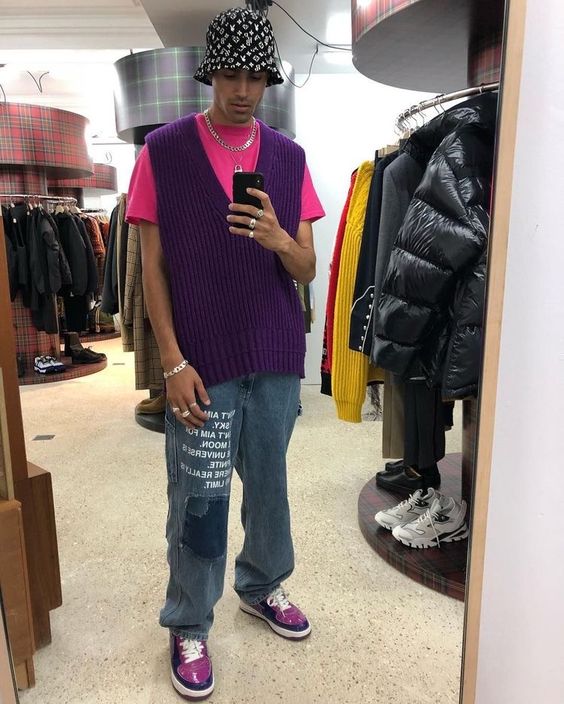 For hip hop style and swag with sweater vest outfit ideas, you can select a pink tee, purple sweater vest, and baggy jeans for creating it. Picking purple trainer shoes and bucket hats to get swag style. You can add some jewelry to spice this outfit up more fashionable.
Trendy Sweater Vest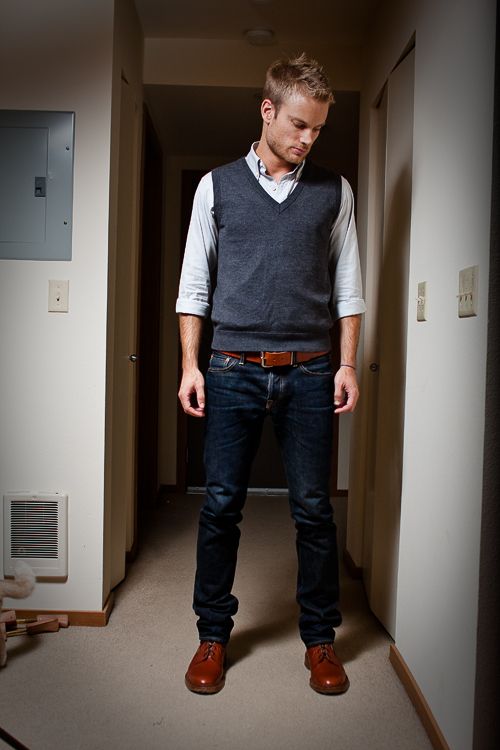 Consider bringing a sweater vest for a trendy look in your men's outfit style. For this, putting on the vest for layering over a collared shirt and straight jeans could be a simple instance. To get complete style, you should bring brown leather shoes and a leather belt into your outfit idea.
Colorful Daily Outfits with Sweater Vest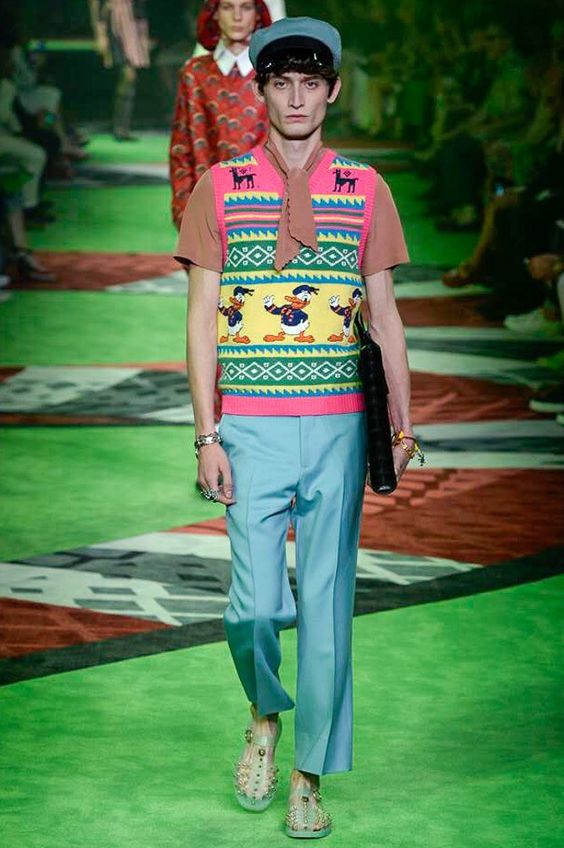 Wearing a vest in a Disney print like a Donald duck figure maybe look a little childish. However, this piece actually could bring a fashionable sweater vest style to your men's outfit. Pairing it with minty trousers, a light brown blouse, and green shoes could bring a colorful outfit.
Preppy Workwear with Sweater Vest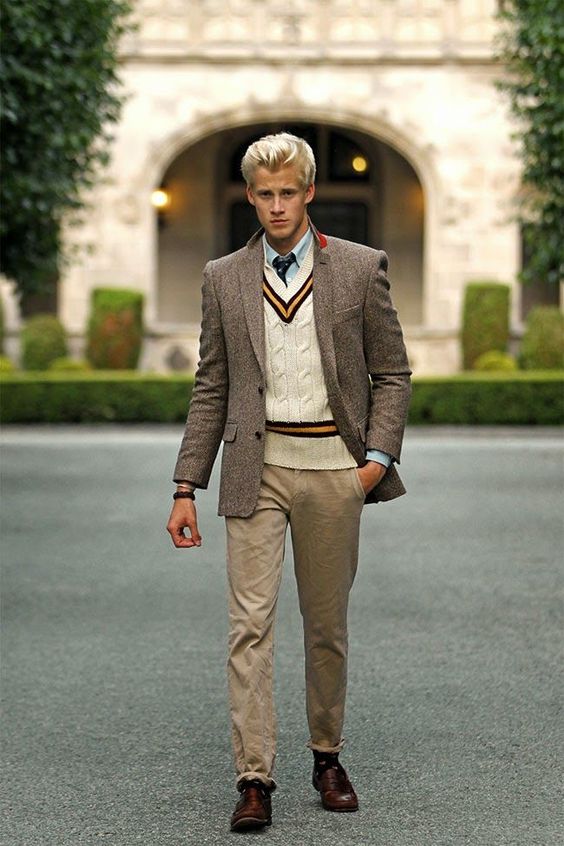 Wearing a sweater vest for a formal look in your preppy workwear style. Aside from it, this could give a fashionable statement to your office attire. Putting on a sweater vest together with a collared shirt, a blazer, a tie, and leather shoes make it enough to make you look elegant and professional at work.
Simple Bohemian Look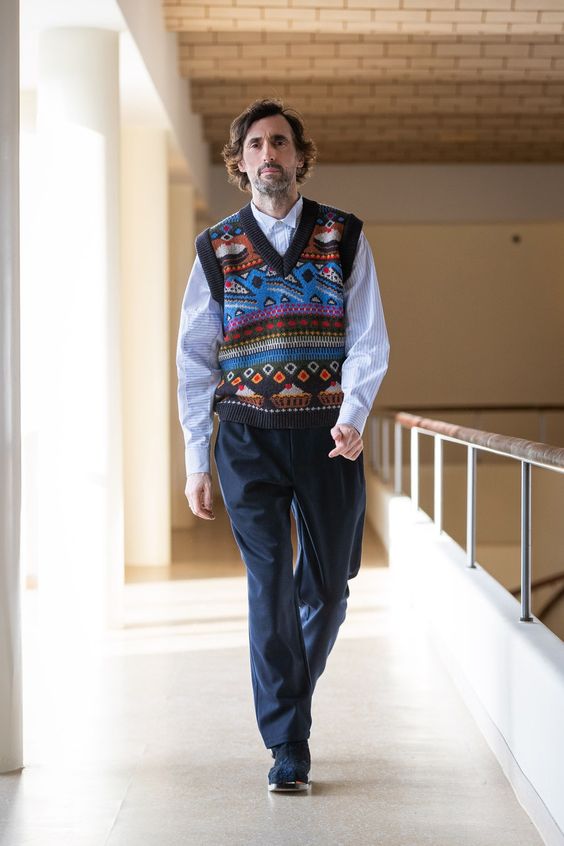 Getting boho patterns on your sweater vest could be the ensemble for simple and trendy bohemian style in men's outfit ideas. You just need to team this vest up with the long sleeve shirts and trousers. For the footwear, just bring loafers or leather shoes.
Sweater Vest for Street Style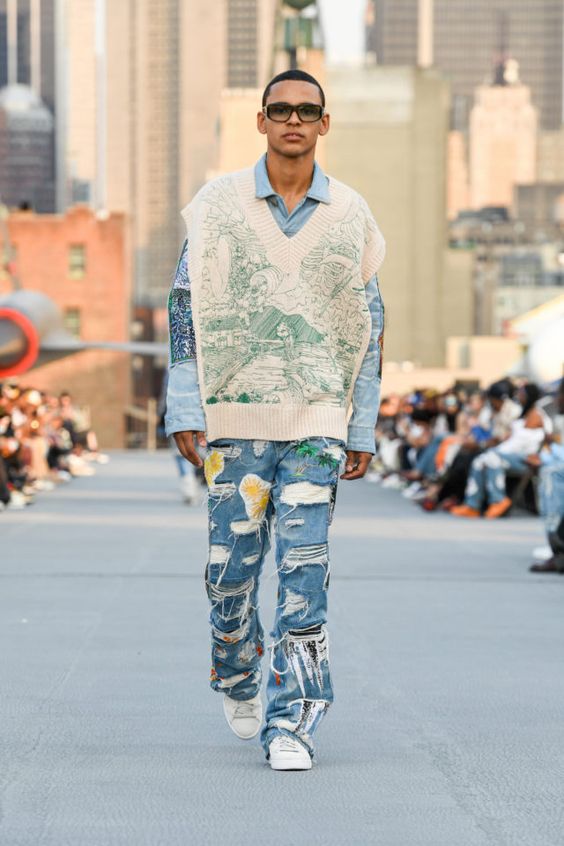 For the wow-worthy outfit in sweater vest style for men, prefer you wear a figure print sweater vest, ripped jeans, and a long-sleeve denim shirt. Then, a pair of white sneakers to amaze your street-style ensemble.
Classy Men's Outfit Ideas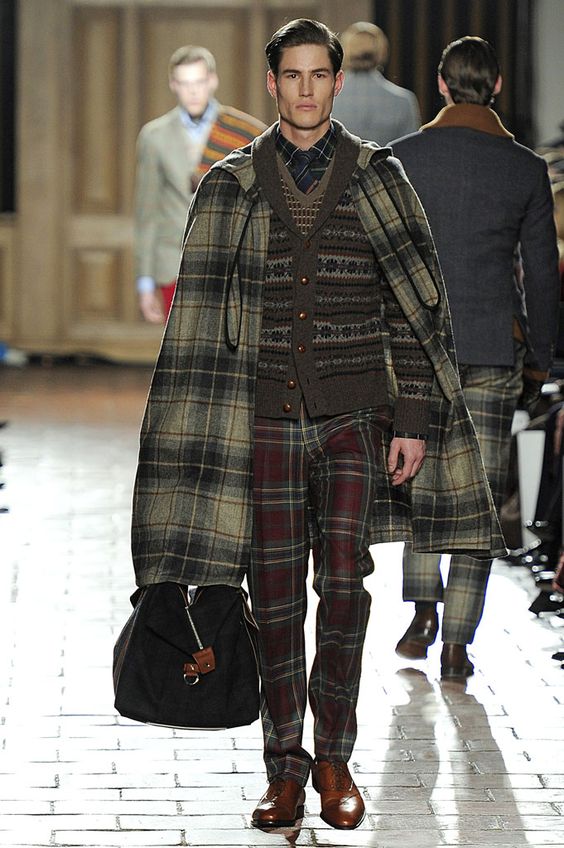 Because the sweater vest is an easy item to match up with other pieces, you can easily form a classy style from it. What you need to do is just combine it with plaid suits and make a layer under a blazer. Finishing off your classy style with a pair of leather shoes.
Sporty Look in Sweater Vest and Sweatpants
This pairing of knitted sweater vests with sweatpants could prove that a sweater vest is the most versatile garment. Those two pieces are really suited to combine together. For matching footwear, you can pair this outfit with trainers shoes to build a sporty style.
Modest Outfit Style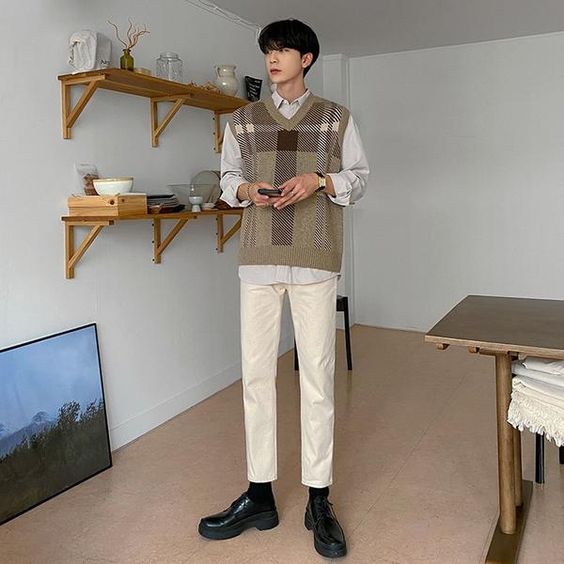 Another fashion for sweater vest outfits is preppy style. For modest style, you can come up with a long sleeve shirt, chinos, and leather shoes. Getting this sweater vest style more fashionable by having accessories such as a watch.
Bright Sweater Vest for Spring Outfits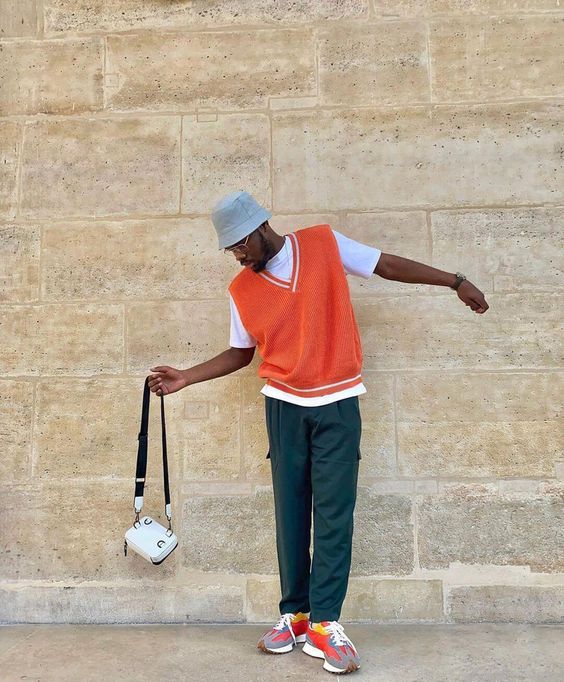 Looking for the best spring fashion ideas, an orange sweater vest could help you with this. Giving bright coloring into your men's style would present spring with your clothing. Mix and match it with a white t-shirt, green olive pants, and hot orange trainer shoes for a fashionable men's outfit. Finished your performance with a bucket hat and a waist bag.
How to Style Up Sweater Vest in Men's Daily Outfits
If you are bored with the common daily outfit style, you can change it more fashionable by having a sweater vest. Let's find out how to style this vest in a smart and modern way.
Rather than matching up with basic t-shirts, it would be better to combine your sweater vest with shirts. This would give you either a casual, formal, or smart look. For the casual style, you can roll up the sleeves.
When you layering this vest on your shirt, you can tuck it in or out of your pants. For tuck out the shirt, make sure that's the shirttail is not too long.
To dress up a sweater vest for formal style, choose a solid tie that's matching up your shirt and vest. Tuck the tie under your vest and leave the knot and a few inches of the tie to show.
If you like comfortable and warm outfits without feeling bulky, covering a sweater vest with men's coats or jackets could be the best idea. Besides that, this vest could be a fashionable layering style in winter outfit ideas.
Rather than loafers, leather shoes, or derby shoes, it would be better if you choose sneakers, boots, or trainer shoes for a casual style in your fashionable sweater vest outfit ideas.
For the bottoms, this vest would look good in any style of pants either trousers, jeans, or shorts. Don't be afraid to experiment with your ensembles. As long as you know what you want to wear, it would be easy to find your style.