Olidfashion.com – February has come with a lovely vibe. This is actually the best time to plan some romantic events with your mates, friends, family, or someone new. February 14 is Valentine's Day, the day that's full of love, romance, and sweet things. Because it's not just an ordinary day, for women being lovely with adorable valentine's day outfits is important. This actually would help them to look stunning and improve their confidence in front of someone special.
What to Wear for Valentine's Day Style to Look Adorable and Lovely
As we know Valentine is a special day for couples to show their love for each other. More sweet, romantic, and beautiful memories are created by couples on this occasion. They have planned for a romantic dinner in the hotels with their partners. Having a blind date with someone new, or just having fun with friends by watching a movie outside. For this, you need some lovely women's outfit ideas to support your adorable style on valentine's day. So, let's find out what you need to wear for attracting people's attention, especially for your partner.
Lace Dress for Adorable Outfit in Valentine's Day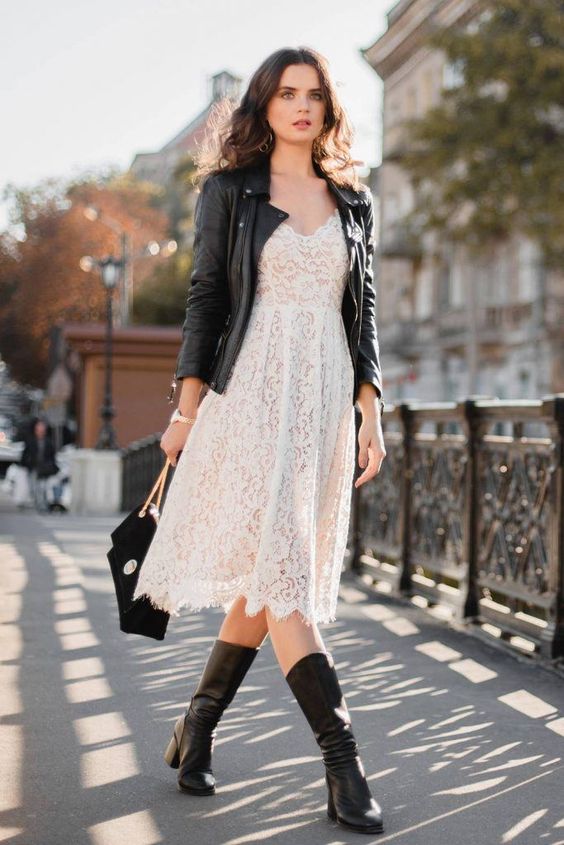 A lace dress is the best dress for presenting adorable outfit ideas for valentine's day. You can choose a nude lace mini dress for boho-chic style then pair it with a black leather jacket and knee boots for a little lovely style. Complete your look with a black suede mini bag to make this outfit ready for valentine's date.
Black Tops and Pink skirts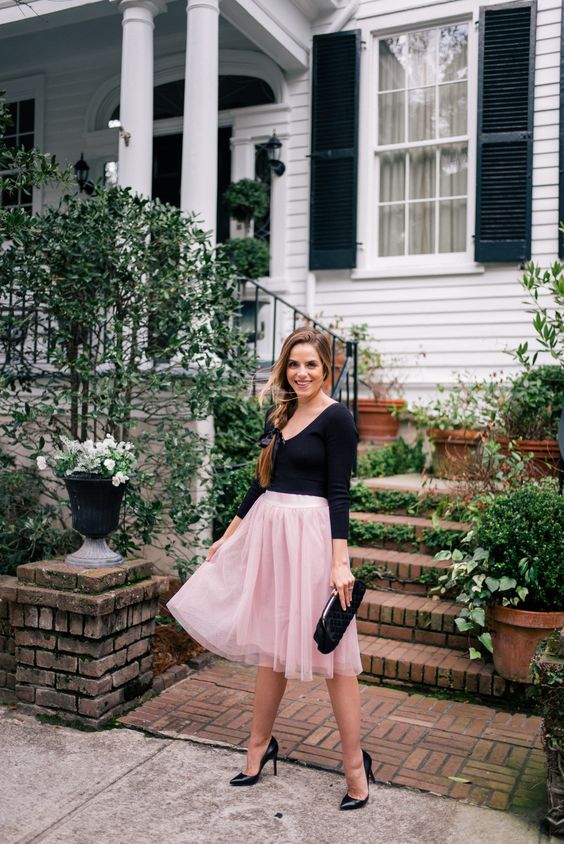 Have an adorable valentine's day outfit idea by wearing a long sleeve v neck black tee together with a pink chiffon skirt. The combination outfit would make you look lovely and elegant at the same time. To get fully dressed, you can pair this outfit with black stiletto heels and brig black clutch bag for a romantic dinner.
Pink and Red for Valentine's Day Outfits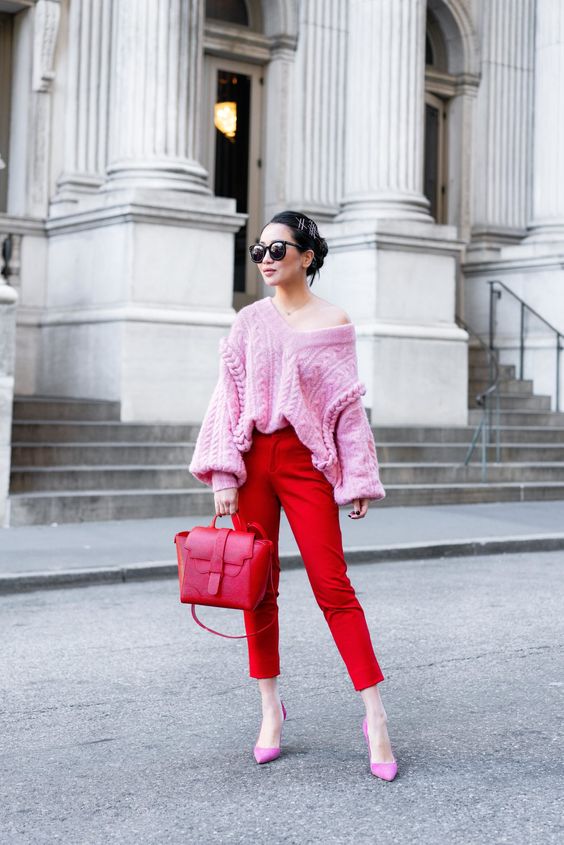 Pink and red ensembles are the best outfit to present an adorable valentine's day outfit for women. Because this valentine's come in winter, you can get dressed with pink knitwear for tops and red pants for bottoms. Accessorized with pink items such as a bright pink handbag and light pink high heels.
Give Statement in Red Boots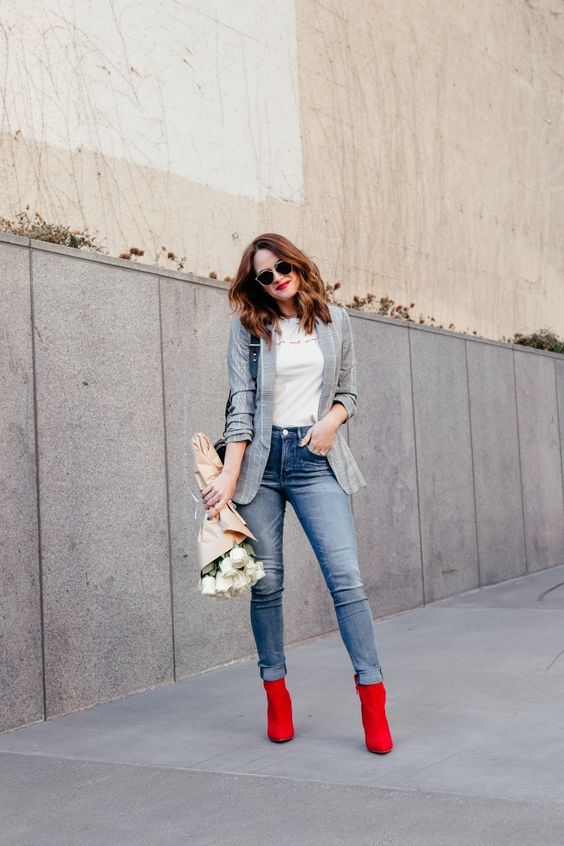 Give statement on your red boots to deliver valentine's day style in women's outfit ideas. You can match this a pair of boots with a white tee, blazer, and blue denim jeans. Make this boots outfit style perfect for valentine's date by having a sling bag.
Heart Pattern for Valentine's Embellish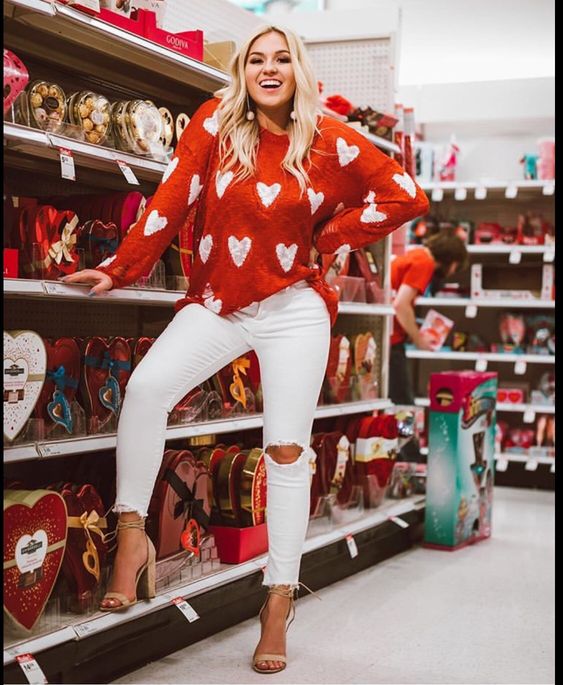 Getting heart patterns on your sweater may be one of the ways to create adorable valentines' day outfit ideas. Wear this sweater together with white ripped jeans to make a trendy style. Finished this outfit with high heels to astonish your performance.
Elegant Red Dress for Romantic Dinner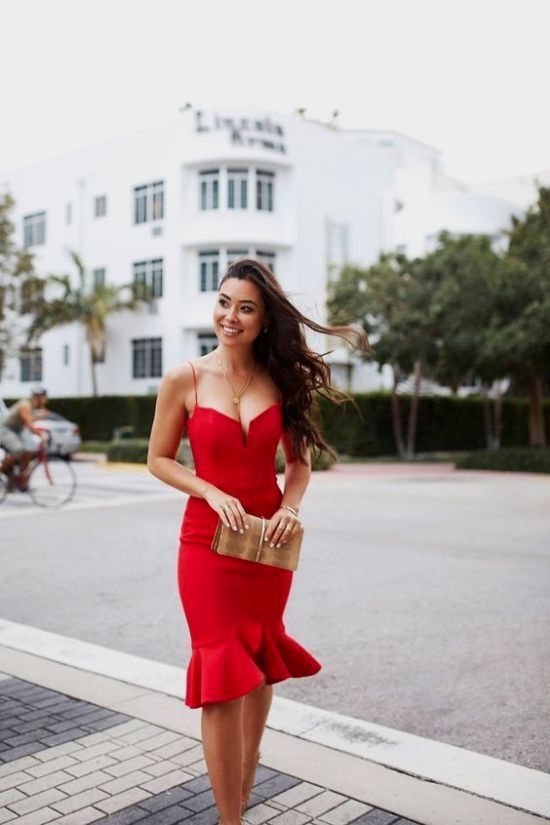 Dress up elegantly and sexy with a red strappy midi dress for your valentine's day outfit idea. Pair it with stiletto or high heels to make you look lovely in a stunning dress for your romantic dinner. Complete your outfit by having a gold clutch and some simple jewelry.
Fancy Look in Pink Ensembles on Valentine's Day
Stunning with the pink attire in valentine's day style. You can come up with the fancy style by having a floral dark pink long sleeve blouse, light pink pants, and a pink blazer also. Gett all over pink in your valentine's outfit ideas with pink high heels and a mini bag. To make your image fancier, give gold jewelry as for accessory like a big gold necklace.
Sexy Red Jumpsuit For Valentine Events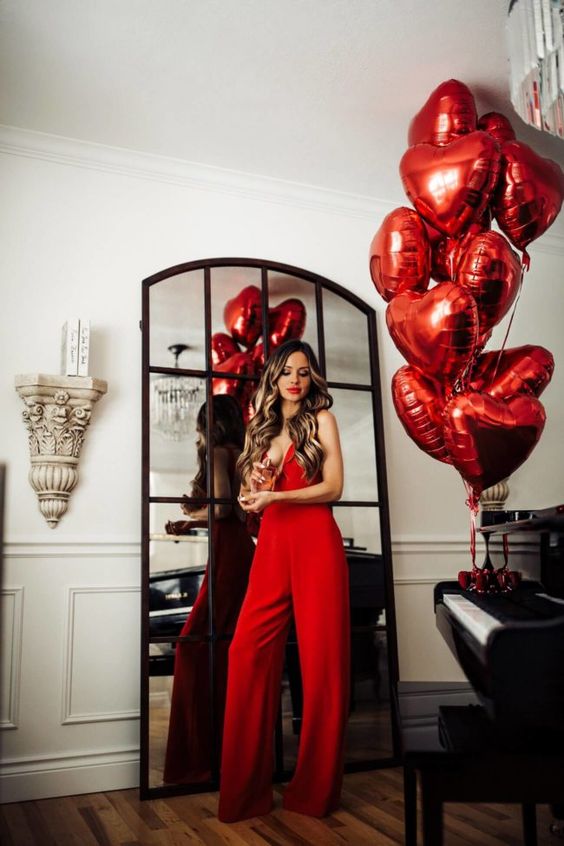 Besides pink, red attire is also the favorite to use in valentine's day outfit ideas for women. This color palette brings a hot and sexy look into your outfit. To get a hot and romantic night with your partner, a red backless jumpsuit could you try to wear. For matching footwear, high heels or wedges is the matching footwear. This is really simple but succeeds to make you look gorgeous in front of your soulmate.
Dress Up in Couple Outfit with Your Daughter
Being couple style with your daughter for valentine's day is also a great idea to celebrate it. You can wear the same outfit with your daughter and make it look lovely and adorable. For instance, you can get the outfit ideas like the picture above for adorable valentine's day outfits. The mom and daughter look really matching and fashionable with pretty pastel outfit ideas by mixing up light grey and pink ensembles.
 Big Heart Pattern on Knitwear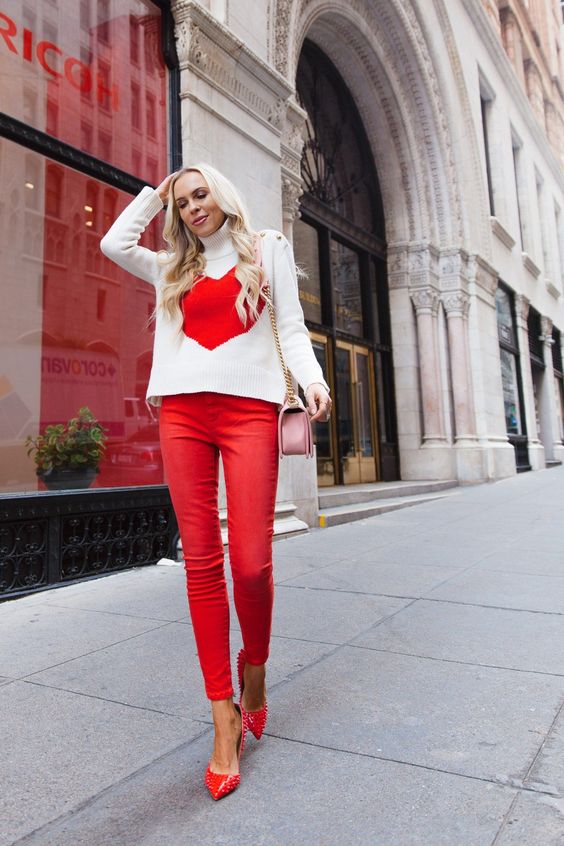 Big heart on your white turtleneck knitwear actually could show valentines to your outfit style. As usual, for a great matching style, you can get red skinny pants and high heels for the bottom style. Make it complete with full valentines' costume by having a pink mini bag.
Pink Tops and Mustard Yellow Pants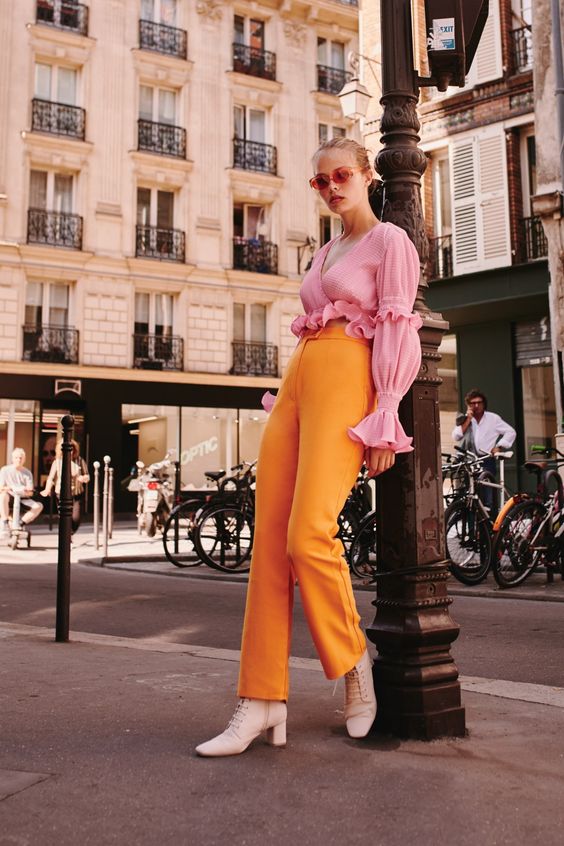 Besides red, a mustard yellow outfit can complete your valentine style. You can apply mustard yellow high pants with a pink long sleeve cropped top. Make this outfit more lovely for valentines' day by pairing it with pink heeled ankle boots. Don't miss out to give sweeteners with pink sunglasses as for the accessory.
Leather Outfits for Valentine's Day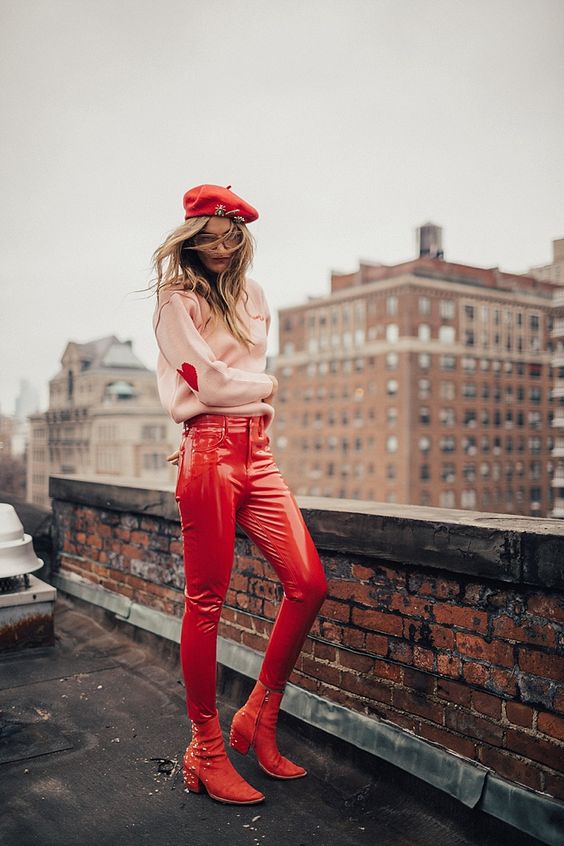 Dressing like candy with the pink and red colors in your valentine's outfit ideas. For a little sweet you can get a pink hoodie with a heart pattern on the sleeveless and give shine to your outfit with red leather pants for bottoms. Drive your women's outfit more chic and trendy with red heeled ankle boots and beret hats.
Red Suits for Dating After Work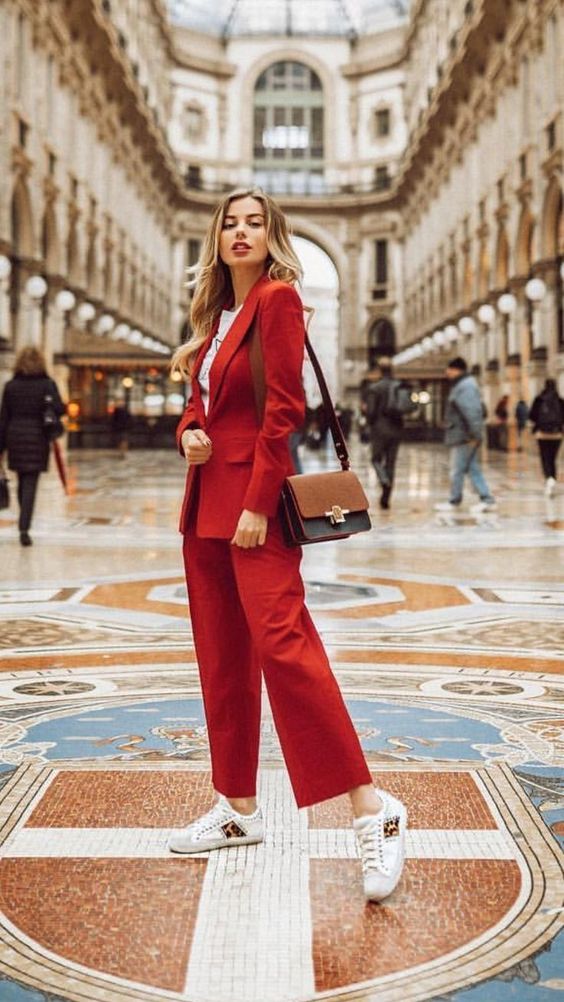 Having a valentine's date with your boyfriend after work, just put on red suits with white sneakers. With the blazer style, make this ensemble is good to use as a work outfit in the office. Then, when you pair it with sneakers and casual tees make it look good for hanging out after work with your partner.
Cheerful Valentine's Outfit Ideas
Magenta high waist skirt and off-shoulder pink blouse is a great valentine's day outfit to wear on your romantic date. Put on a cheerful accessory such as pom-poms earrings on your ensemble and beige heels for a chic valentine's outfit. Perfect your overlook with a pink sling bag.
Simple Valentine Style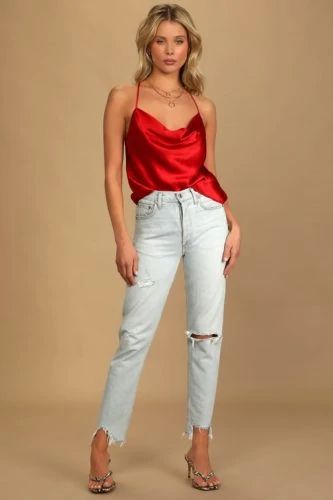 Dressy trendy and elegant with simple way by wearing a sleeveless red silk top and tuck it in ripped jeans. After that, you should match it with heels for a stunning look. You can also add some gold jewelry to give final touch on lovely women's outfit ideas for valentine's day.
Lovely Valentine's Style with Peach Skirt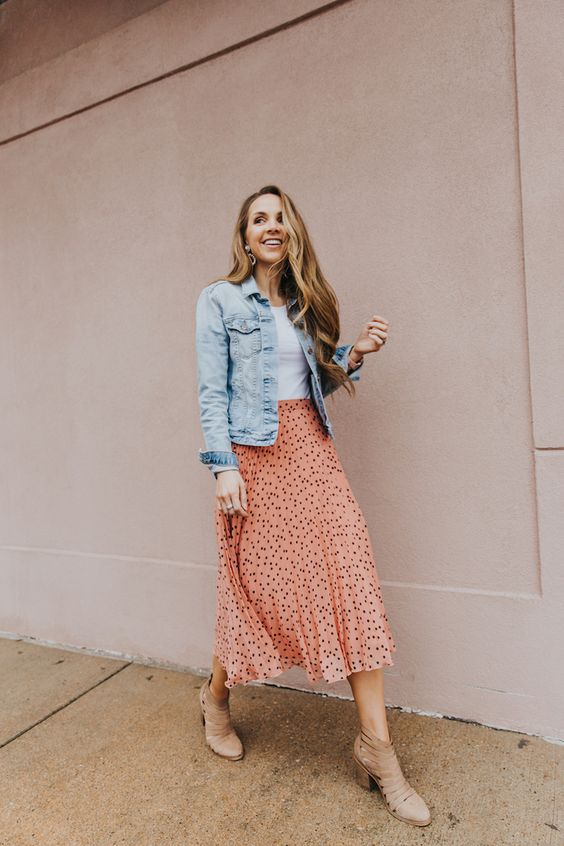 Give your black mini polka dot peach midi skirt an opportunity to make you lovely in a valentines' day outfit. For a modest way, you can mix up with a white plain tee and blue denim jacket. For footwear, gladiator heels may be the perfect choice to help you get a gorgeous look.
First Date Outfit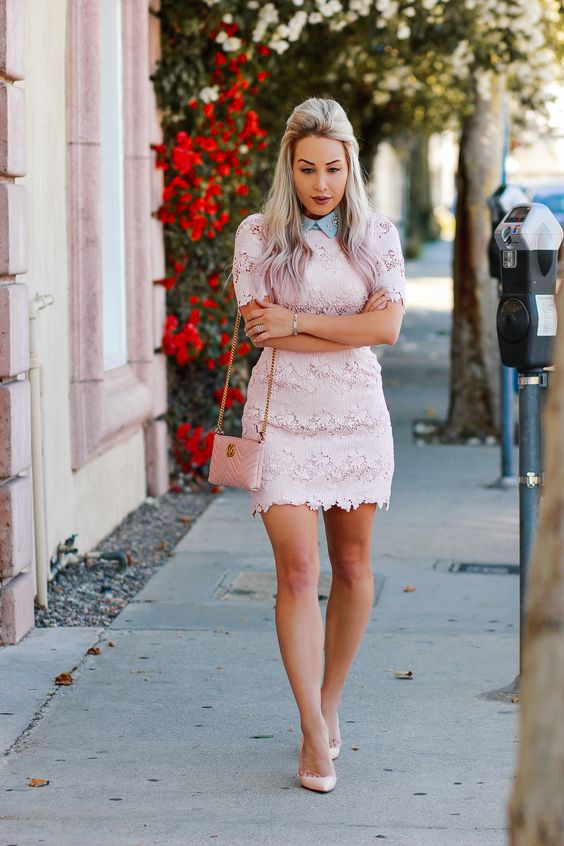 Valentine's day is the best opportunity for you to meet someone new and create a beautiful story with him. Make this chance even higher with adorable outfit ideas for valentine's day like a collared lace mini dress. You can also select pink for your outfit for delivering valentine's atmosphere. Get all ensembles by adding a pink mini sling bag and pink high heels. This outfit would make you being lovely enough.
Chic Outfits for Valentine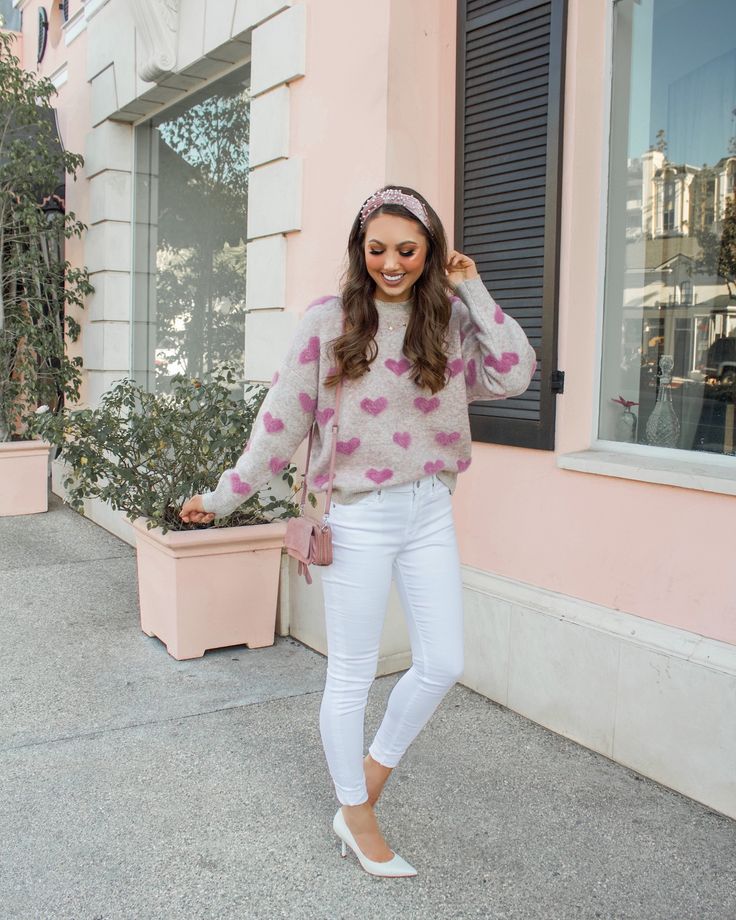 Maybe heart prints on your attire are the favorite embellish to produce valentine's day outfit style. This is would successful to support an adorable ensemble to wear on your valentine's date or hanging out watching a movie if you match it with white pants and short heels. Matching it with your handbag by selecting pink as the palette color. Don't forget for styling your make-up and hair that's would make your performance look chic.
Beautiful Outfit with Red Pants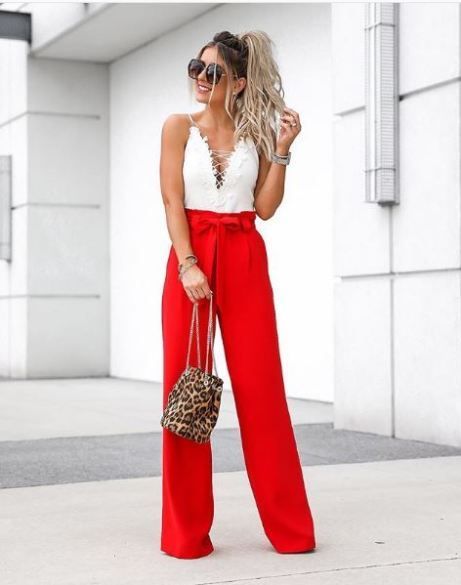 Rock on your red waist pants for tucking a sleeveless top with a v neckline. This outfit look give you a sexy and beautiful valentine's day style. Matching this ensemble with wedges or heels, a leopard tote bag, and some jewelry is clearly could be stood up for your performance on a special day.
Modest in Red Dress for Valentine's Day
Appearing with calm and elegant style in a long-sleeve red midi dress. Make it dramatically with bell sleeves. This outfit would complete if you pair it with pink high heels with ribbon embellish. Get fully dressed to attend a romantic dinner with your partner by bringing a pink sling bag in your hand.
Glamour with Red Pink Ensembles
Going to a pub or having a valentines party with your friends and partner with the glamorous look by having one shoulder pink blouse with ribbon trims that match with red high waist pants. Bringing red stiletto heels would make you have a sexy image. Making this outfit more lovely and classy with a red round bag.
Disneyland Style for Valentine's Date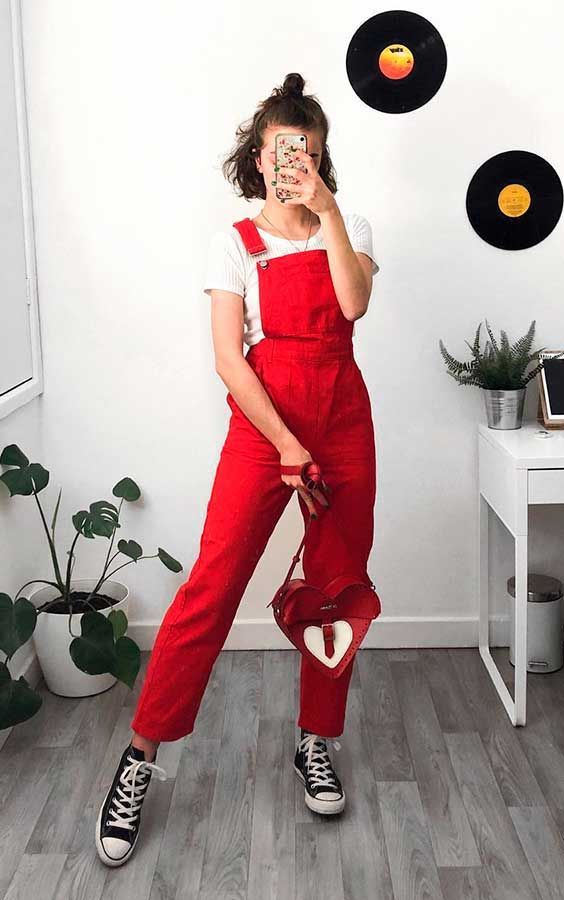 Ready for having a date in Disneyland with this chic outfit idea. Choosing a red denim jumpsuit and a short sleeve tee underneath would bring a youthful and adorable style to your valentine's day outfit. You can bring this outfit more fashionable by completing sith sneakers and a heart mini bag.
Valentine in Winter Style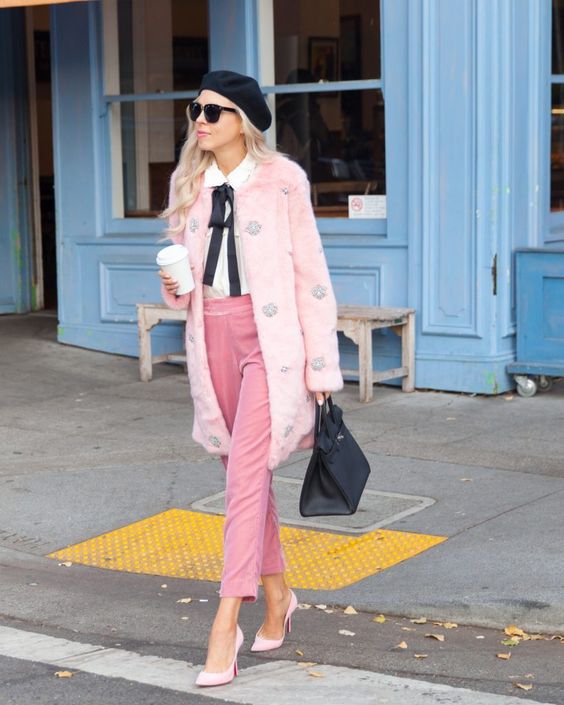 Valentine's day comes concurrently with the winter season. That's why bringing a valentine vibe like pink colors in winter actually a good idea. For instance, you can put on a collared shirt with a black ribbon tie under your stylish winter coat like a pink fur coat. For the bottoms, you can pick pink pants and then matching with pink high heels. To make it look adorable, you can give another detail such as a black beret hat and a handbag to your valentine's outfit ideas.
Pretty Valentine's with Red and Black Outfit Combination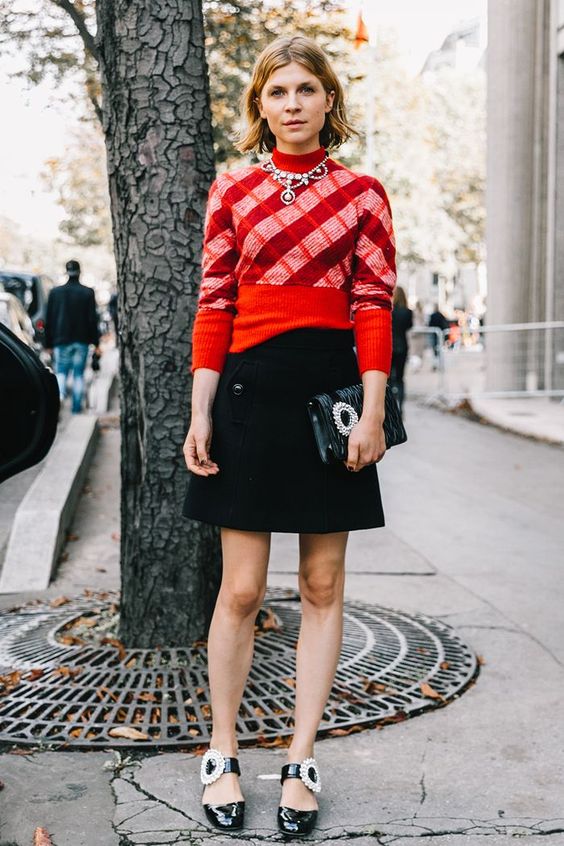 Red and black ensembles are the best combo to pretty valentine's day outfits for women. You can try to get modest style by having a red half turtleneck and a black pencil mini skirt. Choosing a plaid pattern for your top could also present a vintage clothing style. Better you pick flat shoes with silver embellish for matching footwear, also bring a black clutch bag. Then, to amaze your appearance more just wear a silver necklace over your turtleneck.
Adorable Valentine's Outfit for Big Women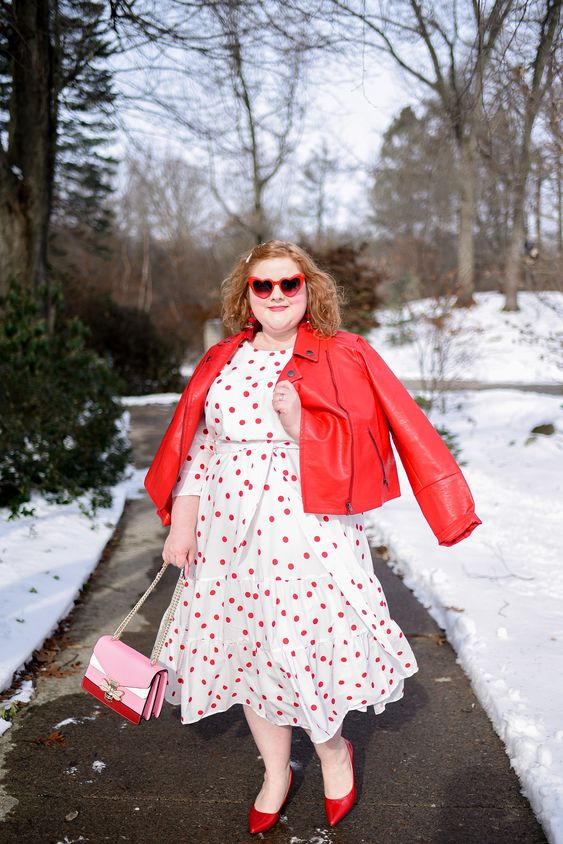 For you who have a big body, wear a red polka dot white dress and then layer it with a red leather jacket would be an option for lovely valentine's day outfit ideas. Getting it more pretty with the red high heels and pink handbag.
Ruffle Chiffon Skirt for Lovely Valentine's Outfits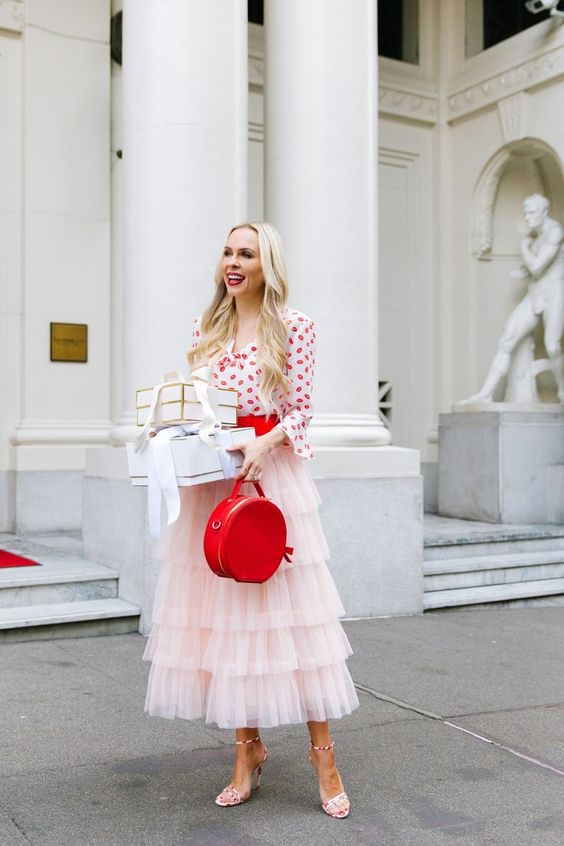 A pink ruffle skirt never fails to drive adorable valentine's day outfits for women. The dramatic ruffle in chiffon skirt and then a lovely blouse make it beautiful to wear on valentine's day. For completing your pretty overlook, you can add red polka dot stiletto heels.
Countryside Style for Valentine's Day Outfit Ideas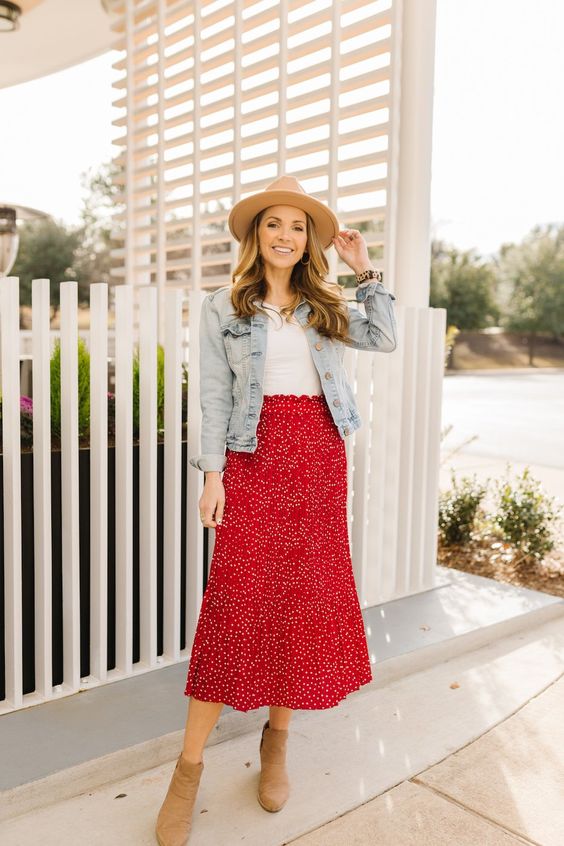 Try to give something different in your valentine's day ensemble with a cowgirl outfit style. Having a little countryside accent on your outfit would bring something unique and eccentric. Don't be skeptical about a cowboy hat for your valentine's day style. This item truly would look lovely if you mix and match it with a red pleated skirt, a white top, and a denim jacket. Finalize your valentine's day outfit idea by giving ankle boots as your fashionable footwear.
Conclusion
Anything that you wear for lovely valentine's day, not all are about new outfits. You can still mix and match some pieces in your wardrobe and make it look fashionable. Red and pink ensembles are the main figure in your women's outfit ideas to produce adorable and lovely styles for valentine's day. Besides that, because valentine's day in some countries comes with the winter, it would be better if you dress up comfortably. You can get layered style, using knitwear, or others. Just be yourself and adjust your outfit confidently. Good luck guys.