Olidfashion.com – You are looking for something casual but stylish to wear daily? You may have to learn how to mix and match your clothes to achieve a fashionable day-to-day look. Even if you girls wanted to wear jeans, shirts, t-shirts, or jackets all the time, they wouldn't be boring. As long as you find the trick to rewear your outfits, you'll new sophisticated style with the same clothes. Today we're going to show you some chic casual outfits that will inspire you to create easy and simple everyday looks.
You may meet difficulties in determining your daily lookbook. While jeans, t-shirts, cargo, sweaters, and sweatpants, as we all know, have appeared too sporty and casual. Although, you want to still wear them because they feel comfortable and versatile. What's the solution? Just find out casual chic outfit inspirations on the internet or Pinterest. This would help to recreate your casual pieces to become chicer and more sophisticated. And to make it easy for you, we've compiled our favorite chic casual outfit ideas down below. So, let's check them out!!!
25 Casual Chic Outfit Ideas for Easy and Simple Daily Lookbook
1. Work with Tunic and Jeans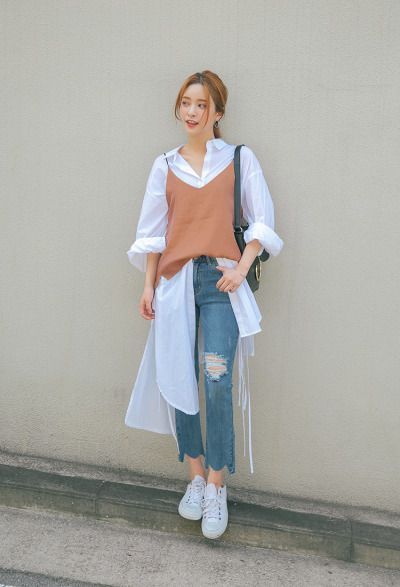 We've favored this versatile tunic and jeans to apply in your chic casual outfit style. They're easy basic pieces that you should add to your wardrobe. Because you can create a dozen of fashion look just from this ensemble. For instance, this outfit idea. Simply combine your white tunic/shirt dress with ripped jeans, and then get a tank top for the top's outer layer to achieve a chicer look. Furthermore, grab your sneakers to have a more casual look in your outfit performance. For the bags, you can choose a shoulder bag or tote bag to carry your important things. If you want, add some fashion accessories. This outfit idea can be your inspiration for hanging out or going back to school outfits.
2. Skirt Style with Blazer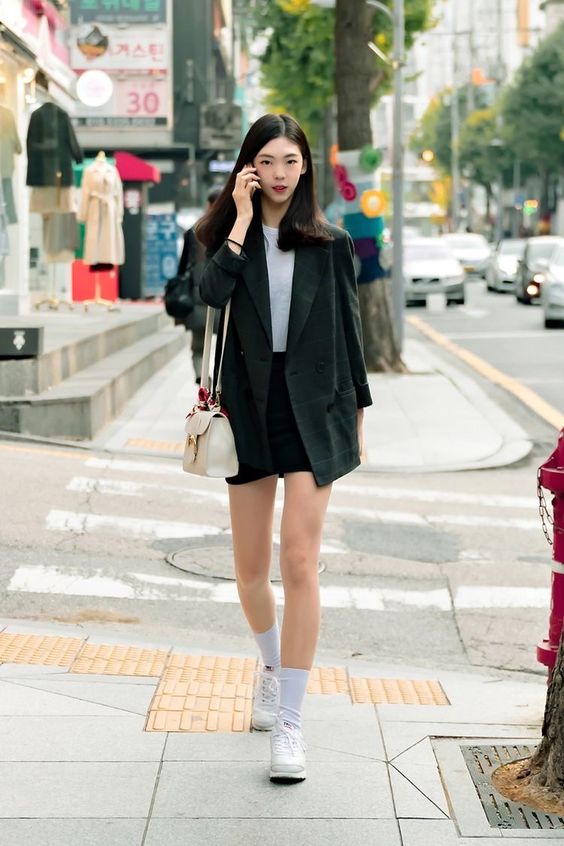 Next, we chose this blazer look. This piece would elevate your casual outfits to a higher level of chicness. Even if you only wear a basic t-shirt and a mini skirt, a blazer will add a sophisticated touch. This piece is also appropriate to wear for any place or occasion. If you want to make it a little more formal for a work outfit, pair it with loafers or pump heels. Furthermore, if you want casual chic outfit inspiration, better you bring socks and sneakers for the footwear. Then, perfect your appearance by getting a sling bag or shoulder bag.
3. Cute Maxi Dress and Cardigan for Spring Look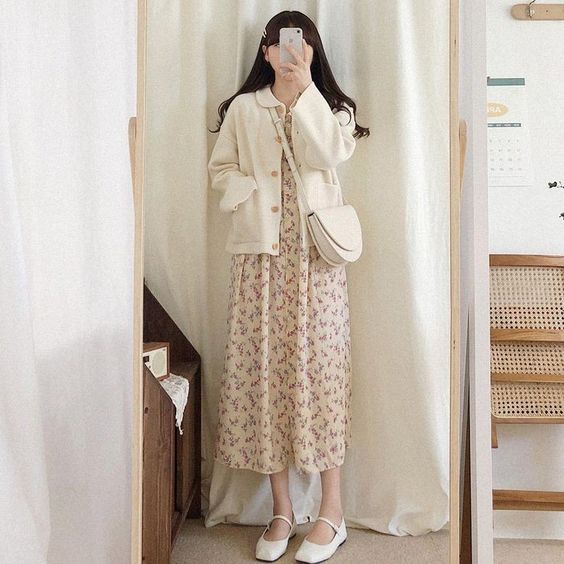 Looking for a chic casual outfit that includes a maxi dress? Try this spring outfit idea that involves a pastel floral maxi dress with a collared cardigan. I believe this style would be more appropriate for you if you enjoy feminine and girly performances. You'll look chicer and cuter, especially if you get a pair of mary jane shoes. In addition, if you use this style as your pretty first date outfit, it will catch your partner's attention. Then, wear a saddle bag on your shoulder and also cute hairpins as hairstyle accessories to perfect your overlook.
4. Biker Shorts and Blazer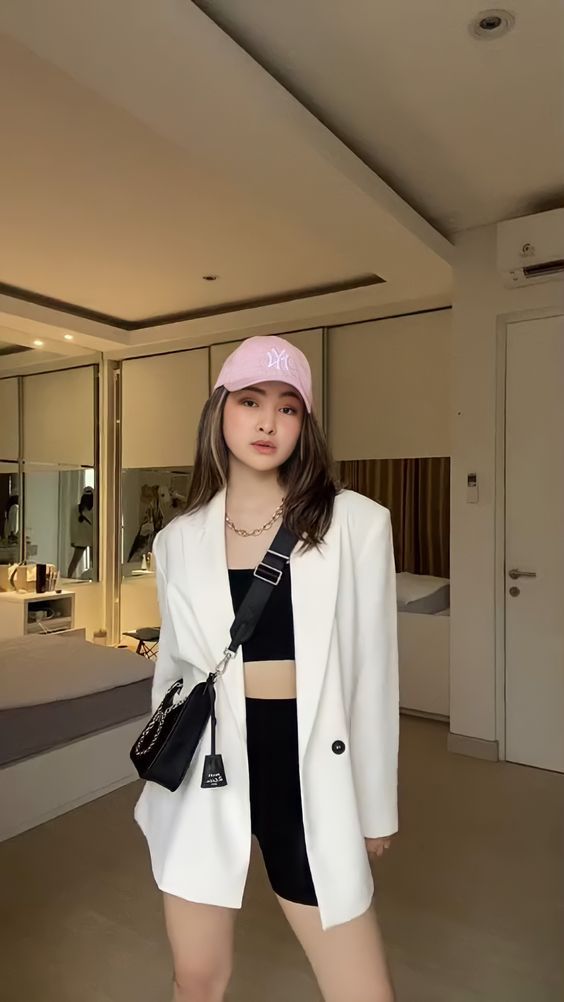 You can create a chic casual outfit look by cooperating with biker shorts, a sports bra, and a blazer. I think it's easy and simple to become your daily style. And if you want to wear it for hanging out or just staying out at the cafe, you can play with your accessories items and shoes. For inspiration, you can try to add a cap and sneakers or Skechers for matching shoes. For the bag, opt a shoulder bag, sling bag, or waist bag. You can add more chic style by wearing simple jewelry and getting sunglasses.
5. Summer Tank Top and Pants for Lay-back Outfit Idea
Another chic casual outfit that we have is this tank top and trousers combo. Pairing formal linen pants with a summer tank top has elevated your daily look to a more attractive and chicer. Add more details by getting accessories items like a bucket hat or cap and a simple woman's watch. For the toe, you can bring out Crogs shoes, slip on, or sandals to have a lay-back style. Just wear this summer outfit idea to walking around the city. If you don't want too exposed, you can wear a light cardigan for layering.
6. Layer Up with Corset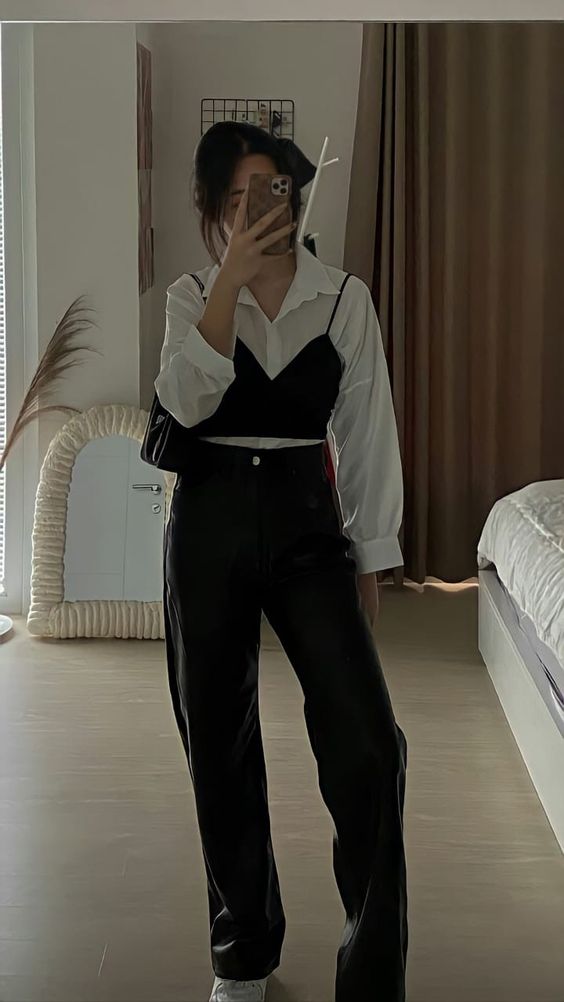 Come to this outfit idea if you want to have street style with something attractive and chic. This chic casual outfit inspiration presents a sophisticated style. What you need to involve is just a basic white shirt that you tuck in wide jeans, then layer with a corset top. You can play more with other pieces like getting white sneakers for the shoes. Furthermore, pick a shoulder bag to save your belongings. If you want to look chicer, do a messy bun or high ponytail that boosts your teen's style.
7. Knitted Cardigan and Tank Top to Look Girly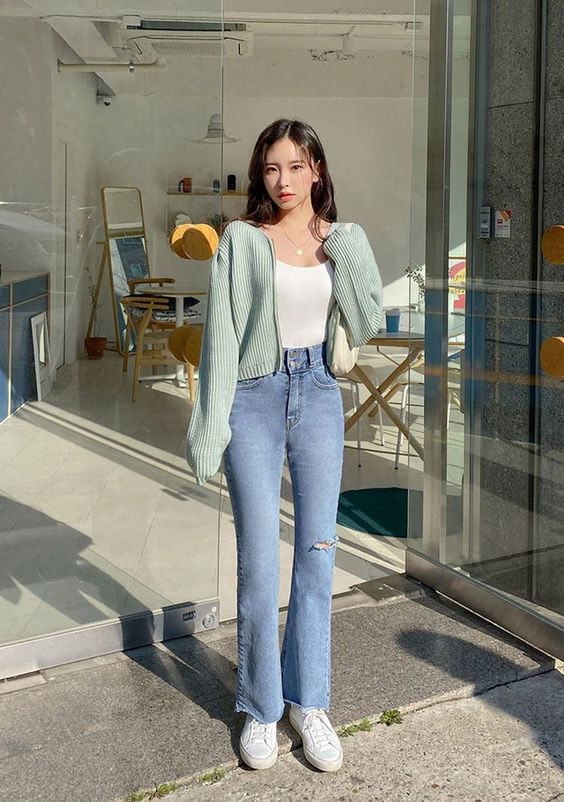 And now, let's create a simple chic casual outfit idea. For girls who like a feminine look in jeans, you can combine them with a tank top and knitted cardigan. Opt for high waist jeans that are slightly wider at the ankle and obtain pastel colors like pink or mint on your outfits. For the shoes, you can wear sneakers or trainers that help you feel comfortable yet fashionable. Shoulder bags or tote bags are kinds of great options. Also, match your outfit style with some accessories.
8. Basic T-shirt and Long Slit Skirt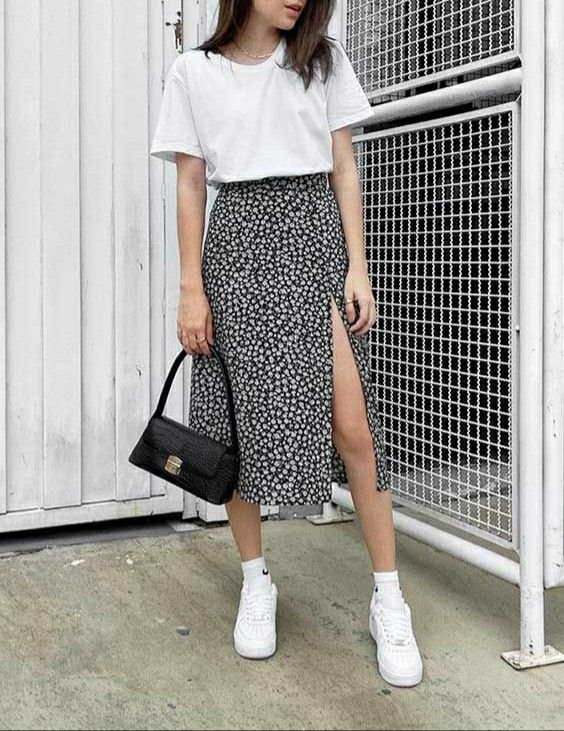 Another chic casual outfit for a girly look is a combining t-shirt with a midi skirt. However, if you select a long-slit skirt, rather than a regular skirt, it would make this casual style look chicer. I believe you'll like this one because it's easy and simple to create for daily style. Then you can match it with your shoes and footwear. There are many options for you, like when you want to have casual chic better wear sneakers. But if you want something that girly, opt to get ankle boots or wedges. Next, come to the bags, you can pick a shoulder bag or tote to elevate your outfit style.
9. Short Sleeve Tee and Ripped Ankle Jeans
We'd never get sick of this style, what else if not a basic ensemble for everyday looks? This simple solid tee tucks on your various jeans from the high waist, and wide leg, to ripped jeans. If you want to create a chic casual outfit from those pieces, you can try to combine a short sleeve t-shirt with ankle-ripped jeans. Then, accessorize this look with a belt. I think this style would be suited for boyish outfit style, especially when you bring a mini backpack on your back. For the footwear, of course, sneakers and trainers would look better to match this outfit idea.
10. Mix Pleated Midi Skirt with Blazer for work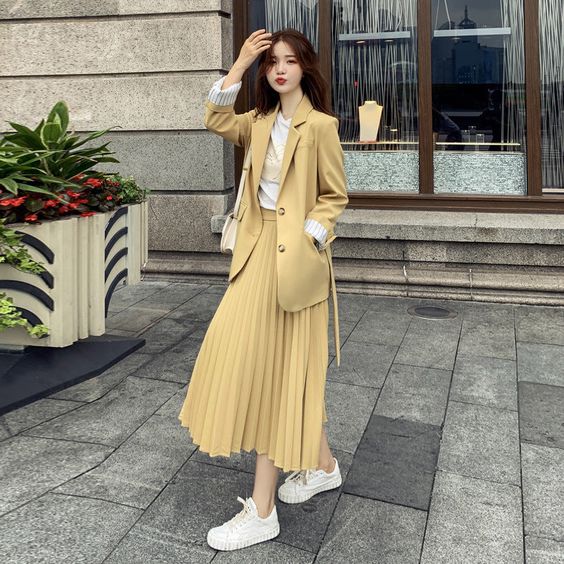 Girls who search for work outfit ideas that are simple but stylish, this chic casual outfit can be chosen. For this, simply mix and match your pl midi skirt with a blazer and t-shirt for the inner top. You may think it's simple and easy, but it actually gives you a more professional appearance. If you need to work outside or do a lot of moving around, you can opt to wear sneakers. Aside from making you feel more at ease and free to move, getting sneakers will provide you with a chic performance. But if you want girly or feminine performance, pick high heels or loafers. Then, pair your outfit with a handbag or sling bag. With this chic casual ensemble, you can also use it for hangouts after work.
11. Bring Retro into Your Daily Style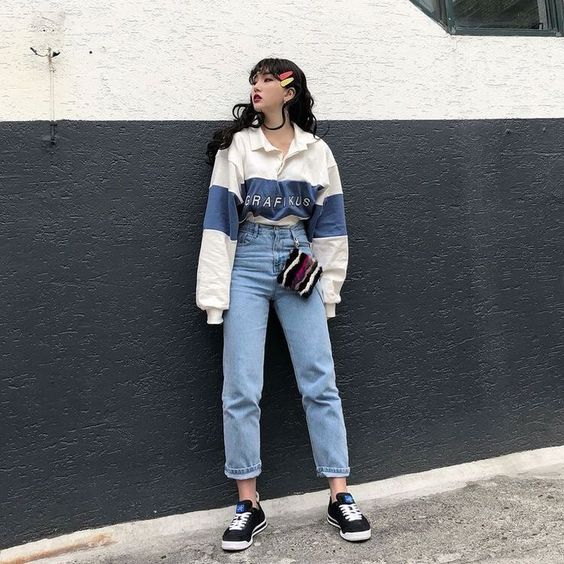 We're adoring retro outfit style, 90's look, and vintage ensembles that look chic for daily rotation. The style is a bit old, but that's what makes it attractive. To create this outfit look, you can try to match up high waist jeans with an oversized collared sweater. Then, pair your outfit with sneakers for comfortable footwear. Finilize your outfit performance by doing a naturally curly or high ponytail. If you can, add accessories items like cute hairpins when you decide to let your hair down. For bags, you can use a crochet wristlet to look chicer.
12. Overall Outfit Style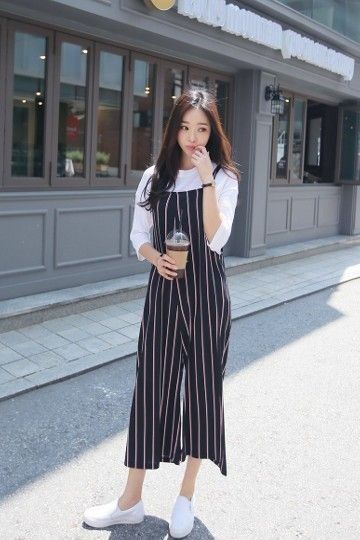 Consider adding overalls to your wardrobe for easy and simple everyday looks. In addition to providing stylish outfit ideas, this piece is an option if you do not want to mix and match your top and bottom styles. There are also various types of overalls from denim shorts jumpsuits, and skirts, to linen overalls that can you wear for daily rotation. You can also match this piece with t-shirts, tank tops, or sweaters according to the season. For instance, you can mix a linen overall with a light t-shirt for the inner, and get sneakers or slip-on for the footwear during summer. Also, don't forget to add some accessories such as a simple watch or jewelry. For the bag, you can choose a tote to elevate a chic casual outfit style.
13. Mix and Match Your T-shirt with Culottes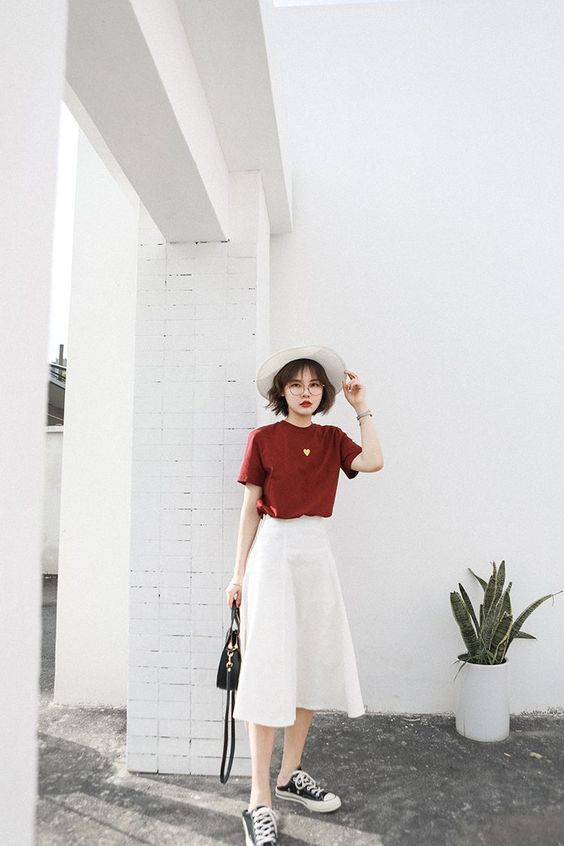 Need an outfit that can be easily worn for traveling style? Why don't you get this chic casual outfit idea in a t-shirt and culottes combo? Because you don't have much time to dress up when you go traveling and journeying, you need something simple and easy to wear. Particularly if you paid for a tourist guide. They usually set a schedule, which you must follow to. That is why you should pack outfits that are simple but stylish. So, with these culottes and t-shirts, you'll get a dozen of fashionable looks. What you need to do is just play with accessories and shoes. If you want something that looks casual, bring sneakers or sandals for the footwear. Then, get some accessories such as a bucket hat, sunglasses to protect you from UV light outdoor, and other fashion jewelry. Finish out your outfit idea by choosing a backpack, tote bag, or handbag.
14. Cute in Baby Doll Dress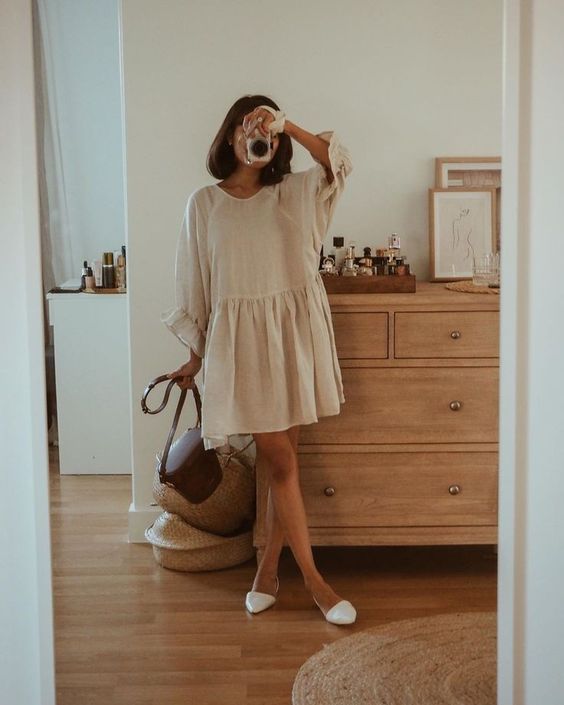 Who doesn't like to look chic even in casual outfit ideas? To get this we've prepared a baby doll dress that looks chic and modest. To enhance your easy and simple dress, get a pair of white loafers, Mary jane, or ballet flats for chic matching footwear. You can also add a cowboy hat and knee-high boots if you want to create a cowgirl outfit style from this dress. If you want to wear it for walking around the garden, you can grab a floppy hat and rattan hobo bag for accessories. So, what's you want to mix up and create chic casual outfits using this dress?
15. Wear Sportswear in a Casual Hang-Out Style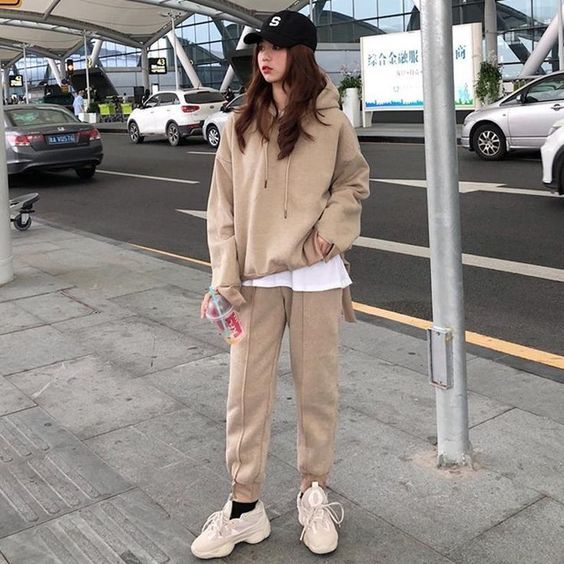 Sportswear, which consists of a hoodie and sweatpants, is a casual outfit that can be worn for a sporty look as well as stylish hang-out outfits. If you want to present this ensemble to become a hang-out outfit look, mix and match it with trainers or sneakers. In addition, you can also add accessories such as a cap that make you look chicer. When you wear it during the cold season, make sure you get more layering by using a T-shirt for the inner, or a coat for the outer.
16. Denim Skirt for Back to School Outfit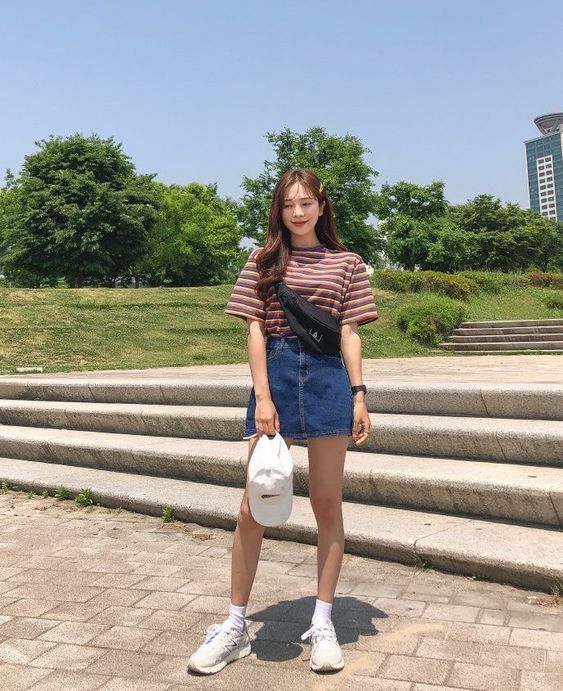 After a long break, it is time to return to school. So, you may need a fashionable and eye-catching outfit. We suggest you get this chic casual outfit with a denim skirt for your everyday looks. Just mix and match it with another ensemble in your wardrobes such as stripped tee, tank top, and cardigan, or combine it with a shirt. Then, finalize your back-to-school outfit idea by adding accessories such as a cap, fashion jewelry, and others. For the footwear, get a pair of socks and pick trainers or sneakers. To have a chicer style, rather than pick a backpack you may choose a waist bag.
17. See Through Dress for Chic Summer
When you see this style, you'll find a unique summer outfit that combines a summer dress with a casual ensemble. This is for you who need a comfortable outfit to move in girly looks. Wear on a long sleeve tee with skinny jeans then layer it up with a transparent lace dress. For the shoes, you can opt white sneakers or trainers for chic comfy footwear. Then, complete your outfit performance by picking a wristlet bag to carry your belongings. Another tip is you can do a messy bun or high ponytail that you'd make your performance prettier.
18. Knitted Tank Top and Blazer Shorts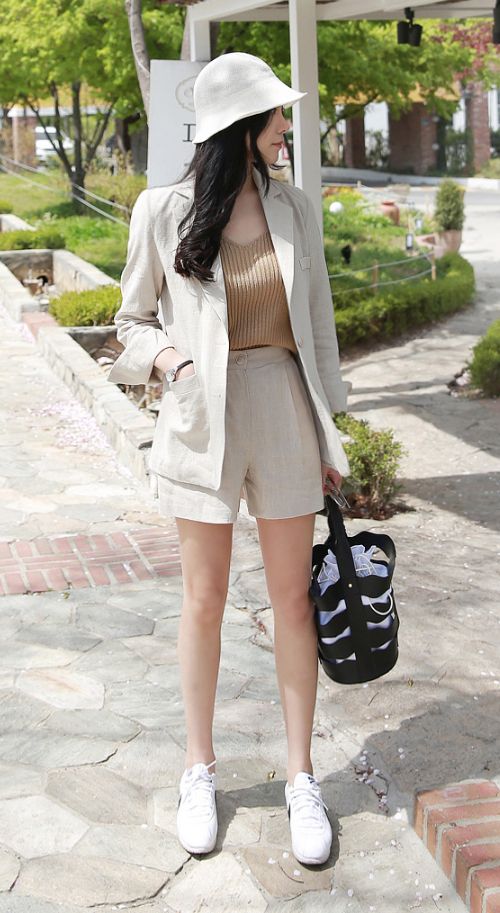 Some of the chic casual outfit ideas that we've talked about above include a blazer style. And now, we'll share another blazer look to copy on. I know you'll look at it as simple and ordinary, but when paired with other outfits, you won't be sorry. Like this short blazer set that you combine with a knitted tank top for the inner. You can also add a bucket hat or cap to your fashion accessories. Then to level up your outfits bring sneakers for the footwear. Furthermore, you can bring a tote bag in your hand to help carry your important things. wear this outfit idea for going on vacation or just walking near the city with your friends.
19. Legging Style for Sporty Outfit Idea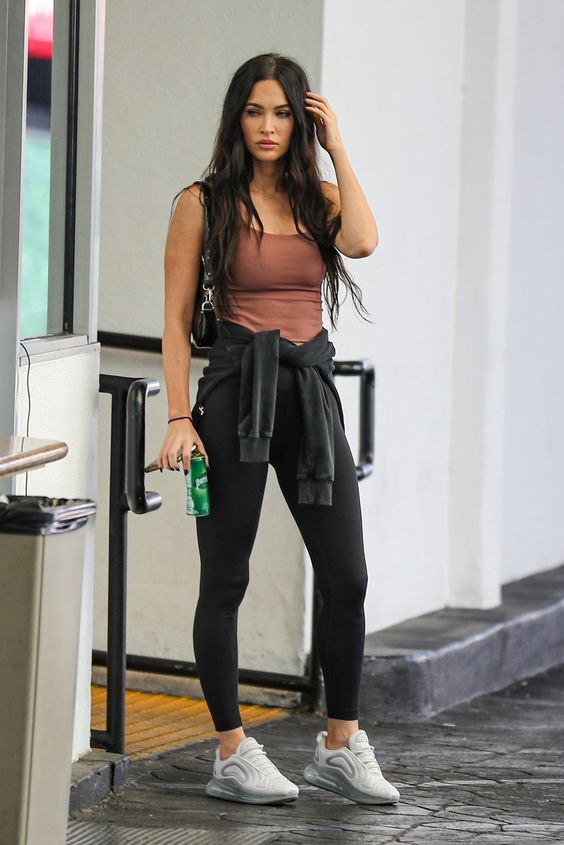 Choosing outfits for everyday wear can be difficult. Actually, you can make a dozen different outfits out of a single piece of fabric. Leggings, for example, can be recreated as sporty outfits, chic casual outfits, or bottom layers. Then, right now, we have one leggings style that is easy to wear in everyday looks. For summer outfits, simply pair leggings or tights with a tank top. You can also wear this outfit to the gym and workout style. Finish off this look by wearing it with sporty shoes or trainers. Then, if you intend to relax in a cafe after the gym, prefer to wear a zipper hoodie. For the bag, you can use a duffel bag in the gym style or a simple shoulder bag for going out.
20. Modest Fashion with Shirt Dress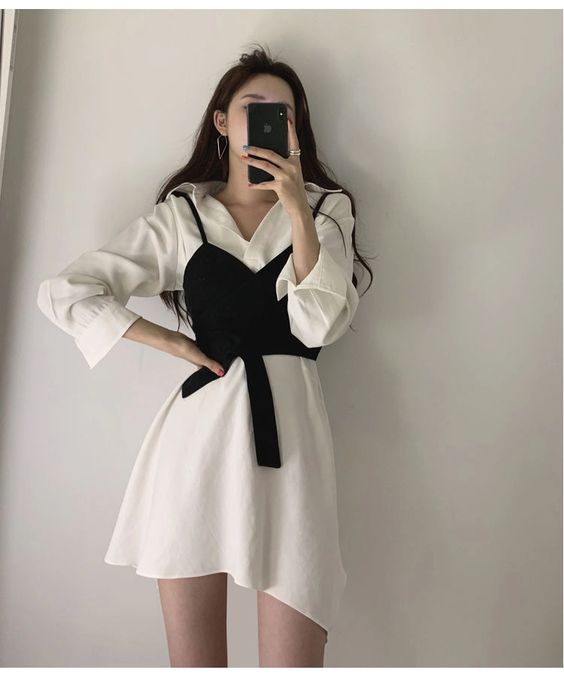 You can wear this white shirt dress to a special occasion or as a girl's night out outfit. Choose a corset or cropped festering for the chic casual outfit style. Then, for accessories, pick a simple, non-exaggerated design that adds an elegant touch. Put your hair in a natural wavy or high ponytail for a sexy look. Pump heels for damn hot style or ankle boots for chicer style are your options for shoes.
21. Play with Beanie Hat for Autumn Outfit Style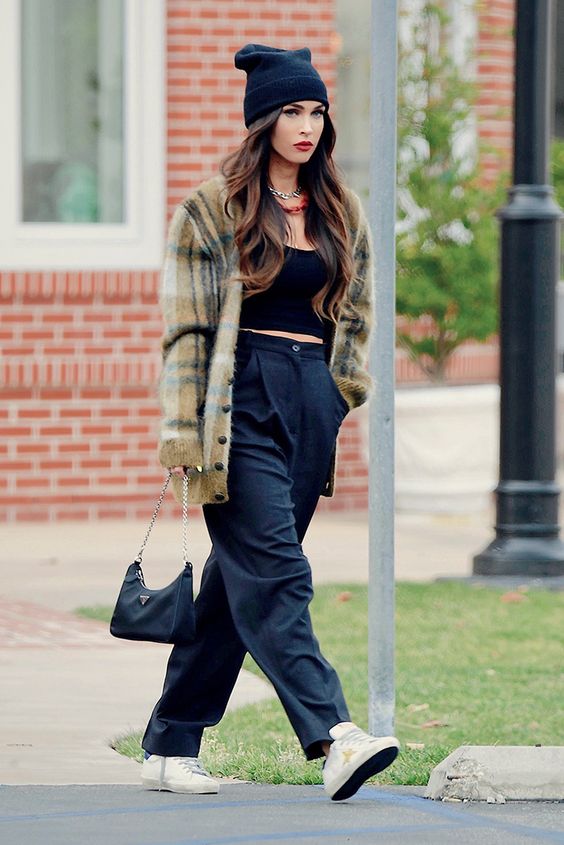 When you search for chic casual outfits to wear during fall/autumn, we love this beanie hat style. It's attractively caught my attention and wants to share it with you. So, if you prefer a bit hip hop look we believe you also like this one. Mix and match black trousers or cargo pants with a tank top and then cover up with a knitted cardigan. For the shoes, sneakers always have a place in this outfit idea. Then, that becomes the main point for the chicer style is a beanie hat. When you go outside, pair this outfit with a shoulder bag or waist bag.
22. Asymmetric Pleated Skirt and High Convers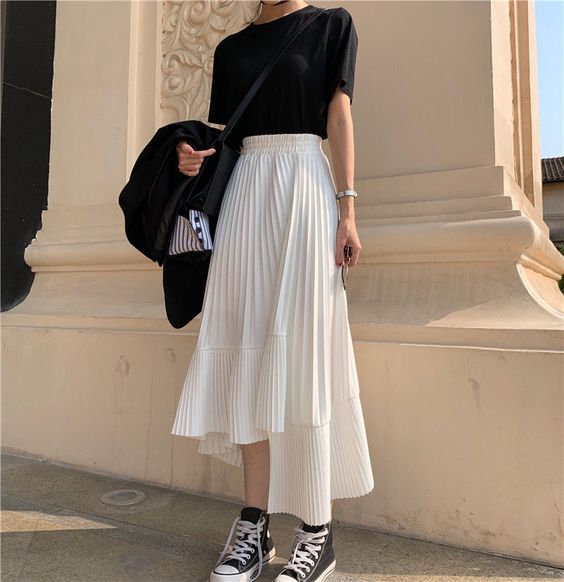 As we all know that skirts and dresses tend to use for feminine style. But this time, we'll give you a different style using an asymmetric pleated skirt. You can create a boyish outfit style from this piece. For this, mix and match your pleated skirt with a t-shirt then bring out high sneakers for the shoes. Finish out your chic casual outfit idea by picking a sling bag and a zipper hoodie. Don't miss out on accessories, bring a simple design like a silver bracelet or a watch.
23. Tuck Your Tank Top in Trousers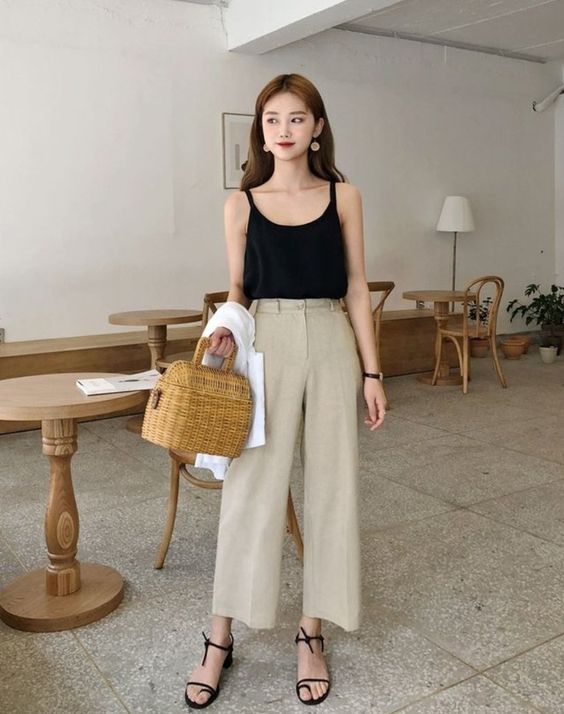 The combination of trousers and a tank top always results in a chic casual look, especially for a summer look. Simply tuck your tank top into your ankle-length pants. Because it appears simple, you should add another detail, such as eye-catching earrings or strappy gladiator sandals. A craft rattan bag may be powerful to add a chic look to your outfit performance.
24. Hooded Blazer Look for Fall Ensemble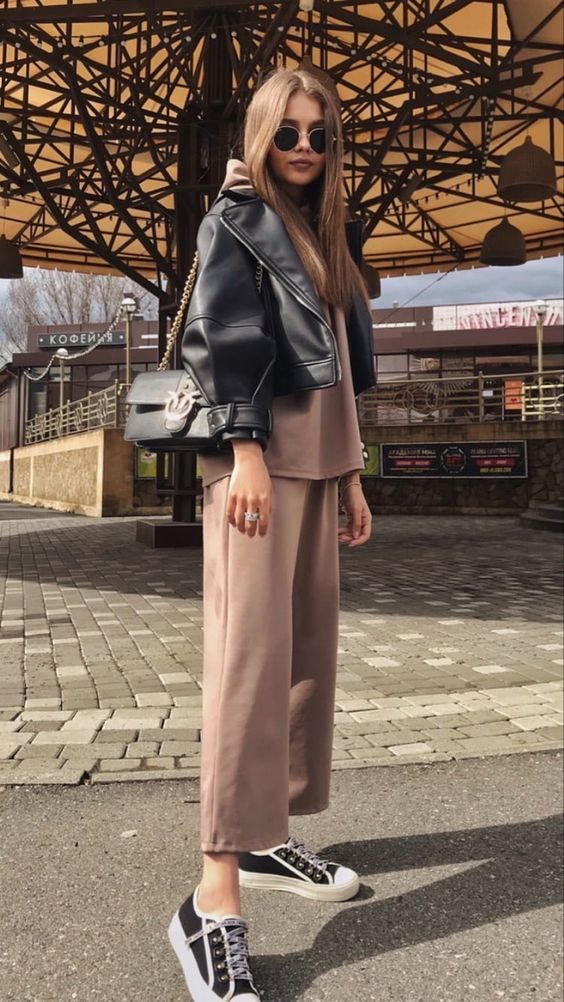 In terms of other chic casual outfits use a hoodie and sweatpants, we can add a layer for chicer performance by wearing a leather jacket. Just opt for a two-piece of long pants sportswear then give a cropped leather jacket over your hoodie. For the toe, sneakers and trainers are kind of the best footwear for chic outfit ideas. When you decide to use this style going outside, bring sunglasses and a shoulder bag to carry your important things. This outfit would be great to become a fall ensemble.
25. Perform with Your Evening Dress
This is the last outfit idea that we shared with you for chic casual outfits for everyday looks. A simple silk dress that you wear with sneakers. Then, support your chic look with a cap and high ponytail for the hairstyle. It's simple, isn't it? Then to perfect your hang-out style, finish out with a shoulder bag.
That's all the casual chic outfit ideas we have for you. And now you have another outfit style to add to your wardrobe and help you stay fashionable daily. The casually chic style emphasizes a simple appearance by combining a sophisticated appearance with street style. Simply, you can combine the formalities in a lay-back style such as biker shorts with a blazer, jeans with a shirt, or suits with sneakers and others. I hope you'll get inspiration from the 25 casual chic outfits above that help you look stunning and fabulous every day.