Olidfashion.com – Summer is full of joyful and hectic outdoor activities. Whether for hanging out with friends, working, or going to summer festivals, make your day always fashionable with chic and easy summer outfit ideas. Therefore, at this moment we bring outs some easy fashion styles when you have nothing to wear for the summer daily lookbook.
Basically, the summer fashion style comes with simple and easy ensembles such as shorts, mini skirts, light dresses, and jackets. In any case, sometimes you can feel confused about how to style your outfits or you don't know what outfit of the day to wear. Just go easy girls!! We've round up 17 chic and easy summer outfit ideas that you can try to copy. From shirts, shorts, and dresses, to basic t-shirts, let's find your fashion inspiration below!!
Easy Summer Outfit Ideas to Make You Look Chic and Fashionable
1. Match Your Midi Skirt with Cardigan and Tank Top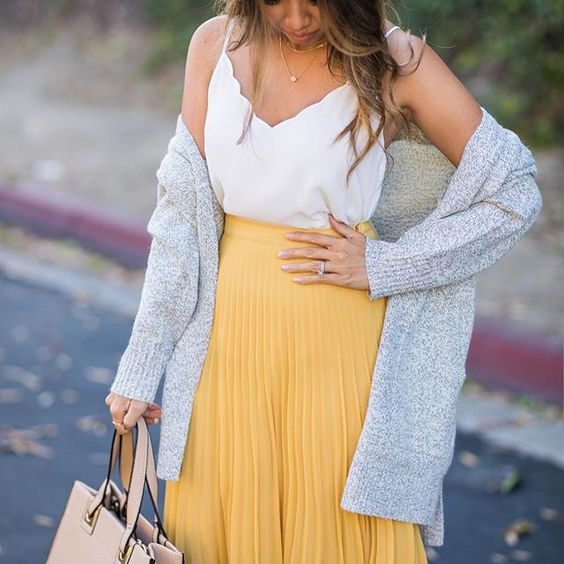 Let's start with this simple look. You can mix your pleated midi skirt with a tank top and then layered over with a light cardigan. This matching outfit is a chic and easy summer outfit idea that you can copy to become a fashionable hang-out style. To make it a bit joyful, bring bright yellow between neutral toppers in your midi skirt style. For the toe, you can have two options, for a comfy look get white sneakers and for a pretty style, get high heels or flat shoes. Don't forget to bring fashion accessories that would support your chic look. Perfect all your summer fashion style by getting a pastel handbag.
2. Wear Cardigan with Cropped Top and Shorts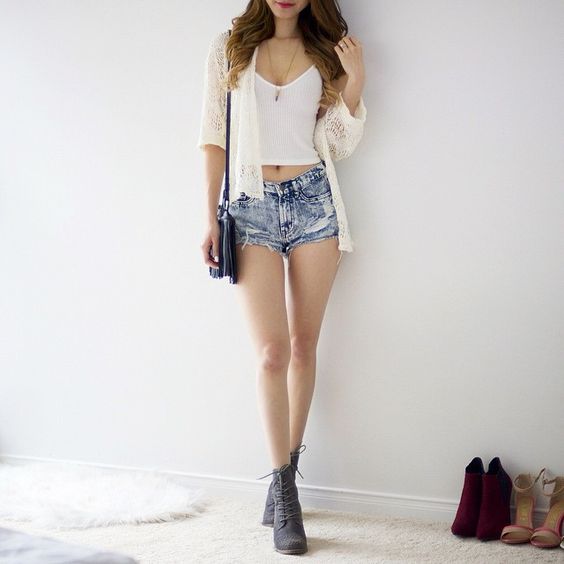 Next chic and easy summer outfit idea, we love to combine shorts and a cardigan. This is one of the effortless styles but still, it can look chic and raise your confidence. You just have to combine your cropped denim shorts with a cropped top and a lace cardigan. For the shoes, actually, you have many options to bring out. Like when you desire to have a trendy style, you can get a pair of ankle lace-up boots or sneakers, but when you want to look pretty feminine just match your outfit with wedges or high heels. To have you chicer, bring other accessory details in your performance. Then, you can get a mini sling bag in your hand to carry out your important things.
3. Mix Your Button-Up Shirt with Trousers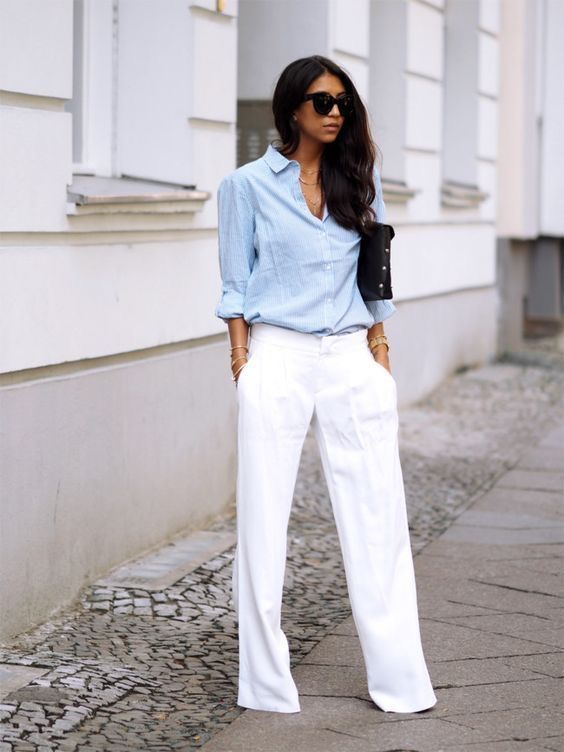 Must go to work during summer? Need something that feels fresh and chic to wear? Get these trousers and button-up shirts on your work outfit list. To make it better in summer, bring your outfits in neutral and smooth light colors such as white and baby blue combo. For a stylish look, tuck your button shirt in wide-leg pants and lose some buttons on the tops then roll up your sleeves. This helps you to look a bit casual and easygoing for outdoor meetings with clients. Then, to create an elegant performance you can wear wedges for matching footwear. Besides that, complete your look with a messager bag in your hand.
4. Matching Your Button-Up with Summer Dress
Still in button-up shirt outfit style. When you have nothing to wear and just have a classic shirt, let's make it fashionable in a chic and easy summer outfit idea with a summer dress as layering over. In this style, you just need to wear a collared button-up shirt under your sheer and light maxi dresses. Try to make this outfit more trendy and casual by pairing it with white sneakers for your legwear. Then, accessories items should be played on this for a pretty look. For instance, get hoop earrings and a mini saddle bag that looks cute and chic.
5. One-Piece Swimsuit and Trousers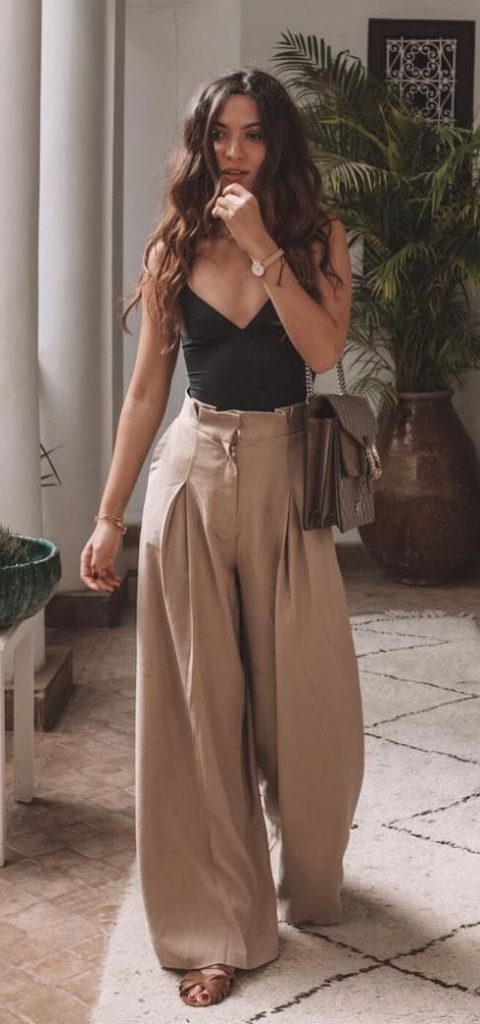 Have a plan for going to a beach this summer? So, I think you need something simple and chic to wear such as in this one-piece swimsuit and trousers look. For some reason, we recommend you this outfit look to become your chic and easy summer outfit idea. You can wear this outfit to just walk around the beach, and if you want to swim on the beach you can easily turn your outfit into swimmer style. Such a great idea right? Now, grab your swimsuit out then wear it with baggy trousers. For the shoes, bring your comfortable sandals on. And then, get your simple fashion accessories and a message shoulder bag to complete your performance.
6. Work on Your Basic and Trousers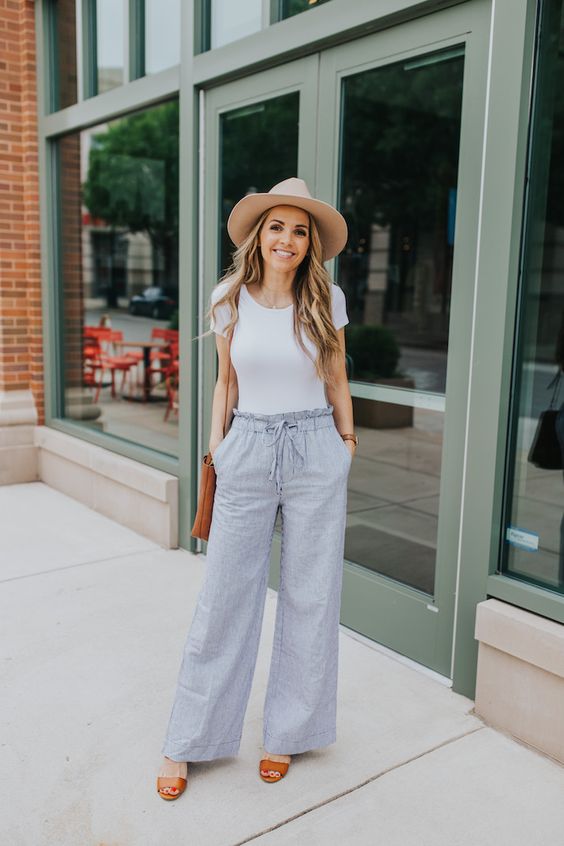 Back to basic always worthy enough to bring on on any occasion. And when you think you have nothing to wear or you are confused about what to wear, just come up with a white basic t-shirt that you're tucking on your trousers. Choose a fit body shirt to create a pretty silhouette. Then, if you want something a bit different on your chic and easy summer outfit idea, accessorize it with a cowboy or fedora hat. That would make you have a little countryside look. For the toe, bring a pair of strappy heels or sandals for chic casual style. Also, add other fashion detail such as simple accessories and a shoulder bag to have a perfect ensemble.
7. Pair Your Button-Up Shirt with Shorts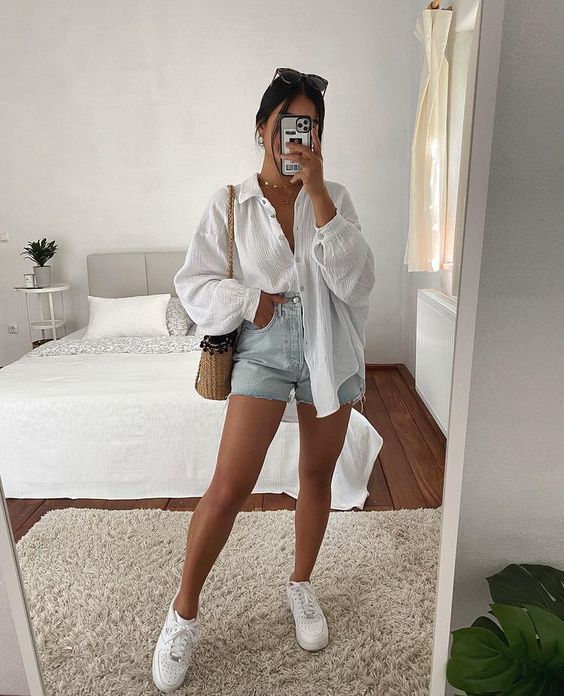 Wanna looking chic in an effortless way? Maybe this shorts outfit idea what you looking for. Go for a white button-up shirt then pair it with your cropped denim shorts. Pick your tops in one size bigger to have a more fashionable look. This combo would be suitable for your hangouts or vacation styles. Move to the shoes, bring white sneakers or trainer shoes that would make you feel comfortable going outside. Furthermore, accessories shouldn't be missed out. For a chic boho style, you can get a rustic rattan shoulder bag to save your things. Sunglasses and other simple gold jewelry can be perfect for your appearance.
8. Look Chic in Flannel and Shorts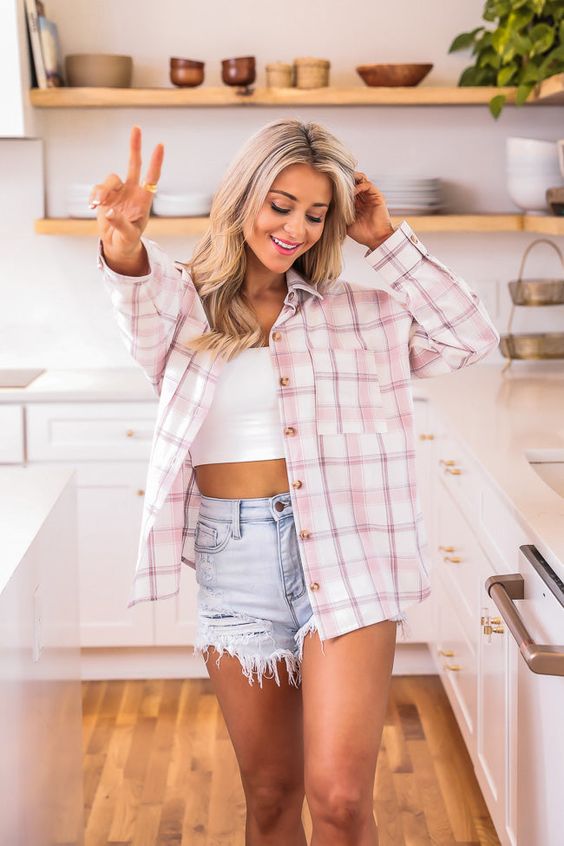 If you indeed love shorts to become your summer style, you can also bring this style into your daily rotation. Try pairing your denim shorts with flannel as an outwear. And for the inner, you can decide between a tank top or tube top. Choose anything that would make you feel comfortable. Then for shoes, sneakers are the best footwear that matches the look of this outfit's performance.
9. Get Matching Your Evening Dress with Light Cardigan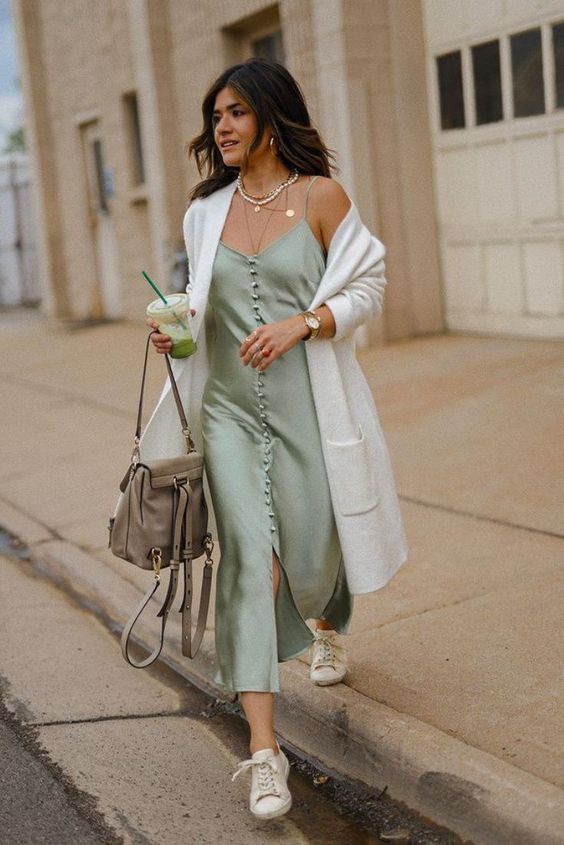 Now, let's find a bit of feminine performance for your chic and easy summer outfit idea. And, we love this look style. A silk evening dress that you're matching with a light cardigan for the outwear. This outfit is perfect for your date night with your boyfriend or just watching movies. Believe me, you will look gorgeous in this outfit. Especially, when you wear some accessories items such as gold jewelry, a watch, and hoop earrings, they will complete your appearance. Move to the shoes, matching with sneakers to bring cozy fashion into your fit. And then for the bag, a pastel backpack that can be turned into a handbag would look pretty ad chic in your minty outfit look.
10. Work Well in Shirt and Skirt Style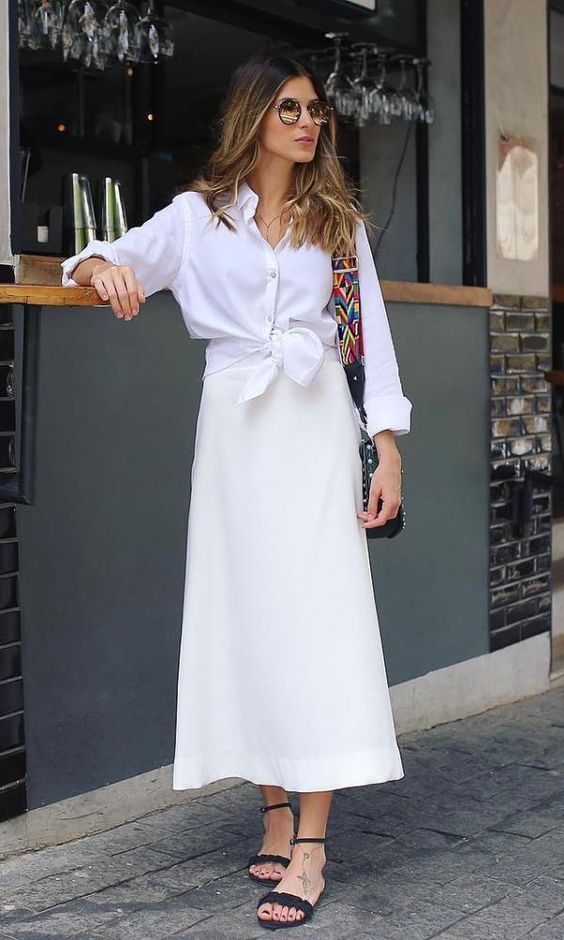 Love the simple and effortless look? We believe you would also love this white monochrome outfit. Try to mix your white button-up shirt with your white high-waist skirts. For the chic style, knot out and unbutton the top of your shirt. Then, pick strappy sandals to complete your overlook. To make your appearance seem chicer, get a pattens sling bag to save your important things. And the last, get sunglasses and simple jewelry for accessories.
11. Casual Look in Basic and Biker Shorts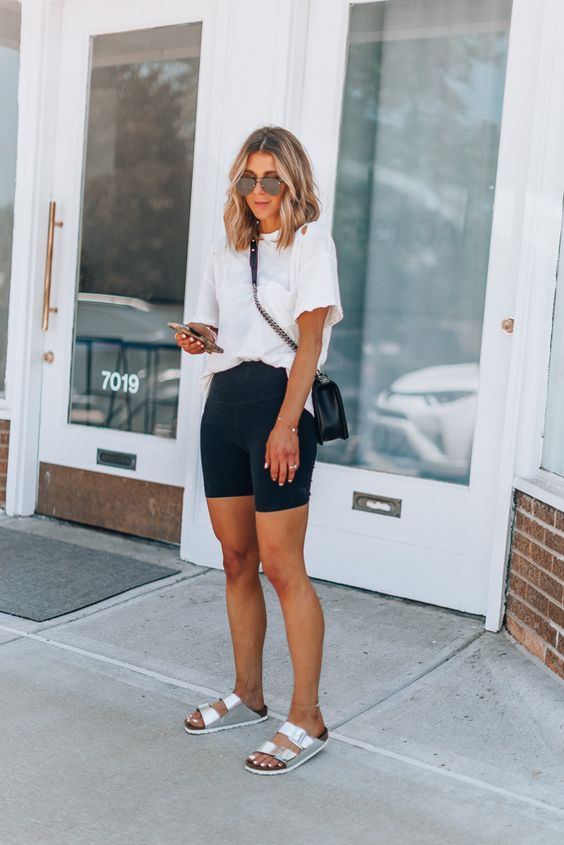 If you want to chill out outside for a while, you can wear something that simple and easygoing. And this chic and easy summer outfit will gonna be your inspiration. You can mix and match your basic t-shirt with biker shorts. For footwear, you can wear men's sandals made from leather to seem casual and trendy. And for the bag, you can use a sling bag or tote bag to support your showing. Don't forget to use sunglasses when you go outside to protect your eyes from Uv light.
12. Simple and Chic in Overall Style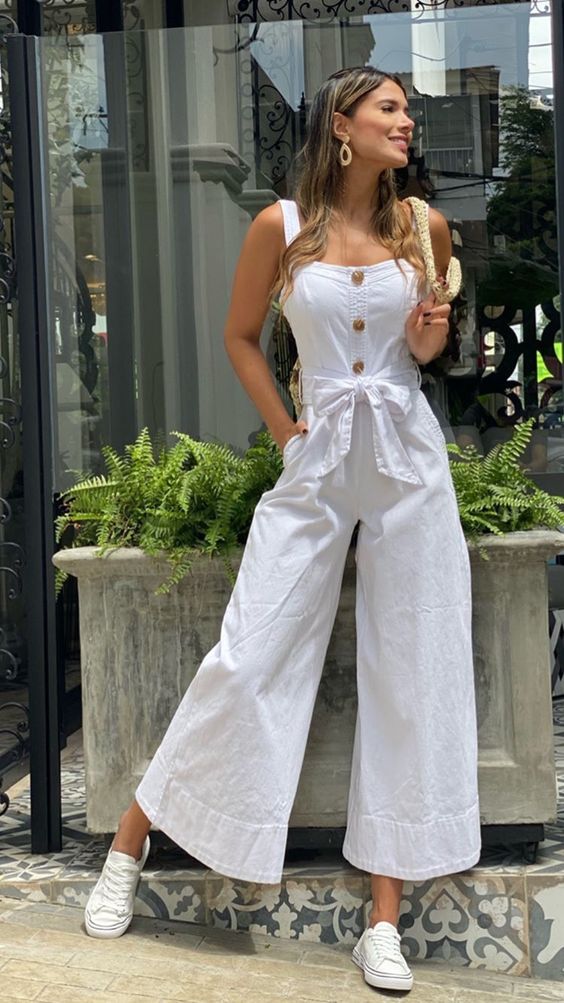 You know, wearing a t-shirt or dress sometime can be boring. So why don't you try to get overall into your chic and easy summer outfit idea? You can wear it in layering style by getting a tank top or either a long or short t-shirt for the inner. Alternatively, you can wear it for the main outfit without layering. Look at the shoes, you can get a pair of white sneakers for supporting your overlook. You can also get a crochet or canvas tote bag to bring your stuff.
13. Stylish in Bandana Outfit Ideas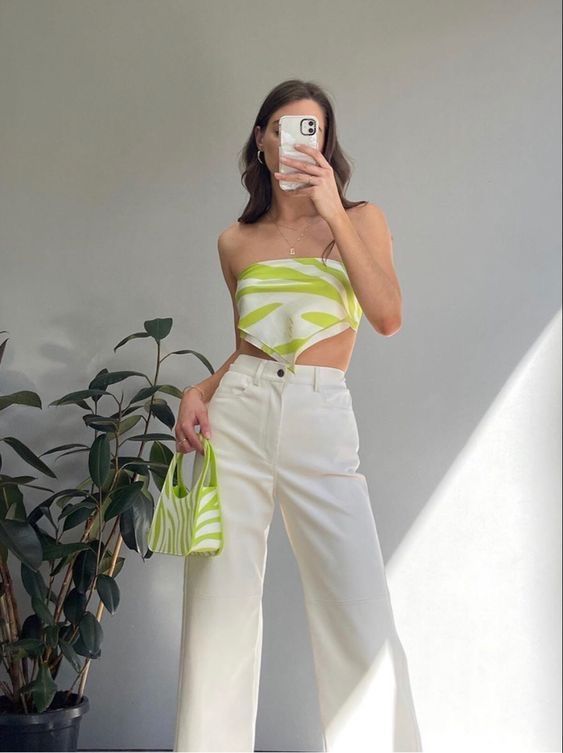 Another chic and easy summer outfit idea for street style is this bandana/scarf outfit style. For this, you can modify your scarf for upper style by folding into a triangle shape and then wrapping it around your body. Match this top with beige high waist pants. For shoes, you can pick high heels for a prettier look, or if you want the comfy footwear just grab your sneakers or trainer shoes.
14. Styling Vest with Trousers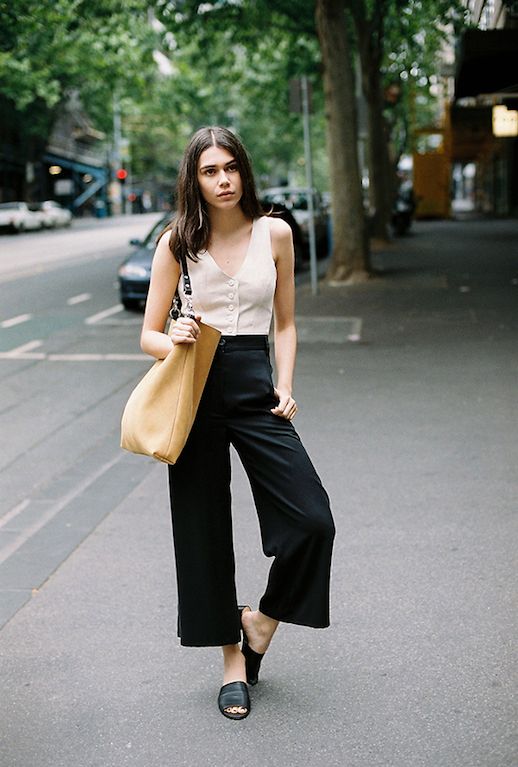 Want to look chic in boyish style? It's easy, you don't need many layers on your outfit idea. Just wear a vest and ankle pants, you already look chic in a modest way. You can also add a fedora hat for an optional fashion look. For footwear, you can get flat sandals to support a casual style. Then, continue with something a bit important that would help to keep your stuff, that is a bag. You can get a tote suede bag for completing your outfit look.
15. Simple Two-Piece Outfits During Summer
Feeling clueless to match your outfit and bored with basic style? Why don't you try to pick this summer two-piece outfit? Grab a twist top set with trousers to become your chic and easy summer outfit idea. This kind of outfit won't waste your time mixing and matching your clothes again. You can take this outfit with you for outdoor fun during summer. Catch your style in violet vibrant that looks cheerful. Furthermore, when you bring other detailed accessories like gold jewelry and sunglasses, this would boost your fashion style. For footwear, transparent white sandals are great for chicer performance. Aside from that, get a mini canteen bag to have a full styling outfit.
16. Keep it Simple Layering with Denim Jacket
If you want to have layering style during summer, keep it simple with dress and denim jacket combo. You can choose a fitted strappy dress underneath your denim jacket, For the shoes, get it comfortable with sneakers. Wear this outfit to chill out in the cafe or coffee shop with your bestie. Then finished your chic and easy summer outfit idea with a back pack or shoulder bag to help you carry important stuff.
17. Outstanding in Cami Top and Trousers Style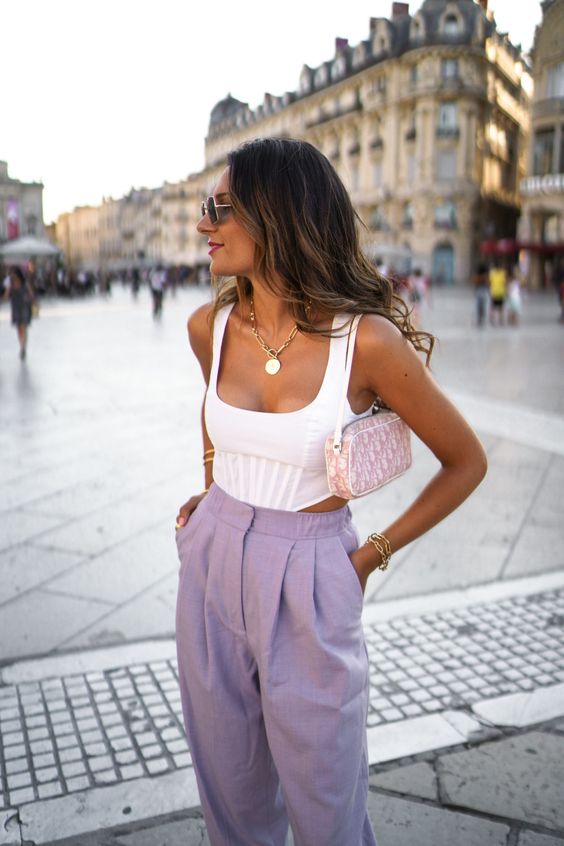 Well, we come to the last chic and easy summer outfit ideas. For this, we would recommend you to corset outfit look with pastel trousers. This outfit would make you look sexy and pretty during summer. To fulfill your styling look, you can bring accessories details such as gold jewelry and sunglasses. For your shoes, if you want elegant style, just grab your high heels. But, if you want to have trendy and chic style, just pick your comfy sneakers. Furthermore, for bag, we suggest you to get a short shoulder bag or a handbag to level up your fashion.
Well, you have got all the chic and easy summer outfit ideas when you have nothing to wear. Are you interested to try one of that styles? Just keep in mind, you can get modern fashion style without buying the new ones. What you need to do is just mix and match all the outfits in your wardrobe to look different every day. So, girls, we hope you can enjoy and get inspiration from what we share above. Just stay with us, if you want to get another chic style for your daily look, read our idea about fashionable boyish outfit inspirations!!